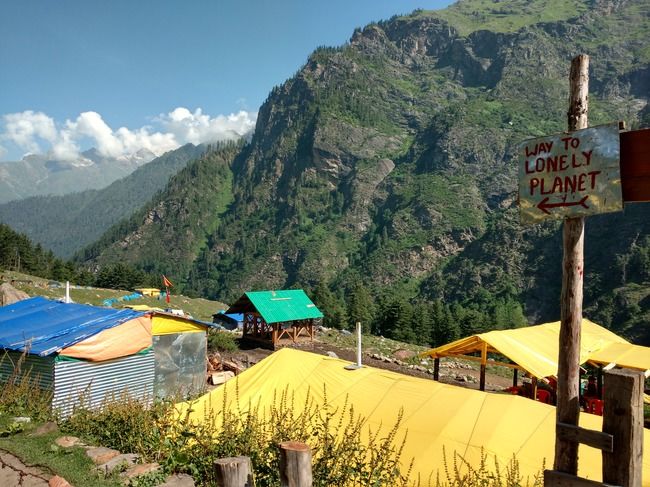 Kheerganga, a trip that changed my whole perspective about trekking.
Since this is my first travelogue so it is a bit lengthy due to overexcitement and also a bit immature but worth reading :)
When it comes to trekking I always say a NO to it as I hate walking so long and that too uphill but when my friend urged me to do this and told me about Kheerganga and its hot water spring then I decided to leave my comfort zone at home and start exploring something out of my comfort zone i.e. Trekking.
So we applied all the earned leaves we had and on 21st of June we, a group of three(ideal) friends, started our 2000+ km journey from Pune to Kheerganga. We started early from Pune and boarded a train to Mumbai and after that boarded our train to Delhi. After reaching Delhi on 22nd June we had two options, either directly board a bus to Kullu or to go to Chandigarh and then board a bus from there, so we decided to take the second option as one of our friend who lives in Chandigarh wants us to visit him. We took a train to Chandigarh and spent the night there so that we can start fresh early morning next day.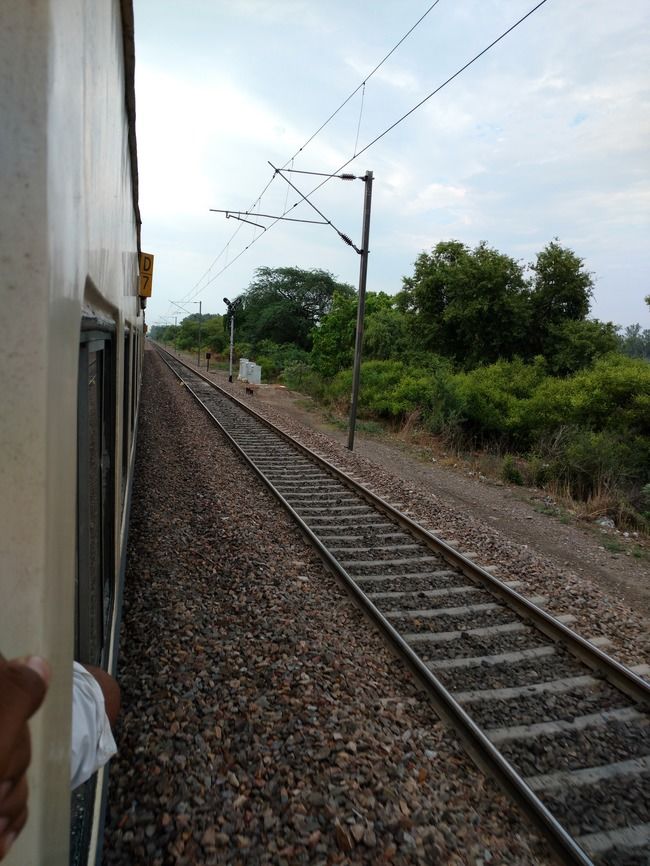 23rd June: The day from which our actual journey started.
We boarded a bus from Chandigarh to Kullu and asked the bus conductor to drop us at Bhuntar. We started from Chandigarh at around 8:30 and reached Bhuntar by around 5:30 in the evening. As soon as we reached Bhuntar we asked people about the bus to Kasol as we decided to spend the night at Kasol. We spotted a bus which was overcrowded so we decided to wait for the next bus but then the conductor told us that it was the last bus( I don't know how as another bus was supposed to arrive) so we boarded that bus anyhow putting our bags on top of the bus and just getting the space to stand at one place only. After we crossed the market the bus stopped at a point, conductor got down and said "Bhai ji agar kisi ko bus ki chhat pe chadna hai to chad jao" (If any one wants to travel on the roof of bus then they can). I and one of my friend look towards each other and said 'that's gonna be one hell of a ride' and decided to climb the roof but the third one of us said no to it so we left him inside the bus and climbed the bus and this decision of us turned out to be one of the best decisions of the trip.
As soon as we climbed the roof we found some fellow passengers were already there. They were mainly boys of our age but some small kids and conductor also joined us. We found some space to sit and grabbed the railing and I also grabbed a rope, which tied a tire lying over there, with other hand and then the driver started driving the bus. As soon as the travel begins we knew that its going to be an amazing experience. The road was small, the turns were blind, the wind was chilling and the driver was insane. He was just swinging the bus here and there on road and we were just hanging there in a state where we didn't even dare to shake hands. That ride tested all of our endurance and strength and our daring nature. There were mountains on one side and on other side there was thunderous Parvati river flowing with an enormous speed and we were just awestruck by the view and the roller coaster like experience we were having. And then suddenly the bus took a blind turn and we saw something which I can never forget in my life. In between all the lush green mountains there was this huge one that was completely covered with snow, every other mountain looked like a dwarf in front of it, in between all the noise of river and whole green valley it was standing so tall yet so calm far away like a guardian angel covered in white looking upon the valley quietly welcoming you. Suddenly the bus stopped and the conductor called all of us down claiming the seats were empty and we all got down and boarded the bus and suddenly the whole view disappeared like we have come somewhere else as all I could see from the window of the bus was trees around us. Within another half an hour or so we reached Kasol and took a room to spend night over there.
24th June: The Big day finally arrived.
We started early from our room, took small bags with us, had a quick breakfast and boarded the bus towards Barshaini. On our route to Barshaini our bus stopped in traffic jam so we got down from and asking about from local we learnt that after a around 2km there is a dam and from there the trek to Kheerganga begins. We were so much enthusiastic that without even wasting a second we started walking and in some time reached that dam. After reaching there we met a man who was selling sticks for the trail so we bought three from him, asked him about Kheerganga and he told us that there are two ways of going there. Yes you read it correct there are two roads to Kheerganga, both meets towards the end of trek and becomes one. He told us that one road which is just adjacent to dam was the one which most people take and for the second one we had to cross the dam then go on from there. Since this was the road less travelled and it goes from the heart of the forest we decided to take that one and this was another one of the best decisions. We crossed the dam and took directions from a construction worker and moved on.
The trek begin with a vertical uphill which gave us the idea of how tough the trek was going to be. Till we finished that uphill part we were accompanied by a dog which appeared from nowhere and accompanied us. After that uphill part we kept on moving taking short breaks on some of the cafes feeding us and our dog which eventually became our guide. We passed from some of the most heavenly views, beautiful waterfall, tough terrains, narrow trails, slippery log bridges, thunderous Parvati constantly accompanying us and kept on moving but the last half hour of the trail was the one which literally killed us. The trail was nearly vertical and the terrain was so tough that we had to take break after every 5mins but finally we reached our destination after all the sufferings. The moment we reached at the top and the feeling at that time is simply unexplainable. A meadow, with scattered tents of trekkers, cool breeze and the sun setting in the background, beautiful. We quickly took a room, threw our bags into it, had some masala chai and went straight to the hot water spring. The water was hot, as expected, so at first we just sit upon the edge but as the cool wind blew we went into the water and sat into it admiring the heavenly view of setting sun, lush green mountain covered with ice at top surrounded by grey clouds. After some time we came out of spring and after dressing ourselves sat there on grass for some time admiring the beauty of mother nature and thinking how it was so different from the daily hustle bustle of city and office. This was not yet over as the night brought some of the most magical view of sky you will ever see. The whole black sky was covered with infinite number of stars making it look white giving you the experience of a lifetime.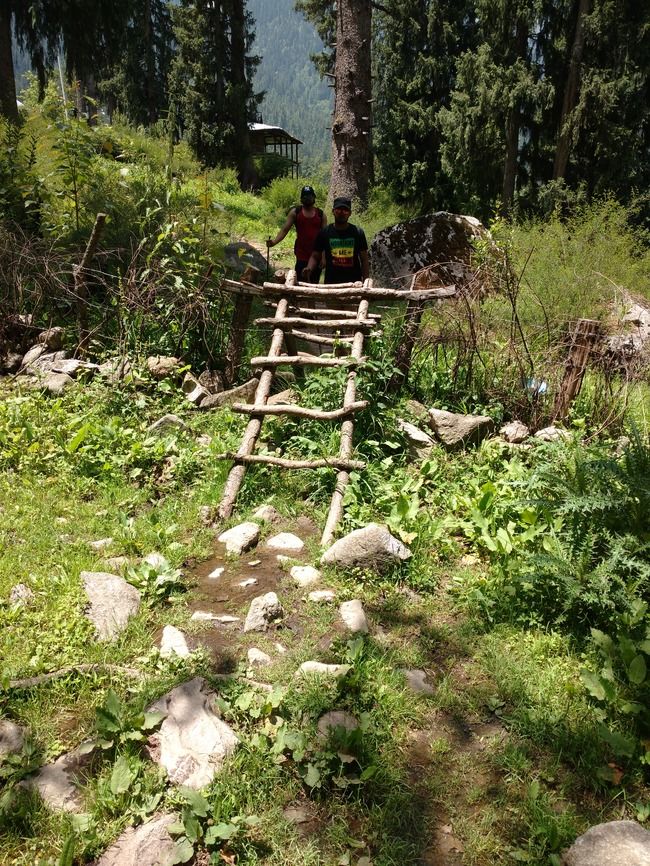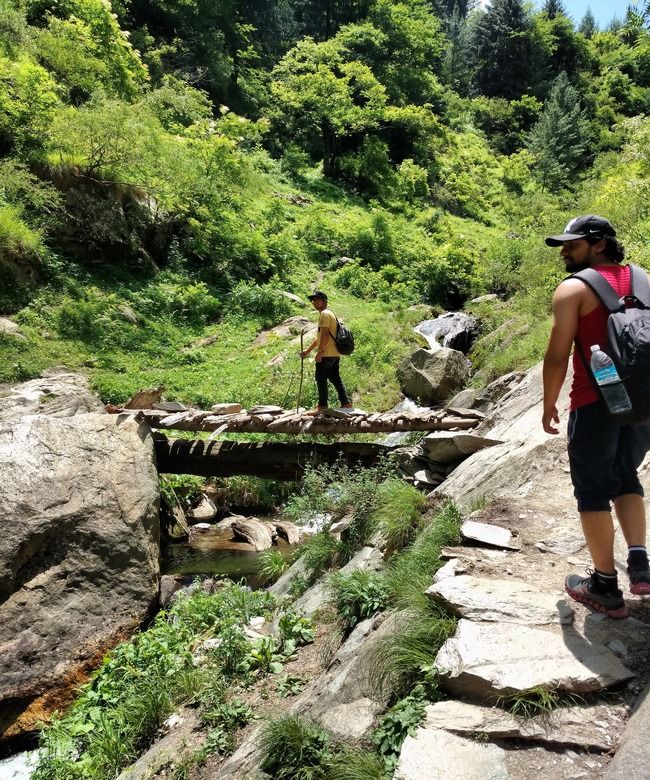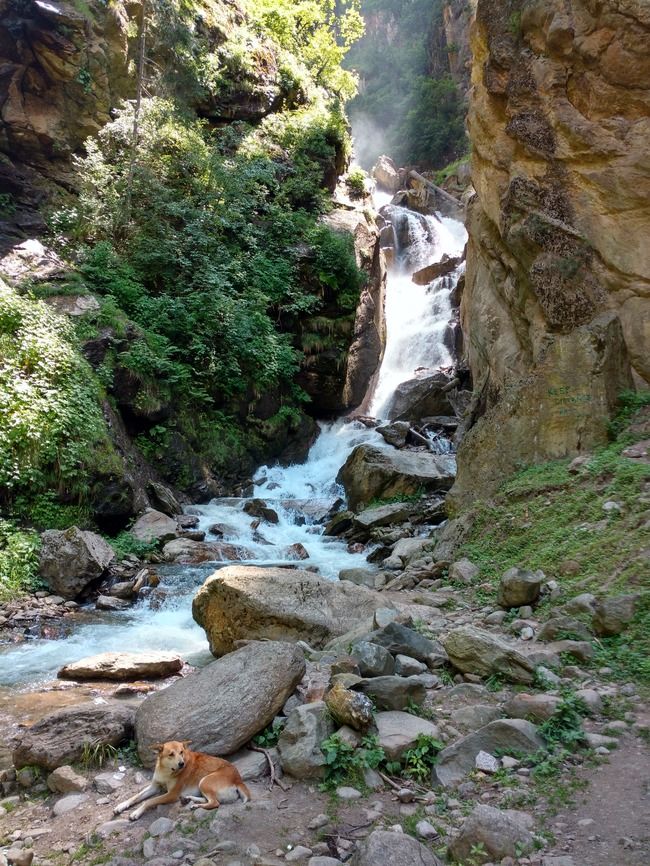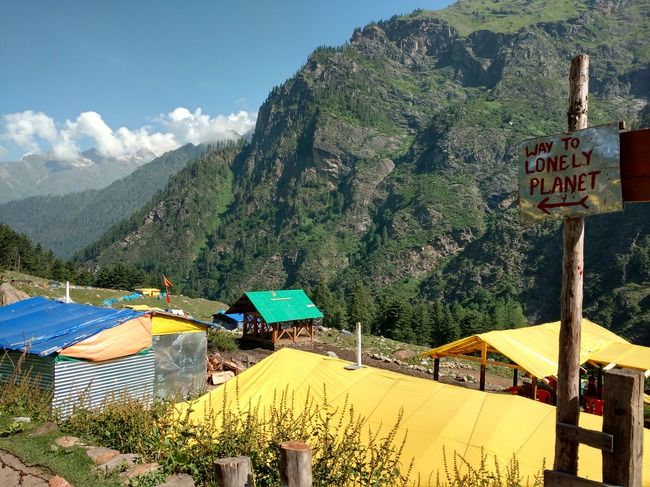 25th June: Time to go back.
We woke up on a bright and clear day and after coming out of our cottage the first we saw was snow covered mountains far away which made our whole day. We went to the spring once again and after that visited the temple over there.
After having breakfast we decided to start our journey backwards and also to take the route which was taken by most of the travelers as we wanted to experience both the routes. So we took the cut which separates both the ways and came across the famous "bridge" under which you can see the blistering flow of Parvati river. Honestly, for once you will be terrified by its flow and force but then you will realize the beauty of the nature when on other side you will see a waterfall into the river making a rainbow just below you feet. After crossing that bridge we continued our journey stopping by to take some photos of the breathtaking view making memories for lifetime.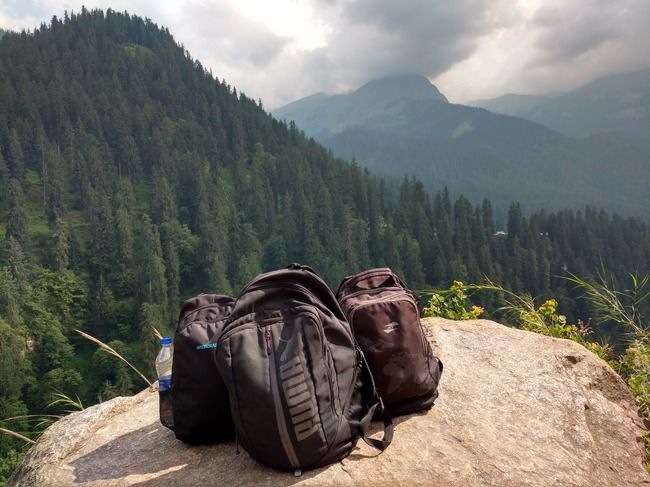 When we were about to finish our trek we came across another bridge which was on the tributary of Parvati, which will be the first one if you go from this side, and then we came back from where it all started, the dam. There we saw something which we didn't noticed at the beginning of our journey, Parvati meeting its tributary Tosh. You cant have a better ending to your whole trip better than this, the view was simply awesome and it resembled two soul mates meeting after a long time :)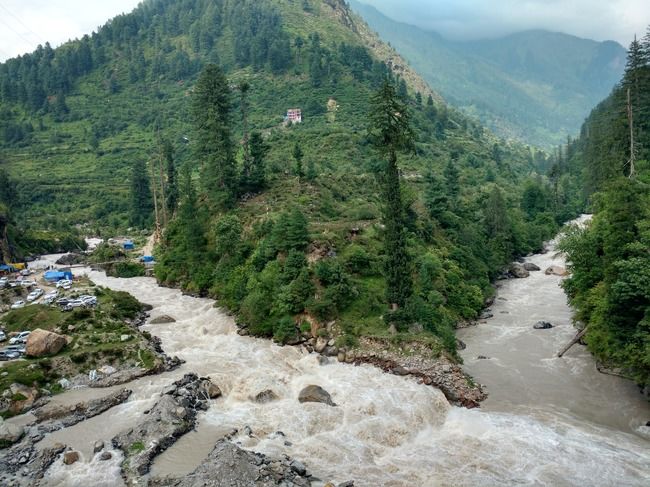 After we came back from there I kept on looking back again and again, capturing that scene into my eyes (and also camera, lol :D) admiring the beauty of nature and recollecting our experiences.
I wish to tell everyone that there are two ways up to Kheerganga and one should explore both as the things you will see on one will not be there on the other one. Start from crossing the dam and then while coming back take the road followed by most of the people.
On our way back there was only one thought on my mind, I will definitely visit this place again :)