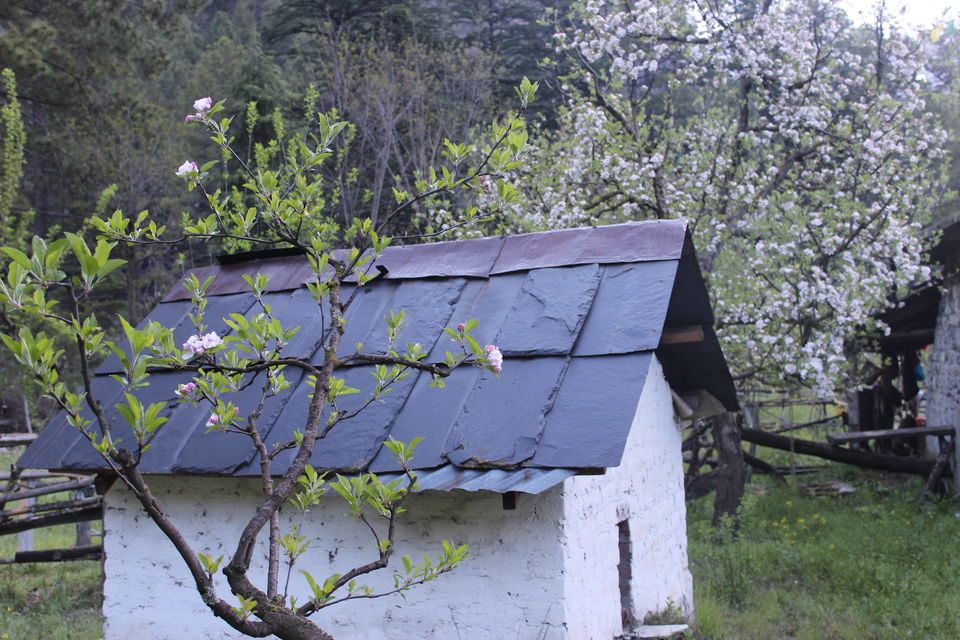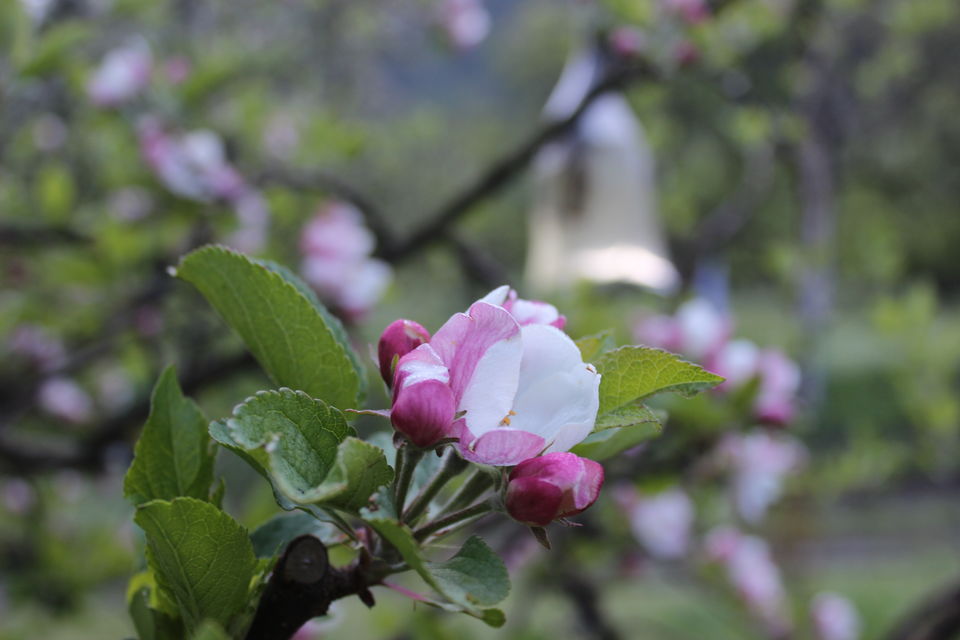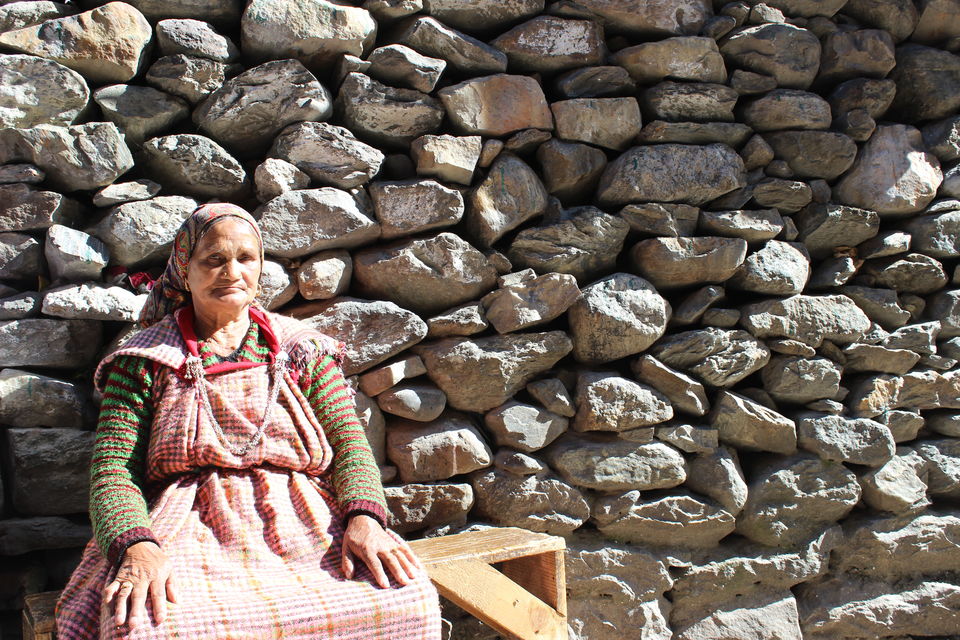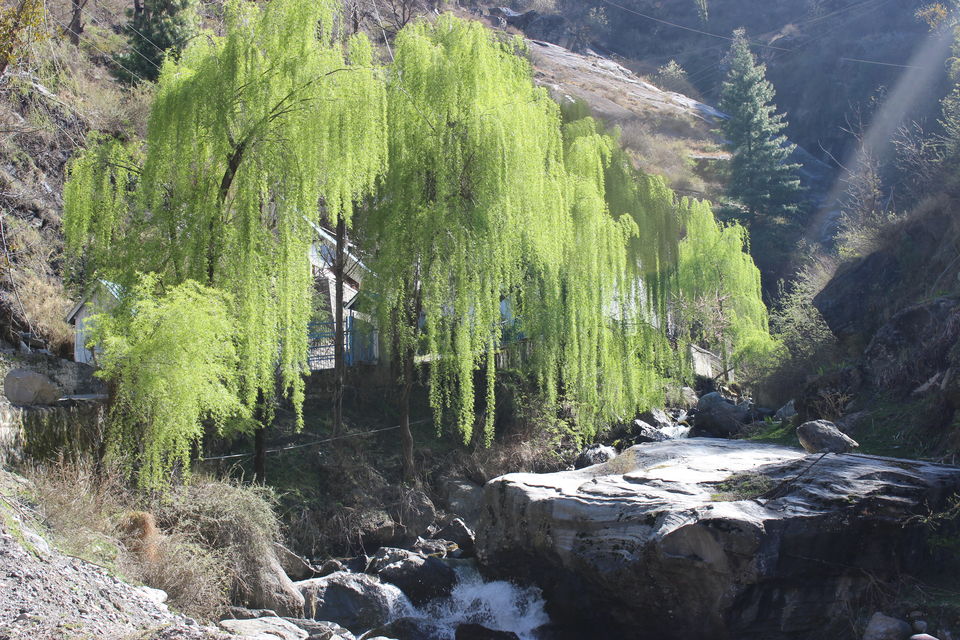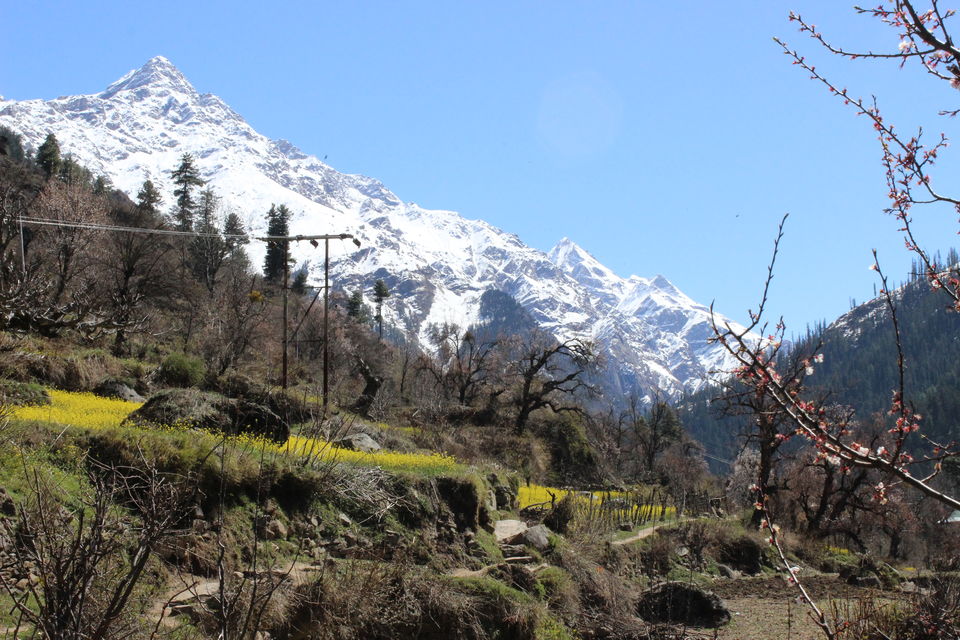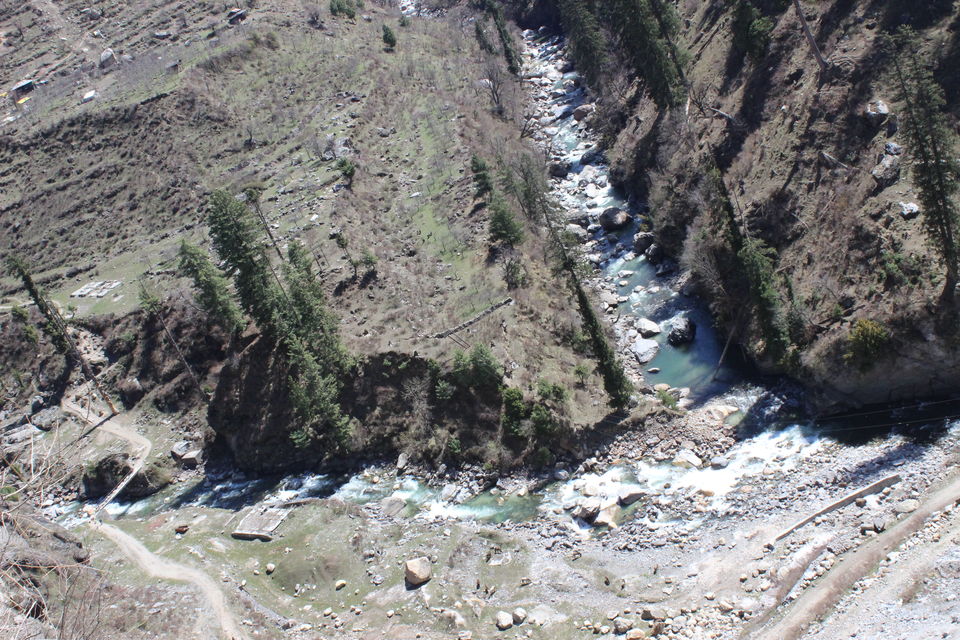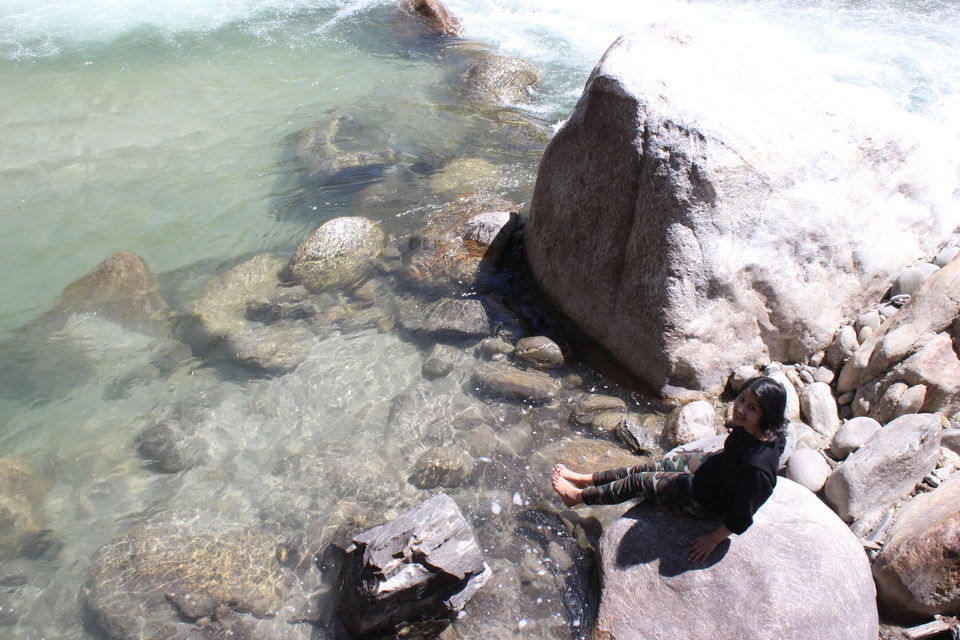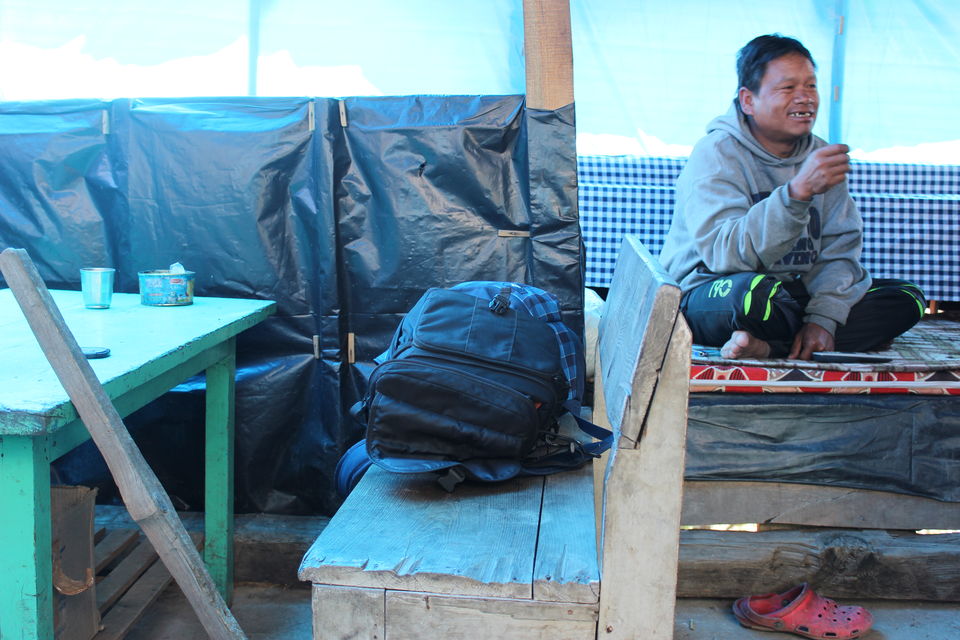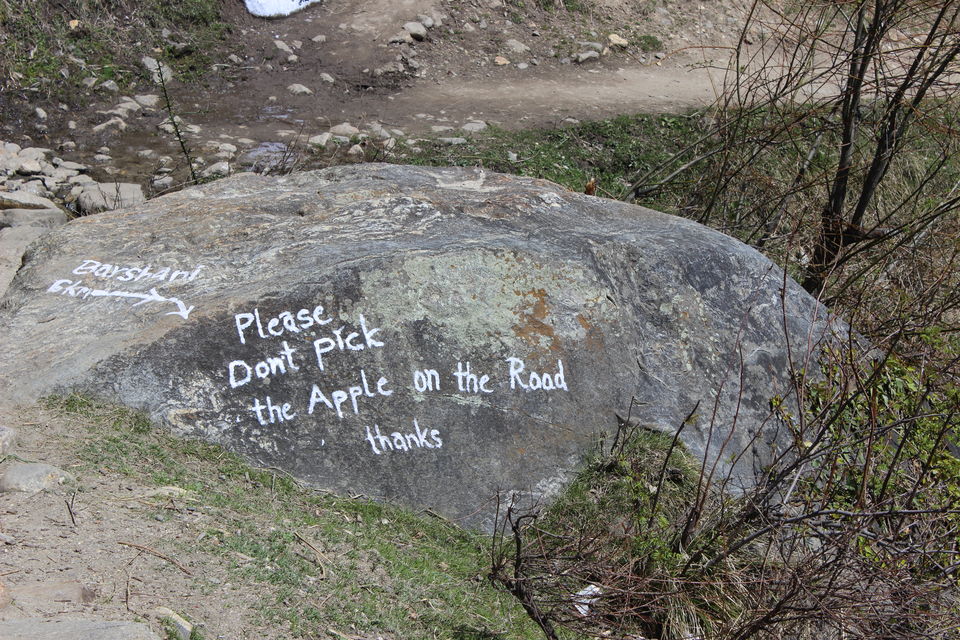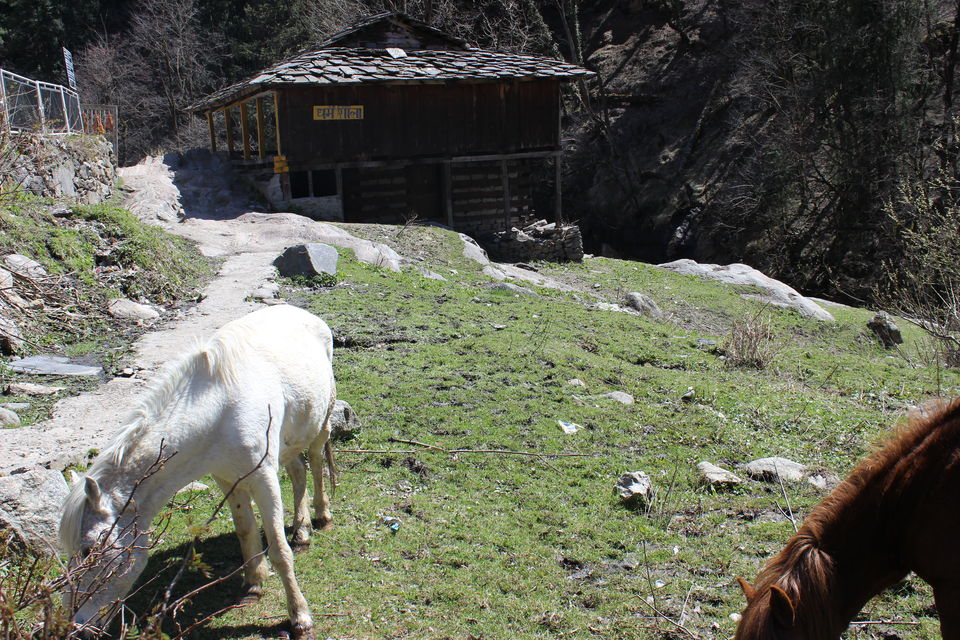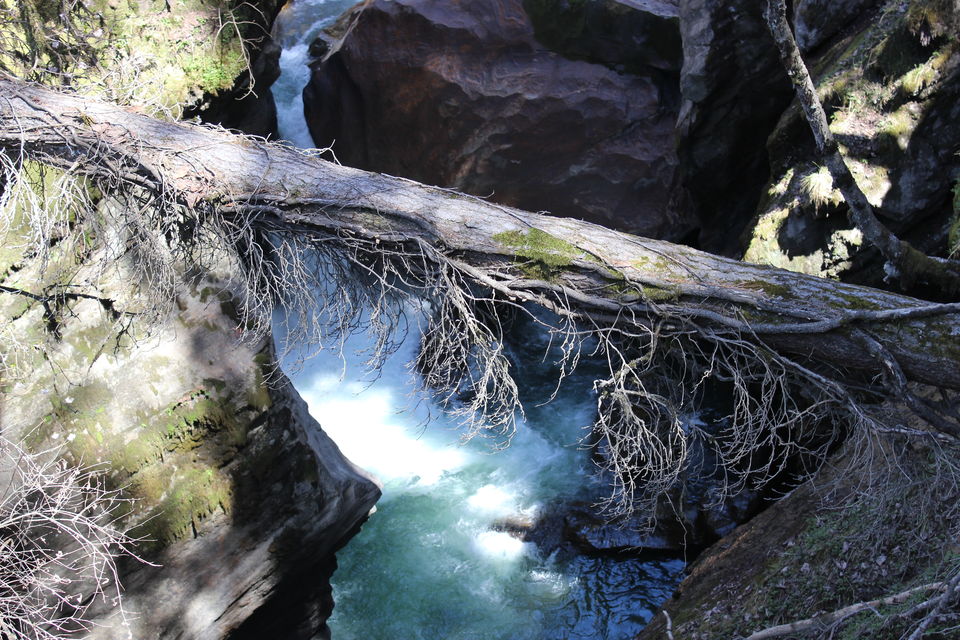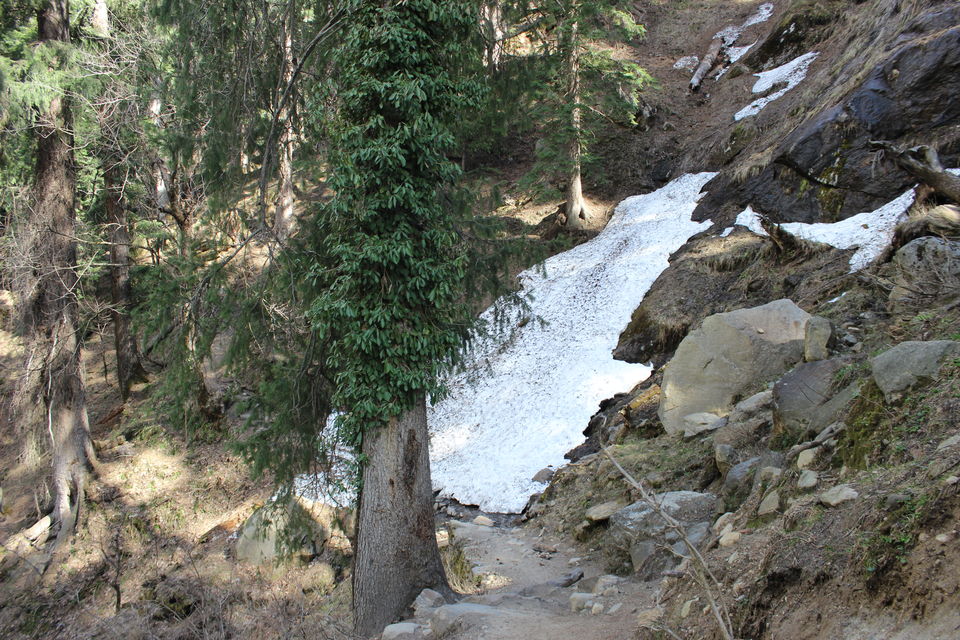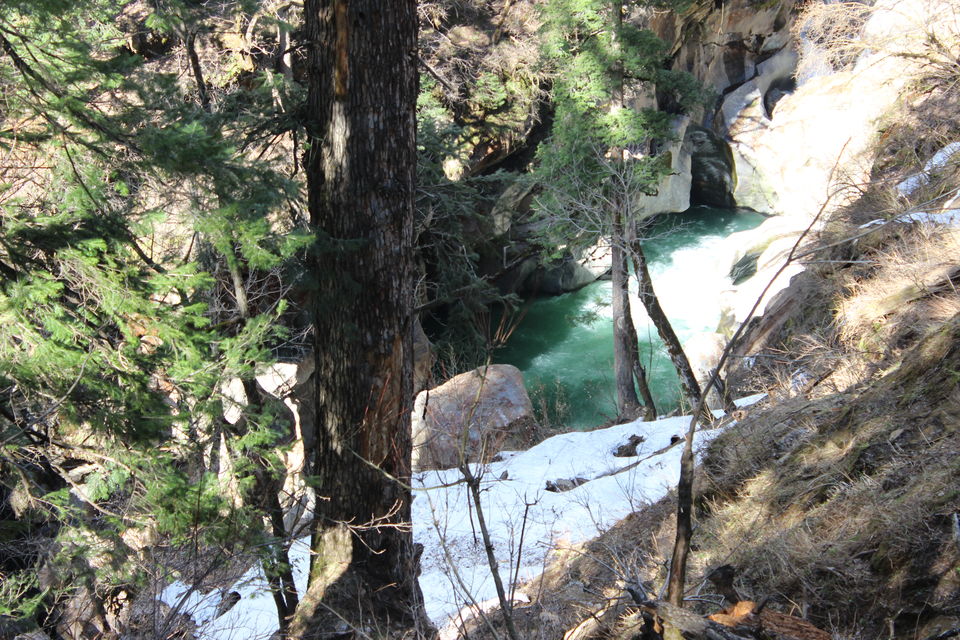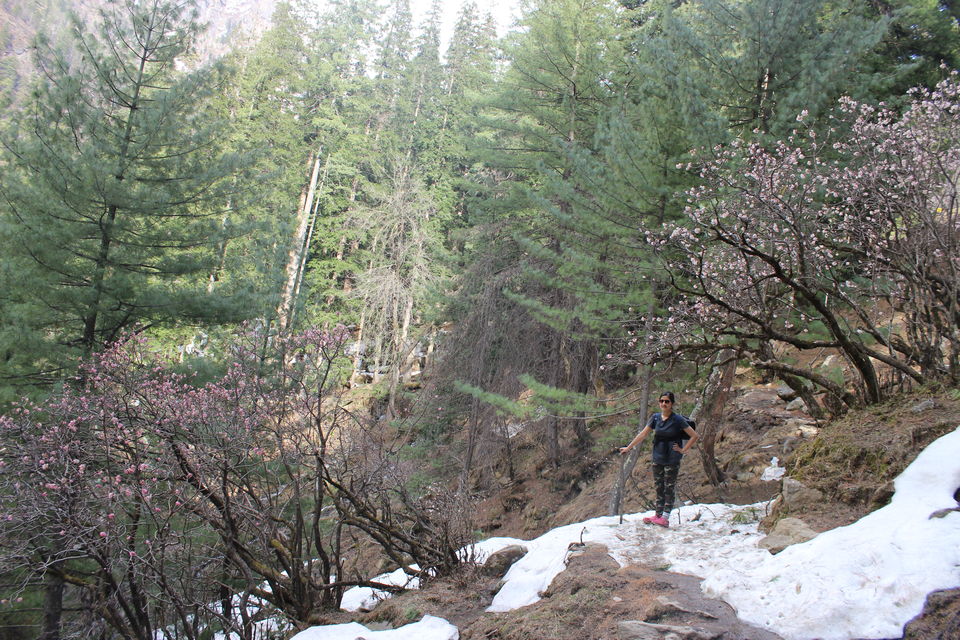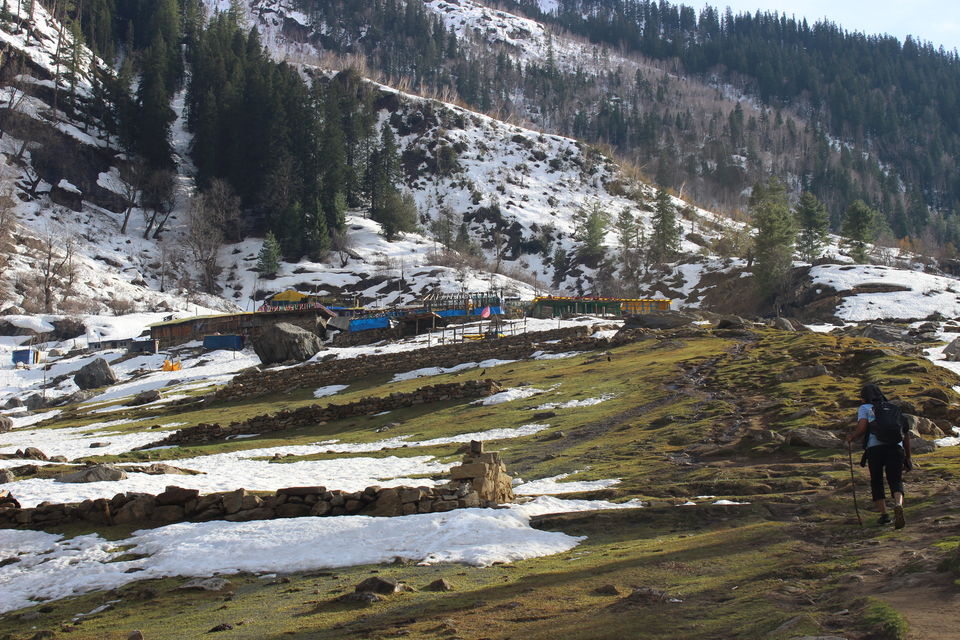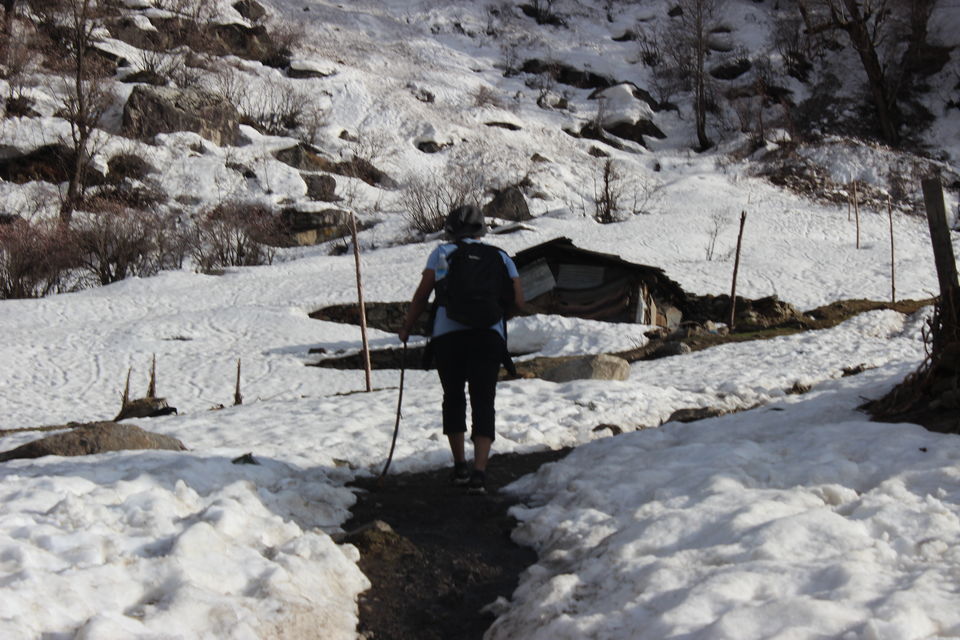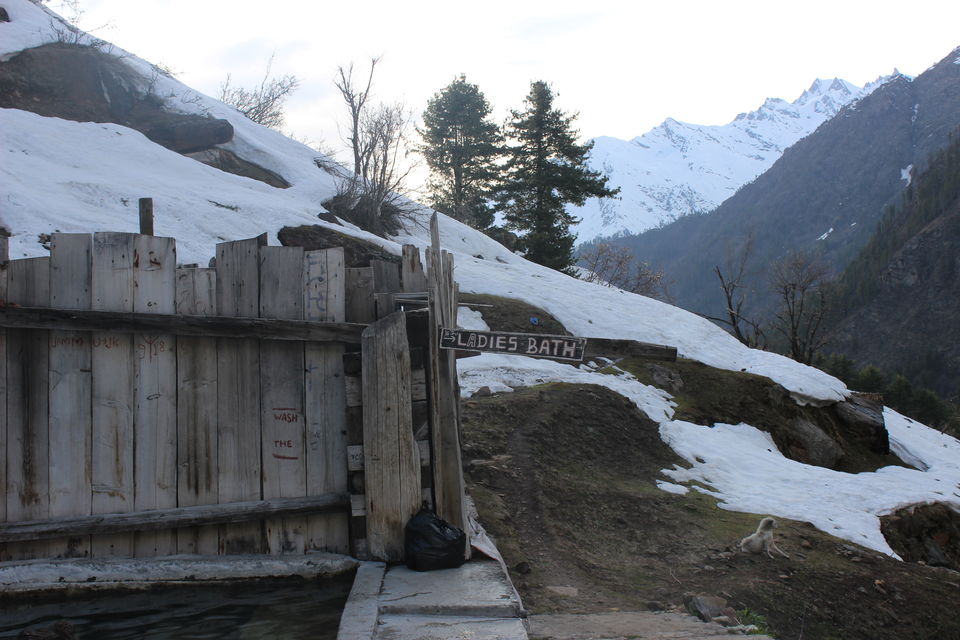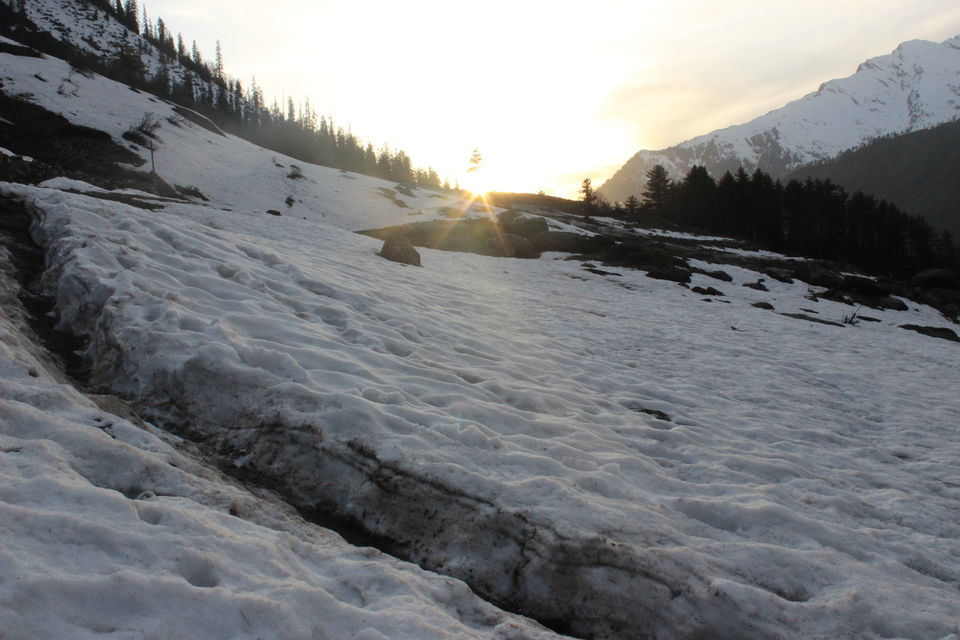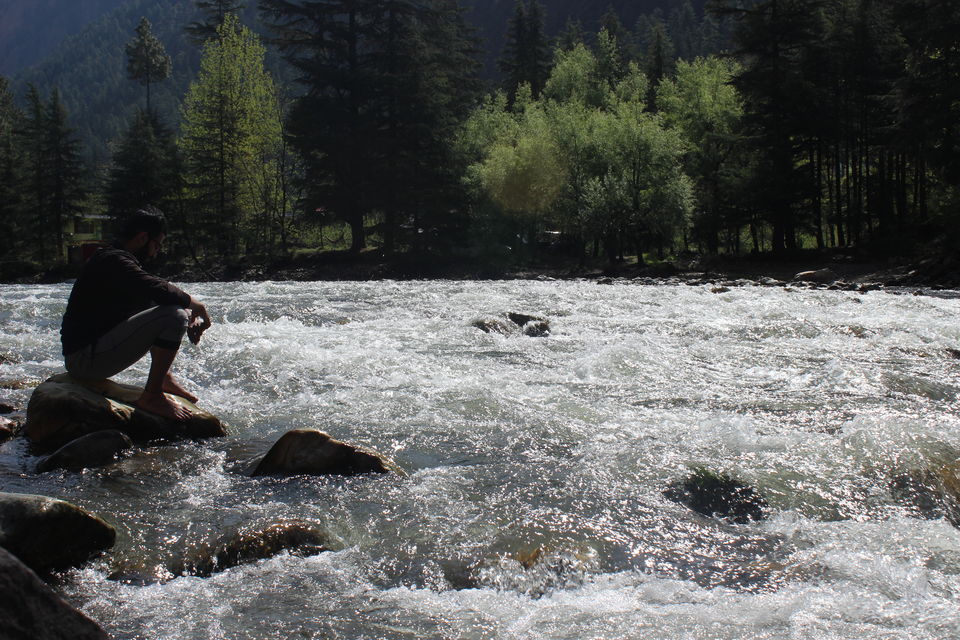 If you wish to be happy in life, then be. Nature has it all placed right for you. All you need is to slip your feet slowly into your shoes, set out and never stop.
For me, the HRTC bus stop is always a beginning of the happy stories from the hills. The Kheerganga trek had been up there at the very brim of my bucket list. It was unbelievable to imagine a natural hot water spring midst the snow and the photographs of this beautiful hike had been stuck to my head for way too long. And one lazy evening when a friend spoke for way too long about the hows and wows of the Kheerganga trek, I had to see it to believe it.
I only had to convince the convinced trip buddies and we were ready to roll.
Kheerganga trek: my itinerary
Day 1: From City lights to Star-Sprinkled Sky
A 12 hour journey from Delhi to Bhuntar was an unbelievable crossover to the lap of Himalayas. It's best to start this bus journey at night but I had my qualms about missing out on the beautiful locales of Sundarnagar and other small towns midway. No one else really cared about what I was talking about until the morning sun brought the magical sight of the Sundernagar Lake outside the bus window. We now knew that this refreshing ride around the blue lake is only a trailer to the eventful days ahead.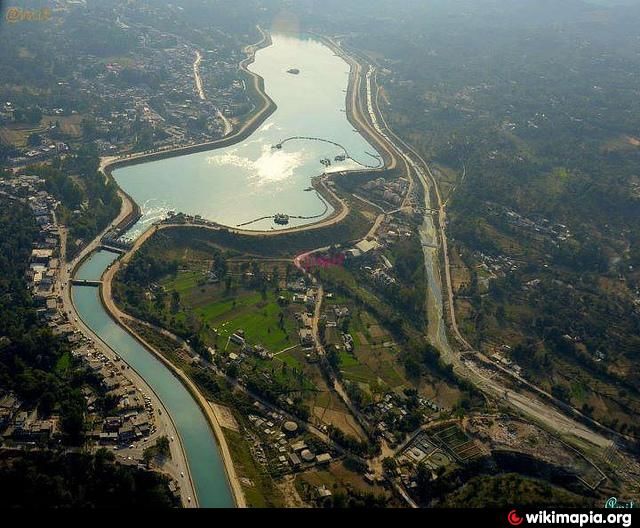 Image Credits: Wikimapia
This bus ride took us through the Aut Tunnel, the longest tunnel in India and gave a wake up alarm to the dreary weary travelers. Few silent minutes inside the 3km long dark tunnel was indeed a little spooky for everyone.
The bus finally stopped at Bhuntar where the fruit market welcomed us with all the freshness of the hills and the Himanchal apples took my heart away at the very first sight.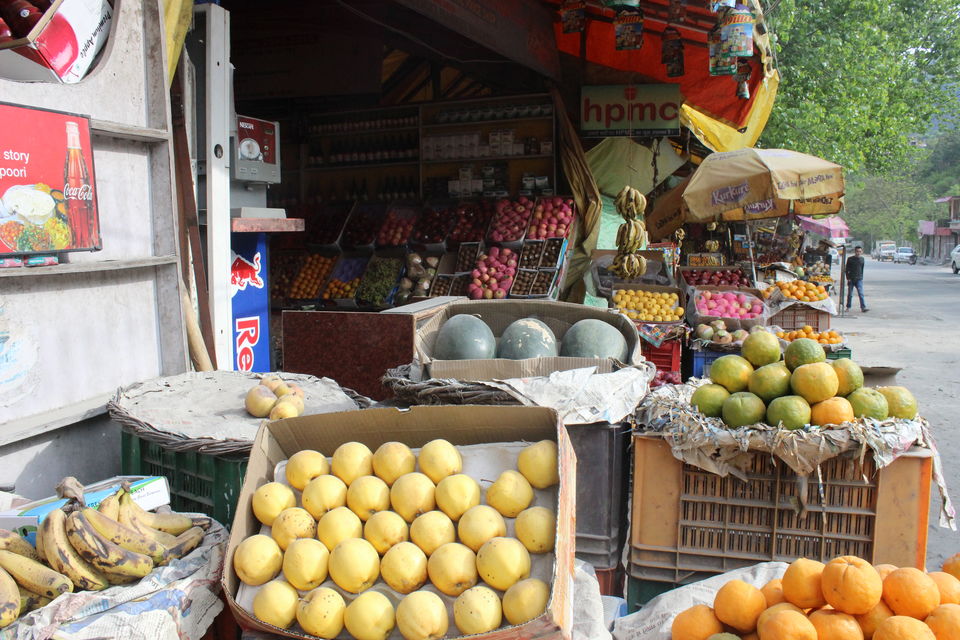 Bhuntar to Kasol (30kms)
You can either choose to take this one hour journey through bus or a local taxi. Our long journey through the bank of the gushing Parvati River finally begun from here.
Day 2: At Kasol, here you do not take a trip, the trip takes you
This small town must firstly be mentioned for its lovely eateries. A walk through the streets of Kasol made us casually enter a cafe and choose something from a menu in hebrew we couldn't understand. We loved all that we saw, all that we had. Little Italy, Yan's Cafe and Evergreen are some of the restaurants which simply amaze you with all that they offer. There's something about this town that make you fall in love with it within hours of arrival.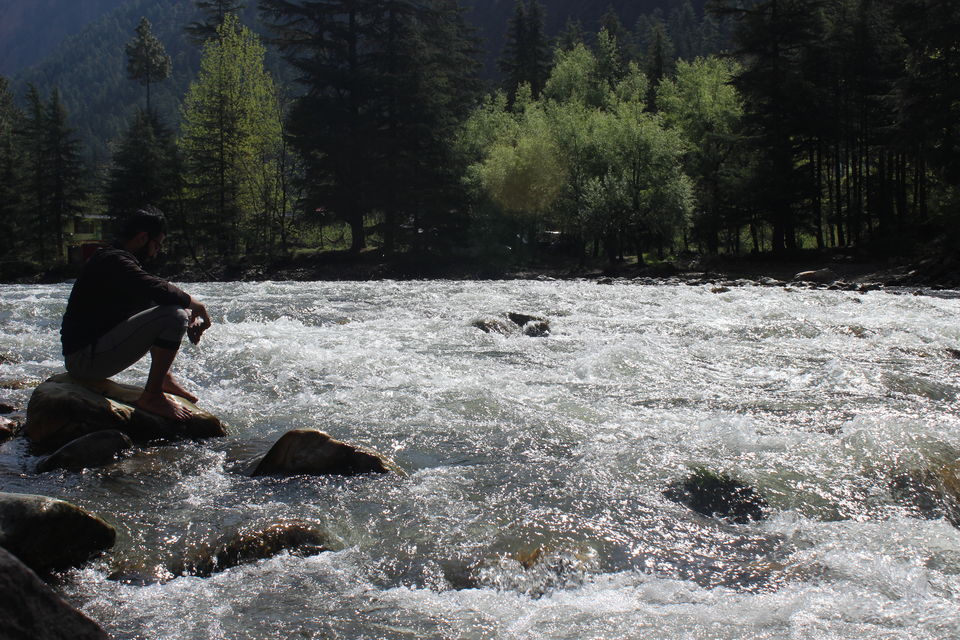 Day 3: Kasol - Manikaran - Barshaini - Tosh - Nakthan - Rudranag - Kheerganga
Kasol was also a spot for our initiation into the Parvati Valley. A walk through the bridge that connects Old Kasol and New Kasol and a silent morning on the bank of the Parvati river prepared us all well for the day ahead.
Kasol- Manikaran (by bus/ taxi 4-5km)
Day 3 was a day of action. Bidding adieu to the bustling life at Kasol, we headed forward hiring a taxi from Kasol to Barshaini. You can either choose to take a comfortable local taxi or a bus ride from Kasol. Manikaran come midway, a destination of religious and spiritual importance, both in Sikh and Hindu belief system. A walk through the narrow street of Manikaran in desperate search for an ATM accidently took us to the Vishnu temple and the Manikaran Gurudwara. I also found some camera friendly locals posing with an easy smile for my camera.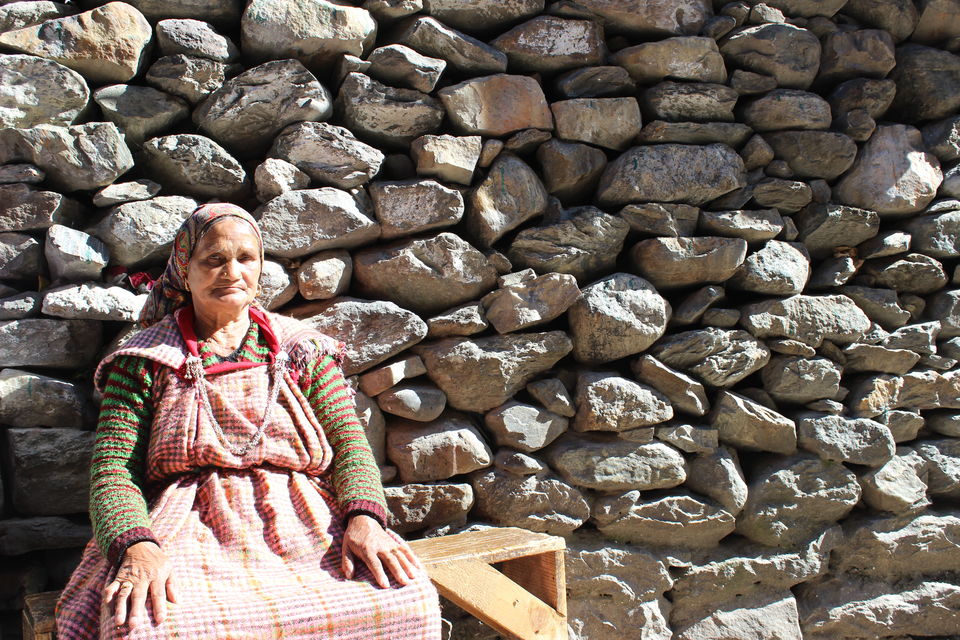 The taxi from Kasol dropped us at Barshaini, the last motorable spot to reach Kheerganga. We managed a quick breakfast at Barshaini, Masala Thukpa, if that soup has a name at all. But the lovely lady at the restaurant gave us just nothing to complaint about.
Barshaini to Kheerganga (on foot 14kms)
Tosh, just 2kms away from Barshaini, welcomed us with some fresh air and beautiful mustard fields in full bloom in the month of April. Tosh also gave us the first glimpse of traditional Himachali houses in the valley.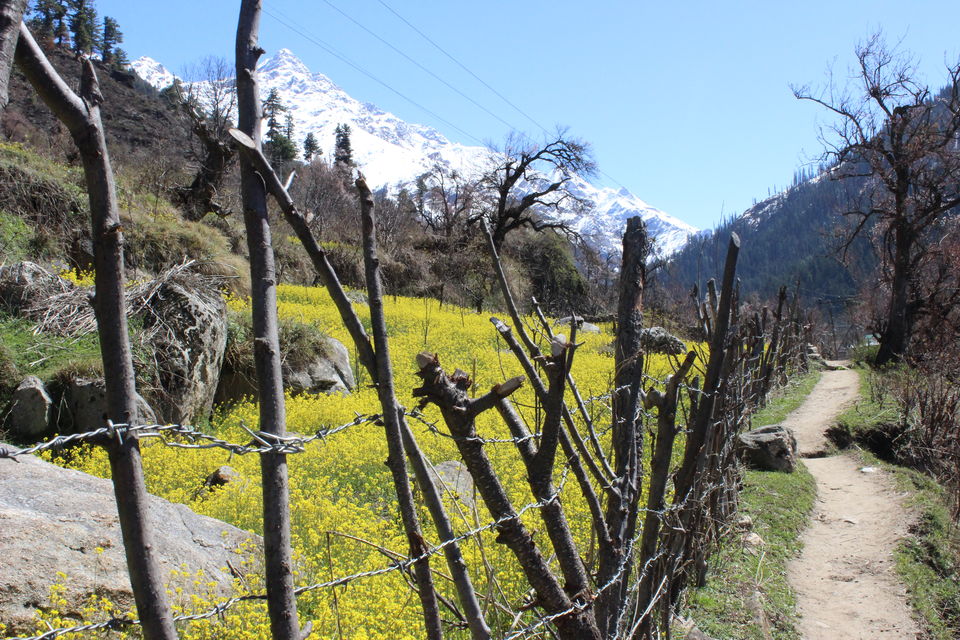 After a few minutes walk from Tosh, we crossed Pulga Dam and spent few blissful moments on the bank of the freezing cold Parvati river. The apple orchards throughout with gushing waterfalls all around us left us in complete awe.
Nakthan was the next spot for some rest. This serene quiet village with dark cowsheds in the village houses took me back in time. A random cricket match with the village boys here was all that we wanted to keep our spirits high for the distance ahead.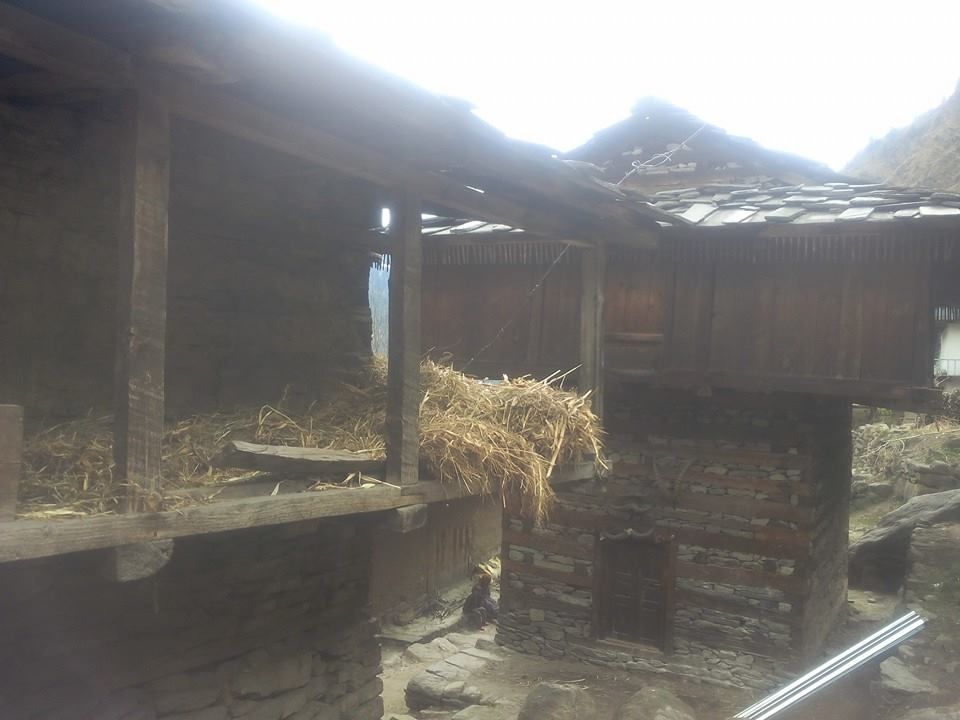 At a distance of few kilometers Rudranag was the next stop where a local priest at the Rudranag Temple stopped us and offered lunch. Now where do you find people offering you free lunch like that? This mouth watering mutton curry and rice was enough to take away all the fatigue and we were fresh to start again.
At the end of the 14kms trek, we reached Kheerganga after finally fathoming the last slope which led to the pool of a beautiful natural hot water. We finally took the much awaited refreshing dive into the sacred water and lazed for hours inside the hot water pool.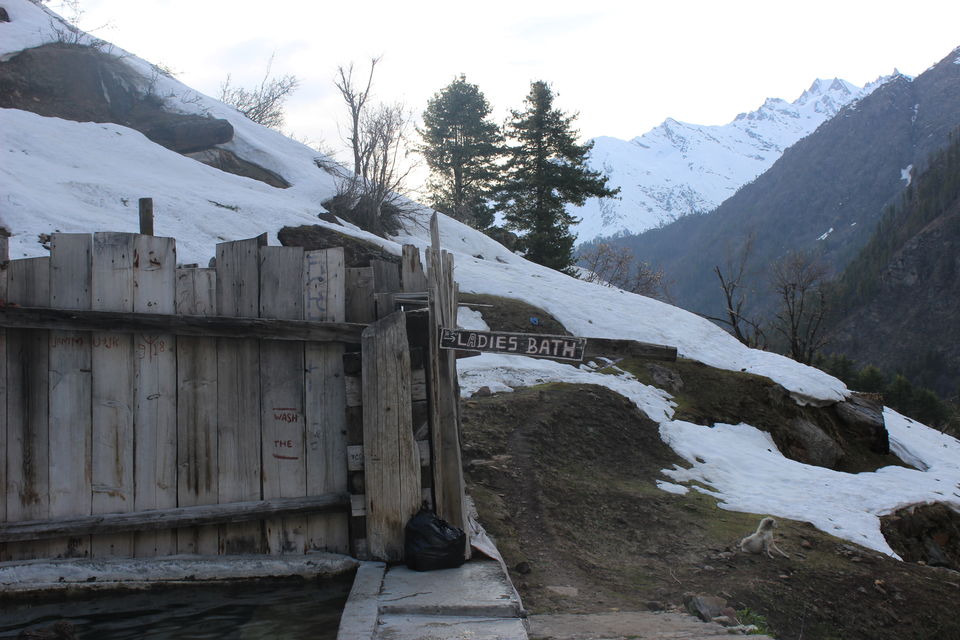 A blissful hour inside this sacred hot water pool (kund) tookover all the weariness. We later walked down for a hot cup of tea to the amazing 'Ice and Fire' cafe. The cafe also surprised us with the most delightful Israeli dinner we could ever imagine at this remote spot. To spend the night, the cottages at Kheerganga offer bare minimum facilities. The forest is the wide vast toilet and some blankets and a comfortable fireplace helped us spend the night warm.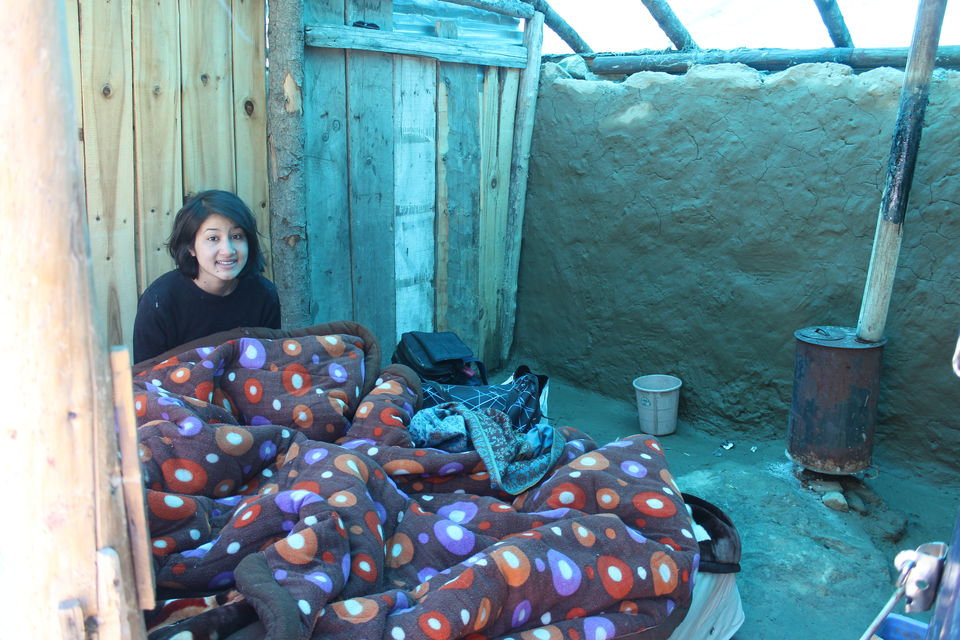 Day 4: Back to Kasol
The next day before the lazy afternoon sun could takeover, we started a walk back to Barshaini. The trail back is equally challenging since the trail is not a simple sloping pathway. Snow had slipped down to the narrow pathways making the trail more difficult than usual.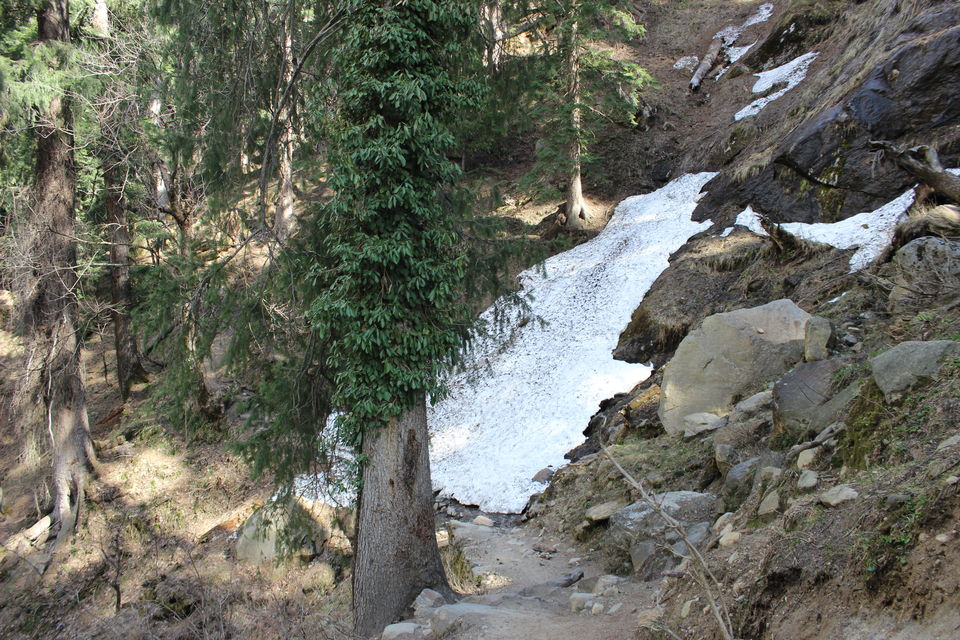 However, it took us relatively lesser time and energy to complete the distance back. From Barshaini local taxis and buses are frequently available to drop you back to Kasol.
Day 5: Kasol - Bhuntar - Delhi
Have you ever had tasted white honey which tastes almost like vanilla? Our Day 5 at Kasol began with a warm cup of honey lemon ginger tea. Later we booked a bus back to Delhi from Kasol and not before we had lunch, we took a local taxi from Kasol to Bhuntar at noon. This last day was also our only chance to explore Bhuntar. Though you literally need a lifetime to understand these mad small towns of Himachal, a hot cup of tea at a local chai shop in Bhuntar gave all the warmth and memories to keep close for years.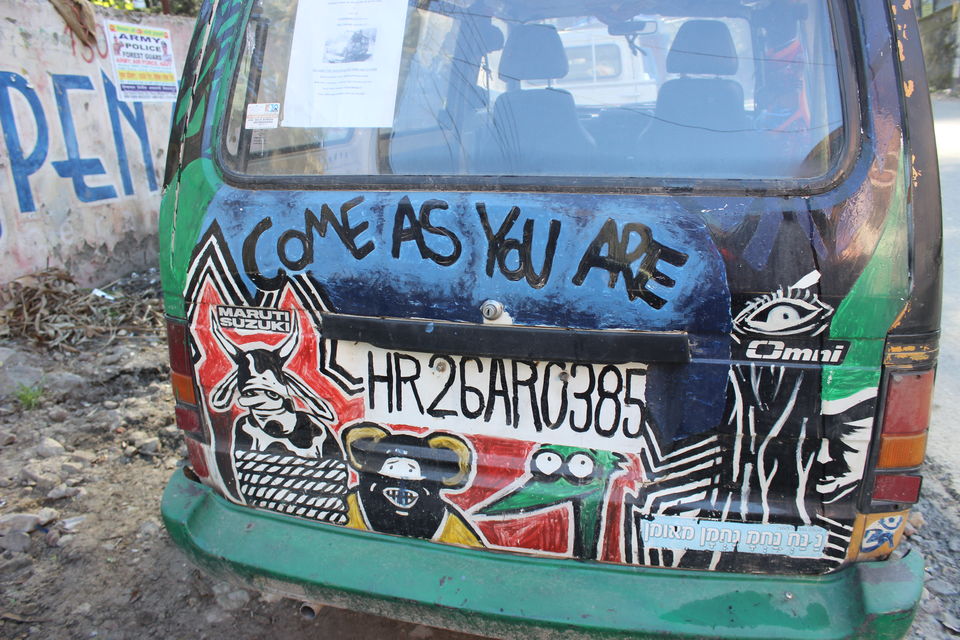 Though you literally need a lifetime to understand these mad small towns of Himachal, a hot cup of tea at a local chai shop in Bhuntar gave all the warmth and memories to keep close for years. A comfortable night bus from Bhuntar to Delhi with bollywoood music buzzing through tattered speaker lulled us to sleep.
A stopover that welcomes all with the scent of Himalayan apples.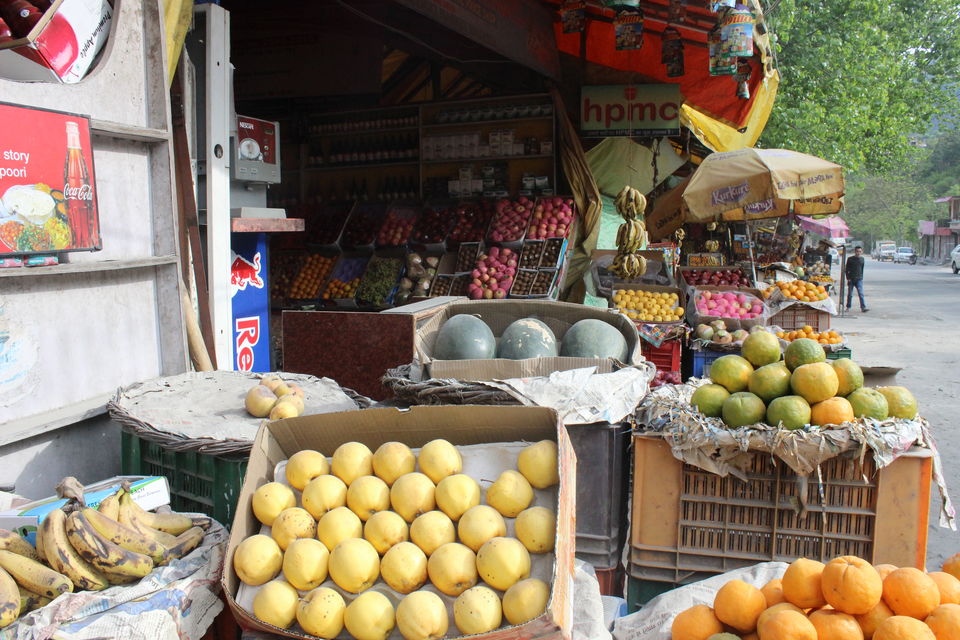 People take trips. Trips take people here.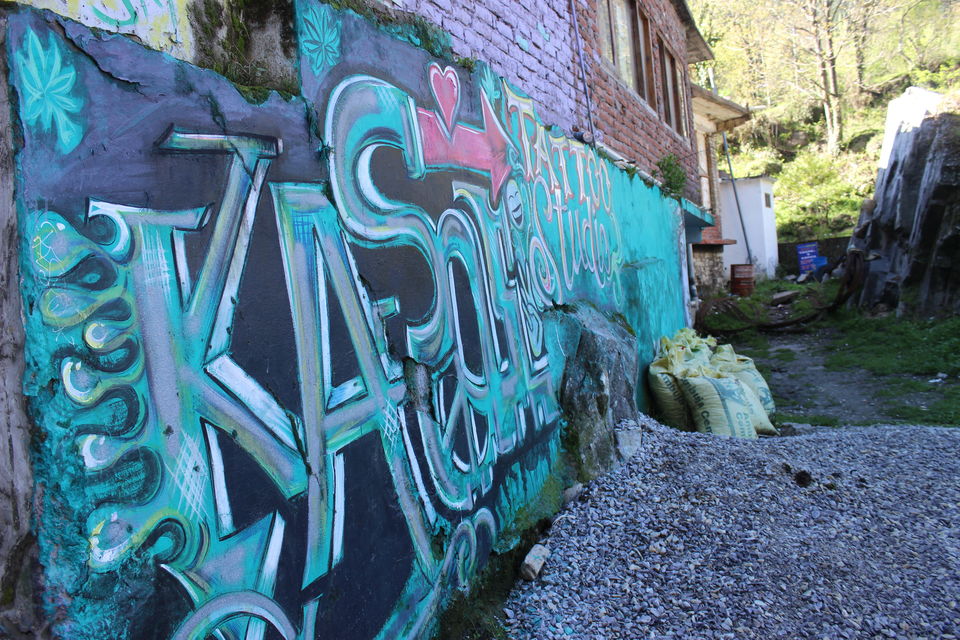 Out of a hundred legends about this small town, an interesting one notes that according to the Hindu mythology, Manu recreated human life here, after the flood.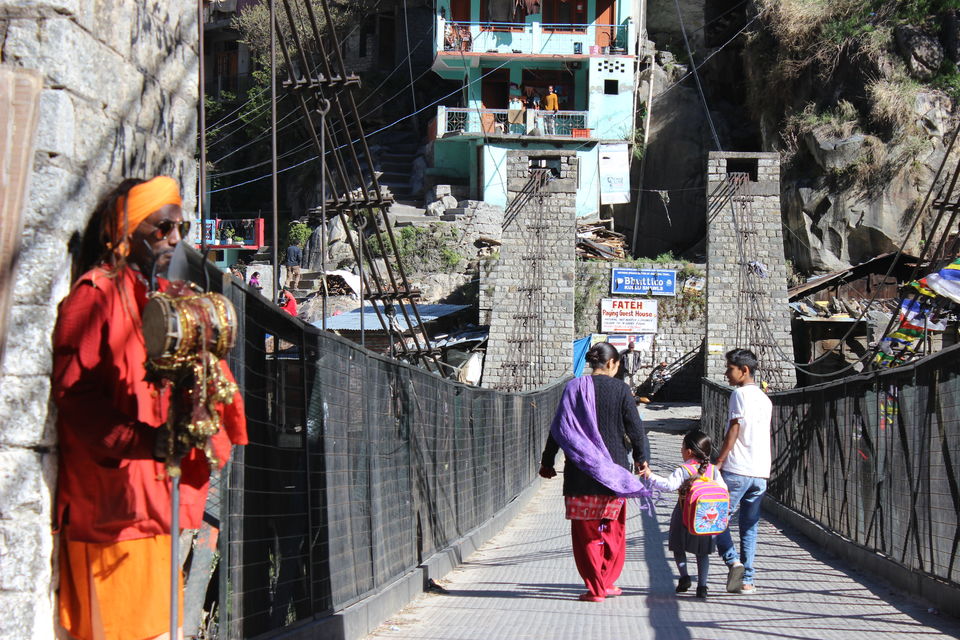 The last stop on wheels, here's where the trail begins.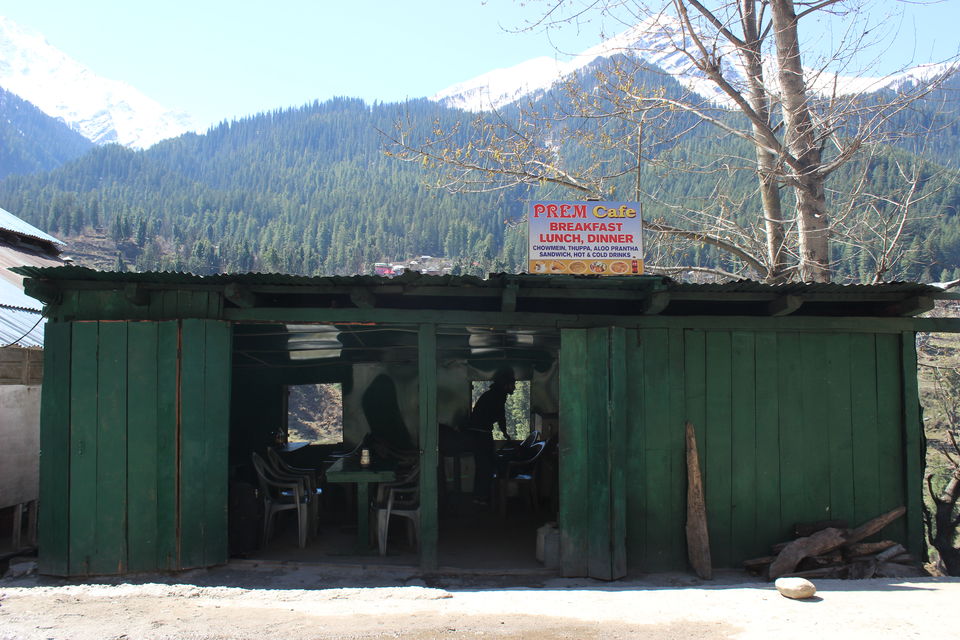 A village, majorly known for the Pulga Dam (under-construction) that we crossed on the way to Kheerganga.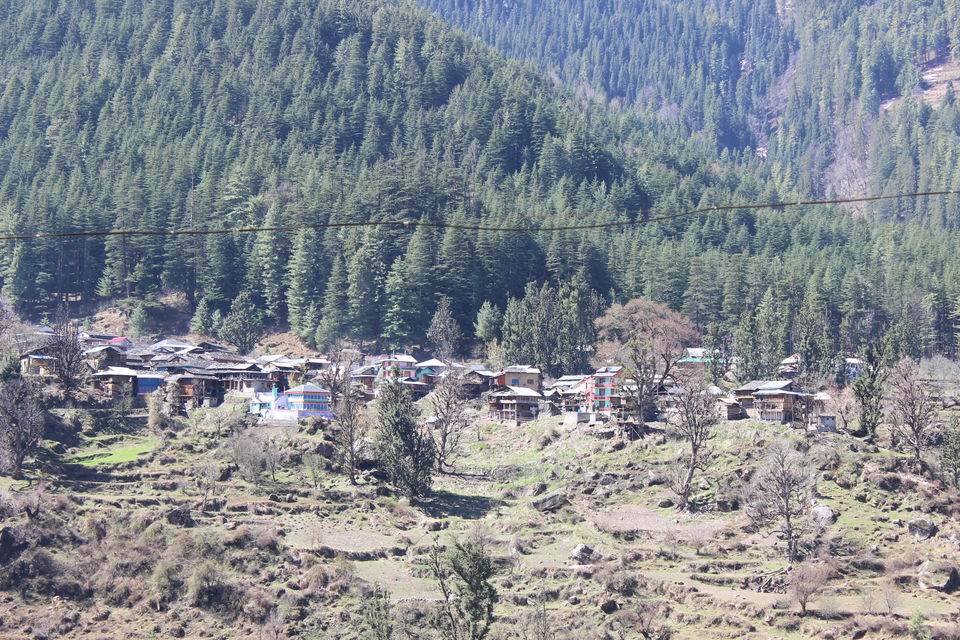 The beautiful mustard fields here give the best start to the Kheerganga trek.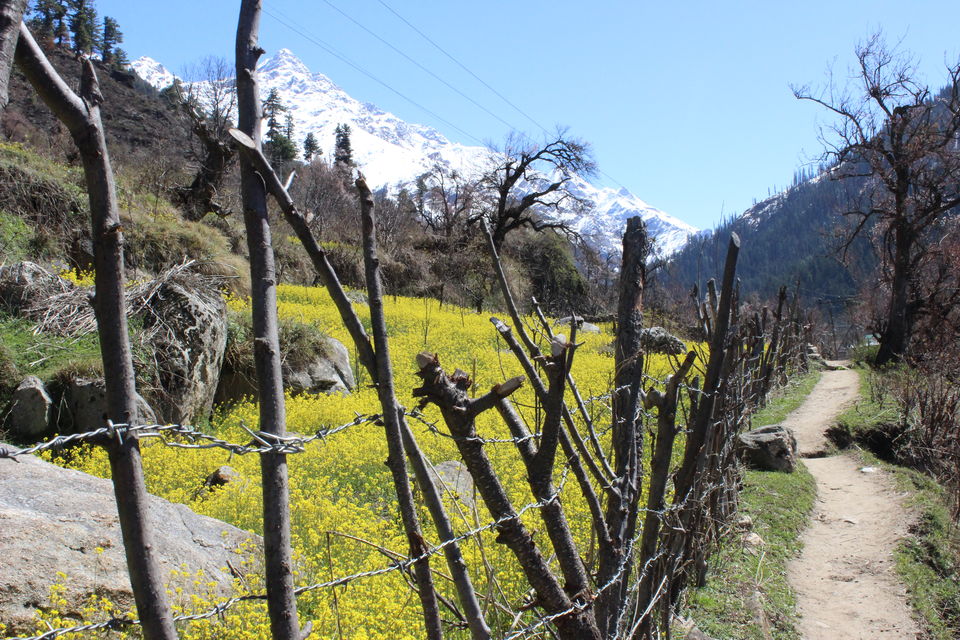 A concealed quaint village en route to Kheerganga. A random cricket match with the village boys here was all that we wanted to stir our spirits up.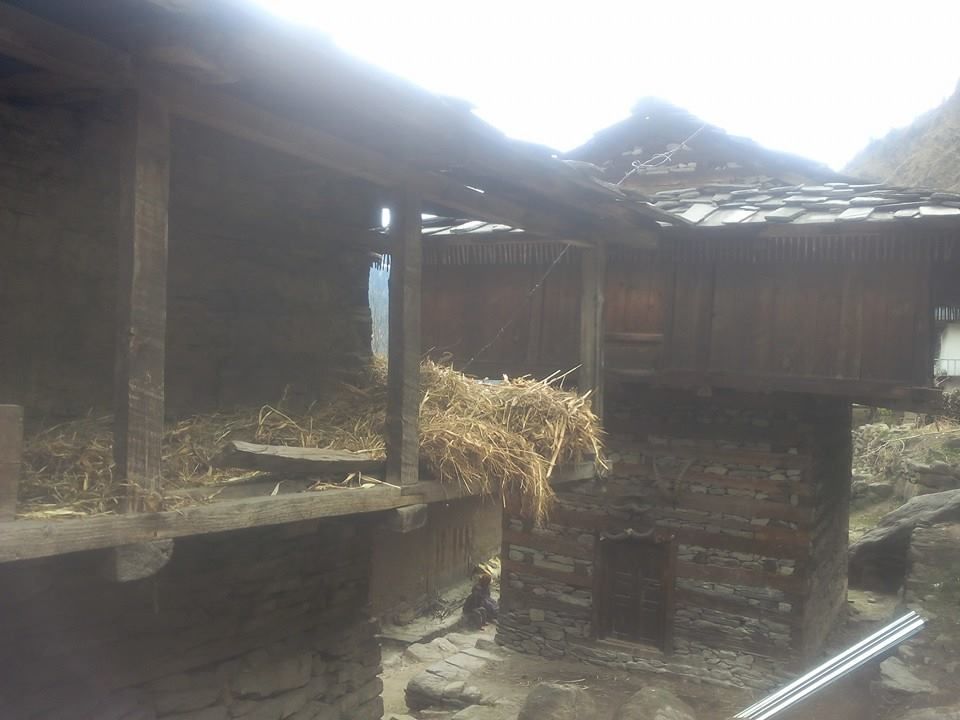 The place is named after the resemblance of the waterfall here to a water snake.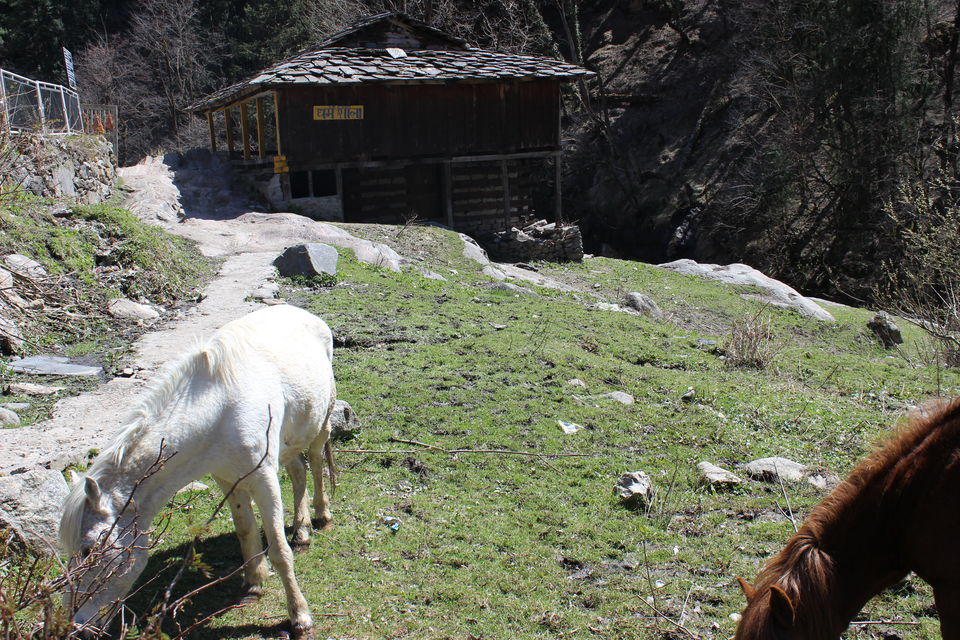 At the end of the long tiring trail, the natural hot water pool awaits you to breathe in bliss midst the snowscapes.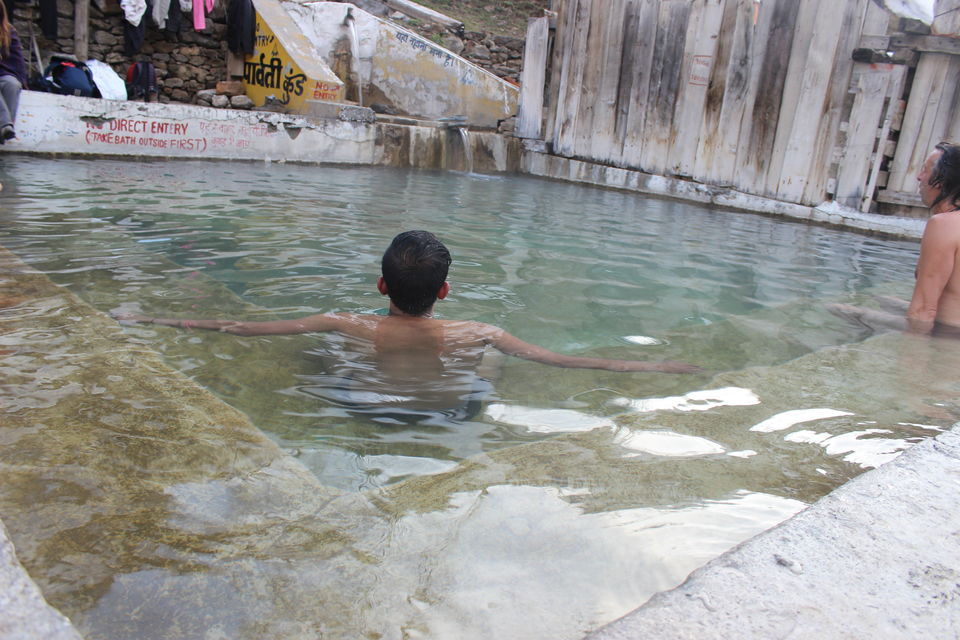 Have you been to the Kheerganga trek? Share your experience in the comments below.
Frequent Searches Leading To This Page:-
most beautiful country in the world, most beautiful country in asia, most beautiful country in the world to visit, most natural beautiful country in the world, most beautiful country in the world ranking, most beautiful country in the world 2020, most beautiful city in the world