A 20-year-old boy's solo trip to Ladakh on his Royal Enfield Classic 350
Duration: 3 June 2017 - 14 June 2017 (12 Days)
Route: Start >> Gurgaon/Delhi >> Manali >> Darcha/Jispa >> Pang >> Leh
Return >> Leh >> Kargil >> Srinagar >> Pathankot >> Ambala >> Gurgaon/Delhi
IMPORTANT THINGS TO KEEP IN MIND BEFORE LEAVING FOR LADAKH
Make sure your bike is serviced properly Get an extra clutch and brake wire installed in bike Make sure spark plugs/brake shoe/battery are in right condition Carry extra 4-5 litre containers to carry fuel Extra tube and air pumps Permits(From Manali to Leh, Leh to Nubra Valley and Pangong Lake) Oxygen Cylinder (Small) or Camphor balls (Helps while passing through high altitudes in case of breathing problems) Torch/Warm clothes/Rain Coat/Sunglasses/Rider Accessories/Extra food/Gum Boots/Extra pair of shoes
How it all started?
It had been a year since he had this urge inside him to visit Ladakh on his Royal Enfield Classic 350. He started with the planning part of the trip. He asked a few friends who he thought would be interested in accompanying him throughout this trip. A few of them said yes, and he could see things getting structured. Almost a month was left and he got his budget sorted. There was not a single day when he did not daydream about Ladakh and visualized himself riding amidst the majestic mountains. But then the friends who were supposed to accompany him backed out. It was a big heart break at that moment, but the only thing it resulted in was, it made his will even stronger to go on and experience this insane adventure.
So, one week prior to the departure, he sent his Classic 350 for servicing. From clutch to battery, everything was checked and tested thoroughly and now his Classic 350 was all set for La La Ladakh! With every passing day the excitement level was getting high!
He got a few goodbye notes and souvenirs to carry along with him during the trip.
And then comes " The Day ",
DAY 1: The Journey Begins
The day started with his best friend's birthday, followed by..
3:00 am, Saturday.
He is biding his final goodbyes before the trip and well, he is all set to leave.
3:30 am, Saturday.
He hits the road and starts with one of the craziest journies of his life, " LA LA LADAKH".
"Aur mai nikal padha, aakhon mein betaabiyat, aur kandhon par khwaishon ka pitaara liye, iss safarnaame par.... "
In barely 4-4.5 hrs he reached Ambala and it was his first milestone for the trip. He stopped by to give his naani a surprise visit which ended up being fun and happy. He had his breakfast and tea there and continued on his trail towards Manali which was the destination for the day. His pace gradually slowed down as the weather turned hot (he was still in plains) and he was getting tired. It took him quite a while to ride through Punjab and reach Himachal via Chandigarh-Manali road, but it was always a refreshing experience when one could spot some or the other group of people serving passer-bys with lemonade on road. And then comes this moment when he had his first sight of far away hills that gave him an adrenaline rush and all his tiredness was gone. He had one goal for himself, that was to reach the mountains as soon as possible. Eventually, he reached Bilaspur and took his second halt for lunch break. He was amazed by the feeling that he was finally in Himachal Pradesh. He felt like shouting his lungs out but he saved it for the greater things awaiting.
He was loving it. Riding in mountains, unfolding new paths of his trip. As he was progressing, the mountains were getting even more beautiful and so was this journey. Everything was going great. He crossed Mandi and was about to reach Kullu. The exciting part gradually turned into nervousness, the reason being his body was very tired. It was getting dark and he was still 2 hours away from Manali and he was all alone. He kept on riding and he felt like it will take him forever to reach Manali. All that beauty was no more visible. It was completely dark and the only thing he wanted now was to reach Manali. After 2-2.5 hours of the journey, at somewhere around 9:30 pm he finally made it to Manali, a little scared, a lot tired and with a million questions in his mind.
He kept on questioning himself whether or not he did the right thing? Should he go any further or return instead? His mind was a mess at that moment, and the only thing he told himself was that he can do it. He took a bath, had dinner and went to sleep.
DAY 2: Old Manali Times
June 4, 2017
He was a lot better the next day. He planned to spend the whole day in Manali itself so that he could figure out his further course of action. He made his way towards old Manali exploring its other side where he found amazing cafes and little tranquillity, unlike main Manali. He finalised a decent place to spend the night and remembered about how he was strolling on Himachal roads without a license! He went to the Manali Police Station and they were kind enough to help him through it. They instantly issued a FIR and handed it to him so that not having a license does not become any kind of hindrance.
Now, he made his way towards the river side where he could see various adventure activities. Leaving it behind, he went into the woods where he discovered an isolated area right next to the river. He had his moment of solitude while sitting there and reading a book for a while. It was one of those moments for him where nothing else but being there in that moment mattered. He had nothing to look back to, nothing to look forward to but just this one moment to live to.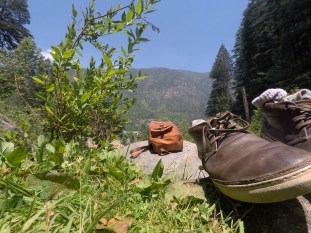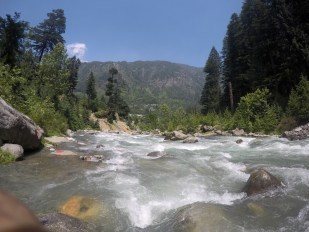 The moment of solitude was followed by curiosity of exploring cafes and handicraft shops in old Manali. He was hopping from one cafe to another until he reached this cafe Kamchatka and met this gentleman whose name was Vikram(Cafe Owner) and guess what? He was from Gurgaon. They had a small chat about his journey and Vikram helped him in ways he should plan his further journey from Manali to Leh followed by Chicken Thukpa at the cafe.
The wilderness was taking over him and he was just randomly exploring different parts of the city with a small backpack and a mouth organ by his side. There is this amazing thing with travelling solo, you get to meet a lot of interesting people. He met a guy who when asked for his name said: "It may sound like I'm a robber!". His name was Roberro. They conversed about life and books over dinner at People's Cafe(pretty great and chill place to be, BTW). He learned two Russian words later from a Russian girl and met Zen and Pear(from Thailand) while randomly strolling on road. The madness continued to stay with him until he realised it was 1:30 am and he was sitting in a cafe weaving the journey until now into words along with the tunes of Coldplay. He called it a day and went back to his room to get a good sleep.
DAY 3: Tyreless Times
June 5, 2017
06:00 am, Monday
Ignition on. Through the narrow lanes of old Manali, he's now onto Manali - Leh highway, making his way towards Rohtang La pass at 3,978 meters from sea level. Also, he was about to watch snow right in front of his eyes for the first time ever and he was pretty psyched about it. It was a nice cold fresh morning and a beautiful ride over Kullu Valley. It was a crazy feeling. With every mile the altitude was rising, the breeze was turning cold and he was inching closer to Rohtang. He could see snow capped mountains around him and then finally, he reached Rohtang La. But wait, the rear tyre was bubbling and he could suspect something was wrong with it.
" A FLAT TYRE"
This is the one thing any rider hates to see. When you are in Rohtang you surely don't want a tyre puncture. Luckily, people around were very supportive. Someone suggested riding the bike downhill, someone said pump some air and then ride. He tried all the things but none of them worked. Eventually, after 3+ hours of waiting, he spotted a mini truck going downhill. He asked the driver if he could load the bike into the truck and then take it till the next puncture point, he agreed with a little monetary benefit.
The ride started nice and smooth until they approached the unpaved road and him in the back side of the truck next to his bike was tossed right to left, up and down and times getting his head bumped over the metallic walls of the truck. It was surely not the best of experiences but always seems crazy enough to him to remember. After 2 and half hours, they reached Khalsar, where they were supposed to find the puncture guy, "Supposed to find". It had only been a week since the Manali-Leh highway had opened and hence the puncture guy wasn't there. The next puncture shop was 15 Km away in Sissu. Luckily the road was nice to them and it was a safe ride. There at that moment, there was nothing more satisfying for him than the puncture guy fixing his tyre. While his tyre was gaining its air back, he met a group of bike riders and had his 'cool dude' moment when he told them he was on a solo trip!
He had his lunch at a small Dhaba, and then he was back on road riding his Classic 350. While heading towards Keylong, it was a nice ride for the next 45 mins until the weather went crazy and winds started to blow at a good pace. It was all fine on normal road but once he started riding on unpaved roads it was difficult due to a lot of dust. At this moment his Visor literally saved the day and helped him get through this stormy weather. The ride got back to its course with all the mountains around him and snow-capped passes ahead him.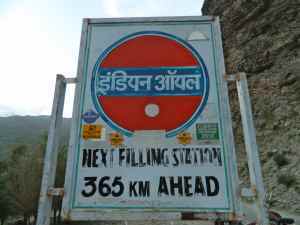 It became nice and sunny. An important milestone was around the corner. The last petrol pump before Ladakh was here and the next one would be some 365 km away. This petrol pump is located in Tandi, which is 2 Km before Keylong. At Tandi, he got his fuel tank refilled and also got extra fuel filled in containers (9 Liters). Now, he had to be more careful with his Classic 350 because of the extra fuel. Within half an hour he reached Keylong and took a break for a while. He made sure to withdraw enough cash from Keylong so that he could reach Leh safely because possibilities of finding an ATM after Keylong are negligible. After withdrawing cash he made his way out of Keylong towards Darcha. It was a nice ride on the road and out of nowhere, this little girl gave him a HI5 after crossing the next cut and then Hi5s were followed by the exchange of chocolates for smiles with good wishes for the further journey. Such beautiful moments add so much to your trip and add a lot to your strength during the journey.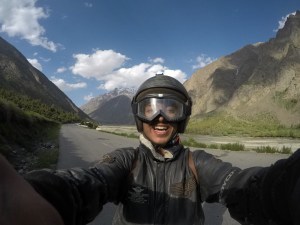 Continuing back on road, he rode through Jispa, which is a few kilometres before Darcha. Jispa was a scenic beauty. He stopped for a while in Jispa and made sure that he can take a few shots and capture the beauty. He reached Darcha within the next half an hour, booked a tent on the spot, went to the bed and slept.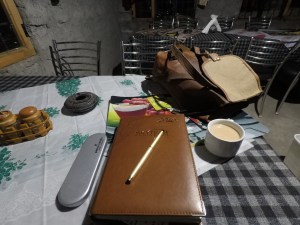 It was around 9 pm when he finally woke up. He had this excitement inside him to go out and experience the night sky. He put on his jacket and rushed out of the tent and instantly got captivated by the beauty that night beheld. He was the boy without a north lost in the star lit sky as if those mountains cast a spell on him! Sounds mad enough? For sure it was mad, but that beauty demanded that kind of commitment.
After consuming all this beauty, he went for dinner. Post dinner, the episode was all about journal, introspection and random tunes on his mouth-organ over a cup of coffee and a good conversation with the camp owner about life in Lahaul(district) and about his business.
Day 4: The Testing Times (Unpaved roads, waterfalls, snow-capped passes, snowfall and a lone rider)
June 6, 2017
6:30 am, Tuesday
He was nice and cosy on his bed, nicely packed. He could sense the sound of raindrops splattering on his tent. He rushed out to discover that it was drizzling which was an obvious beautiful sight but at the back of his mind he was a little tense for this rainfall to become a hindrance. Gradually, the water stopped pouring down and he was all set for the upcoming journey. He rode on good roads within Darcha but soon met the unpaved roads outside it.
Now comes an insane waterfall crossing/ river crossing and he has to ride his bike through it. The only time he saw something like this before was in an Instagram/YouTube video but, this wasn't on screen anymore. This was right in front of him and he had to conquer it. He puts on his boots and starts his ride. The road is completely submerged in water and it's getting tough to ride. And now he's exactly in the middle of the waterfall. He has to maintain balance against the high tempo of the ice cold waterfall, take care that his bike does not get stuck in a pit or between rocks and simultaneously maintain the clutch and acceleration to ride through it. Guess what? The Rubber Tramp did it, like a boss B). He had his moment of pride. It felt like an achievement, but then he remembered about the 3 upcoming waterfalls.
The second crossing came through quite soon but it was an easy one to pass by as compared to the first one, though he had to literally walk through it once to check the depth of the waterfall as he was all alone. His boots got drenched with the ice cold water and there were possible chances of a frostbite. He stopped by at Deepak Tal (a small lake) after a while and changed his pair of shoes and socks, where he also got a chance to meet this group of people from Nasik who helped him with a few Poly-bags which could be wrapped around his feet so that they didn't get wet anymore and chances of frostbite were minimized. With the temperature dropping by the clock, he rushed (a little) and reached a famous road commonly known as Zing Zing bar. The roads got trickier and his heart beats got faster.
He was a few kilometers away from Baralacha La(4,890 m above sea level) now. As he rode towards Baralacha La, he saw many glaciers coming from between the mountains and on the other hand he was riding along the snow capped mountains. Let's pause for a moment and imagine. It is completely snowy all around. In between the serene white, there are patches of brownish black stones and grey sky over our heads. He has reached the pass. It's a moment of complete isolation. He parks his Classic 350 and shouts something, repeats it and nothing echoes back. It's a type of silence in which you can feel and listen to your breath with complete contentment. He tripped over snow and placed stones one over the other near the blessing flags as some sign of accomplishment. (Staying here for too long can cause breathing problem due to lack of oxygen)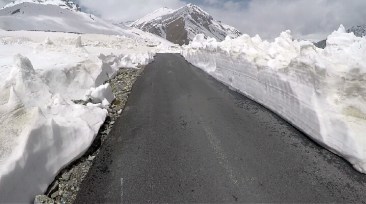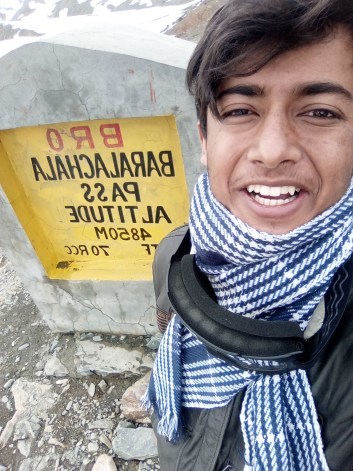 Then he rode downhill for a few kilometres until he reached a small dhaba where he took a halt for 5-1o mins. The halt which was for 5-10 mins lasted for half an hour due to excessively cold weather. When he moved outside, there was a snowfall! He stood in snowfall with his mouth open and tasted the snowflakes right from the sky.
The fourth and the last water crossing was there and it wasn't much big deal to cross it. Without much of effort, he had covered the fourth waterfall. The road was completely broken. On the left were snow-capped mountains and on the right was an almost dry river and the stretch was completely isolated. It was one hell of a scary ride for him not just because of the terrain but how his mind got surrounded with thoughts, from thinking about people making a living in such a place to thinking about what all was going on in his life and how he ended up on this trip.
Within 2-3 hrs he reached Sarchu (4,290 m), which is the state border between Himachal Pradesh and Jammu & Kashmir. At Sarchu he met a few new riders from Bangalore, had a quick lunch and continued his journey towards Pang which was still 75 Km away. 75 km seemed easy until he rode through the Ghata Loops (22 Hairpin Bends) and crossed 2 major passes Nakeela La (4739 m) and Lachungla La (5065 m) and a completely unpaved narrow road right next to Bhaga river. A journey which was supposed to be around for 2 hours, lasted for almost 3 and half hours, but he eventually reached Pang (4600 m).
Pang is a small camp site with low amount of oxygen. At Pang, he stayed at Shanti auntie's Dhaba. He took rest for a while, had some food and went to the group of riders he met on his way. Around 9 p.m, he was having this interesting talk session with the group of riders from Bangalore he made friends with. From tough terrains one could ride on to different types drugs in India, they talked about anything and everything.
Day 5: Leh all the way!
June 7, 2017
8:00 am, Wednesday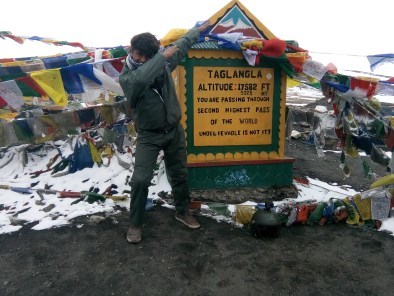 He said his goodbyes to Shanti Aunty and left Pang. It was a straight road, two parallel yellow strips going along the edges of the road and broken white strips in the middle of the road. Surrounded by mountains and roofed by a beautiful sky, he felt as if he was a part of some scenic beauty. Within a couple of hours he reached Tanglang La (5,359m), it was cold and breezy and there was only one small tent in which he found around 10 people sitting inside and having tea including the owner of the tea shop. He came across a French group and had a small talk related to solo travelling in Europe. It does become interesting when you are on the 2nd highest motor-able pass in the world!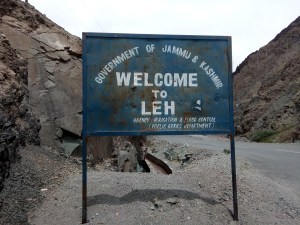 There was a small delay in the trip due to blockage of road by snowfall. He had to take it very seriously. Any mistake and the bike could skid on snow and fall into the valley. Eventually, the army trucks cleared the way and he safely made his way through it. It was a smooth ride after it through red and greenish mountains to reach Upshi. Leh was just an hour away from Upshi and the solo trip to Leh was no more a dream but a reality. And the reality was now right in front of him and he was living it. A little teary eyed and content.
Oh La La La La Leh O! *Does the dance step*
Wait for the second part of the Journey which will be unfolded shortly.
!DABS ALL THE WAY!