Manali to Leh cycling expedition is a scenic ride traversing through some of the highest passes in the world making it one of the most challenging rides to beat. Cutting across beautiful trails with the Himalayas serving as the perfect backdrop, one can cross Tanglang La, the world's second highest motorable pass standing at 5280m before entering Manali. The route from Manali to Leh is straightforward with the roads either being completely dirt or tarmac.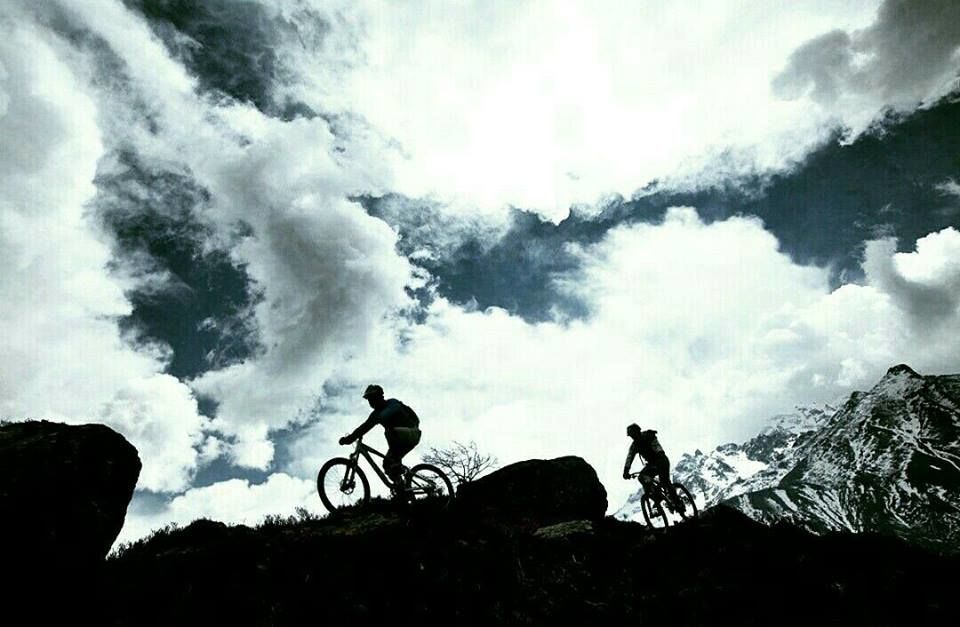 In the Manali Leh cycling tour explore rougher dirt tracks while making some tough climbs along with gut-wrenching descents. Everyday the distance covered ranges from 40 to 80 km traversing altitudes over 4000 m. Not only will this invigorating route comprise cycling from Leh in the Indus Valley to the alpine Kullu Valley covering a total of 475 km, but it also cuts across three mountain ranges of Zanskar, main Himalayas and Pir Panjal Range. Altogether one exceeds 29000 feet in altitude crossing passes like Rohtang La, Tanglang La and Baralacha La (4890m).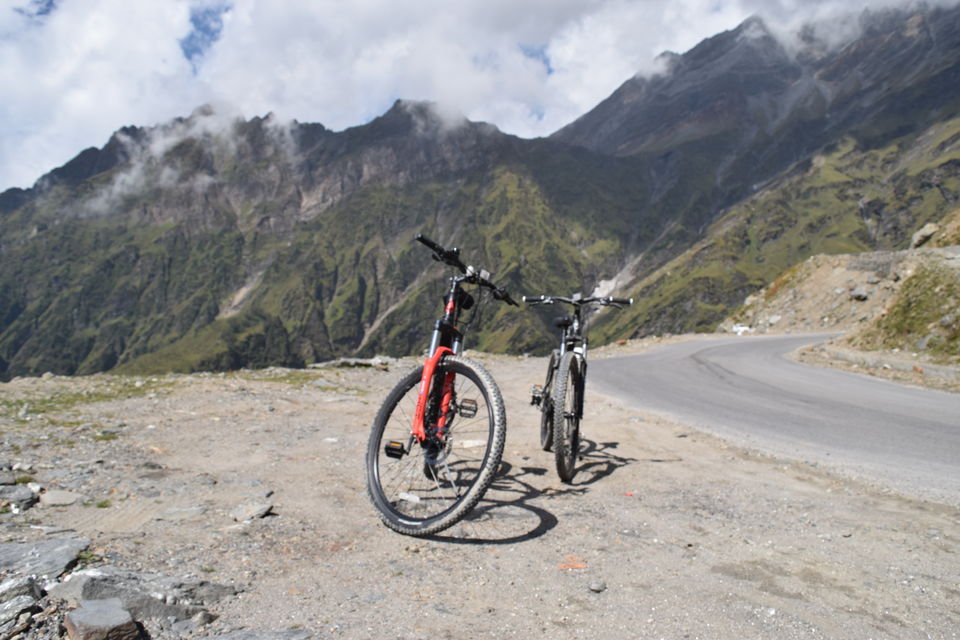 To begin with you need a good durable bike with 17 -19 inches of frame set according to your height. I suggest go for Firefox as they are durable, reliable and of course because of its brand name. Other brands like Trek and B'Twin are not bad either.
A good mountain bike would cost you from anywhere from 25k to 35k.
We booked a bus who would take us to Manali with our bikes and from where we had to start the journey. After 2 months of vigorous training with gym routines, keeping our diet cleaning and riding bicycle 50kms-70kms almost every alternate days, we were all set conquer the hill of Manali - Leh highway.
What you need :
1) A durable mountain bike
2) Full length hand gloves
3) Durable sport shoes
4) Wardrobe essentials: Fleece and Woollen clothes, Water and Windproof jacket, Water and Windproof trousers, Warm jacket, Warm thermals, Warm Gloves or Mittens and Woollen socks, Raincoat or Poncho
5) Small light weight bottle
6) Bicycle Helmet
7) Painkillers, dimox, Anti-inflammatory pills, Antiseptic (Iodine or Betadine drops), Bandages, plasters, medical tape, a course of antibiotics (check with doctor for advice) and Personal Medical Kit
8) Bicycle spares such as tubes
9) Glucose and electrolytes
10) Mineral water, choclates, dry fruits
Other Inclusions :
1) Support vehicle
2) A well marked route
3) Mechanic support
Manali
Taking a bus from Majnu ka tila (New Delhi) is easy. You can book from red bus or makemytrip. Our bikes were kept in the lower compartment of the bus along with everyone's luggage. After a 15Hrs overnight journey, we reached Manali at around 11am.
We picked up our stuff, and rode uphill towards our hotel, soon to realize that this is not going to be a child's play. We had our lunch and we rode to old manali in the evening to enjoy our night before we could start our journey the next day.
"Manali 1947" is a great place if you love live music and exotic European cuisines. Enjoying the night full of spirits we returned to our hotel and could hardly sleep in the midst of excitement waiting to be kissed by the first light of the morning rays.
Manali - Marhi (44kms , 6 - 7hrs)
Crossing the mall road of Manali we moved up hills going through flower valleys, forests and the tiny beautiful villages.
It is when you realise that these are mountains and mountains are beasts. Our body were still not acclimatised but the will kept us going.
Reaching Marhi took us about 6 hours of drastic uphill riding with steep roads near the end and rain to make it even tougher. You get small tents/guesthouse to stay.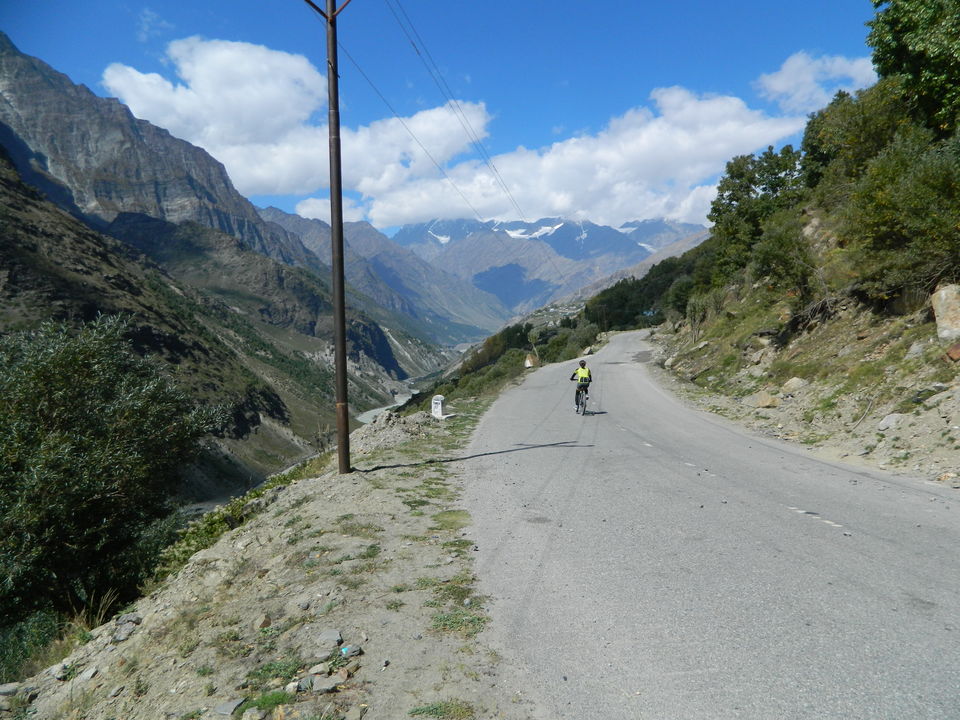 The weather here is cloudy through the year so you can expect rain and even storms.
Marhi - Rohtang La - Sissu (53kms, 6-7hrs)
We had to climb our first pass - Rohtang(3980m) 14km, so we started off at 8 in the morning. With curvy roads and a turns after almost every kilometre we made it to the top in 3 hrs.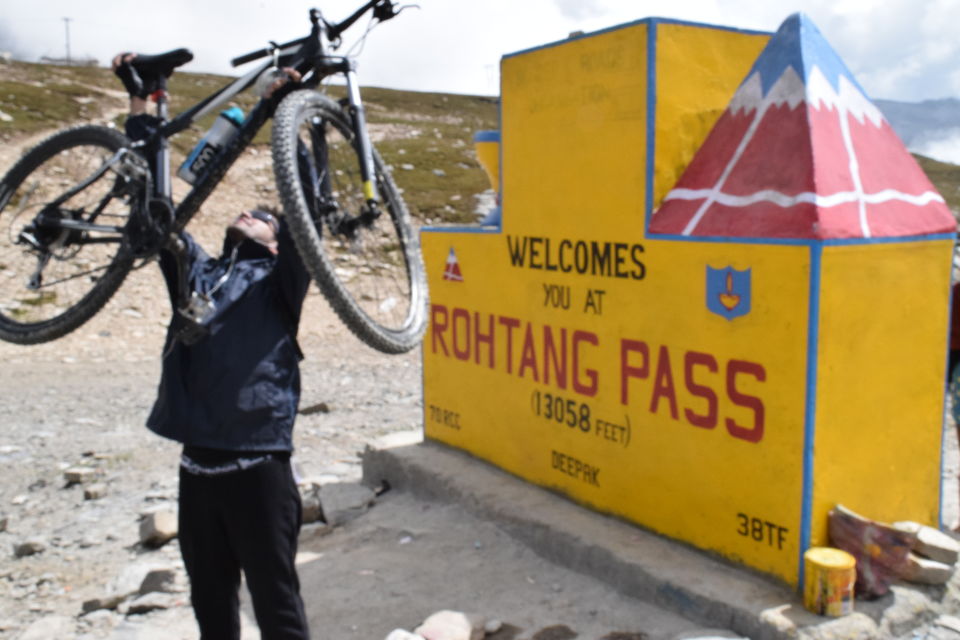 You'll see most of the crowd turning back from this point. Roads till here are quite smooth and brisky. There is a good downhill ride from Rohtang towards Khoksar(3140m) 20kms but beware of the downhill ride, as the road quality shifts drastically from smooth to rough.
This is where we realise that going down isn't as easy as we expected. These are indeed the most dangerous roads of Indian Himalayas.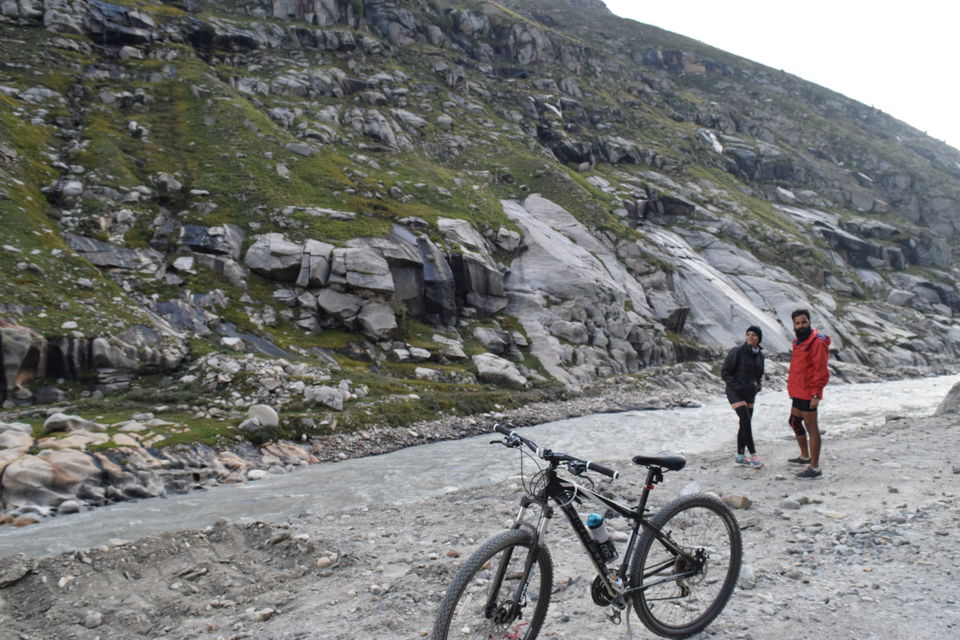 We took a halt in Khoksar for tea and lunch and moved toward our destination, Sissu (3170m) 14kms from Khoksar. You will love the view going ahead from here.
Here in Sissu, you will find decent hotels/guesthouse/tents for the night.
Sissu - Tandi - Keylong - Jispa - Patseo (72kms, 8-9hrs)
We crossed through Tandi(2573m) 22kms of smooth downhill from sissu and moved towards Keylong(3080m).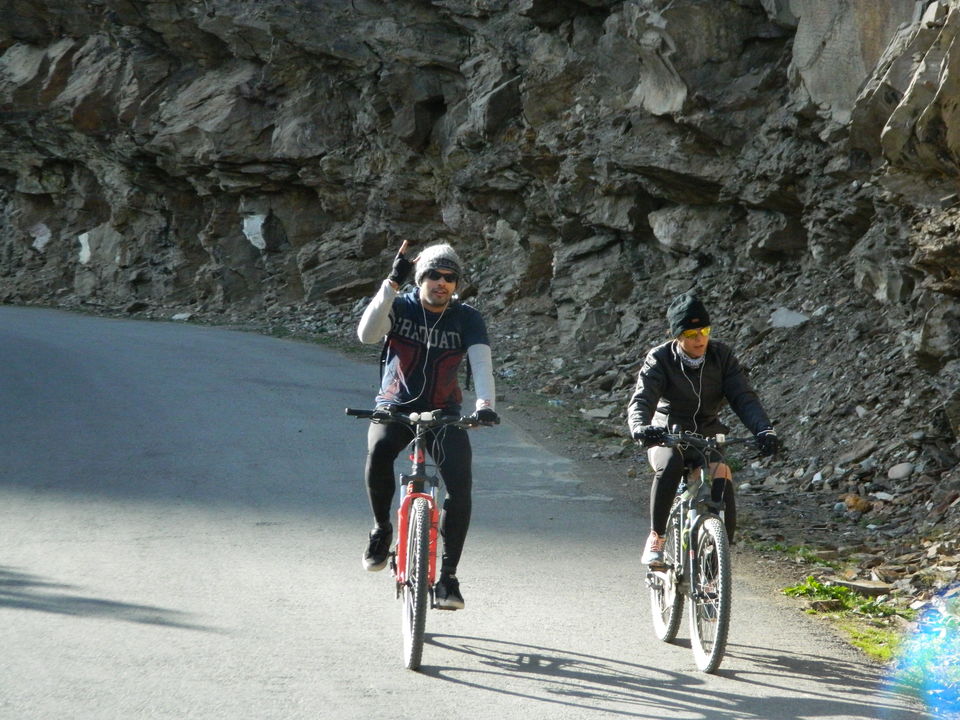 Ride from Tandi to keylong is just 8kms but it's a steep uphill where you might struggle a little but you won't regret once you reach keylong as this is place where you will enjoy delicious food like Russian salad, pasta and pretty much everything you might have been craving for.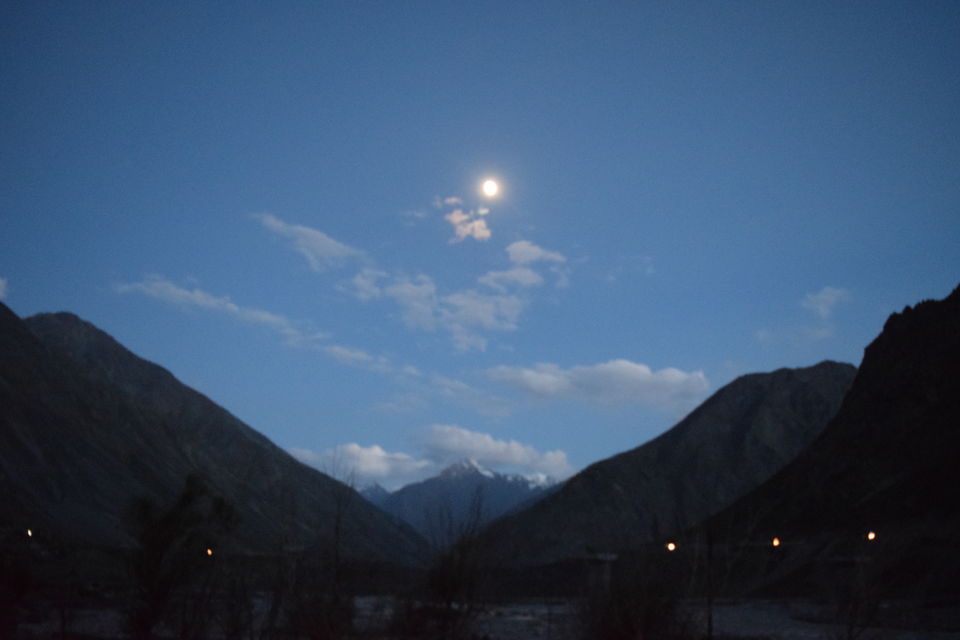 We moved forward towards Patseo through Jispa and Darcha and found tents to stay for the night.
Patseo - Baralacha La - Killing Sarai (45kms, 5-6hrs)
We started early from patseo after having a relaxing breakfast near Deepak tal. The view here is absolutely mesmerizing. Uphill from patseo toward zing zing bar is a little steep and you will slow down as the ride isn't well constructed.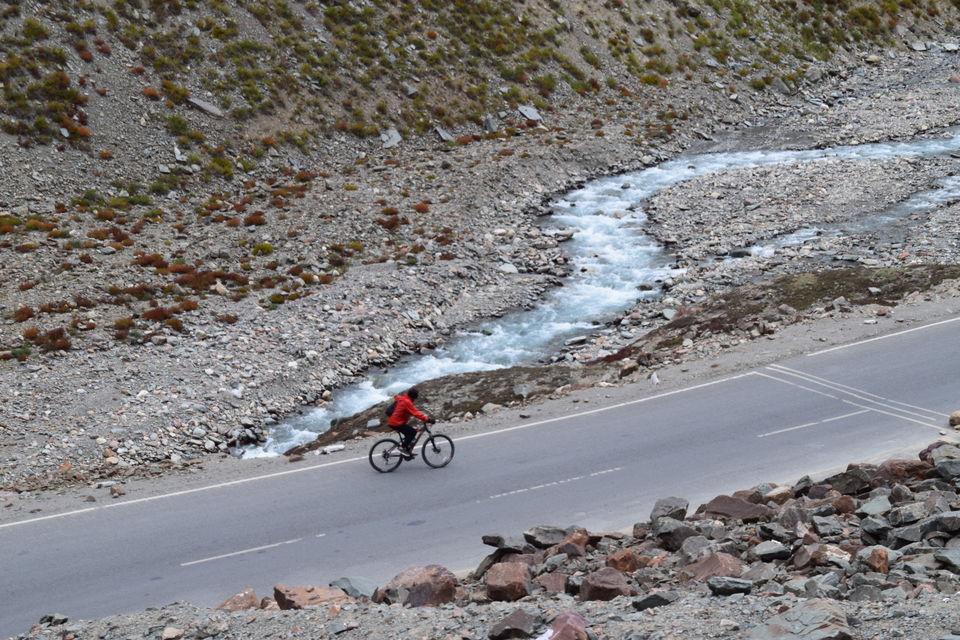 Baralacha la pass(4890m) is not an easy one to cross but you will love the hairpin bends. Downhill from baralacha la towards killing Sarai will surely give you an adrenaline rush.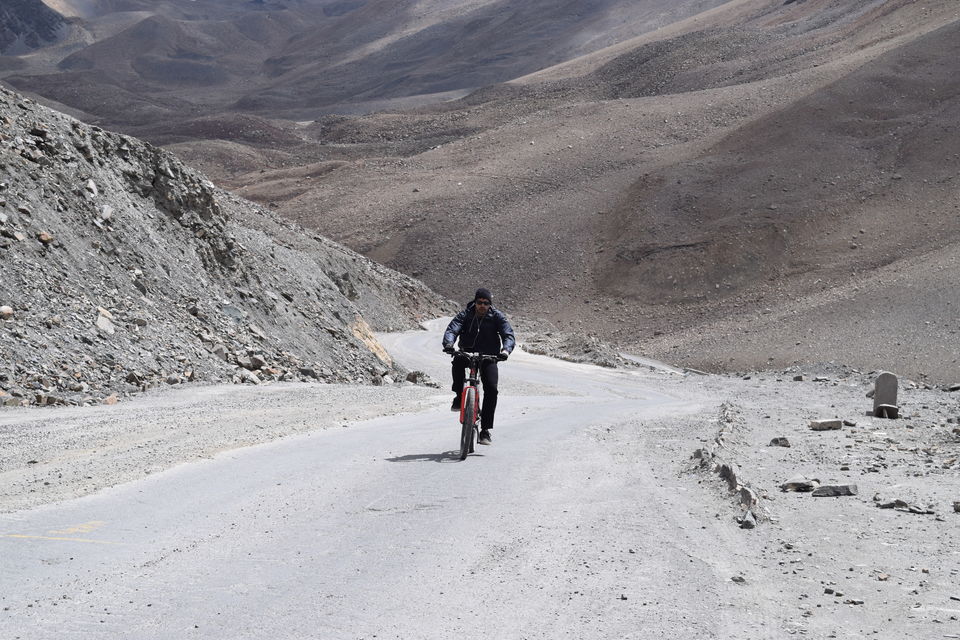 You'll get a bed to stay here for the night but due to temperature drop you might want to ask for an extra blanket in the tents.
Killing Sarai - Gataloops - Lachunglang La - Pang (82kms, 8-9hrs)
We continued riding downhill towards sarchu(4290m) 18kms. We halted for breakfast and moved towards the Gataloops(4190m) 24kms ahead.
You will find yourself enjoying the riding until you reach Gataloops (also known as 21 turns ) as there are 21 turns of extreme hairpin bends uphill. You will need a lot of self motivation for this but once you slay this devil, it will probably give you the best achievement feeling you had since a long time.
Moving forward towards Lachunglang la pass (5079m) 28kms is an easy ride and then 27kms of dusty downhill to Pang(4600m).
Downhill from Lachunglang is not so adventurous as the road is mostly broken and filled with trucks.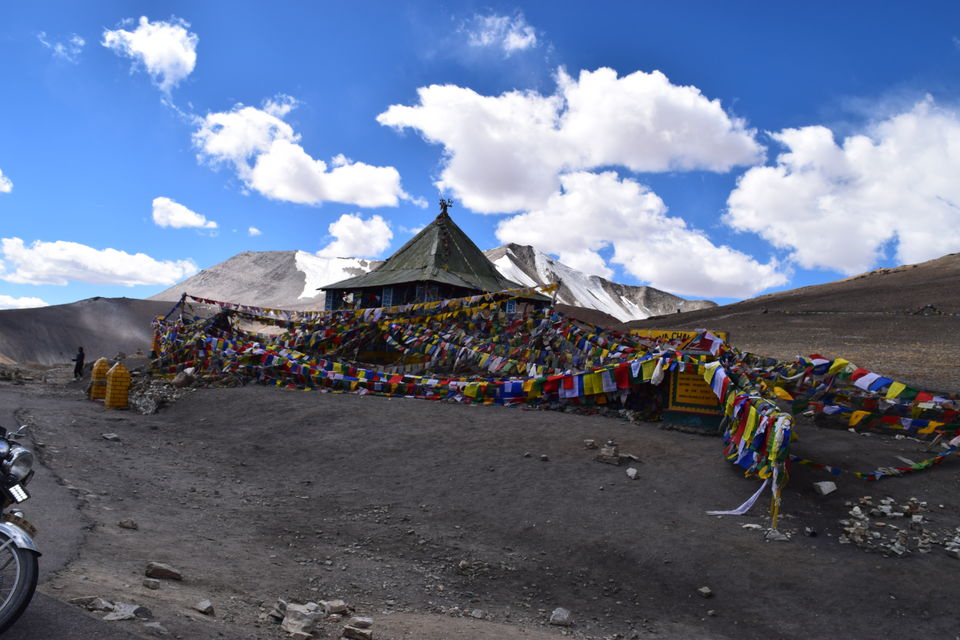 Settle in Pang for a relaxed night. You'll find tents that will lend you beds for Rs.200 and dinner.
Pang - Moore Plains - Debring (41kms, 5-6hrs)
This day was probably the best one I had. After climbing a hill from Pang (5kms uphill), you will be in MoorePlains. You will find yourself riding and conquering the plains of Himalayas with exhilarating 3Hrs of biking experience.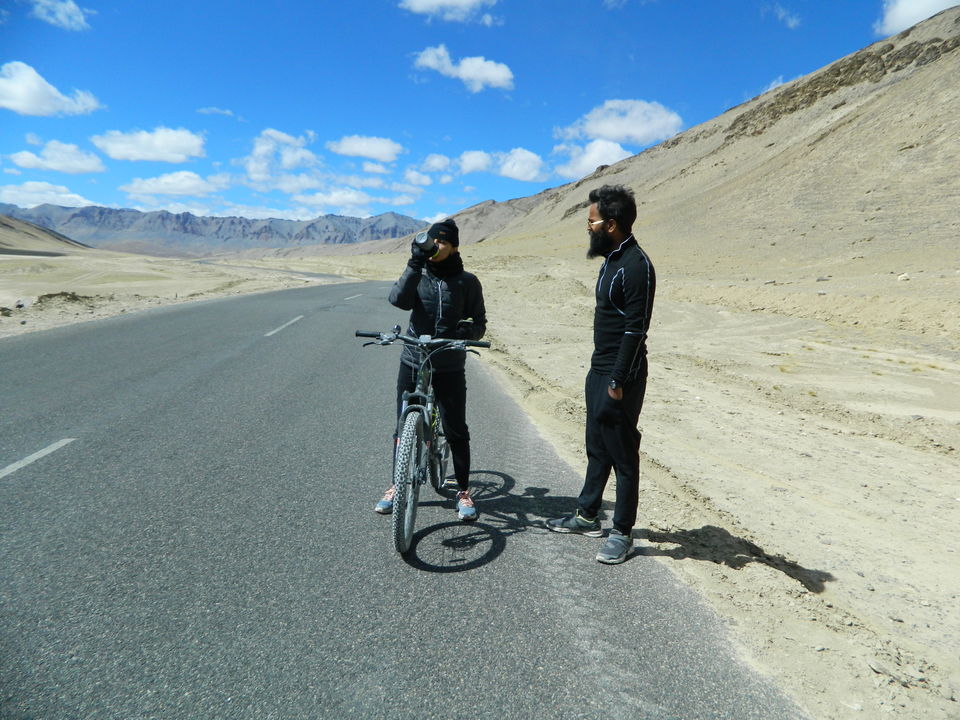 We reached Debring around 1PM and stayed there for a night. We were lucky enough to find a tent with comfortable beds, great food and beer.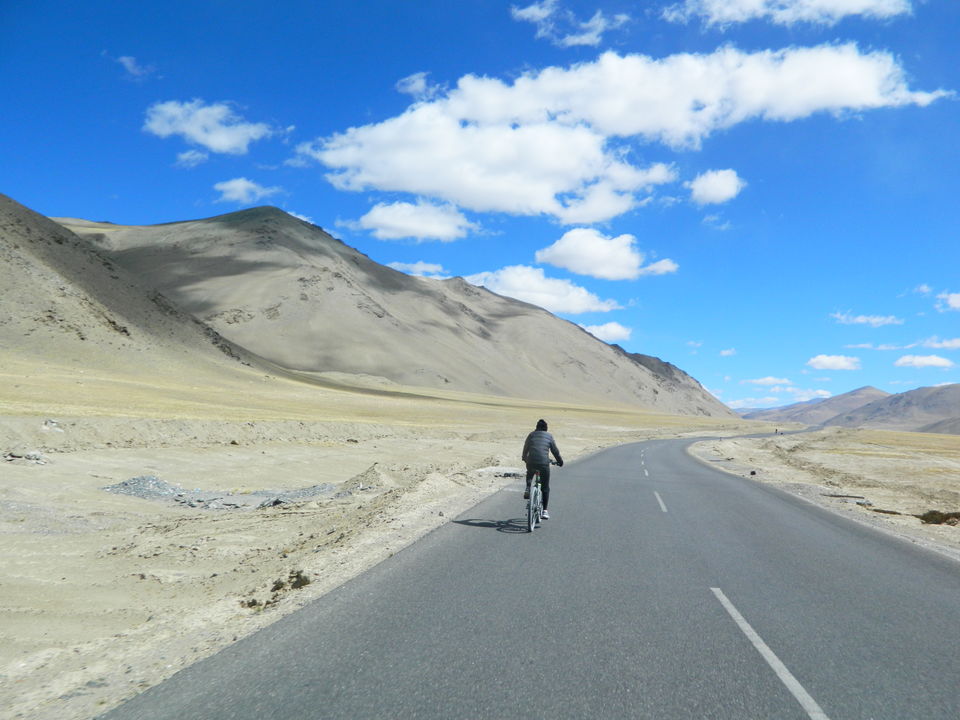 You should also side-visit Sokar lake (17kms from debring)
Debring - Tanglang La - Upshi (79kms, 8-9hrs)
The last pass that you need to cross to reach leh is Taglang La (5328m) 19kms ahead of debring. It is the second highest motorable road in the world but the considering only 19kms, It will take you around 4hrs to cross it.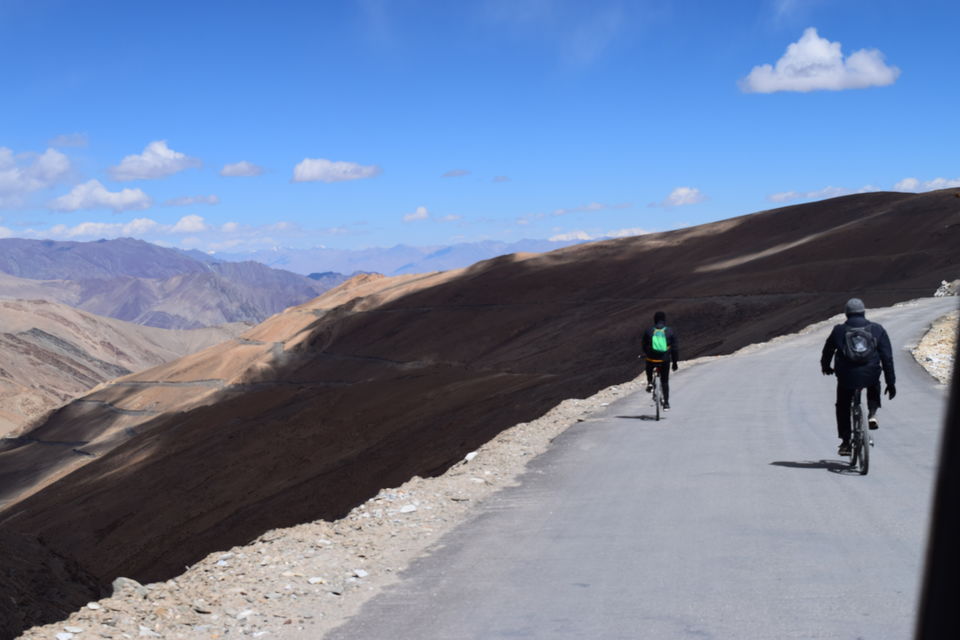 Downhill from tanglang la is filled with complete glee and excitement. We rode 29kms till Rumste(4260) where we finally found Buddhist temples.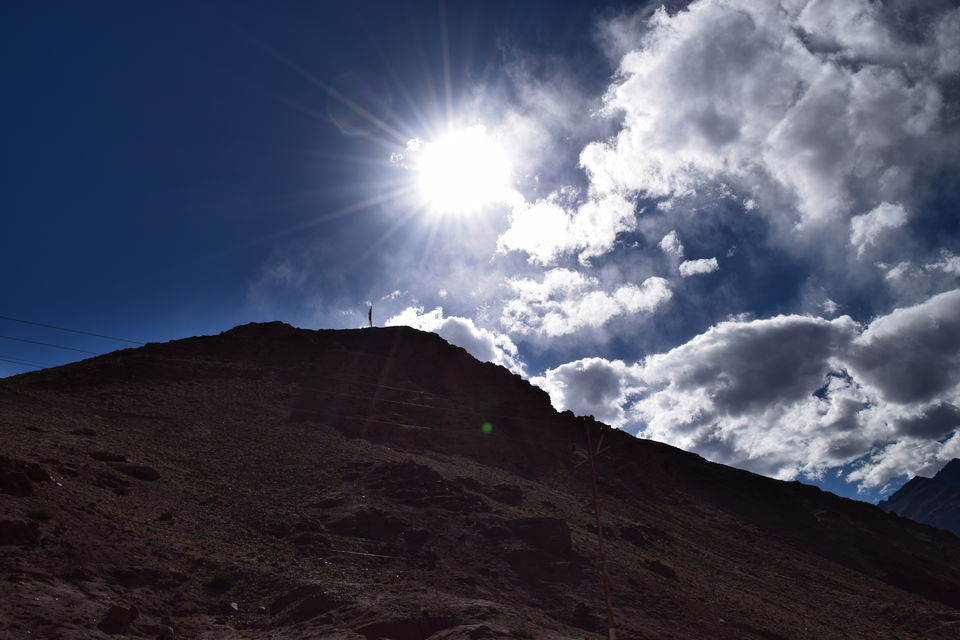 After lunch and a short break, we continued moving downhill towards Upshi(3480m).
You will find nice hotels, although we choose to take a dome with a joyous view of Indus River.
Upshi - Leh (52kms, 4-5hrs)
Leh(3500m) lies 52kms ahead of Upshi. The ride is mostly filled with ups and down waves of highway.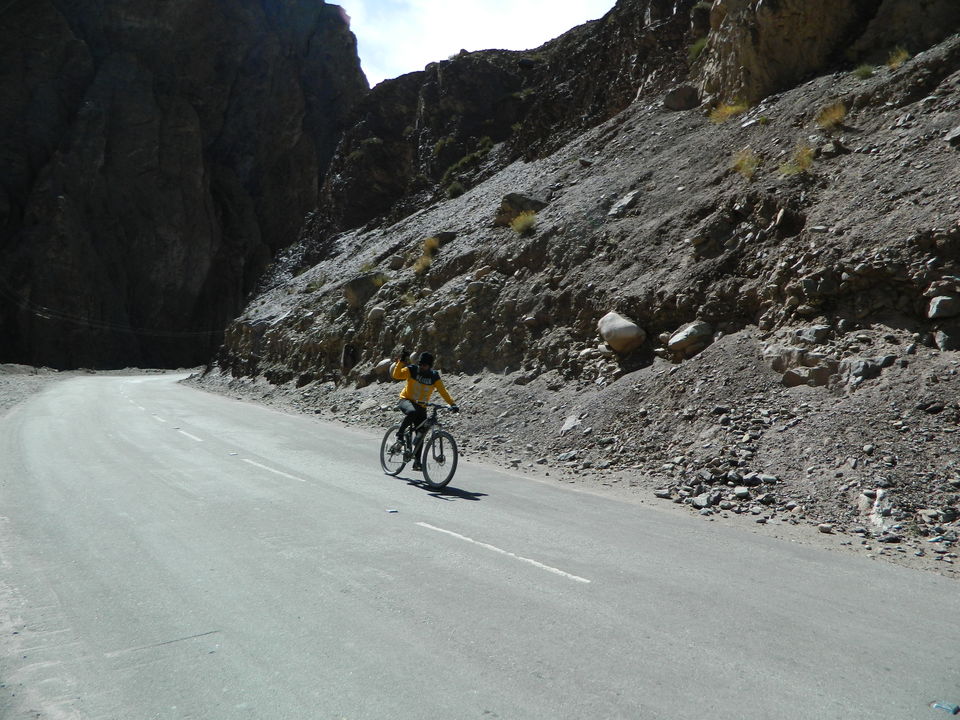 The sense of achievement was already in our veins by then. The journey from upshi - karu - leh is comfortable and full of colours.
A week in Leh :
Taking a trip to this land of mysteries will teach you countless things and will shine you will unforgettable memories.
Leh you will make you realise that strangers are friends you haven't met yet. With cafes such as German bakery and book-shop cafes like Lehling, you will never want to leave this heaven.
Ladakh is without a doubt a land of untouched myriad hues of nature. It will surpass your expectation and will leave you speechless.
Truly, the experience is magical, for it leaves you speechless with its beauty and then pours into you with thousands of words which are not even enough to describe half of the beauty it is with stories you will talk about for years to come.
Frequent Searches Leading To This Page:-
leh ladakh tour packages from kochi, places to visit in leh ladakh in august, best things to do in leh ladakh, hotels in ladakh 5 star, tourism of ladakh