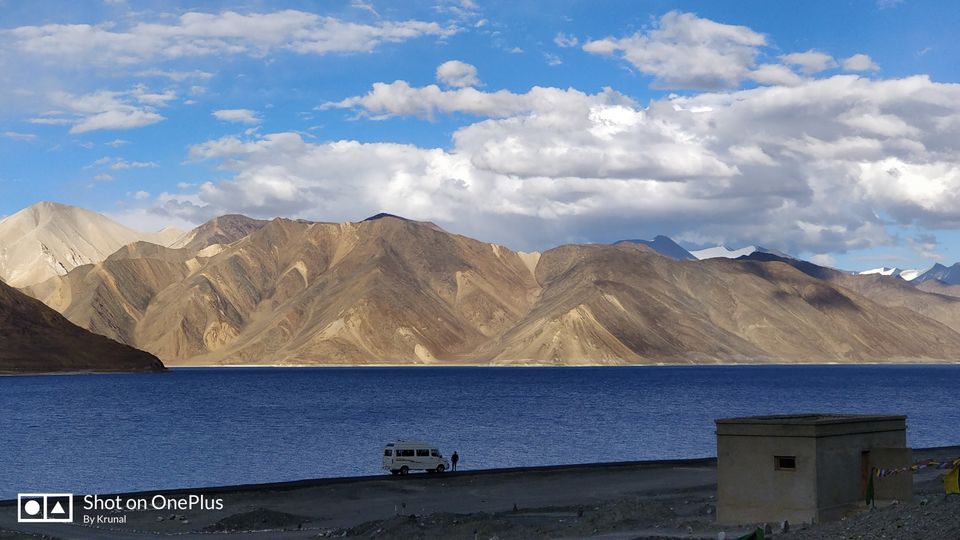 When you are young you are unstoppable, there are no limits to your passion and whatever lies between you and your dreams seems insignificant. The beauty of dreams is they are not bound by reality. Practicality takes a back seat when your dreams travel far and wide. For many like us, I didn't know how it was started, May be after I made trip to Manali , Kasol, Kheerganga and I realized how much I love being around mountains. A thought which one might agree "Mountains brought me closer to MYSELF", somehow in those lush green mountains I found an endearing paradise.
So we planned a trip to Leh- Ladakh a converted road trip of all time for solace seekers & Adventure enthusiasts. I always wanted to have this feather in my cap it was in my bucket list from quite a long time.
It was Jan 2018 I started reading maps and travelogues of bikers who have made it. The maps were simple but stories were scary, I didn't knew Manali – Leh route is one of the deadliest route of world. But I also read about the unique experiences such terrain provides to a person and I was excited.
Our journey was planned for 15th June 2018 and all preparations were underway. Leave applications shopping, bookings all started in full fledge.
Ladakh the land of endless discoveries. A traveler will find barren land, desert, sedimentary mountains, ample greenery, snowy mountains, everything! Roads of the Ladakh valley are a bikers dream. A dream place for mediation, exploration, expedition, adventure and solace.
By any standard and from any perspective, the Leh-Manali journey has epic written all over it. With roads that open up for only a few months a year, these 470 kms will test you, scare you, shock you and leave you spellbound. You will believe life is beautiful!
The journey - 4 Friends - 2 RE Standard 500 - 1700 KMS - 7 High Mountain Passes - Unlimited memories.
Delhi - Manali - Rohtang - Kokshar - Keylong - Jispa - Zingzingbar - Baralacha La - Pang- Sarchu - Lachang La- Gata Loops - Moore plains - Tanglang La - Upshi - Karu - Leh - Chang La - Pangong Tso - Nubra Valley - Khardung La - Leh - Manali - Vadodara
The YouTube links of the travel vlog
https://youtu.beUwCOhmRyGY
https://youtu.be/CXSk2ZSlhWc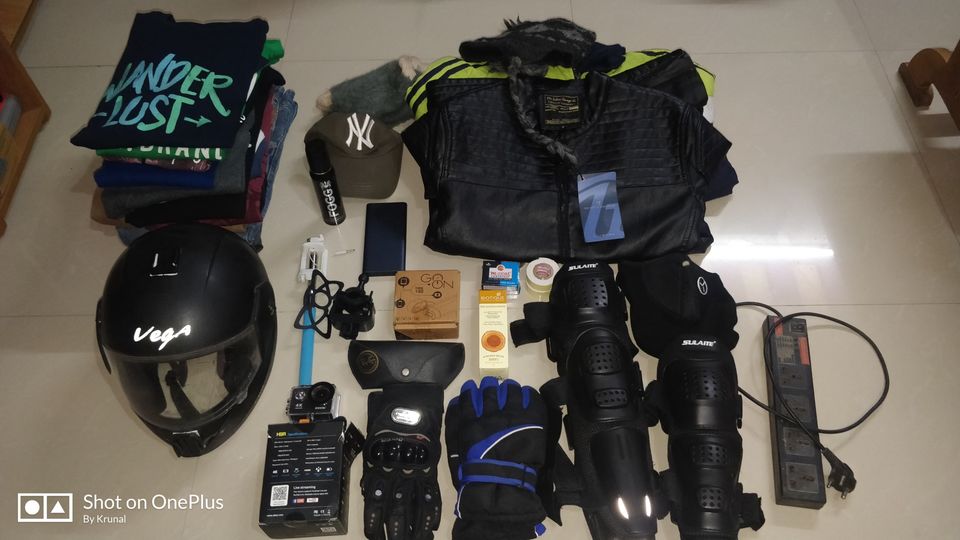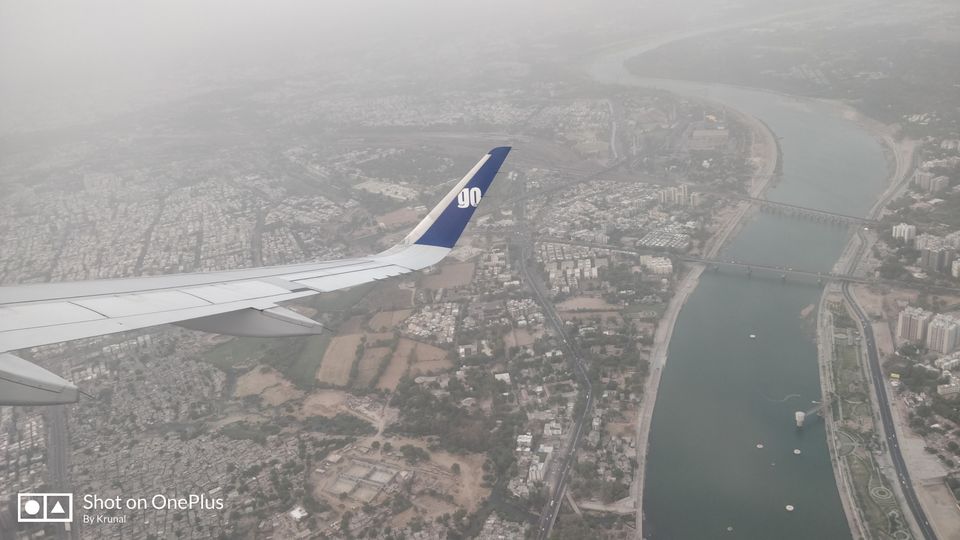 Manali - Kokshar
My imagination brought me to this road many a times yet every time I was close to reaching the destination. I woke up! But as the wise says "If you want something dearly, then the entire universe contrives to help you" and today, my dreams, imagination and universe has brought me to this road, Road to Ladakh, and this time, its real !
After a long wait and a lot of delay we finally reached Manali 4 hrs late then our ETA. Our bike journey was planned from Manali at 2 PM but due to delay in bus we reached Manali at 4 PM and we were in dilemma weather to start our bike trip or not. Night driving was a big NO as per our plans and we broke the safety rule of riding in Mountains on the very first day and finally we decided to start the ride on that day.
We started from Manali with all our luggage packed on our RE Standard 500. The mountains greeted us with rains, snow, slippery roads and cold chilling winds but that didn't stop us from reaching Kokshar. Kokshar is the 1st place where you get rooms and tents if you are going from Manali Leh highway. Till we reached Kokshar we were drained, 80 KMS felt like 800 and we were in no position to move forward so we decided to call it the day and took shelter in a home stay at Kokshar.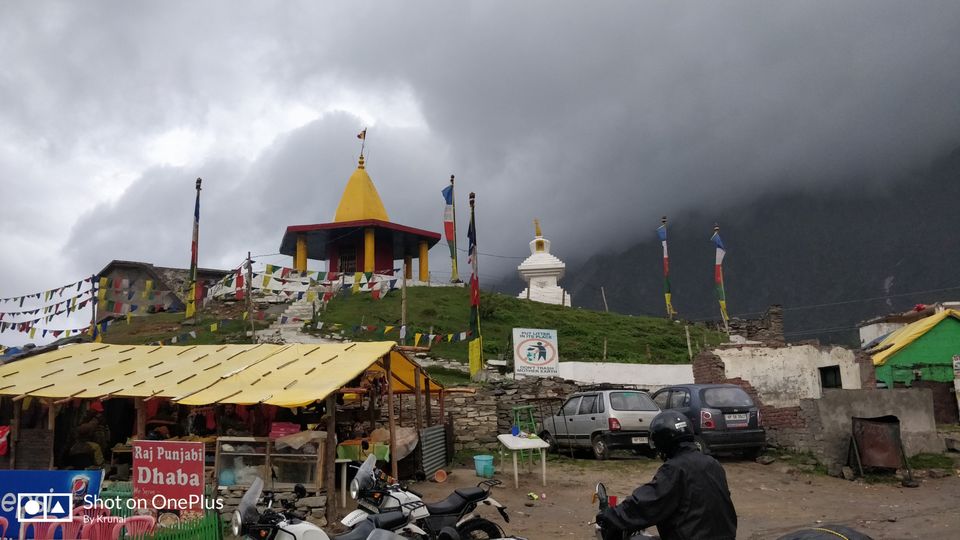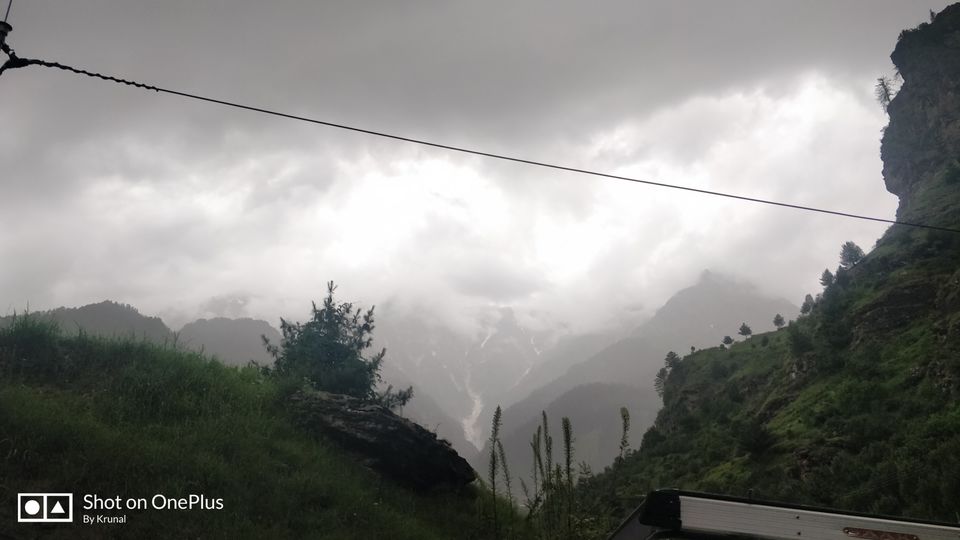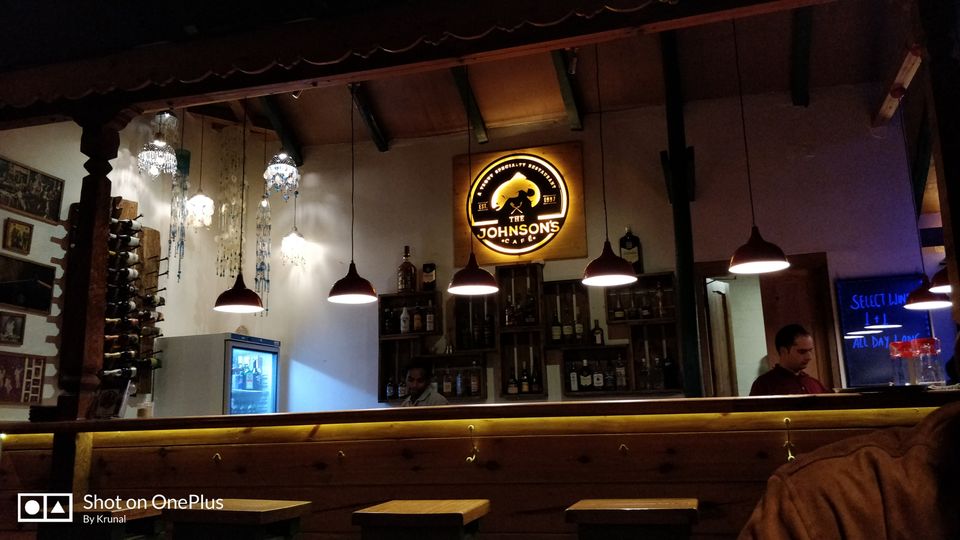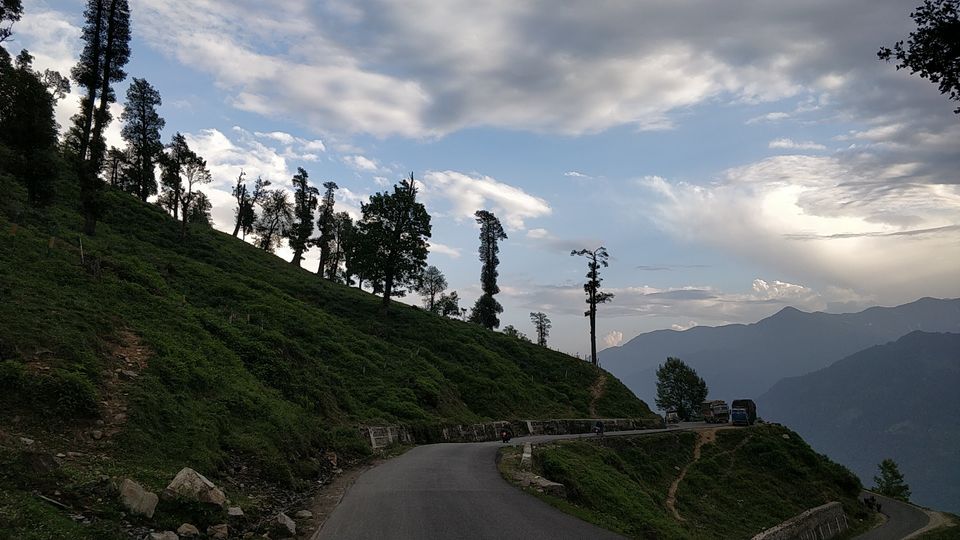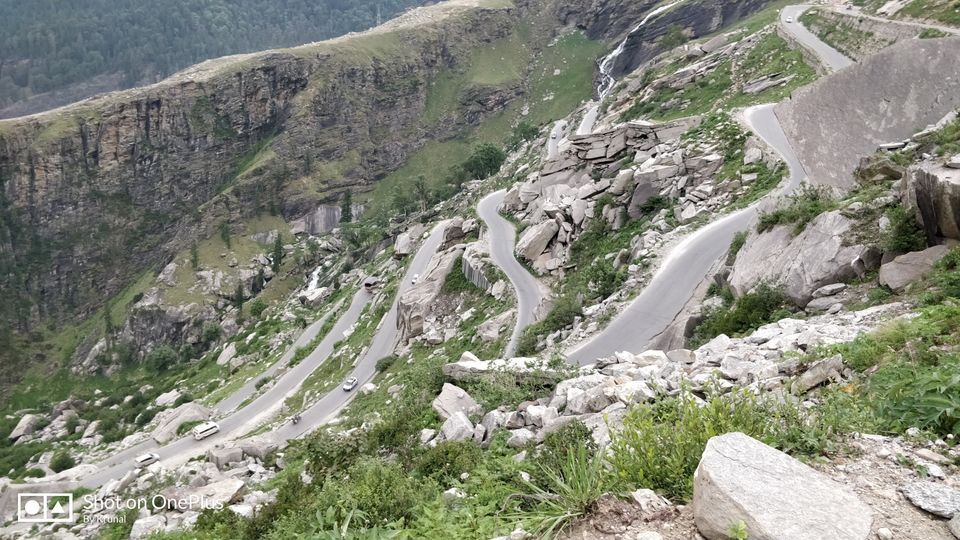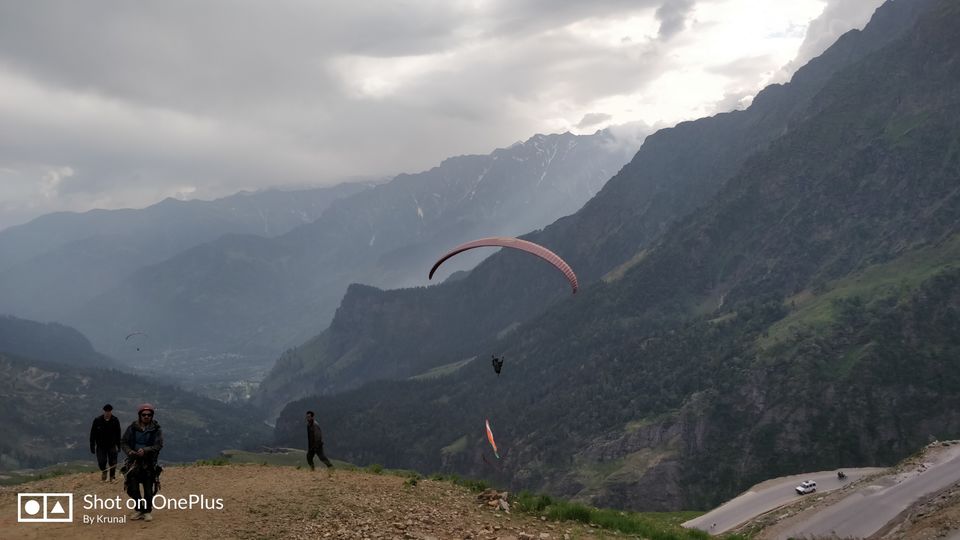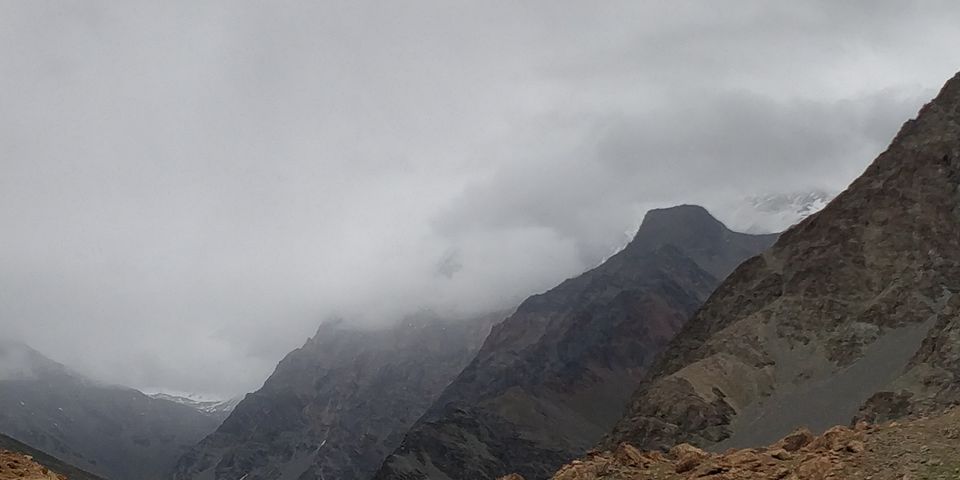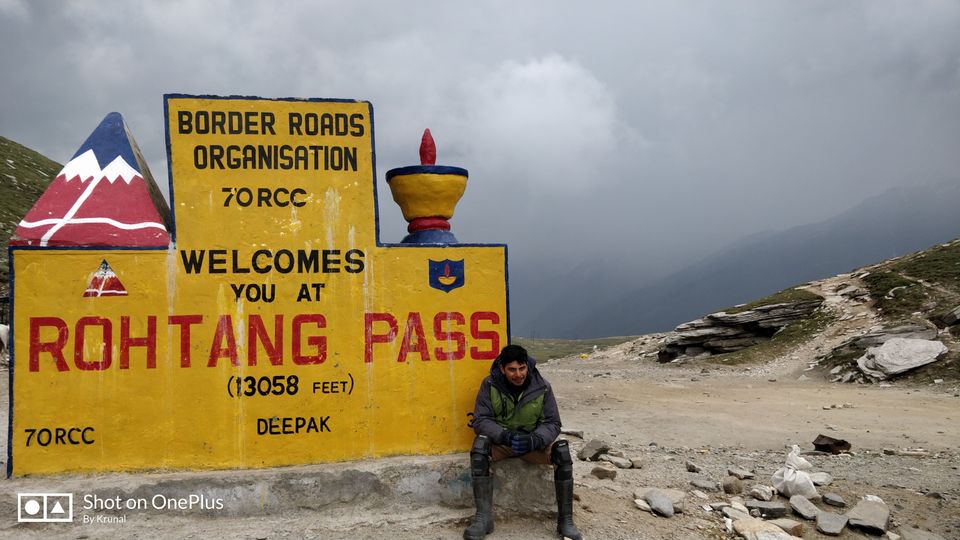 Kokshar - Sarchu
We had to reach Jispa/ Keylong on day 2 as per our plan but we didn't make it so we had to start early and cover those 40 odd KMS to get back on track as per our plan. The views of Mountains and the green valley of Himachal Pradesh will leave you spell bound. I wish I could stay in the mountains forever. You feel some connection with nature and that is mesmerizing. On the way we faced a lot of river crossings and we crossed Baralacha La Pass where we were greeted by snowfall. The view and atmosphere was so perfect that we didn't wanted to leave that place but we had to move forward towards our next destination. Sarchu has a lot of options for tent stays. We reached there around 7 PM and had dinner in our tents. There are no hotels in sarchu and the only option you have is to spend the night in tents.
Sarchu being at high altitude 2 of us felt the effect of AMS (Altitude Mountain Sickness). We couldn't sleep that night and spending the night became very difficult due to headache. Always carry Diamox for acclimatization.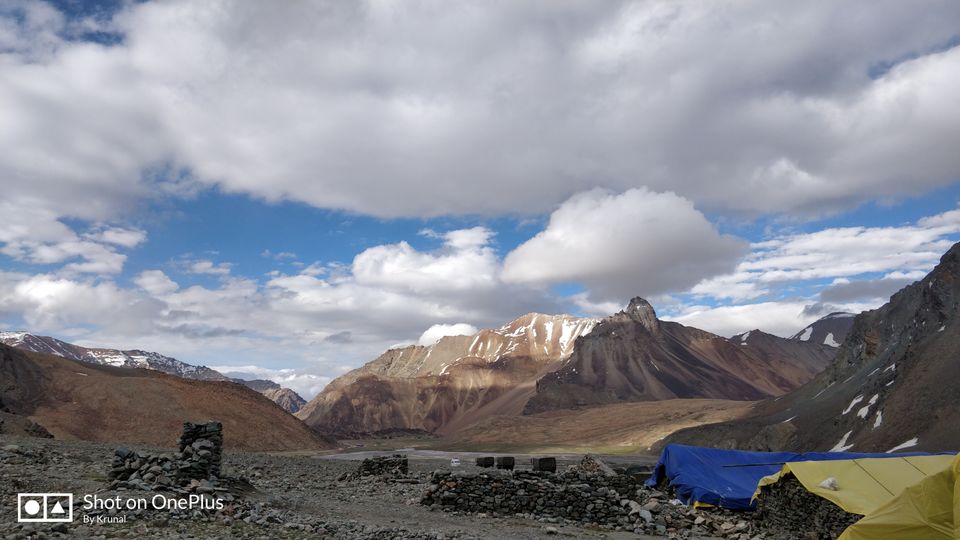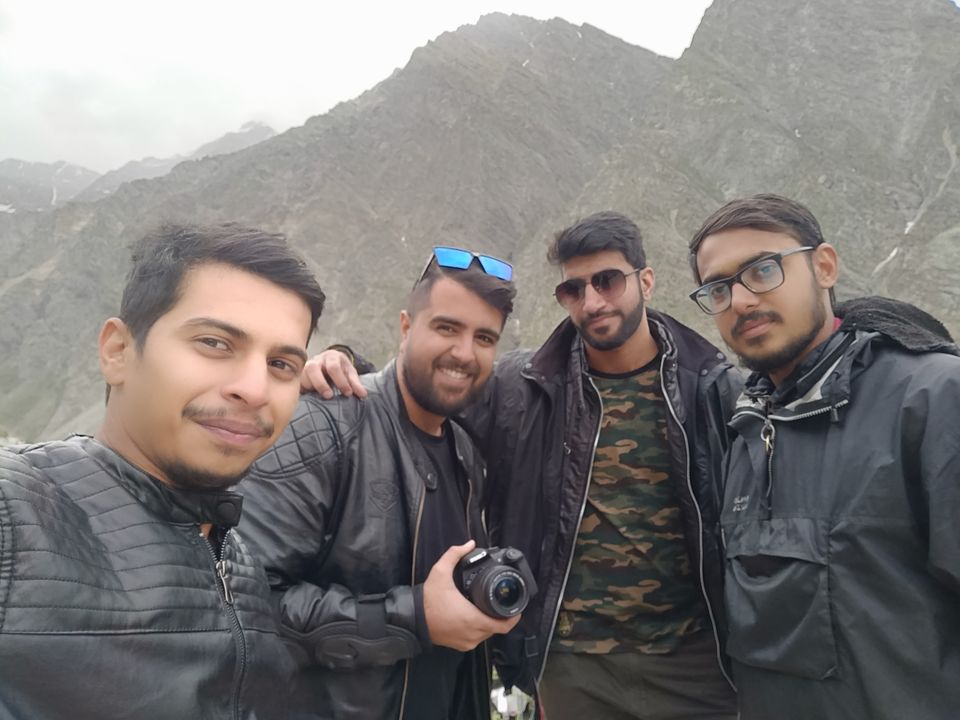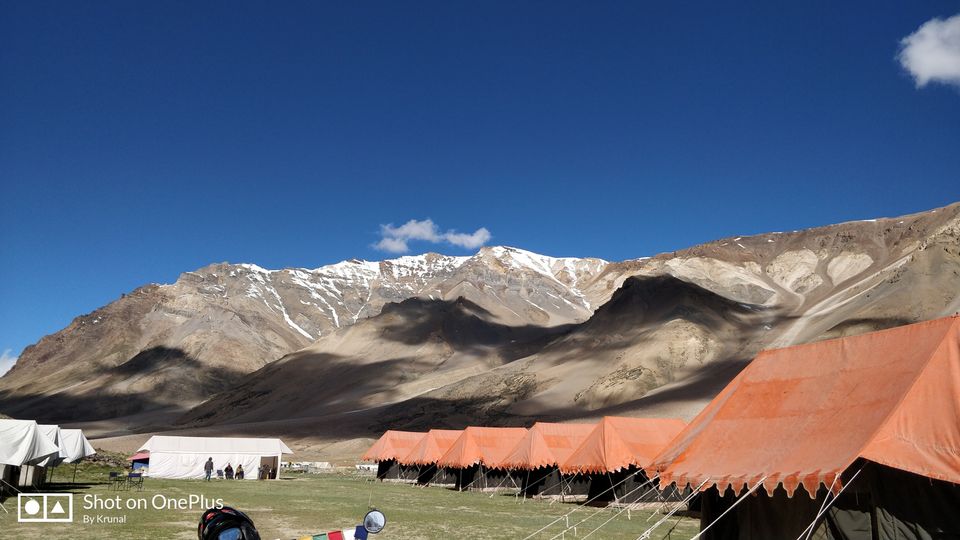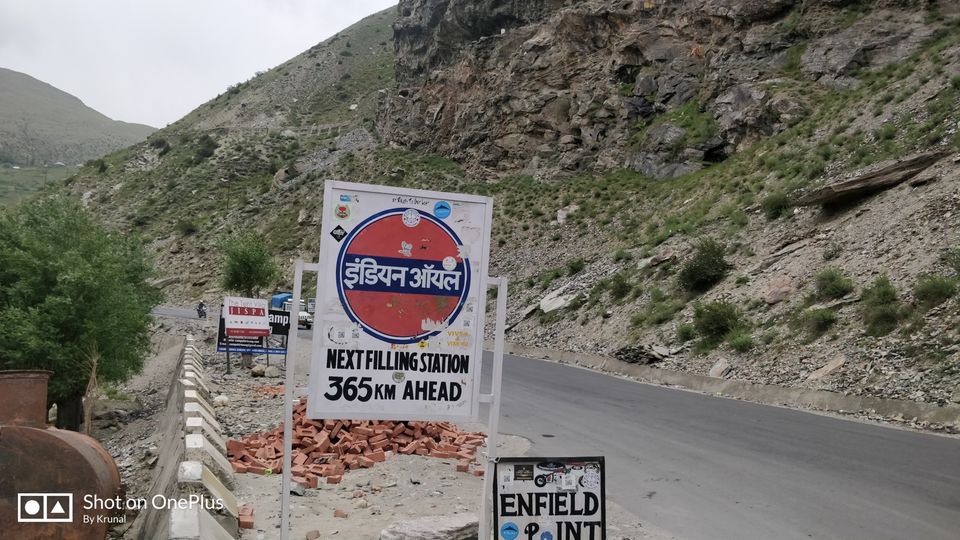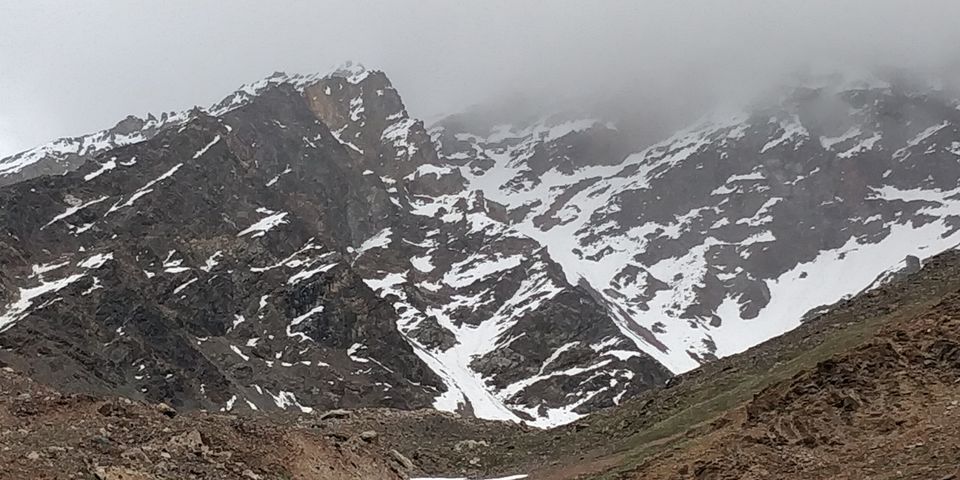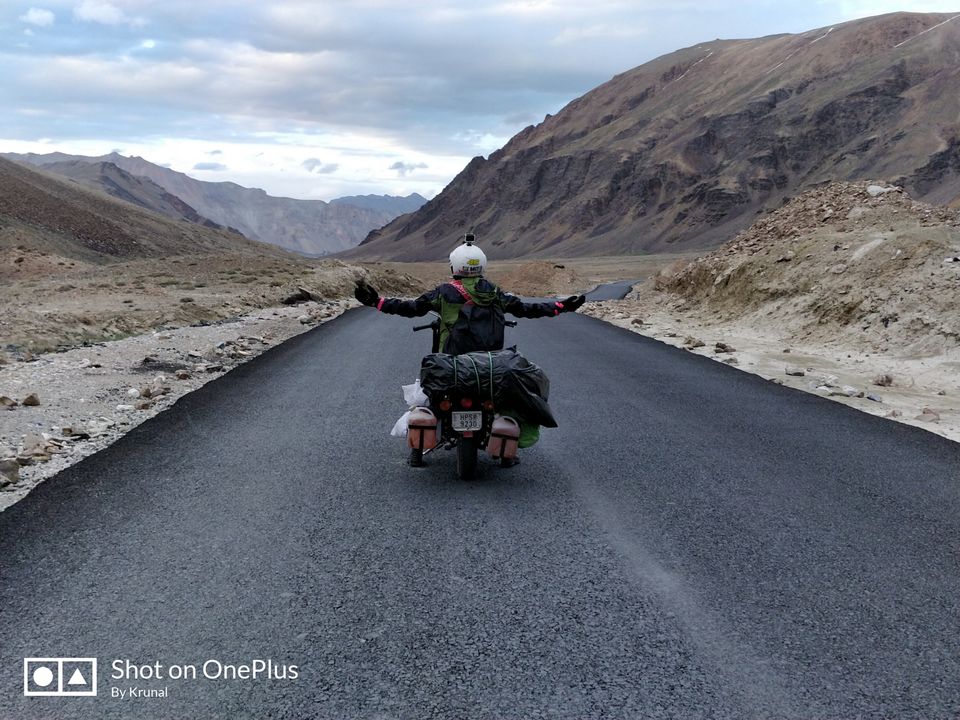 Sarchu – Leh
Finally it was morning and we knew we had dealt with one of the toughest nights ever. We were awake all night so there was no option but to leave early for the final destination LEH. Leh is around 270 Kms from Sarchu. After Sarchu the views starts changing and all you can see around is barren land. The route from Sarchu to Pang is one of the toughest road to ride on. It took us 5 hrs to complete those 88 Kms. But the road from Pang to Sarchu enroot Moore plains, Gata Loops, Rumtse, Upshi, Karu is a bikers paradise obviously with some bad patches. We reached LEH around 7 Pm after 13 hrs of ride. Tired after the long ride we settled in a Hotel near the Market area of Leh City. This is the most lively and crowded area in Leh. Next day was planned for Leh local sight seeing.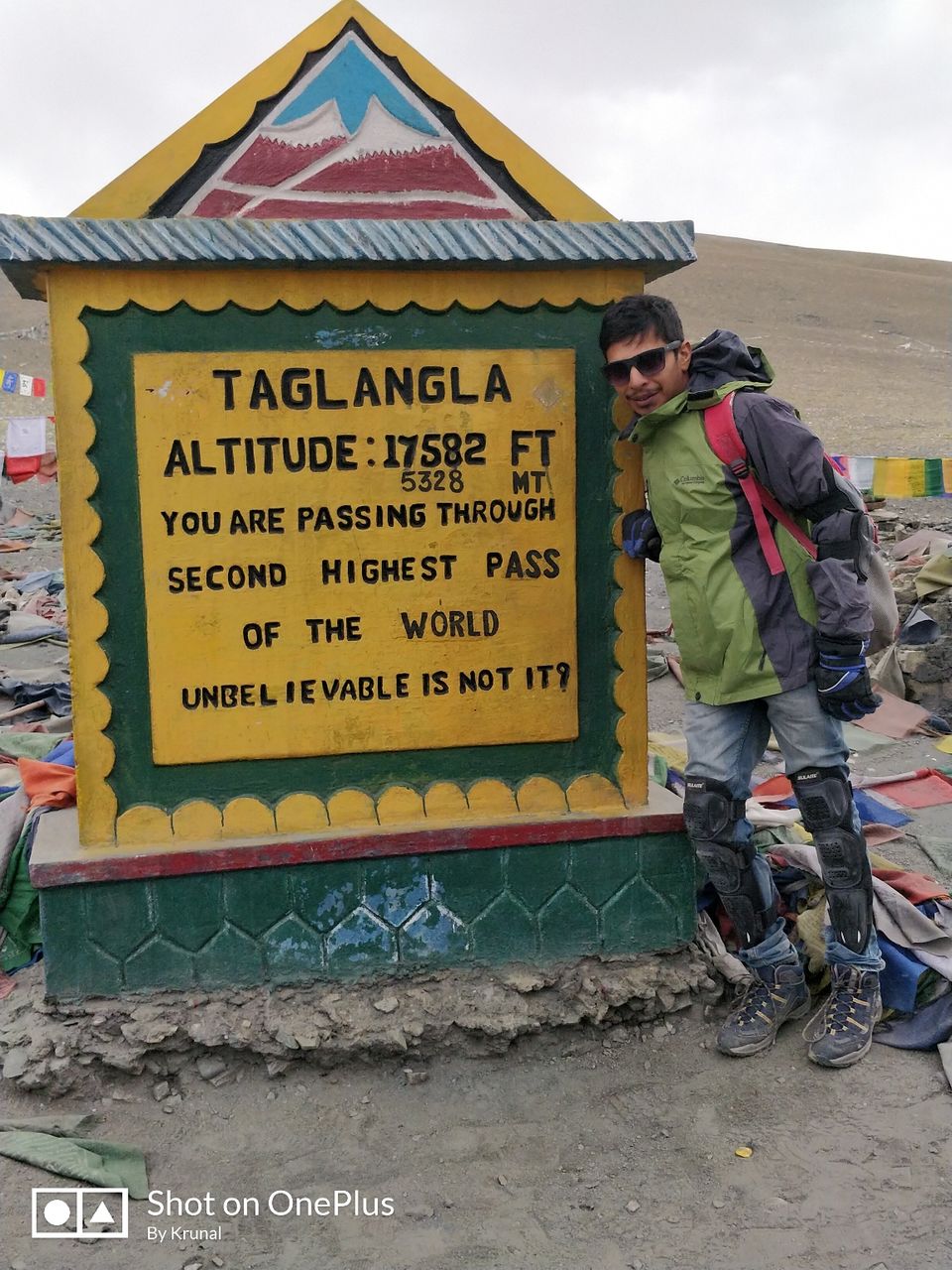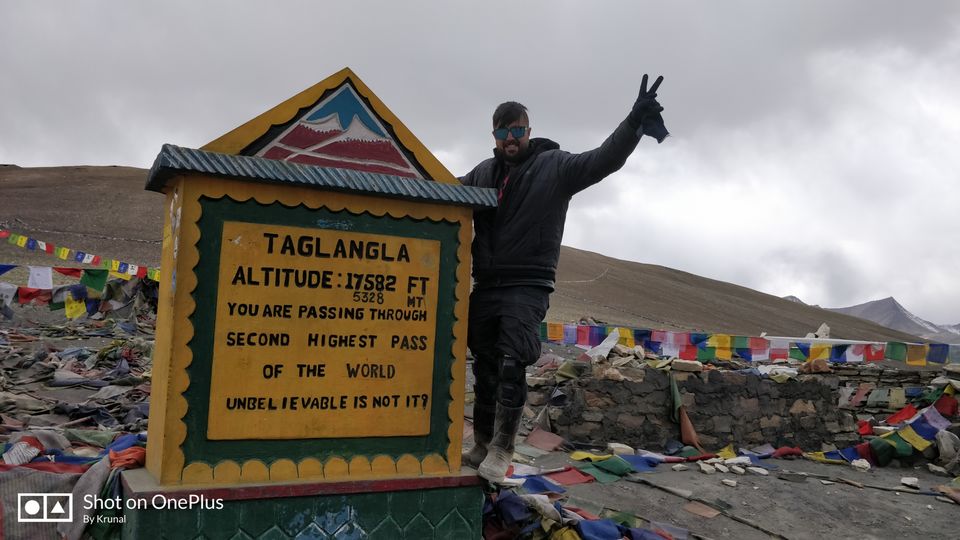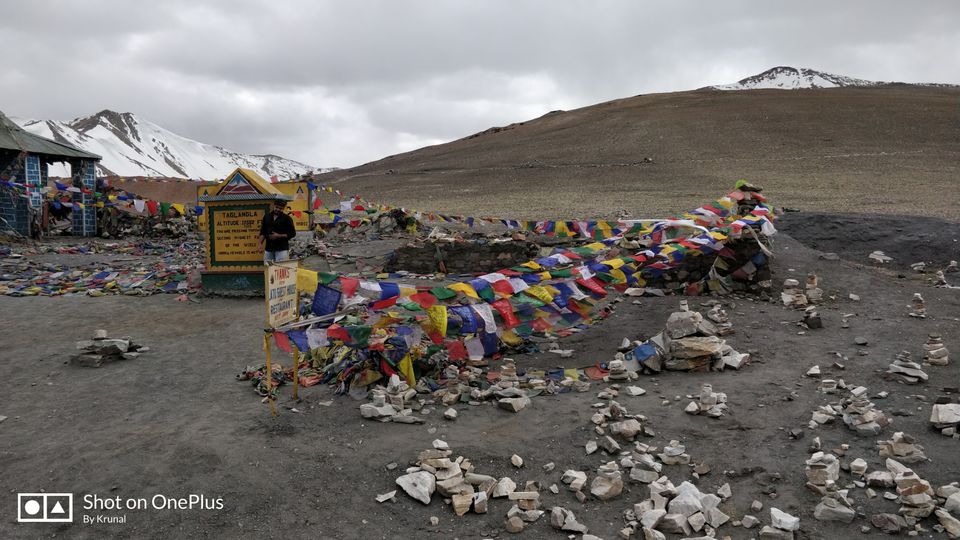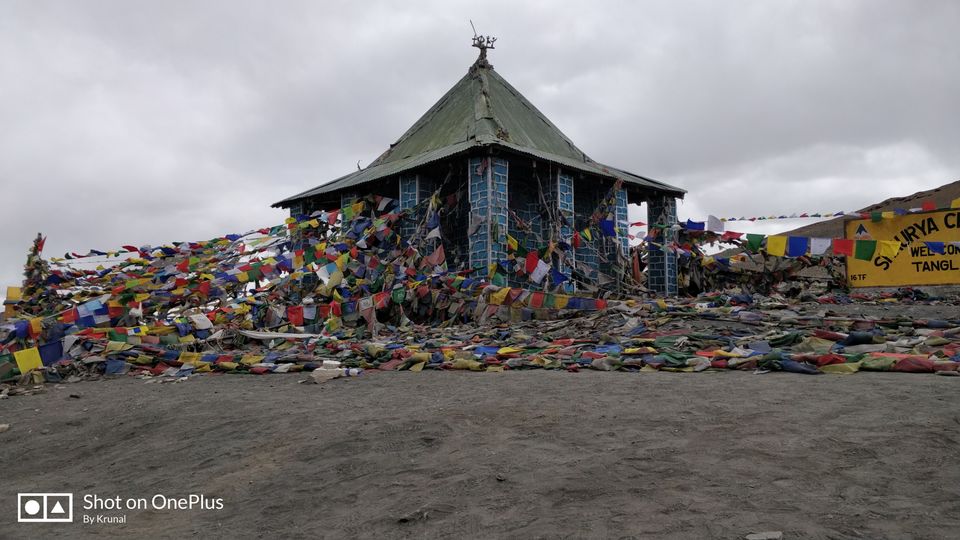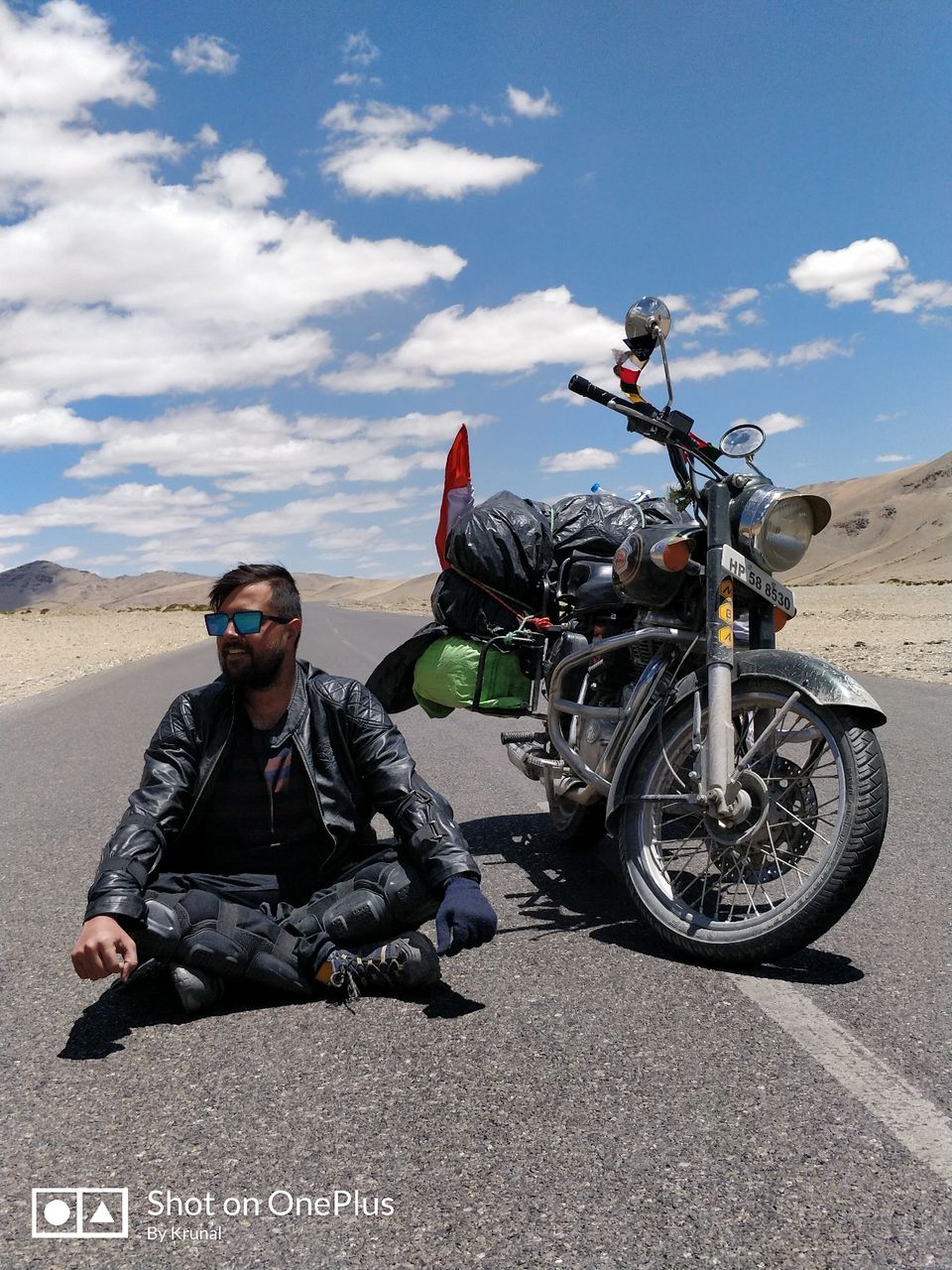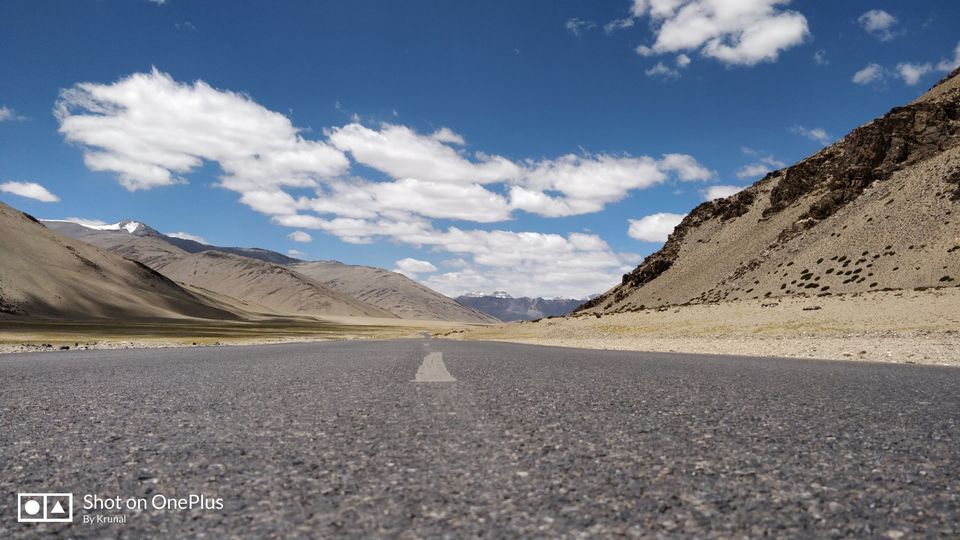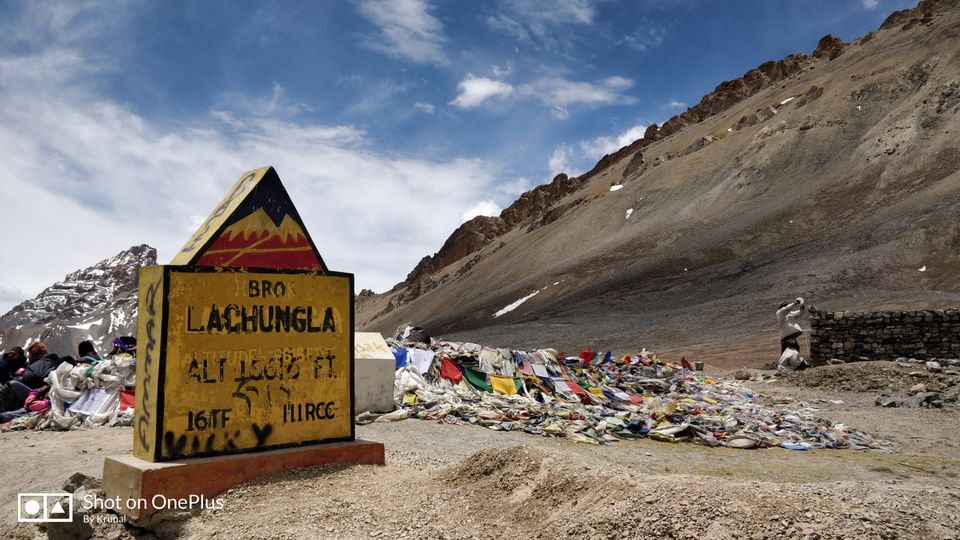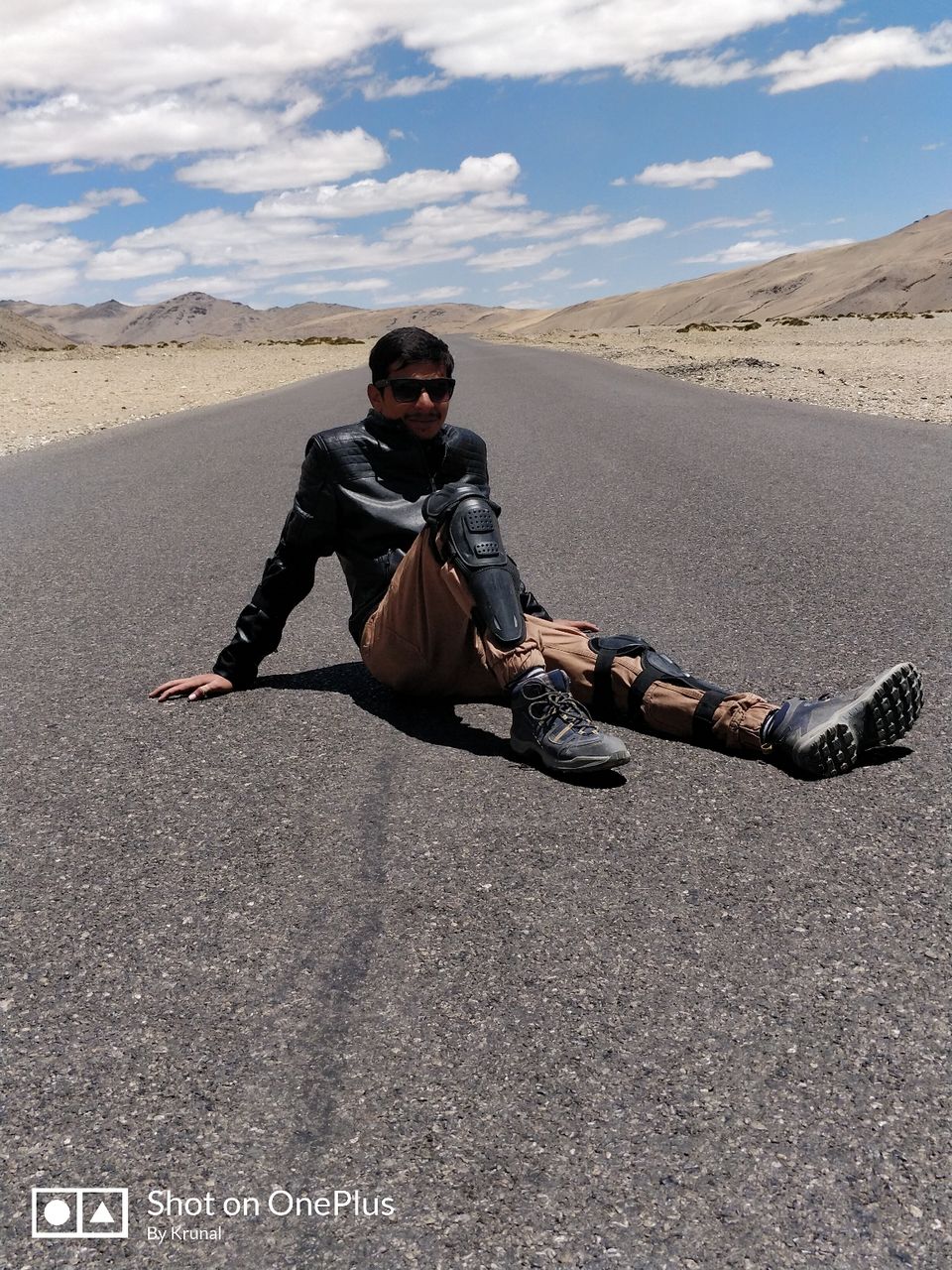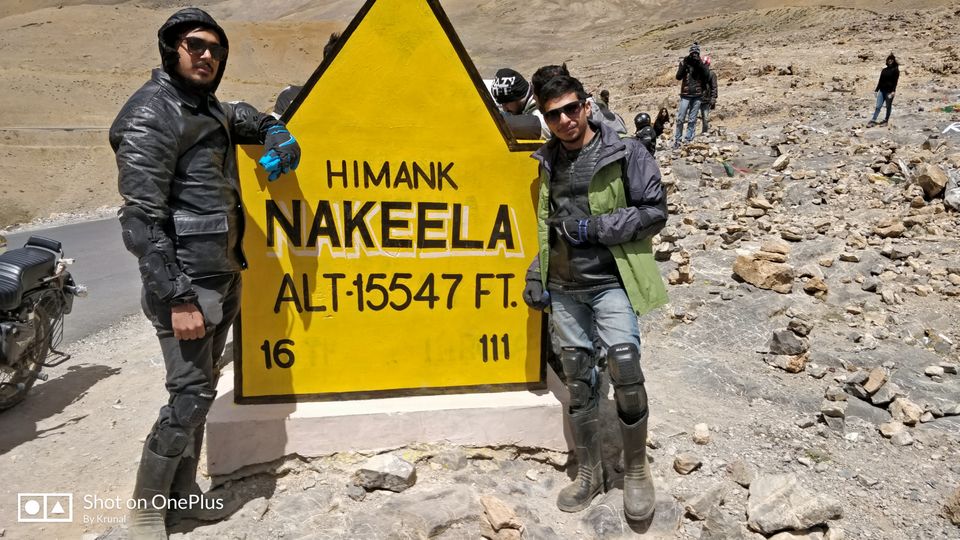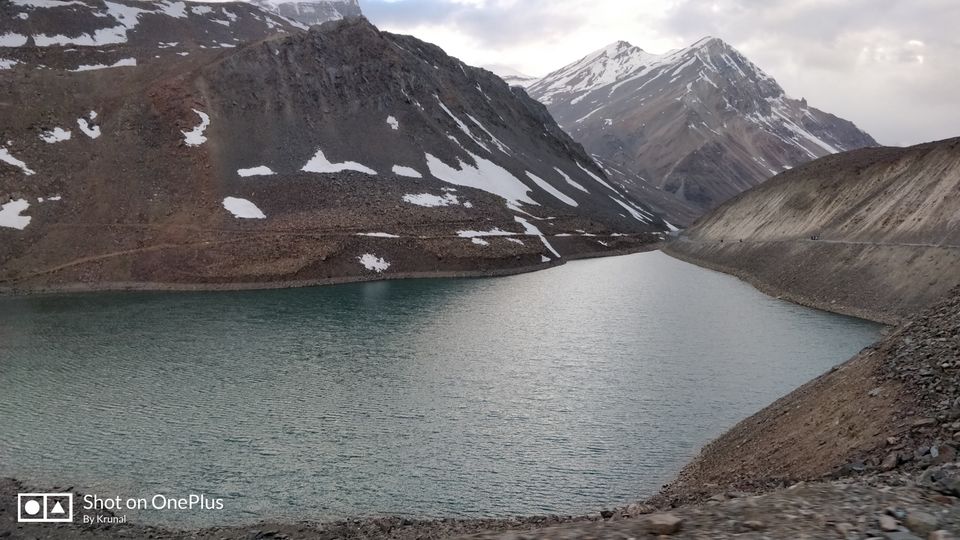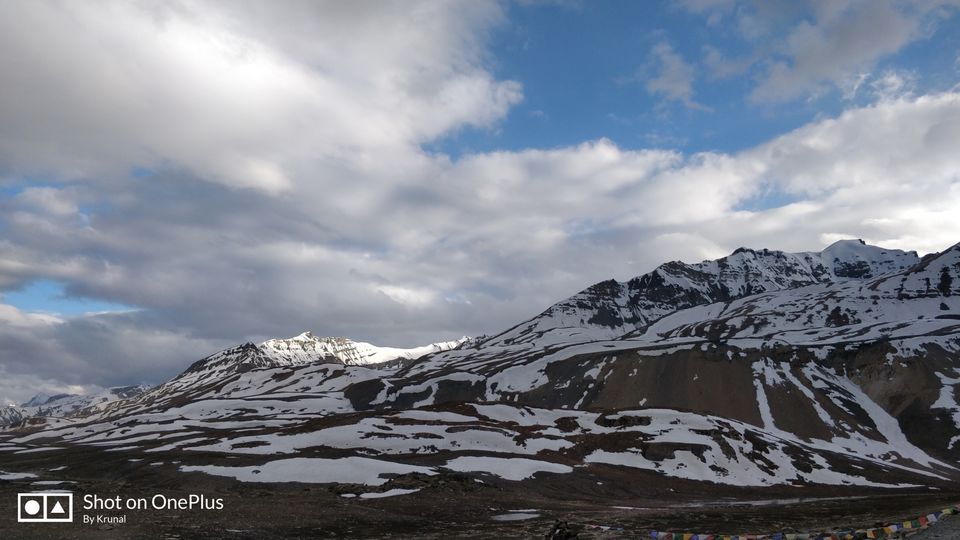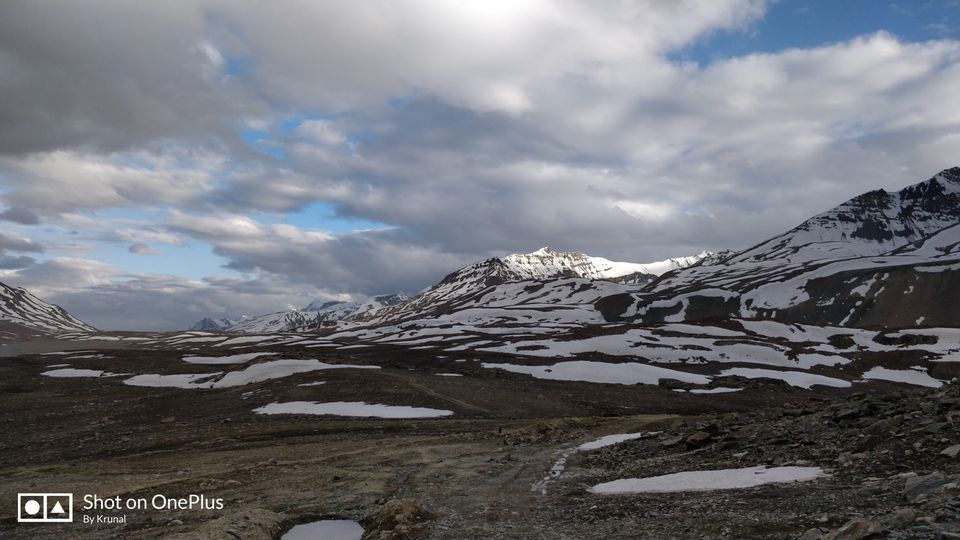 Leh
We woke up in the morning and after getting ready enquired about the places to be visited near Leh and about garages nearby as our bikes had some issues. We went to garage and it took us 4 hrs to get our bikes ready to ride again.
Thiksey Monaestry- It is one of the best place around Leh. The vibe and peace you get once you enter the place is unparalleled. The monastery is located at an altitude of 3,600 metres (11,800 ft). It is a twelve-story complex and houses many items of Buddhist art such as stupas, statues, wall paintings and swords. One of the main points of interest is the Maitreya Temple installed to commemorate the visit of the 14th Dalai Lama to this monastery in 1970; it contains a 15 metres (49 ft) high statue of Maitreya, the largest such statue in Ladakh, covering two stories of the building.
Next on our list was Shey Palace. The palace, mostly in ruins now, was built first in 1655, near Shey village, by the king of Ladakh. The monastery is noted for its giant copper with gilded gold statue of a seated Shakyamuni Buddha. It is said to be the second largest such statue in Ladakh.
Shanti Stupa- It is the "most famous tourist attraction" around Leh, though its architectural style is different from the Ladakhi style. The Shanti Stupa overlooks the city of Leh, providing panoramic views of the city and the surrounding mountains. Sunrise and sunset are considered to provide the best views from Shanti Stupa.
After this evening time was utilized for shopping some souvenirs and it was end of day 4 of our journey.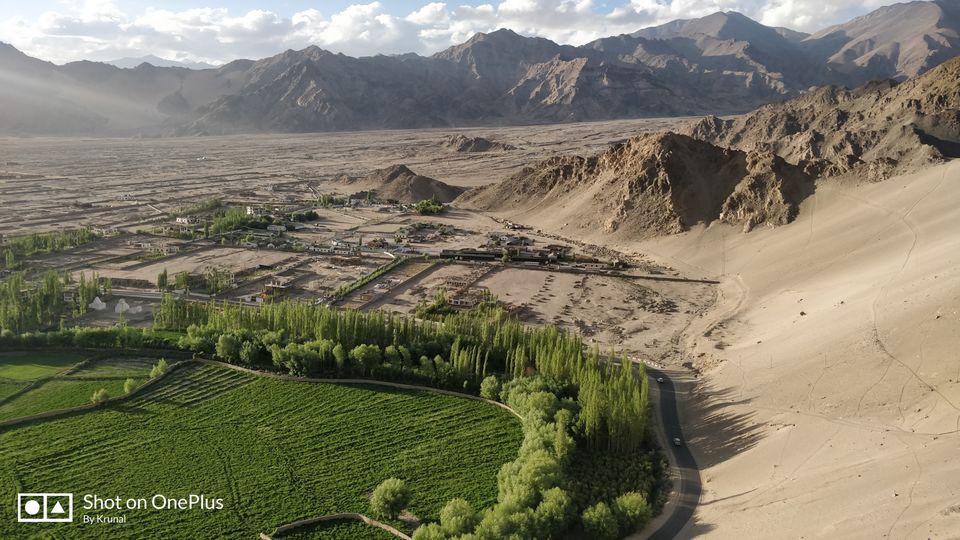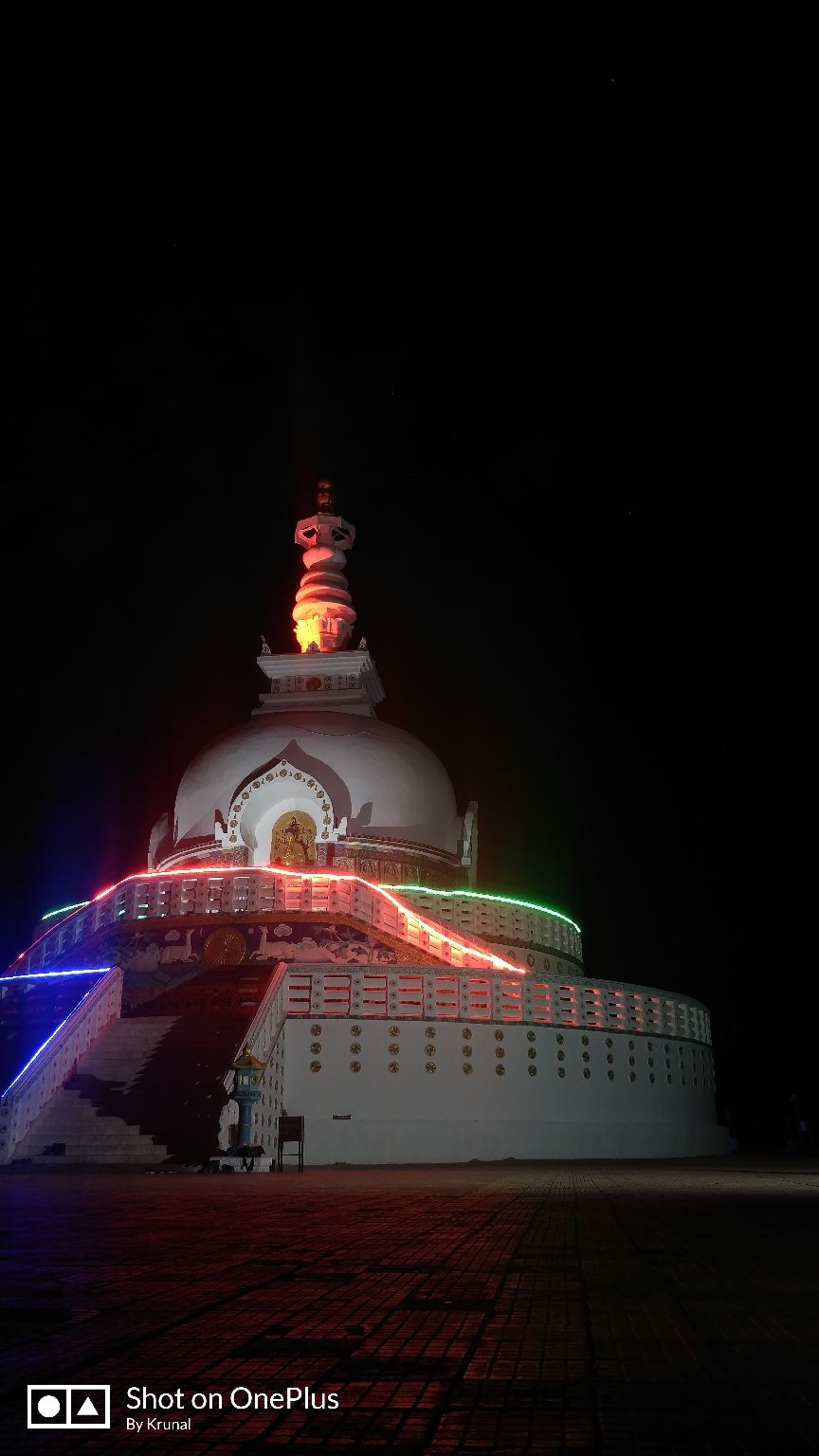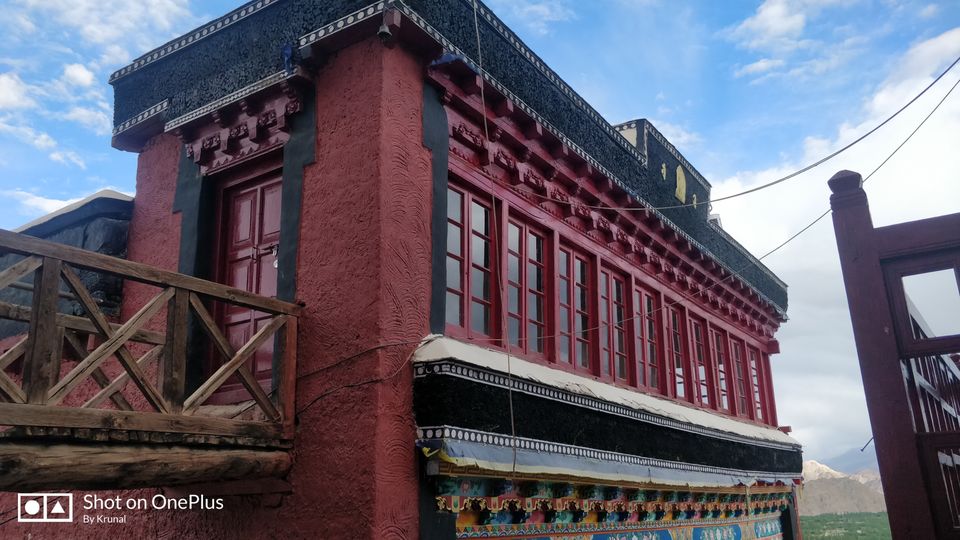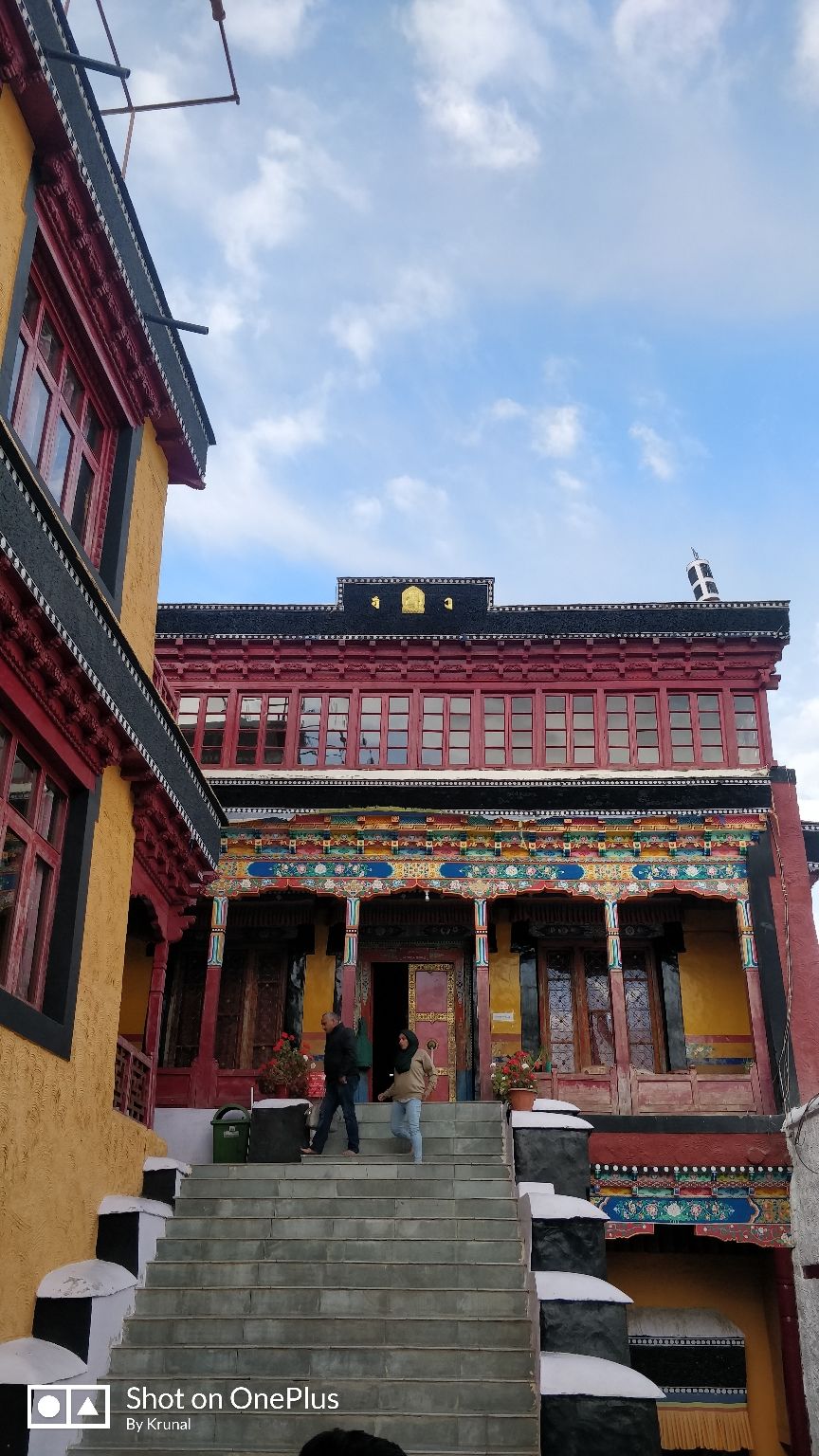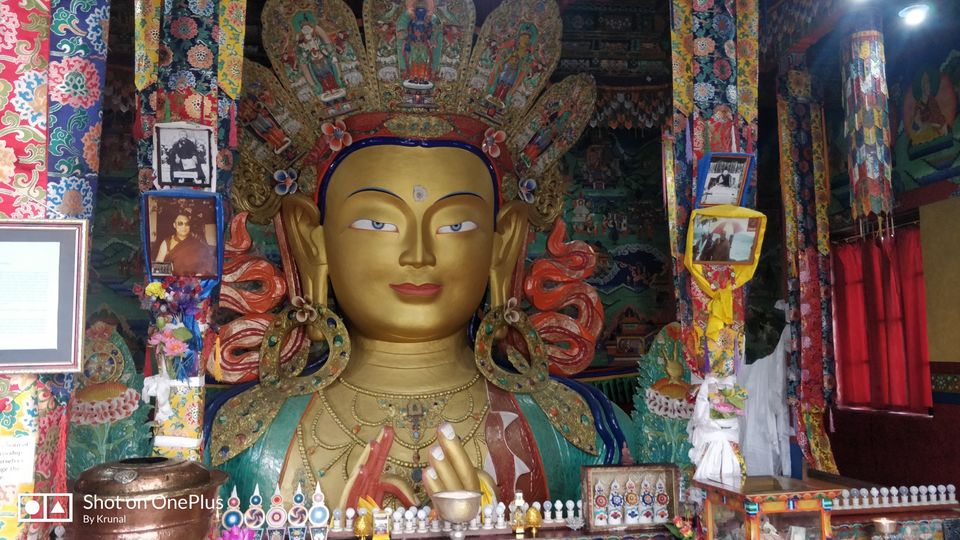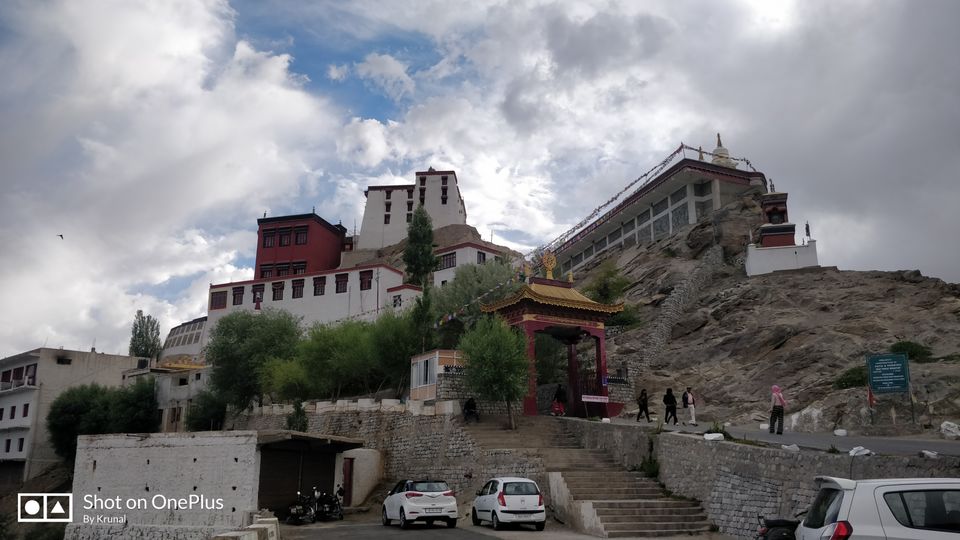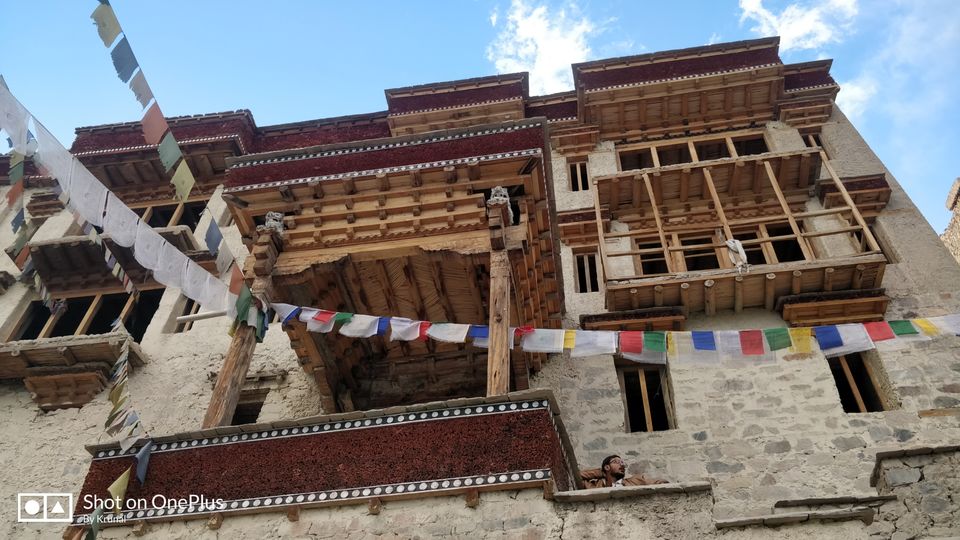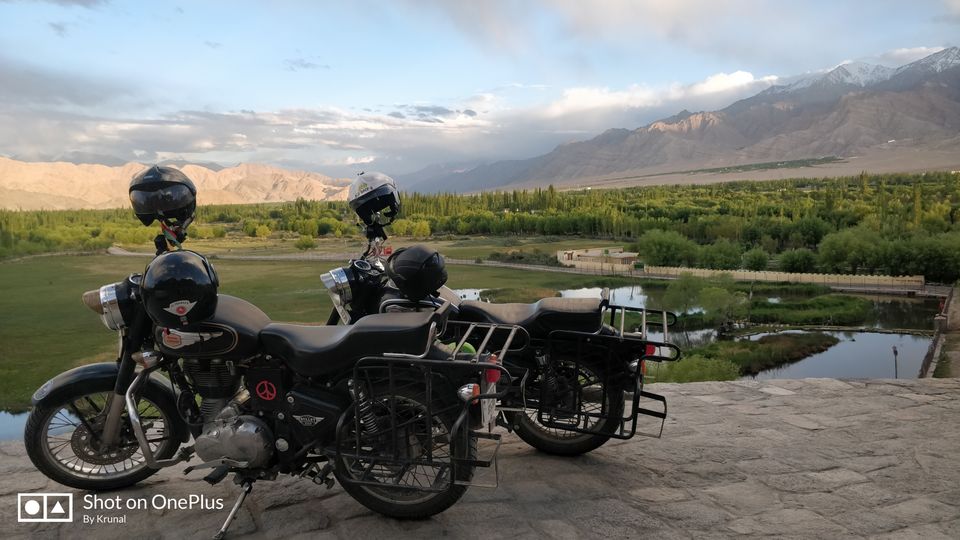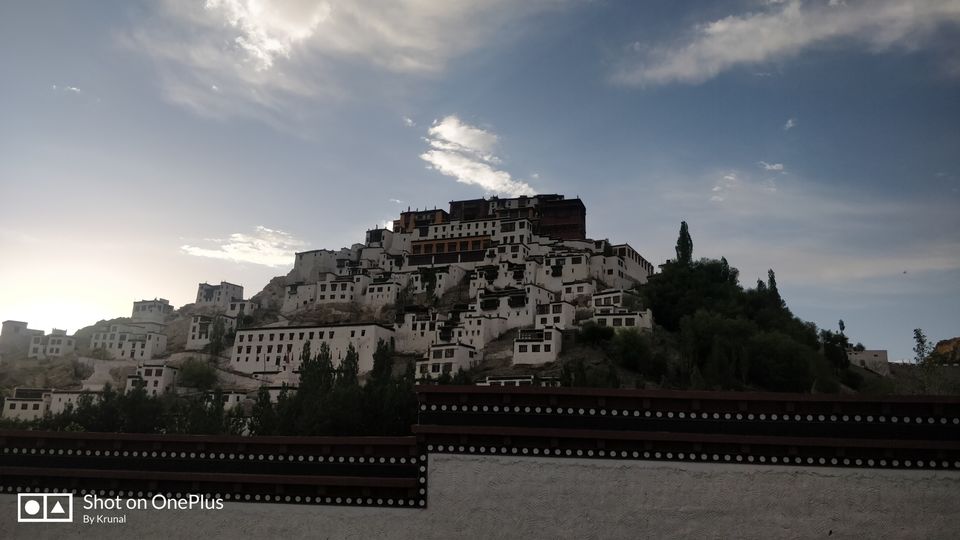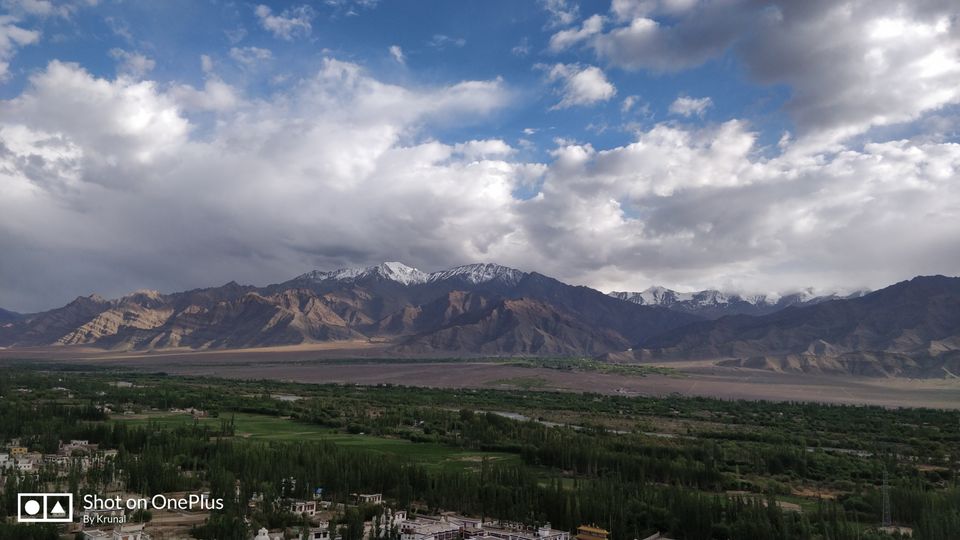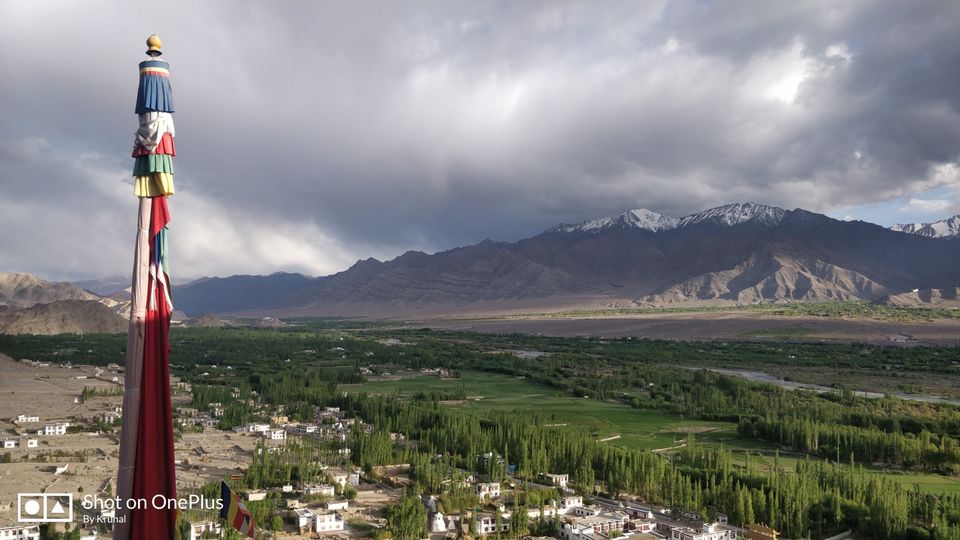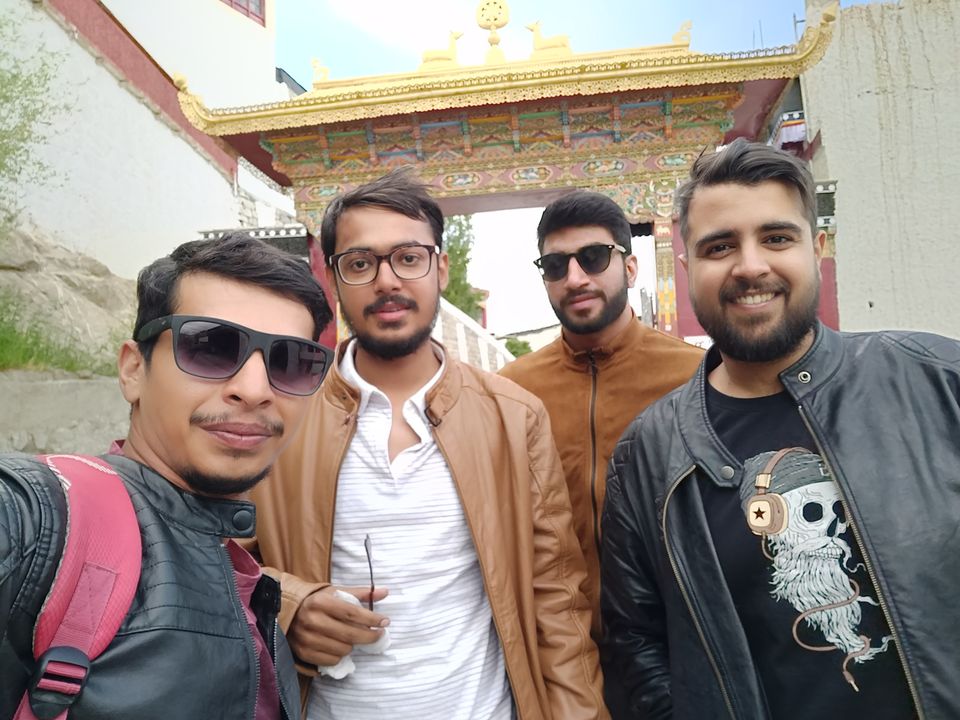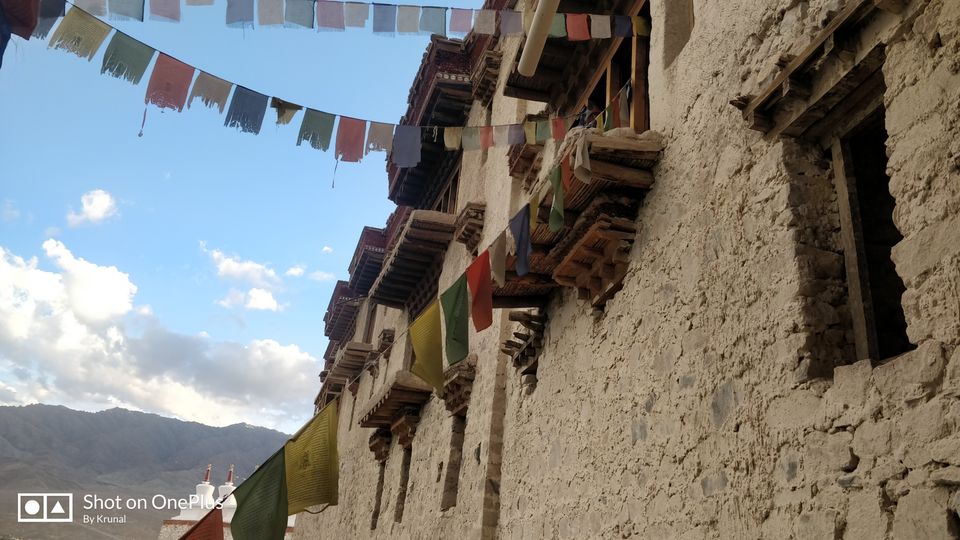 Leh - Pangong Lake.
Finally we were going to the World Famous Pangong lake. A 160 Km ride from Leh to Pangong is mixed with some good roads and no roads at all. By the time we started for Pangong Lake we were a bit used to off-roading.
This mighty lake is perhaps on every travelers list of things to do in Ladakh. This heavenly sight is worth the 7-hour drive from Leh. Its calm, azure waters surrounded by rusty brown mountains is what wallpapers are made of.
Pangong Tso also referred to as Pangong Lake, is an endorheic lake in the Himalayas situated at a height of about 4,350 m (14,270 ft). In the barren land of Ladakh, Pangong Tso is one of the largest brackish water lakes in Asia. The crystal clear blue lake sprawls over an area of 134 KMs across the borders of two countries in India and China. Approximately 60% of the length of the lake lies in China. During winter the lake freezes completely, despite being saline water. It is one of the charismatic lakes situated on the Changtang Plateau in eastern Ladakh region. Before reaching Pangong Tso, we passed through beautiful Ladakh countryside, tough terrains, over the Mighty Chang La one of the highest motorable mountain pass in the world where we enjoyed the snowfall. The mountains in the backdrop appeared to be painted in the colors of green, brown and violet. Pangong Lake appeared as a clear representation of nature craftsmanship. The brackish water played with sunlight to produce different effects of light and colour. We witnessed beautiful sunset and its effect on the surroundings wherein the barren snow capped mountain turned golden, the lake changed its colour with passage of time, and finally giving way to zillions of twinkling stars. An overwhelming sight of nature at its best! If sunset was amazing than sunrise was equally good. Once again we witnessed a change in the complexion of place with sunrise. A morning drive alongside lake and some off-roading adventure kicked off the day in style. After breakfast we set out towards lake and lived the moment. We tried stepping in the lake but could hold on to it for long time as the water was freezing cold. As time flies, there came the moment to bid adieu to this mesmerizing lake after enjoying every aspect of our stay and it all went as per our plan.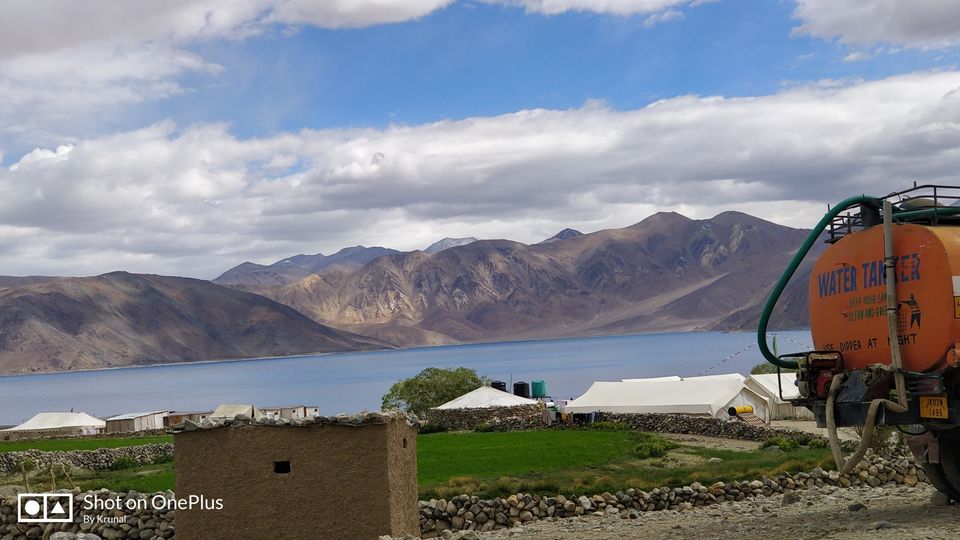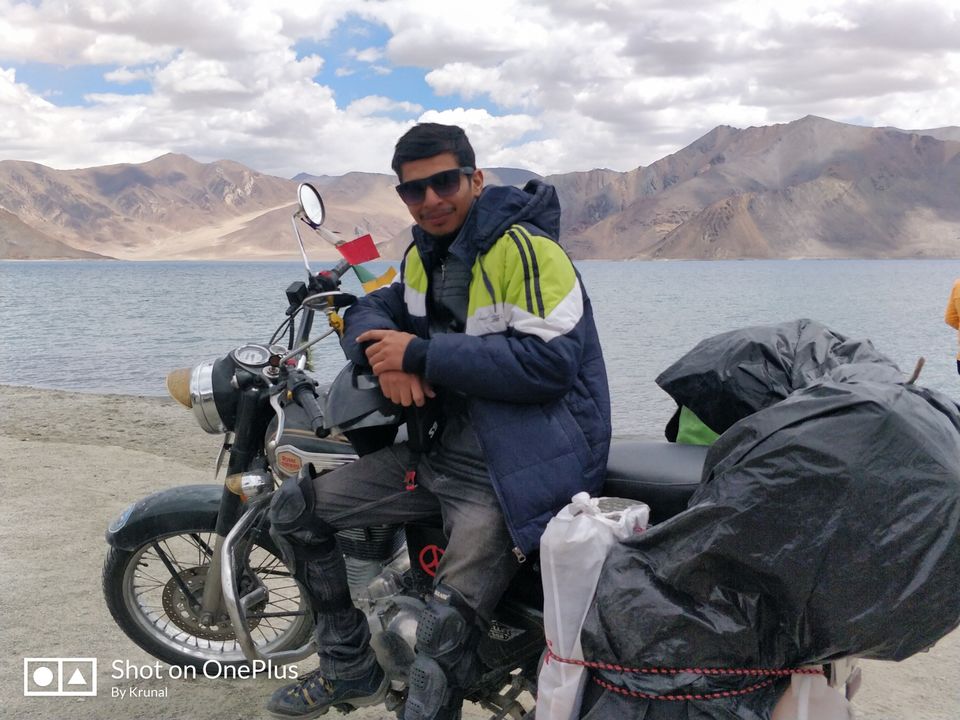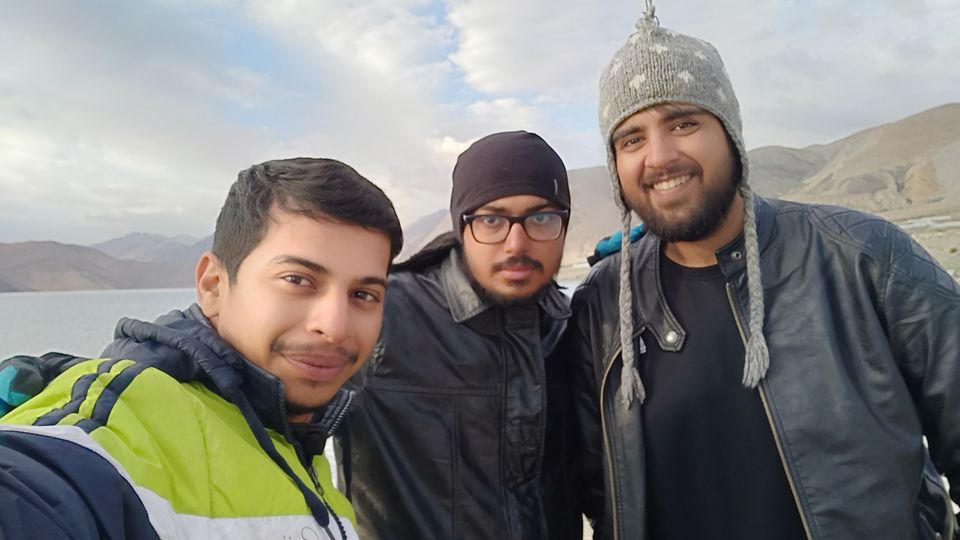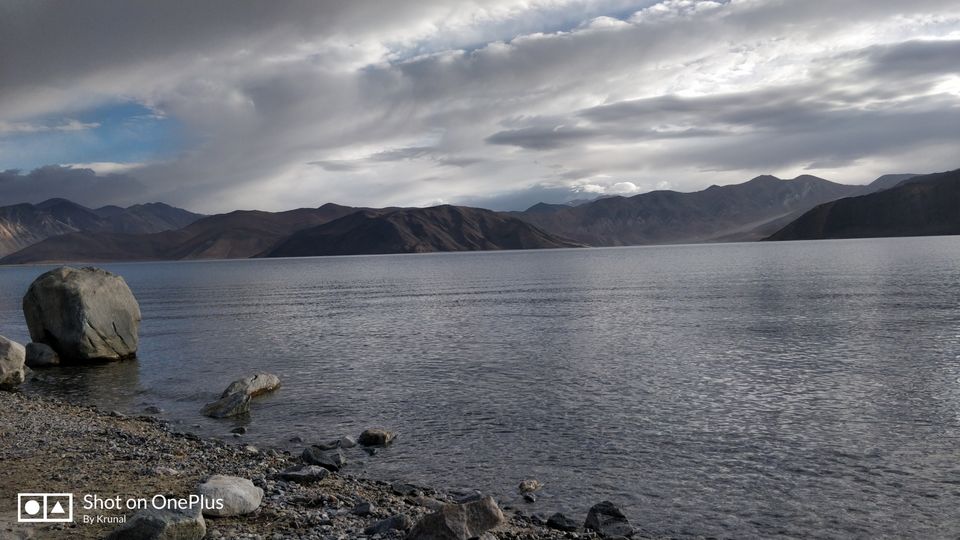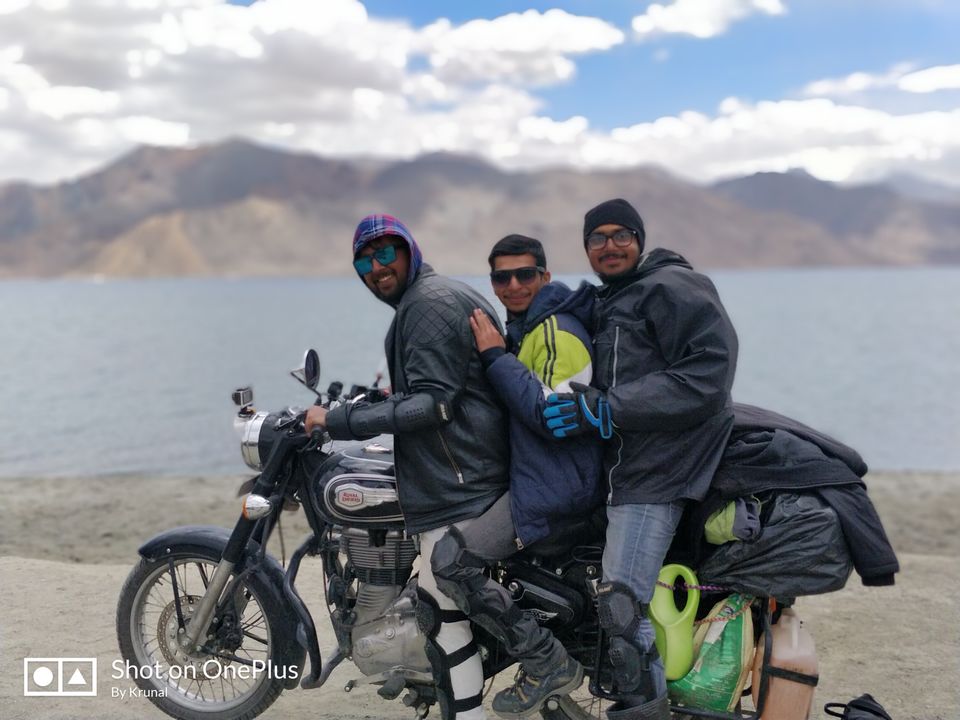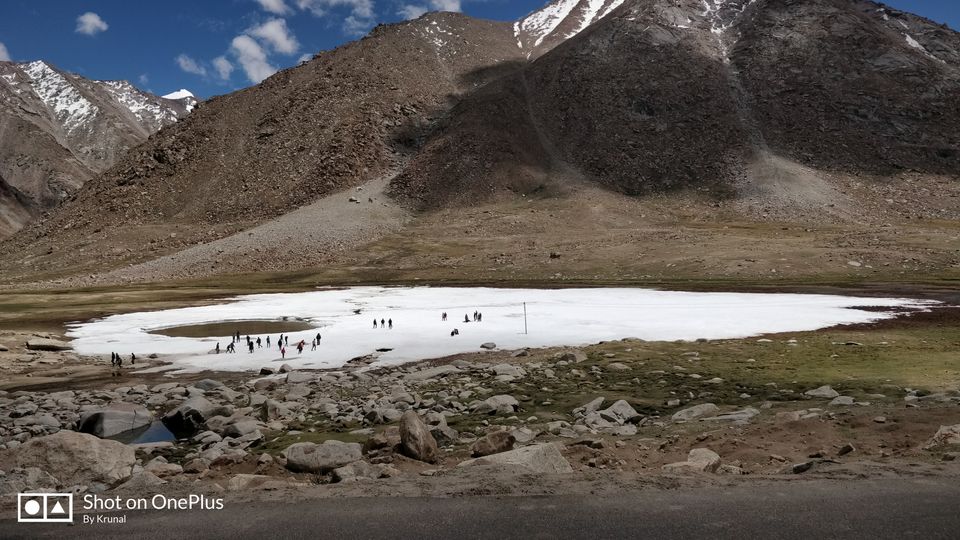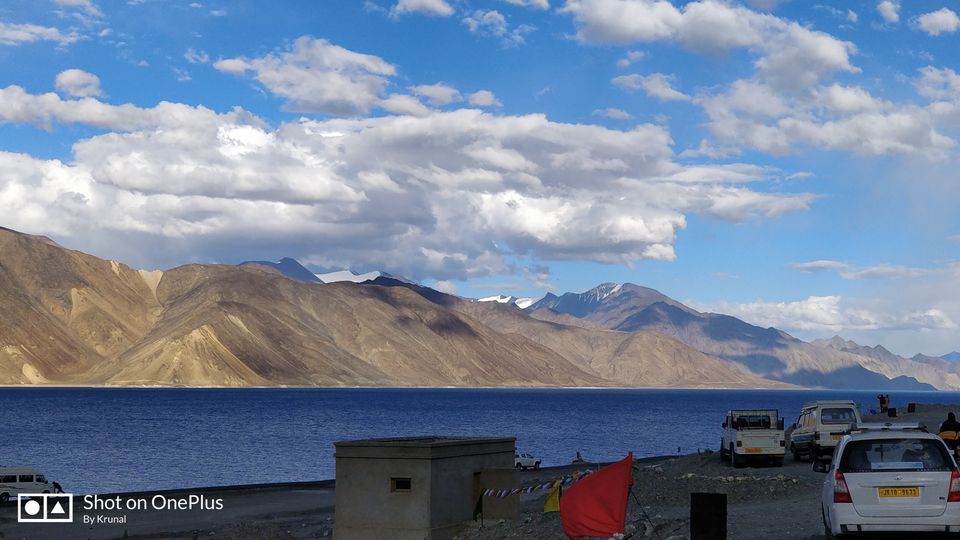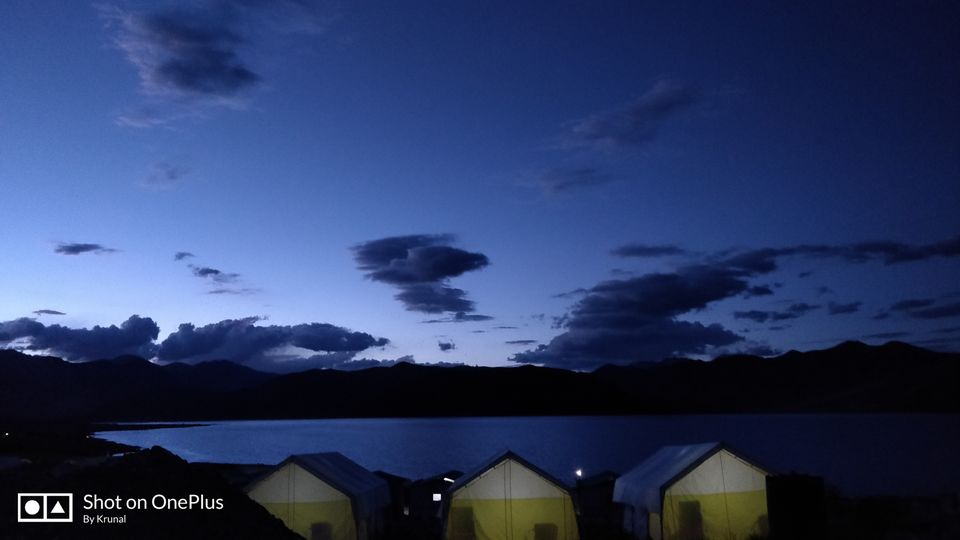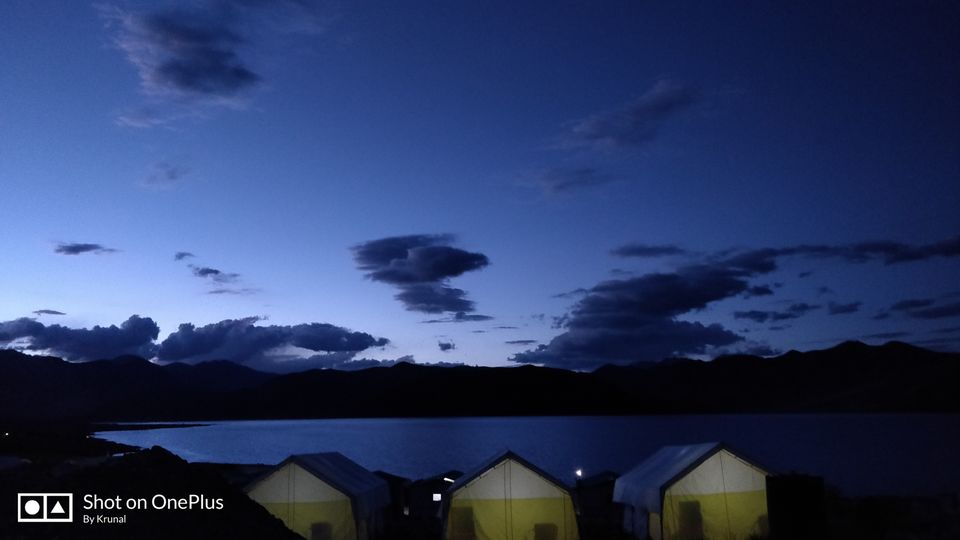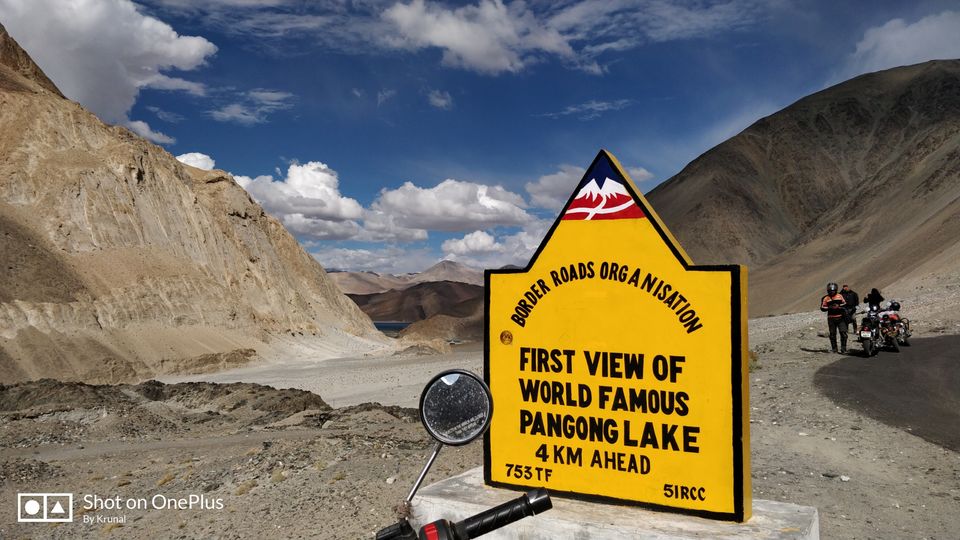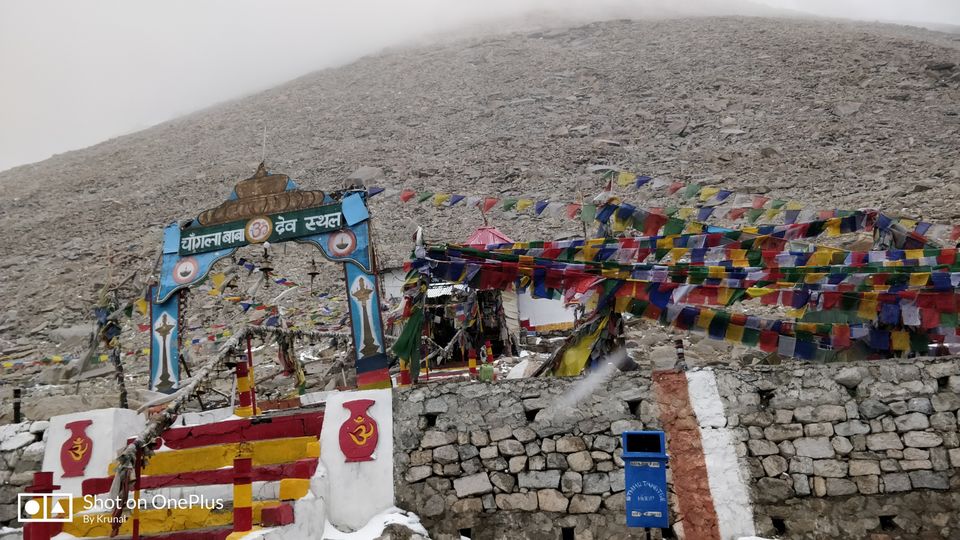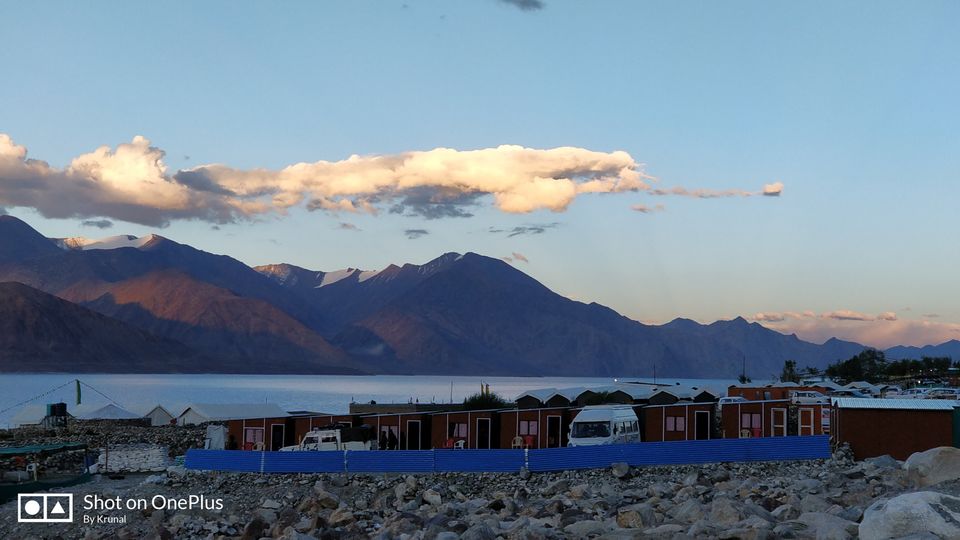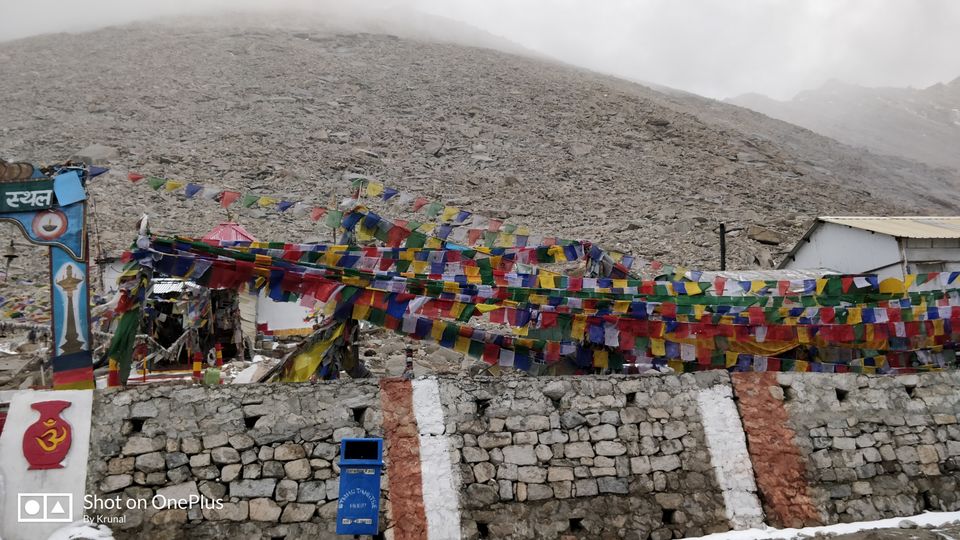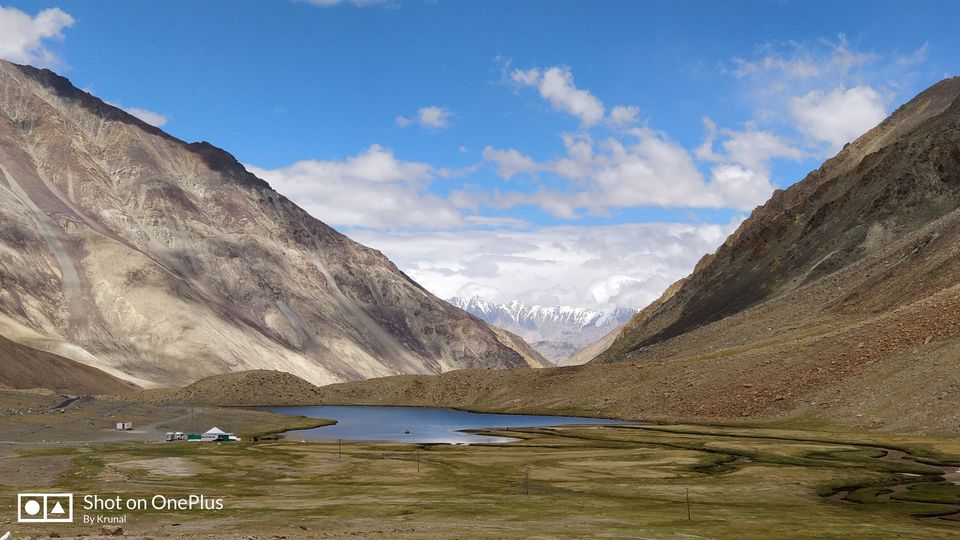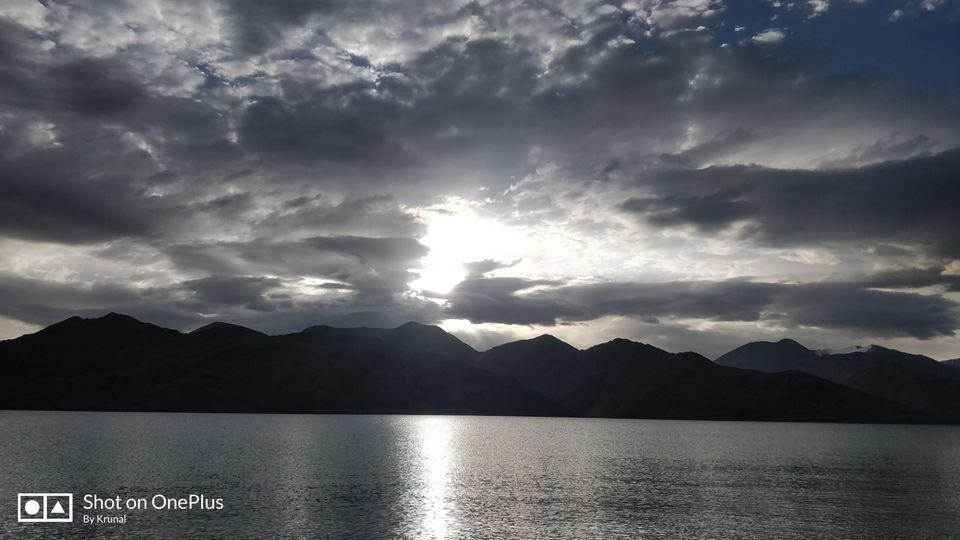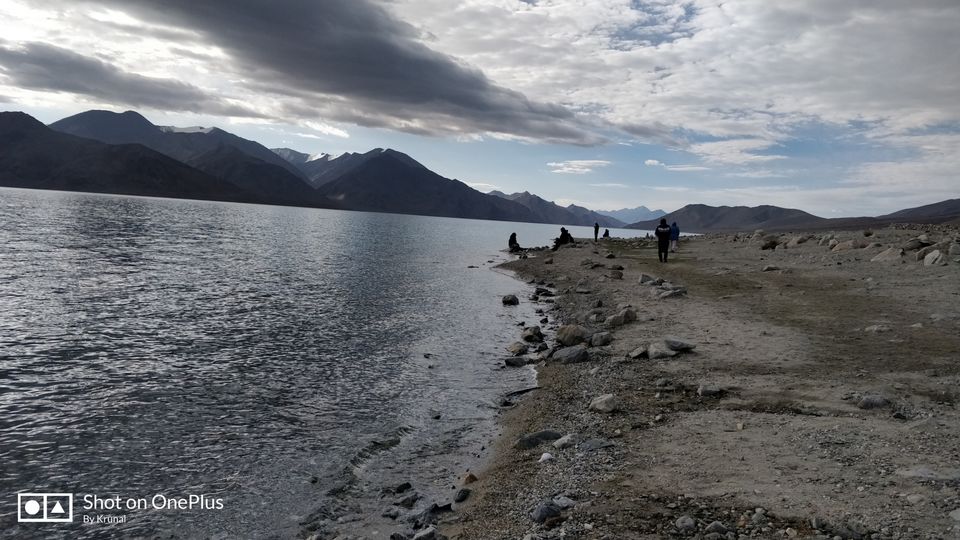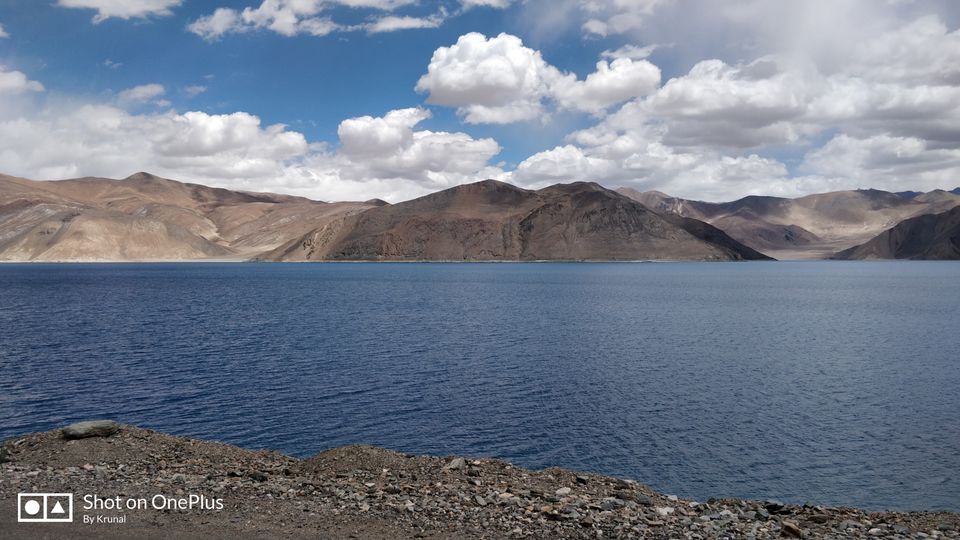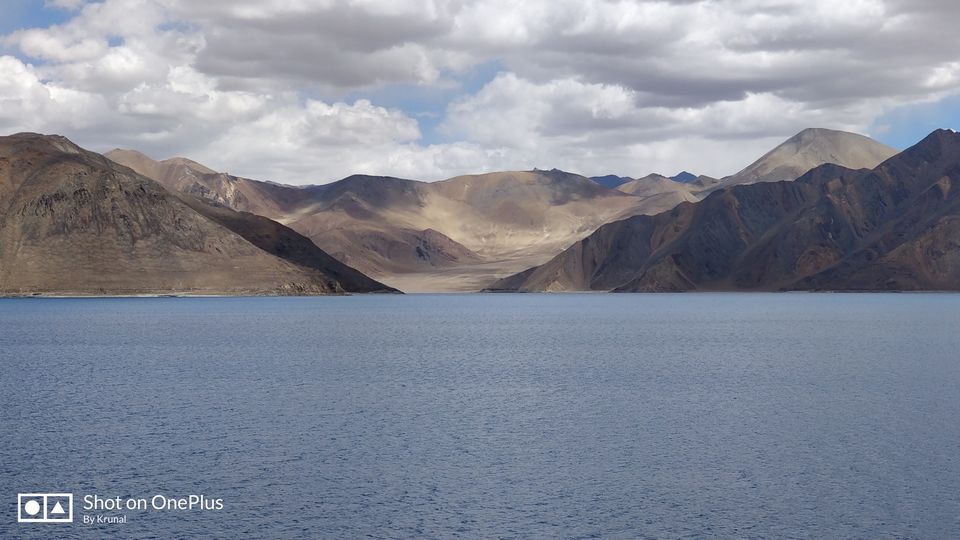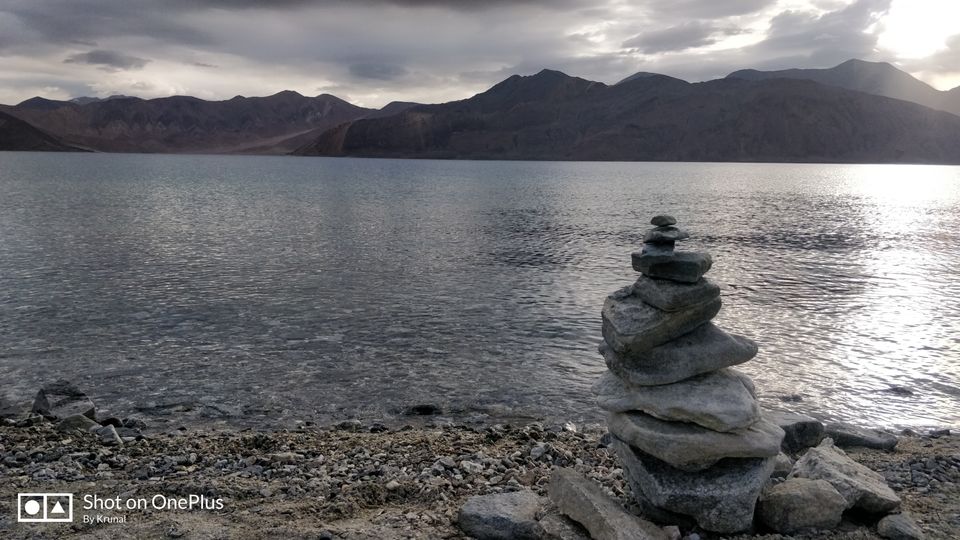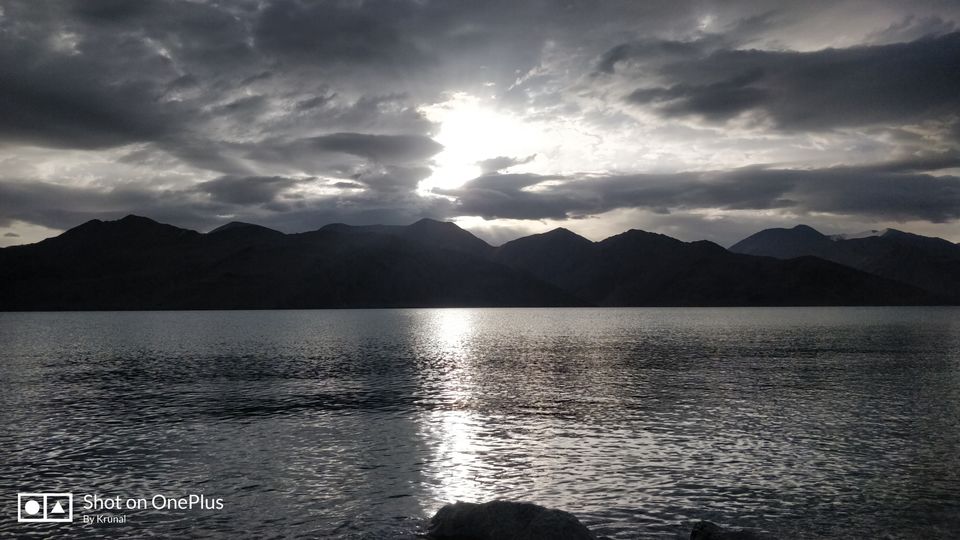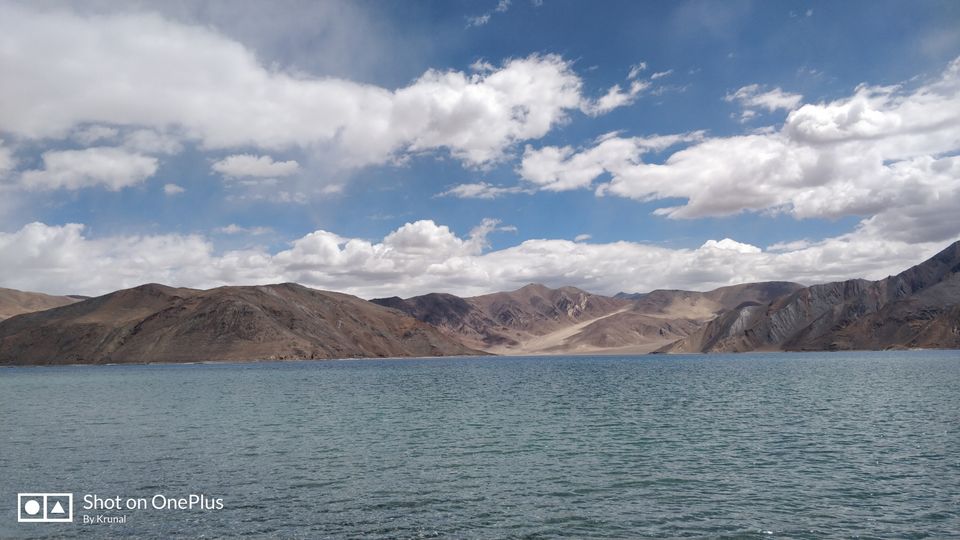 Pangong Tso- Nubra Valley
After spending good time at Pangong lake it was time to say goodbye to the most beautiful place I have ever seen and set for another adventurous 170 km ride to Nubra valley.
Just imagine a unique way to enrich your destiny… camping in an oasis under the stargazed sky, moonlight wine and dine and cool breeze! Nubra fulfills all your desire.
Reached Diskit - headquarters of the Nubra Valley, 150 km from Pangong Tso. The town is dominated by the huge 14th century monastery which is the oldest and largest in the valley. Once you enter the town, the serenity of the place will surely win your hearts.
Hunder is a beautiful town, about 7 km away from Diskit. It was the capital of the erstwhile Nubra kingdom in the 17th century.
Between Diskit and Hunder lie several kilometres of massive white sand dunes that glisten in the sun, reminding you that you are in a high altitude desert.
The gushy winds travelling through the trees, their sound and silence in the air will leave you amazed. The weather changes in mintues! Nubra has a tourist point where you will find double humped camels, sand dunes in which you can roll and play, cultural programs and archery competitions which will occupy your time. Double-humped Bactrian camel - used to travel the Silk Route into China and Central Asia. Now they give tourists joy rides up and down the dunes…
Ladakh gave me memories, experiences and knowledge. It is a place which checks your patience, may take a toll on your body but in the end your heart will remember the most beautiful sceneries you have ever came across. Cheers!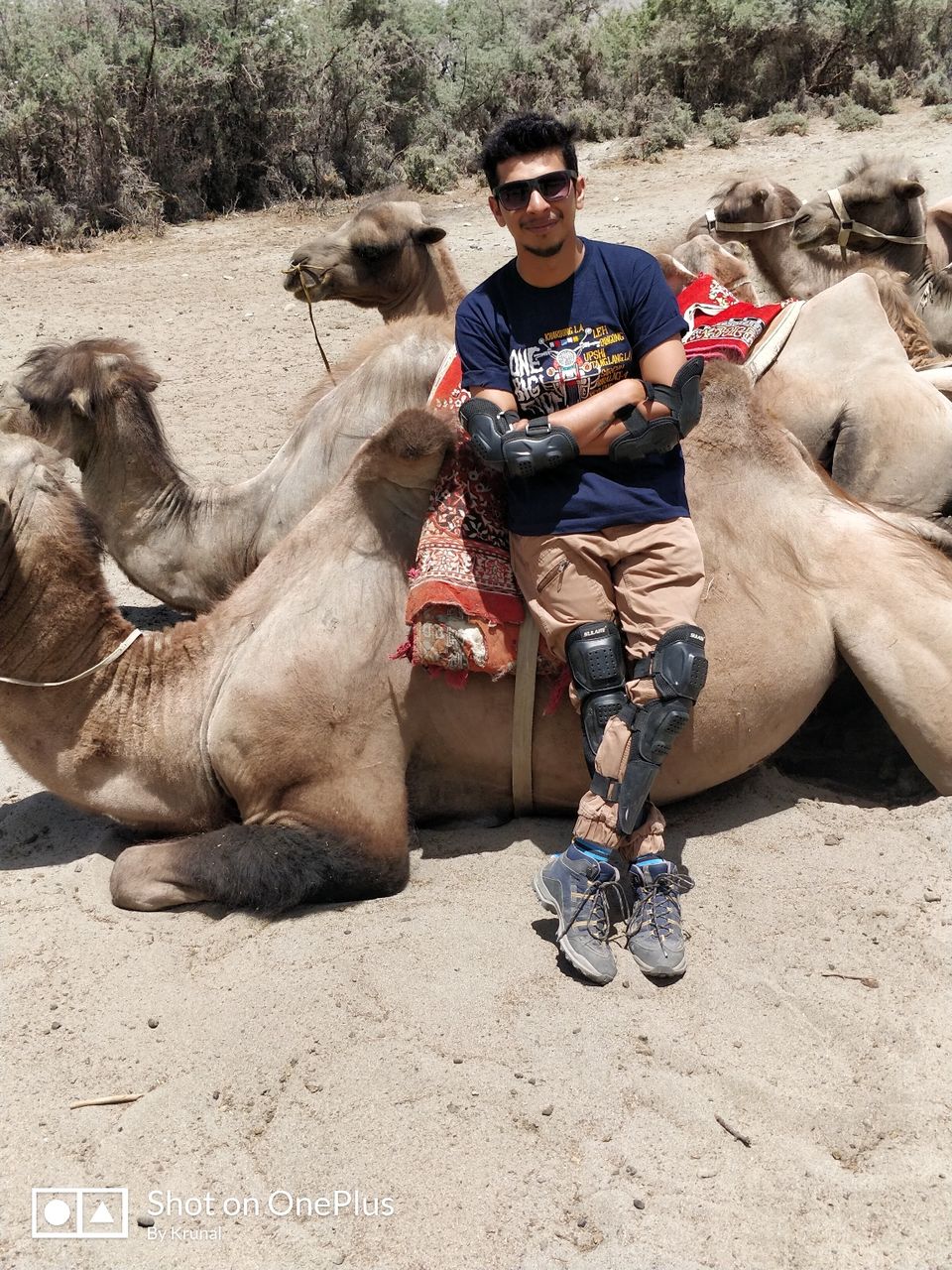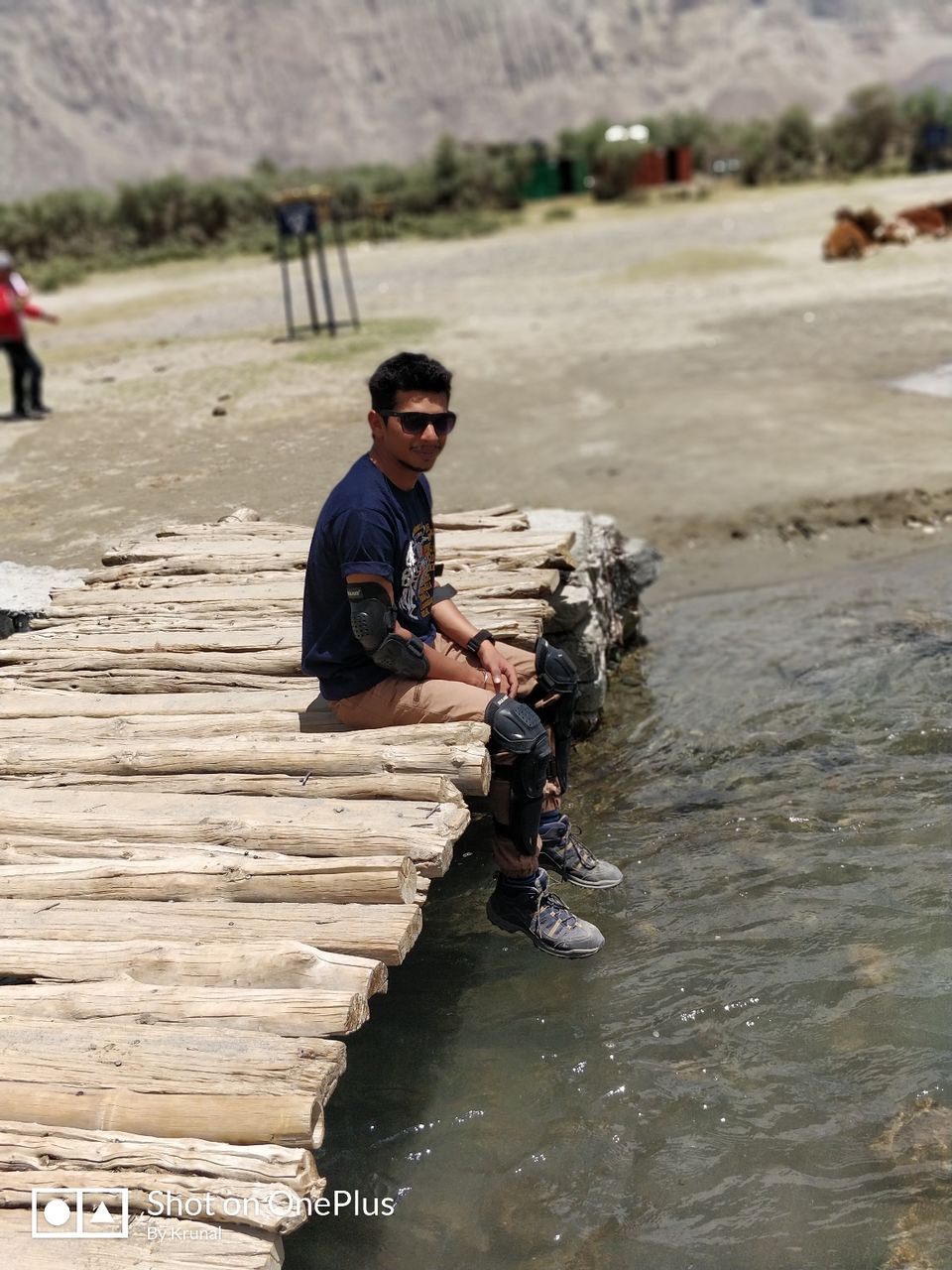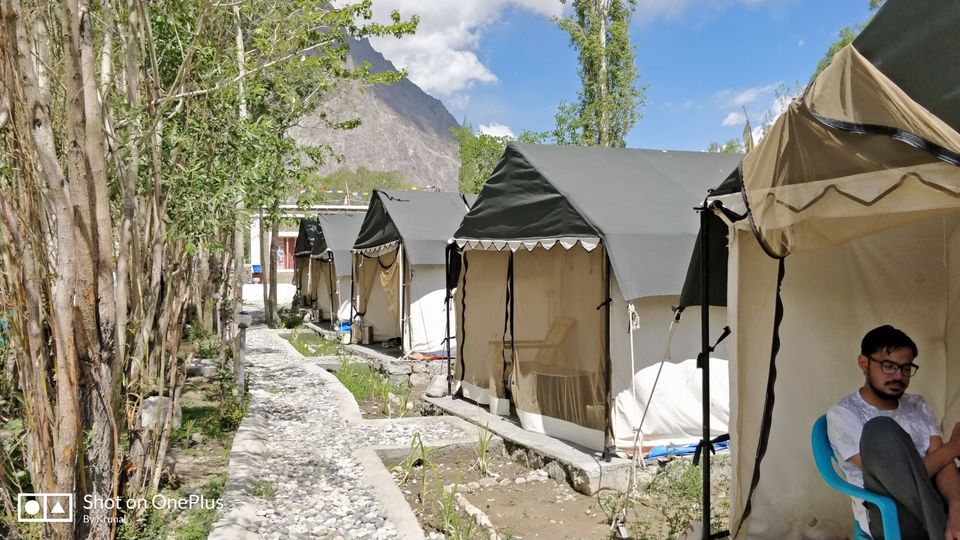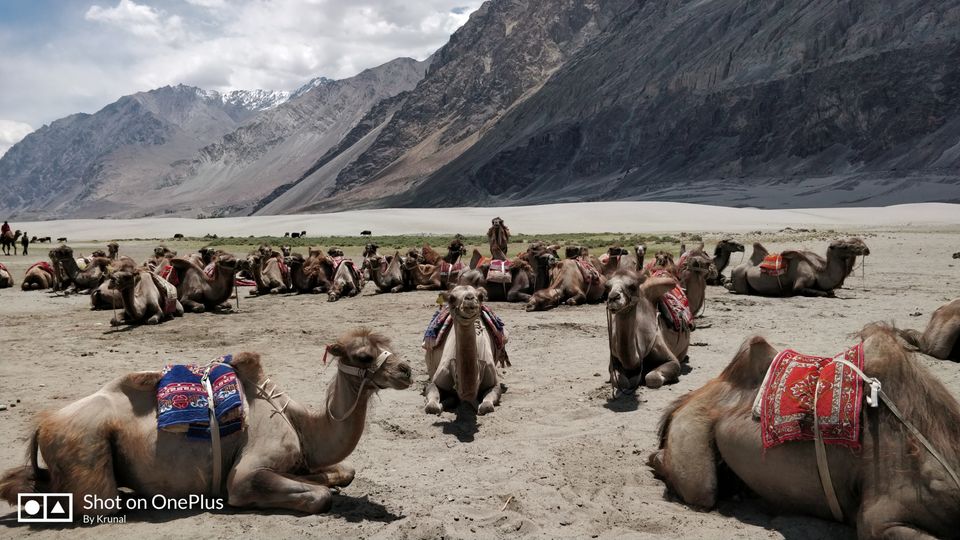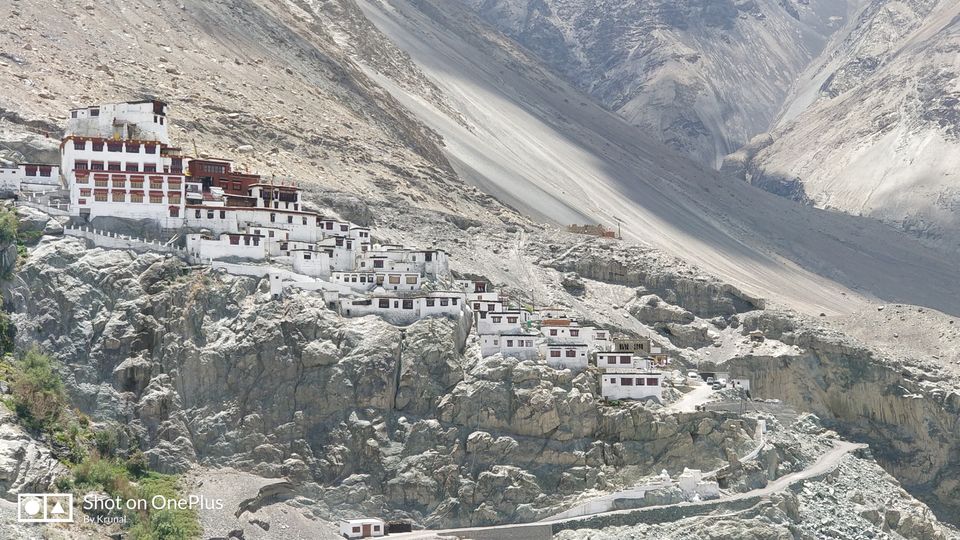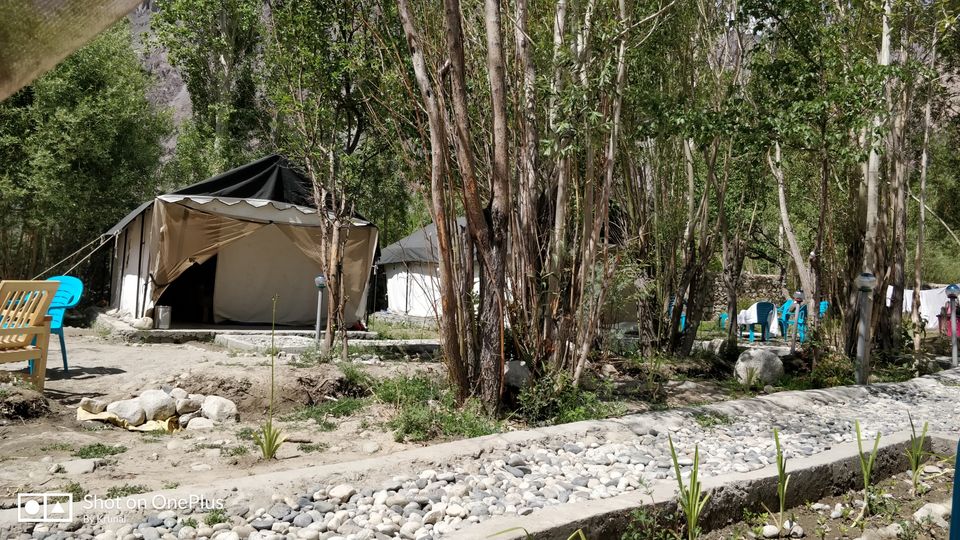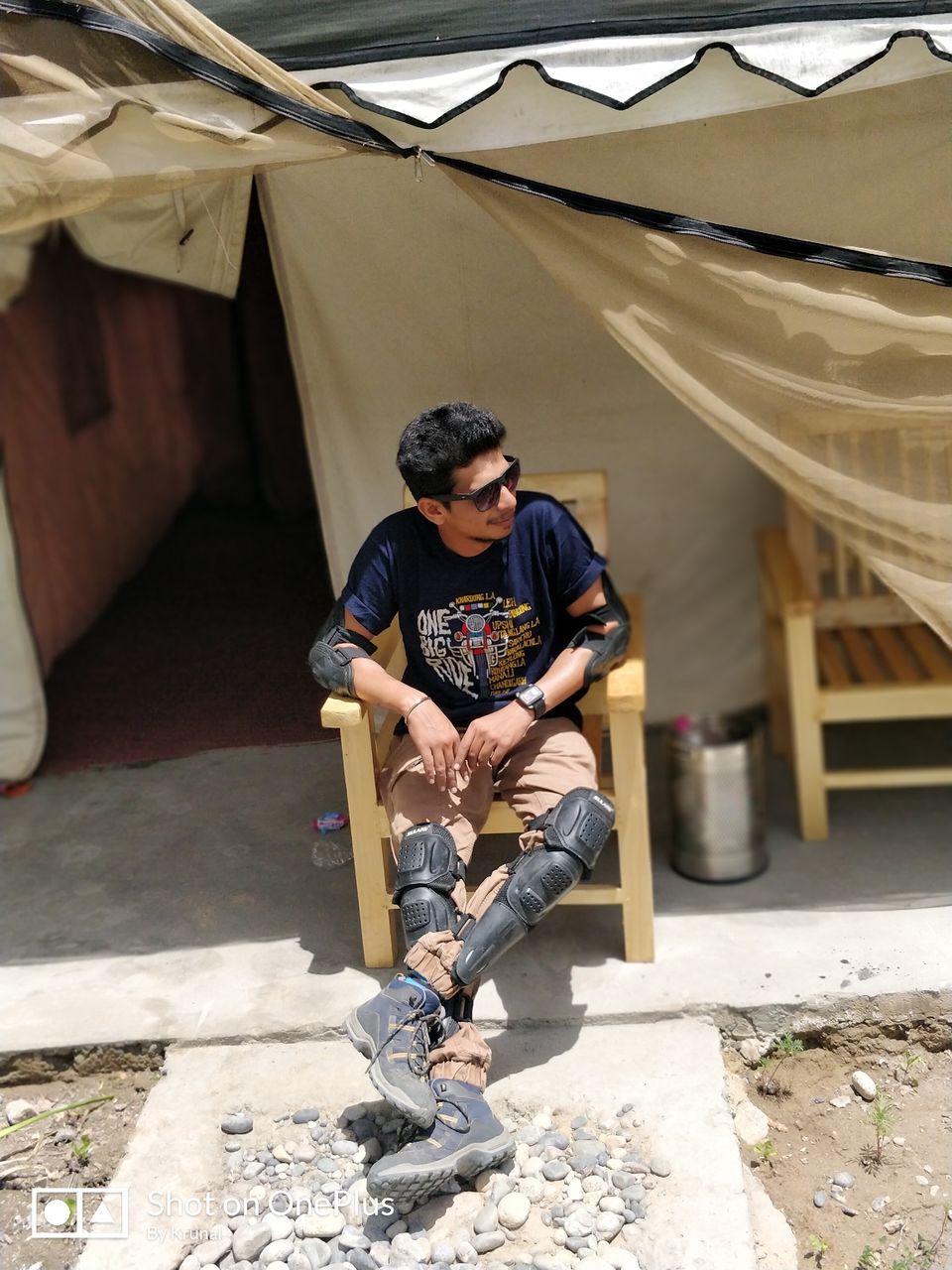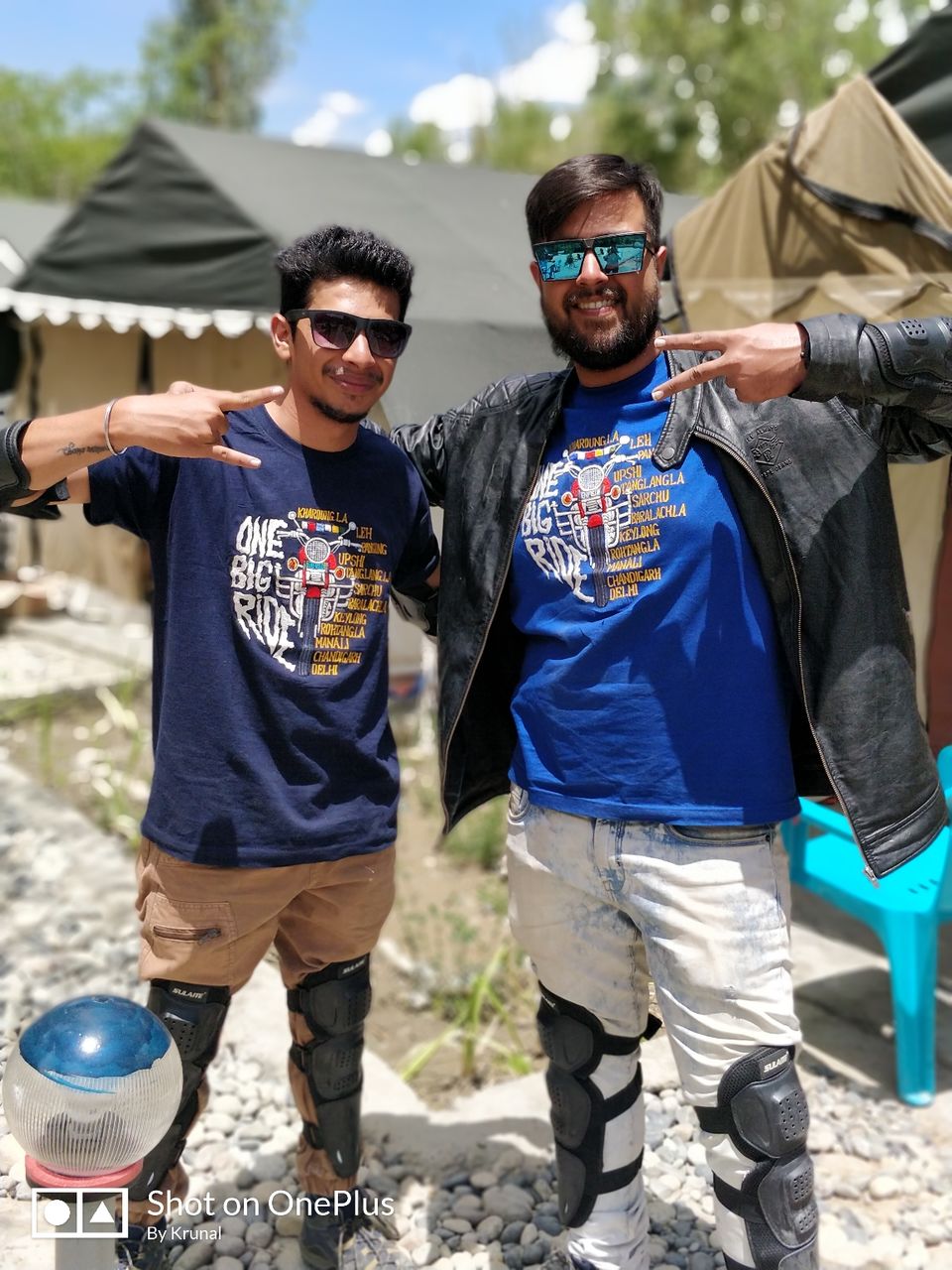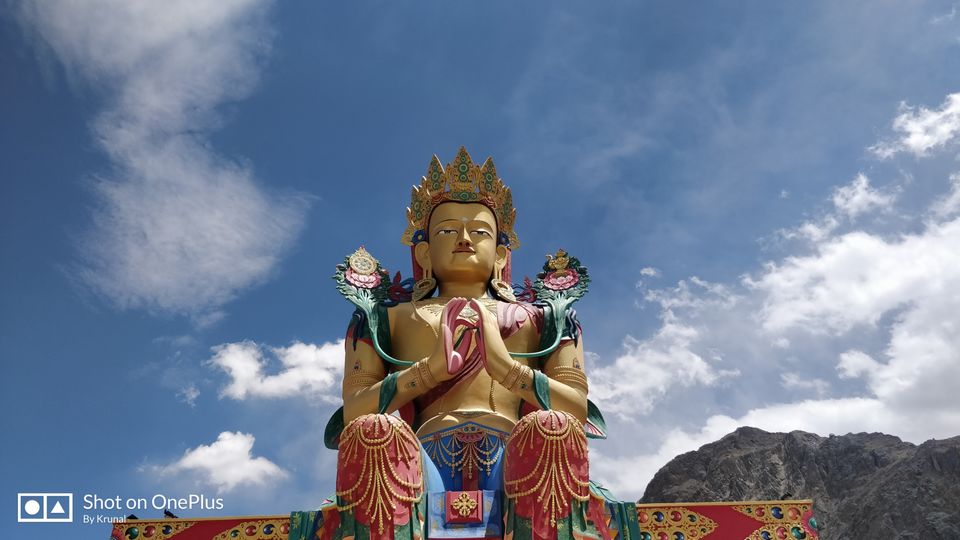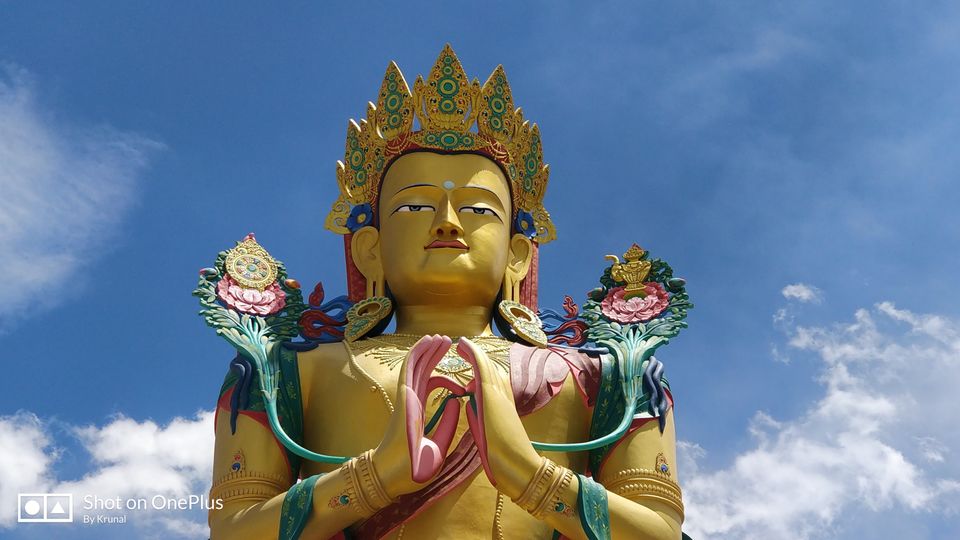 Nubra Valley – KHARDUNG LA – Leh
Khardung La is a gateway to Nubra valley and continues towards Siachen glacier. It is also very famous amongst travelers as the "Highest motorable road in the World" at 18380 ft. Now, this route is the most famous bike trip route in India and there are travel blogs dedicated to the subject of traversing Ladakh on a bike. There were many people who told me that going in a car is synonymous to wasting time and the only way to do this trip right is by a motorbike. One hour into the journey I realized they were right.
While riding, we passed through winding mountain roads, areas that were dry and arid as well as some lush green areas. It was as if some art master had his whole collection on showcase and we were looking at a breathtaking watercolor one after the other.
As we ascended the slopes the temperature constantly dropped and we could see patches of snow here and there. Nubra Valley to Khardung La is a one of the toughest ride of the journey as while ascending towards Khardung La the oxygen level reduces drastically and there is a great amount of fall in temperature too. But all this didn't stop us from reaching "The Top of the World". A sense of accomplishment one feels after reaching the K-top is a feeling which can't be explained in words. Fighting all odd, riding through some of the most dangerous roads in the world, leaving comfortable lives and riding in toughest weather that's what Khardung La is all about.
Finally after clicking some photos and having tea in World's highest café which is maintained by the Indian Army we left for Leh and reached there around 7 pm.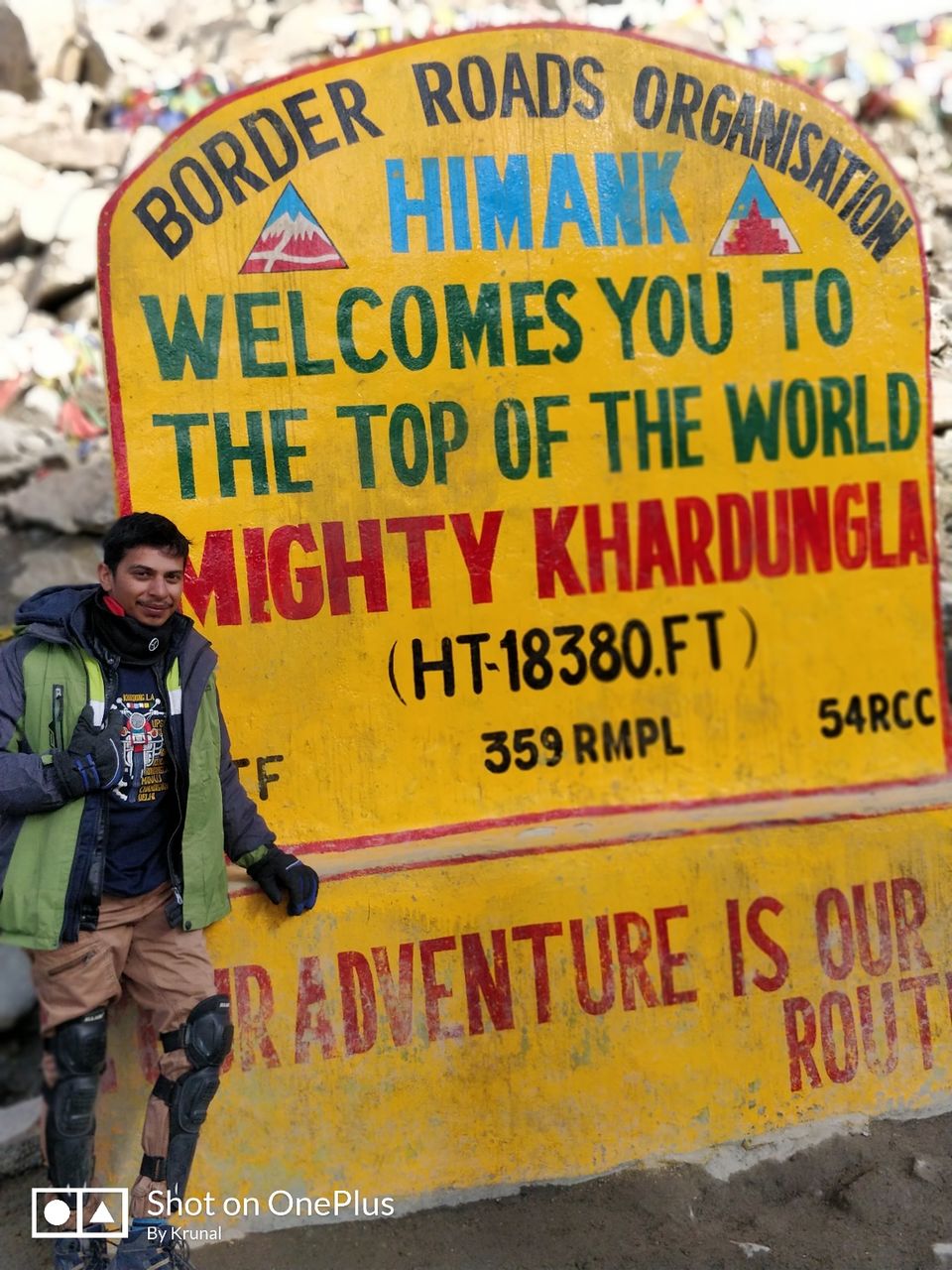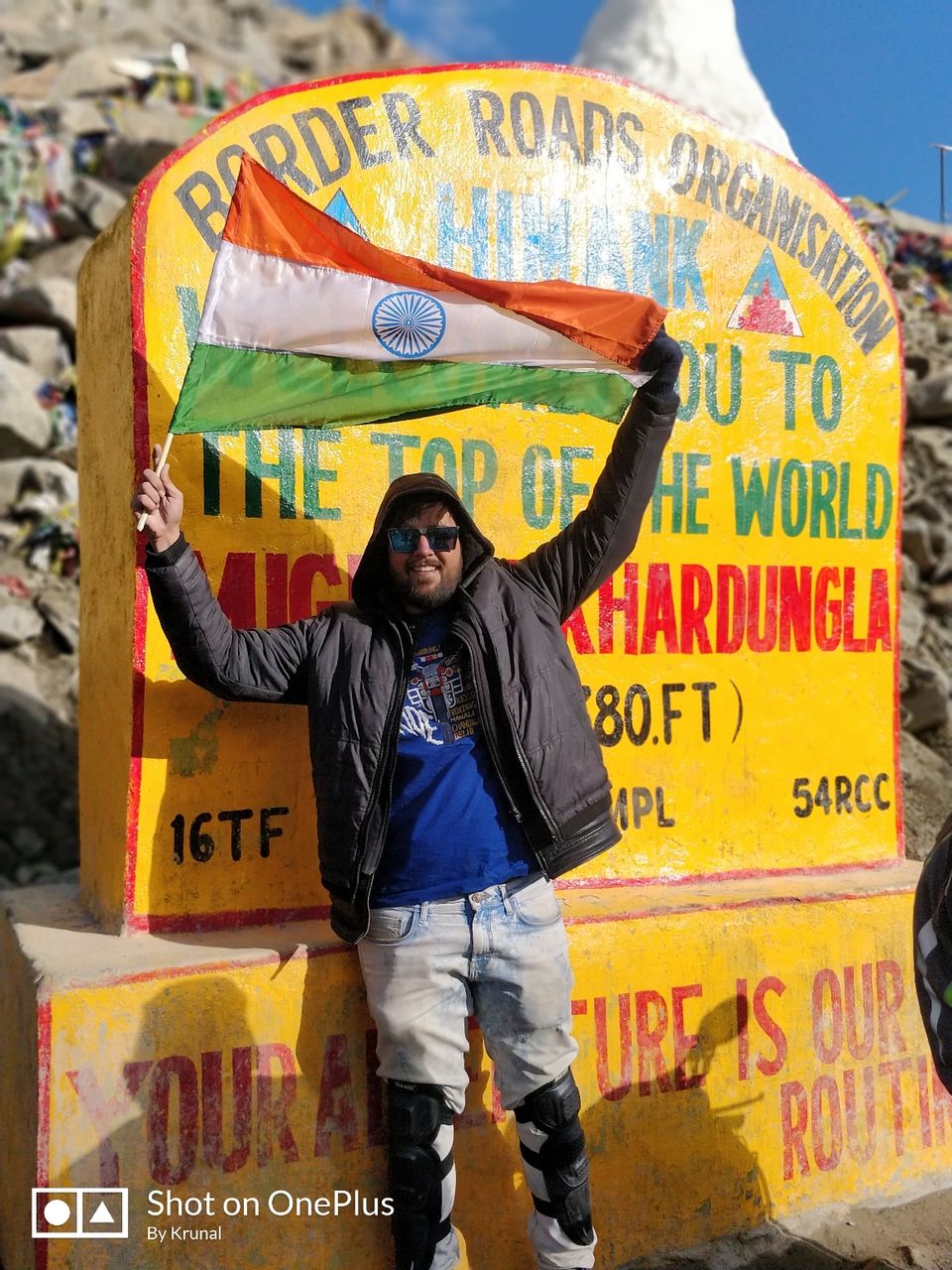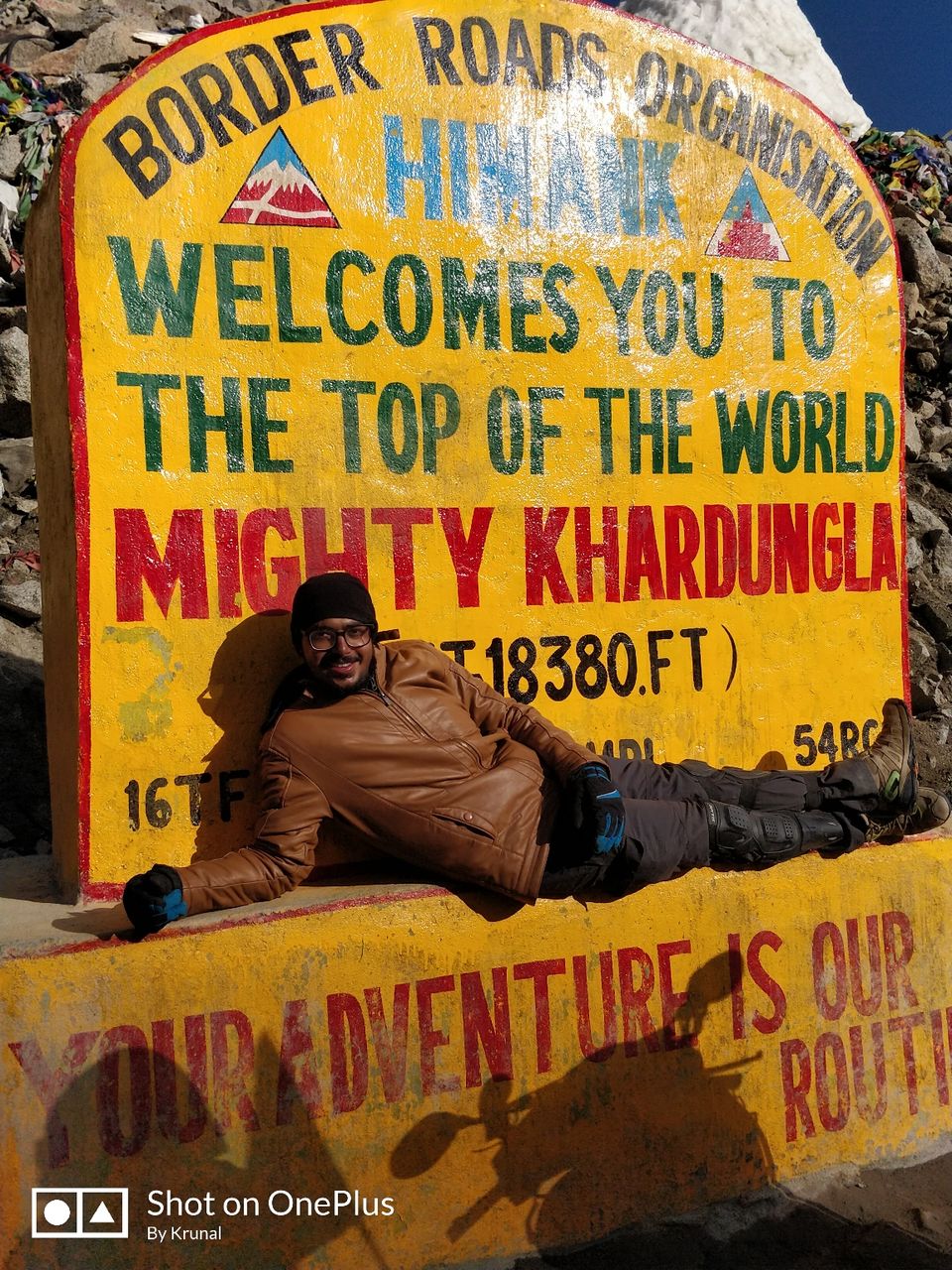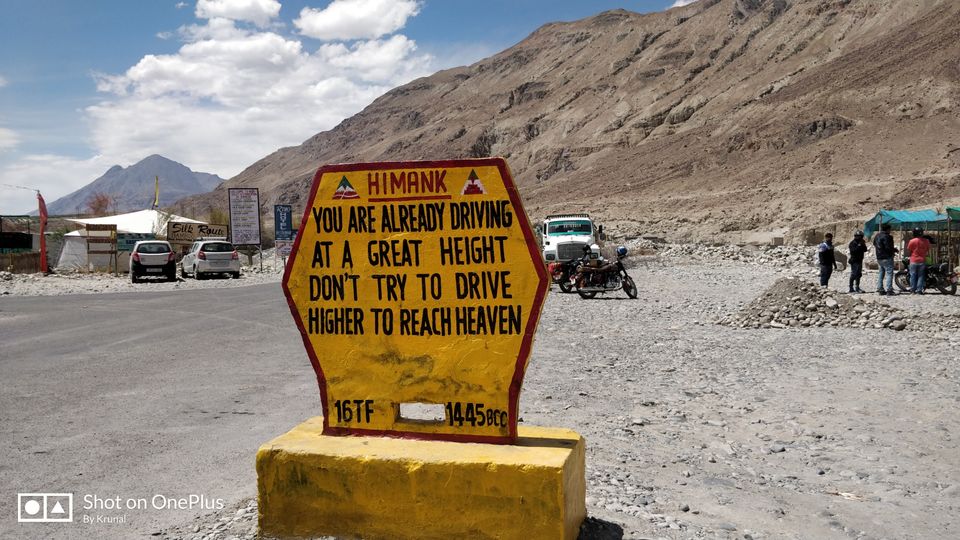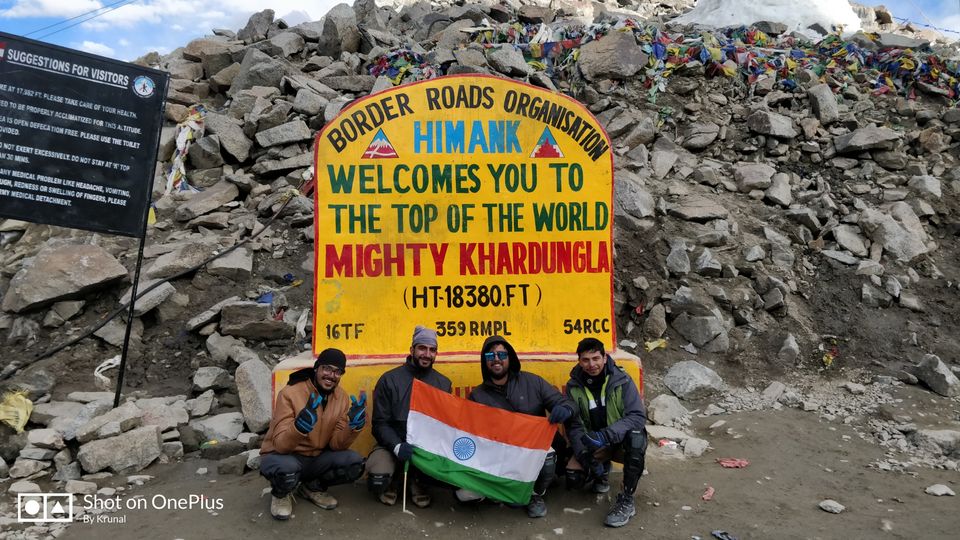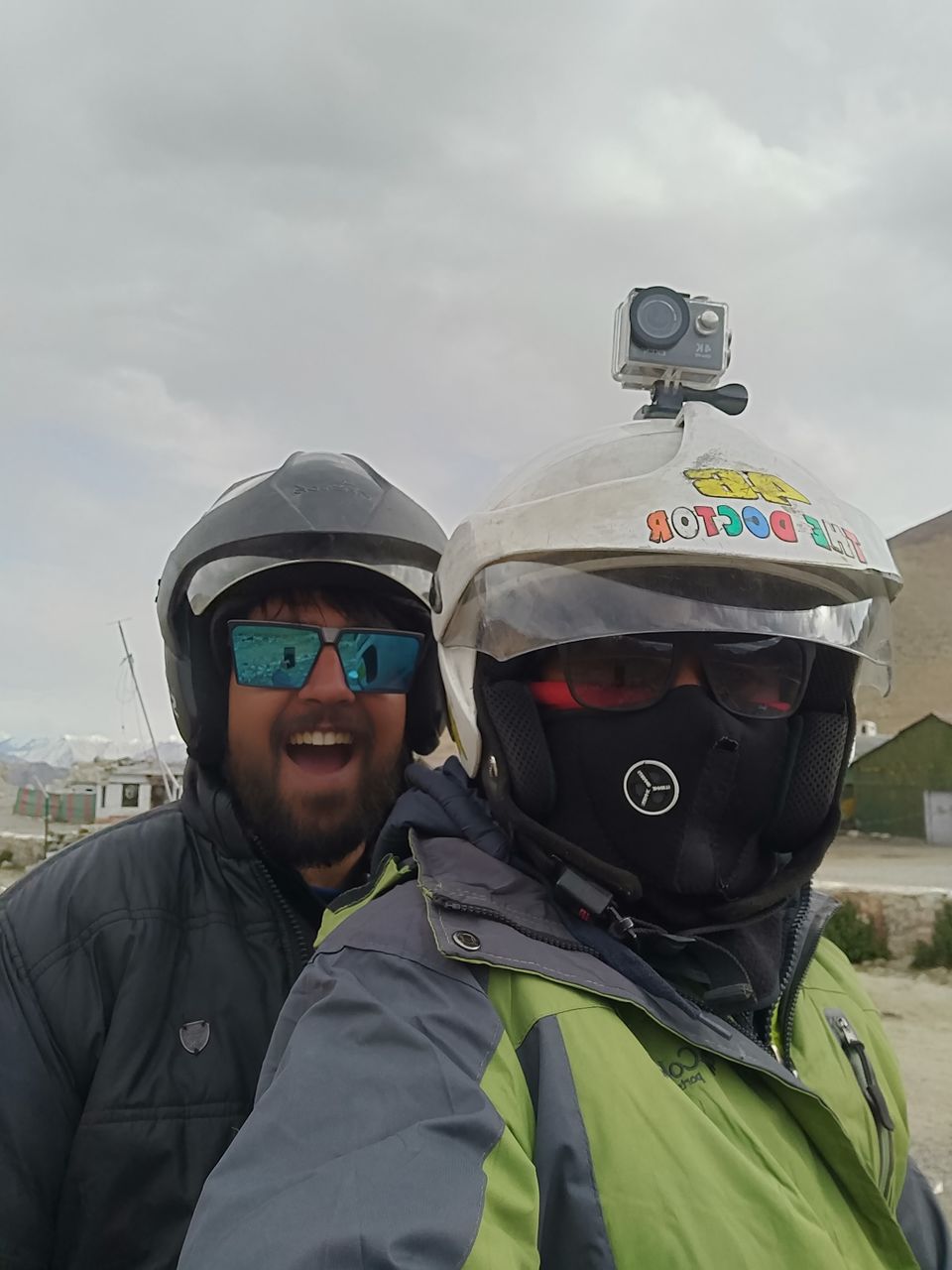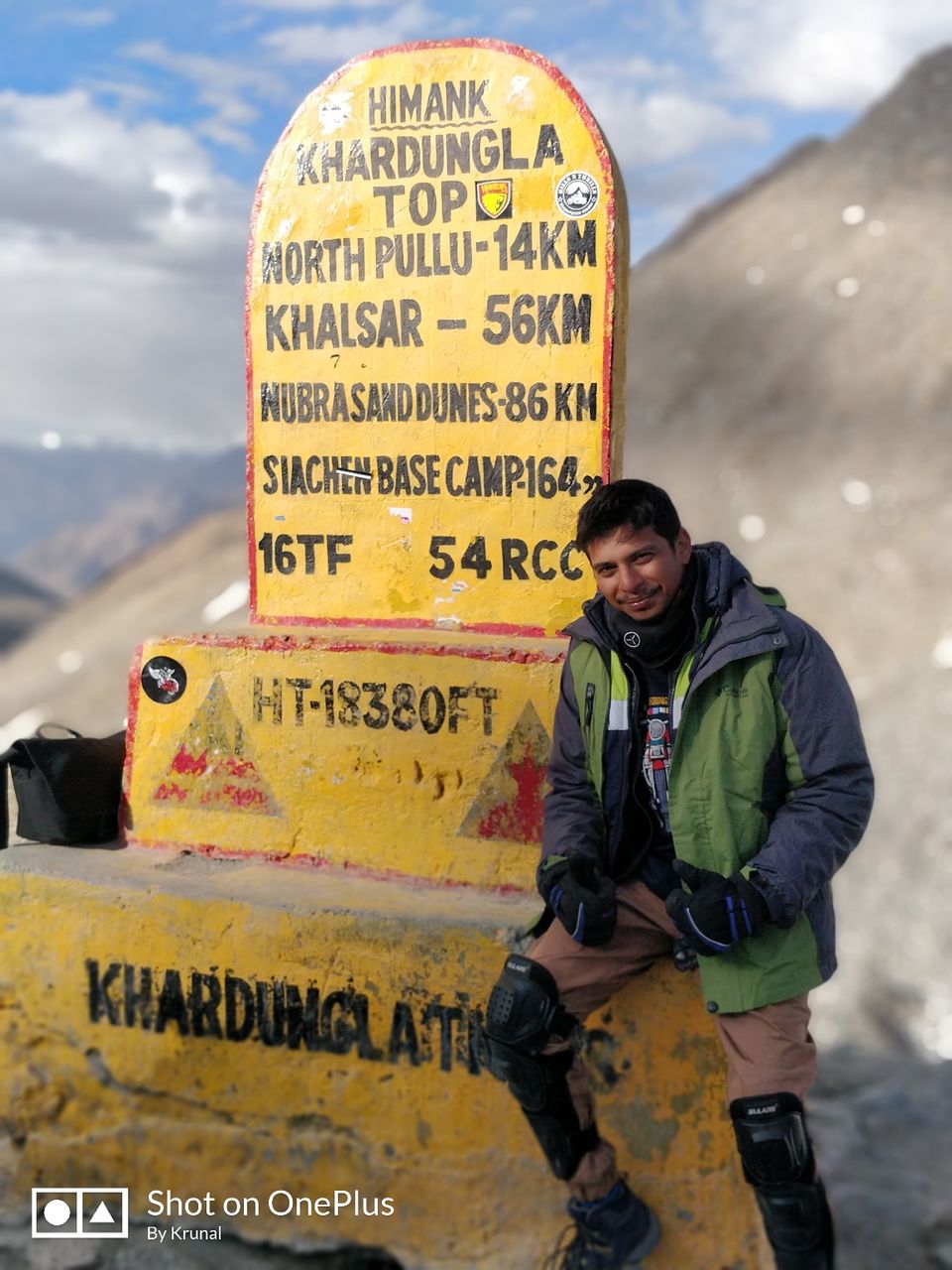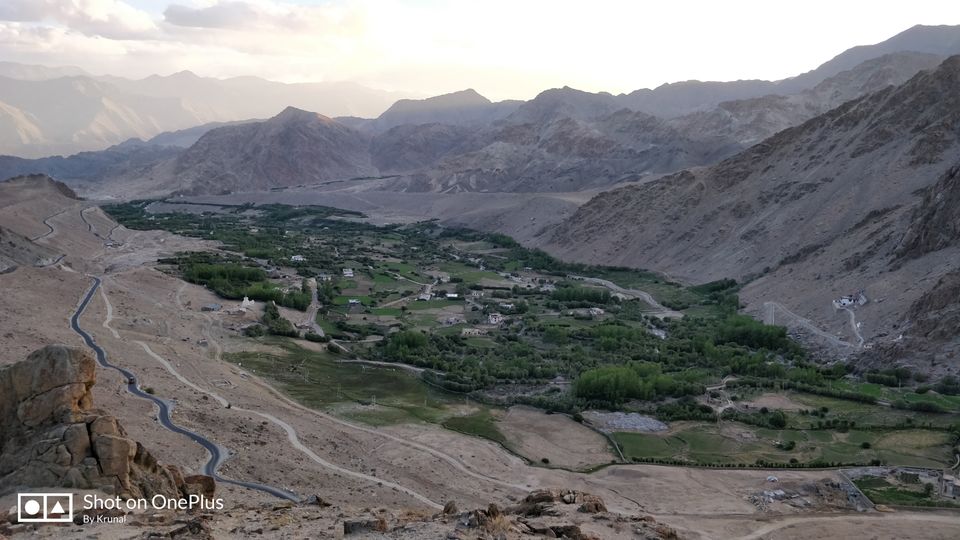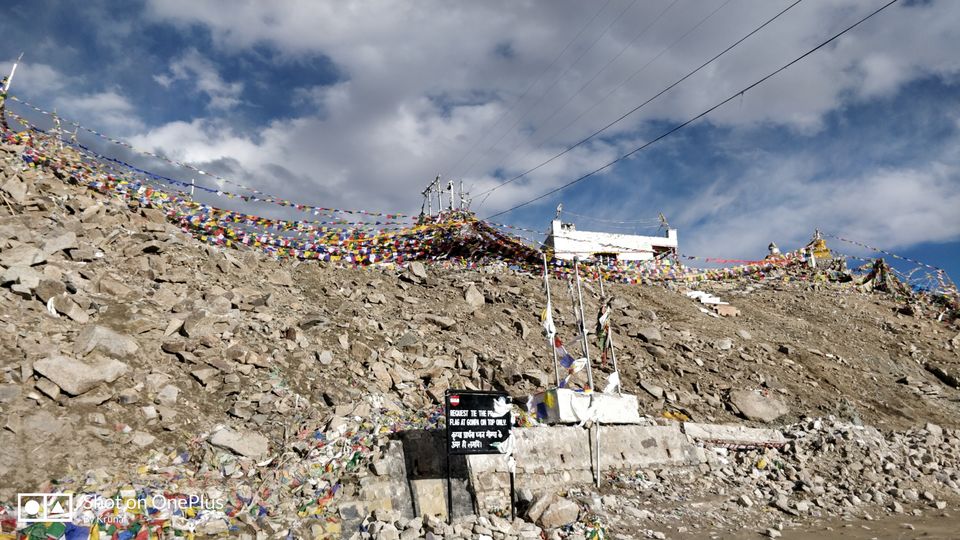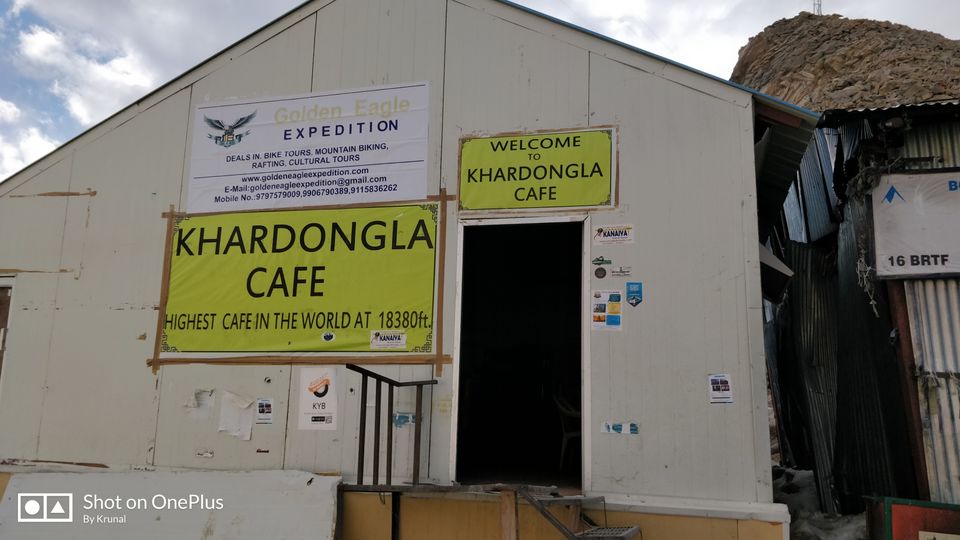 Leh
A reserved day well utilized by exploring places around Leh on Leh-Shrinagar highway.
Sangam – The point where Indus river meet the black water river coming from Pakistan. You can clearly see the difference in colors of both the rivers.
Magnetic Hill, Pathar Sahib Gurudwara, Hall Of Fame.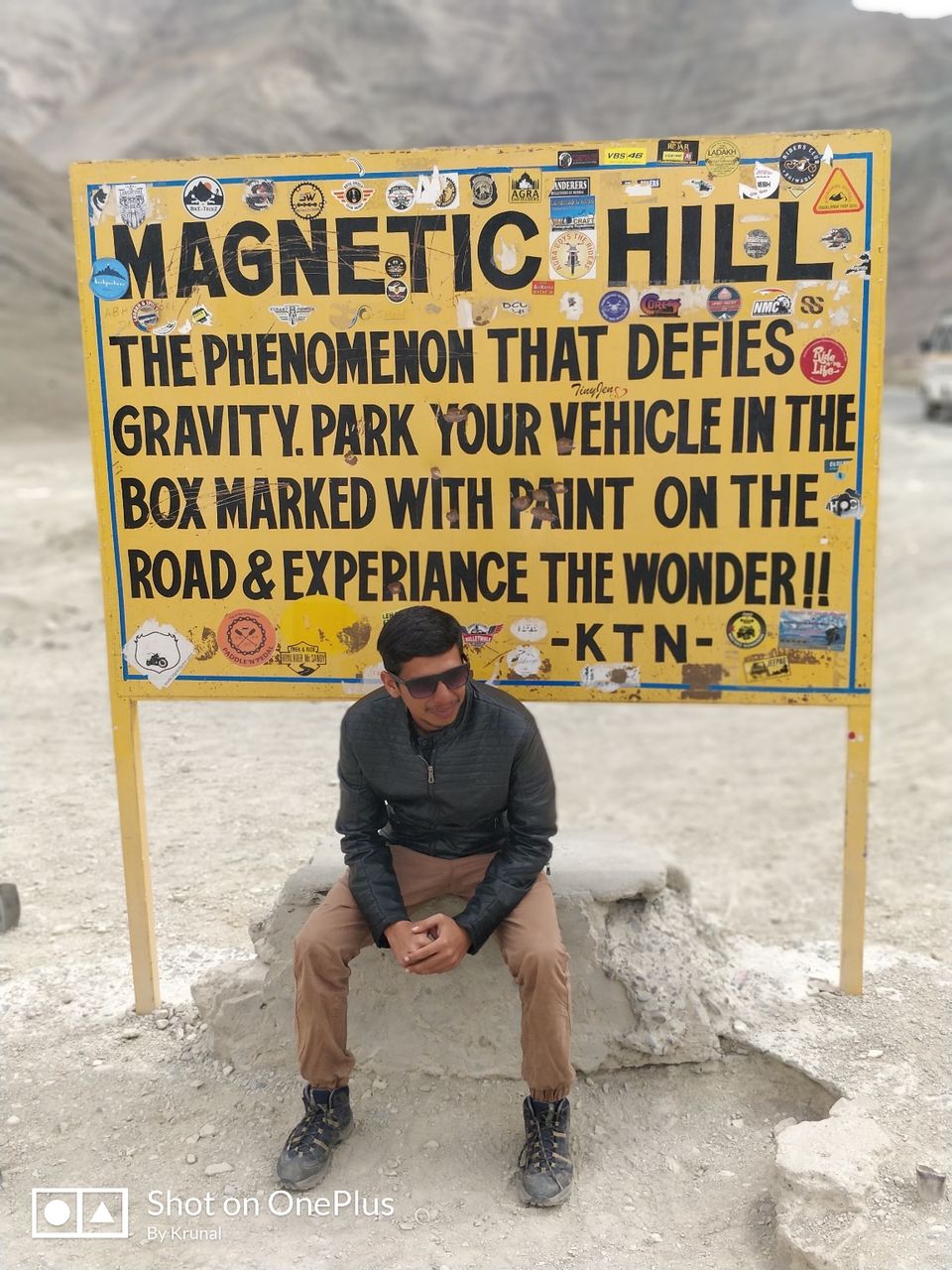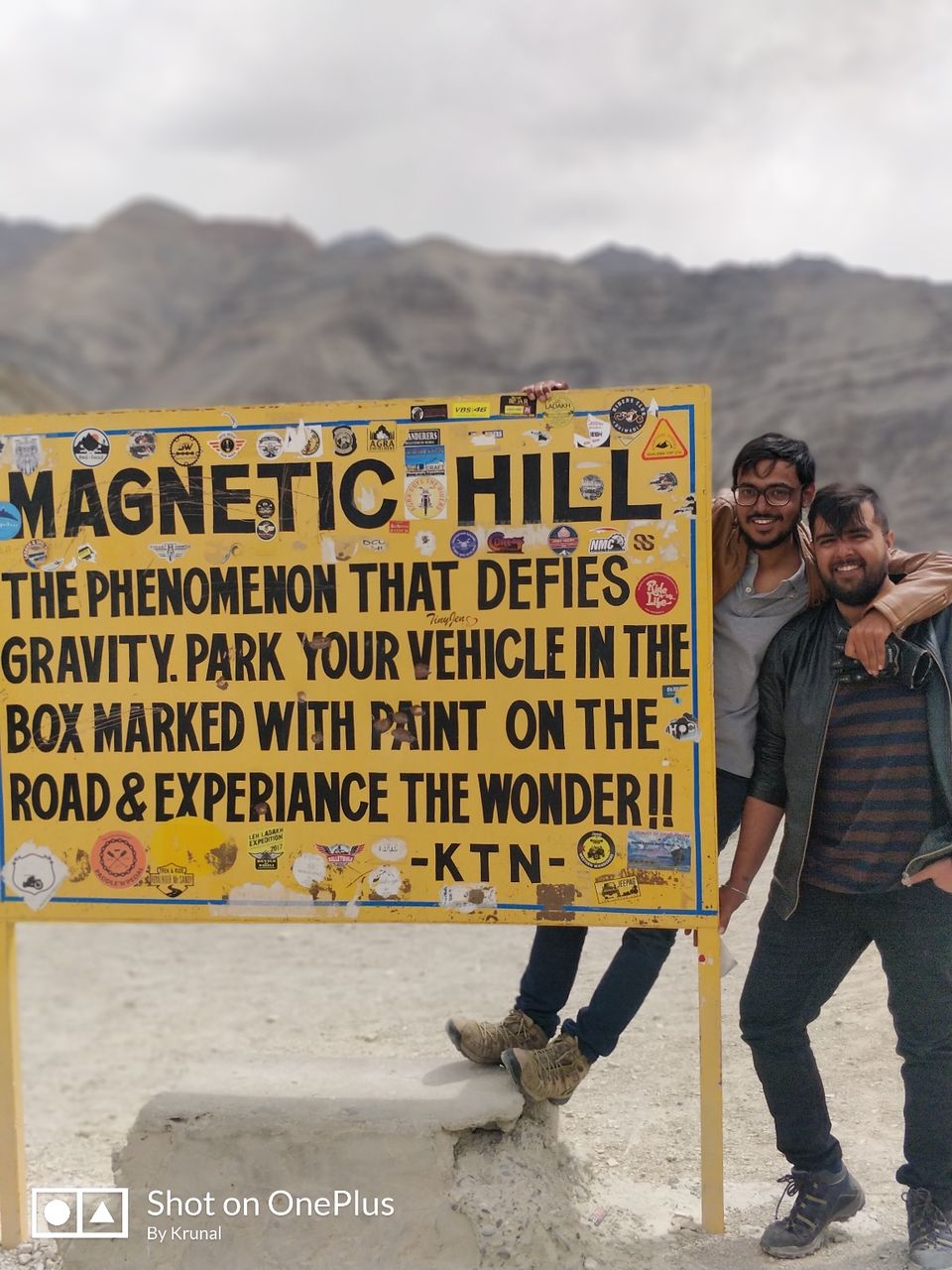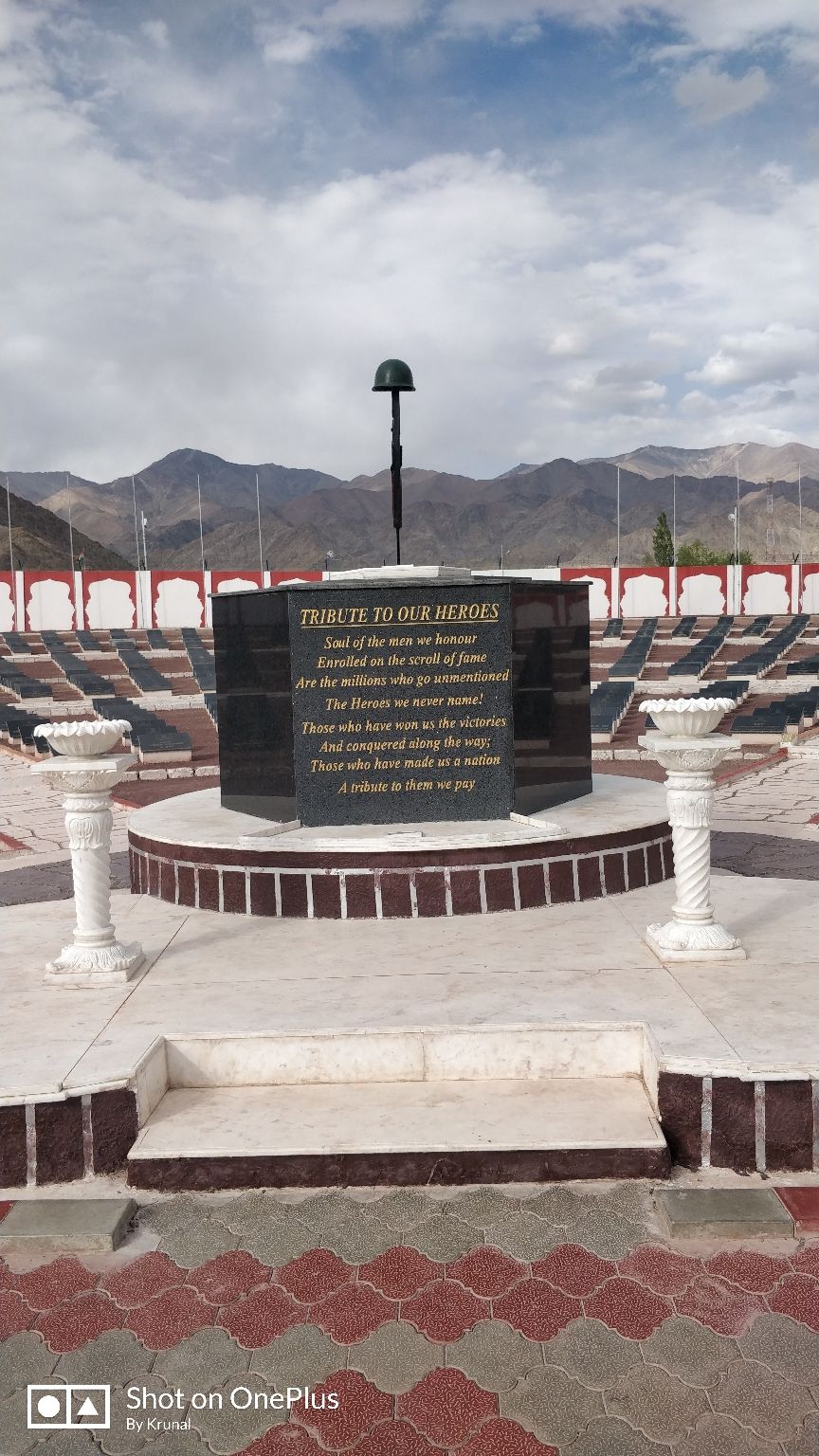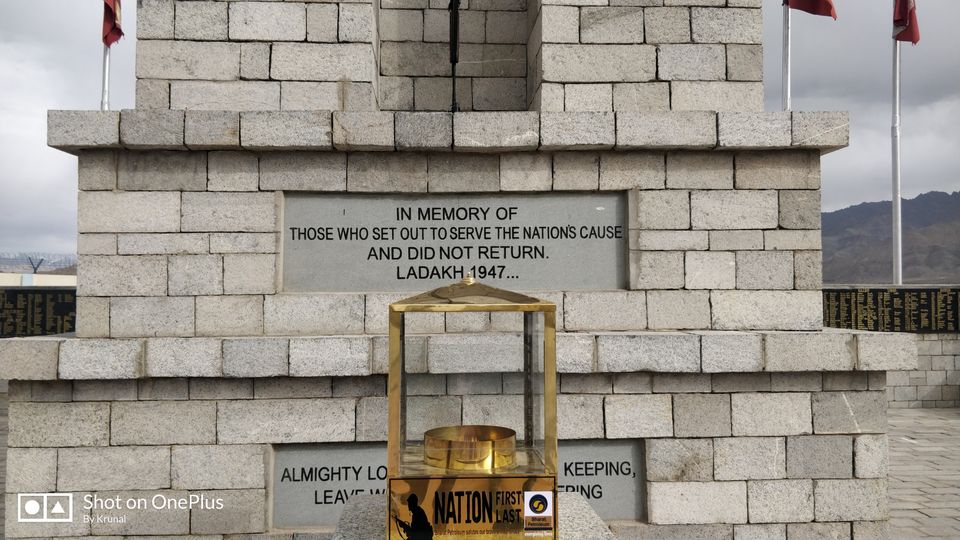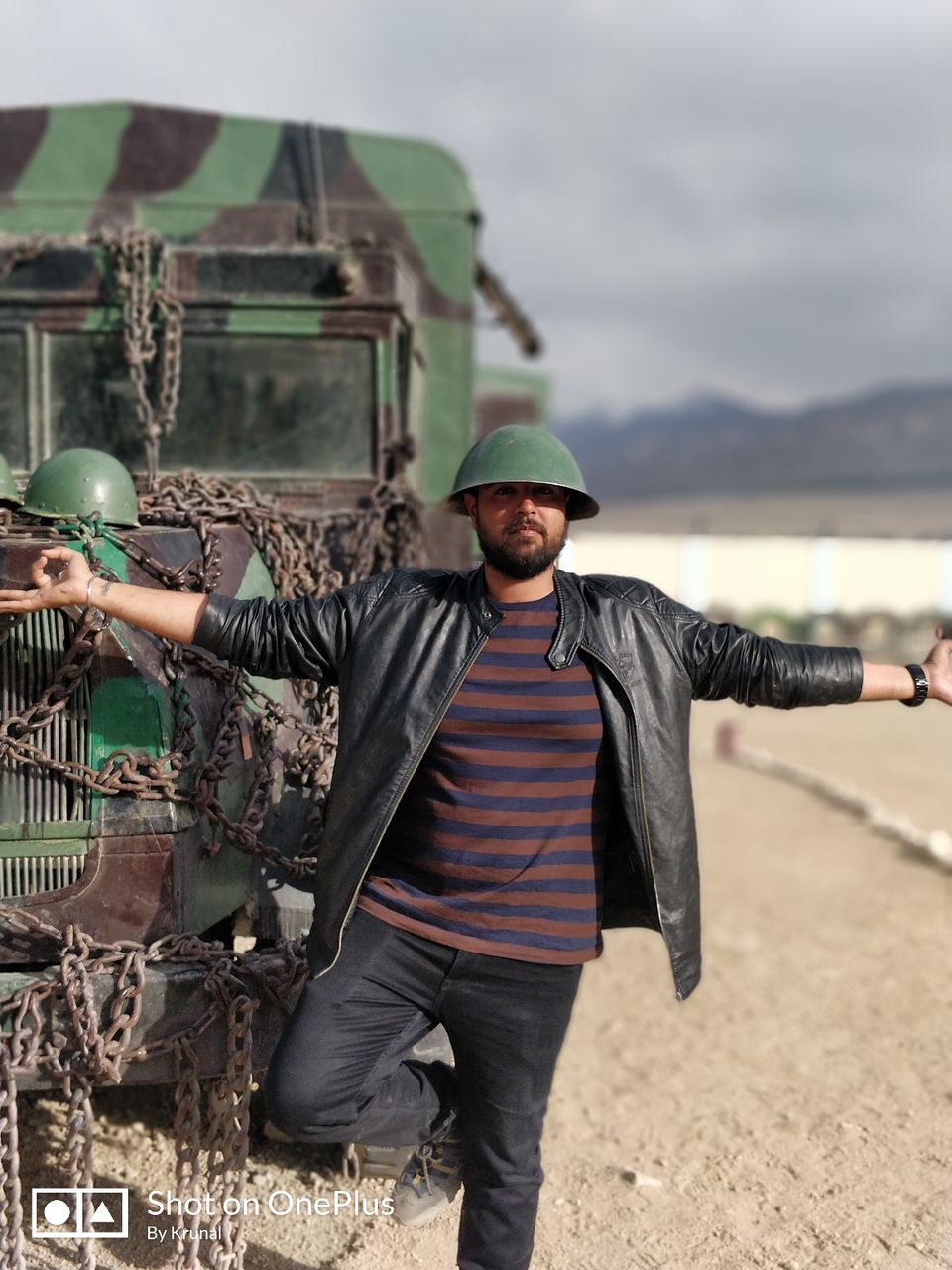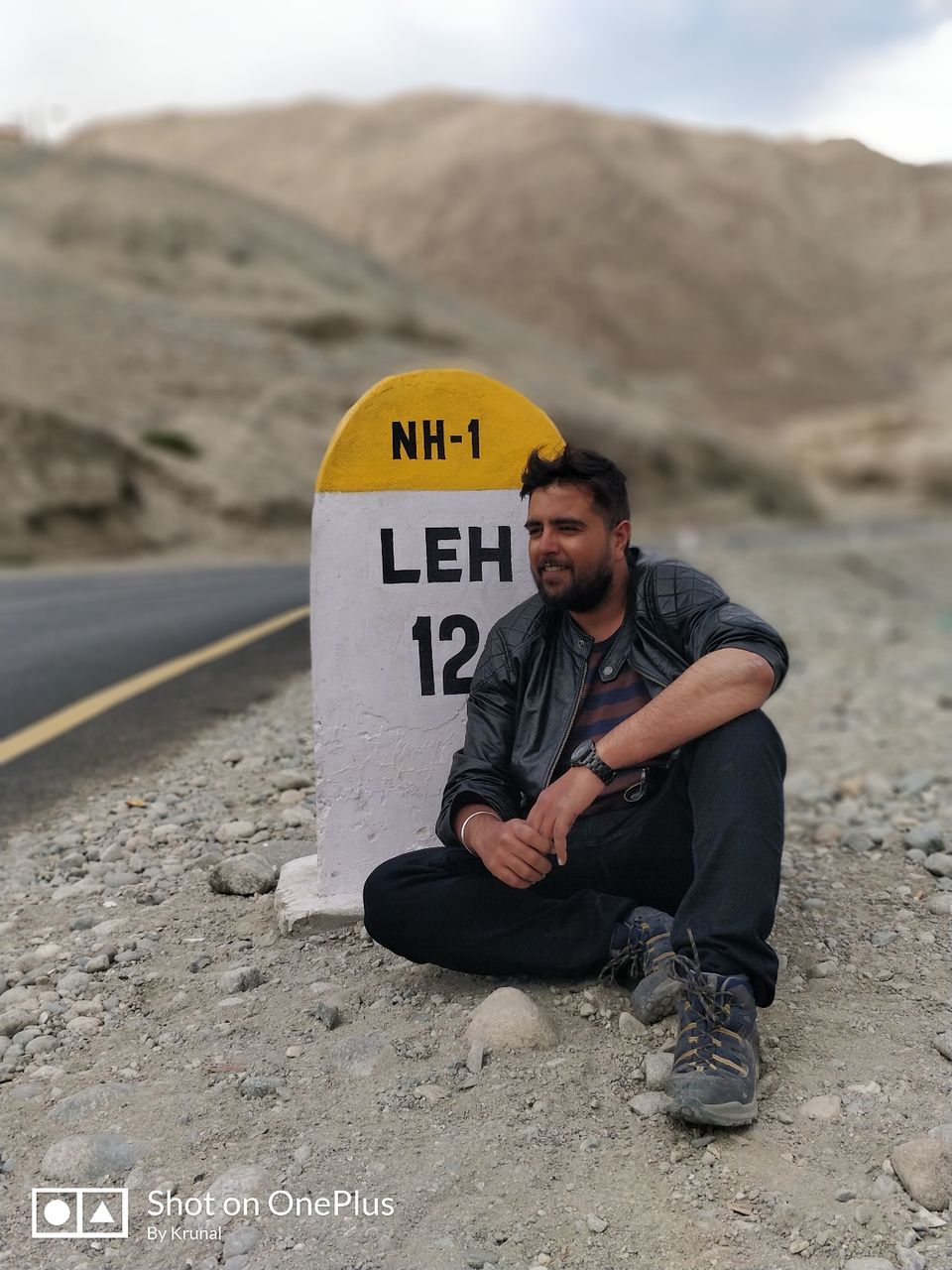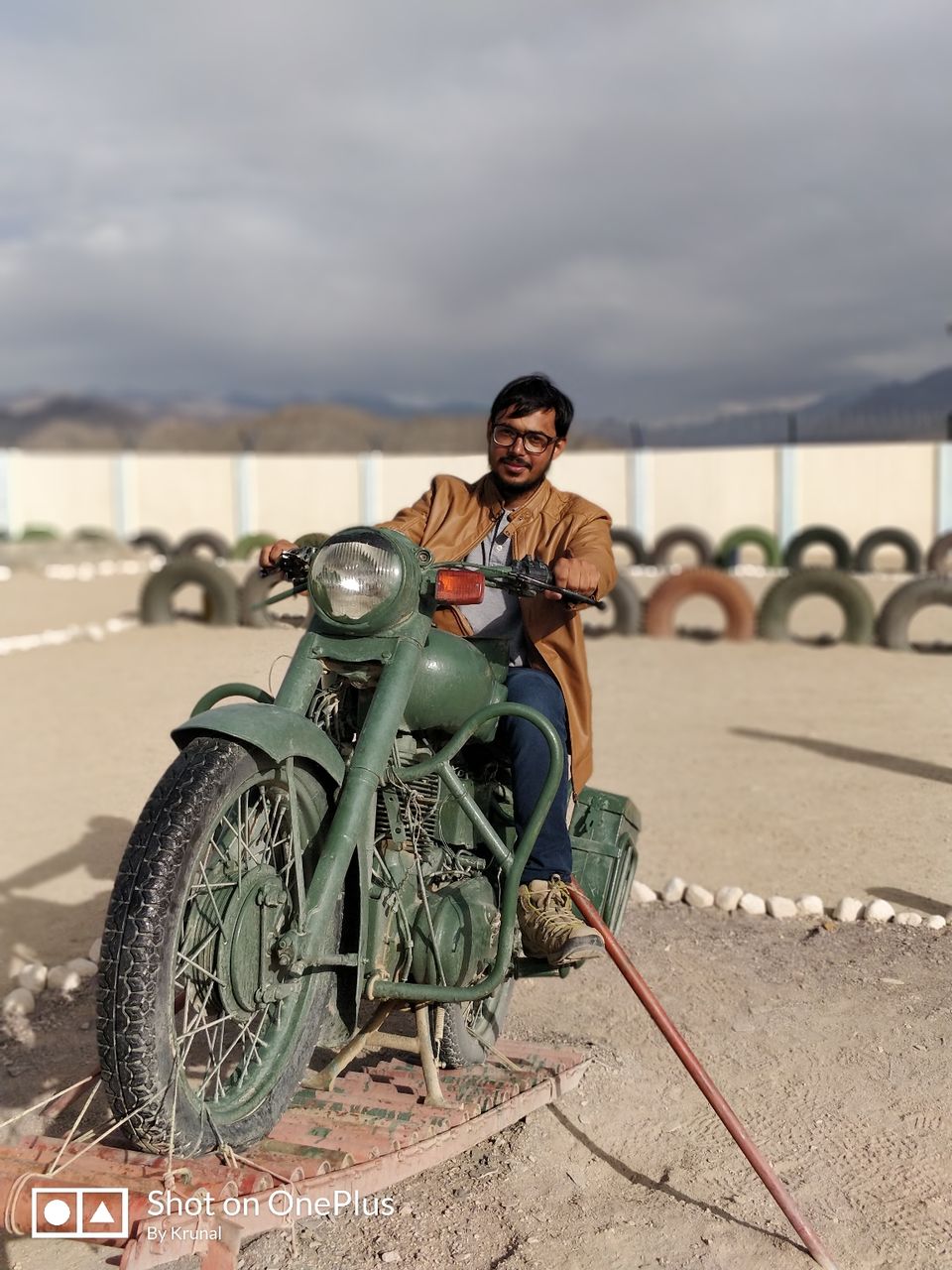 Leh- Jispa
We woke up at 4:30 am and started our journey around 6 am. We knew it was going to be a tough ride. We reached Karu and took our first break. Till we reached Upshi we were running on time. We took a 1 hr stop at Moore plains for clicking some amazing photos. We reached Gata loops and 1 of our bike's brake failed. We drove from Gata loops till Jispa with practically no brakes at all for around 120 kms that too while descending. After a few falls we reached Jispa when it was pitch dark. We took shelter in a tent and dozed off early.
Jispa – Manali
Jispa to Manali is 130 kms ride enroute Rohtang Pass. Rohtang literally means pile of corpses. It's named like this due to a lot of travelers dying due to bad weather conditions. This was the last lap of the Ladakh journey and we lived each and every moment of it. We enjoyed Paragliding through Himalayas on our way back to Manali. The ride was short but bad roads took us 7 hrs to reach Manali.
On reaching Manali we planned to celebrate our biggest adventurous journey and what better place to be other than The Johnson's Café.
This trip has tested us each and every moment and that's what adventures are all about.Ladakh was like a dream come true. It was about the journey and not the destination. Road trips are just like life, your dreams are your destinations. Embrace them and enjoy them when you finally get there.