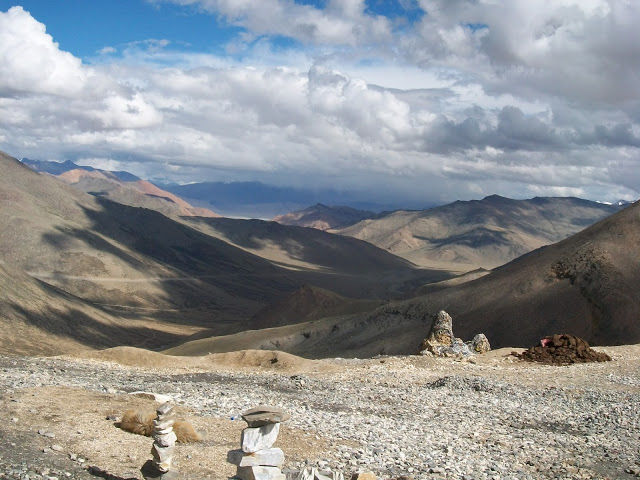 One of the regions in India that has gained immense popularity among tourists, travelers and adventure lovers is undoubtedly Ladakh. This recently formed Union Territory was once part of the earlier Indian state of Jammu and Kashmir and also shares borders with Pakistan and China. Ladakh is the highest plateau region in India with most of the region being over an altitude of 10000 feet. Being a high altitude cold desert region in the Himalayas, it is known for its many high altitude mountain passes. It is also known for its similarity to Tibetan culture and many ancient and beautiful Buddhist monasteries and Stupas.
With many parts of the region being still under dispute between India, Pakistan and China, the region maintains a strong military presence and the roads being under the supervision and maintenance of India's Border Road Organization [BRO]
The largest town and the capital is Leh, the most visited place in the region by tourists and is at an altitude of about 11560 feet. It is also a hub for tourists/travelers who wish to reach other places in Ladakh such as Nubra valley, Hemis, Pangong Tso etc.
The most preferred way of reaching Leh by tourists and travelers looking for adventure is to travel by road. Leh can be reached using one of the two highways, one from Manali [in the neighboring state of Himachal Pradesh] and the other from Srinagar [Capital of Jammu and Kashmir]. With each route, one has to cross several high mountain passes and the travel is considered to be one of the most trilling, adventurous rides and is very much loved by bike ride enthusiasts.
Leh can also be reached directly by Air with regular daily flights from Delhi, Srinagar and Jammu to Kushok Bakula Rinpoche Airport with flight operations mostly restricted to the mornings due to the mountain winds. The Airport is very close to Leh (about 3 to 4kms) and is off the Srinagar-Leh Highway.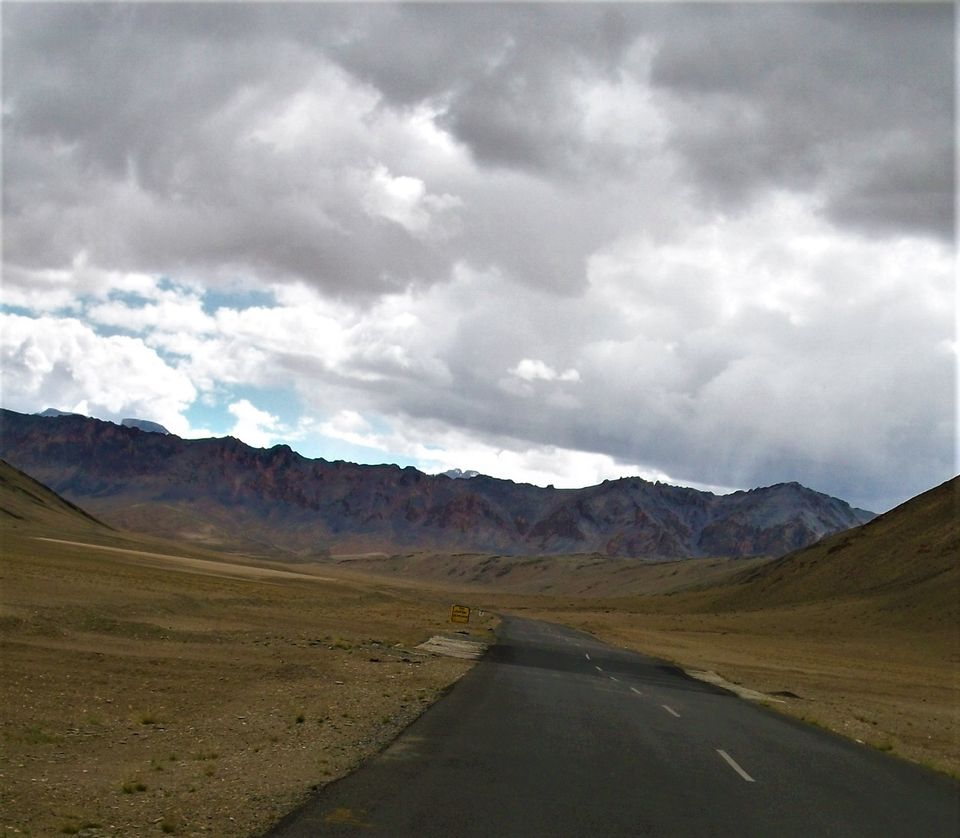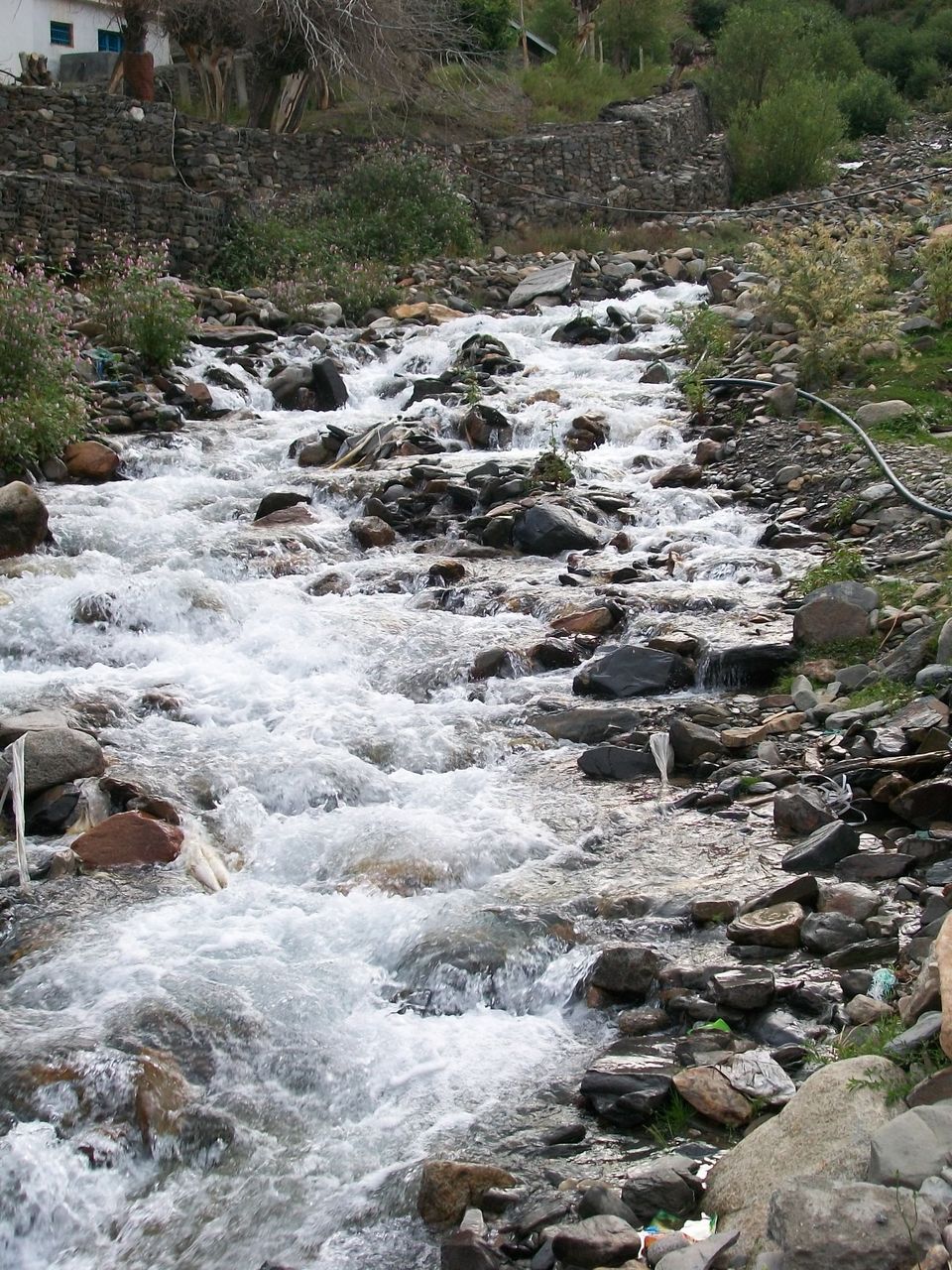 In 2016 August, I traveled from Bengaluru to Ladakh and back with my friends and the trip was for 10 days with 3 days of road trip from Chandigarh to reach Leh. Below is the itinerary in brief of what we covered.
Our Itinerary in brief
Our journey started at Bengaluru and below is the route we covered
Bengaluru - Chandigarh - Manali - Rohtang Pass - Jispa - Darcha - Pang - More Plains - Leh - KhardungLa - Nubra Valley - Leh - Chang La - Pangong Tso - Hemis - Leh - New Delhi - Bengaluru
Day 1: Bengaluru to Chandigarh by flight. Road trip to Leh begins here at Chandigarh with travel to Manali by road [approx 300kms, 9hrs]. Stay at Manali
Day 2: Manali to Jispa road journey on the Manali-Leh highway via Rohtang Pass, Koksar and Keylong. Halt at Jispa [Manali to Jispa approx 140kms, approx 7 hrs]
NOTE: With the new Atal Tunnel near Rohtang, the distance and travel time between Manali and Jispa has reduced.
Day 3: Jispa to Leh road journey on the Manali-Leh highway via Darcha, Baralacha Pass, Sarchu, Pang, More Plains and Taglang La. Distance is approx 340 kms roughly taking 12-13 hrs. Stay at Leh.
Day 4: Getting acclimated to the high altitude region. Visit some of the major attractions in Leh such as Shey Palace, Stok Monastery, Leh Palace, Sankar Gompa and Shanti Stupa
Day 5: Leh to Nubra Valley [Hunder] via Khardung La [Khardung La is considered as the World's highest motorable road at an altitude of about 18000 feet.] Visit Diskit Monastery and Maitreya Buddha and enjoy camel ride in the sand dunes of Hunder [on a double hump bactrian camel, found nowhere else in the country]. Stay in Hunder in Swiss cottage camp. Distance approx 120kms roughly 5hrs.
Day 6: Visit Samstanling Gompa/Monastery and Panamik Sulphur springs in Nubra Valley and return to Leh. Evening visit Leh Market. Stay at Leh
Day 7: Road journey to visit the most famous landmark in Ladakh, Pangong Tso [Pangong Lake] via ChangLa [Mountain pass at about 17000 feet]. Stay in a lake side campsite. Distance approx 150kms roughly 6 hrs
Day 8: Pangong Tso to Leh. On the way, visit Hemis and Thiksay monasteries. Hemis is the largest monastery in Ladakh and Thiksay is the most picturesque monastery. Stay at Leh.
Day 9: Heading on the Srinagar-Leh highway, visit the nearby attractions such as Alchi Gompa, Zanskar valley and confluence point of Indus and Zanskar rivers, Magnetic Hill, Zanskar river rafting, Hall of Fame [A museum constructed by Indian Army]. Stay at Leh.
Day 10. Morning flight from Leh to Bengaluru with Layover at New Delhi T3.
[We did want to include the return journey on the Srinagar-Leh highway via Kargil and take a flight back to Bengaluru, but it would add extra two days and since some of us were time crunched, we dropped the idea. Also, sightseeing at Manali was skipped for the same time related concerns.]
Challenges and Travel preparation
The best time to visit Ladakh is between June and October. During this time of the year, the weather is not too cold and should be comfortable for sightseeing and travel. However, weather at these places can be very unpredictable and can change rapidly. Thus it is best preferred to have warm clothes and dressed in layers. It is always good to carry gloves, hats, sweaters/jackets and thermals while traveling here.
One can reach Leh by road either from Manali or Srinagar. Although there are some discussions available on the internet which says Srinagar route is better, I feel both are equally challenging in terms of the duration, road conditions and the altitudes. When it comes to the beautiful rugged landscapes, neither routes will disappoint. In both these routes, one has to go through some narrow and steep ascents, bad roads and climb many high altitude passes thus making the journey adventurous and can turn out to be an exhausting one. One doesn't have to worry about the closure of the mountain passes, if traveling during June to October since these passes are open during that time for vehicular traffic.
While traveling on Manali-Leh Highway via Rohtang Pass, one has to take a permit. Rohtang La is a high altitude Himalayan mountain pass (altitude of 13000 feet) in Himachal Pradesh, north of Manali that connects the Kullu valley with Lahaul and Spiti Valleys. Considered one of the dangerous roads, the pass is open between May end or June to early December with the opening dates varying every year depending the snow fall and the difficulties encountered by BRO to clear the snow.
If traveling by own vehicle, an advance permit booking of Rohtang Pass is best (I believe it is only upto 6 days in advance for the required date) and can be booked online with a fees of INR 50/- at their administration website or in the Tourist Information Centre at Manali. The permit (printout is mandatory) is checked at Gulaba check post. No vehicles are permitted to cross Rohtang La on Tuesdays as it is the day for road maintenance. Note that the permits are different if one is visiting only Rohtang La for tourism or crossing Rohtang to reach Lahaul/Spiti/Ladakh. The permits cannot be used interchangeably and there is a penalty for doing so. These rules regarding the permits is bit of a hassle and probably another reason why people prefered the Srinagar route.
Alternatively, the Atal Tunnel built under Rohtang [which is the World's longest tunnel above 10000 feet] can be used and there is as such no permit required and this tunnel also reduces the travel distance and time to Leh.
[NOTE: Fees of INR 50/- mentioned above is called Congestion Fee and a separate Permit fee has to be paid if visiting only Rohtang La and not going beyond to reach Spiti/Ladakh]
Ladakh is in a rain shadow region and hence one shouldn't expect much rains here but during the road journey to Leh, there can be rains and landslides. Also, within Ladakh, in the mountain pass areas, one should consider the possibility of landslides. These can impact the travel plan since the time taken to clear the landslides is not always fixed. However, from what we experienced, there were a couple times where we stood on road due to landslides but BRO was quick enough to clear it.
Traveling or even a brisk walk at a high altitude can be certainly challenging due to Acute Mountain Sickness [AMS] or Altitude sickness which causes nausea, headache and dizziness among other symptoms. This is very much a result of exposure to low oxygen levels at high altitude. AMS is something we were very much worried about, there are medicines available for AMS such as Diamox and we did carry those.
Due to low oxygen levels, one can get easily dehydrated and thus it is very important to keep hydrated by drinking water at regular intervals. Hence it is required to carry sufficient water during the travel.
If one is traveling to Leh directly by flight, one should keep sufficient time for relaxing at Leh to get acclimated.
The other downside of visiting such high altitude places is the exposure to UV rays (Ultraviolet) which can be damaging to the skin and hence should carry Sunscreen body lotions with SPF30 or greater. Also should carry Sunglasses with decent quality that can protect from UV rays.
It is always best to carry basic medicine kit [medicines for headache, fever, vomit, cold and cough] and a first aid kit while traveling on the highway and/or Leh-Nubra/Leh-Pangong since you might not find any medical stores nearby.
Between Manali and Leh, there aren't many ATMs available, and the ones in Leh might be crowded too, so it is good to carry sufficient cash.
For a stretch of about 300kms from Thandi [Himachal Pradesh] to Karu [Ladakh] on the Manali-Leh highway, there are no fuel stations available. Bike riders and people traveling in their own vehicles need to carry extra fuel to sustain this stretch.
Also, all through the highway, there are very limited options for food and restrooms. This holds good even for traveling from Leh to Nubra or Leh to Pangong. Maggi or Instant noodles and momos are some of the best food that one can hope for. At places, one might get Rajma chawal.
Mobile network and internet connectivity is bit of an issue here at Ladakh, one has to be prepared for many long stretches without connectivity. Only postpaid connections work and the preferred ones are BSNL and Airtel. Mobile Internet is mostly limited to 2G and 3G and many hotels at Leh and Nubra offer Wifi connectivity. Since some of us (including me) had postpaid connections, others who did have prepaid SIMs gave our numbers as Emergency contacts to their families/loved ones. It is best to let your family be aware of your itinerary since frequent communication with them is not possible.
Lastly, it is important to carry a Government issued ID card as it might be required for getting permits or for hotel checkins.
Road Trip to Leh
With much of the above said preparations done, we started our journey from Bengaluru and reached Chandigarh by flight reaching around 1PM. We had decided to reach Leh via Manali and started our road trip from Chandigarh and headed towards Manali post lunch. Since we were 14 people traveling we had booked two vehicles with 8 in a Tempo Traveller and 6 in Innova. Vehicles from Chandigarh were arranged through 'Discover Ladakh Adventure Tours & Travel' as a part of our Ladakh trip package.
The day's road journey between Chandigarh and Manali was expected to be around 9 hrs and expected to reach Manali around 11PM. But due to an unexpected vehicle breakdown near Kullu around 10.30-11PM, we did reach Manali in the night around 1AM. Although it was a bit scary, the time spent on road at that time with hardly few people and vehicles on road along with the roaring sound of the Beas river, was indeed very memorable.
The next day's journey being the smallest of the 3 days, was a late start. We left Manali around 11AM after a super breakfast at our hotel in Manali [Hotel D'Chalet, near Club House in Old Manali]. With a travel of about 50kms and around 2hrs, we crossed the Gulaba check post, Marhi and reached the breathtaking Rohtang La. The weather at the pass was extremely chill with mild rains. After some time spent here for photography, we then proceeded further towards Koksar.
We stopped for lunch break at Koksar (around 3PM). With the entire jouney being picturesque, we did take some snaps here too near the Koksar bridge across Chenab river and then proceeded towards Jispa via Sissu, Thandi and Keylong [On the way saw Sissu waterfalls] to reach our lodge [Padma Lodge] around 7PM. We did relax for a bit and then had a good dinner at the lodge's restaurant. The lodge had comfortable and clean rooms, even camping is available at the Bhaga river stream beside the lodge.
Usually, Jispa is the stopover place for people doing road trip to Leh. Other option is to halt at Sarchu [about 85kms from Jispa taking around 3 hrs]. Both places have their pros and cons. If one chooses Sarchu, it is almost covering equal distances on both days between Manali and Leh. Also, one can find more accommodation options in Sarchu than in Jispa. However, Sarchu being at an altitude higher than that of Jispa, it is better to stop at Jispa if one is not yet acclimated to the altitude to avoid AMS
Another reason to chose Jispa is that the journey between Jispa and Sarchu is extremely beautiful with Deepak Tal, Suraj Tal and Baralacha La on the way and if one chooses to drive till Sarchu, they might miss out watching this beauty in daylight. [Baralacha La is a high mountain pass with altitude of about 16000 feet. Deepak Tal is a small lake on the highway, 20kms from Jispa. Suraj Tal is the third highest lake in India and lies below Baralacha La]
The next day's journey was the toughest of all with an early start at around 6.30AM. Thankfully we had a good sleep and rest at Jispa. With breakfast from the lodge packed, we started our journey and our first stop of the day was at Deepak Tal, Suraj Tal and then at Baralacha La. We then headed towards Pang, about 160kms from Jispa. Crossing the Nakee La and LachulungLa, we reached Pang around 2PM and stopped here for lunch . It is this part of the journey that is the toughest of all. [Pang is at an altitude of 15200 feet and has the highest army transit camp.]
Post lunch, the journey of the remaining 175kms resumes via the More plains and Taglang La. More plains is a flat stretch of 40kms at a distance of about 4kms uphill from Pang. The plains, at the other end, begins to rise to Tanglang La which is another important high mountain pass at an altitude of about 17400 feet and is one among the World's highest motorable mountain passes. The views that this pass provides is extremely beautiful and picturesque.
Distance from Taglang La to Leh is about 108kms via Upshi and Karu. Near Karu, we found a perfect spot for some photography with Indus river and the rocky mountains in the backdrop. With some snaps here, we then proceeded to Leh via Thiksay and Shey. We reached our hotel Charu Palace in Leh at around 7PM. We were so exhausted and crashed to bed post dinner.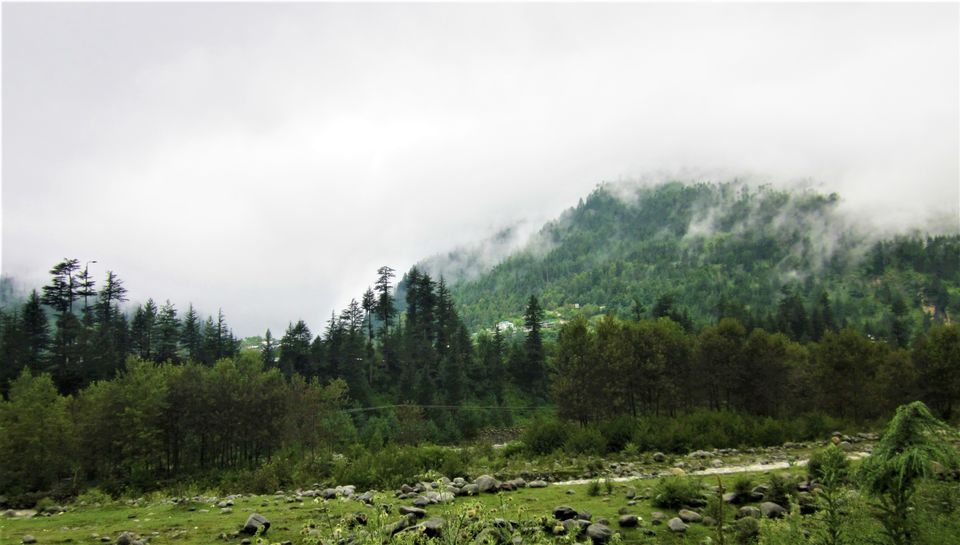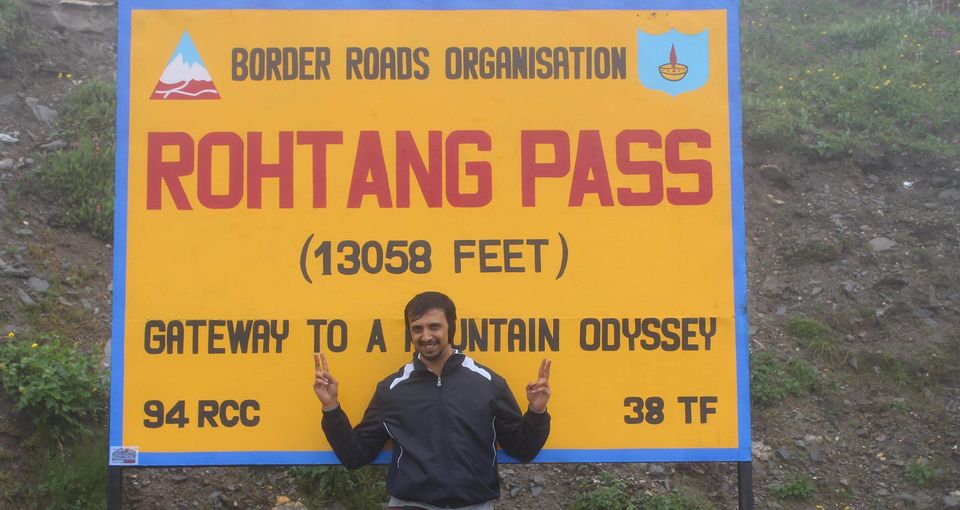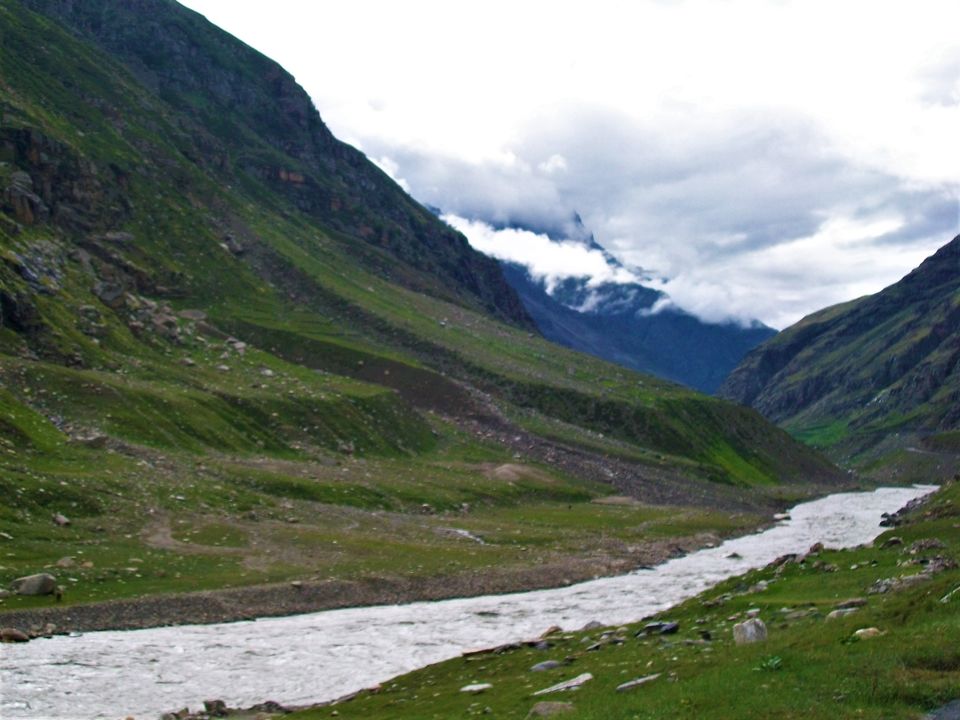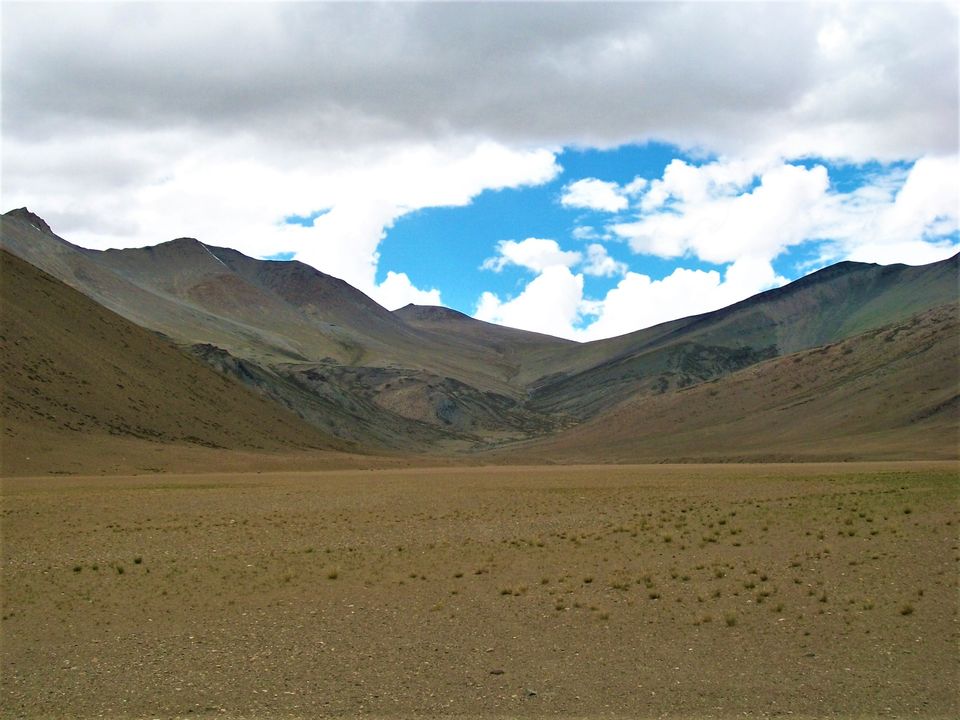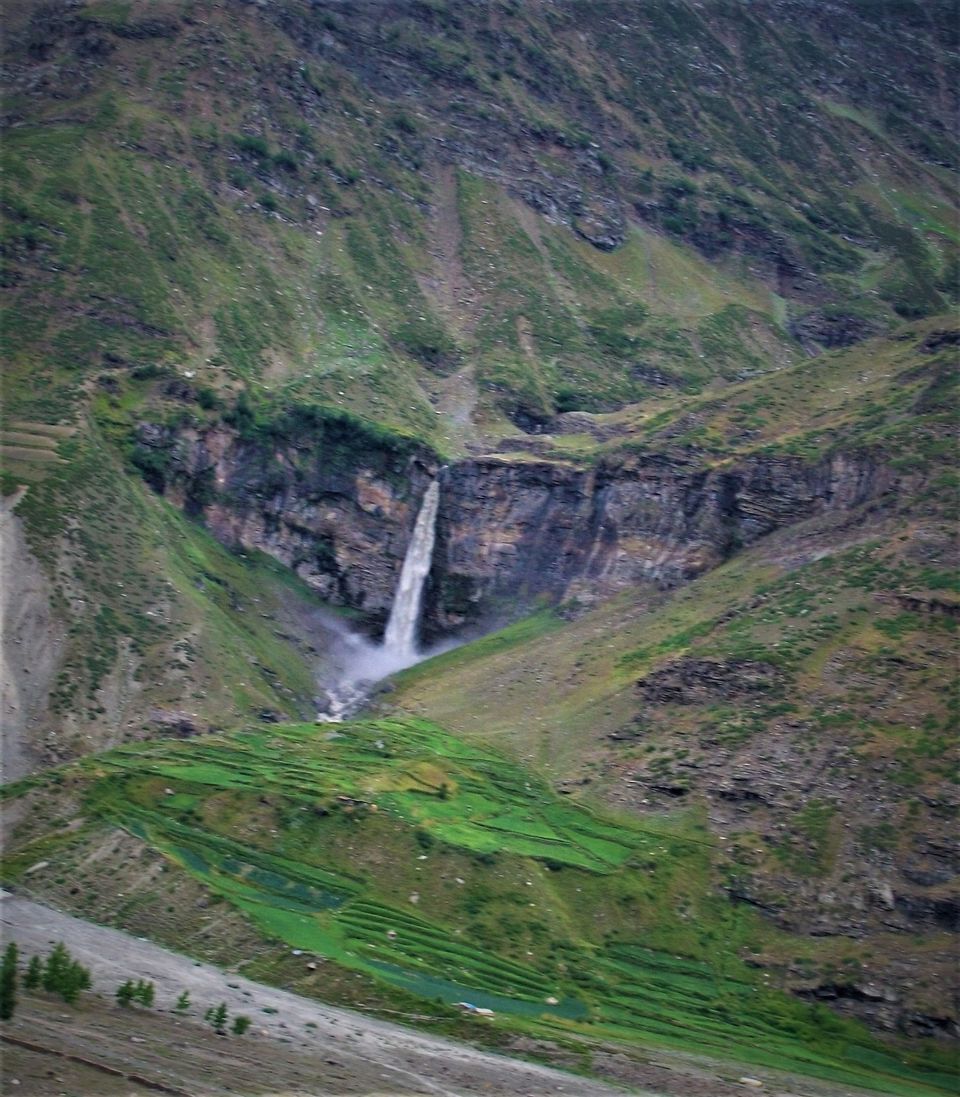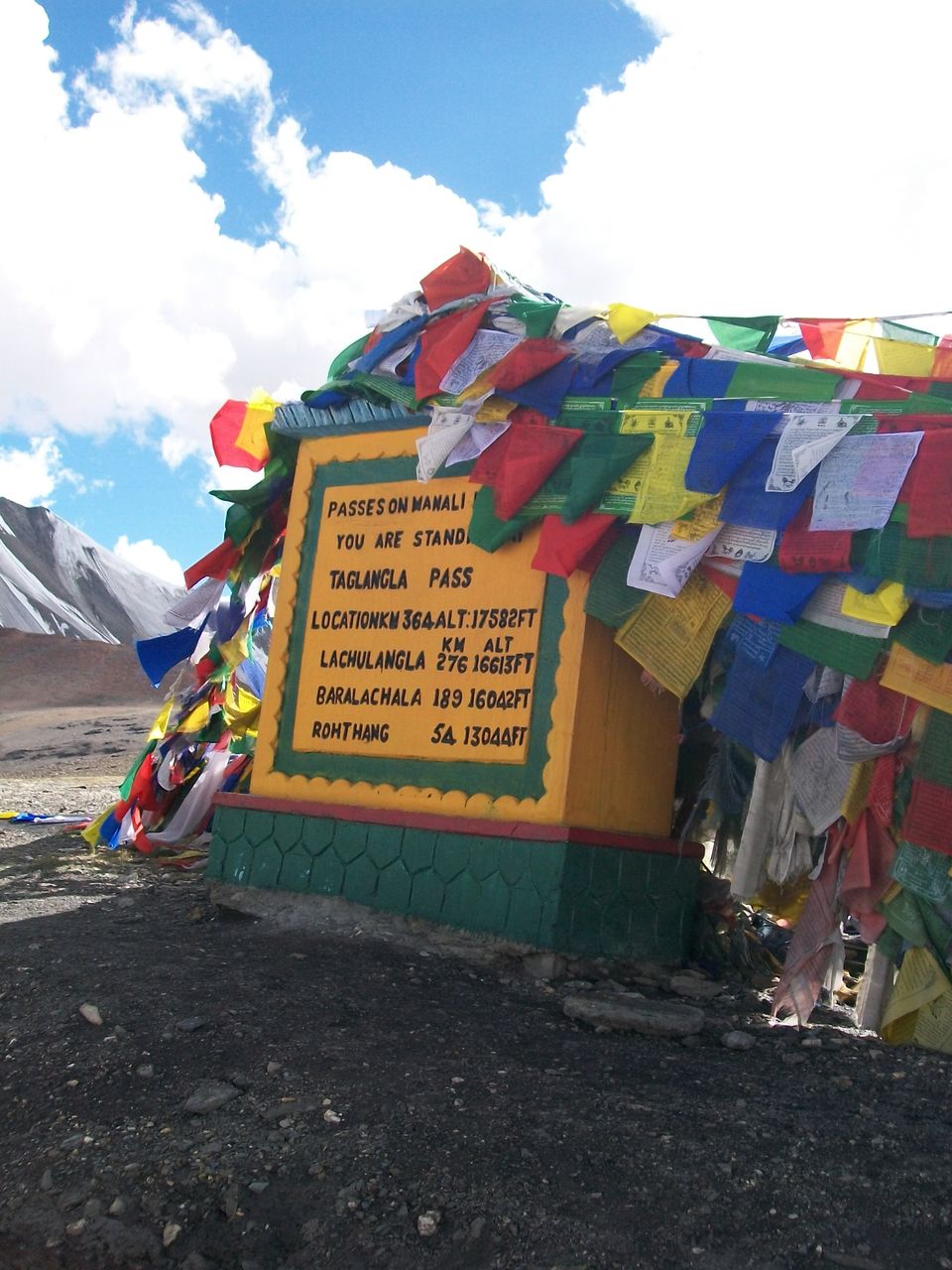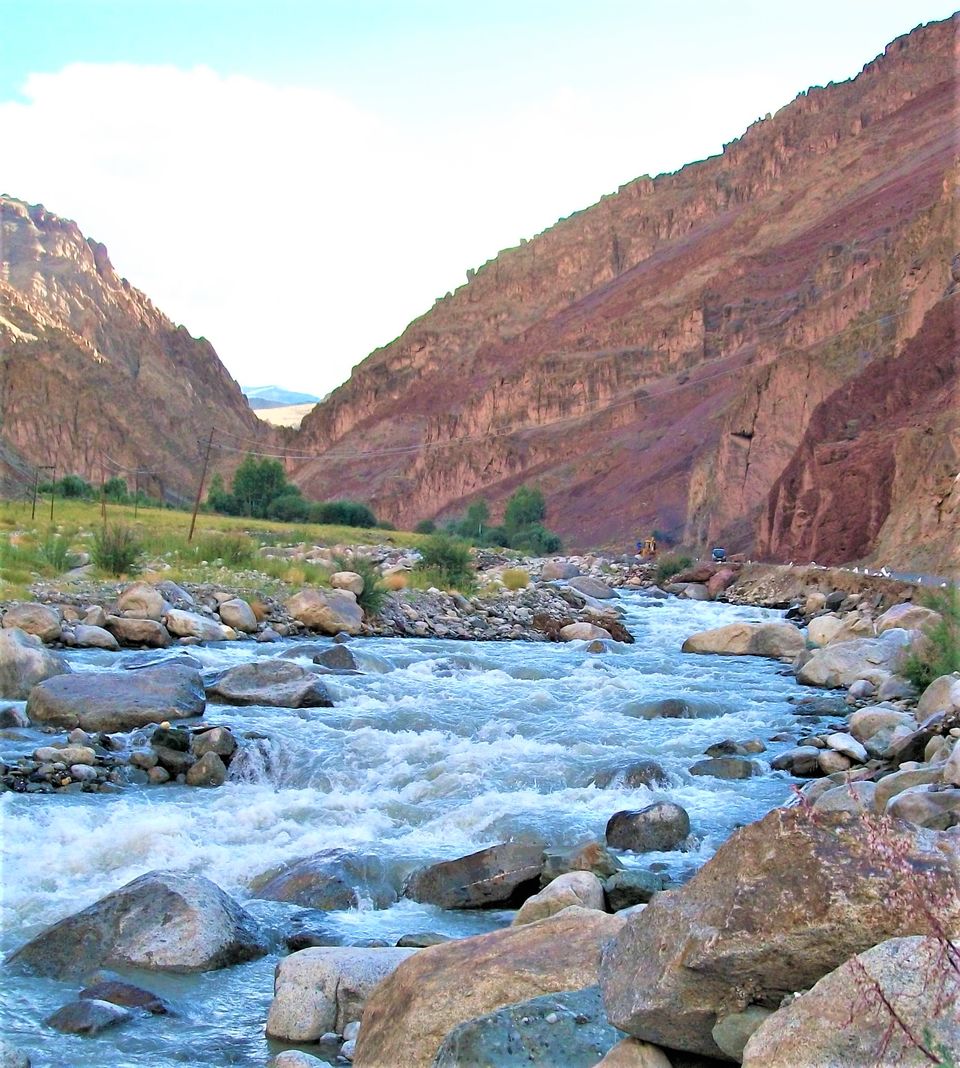 Sightseeing and things to do at Leh
After an exhausting, adventurous yet an awesome memorable beautiful road journey to Leh, we had to spend a day here without much travel, so we decided to visit the local places. [It is also important to have a break here at Leh before proceeding to other places like Nubra or Pangong since it gives ample time to acclimate to the altitude thus avoiding AMS to a certain extent.]
Leh and its nearby areas are home to some very beautiful, magnificent ancient Buddhist Monasteries and religious places and we covered many of them on that day.
Our first place was the Stok Palace and Monastery, 15kms from Leh. The palace was built in 1820 and is now converted to a Heritage hotel that also has a museum. The 14th century Stok Monastery is about 2kms from the Palace and next to the monastery is the 71 feet (22 m) high seated Gautama Buddha statue which is a major attraction here.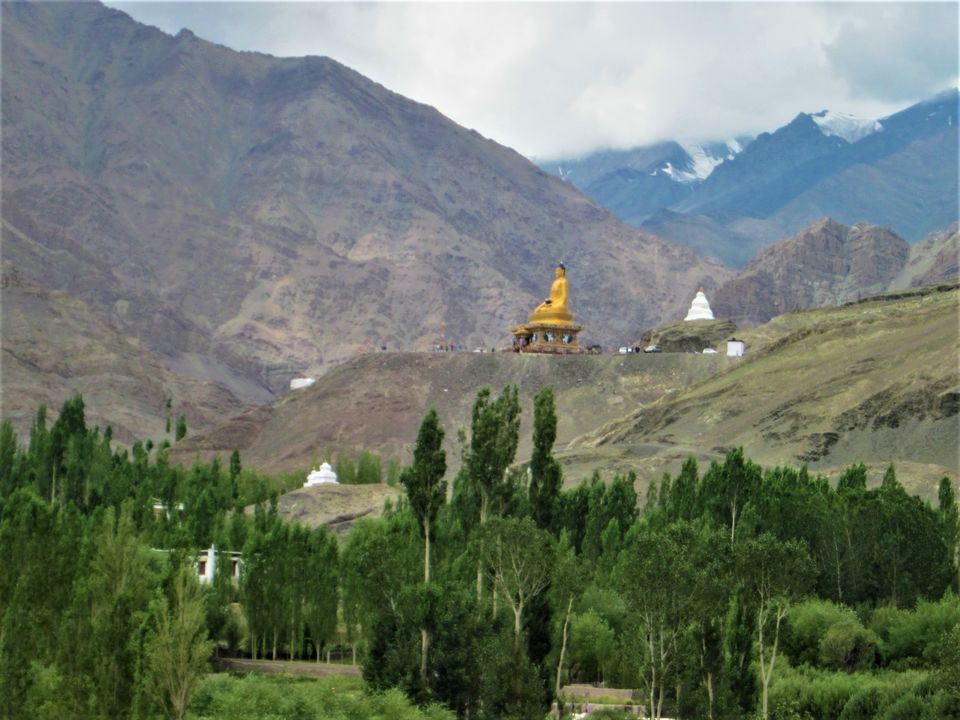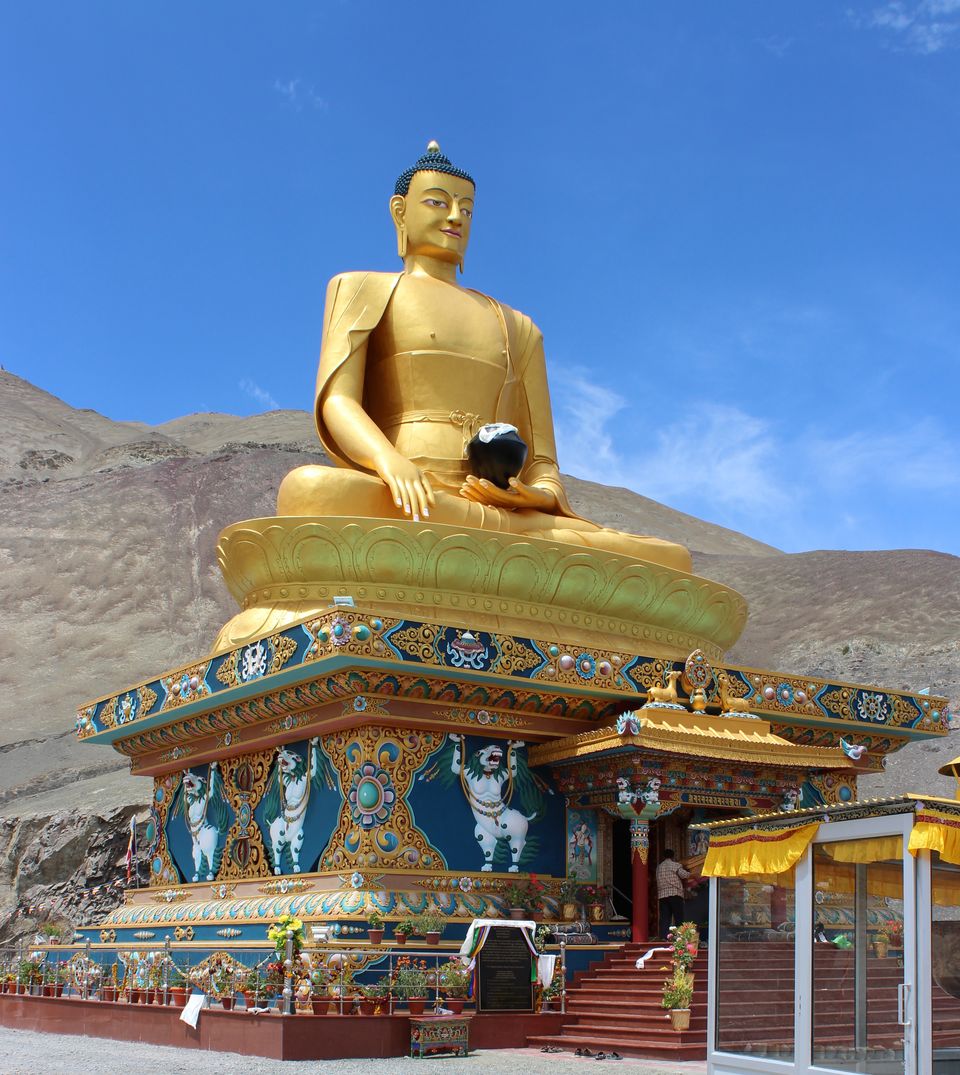 Next up, we visited Shey Palace and Monastery, which is on a hillock off the Manali-Leh Highway about 18kms from Leh. This was built in the 16th century which has a 39ft Shakyamuni Buddha statue that covers three floors of the monastery. The monastery offers very good panoramic view of the surrounding areas of Shey and Thiksay.
Post lunch at a restaurant in Leh, we then headed to the former royal palace, Leh Palace. The 17th century palace is a nine storied structure overlooking the Old Leh town. Much of the palace is in ruins and the Archeological Survey of India (ASI) is currently maintaining and restoring the palace. The terrace of the palace provides excellent views of the Ladakh region. The Palace Museum has a rich collection of jewelery, ornaments, ceremonial dresses, crowns and Tibetan thangka or paintings (the paintings are more than 450 years old). The architectural style of this Palace is similar to the Patola Palace in Lhasa, Tibet (China).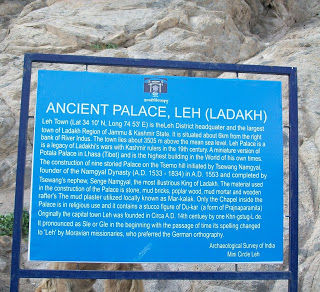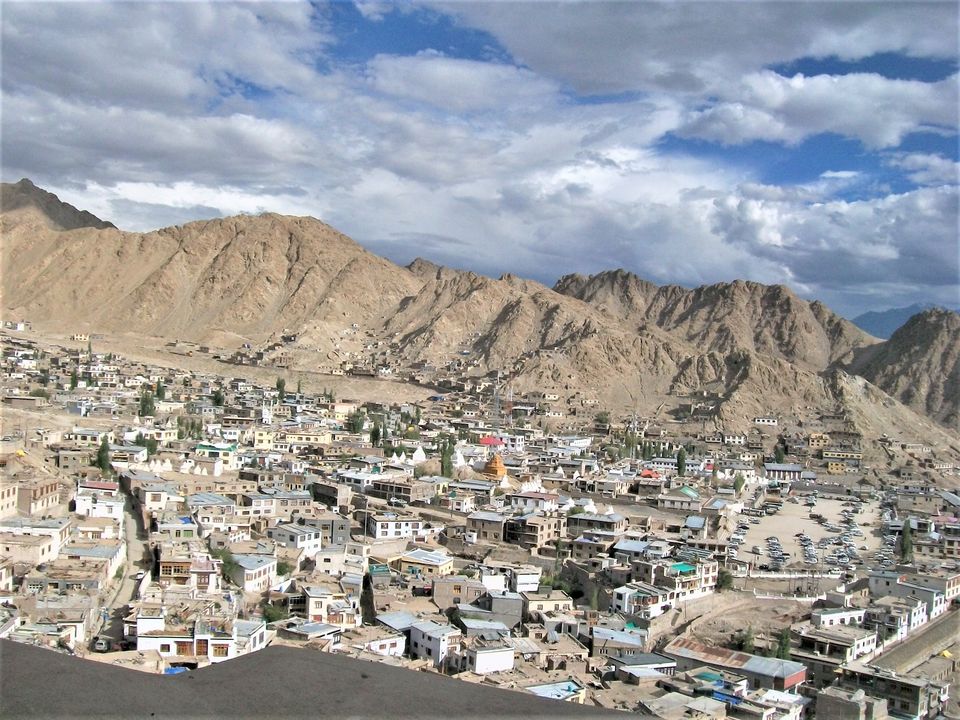 Our final destination for the day was the famous and the Must visit tourist attraction in Ladakh and a place of religious importance, the Shanti Stupa or Peace Pagoda. This is a white domed two level Buddhist Stupa built in 1991 on a hilltop at an altitude of about 11800 feet. The stupa is illuminated with lights at night and provides best panoramic views of the surroundings.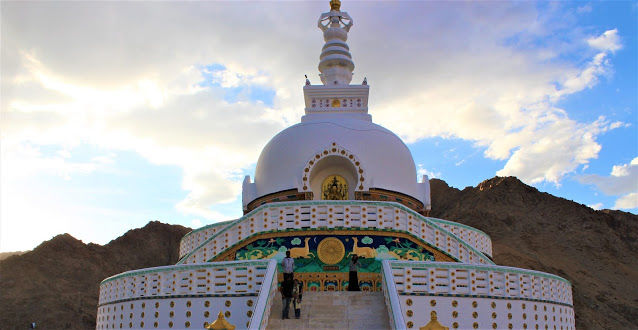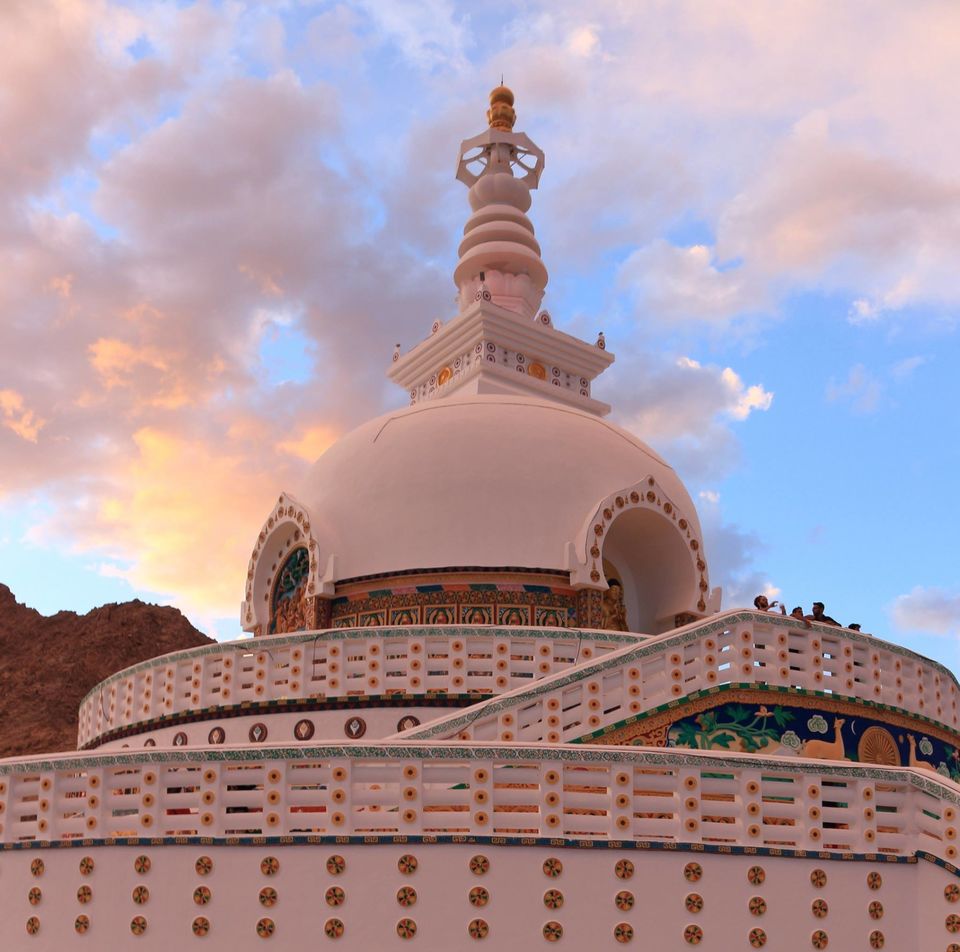 That is pretty much what we could cover in one day full of local sightseeing at Leh and there is much more to explore. We did cover many other nearby places from Leh on our Day 8 and Day 9 after we returned from Pangong Lake.
Stay tuned for the remaining exciting part of this journey where we crossed the World's highest motorable road to reach Nubra valley, took a camel ride, visited Pangong Tso, did river rafting in Zanskar and visited the Hall of Fame.
Check the second part of Ladakh travel blog post here
Hope you liked this post.
Thank you