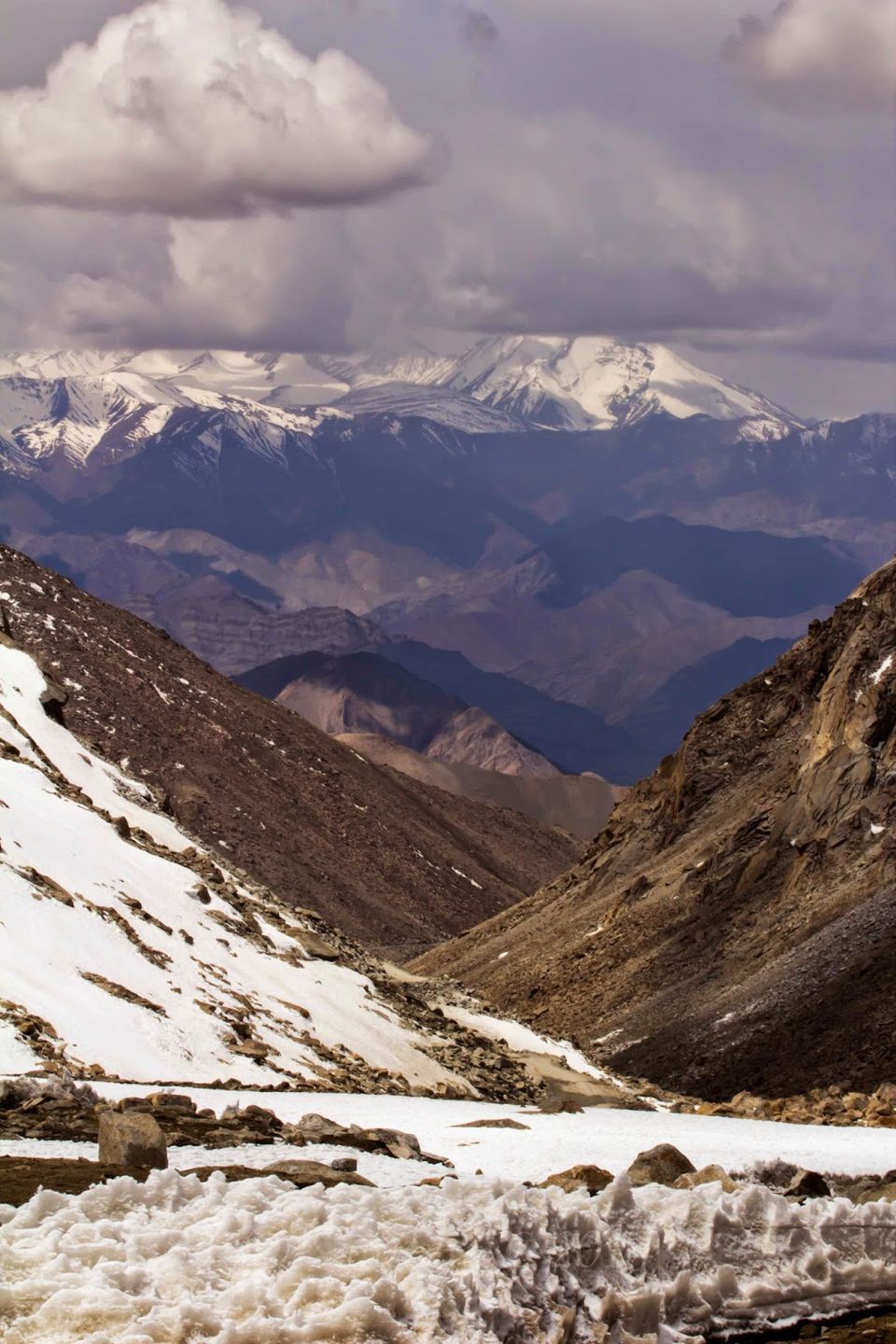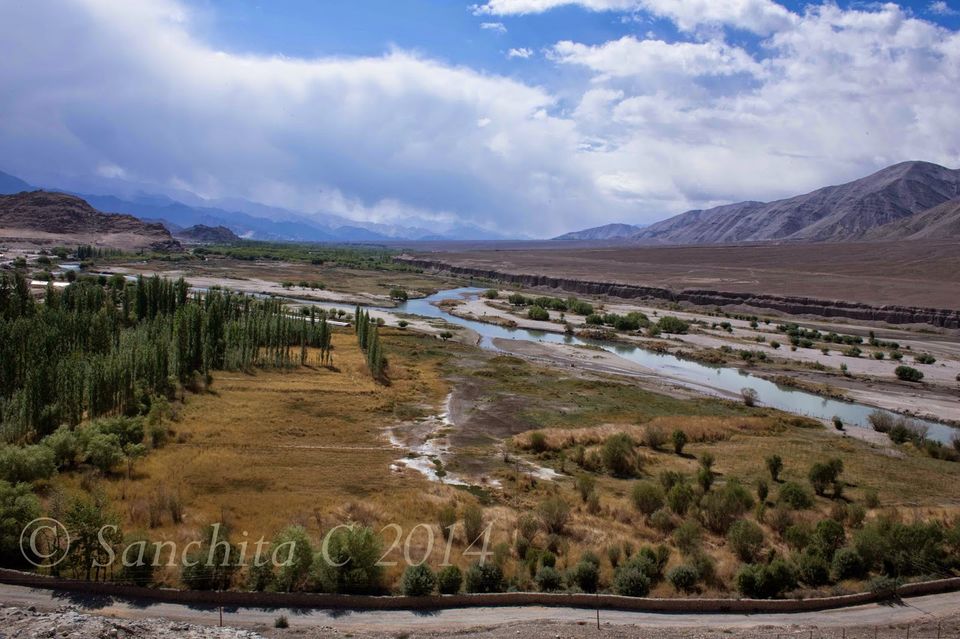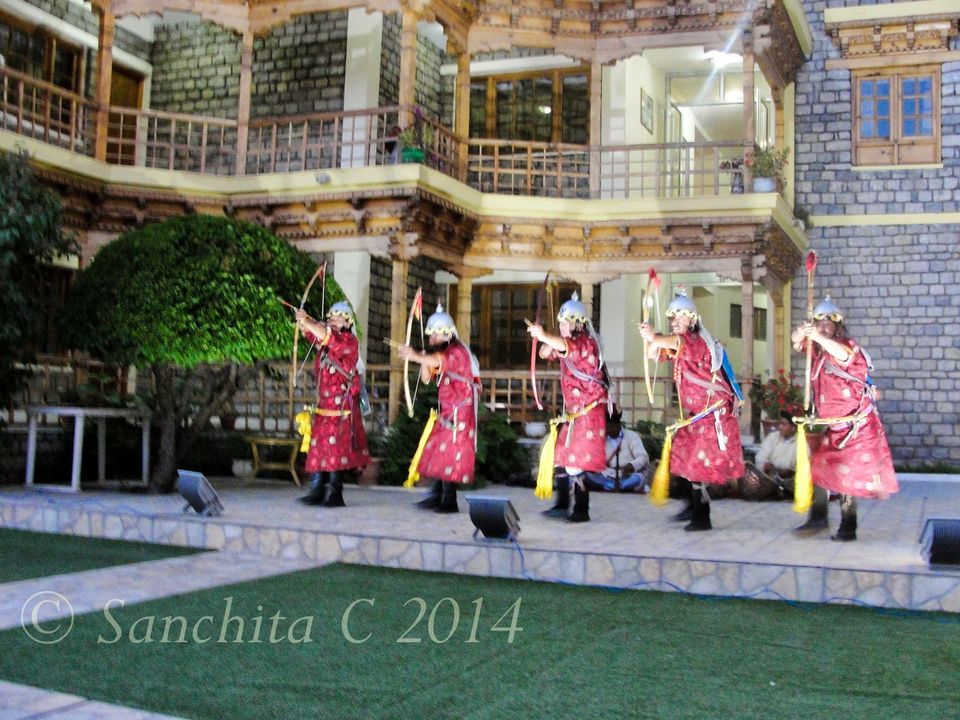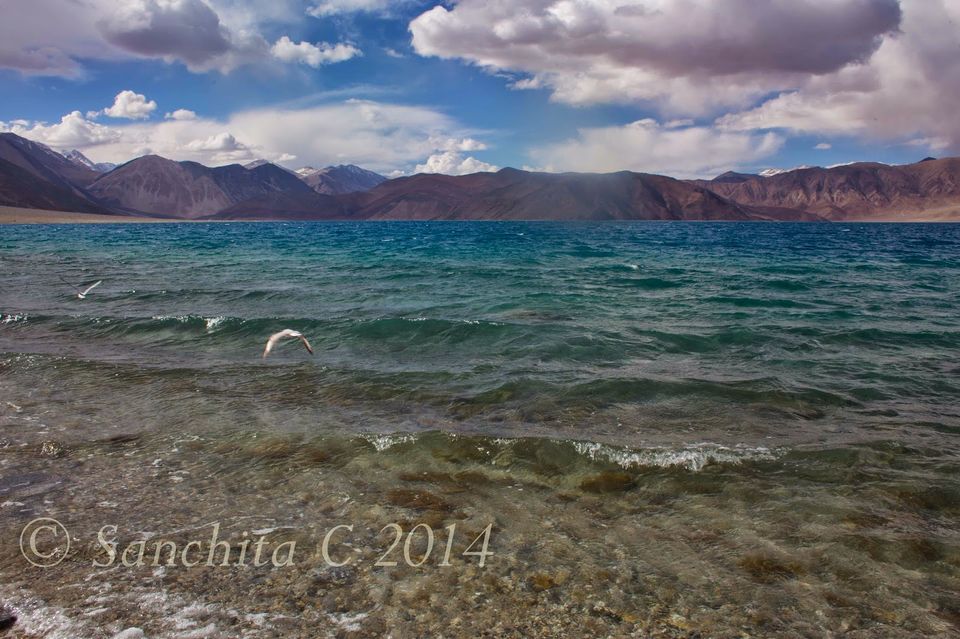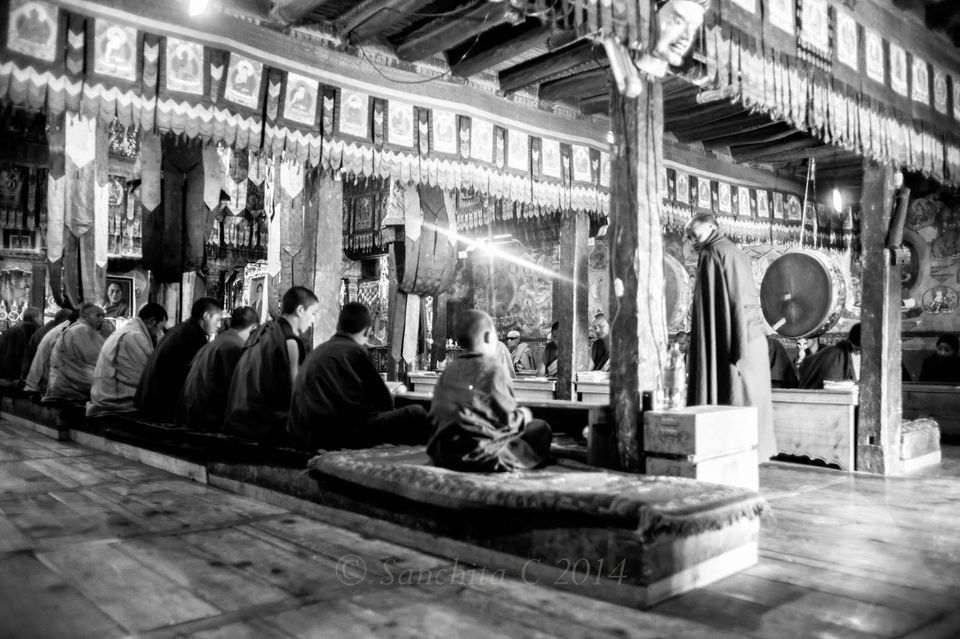 After years of dreaming and months of planning finally I made my trip to Ladakh in June 2014. The task had become rather inconvenient as I had moved from Delhi to Mumbai more one-and-half-years ago. I went on an organised tour, with a group of ladies. Reminded me of my hostel days of community living.
I had heard landscape of Ladakh is breathtaking. I had seen countless pictures Ladakhi landscape. As the flight was landing I could see
Leh
was surrounded by arid, mostly barren mountain ranges bordering snow-capped peaks. It's when I started travelling out of Leh, I began to appreciate and be wowed by the natural beauty of the land. The diversity of the scenery is also incredible. Some places are more dry and sandy, some others rocky and some ranges are covered with snow. There are a few patches of green on some hills. Colours of hills also vary: shades of brown, green, blue, yellow etc.
Ladakh has truly beautiful and magnificent monasteries. Some of the grander monasteries I saw had impressive statues of Buddha in their compound. An outstanding statue was that of Maitreyee or future Buddha in
Diskit
Monastery of Nubra valley. The statue is 32 meters tall. The architecture of
Thiksey
monastery (20 km from Leh), modeled after Potala palace of Tibet stands out. Hemis – at 40 km distance from Leh - is said to be the richest monastery in Ladakh. Every year a festival is held in Hemis in memory of Lord Padmasambhava. Diskit Monastery required a bit of climbing from where cars stop. I found it interesting for two reasons, one was the spectacular view of Nubra Valley from the monastery and two, idols of Mahakali in one of its temples.
Alchi
and
Likir
monasteries were the group's first travels outside Leh. Alchi has four temples. One of them is more than 1000 years old. The temple has some 1000s of original paintings of Buddha on its inner four walls, yet unspoilt and untouched.
My sixth monastery was my first one. I simply could not follow the diktat of lying on bed in rest on the first day. After checking-in and spending two-three hours in the hotel, I went out with my camera, walking slowly on the sloping roads. Eventually, I came upon a monastery in Leh Bazaar. I went inside and sat in meditation for a while.
Pangong Tso (Tso=Lake) and Nubra Valley are two popular tourist spots. To reach Pangong Tso from Leh one has to cross Chang La (La=Pass), which at 17590 feet (5360 meters) is said to be the third highest motorable pass in the world. Pangong Tso itself is at above 14000 feet (4350 meters). The road to Nubra Valley from Leh passes through
Khardung
La – at 18379 feet (5602 meters), it is frequently referred as the highest motorable pass in the world. Besides these two high passes, roads to these two places passing through valleys, by mountainous rivers, crossing ranges, with changing views and temperatures are intriguing and interesting.
he first glance of Pangong Lake was a moment of delight. When I went near the lake, it was cloudy. Pangong Tso was in hues of dark blue. At different vantage points the colours changed. Brown-headed seagulls were wadding in the water, flying short distances and walking along the edge of the lake. In sometime, the sky cleared up and the lake took the shade of azure blue. Nubra Valley – at an altitude of 10000 feet - is a high altitude cold desert. Temperatures in Nubra were much more pleasant for the people from the plains than that of Pangong Tso.
I tried a popular adventure activity: river rafting. We went river rafting in
Zanskar
River. This was my second rafting experience. The first one was in
Rishikesh
a few years ago. After rafting in
Ganges
in Rishikesh, rafting in Zanskar proved to be kind of mild. Another sporty thing many of us in the Group tried out was riding double-humped Bactrian camels in Nubra Valley.
One of the evenings we visited
Stok
village (30 minutes drive from Leh). We took a tour of an old traditional Ladakhi house, well maintained but uninhabited.  The family lived next to the old house in a newer, more modern one. We were guests of the family that evening. The family graciously served us traditional Ladakhi dinner, which was made mostly of barley including homemade alcohol made of barley.
Traditional Ladakhi music and dance were organised for us at our hotel in Leh on the second last day of our trip. Even within Ladakh, traditional outfits, dance forms and music vary between regions. The men and women who were performing were dressed in spectacular dresses. There were songs and dances about daily life, friendship and wars.