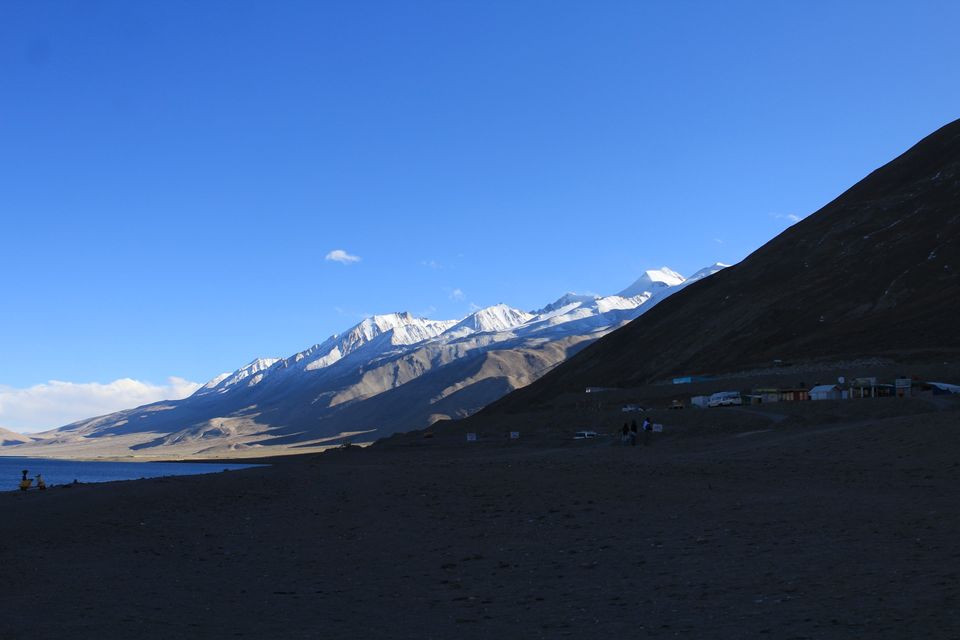 Life is a beautiful journey in itself and travelling to different places is a stoppage to recharge and regenerate the energy to live the life.
Always believe in yourself and travel to places which makes your soul enchanted.
Ladakh...the land of  lamas, for me the place to fall in love forever....my dream destination.
In its serene demeanour, it impresses with its beauty studded with lakes, snow-capped mountains, green patches of land, colour changing poplar trees,bright blue skies and unimaginable terrains. ... Nubra valley, the lakes- Tsokar, Tsomoriri and Pangong of the Ladakh region are the most beautiful parts of Ladakh.
Ladakh is a once in a lifetime destination, to be part of do list. Ladakh is a paradise on earth.
Since 2011, I wanted to travel ladakh but things didn't turned out. But this year finally things fall in place and I boarded the flight with my family...we were bunch of 15 crazy people waiting to get Leh'd.
It's always a pleasure to travel with family...A loving husband, crazy kids, fighting siblings and last not the least our first friends in life ... great cousins.
Here let's start our journey to JANNAT...The Paradise on earth...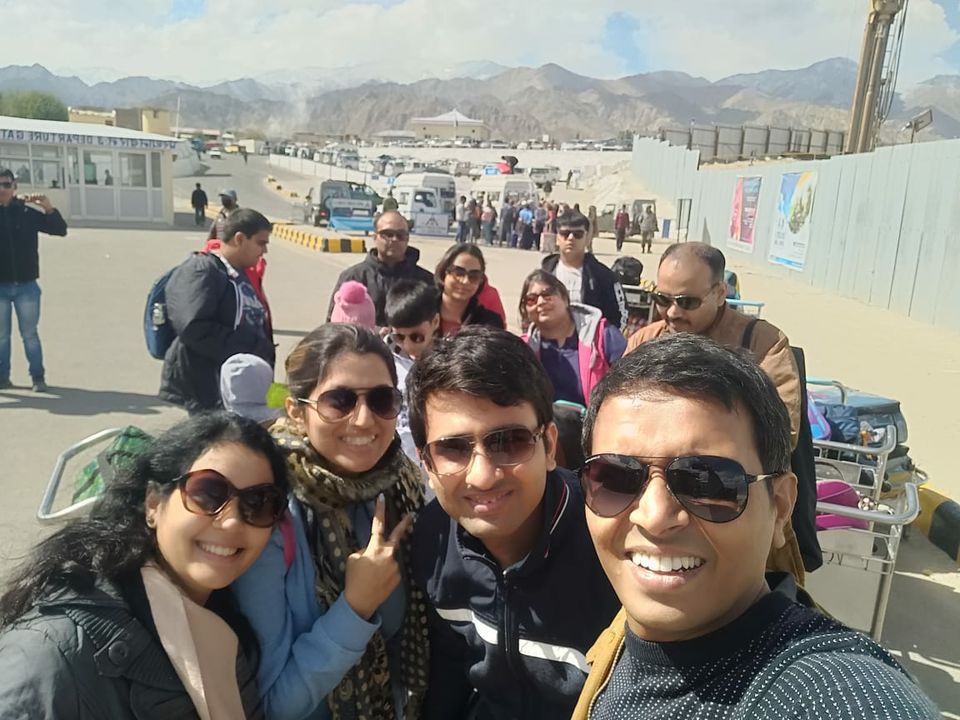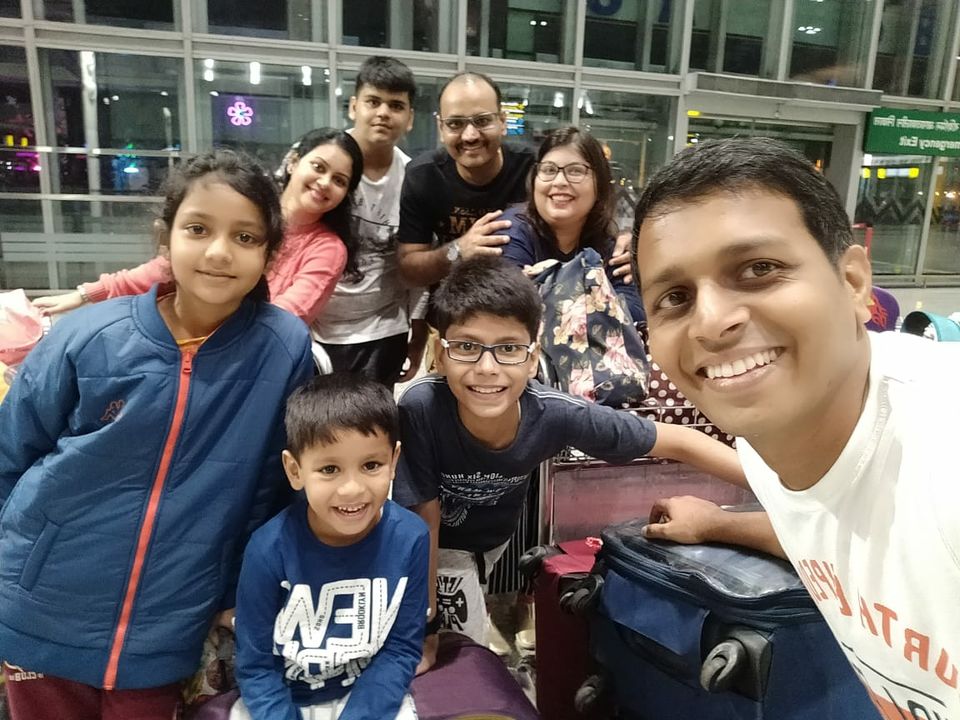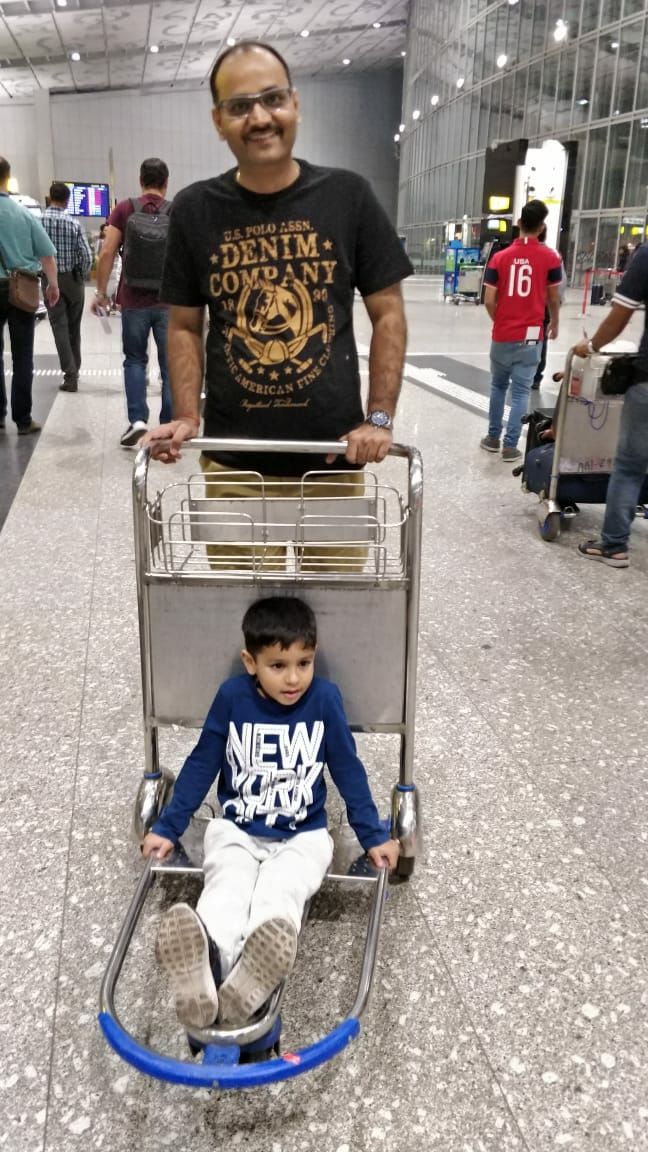 Boarded an early morning flight from Delhi Airport to Leh. It was an 1hr 30 mins of travel.By far the most fascinating flight I have ever had – Delhi to Leh, the capital of the Ladakh region. What was so special about this hour and a half flight? The view: mountains, mountains and again mountains.
The excitement and the eagerness of getting to Leh were fighting with the exhaustion felt after our too short night. However, when my eyes saw the mountains I totally forgot about any sort of tiredness! I instantly got mesmerized! I couldn't keep my eyes off the view.First time I realized that the clouds play scene. When they move we can see where we are flying over. such a scene was before our eyes,it was like a limited edition jaw dropping event.
Then we had a smooth landing at Kushok Bakula Rimpochee Airport,Leh , the capital of Ladakh.
We were surrounded by mountains. I didn't know which way to look first… and I inhaled the freshest air I've ever felt. After months of drooling in front of pictures of Ladakh I was feeling it, breathing it, letting myself get captured by it. My legs were giving away in beliwerdness. My heart was beating with excitement. FINALLY!!!!  My dream comes true....yipieeee!!I felt like shouting but my breath was heavy...it was cold outside but I felt the warmness of the place...I never felt before.
After collecting the luggage first thing on mind was to find our pre-booked cab. As soon as we stepped out ,found a guy with a playcard and a cheerful smile. Let me tell you one thing a person on wheel can make the journey unforgettable or forgettable.we were lucky enough that our companions for next few days were extremely cool and patient.
Now the real chaos began 15 people 3 SUVs...now all short of permutation n combination started who will sit with whom...after luggage were loaded we started our road trip...to be honest me n my sis were inseparable...and my hubby was indispensable.
We were tired but yet felt the freshness like never before.
Our first stop was ..
SANGAM THE CONFLUENCE OF TWO RIVERS INDUS AND ZANSKAR ...Straight out of the canvas painted by God...the most capturing work of Nature,where the picturesque Sangam of these opulent rivers can be witnessed by travelers. It is 35 Kms from Leh near village Nimmu.There is a photo point we took turns to get clicked.
Stomach started growling...hunger pangs took over ...as we had skipped the breakfast to catch the flight.
We took our stop to fuel our tanks(oops... stomach) at Nimmu.
There were many road side eateries selling both local and popular delicacies.we opted for a fully vegetarian eatery,which served chola bhatura and samosa with tea n coffee.
Nearby there is toilet facility available@rs.
10/..it's rare to find toilets..that too clean.
One thing more we had taken our first dosage of diamox125 mg a night before flying in and second dose in the morning before landing.We took ORS and drank plenty of water.
Beauty of the scenery unfolding before us was mesmerising.Mountains were majestic with different colours,were pleasure for the eyes. I was head over heel with the sight. On our way to Kargil we saw mountains having craters just like on moon..this is called moonland. It was evening and the temperature was dropping...At Saraks we had pipping hot Maggi n coffee.
Here we encountered the first traditional Ladakhi toilet...thanku to the lady who opened her personal space...Do carry toilet rolls n wipes...it's must in this terrain.
By the time we reached Kargil it was almost sunset...our body was tired but our soul was fresh. Our shelter for the night was a small beautiful property with wooden huts and a small garden and the owner was a wonderful person,Mr.Haznain and his staff took care of our needs and made sure our stay was comfortable.We were served hot tomato soup.The dinner was good but topping was the live singing by Mr.Sonu,who belted out one after the another oldies of Kishore Kumar.
People burned the dancefloor with their crazy moves .
This was the end of our first day in ladakh.
Still I feel the goosebumps when I remember my first foot in my moonland...my dream land.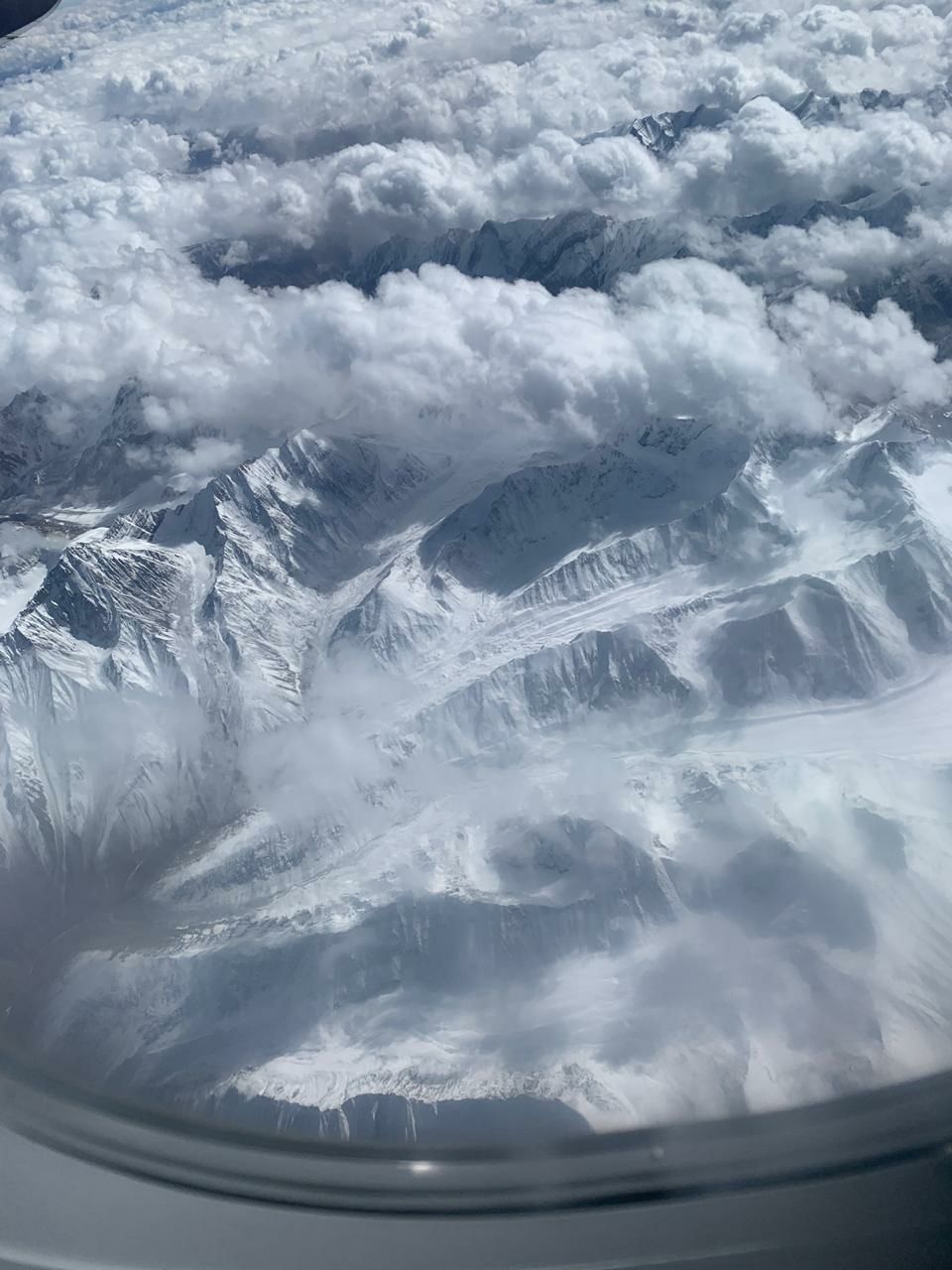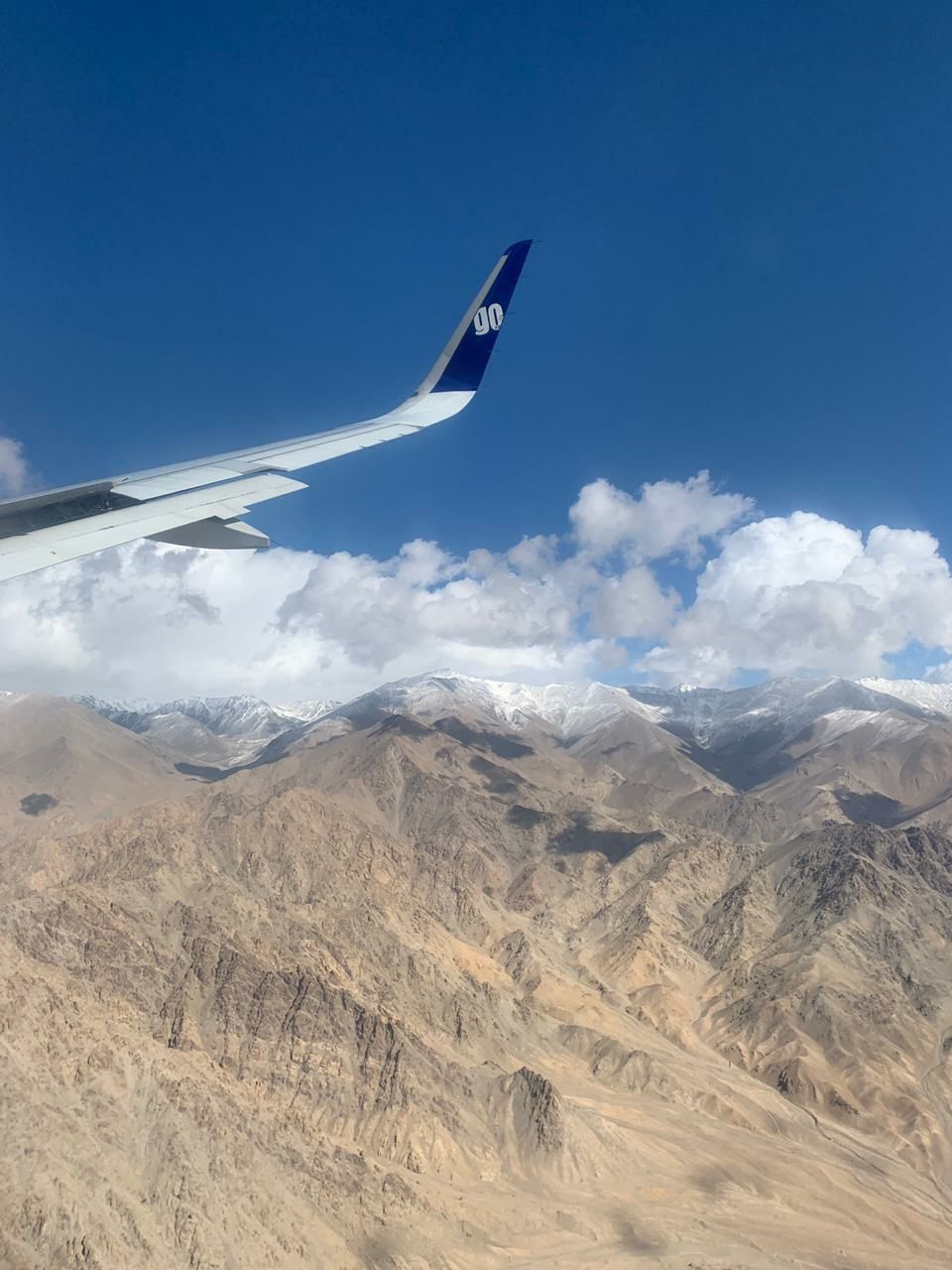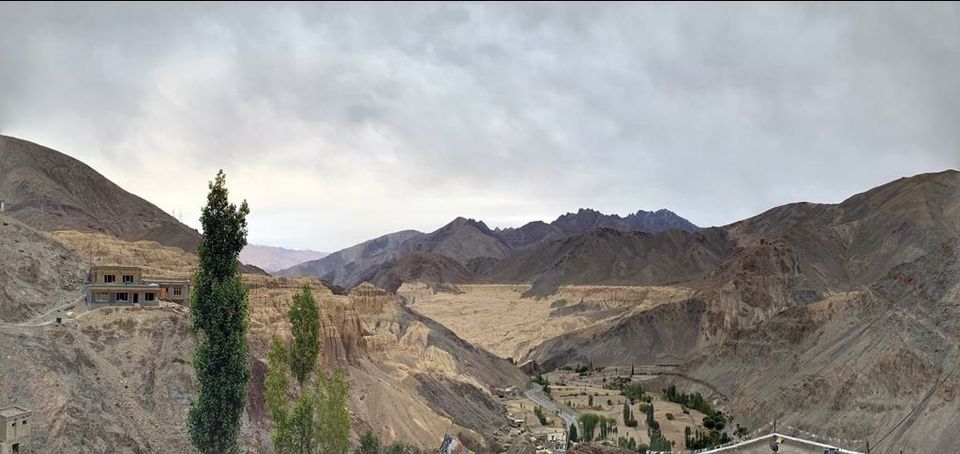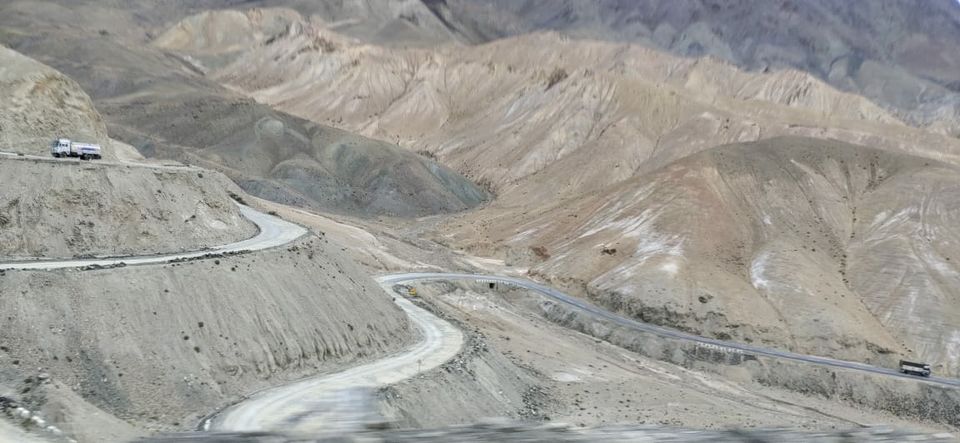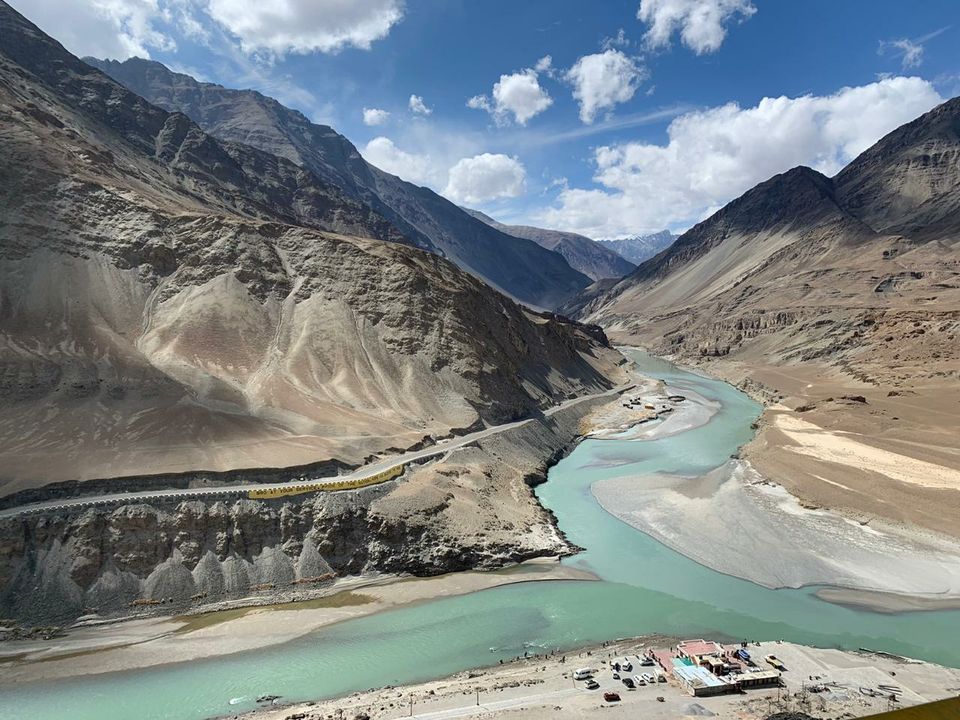 Got up early the weather was cool and pleasant,sky was clear. Sunflowers in the garden were breaming with lively smile.
Believe me travel brings power and love back to life.
Had a breakfast of toast and aloo paratha.
Had diamox and gave Cocca 30( homeopathic medicine for altitude sickness) to kids. Don't eat too much...eat 3/4th of your appetite,it's a thumb rule  to avoid motionsickness. Excess eating or empty  stomach both  causes trouble in journey....still not comfortable take  ondem 4 MD,do consult your doctor regarding medicines beforehand.
We headed towards Drass, our first stop of the day was War Memorial.
KARGIL WAR MEMORIAL, is a war memorial built by the Indian Army, located in Drass, in the foothills of the Tololing Hill. Its a homage to the martyrs of operation Vijay. It refreshes the memory of kargil war.several troops on the route come to pay homage,we were lucky enough to hear the briefing of the war by a soldier.visiting Drass Memorial is a gesture of respect for the immortal souls of Indian army men. Its beautifully made with pink sandstone.
Next, we drove till evening skipped lunch as there was not much in between. Had dry snacks and fruits....I personally loved fresh fruits on go..buy in advance, whenever see a local market,must carry khakhra, muri(puffed rice) nimki. As being vegetarian faced bit of problem for only vegetarian restaurant.
MULBEK was our second halt.The monastery is situated at an elevation of 3,304 meters and is indeed a remarkable piece of workmanship that maintains a carved nine meters tall statue of Maitreya Buddha, which is said to be overlooking the old trade route and the present day highway. The statue is also called Chamba and is believed to have been built around 8th Century AD.It is nestled between the hills, the place is very calm.
Do remove your shoes before entering any place of religious importance to show respect.
We crossed Nimkila, Fortula..two high land mountain passes on our way to lamayuru which is at a lower altitude.
Again finding a toilet is a big achievement..local tea stall owner on a highway after Namkila had a toilet to let use @ rs10/...still relieved...Do carry peesafe.
Had Maggi..maggi is the staple food.
We reached Lamayuru Monastry in the evening..it is the oldest monetary in ladakh region.well maintained and clean.
We took halt at Khalasti village and had dinner at a pure vegetarian restaurant,Samyas.Food was freshly prepared hot and tasty.We filled our tummies to the fullest. It was dark and the journey was enjoyable with my favourite bunch of people last not the least our mascot on wheels,Nazir,Aftab and John,the best people to drive us through the rocky terrains.I was in Nazir's vehicle...wonderful person..with good driving skills...light hearted and jolly.The journey was long but chit chats with Nazir didn't kept the watch on time.
It was dark by the time we reached leh...so the view was all dark."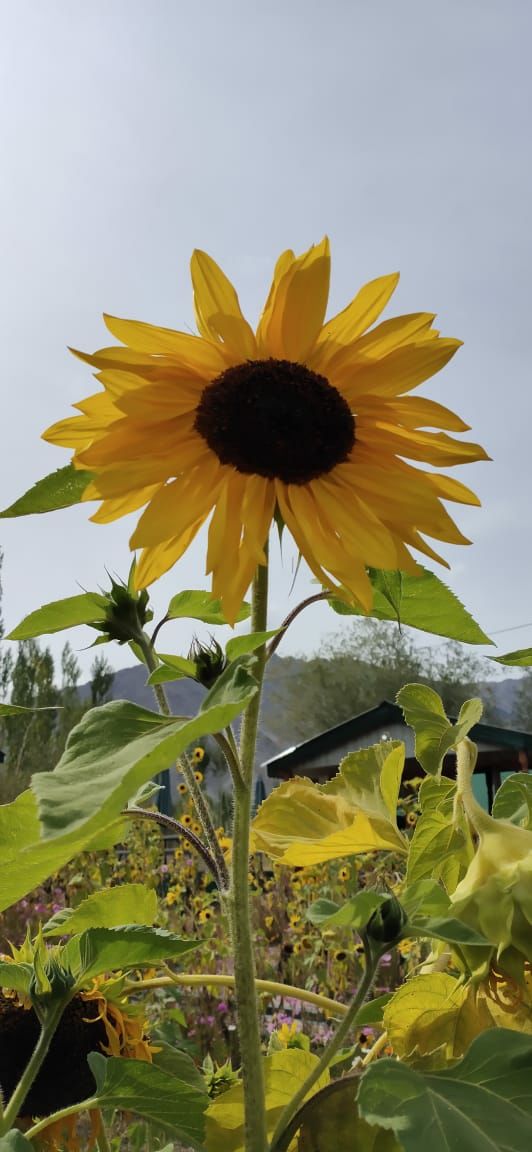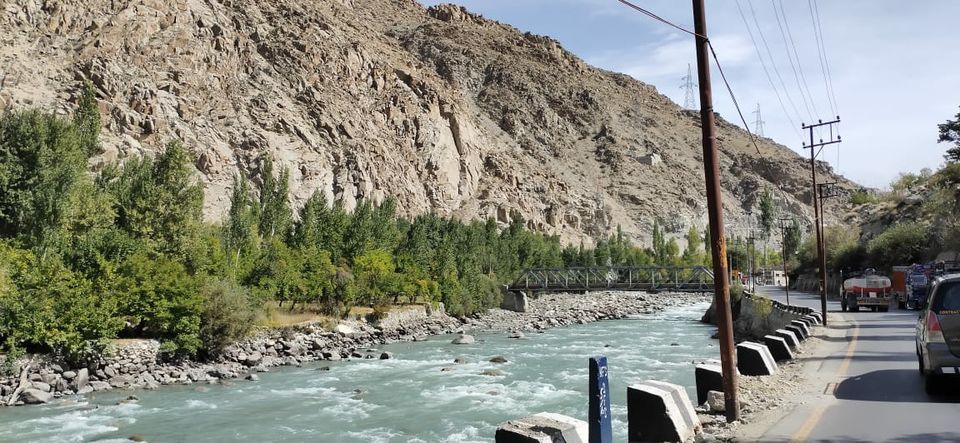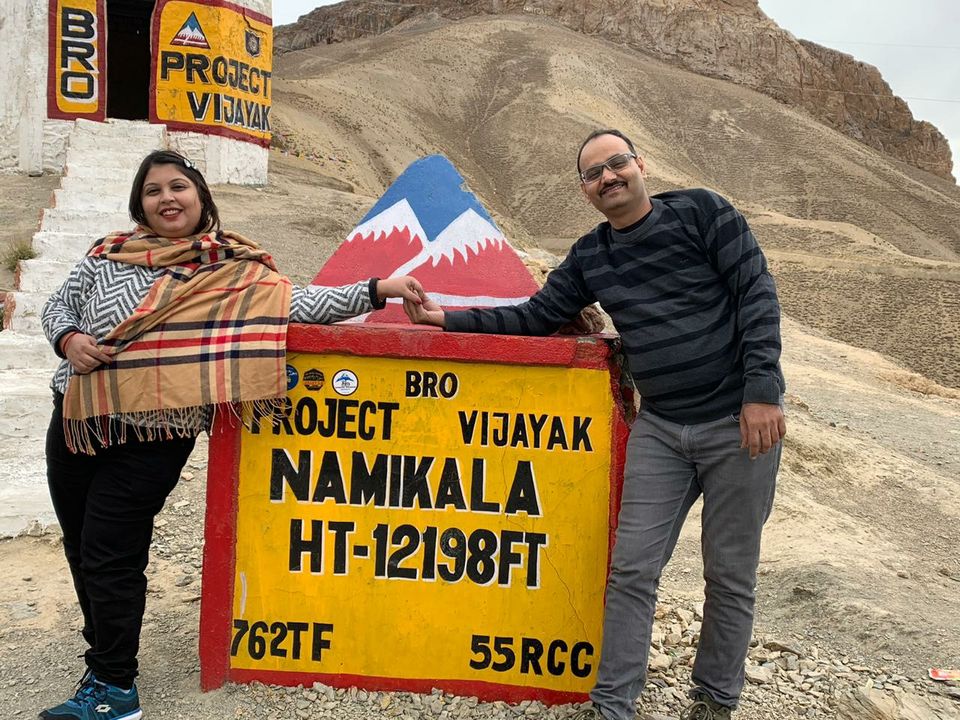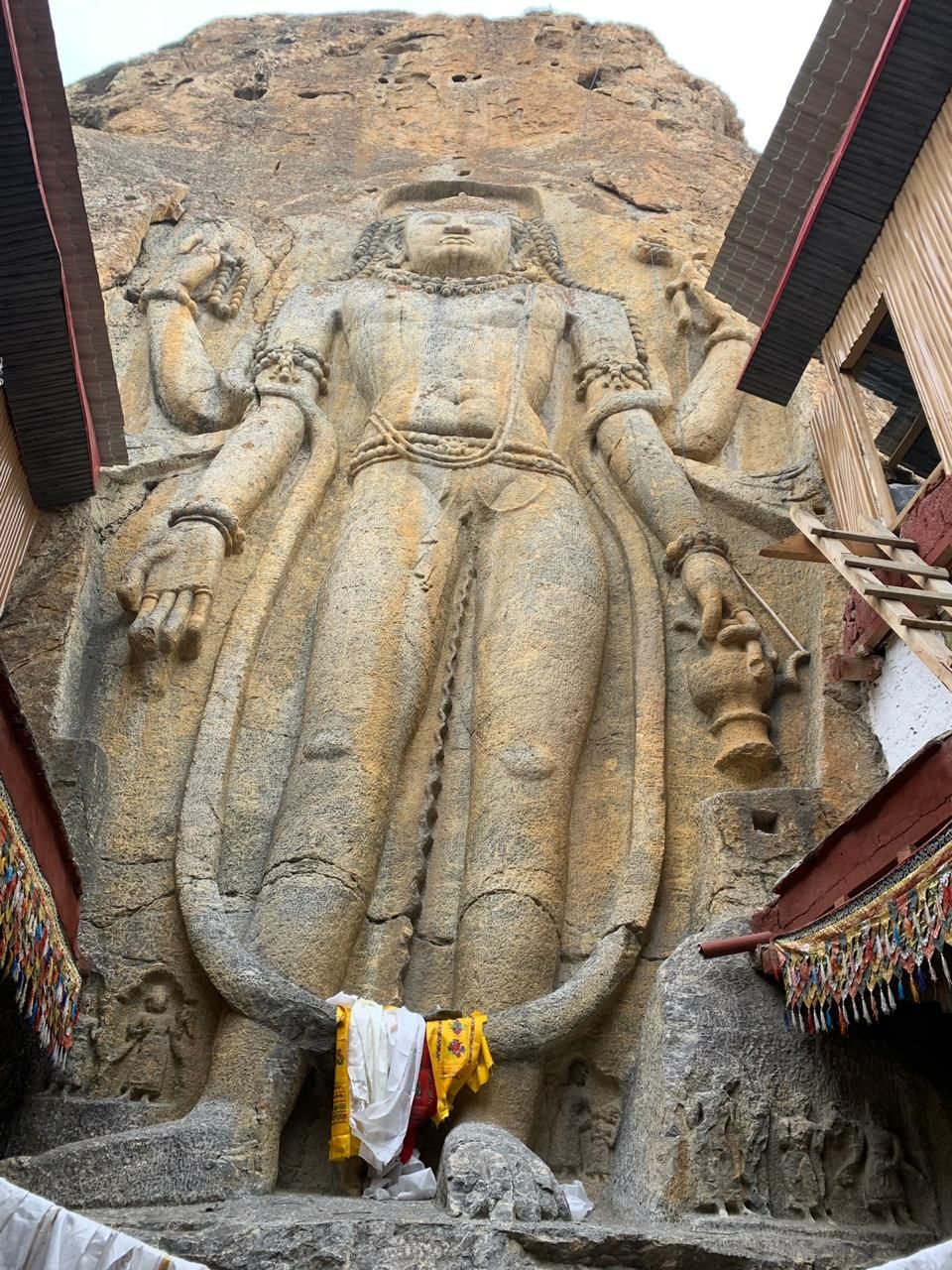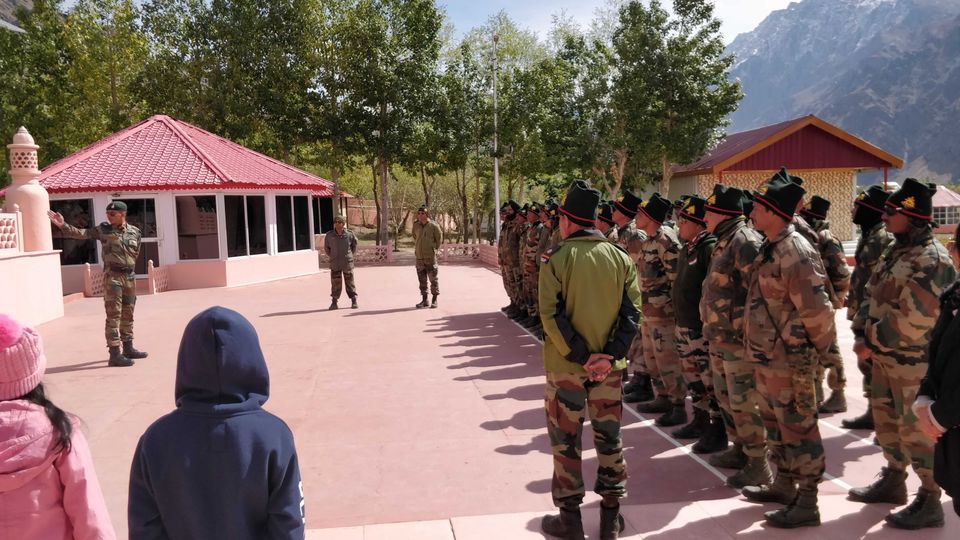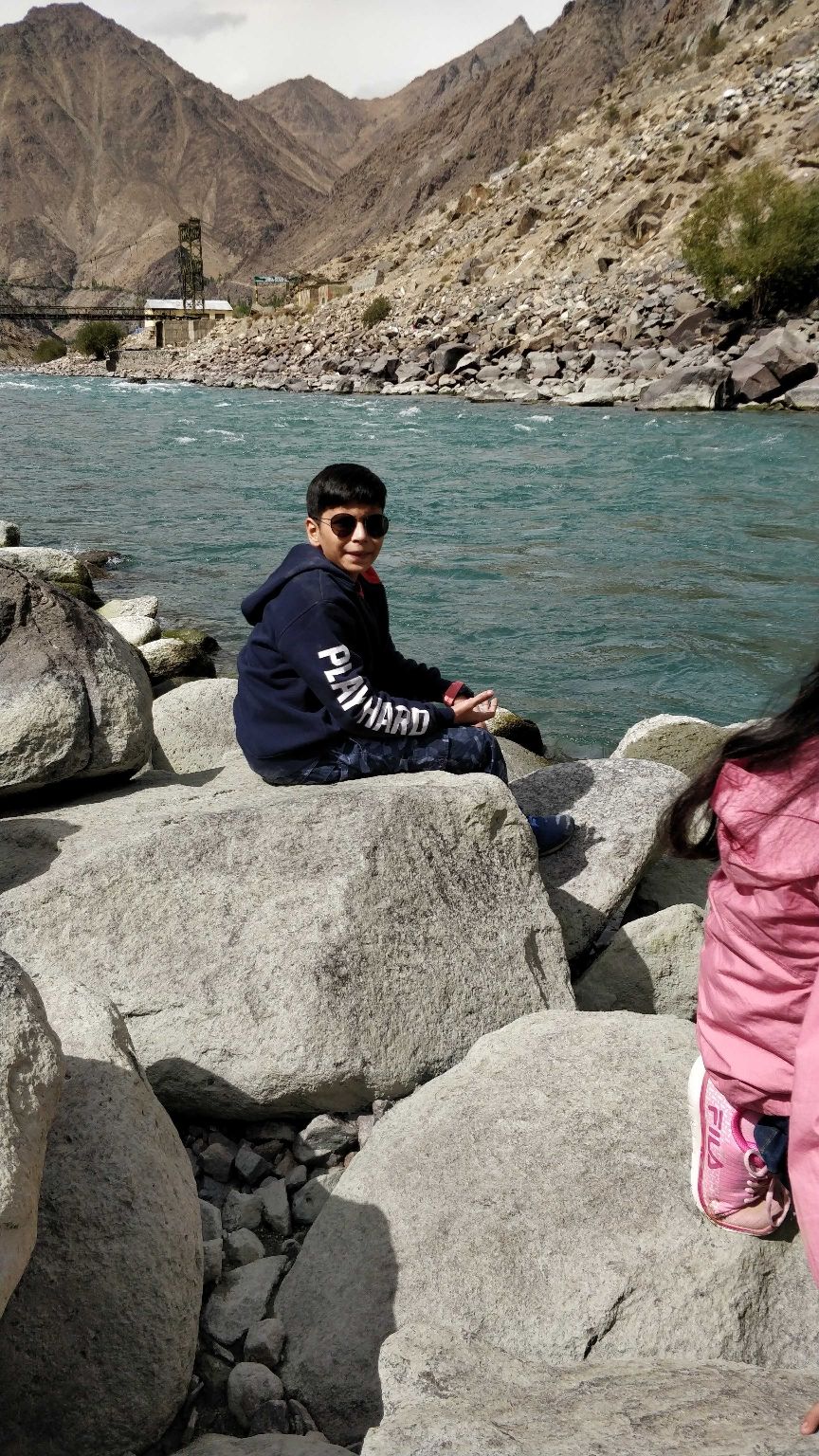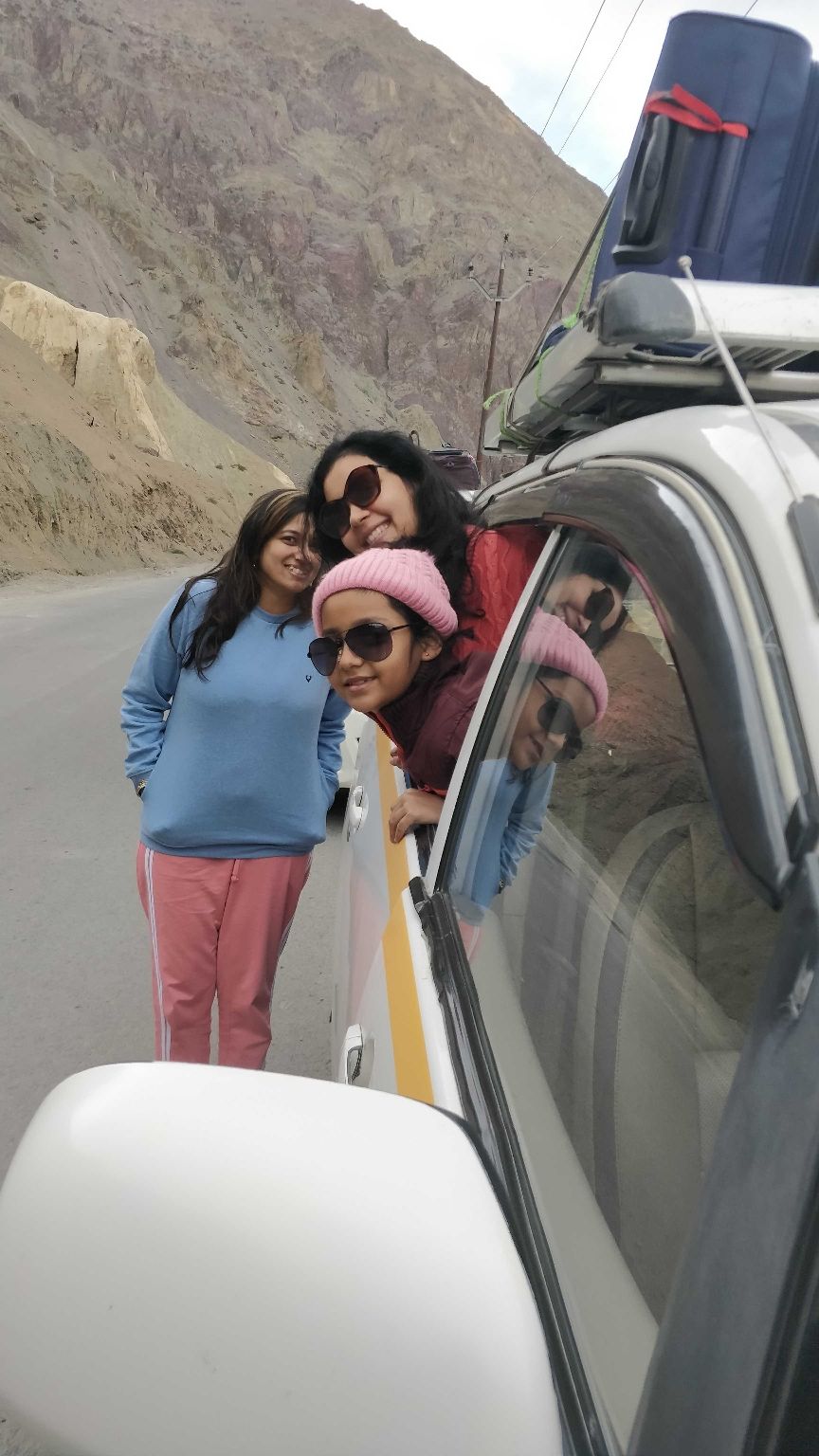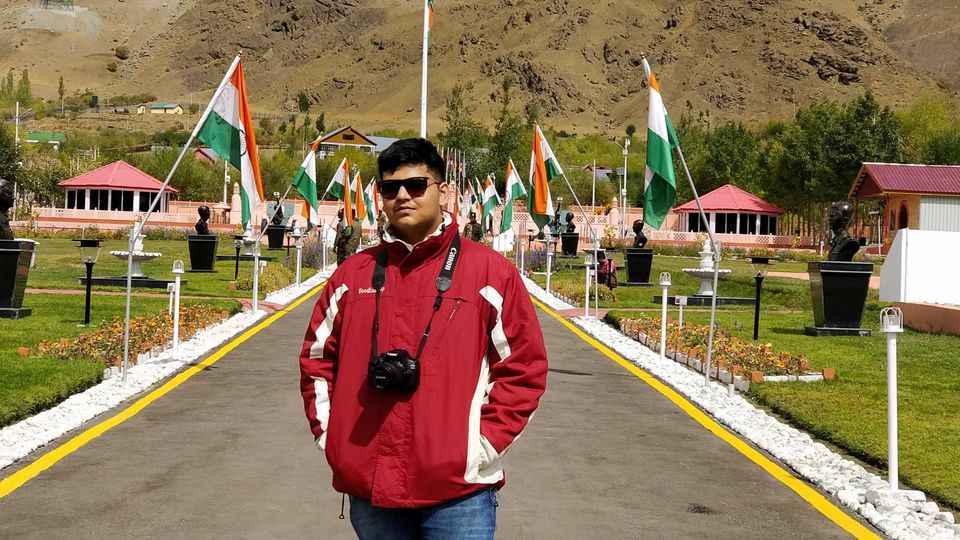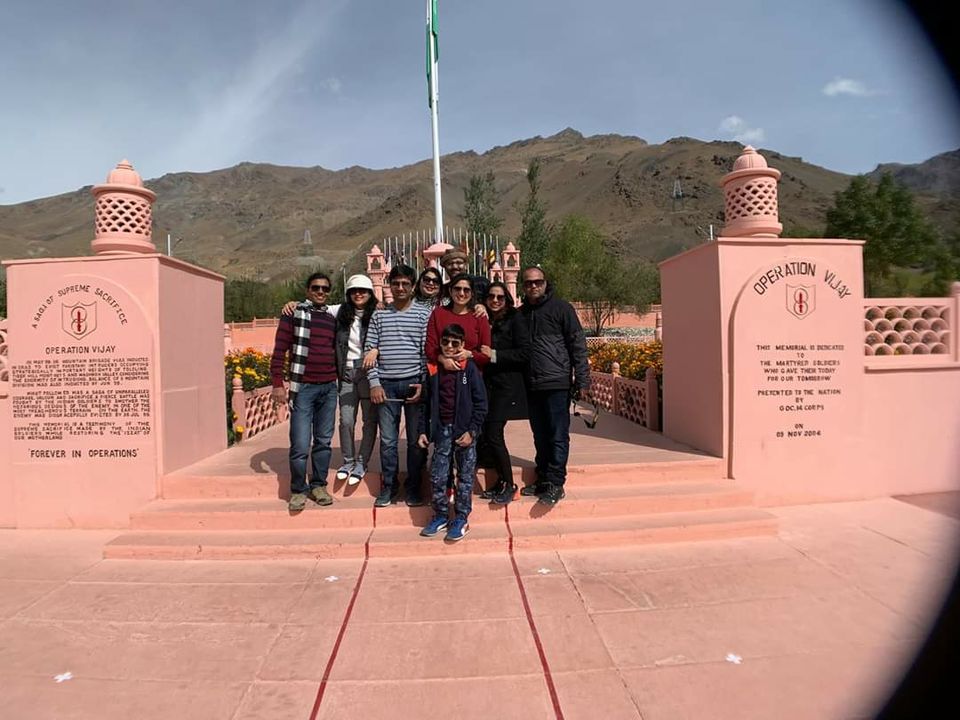 "Thousands of tired, nerve-shaken, over-civilized people are beginning to find out that going to the mountains is going home; that wildness is a necessity"..John Muir
Opened my eyes for a treat of sun basked mountain tops,distant snowcapped hills...beauty irresistible from the window of my room.
After breakfast lazed around and got ready for the leh local sightseeing...took diamox only in the morning...it was killing my appetite,causing nausea but still needed it to adjust to the altitude.
First stop was HALL OF FAME... war memorial for Indo-Pak war martyrs.It stands as a reminder of the great sacrifices made by our soldiers to ensure the safety and security of our country.
Then we went to ZORAWAR FORT , this fort was home to the "Conqueror of Ladakh" late Zorawar Singh Kahluria who consistently struggled against the Chinese Rulers. Its impressive structure is made from a local type of clay, sun-dried bricks, stones and wooden frames around the edge.
Surrounded by the heap of rocky mountains the attractions in Leh-Ladakh are at no ends.
SHANTI STUPA is a white domed stupa on a hill top.The stupa has become a tourist attraction not only due to its religious significance but also due to its location. Panoramic views of the surrounding landscape is worth capturing..the crisp air heals the soul.
LEH PALACE is one of the oldest place in leh.One has to start from the market and hike for 15 mins.Enjoyed the walk up to the Palace. It has great views of the old and new town Leh. The Palace do need more sprucing up, although there are some nice photo exhibits. There are many empty rooms to explore, it's like a maze walking around the rooms and finding more rooms. The rooftop view is worth the find.
Well we are people who are not fascinated by the monuments but by the hills.
Time for late lunch at Lamayuru Restaurant on Fort Road,a small homely restaurant with an honest host..who ensured to clean the utensils before cooking vegetarian food. The food was delicious kids savoured it.
Visited the Leh main market..did some colourful shopping of woolen caps and bandana.Ate some fresh apricots.Enjoyed the ice-cream at an ice-cream shop,cups &cones,in main market.
Next,called it a day as most of us were tired and temperature was also dipping. But I wanted more of the view,travelled through  lanes and by lanes, my search for the day ended at a food truck..had hot Cappuccino with French fries. The view was panaromic..clouds were floating ,the landscape was changing colours..visual treat for eyes.
Returned to hotel and was completely drowned in the feeling of getting leh'd.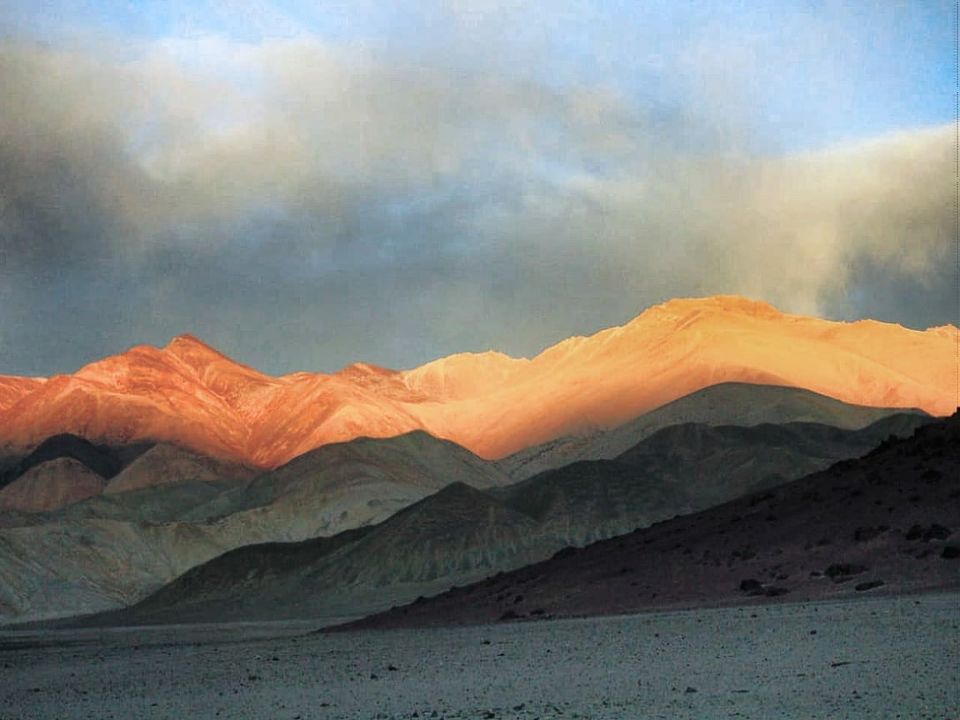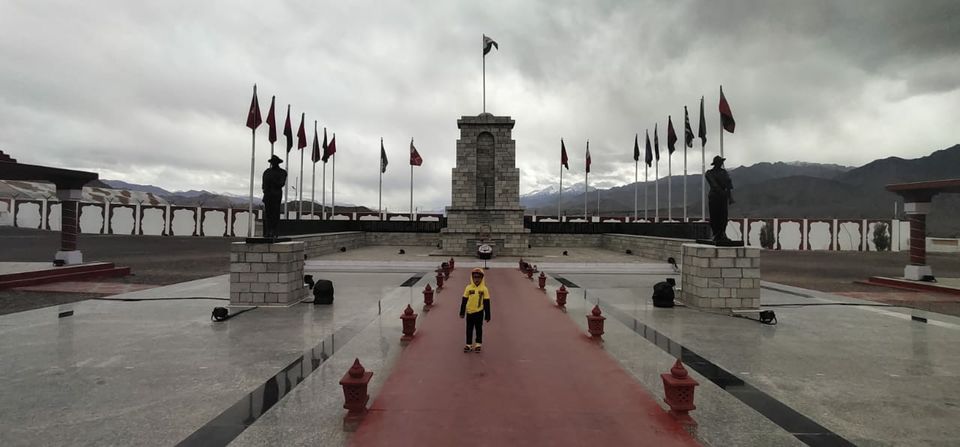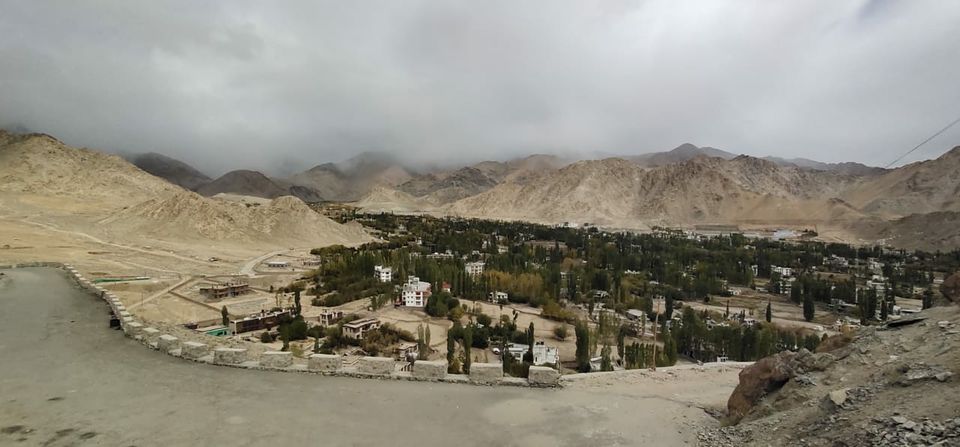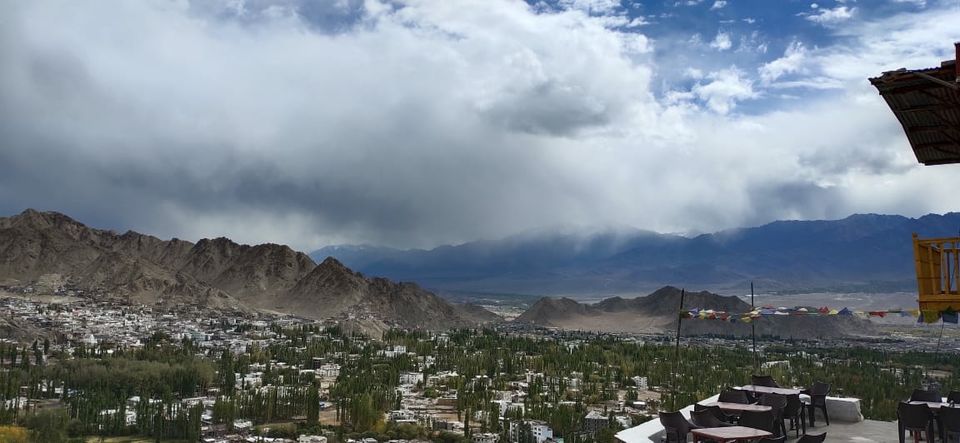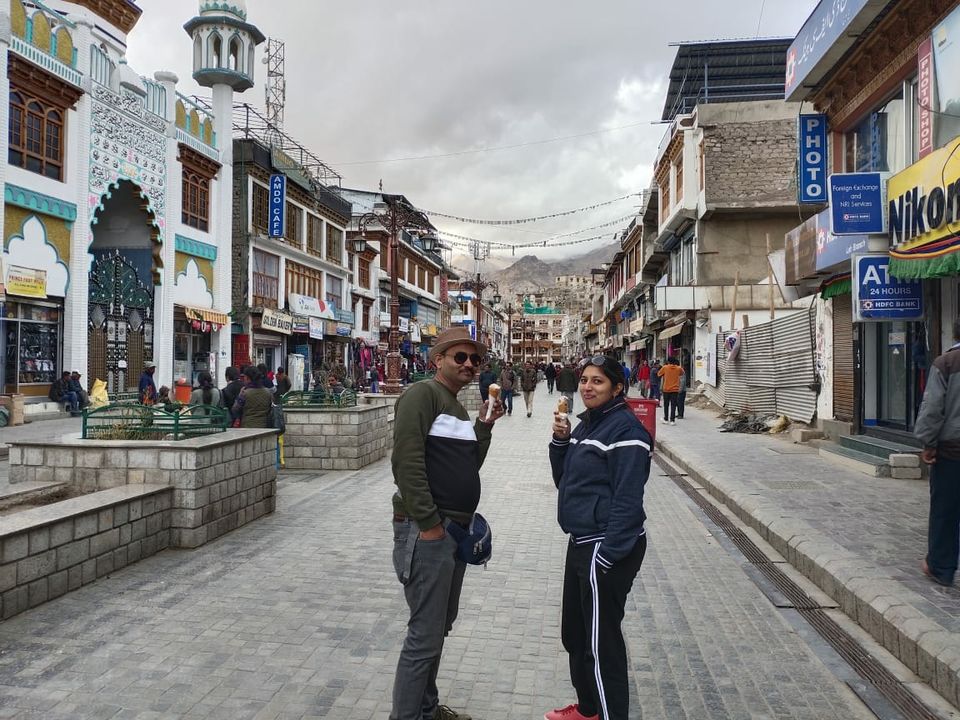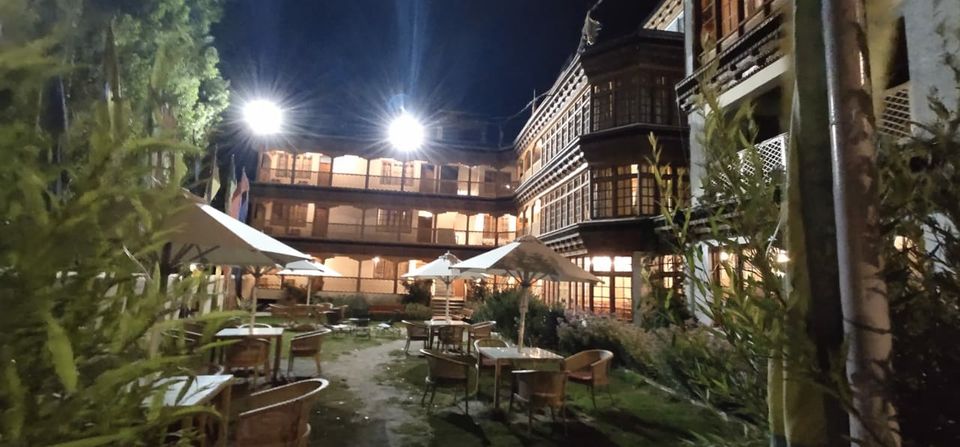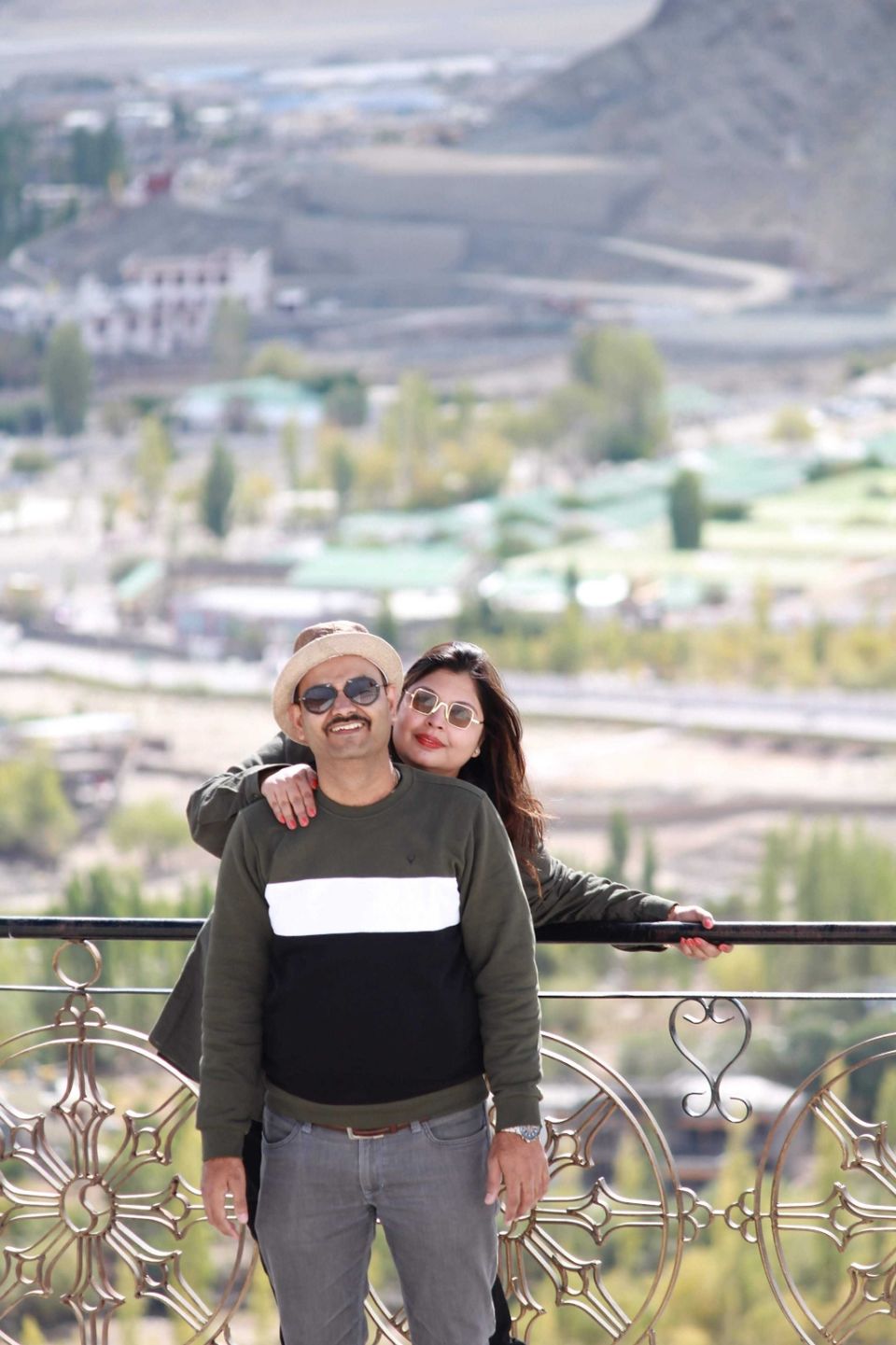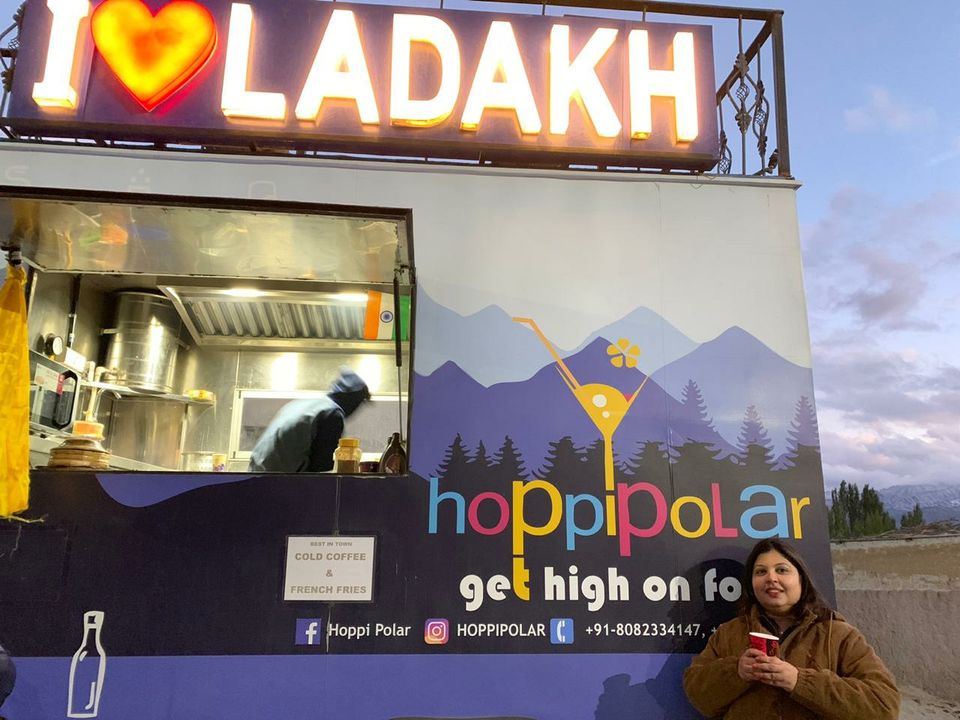 We tried to start early as we had to travel to Nubra. Most of the days you can start early if you hit  the sack early by 11pm...believe me you will surely feel here nights are long...I was not able to sleep for more than 3-4 hours..but it was perfectly fine because I didn't had any problems.I woke up early for a walk in the lap of nature and literally tourtured my sis out of the bed and asked my brother in law to join us..finally mission accomplished..returned with the catch of the day..8 apples..fresh n juicy..seems straight out of an advertisement.
Our cars were ready but we were steady .There was some slight change..Mr John our chauffer for last three days had prior arrangements,so another guy Parvej took over.We missed John's sense of humor. It took almost half an hour to pack ourselves in cars.
Soon we were leaving the city.Procceding towards Khardungla.Weather was not clear.we were praying every god for Snowfall.
Mountaint trails were crooked, winding, lonesome, dangerous, leading to the most amazing view. As the altitude was increasing we kept on sipping water and green tea...one thing more try to carry your Thermos filled with hot water for tea and ready to eat poha and upma... believe me it comes very handy. Nazir asked us to keep on sipping water in small quantity to stay hydrated and warned us against taking nap.Altaf and Nazir kept on enquiring regarding children and us,to find out symptoms of ACM. Very nice and reliable guys to travel with. At first it was only chit chats later they opened up about their families,their lives in comming days.Both had a masala Bollywood type lovestory,they had married their childhood sweethearts.
At South pullu towards khardungla we stopped to get our permits checked at an army post.weather there was cold and chilly. After few Kms..terrains were snow covered.Our prayers were answered...we felt the fresh shower of cotton balls...yipieee!!!! it was snowing...All of us went mad.Driver bhaiyas, they took out the snow chains and started putting them on the wheels. We took out our sound drum and danced like crazy bunch. I know thoda filmy hai...but so what super duper excited...It was my fourth time with Snowfall but still the excitement was same.I can remember my first snowfall but this was nothing less,I never get tired of it, something was magical about it.We threw snowballs on each other....the feeling was like a fantasy.we crossed the hairpin bends and bumpy roads to reach Khardung La, around 40 km from Leh. It was freezing cold at the top of the pass with the cold wind adding to our misery. The wind was even penetrating through the four layers of woollen clothes.We reached snow covered Khardungla...the feel was awesome.we queued Infront of a toilet with a bottle of water and peesafe. Though not in a good condition but still useable. Clicked few pics and savoured the special kawa bought by Nazir, served at Indian army canteen.Donot stay more than 15 mins. and don't exert. This doesn't mean one has to panic but at such high altitudes precautions are better there are army units to tackle any sort of emergencies.we bid our goodbye to Khardungla top and moved towards Khalsar. Had lunch there...but green tea,dates and figs were my staples.
Near Khalsar village there is a ATV track... Near siachen warriors enjoyed the biking on the sand dunes.Do remember to wear sunglasses it's a roller coaster ride. Did all short of crazy stuff like sitting on the roads clicking pics,chantting hymns.you can have this craziness when you are with your favourite bunch of people.
We went to Hunder saw the double humped bacteria camel. But it was very cold for the ride and we headed straight to our hotel. At the sight of the hotel my heart went oolalala.At the check-in desk Ms.Niljala,Ms.Chandol and Mr.Sujat made sure we were comfortable in our rooms.The rooms were super spacious and the suite which kiddos shared was awesome.The comfort was excellent.Now comming to the food..the spread was no less than at a 5 star buffet. All the items were yummy and delicious.
It was a long tiring and fun-filled day.Fully paisa basool trip to Nubra.
Wrapping my day with a thought of some great person who said..As high as a mountain soars, so deep a silence runs within you. And this need not be for discerning, not even for conscious thinking. Let your mind float as free and as light as the clouds. Let it write new definitions for sophistication and the grandness of life in silence. Gasping and panting and bruises and exhaustion to reach the zenith of a mountain are all too sweet, because what follows is a smile of satisfaction that lingers on.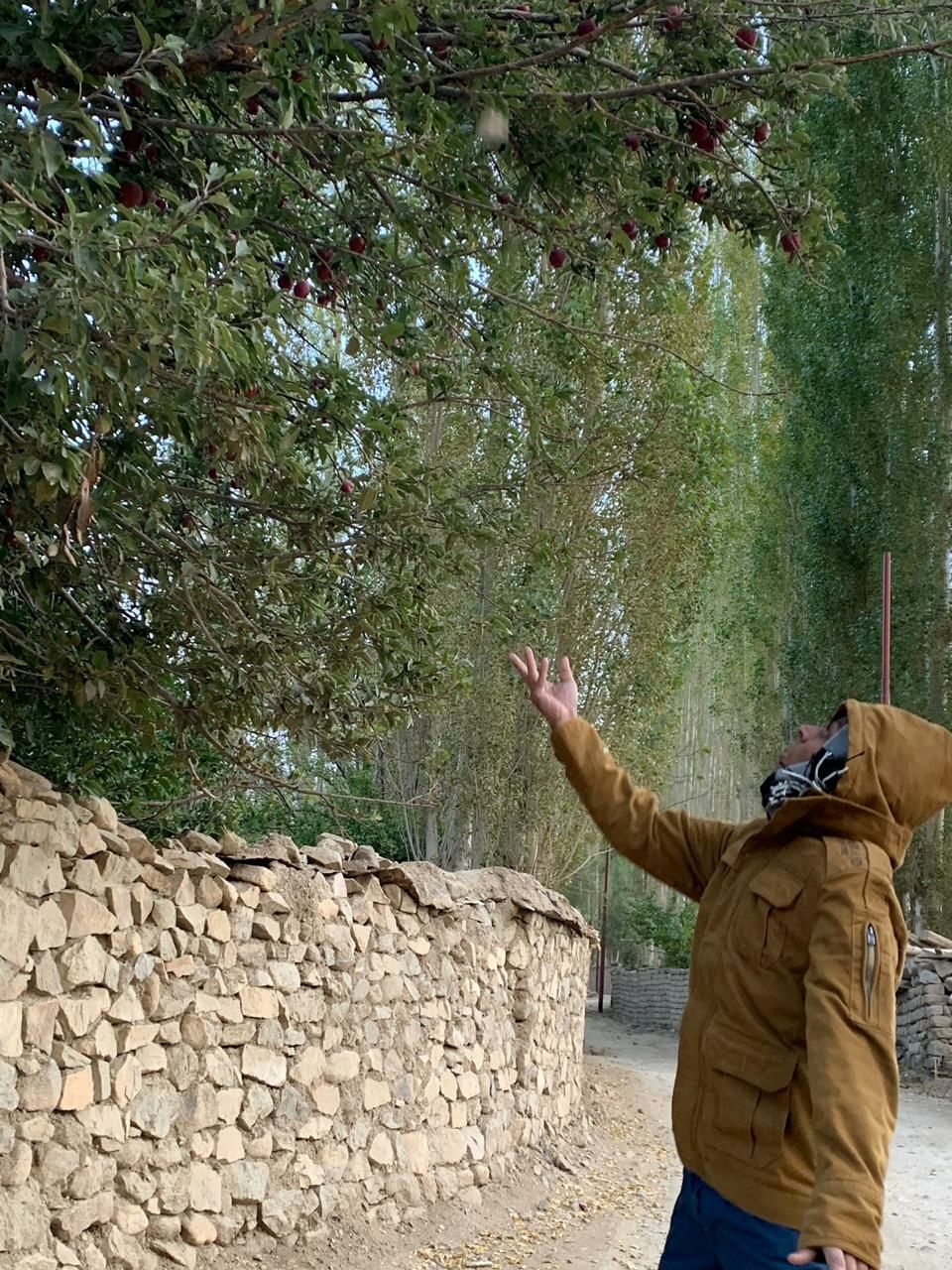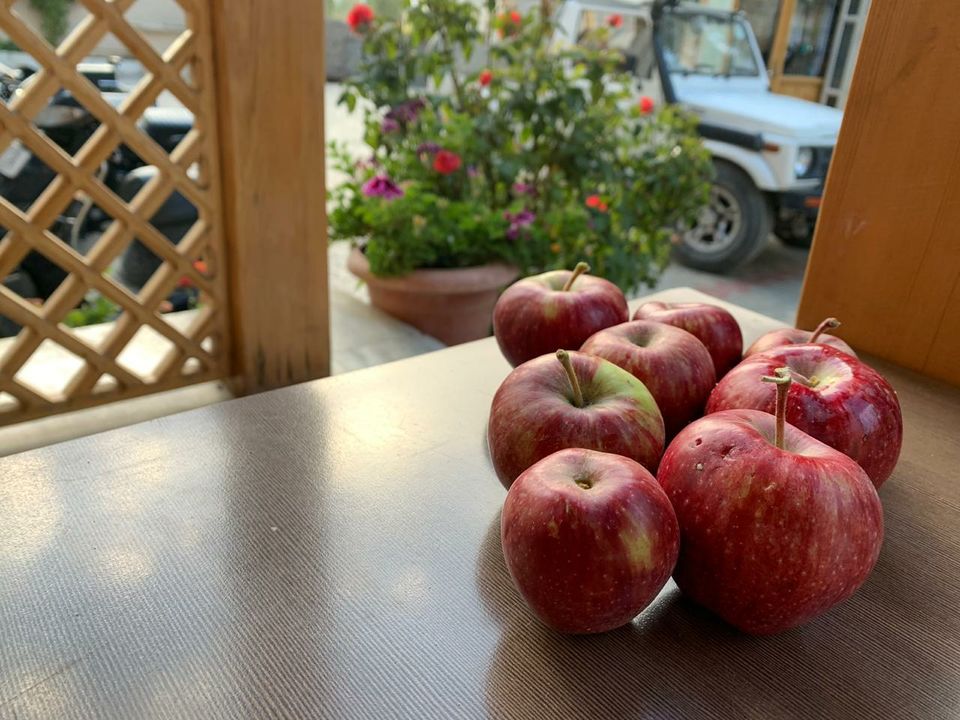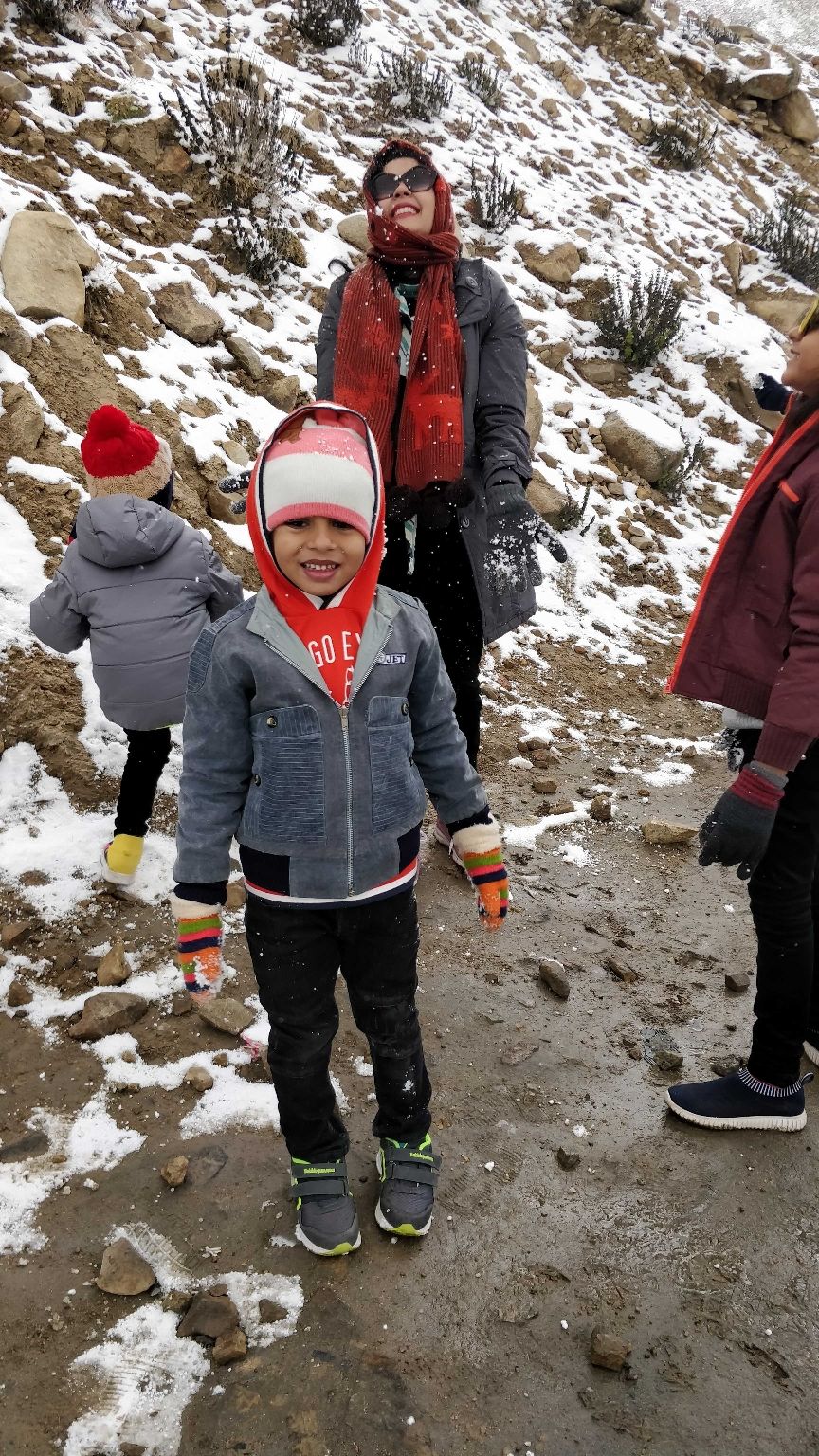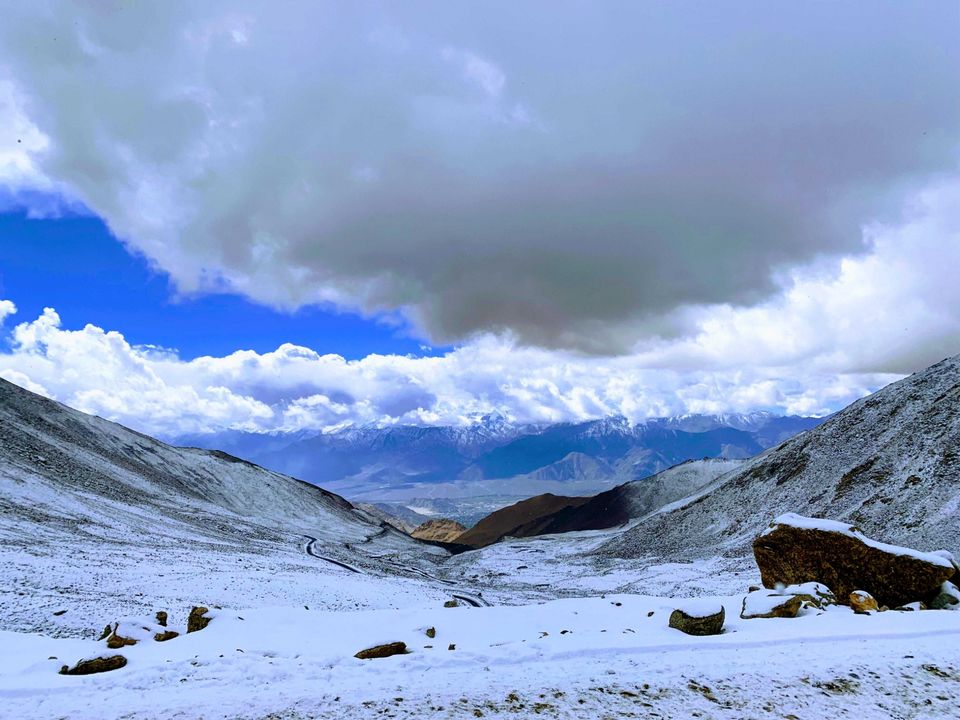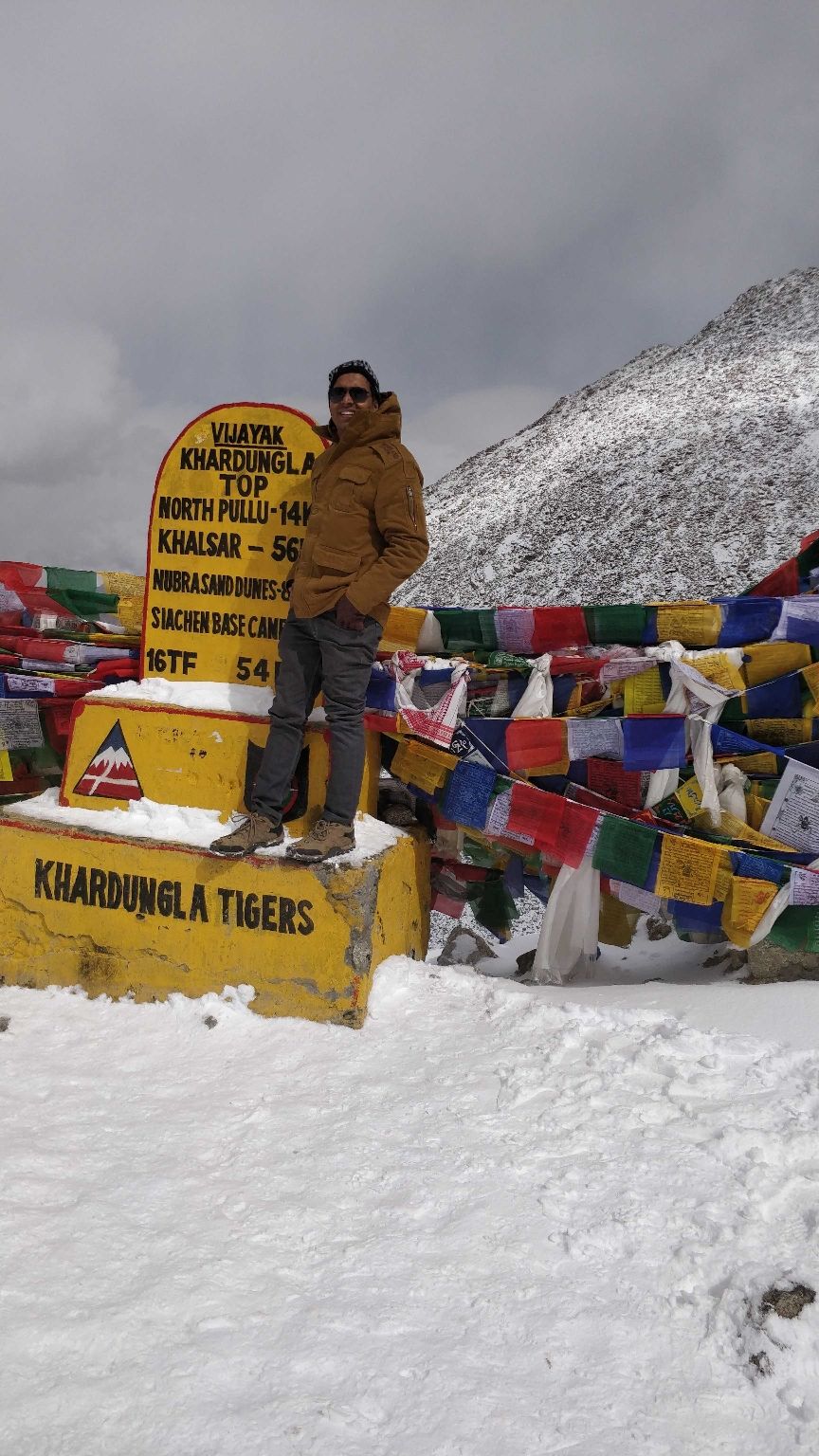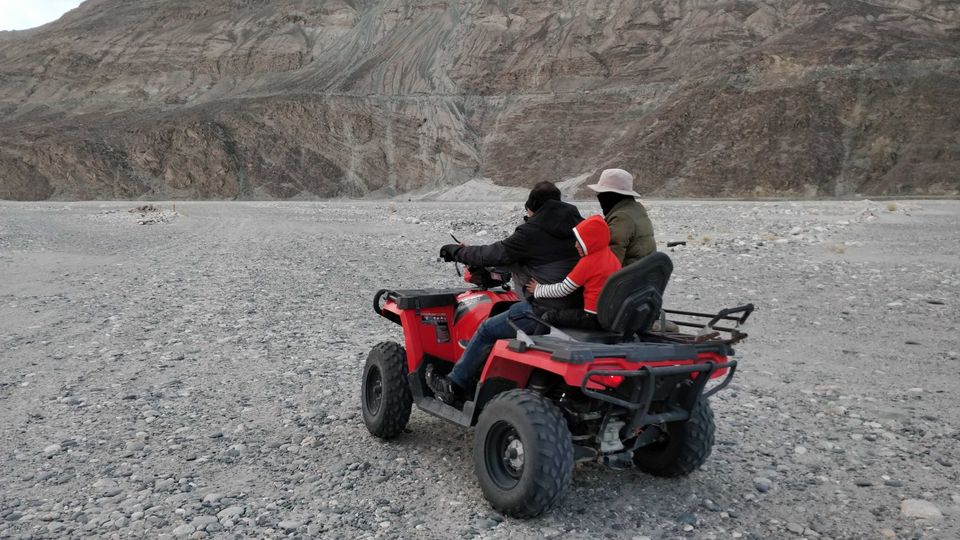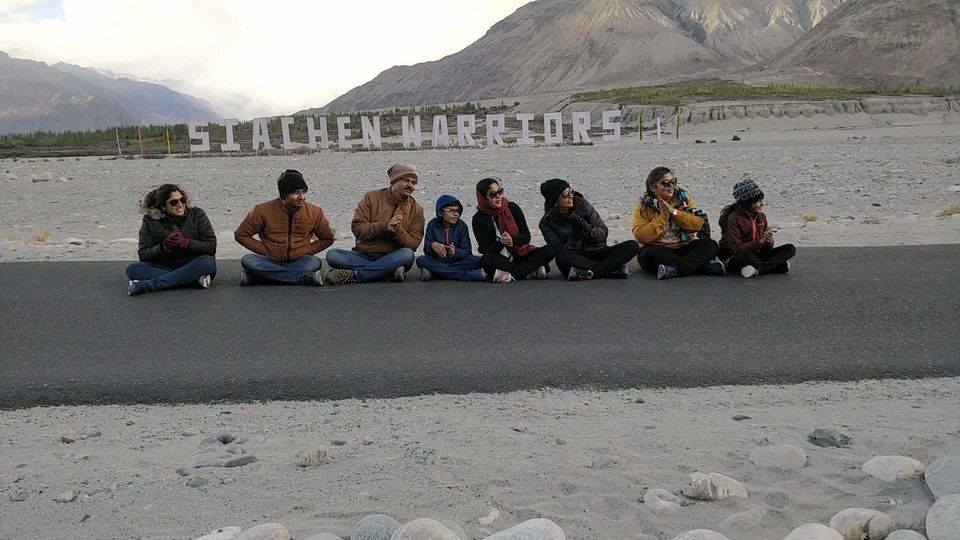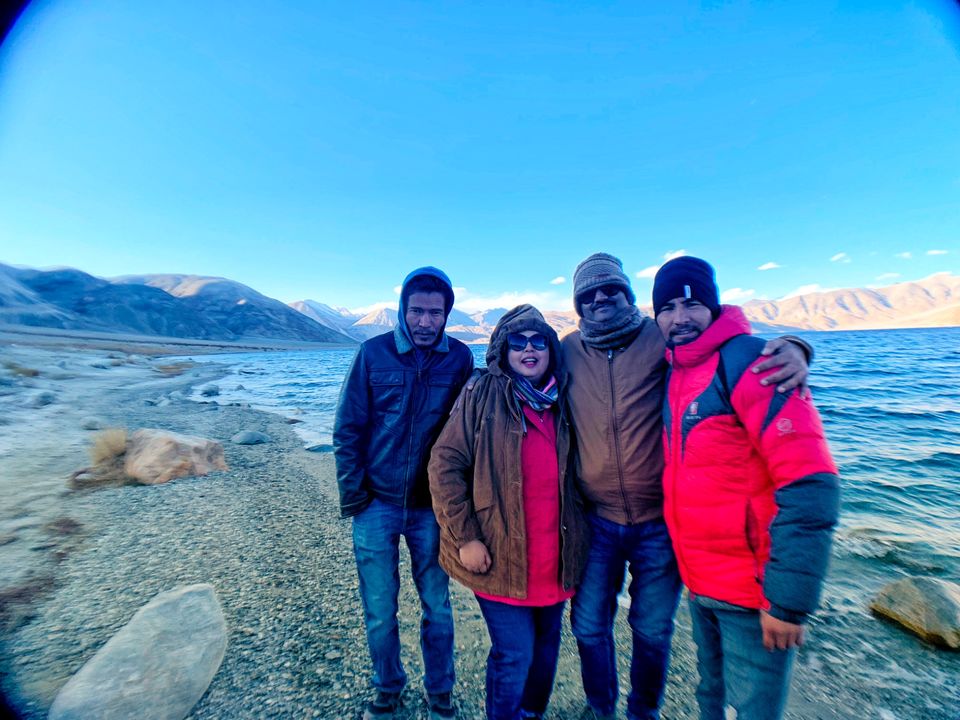 We can always make money but not memories.with this thought let's explore ladakh like a traveller not tourist.
we started early after breakfast to visit a beautiful village Turtuk.Start early as there are many attractions in turtuk. The road after Hunder towards turtuk was very beautiful.we found greenery on this route.The roads were smooth. Though They he last 20 Kms was tricky and rocky.You have to cross the famous hanging bridge to reach the village.Though the village is small it's an uphill walk.small twirling path leading to amazing locations.It was not hard to feel instantly enamoured with the picturesque village. The Karakoram mountain range, home to K2, the world's second-tallest peak, hovered over Turtuk's 300 or so stone houses, as surreal as a painted backdrop.It's geopolitical allure, began to trickle in, we found ourselves in one of India's last rural idylls. Day was clear with ample sunshine.It was a pleasure to see the rural life .. Women were working in the fields...got the chance to tresh the buckwheat grain...local children were very cute and lovable. Do carry some short of candies or dry items....I distributed dates and figs. The kids are super cute, easily get ready for the click.The local people are very welcoming.One of the village lady offered us thupka...people out there are very simple,gentle and labourious. Remmember to take permission before clicking anyone. Do respect their privacy.
The view from the freezing point was picturesque.There were different types of flora and fauna.
We took permission from a lady to enter the field..and kids were very excited on seeing the vegetables grown... especially my neice loved the cabbage( her favourite veggies), the kind lady permitted us to pluck out  the fresh cabbage from the field . It was very crisp and juicy...we made the subji...very next day at our homestay.Rural life at the best...though we went in for a day trip...but one can spend a night here.We got the chance to gorge on local cuisine...tried buckwheat pancake with kisir(walnut chutney) it was bit spicy..yummy..it's only available here in turtuk..must try. We also had gurgur tea..Second cusine was baley and thantuk...basically type of handmade buckwheat pasta in traditional balti cusine at Friends cafe. At the cafe there is a stone, painted  with the map of tourist points in  turtuk. This cafe is easily sightable just after crossing the bridge.
When in season must try fresh apricot juice.
Nature cannot be fully described or expressed in words it can only be experienced.. tried my hands on threshing the grain and savouring balti cusine, something different from our regular food so must try the local delicacies.
With heavy heart we bid adieu to the small pristine and picturesque village. Turtuk will be forever in my heart for its beauty and beautiful people.
Our journey towards Hunder was equivalently beautiful with Shyok river, accompanying us. We got down at  river downing and  got beautiful clicks to cherish.
By the time we reached Hunder sand dunes it was evening...kids enjoyed the double hump camel ride.
We had a grand evening at hotel..celebrating my nephew's birthday.As their chef was on leave, they helped us decorating our readymade brownie with whipped cream...But it turned out to be yummy...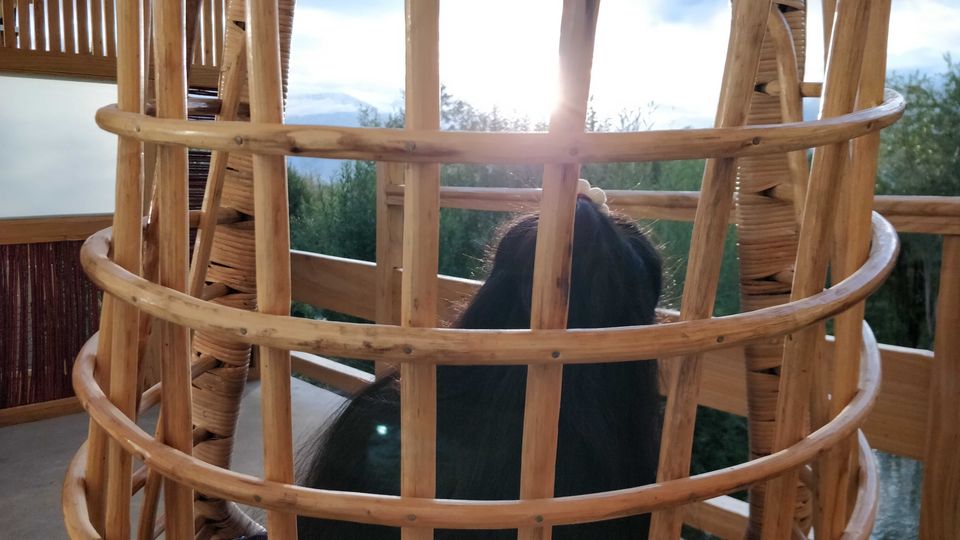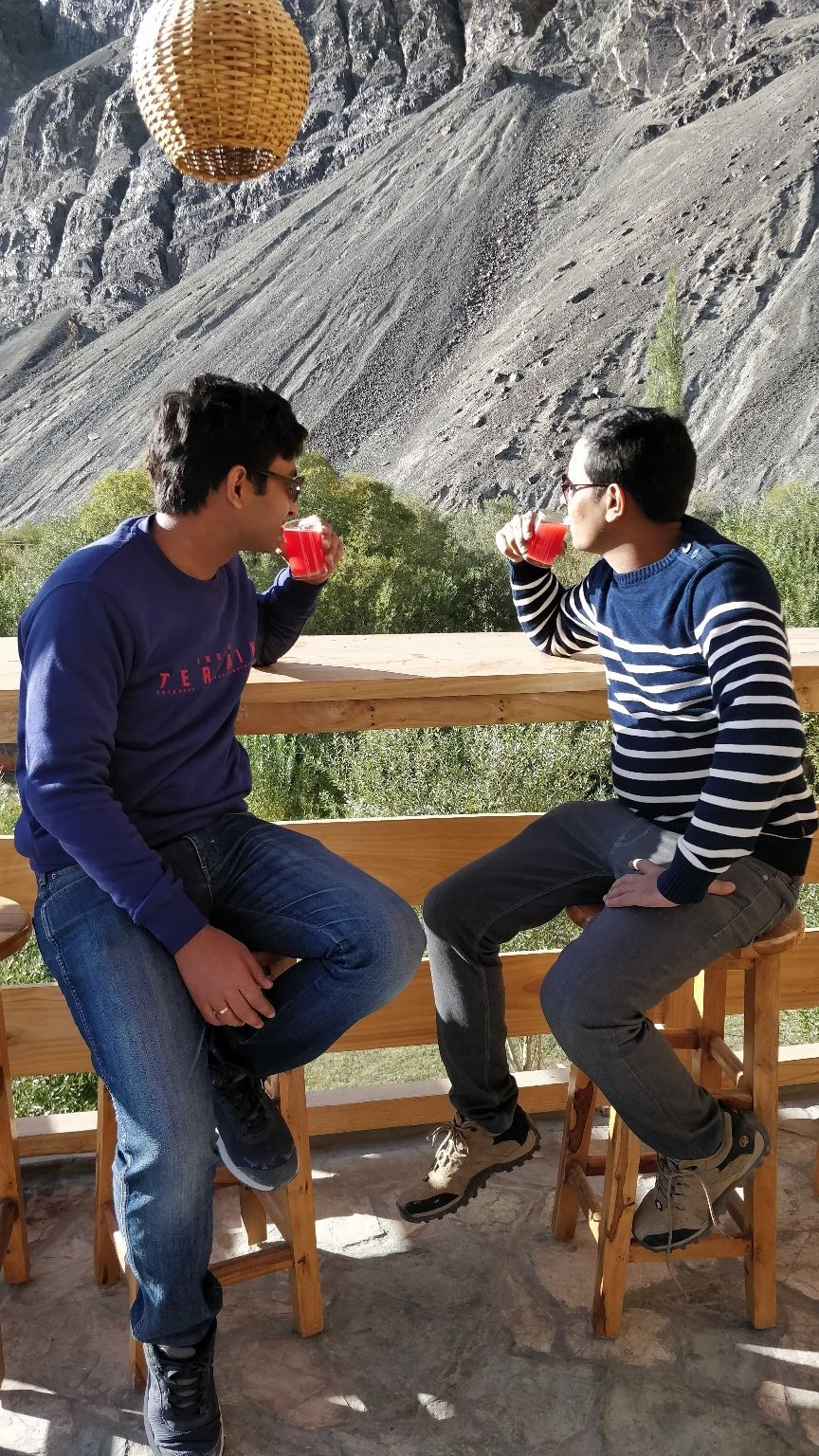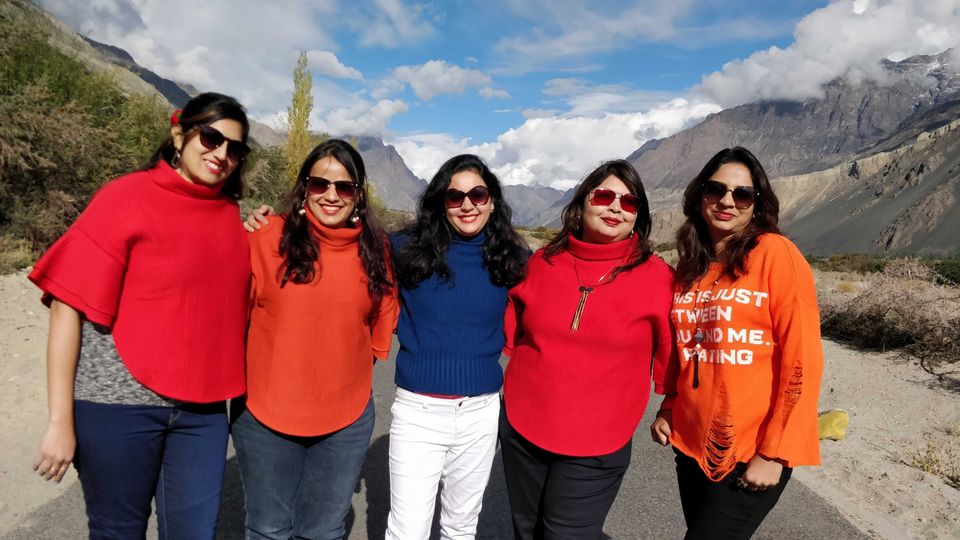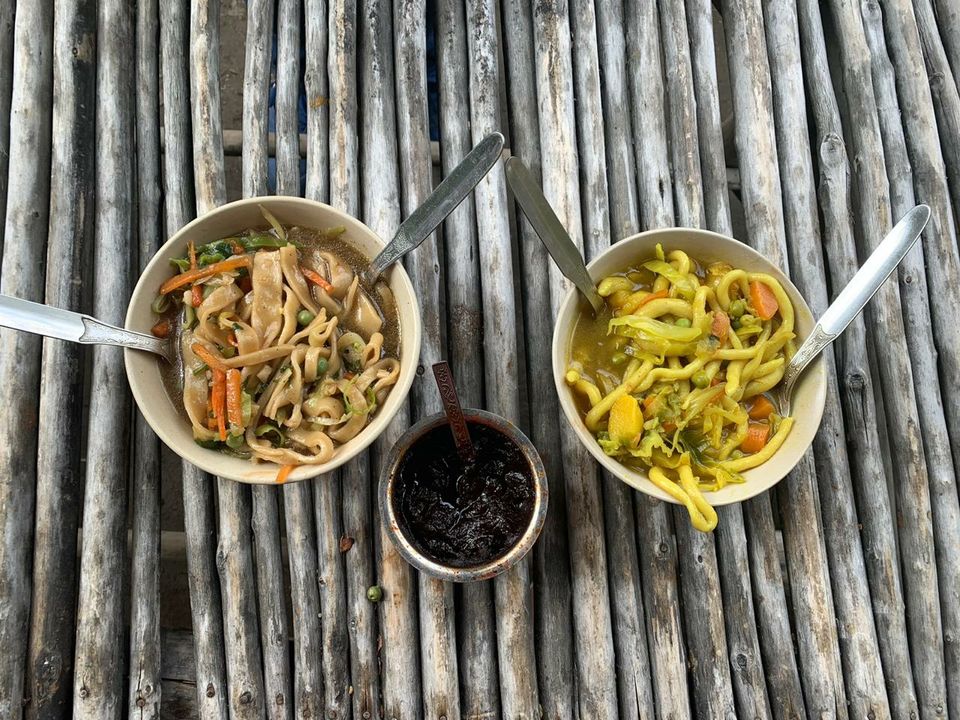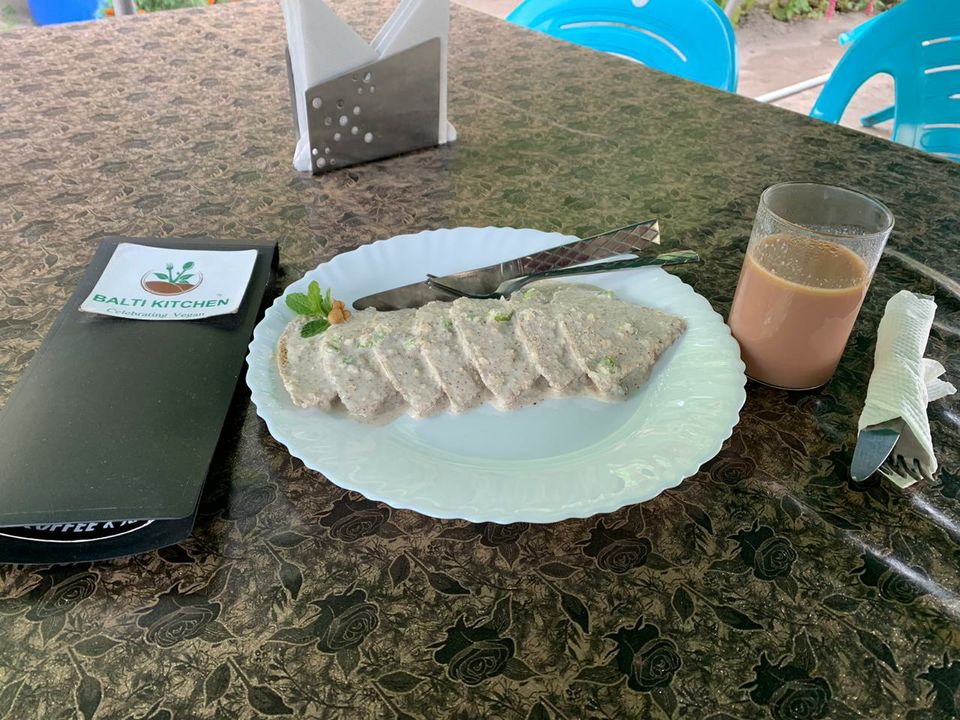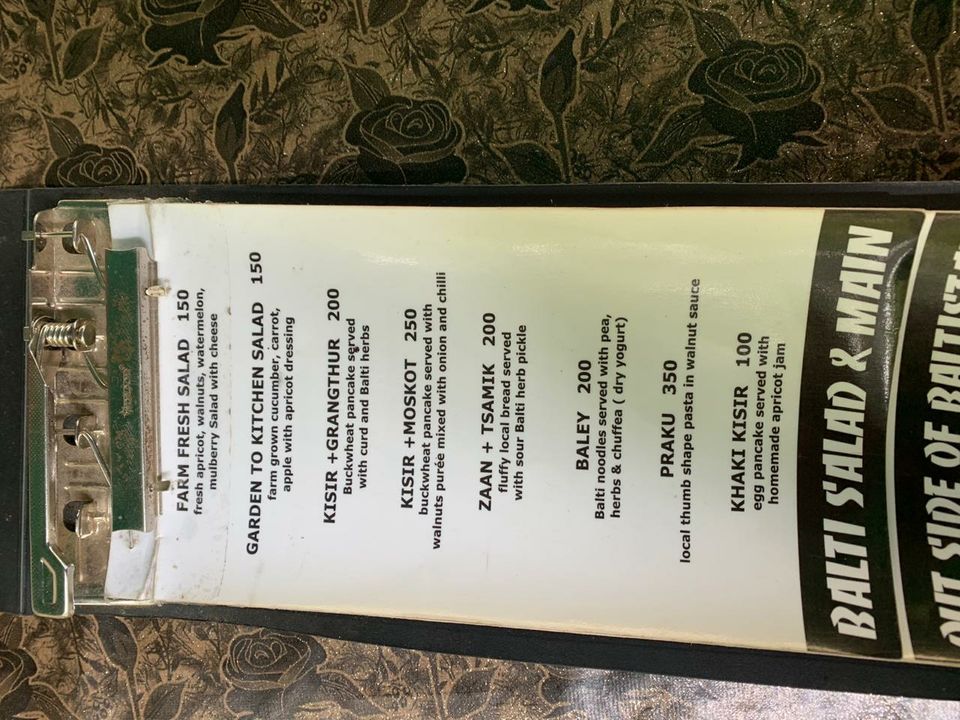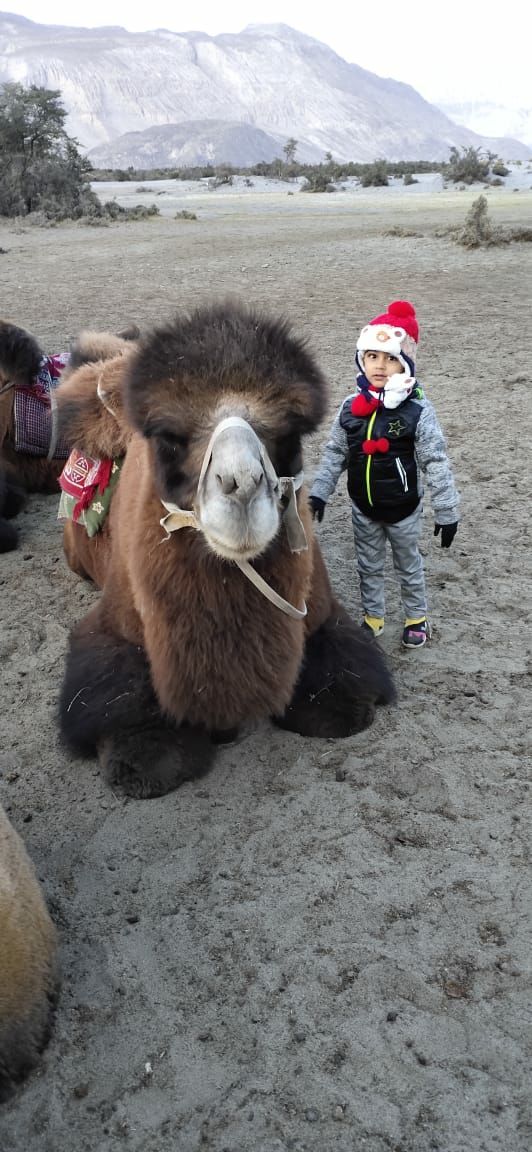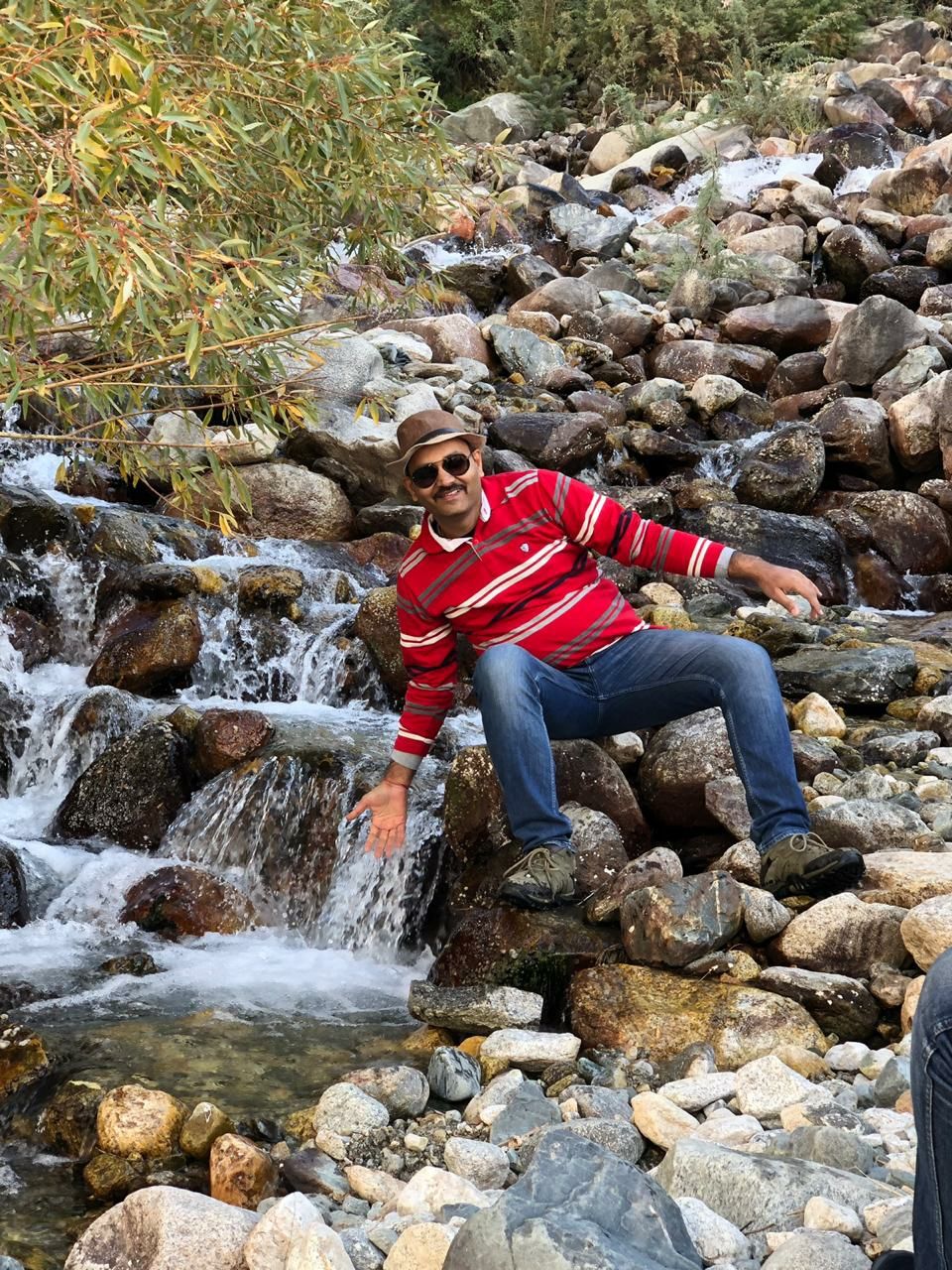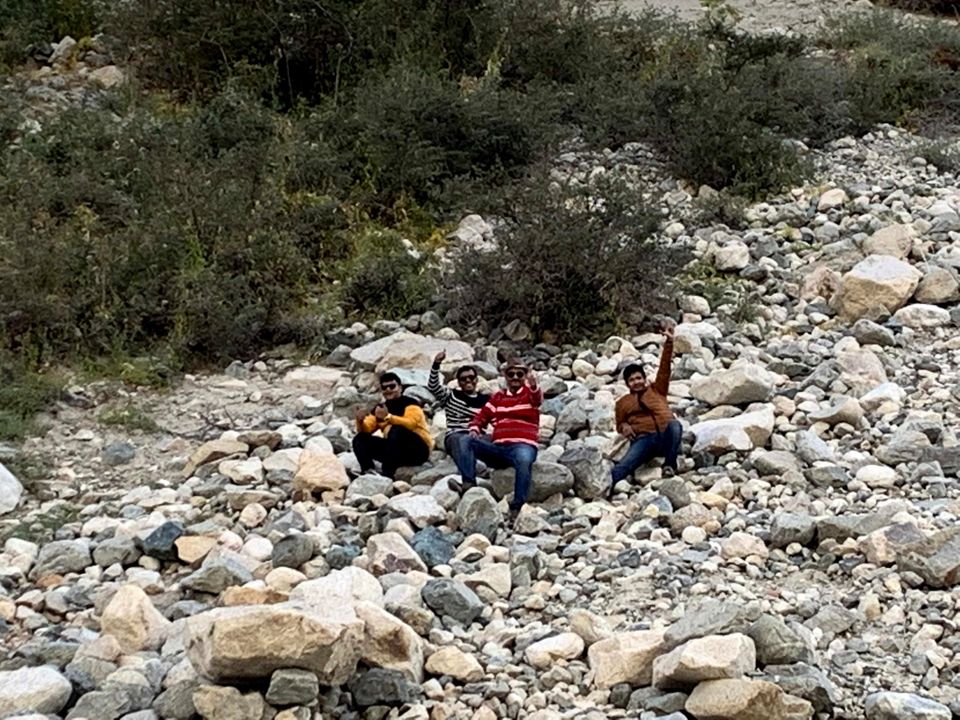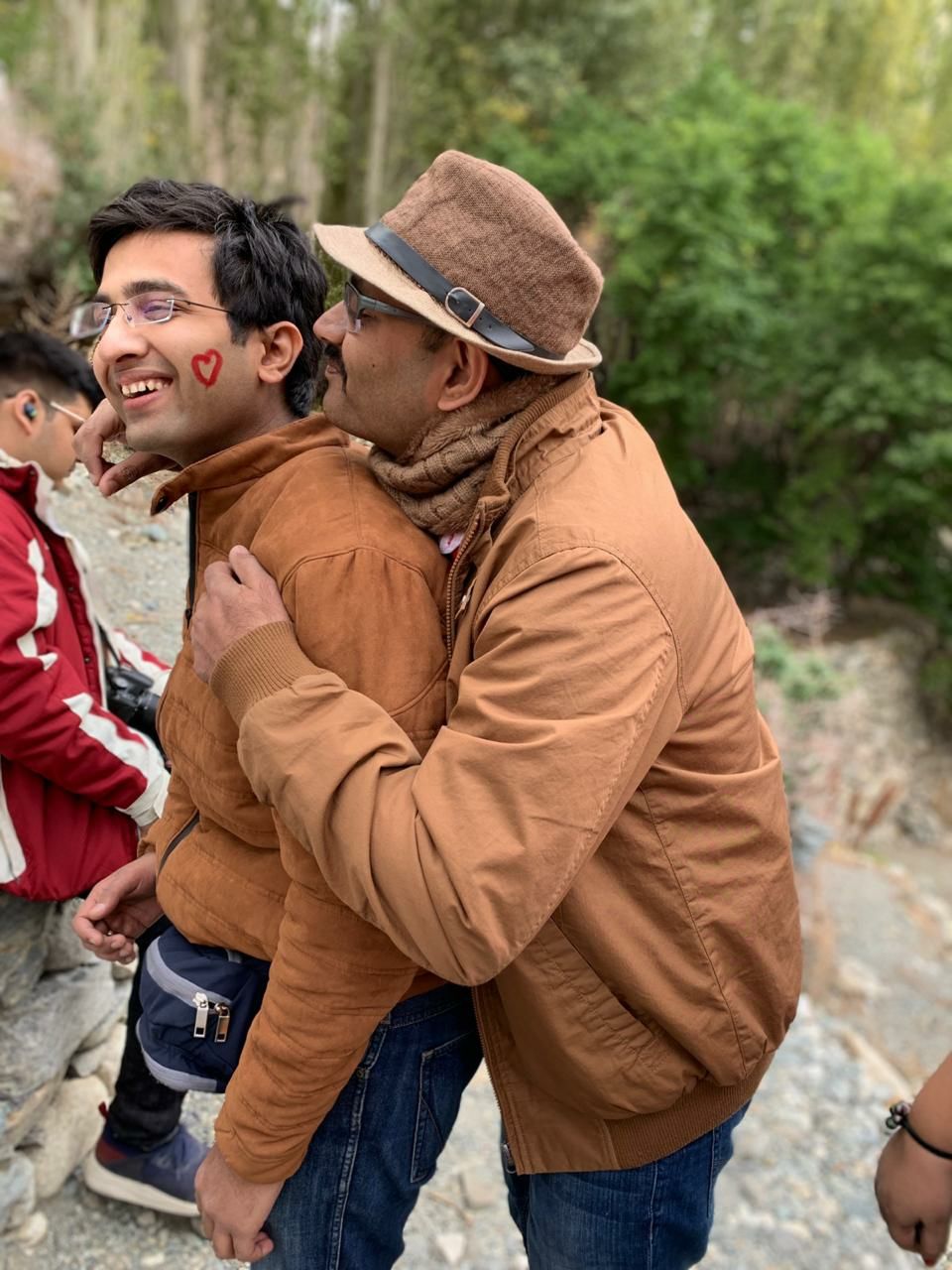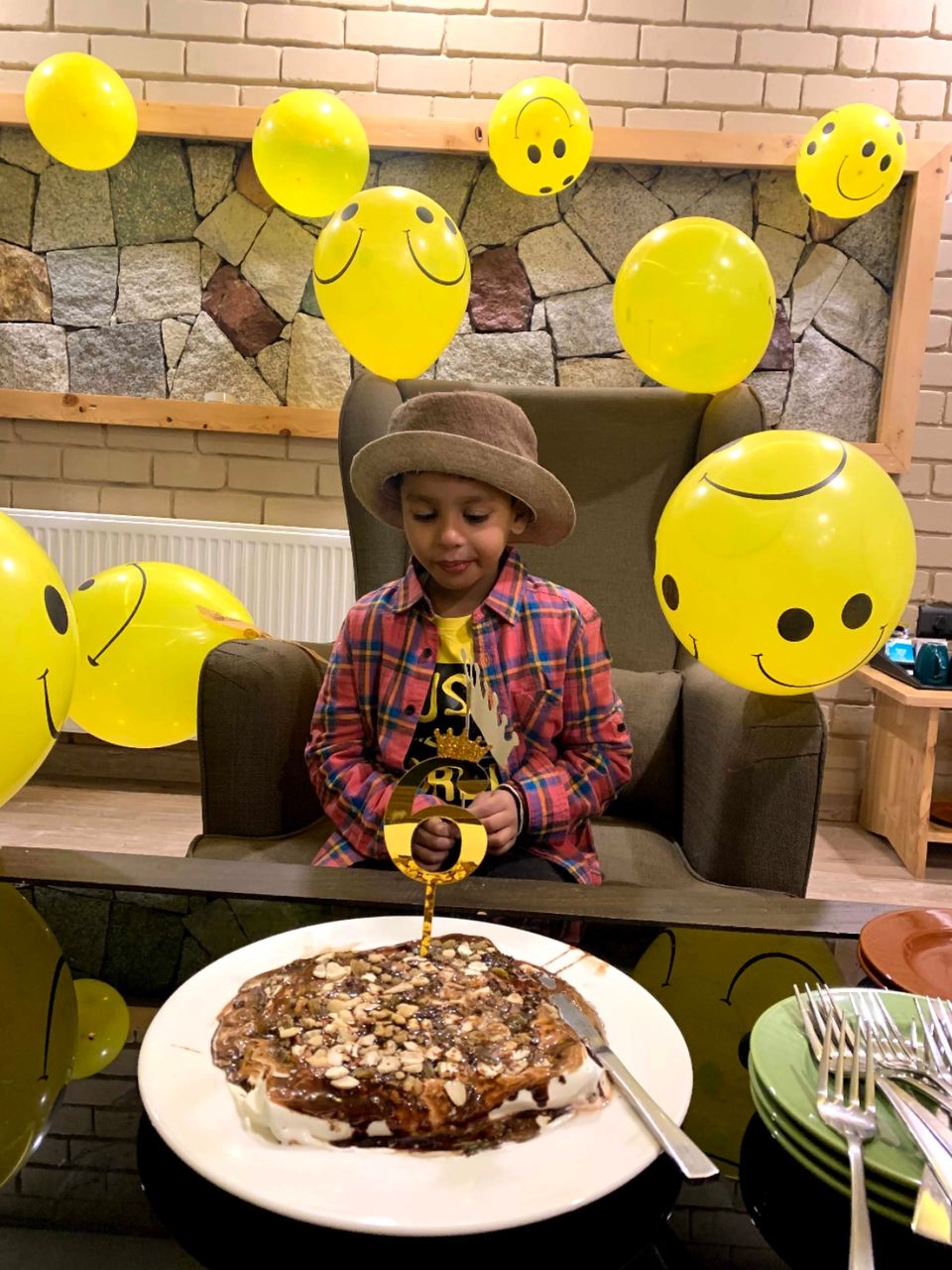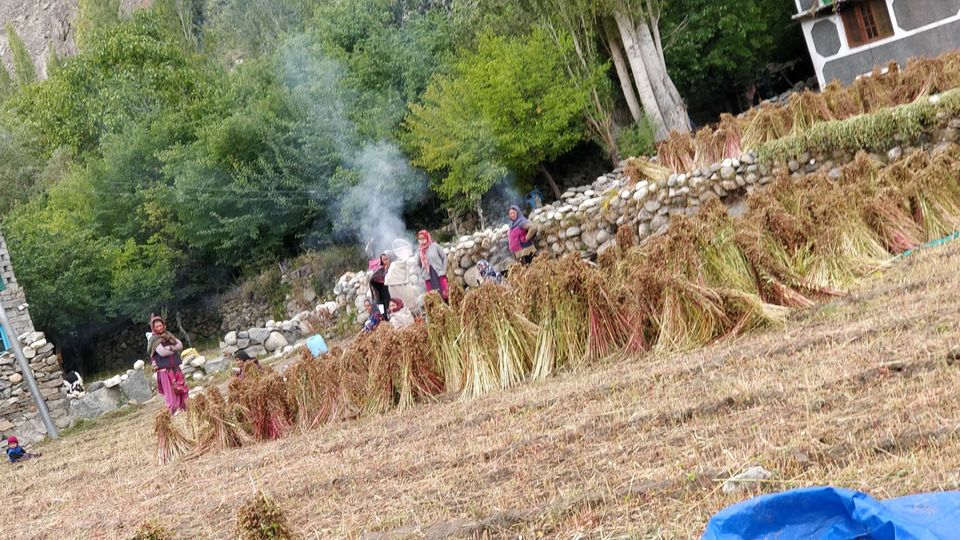 Woke up early...to see the dawn break...the first light of the day... believe me whenever u travel to a hill station try to get up early and go for walk...its a surreal experience.With the valley unfolding its secrets at every turn, the overall experience was just amazing and one of a kind. If you too want to see various shades of Nature at one place then just pack your stuff and head towards the beautiful Nubra Valley!
On our way to pangong we visited the beautiful Diskit monastery. The road was lined up with green tress found a double humped camel grazing. It was too cute ...
After crossing Khalsar we took the Agham Shyok road  which is isolated and far more treacherous at some places, if it can be called a road at all for that matter. For a while, it will run right next to the Shyok river and then there will be a tremendous gain in altitude.
For the part when you will be travelling next to the river, you may have to cross the river several times and I mean driving or riding right through the water and not over a bridge.
there is no denying the fact that the road is highly scenic as well and if you have slightest of interest in photography, you would barely be able to keep your hands off your camera. If you are the adventurous type, this is a road that you would remember for rest of the life. At a similar water crossing, literally jumped out of the car and crossed the pebbled watercrossing bare foot.It was a lifetime experience, water was as cold a ice...but the fun was unlimited.
We crossed tangste and got the first glimpse of  the blue jewelled beauty"Pangong Tso"at lurkung.
We reached the bank of pangong tso at spagmik village  around 3:00 pm. It was cold and the chilly wind blowing added to the woes..but beauty of the lake took over every odd.
No picture can do justice to the beauty of the lake.
We were over excited got ourselves clicked with the famous yellowscooter and bums.
We drove further with the lake by our side took a stop at an isolated bank.This place was bit sunny.we saw the stone stupa..while placing stones you can make a wish.... I made mine...let's see when I come back again!!!!
We reached our homestay in Merek by late evening. Our host was a sweet lady, Dolkar. She made sure that we stay warm...arranged local heating...cooked hot Maggi and served tea.
After freshing up I went to her kitchen ,she was preparing our dinner with all fresh ingredients.she made the superb ginger mint tea..it was too good. It was a pleasure to be with her family.we met Doljar's nephew Naamgyl a 12 year old boy...too smart for his age...very confident...had answers to all our querries...life has taught him practical lesson...he has developed skills at this young age..by meeting people from every spere of life...wished all the best to the little sweetheart who entertained us with his dialouges.Do opt for homestay...in that way you come closer to local culture. I personally love to talk to locals while travelling as it gives insight into their lifes.This enriches your memory with experience worth lifetime.
It was very cold the Temperature was around -3.We crashed early as the power goes off by 11 pm.,to save electricity for bigger purpose next morning.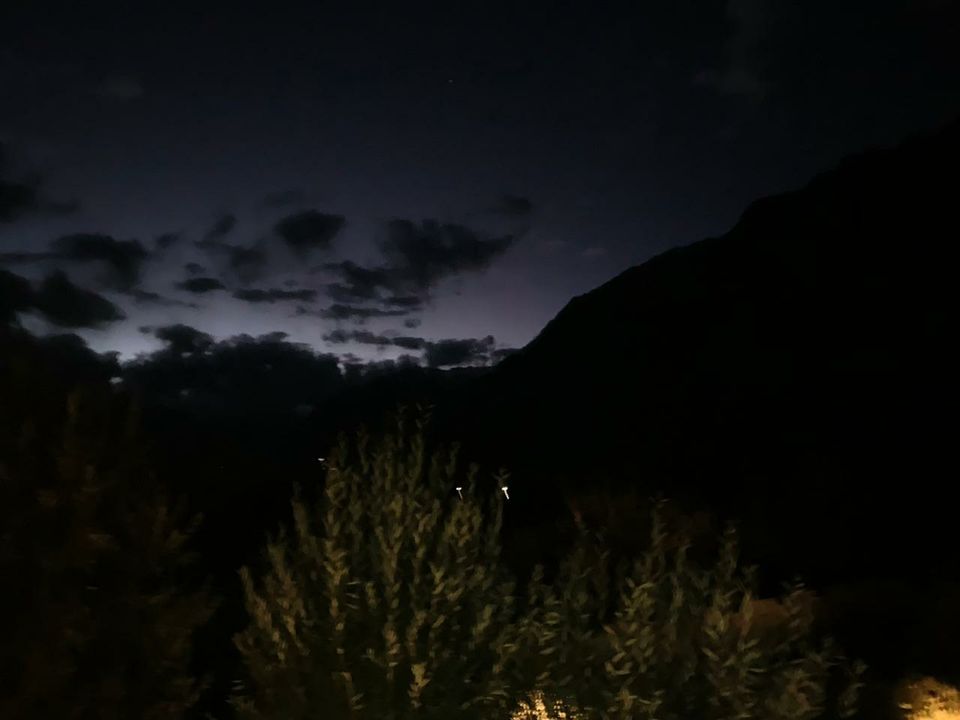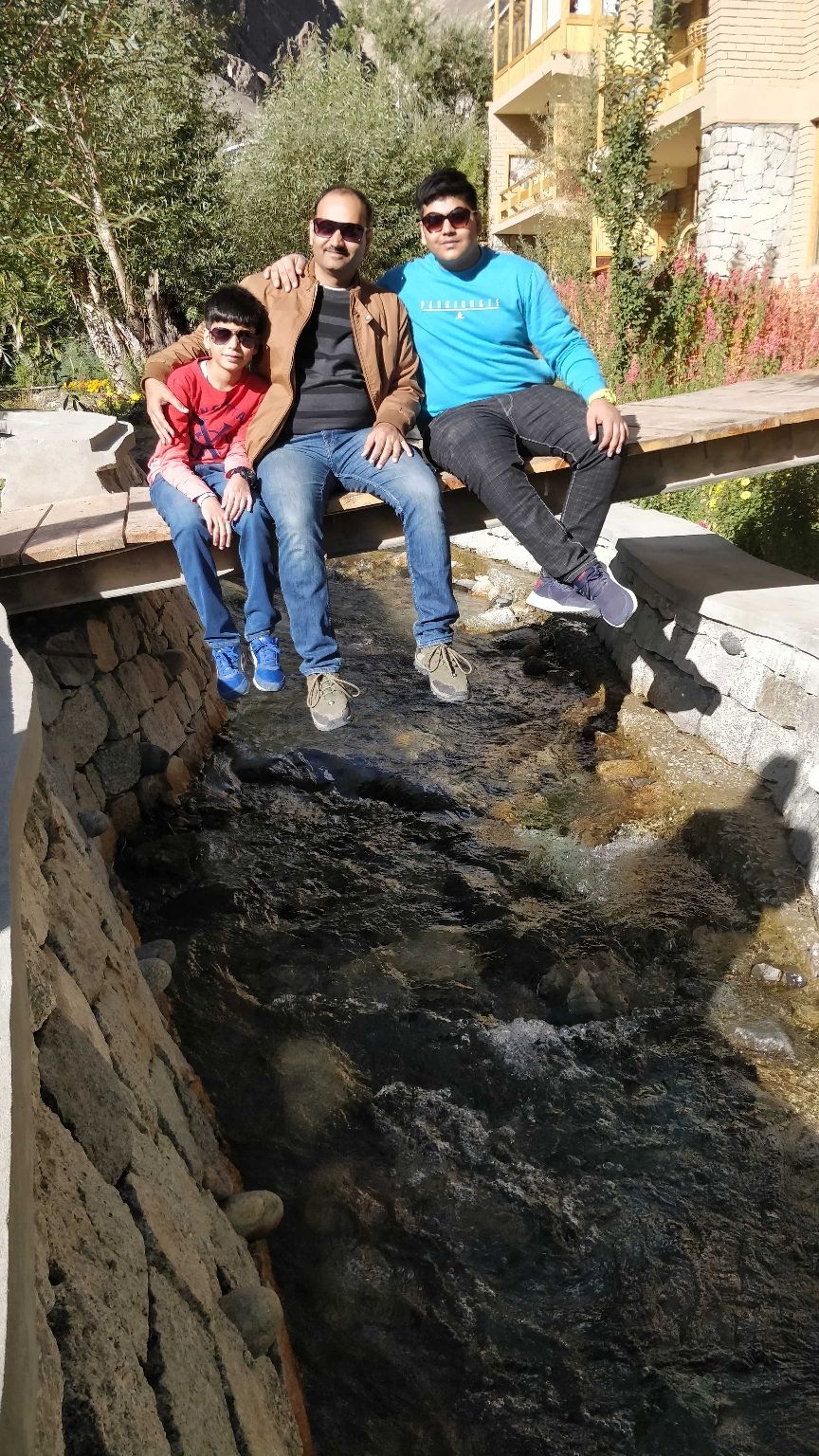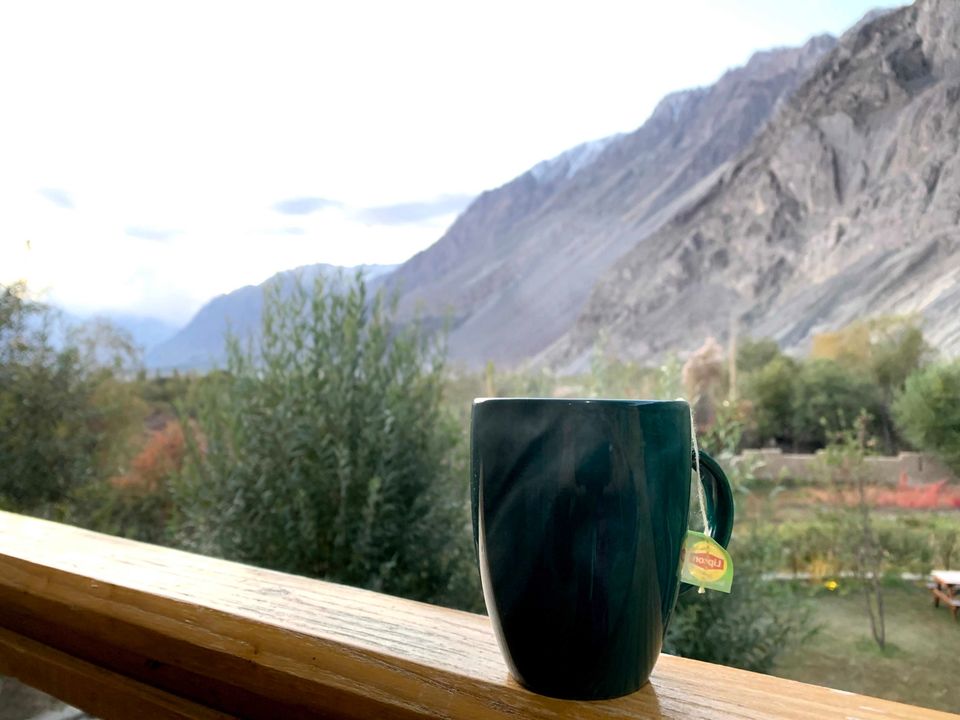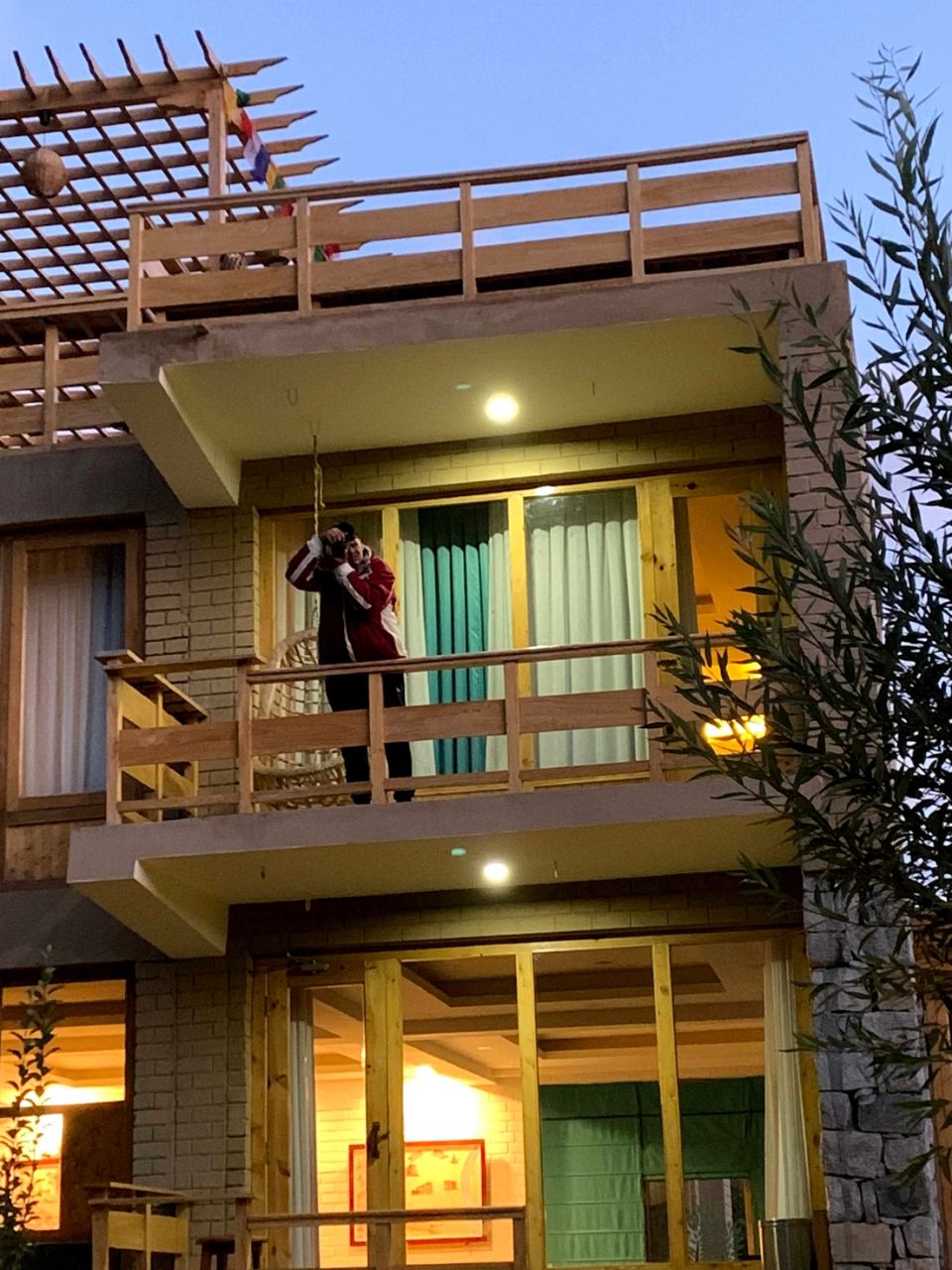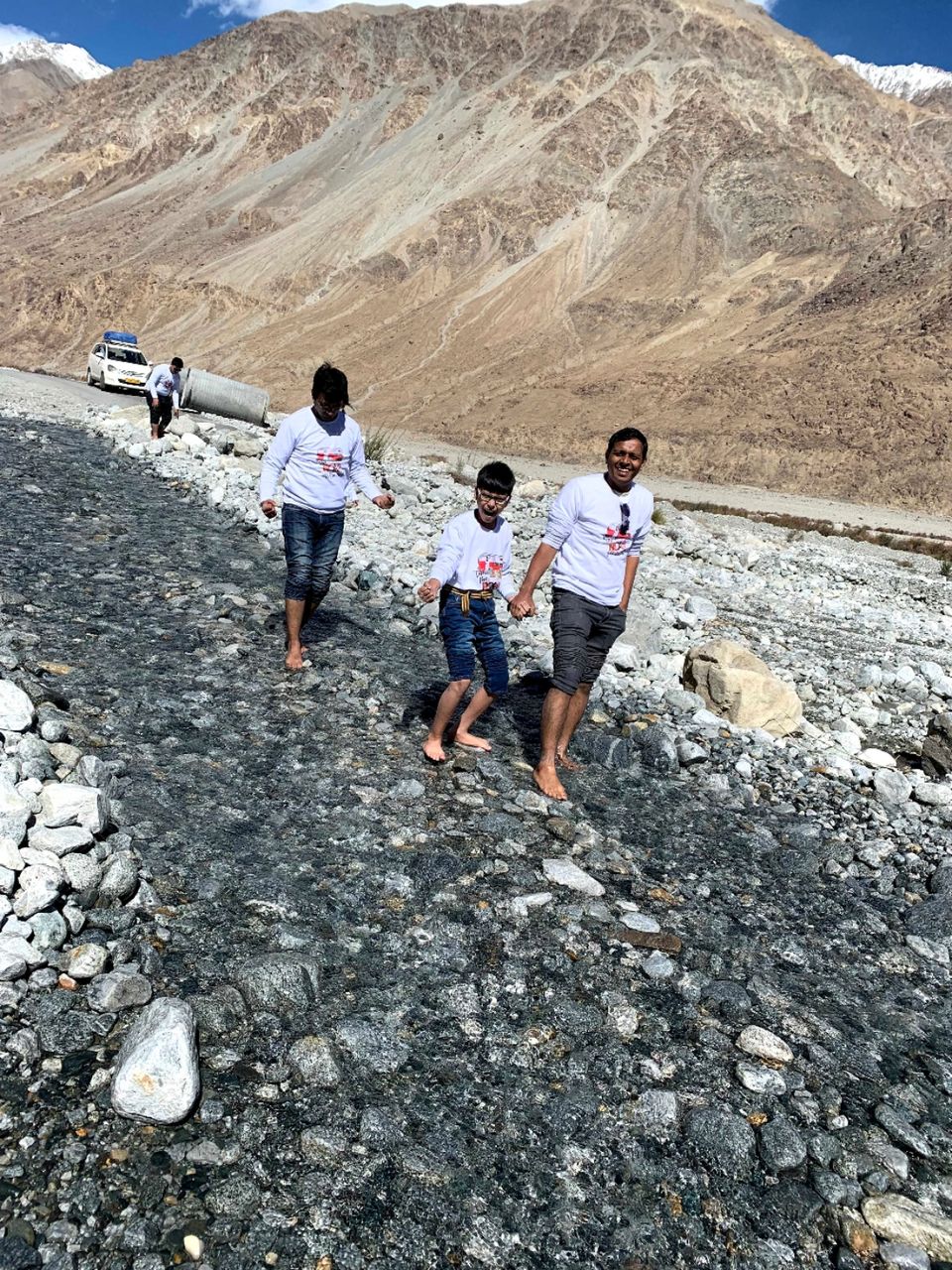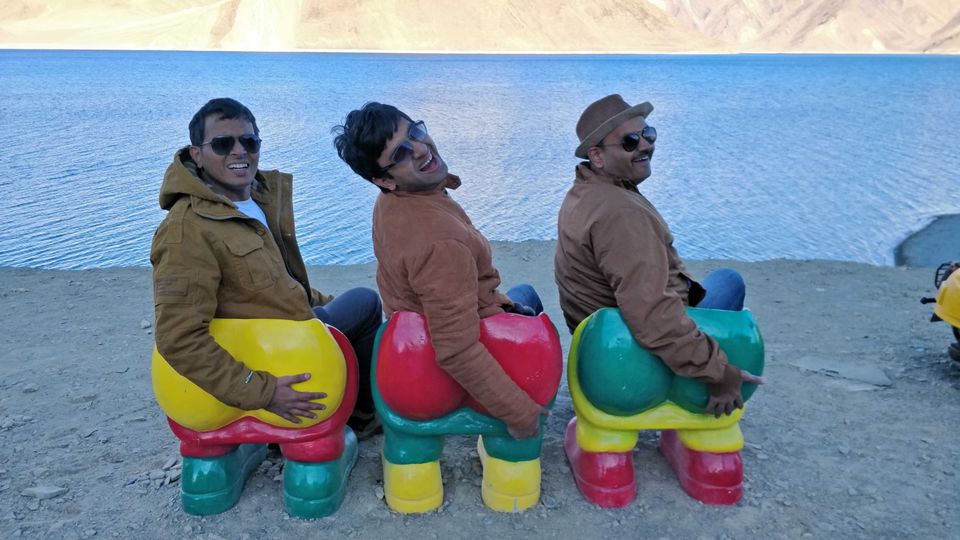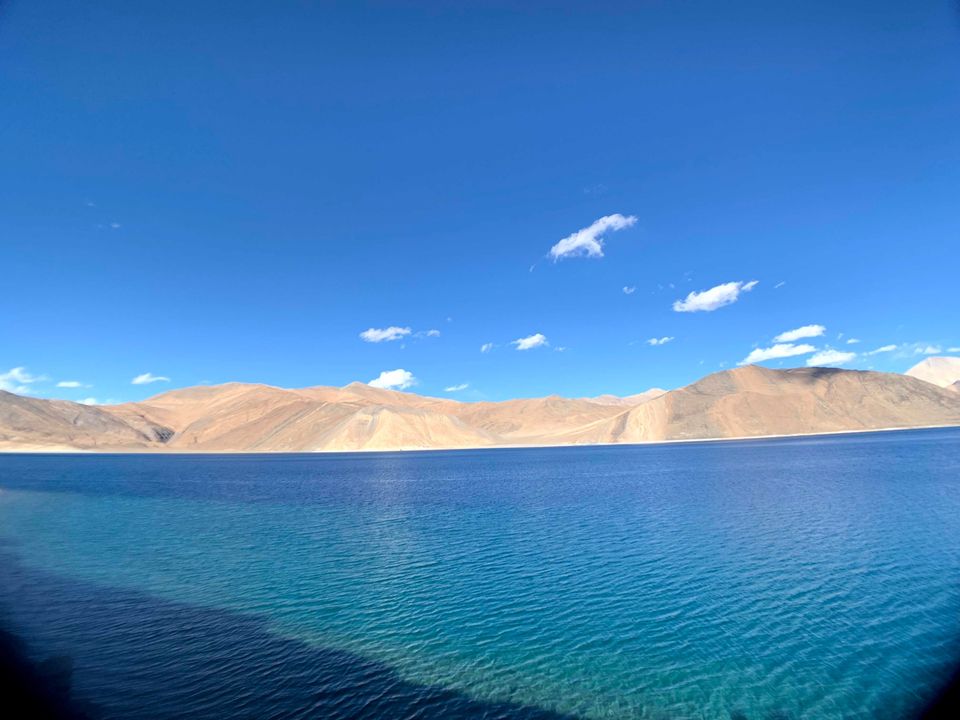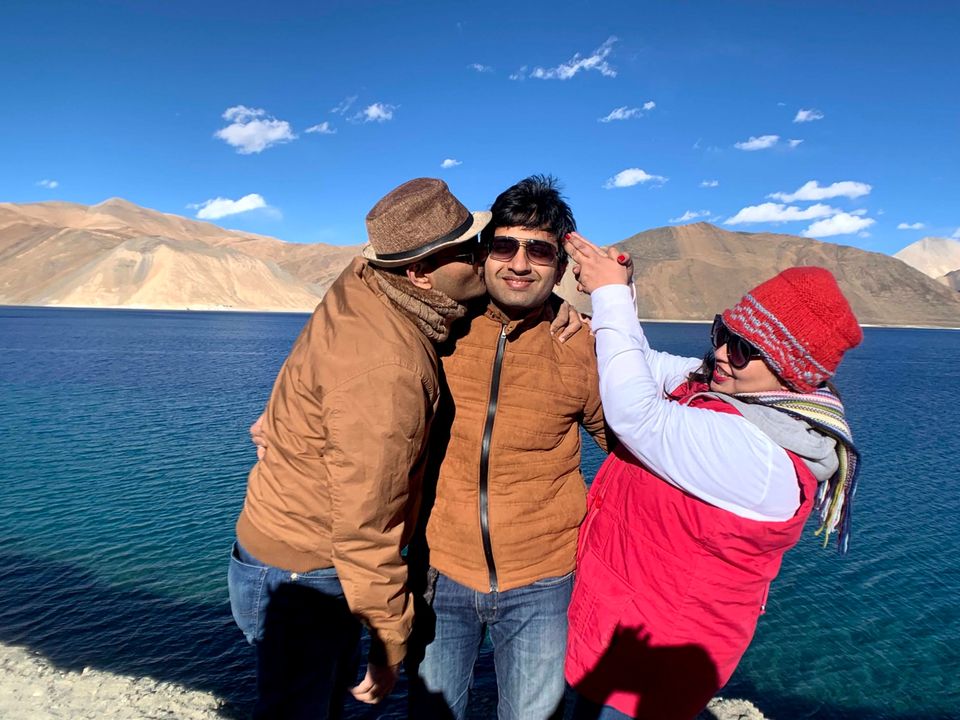 It was hard to wake up I was feeling drizzy...had a restless night...had bit of headache don't worry...these are mild symptoms of altitude sickness..Merek is at a higher altitude .We witnessed the coldest night so far..temperature at night was around -5.Sat for Half an hour sipped the ginger spearmint tea by Dolkar.
It was cold didn't braved for bath...though were provided with buckets of hotwater.washed my face with cold water,it was refreshing...cameout of the room in open..felt energised  roamed around the compound...saw the frozen water..in the pits...was feeling better but no exertion...joined our host in making breakfast of pipping hot upma..do carry food of your preference  as choices are limited..got the toast with ready to eat pavbhaji... breakfast was ready to be served. The sky was clear and the weather was chirpy. Surrounding plays a very important role on your mood. I was feeling fresh and bubbly,said goodbye to our host.
Now the sun was shining the beauty of Pangong  was at its utmost..changed colours with clear sky from violet, ink blue, crystal blue to aqua...it was unparalleled. No words or picture can describe...but the surreal beauty can be felt and treasured in memory.
We headed near a secluded bank and clicked many photos with our matching travel t-shirts...the time spent on the bank was unforgettable.
We started our journey towards Hanley the road,if we say so was a dirt track..but the barren land has its own saga.
Later we found better roads at Loma checkpost we got our permits checked...you have to take special permit for Hanle as it's very close to actual line of control.we got a chance to interact with a handsome soldier..we all went gaga over him.We were chancing upon him for my sissy.Alas !!!was engaged!!!.everyone took turnout of the car to see him...At times these incidents add extra energy to the trip.
After that the journey was of beautiful vistas on both the sides of the road.It was extremely beautiful I had never seen something like this before. By the time we reached Hanley it was dark.We checked into our homestay ,which was comfortable given the harsh terrains.We had our dinner and retired for the day.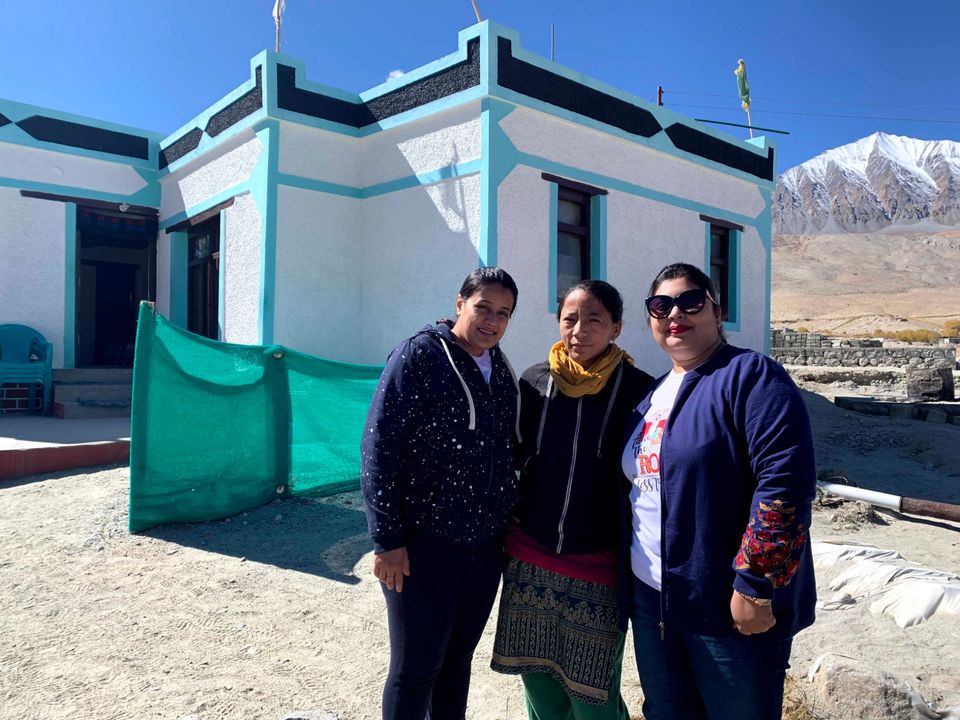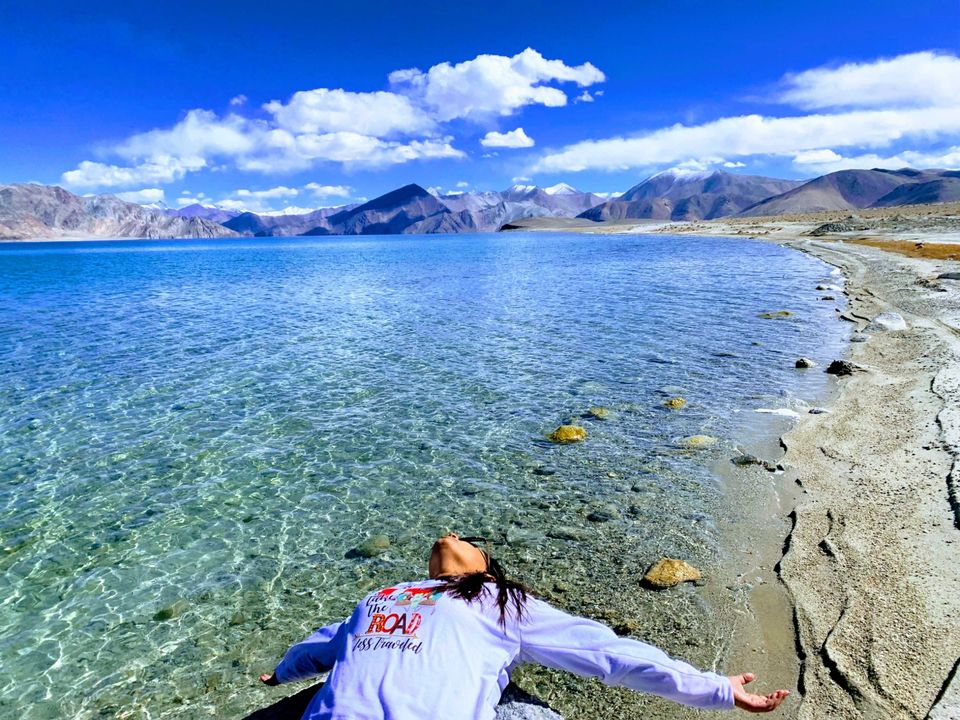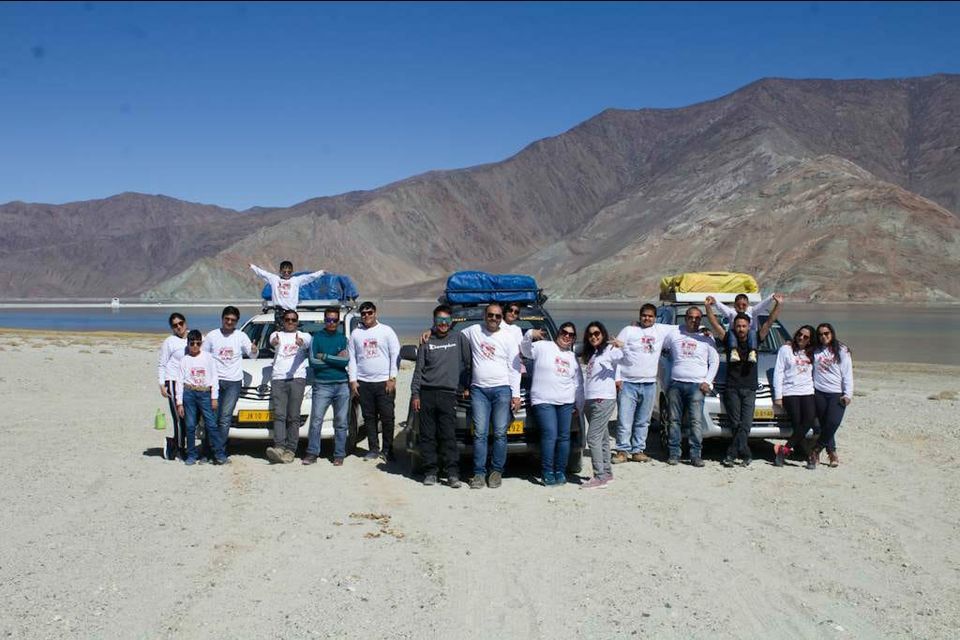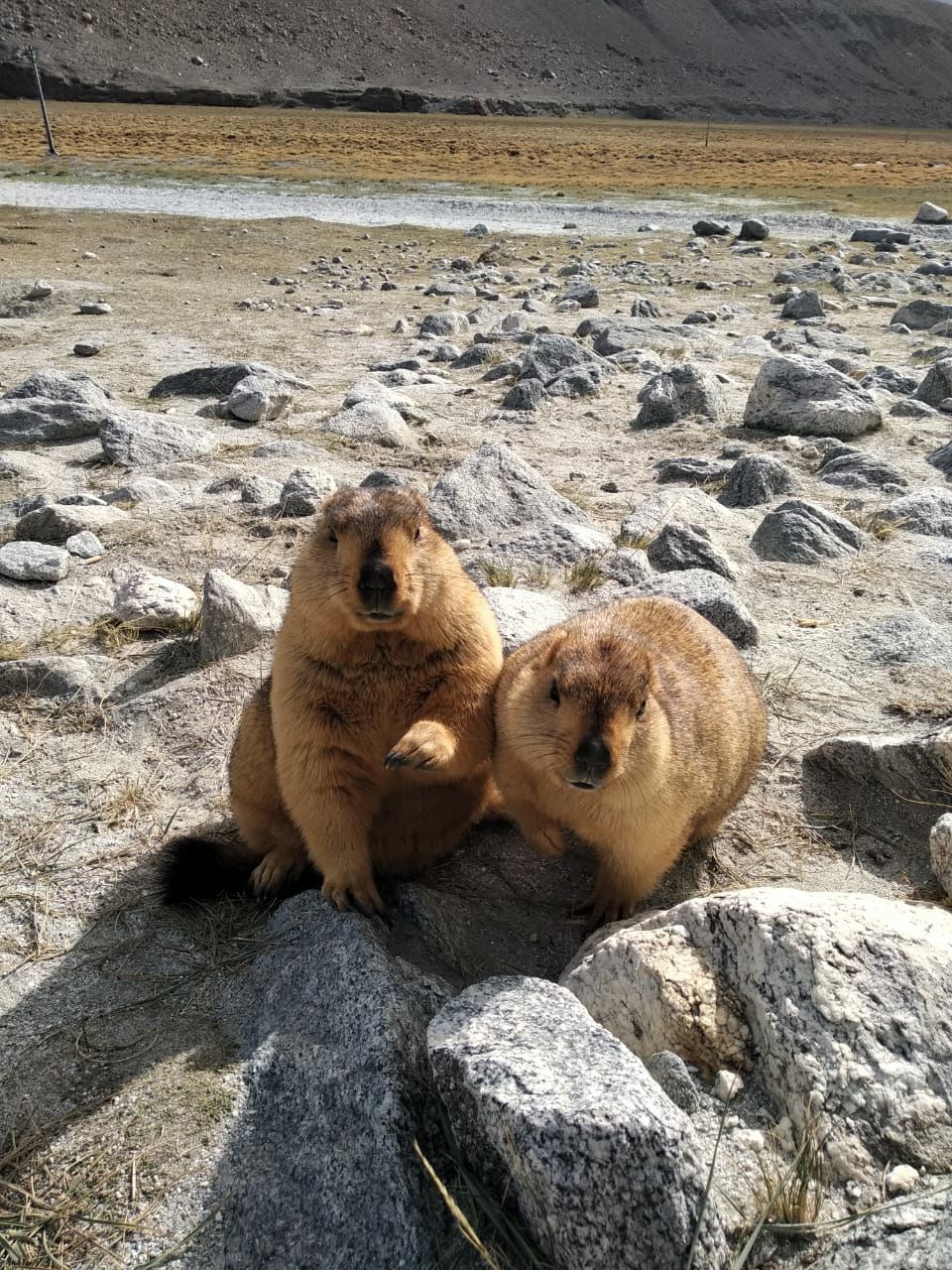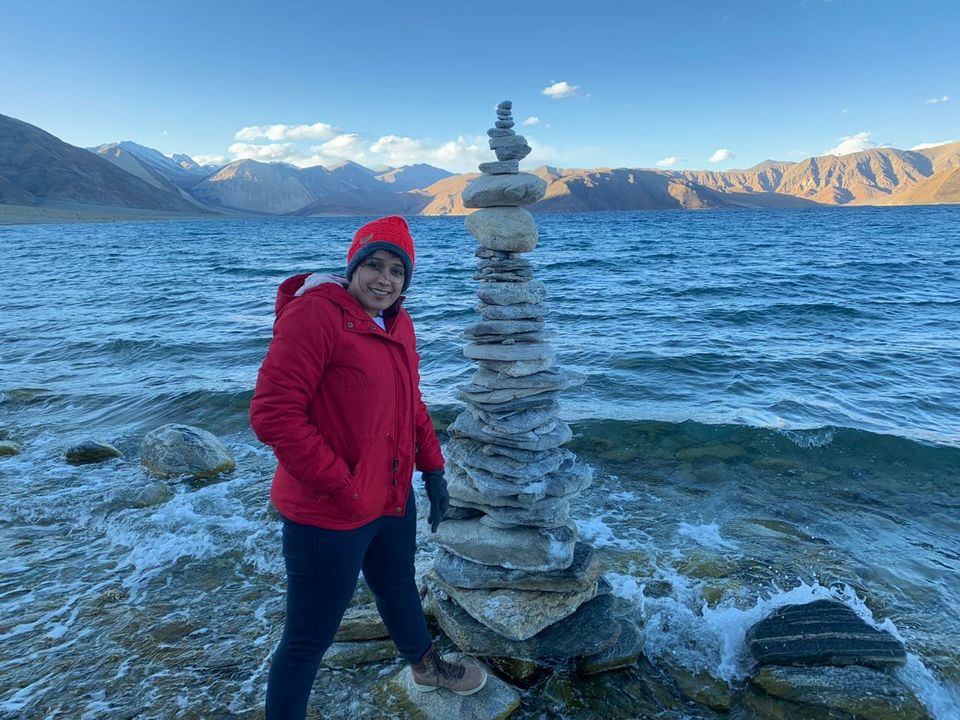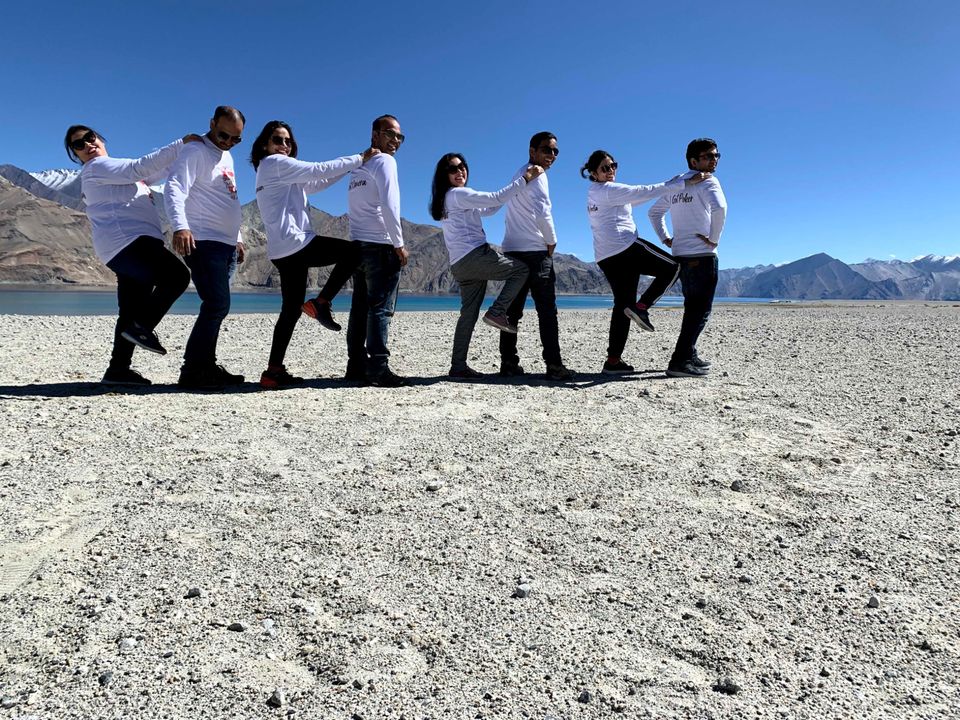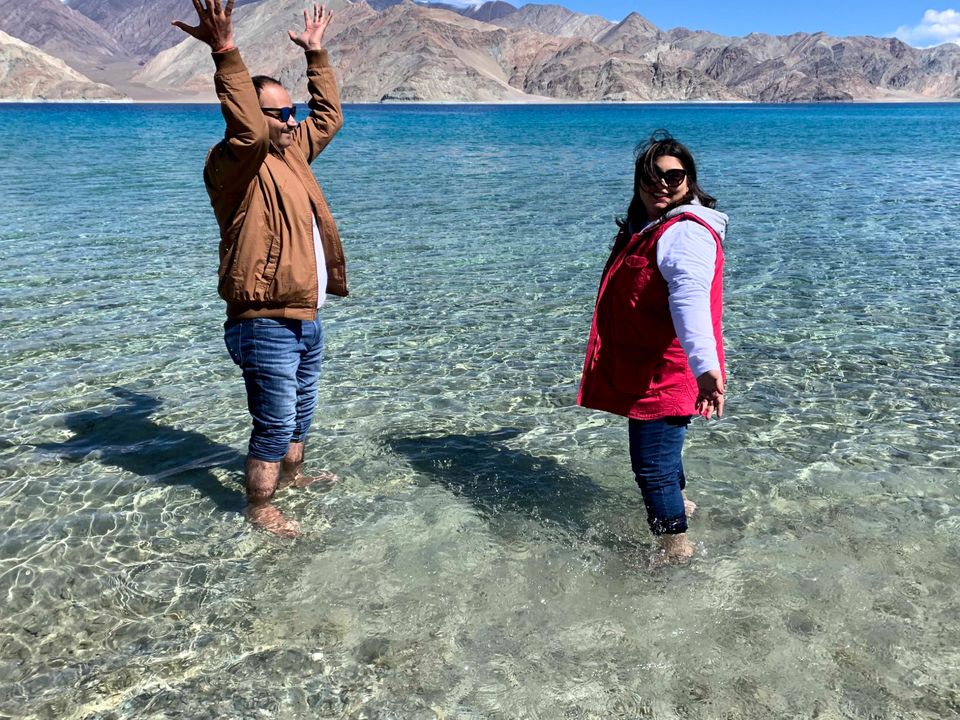 Hanley is truly the hidden gem of ladakh.It is actually very scenic and feels out of the world. However, in actual reality, the place is extremely harsh and difficult to survive especially in winters. There are only a few accommodations available in the village and the facilities like electricity, medical aid, hot running water, western toilets etc. are luxury in itself. But thanks our homestay had all the basic facilities. Do carry toilet paper...as hot water is not always available.
we visited the ISRO Observatory,from there the view was nice.Person incharge explained the working and gave valuable informations on telescope and space.Kids loved it.
After consulting few local we took the shortcut to tsomoriri...I was very excited for tsomoriri..being a remote place don't expect any food joints or restaurants..carry packed food,dry snacks ,Thermos of hot water for instant tea ,coffee, ready to eat poha.. believe me it's very handy.
We were moving ahead on the roads were crystal clear sky casted magnificent colours on mountains . It is one of of the most beautiful views..not seen anywhere else.Chushul looked like a ghost town and could not find anyone to ask for directions as there were many tracks going through the village.It took us another hour to reach Rezang La Memorial built in memory of soldiers martyred in 1962 Indo China war.  we travelled for two hours.The road from Rezang La  seemed like an endless journey traveling on loose gravel & stones.and saw a beautiful small lake ..calm beautiful and prinstine blue but however we felt lost.we met  another fellow traveller..who had a downloaded Google map(that was the turning point..)we turned and took another route..sometimes views unparalled are encountered on roads less travelled on...in between we saw a local famous kiangs and other wild life.
Finally after a long time we encountered a human life...two women were picking branches and other necessities for winter.( Life is very cruel...here in harsh winters people have to stock up for next few months..to survive).our driver bhaiya chatted in local dialect..the result was heartbreaking... according to the lady  the Magnumus  Tsomoriri  was only 12 Kms away from that small lake.We were in dilemma we were in middle of nowhere.If we took back the route or even continued with the new one..it would be 5 hours long journey to reach tsomoriri...kids were tired and we also needed a halt..indeed it was a long day since we started at 8:30 in the morning.Everyone decided to head towards chumathang via Mahe bridge.Literally I was in tears( so near to the lake but too far to reach), we realized that it was of no use. With heavy heart,  we kept driving straight and took the Leh - chumathang road.
Let the bygones be bygones at times destination is not so important the journey is.The view which we encountered on the unpatheded road was worth capture both on camera and in our mind.we reached chumathang around 6 in the evening.
We checked into our booked homestay and went around the hot spring.Had a snacks at another cafe opposite our homestay.Had yummy pakkoda and coffee.
This place was warm nothing much to do around had dinner and went to bed early.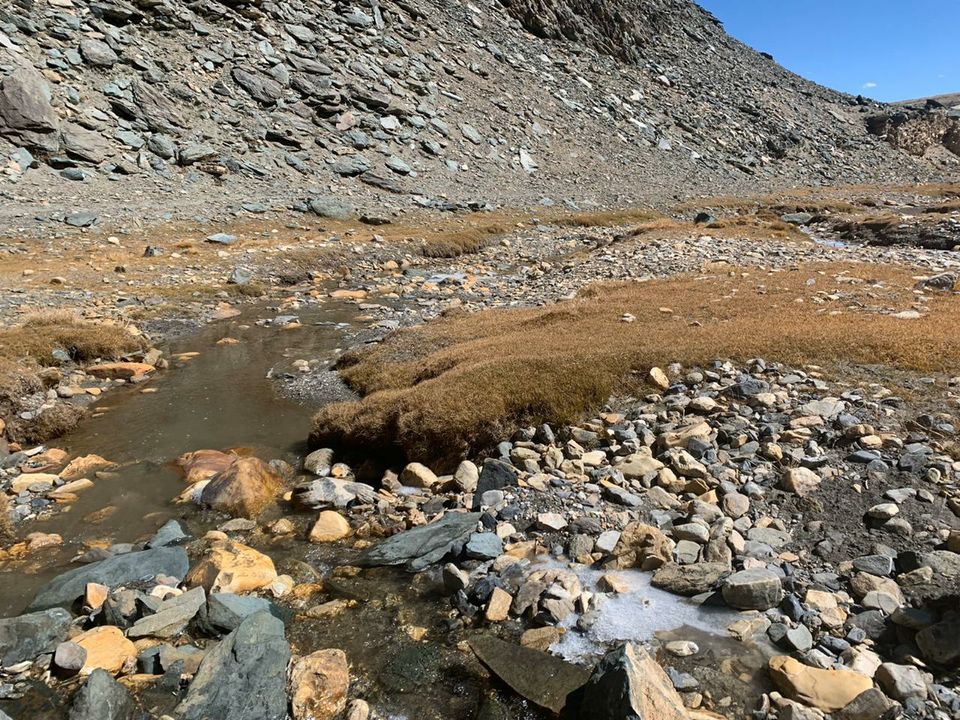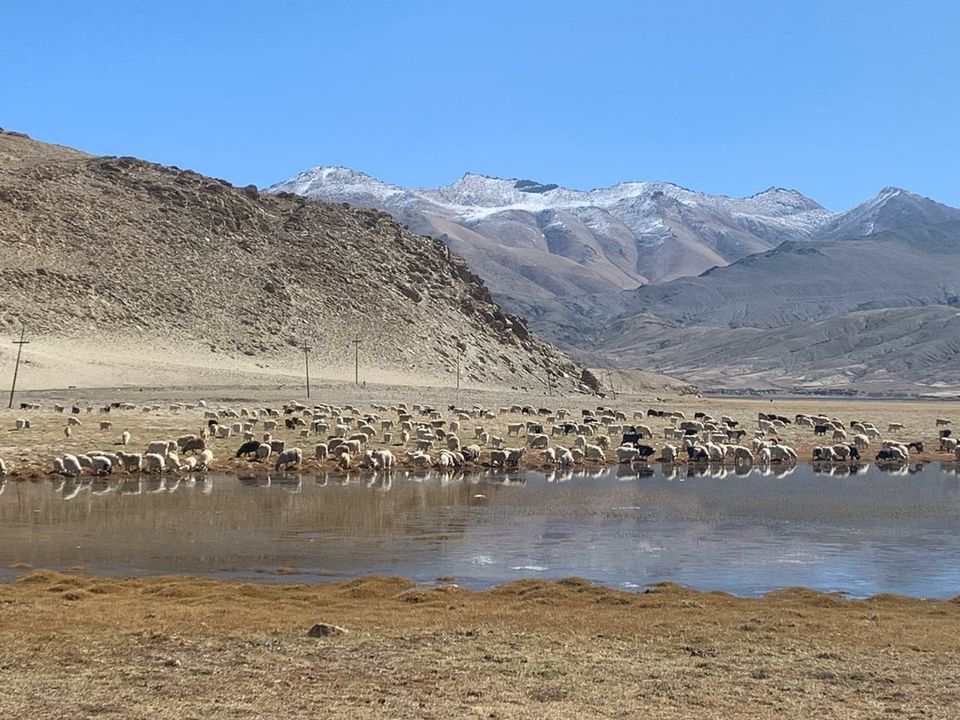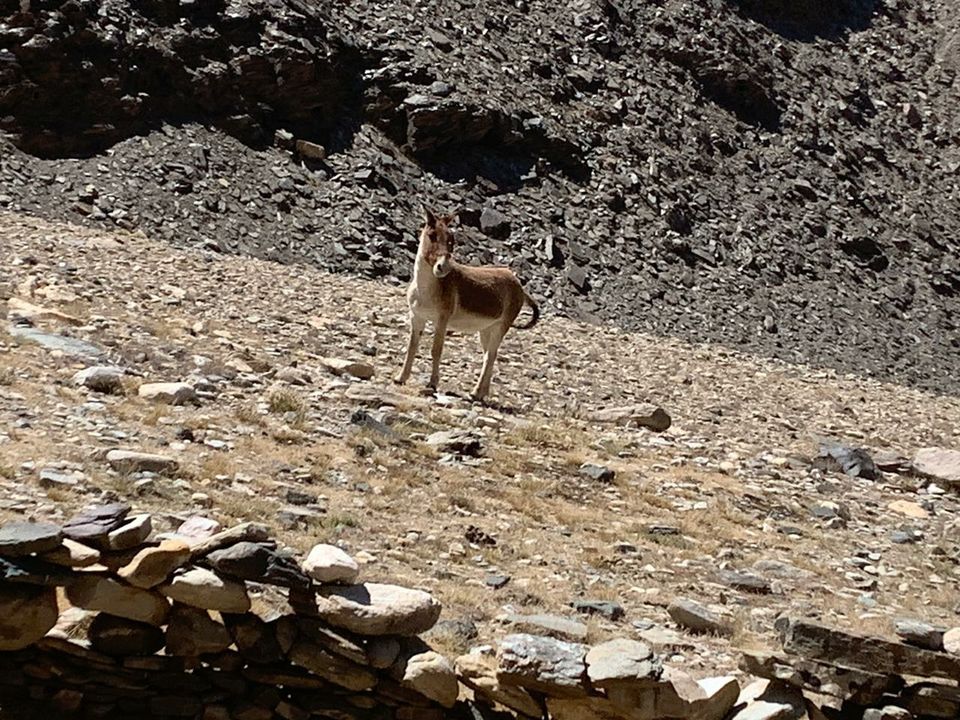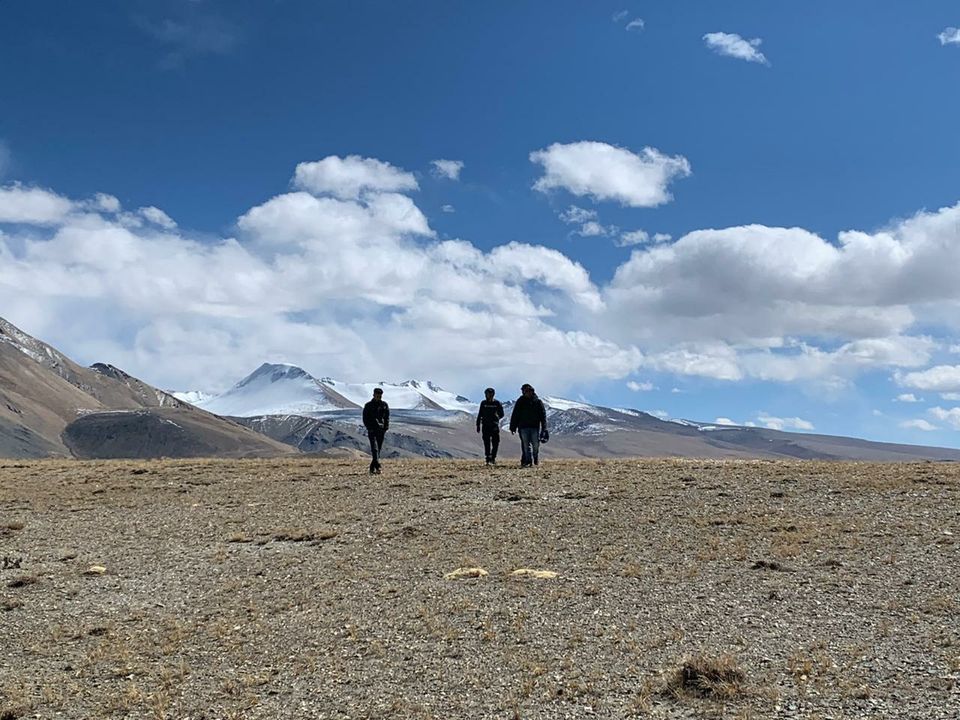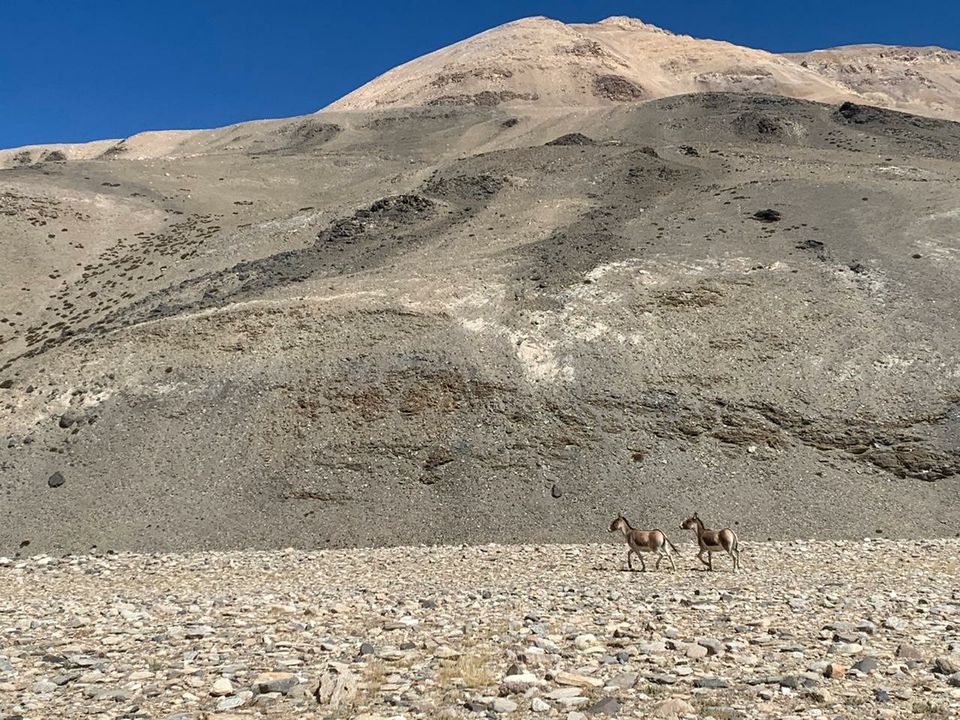 We woke up to sunny weather and clear sky after breakfast headed towards leh..we visited the hanging wooden bridge...it was worth clicking.Interacted with the group of local people..their dialect and soul both seems so pure . There was not much to do..River Indus was flowing with glory throughout the journey till Leh.There were many army cantonments on the way.our first stop of the day was Upsi for lunch.Got yummy hot aloo prathas by a Bengali cook who runs the..after our break headed towards Thiksey monastry.The monastery is situated on a hill,it was an uphill climb but the view from the top was beautiful .There was a very tall Maitrey Buddha..It's a sacred place we calm and quite.There were also other temples there.
From there we went to the Famous 3 Idiot School(The Druk White Lotus School).The famous 3Idiot wall is the new one as the original was damaged in 2010 flood..is still there in the campus.A duplicate was has been created in an area where tourist can enjoy without  disturbing the regular school.
The wall shows a dangling glowing bulb, a flying Himalayan crane, a rainbow behind in n the clouds and the famous bum seat.
There is also cafe called Rancho's Cafe.
In the evening we reached Leh market..
Had pizzas at U.S.PIZZA, Bread pakkoda at Punjab Sweets and Ice cream at Cups n Cones.
The wind was blowing  felt the chill temperature was dipping..a cup of hot Cappuccino at Leh cafe did the needful.
Went back to the hotel and ended the day on a happier note.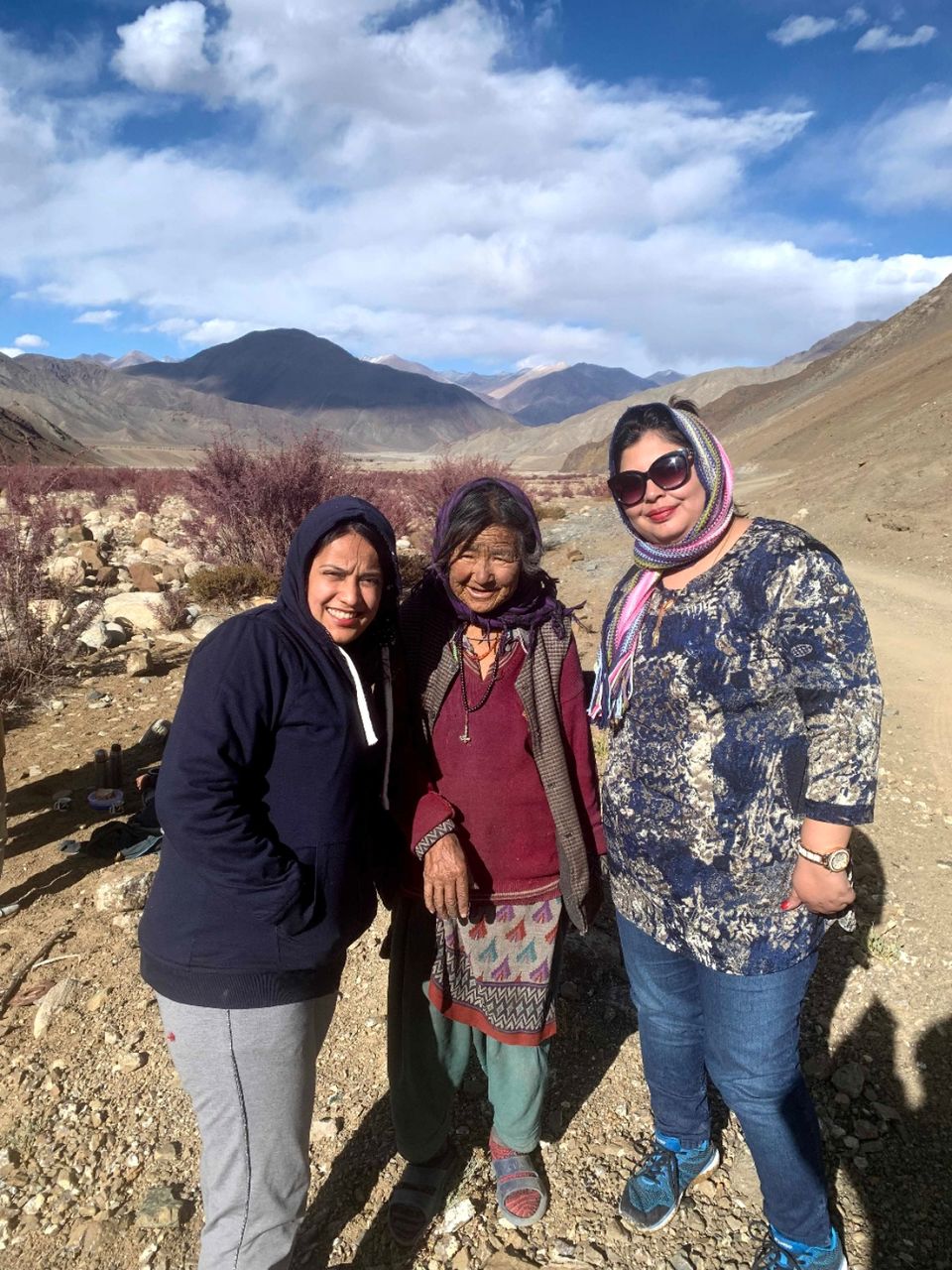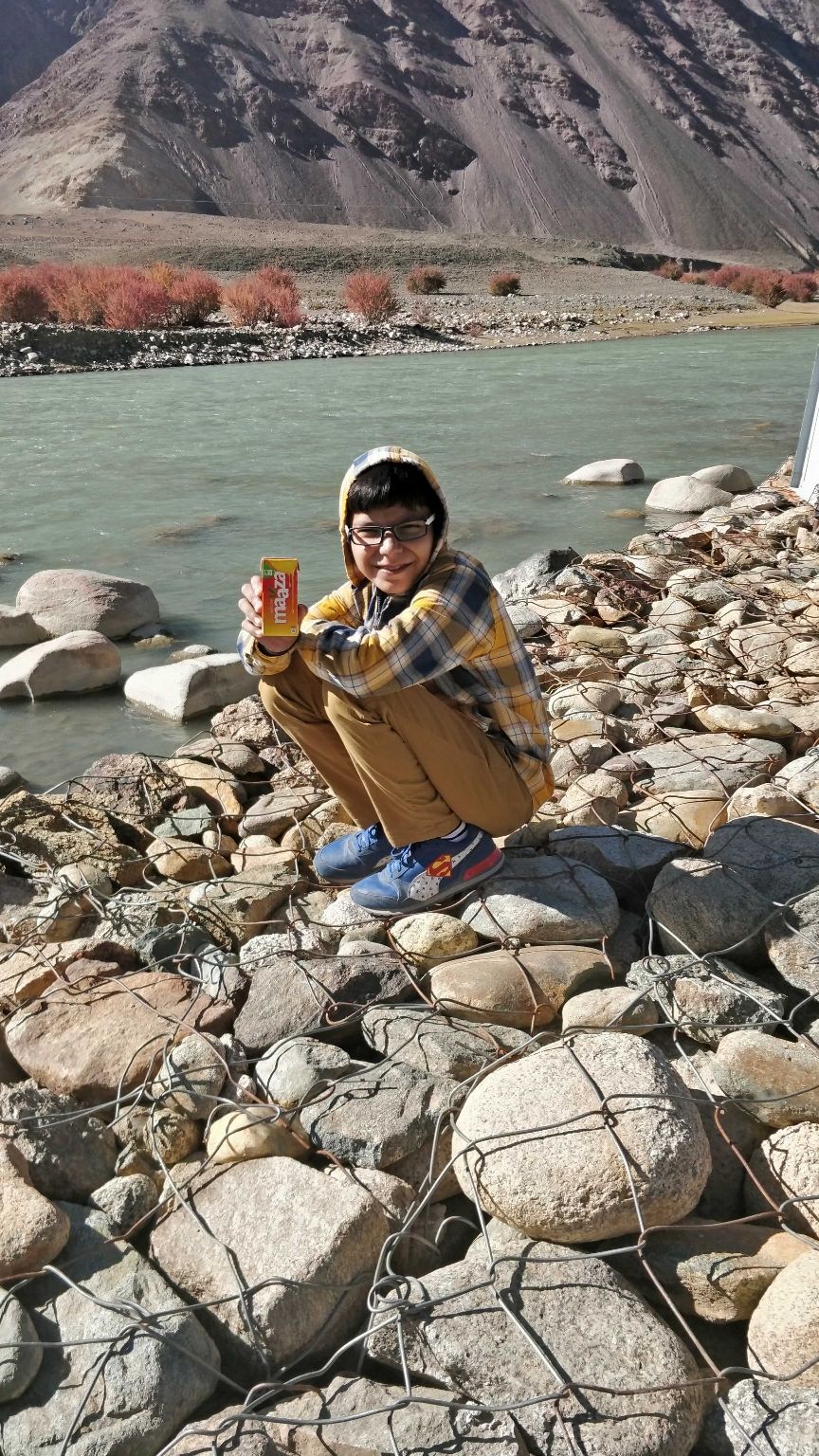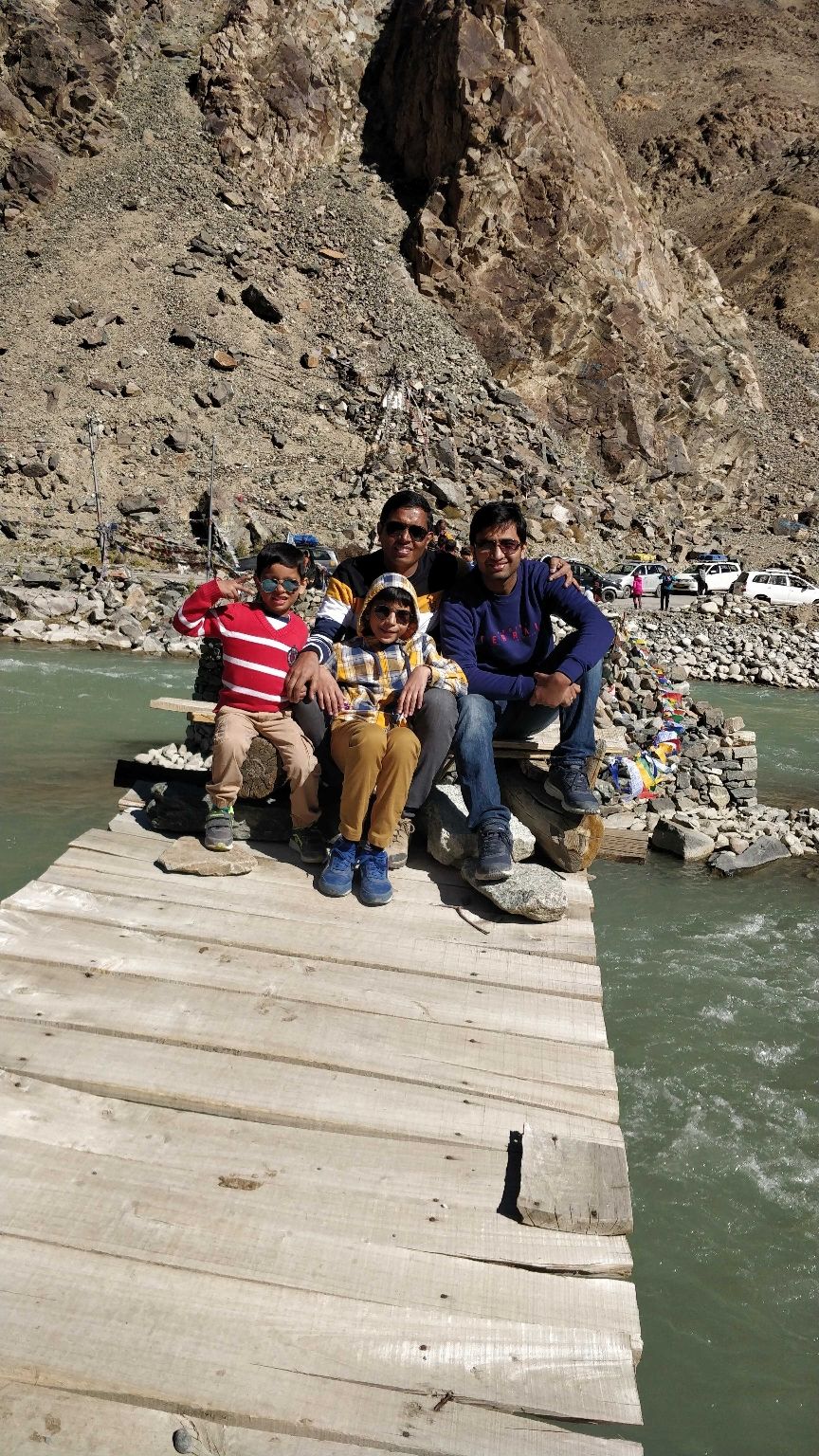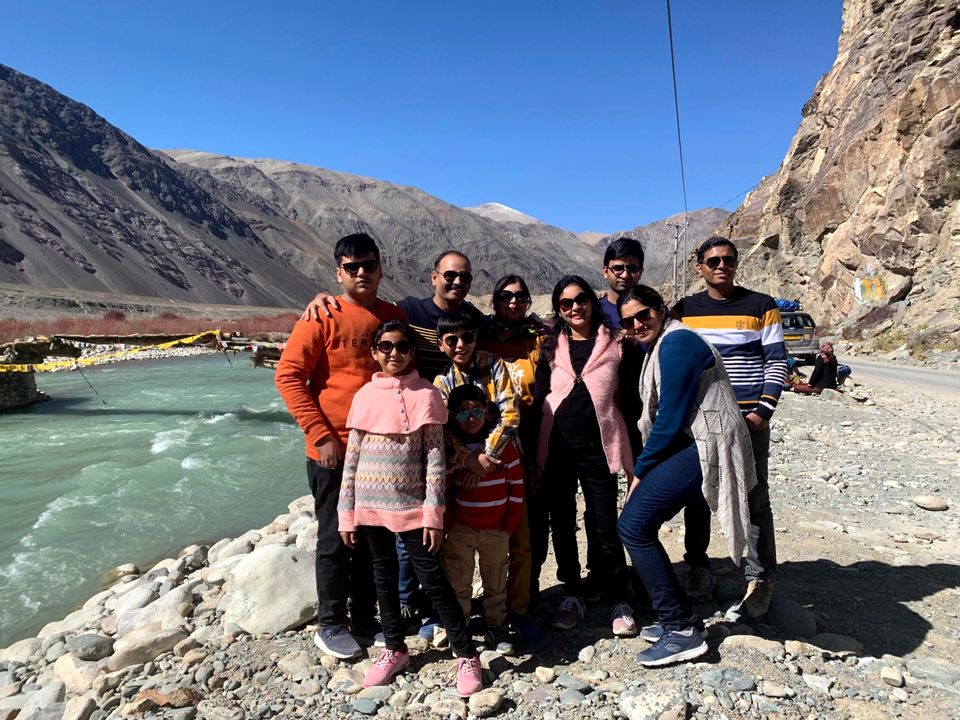 My sister left for airport she had the early morning flight to Delhi. Rest of us slept till late ..enjoying the last day of our vaccation.
After eleven we headed towards Gurdwara Patthar Sahib.Its located on the highway..This placed is managed by the army. We went in took scarves to cover our heads..in Gurdwara it's sacred to cover head.Did the darshan..saw the massive rock from The era of Sikh Guru Gurunanakdevji...this place has an interesting story..had prasada...and enjoyed the langar food(community kitchen food).This is a zero wastage zone...take what you can eat.Here after food one has to pickup and clean ones utensils..it's very much necessary to instill the habit n attitude of self dependency.
We went to chilling for rafting but the water was shallow do didn't opted for it. But instead did all short of crazy stuff ..clicked hillarious stuffs and went rock n roll.
On way back did ATV bikking near magnetic hills.
At night watched the Light and sound show .It was very interesting..and emotional.It had details regarding the kargil war.
This was our last stop of the trip.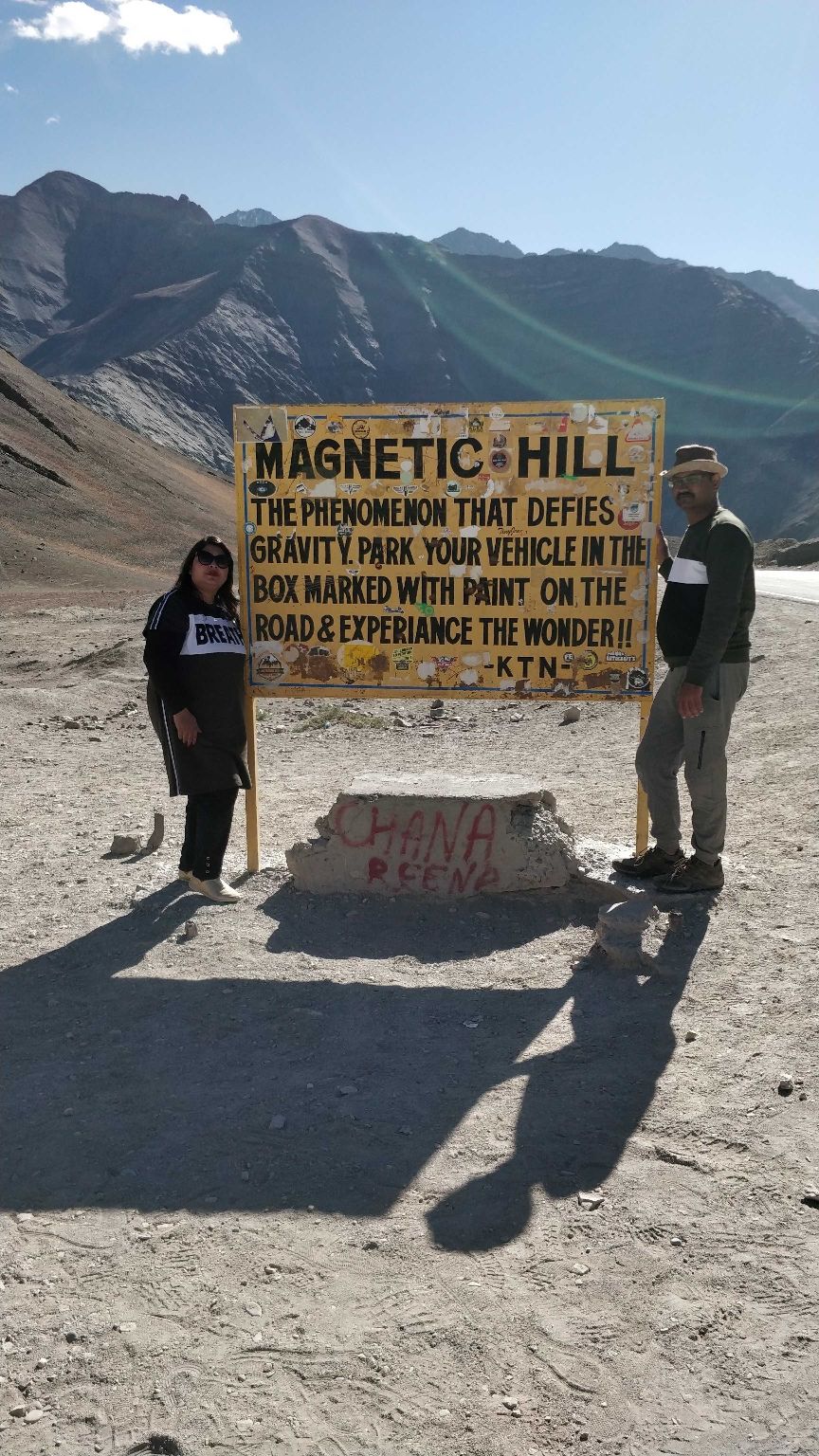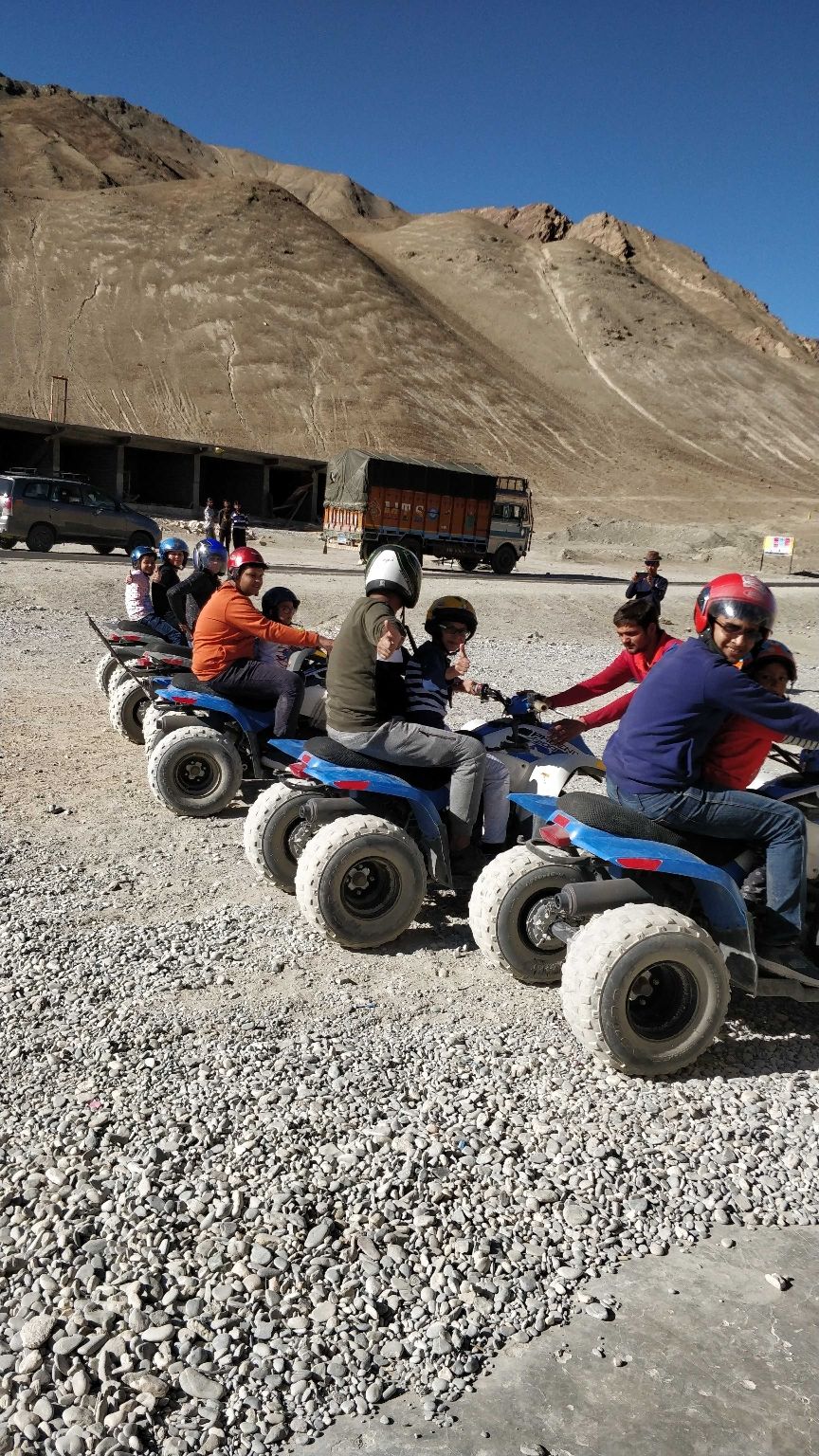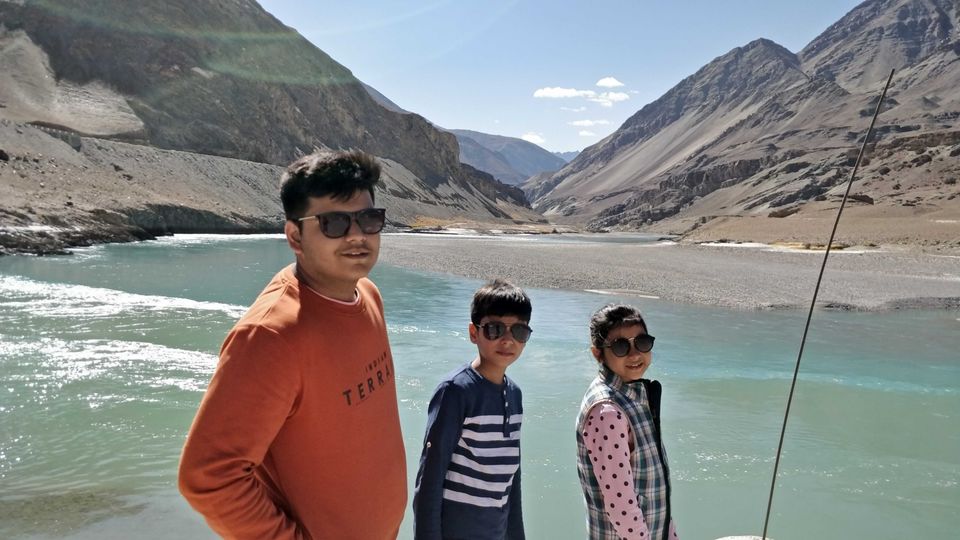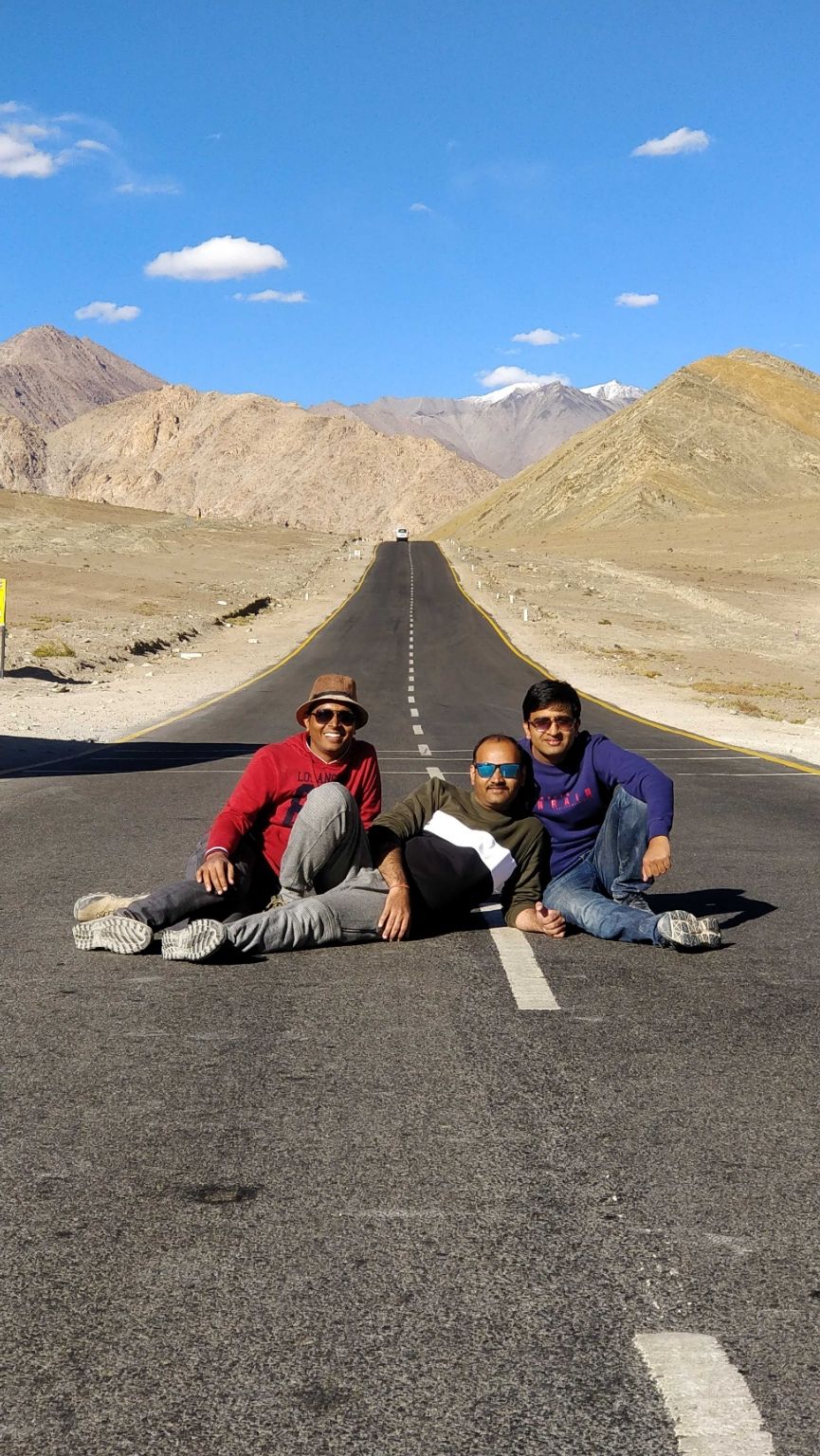 Last few moments in ladakh...got ready to catch the flight back home.Our companions for last few days dropped us at airport. They were not like drivers to us,we parted as friends to keep in contact though Watts app.
But what is it about partings, that is sadly romantic. As you walk inside an airport, wheeling your trolly, turning back and looking at the mountains and people, you want to run and cancel your ticket and just stay for one more day with them.
On finally leaving and sitting on your seat, and replaying certain moments a dozen times in your head. Sometimes the heart surges and then subsides. At the time of takeoff I was in tears...my husband pacified me.
The signature is to just wear those sunglasses and walk off.
You get a strange feeling,when you are about to leave a place..you are going to miss the place ...like you'll miss the people you love.
Chilling under the sun, Relaxing under the stars, Sipping on a leh berry juice,  Trying local dishes,ridding  on unknown routes, getting down on water streams, yelling with excitement on seeing mountains,Crashing in the warm bed after a tiring day of sightseeing, Learning the language of the locals,enjoying their hospitality.
Hang on, I am not writing you a holiday poem. I am just telling you about the things that I did on my holiday. Take some tips and plan your next  vaccation to THE LAND OF LAMAS...LADAKH make most of your vacation. Bon voyage.