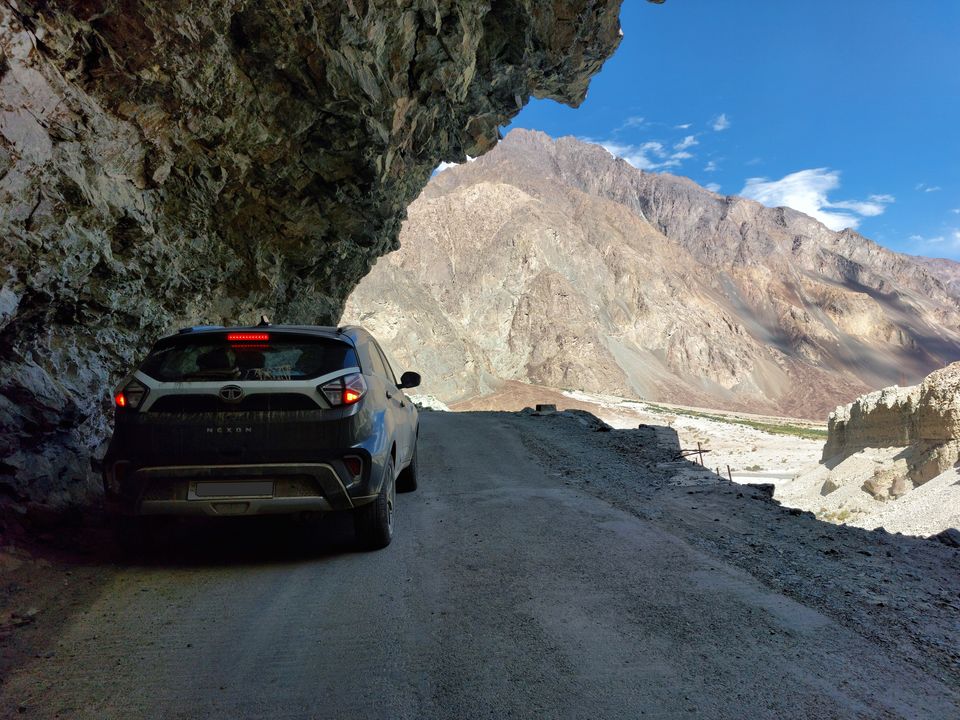 I have always been fond of driving a car & going on long trips. It has always been my dream to roam around our country in my personal car. I started my driving journey with Maruti 800 which was owned by my father then he bought Alto 800 & finally now I bought TATA Nexon for myself with sole purpose to wander around the country.
The first trip with my new car was to Ladakh- The Land of High Passes from my present place of stay i.e, Aurangabad, Maharashtra. Two of my very good friends from graduation days accompanied me on my journey.
Route: Aurangabad (MH)- Dhule (MH)- Indore (MP)- 450 kms.
We completed this journey of on our first day & took almost 10 hours to complete. On the way we stopped by at Maheshwar, which was a capital of Queen Ahilya Devi Holkar.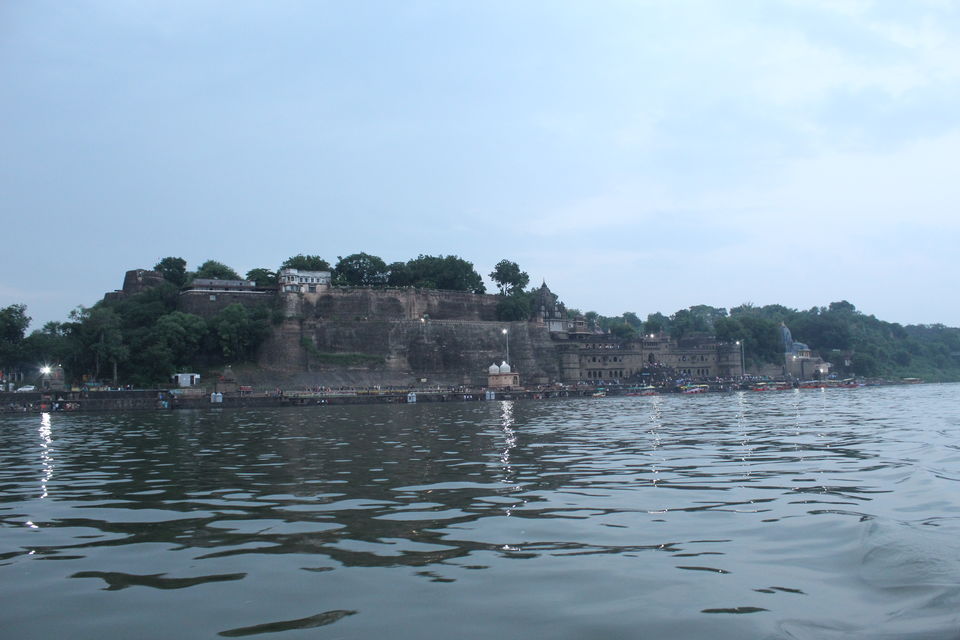 Town is famous for its historical importance along with riverfronts Ghats & Forts. Later by the evening we reached Indore, as we did not have a proper lunch in daytime we were quite hungry & decided to stop at famous "56 Dukaan" where we had different varieties of snacks. To name the best coconut Malai & water crush stood out.
Place of stay: Company Guest House at Indore.
Expenses: Rs. 4100 (Petrol) + Rs. 400 (Room+ B. Fast) + Rs. 1500 (Food & Misc. Exp)
Route: Indore (MP)- Ujjain (MP)- Chittorgarh (RJ)- Neemrana (RJ) 805 kms.
We had covered various spots on this day. Firstly, we stopped at Ujjain for Mahakaleshwar Temple Visit briefly for 1 hour or so. We continued our journey towards north by crossing MP & entering Rajasthan to our next destination Chittorgarh Fort. As soon as we entered Chittorgarh town one local guide approached us & offered to show around the fort for mere Rs. 200/- we agreed & him along with us in our car. He then took us around the complete fort in 2 & half hours.
Later we had our lunch at Pizza Hut which was newly opened at the exit of the fort & we continued our journey via Jaipur till Neemrana to our company guest house. It was almost 1:00 AM by the time we reached. This day was quite long, joyous & hectic especially for me as I was the only person driving the car.
Place of stay: Company Guest House at Neemrana.
Expenses: Rs. 5300 (Petrol) + Rs. 500 (Room + B. fast) + Rs. 3000 (Food, Entry tickets & Misc exp)
Route: Neemrana (RJ)- Manesar (HR)- Panipat (HR)- Chandigarh- Nalagarh (HP) 423 kms.
We started bit late on this day, we woke up after a very good sleep of 8 hrs, had breakfast & left. First, we had to make stop at Manesar TATA showroom as Co- passenger seat of my car was having a minor issue it took 2 hours to fix the issue. Then we started our journey towards Panipat as the 3rd member of our trip was about to join us from there. We picked him up from Panipat Railway Station & continued our journey to Chandigarh. We had to stop by at Chandigarh to get ourselves tested for Covid-19 which was must for entering Ladakh. We gave our Covid-19 test samples & went to have a dinner at Swagath restaurant in Chandigarh city. Our stop for today was at Nalagarh which was hour long drive from Chandigarh.
Place of stay: Company Guest House at Nalagarh.
Expenses: Rs. 2800 (Petrol) + Rs. 500 (Room) + Rs. 3500 (Food & Misc. Expenses)+ Rs. 4500/- (Covid testing)
Route: Nalagarh (HP)- Mandi(HP)- Manali(HP)- Keylong(HP) 315kms
We all were looking forward towards the journey through the hills with challenging & tough terrains to drive. We started from Nalagarh towards Mandi, from Mandi there were two ways to reach Manali one was via Pandoh where the most of the traffic was heading with wider road & other was via IIT Mandi where the traffic was almost nil & road was narrow. We preferred the later route as we wanted to avoid highways & also as we could see in the map that the road was going through hills & looked more adventurous. Let me tell you this was one of the scenic route we had covered in our journey.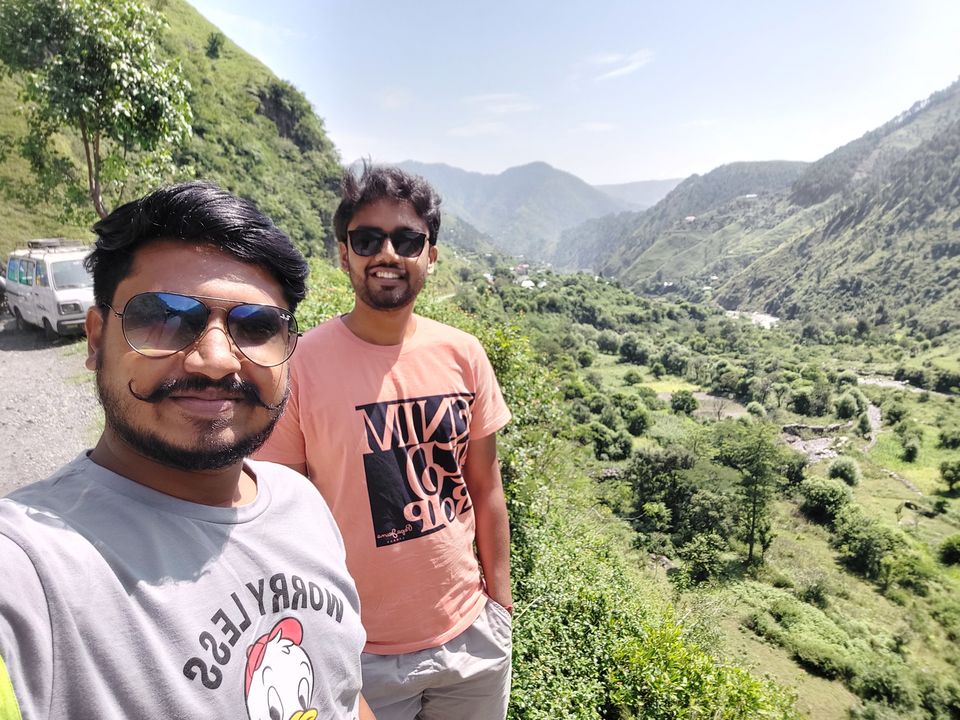 We stopped by at one of the Dhabas & had breakfast. We reached around 2 PM at Manali, where I had to shop winter wears as the temperature was dropping as we started to gain the height towards our destination.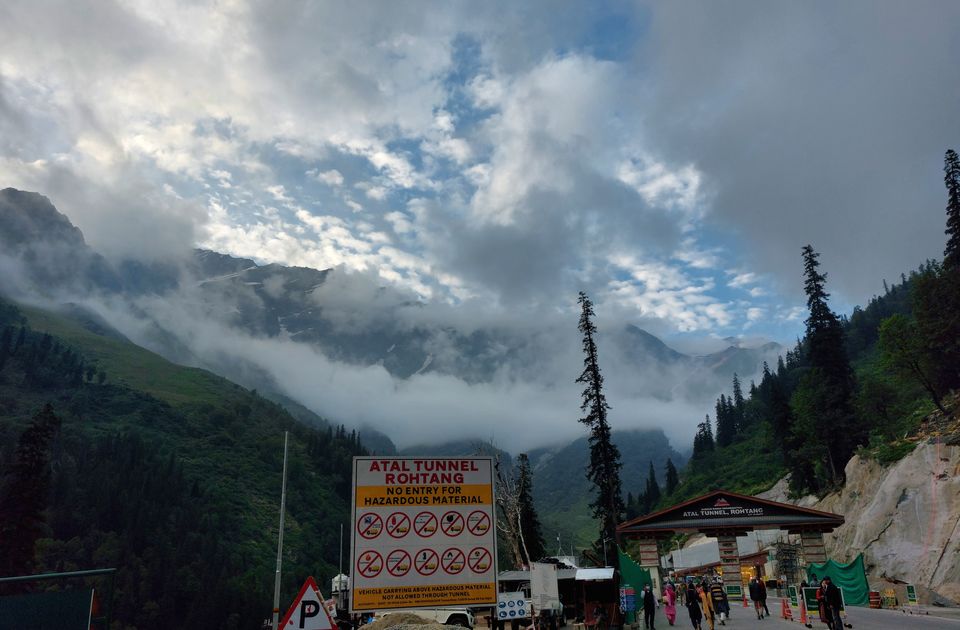 We left Manali & crossed the Atal Tunnel to Reach Keylong. Where we made a stop for night in a local guest house. The temperature was quite low & we had started to feel the headache & dizziness due to altitude change.
Place of stay: Local Guest House at Keylong
Expenses: Rs. 2100 (Petrol) + Rs. 1000 (Room) + Rs. 2000 (Food & Misc. Expenses)
Day:5
Route: Keylong(HP) – Pang – Leh(Ld) 350kms
The most adventurous, tough, challenging & tiring route has to be this one but it was all worth it. Throughout this day I drove for approximately 350 kms most of the times uphill gaining altitude on curvy roads with hairpin bends through the barren sand mountains & the clearest skies one could see due to no pollution.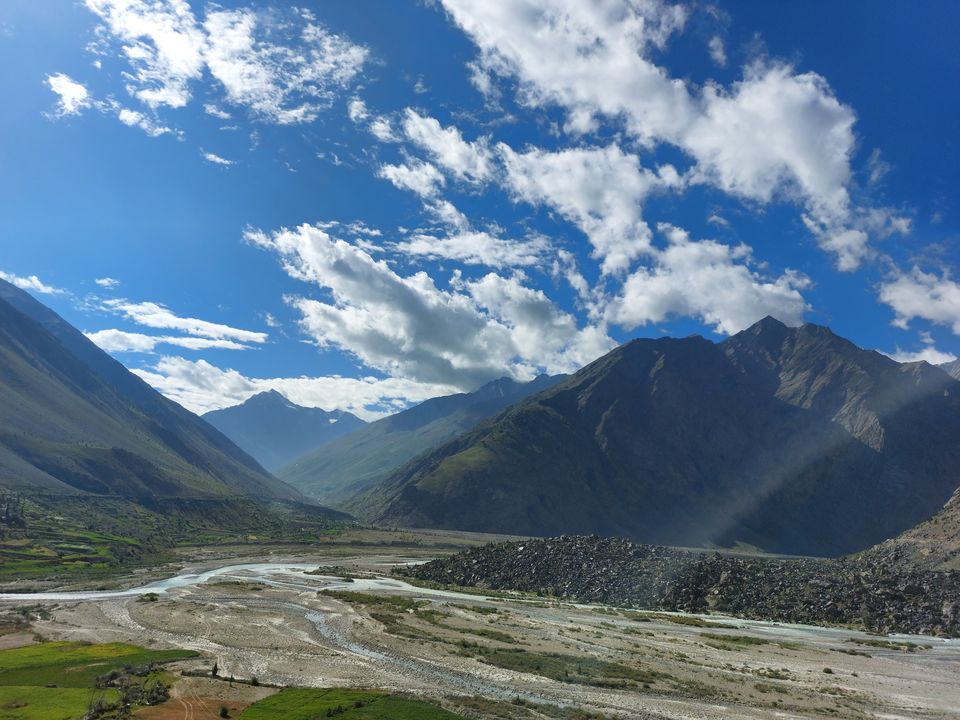 One has to be more than just an ordinary city driver as your driving skills will be at test along the route. Blinding turns giving you very low margin of error also it will raise your heartbeats surely but you will have a sense of accomplishment by the end of day.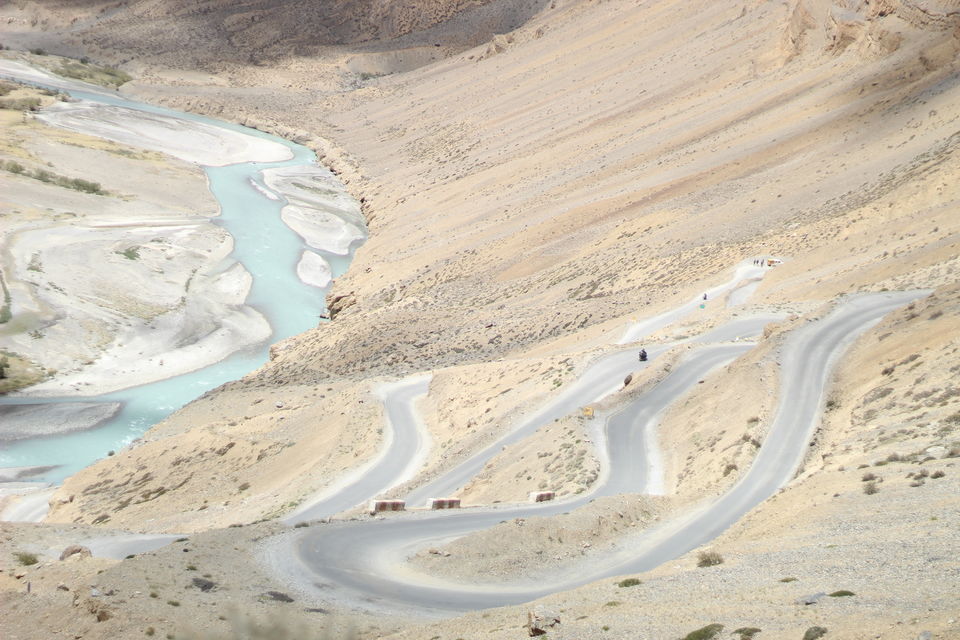 Although the automatic climate control was working well to our advantage maintaining oxygen levels well inside the car but as we were nearing pang I was feeling very dizzy with severe headache that maybe because I had to focus more on the roads which were curvy as I was the sole driver among the three of us.
We decided to stop at pang and rest a bit, as soon as I got out of car, in natural surrounding there the feeling of dizziness intensified & I had to lay down for almost half an hour to feel better. Our destination was Leh which was still far away, I wasn't feeling 100% better & I had to drive too on top of that. We decided to move ahead after the break we reached Tanglangla Pass which was the second highest motorable road & finally to get rid of the vomiting feeling I had to make it come by putting fingers in my throat & once it was out I was much relieved & could focus & enjoy the rest of our journey. Our COVID-19 reports were checked at a checkpoint almost 20 kms before Leh. We reached our Hotel room at around nine at night. We ate & slept like a child as everyone was too tired & content with the journey to Leh.
Expenses: Rs. 2400 (Petrol) + Rs. 2000 (Room) + Rs. 1500 (Food & Misc. Expenses)
Local sight seeing nearby Leh city.
I woke up & couldn't believe that I had driven around 2500 kms in past few days to reach a place which I could only dream of till this day. This is how I wanted to come to Ladakh not by flight, taxi or bus but by my own vehicle & we did it. Now it was time to explore & enjoy the stay at Leh, so we thought of exploring nearby places like Shanti Stupa, Thicksey Monsatery, Shey Monastery, Hall of fame, Rancho's School.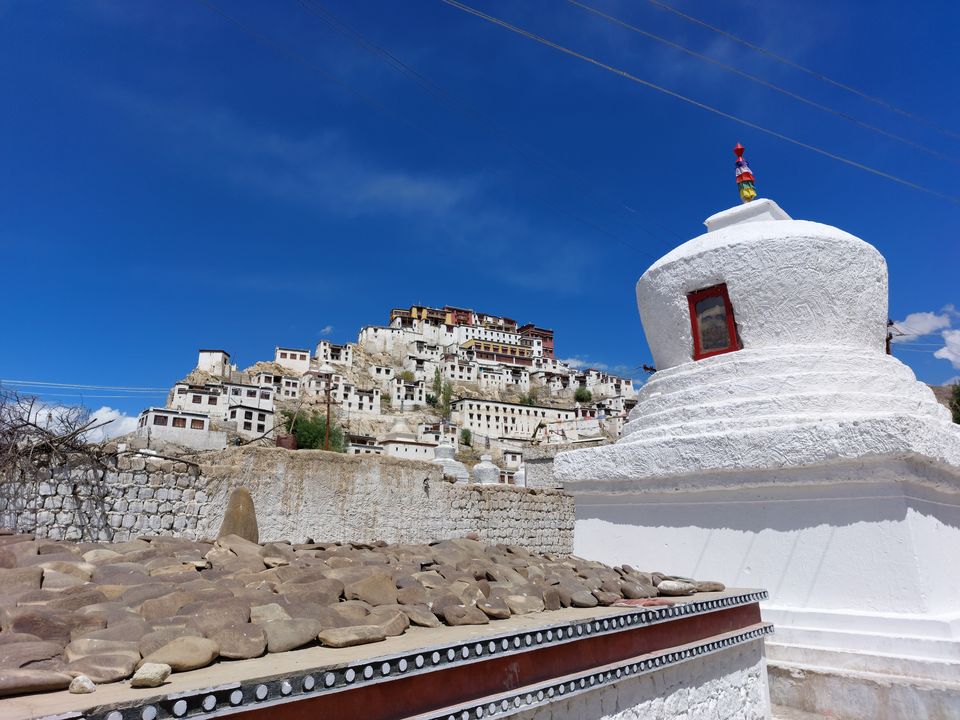 I was too tired with body ache from continuous driving so wanted to give a break to my body hence did not explore much there but two of my fellow friends explored these places as they were well rested during the journey too.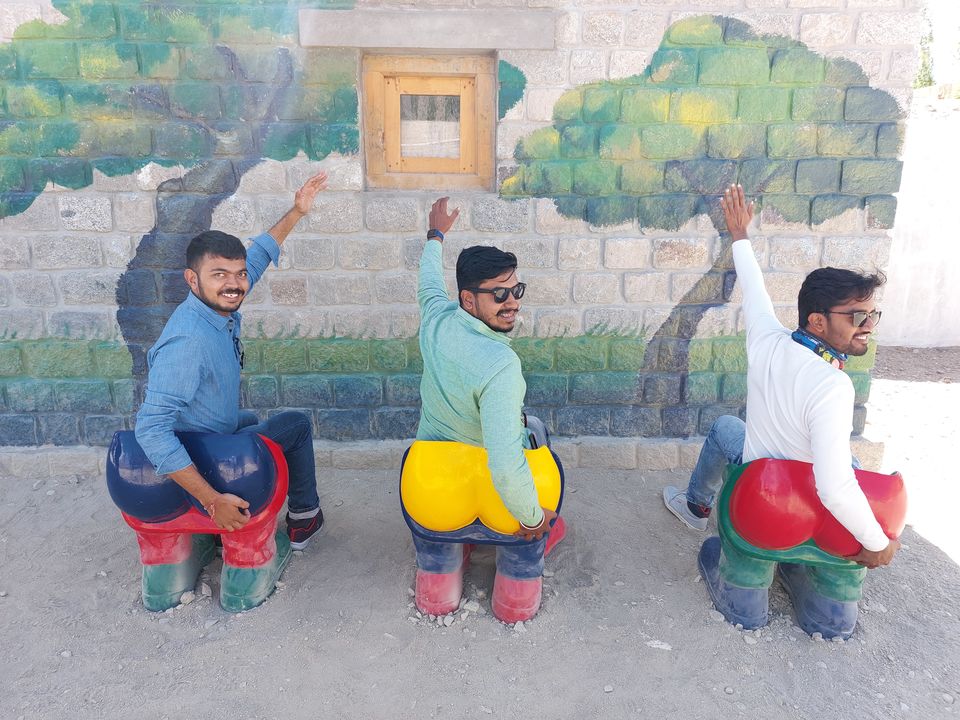 We went to Magnetic hill to see what's was the hype all about, later while returning we gave a lift to a very friendly person from Manipur who had come to visit Ladakh. We took him to our last place which we wanted to explore & it was spituk monastery in Leh. Although the monastery was decent but let me tell you one thing if you want to get the best sunset view of Leh city it has to be this place.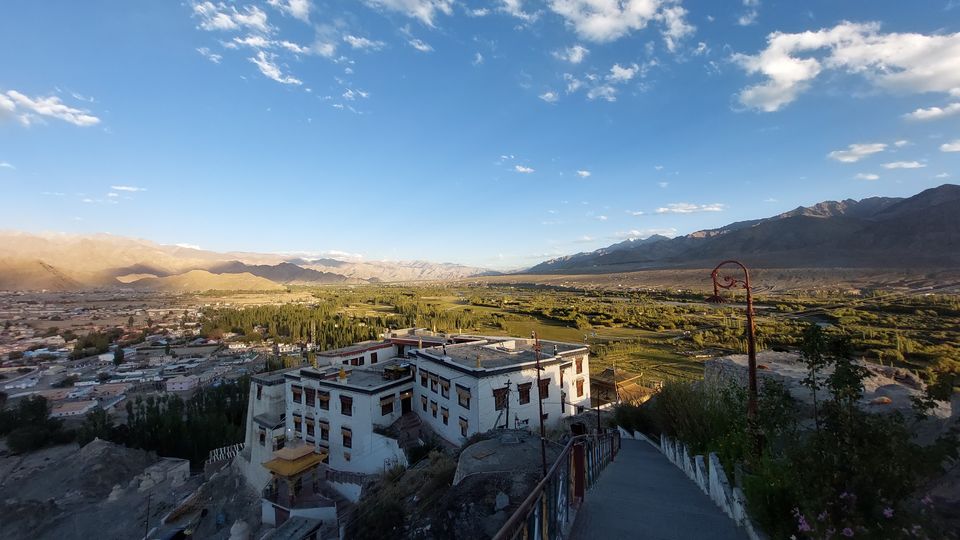 Later we ate at local food joint, my stomach still wasn't completely well so didn't experiment on local cuisine but others did they tried Thupka & local sweet bread from bakery.
Expenses: Rs. 600 (Petrol) + Rs. 2000 (Room) + Rs. 1500 (Food & Misc. Expenses)
Leh- Khardung La- Nubra Valley- Turtuk 204 kms
After getting acclimatized to the weather & altitude in Leh, we left from Leh early morning towards the Khardungla Pass. The journey was more uphill as we were gaining more height from Leh. It took us around 2 hours to reach there the feeling of reaching to the highest motorable pass was special & out of this world.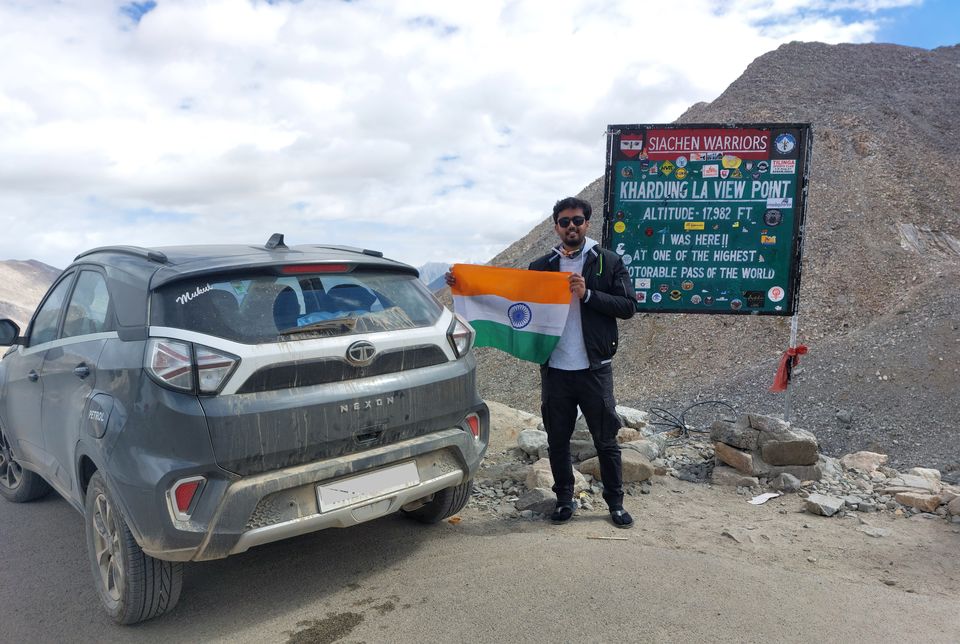 I just wanted to sit there & let the feeling of having achieved something unimaginable sunk in. Although we had our breakfast we wanted to eat something warm & hot as it was quite cold there so we had a traditional kawa and Maggie at the Dhaba located there. We continued our journey towards Diksit & to nubra valley. The roads were average in this inner circuit. The journey was downhill from here till we reached Diksit. We could see the famous Diksit Monastery as we were entering the village & let me tell you this has to be most scenic monastery in the Leh circuit. The view from the top looking towards the valley was mesmerizing.

We explored a part of the monastery also we went to the tall Buddhist statue which brought back my memories from Langza, Spiti. It was almost lunch time we were hungry but couldn't find anything to eat since the restaurants & market was closed as the locals went to a nearby place to worship the deity. So, we had to buy some snacks from a shop which was also closed but we made a request & they obliged to give us.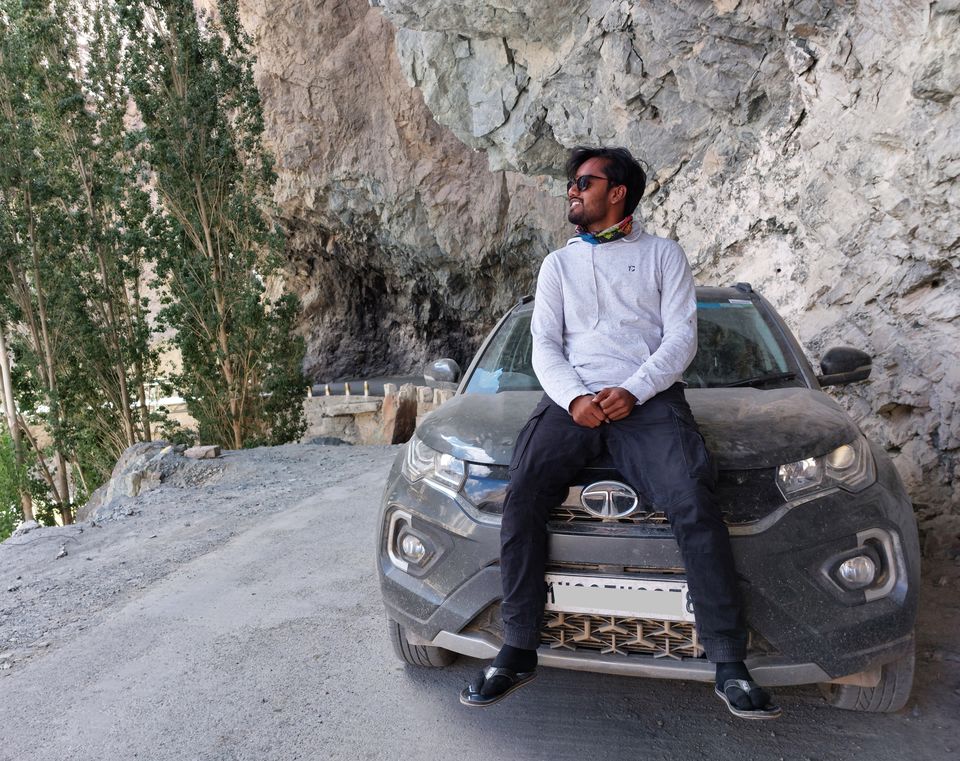 Our plan was to stay overnight at Hunder but since everything was closed and also we couldn't spot any camels in Hunder we had to come up with an alternate plan that was to Visit the northernmost village named Thang on the same route.
At a checkpoint in Thang our IDs were checked we went to the Viewpoint where we could the see the LOC with no man's land.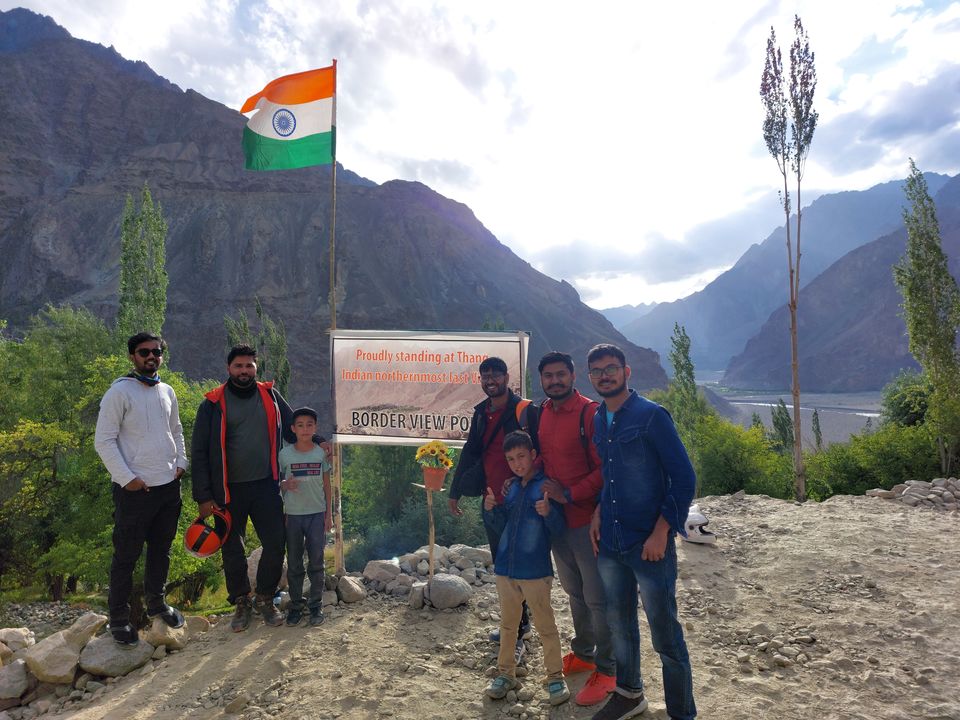 We decided to stay overnight in the neighbouring village Turtuk there we hired a local Guest House for one-night stay. The village was very scenic, with greenery around amongst the barren mountains. People used chilled gushing waters coming down from the melted snow from mountains flowing through the local village drains for daily use, farming & other activities. We had local special bread a Buck-Wheat roti at one of the café along with rest of our meal. We ate and dozed off.
Expenses: Rs. 1400 (Petrol) + Rs. 2100 (Room) + Rs. 1500 (Food & Misc. Expenses)
Turtuk-Leh 204 kms
I woke up at around 7am, my friends were still sleeping so I went on a stroll through the village. The ways were pretty narrow with small houses made of stone & mud. While going through the village I found a natural cold storage center hut which was locked from outside. These storage centers are used by the people to store the food items as its maintains the temperature inside the room during extreme weather conditions. It was warm outside but as I has peeked thorough the hole on the doors I could sense the cold wind coming from inside, one can read more about them on google if you are interested.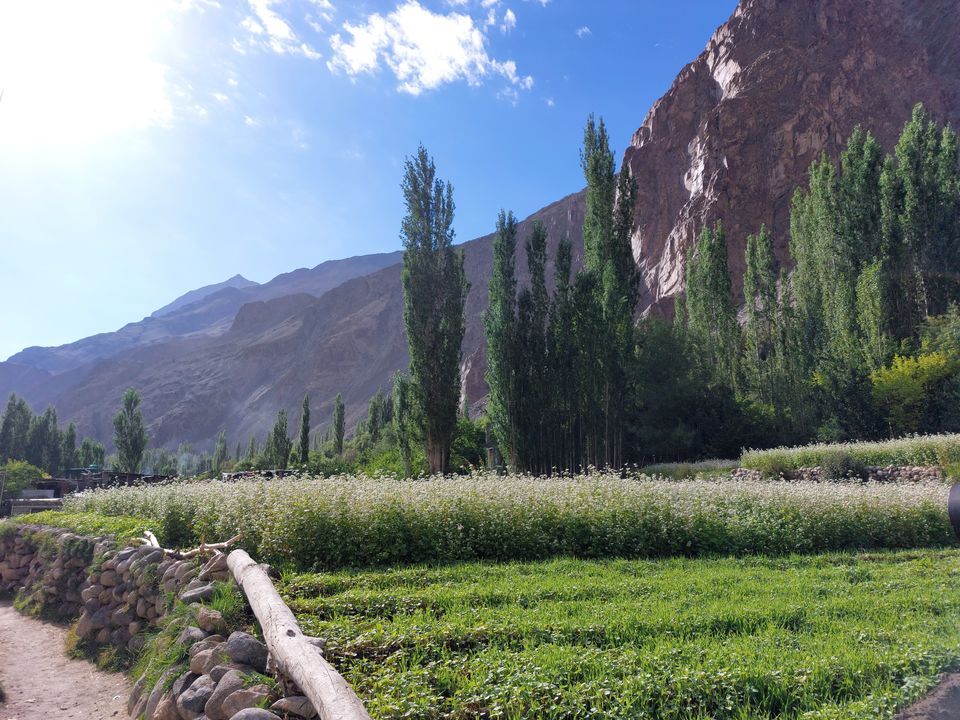 Locals there suggested to hike to a monastery so I went ahead & hiked the monastery, there was a devotee chanting the holy mantras in a language which I didn't understand, I sat there without disturbing her to see the beautiful view of the village. After spending around 30 mins there I decided to head back to my guest house where my friends were ready to grill me for not taking them along. We had breakfast & got ready for today's journey. Earlier we had planned to visit Pangong Tso lake on this day but the roads were not good & I was too tired with continuous driving since past 7 days so I asked my friends whether they could skip Pangong Tso & head back to Leh where we could rest a bit before our return Journey & they agreed so we headed back to Leh.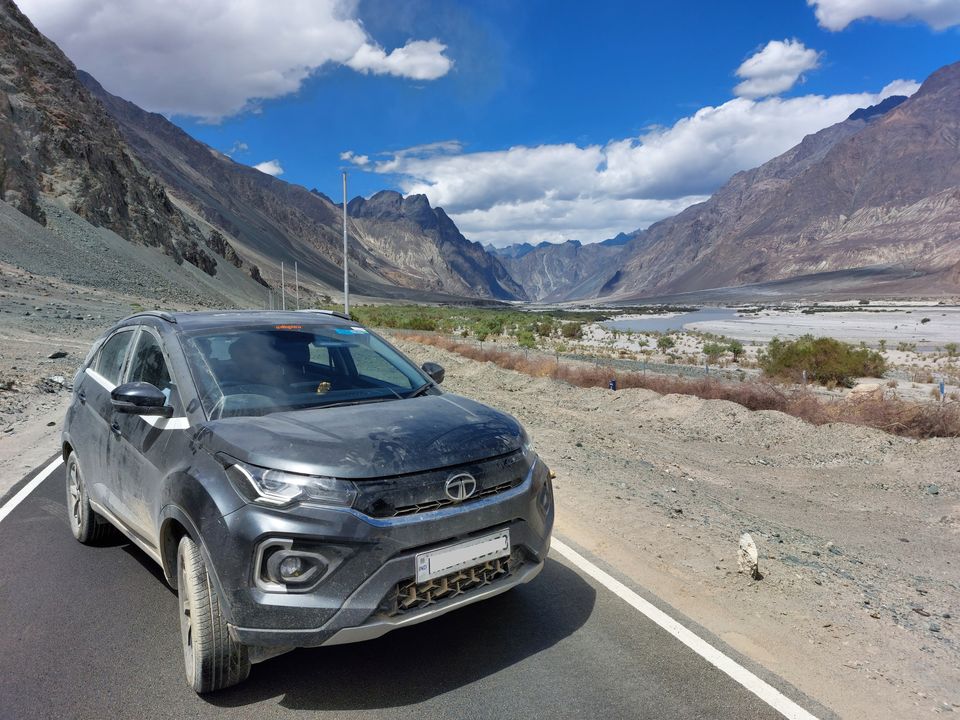 On the way we had to stop at Hunder for around two hours since the roads were blocked by locals to protest against the new road construction through their sand dunes. Local administration were able to convince the villages to let the tourist vehicle pass & we then moved ahead. We reached Leh at around 6 PM checked in at a Hostel with bunk beds for our night stay in Leh. Went to local market for shopping Jackets, shawls, stickers, keychains etc. We also went to a local restaurant for our dinner had thupka, noodles & Pizza.
Expenses: Rs. 1400 (Petrol) + Rs. 1800 (Room) + Rs. 2000 (Food & Misc. Expenses)
Leh- Lamayaru- Kargil- Srinagar
There are two routes to reach Leh, one is via Manali which is tough & adventurous while the other route is via Srinagar & kargil which is quite beautiful with slow climb hence most prefer coming to Leh via this route. But since we reached Leh via Manali route which was steep & tough climb we decided to exit Leh via Srinagar route. We left early morning to yet another unknown route on NH-1 but it was one of the scenic & also well-maintained route by BRO. On the way we stopped at Lamayaru Monastery which was quite an attraction.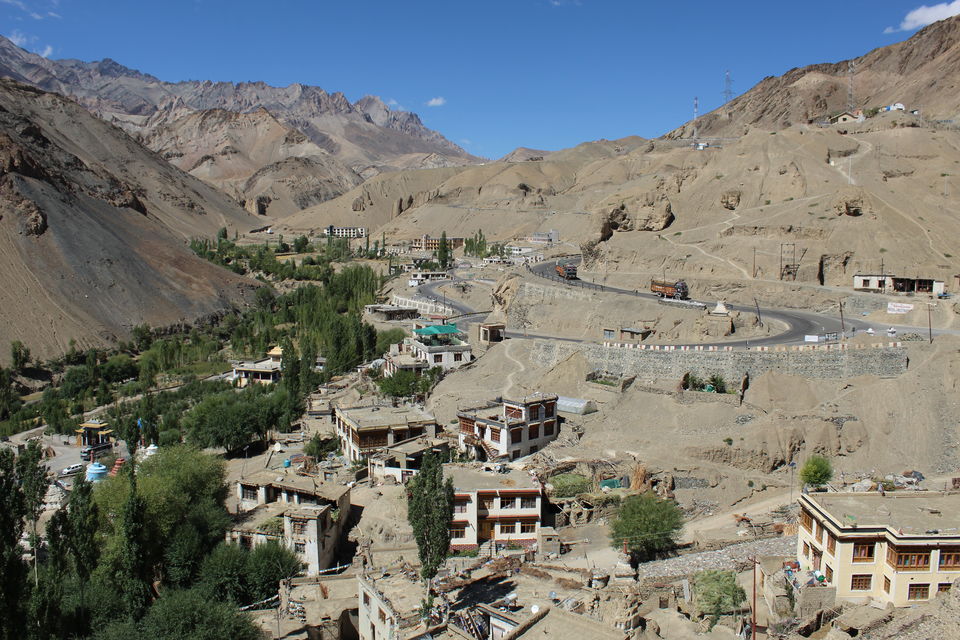 When we visited the monastery, a prayer was being held there by locals as a part of their ongoing festival. This place has to be in your must visit list because of the ambiance & also because it is very less crowded. We then moved ahead with our plan to stop at Kargil. We reached kargil at around three in the afternoon, War Memorial there was yet other realization that how Indian Army plays a pivotal role for safety of Indians. Salute!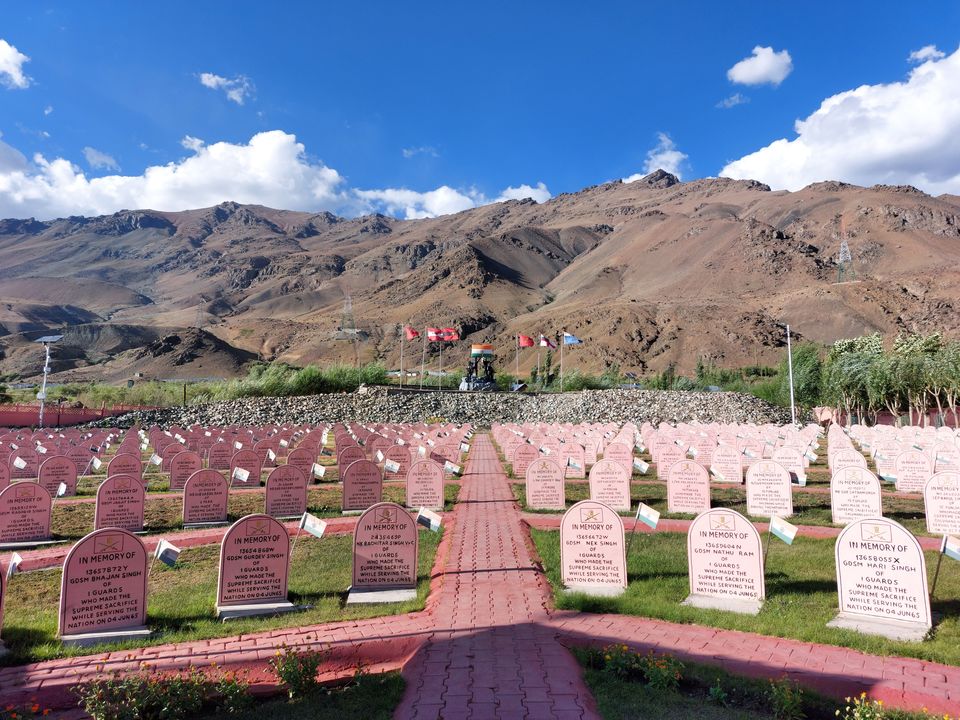 It was only 4 PM with ample amount of daylight for next 2 hours so we decided to move ahead & stay overnight at Srinagar. The route was new & road was bit rough near Zojila pass I once thought whether it's good to travel till Srinagar, but since I was on wheels since past week so I was confident of taking my car anywhere anytime.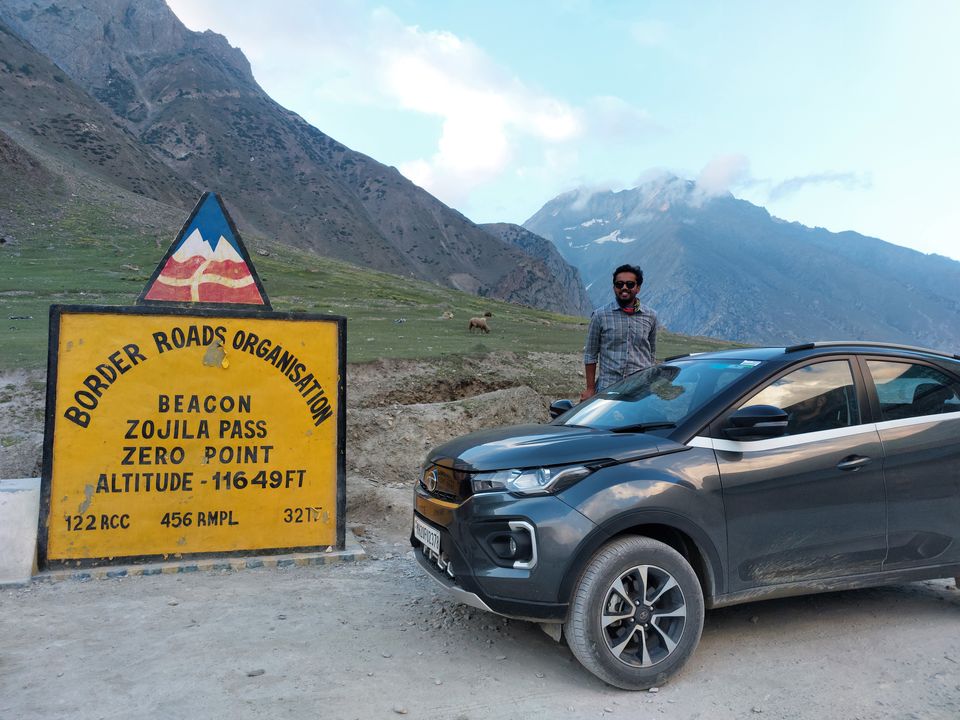 And with few breaks we finally reached Srinagar around 8:30PM where we booked a guest house near Dal Lake for our overnight stay.
Expenses: Rs. 2800 (Petrol) + Rs. 1200 (Room & Food) + Rs. 1000 (Misc.)
Srinagar-Mansar- Ludhiana 501 kms
Weather in Srinagar was quite cold we couldn't get up too early as planned but still we got ready & left the guest house at 9:00am. Before leaving Srinagar we wanted to have a Shikara ride in Dal lake but as we reached the spot we couldn't find any Shikara boat & the lake was dirty too maybe they were cleaning it, so we didn't stop there & continued our return journey to Jammu. At the outskirts of Srinagar we stopped at a local shop to buy famous Kashmiri Kesar & Kawa which we wanted to take along with us at Home. While nearing Jammu we took a detour to bypass route as suggested by Google Maps. The road was very narrow with less traffic but we thought to give a shot & went ahead as we have already seen much poor & challenging routes. On the same bypass route, we found Mansar Lake which was a very nice picnic spot for families, children.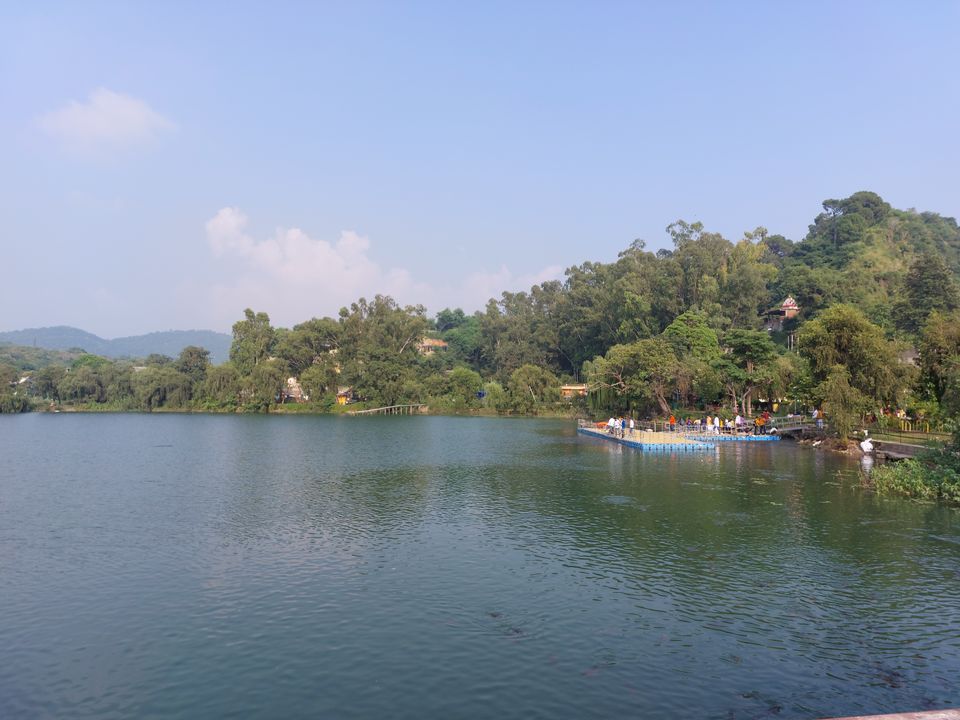 We had our lunch at a restaurant near the lake rested a bit & left for our today's final destination to Jalandhar. Highways in J&K & Punjab were maintained quite well & we reached Jalandhar quite early than expected hence we covered an additional distance of around 70 kms & changed our night stay stop to Ludhiana.
Expenses: Rs. 3400 (Petrol) + Rs. 400 (Room) + Rs. 2000 (Food & Misc. Expenses)
Ludhiana- Gwalior 670kms
Most of the adventurous part was almost over for us in this journey now it was a return journey back home on Highways. I personally didn't want to get up & leave as I didn't want the trip to get over but we were short of leaves & needed to get back to our place of work. We had a heavy breakfast at Ludhiana. Our overnight stop for today was Gwalior in MP. We crossed Punjab, Haryana, UP to reach Gwalior in MP where one of us was about to catch a train to Nagpur, so we dropped him at Railway station & two of us then went to guest house for overnight stay where we had our dinner & slept.
Expenses: Rs. 4500 (Petrol) + Rs. 400 (Room) + Rs. 1500 (Food & Misc. Expenses)
Gwalior- Indore- Aurangabad 921kms
We spent most of our time on highways on last 1 & half day, on first day when we started from Gwalior we were in Indore by around 3PM, had our lunch at McDonalds. I was planning to cover the complete Indore to Aurangabad stretch on the same day but the NH-52 was closed near Dhule in Ghat section & the alternate route was not in very good condition to drive upon at night, also one of our college friend was insisting us to visit him at a place near Dhule so we stopped at his place for a night. Woke up early & took an alternate route to Aurangabad which took us 5 hours for 190 kms of Journey. By the time we reached home at around 2 pm on 13th day of our trip 5924 kms of journey on this trip.
Expenses: Rs. 6200 (Petrol) + Rs. 1000 (Food & Misc. Expenses)
Our total expenses were around 85-90k where major chunk of it was spent on petrol (40k approx.).
I have visited several places in our country but this was my first trip on road that too self driven in my own car and the feeling of ticking of a challenge from my bucket list was astounding. Being a kind of person who enjoy journeys more than the destination I couldn't have asked for any better script than this.