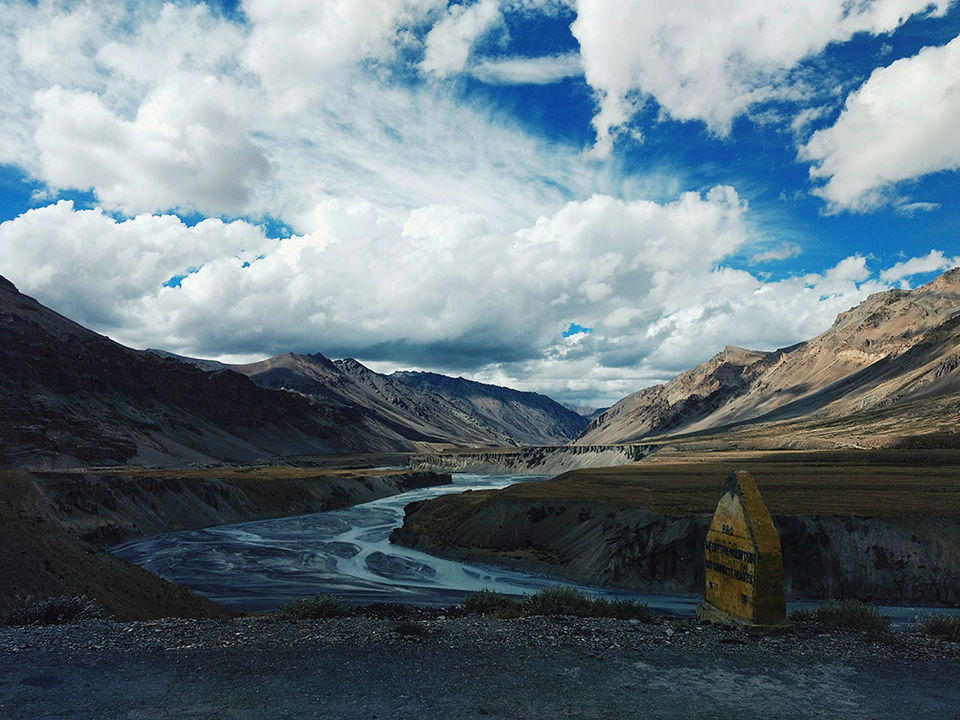 I had gone to Leh this February to experience Ladakh in winters. I went with 14 other people with this group called Streets of India. Here is a list of places we covered and what you could do to just get an idea.
DAY 1: LEH
Everyone is advised a day's rest when you land here due to the altitude. And it is best if you do rest for a day and not start moving the very day you land. You will get to know how your body is adjusting and it will give you a good idea on how to move on the next day. We stayed at hotel Sia La. It was perfect for the cold winters.
DAY 2: Magnetic Hill, Confluence, Lamayuru Monastery


The next day we left towards Magnetic Hill. We then drove further towards Kargil to reach the Lamayuru Monastery which is a quite little monastery next to an abandoned old village. After having lunch there we decided to head back. We stopped by at the confluence there, watched the sunset and then by 6 in the evening we were back in our rooms.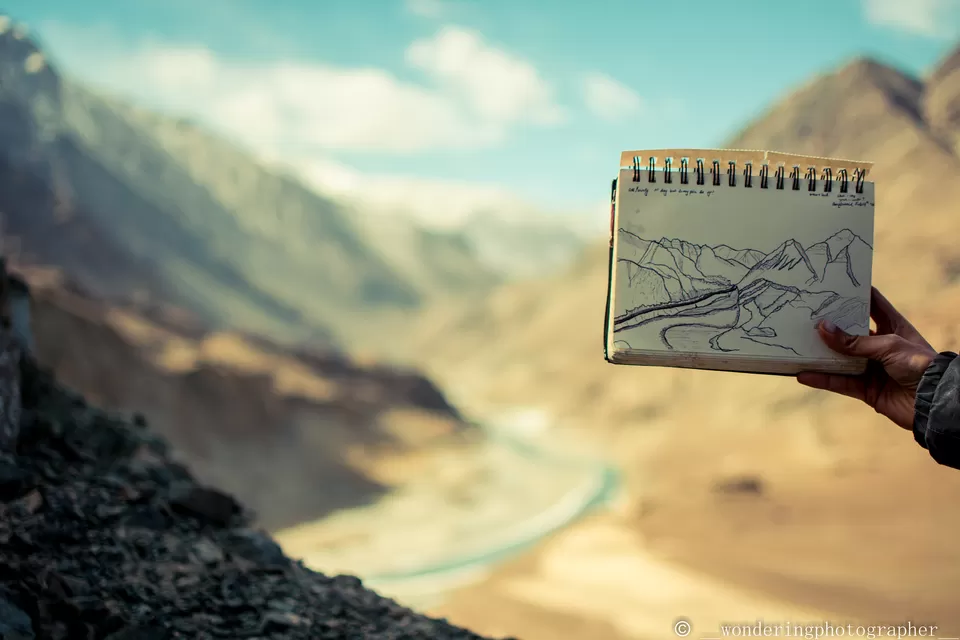 DAY 3: Hunder
We got ready early and were off towards the highest motorable road- Khardhung la. As is it was winter the roads were filled with snow and the cars skid. It was an adventurous drive on the white roads. We crossed the high altitude pass by noon and we reached our desert destination by 4 in the evening. We took time as we had stopped by here and there to take in the beauty of the place. Hunder is a high altitude desert, home to the double-humped camel. After a heavenly lunch, we set off to the desert and stayed there till the stars shone from above.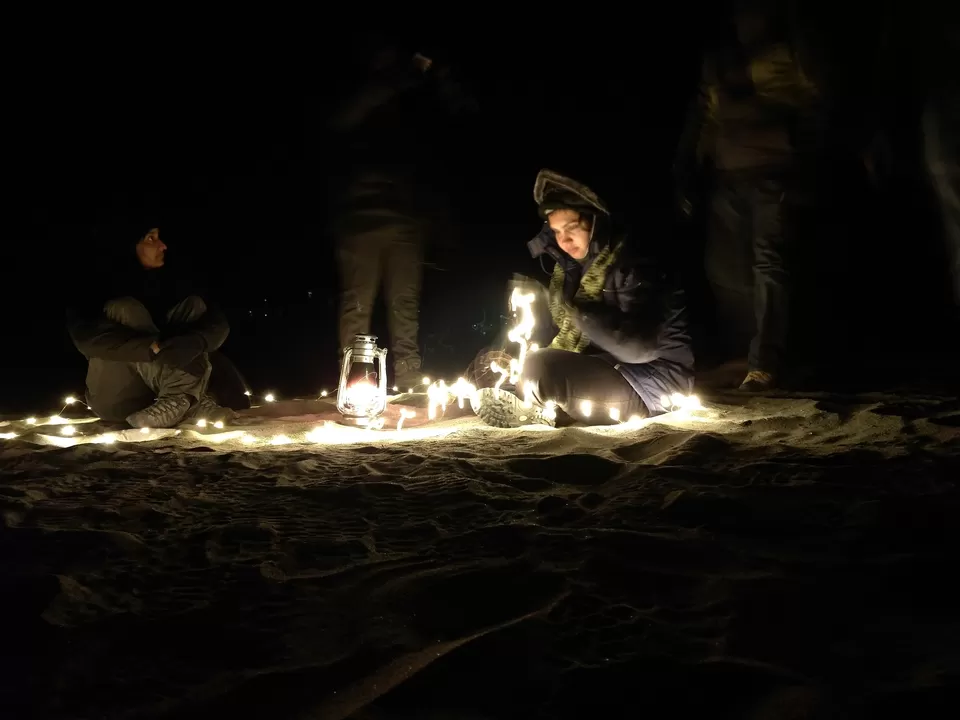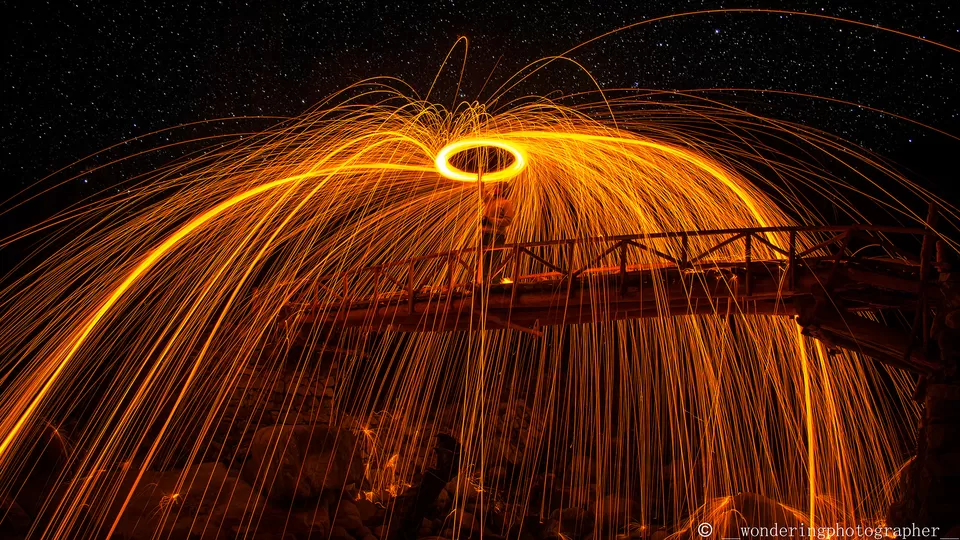 DAY 4: Turtuk Village
The next morning we got up and after a good breakfast of local Khamiri Rotis cooked on the fire, we headed towards one of the last villages on the India-Pak border. Turtuk was under Pakistan's control until 1971 and we got to know this and a lot more by visiting the palace of this village where the owner told us its history.
Turtuk is beautiful village nestled next to the Shyok river on one side and high mountains on the other. It is a Muslim dominated village with one monastery present. The people here are beautiful, warm, shy, playful, a little bit of everything.
The photographer lot went down to a bridge in the middle of the night to try some interesting photography techniques. Like the one below clicked by a co-traveler.
DAY 5: Leh We then got back to the city of Leh. This journey from Turtuk to Leh will take almost the entire day, passing through the Nubra valley and Khardungla. So you get to see deserts, snow, blue sky and brown and white cliffs all on one day.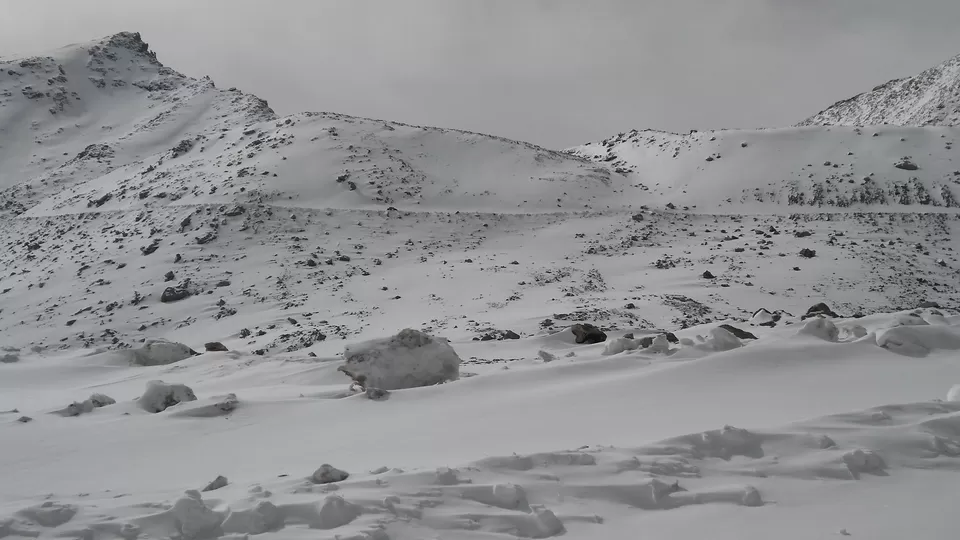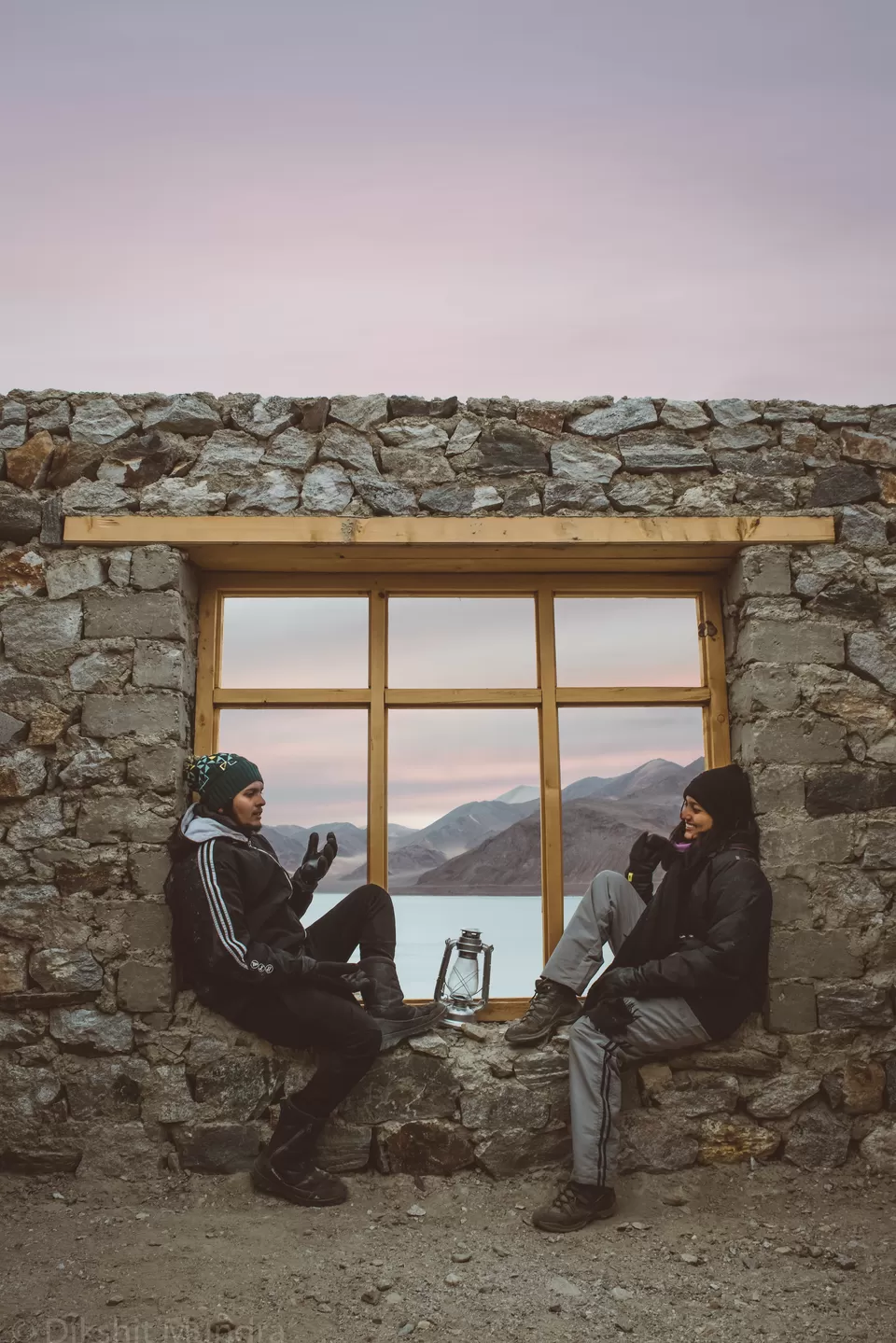 DAY 6 : Pangong Lake
After resting properly in a good hotel for that night as the other villages we were in did not have heaters and such facilities we got up the next morning to head towards to famed Pangong. Since it was winter after we crossed the Chang-la pass(a high altitude pass on the way to Pangong) we came across a semi-frozen river and we started walking/skidding on it. What fun it was. Everybody should try walking on such a slippery, frozen lake.
By evening 5 we finally reached Pangong after many pit stops and photo sessions. Ah, the frozen beauty. We spent the night at Maan village on the banks of Pangong.
DAY 7: Maan
We took around 45 minutes from the edge of Pangong to a small village comprising of 20 houses called Maan. We stayed there for two nights. Maan is beautiful. You can see the frozen lake from anywhere. The mountain backdrop, the frozen lake, and friendly faces. It was a village I'd love to be a part of. We got up early that morning to witness the sun rise over the lake. A beautiful sunrise it was, when you first see the snow-caps turning yellow and finally the rays hit the lake and you feel the warmth while standing on the icy cold lake.
We spent the whole day there, clicking photos, playing cricket, cycling on the frozen lake and exploring the icy mountains.
DAY 8: Hemis, Leh
None of us wanted to leave the next morning, but we had to. It took us almost 2 hours to finally say goodbye and by 10.30 we were off, back to Leh. We stopped by at Hemis Monastery on the way back. We reached Leh that evening and the first thing everyone did was take a warm shower. There was not 1 bathroom in Maan. Just a dry pit for your toilet purposes.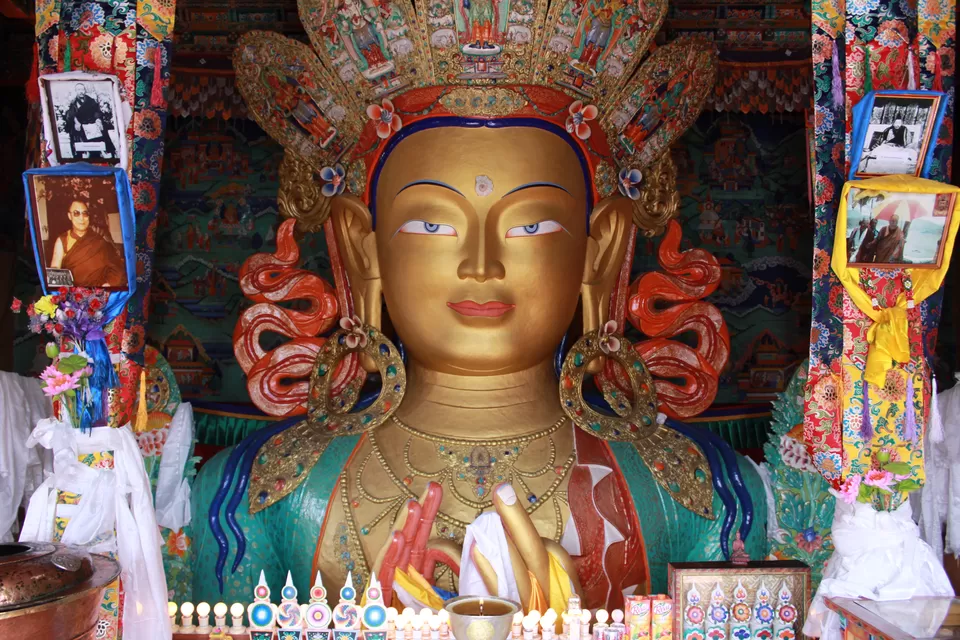 DAY 9: Thiksey Monastery, Shanti Stupa
We went to the local market, Thiksey Monastery and then went by the river and sat there for quite some time. It was a peaceful feeling. Later we went to eat a late lunch at the most expensive hotel in Leh, The Dragon Wok. After lunch, we went to visit the Shanti Stupa where we witnessed another sunset behind the mountains. After seeing the lights come and the sun going down, we headed back to town with a heavy heart. It was the end of an amazing journey in this beautiful location.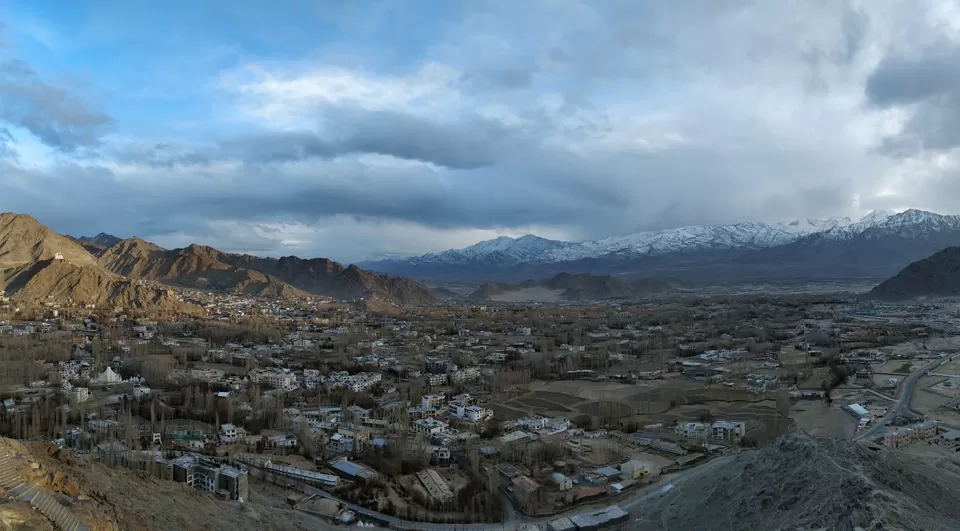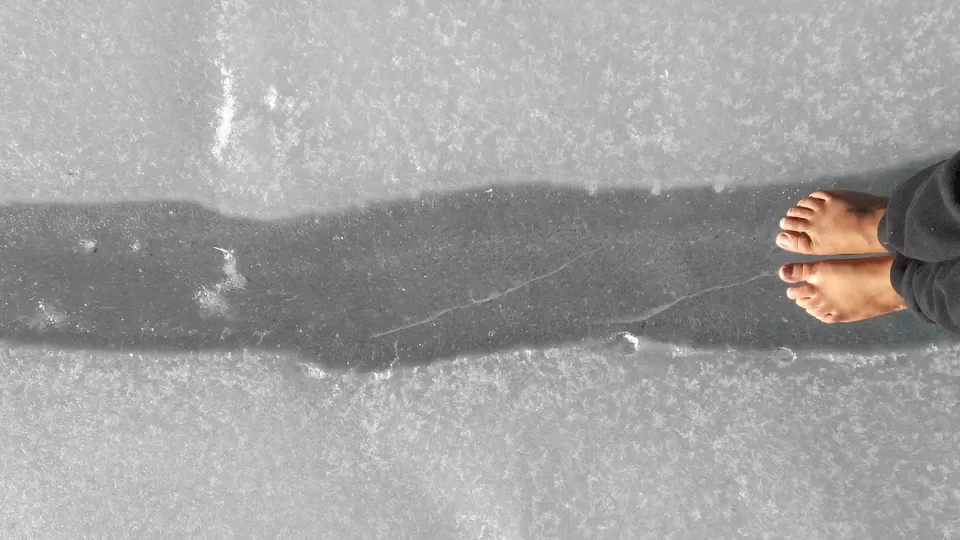 DAY 10: Airport
It was time. We got up that morning to realize it had snowed lightly the previous night. No one wanted to leave, but we had to. Leh, you were equally beautiful in winters!
Leh is love, after all!