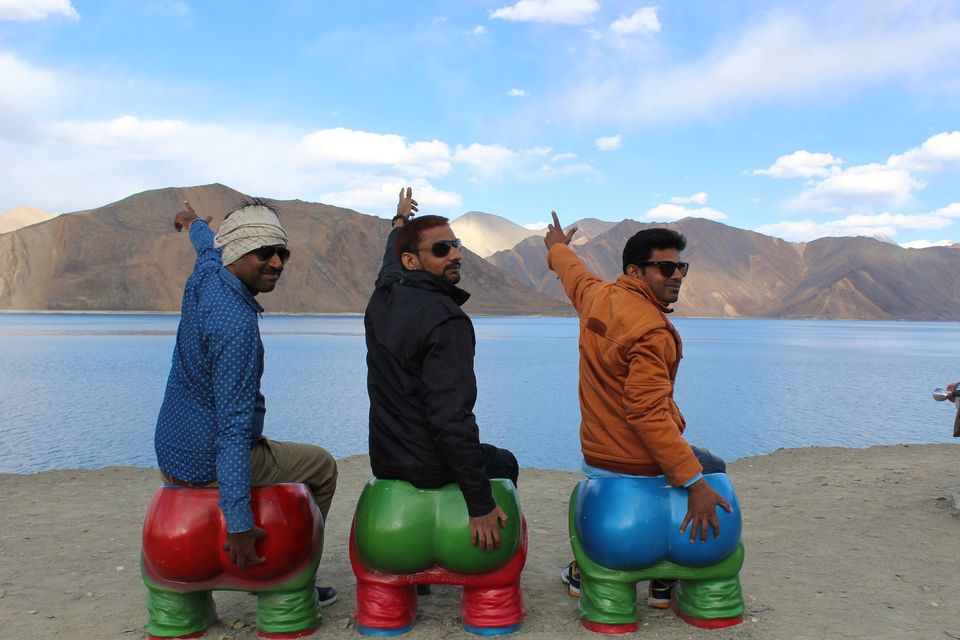 Lets begin our story of ladakh trip.
We 6 friends planned for this trip and booked our flight and train tickets in June last week for September 9 2018 but due to some reasons three friends cancelled their trip just before few days before journey date.
This left we three friends.Now out of us three, one is saying yes and no again and again so i was so irritated that i decided that we should cancel this and will never make plan together.
Our train for Delhi was on 9 September 2018 at 11 am and this yes no confusion remained till 9.30 am. At 9.30 am the friends who was about to ruin the trip said he will go with us after The clearance certificate of hod(his wife).. LOL.....
Now our friend dropped us at railway station and our journey to ladakh begun.
Now one more twist came when our friend who was saying yes no found that he forgot all his id's at home and now it's impossible to get id's because train has crossed few stations and from Delhi there was our flight to leh so id's were mandatory.
In this case our other friend who cancelled his trip went to his home and whatsapp all id's.We were confused that at airport they will accept id on whatsapp or not.
When we reached airport and told security personnel our problem, he told go to airline office (which is outside of every airport) and verify your ticket so we went to Goair office and showed his id on WhatsApp.After that Goair staff put a seal of verified on printed ticket of my friend and hurrah our problem resolved.
Day one- 10 September 2018
Our flight time was 4.55 am and it departed right time from Delhi and took around 1 hour 15 minutes to reach leh.The view was breathtaking from flight when entered ladakh region.Sun was rising like welcoming us and big mountains and clouds are like cotton candy covering mountains.
We landed leh at around 6.30 am and temperature was around 10 degree but we were warm with the feeling or excitement of reaching ladakh.
After coming out of airport we took cab and paid 200 Rs to drop us at MAX ALEXANDER GUEST HOUSE(400 rs per day) we booked in advance through booking.com...After reaching guest house we opted for hot tea which was relief in cold environment.
After 3-4 hour rest we decided to roam around and arrange permit and also visited various travel agents for shared cabs to nubra and pangong.Travel agents quoted 3800 rs for nubra and pangong(2 night 3 days) excluding accomodation and food and if turtuk included then 4300 Rs.
Our first task was to arrange permit, first we thought we should take help of agent but i tell you that taking permit is so easy that you dont need any agent.
Permit office is opposite side of jammu and Kashmir bank or near to taxi operator association office which is in main market.
All you have to do is fill the online form for permit or go to the photocopy shop near office and they will do it for you.Just provide your aadhar number and places you wanted to visit and get this print out stamped from permit office.
We went to permit office and lady at office asked the name of places and voila we got our permit stamped .The places we mentioned were nubra valley, pangong, turtuk, pso moriri and Hanley. We paid total 1560 rs for 3 persons and permit issued for 6 days as per our date mentioned.
After getting permit we ate something and decided to do trekking to leh palace and one other gompa which is on the top of mountain(not recommended first day such activity if you feel very tired or heavy breath).
The Leh Palace, also known as 'Lhachen Palkhar'was built in the 17th century by King Sengge Namgyal as a royal palace, and the King and his family were the former residents of the majestic mansion. The Leh Palace is also one of the tallest buildings of its time with nine stories in all.
Leh Palace has now been turned into ruins due to the Kashmiri invasion that took place in the 19th century.
The leh palace entry ticket is 25 rs per person but nothing special to see there.
The tracking took around 2 hours too and fro but from the top the view was awesome and cannot be explained in words. You can see entire leh from top, also you can see shanti stupa which is far from there. There is also road go to the top if you have vehicle.
Now we decided to go shanti stupa but before that we planned to go polo ground which is a taxi stand and you can found many shared cabs in the morning. We went there in the afternoon and found many vehicles but no drivers because in the afternoon they take rest. Luckily my friend found one driver and our negotiation with him started.
He finally agreed at 22000 rs for 5 days including all local sightseeing as well as nubra, turtuk and pangong.
We paid only 2000 rs advance and rest after the completion of trip. He took us to the shanti stupa that day because we already covered leh palace.
Shanti stupa is the crown of the leh i say and view from there is too good. Wide range of mountains with clear blue sky and some greenery make your eyes widely opened and you can't stop yourself appreciating the beauty of mother nature.
Shanti Stupa was constructed in the year 1991 by Japanese Buddhist, Bhikshu Gyomyo Nakamura and height of 11,841 feet above sea level.
In the evening returned to our guest house and took rest then went to local market and ate food as usual.
Day two-11 September 2018
This day our driver came to picked us up around 9 am and we started local sight-seeing and first point was Hall of fame which is maintained by Indian army and also show the proud history of indian army. You will learn many things after going there and also you can buy souvenirs from there.
Maintained by the Indian Army, the museum showcases seized arms and amenities of Pakistani Army, pictures and biographies of brave soldiers
Apart from this, one can also witness items related to Ladakhi culture, history, vegetation and wildlife found across the globe.
The second point was sangam point(where sindhu river and zanskar river meets) which is also the highest rafting point in the world but we didn't do this activity there because our driver told us that for rafting nubra valley is much better and cheaper.
This point is called sangam because two rivers met here, one is zanskar and other is sindhu and both have different colour of water, one has brownish and other has blackish water.
After sangam point we covered magnetic hill, the place that defies gravity.It is 30 km from the town of Leh, at an elevation of around 14,000 feet above sea level.
After magnetic hill the last point of the day was gurudwara pathar sahib dedicated to sikh guru, guru nanakji. The history is very intresting and you can see the boulder mention in story.the Gurudwara houses a boulder with imprints of the head, shoulders and backside of Shree Guru Nanak Dev.Around 40 km away from Leh town on Kargil Leh Highway.
Around 4 pm we reached to hotel and took rest and as usual roam around in the evening.
Second day our guest house was not booked so we shifted to another guest house because max Alexander guest house was full. The guest house named TWO FLOWER(700 RS per day) but this guest house has good speed wifi as well as tv and attached bathroom which was not available in MAX ALEXANDER GUEST HOUSE.
To go to two flower guest house just ask anybody about pangong hotel near pangong hotel there is small football court. The gali adjacent to football court goes to Two flower guest house.
Day Three- 12 sep 2018
Now the most intresting day has come and we were prepared to go nubra valley through khardungla point which is world highest motorable road.
But before going we rented two oxygen cylinders as precaution from medical shop in front of sonam nubroo hospital. They charged 600 rs per cylinder out of which 500 rs per cylinder is refundable if you don't use.
Leh is at 11300 feet and khardungla is only 40 km from leh but elevation is 18380 feet so be prepared from breathtaking view of nature from greenery to snow covered mountains as well as prepared for any health issue like headache, vomiting or Lack of oxygen. Keep medicine ready for vomiting because this huge change in elevation can upset your stomach.
We reached khardungla top in the afternoon. There was snow everywhere but we didn't feel bone chilling wind there and clicked many photos.
After spending 30 minutes there we were on the way to nubra valley which elevation is only 9500 feet so this is like roller coaster ride but from now we have to descend and here the problem came for me because i feel nauseous when vehicle descends and i vomited.
Now time came to take anti emetic tablet (ondansetron) which is very useful for such condition. After taking that i didn't feel any problem.
On the way to Nubra valley one can see greenery, sand dunes as well as water rapids in river.its like god painted nubra valley in leisure.
Our first stop was diskit monastery which is having one of the largest maitrey buddha statue.This monastery is also on the height and one can see 360 degree view of surrounding which is very soothing for eyes.
Deskit/ Diskit Gompa, this is the oldest and largest monastery in Nubra valley.Because of the river Shyok flowing at the foot hills and rich green vegetation in the vicinity, Diksit has been named as "The orchard of Ladakh".
Facing the Shyok river, the statue sits tall with a height of 32 meters and was constructed with the help of the natives of the valley.
Now the second point on the way was bhaag milkha bhaag shooting point where ATV ride was available(charge 1000 rs for 2 persons). My friends did this activity and this was fun.
After that we stopped at hunder sand dunes where ATV ride was also available. Also double humped camel ride was available at the opposite side of dunes.
There was also water flowing in the form of small river where people were bathing because of the normal temperature of water otherwise water is too cold in this part.
Now our destination was Turtuk but we had no plan to stay in turtuk so we booked guest house in diskit because we know it was going to be 9 or 10 pm when we will come back.
We booked mentok guest house(900 rs for 3 person) after negotiation. Room was very big but bathroom was not attached. This guest house also has camps if you want to spend money and experience something new.
I would like to say the way to Turtuk is totally different from all we have seen till date. Big mountains and bridges and roads made my cutting mountains where some part of mountain covering roads. On the way to turtuk most of the area is under army because Turtuk is very near to Pakistan border.
Turtuk was under Pakistan's control until the 1971 Indo-Pak war where it came under Indian governance. Thus, correctly referred to as the 'village divided by a border.' villagers speak Balti,It is a mix of Persian and old Tibetan.
Turtuk is largest apricot producing village in the whole of Ladakh region.
We reached turtuk at 6 pm but our bad luck that army closed the entry point at 4 pm which goes to THAANG village, which is the closest village to Pakistan border but nowadays tourist stopped 1 km before THAANG village and only enter if any local person from village take responsibility(of course they will ask good amount for that). Army personnel told us that entry point will open 10 am next day but we had no plan to stay there and we booked vehicle according to our plan so we had no option other than returning but suddenly one soldier said you can go to TAAKSHI VILLAGE and see the mountains in between Pakistan is situated.
A road just before entry point goes to left, lead to the TAAKSHI village which is situated on the hill so we decided do visit this village because we had no option.
At certain point on the hill we parked vehicle and took a walk to village.
We were amazed when we reached to the village road because we have never expected too much greenery on the hill in this region.
White flowers bed are spreading everywhere and we felt like we are taking a walk in heaven. Talked to few locals and they were very happy that they live in this village even after harsh conditions in winter. Life can be so simple we can't realise until we see.
At 7 pm in dark we started our return journey to diskit and reached there around 9.30 pm. Night journey is not Suggested because of dangerous path but sometime its fun so enjoy.
We had our dinner on the way at small hotel and i also tried salted ladakhi tea and for first timer like me it didn't taste good but you should give a try.
After reaching our guest house in diskit we took rest and prepared our self for next day destination which was going to be pangong lake. We faced power cut whole night and no backup. In the morning owner told us that 4-5 days in a week situation remain same mean they got power supply hardly 2 or 3 days in a week.
Day 4- 13 sep to 2018
We had breakfast there which was tea, bread and omelette which was yummy and reasonably priced. There was also apple tree in the garden from which we plucked one apple after getting permission from owner.
Around 8 am we started our journey to much awaited pangong lake but before that we stopped in khalsar( in nubra valley) for river rafting. The charge per person was 1200 rs and minimum 3 person required and luckily we were three.
They provided dress and shoes and took us in their vehicle to Starting point and our guide Mr laxman negi gave us instructions and told us what to do and what not to in case you fell from raft or raft reversed due to rapids.
One thing i would like to mention that rafting looks easy but its not when rapids in water and water coming from glaciers and can penetrate to your bones and can lead to hypothermia.
Total distance covered was 8 km. We faced few rapids in this duration but one rapid was big enough that we had to hide our self within raft otherwise we must fell in water. Other than this everything was ok. We enjoyed talk with our instructor laxman negi. Also i forget to mention that one person(Mr Ramesh) was riding kayak with us in case anyone fell and go far from your raft then this person in kayak is only lifesaver so listen all instructions carefully before start and follow properly throughout.
After rafting we started our journey to finally pangong lake via shyok river route which saves a day journey.On the way as usual breathtaking sceneries welcomes you. We took mint tea and Maggie on the way.
On the way to the pangong there was JAB TAK HAI JAAN MOVIE SHOOTING POINT so we clicked pictures there.
If you are lucky you can see MARMOT on the way which is squirrel like animal and eat grass. Our driver told us that dont feed anything to them otherwise they will die. Marmots are friendly and they come to you easily but be careful while touching because they are animal.
Just before reaching pangong lake the glimpse of lake made us more excited.
We reached around 4 pm at pangong lake and at that time water was looking clear blue in colour and its colour changes with sunlight.
Pangong Lake, situated at a height of almost 4,350m, is the world's highest saltwater lake.Extending to almost 160km, one-third of the Pangong Lake lies in India and the other two-thirds in China.
Pangong Tso", which means "high grassland lake".Pangong Lake is also known to change colours, appearing blue, green and red at different times.
When we closely look to the water we found crystal clear water which we never saw in our life. Water was so clear that you can see everything inside water. The mountains surrounding lake was of different colour from brown to green to white to grey. Wow so much diversity of nature at one place.
Pangong lake is famous after shooting of 3 idiots movie so one can take picture on yellow vespa drive by kareena kapoor in movie and charge is 50 rs per person and there are so many replicas of vespa are there. Also famous seat on which he actors gave pose in movie also there and charge 50 rs for 3 persons.Motorbike used by Shahrukh khan in jab tak hai jaan movie is also here(this movie also shooted here) and charge is 50 rs per person.
There were many camps and wood cabins along the lake on the upper side which one can choose according to budget.
We went to 3 idiots restaurant and negotiated and got cabin in 800 rs for four persons including our driver. The drawback of cabin is that we didn't get hot water because they run on solar power with limited capacity.
In the evening the weather at pangong lake was so cold that we have to wear our woollen hat and gloves. Wind was bone chilling so be prepared for it.
The most awesome part was seeing bed of stars in the night which looked like field of thousand stars and a road of snow among them. This scene is next to impossible in cities due to pollution so enjoyed every moment by staring at stars.
Pangong is at high altitude so lack if oxygen is there and my friend felt headache all the night.Always kept oxygen cylinder handy in case of lack of oxygen that luckily we didn't had to face.
Day 5 - 14 sep 2018
In the morning before saying goodbye to pangong lake we witnessed sunrise and took a walk along with lake shore and washed our face with salty water of lake. As compared to chilled weather, the lake water was not cold. Finally after breakfast we headed to our final destinations Leh.
The way to Leh goes through changla pass which is second highest motorable road in the world so i took anti emetic tablet as precaution to avoid nausea.
The road condition to changla pass he very bad and thin crust of ice can be seen on the way.Changla means "Pass towards the South" or "Pass in the South"
At changla pass there was snowfall in form of very fine powder. Also changla baba mandir is here.If hungry then small restaurant is here.
After few minutes break we headed toward our destination Leh and from pangong to leh one can visit hemis monastery, thickshey monastery, shey palace and famous rancho school from 3 idiots movie.
First we visited hemis monastery and ticket per person is 30 rs.
Hemis Monastery is a Tibetan monastery belonging to the Drukpa Lineage. Counted as one of the iconic monasteries in Ladakh, Hemis is perched on a mountain along the west bank of Indus River.
monastery is said to be have existed before the 11th century.
A copper gilded statue of Lord Buddha is nestled within the monastery. Many other stupas that are said to be made of precious metal like gold and silver can also be seen here.
A large statue of Guru Rimpoche is also quite interesting to witness.It has museum which contains various artifacts related to Buddhism but no one can enter in museum with camera or mobile so we had to deposit our mobile.
Its premises also contain large statue of buddha and some other god.
After hemis our next spot was thicksey monastery and we had to climb to reach main gompa or temple.
located at an altitude of almost 3,600m in the Thiksey village. It's one of the largest and most famous monasteries in Ladakh.One of the main attractions inside the Thiksey Monastery is the Maitreya Buddha. The statue is almost two stories tall.
The other attractions which will interest you immensely are the two temples, Tara Temple and Lamokhang Temple.
Thiksey monastery contains a very large and so beautiful statue of Buddha which is unique. Also contains various murals and wall paintings which are very old so use of camera flash is prohibited because it may damage them.
Now we headed to rancho school which is famous after 3 idiots movie but it is now closed for renovation for 3 months so one can only go to the area where wall replica is built on which was used by Chatur in movie.
And last point was shey palace Also known as Shey Palace or Shey Gompa, the monastery is famous for housing a 3-storeyed huge copper with gilded gold idol of seated Shakyamuni Buddha. The statue is counted as the second largest idol in Ladakh.There was one gompa inside but closed so we headed towards our guest house.
You can cover all these points within 4-5 hours.
Now the intresting part comes, in the start i told you that that we made plan according to 6 persons but three cancelled at last moment so our budget affected and now we had 3 days free and we cant go anywhere because our budget already ended so we decided to stay in guest house for next three dayw because our flights were booked and we had no choice.
So we stayed at max Alexander guest house at 500 rs per day ans they allowed us to use their kitchen to make food.
Our plan was fixed to vaishno devi at Jammu and our flights booked from Leh to Srinagar and Srinagar to jammu on 18 September 2018. In the morning at 5 am we finally left the leh with lots of memories and intresting moments. First we landed in Srinagar and after 3 hour waiting at airport changed our flight to Jammu.
In the afternoon after reaching jammu first we used city bus to reach bus stand from where buses to katra available city bus you can take just outside the airport at the charge of 15 rs per person.
From bus stand we caught the bus to katra but unfortunately bus stopped after few minutes due to mechanical failure so we stepped down and was waiting for other bus but luckily one sardarji came with shared cab and was going to katra so we took shared cab and charge was 70 rs per person.
After reaching katra got hotel at 400 rs per day with attached bath facility, near bus stand and main market chowk.
After taking bath we started our journey to mata temple at 6 pm and slowly slowly finally reached bhawan and did darshan at 12.05 am. After that visited bhairon temple and started our descend and reached our hotel at 5.30 am.
We were so tired that we slept like we have no strength to move and in the afternoon took bus to jammu because our train for hometown Jodhpur was from jammu next day. In Jammu we took room just outside the railway station at dilli darbar hotel and dormitory at 600 rs without attached bath and i must say room was so bad that i recommend keep away from such hotel.
Next day finally we boarded the train and thus our trip ended successfully.
Total expense=20000 Rs per person for 10 days including Flight,Train,food,accommodation and everything we did in whole trip.
flight- Delhi to leh=2000 rs from easemytrip
Leh to srinagar=900 rs from happyeasygo
Srinagar to Jammu=1397 rs from happyeasygo
Driver Name and Number=Ali (9469235719)
Additional notes-
1=Never stress your body in ladakh else your trip may be ruined.
2=take 24 hours rest after reaching there.
3=Always rent oxygen cylinder when go to nubra and pangong or pso moriri.
4=keep medicine handy for headache and vomiting.
5=Drink water time to time to keep body hydrated.
6=Use cold cream and sun screen lotion other your skin will be tanned badly.
Hall of fame ticket charge=100 rs per person
entry charge at hunder=30 rs for vehicle
Hemis monastery=30 rs per person
Thiksey monastery=30 rs per person
DON'T BE GAMA IN THE LAND OF LAMA.
If you think my blog is helpful then please follow me and share link with your friends. Thanks