Ever since I visited Amarnath with my family, Leh- Ladakh trip was on my mind. Luckily, I got the chance to visit my dream destination as my next "escape from the hustle bustle city life". Memories from this trip are still fresh in my mind. Best time to visit this beautiful place is May to September and I visited this beauty in the month of June so that I can witness the very famous "Hemis festival".
How to reach:
1) By Bike: Most tourist prefer bike trip to Ladakh. You can either take Srinagar-Leh route which will pass through Zoji La Pass or Manali-Leh route which will pass through Rohtang Pass.
2) By air: Easiest way to travel to Ladakh is by flight. You can fly from Delhi, Chandigarh, Jammu or Srinagar. Window seat is highly recommended for this route.
3) By Bus: There are government and private buses available from Srinagar and Manali.
I booked an early morning flight from Delhi to Leh. For a night owl like me early morning flights are not at all a good option but surprisingly this time I not only boarded my flight but I also reached airport on time, now you can understand how excited I was for this trip. One can easily see snowcapped mountains while flying. Being a book nerd, I always carry novels with me but I would recommend you not to take books while you are flying to Leh. Those snow-covered mountains surrounded by clouds are worth to watch. The moment I landed in Leh the first thought came to mind was "Oh you beauty! Finally, we met . Once you come out of airport you will find yourself surrounded by cab drivers, as I was in a mood of Ladakhi homestay. My cab driver took me to local guest house (I don't remember the name of that guest house) which was my home for next 6 days. As advised by locals I took rest for the complete day. This acclimatization is really important for your body and for you to enjoy the rest of your trip and on the same evening I planned my itinerary for next 6 days. I booked a personal taxi for my travel. A guy came with a booklet which had charges of all the places and other details in it.
1) Gurudwara Pathar Sahib
Gurudwara Pathar Sahib is located 25 kms from Leh town in Kargil Leh highway. This place is devoted to Guru Nanak Devji, founder of Sikh Religion. Devotees of not only Hindu and Sikh community but Tibetans devotees also bow down in with full devotion in front of Nanak devji. This place is maintained by Indian Army. As per the local folks Guru Nakak Devji was on his journey to Punjab via Srinagar, Nepal, Tibet, babaji decided to stay here for some time. There was a cruel devil who was infamous for eating people after killing them. He decided to kill Nanak devji by throwing a huge rock on Nanak devji who was then meditating. The rock instead of hurting him melted into a molten wax and took the shape of his back.

2) Magnetic Hill
Magnetic hills lies at a distance of around 30 kms from the Leh on Leh- Kargil- Srinagar National Highway-1. The yellow sign board read "The Phenomenon That Defies Gravity". When you put your vehicle into the white box it moves upward in the slope without ignition. There are two theories behind this phenomenon and apart from those theories the local people in nearby villages believes that the very spot existed on road which leads straight to heaven, so if your vehicle is pulling towards the hill then you deserve heaven and if not, then your vehicle remains still in that spot. Well to know the truth behind those theories and belief one should definitely visit this place. Post visit you can read. It will be a fun…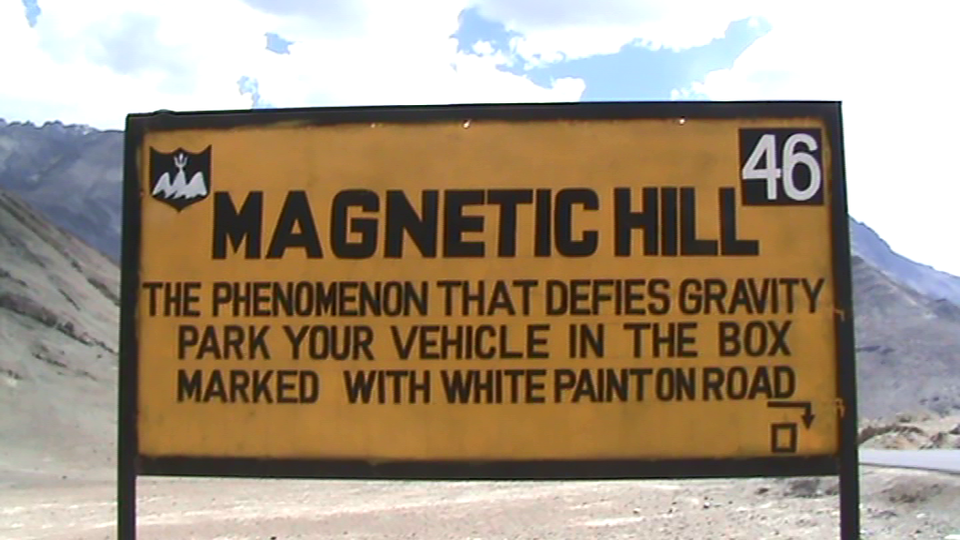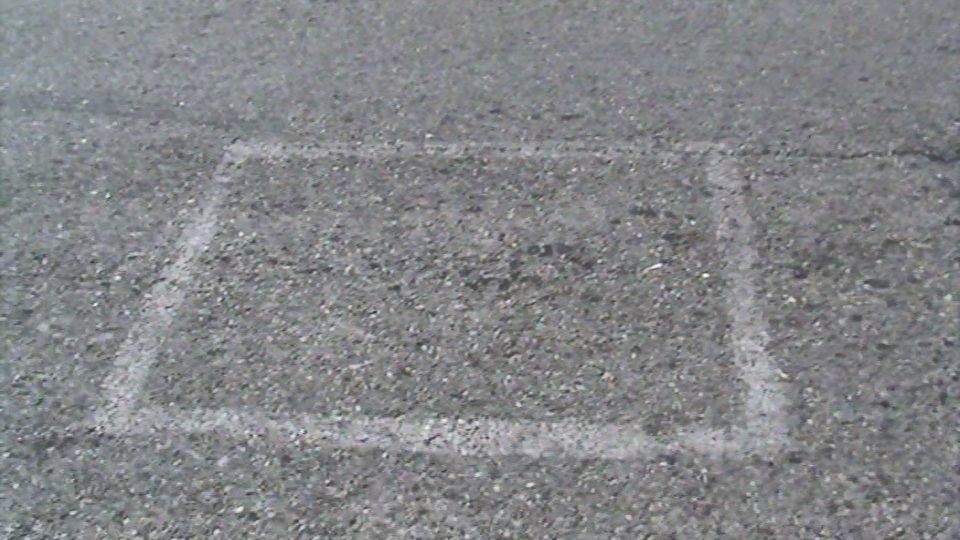 3) Confluence of Indus and Zanskar
In local language it is called Sangam of Indus river and Zanskar river. This is a small stopover en route to Kargil. The different color of waters of both the rivers can easily be seen here. These two swift rivers are perfect for river rafting. River rafting is one of the most adventurous activity in Ladakh and it is assessable only for three months (July, August and September). The adventure –laden route is mostly upto the confluence of Zanskar and Indus. Frozen in winter, Zanskar is famous for Chadar trek and during summer and monsoon the river have a swift flow.
4) Spituk Gompa
Spituk gompa is also known as Pethup gompa which is a home of 100 monks as well as giant statue of Goddess Kali which is shown to the devotees during annual Spituk festival. It was built around 11th century by the elder brother of Lama Changchub. During my visit I saw the lamas busy making Rangoli from natural colors and it takes 17 days to complete that Rangoli.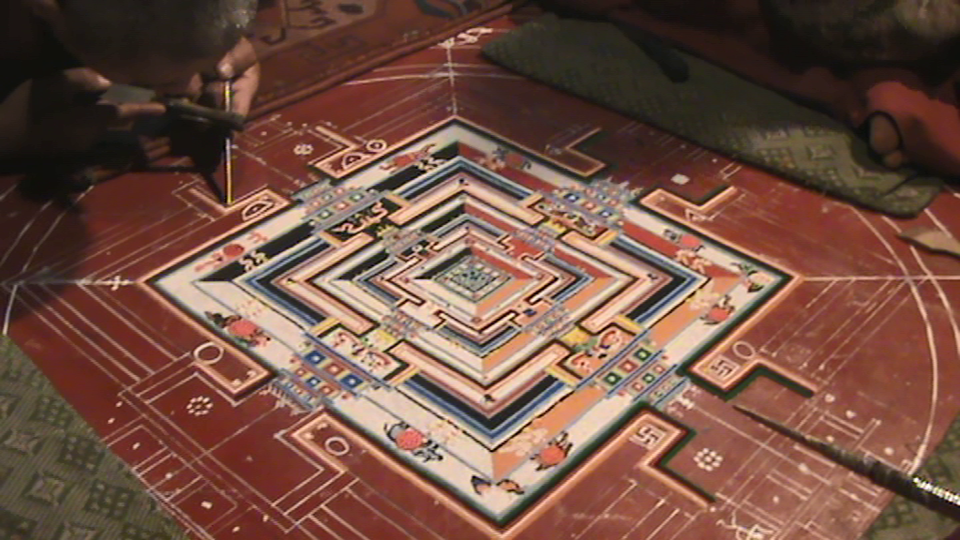 5) Leh Palace
Leh Palace is a former royal palace of the Leh Kingdom. Leh palace is the legacy of Ladakhi's war with Kashmiri ruler in 19th century. A miniature virsion of Potala palace in Lhasa, Tibet and the highest building of the world in its own times. The construction of nine storied palace on Tsemo hill initiated by Tsewang Namgyal, founder of Namgyal Dynasty and completed by Tsewang's Nephew, Senge Namgyal. The palace is now in a run-down condition being maintained and restored by the 'Archaeological Survey of India' (ASI).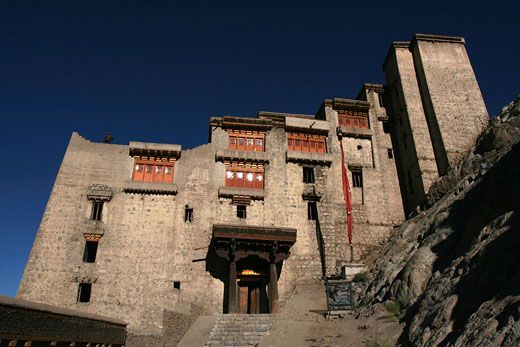 6) Shanti Stupa
The Shanti stupa is a white-domed structure positioned on the hilltop of Chandspa,Leh. It was built by Japanese Buddhist Organization to promote world peace and celebrate the completion of 2500 years of Buddhism. It was inaugurated by His Holiness Dalai Lama in 1985. One can enjoy the beautiful sunrise and sunset that Stupa offers to them with Himalayas in the backdrop. Later in the evening you can visit local market and can enjoy some local cuisines.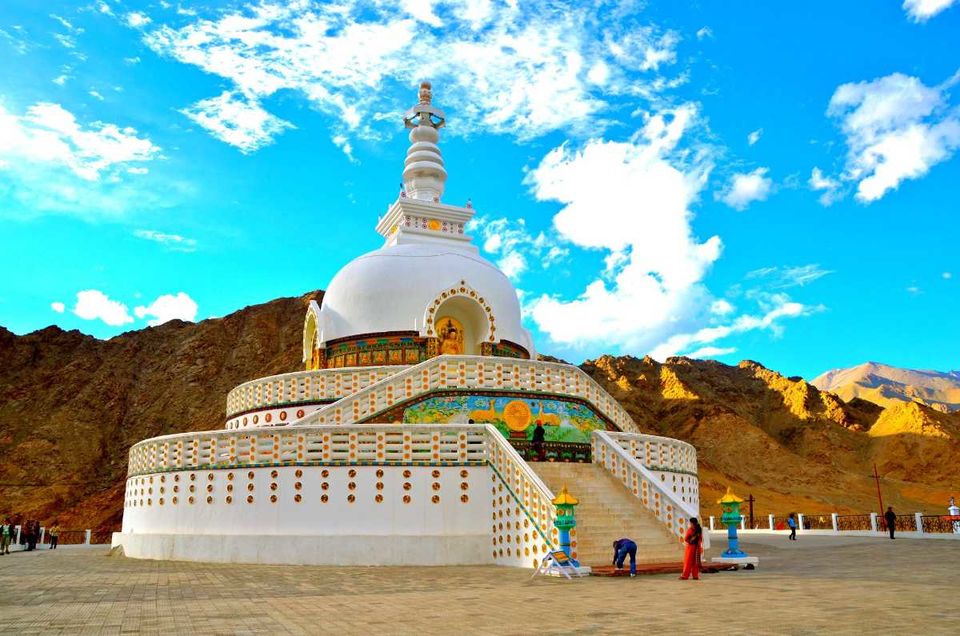 1) Lamayuru and moon landscape
Started early in the morning for Lamayuru. Moonland is a peculiar landscape near lamayuru which has surface very similar to moon. Lamayuru is one of the oldest and largest monasteries in Ladakh. All the lamas gather twice a year for prayer accompanied by three days masked dancing festival (usually in the month of March).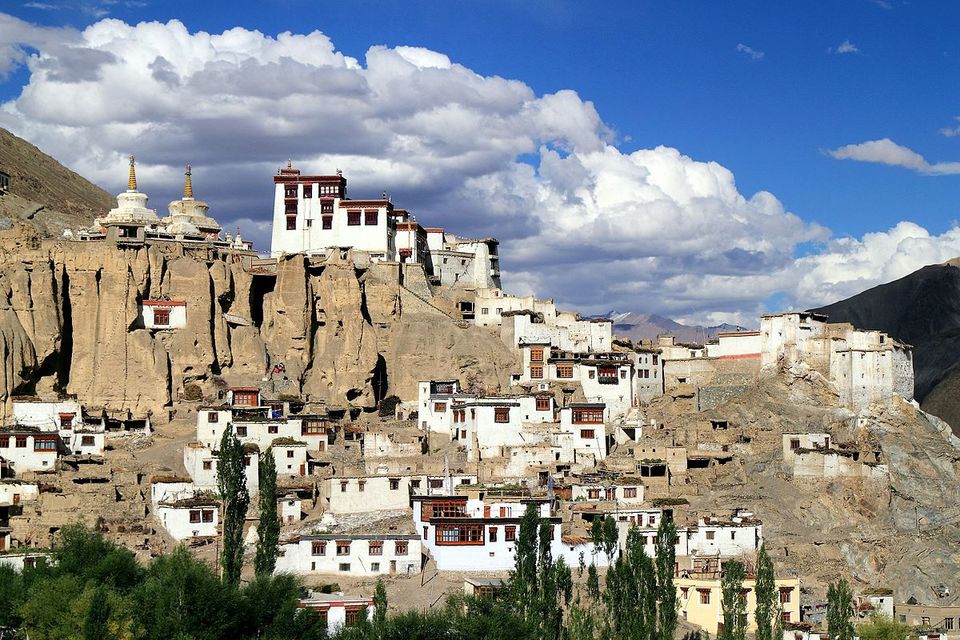 2) Thiksey Monastery
Thiksey Monastery, located at an altitude of almost 3,600m in the Thiksey village. It's one of the largest and most famous monasteries in Ladakh. It has strong resemblance to Potala Palace in Lhasa, Tibet. One of the main attractions inside the Thiksey Monastery is the Maitreya Buddha, almost two stories tall statue. Tara temple and Lamokhang temple are another attraction in Thiksey. Inside this monastery, there is a school for young boys who are undergoing a training to become lamas. A nunnery is also present inside the temple.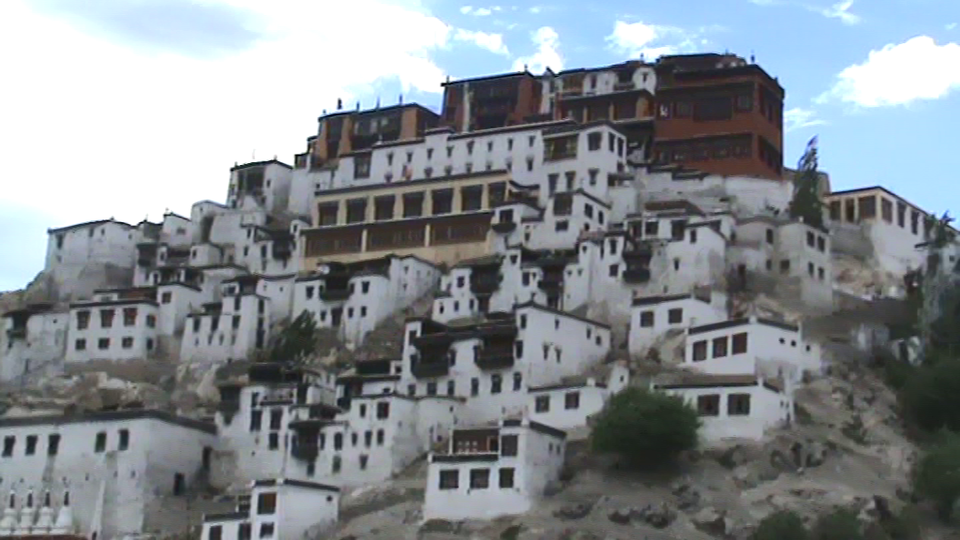 3) Shey Palace
Shey Palace or Shey Gompa was built in year 1655 by Deldan Nangyal, the king of Ladakh. The gompa served as a summer retreat to the kings of Ladakh. It is mostly ruin now, the wall in the backdrop is adorned with images of Buddha with two of his chief disciples which is of 17th century.
4) Stok Palace
Stok palace is located around 15kms away from the Leh city. It was built by King Tsespal Tondup Namgyal in 1825 and from 1834 till date it is a residential place of royal family. Stok palace is a perfect mix of traditional and contemporary architectural style. Out of 77 rooms 4 rooms are converted into museum by royal family which has a fantastic collection of royal clothing, crowns and other important things. It is open for tourist throughout the week from 7 am to 7 pm.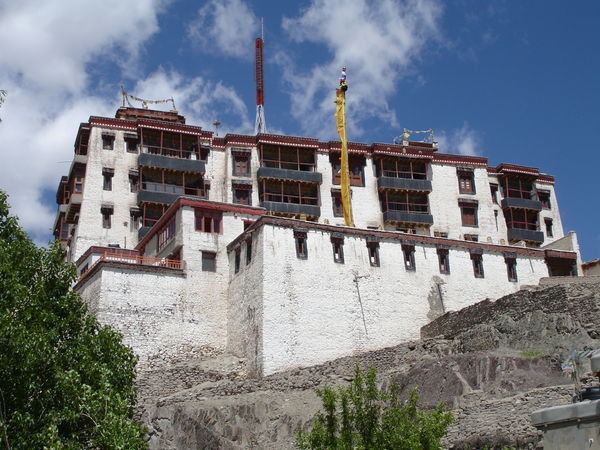 1) Khardung La Pass
Khardung La is situated 35 kms away from Leh and it is the highest motorable road in the world. K-top is situated at an altitude of 18380 feet from sea level. This pass is a gateway to Nubra valley. A visit to Khardung La is one of the must things to do in Ladakh. The picturesque panoramas and pure air lures tourists from every nook and corner of the world. Temperature in Khardung La pass varies rapidly, one must check the correct temperature before visiting. It is advisable to leave the place after short duration as one can suffer from acute mountain sickness. (It happened with me.)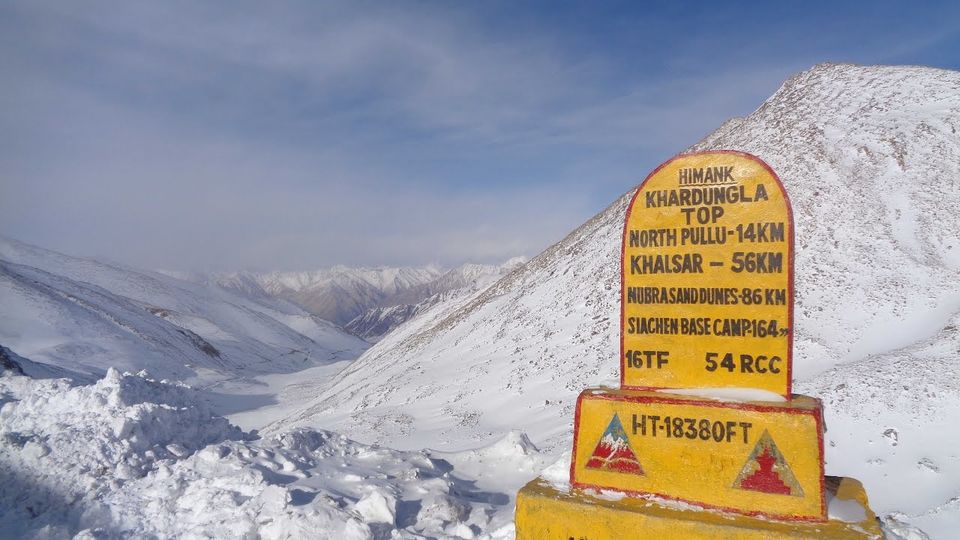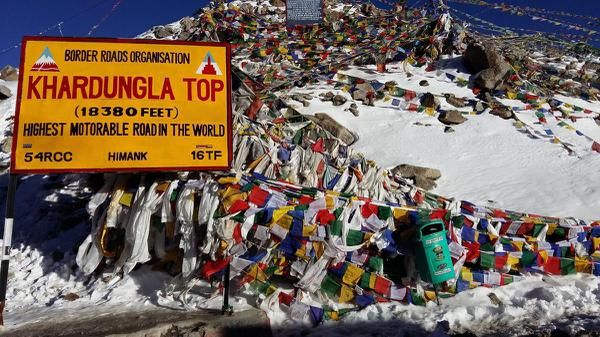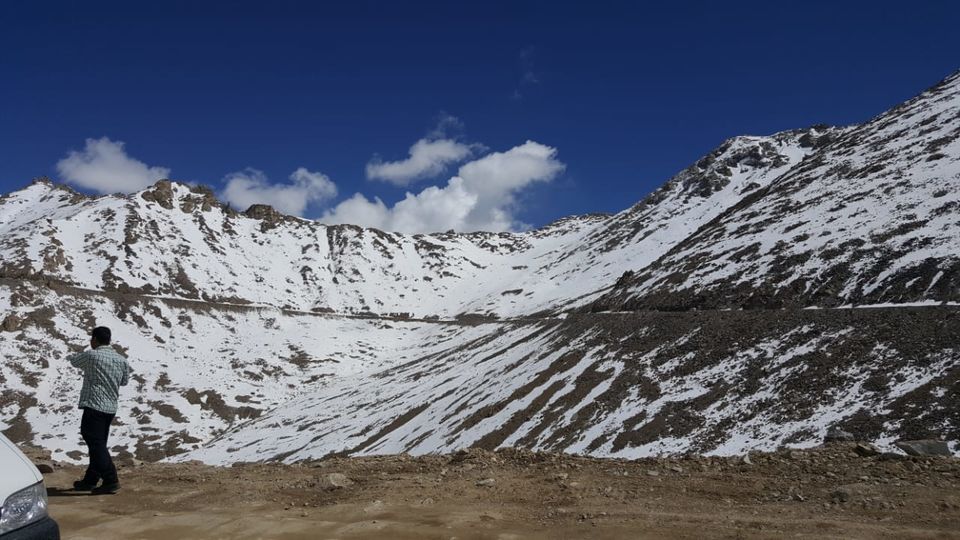 2) Sindhu Darshan
Near to the Thiksey monastery there is a small place called Indus view point or Sindhu Darshan. Keep some time reserve from your touring schedule for this place where you can feel the cool breeze on your face and hear the sound of flowing water which will bring peace to your soul. I was lucky enough to witness the cultural feast in the month of June though it was an inter- college cultural feast but it was a nice way of ending your day before retiring to your room.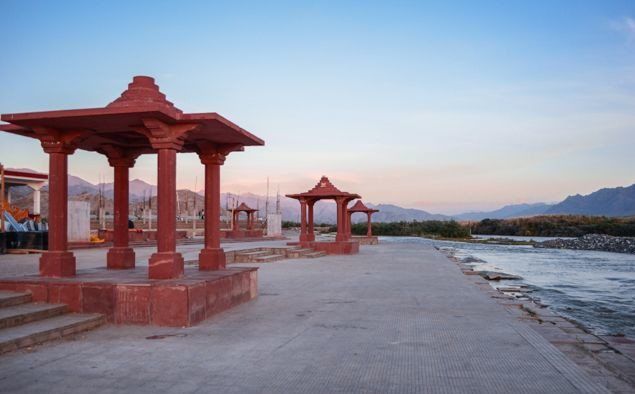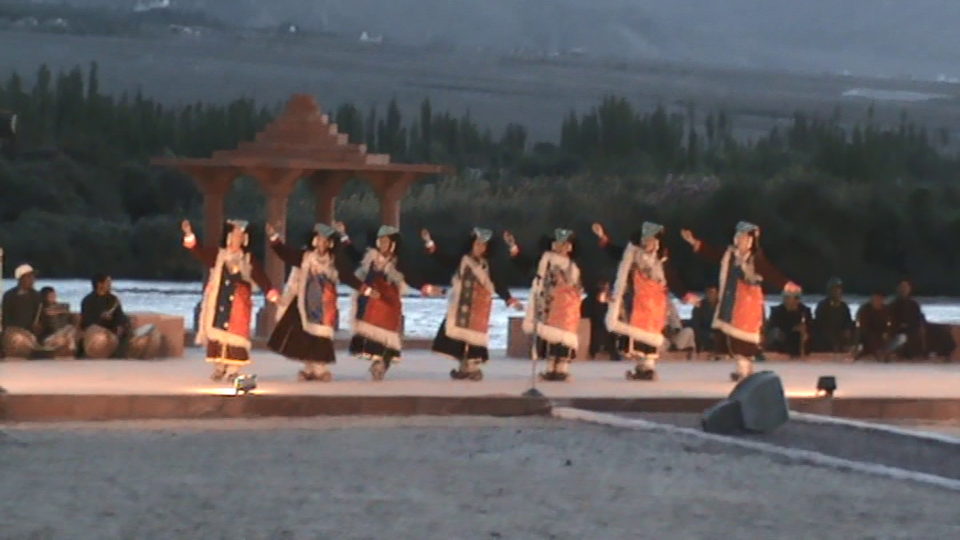 1) Pangong Tso via Chang La Pass
After early morning breakfast, drive for Chang La Pass which is worlds third highest motorable road pass in the world. It is situated at an altitude of 17585 feet above sea level. One can enjoy the breathtaking view all around and can click enough pictures to cherish those memories throughout your life.
Pangong Tso -this natural wonder is the world's highest saltwater lake. Its name is derived from Tibetan word "Pangong Tso" which means "Highest grassland lake". Its total length is 140 kms. One-third of the lake is in India and rest two-third lake is in China. On a bright sunny day one can see the 4-5 different shades of blue along the length of the lake. Beauty of this place can't be described in words; one can only feel it. One can either come back to Leh same day or can overstay in camps.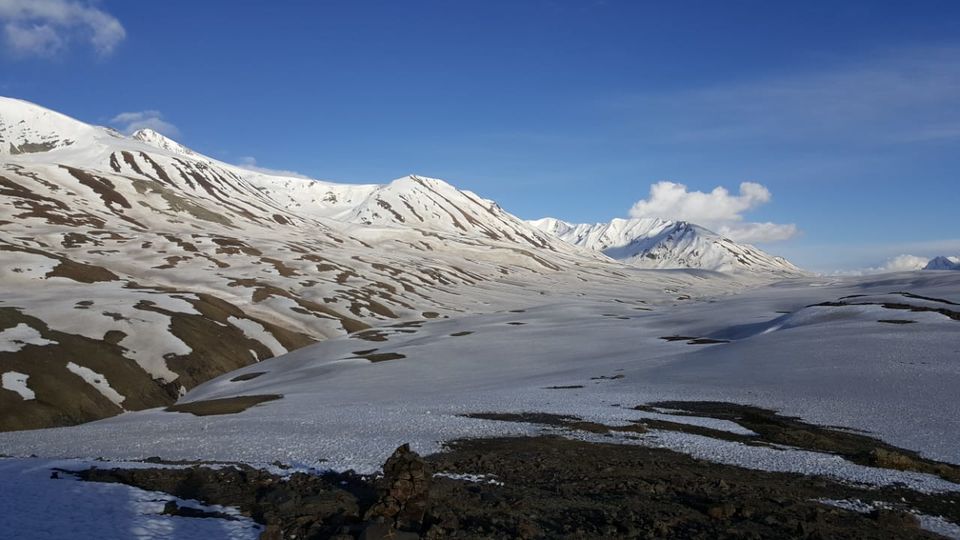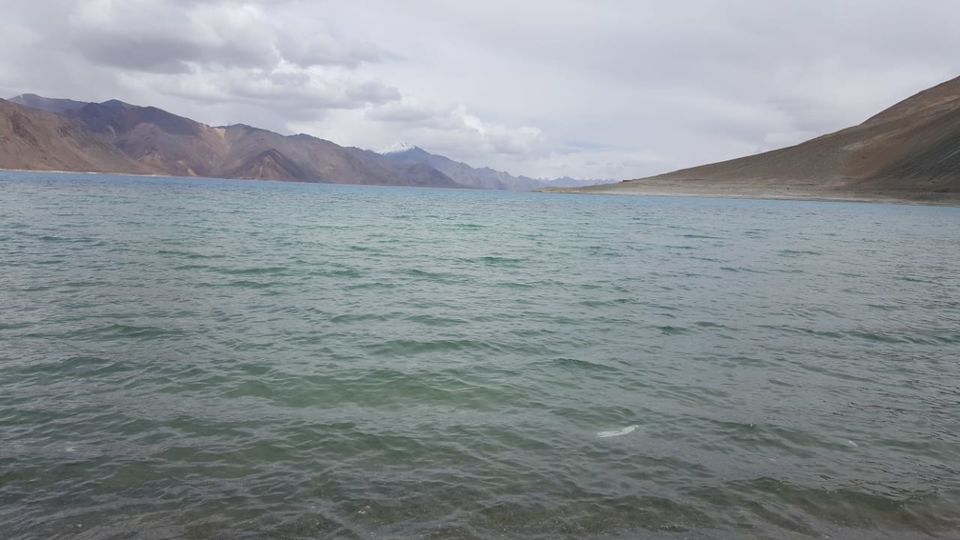 Hemis Monastery is a Tibetan monastery belonging to the Drukpa Lineage which was built in 11th century. A large statue of Guru Rimpoche is quite interesting to witness. This monastery also has a museum inside its premises where one can see various religious and historical paintings, weapons. To honor Guru Padamasambhava an annual Hemis festival is held here in early June. The major attraction is the dance performed by lamas in silk costumes with colorful mask which is the symbol of good heath and spiritual strength. Day ended with some shopping and good food.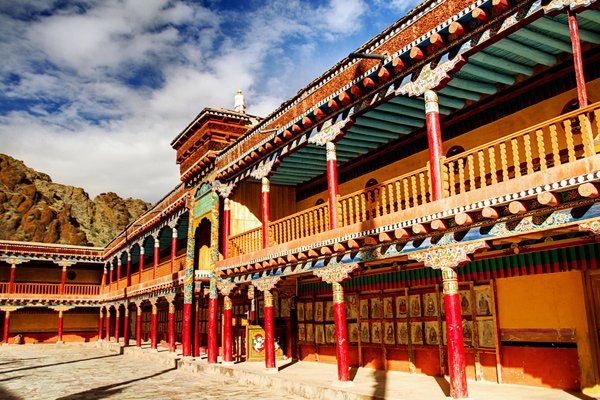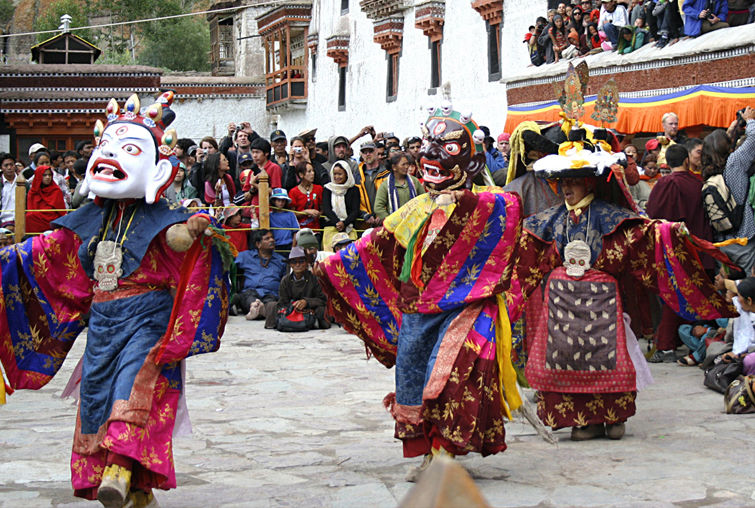 Depart Leh
With heavy heart I bid adieu to this beautiful place. This trip was one of my best trips till date though missed few places like Nubra valley, Hemis National Park but promised myself to visit this place soon to cover the left-out spots and to tick off Chadar trek from my wish list before it really gets closed permanently.