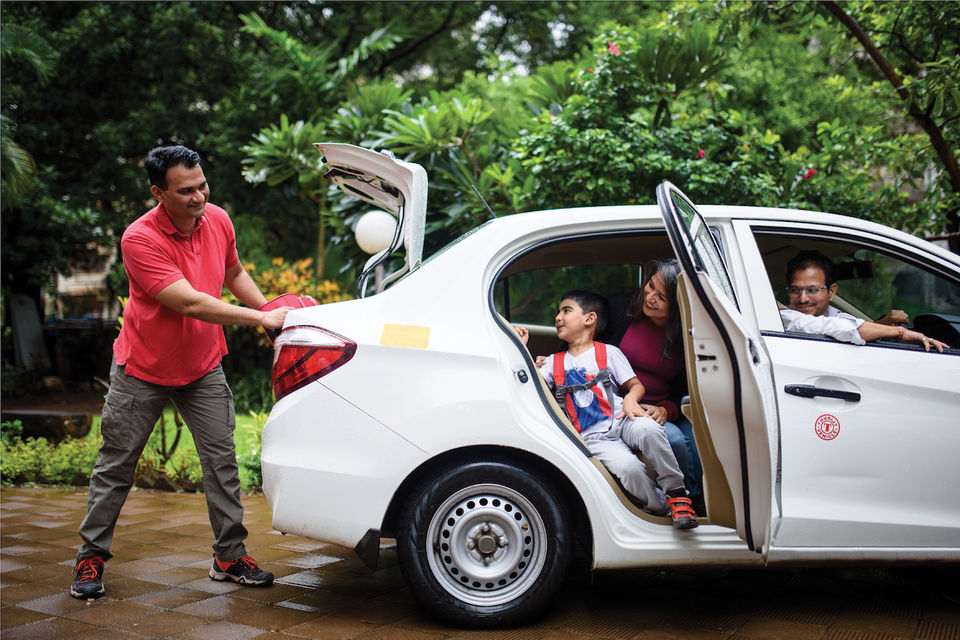 It's that time of the year again when there's cheer in the air and the sound of resolutions rings loud. Here at Tripoto, everyone is busy planning their vacations for the coming year. Turns out there are quite a few long weekends in 2019, which can be put to good use especially if you love road trips.
So to help you make 2019 your "year of travel", I've put together some awesome road trips corresponding with these long weekends so you can make the most of your year without taking many leaves. And you can do this without driving/owning a car! Uber Intercity will help you sit back and enjoy your vacation to the fullest.
1. Start the year off with a bang
December 29: Saturday
December 30: Sunday
December 31: Monday (take a leave)
January 1: New Year's Day (Restricted holiday)
Trip to take: Pune to Mumbai
Suggested route: Pune – Aamby Valley – Lonavala – Panvel – Mumbai
No one does New Year's celebrations better than the Mumbaikars. If you're looking for a few days of good food, parties and all things fun, head to the City of Dreams to have the time of your life. And the beautiful Pune-Mumbai highway is just a cherry on the cake with its beautiful views and smooth drive.
2. Make the most of March
March 2, Saturday: Weekend
March 3, Sunday: Weekend
March 4, Monday: Mahashivratri (Gazetted Holiday)
Trip to take: Delhi to Jaipur
Suggested route: Delhi – Gurgaon – Sidhrawali – Behror – Shahpura – Jaipur
This is the perfect weather to take a trip to the Pink City. You can visit the famous monuments, shop to your heart's content and take in the beautiful sights of Rajasthan's desert landscape. On the way you can stop at the posh dhabas just outside of Gurgaon to fill up on your favourite chai and snacks.
3. Celebrate Holi in style
March 21, Thursday: Holi (Restricted Holiday)
March 22, Friday: Take a leave
March 23, Saturday: Weekend
March 24, Sunday: Weekend
Trip to take: Jaipur to Pushkar
Suggested route: Jaipur – Gadota – Dudu – Kishangarh – Makadwali – Pushkar
You've probably heard of magnanimous holi celebrations in Vrindavan and Varanasi, but did you know that Pushkar's version is also bucket-list worthy? If you haven't already, take a trip to this holy city to celebrate the festival of colours and you will end up having the time of your life.
4. Make time for Easter
April 19, Friday: Good Friday (Gazetted Holiday)
April 20, Saturday: Weekend
April 21, Sunday: Easter, Weekend
Trip to take: Guwahati to Shillong
Suggested route: Guwahati - Nongpoh - Umiam - Shillong
The Easter weekend is a great time to go to Shillong. The locals, who mostly follow Christianity, are prepping for easter celebrations and there's a lot to do. You'll find people in a festive spirit, good food and merriment all around. Who doesn't want to experience that?
5. Take a foodie trip this June
June 01, Saturday: Weekend
June 02, Sunday: Weekend
June 03, Monday: Take Leave
June 04, Tuesday: Take Leave
June 05, Wednesday: Eid (Gazetted Holiday)
Trip to take: Chandigarh to Amritsar
Suggested route: Chandigarh – Rupnagar – Nawanshahar – Jalandhar – Beas – Amritsar
Of all the things Amritsar is known for, food has to be my favourite. From the perfectly cooked tandoori chicken to the ghee-soaked kadha prasad, it is a place that will spoil you for choice. Plan your trip such that you are able to try the maximum number of delicacies besides visiting all the attractions – Golden Temple, Jallianwala Bagh and the Beating Retreat parade.
6. Spend some time away from the fast-paced life
August 10, Saturday: Weekend
August 11, Sunday: Weekend
August 12, Monday: Bakr Id (Gazetted Holiday)
Trip to take: Hyderabad to Warangal
Suggested route: Hyderabad – Secunderabad – Shamirpet – Pregnapur – Kodakandla – Duddeda – Husnabad – Warangal
Known for its ancient temples and beautiful lakes, Warangal makes for a great weekend trip from Hyderabad. The ride is beautiful and if you're looking to escape the mundane city life and explore something offbeat, this is definitely worth trying.
7. Get some freedom from work this Independence Day
August 15, Thursday: Independence Day (Gazetted Holiday)
August 16, Friday: Take a Leave
August 17, Saturday: Weekend
August 18, Sunday: Weekend
Trip to take: Ludhiana to Chandigarh
Suggested route: Ludhiana – Doraha – Sirhind – Rajpura – Ambala – Chandigarh
Sometimes a good weekend amounts to retail therapy, good food and sinful indulgence and Chandigarh is the perfect place to do just that. On top of that, the entire route from Ludhiana to Chandigarh is lined with dhabas serving some of the most delectable north Indian food you'll come across. Eat, drink, and shop to your heart's content and you'll come back home fulfilled.
8. Celebrate Gandhi Jayanti in Bapu's state
September 28, Saturday: Weekend
September 29, Sunday: Weekend
September 30, Monday: Take a leave
October 1, Tuesday: Take a leave
October 2, Wednesday: Gandhi Jayanti (Gazetted Holiday)
Trip to take: Baroda to Ahmedabad
Suggested route: Direct route via National Expressway 1
Ahmedabad is a city steeped in history and culture. You'll find here beautiful monuments, remnants of India's freedom struggle, insights into Gandhi's life and some aspects of modern life thrown in there as well. Take a trip to some of the famous monuments like the Adalaj Stepwell and Jama Masjid and also watch a movie at the drive-in cinema. You'll not run out of things to do in Ahmedabad.
9. Celebrate a grand Dussehra
October 5, Saturday: Weekend
October 6, Sunday: Weekend
October 7, Monday: Ram Navami (Restricted Holiday)
October 8, Tuesday: Dussehra (Gazetted Holiday)
Trip to take: Bangalore to Mysore
Suggested route: Bengaluru – Ramanagara – Channapatna – Srirangapatna – Mysore
Mysore is known for its royal and grand Dussehra celebrations and witnessing them should definitely be up there on your list of travel goals. Luckily you can easily do it this year thanks to the Dussehra long weekend. In addition to that, visit the beautiful temples and natural wonders in Mysore for a complete trip.
10. End the year with cheer
December 21, Saturday: Weekend
December 22, Sunday: Weekend
December 23, Monday: Take a Leave
December 24, Tuesday: Christmas Eve (Restricted Holiday)
December 25, Wednesday (Gazetted Holiday)
Trip to Take: Chennai to Pondicherry
Suggested Route: Chennai – Mahabalipuram – Edaikazhinadu – Pondicherry
What's Christmas cheer without a few solid nights of partying, good food, and great company? Instead of staying indoors this Christmas, plan a getaway to Pondicherry, where you will get an insight into French-style celebrations. Take your friends along because although you don't need an occasion to go all out on great food and drinks, a festival spirit is even better.
Whatever is your destination of choice, just enter it in the app, and hit request. Your Uber Intercity will arrive in minutes. Click here to book your ride now!

In association with Uber Intercity