The list of long weekends in 2018 will wipe away your list of excuses to not travel! Make 2018 your 'Year of Travel' with as many as 16 long weekends waiting on you. 
To help you plan vacations in advance, we have suggested the best destinations to visit in each long weekend of 2018. From attending the cultural medley of Rann Utsav in January and partying in Goa in the first week of February to spending summers in the chilly embrace of the Himalayas; 2018 is the year of travel!

January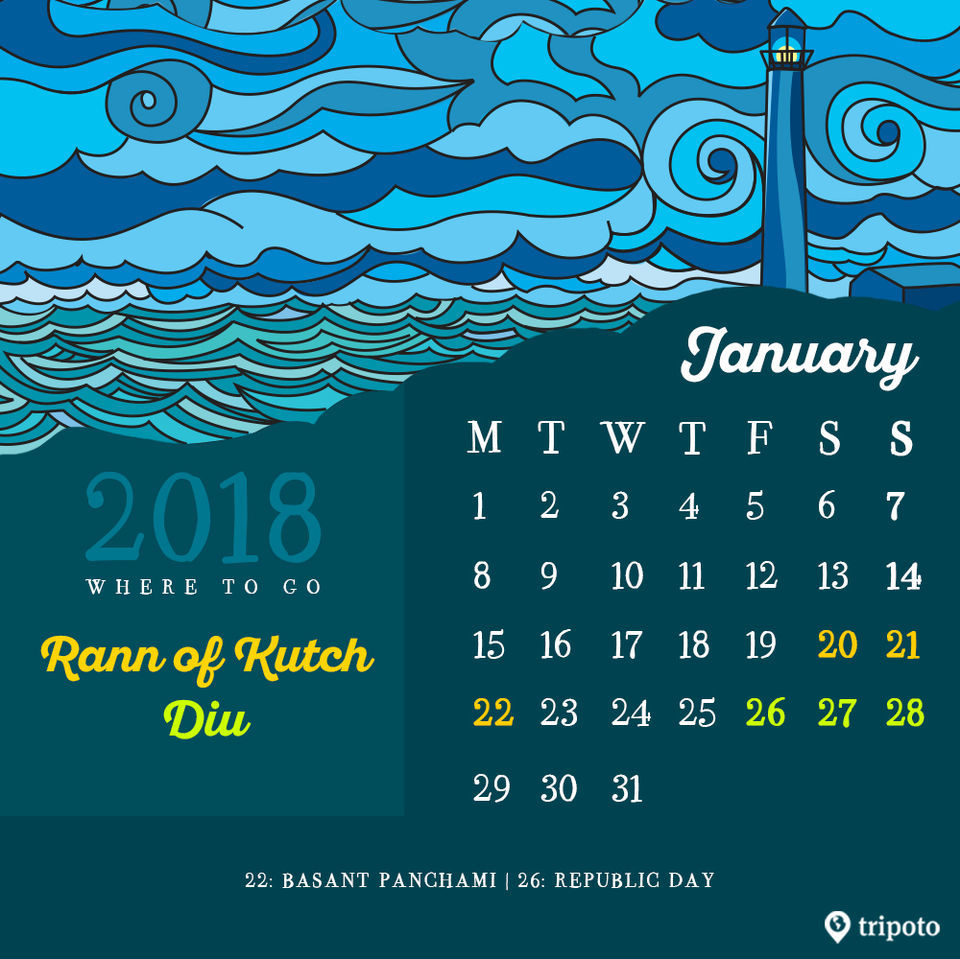 1) January 20, Saturday: Weekend
January 21, Sunday: Weekend
January 22, Monday: Basant Panchami (Restricted Holiday)
Where to go: Rann of Kutch (Rann Utsav) is a four-month long celebration of Kutch's culture, music and vibrancy. Starting in November, and ending in February, the Rann Utsav gives travellers plenty of time to make the most of the gorgeous salt panes. The airport nearest to the Rann of Kutch is Bhuj Airport. Read: Rann Utsav: What Not To Miss When on The White Desert Rann at Kutch and if you plan on doing a road trip then check out A Week Long Gujarat Itinerary For The Season If Kutch Is On Your Bucket List.
2) January 26, Friday: Republic Day (Compulsory Holiday)
January 27, Saturday: Weekend
January 28, Sunday: Weekend
Where to go: Diu is a pristine beach destination of India which lies hidden in plain sight. Since the best time to visit Diu is from October to April, the Republic Day weekend is the perfect excuse to plan a beach getaway here. The town is situated on a small island off the southern coast of Gujarat and is marked by Portuguese architecture and quaintness, making it the ideal hideaway for artists and writers. Read more about Diu here: 10 Unexpectedly Awesome Things To Do In The Underrated Coasted Heaven Called Diu.
February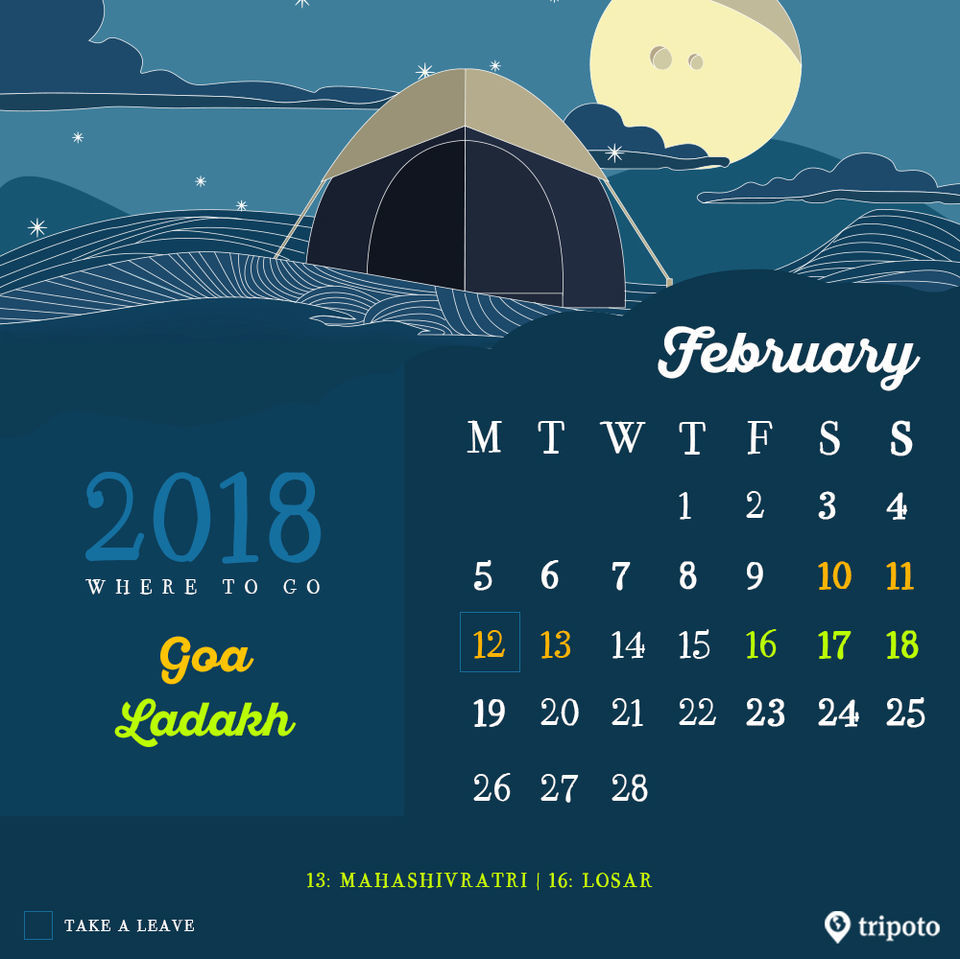 3) February 10, Saturday: Weekend
February 11, Sunday: Weekend
February 12, Monday: Take a leave
February 13, Tuesday: Mahashivratri (Restricted Holiday)
Where to go: Goa, the party capital of India, is crowded throughout the winter season as tourists from around the world flock to its warm beaches. But there is more to Goa than crowded beaches, night-long parties and Love Passion Karma. Make the most of this long weekends of 2018 and explore the offbeat side of Goa through these 13 places: Hidden Places in Goa that Tourists Don't Even Know Exist.

4) February 16, Friday: Losar (Sikkim, Ladakh and Dharamshala only)
February 17, Saturday: Weekend
February 18, Sunday: Weekend
Where to go: Buddhists in Ladakh celebrate the Tibetan New Year or Losar with much colour and fervour. Monasteries which follow the Tibetan school of Buddhism are decked with traditional celebratory ornaments and props, and people from Tibetan settlements come together to mark the beginning of a new year. There will still be snow in Ladakh during Losar, so check the weather before booking flight tickets. Also read, Ladakhi Losar.
March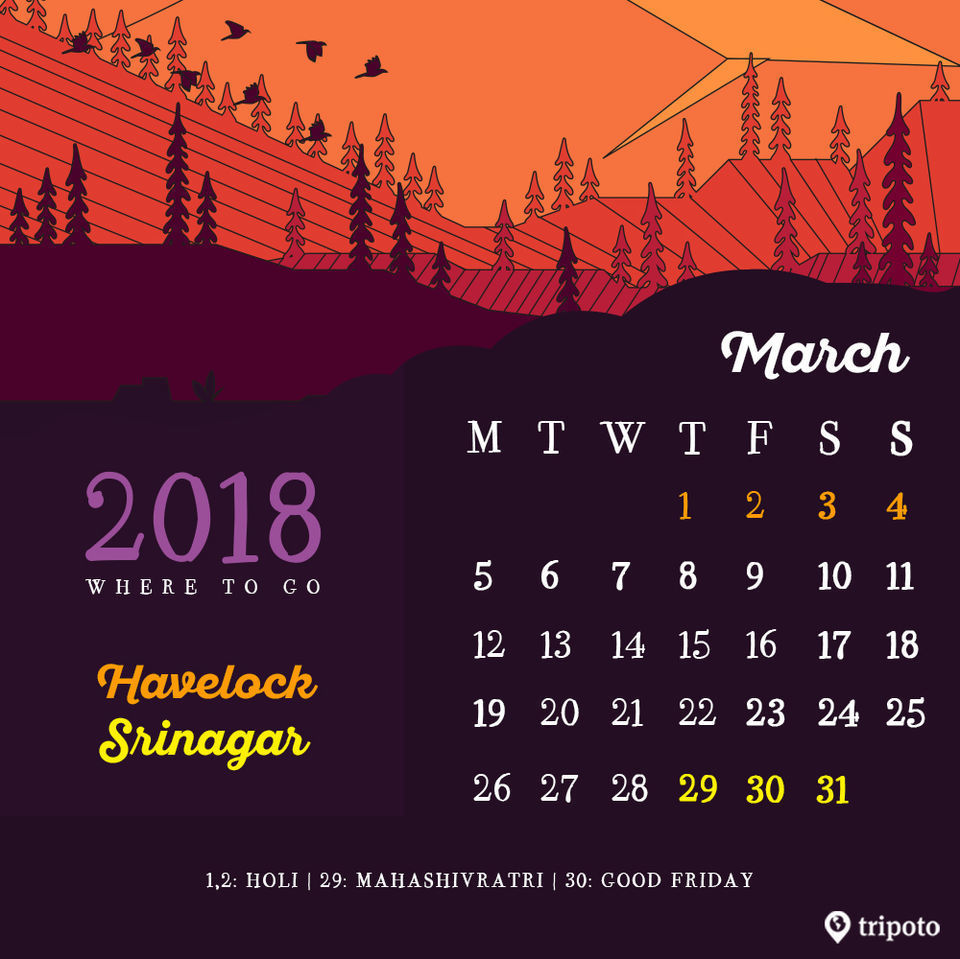 5) March 1, Thursday: Holika Dahan (Restricted Holiday)
March 2, Friday: Holi (Gazetted Holiday)
March 3, Saturday: Weekend
March 4, Sunday: Weekend
Where to go: Visit Havelock Island, one of the most popular parts of the Andamans and a backpacker's paradise. The stunning underwater life here makes it a favourite diving destination with tourists in all of south Asia. To know more about planning a trip to Havelock, read Get Havelocked.
6) March 29, Thursday: Mahavir Jayanti (Gazetted Holiday)
March 30, Friday: Good Friday (Compulsory Holiday)
March 31, Saturday: Weekend
April 1, Sunday: Weekend
Where to go: Visit Srinagar to marvel at the geological and cultural wonder of Dal Lake. With floating gardens that feed the population, to a circumference decorated with historical buildings such as Hari Parbat, Shankaracharya Mandir, Hazratbal Dargah and Chashme Shahi, the Dal Lake stands as the last surviving symbol of secularism in Kashmir. The lake also serves as a flood lung of the life-giving Jhelum river that flows through the entire Kashmir valley. During severe winter, this lake freezes, and delivers its ice surface as a field for sports such as ice hockey. Read how the locals of Srinagar are like at People of Kashmir Showed Me That Srinagar Is More Than Just Dal Lake and Shikaras.
April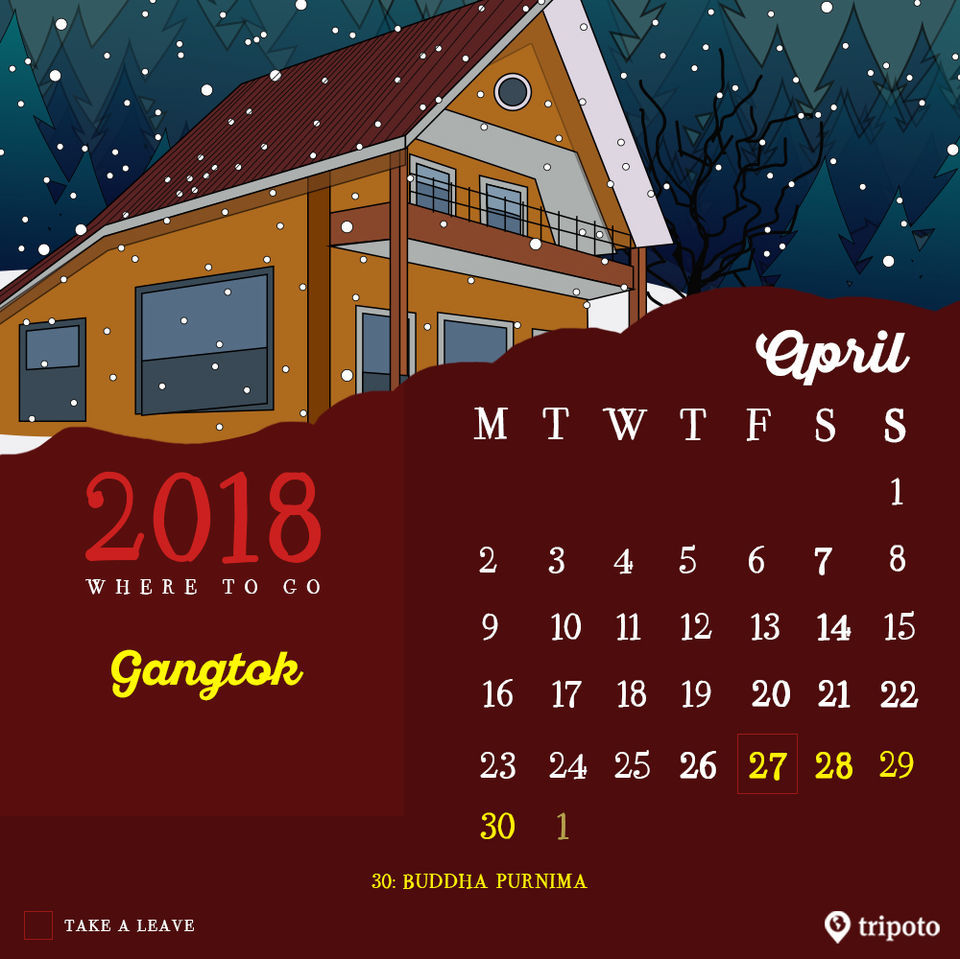 7) April 27, Friday: Take leave
April 28, Saturday: Weekend
April 29, Sunday: Weekend
April 30, Monday: Buddha Purnima (Compulsory Holiday)
May 1, Tuesday: Maharashtra Day (Maharashtra only)
Where to go: Make use of this long weekend of 2018 by climbing to Khuppar Top in Pabbar Valley of Himachal. Take an overnight bus to Shimla, from there take a local bus to Khara Pathar or Giri Ganga. The trek starts from Giri Ganga and can take 4-5 hours depending on your speed. The trail to Kuppar Bugyal starts from Giri Ganga. To reach Giri Ganga you can either trek from Kharapthar or drive directly from Shimla. Follow the road until you reach a thick forest trail at Giri Ganga then to make your way to the top where the Kuppar Bugyal meadow is. Read more here.
May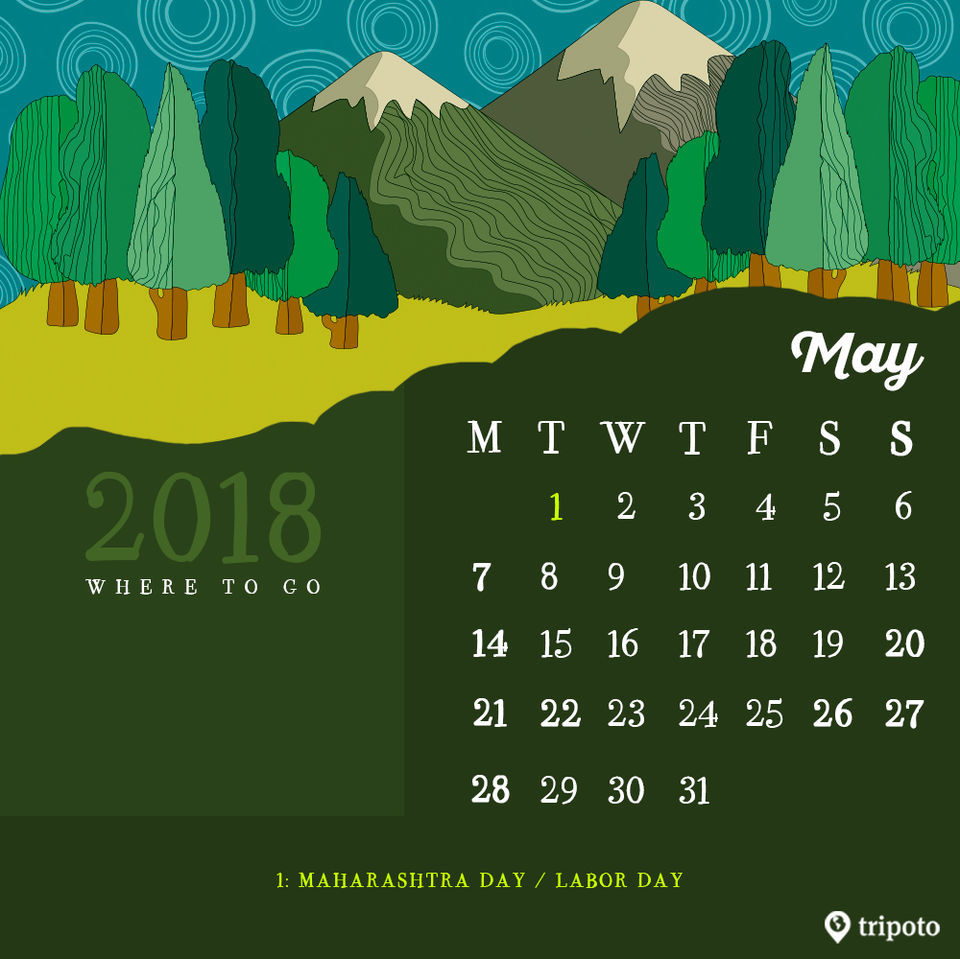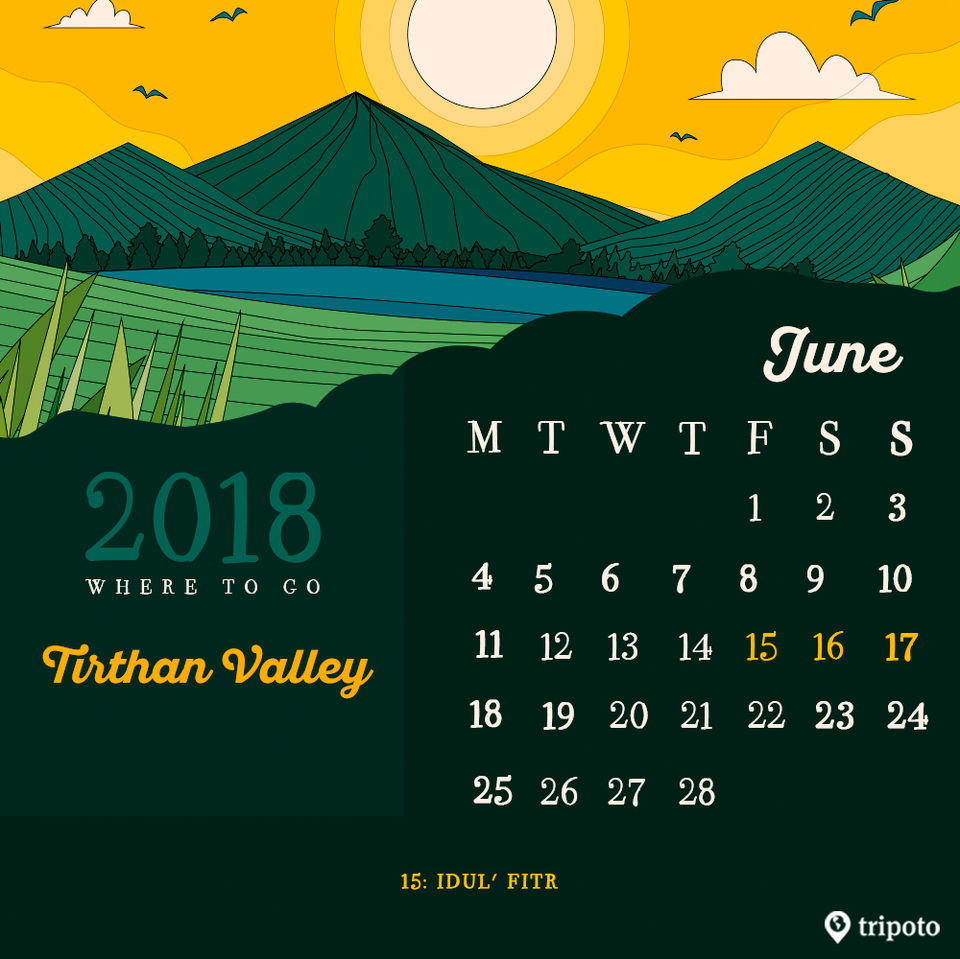 8 June 15, Friday: Idul' Fitr (Compulsory Holiday)
June 16, Saturday: Weekend
June 17, Sunday: Weekend
Where to go: Tirthan Valley is situated near Aut, a gateway village to the Great Himalayan National Park. To reach Tirthan from Delhi, you need to take a bus going to Manali and get down at Aut. From Aut, regular buses are available between, Gushaini, Banjar and Jibhi. Banjar is the biggest bus stand of Tirthan region and from here you can get the regular buses for Gushaini, Jalori and Jibhi. Once there, you can either stay at an apple orchard, go hiking or embark on multi-day trek in the Great Himalayan National Park or go fishing for trout in the shallow but pristine Tirthan River. To read more about Tirthan and the villages within it, check out Experience the Magic of Himalayas at Tirthan Valley.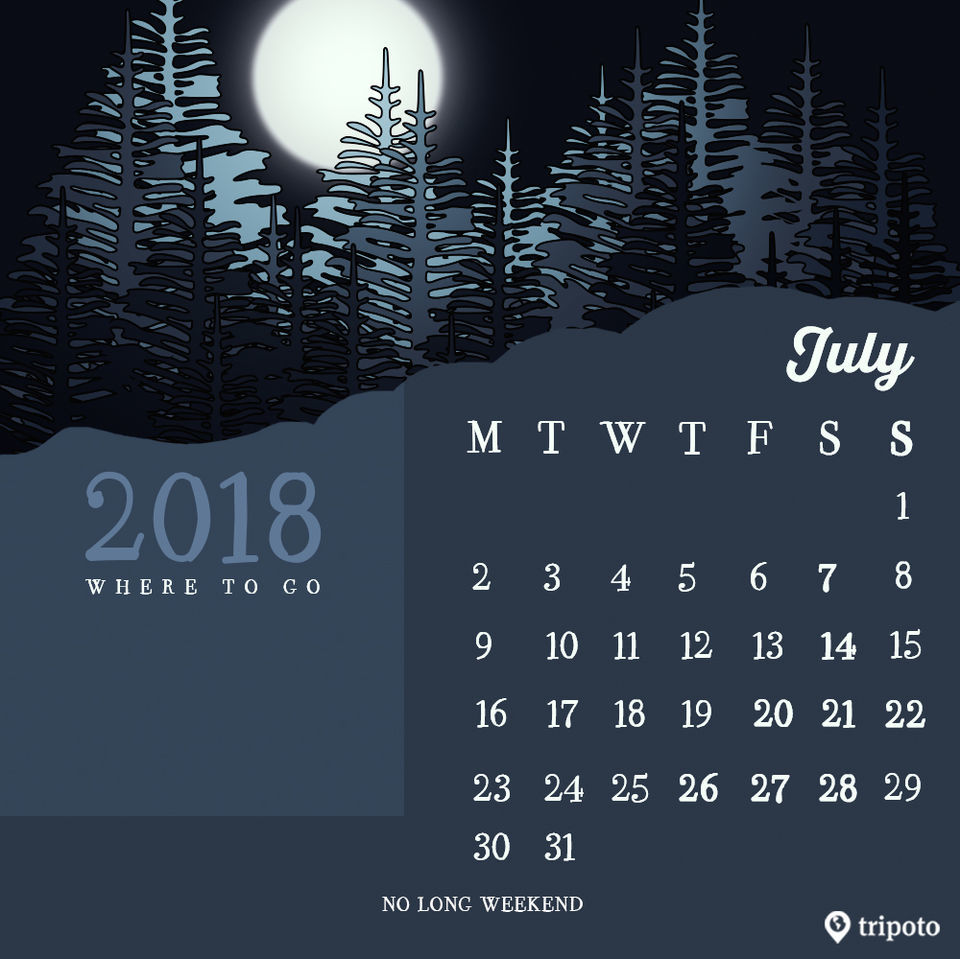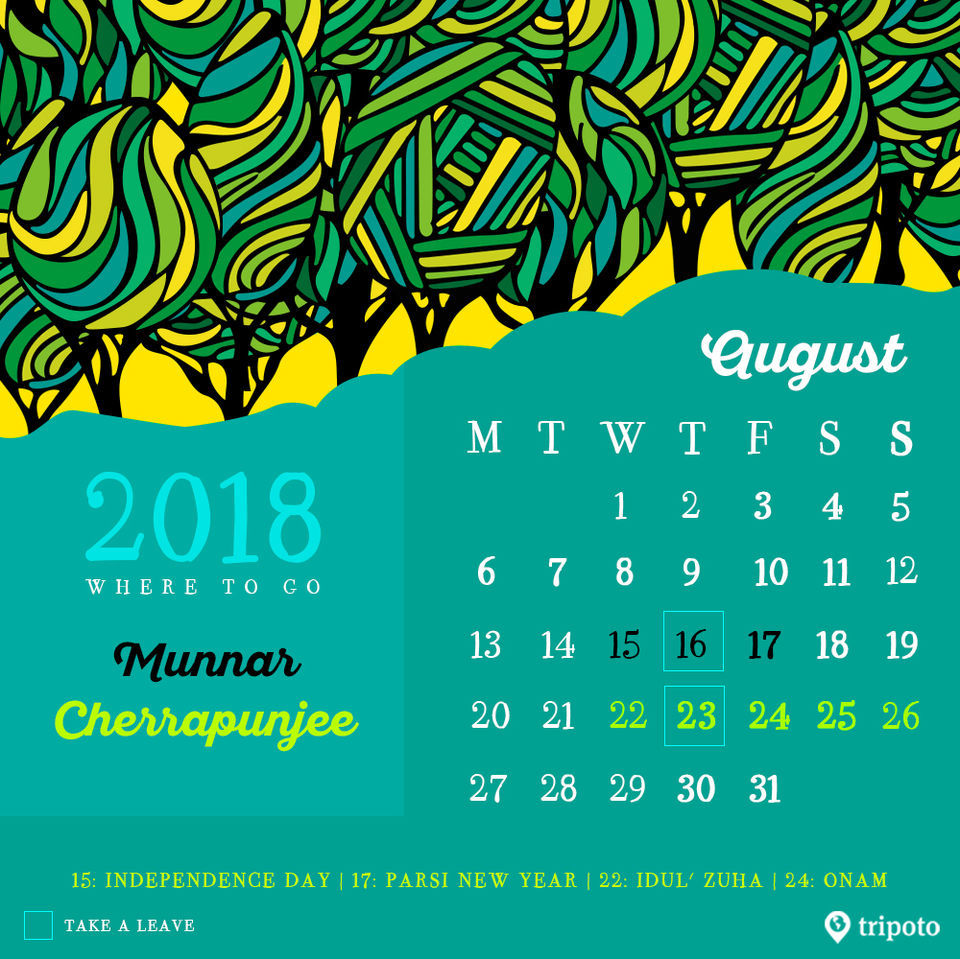 9) August 15, Wednesday: Independence Day (Compulsory Holiday)
August 16, Thursday: Take leave
August 17, Friday: Parsi New Year (Gujarat and Mumbai only)
Where to go: The Anamudi Shola National Park, located just 10km from the picturesque town of Munnar, is a treasure trove of experiences and adventures for nature lovers. While you are there, visit the banks of the Pambar River flows that through the national park and the thunderous Thoovanan Waterfall is a great place to see the river in full force. Similar waterfalls can also be seen near the Chinnar River after a trek from the Karimutti Forest Station. A trek through the forest offers an opportunity of spotting wild animals and rare flora. Read more about national parks in Kerala at National Parks in Kerala: Everything You Need To Know About God's Own Wilderness.
10) August 22, Wednesday: Idul' Zuha (Compulsory Holiday)
August 23, Thursday: Take the day off.
August 24, Friday: First day of Onam (Kerala only)
August 25, Saturday: Weekend
August 26, Sunday: Weekend/ Raksha Bandhan
Where to go: Shillong, known as the 'Scotland of the East', is replete with remnants of its British legacy, that can be seen in its architecture and the cuisine found on most menus. The beautiful Umiam, is a manmade lake and locally known as Barapani, it's one of Shillong's most popular places to visit. The Wards Lake is another artificial creation and tourists flock to this destination mainly for the boat rides. The multitude of waterfalls crowding the city - Sweet, Bishop and Beadon, and Elephant falls play a significant role in Shillong's tourism. To witness a magnificent view of the entire city, the Shillong Peak at 1695 msl fanning out over the town is your best bet. While touring Shillong, don't forget to incorporate the beautiful Golf Course, that is perched at an elevation of 5200ft. Click here to see the complete guide to Shillong.
September
11) September 1, Saturday: Weekend
September 2, Sunday: Weekend
September 3, Monday: Janamashtami (Restricted Holiday)
Where to go: At a height of 5,400 feet, Kalsubai is the highest peak in the Sahyadri Ranges to trek near Mumbai. It is located in the Ahmednagar and Nashik District Border in the Bhandardara Region. The peak is named after the Kalsubai Temple which attracts several hikers and pilgrims to this quaint spot throughout the year. The route is fairly easy and ladders are installed on the trail for better access. The peak is under 4 hours away from Mumbai and the trek can be wrapped up in 3-4 hours, making it the perfect destination for this long weekend in 2018. Read 'Dream Trek To Kalsubai Peak' for more details.
12) September 13, Thursday: Ganesh Chaturthi (Gazetted Holiday)
September 14, Friday: Take the day off.
September 15, Saturday: Weekend
September 16, Sunday: Weekend
Where to go: Situated at the edge of Budil Valley, Bharmour is just 60km from Chamba, Himachal Pradesh, and can be reached after a two-hour long road trip through the perilous mountain roads of Ravi Valley. Other than the ancient temples which date back to 626 AD, Bharmour also serves as a gateway to thrilling treks in the Dhauladhar and Shivalik Ranges. Some popular trails that start from Bharmour are to Manimahesh Lake, Bara Bhangal, Keylong via Kalicho Pass and Thamsar Pass. If you are a passionate explorer but not an avid trekker, then you must visit the villages around Bharmour which are home to the semi-nomadic Gaddi community. Read the complete to reaching and exploring Bharmour, 'Bharmour: The Ancient Hamlet Where Himachalis Go For Vacation'.
October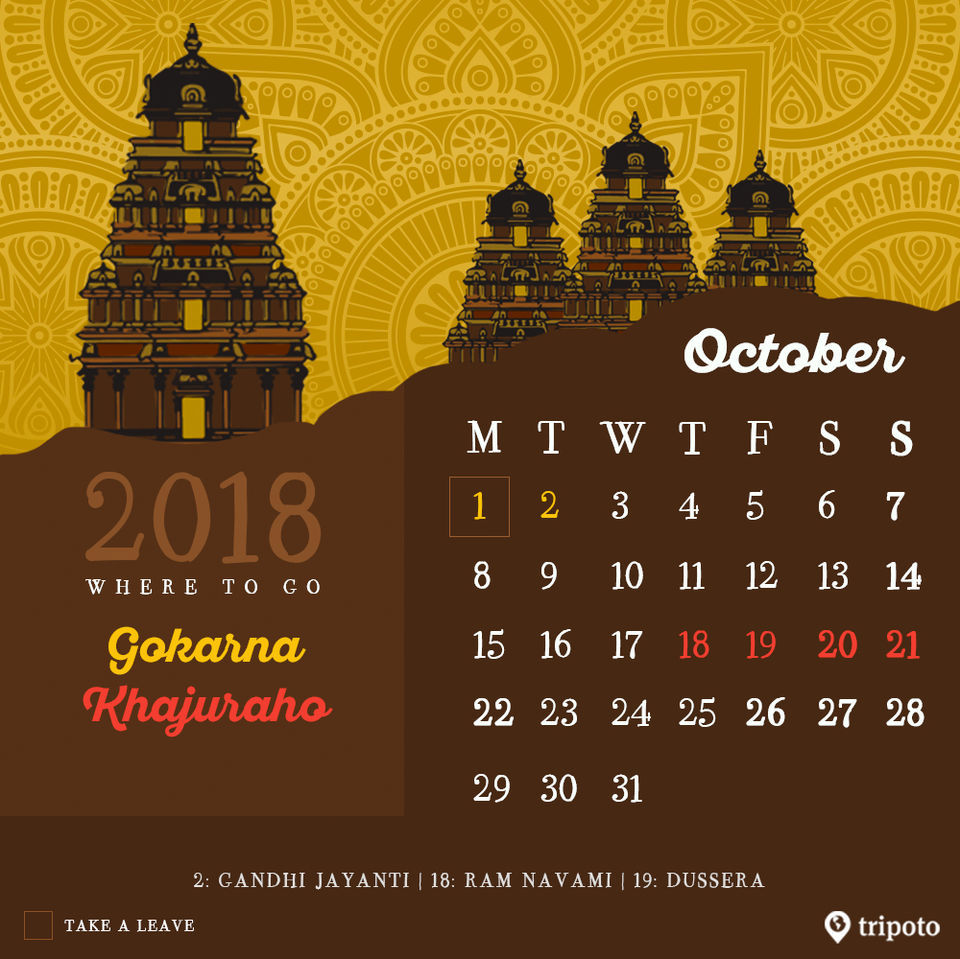 13) September 29, Saturday: Weekend
September 30, Sunday: Weekend
October 1, Monday: Take the day off.
October 2, Tuesday: Gandhi Jayanti (Compulsory Holiday)
Where to go: "Gokarna is a tiny temple town in Karnataka and is, thankfully, still away from the effects of absolute capitalism. Originally getting recognition because of the Mahabaleshwara Temple, which is widely believed to house the "original image to Lord Shiva's Lingam", this sleepy town has recently come into the limelight for its unadulterated beaches (the two primary ones being Kudle and Om) and everything else that Goa once stood for." Read more at 'The Definitive Gokarna Weekend Itinerary That All Of You Were Waiting For' by Prateek Dham.
14) October 18, Thursday: Ram Navami (Gazetted Holiday)
October 19, Friday: Dussera (Compulsory Holiday)
October 20, Saturday: Weekend
October 21, Sunday: Weekend
Where to go: The heritage trail of Madhya Pradesh starts from the alluring 10th century temples of Khajuraho, goes through Orchha and ends at Jhansi. Each destination on the trail provides unique experience of the history of central India; from the warrior kindgom of Jhansi where Rani Laxmibai hailed from to the temple complexe dedicated to Shiva and Matanga, the Hindu god of 'love'. Read more about covering this trail here, 'Twining in Jhansi, Orchcha & Khajuraho'.
November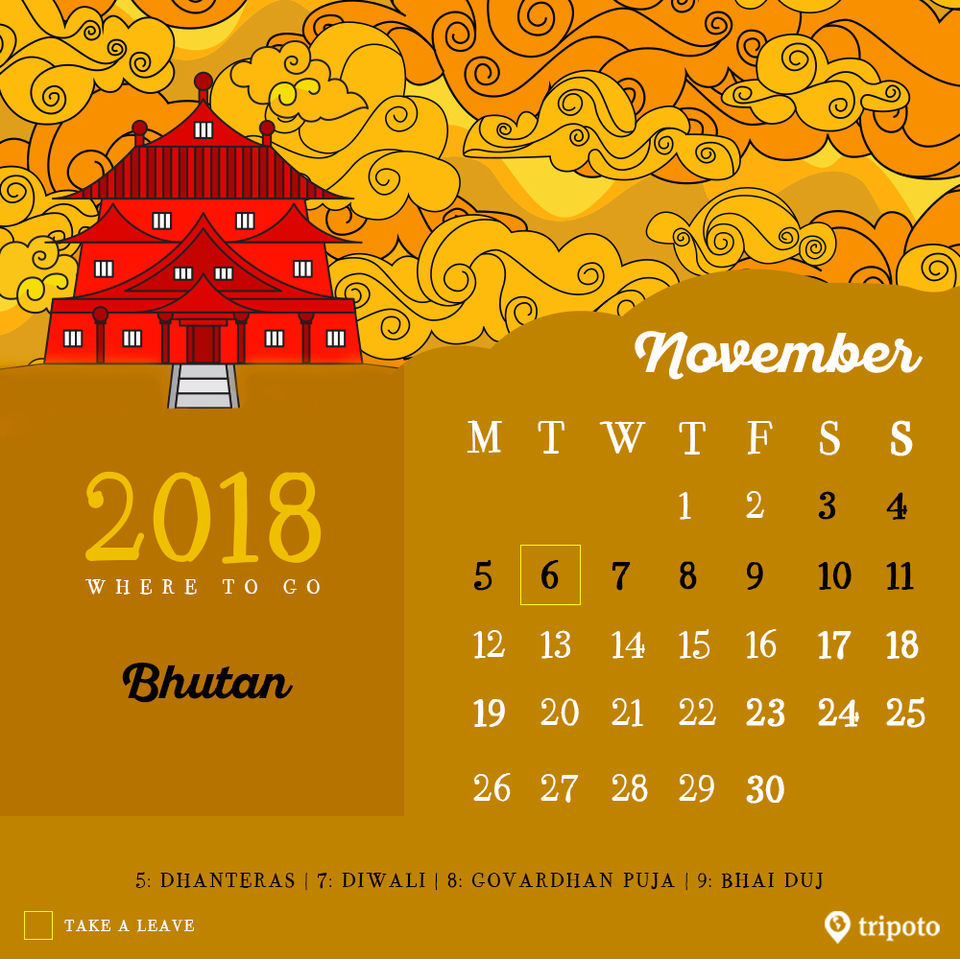 15) November 3, Saturday: Weekend
November 4, Sunday: Weekend
November 5, Monday: Dhanteras/ Take the day off.
November 6, Tuesday: Take the day off.
November 7, Wednesday: Diwali (Compulsory Holiday)
November 8, Thursday: Gowardhan Puja/ Take the day off.
November 9, Friday: Bhai Duj (Restricted Holiday)
November 10, Saturday: Weekend
November 11, Sunday: Weekend
Where to go: Bordering Nepal, Bangladesh and Myanmar (Burma), the magical country of Bhutan (aka Kingdom of Druk Yul) is dotted with fluttering prayer flags, kaleidoscopic monasteries, candyfloss clouds and apple orchards. Even though Bhutan offers an array of things to do for travellers, sitting for hours on end, deluged by monastic hymns across the motley of beautiful monasteries is the way to go to really soak in the serenity that laces the air of this Himalayan kingdom. Make the most of the longest weekend of 2018 by visiting this land of happiness. Read 'Visit a Stunning Country under Rs. 10,000 : Bhutan Solo Travel Hack!' to plan the perfect budget trip.
December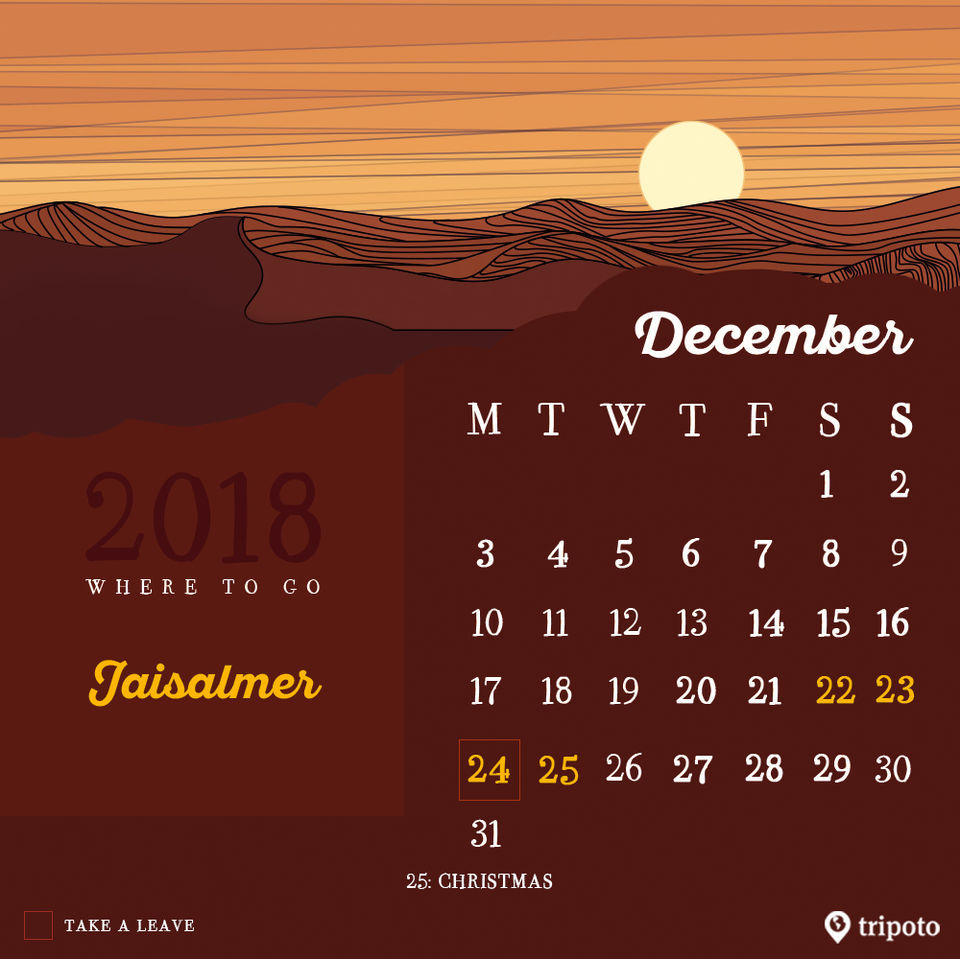 16) December 22, Saturday: Weekend
December 23, Sunday: Weekend
December 24, Monday: Take the day off.
December 25, Tuesday: Christmas Day (Compulsory Holiday)
Where to go: Touted as the glorious city that has never been conquered, Bundi, is a hidden gem of Rajasthan. Situated near Kota, travellers often pass through Bundi without paying heed to over 50 well preserved baoris (step-wells) that are dotted across the city. With innumerable havelis, cave paintings and a beautiful waterfall (Bhimlat), Bundi has something to amuse every traveller. Every corner of Bundi holds a surprise, but places such as the Bundi Palace, Chitrashala, Taragarh Fort, Rani ji ki Baori, Dabhai ka Kund, Nawal Sagar, Sukh Mahal and Shikhar Burj, will especially blow your mind. Read 'Bundi: The Work Of Goblins Rather Than Of Men' to learn how the place beguiles its visitors.
All graphics have been designed by Vidisha Pandey.
Click here to win a luxury staycation to utilise your long weekend!
Download the Calendar for Long Weekends in 2018
What destinations have you finalized yet? Share your travel journeys throughout the year on Tripoto and inspire fellow wanderers!