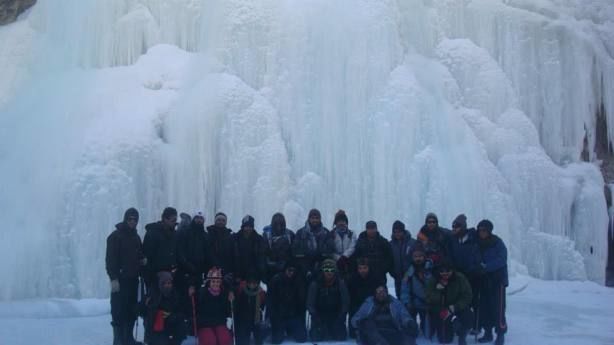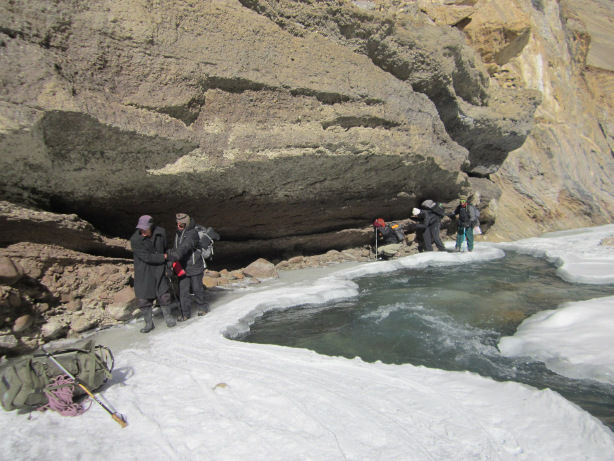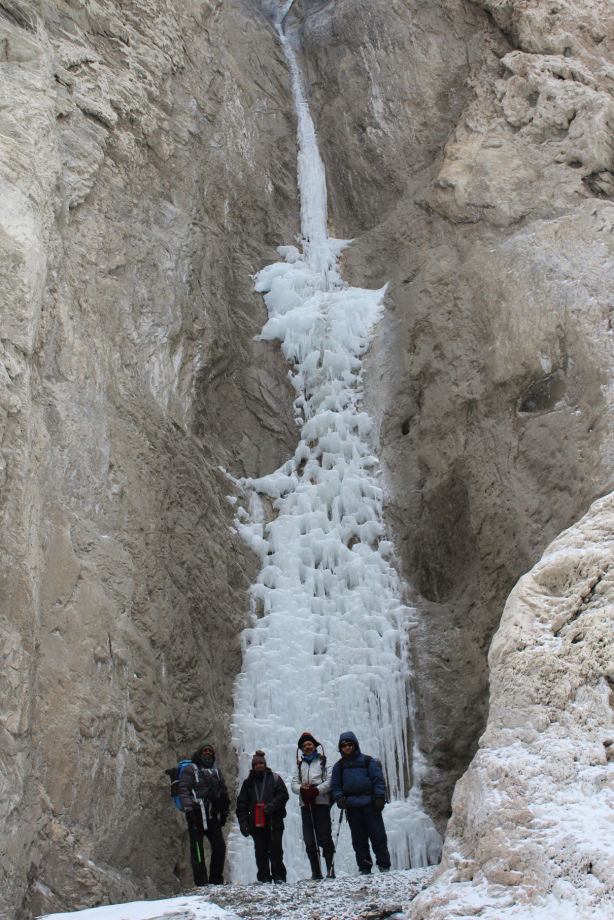 First time I checked the India hikes website and read about Chadar Trek, I added it to my bucket list. The idea of walking on a frozen river for 7 days and surviving in inhospitable conditions looked challenging and interesting. I heard more about it from fellow trekkers on Kashmir trek last year and my desire to do the trek further increased. After coming back from Kashmir trek(Aug 2013) the first thing I did was to register for the Chadar Trek. I registered for the 11th jan 2014 batch and booked my flight tickets so that I reach Leh on 10th jan and get an extra day for acclimatization. As the time was passing by I was getting nervous about the trek. I was not sure whether I will be able to survive the cold. I read blogs on how to prepare yourself for extreme low temperatures and was trying to prepare myself mentally that I will be able to survive and complete the trek successfully. Then I thought it will be better if I do a winter trek before going for Chadar trek, so I registered for Kedarkantha trek in December 2013. Kedarkantha trek was an experience in itself and I will write about it in a separate post. But after completing the Kedarkantha trek and surviving in -17 C temperature I was confident of successfully completing Chadar Trek.
Day0 – 9-10 Jan 2014 – Hyderabad-Delhi and supposedly Delhi-Leh
I had connecting air india flights from hyderabad-delhi and then delhi-Leh. Hyderabad-Delhi flight was on 9th jan night and delhi-leh flight was on 10th Jan at 6:30 in the morning. At Hyderabad airport I was not issued the boarding pass of delhi-leh flight as it was on next day. I reached Delhi airport at 10:30 in night. I did not sleep the whole night but still missed my flight(Well that's me and airindia:D). I checked the counters, the next air india flight was on 13th jan which means that I will not be able to join the 11th jan trek group. Then I called my trek leaders who were present at the Delhi airport and they took me to terminal 1 to check the status in other airlines. There was a ticket available in Go-Air for 12th Jan but it meant that I will not get any time for acclimatization, as we had to start our trek on 12th. I wanted to do the trek at any cost and somehow I got the feeling that if I don't go now, I may not get a chance to do it again. So I told my trek leaders I am confident of completing the trek, please allow me join the 11 jan batch and start the trek on 12th. They agreed as I did Kedarkantha trek only 2 weeks before. I booked my ticket in 12th Jan flight. Now I had to stay in delhi for couple of days. So i called my friend Raina who as usual happily welcomed me to her home.
Day1- 12 Jan – Delhi to Leh and Leh-Tilat Sumdo
I reached Delhi airport and was continuously praying that nothing wrong happens and I reach Leh on time. Luckily everything was fine and I reached Leh at 10:00 in the morning and then reached hotel at 10:30. Everybody was waiting for me to come so that we can start in the bus to our base camp at Tilat Sumdo. We could see the Zanskar river from the bus and it looked amazingly beautiful. I was very excited and wanted to put my first step on chadar as soon as possible . We reached camp site at around 2 in the afternoon. We could see chadar from the top but we had to climb down through a dangerous path to reach our campsite :)…Chadar trek was supposedly a flat walk but for us it was not :)…This was the start of many 'flat walks'(read climbing up and down :D) we did during our trek.
We all finally managed to get down. And now came the most awaited moment – First step on chadar. It was scary but finally we managed to cover the distance on chadar and reached our camps. The feeling of walking on a frozen river was amazing. The campsite was so beautiful and so peaceful. After reaching our campsite I asked Varuna if I can share the tent with her. Myself, Varuna and Ayesha shared the same tent and we 3 along with Parvindar,Varun and Shiva had lots of fun in the coming days. We had our lunch and in the evening we went for a walk on Chadar. While returning we decided to have a campfire but we couldn't see many wooden logs around. There was a big wooden log lying and my trek mates carried that huge log of tree back to campsite. Next day was the real start of the trek.
Day2 – 13 Jan – Tilat Sumdo To Shingra Korma (9.5kms)
We woke up at 6:30 when the bed tea was served to us in the tents ;). We packed our tents and after breakfast our trek leader Preet briefed us about the day. We were given crampons so that it will be easier to walk on the ice. Some people choose not to wear the crampons but I thought its better to wear it as I have the habit of falling even on the flat roads :D. The chadar was not fully formed so there were portions where we had to climb up and down through risky rock patches. We were all thinking who said chadar is a flat walk,for us it is certainly not. One of the path was very scary, perhaps the most difficult part of the trek. Almost everybody slipped on that path. Good thing was all of us were safe in the end. We stopped in middle for lunch. After having tea and maggi we continued walking and reached Shingra Korma in the late afternoon. The day's walk was less on chadar and more on rocks. After reaching campsite we arranged our tents and gathered around the fire in the evening.
Day 3- 14 Jan – Shingra Korma – Tibb(14kms)
There was snowfall in the night, so when we woke up the campsite was all white. It was freezing cold and I dint feel like getting out of my sleeping bag but yes I wanted to walk on chadar again :). So finally I got out of my sleeping bag. We packed our tent, had breakfast and were ready to move after a briefing from our trek lead. I decided not to wear crampons as yesterday's trek had more of rocky patches and crampons need to be removed there. Initially I was finding it hard to move without crampons but it was fun. We were moving and came across a small frozen waterfall. I was amazed. Myself.Vineet, Milind Sir and Devesh decided to take a pic near waterfall. After taking the picture when I was coming down, i made the mistake of choosing a slippery path and had my first of many falls :)..And that's when I realized ice hurts :)…
We continued walking, saw different forms of chadar and were mesmerized by its beauty. We reached near our camp site but before that we had to cross a very narrow ice path. I was scared, if I slip I will definitely fall in the river. I was looking at people in front of me how they are going hoping that I will not fall. I tried walking very slowly but I slipped very badly. Our trek lead Tenzing came and helped me to cross the patch.
We reached our campsite around 2:30. Though we covered more distance than first day it took less time as there were less climbs ;).
Day4 – 15 Jan – Tibb – Narek(12kms)
Morning when we woke up we heard that it may not be possible to move ahead as chadar is not formed completely and there is no alternate path available through hills also. We were all very disappointed. We had one buffer day which was kept for situations like this. But if chadar breaks again while returning we might have to wait one more day. I came mentally prepared that I will make all my efforts to complete this trek. So I was ready to wait one more day. We all were waiting thinking about what to do for the rest of the day, that's when Varuna shouted we might be able to go. There were some porters who were coming back from Narek and they said its possible to go. Our trek leaders talked to porters and said that we are moving ahead. I was happy and relieved. We were told that chadar can break anytime so we have to move fast and we can not take breaks and there will not be any lunch break also till we cross the risky patch. Myself and Varuna decided we will move in front and we will not stop in between. We continued moving taking only couple of minutes break whenever we were too tired. Finally we reached a point where we were told now there is no problem. We will be able to move to Narek without any difficulties. Everyone was very happy. After walking for some more time we reached the magnificent Narek waterfall. I can not describe the feeling in words. I wanted to touch it but was scared to move close. Finally I went near the waterfall. We had a group pic there :).
After walking for some more time, we reached our campsite. Indiahikes arranged for a homestay in Narek. After three days we will not be sleeping in tents but on floors. That's what a trek does to you, normal things in life starts giving you happiness :)…
Day5,6,7 – 16-17-18 Jan – Narek – Tibb(12kms) Tibb – Shingra Korma(14kms) Shingra Korma – Tilat Sumdo (9.5kms) – Leh(in bus)
We woke up, packed our sleeping bags and were ready to move back. We had to follow the same path by which we came. I read before that even though you walk on the same path chadar will never be same. So there will be new experiences. I felt the same as I was moving ahead. There were places where we had to climb the rocks but now the chadar was fully formed. We all were a lot relaxed while moving back. The uncertainty whether we will be able to reach till end was not there and that was replaced by a sense of accomplishment. While coming back most of the chadar was formed so it was more of a flat walk but due to this we were able to appreciate the opportunities we got to climb different paths, as it made the trek a lot more interesting and challenging. We spent a lot of time with each other in Tibb and Shingra Korma. Myself,Varuna,Ayesha,Parvinder,Varun and Shiva spent a lot of time in tents chit chatting and playing games. In Shingra Korma we had camp fire and all of us sang different songs. We reached Tilat Sumdo and were so happy to successfully complete the chadar trek. The happiness was visible on our faces.
We had maggi for our lunch and now we had to climb up the same path by which we came down on first day. We reached at the top and everybody was so excited that they started dancing in the bus on some laddakhi song. We stopped at Patthar Sahib Gurudwara on our way back to Leh. We reached hotel and met the other group who were starting their trek next day.
Day8 – 19 Jan – Leh local sight-seeing
We had an extra day in Leh, so some of us went for local sightseeing. There are some places on earth which look more beautiful in photos then they really are and then there is Leh and especially for Leh in winter you can say its much more beautiful than any photograph could capture. We first went to Hemis- one of the biggest monasteries in Asia. The monestary was very big. There was a buddha statue at the top which was very beautiful. Next we went to Thiksey monestary and Shey palace. After that we came back to hotel, took rest for some time and then went to Leh local market. We had dinner in a nearby restaurant and went to sleep. Next day we had to take the flight and return back to our homes.
Day 9 – 20 Jan – Leh-Delhi-Hyderabad
Ready to go back to normal routine?..Not really I just wanted to stay there. A part of me was still hoping that flight gets cancelled and I don't need to go back to routine,but that was not practical. Myself, Varuna and Parvinder went to Shanti Stupa in the morning and from there went to airport. We met other members on the airport. We exchanged our numbers and bid goodbye to each other in the hope of meeting again soon :).
Chadar trek was the experience of a lifetime. It was not the most difficult trek I have done neither terrain wise nor conditions wise(I found it more difficult to survive on kedarkantha trek even though temperature was less in chadar, may be because that was my first winter trek) but there is something unique about this trek which you can not experience in any other trek. The beauty of chadar is beyond words. You need to be there to feel it and experience it. If you like trekking make sure you do this trek as soon as possible.
P.S. The photos in the post were taken by Vineet/Varuna/Ayesha/Devesh.