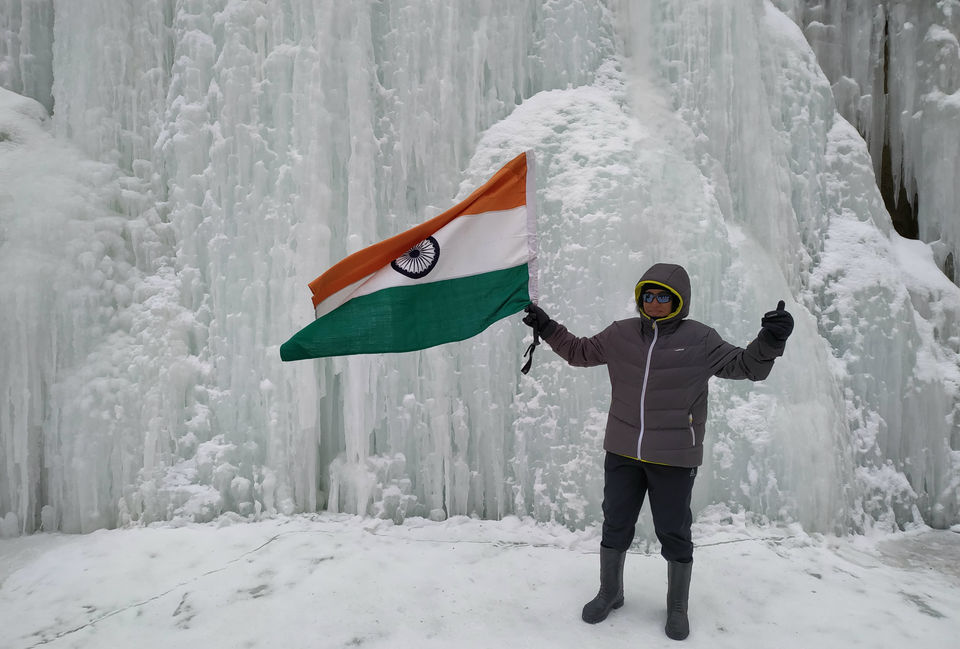 I don't know how and when this chadar bug has bitten me, but this trek is on my bucket list from past 6 years.... I grew up visualizing a picture of how heaven on earth looks like, after watching a telugu song "andalalo aho mahodayam" starring sridevi and chiranjeevi https://www.youtube.com/watch?v=uIr1cwN6Mx0 The moment we stepped in zanskar valley, we were welcomed with open arms of snowfall. Blankets of melting zanskar waves stitched with chunks of snow and ice, surrounded by majestic peaks, touching the sky. The magnificent snow-clad mountains with melting snow layered like diamonds, long crystals all over.... felt like my imaginary picture of heaven on earth, beauty manifested stood pure & raw in front of me. It was surreal !!!!!!!!!
somehow im always skeptical to go alone on this trek, luckily my cousin and couple of his friends joined me. we all were so excited, started our google research 4 months prior the trek. Read too many blogs grrrrrr >:( >:( >:( ...... we were not alerted about how situations might change during trek. chadar trek is one of the most spectacular and adventurous once-in-lifetime trek everyone should experience .Rather than sharing my day1 to day9 itinerary Im here to share few incidences which might help you to prepare yourself mentally to face the situation,unexpected expenses .......etc.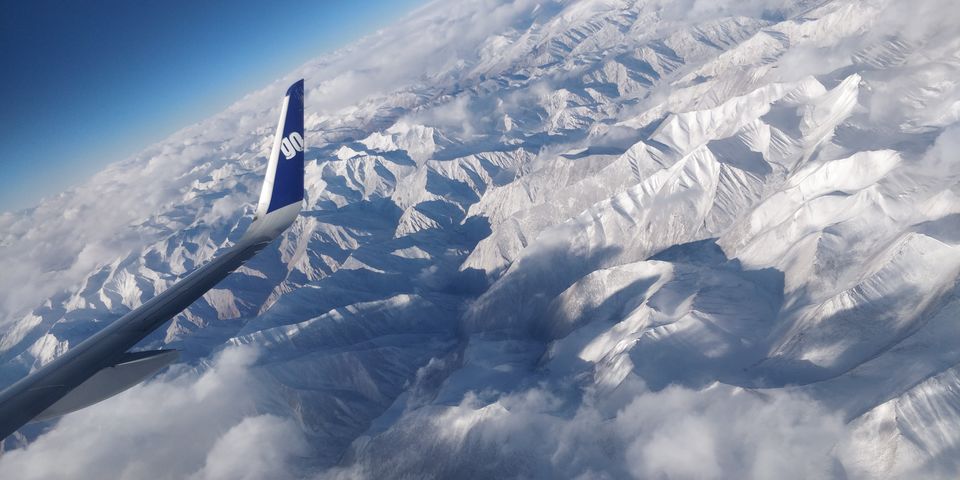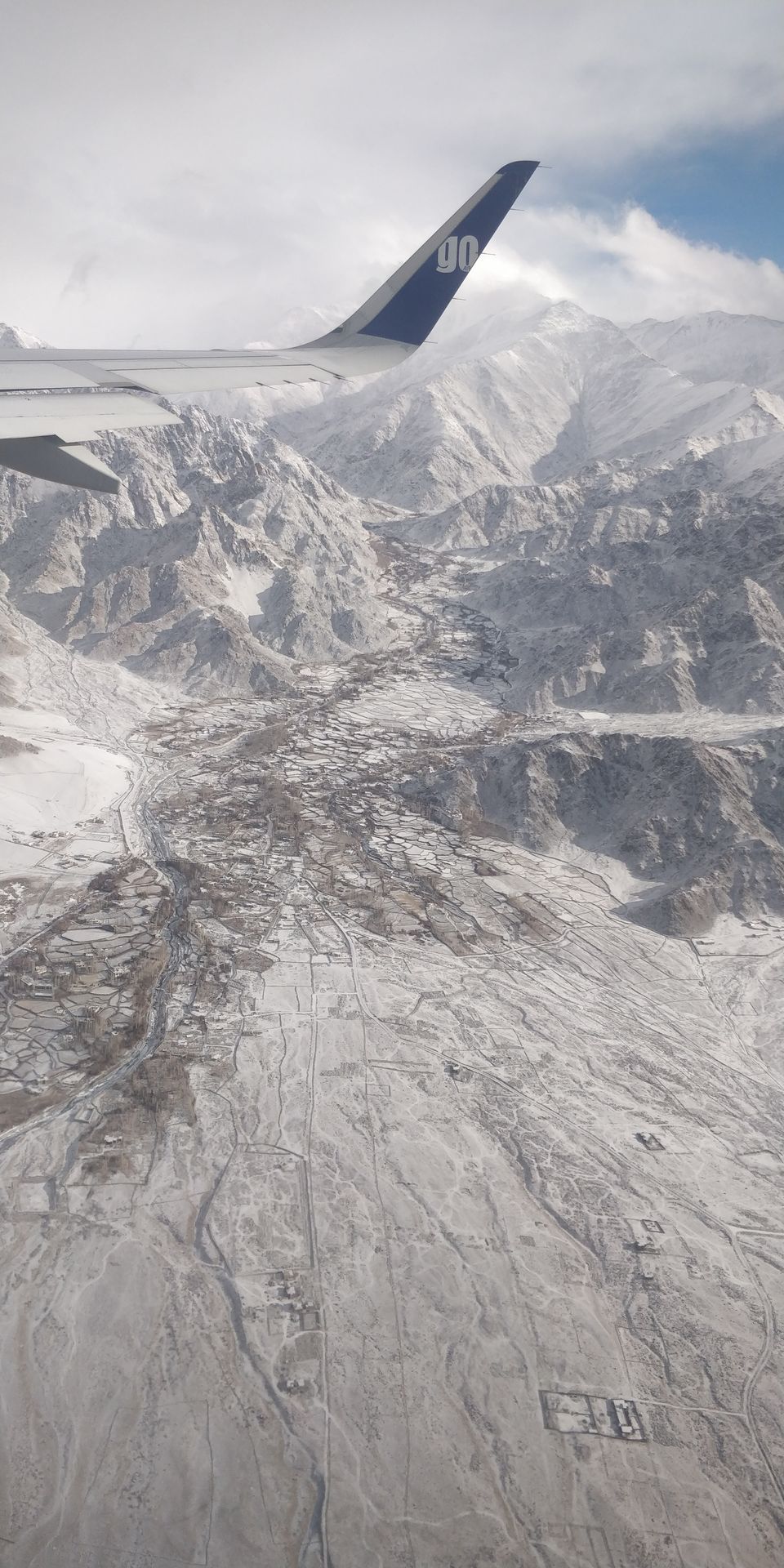 landed in leh early in the morning 9.30am. we were so casually dressed underestimating sub zero temperature. got down the flight (-15 degrees), in just 2 minutes my fingers and toes started freezing. Ran towards a nearby heater inside the airport and got into our armours gloves, socks, scarf ........ NOTE: make sure your fingers and toes are layered before landing in leh.... No photography inside and outside leh airport since its military controlled area.. we took taxi from airport to our hotel which is hardly 2kms, for which taxi guy charged 500rs ( taxi rates are over pricey in leh...). Had some food and quickly got into our blankets. our hands and toes got frozen, started burning, suddenly i felt like my toes are going numb. evening around 6pm our local trek organizer came and rubbed my toes for more than 30mins,thatz when i started feeling my toes back. He took us to leh market place,we all made our first life-saver purchase in leh- "hot water bag".
NOTE: room heaters comes for no use....fill hot water bag and keep it near your toes, mark my words nothing else can keep you warm.......... Don't travel on first day. conserve energy, stay hydrated. try to keep your fingers,toes, nose and ears as warm as possible.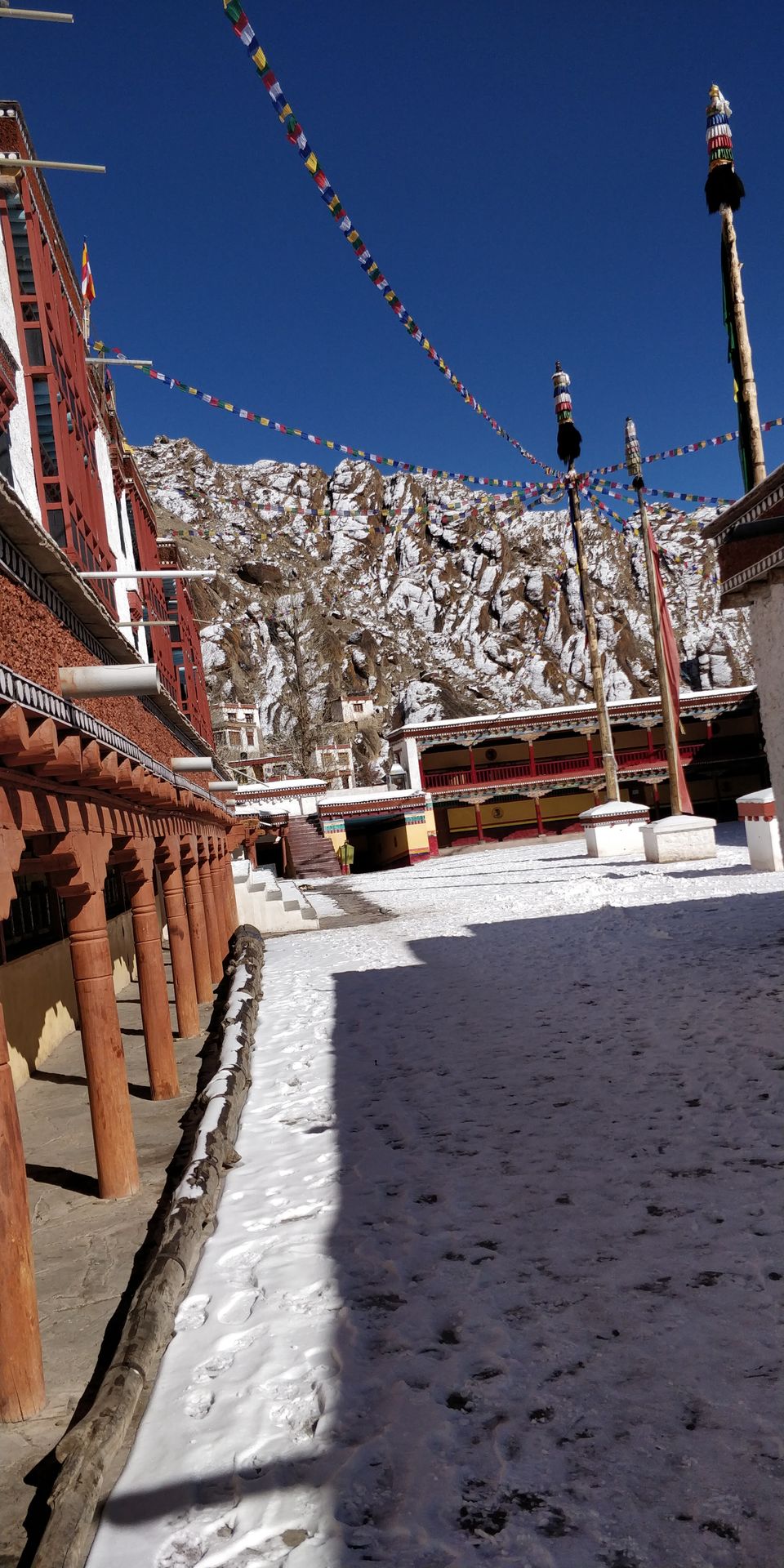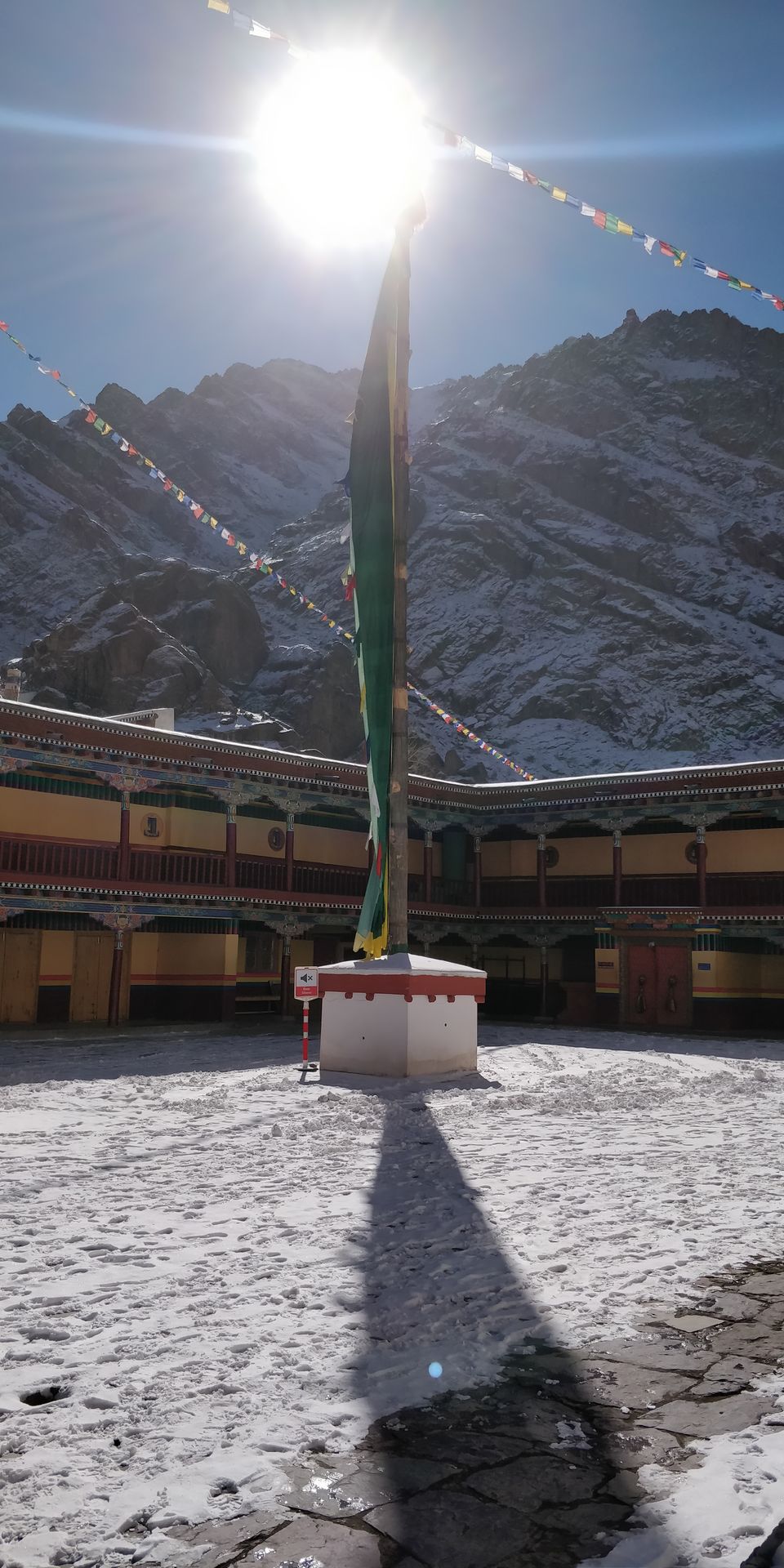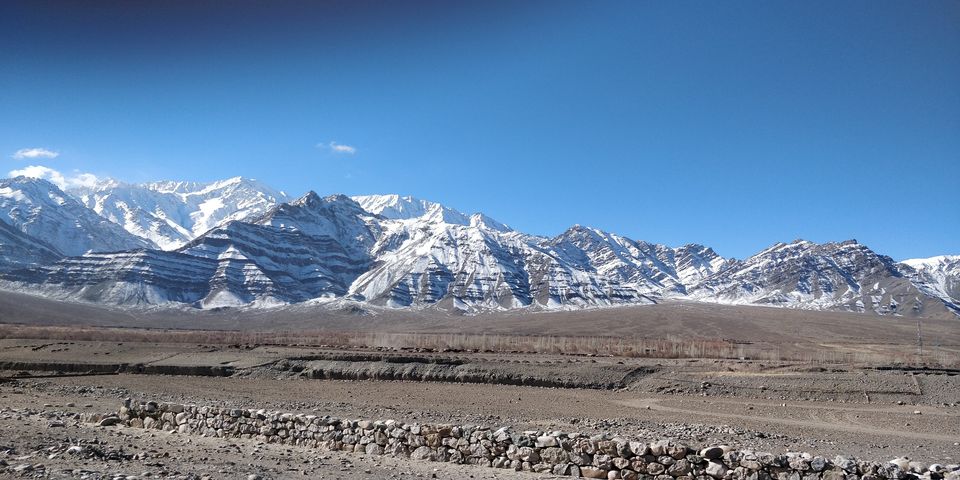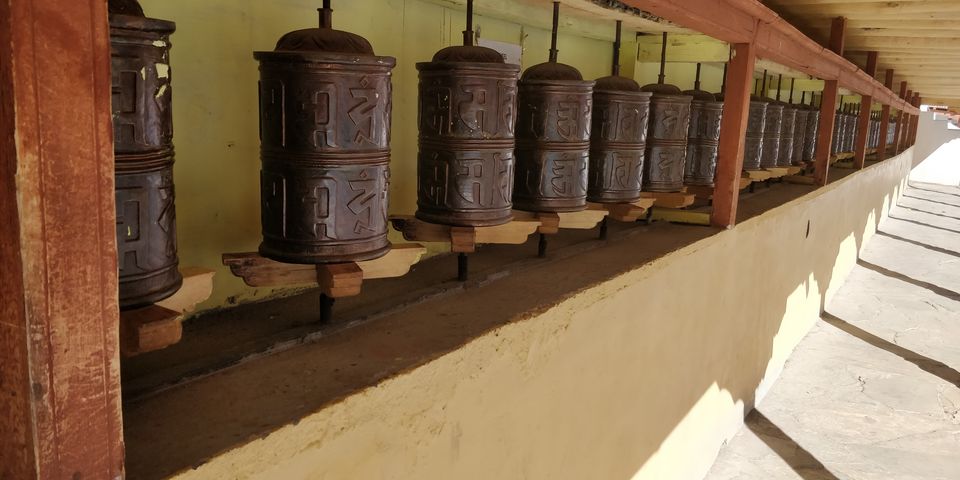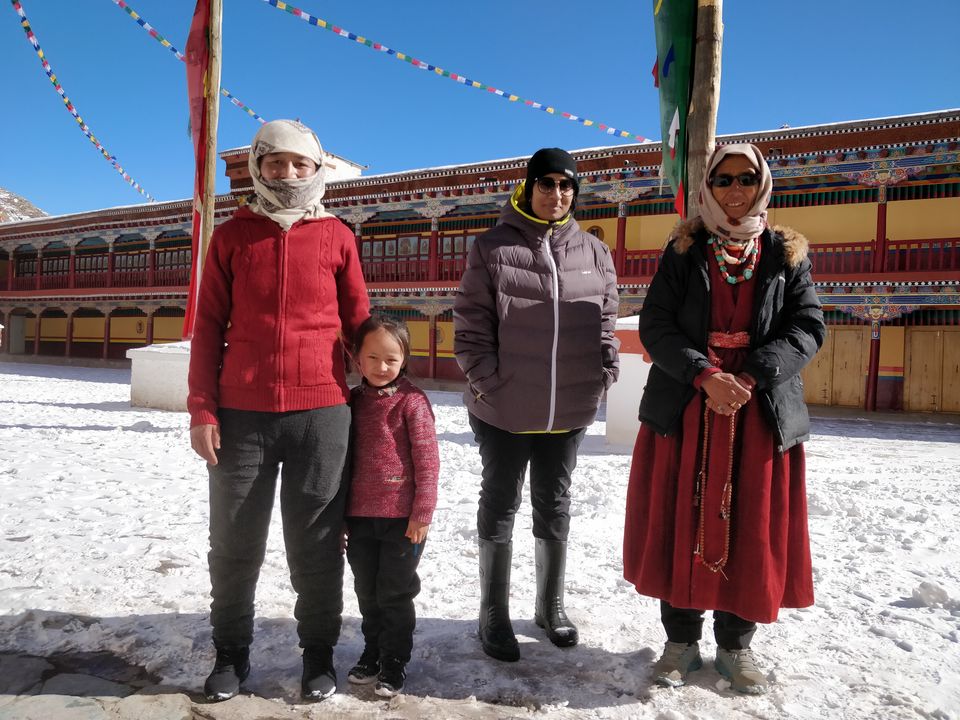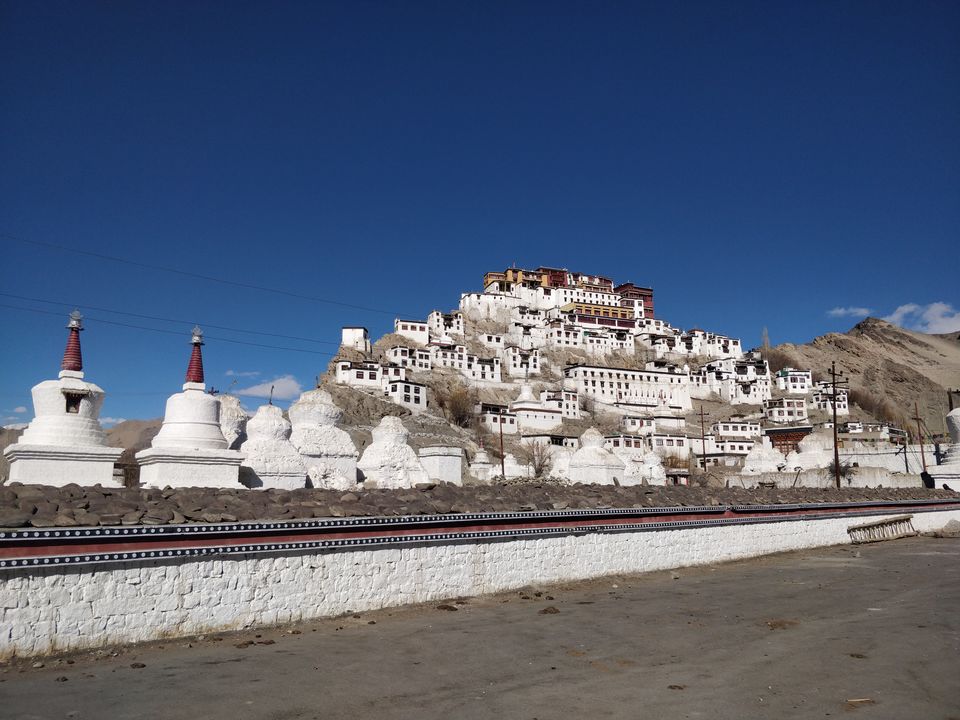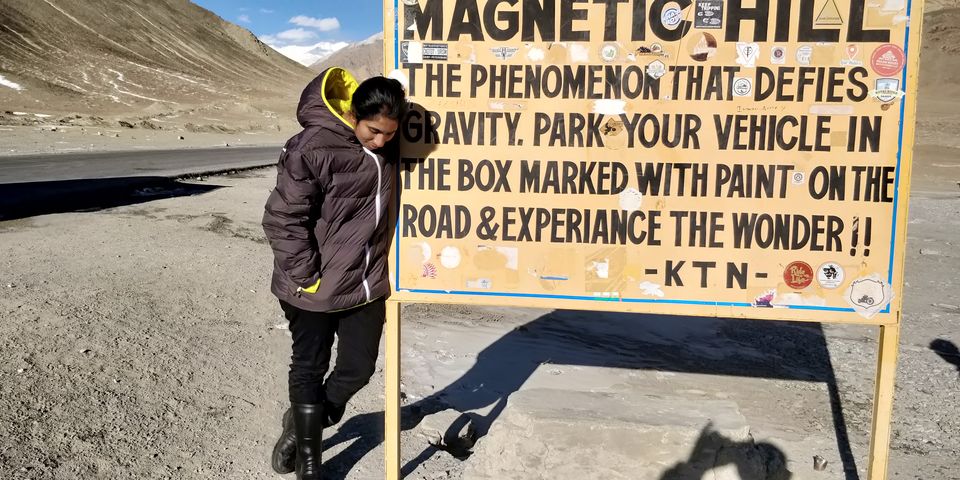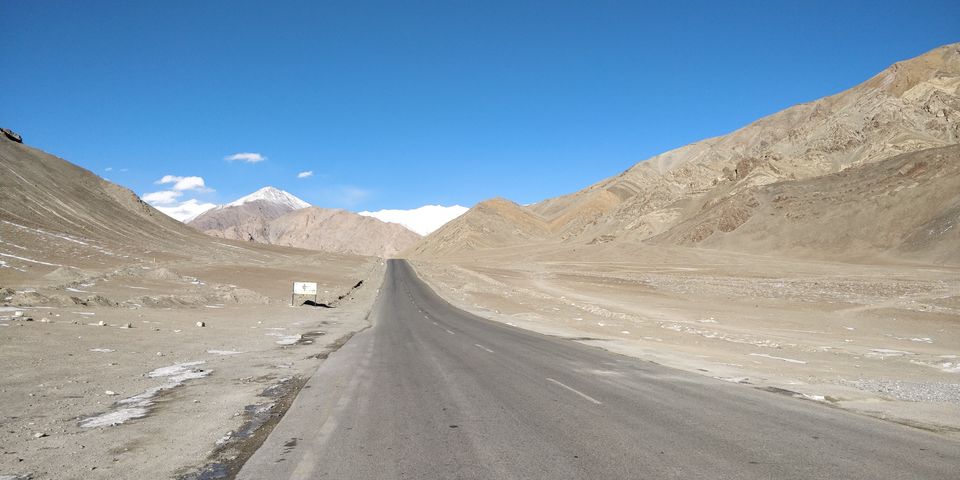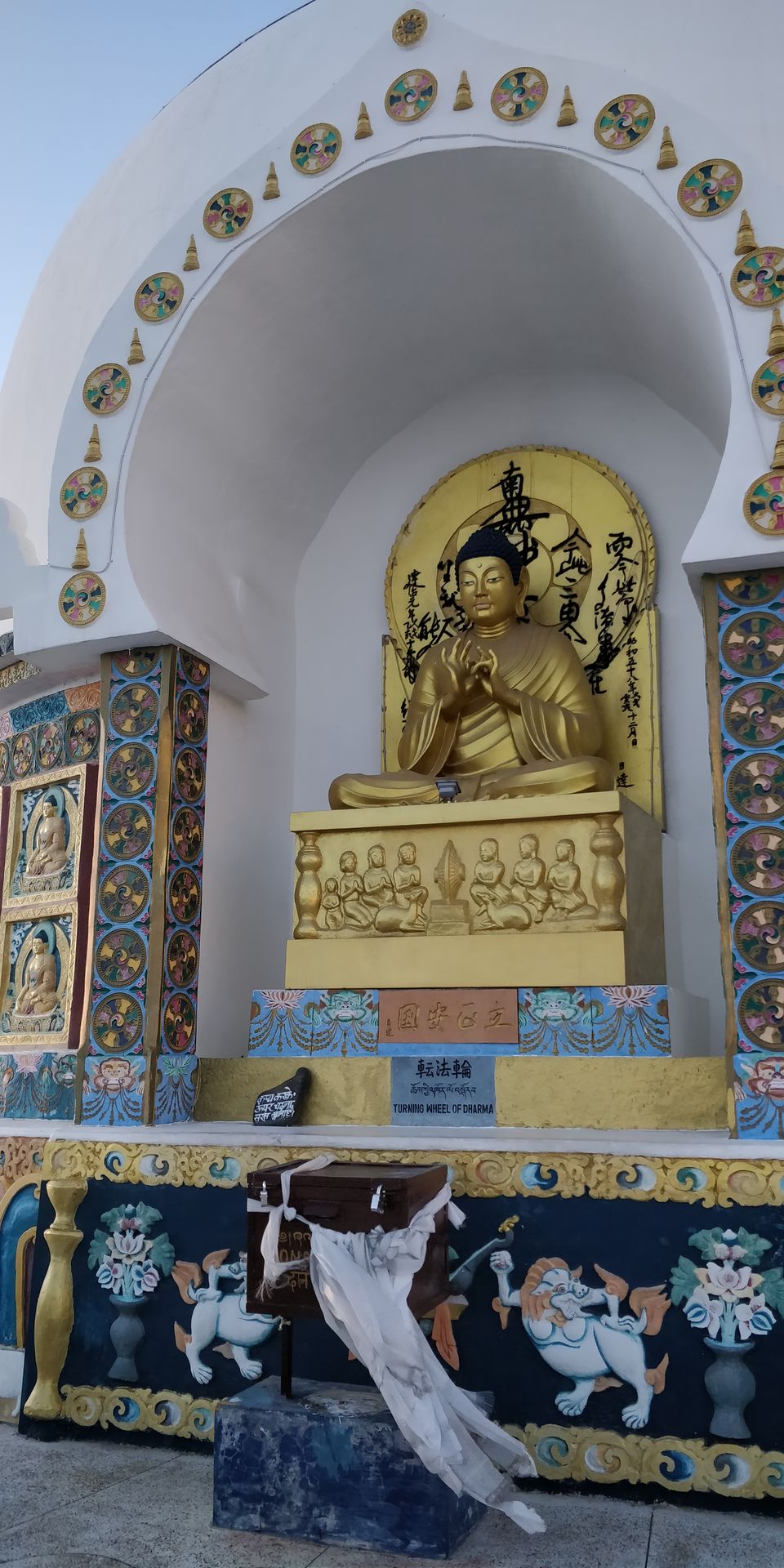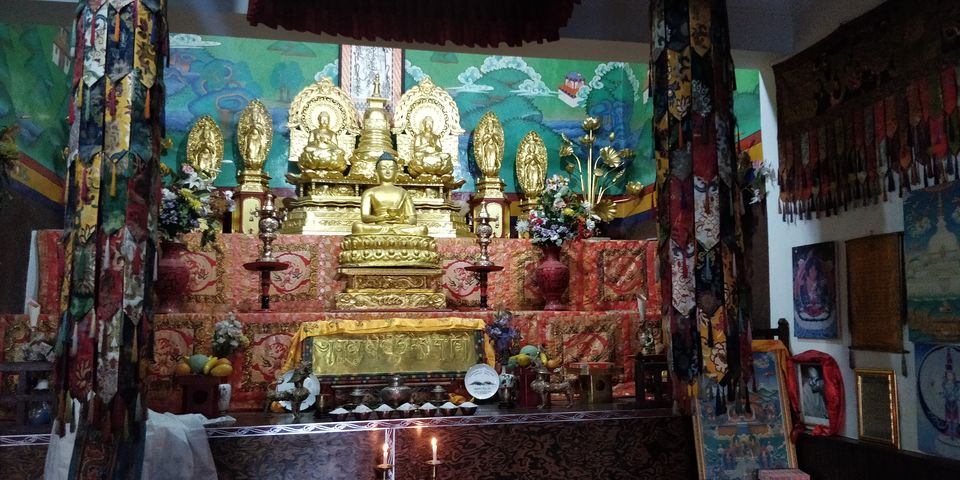 Day2 we have covered hemis monastery, thiksey monastery, pathar sahib, magnetic hill and shanti stupa..... taxiwala charged 3800Rs for 5 people.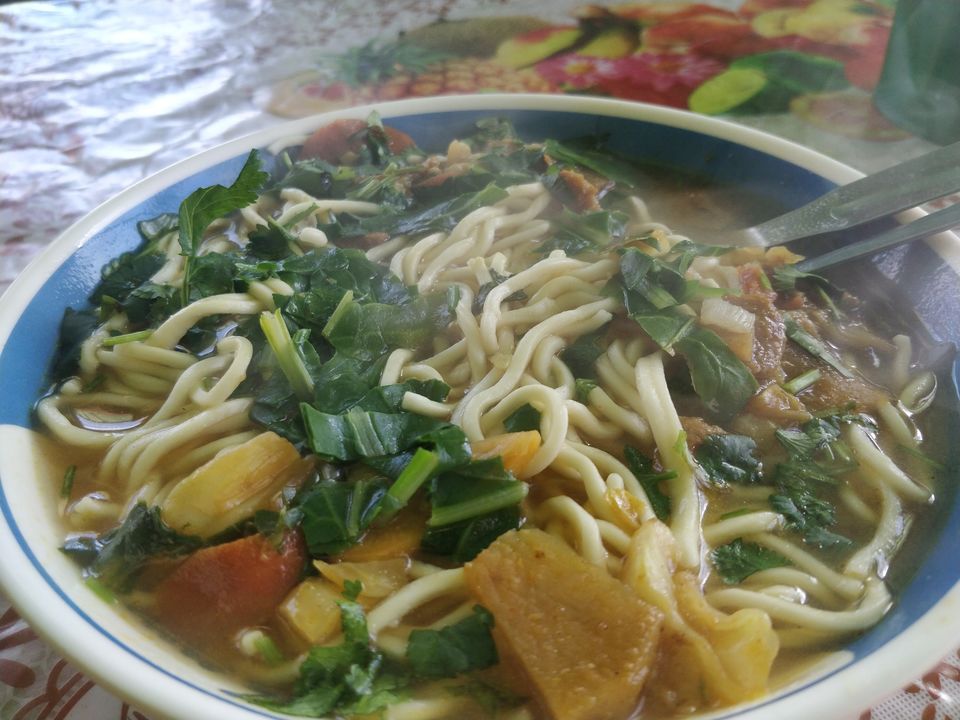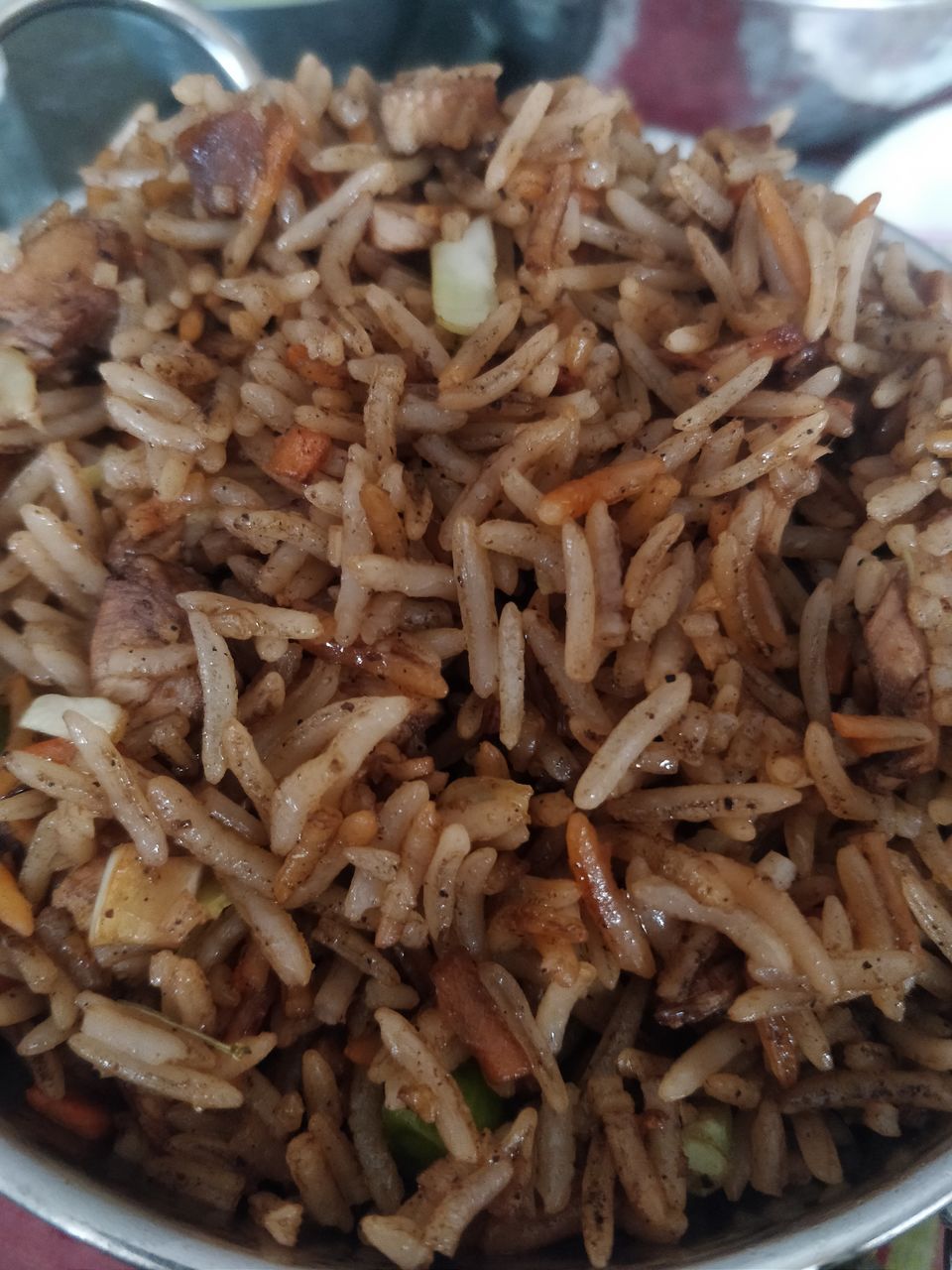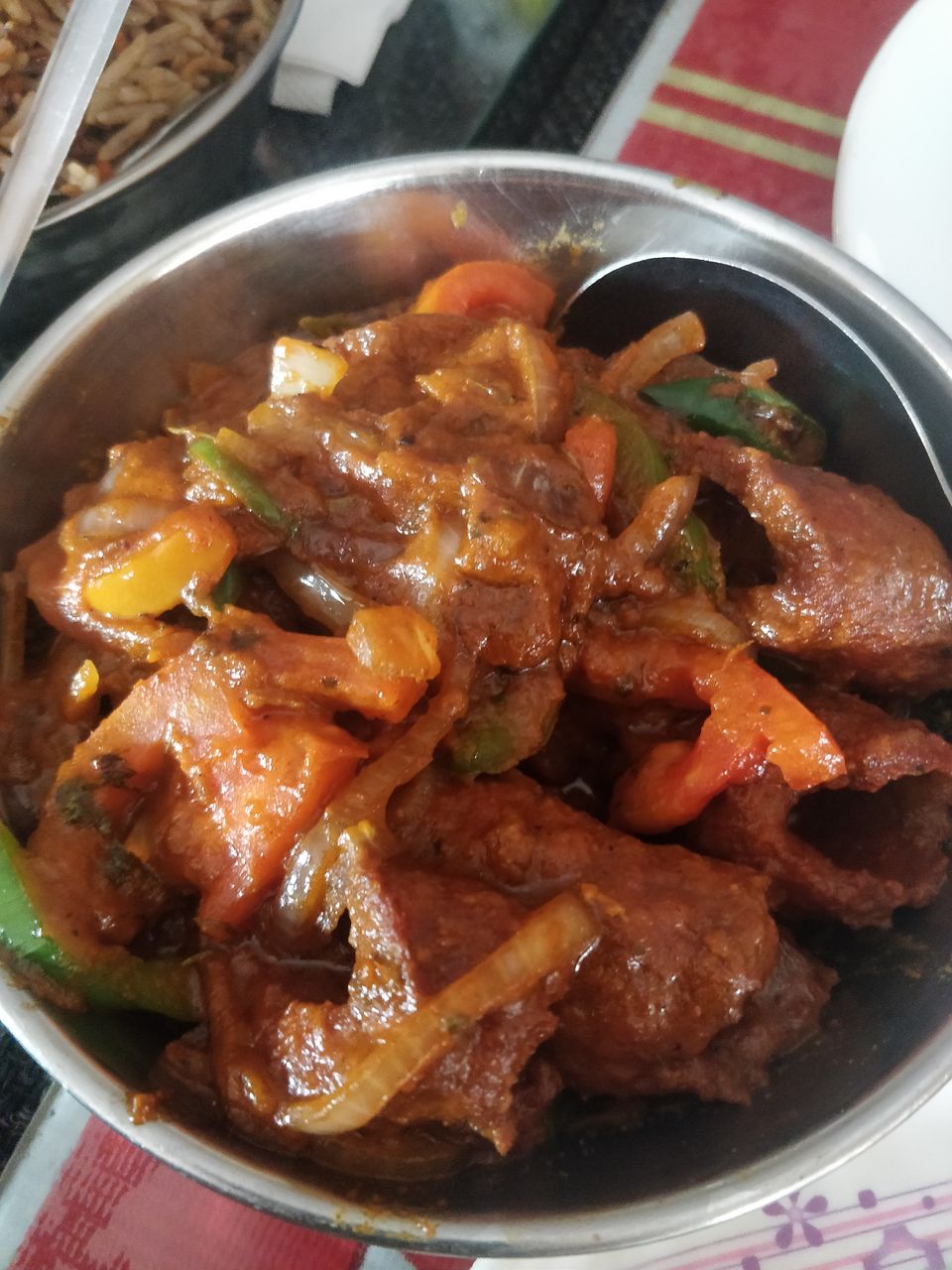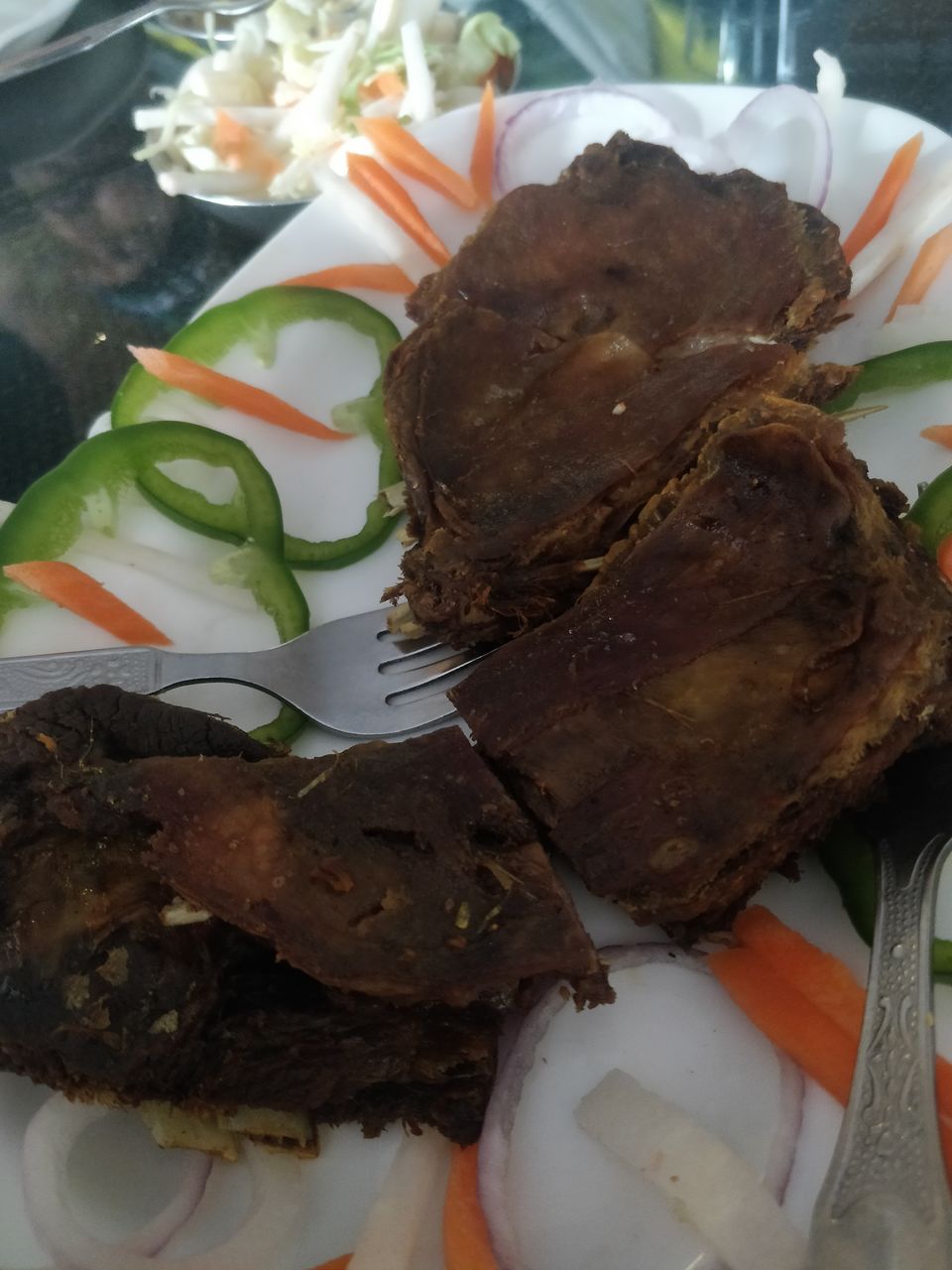 Day3 tried different Tibetan and Kashmiri food. It took 4hrs to clear the medical test. they charged a lump sum amount of 4800Rs and gave us a medical & rescue card which is of no use. They neither rescue us nor we can claim insurance. went to market and did few purchases for trek... Trekking pole, good quality one we bought for 450 rs,Gumboots we got it for 400rs, Balaclava for 150 bucks and military socks for 100 bucks a pair. we picked few snacks, chocolates and reached hotel. once after finishing dinner our hotel guy passed us a bill slip for 3 days breakfast, lunch and dinner...... they charged 150 rs for breakfast, 200 rs for lunch & 200rs for dinner per person/day (what ever the amount we have paid to organizer doesn't matter. first 3 days only stay is free. food doesn't include in the package).
NOTE: one trek pole is enough ....... gumboots- do look for a size bigger, last size available in leh is 10. if yours is 10 or 11 its better to carry a good fit one from your hometown. Military socks keeps you warmer than any other socks available in the market, so pick extra pair of socks from leh military stores.
DAY4 - DAY8: Leh to Shingra Koma via Chilling (day4) Shingra Koma to Tibb Cave (day5) Tibb Cave to Naerak ( day6) Naerak to Tibb Cave ( day7) Tibb Cave to shingra Koma and drive back to Leh ( day8)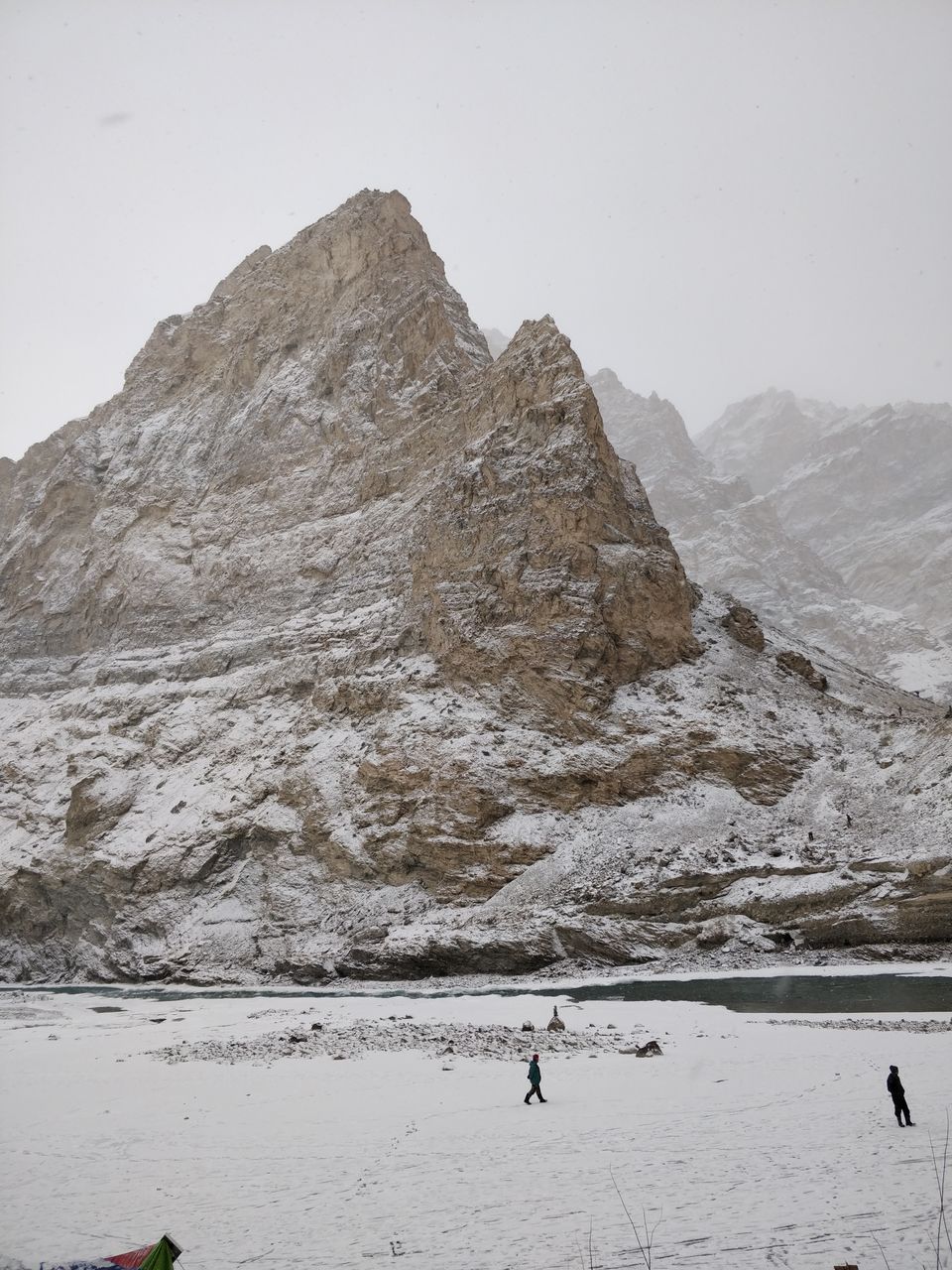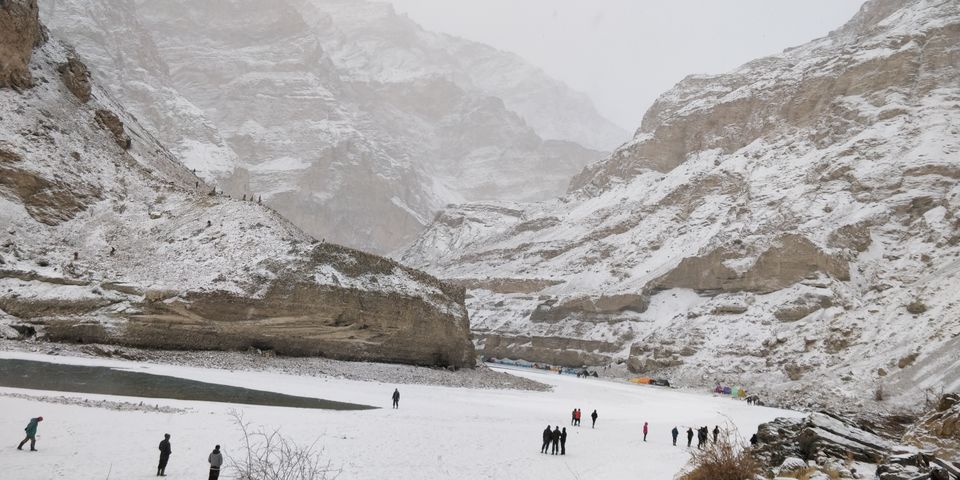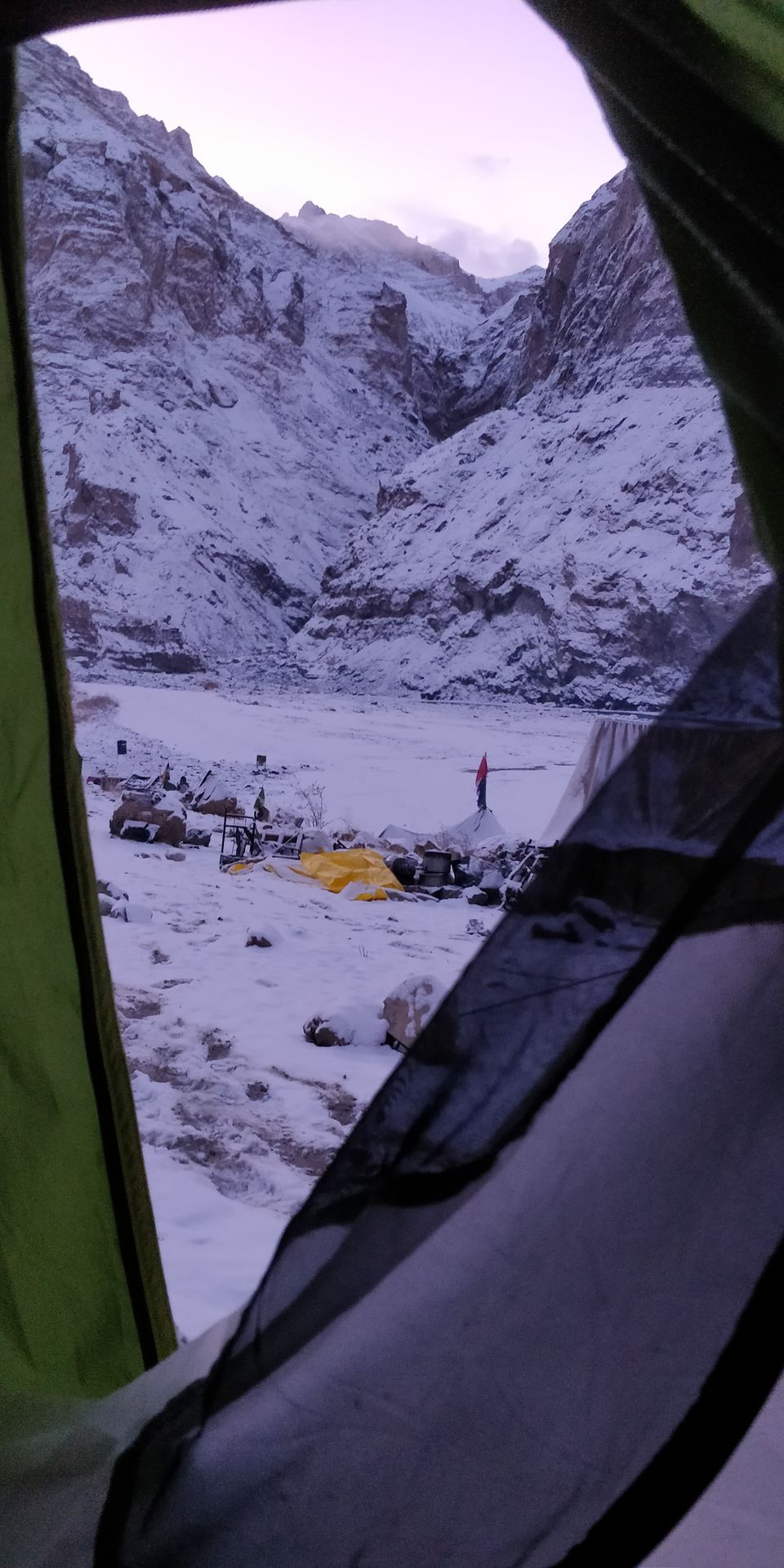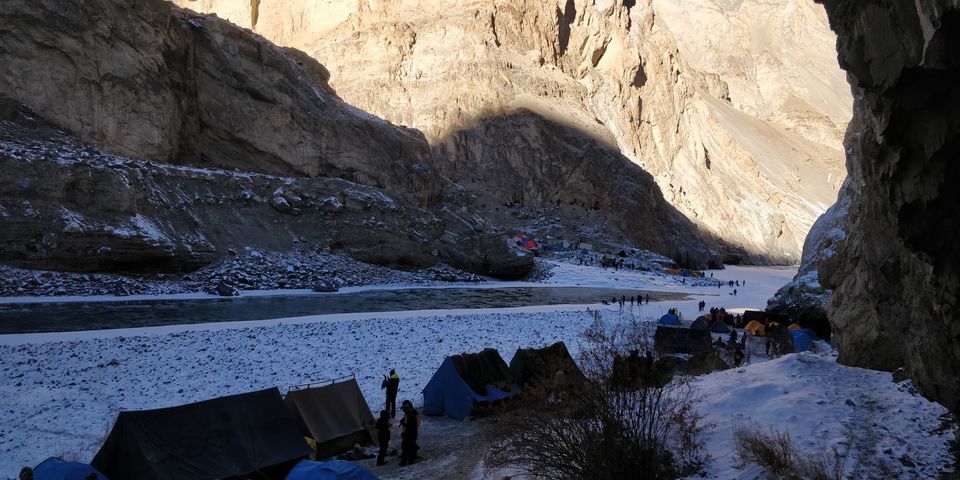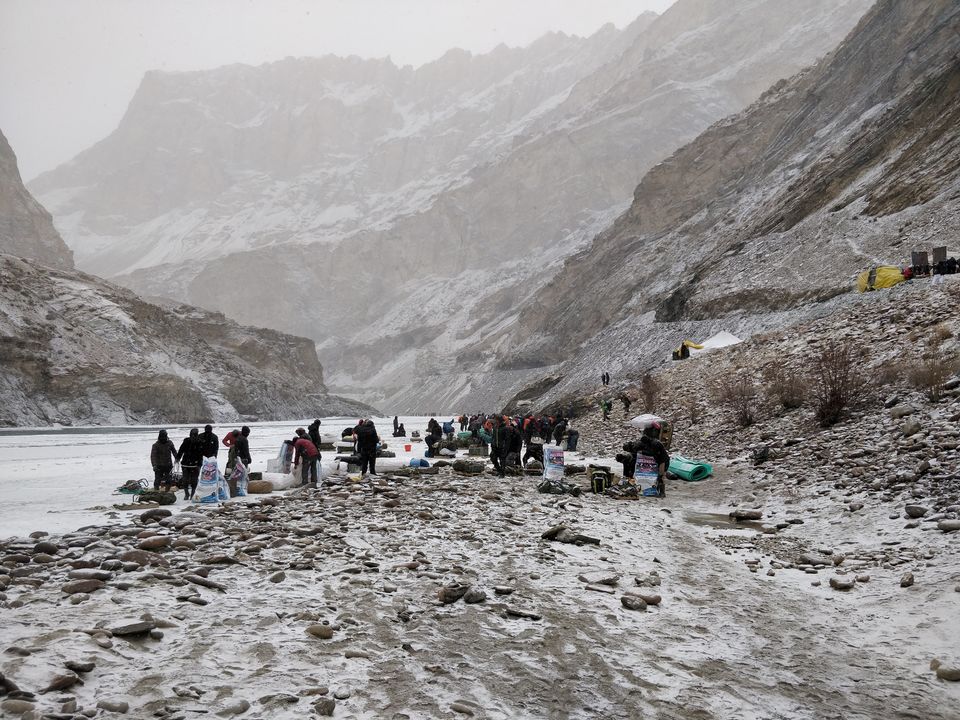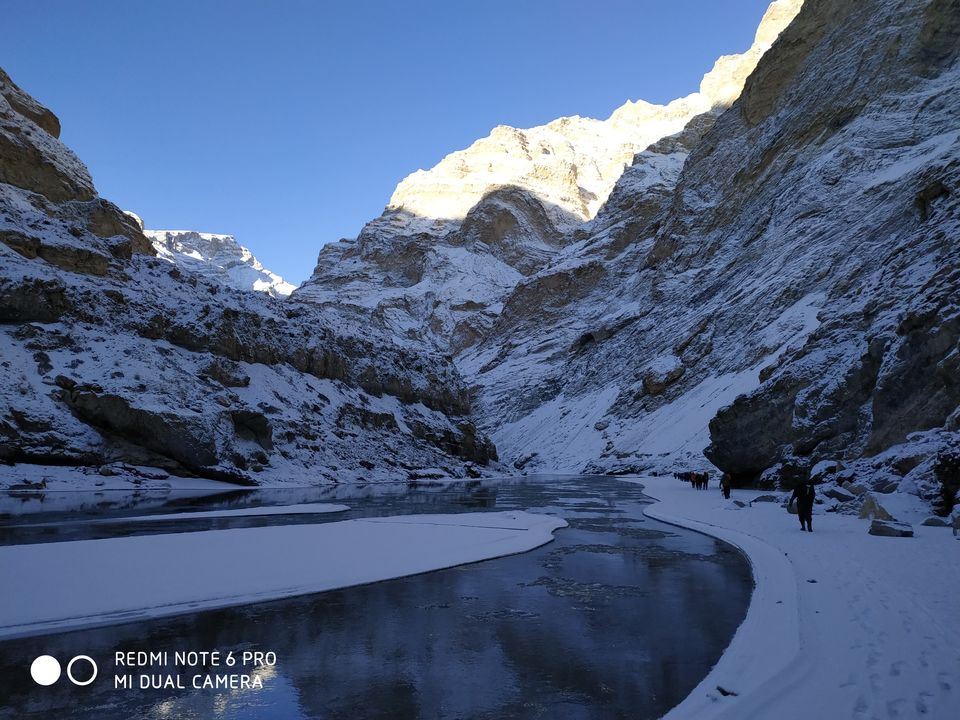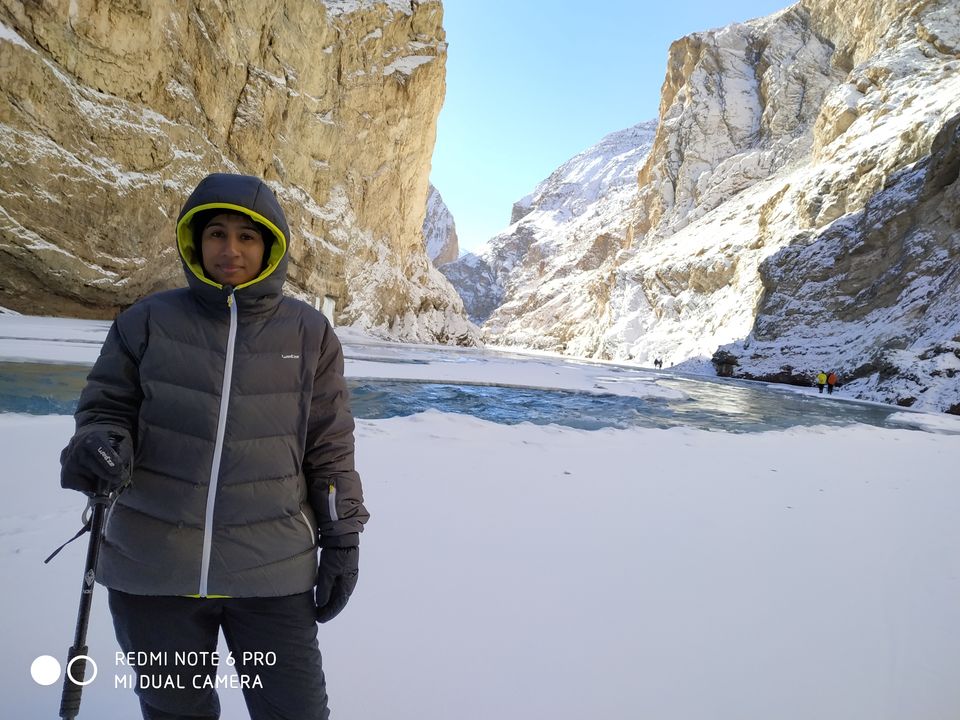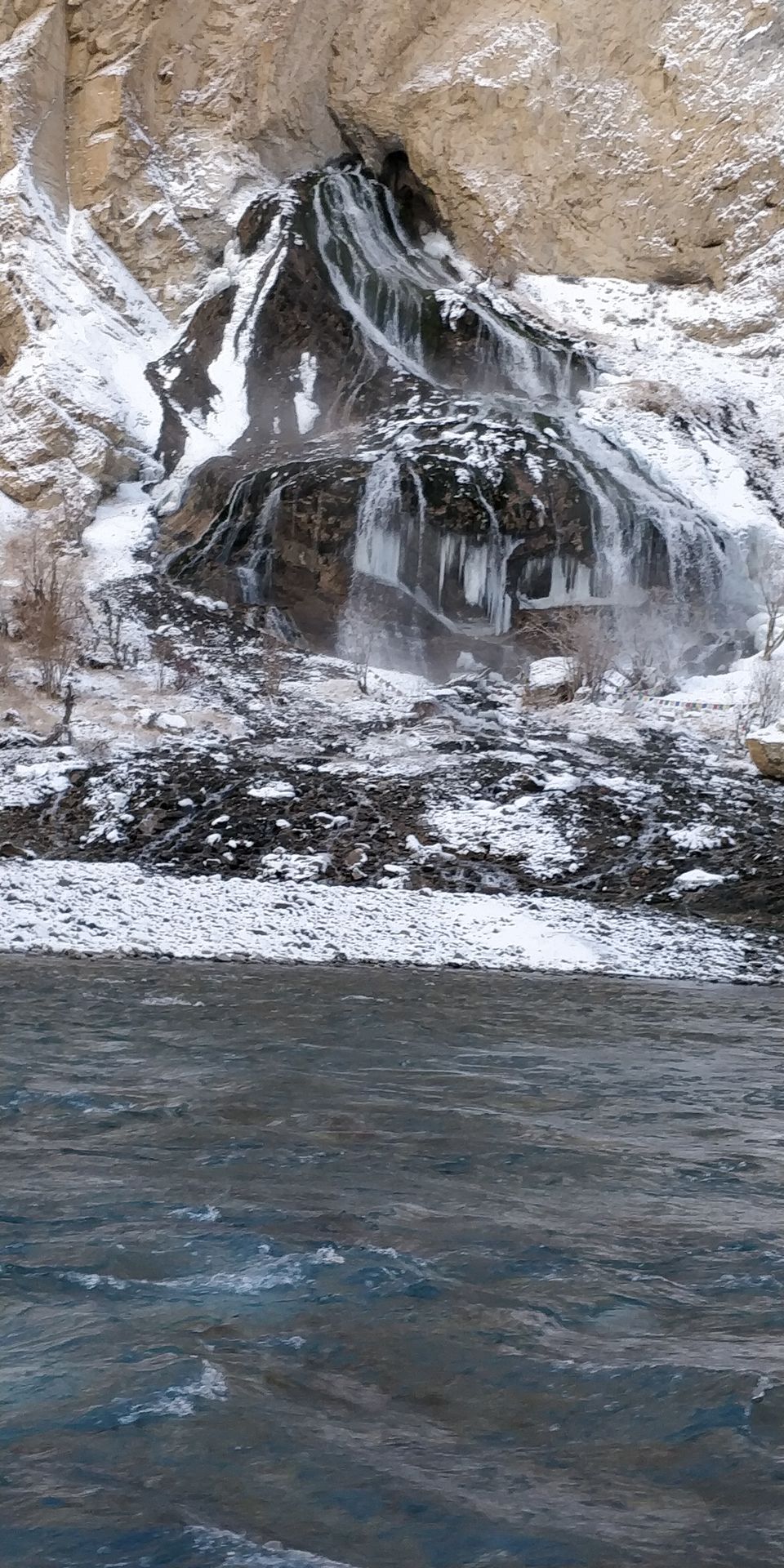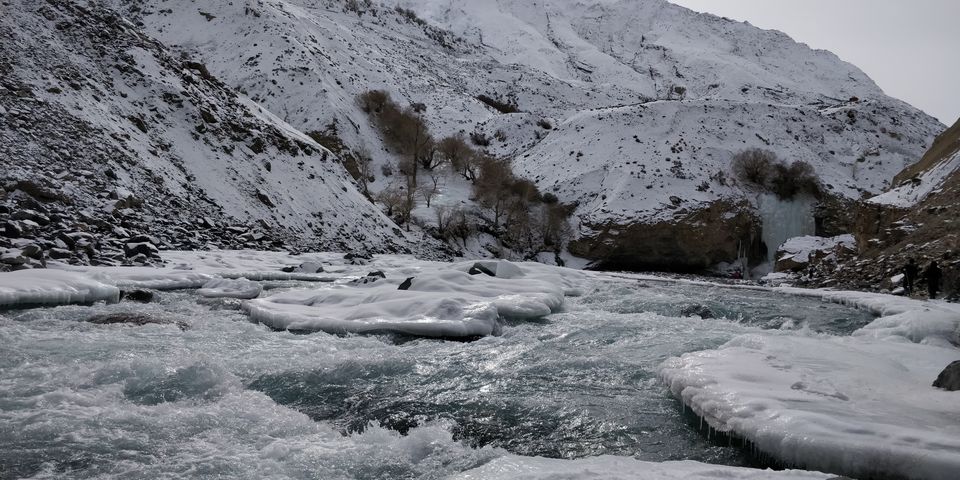 Weather was so unpredictable... snowfall, wind-chills , sudden drop of temperature, scotching sun. walking over icy frozen river is slippery. no matter how good we impersonate penguin walk, can't escape from falling down. NOTE: if you fall, try landing on your hip ,thigh or shoulder. falling onto your hands could injure your wrist.
Everything went well from Shingra Koma to Naerak. we crossed rough paths, ascended and descended boulders, it was quite adventurous. while returning from Nearak, we were informed that chadar got melted completely and its highly impossible to go ahead.Porters did their investigation and figured out alternate path, where we have to climb mountains.
That was shit scary experience. we climbed almost to the peak of the mountain crossing huge boulders, crawled through narrow passage.had to focus every second on climbing,because one wrong step could have landed us to an unpleasant incident. i have never imagined myself walking on narrow trails on top of the mountain. it was such terrifying experience.
finally reached tibb cave, we were surprised seeing too many tents and 200 odd people, soon we got to know that chadar got melted in multiple places till Shingra Koma, all we need to do is have patience and wait till chadar gets formed which might take a day or 2 or 3days or god only knows. It was like chadar refugees camp. people from different groups started sharing their experiences. few are stuck there for 2 days, almost 90 members missed their flight. The most disturbing thing is we saw a guy who got hurt badly falling from cliff, his entire shoulder bone got dislocated, cheek and lips got ripped, he was bleeding and was in pain,there was no rescue team.when we asked trek heads about rescue team, they said if anyone get stuck in zanskar valley for 7 days on 8th day rescue team will come, they dont care even if there is any medical emergency. there were several people who slipped on ice or fell down during mountain climbing, last day i was literally limping . In sub zero temperature our bones and tooth become more brittle, a small fall might become a big tragic moment. My cousin ended up with broken teeth.
God has planned too many surprises for us, chadar did not form next day too. we had to get into water and cross holding a rope at some places where chadar did not form. imagine taking a dip in sub zero water. felt icy water as sharp as dagger. NOTE: when you enter ice cold water stress hormones production increases and rises blood pressure. Do not get panic, take a deep breath and enjoy the sub zero water experience.
Ours was the most luckiest batch, like other groups we were not stuck in zanskar valley for one or two extra days, we reached leh on scheduled time. we dnt miss our flight. we were so lucky that we could go till naerak while few groups had to return from tibb cave, few had to return from shingra koma only....... Thanks to mother nature for being with us and helping us to finish the trek. I felt like im the most lucky one .
NOTE: Be prepared for the best & worst since chadar formation is unpredictable. chadar might form and break on the river after every few hours. all we have to do is be positive and rest mother nature decides.
PHYSICAL FITNESS: i have started writing this blog sitting in hospital bed after a surgery (10 days after chadar trek), first question doctor asked me is " how did i do chadar trek" . out of my experience i can say one thing very strongly that ,all we need is mental strength . ( im not saying that physical fitness is not required , im sharing my own experience).
FOR WOMEN: due to sub zero temp and kahwa chai ( even if you are not chai lover ,you will keep drinking this half a dozen times since its best body warming drink in leh which is made of cinnamon)our hormones acts so weird, so be prepared. A big no to menstrual cups. Along with sanitary pads do carry tampons ( you might have to get into water till waist length).do carry pain killers. Be strong :)
LEH SHOPPING: dont forget to check seabuckthorn products. seabuckthorn is called "wonder berry" rich in omega fatty acids.which grows only in leh ladhak ( do google about seabuckthorn). the best you can buy from leh is seabuckthorn products ( soaps, oil, jam, squash , juice...)
first free your mind, accept the fact that you choose to experience the extreme sub zero climate and its gonna be freezing. chadar trek is for sure not a picnic, it involves number of challenges and that's the most interesting and adventurous part of the trek. unpredictable weather to bone-chilling cold, surviving such low temperature is an adventure in itself. so, stop complaining about clod and embrace the warmth in it..........