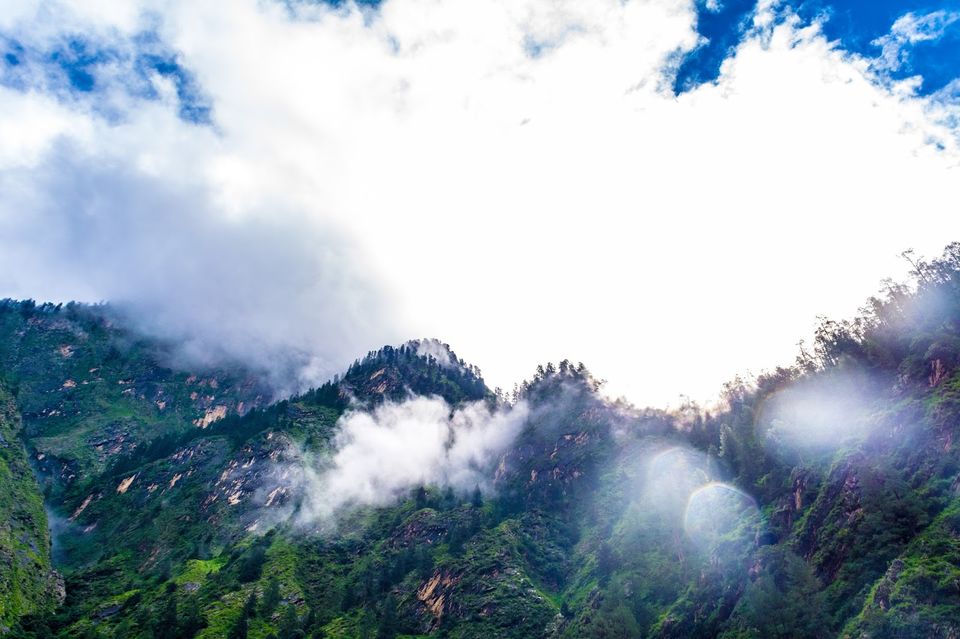 Traveling to the Himalayas was always on my bucket list, and so I decided to spend my birthday trekking the valley of flowers. But fate seemed to have other plans and it got postponed by a week. Finally, on 29th July 2017, I and two of my friends left for Delhi. We reached Delhi 2 days before and met some of our friends. After spending some wholesome time with one of the awesomest hosts I know, we left for Haridwar from where our journey began. Full of curiosity and a little dread, we went off to find out what the Himalayas had in store for us.
31st July , 2017
We reached Haridwar railway station at 6:30 am. Our train was a bit late but luckily we were able to catch the pickup provided to us. And then there was an 11-hour long road journey to the first base camp in Govind Ghat.
Always being a patient of motion sickness, I was very skeptical about the ride. However, the moment we started our journey all my anxiety was out of the window, and even though I made the car stop several times, nothing bothered me anymore. The scenery around was so mesmerizing that it questioned the sanity, making it difficult to believe whether everything was for real. We made our way through the dangerously cut Badrinath Road looking over a beautiful misty Alaknanda. I fondly remember someone saying "You don't control the mountains, it's the mountains that control you.". We were supposed to reach Govind ghat by 6 PM but we got stuck in Joshimath because of the landslides. So we spent the night there and got to know all the members of the team.
1st August,2017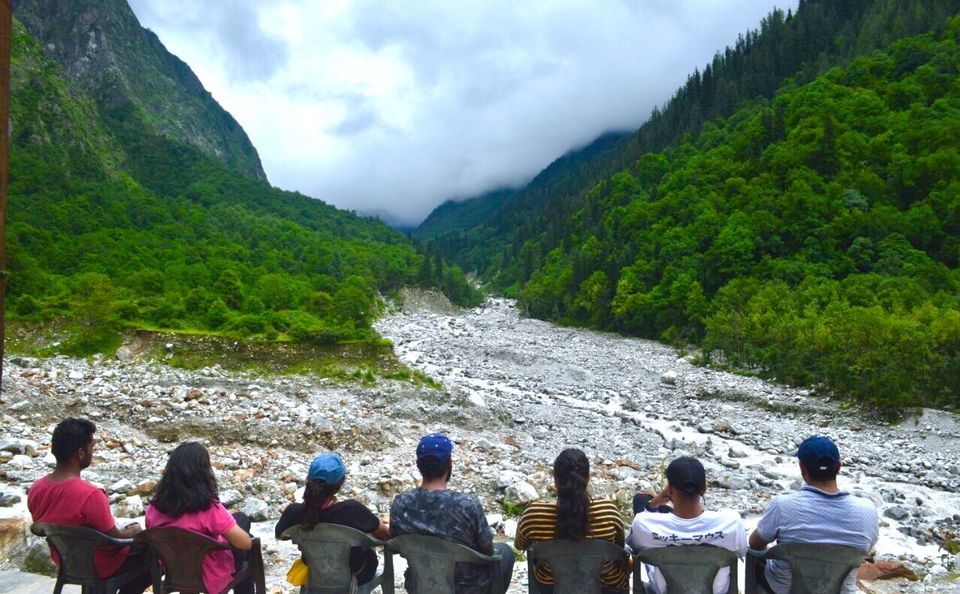 Early next morning when the road was finally clear, we left for Govind ghat and reached there around 9 am. We met our trek leaders, had our breakfast and then left the base camp around 10:30 am. We were heading off to Ghanghria, the next campsite in our journey, which was about 13 Kms away.
We started with a 4 km jeep ride to Poolna and then 9 km of trek. The trail was well-defined. You'll find numerous Sikh pilgrims on the trail because of Hemkund Sahib.
The trek from Poolna to Ghangria goes all the way along the river. The way was littered with a few roadside dhabas where you can grab something to eat or drink.
Midway through the trek we crossed the river and left it for good. The trek took about 5-6 hours to complete.
Ours was a diverse group in terms of age (well, age is just a number), the youngest person was an 8-year-old kid and the oldest was 60 years old. Apparently, not everyone in our was properly prepared for the trek, so some of them were having difficulty climbing up. I did a bit of running before this trek and I did fine, I'd say. I liked walking in the front of the group while trekking as you get more time to chill, relax, and appreciate the beauty.
Ghangria has a helipad and some space for setting up camps. Half a kilometer from the helipad is the one-street village of Ghangria, lined with hotels, restaurants and a gurudwara to stay. We reached Ghangria around 5 pm and got settled in for the night. We all had our dinner and then with the thought that tomorrow was finally the day for which everybody was waiting for, we all went to our rooms for some much-needed sleep.
2nd August,2017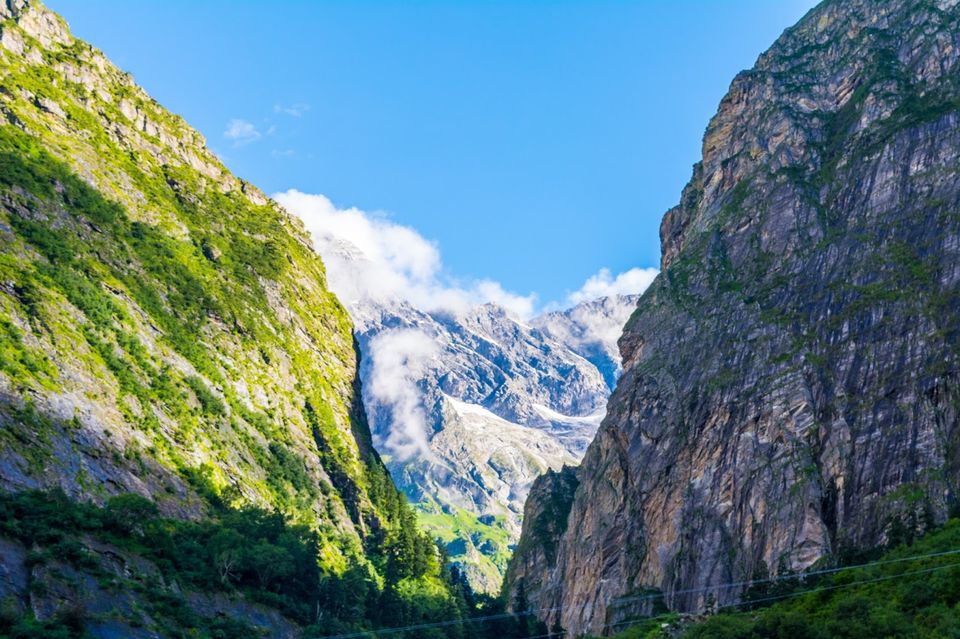 Every morning there was a routine that we used to follow. It was called the "6,7,8". At 6 the trek leader wakes you up with some tea, then you go back to your rooms to pack your bag for the trek. At, 7 am you get a breakfast call after which you pack your lunch for the trek and finally at 8 am you start the trek.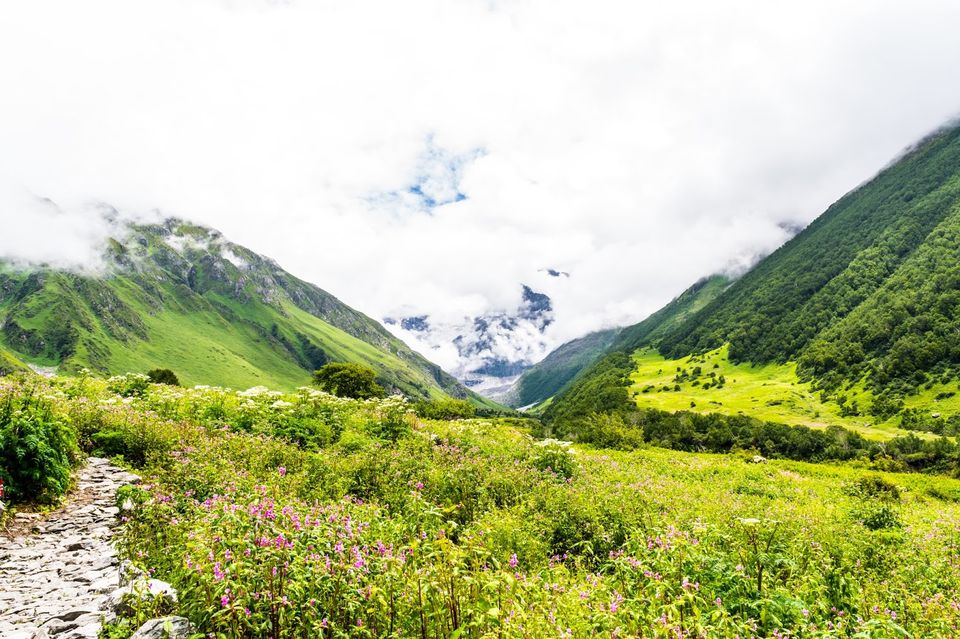 So yeah, "6,7,8" and we all left for the valley of flowers. Standing in front of all those tall mountains I pondered how it would feel to climb them, my eyes moved from one peak to another. How much time would it take? Would I able to climb it? How much food would I need? Am I carrying sufficient water? And suddenly all those thoughts vanished, and I was left wondering whether I was thinking anything at all. This was not a place to worry, but a place where you felt alive.
We passed a lot of magnificent waterfalls on the way, into one of which, one of our fellow trekkers fell down from a cliff due to some loose rocks. Thankfully, she was saved by passerby trekkers. With the help of one of the porters, she was sent down to the base camp. We continued our trek after we heard she was fine.
The trail splits from Hemkund in less than a kilometer. There is an office to buy entry tickets to the valley. The moment we entered the valley it felt like we had just entered heaven. Words won't be ever enough to express the actual feeling you got by being there. A kilometer into the gate, there is a scenic bridge across a stream gushing below and on both sides of the bridge are these tall rocky mountains rising before you. The well-laid-out trail had now become a small footway along the side of the valley. On the trek inside Valley of Flowers, you see very few people around you.
We trekked along for a couple of kilometers and then to our right the valley opened up. The entire valley was a well-laid carpet of colors — purple, yellow, red, white. This valley really is a dreamland for botanists. One can find flowers, leaves, buds of various shapes, sizes, colors, all growing together. Walk further into the valley and you will be engulfed with an amazing scent, which unfortunately cannot be captured but only be felt. The view was picture perfect.
We were there for an hour or so, and then we rushed back as the rain started pouring.
3rd, August 2017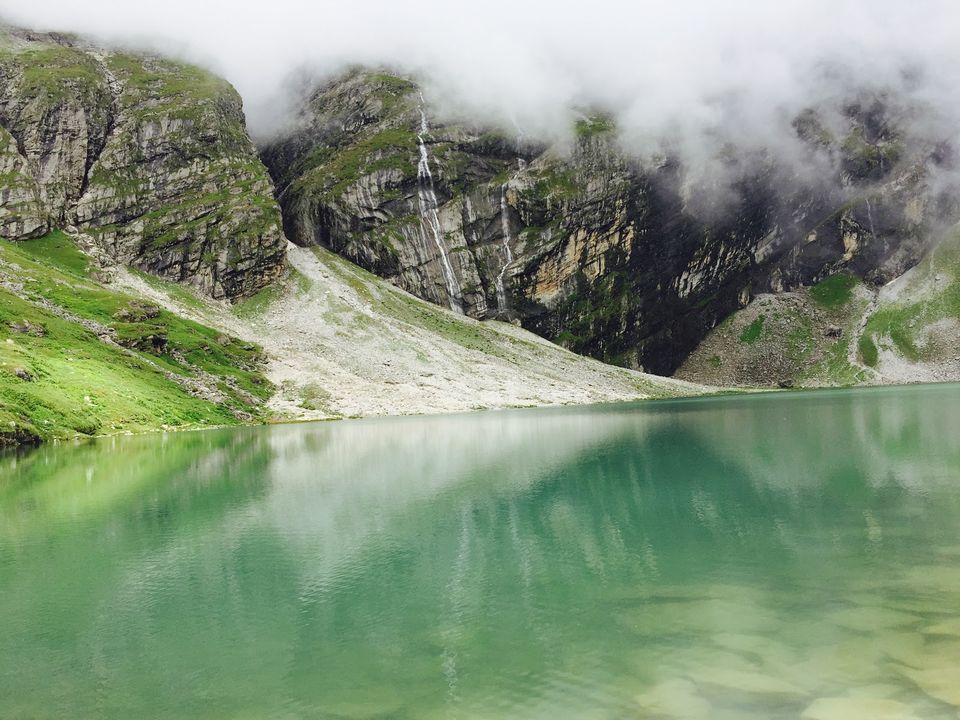 We followed that "6,7,8" routine and as some of the trekkers were not doing well they decided to skip Hemkund and finally 14 of us started the trek. It was the 3rd day of the trek. All of us were already tired but the view kept us going. It was steeper than the previous day but nothing could stop us then. This route's the home to the rare Brahma Kamal which only grows above 12,000 ft. We reached Hemkund sahib just in time as the gate of Gurudwara closes at 1 PM. We did the Darshan and got the prasad - finger licking good. We had langar's food, steaming cup of joe and gorged on the scenic view of Hemkund river which made all the effort worth. The food revived us from all the tiredness and we started our descent. I stopped at every moment wherever I could to embrace the beauty of it. On the way down we started playing Antakshari; with soft songs and the gorgeous view, everything was perfect. The joy of completing the valley and Hemkund compelled us to forget the tiredness. We danced at the camp. One of the trek leaders taught us gharwali (folk) dance which we were unable to pick up but it was fun. We had our dinner and after all the late night talks we went to our beds.
4th August , 2017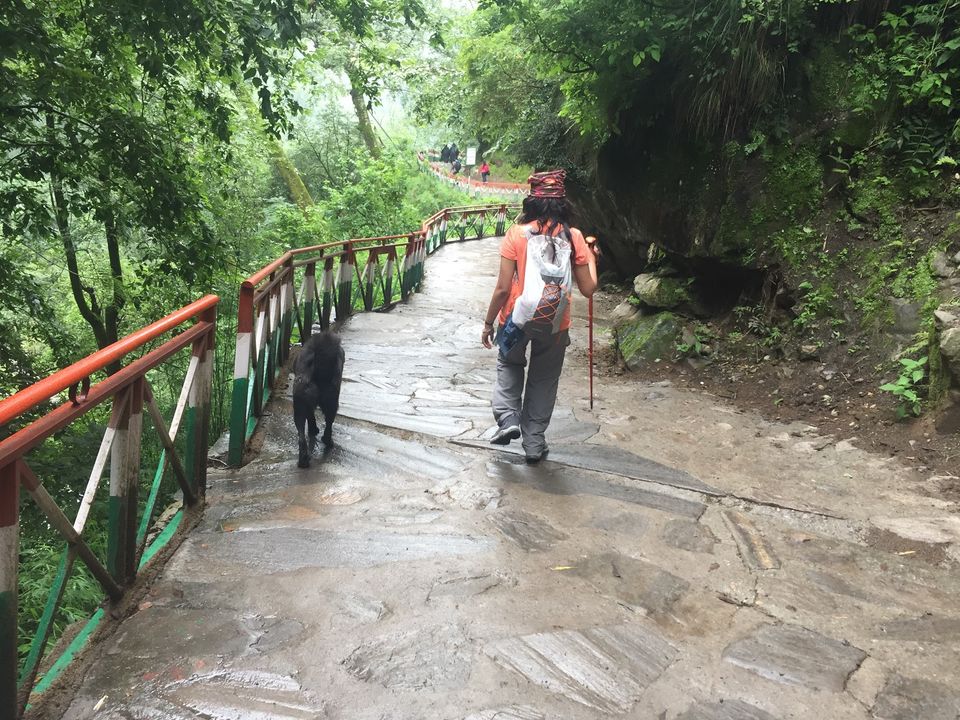 I personally did not want to go back but everything good eventually comes to an end and thus we left Ghangria for Govind Ghat. This time I was dragging myself with the mindset that if I walked at the end of the group I could be in the mountains for just a bit longer. I know this doesn't make any sense but nothing did.
Well, on the way down I found a dog and named him Kaalu, based on his color (not being racist at all). He accompanied me on the entire trek down and it was so much fun with him. After saying my goodbyes to Kaalu we reached Govind Ghat. We kept our stuff in the room and went for lunch. The view from the place we had lunch was mesmerizing. It was pelting and I could just see the tall mountains and new waterfalls which started to form because of the rains. All of it was just so peaceful, we sat there enjoying the view singing old Hindi songs and enjoying the weather. We were feeling reinvigorated, recharged, ready to do this all over again, but then we realized the harsh fact that we needed to move out because a new team had arrived in the base camp, and they required a place to settle down.
We went back to our rooms to have a debriefing session where everybody shared their feelings and then were called out for dinner. After having our dinner, we roamed around the streets of Govind ghat, cold, empty, lonely streets of Govind ghat which looked so beautiful under the moonlight. I guess none of us wanted to go to sleep as it meant the day was over, and we were gonna wake up confronting the reality of going back to our mundane lives. We were up till 12:00 AM talking. The next morning we said our goodbyes to our trek leaders and left the place.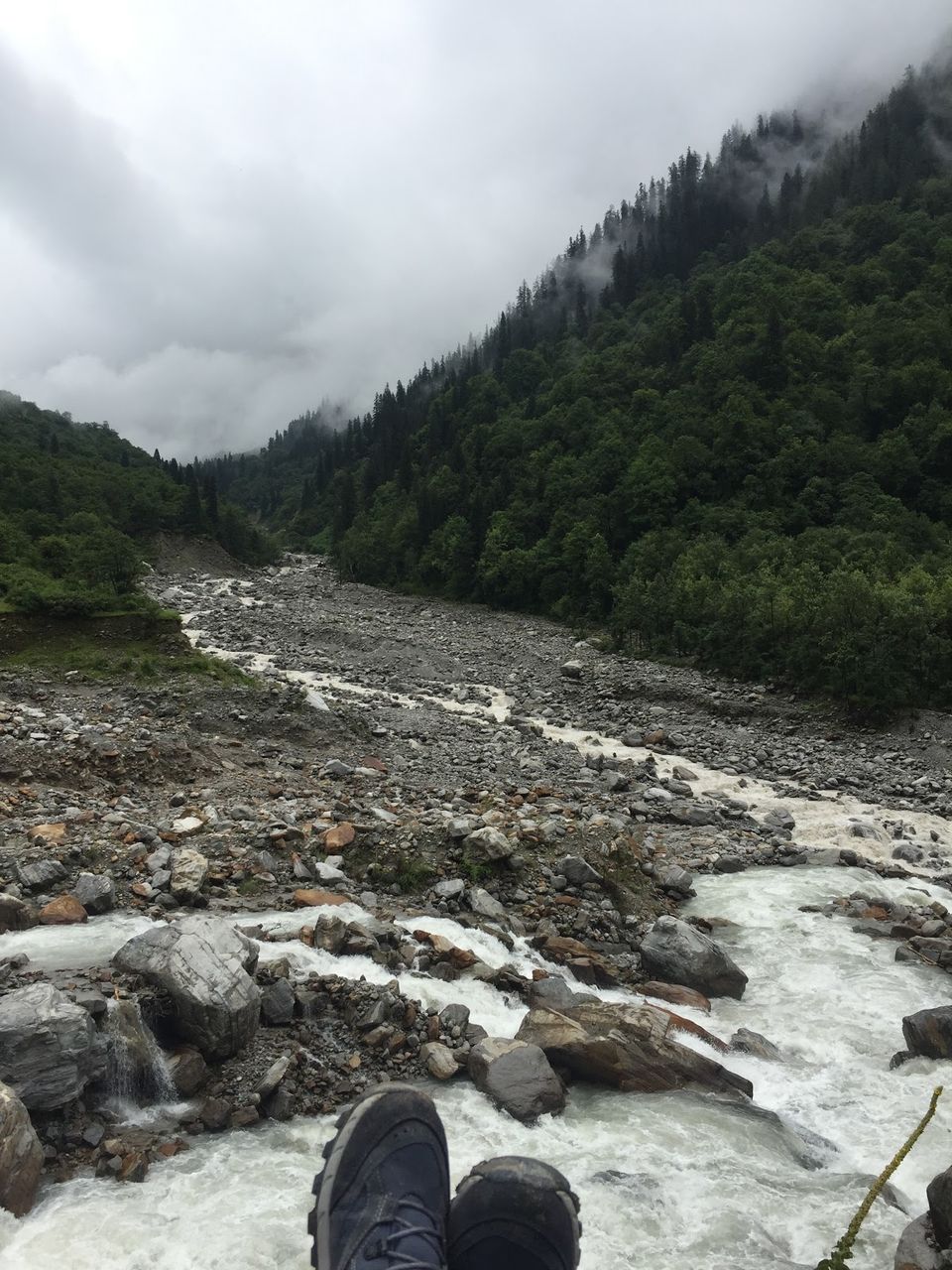 On the way back, I had a constant smile on my face. Seriously, I just couldn't stop smiling. I don't know what it was, the sense of achievement or the satisfaction of completing the trek. The mountains are always calling. You just have to listen. I promised myself I'd be back very soon. It was just the beginning.