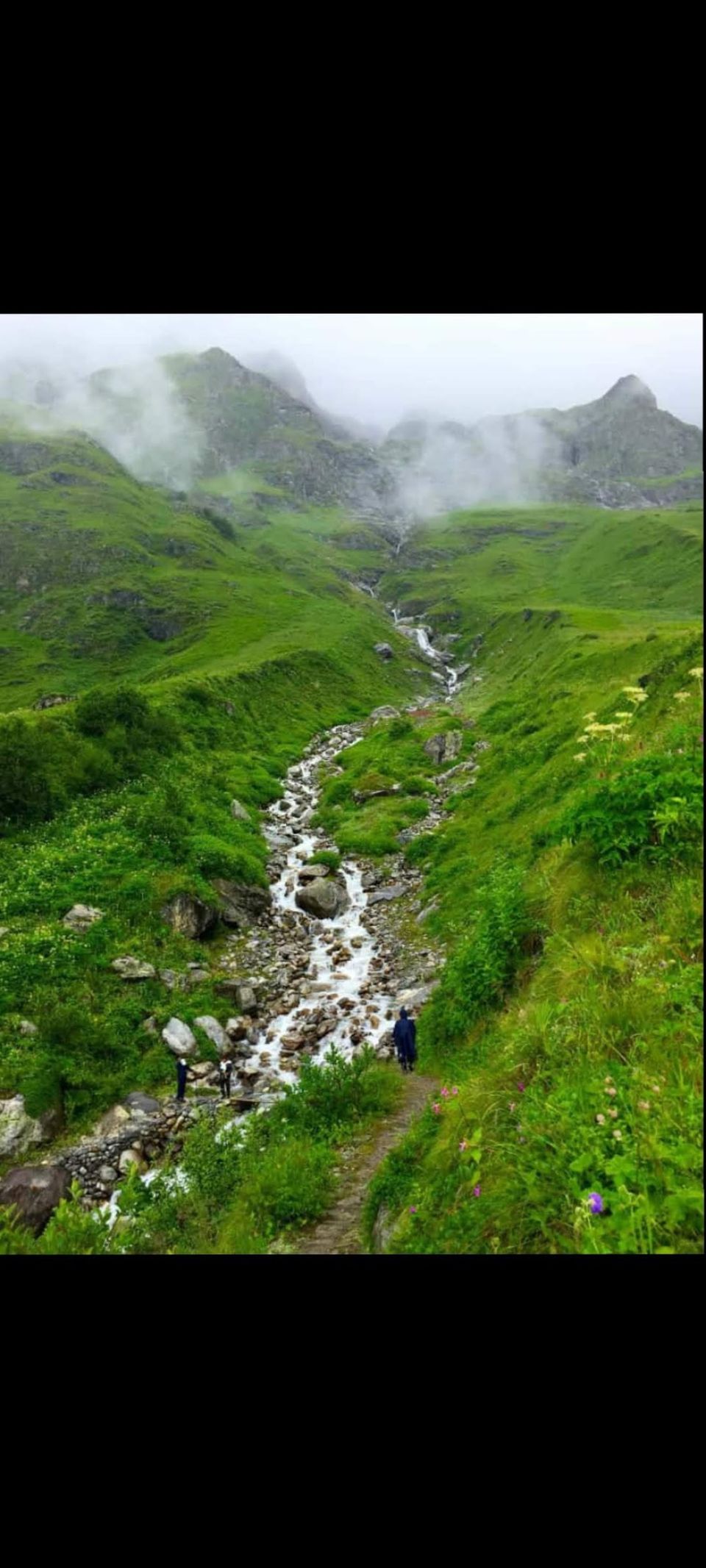 First day of my first solo trip began at Kashmiri Gate , where I boarded by pre booked Uttarakhand road Transport bus to Haridwar. Being honest , I had my reservations while booking with a government bus, but sooner I learnt when it comes to overnight or time constraint journeys State Corporation buses are the safest option. It was a semi deluxe AC bus with comfortable push back seats. The journey started on time at 10:30 PM. Comforters were provided, and the overnight journey was comfortable all in all. Except the patch near the outskirts of Meerut where the bus encountered zero visibility Mist, and the anxiety for me and most of the fellow travellers peaked. But trust me, I am vouching for this personally. "ALWAYS" trust a government bus driver in these situations over private bus drivers.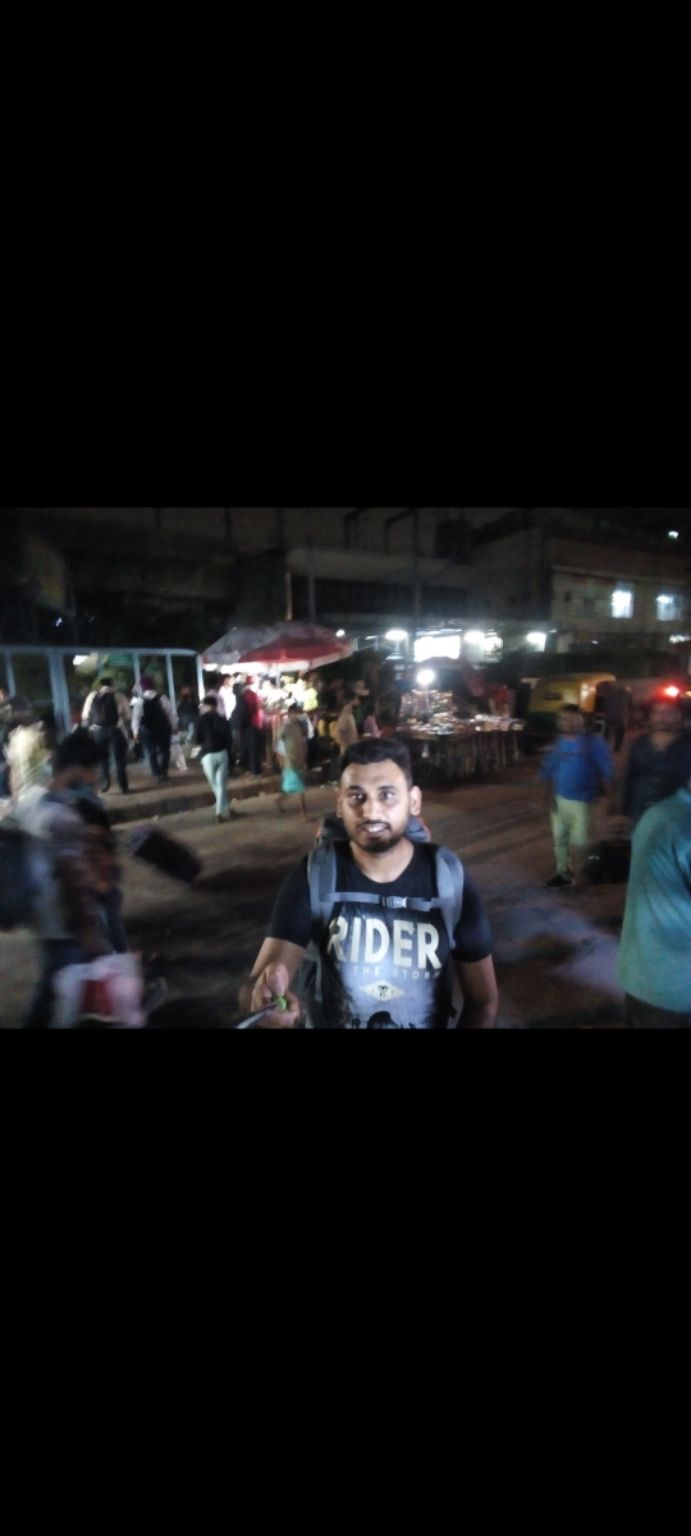 The bust reached the outskirts of Haridwar one hour before the scheduled time. The first surprise / challenge of the trip arrived my way. It was raining and the last 4-5 KM for Haridwar bus station was completely filled with water (July end being monsoon time) . Waiting for about an hour for the bus, and about 1.5 hours for my next bus. I decided to take the walk in rain. I took my bagpack, wore my rain coat and stepped out of the bus. Watching me take the walk of faith a lady sitting in the bus decided to walk with me till bus stop. On walking for about 5 min , we both got pretty accustomed to the rain and started talking about each others trip. I came to know the lady was an Army wife and was going for a solo trip to Rishikesh for a week and then would backpack to Hemkund Sahib a week after. We continued our talks and walked for another 30-45 min. We then saw a jeep coming from behind. We decided to hitchhike in the jeep. People were pretty nice and offered us a ride till about 200 mts from bus station. We learnt those people were going till Rishikesh so the lady continued the ride, whereas I got off and boarded a sharing Auto for the last 200-300 mts . Auto Guy charged 20 rs and dropped me at the bus station, 15 min ahead of the last bus to Joshimath. A little drenched , I booked a seat in that bus. I drank tea from station , purchased some snacks and got ready for the next bus journey in this trip.
Bus Journey No. 2 :- The bus was a small Non Deluxe type, We started at around 8/8:15 AM, it was still raining a little. The route was pretty scenic. One of the highlight of the highlight of the route is Rudraprayag . It is one of the five Prayag of Alaknanda River and also the point of confluence of rivers Alaknanda and Mandakini.
The bus stopped once at a small dhaba where i had Maggie and tea for lunch . The Journey post lunch was going pretty smooth until the bus driver out of no where decided that he won't be going to Joshimath anymore and will be taking a different route ( Joshimath was the last destination of the bus , and I was the only one going till Joshimath, So I pretty much got the clue) .
He dropped me at a small village bus stop and told me I'll get a bus from here that will drop me to Joshimath. Luckily that is what exactly happened. I got a bus in next 20 min. At this point I was pretty tired, I somehow managed to get a seat in that bus. I slept for most of my rest of the 2 -2.5 hour Bus ride.
On my Way to Joshimath in bus I met 2 guys who were going to do the same trek. on reaching Joshimath , we 3 booked a room at a random hotel. Our only requirement was hot water and comfortable beds. Had an early dinner and called off the day.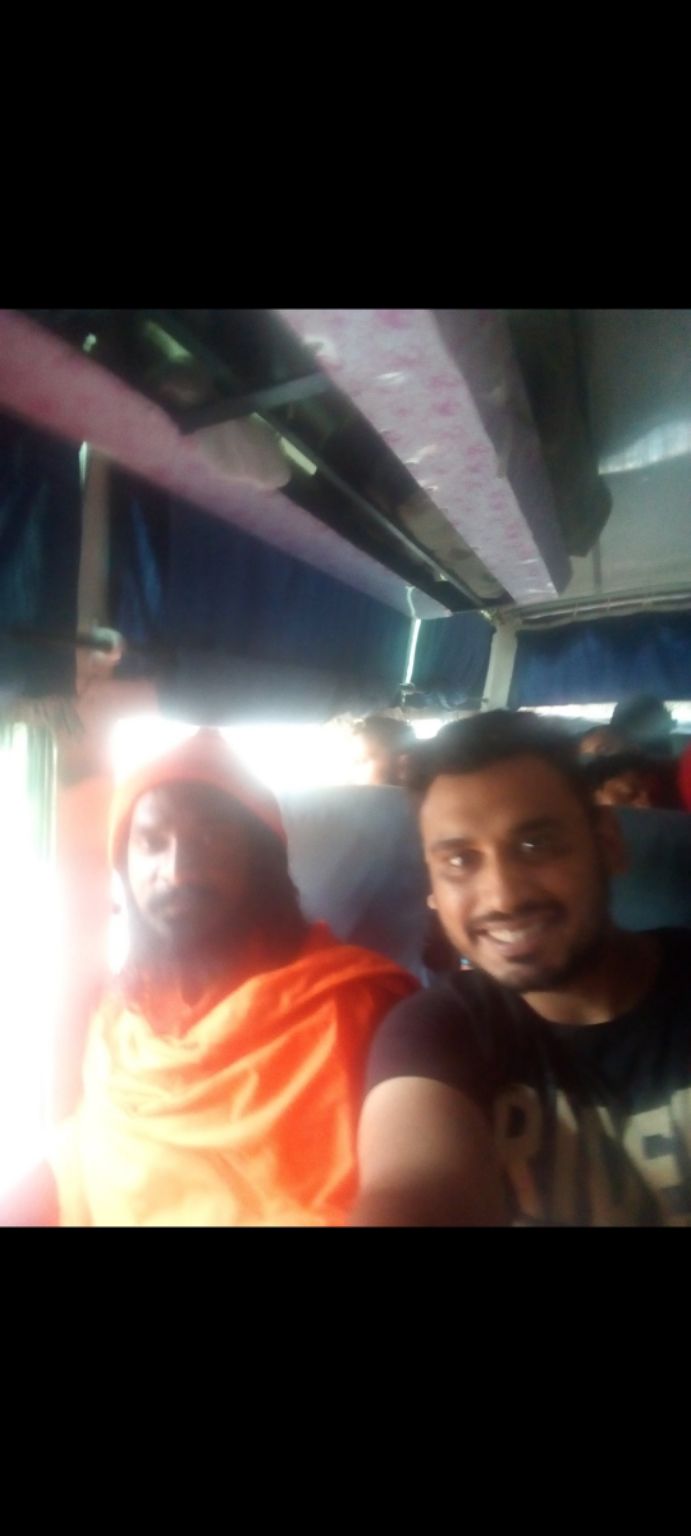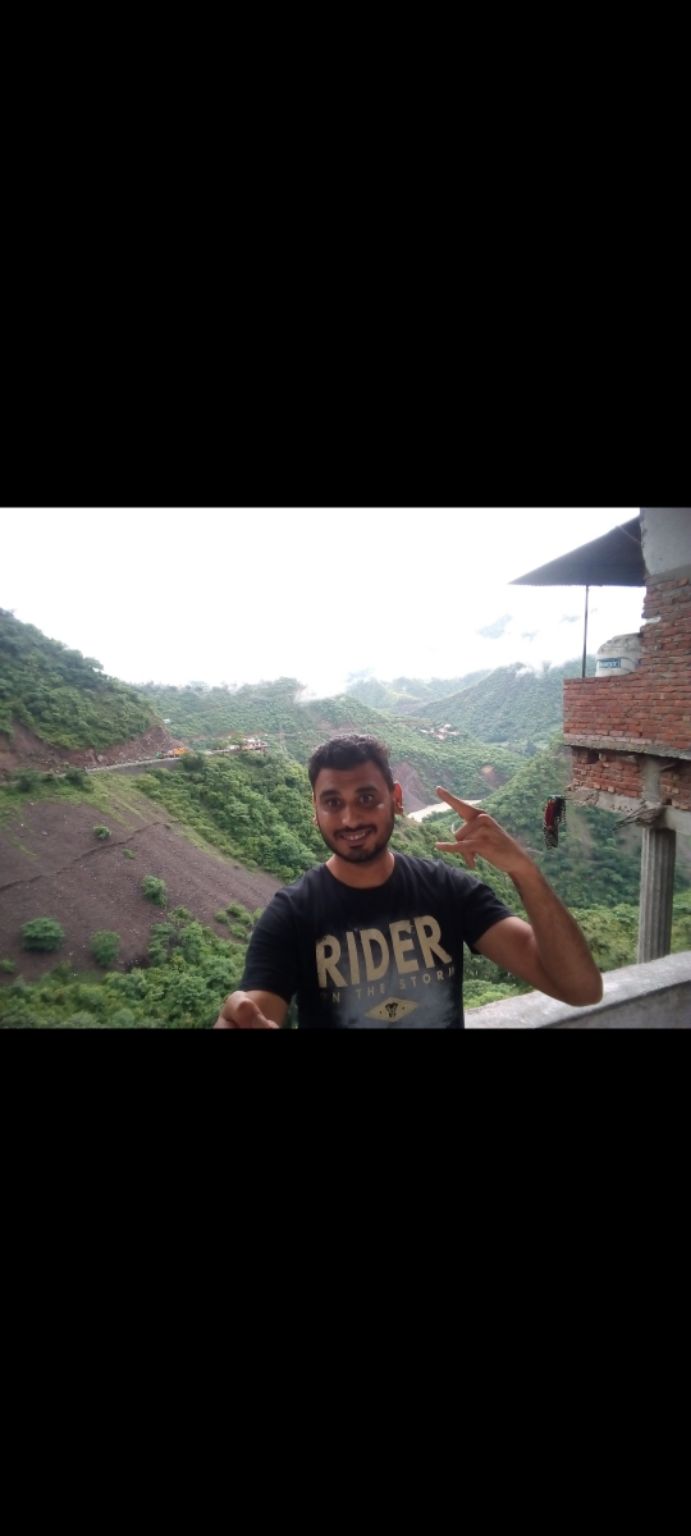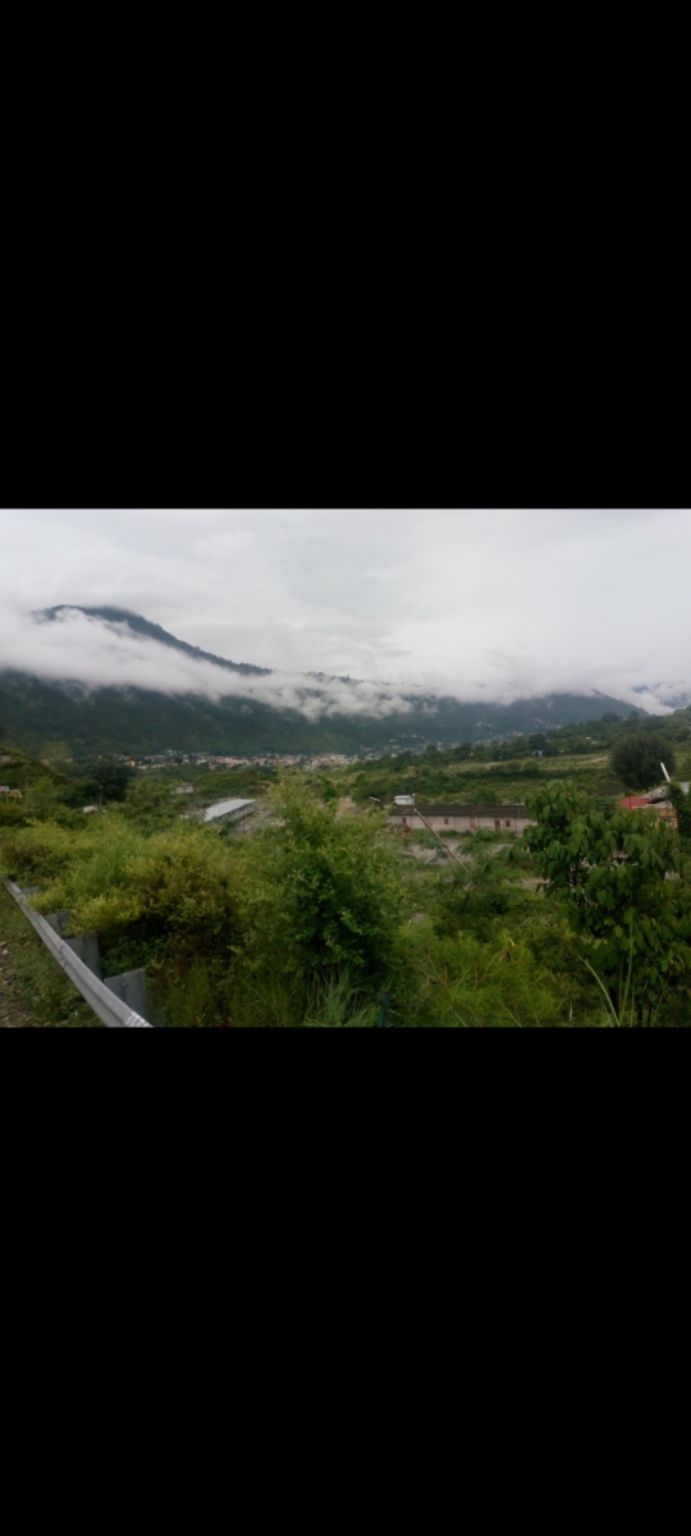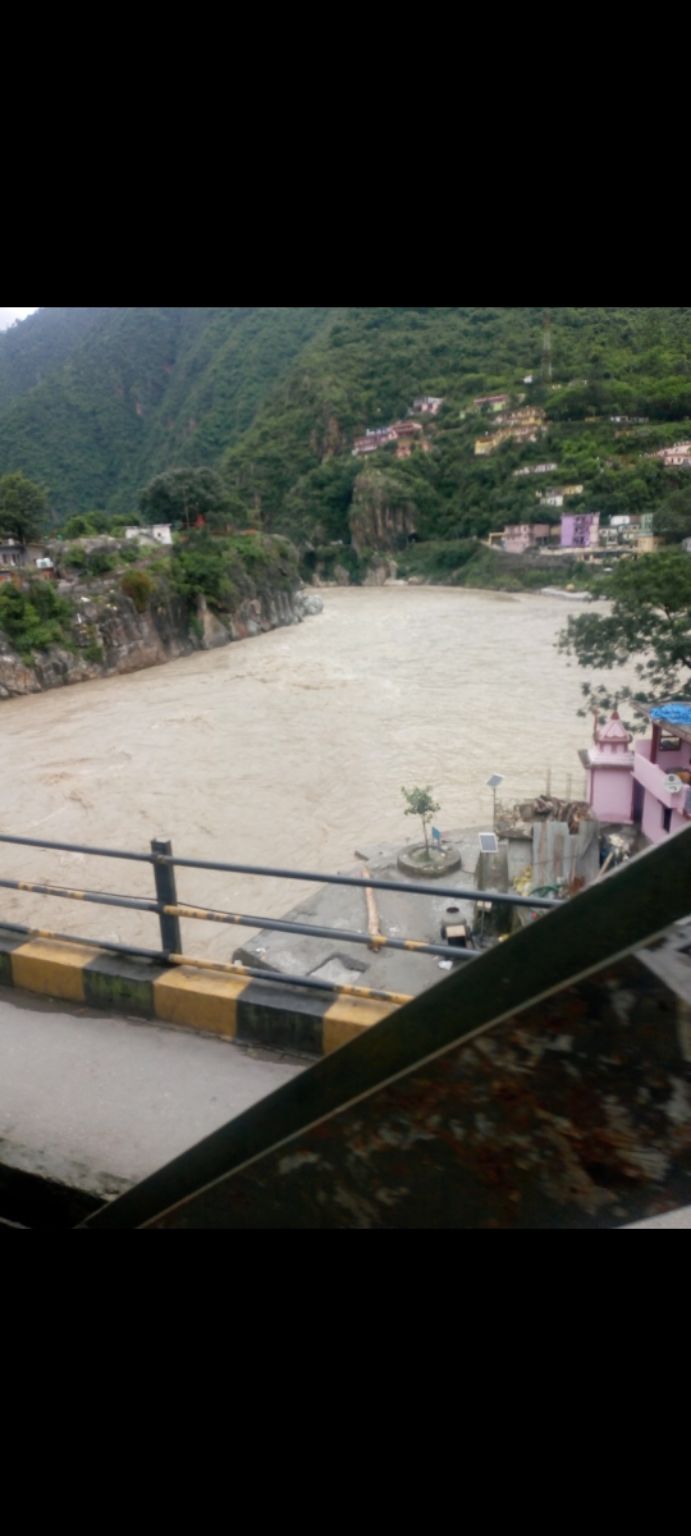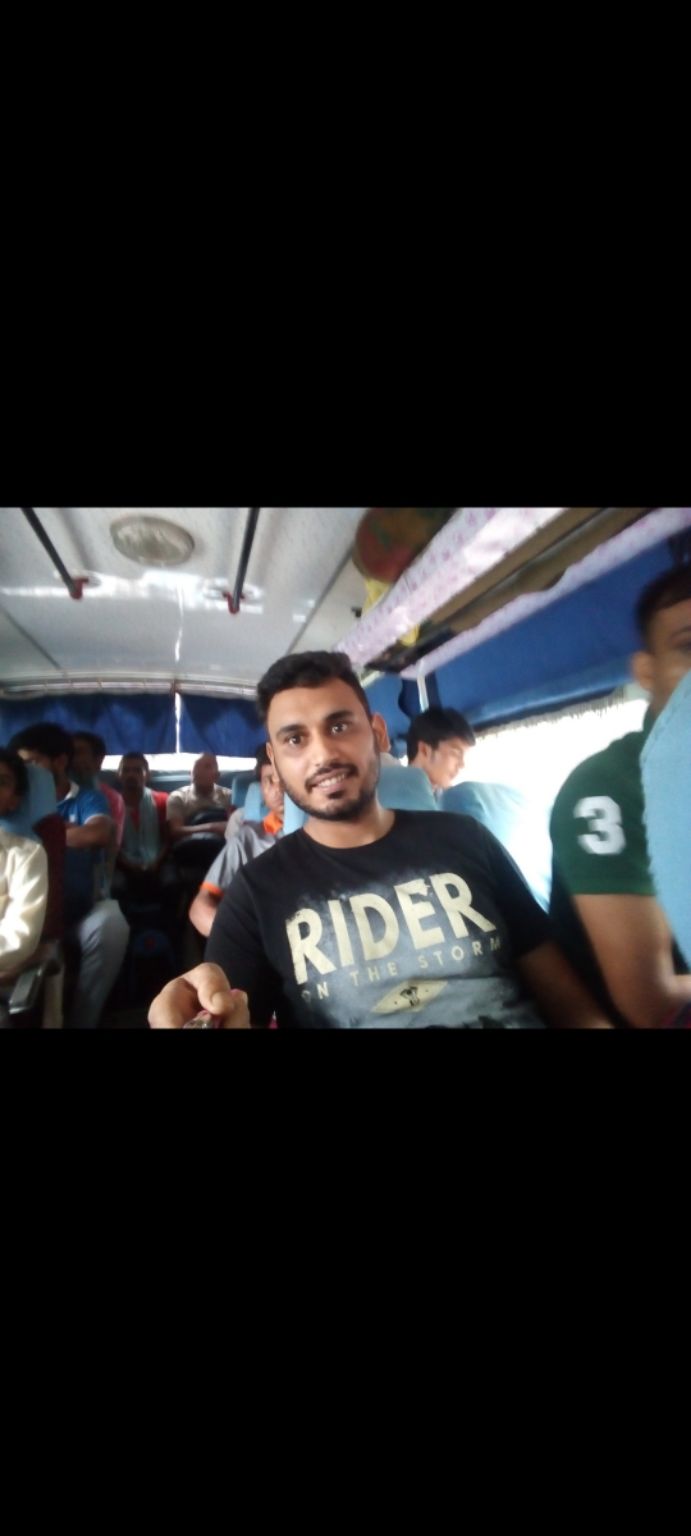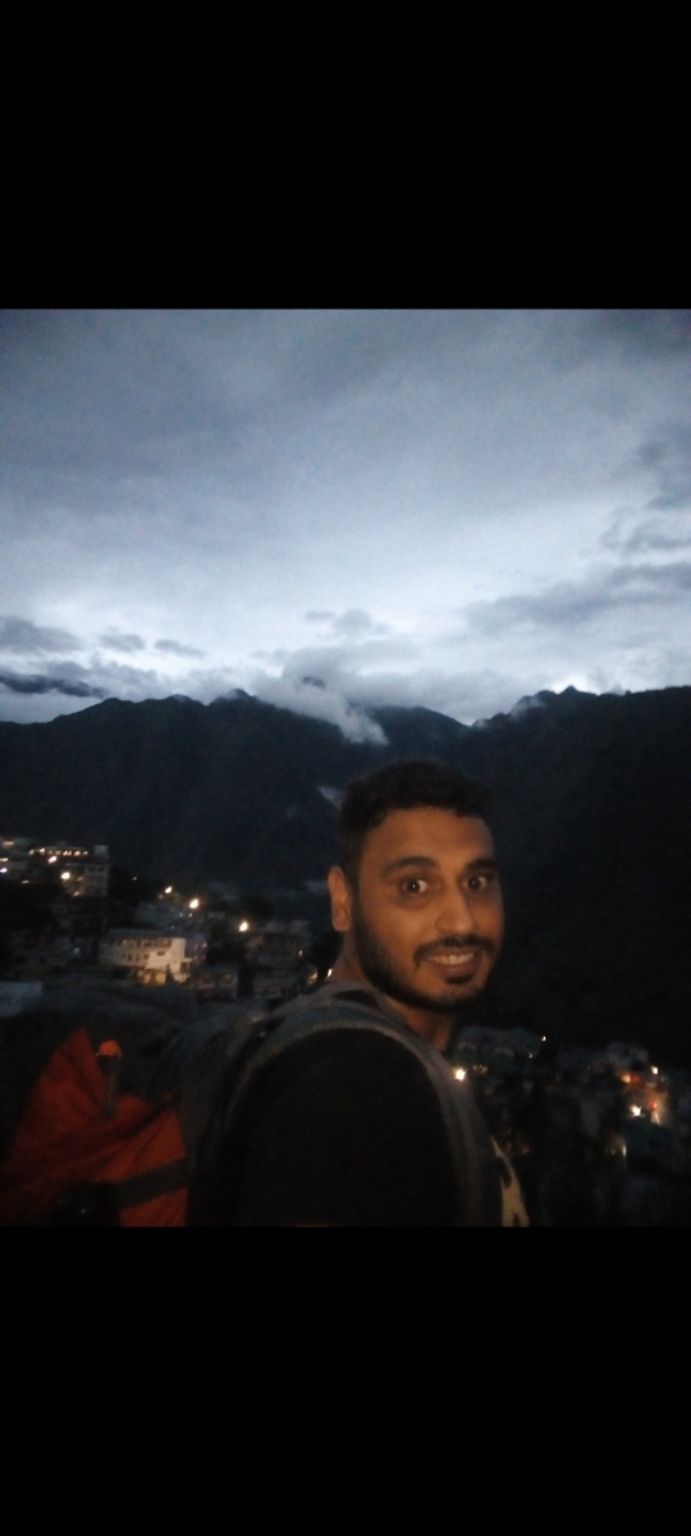 This was the day my trek would begin. Woke up at 6, after getting ready and having breakfast ( 2 Aalo Parantha and coffee).
Me and the two other guys booked a car , which would drop us to Govind Ghat which is about 20 Km from Joshimath. It was a sharing taxi and he driver charged 50 Rs per person. We reached there in about 40 min. I was sitting at the back seat and was just trying to capture the beauty of that route.
From Gobind Ghat, the next check point is Gobind dham . It is about 4 Km trek. Though taxis are available to cover those 4 Km. We decided to start our trek from GobindGhat itself. The trek is a little uphill and will require some amount of efforts to be completed. We 3 completed the first 4 Km in about 1.5 Hours.
On reaching Gobind Dham , we took a small break. Resting and hydrating for 15-20 min we started our trek again. The next checkpoint was Ghangria . Ghangria is a little hamlet located on the way to Hemkund Sahib. The distance remaining was 10 Km.
After walking about 30 i started to realize what have i gotten myself into. The trail was way too steep as compared to the the first 4 Km. In addition to the trail I quickly realized my mistake. Being my first solo trek i had packed a lot more than required. This slowed me down a lot.
None the less I weathered through the trek at slow pace. At this point my 2 friends had went ahead of me. Although at half point I met them. They had finished their lunch, when I reached the half point. I asked them to move forward and told them I'll meet them at Ghangria .
After having my lunch from that halfway point stall. I started the remaining trek. In about half hour it started to drizzle. With my raincoat on , I started to walk. Strength required to take one step forward was compounded exponentially due to my overweight Bag pack. While walking I encountered a lot of people . Hemkund Sahib, being the highest Gurdwara of the world is a very sacred site for Sikhs. The only thing which made me going and not hire a pony was seeing the elders walking. I was seeing 60 years old people walking slowly with will a d determination. The constant encouragement I got seeing those people walking was enough to refill my Adreline quota for the trek.
Slowly, steadily and all weathered out i reached Ghangria . At this point I was in No mood to look for those 2 guys .
There were plenty of stay accomodations available in Ghangria. End July was off season, so almost everything was available. However, I reached Ghangria on my b'day so i decided to stay in a Gurudwara.
I checked in the Gurudwara and was alloted a cot in a shared hall among other pilgrims who would travel to Hemkund Sahib the next day.
The hall was at the first floor. The bed and all other arrangements were pretty decent.
At this point I was pretty good exhausted and wanted to sleep after eating something. After settling down I went down stairs to the prayer hall and post that had Langar as dinner. Simple Daal Chawal and pickle was served for dinner. However it was at this time while eating food i felt nauseated and was getting uncomfortable. I decided to get myself checked. Though there was a dispensary at the Gurudwara as well. I decided to go to small roadside dispensary in the Market. The doctor there took my vitals which were absolutely fine and gave me a diamox. This pretty much made me feel good again. I took a paracetamol and decided to sleep.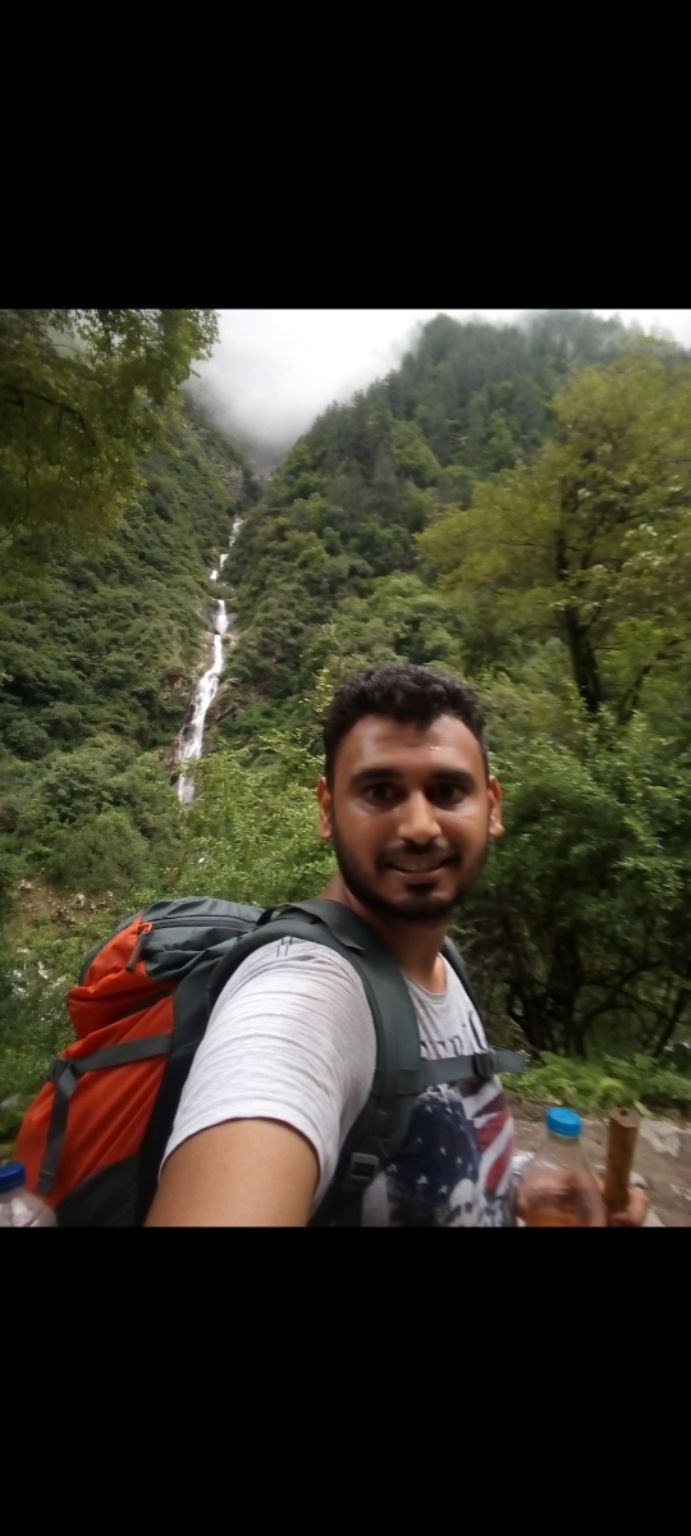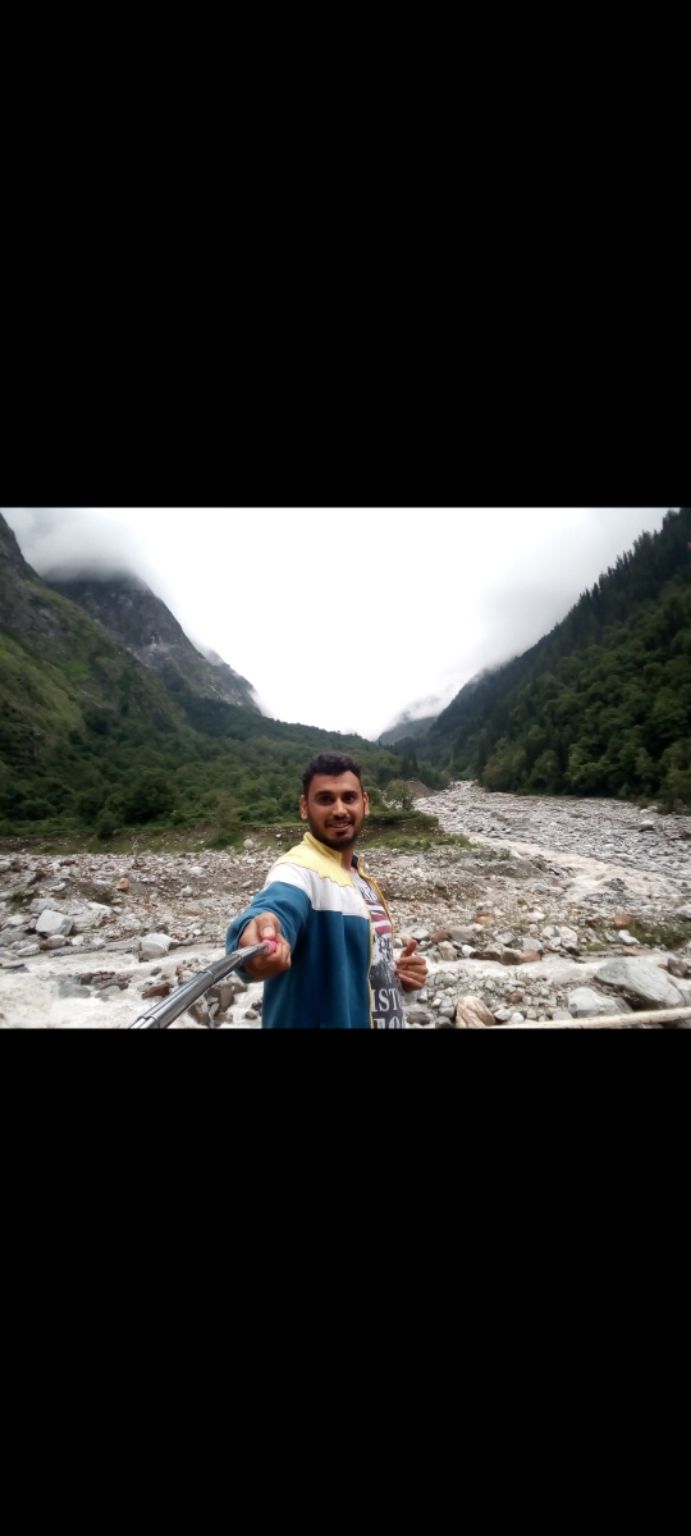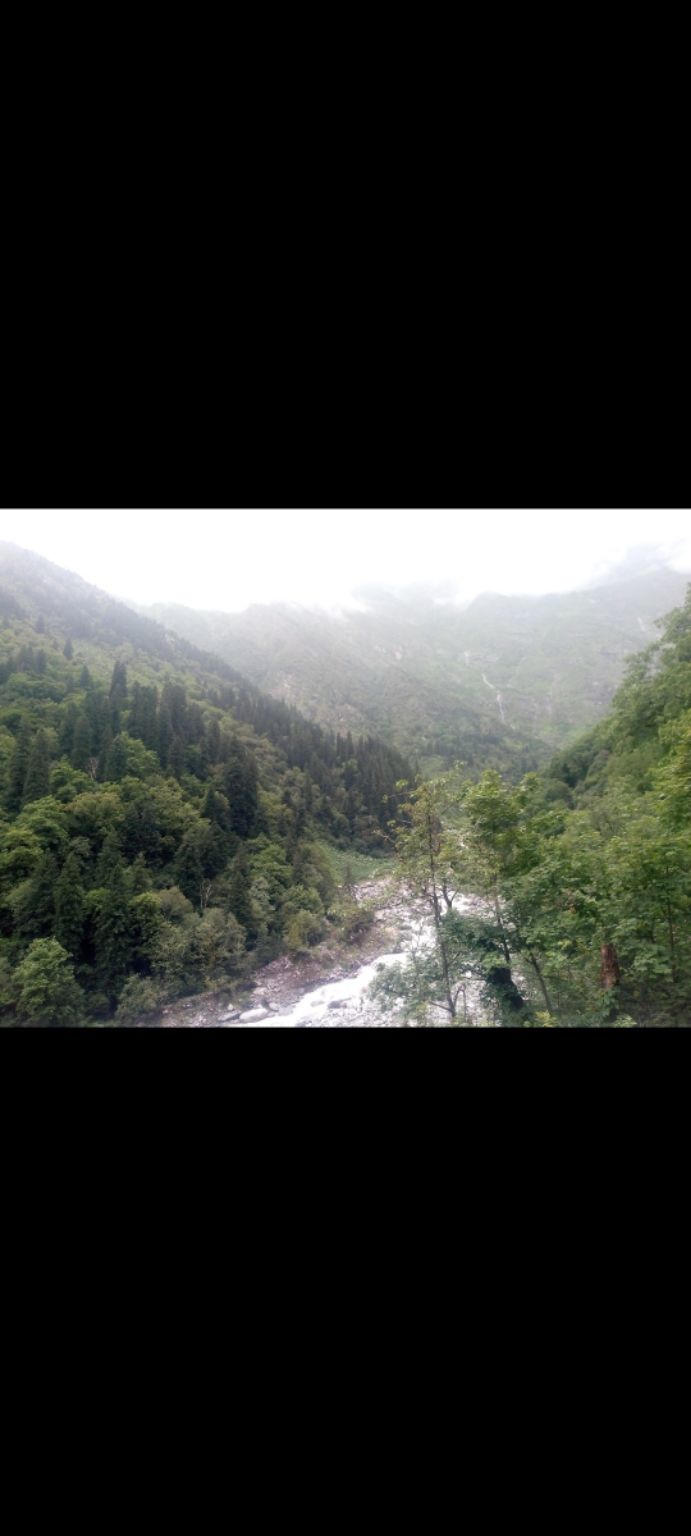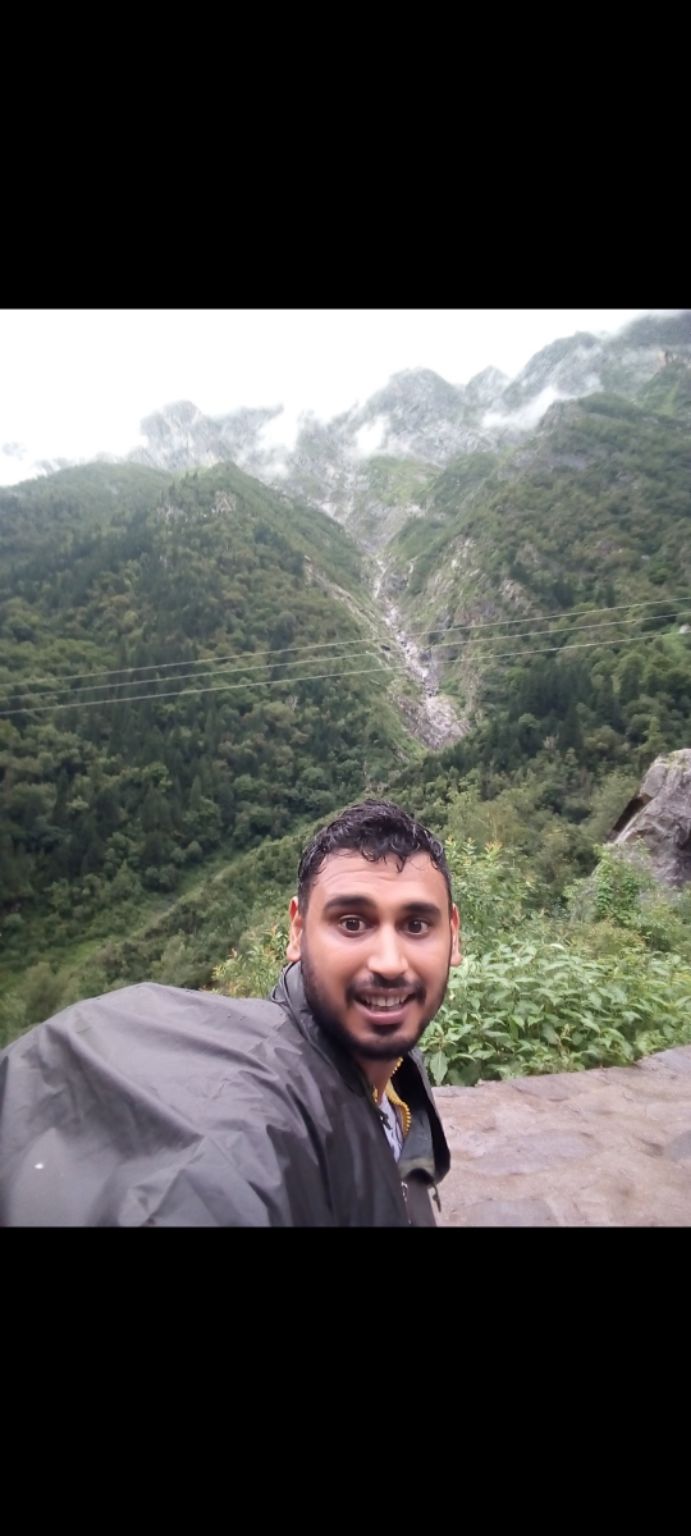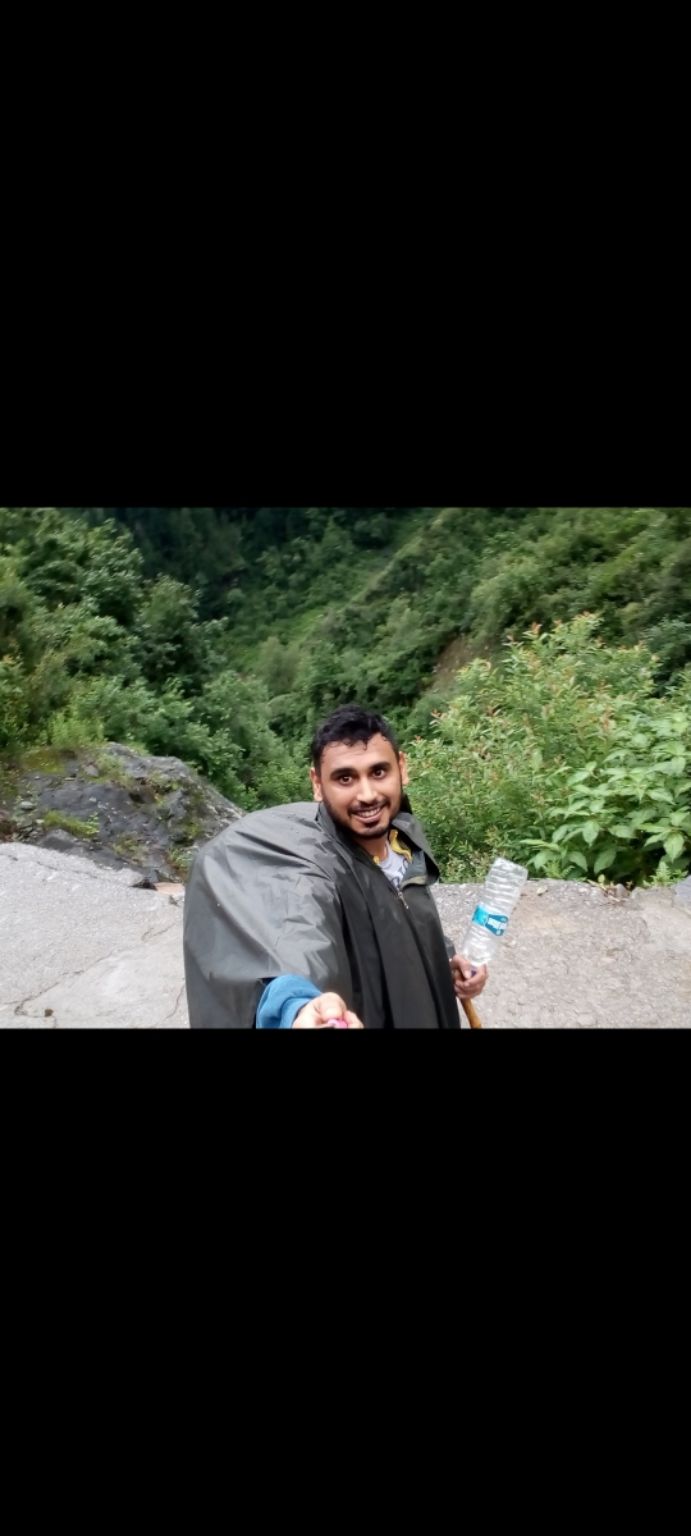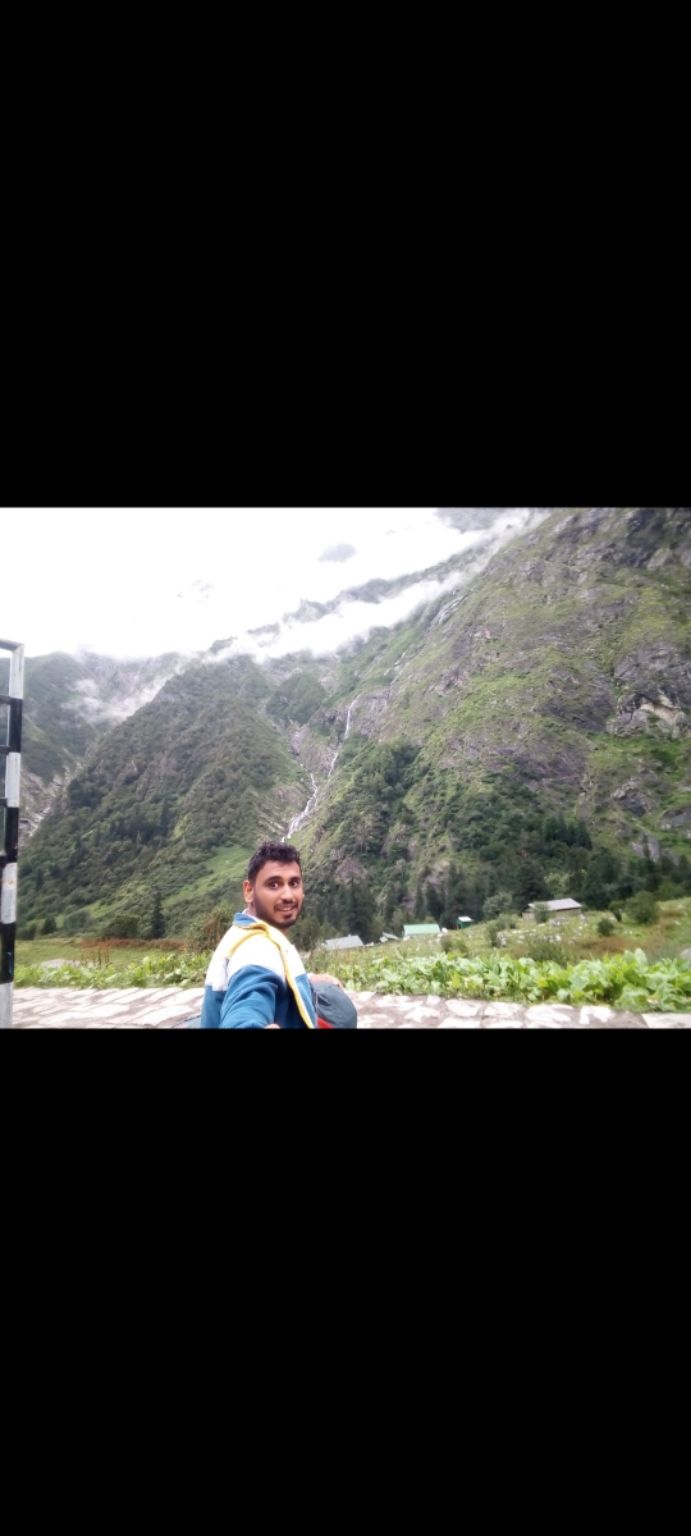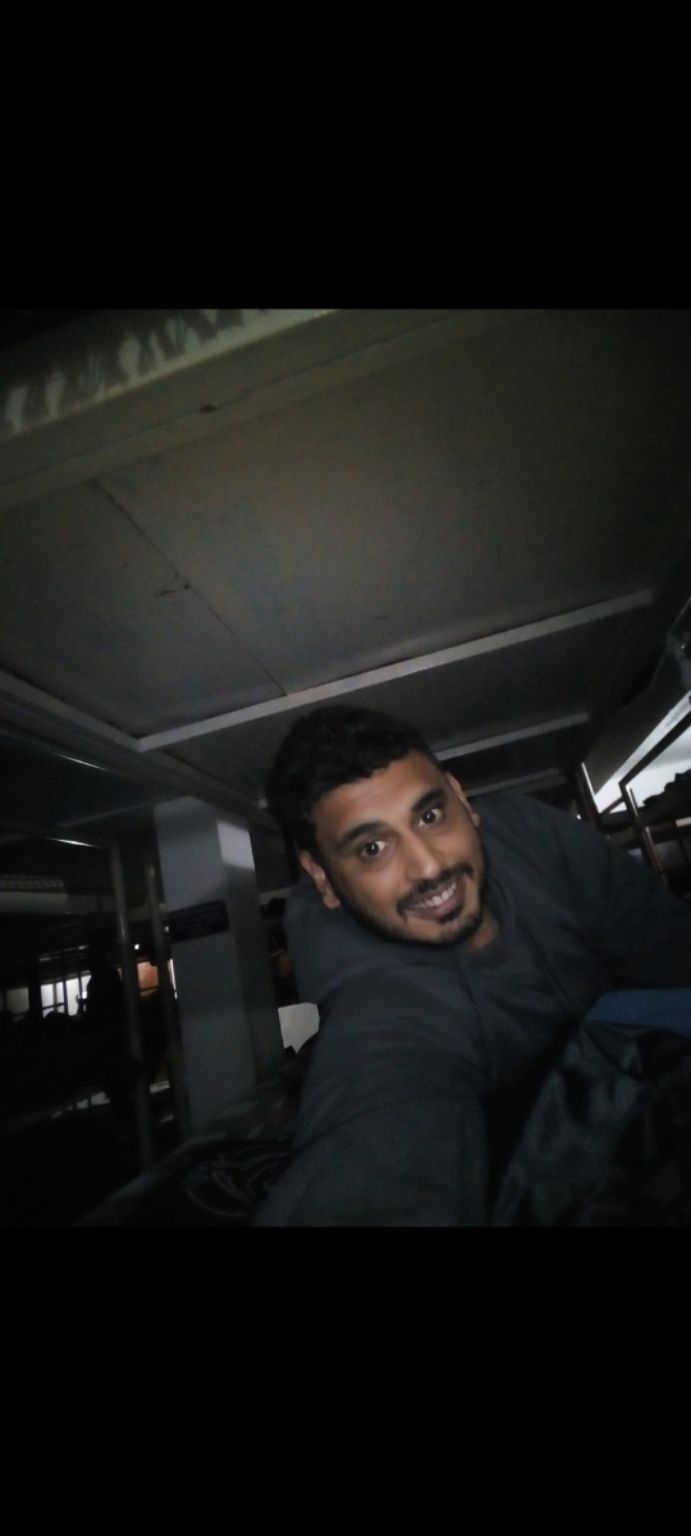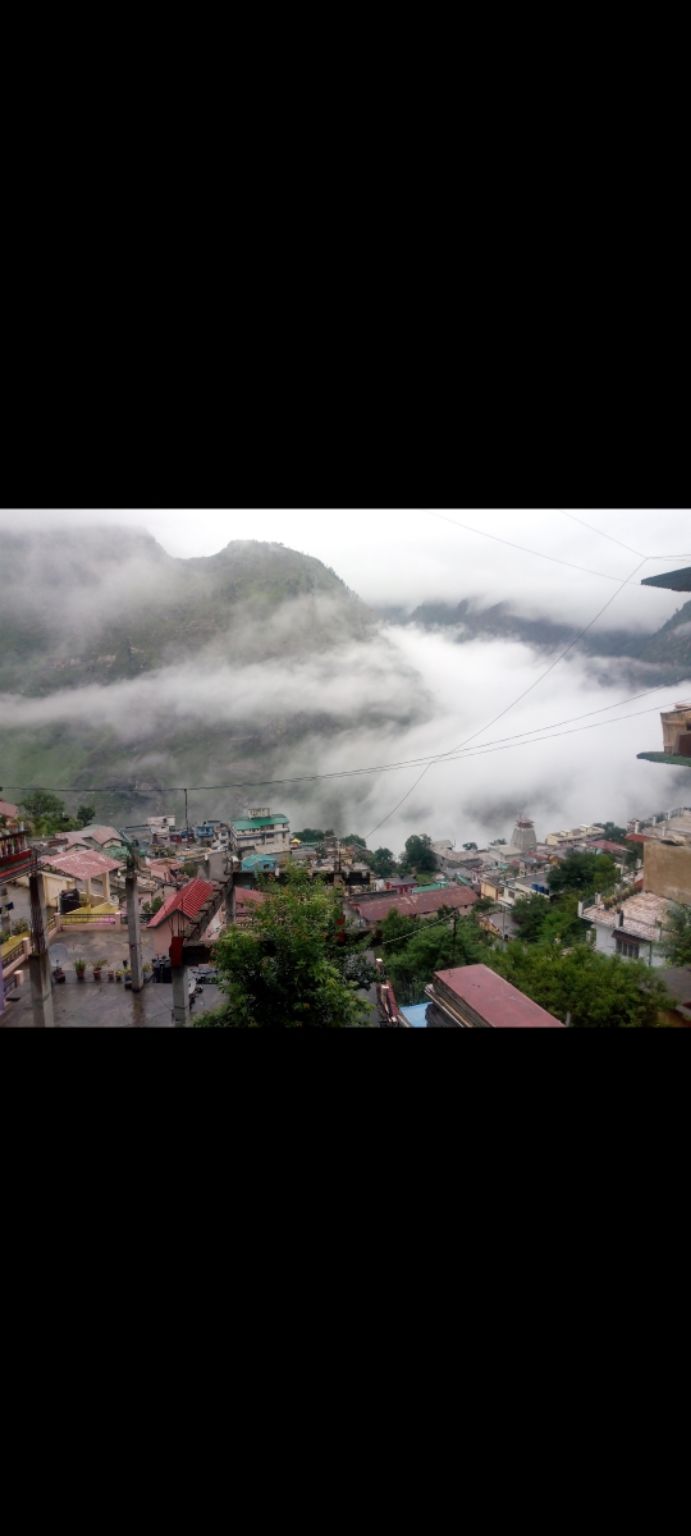 Valley of Flower trek (13000 Ft)
Woke up to the first sound of Gurubani. Simply loved it and as soon as I opened my eyes I knew that an awesome day awaits me. I spent the next one hour in the bed , observing and enjoying the shenanigans of people around. Talked to a few people and came to know that it's a ritual for many people to trek to the Gurudwara. Seeing grandparents taking that journey, filled me with inspiration.
For my breakfast , I enjoyed Langar with Hot Tea. It was fulfilling as expected.
The trek to Valley of flowers opens up at 8 in the morning, and there are no eating arrangement on the valley, so I got myself lunch packed. I got 2 parantha and 3 eggs for the journey. It cost me 130 Rs, which I think was fair enough bargain.
At the start of the trek to the Valley , we need to get our bags checked and all the items were noted down. A sum of Rs 500 was collected as a security, on the condition I would have to bring all the packaging / waste with me back. Which was an excellent move on the part of administration there.
At about 8 in the morning, I started my trek. The valley is about 7 Km long. After waking for about 3 Kms, you are welcomed with the first look of valley. You are not only awestruck with the beauty but also overwhelmed with the sounds of birds and the fragrance of the flowers.
The trail for the last 4 Km is pretty easy. After walking a little into the valley , you get two options. One could either walk till the end of valley and see a frozen glacier , or take a small detour and see a grave ( grave is of the sister of the person who discovered this valley. She fell while treking in the valley ) I decided to take the detour. The grave was pretty lonely, with 4-5 other people sitting there. I decided to sit there in peace for a little. Meditated there and had my lunch. After sitting there and enjoying the overall views , I decide to head back. The downhill trek was a little tricky, but manageable. Reached down at about 5 Pm.
For the night I decided to check out from Gurudwara and rented a single room (450 per night ) Was pretty tired, Had my dinner from the market. Ordered a veg thali this time (150 Rs) and slept.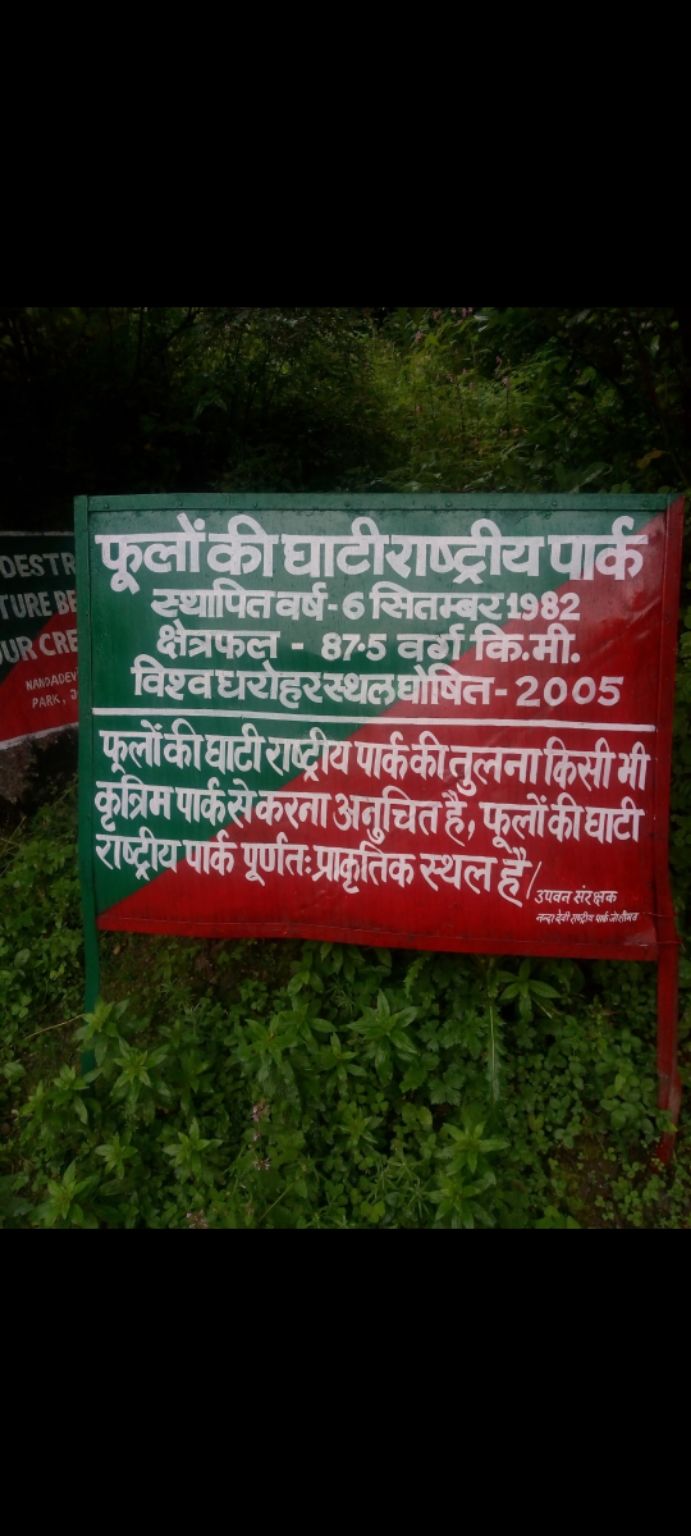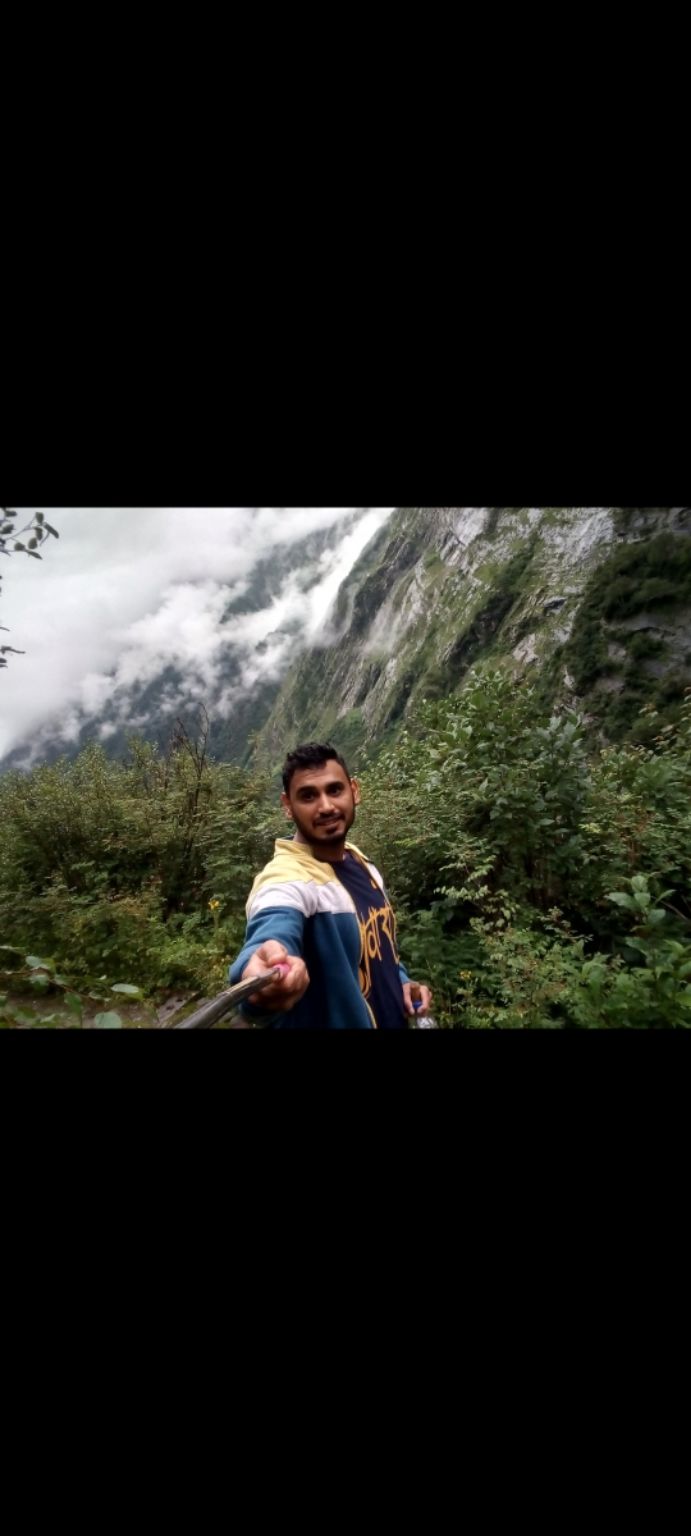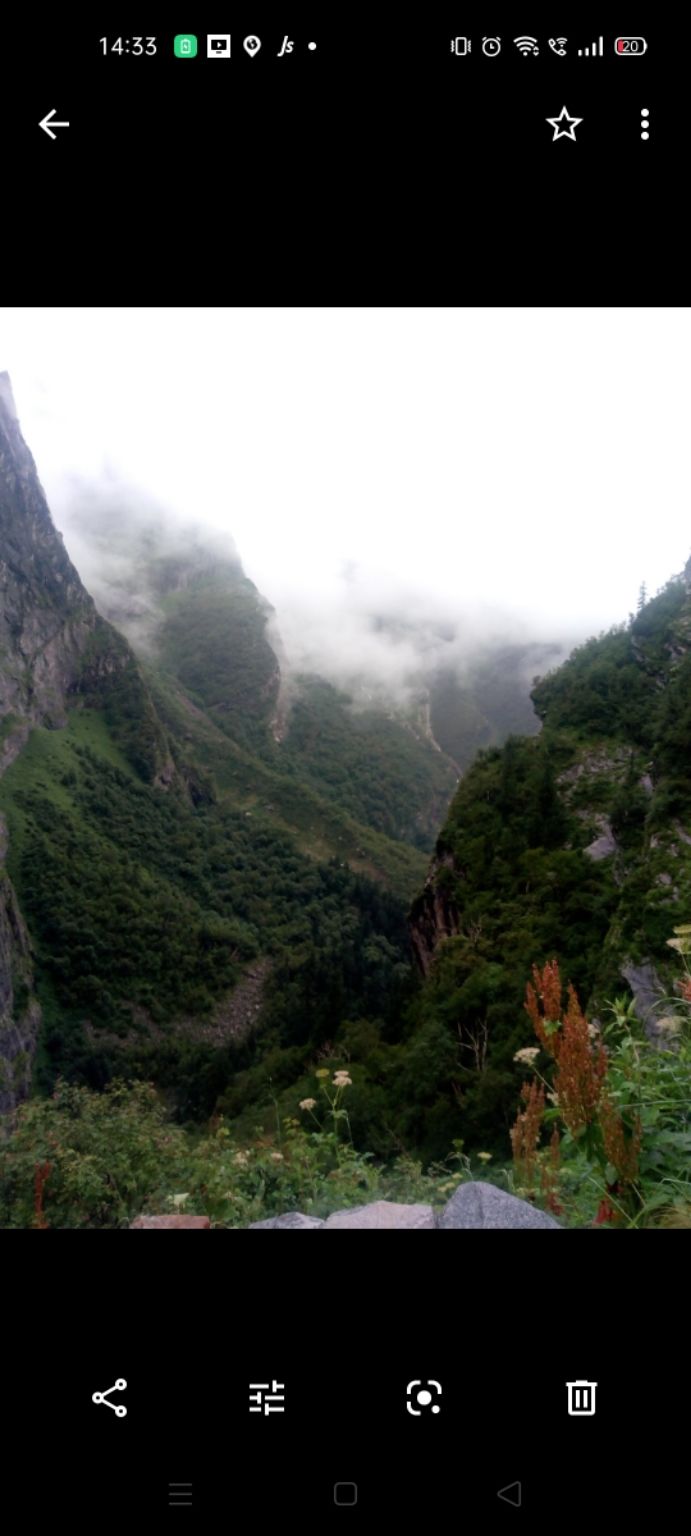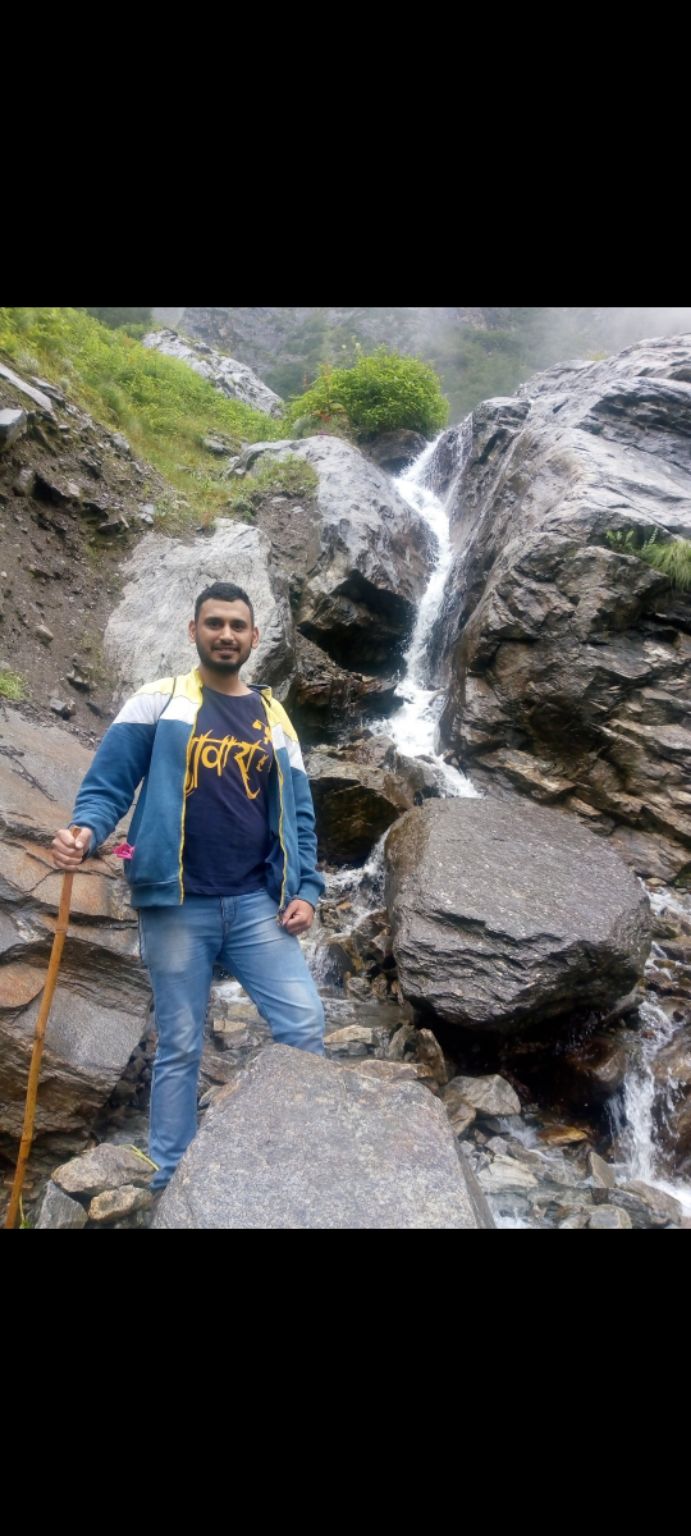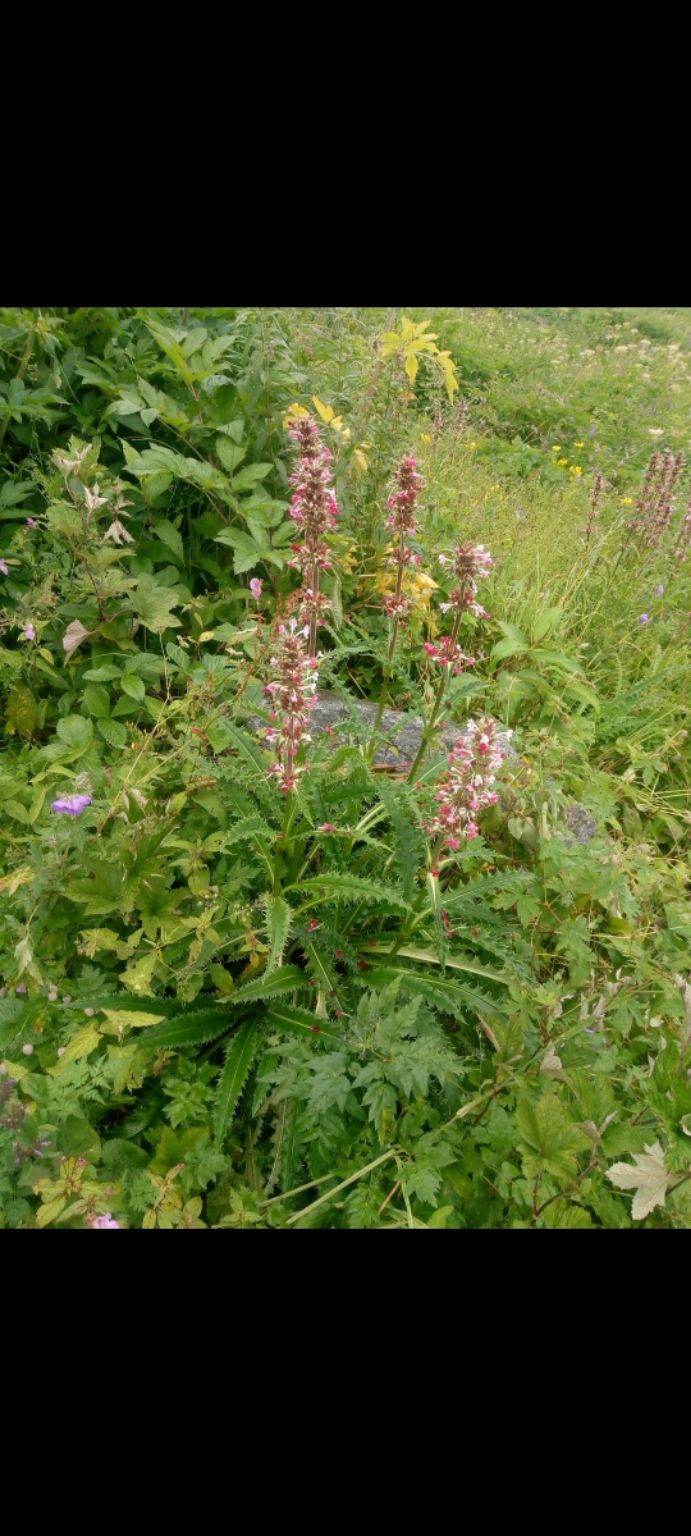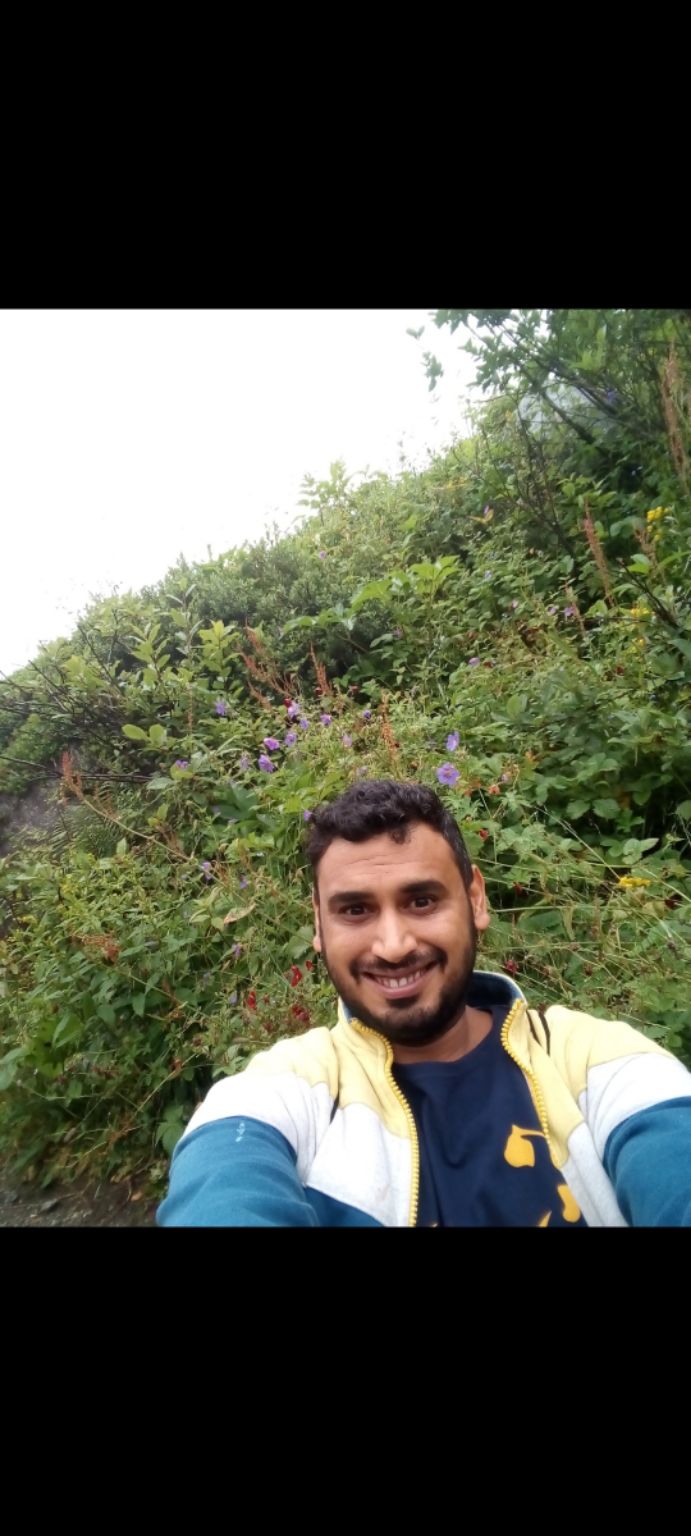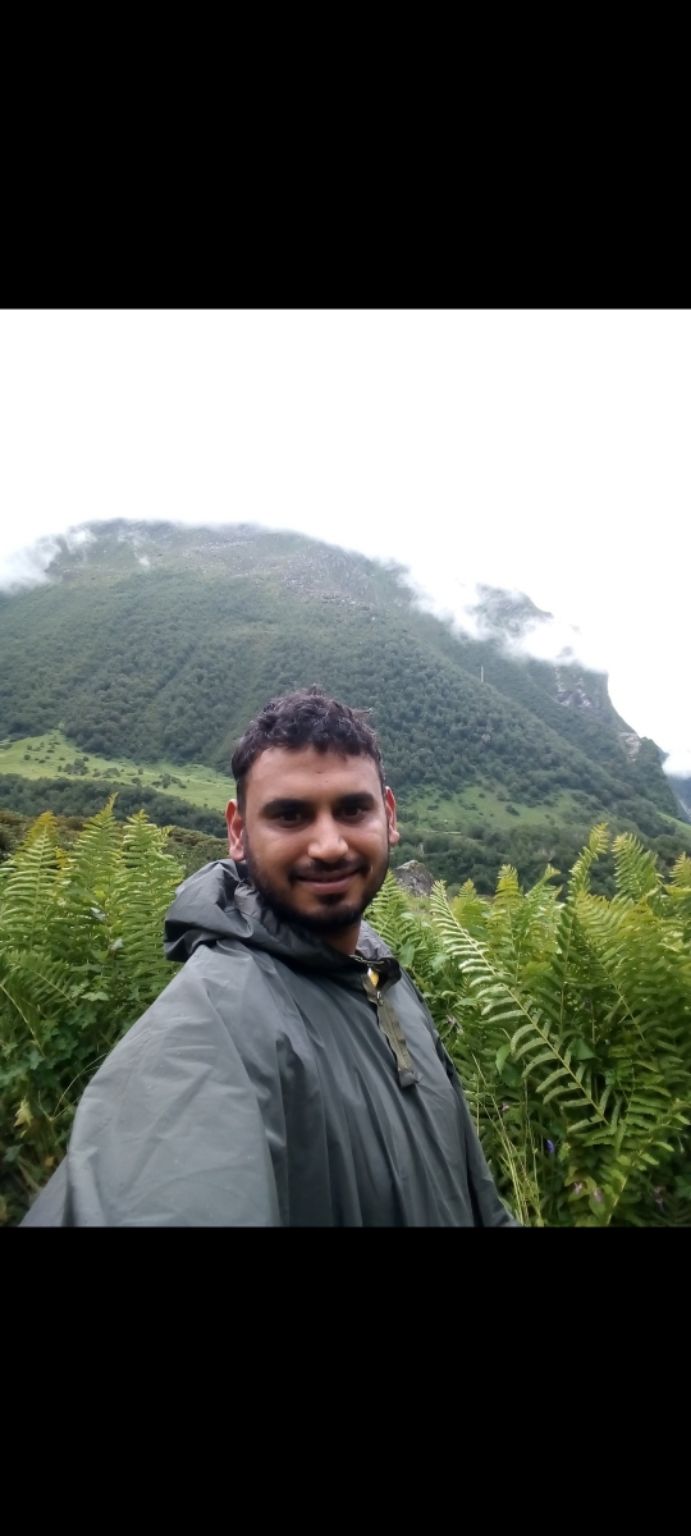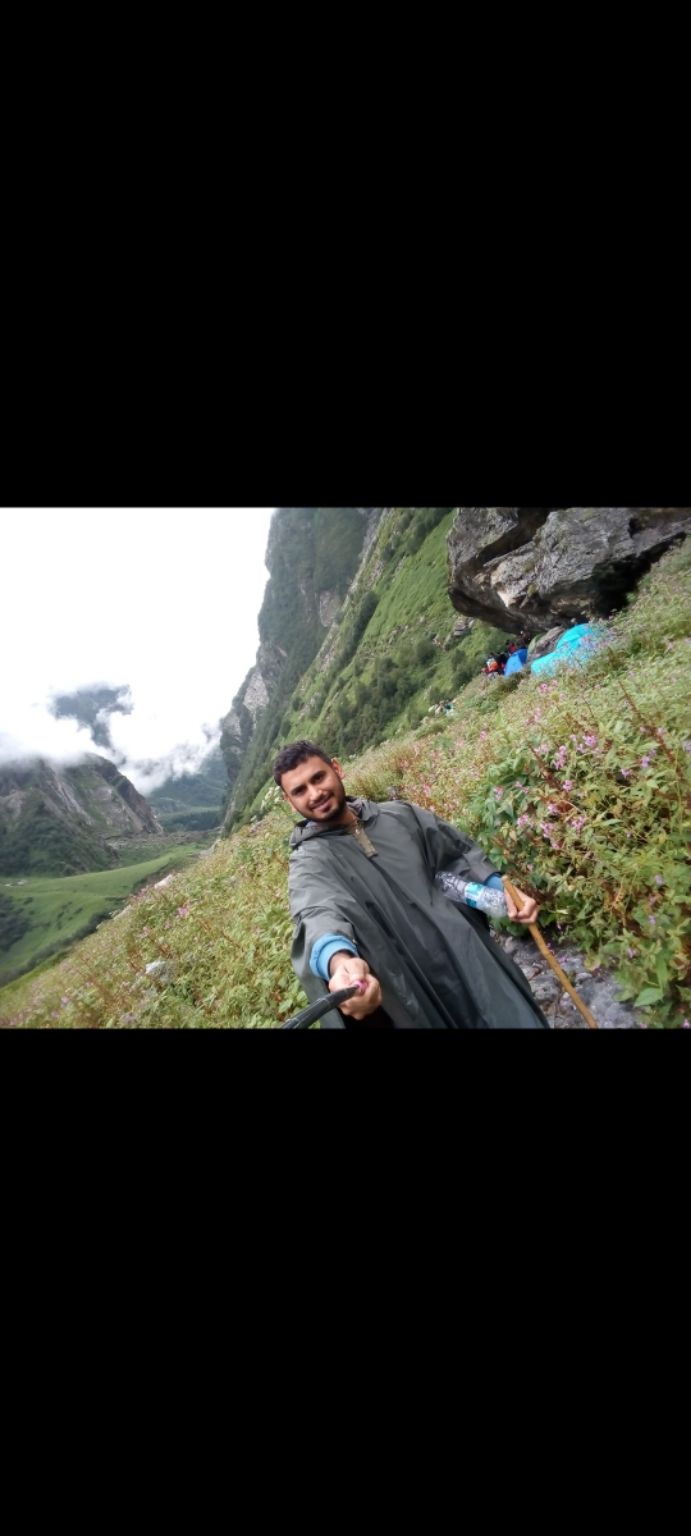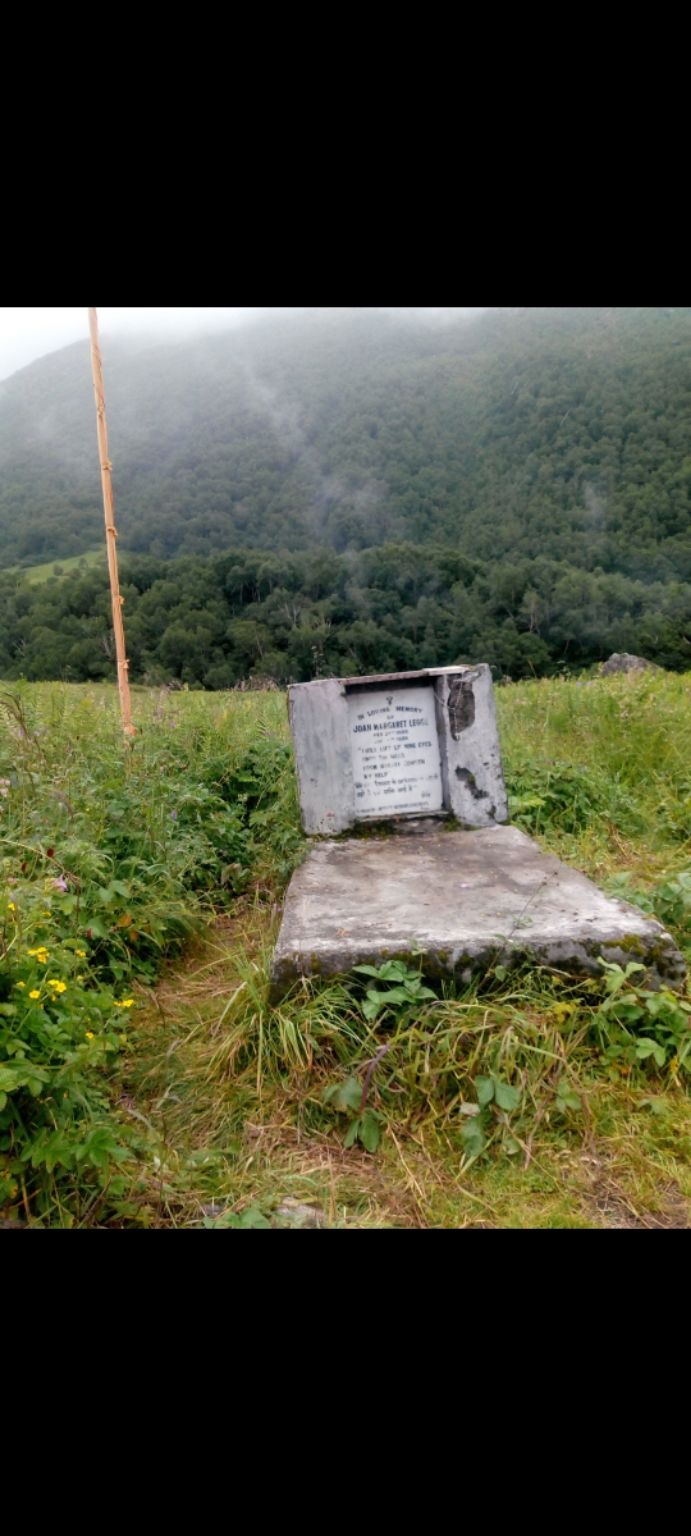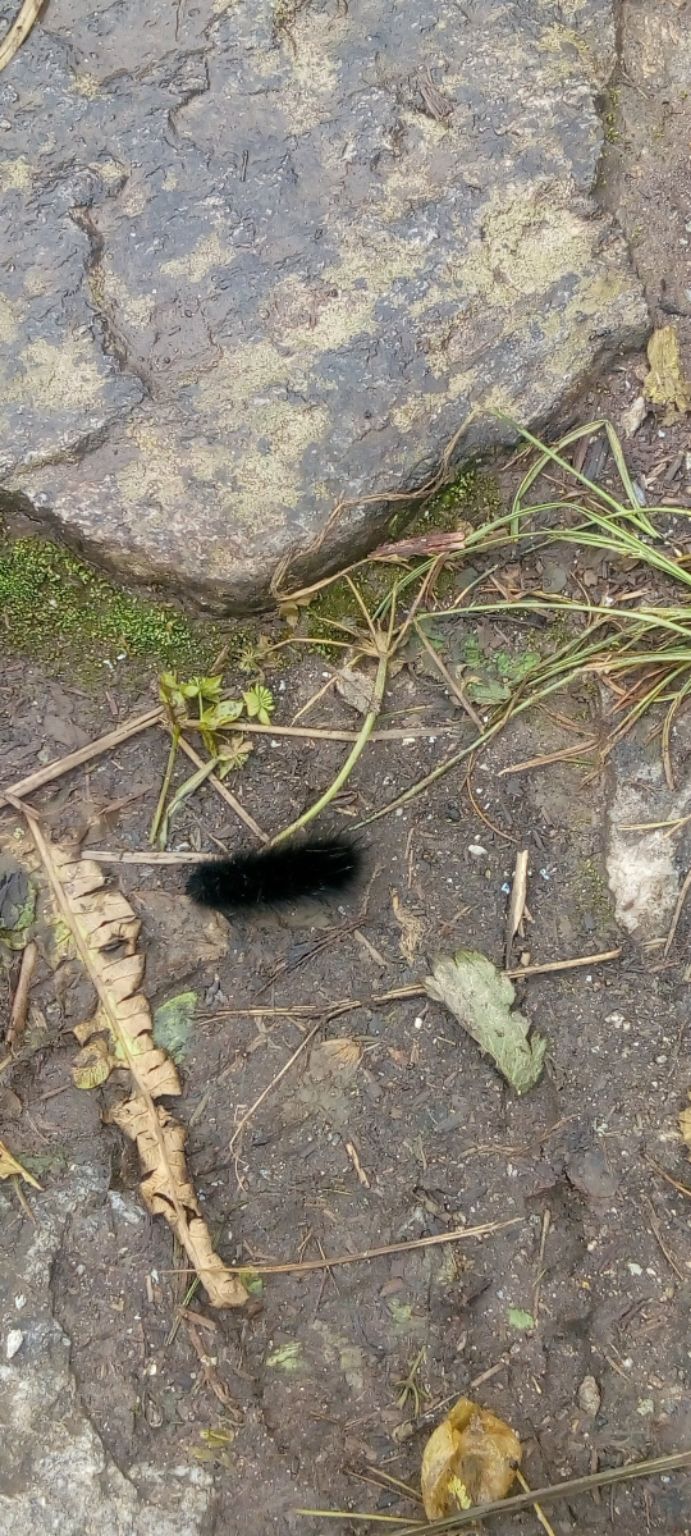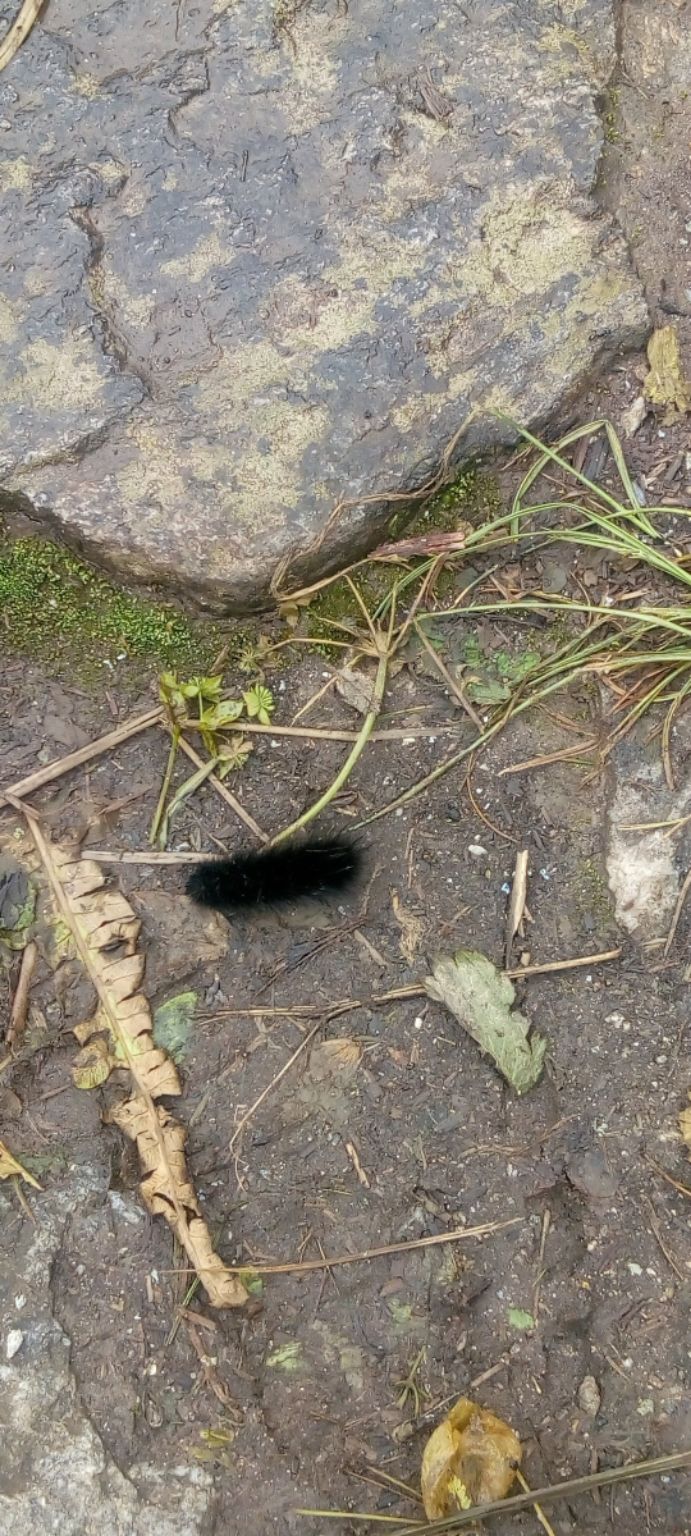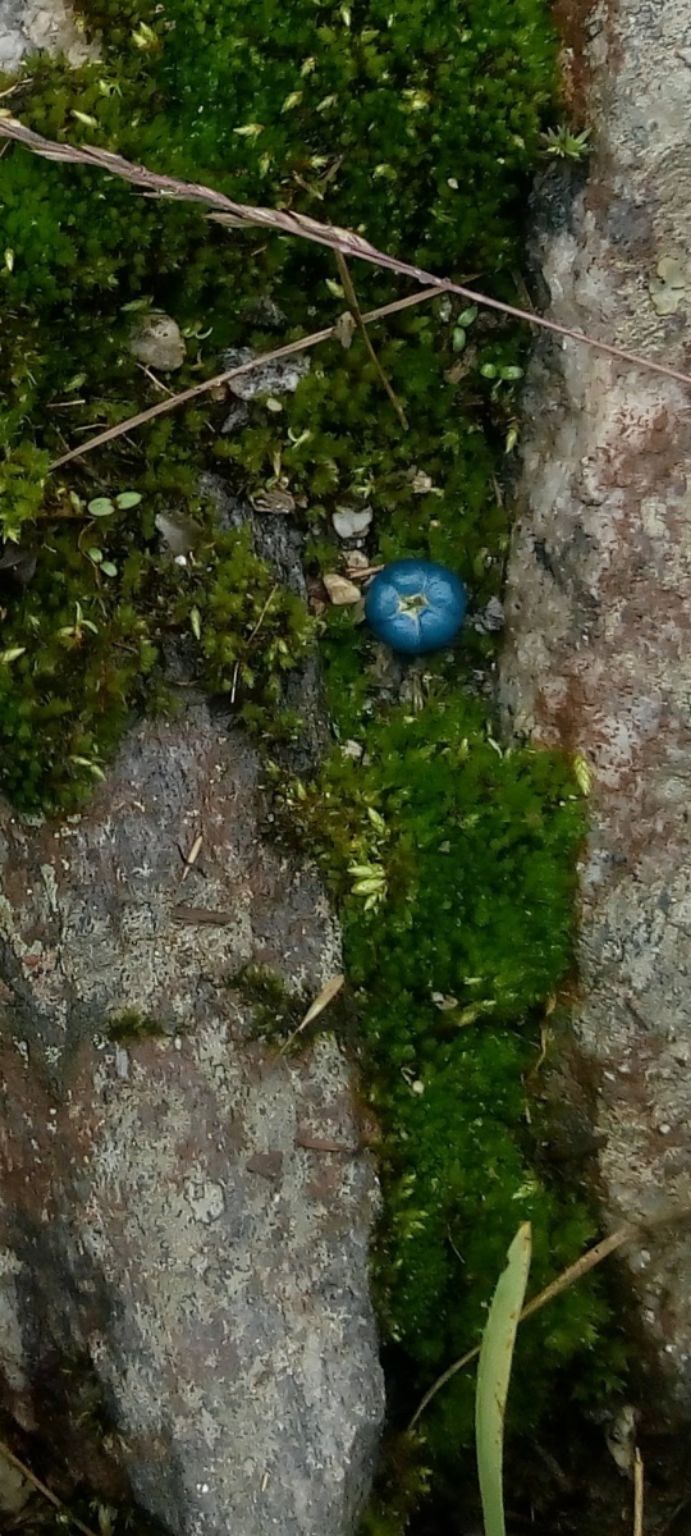 Treck to Hemkund Sahib 15500 Ft
This was the most rewarding day of the trip. I woke up to the sound of slight drizzle at about 6:30 in morning. After getting ready and having breakfast, I started the trek to Hemkund Sahib Gurudwara.
This trek is a steep uphill 6 Km ascent, but the trek is very much refreshing. One encounters a Panoramic view of the entire valley of flowers along the trail. I don't think the scenic beauty can be expressed in mere words. It was mesmerising to say the least. You will encounter numerous waterfalls along the trail. There are also small tea shops where u can enjoy a cup of hot tea with some rain and views.
Though the trek itself was pretty challenging, the very sight of elderly people walking by your side, give you the constant moral boost required to complete the trek by feet. The last 2 Km were the toughest . For the last 1 Km , you start to hearing the serene praises / sounds from Gurudwara . The sounds combined with the views gave me some lasting memories.
I reached Gurudwara at about 11 in Noon. After reaching Gurudwara , I went to to the Sarovar and took a dip . Though the water was freezing, taking a dip there made me forget my hardships of the trek. Post this, I went to the praying hall. The hall was very cozy . I sat there in the hall for half an hour, closed my eyes and enjoyed the hymns. When the ardaas got completed, we were given Kadha Prasad which was piping Hot. It was scrumptious to say the least.
After coming out from the prayer hall, I went to have the famous Langar of Hemkund Sahib. Khichdi and Tea. I was so hungry at that point , that I must have had atleast 3 servings. The khichdi was so damn tasty . After finishing the meal, I volunteered to do the dishes. For about half an hour i helped in the kitchen. It was a very nice and calm experience . After that i decided to trek back to Ghangria . Took some photos, and bought myself a Kadha (Bangle) .
In addition to Hemkund Sahib there is one temple adjacent to Gurudwara.The temple is dedicated to Laxman Ji, which I found to be quite fascinating.
The trek down wasn't a cake walk. Your knees go for a toss while walking down. But somehow slowly and steadily i completed the Trek.
After reaching my hotel, I was pretty tired. The ready of the evening was spent in my room reading and lazing around.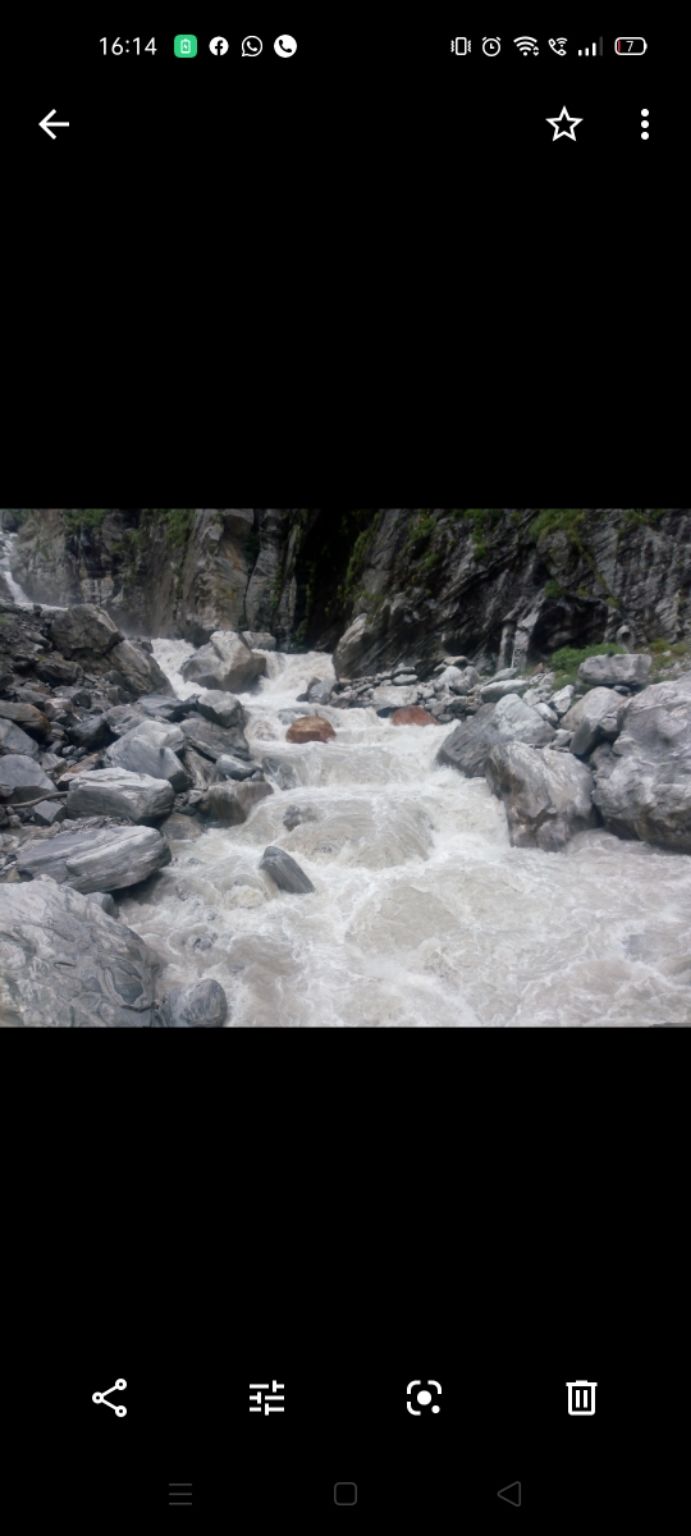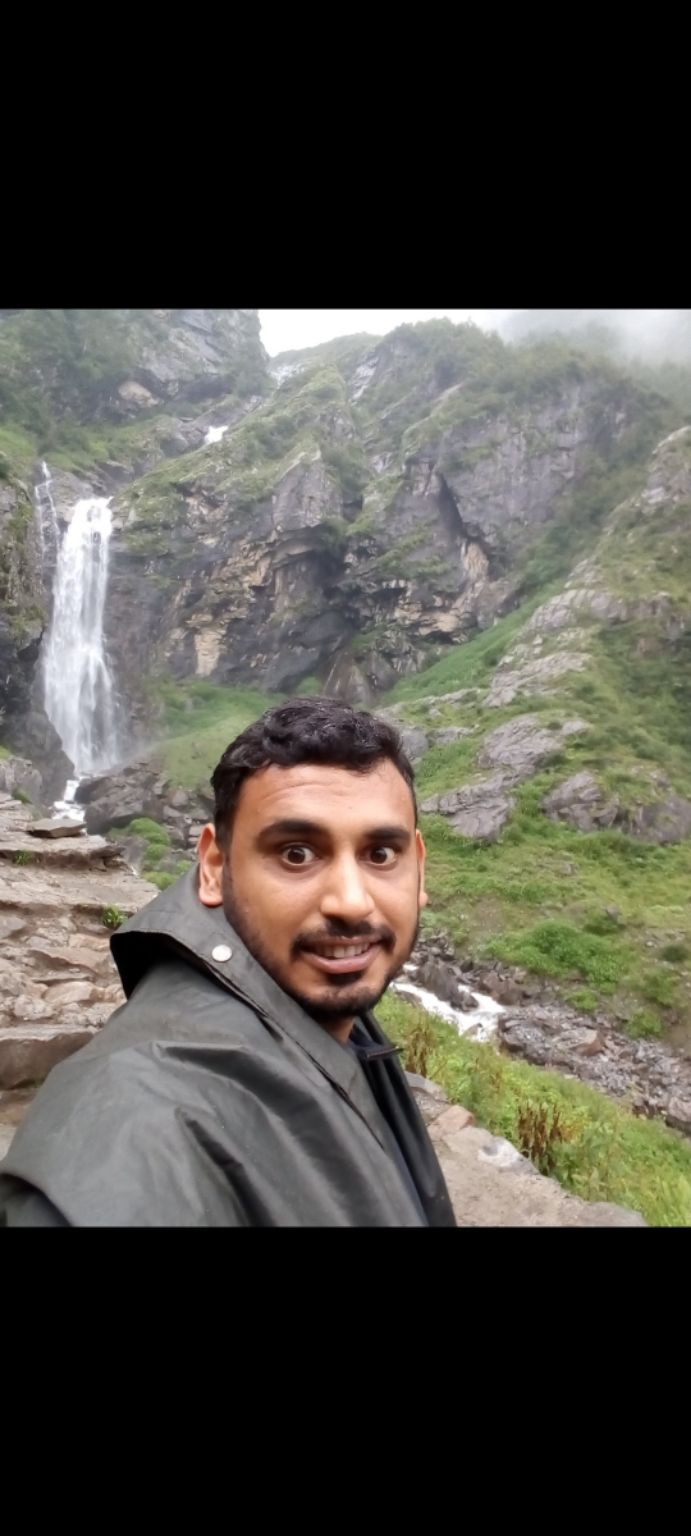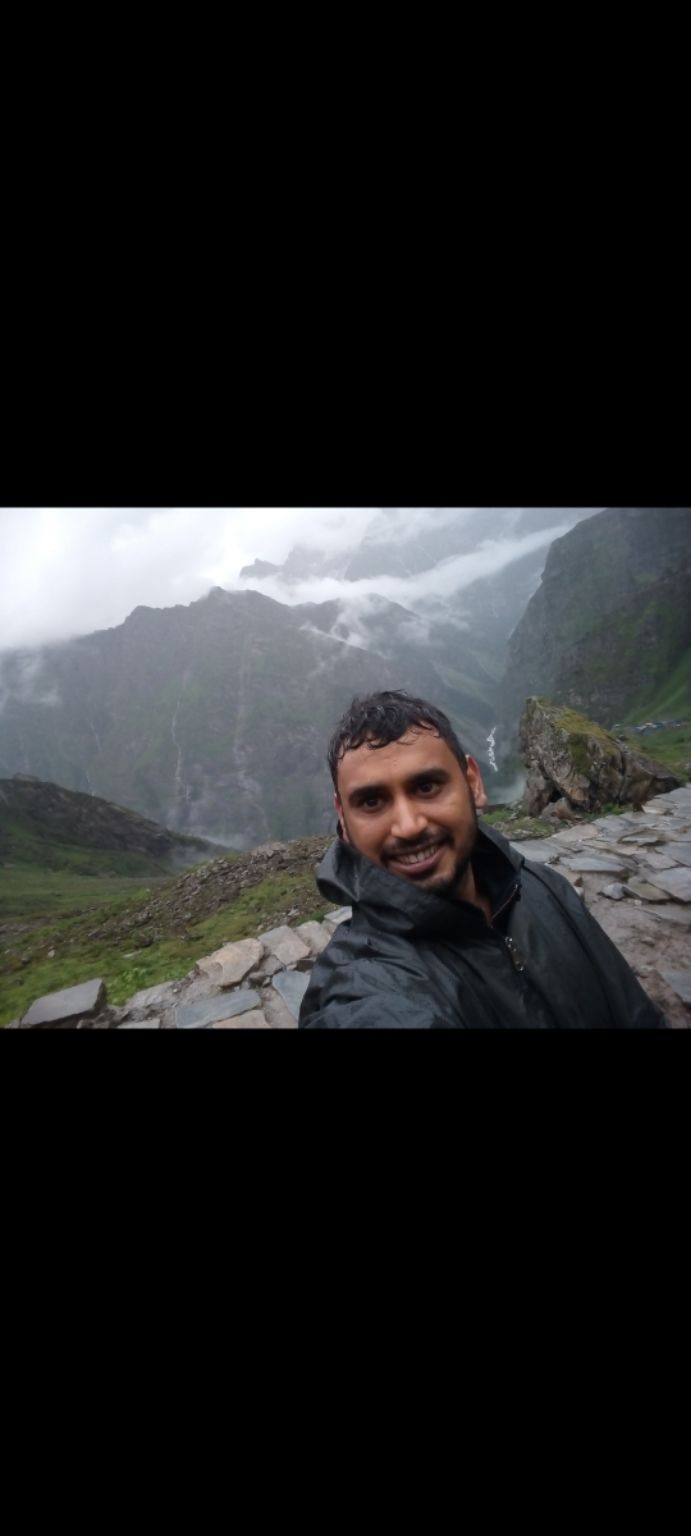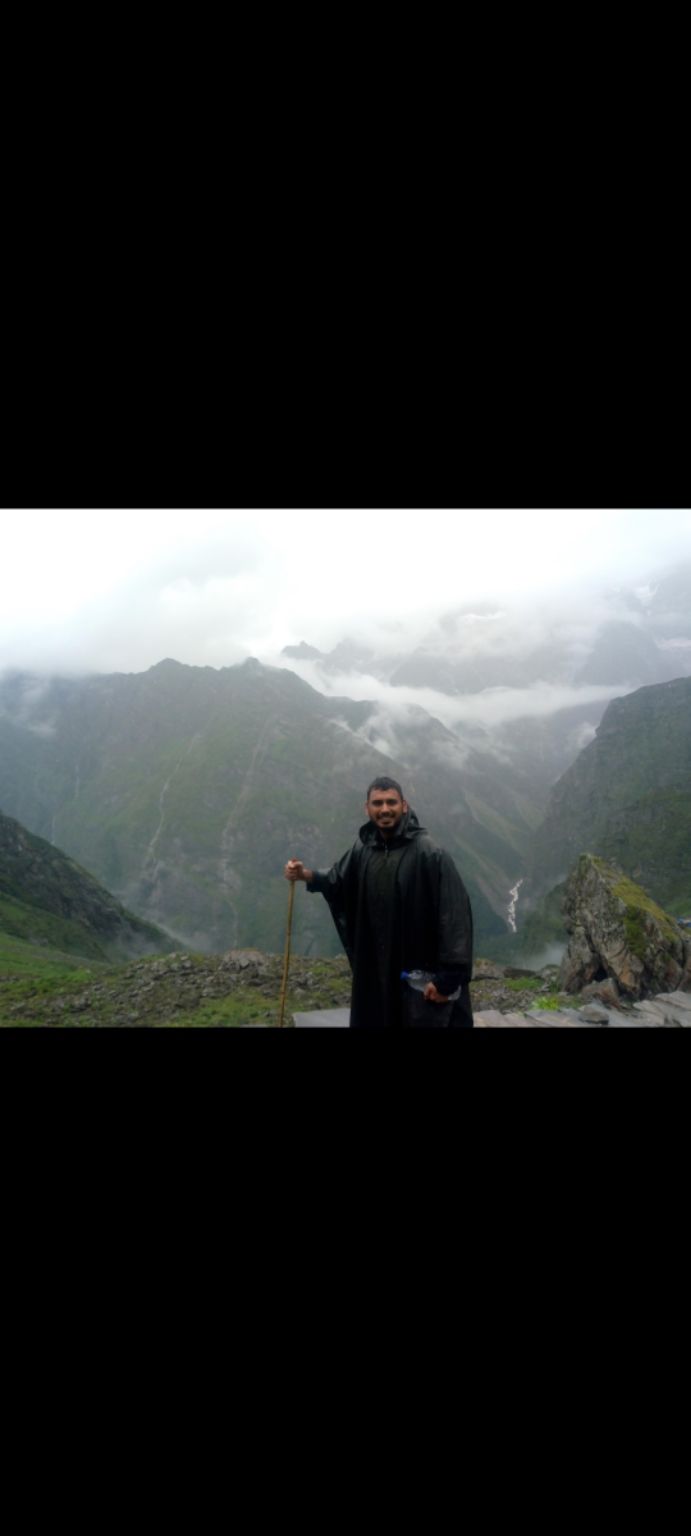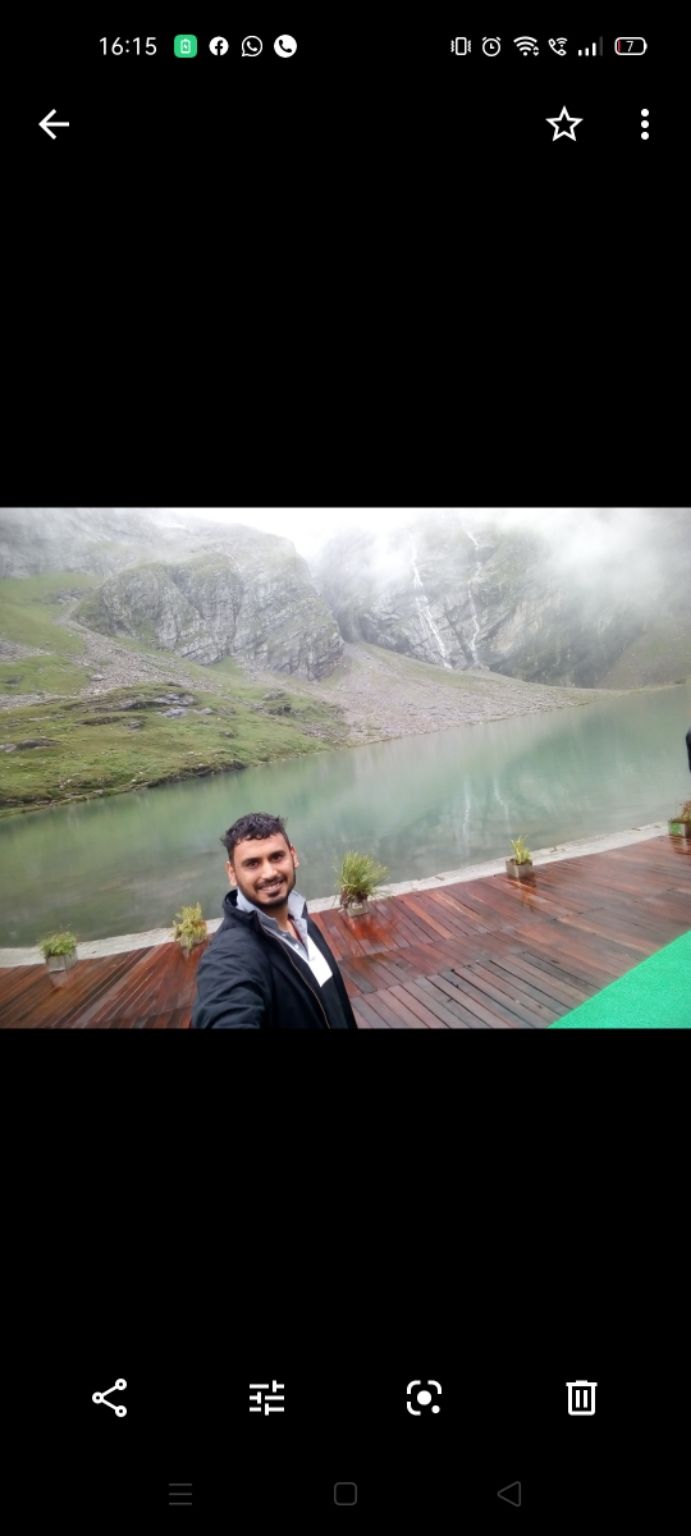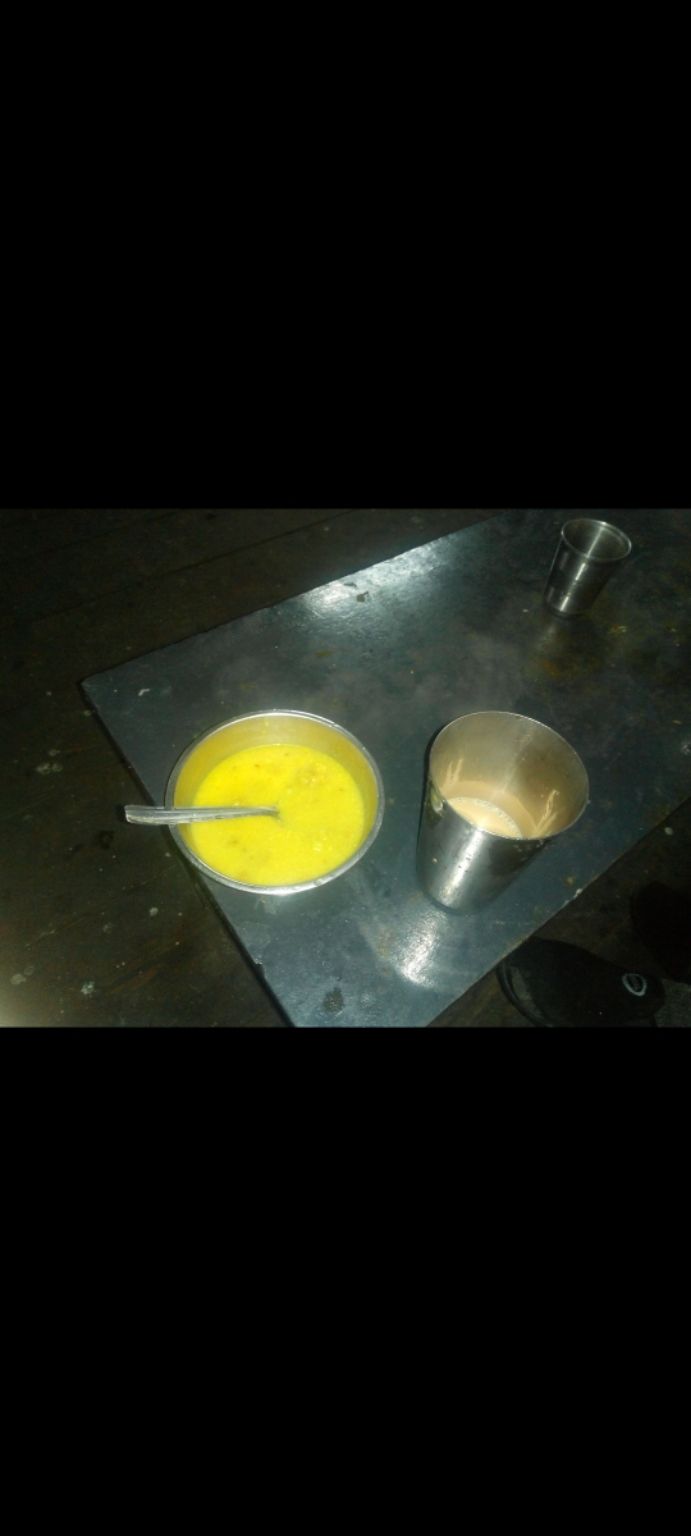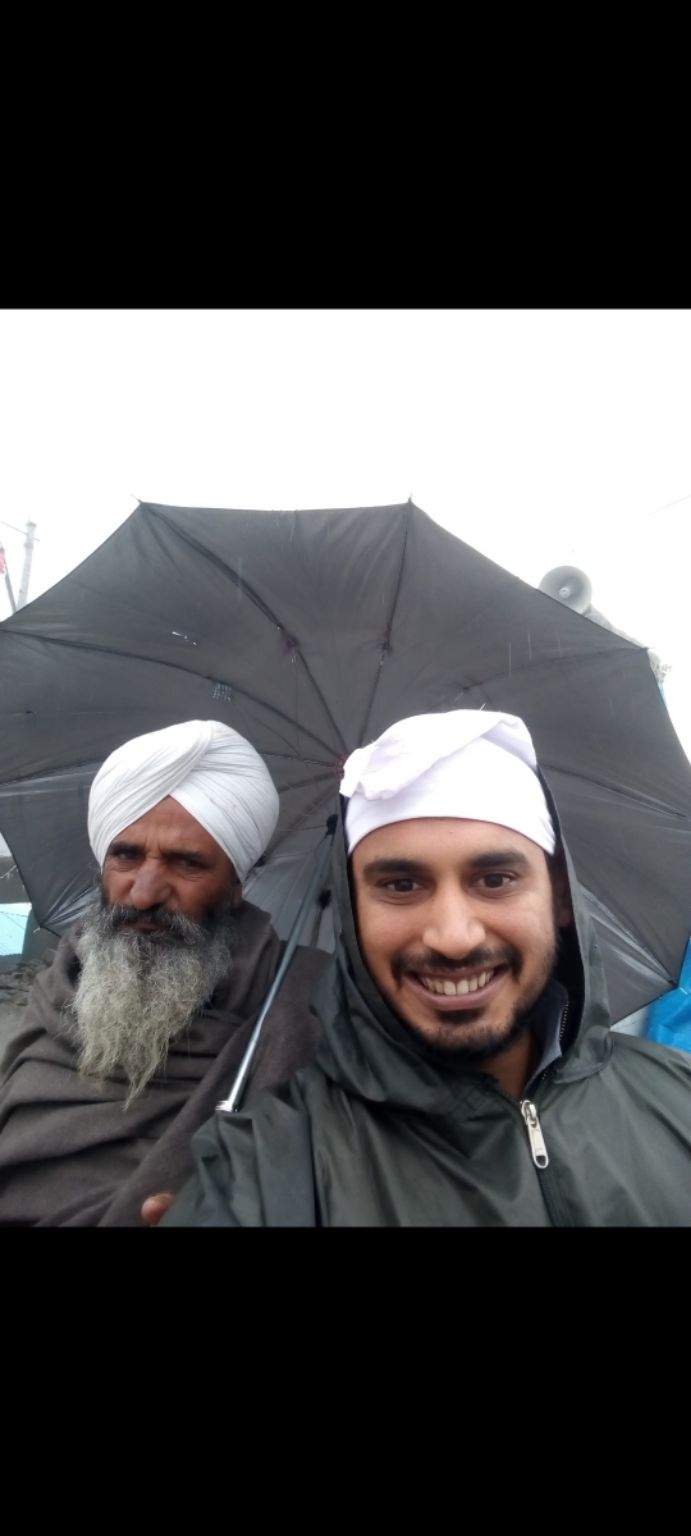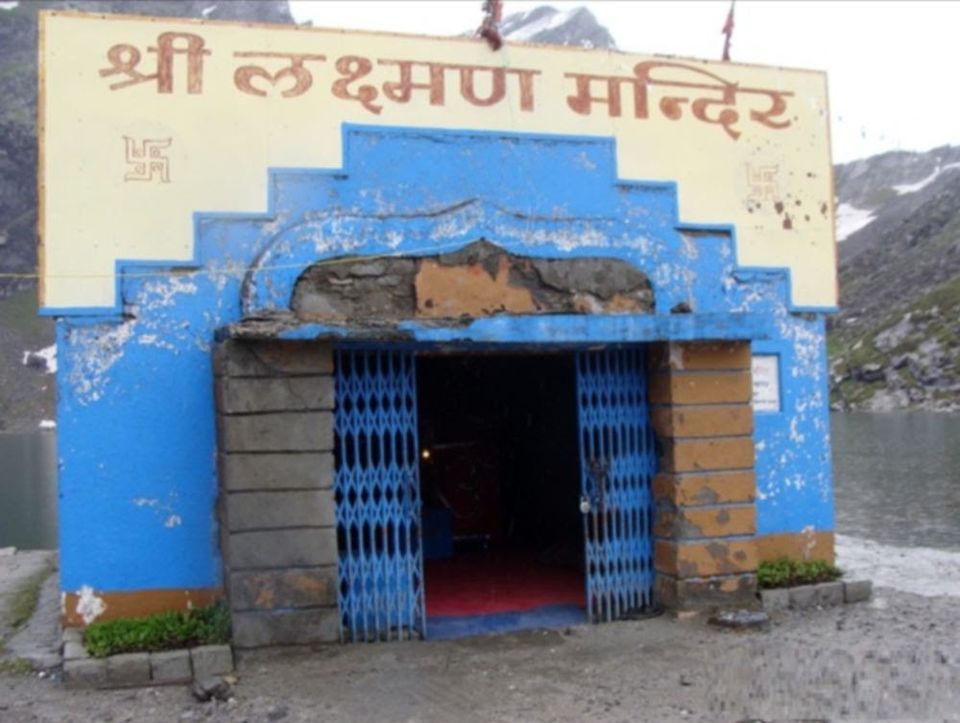 Ghangria to Joshimath
The next Morning I woke up early at 5.30 and i was in no mood to trek down with the extra heavy bag pack.
I decided to hire a pony to take me downhill . Being off season , i got a pretty good bargain of 700 Rs. It took 2 hours for me to reach downhill on the pony.
I reached at About 10/11 to Govind Dham, the place was pretty much isolated. On checking I got to know all the buses for Rishikesh had left. At this point I had 2 options either to rest at Joshimath , or figure a way to reach Delhi. Walking around the village, I saw a group loading their luggage on a SUV. I politely enquired one of them about their journey and got to know they are heading to Rishikesh. I asked if they have space for one more traveller. They happily agreed to give me lift till Rishikesh. The journey back to Rishikesh was pretty fun.
When Punjabis meet they cannot be strangers for long. The Journey went pretty good, with Jokes and laughter. Along the way we stopped at one Gurudwara and had Langar for Lunch.
We reached Rishikesh at around 5 in the evening.
From Rishikesh, same day I took a bus back to Delhi. Spent remaining journey passed out in the bus. I reached Kashmiri Gate , Delhi at 3 in the night. This was the end of my first Solo Trip.
Completing this journey opened up an entire new chapter in my life . I ended up taking numerous solo trips In the years.
Traveling for me has been quite liberating for me. One thing I've been able to learn while traveling is that the ups and downs encountered in any trip is very much similar to the highs and lows of life. Also they do not last forever
Hope this article will motivate atleast a single person to take this trek solo.
Hope you guys enjoyed reading this .
Happy Travelling
#SoloTrip
#SoloTrek
#bagpack
#HemkundSahib
#ValleyofFlowers