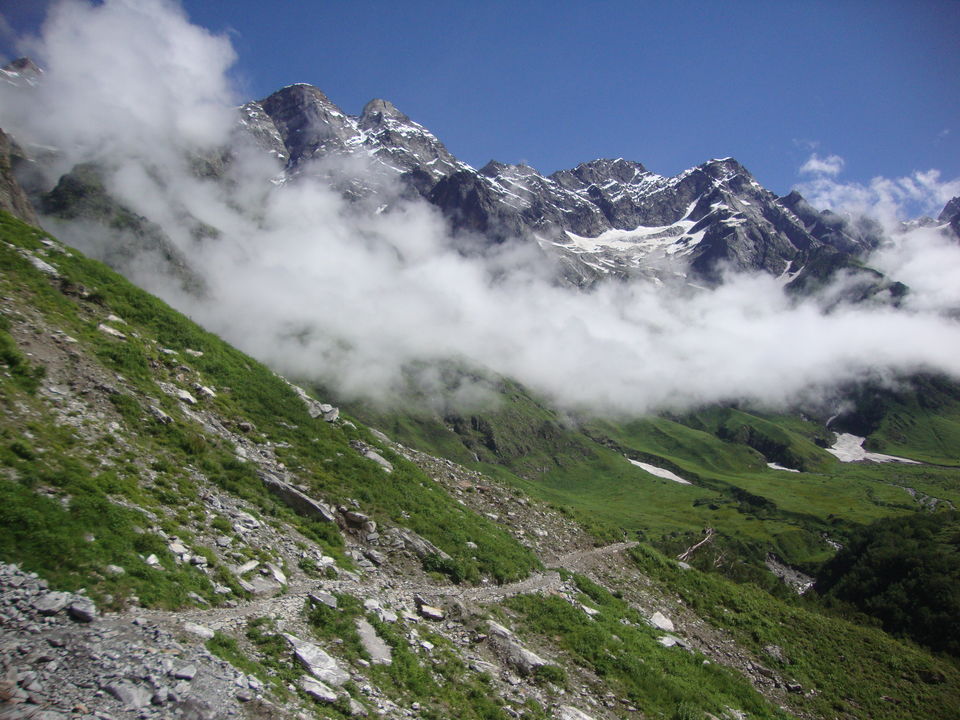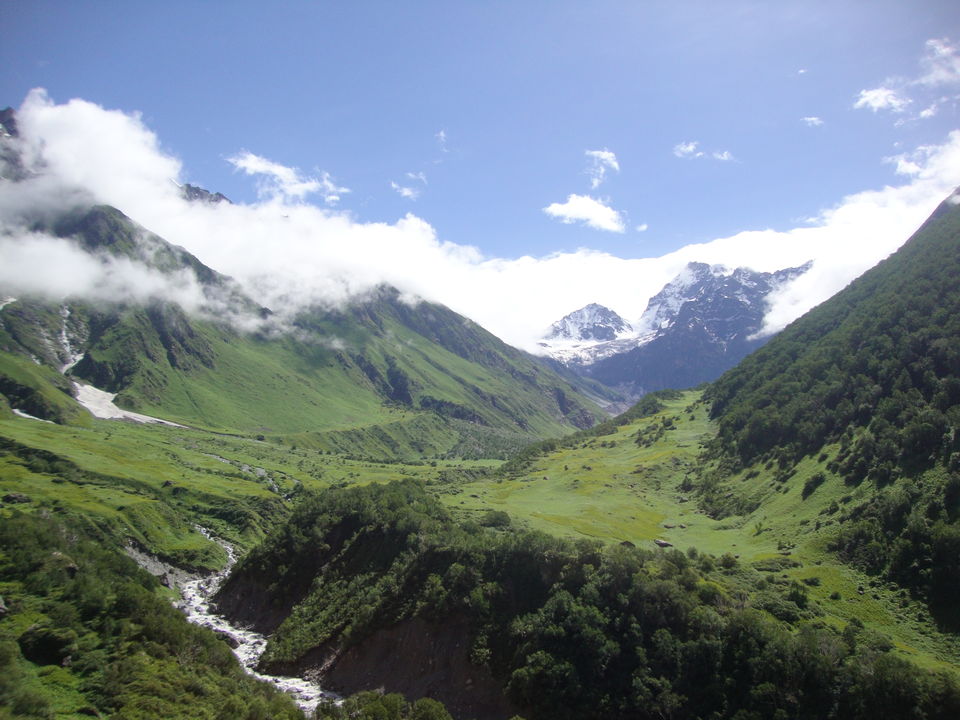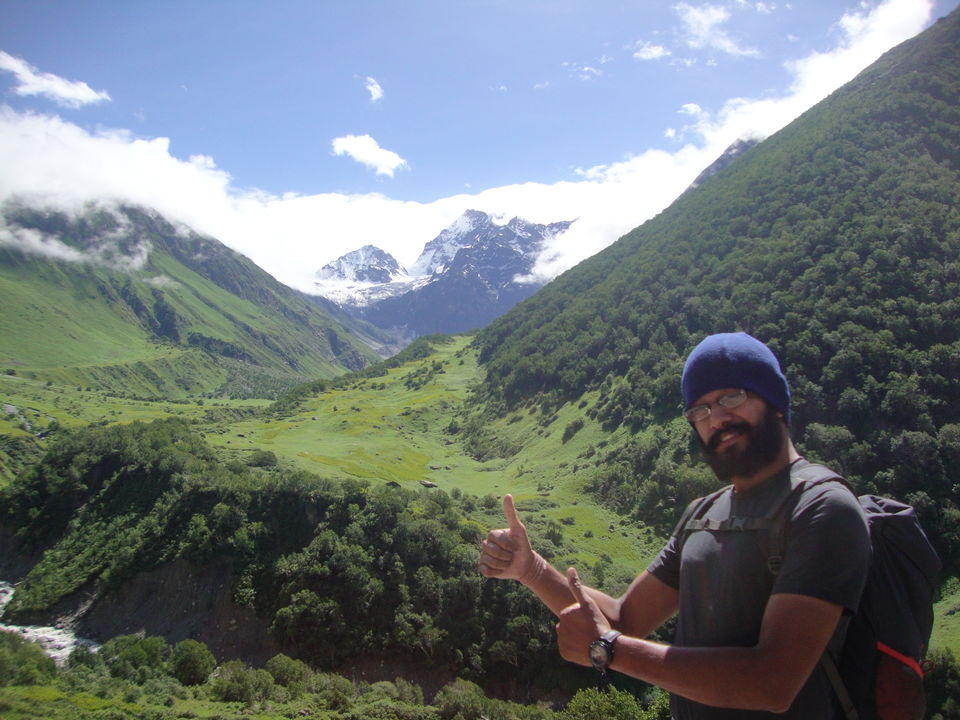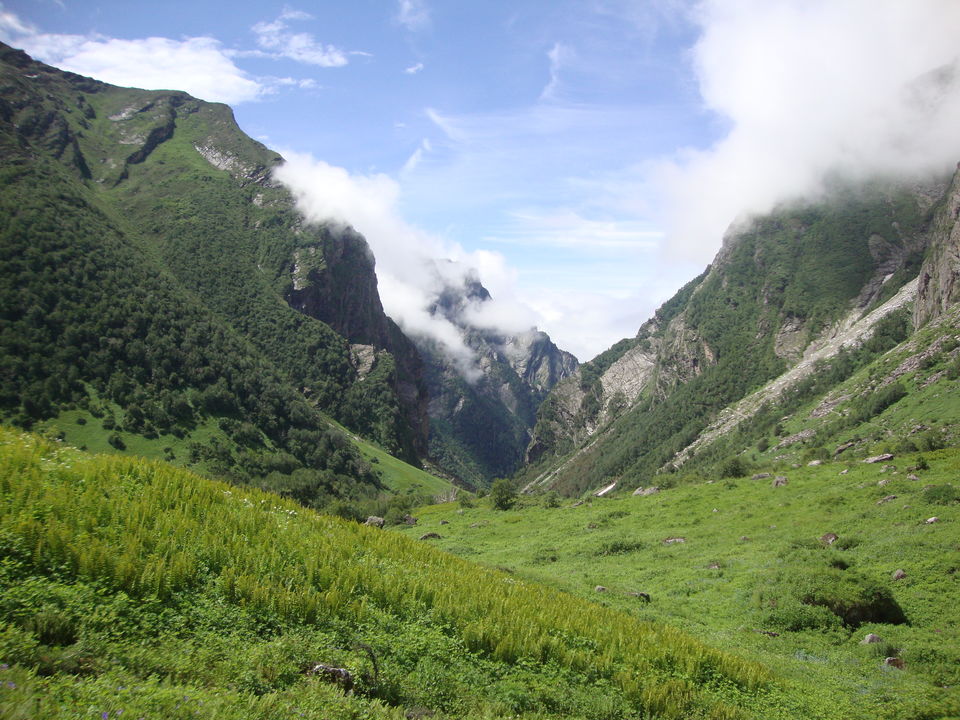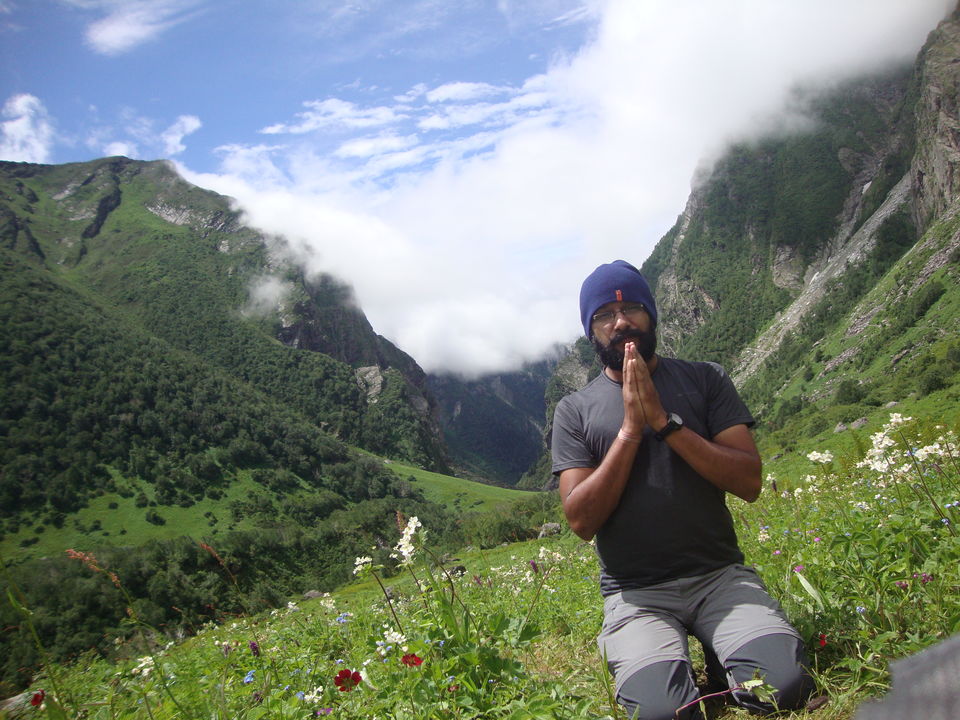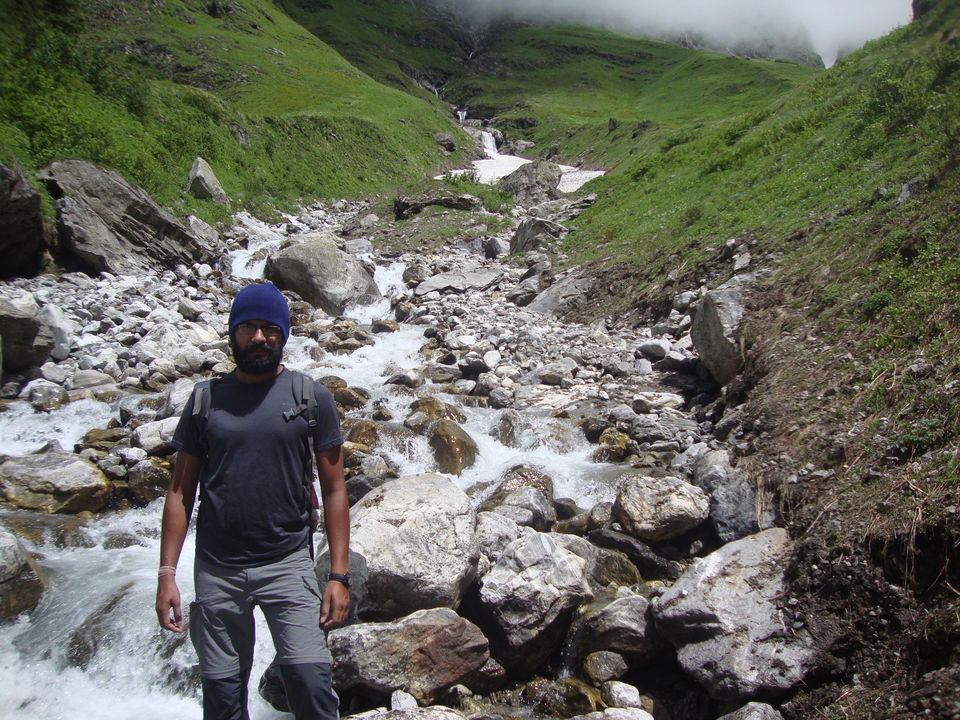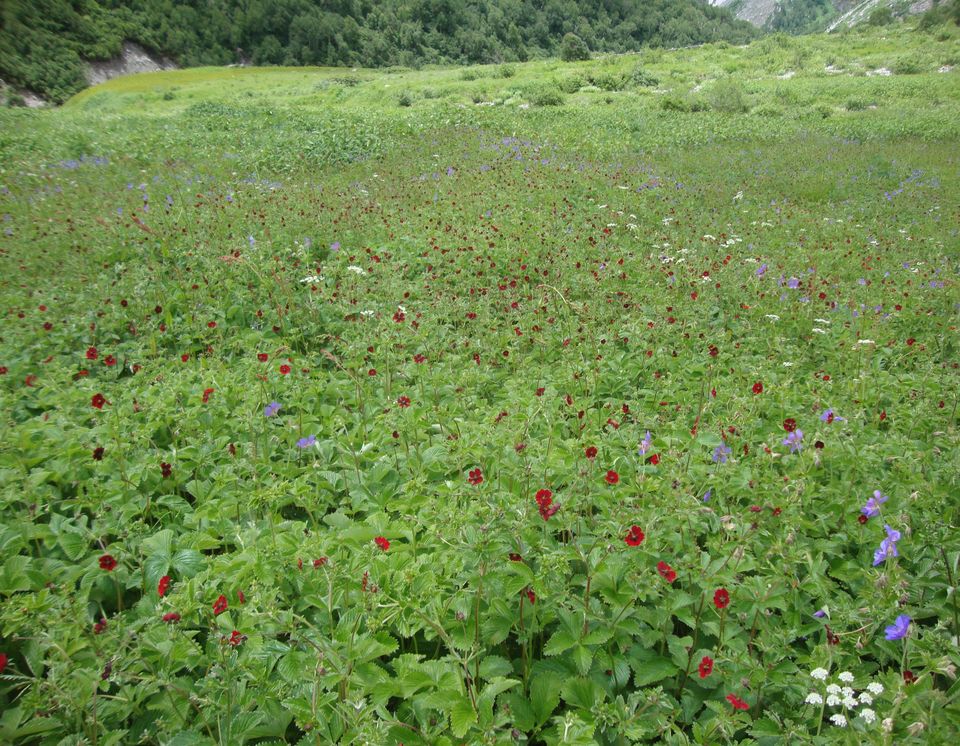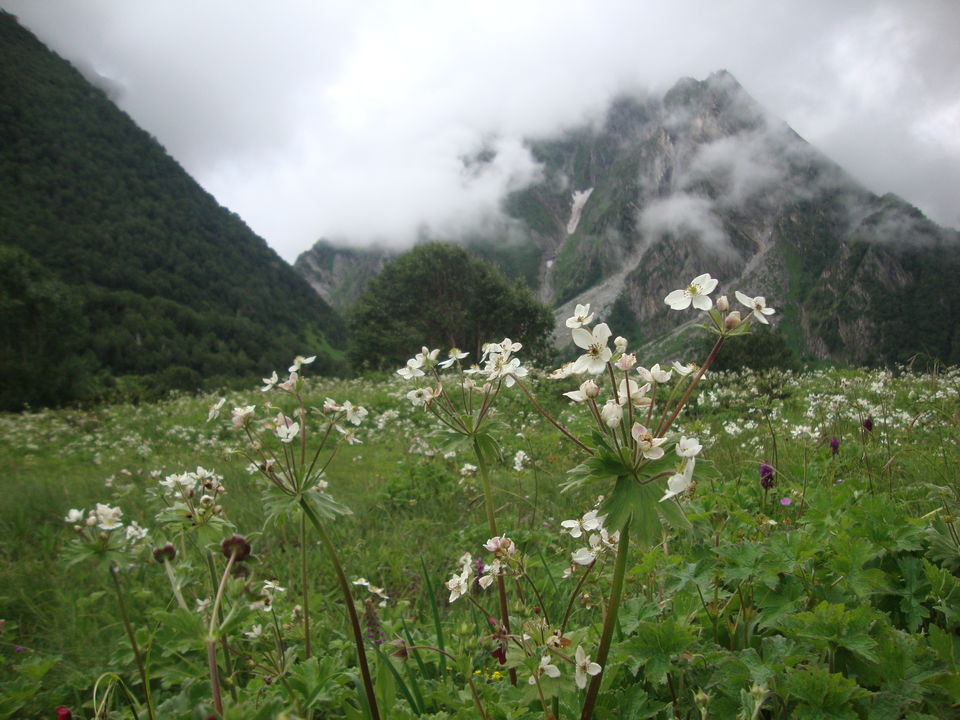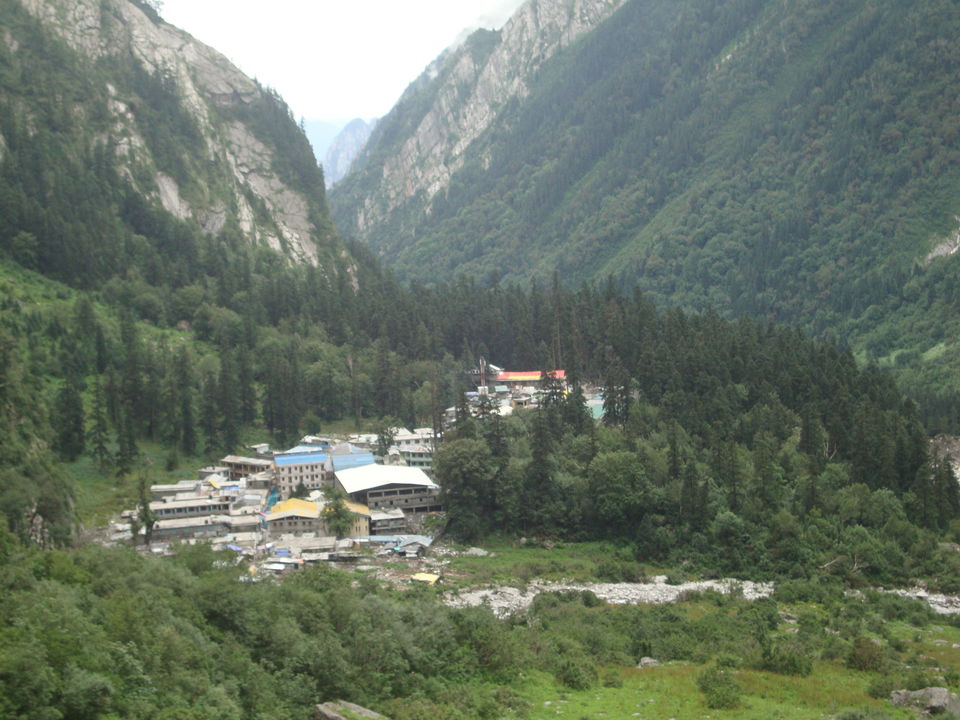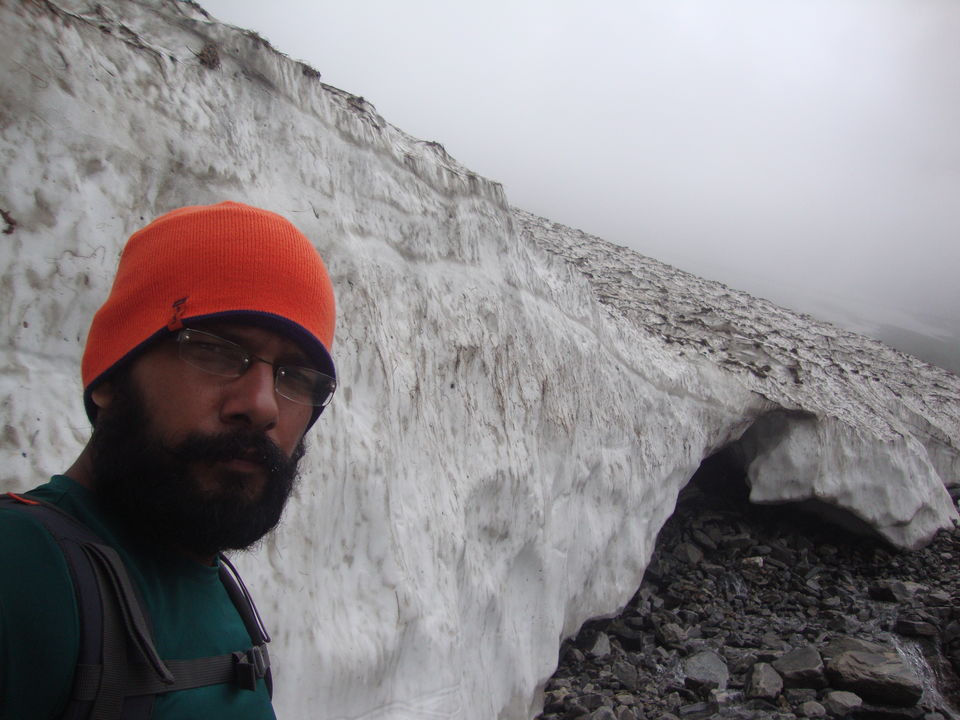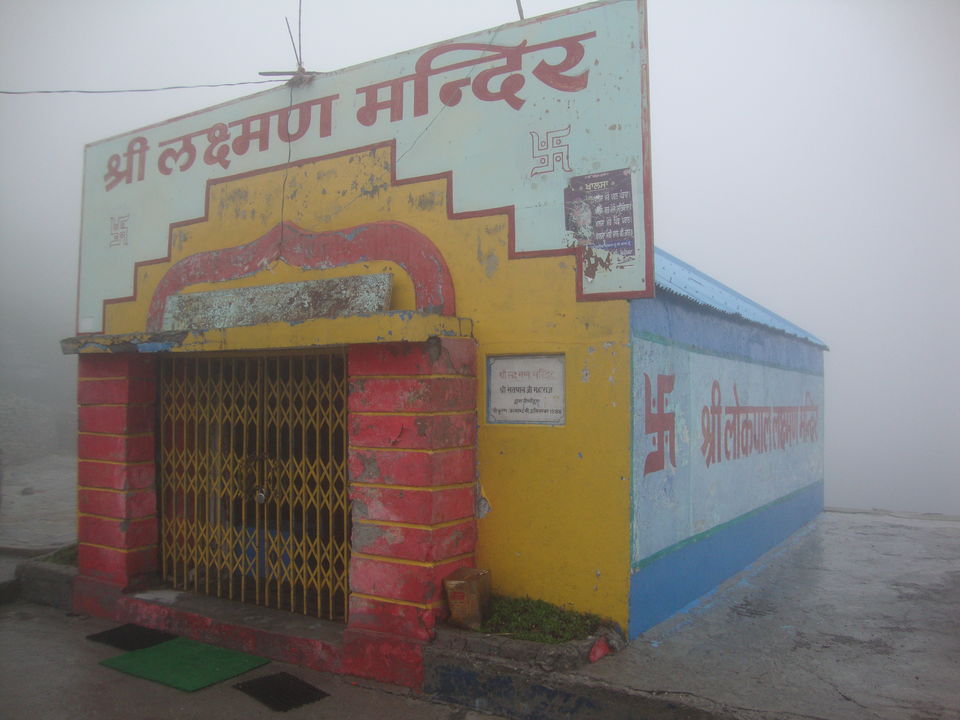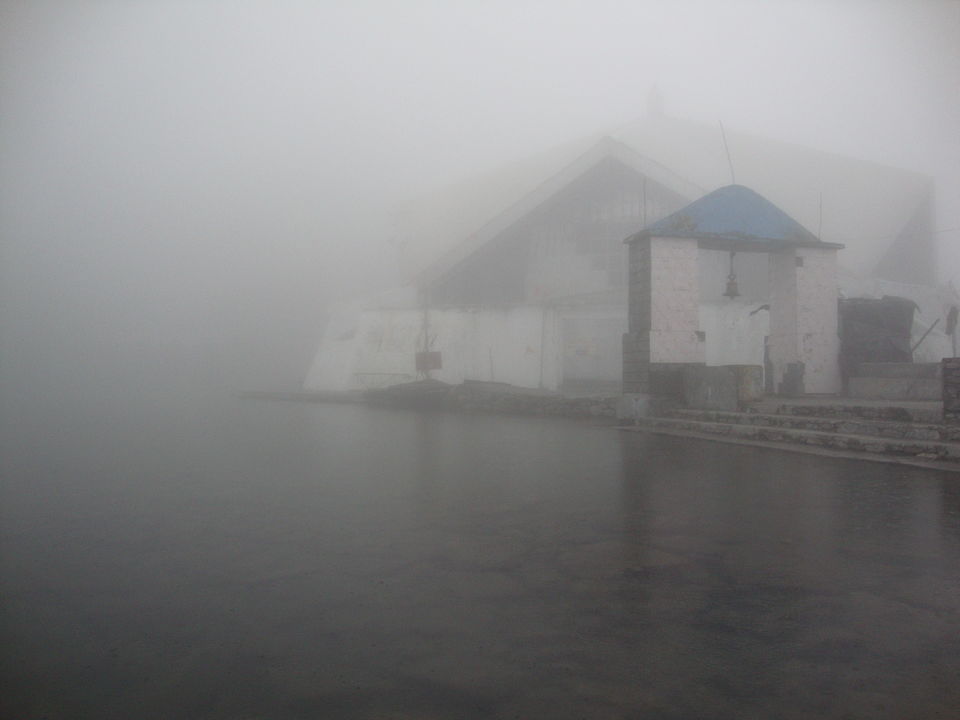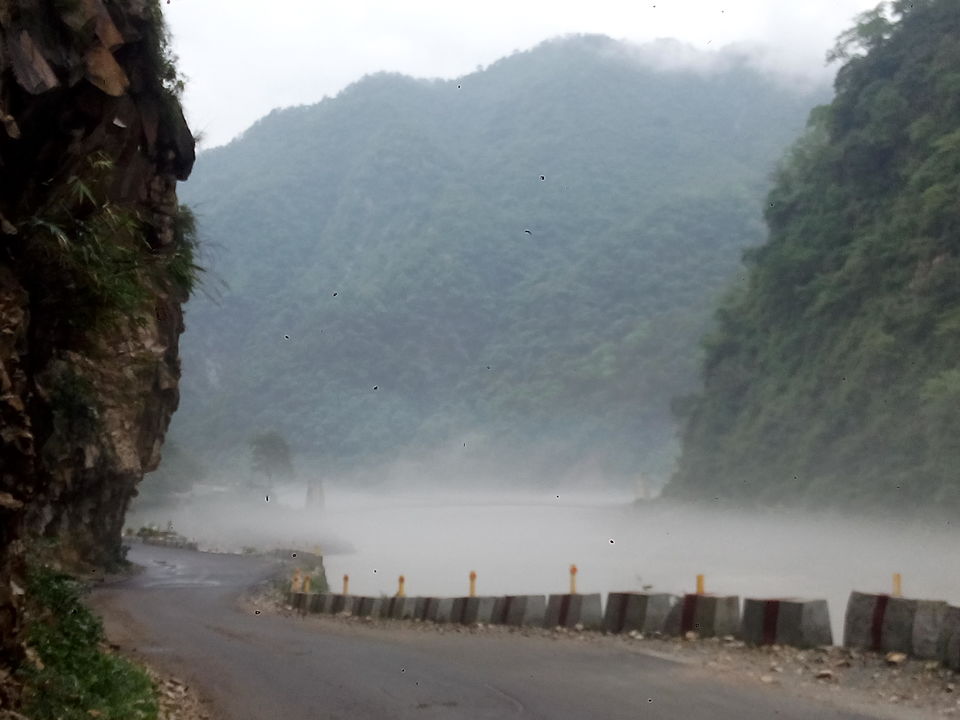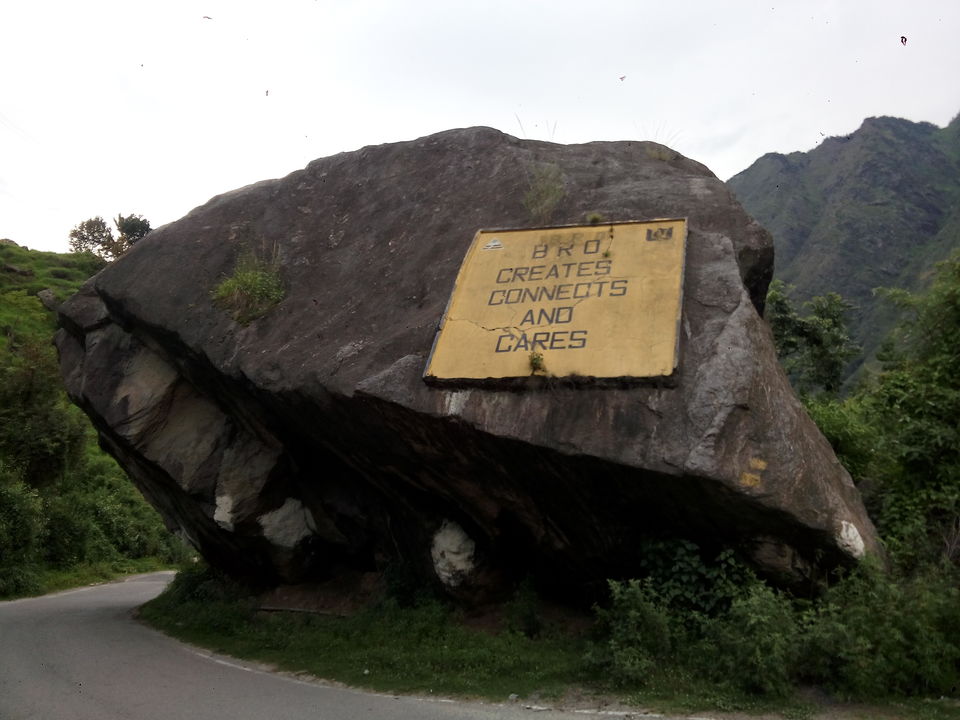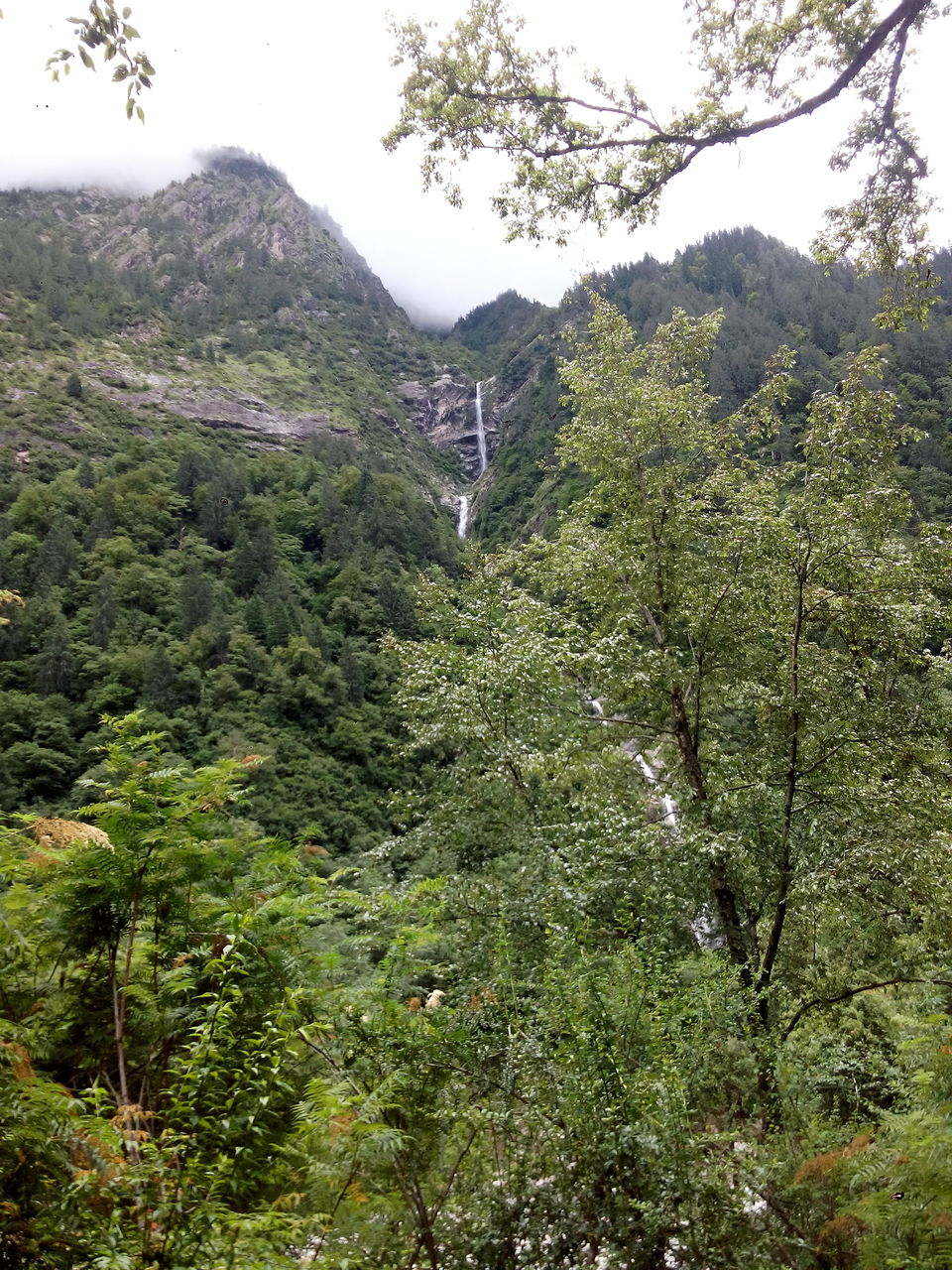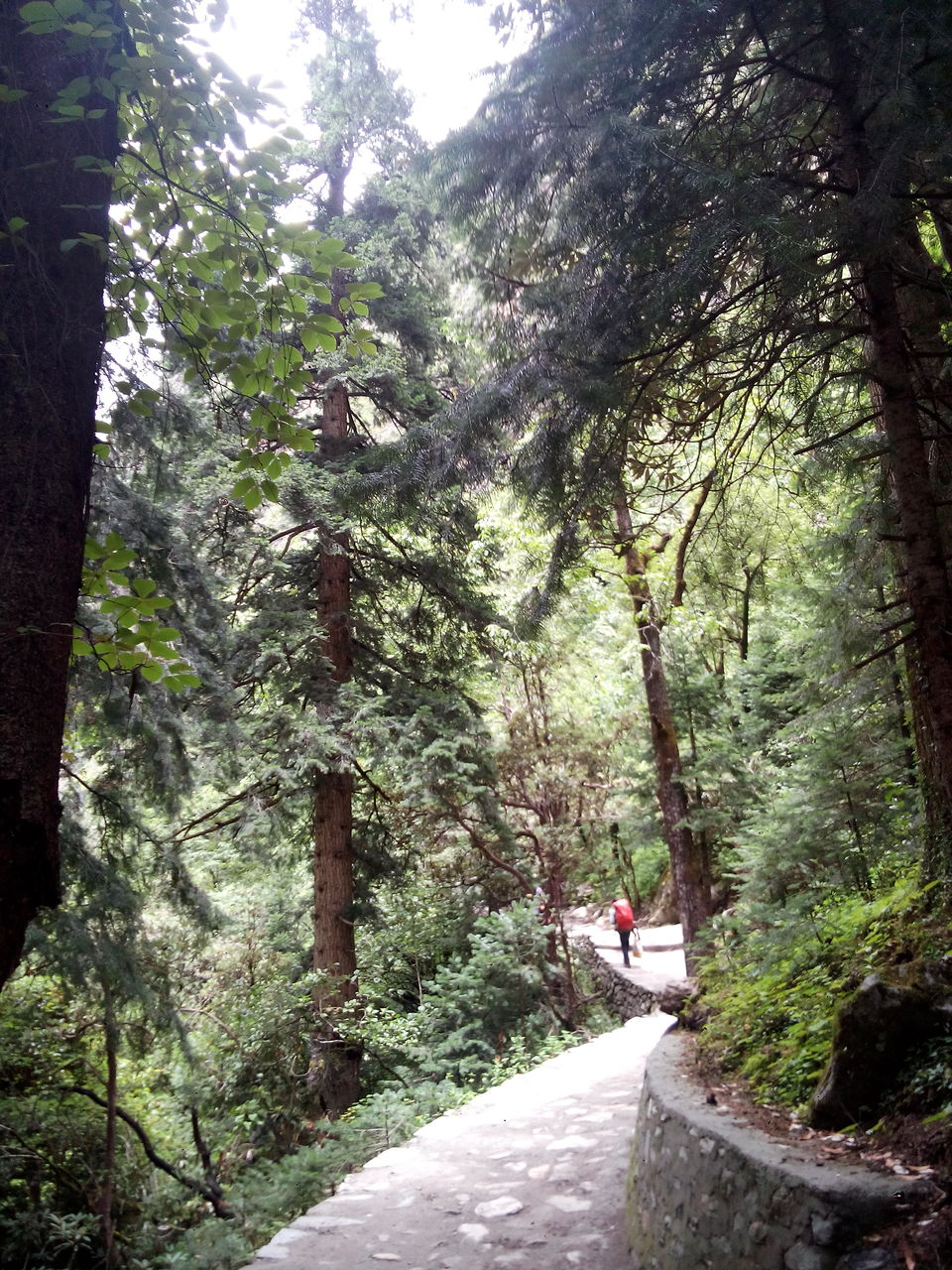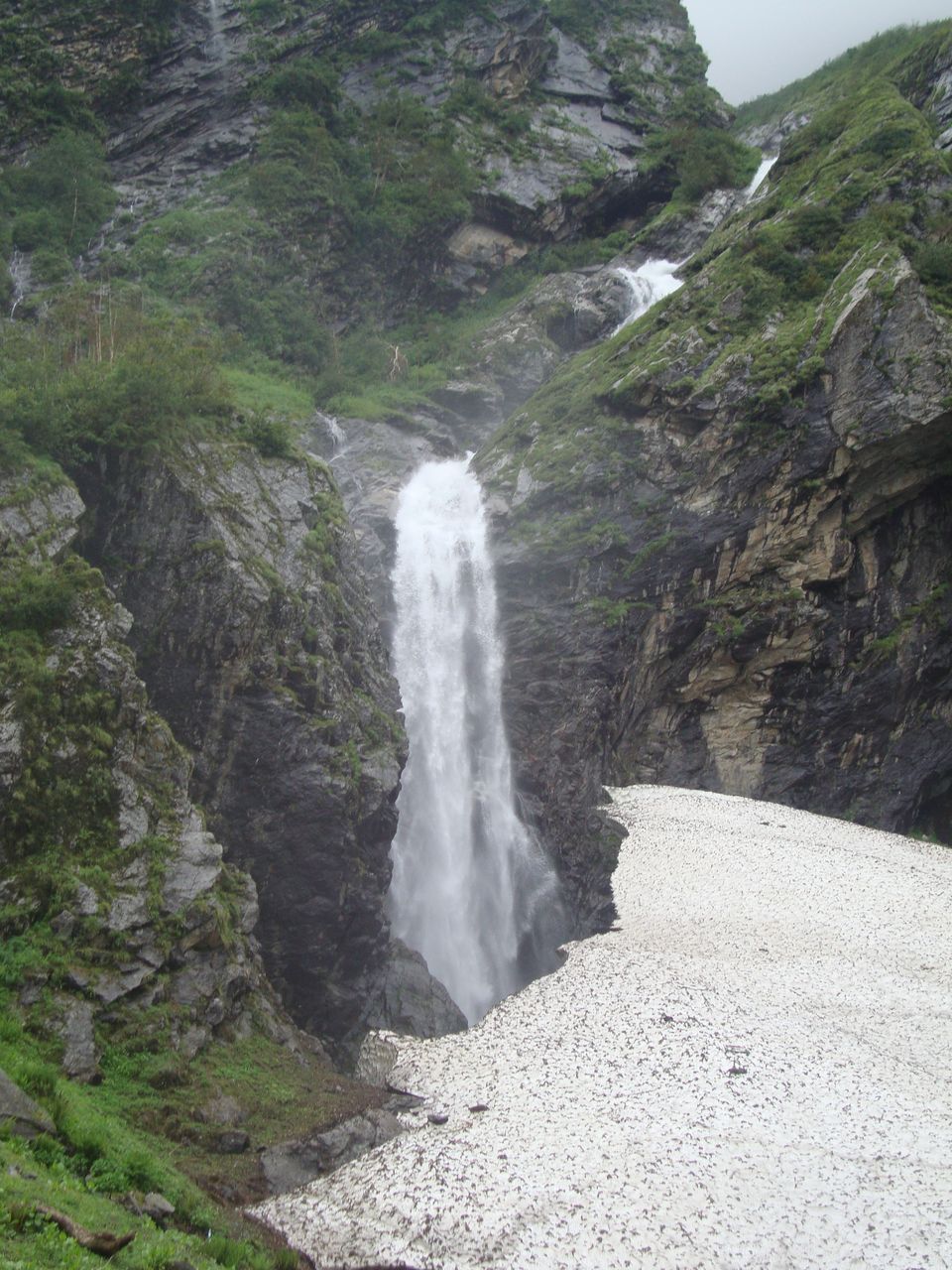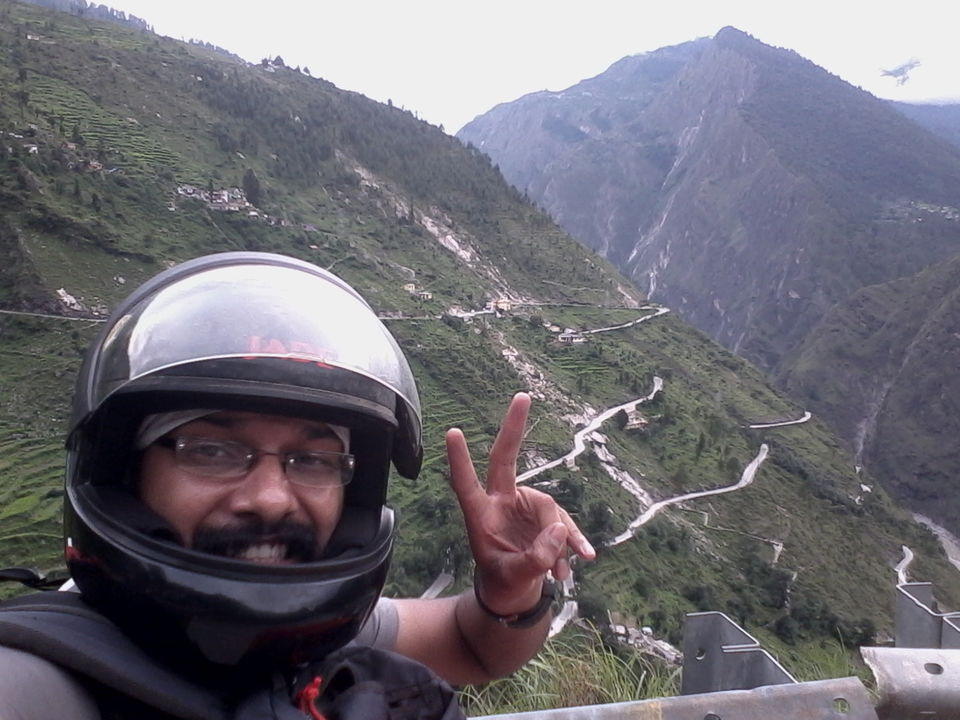 There are a few things which can never be described in words. A few experiences so subtle in nature but so deep that they touch your soul forever.
Sometimes it is a mere coincidence that such experiences come your way by themselves, but sometimes you make such wonderful experiences happen to you.
And I made it happen to me by fulfilling a long cherished dream of visiting the Valley of Flowers in Uttarakhand(India).
I was planning to travel to the Valley of Flowers since three whole years, and finally made it possible this July.
The trip perhaps was a trip that made roads inside my heart forever. It made me respect mother nature and its supreme and powerful, yet caring, character even more.
I started my solo bike trip from Gurgaon and the journey was to be of 1150 kilometers(to and fro). I was hearing in the news that there are heavy rains lashing the mountains and there are landslides and bridges been washed away, but that could not stop me from starting my journey.
I had to tell my family that I am going to Amritsar as if I would have told them where I am actually going, they would have never let me go there or at least tried their level best to stop me.
So I packed my stuff and left on my little but brave Honda Twister.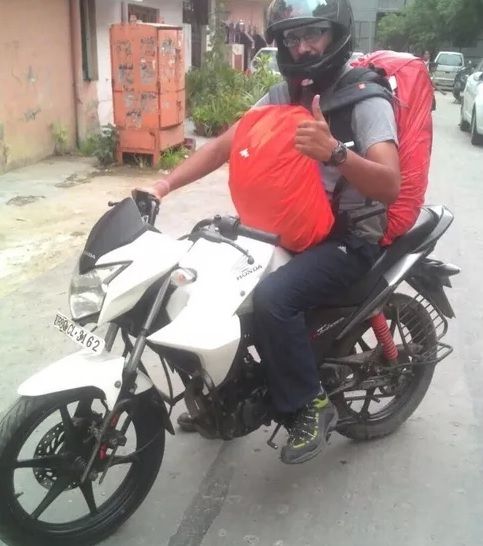 It was late evening when I left and as soon as I left I was met with the rain. Then from Delhi to Haridwar I rode in the rain with the visibility been zero many times, the headlights of the oncoming vehicles were making me blind and the water on my Helmet Visor not helping things at all. I had to completely halt at times so as to view the road ahead, and the NH58 around Muzaffarnagar is bad and the traffic hazardous. So somehow I managed to reach Haridwar at around 12 in the night and stayed in a guest house.
The next day I started my journey from Haridwar to Govindghat which is situated just before Sri Badrinath Dham in the heart of the Himalaya.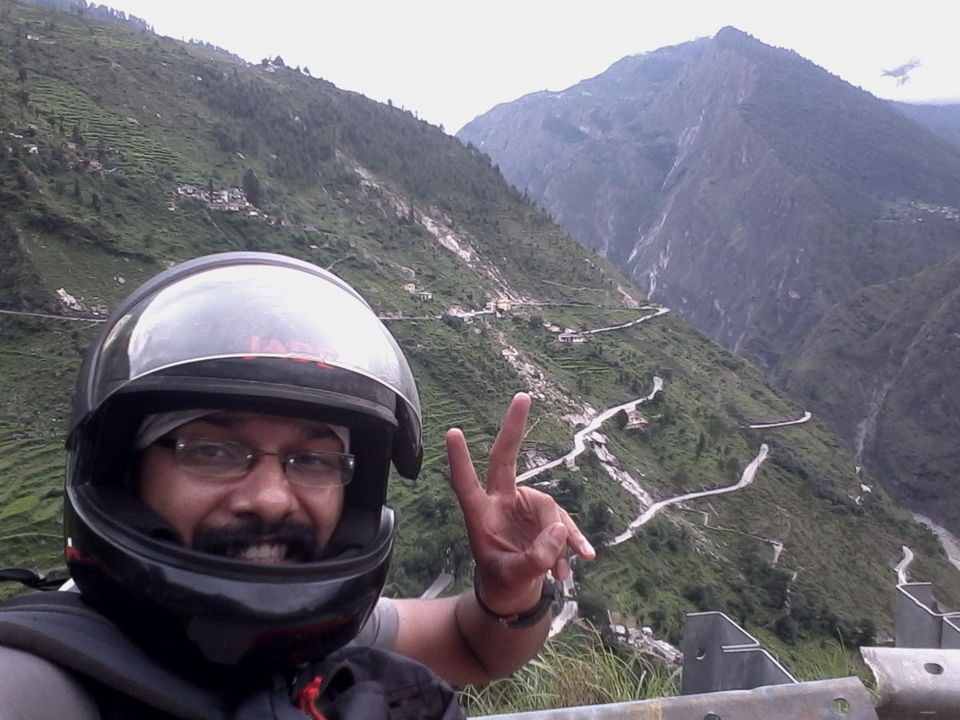 I have motorcycled a lot in the Himalaya but every time it gives me child like happiness to traverse these mountain roads. Nothing entices a biker more than mountain roads and what can be better than the Himalaya.
And I was met with the rains again but they were so welcomed as I was literally riding in between the clouds. As this is the pilgrimage season, both Hindu and Sikh devotees were going to their pilgrimages. Govindghat happens to be the stop for Hemkund Sahib(a major Sikh pilgrimage), so on the way I found several Langars organized by the Sikh community.
I was also welcomed by massive landslides but that could not deter me from reaching my destination.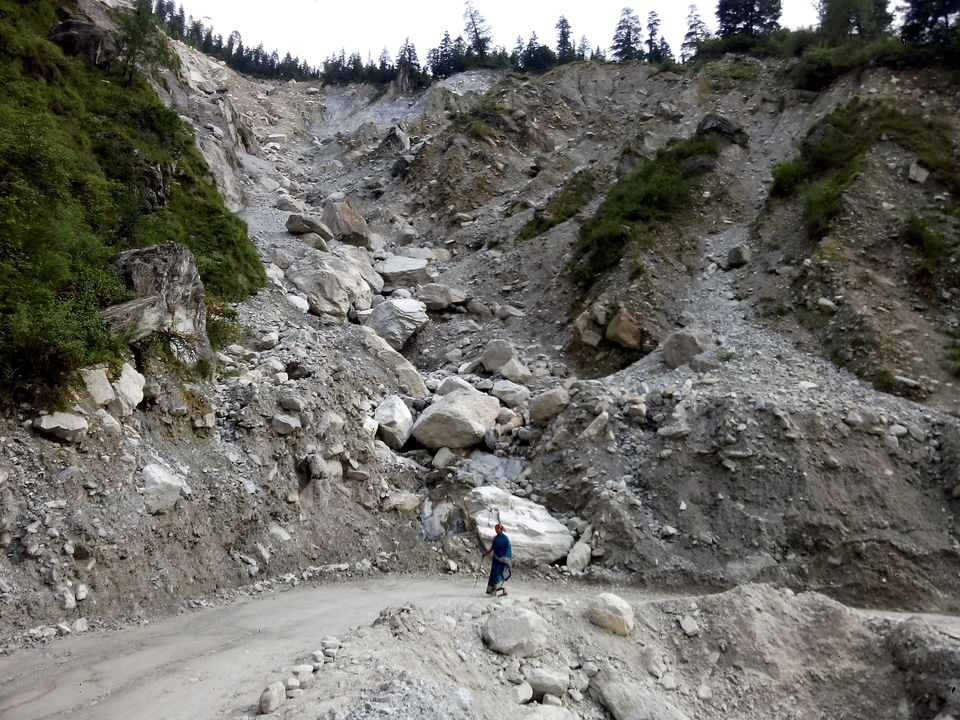 But the B.R.O(Border Roads Organization) does a tremendous job in maintaining the roads in such treacherous conditions. It acts like a "true BRO" for travellers and especially bikers like me.
The Border Roads Organization at work.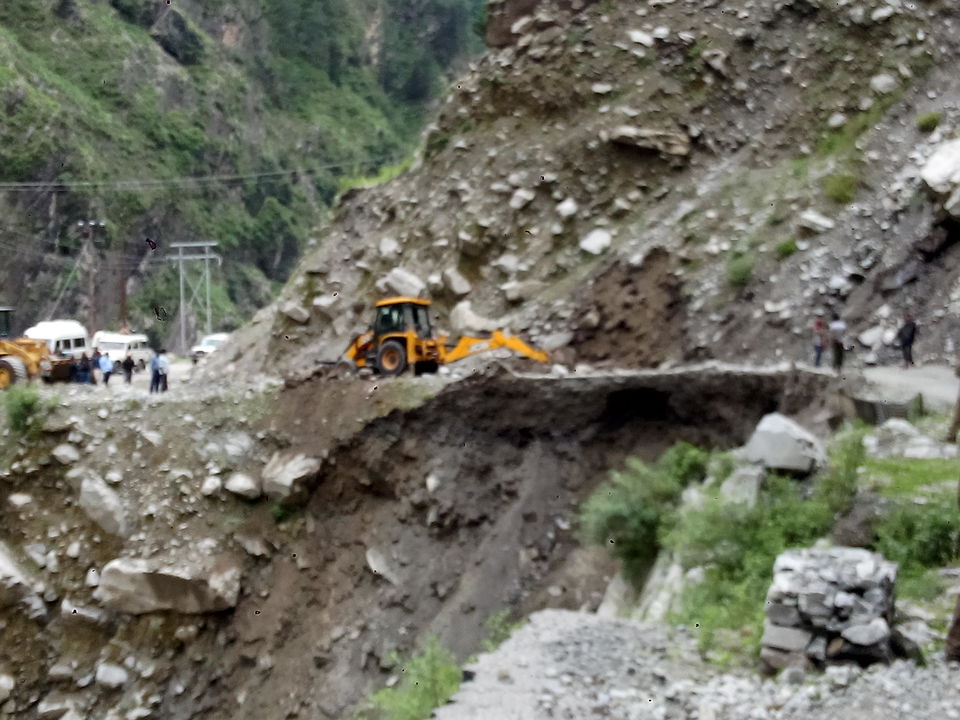 So B.R.O I salute and respect you!!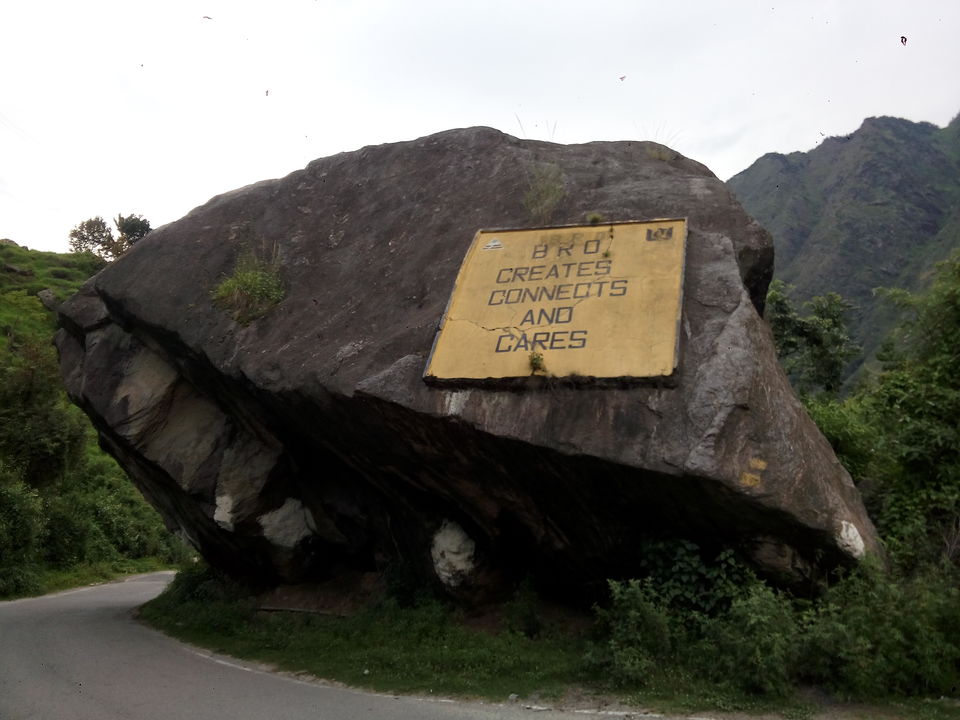 And of course the Himalayas never fail to impress and awe you by their beauty.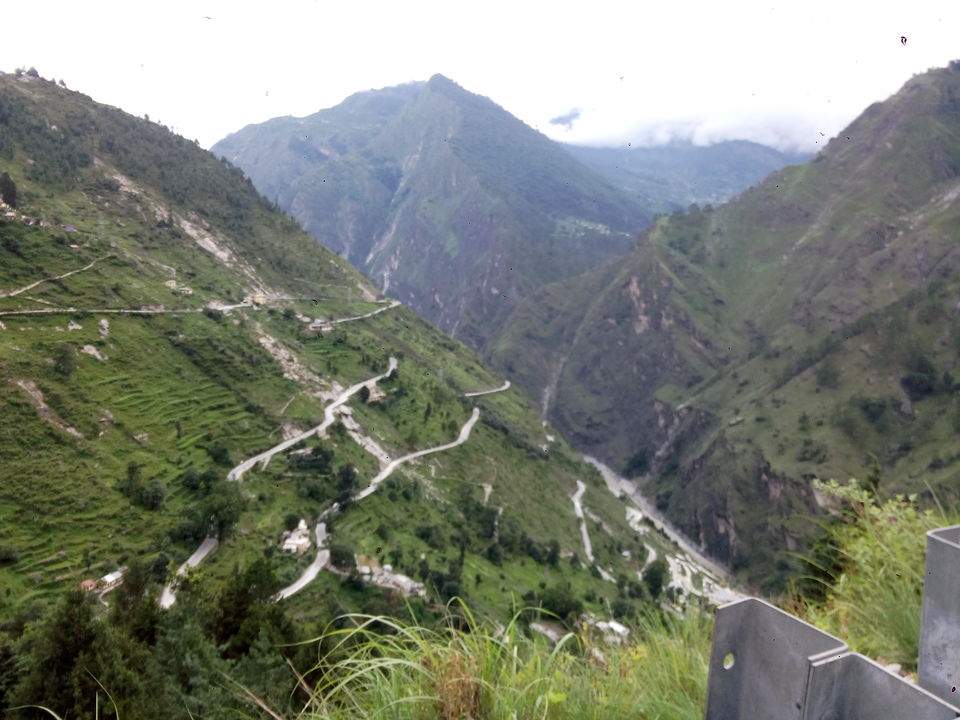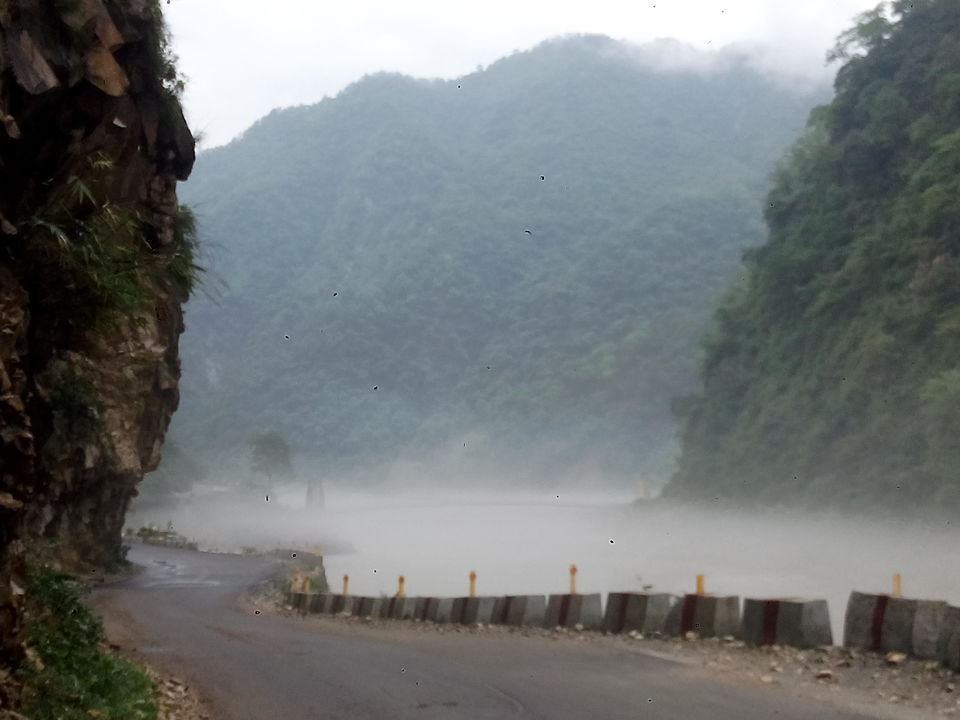 After riding for about 300 kilometers from Haridwar I reached Govindghat in the evening and by that time my bums, shoulders, knees and back were paining like hell.
Govindghat is a small town located in the upper Himalayas and around 15 kms from Joshimath(A cantonment city). It is surrounded by breathtaking mountains and is located at the confluence of the river Alaknanda and Lakshman Ganga.
You can put up at the Gurudwara or Hotels. The hotels are cheap and you can get a good Hotel within Rs. 400(do Bargain). The Hotels have parking facilities as well.
You need to trek from Govindghat to Ghangria(Basecamp for the Valley of Flowers and Hemkund Sahib). I reached in the evening at Govindghat so it was not possible to start the trek, so I spent the night with some good sleep at Govindghat and started the next day to Ghangria.
I started in the morning to Ghangria among the clouds kissing the mountains and the river Alaknanda raging with all it's might.
You can hire a pony or a potter for Rs. 500 to Rs. 700 for reaching Ghangria but then trekking has a feel that no other thing has. Also you can leave your luggage at the luggage store of the Gurudwara and carry only essential stuff required for stay at Ghangria for 2 to 3 days.
So my trek of 13 kilometers to Ghangria began and what a walk it was!
The Trek to Ghangria
The trek is endowed with Greenery.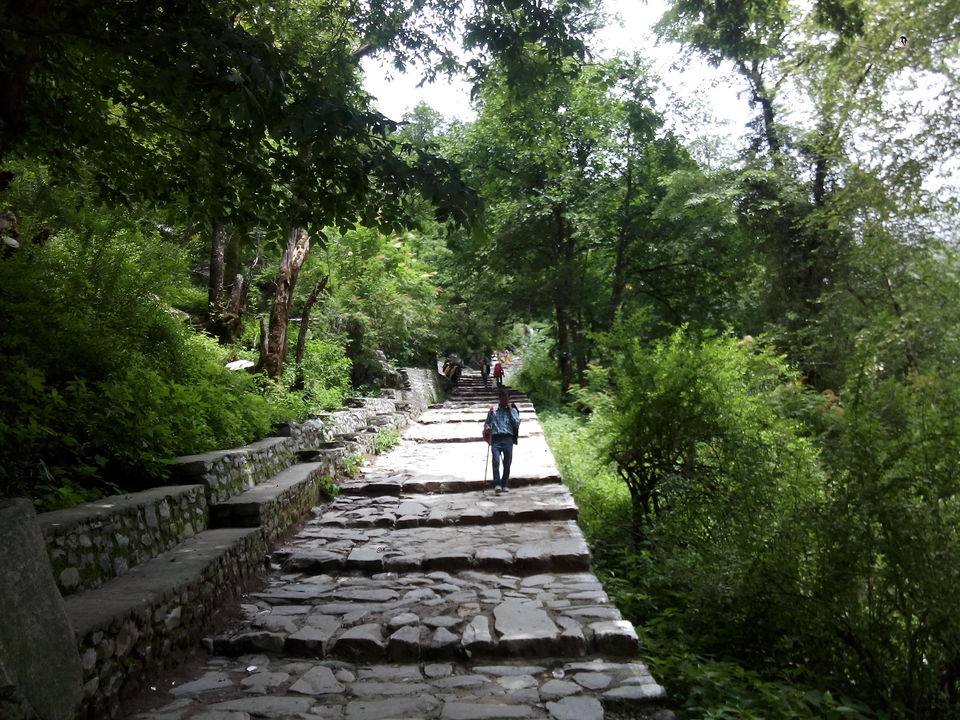 The trek is blessed by trees guarding the path and watching you silently.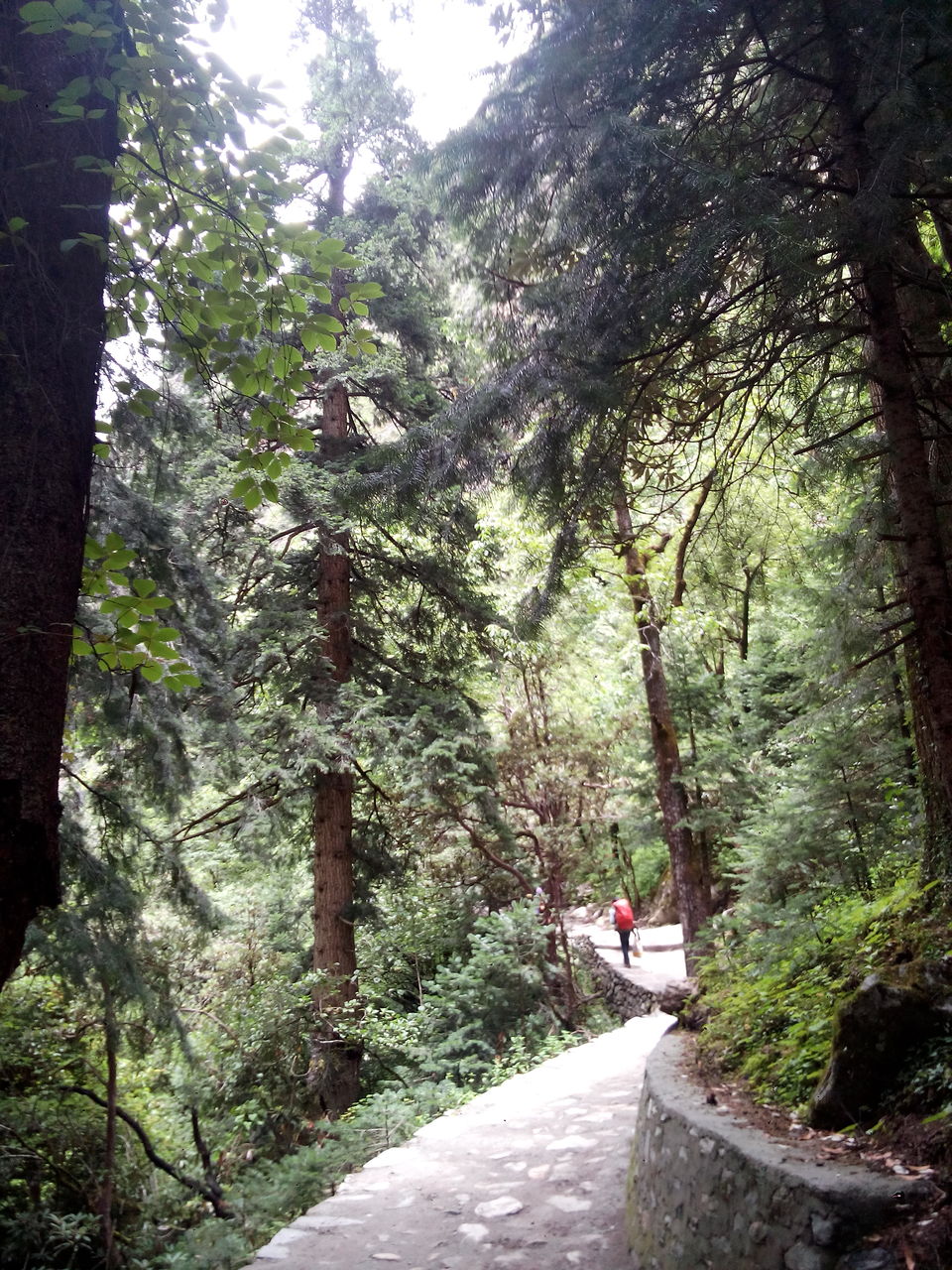 The trek is nurtured with waterfalls falling from Heavens.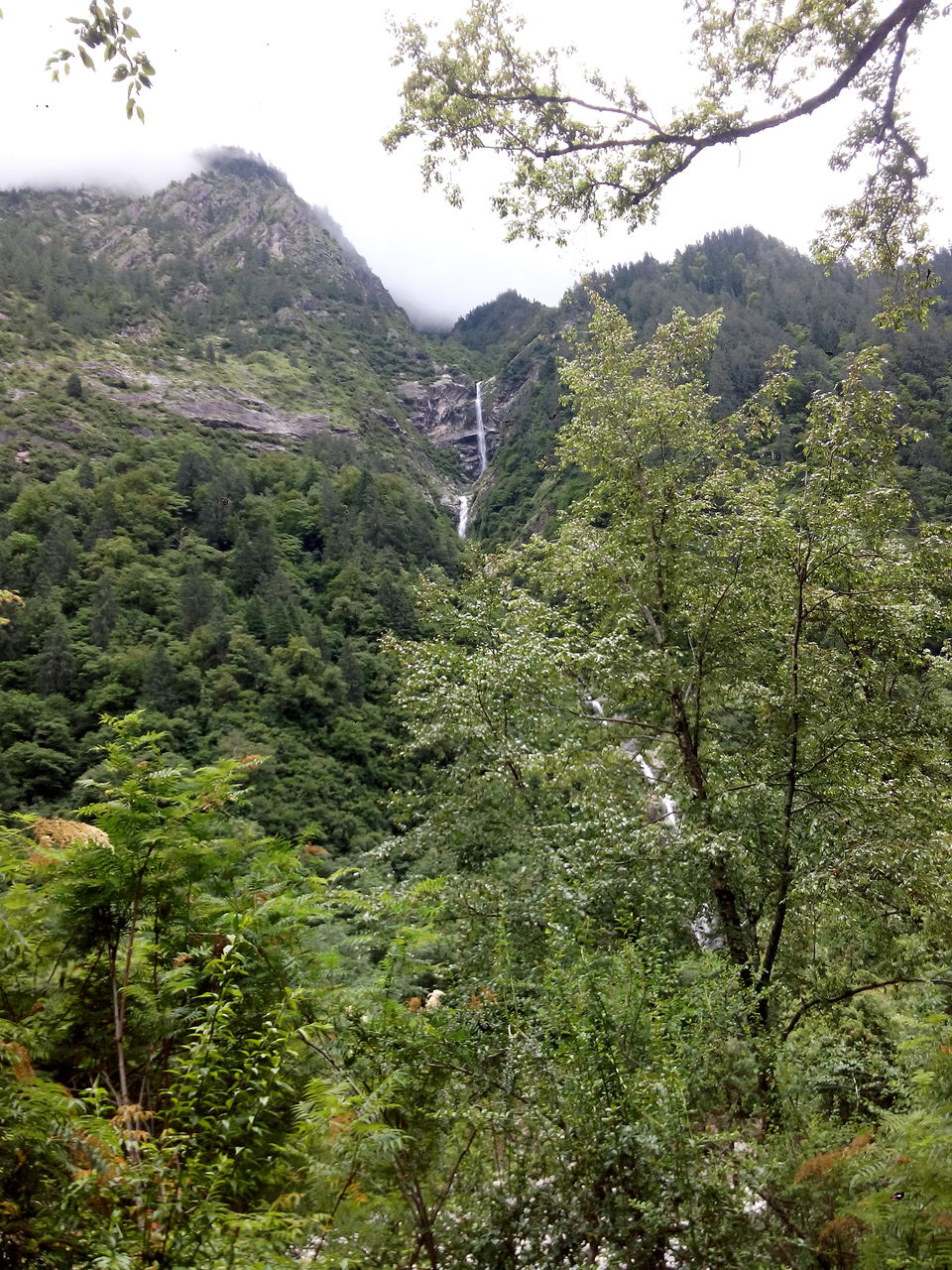 A trek with clouds whispering to the mountains on the way.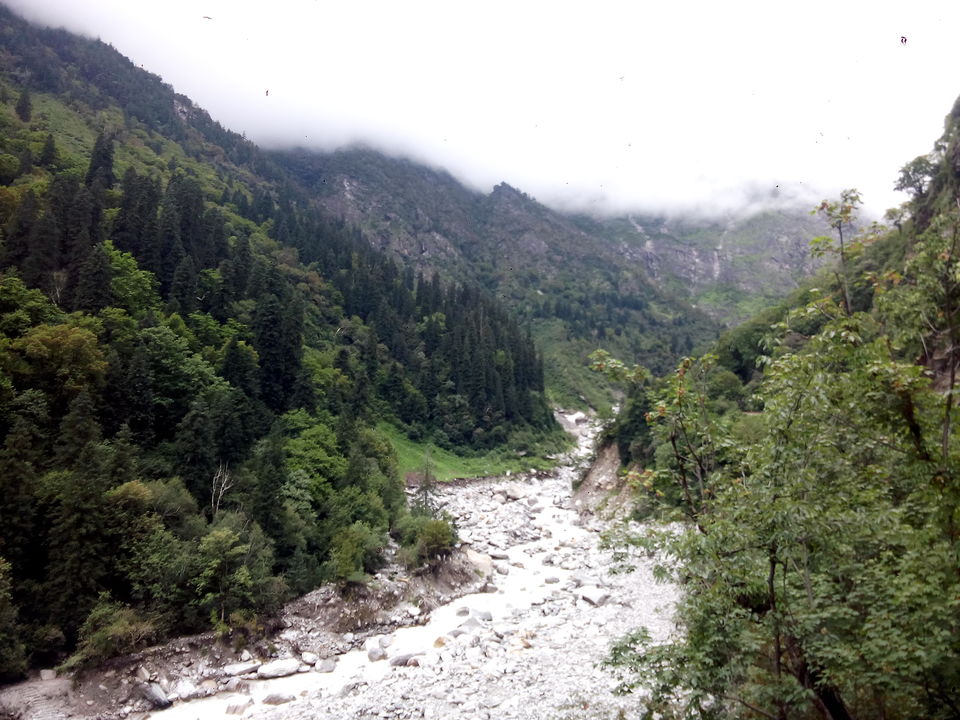 It is a tiring and exhausting trek but at the same time fills you with energy by displaying some amazing views and spectacles of nature.
And finally I reached the small settlement of Ghangria. The clouds move with you till the top, sliding and gliding along the mountains.
During the trek carry some chocolates and dry fruits with you for instant energy. Also on the way you will find plenty of eateries. You are going to an elevation of 10000 feet so be prepared for it.
The settlement of Ghangria is at 10000 feet above sea level and surrounded by snow capped peaks, but only if the clouds let you see them.
Ghangria is the base camp for both Valley of Flowers(4 KM from it) and Hemkund Sahib(6 KM from it). You can put up in a hotel as there are decent and cheap hotels available or at the Gurudwara.
A hot water bucket for bathing will cost you Rs. 50 and all the packeted content will be twice the cost. Rest assured that all facilities are available at Ghangria for you. Even warm clothes are available on rent.
Ghangria itself is majestic with gigantic mountains surrounding it.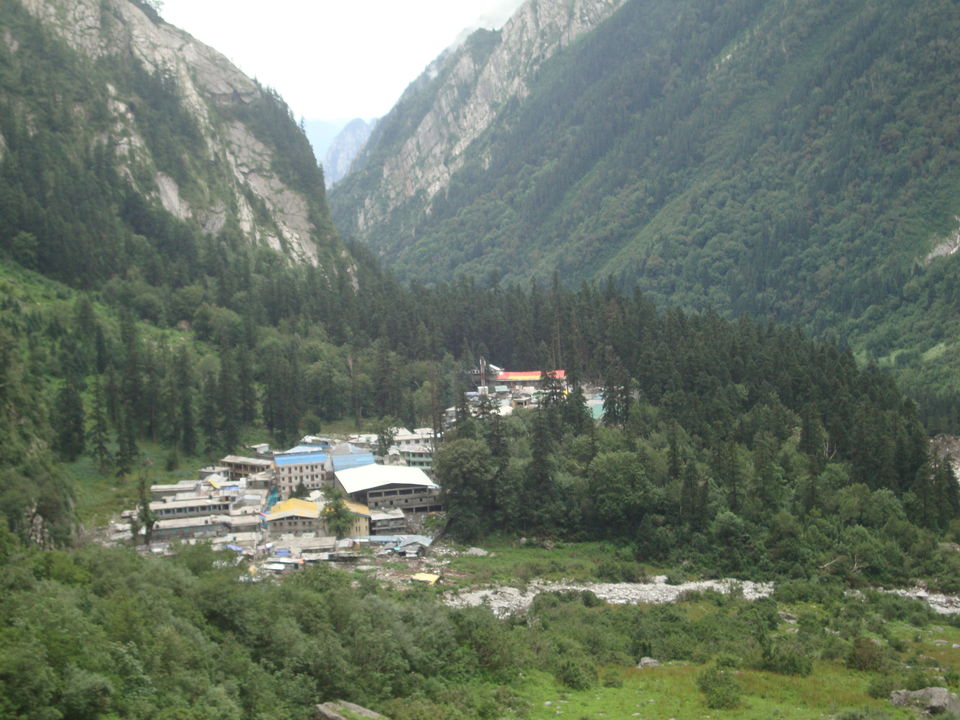 With glaciers and waterfalls running across it, mother nature was just giving a glimpse of what lies ahead.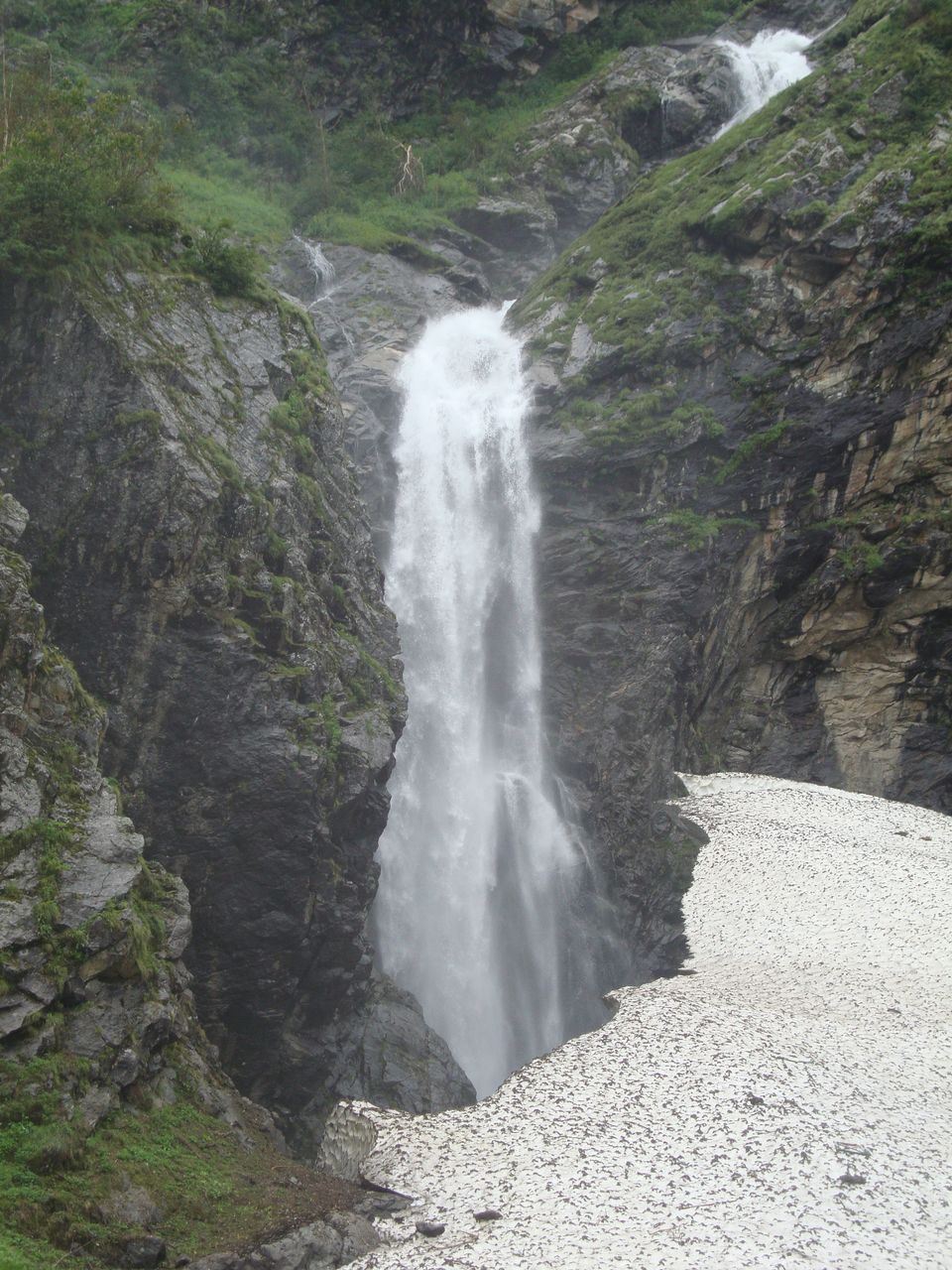 I already was mesmerized by the scenic beauty of Ghangria and of the trek I took but was ready to stumped by what I was about to see.
There was strange thing that happened to me in Ghangria as a few people asked me "Are you from India?" and I looked at my skin and strangely said "Yes!". Maybe it was because of my beard that I had kept.
Trek to the Valley of Flowers from Ghangria
I started the 4 KM trek to the Valley of Flowers from Ghangria. The fees for Indians is Rs. 150 and the forest department man writes your details in a register and then off you go.
You start walking and then enter a path where there is an untouched forest. All you can hear is chirping of birds and gushing of the river water. You feel that it is a picture straight out of your most splendid imagination. You keep walking hearing your breath and heartbeat as the quiet forest welcomes and engulfs you in it's wonderful charm.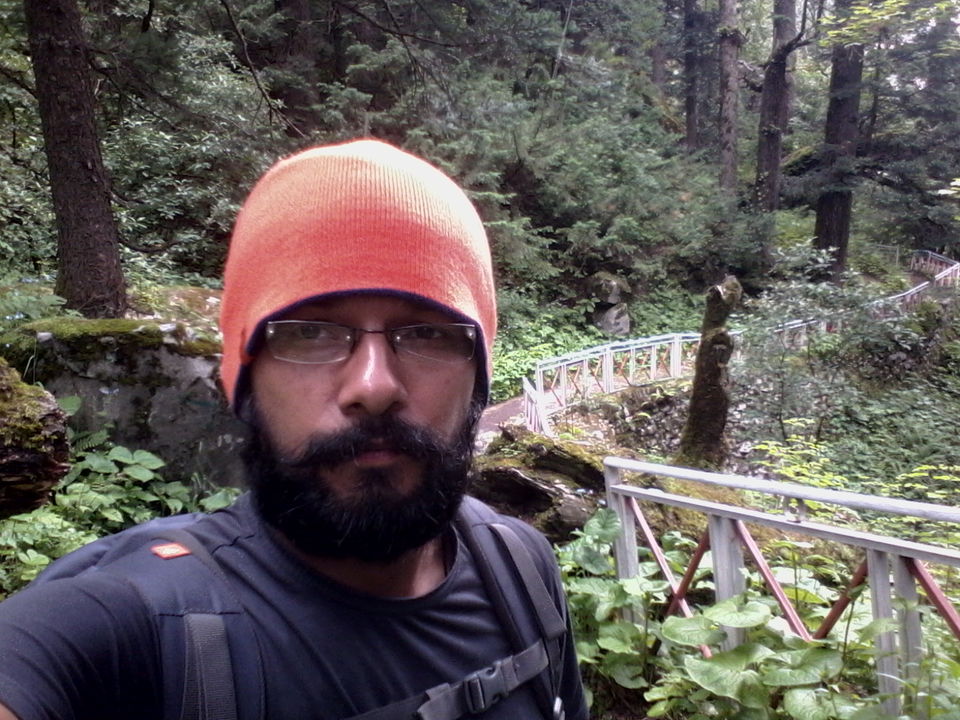 You will also come across the "Indian Jugaad technology" of keeping things straight and simple but it is effective and gets people "across". I at least loved using it, but was also praying for it not to get washed away, if it rains heavily when I return.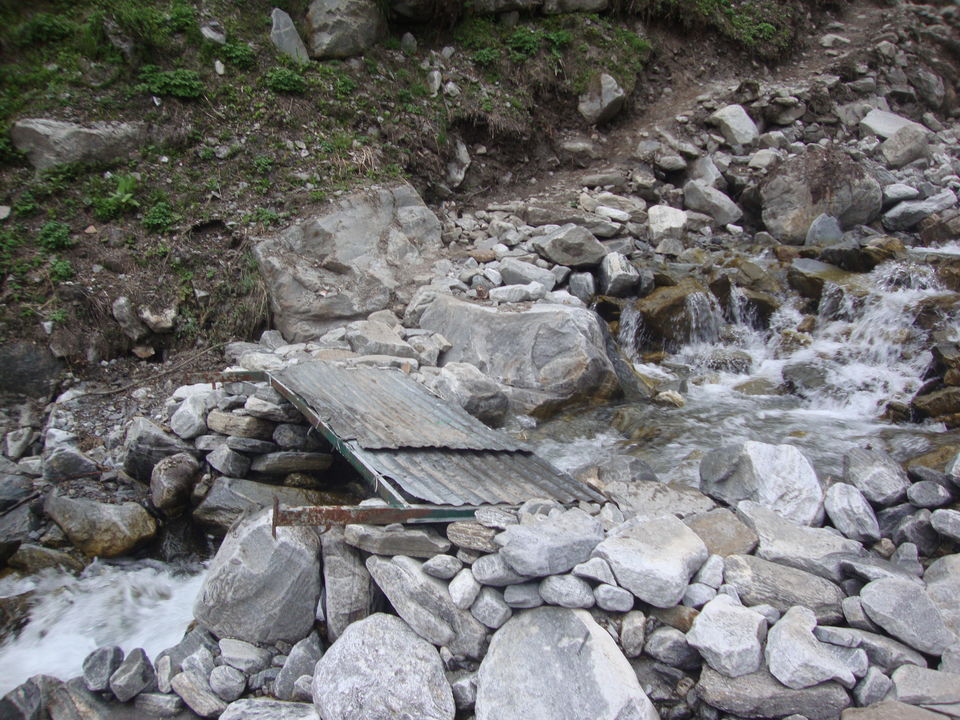 As you walk forward the mountains slowly open up and start giving you a glimpse of the valley ahead.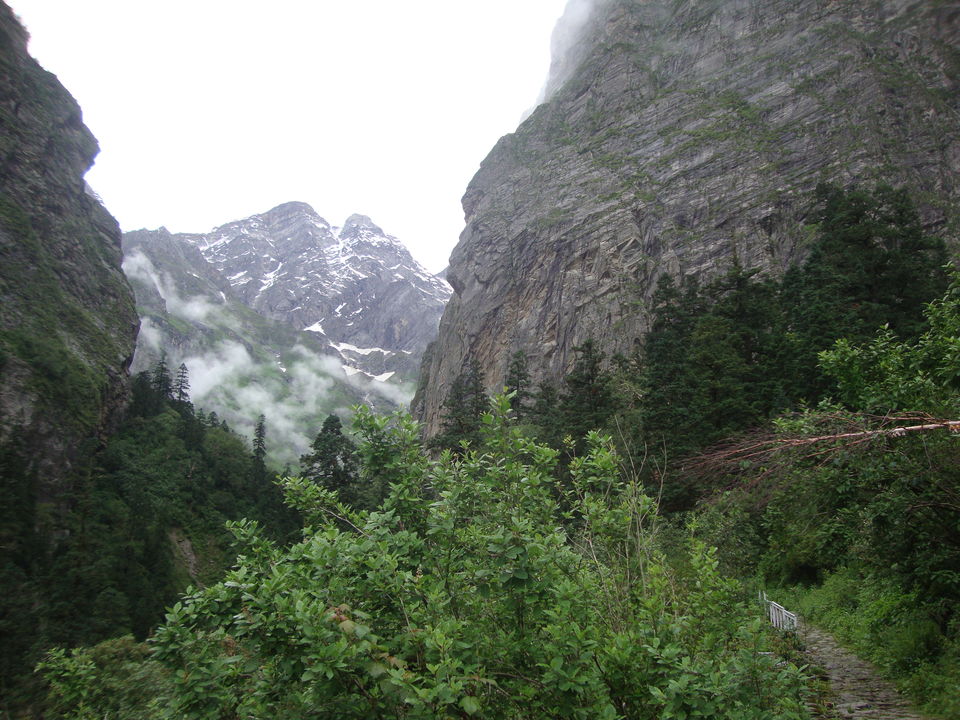 You'll come across a bridge on the Laxman Ganga and after that a steep climb begins.
The tip is to walk slowly but continuously, as in if you walk fast you will get tired and when you'll stop to rest that will consume your time, so enjoy the view and keep walking at a gentle pace.
As they say slow and steady wins the valley.
You climb higher and higher and then flowers will start to appear little by little indicating that your are almost there. The valley is at 14,000 feet above sea level so there will also be melting glaciers on the way even in the month of July!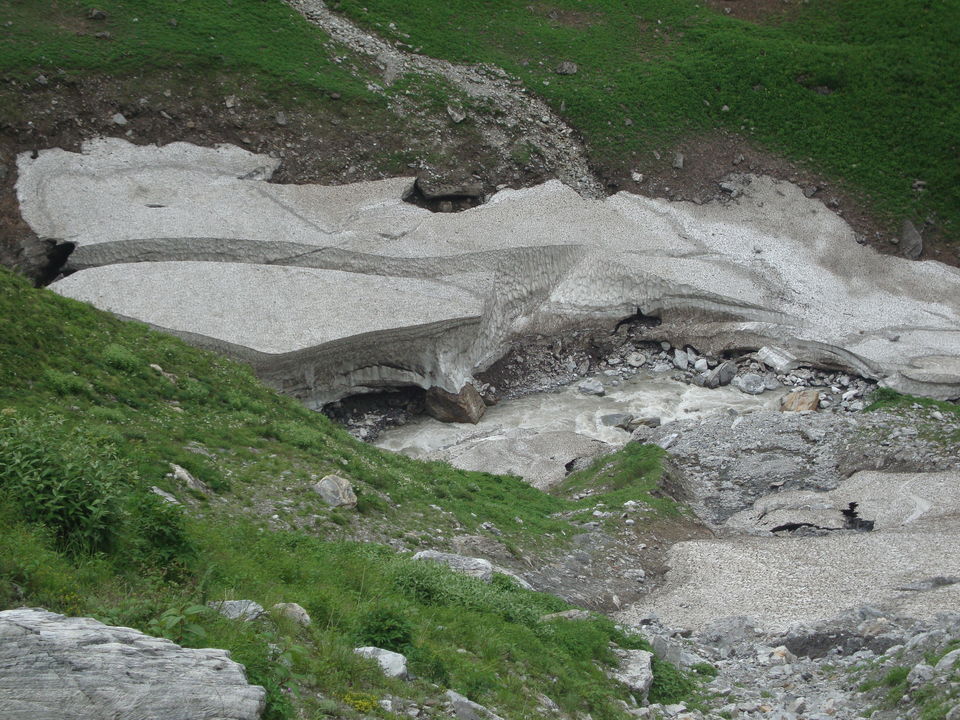 And then the mountains open up to give way for the Valley of Flowers.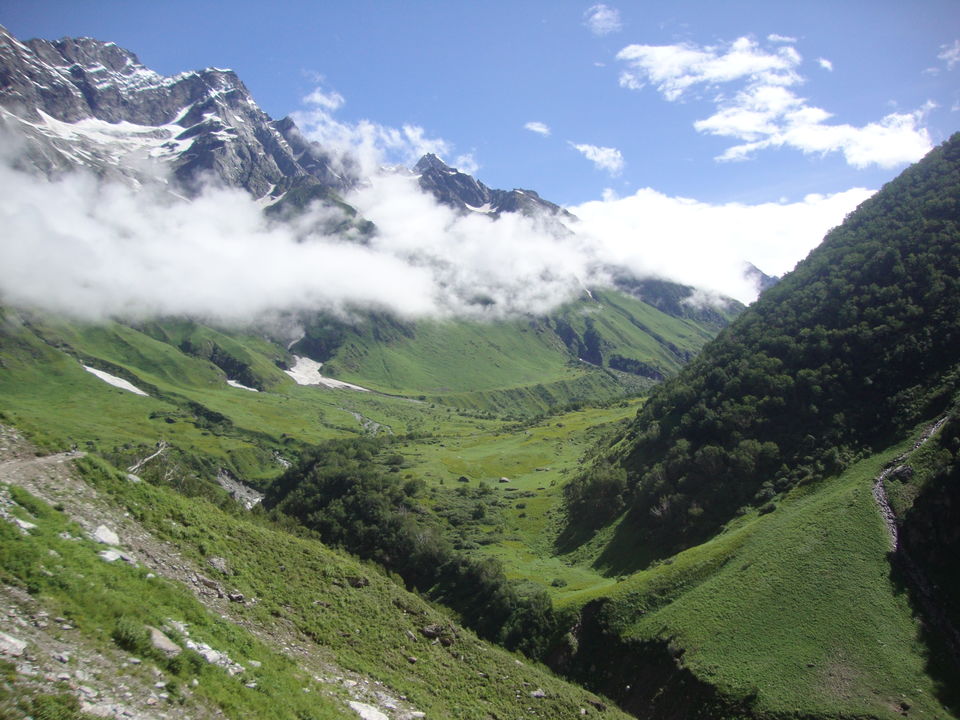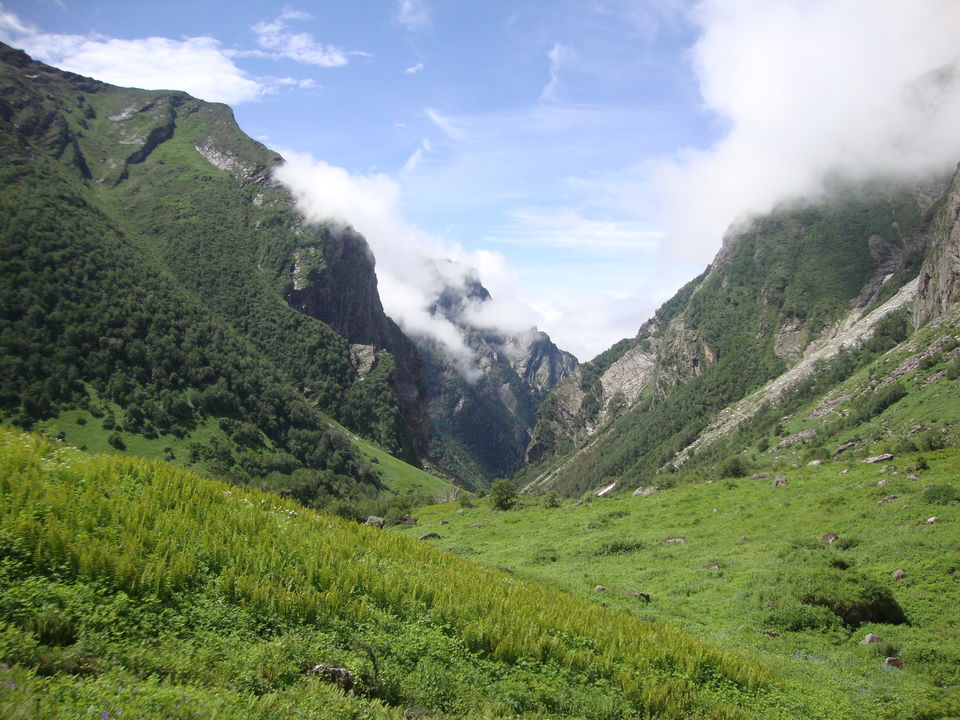 I was left spellbound, as I simply was awed and left speechless by the stunning beauty of the place. I was perhaps looking at one of Almighty's most magnificent creations.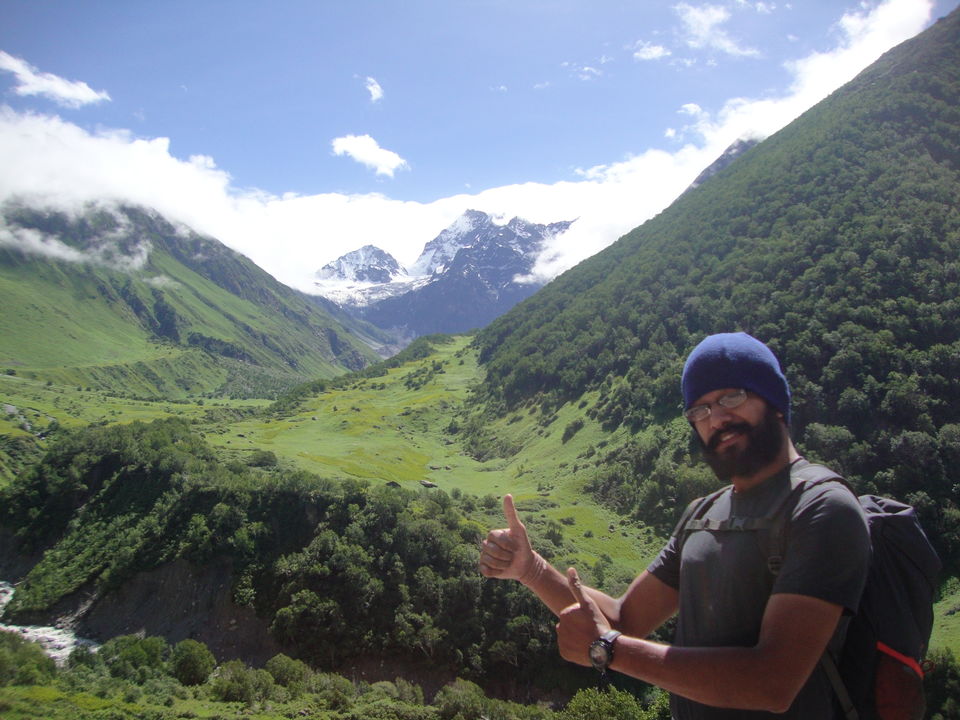 I now knew why they call the Himalayas "Deva Bhoomi" (Land of the Gods). No wonder the Gods chose this place as their home. So serene and so beautiful.
You will see blue, green, white and red patches. Those patches are the flowers and they are everywhere and that is why it is called valley of flowers. The colours keep on changing every month with new flowers coming and old flowers dying.
The valley opens for only 4 to 5 months from May to late September, but is in it's full bloom from mid of July to mid of August.
The heavens literally descend on earth at this time. What was in front of me was nothing but heaven.
The green foot of the mountains with their top being bare and snow capped. The melting glaciers and subtle and gentle smell of the flowers was nothing short of of eternal bliss.
And as for the flowers they were everywhere! You will feel that a mild perfume has been sprinkled in all of the valley such is the smell sometimes.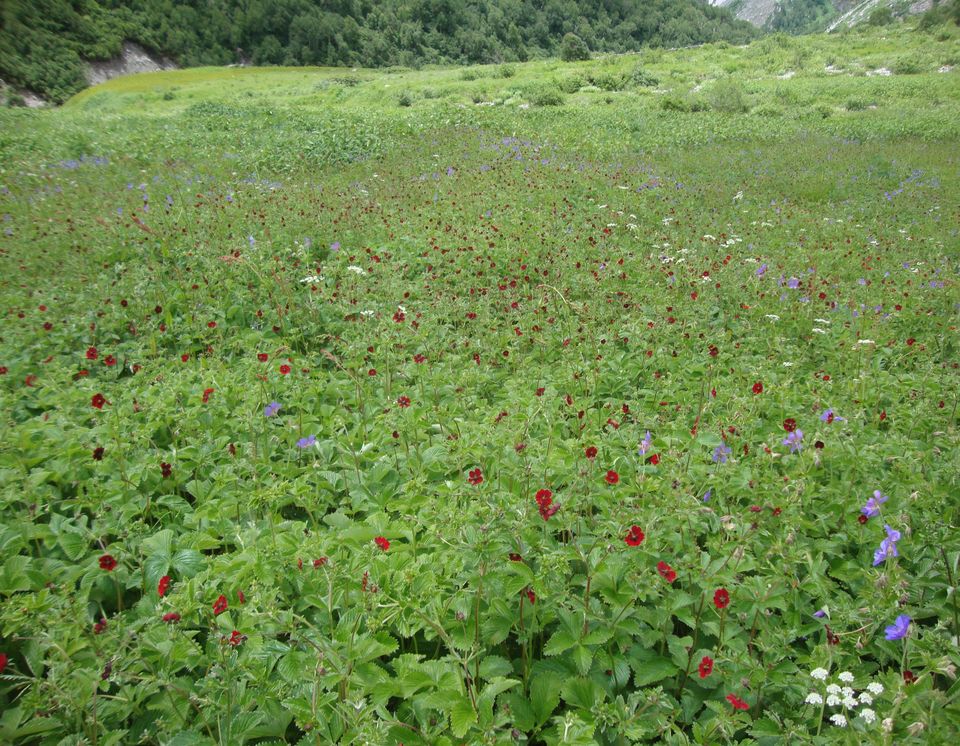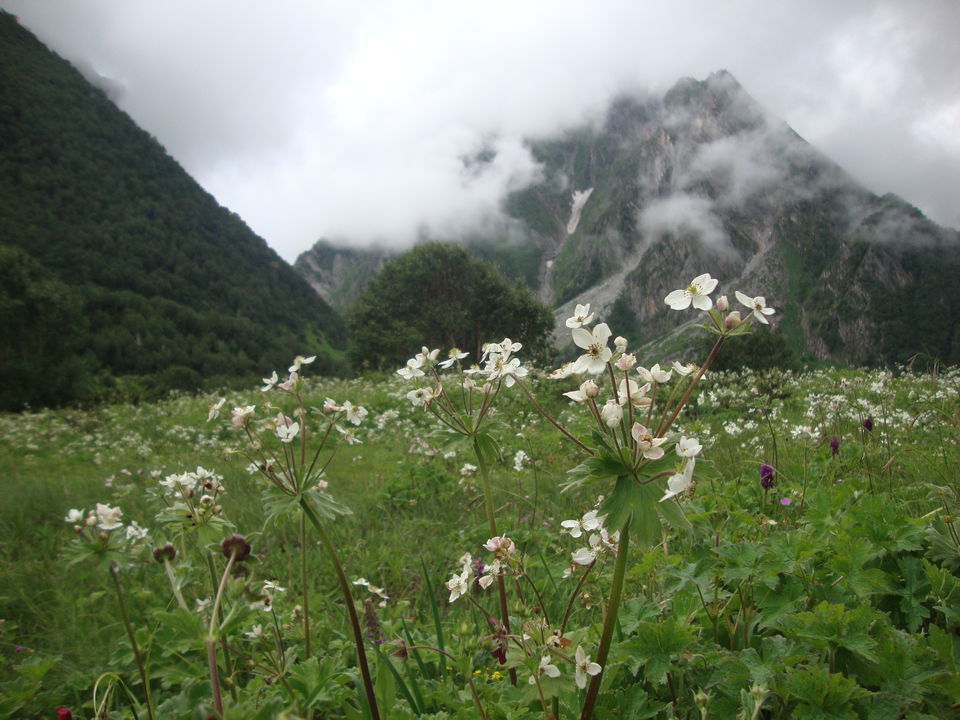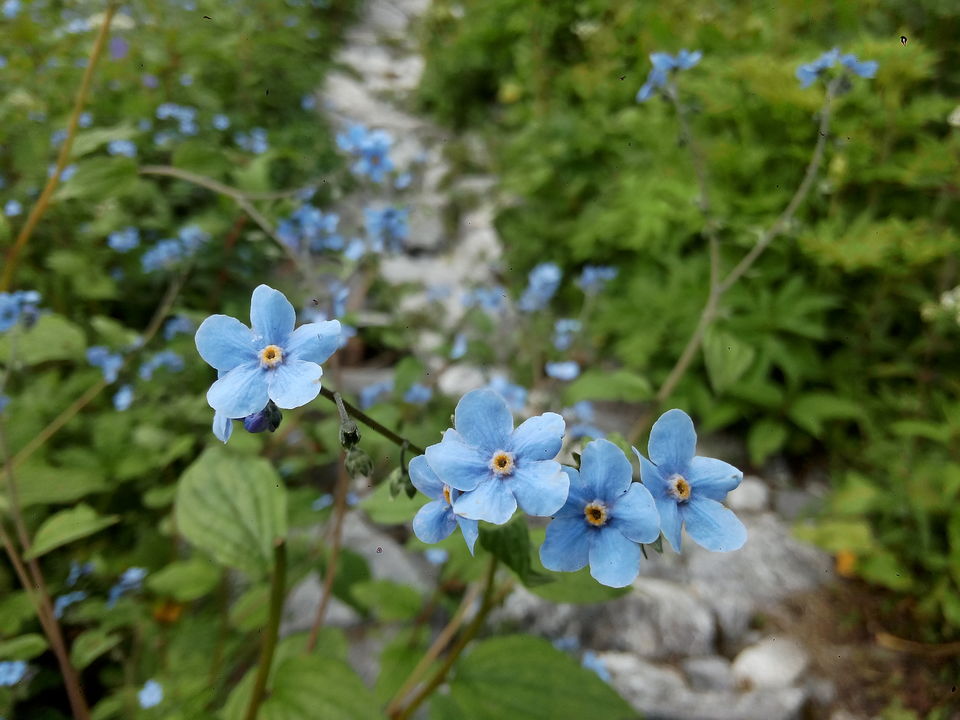 Flower and the Beast.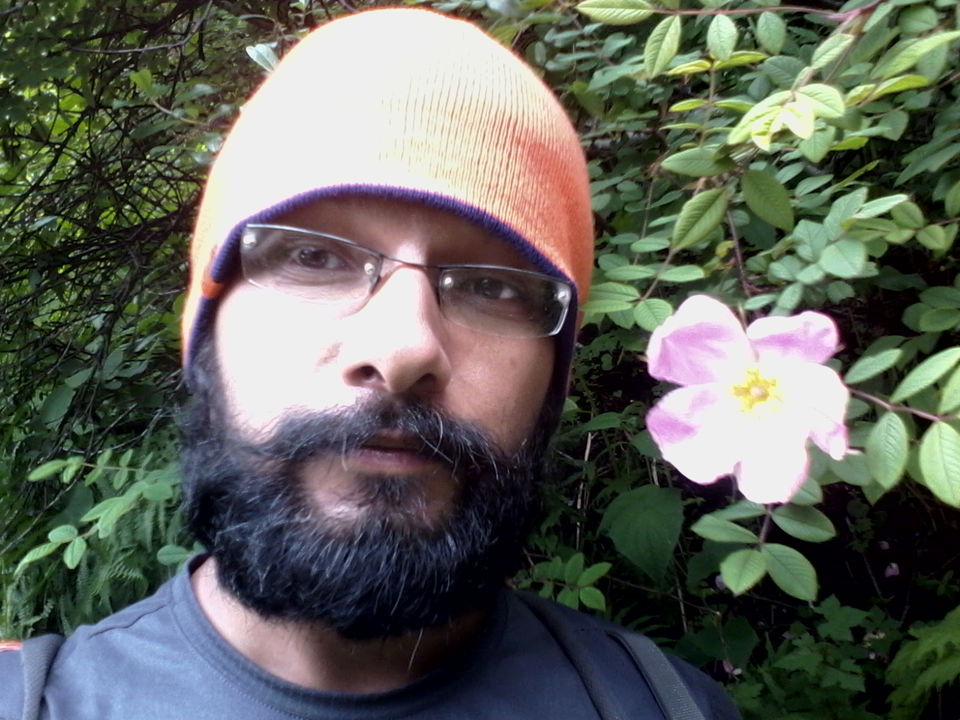 It is not just the flowers that you will see in the valley but also waterfalls.
Not One! Not Two! Not Three! Not Four!
But one waterfall neighbouring and accompanying the other. The scene appeared straight out of the Hollywood movie Avatar, but was present in front of me. Each waterfall made it's own stream and they were coming down from the clouds in steps.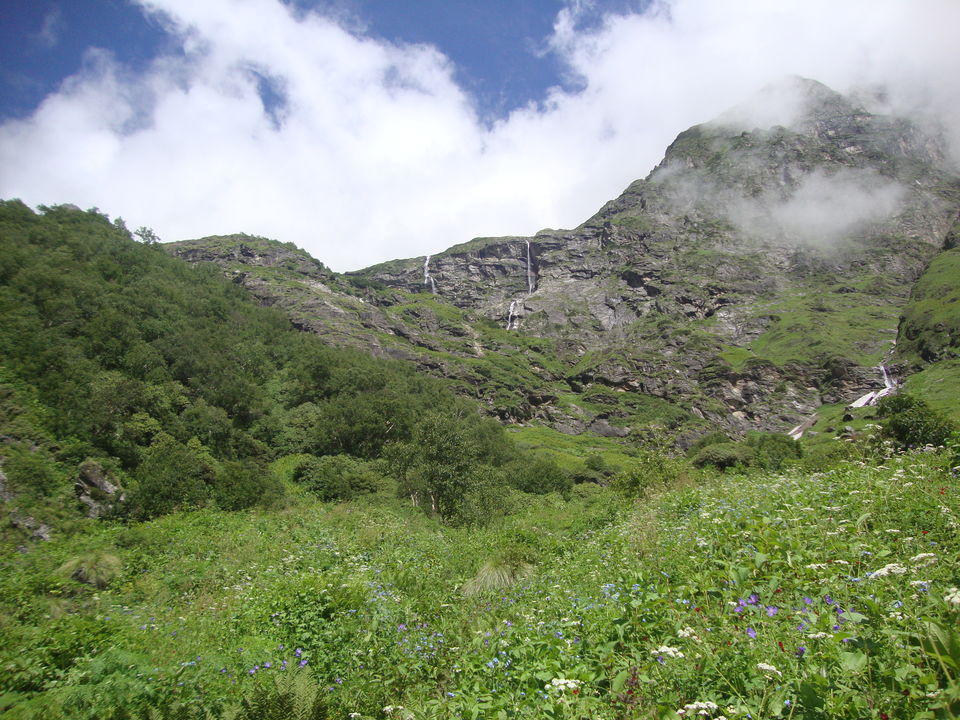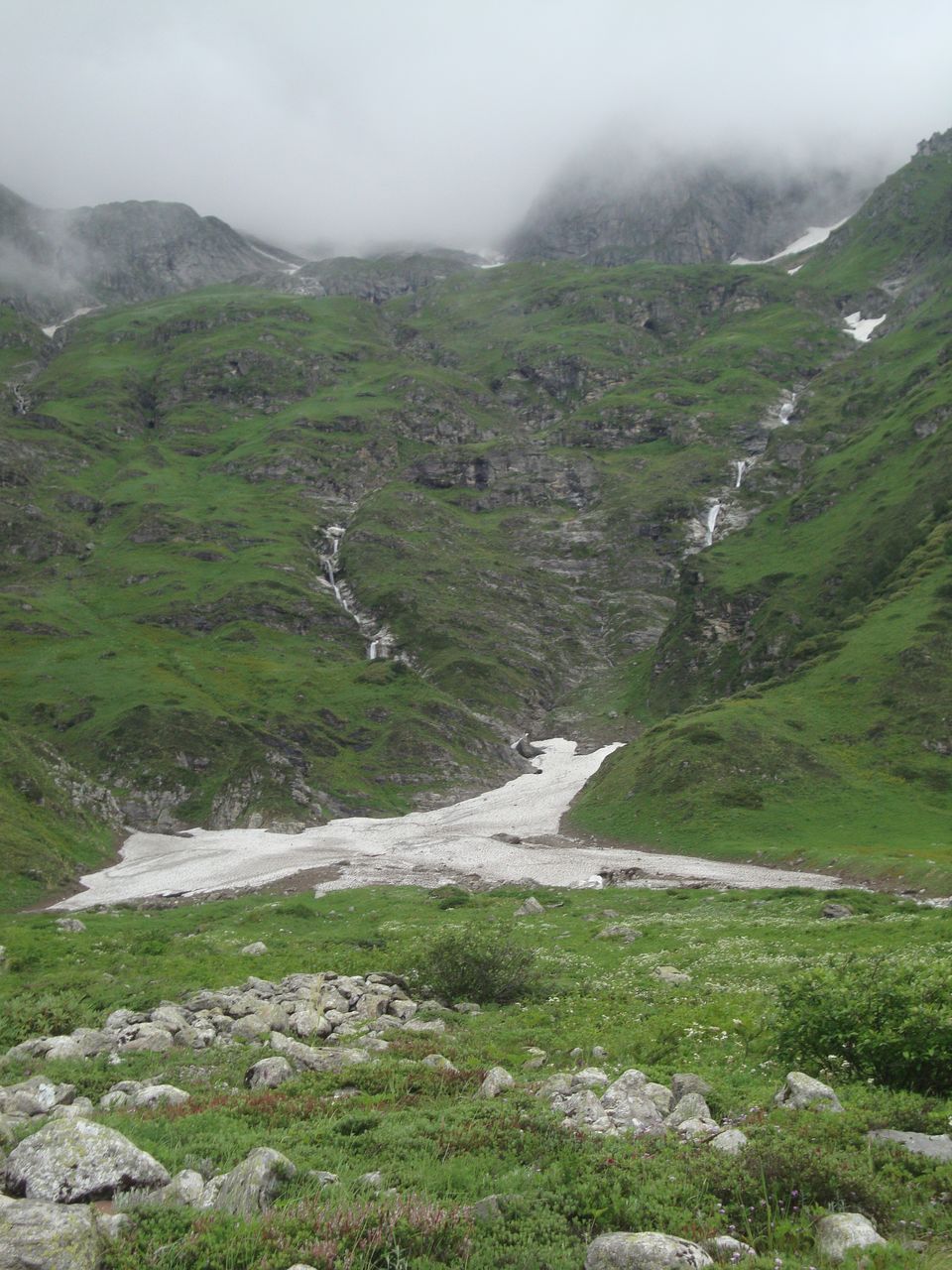 I met a few members of the Gurudwara who told me the other side of the above mountain lies Sri Badrinath Dham(One of the most pious places for Hindus), and the trek to Valley of Flowers goes straight up to Badrinath Ji. They also told me that Guru Gobind Singh Ji (10th Guru of the Sikhs) walked this path and at that time all the Gods showered flowers on him when he came for Tapasya here.
You also have to be careful as there are wild Bears and Leopards present so carry a stick with you. The bamboo stick made for walking are available in Ghangria and give support as well as protection.
I had other protection measures just in case I come across "Yogi Bear" who tries to be smarter than the average Bear.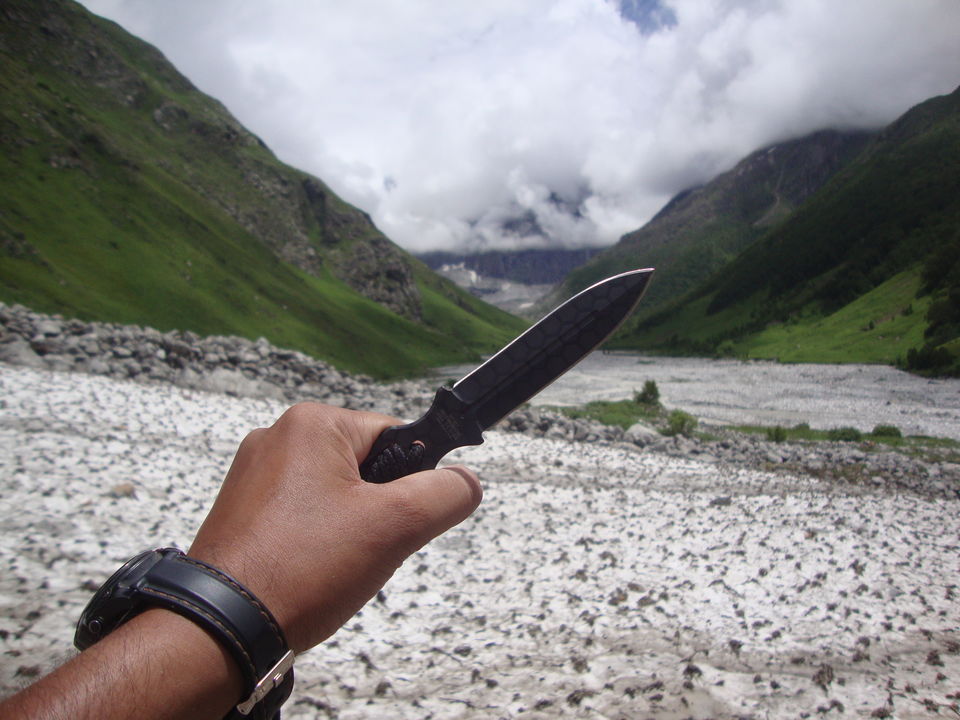 I took the little knife out when I was travelling deep in the valley, it was only me who was there(I was travelling alone) and to be frank when I saw animal poop lying around, the first thought came into my mind was that a Bear is nearby but I kept going.
Bear Grylls effect you can say!
And if everything goes wrong there is always prayer.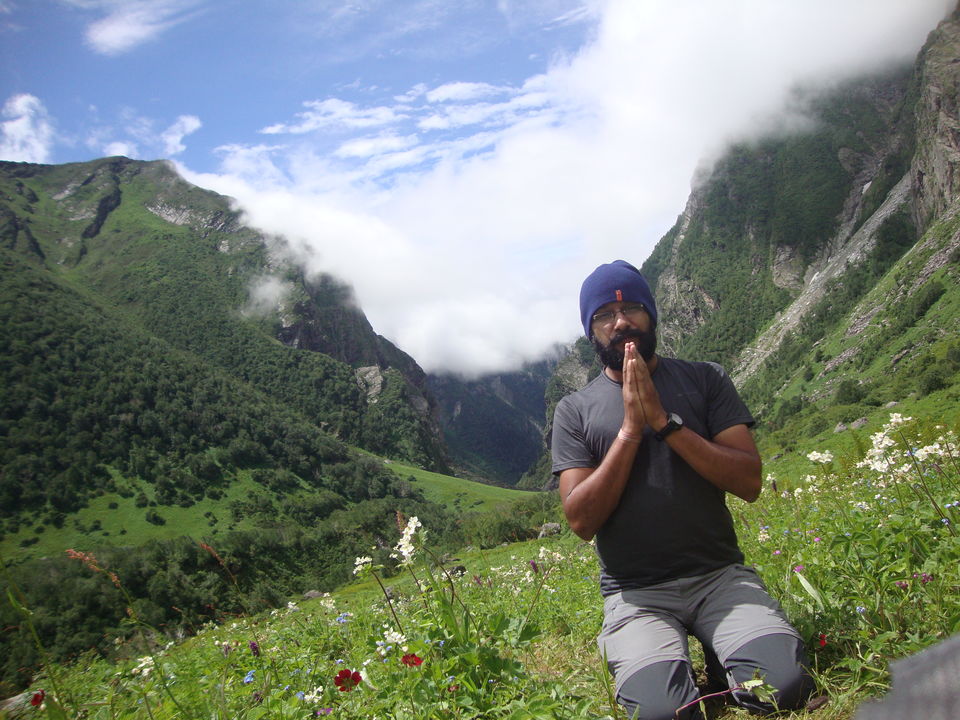 The entry in the valley is allowed only till 2 in the noon so start early and try to reach the valley by 9 in the morning as it takes the entire day for travelling the valley.
If you have time visit the Tapri Glacier which is at the far end of the valley but as I said, return before dark.
Carry biscuits, chocolates and a lighter with you. A good raincoat, warm clothes(It gets very cold in the evening) and good waterproof trekking shoes are a must!
For water you can simply take it from any stream. It is absolutely fresh glacier water and safe to drink.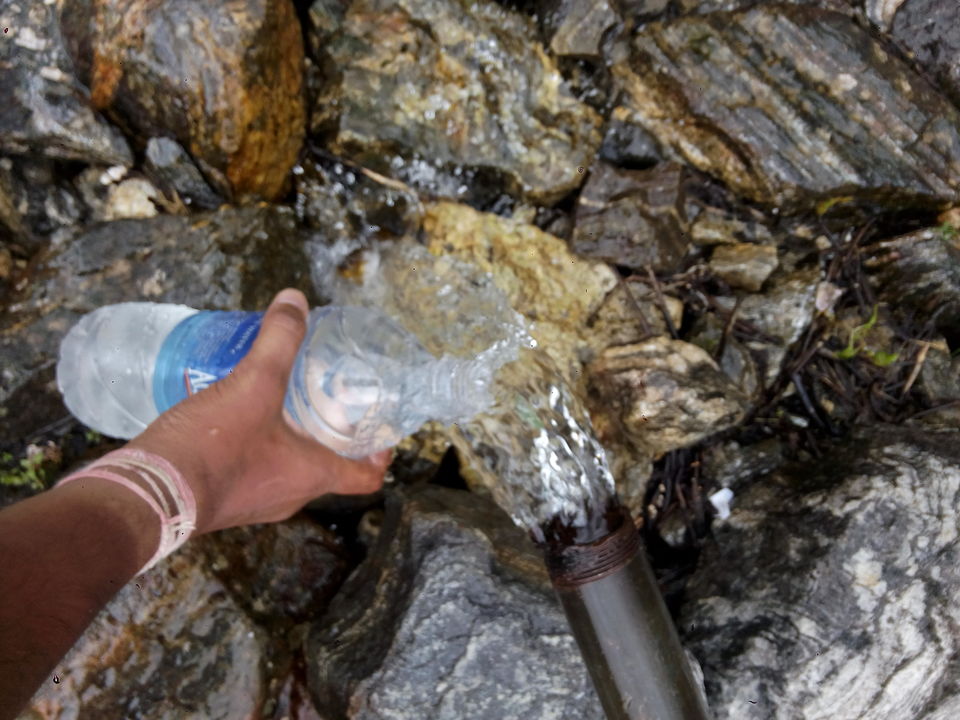 There are also some rules of the valley as the ecology of the place is very fragile.
So please do not! Absolutely Not, Pluck Any Flower! They are for the valley and your viewing and not for your girlfriend or boyfriend.
Needless to say do not pollute the place at all! I was happy that for once I did not see any wrapper thrown around and if you see any please pick it and bring it down with yourself.
We have to preserve the place for our future generations!
So finally after spending one hell of a time in the valley it was time to say goodbye.
I will return though and the next time will be with my life partner.
I began my spiritual Trek to Lakshman Mandir and Hemkund Sahib the next day
My trip also had a spiritual side to it and after visiting the Holy Valley, I went to Hemkund Sahib the next day. It is situated at an elevation of 15,000 feet above sea level.
It is a special place as it holds importance in both the Hindu and Sikh faith.
The Hindu Legend says that Lakshman(Brother of Lord Ram) was taken to the banks of the lake situated there when he was mortally wounded in the battle against Ravan's son Meghnaad. It was here Hanuman ji found the Sanjeevani herb which gave life to Lakshman ji, and in joy the Gods showered flowers which became the valley of flowers.
Another story gives reference to Sheshnaag and Lord Vishnu.
Long before the Gurudwara was constructed in 1960's the place was known to the locals who went there for pilgrimage. The Gurudwara members told me that no ablutions and eating were done on the way and the villagers worshiped and took the holy bath in the lake and then they came down. Even today the toilets are situated away from the Hemkund Sahib Lake.
The Sikh Legend says that Guru Gobind Singh meditated here and became one with God but God commanded him to go to world and be born to get rid of the evil existing in the world.
So both the the Hemkund Sahib Gurudwara and the Lokpal or Lakshman Temple exist side by side.
And the next morning my 6 Kilometres trek began. The trek is tougher than the Valley trek, as the climb is steep with nowhere coming downwards, but again is worth every step.
You keep on climbing up and up until you merge with the clouds.
The clouds also covered the entire Ghangria valley until nothing was visible, but in one moment as if God waved his hand to disperse the clouds and the entire settlement of Ghangria, and the humongous mountains were visible again. In one blow of some mystical wind the clouds dispersed, and the whole Ghangria valley was bathing in sunlight.
When I saw the clouds clearing and the mountains revealing themselves by tearing from between the clouds, that was almost a magical miracle I saw. I thought to myself this can't be real but it was.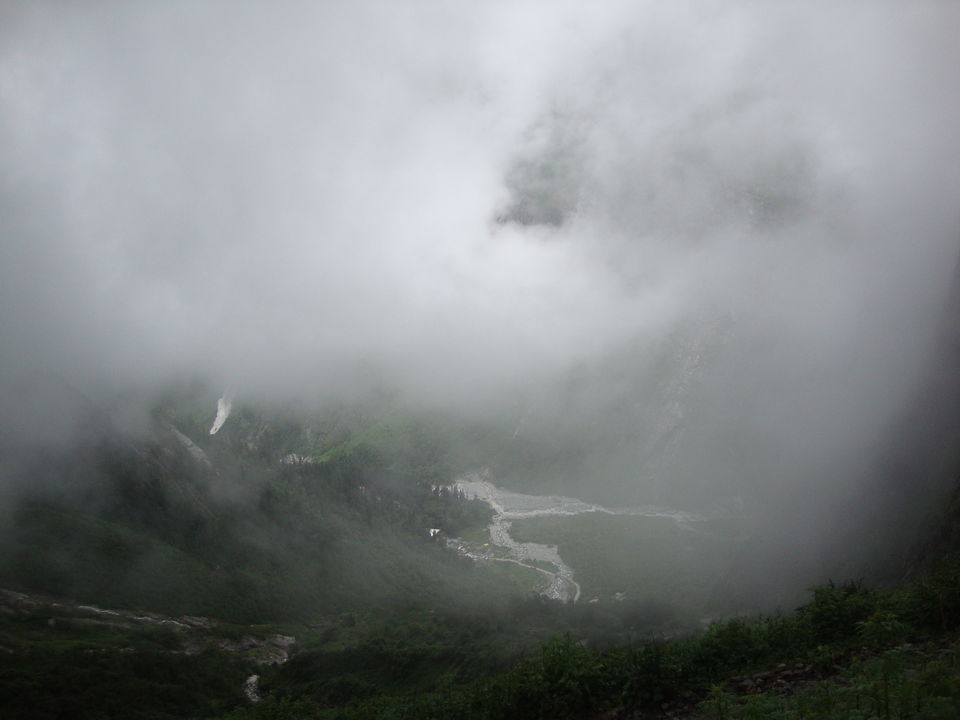 Once again on the way you go through Glaciers and Waterfalls and what a treat they are to the human eye, mind and most importantly the soul.
Going through the Glacier whose origin must be the clouds. You see the mighty glacier slowly melt which probably depict that even the strongest will, at the end, merge into the oblivion.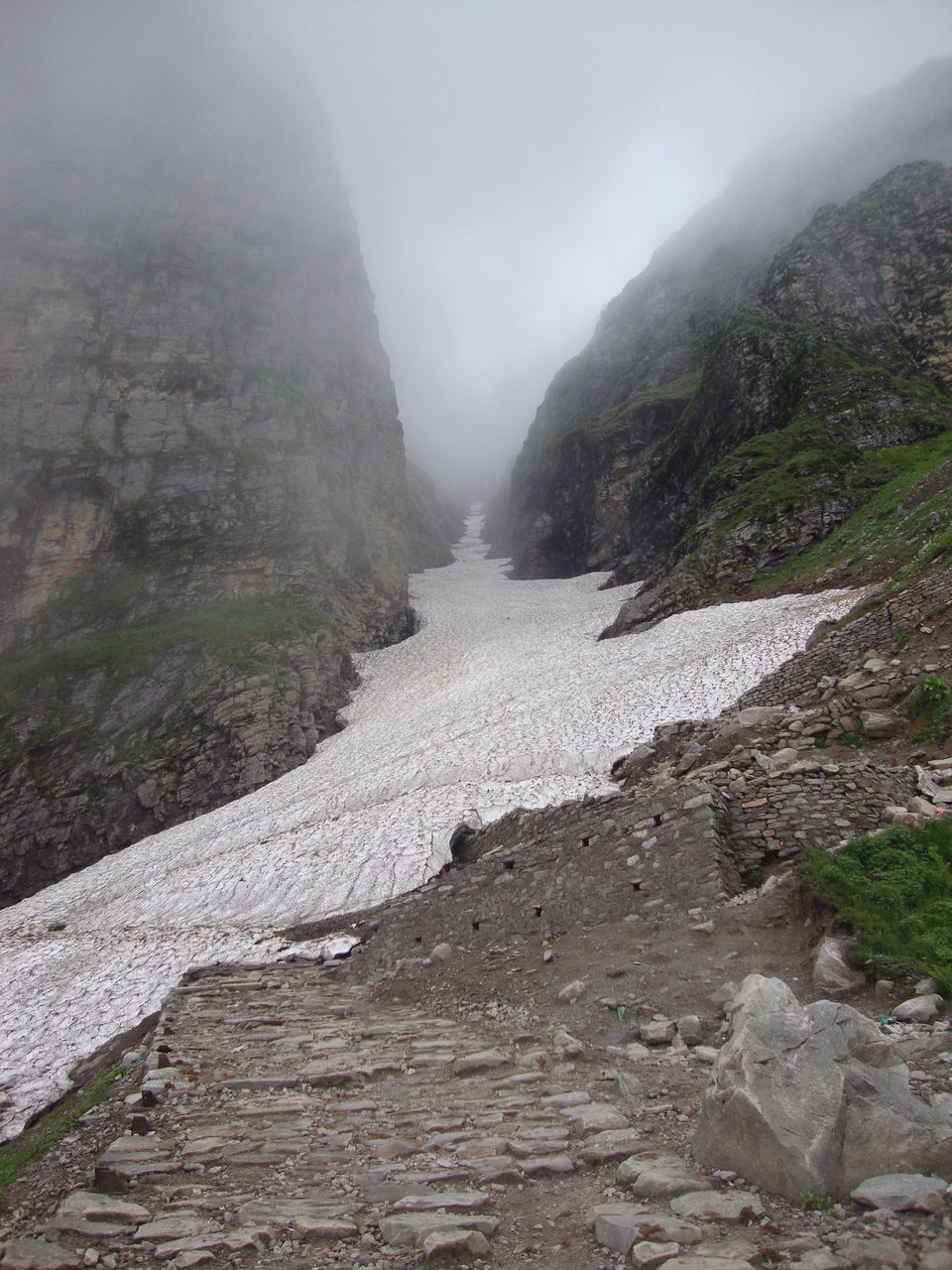 Beautiful Waterfall at 15,000 feet! Bon Appetit for the eye, body and soul!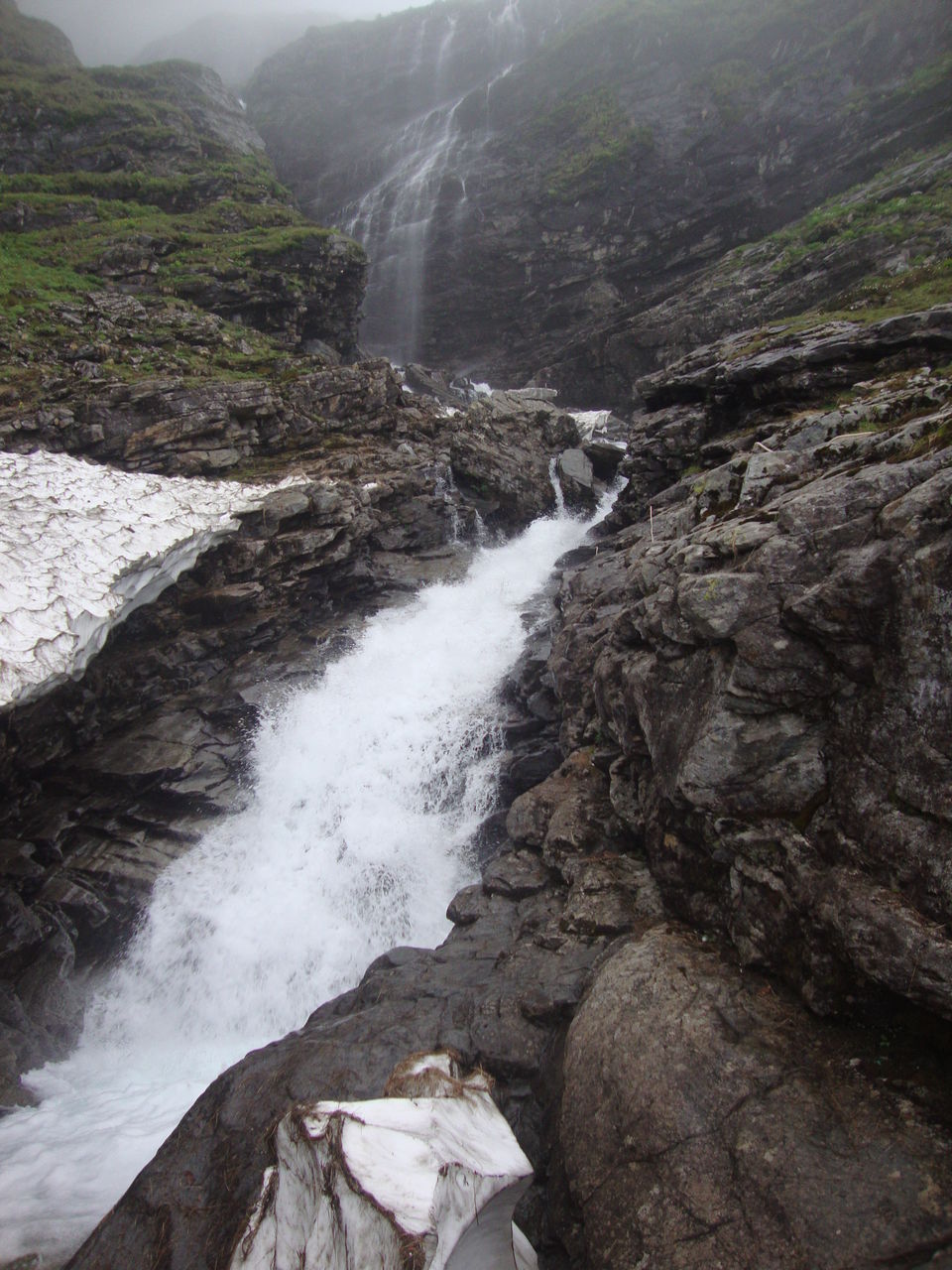 It was a hard trek, but I finally reached Hemkund Sahib and offered my prayers and did Darshan of both the Gurudwara and the Mandir. The entire premise and lake were covered by the clouds and it was raining.
I was a bit unfortunate as I did not know that the Gurudwara and Temple close down at 1:30 in the noon, but anyway was lucky enough to do Darshan where both Guru Gobind Singh and Lakshman prayed. So reach the Gurudwara latest by 12:30 or 1 in the noon. It takes almost 4 hours for this trek for a healthy man so plan accordingly. Again there are potters and horses which you can hire and you can reach much early but it is a pilgrimage not a luxury ride. Right?
While on the way I met pilgrims who politely said Sat Sri Akal to me and I said Namaste to them. This broke the monotony and also their smile and respect gives you energy walk ahead.
So I washed my face and hands in the Sarovar(Lake) and prayed to God and wished, of course I won't tell my wish. The atmosphere was quiet and had the vibes that something really strong is present here. It made me feel pious and peaceful at the same time.
Hemkund Sahib Gurudwara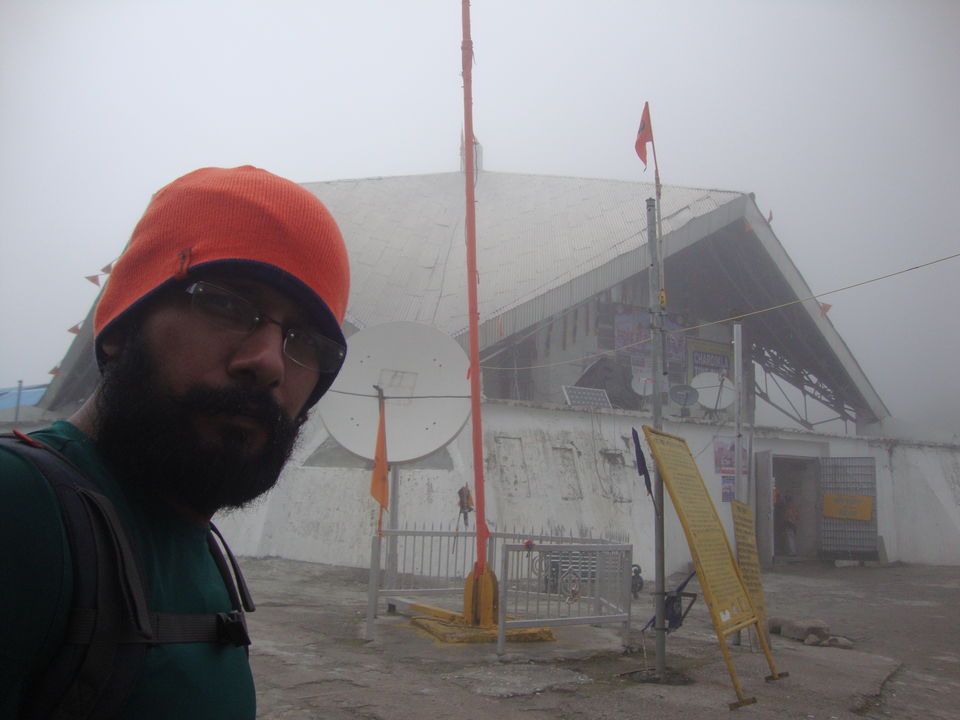 The Lakshman Lokpal Temple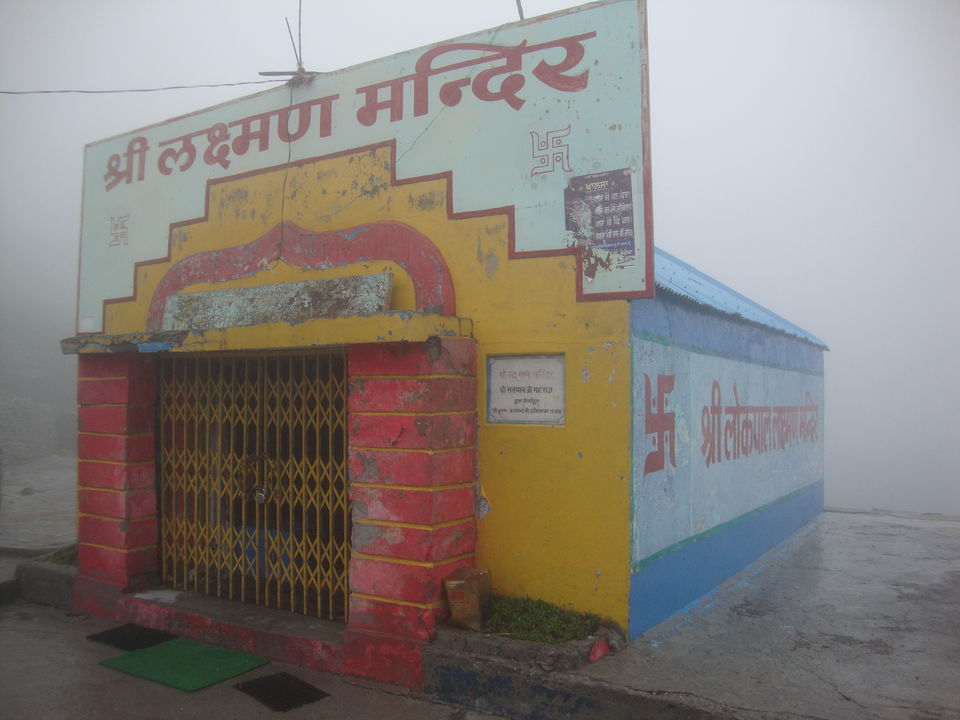 The Hemkund Lake in which the Snan(Holy Bath) is performed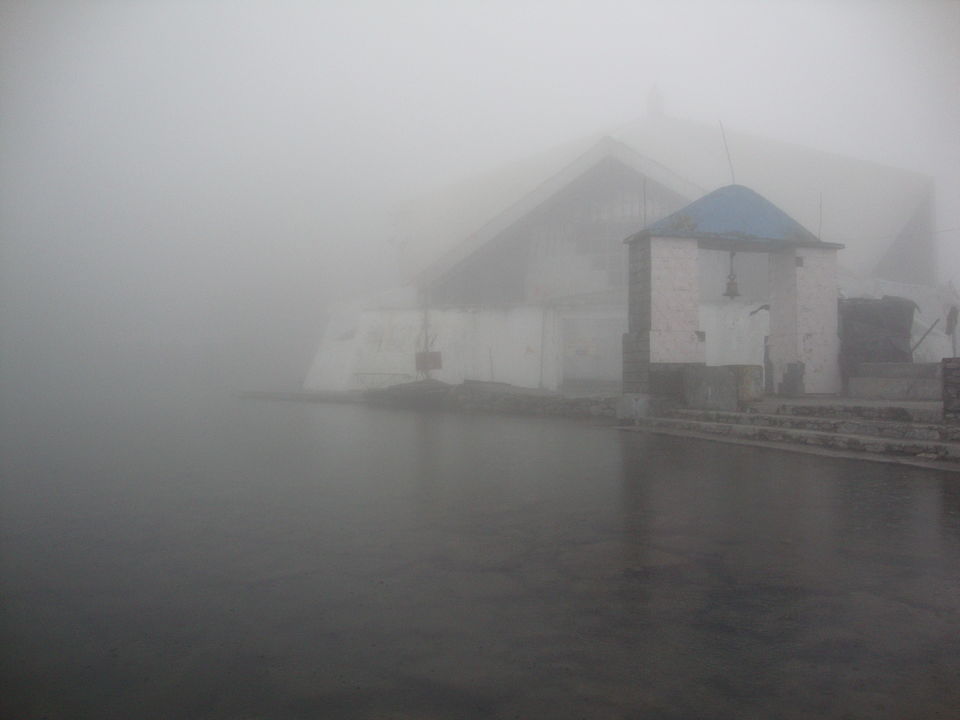 Even in the Gurudwara one Bhai ji(Brother) said "Indian haan?"(Is he Indian?) and I said "Hanji Agra se"(Yes I am from Agra). Maybe it was not the beard but something else.
After paying my tributes to the Gods, I went down after saying a final farewell as the next day I had to leave.
Himalaya for me is something I cannot define.
There is a magic in travelling in the Himalaya, as when you stand in front it you feel so small. You realize that in this eternity how minuscule you are. How your entire life is simply a moment's time in front of this miracle of nature, and it will stay as it is when you are long gone from this world.
May be this feeling crushes your ego, and the Himalaya does it so gracefully. It shows how insignificant in time a human is, how even the biggest Mountains are mortals.
There is a legend associated with every mountain and a story with every river. Each stone has spirituality engraved in it and each path has been walked by great sages and still been walked upon by sages.
The Himalaya casts a spell of peace on you and there is nothing but thoughtlessness that remains inside you when you visit the Himalaya.
May be this is ultimate peace. May be this is being one with the creator.
I end my Journey.