I have always loved history... History amazes me at every step of my life. Well, I think that Delhi is even the historic capital of India too. It startled me on how a beautiful city like it, have so much of mysteries hidden in it.
I still remember the first time I visited Delhi. I guess I was around, 14 or 15 years old. As my sister was working there, it made easy for me to experience traveling for the first time. It was the same time I fell in love with traveling and decided what I want in life.
Well, let's start with my first visit to Delhi, i.e, as I have told you when I was in 8th or 9th std. We were all excited to visit Delhi for the first time, or you can say happy to be leaving the same place after so many years. The only stories I have ever heard about my parents traveling is when they went for their Honeymoon at Puri, Orissa beach and next was when my sister was very young and they somehow managed to skip their routine life and travel to Darjeeling.
But, after I was born all I have seen is Kolkata, my hometown, and Rourkela, my birth town. Anyway, long-story-short, we all hoped the Rajdhani Express, me all too excited and enthusiastic about the trip that I didn't even care to bring my books with me and the whole journey I heard my mother nagging about it! We reached the station, the day after and my sister was already there to pick us up. First few days past by like a usual day, except that it is in a new city. Then we began our journey to hop around Delhi and some parts of U.P or mostly you can say Agra. Because when you are in Delhi then how can you not see the famous Taj Mahal?
Well, my childhood dream came true. I visited the Taj Mahal. My sister booked a cab for our whole trip - to Delhi and Agra. So we got in the vehicle, took the National Highway, took some breaks in between, and along with some mild argument with a police officer, we are on our way again. (Miraculously, that Police Officer showed us the hotel where we can stay just next to the Taj Mahal). In the morning everybody dressed up, bought a ticket and went in. To tell the truth, that way the very first time I have found my dreams actually come true. From reading about the Taj in the textbooks to seeing it face to face is one of the most amazing moments of my life.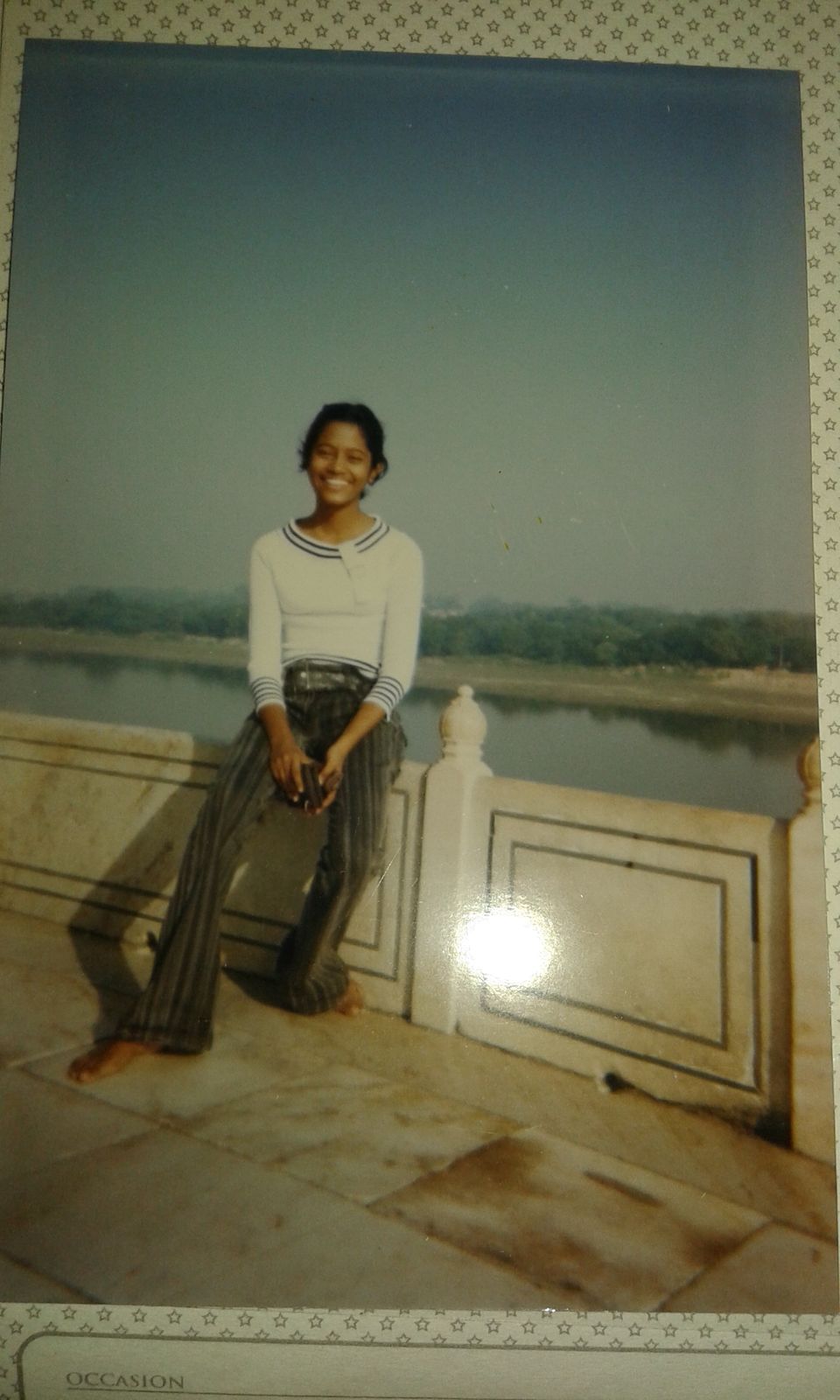 Yes, this picture does define the moment of how I was and behind me was the Yamuna river. Well, we did take a lot of pictures, but this is the only picture I can find.
Visiting Taj Mahal was one of the last places in our trip to Delhi. Before that, we have been to Jantar Mantar, Red Fort, Qutub Minar among others were we have been to. Which amazingly I don't remember because let's say it was 12 years back.
But I do remember my second trip to Delhi and Agra, with my friends. It was after my graduation. I applied for this college in Delhi and went there to write an exam. So, we all decided on why not to travel a bit. As soon as my exams are over, we started our journey of actually having fun in Delhi. Visited Jantar Mantar and for some reason, we were unable to go inside. Later Qutub Minar, Red Fort, and other amazing places. When we all went to see the Taj Mahal again, for me it was again the same feeling I had when I saw it for the first time. Maybe I am bragging too much about the Taj, but as the moment my childhood dream came true, I was struck by the love at first sight.
No matter how many times I visit Taj Mahal, I will always be that 14 years old girl who wanted to visit Taj since she read about it in the books and make meaningful memories in it.