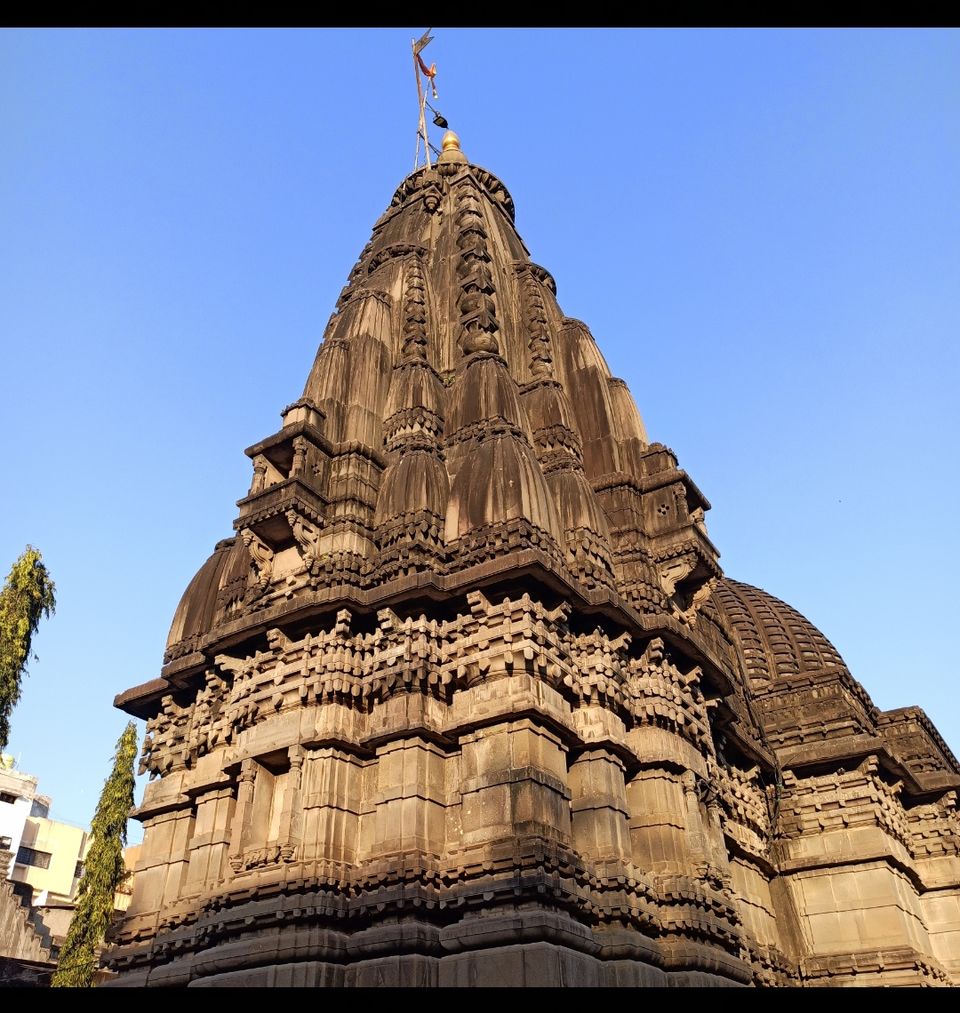 This is the continuation of my previous post. We covered Triambakeshwar Temple, Anjaneri Foot Hills Temple and Coin Museum on the first part of the day. We came back to the Hotel for lunch, a short nap to rejuvenate before we head for a stroll in the city.
We started the next part of the day with a bang. We stayed in Hotel Triton which is situated on the Delhi Agra Highway. We started around 3.30PM after our Lunch. We covered the following places.
1. PandavLeni Caves FootHills - 11KM away from the Hotel
2. Kaala Ram Mandir - less than a KM from the Hotel
3. Sita Gufa - 400 meters from Kala Ram Mandir
4. Paranakuti - 700 meters from Sita Gufa
5. Lakshman Rekha - 200 meters from Paranakuti
6. Sita Haran - 200 meters from Lakshman Rekha
7. Tapovan - less than a KM from Sita Haran
8. Godavari - Kapila Sangam - 200 meters from Tapovan
9. Karthick Swamy Mandir - 3 KMs from Tapovan
10. Ram Kund - Less than 1KM from Karthick Swamy Mandir
11. Kapaleshwaar Temple - 50 meters from RamKund
The entire Nashik Darshan took 700Rs in Auto. And some eateries could hardly cost 200 INR. We returned back to the Hotel around 7.45PM at night. The Hotel is so close to Panchavati hardly less than 1.5 KMs.
A detailed write up on each of the places mentioned below.
PandavLeni Caves - On top
FootHills - Buddha Samrak or Buddha Vihar
We wanted to visit PandavLeni Caves which is on the Mumbai - Agra Highway in Nashik. It is actually a must visit place in Nashik. Our hotel was close to this place. We had plans to climb up but our Tod slept off and it was difficult for us to take her along the 250 steps up to the hills. So we dropped the plan after we entered the premises. We had no idea what was on the foothills. There was a huge dome like structure and we thought of going there and sitting inside for a while as we were tired carrying the sleepy tod on our shoulders.
The place was calm and had a lot of trees and we walked towards the dome and we entered the same. There was a pin drop silence and we were awestruck with the Gigantic Buddha in the meditative state. A small boy was cranky and his cries echoed all over the place. And after being pacified he laughed and it echoed in multitude. The vibrance is all great and an ideal place for meditation. It was a Budha Vihar, which was awesome and the vibes were to be experienced. The hugeness of the hall represents emptiness which needs to be carefully filled with positive thoughts and emotions and you get your empty cup filled with those vibes exactly.
And then I was excited about visiting the places where Ramayana's crux happened! Being an epic enthusiast myself, I was all excited about the places in Panchavati. The entire Panchavati could take only 3 hours in 300-400Rs in a local auto. It can be finished soon but the memories you carry stay with you forever.
Kaala Ram Mandir
We started with Kaala Ram Mandir. Such an old temple. The deity here is so old, like more than 2000 years as per the references. It was demolished during the Mughal era and the Ram statue was thrown to Godavari river to protect it and later the construction was funded by Sardar Rangarao Odhekar in late 18th century. Sardar Rangarao Odhekar had a dream that the statue is a specific spot in the river and is now known as Ramkund. The temple premises has 14 steps which marks the 14 years of exile of Sri Rama. When we went I did count the number of steps but as I was excited about the place it didn't bother me to connect with Rama's exile. Also when I studied about other specialities of the temple it was mentioned that there are 84 pillars in the temple representing 84 lakh species that a soul would undergo before it takes a human form. The imagination inself makes one spellbound just like the view of the temple gopuram. The Sanctum is such a beautiful place emanating peace. After the darshan and admiring the beauty of the temple we headed to Sita Gufa.
Sita Gufa
Sita Gufa is so close to Kaala Ram Mandir. We walked through a beautiful Bazaar selling many bags, fresh vegetables and all other shops. It is hardly 500 meters from the Kaala Ram Mandir. It easily took me to the 90s. The places haven't changed so much externally but you have got the amenities of the modern world at your fingertips. This is where the famous five Banyan trees are situated with which the etymology of Panchavati - Garden of Five Banyan Trees came into existence. There is a small, narrow underground cave which is said to be the place where Sita Worshiped Lord Shiva and hid there when Ram and Lakshmana went in search of food. The place breathes Ramayana in all senses. People of all age groups thong this place. When we went, along with us there were nearly 40% elders whose age could be around 65 plus. It is difficult to go into the narrow tunnel and the elders did it effortlessly to our surprise. As you go in it would give the best exercises for all the 206 bones and all 7 chakras could get activated. Such is the intense workout you get here in this place. We all came out with a smile after the short workout. And from this place you get a lot of autos which can take you all across Panchavati to visit all the other important Ramayana Scenes.
There was also a small exhibition and a gho shala opposite to this Cave which was neat and well maintained. From there we booked an auto to have Nashik Darshan.
Sri Ram's Parnakuti
This place is where Ram, Sita and Lakshmana built their home called Parnakuti. A home build of woods and trees. The entire Panchavati is of 5 KM radius. There are numerous temples claiming to be the place from where Sita was abducted, the Lakshaman Rekha. If you ask me for proof of the exact latitude and longitude it could have happened in any area within this premises. But the places that our autowala took us were very close to how it would have been actually and it was perfectly convincing. Also the autowala would be close to 60 and he explained all things in detail and I could relate well. So in this place there are houses now but they still have a Sanctum for the trio of ramayan.
Lakshman Rekha
Close to this place is the Lakshman rekha, which became a river. The history is that Sita crossed the Safety line on a Wednesday and so all over Maharashtra, any bride doesn't leave their home and travel longer like going to mother's place or in-law's place. It is considered that Mahalaxmi is leaving the place, this is still practiced in this area.
Sita Haran
There is another space just close by to Lakshman rekha called Sita Haran, the place from where Sita was actually abducted by the evil king Ravana. The temple was under construction but the deities were kept under a temporary set up now.
We also visited a few other temples while visiting the Ramanaya places. There is one close to Sita Haran place, then Lakshmi Narayan Temple before we headed to Tapovan.
Tapovan
This is the place where Lakshman, brother of Lord Rama, who is revered as the incarnation of Seshanag did severe penance during their exile period. Meganathan, one who one over Lord of Thunder, Indra and then on called Indrajit, had a boon. The Boon was that he could be killed only by a person who has not slept for 14 years. And Lakshmana was the one who was chosen to kill Meganatha. He did his sleepless penance in this place in Panchavati.
Godavari - Kapila Sangamam
Close to this Thapovan there is this place where river Godavari and Kapila merge as one. The place was dry and so we were able to walk into the river territory to see different wells. There is a Shiva Linga, there is Sowbagya Kunt where Sita and Rama worshiped this Sangamam. And there in the middle of the Sangamam is where the cut nose of Soorpanaka fell. The city is named after the incident - Nasi means nose and the city is Nashika. And the rest of the story is history. This is the incident which propelled Ramanaya further. And it happened in this place close to Tapovan.
Karthik Swamy Mandir
This is 200 years old temple and temple of Tamil God Muruga. This is very close to Ramkund. We reached there when it was almost closed but the person responsible was kind enough to open it again. As he switched on all the lights it was a fantastic view etched in the memory. The backdrop was full of Peacock feathers and in the middle lord Muruga stood majestically with his spear on hand. His eyebrows were neatly decorated with chandan and kumkum over a trace. It was only us and Muruga for a moment. Sheer brilliance. Moment of my life.
Ram Kund and Kapaleeswarar Temple
This is the main bank of Godavari. Here is where the Godavari Harathi happens every evening. Here Godavari merges with two other rivers Aruna and Varuna. It is believed that Ganges descended in Triambak as per the wishes of Sage Gautama and she is here called as Godavari or Gauthami. It was where Ram and Sita used to carry out their daily ablutions. This is also the venue of Kumbh Mela. We have the Ganga Godavari Temple and there is a mini beach set up on the bank. The river did have water but it wasn't to its fullest so there were Chat shops, toys, balloon shops on the river. It was lovely to see lamps floating on the river. Of Course we also ensured to light lamps and leave it on the river, as a mark of respect. There are also boating facilities in this area and a lot of toys which children will love. We spent some time on the bank of the river, feeling the chill winds on our face and had some chats and chit chat as a family, sat and gazed at the stars and the crescent moon.
Opposite to Ramkund is a beautiful Shiva Temple - Kapaleshwaar temple. You should climb hardly 20-30 steps to have the darshan of Lord Shiva and the top view of RamKund, one of the busiest streets of Nashik. As you drop some coins you can't find them in the crowd in that area. Moving crowd still could be thousands in that area. It was an amazing view from the top.
As stated earlier, there are a few temples claiming that this is where Sita Haran happened, Lakshman rekha mark etc. But the entire 5KM radius is all about ramayana and they radiate it to the fullest. So whatever it could be if you are a Ramanaya enthusiast or someone who believes in God you will like this place. The darshan was like a Rapid Fire Round but the memories it gave could be cherished forever.