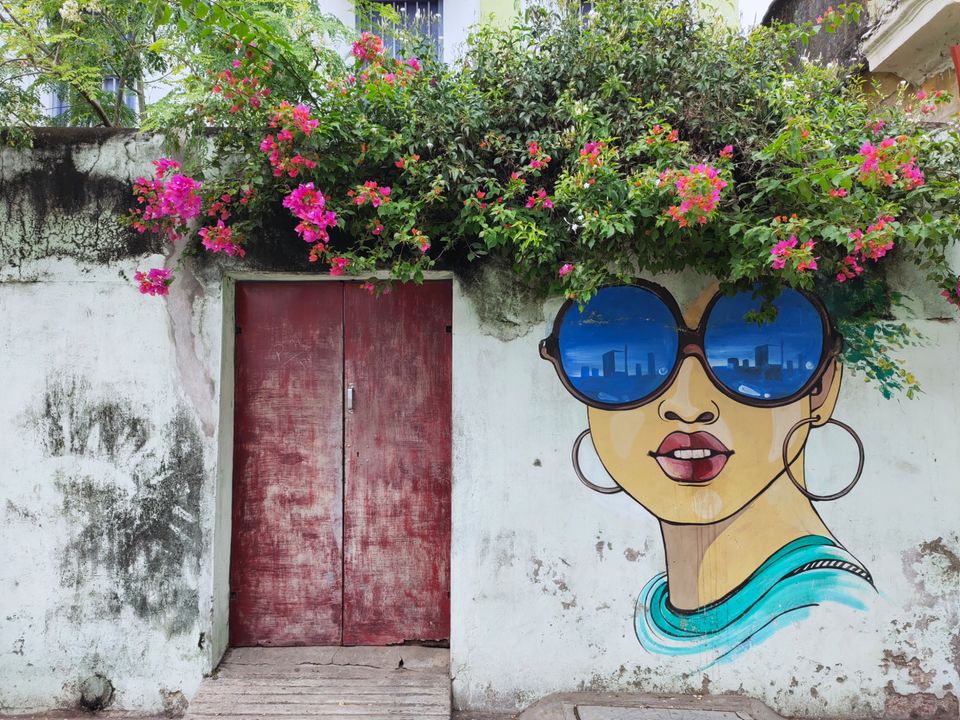 Pondicherry is famous for it's French architecture and colonial set up. I and my husband visited it in last week of November for a period of 5 days from Mumbai.
Travel Schedule:- We booked a flight to Chennai via indigo airlines. After reading the online reviews of ECR (east coast road), we were quite excited for a road trip from Chennai to Pondicherry for which we booked a car via Zoomcar. Our flight was scheduled at 6.15 am and it reached Chennai at 8 am. It takes approximately 3 hours to reach Pondicherry from Chennai via ECR. After completing all the formalities of airport baggage claim and taking the car delivery, we started our trip at 8.45 am from Chennai airport to Pondicherry. We took a halt for breakfast at a restaurant and reached the hotel at 12.10 pm. The roads at Chennai and Pondicherry are in pretty good condition and marked properly. The scenic route of ECR will give you a nice driving experience.
Expenses:
Flight bookings: Rs 12040/-(Indigo airlines-return trip, 2 persons, economy class without food)
Zoomcar: Rs 5938/- ( Hyundai i10 grand for 5 days). We could spot other rental cars like revv and drivezy on road but we had a pretty great experience in our Banglore-Mysore- Coorg trip with Zoomcar, so we didn't wanted to try anyone else.
Diesel: Rs 1900/- (5 days)
Toll: Rs 54 (onward journey)+Rs 91+37 (return journey. We had to pay more toll on return journey because we visited Mahabalipuram
Car permit: Rs 100/- ( Because we were given Karnataka registration car and had to visit check post for the permit)
Weather:- After planning our trip and completing the bookings, we were quite surprised to know from a friend that it rains in Pondicherry in the month of November. So, we were worried that rains don't hamper our travel plan. But, we were lucky enough to have a comfortable and trouble free trip. Out of 5 days of our trip, only 1 day there were light rain showers during late night and early morning. Overall, the climate was cloudy as well as sunny.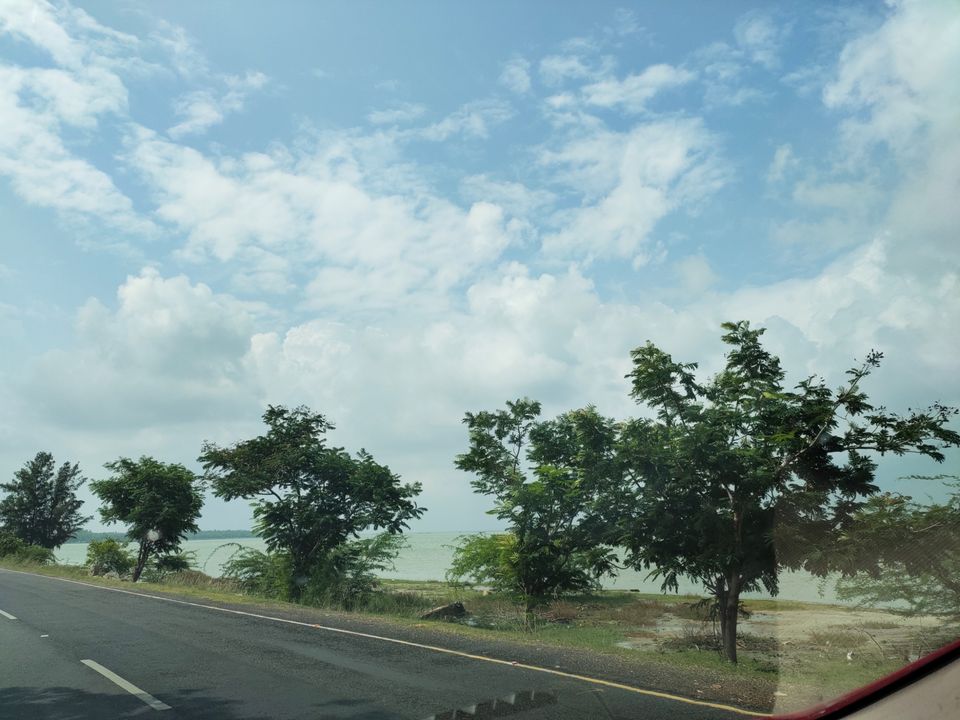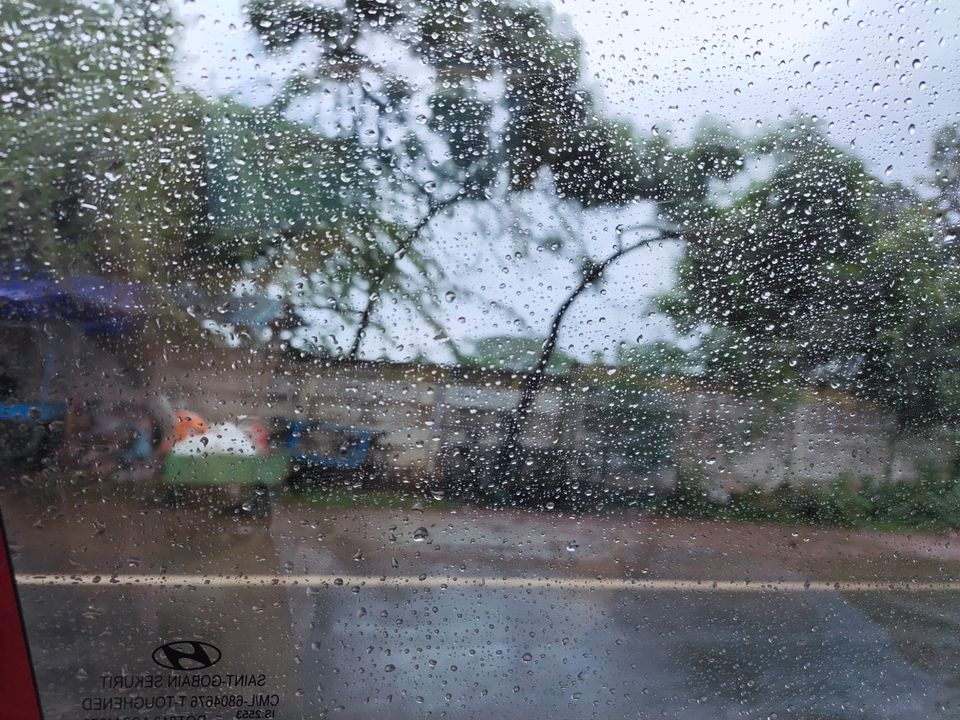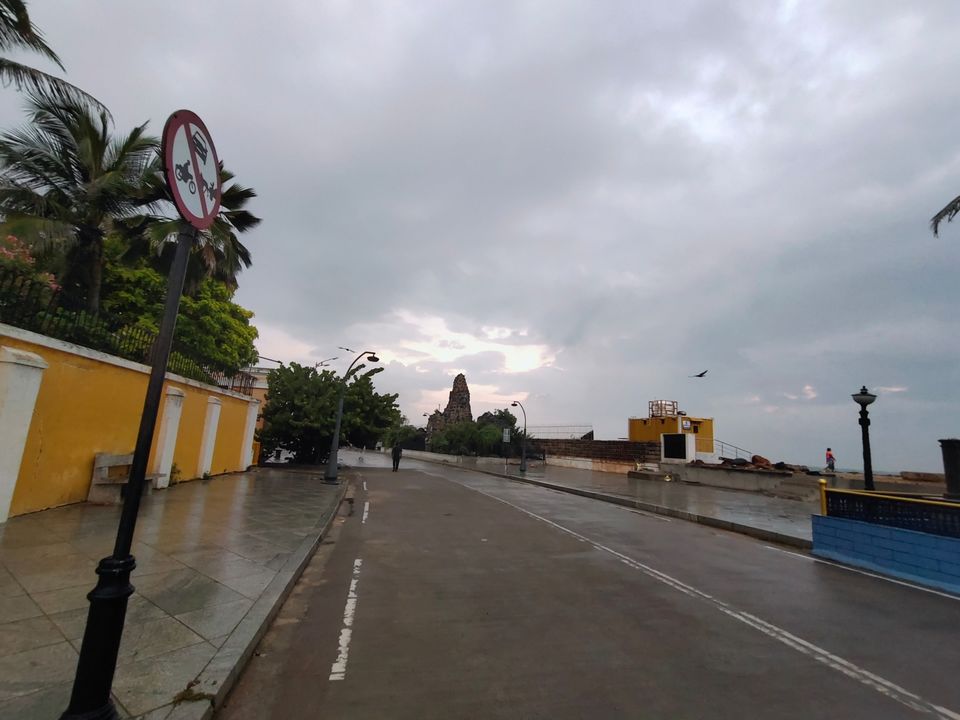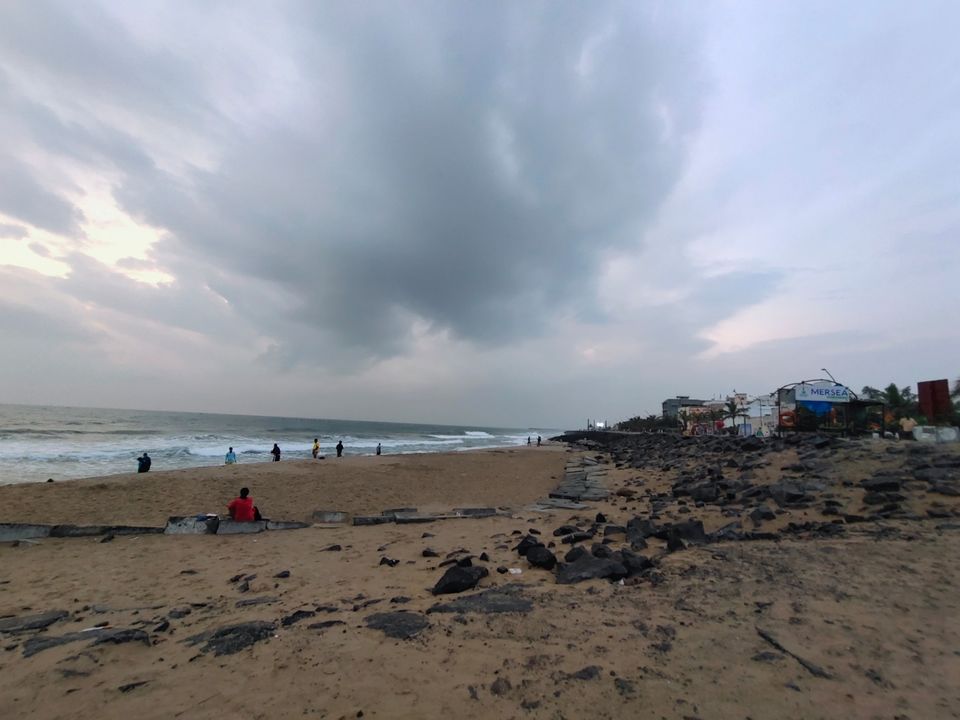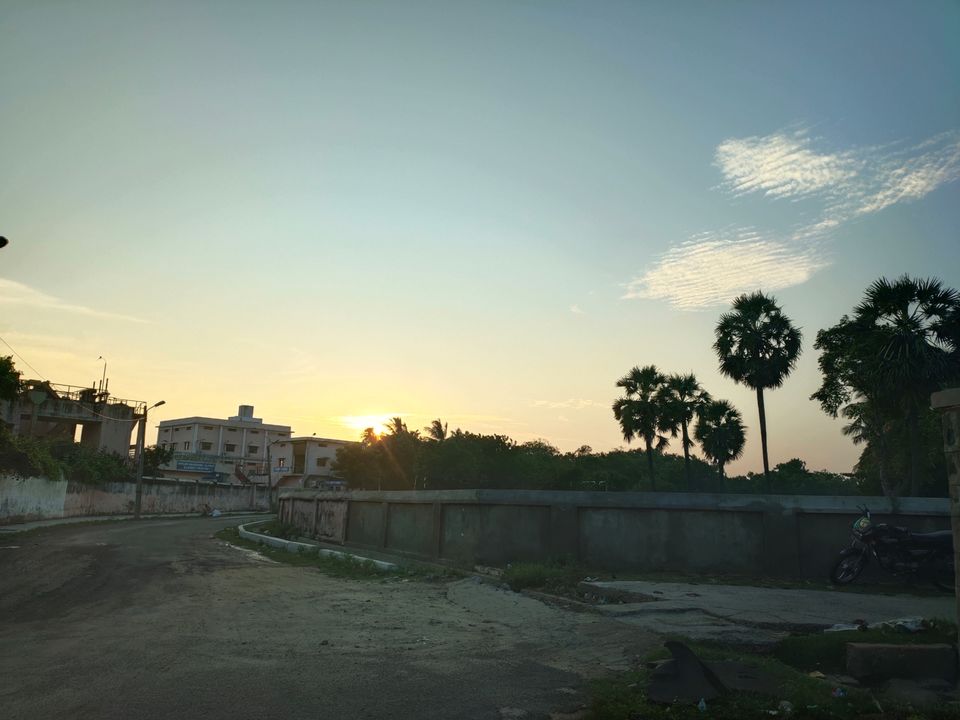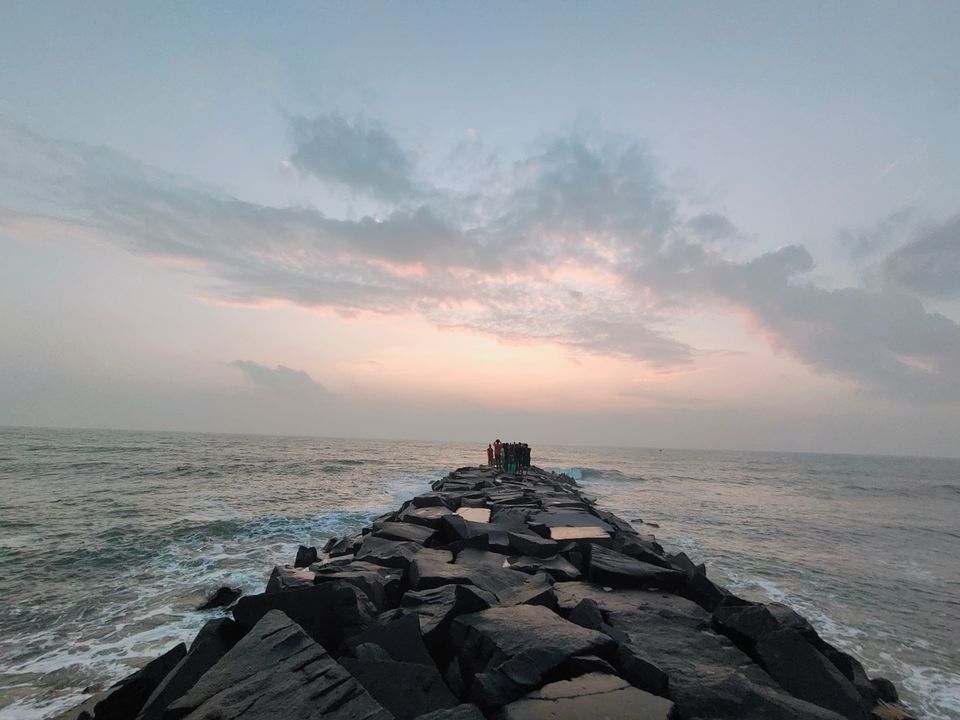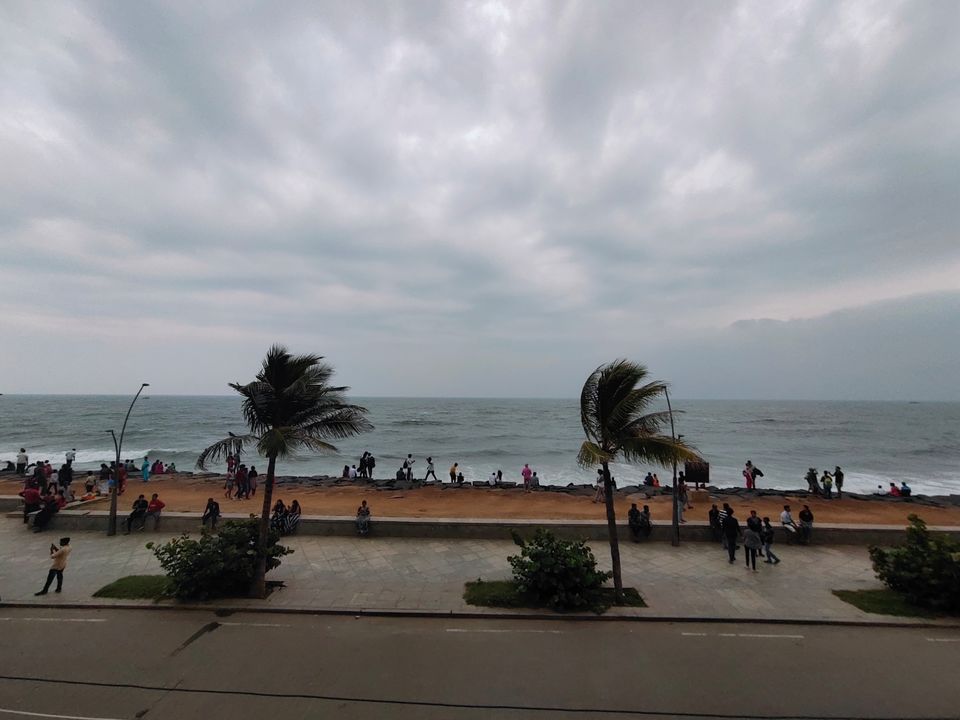 Accommodation:- We booked our stay at Hotel Le Royal Park. It is recommended to book an accommodation in White Town area but most of the hotels which we checked in White Town had no car parking and in rest of the cases room rent was expensive (starting from Rs 7000/- per day). This hotel is strategically located such that all the places of visit are at short distance via car ( White Town- 10 minutes, Market - 5 minutes, Serenity Beach- 20 minutes, Auroville- 30 minutes, Railway station- 10 minutes).
We reached the hotel before the check-in time and were given an early check-in after a wait of 20 minutes. To our surprise, they voluntarily upgraded our stay to Suite room on the 4th floor. The room and bathroom were clean and organized. The only amusing thing was that, there was no soap/shampoo holder in the shower area of bathroom so you had to step out of the shower cabinet every time for soap/shampoo while showering. The breakfast spread was quite good with variety of choices. The staff was pretty helpful with room service and other things. We also tried a foot massage from their ayurvedic spa and the experience was quite relaxing. According to the price charged, accessibility to the locations and amenities offered, this hotel is a perfect choice for your stay.
Expenses:
Room rent for 5 days - Rs 11,671/-(including complimentary breakfast)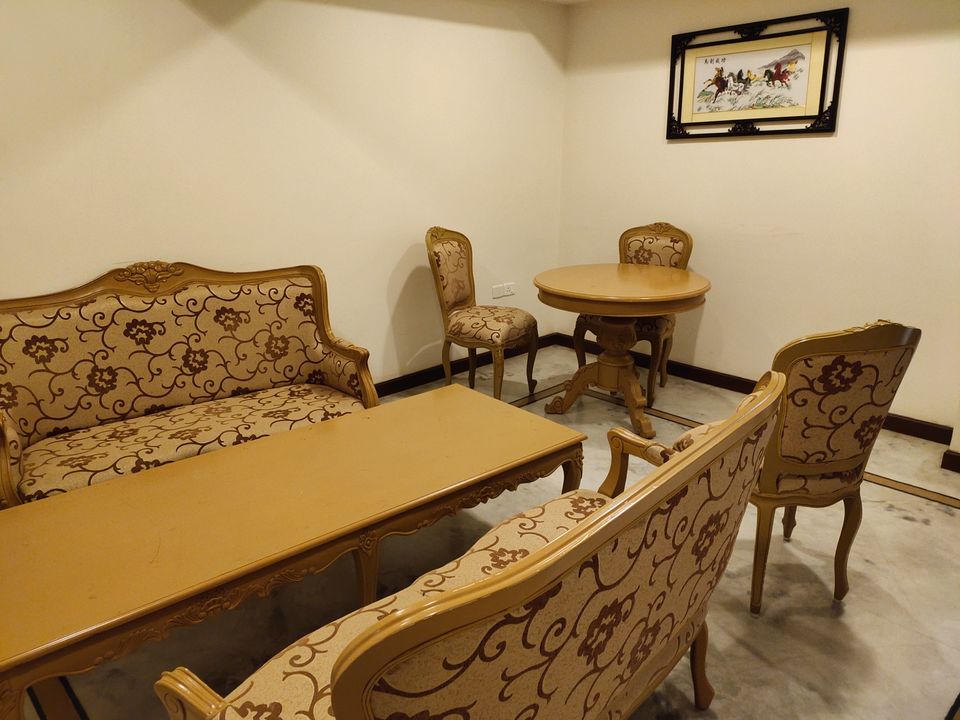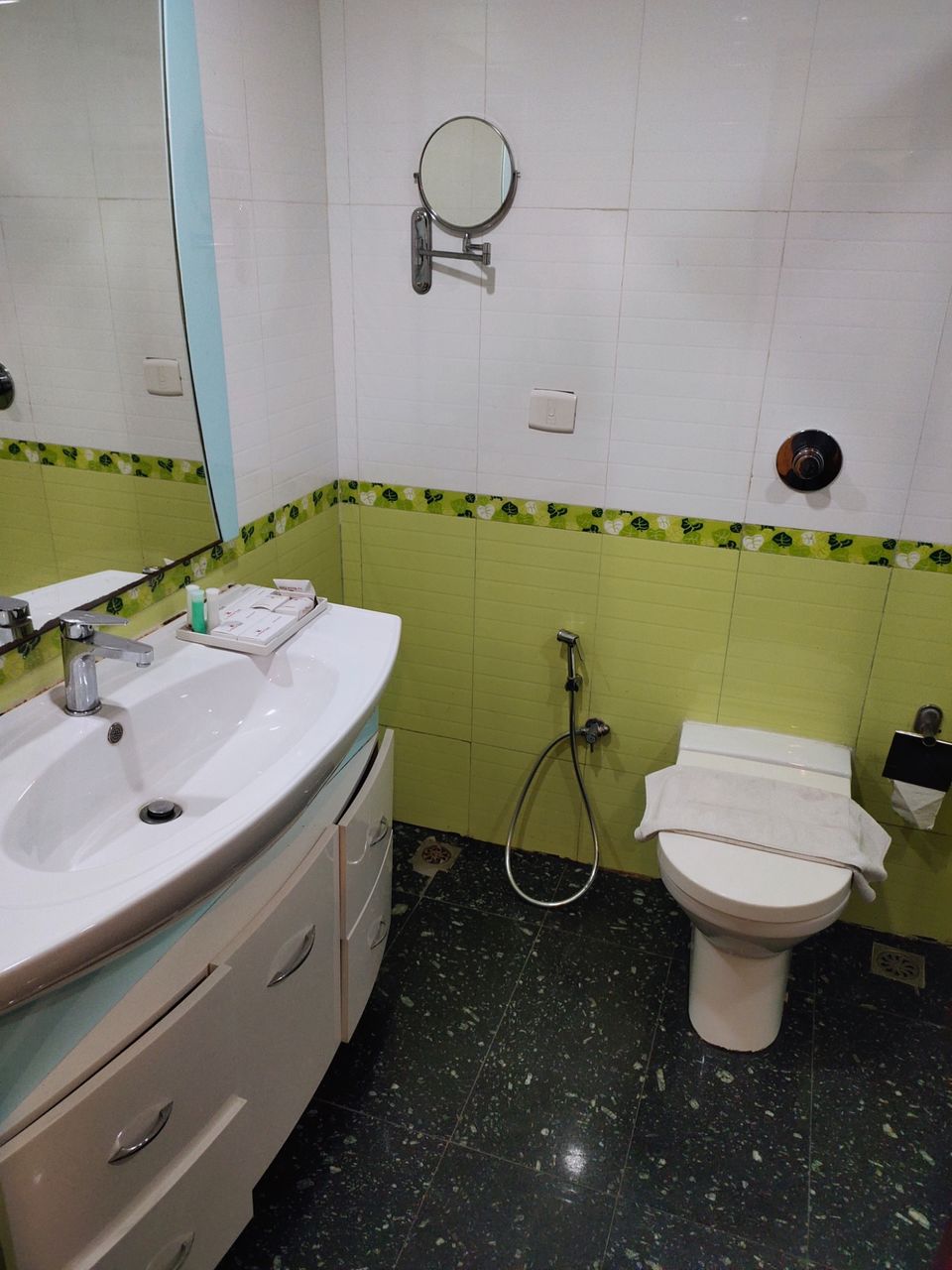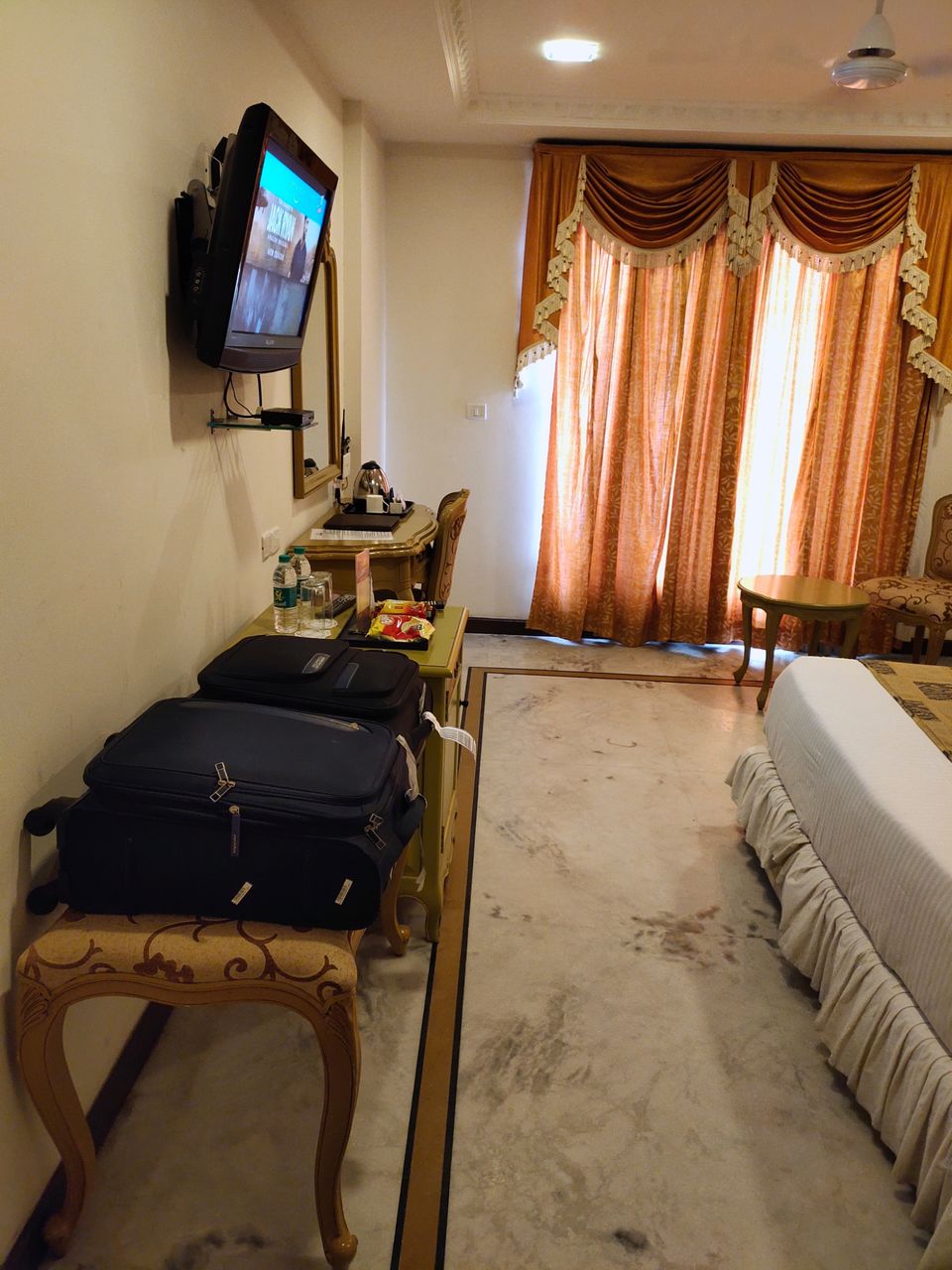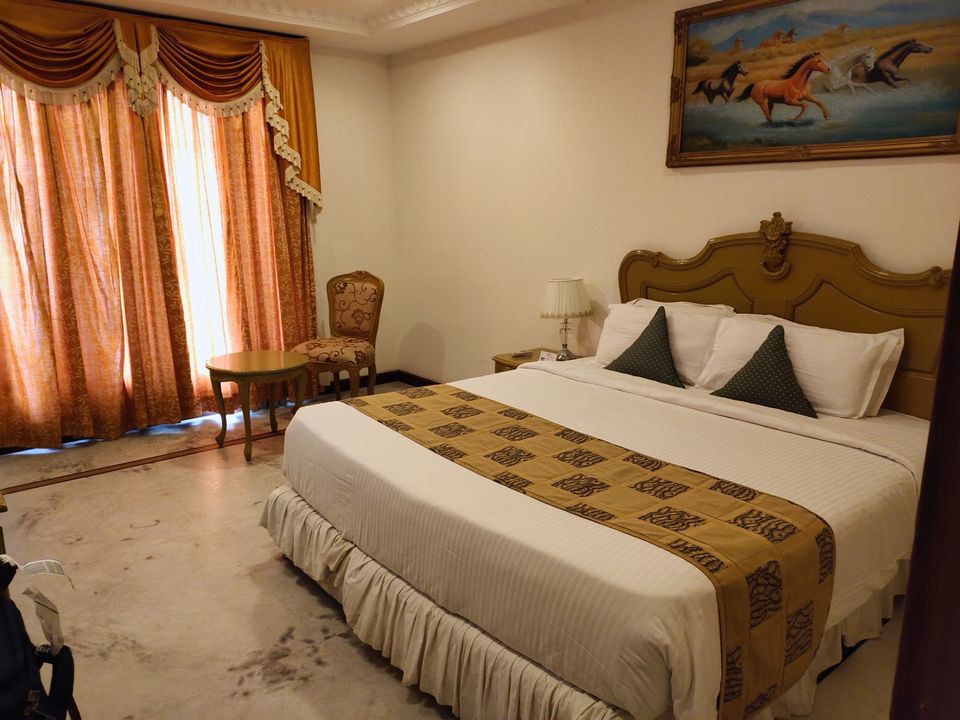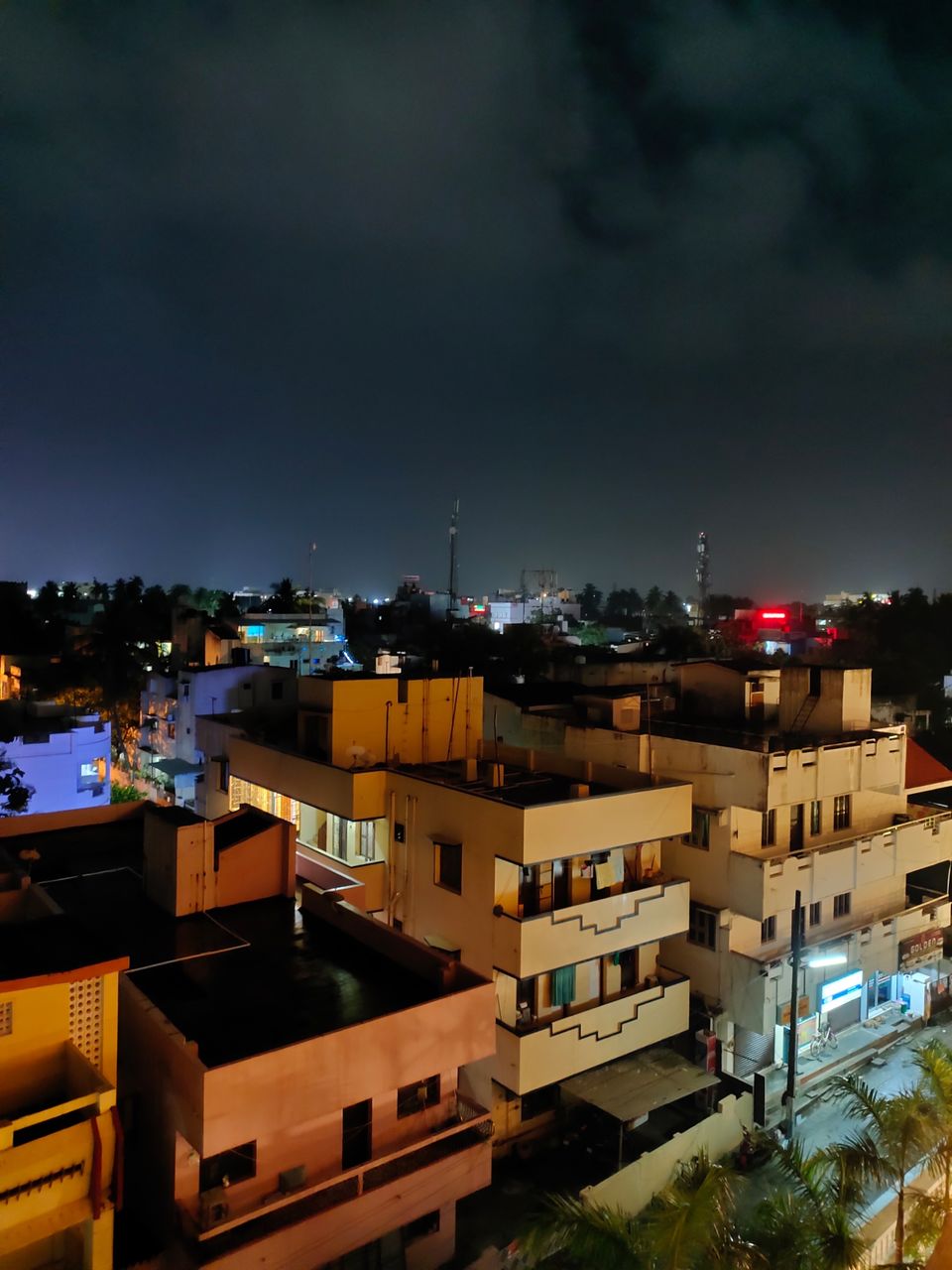 Food:- Being a coffee addict, I couldn't resist the temptation of filter coffee at drop of a hat. The best part of travelling to South part of India is the availability of aromatic and cheap coffee at every nook and corner. It is available for Rs 10-20/-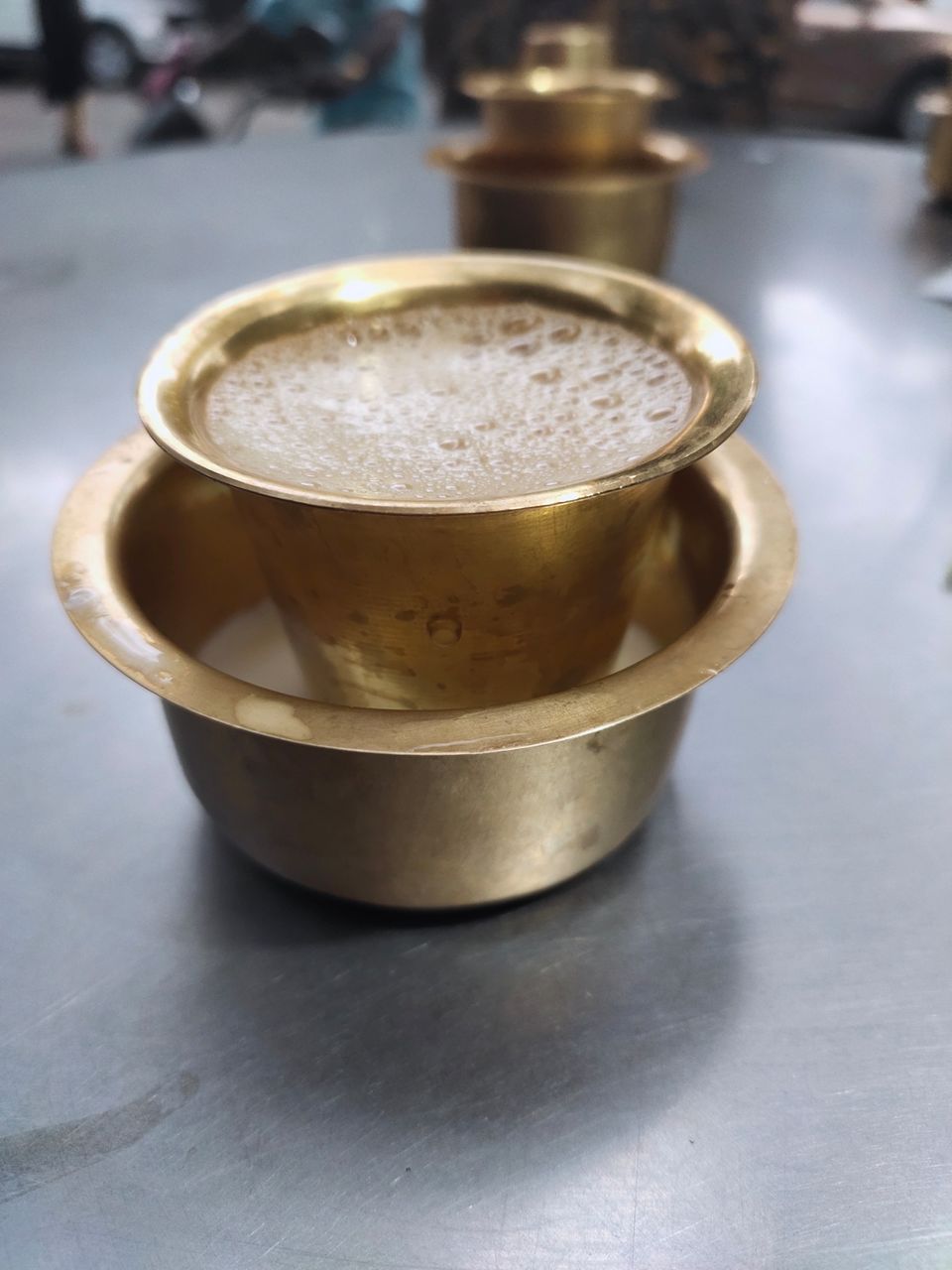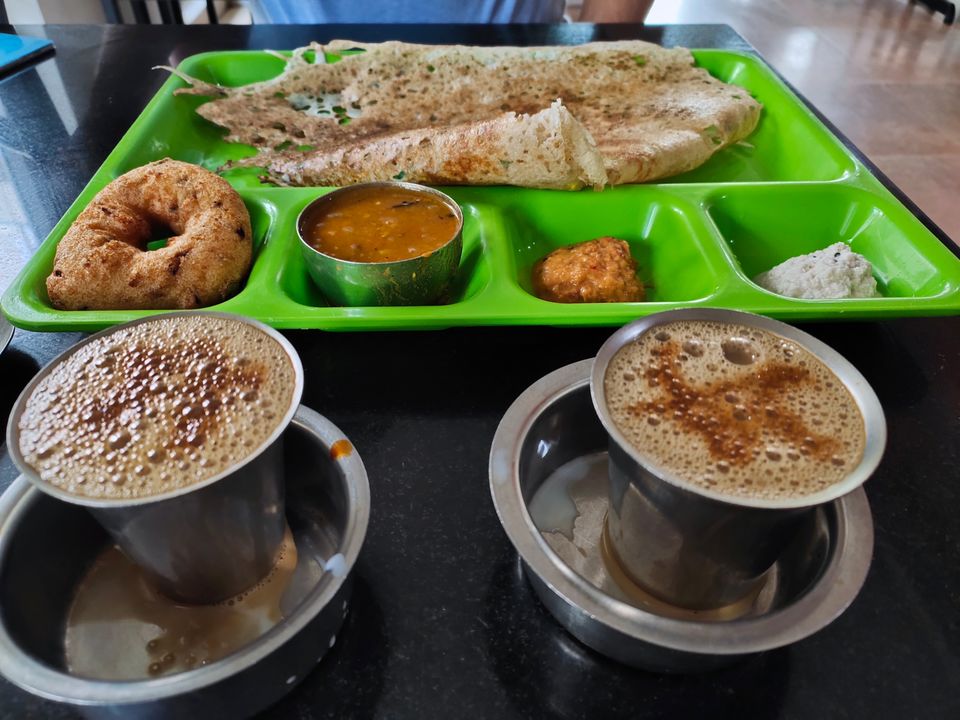 The food at Pondicherry is authentic and scrumptious. The sauces, spices, cheese and salt is put in moderation unlike the typical 'masaledaar' food at Mumbai.
1. Le cafe:- This is a popular eatery at promenade beach as it offers a sea facing view. It also has a rooftop sitting. Try their wood fired pizza which is authentic in taste.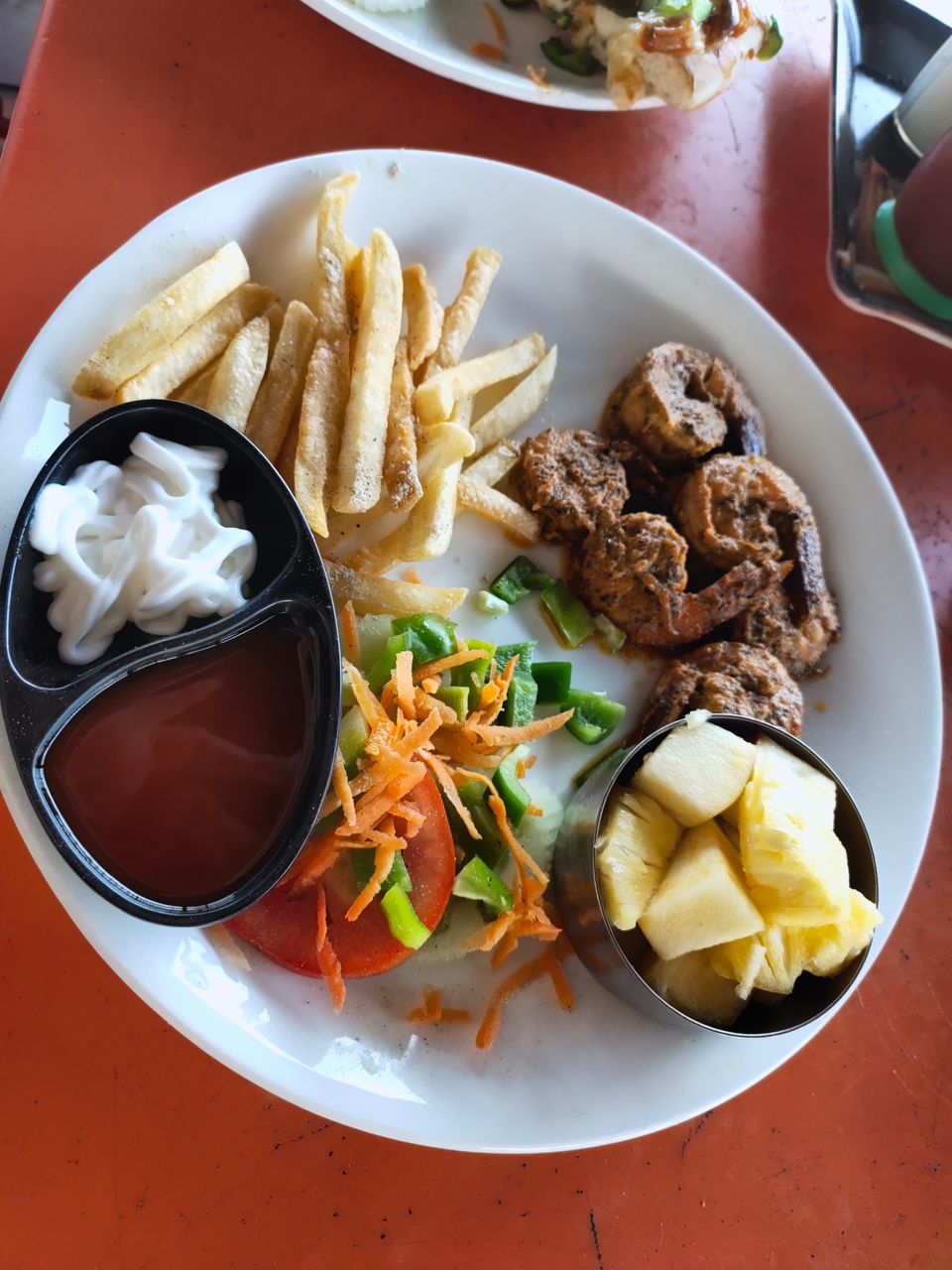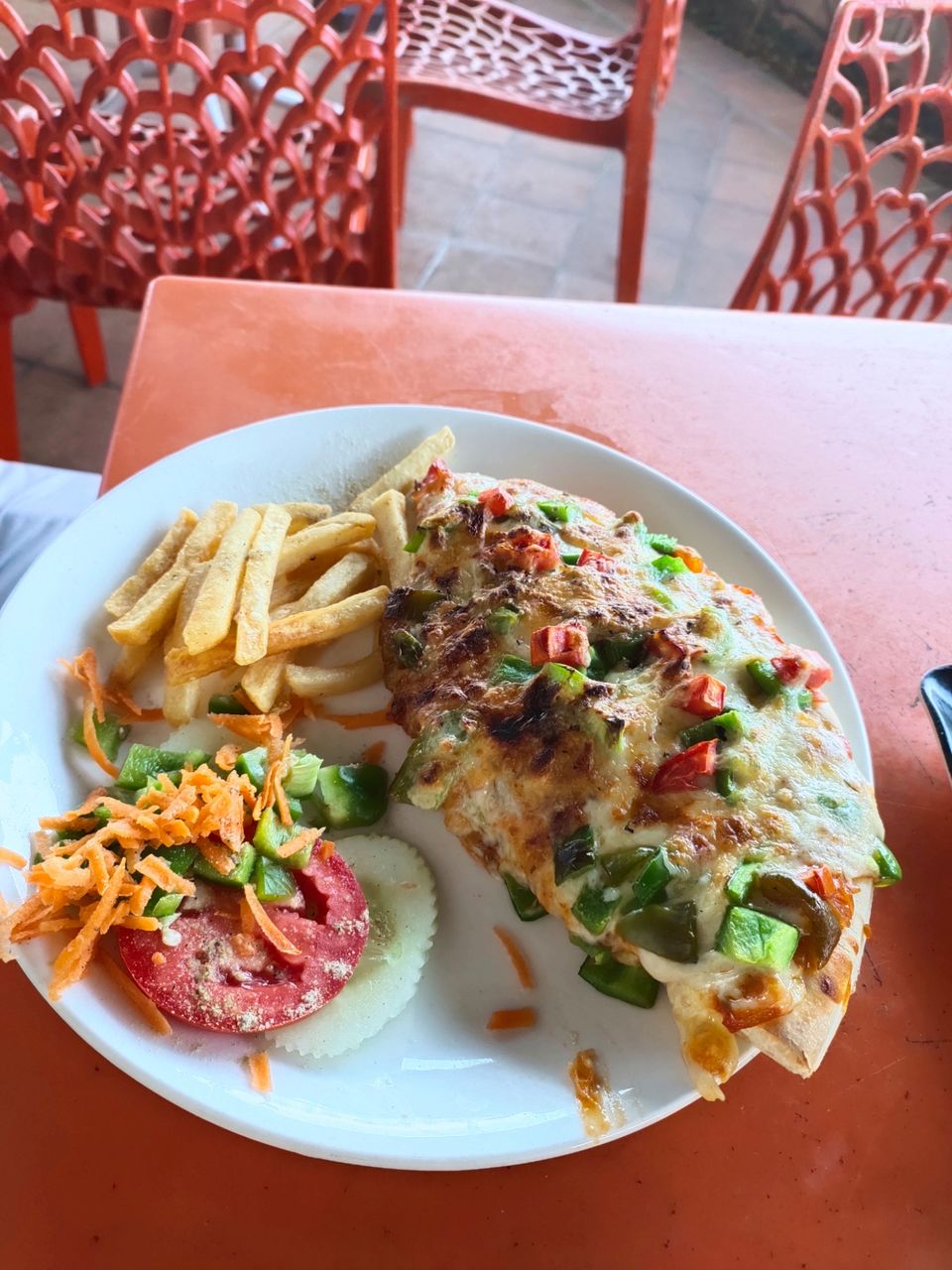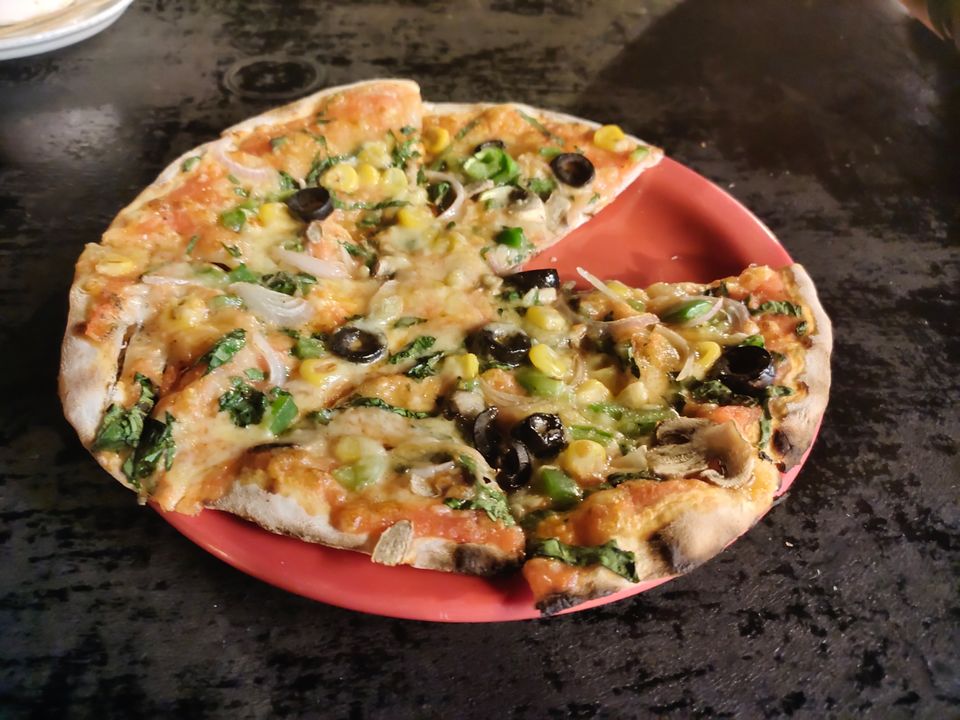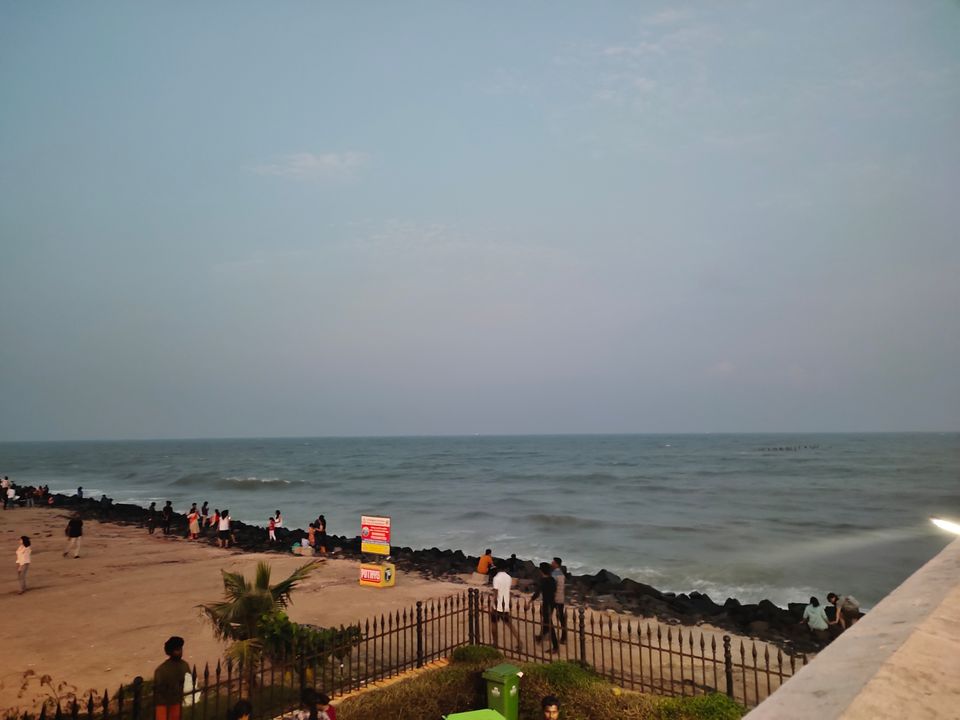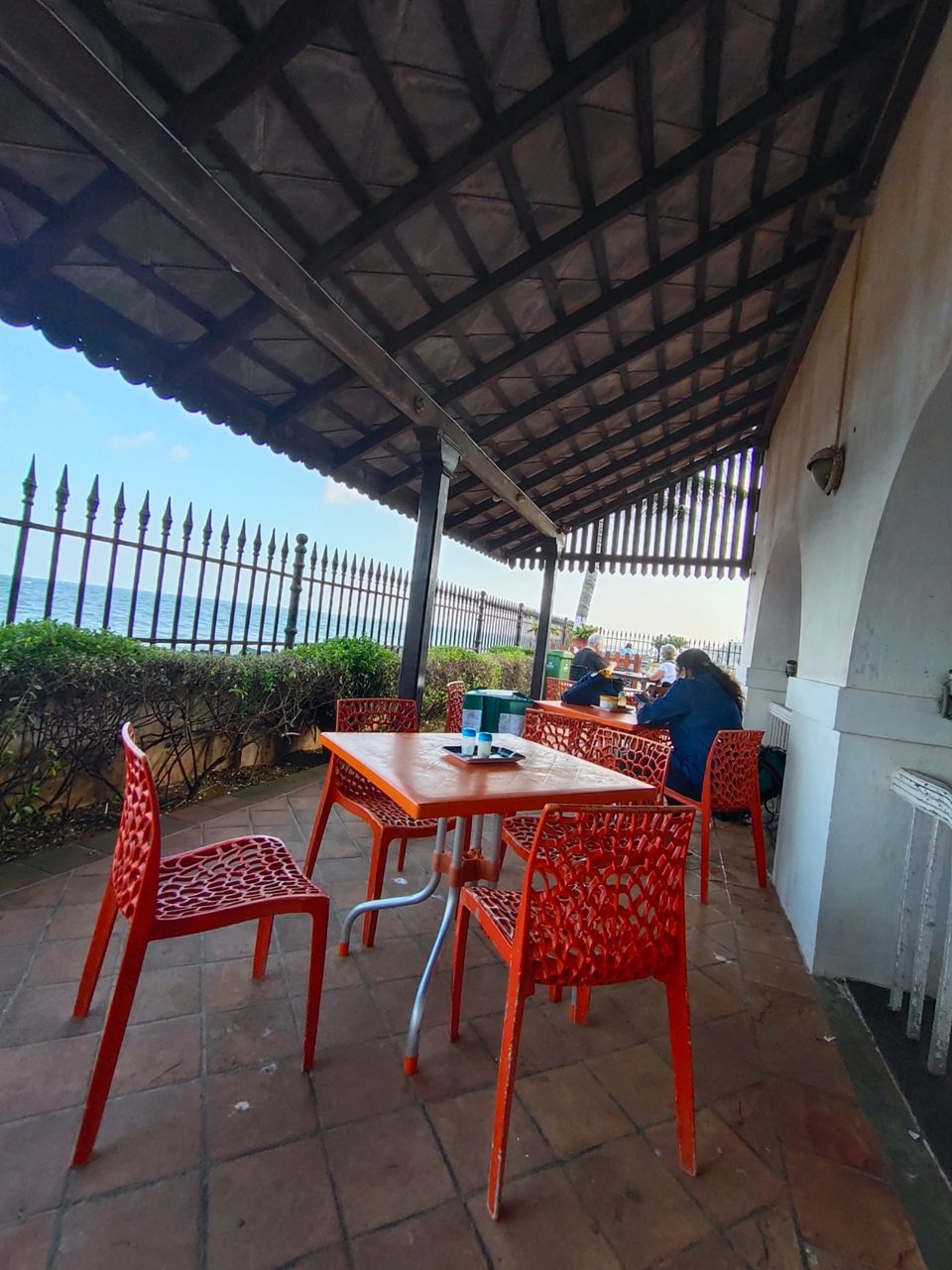 2. Cafe des arts:- This place is more famous for it's beautiful graffiti. Here, you can see people clicking pictures with the graffiti wall and leaving. You can try different choices like crepes and tartines. They have displayed shopping stuff like clothes, bags and shoes, earrings and scarves. It has a unique and vintage ambience.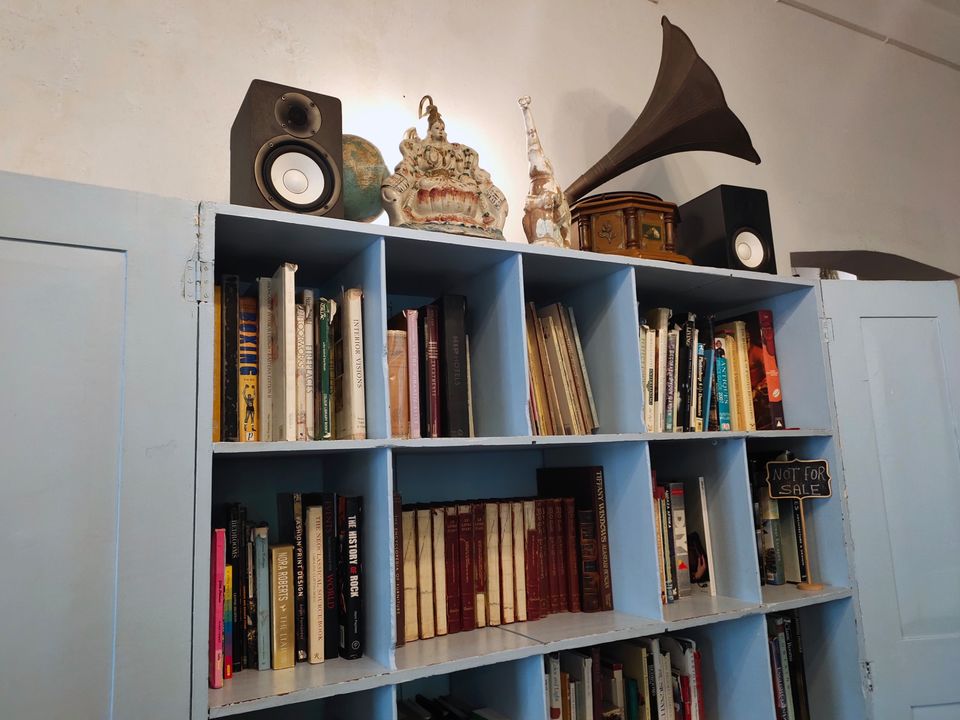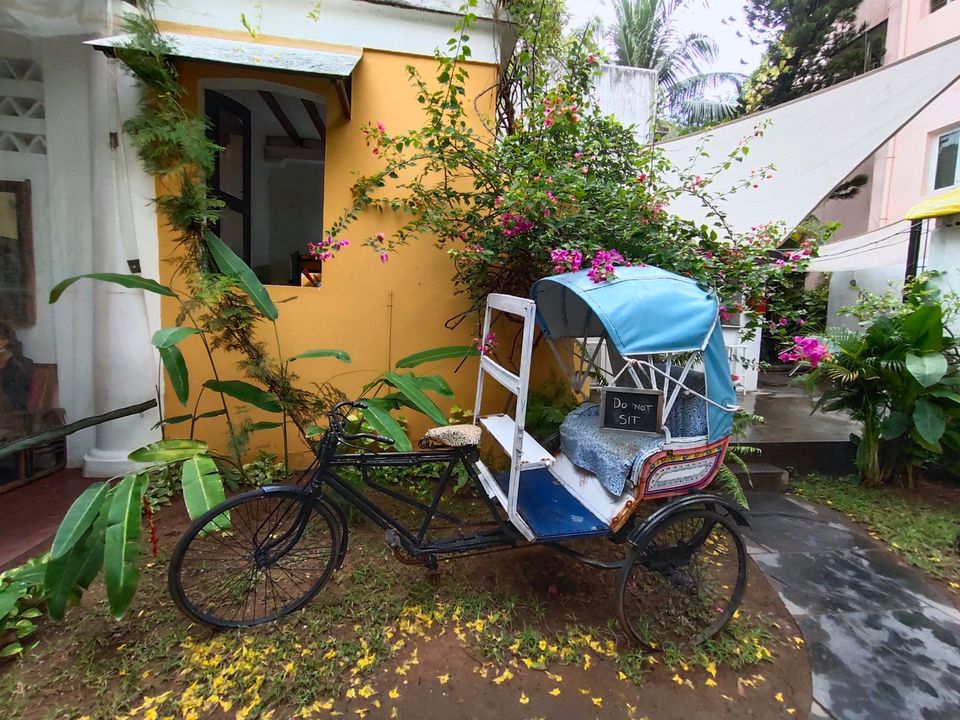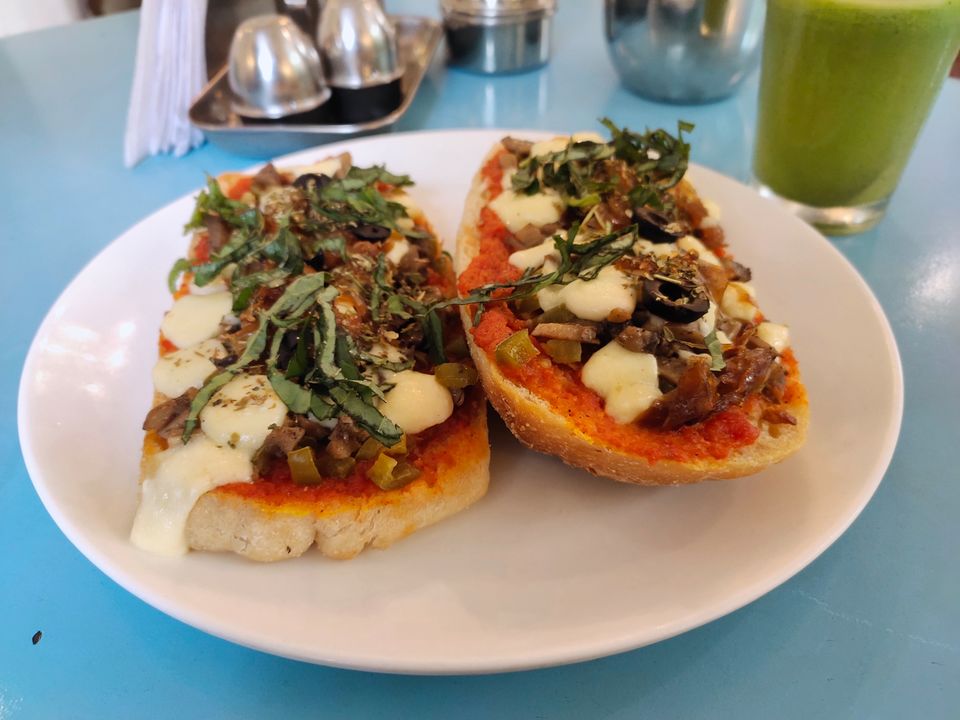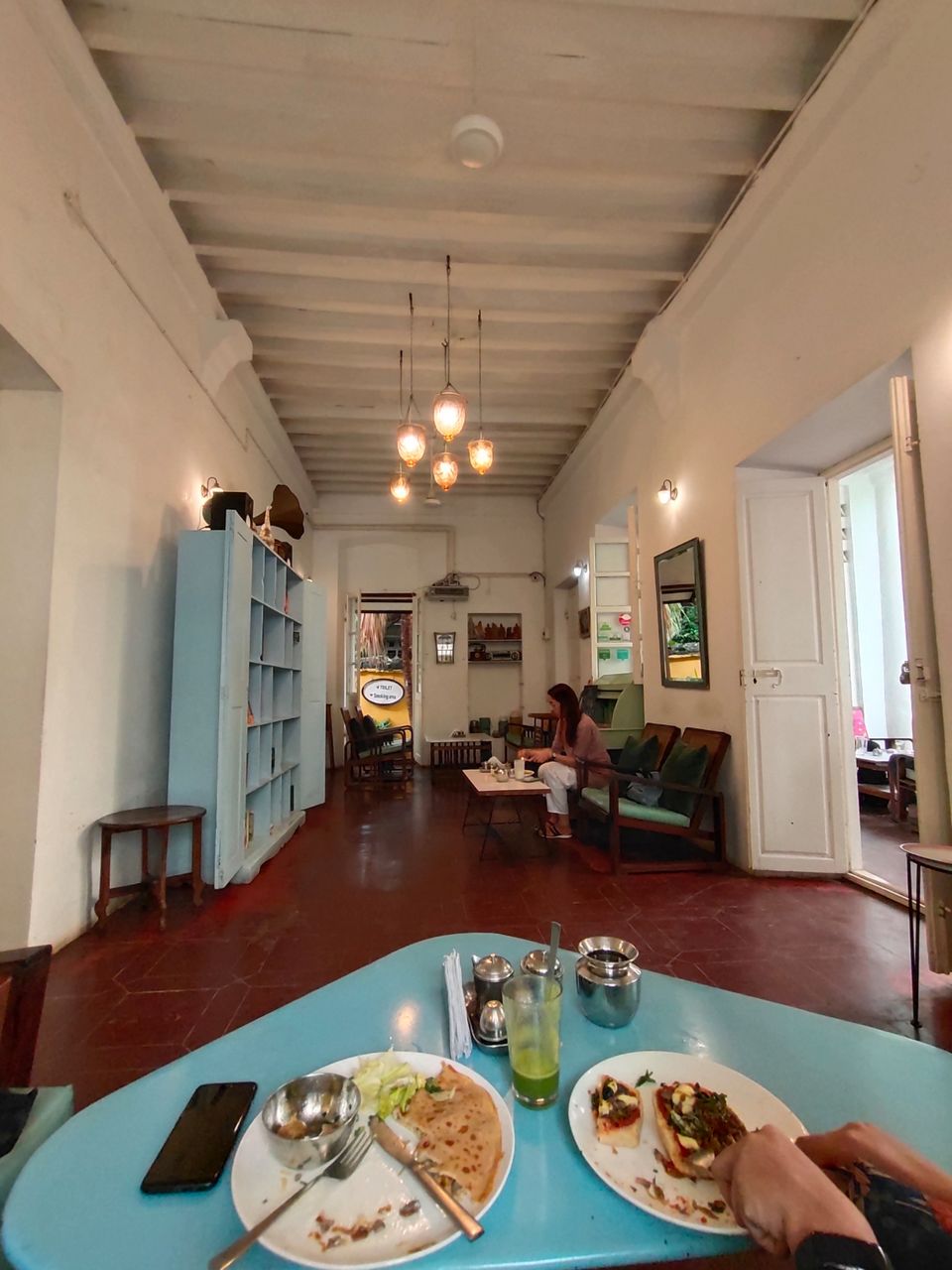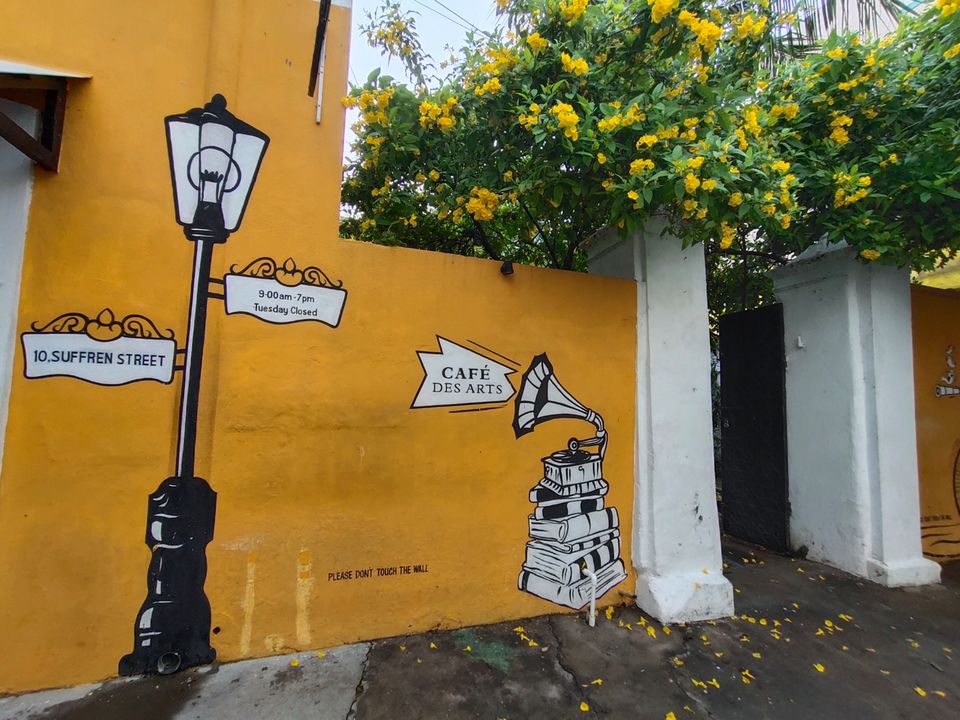 3. Venetto Pasta Bar:- This place at Mission street serves some yummy pasta and it's a perfect stop for your cheesy cravings.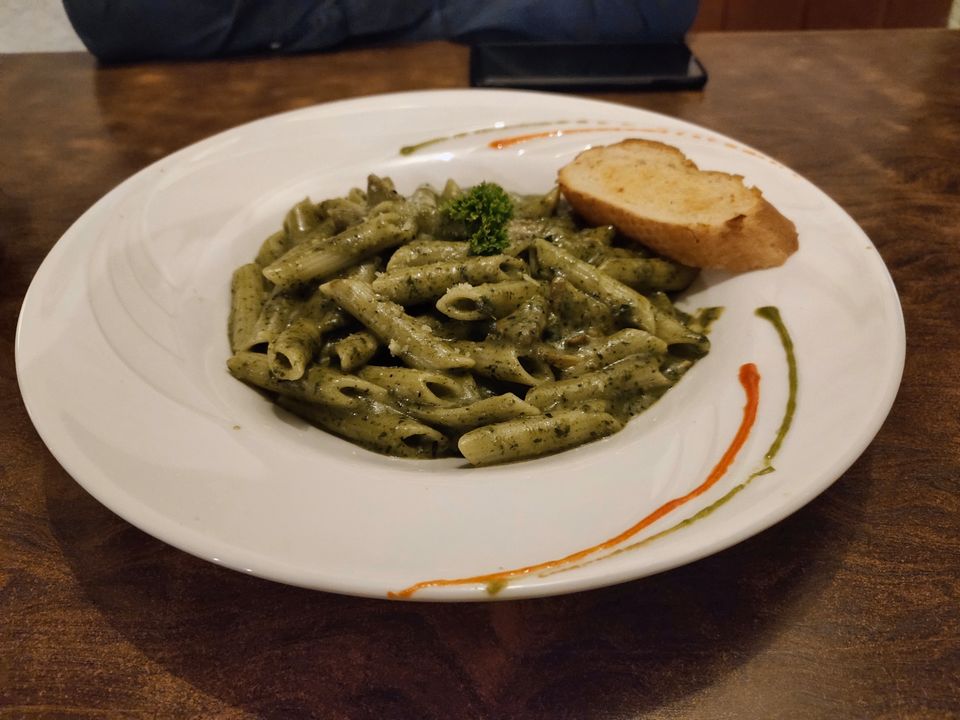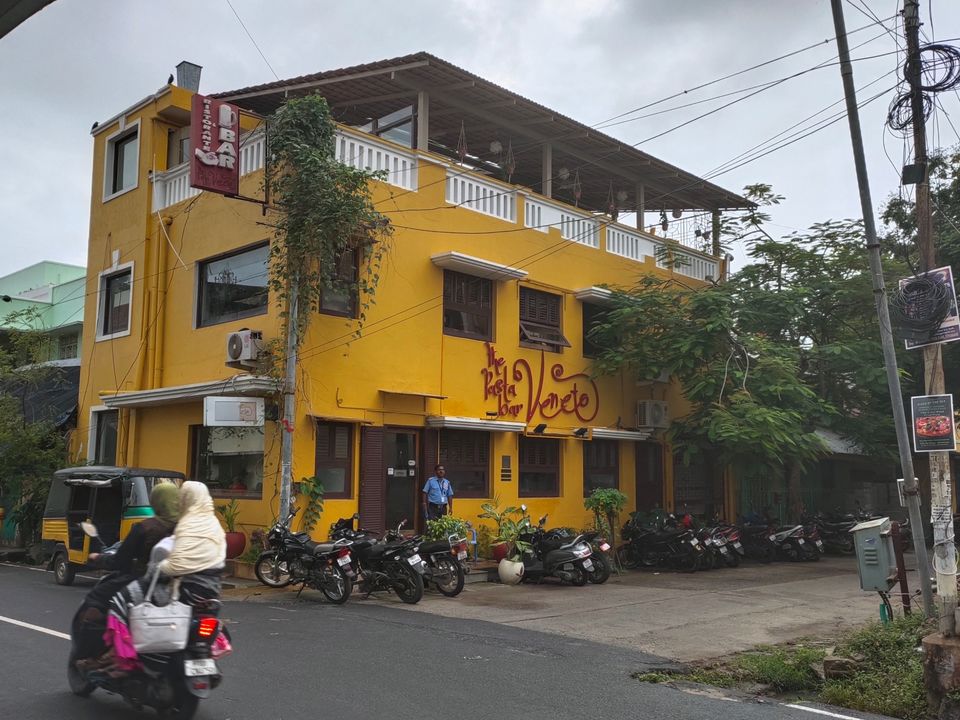 4. Auroville:- When you visit Matrumandir, you should definitely visit their in-house restaurant. You can have a wholesome meal and tasty desserts here.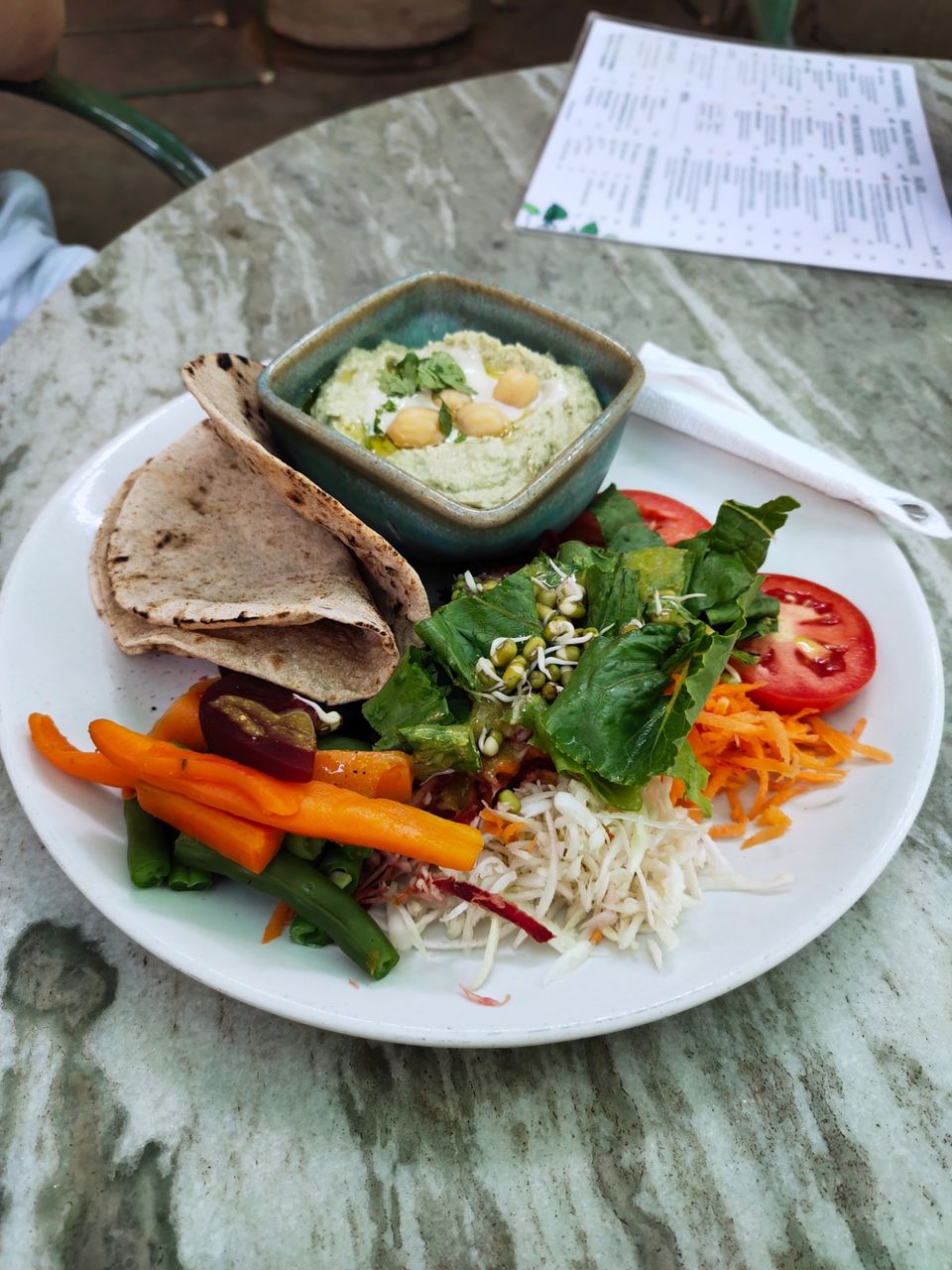 5. Hotel Ajantha:- This is a sea view restaurant at Promenade beach which is a bit expensive also. You can enjoy a breezy evening at this place. I loved their paneer tikka dish which was marinated in coconut gravy.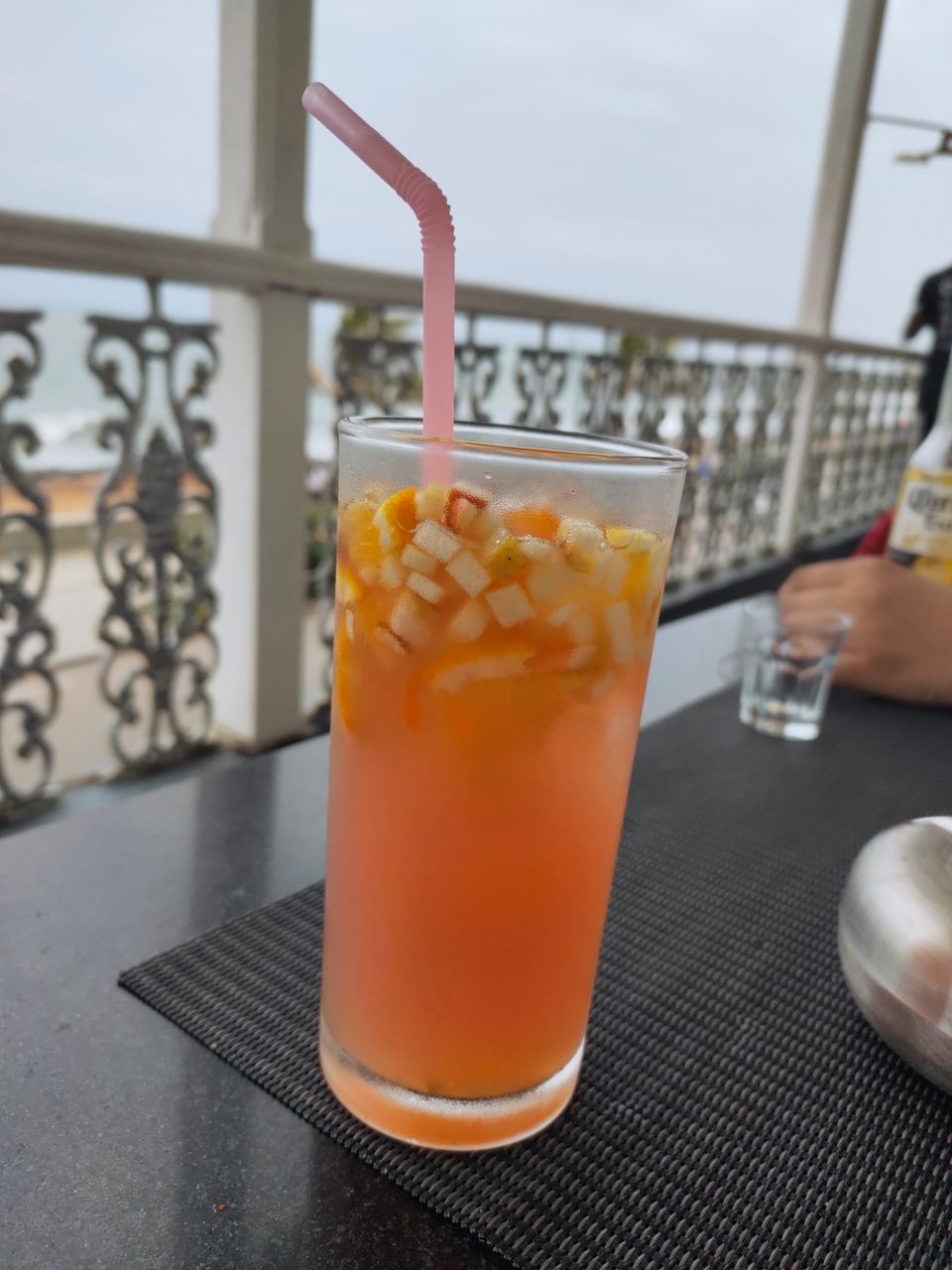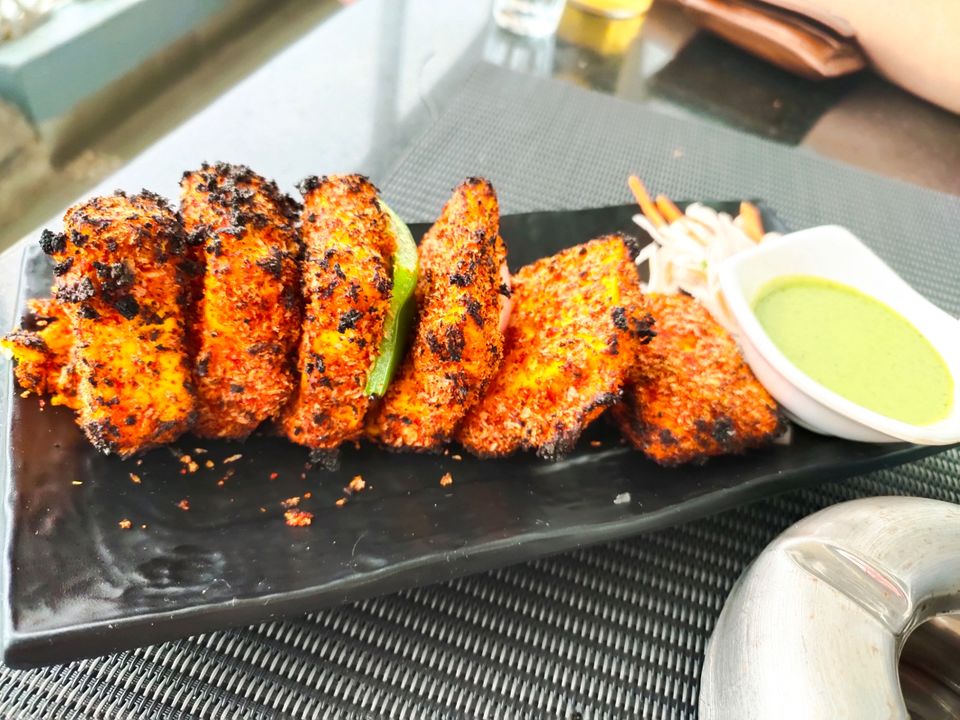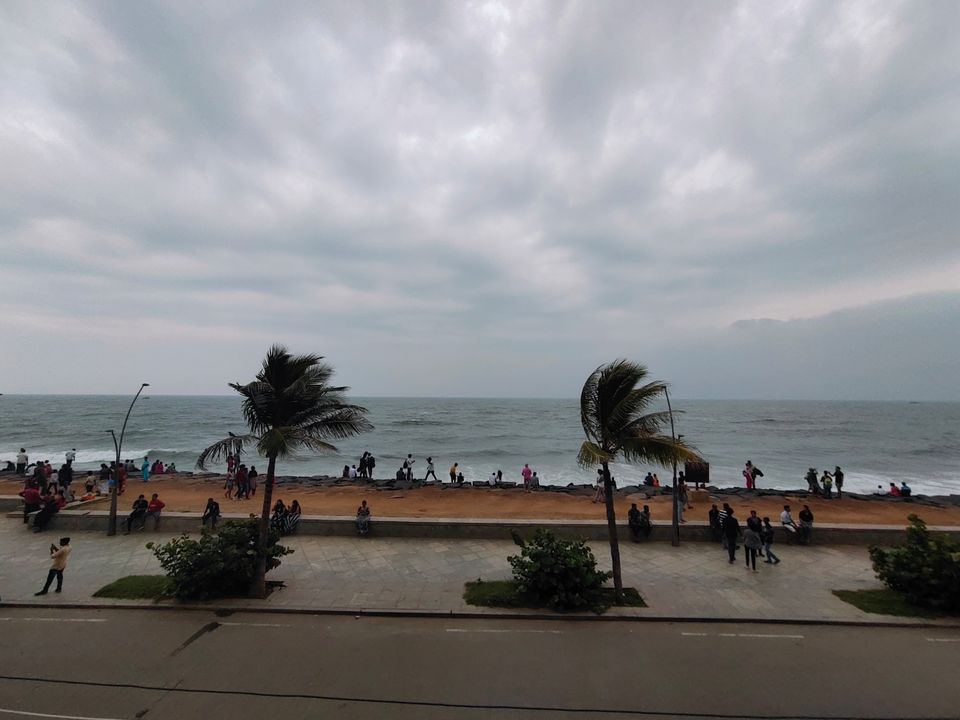 6. Zuka Choco-la:- If you have a big sweet tooth, you can't miss this place. Located at mission street, it serves pastries, cakes and chocolates.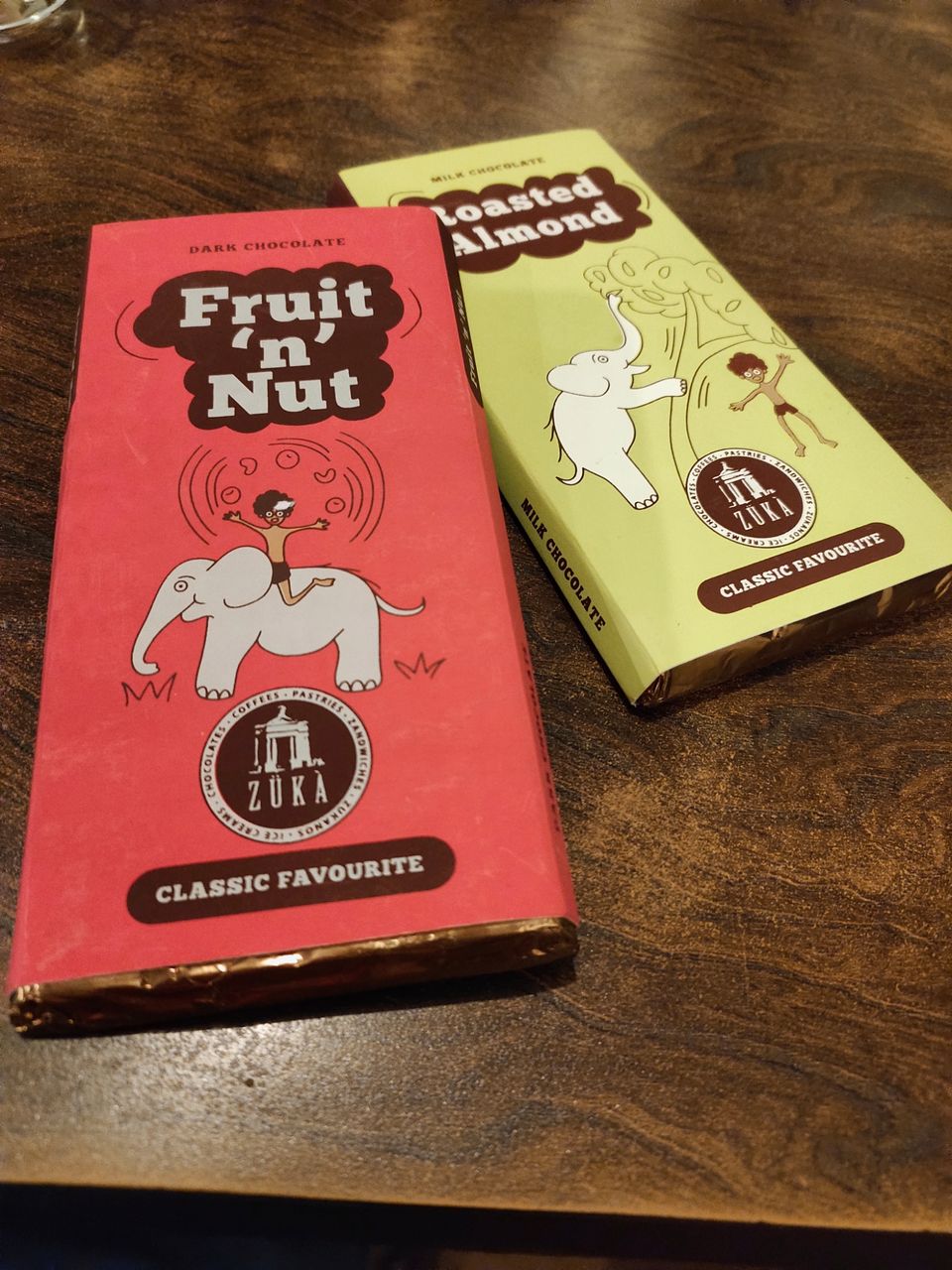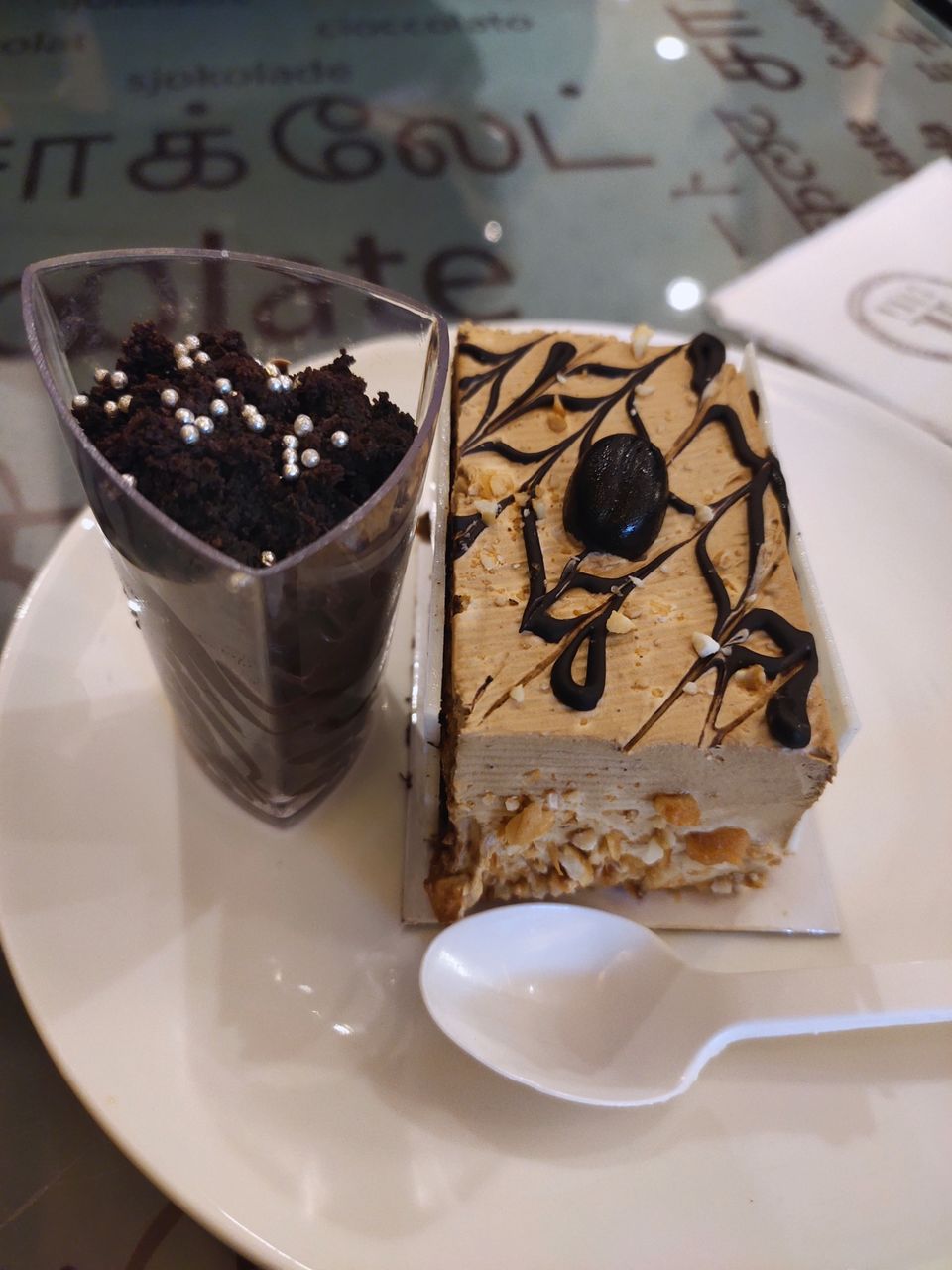 7. Gelateria Montecatini Terme (GMT):- This is a must visit place for gelato ice-cream. Located at the end of the Promenade beach,if offers interesting flavours.All the flavors are priced between Rs 70-100.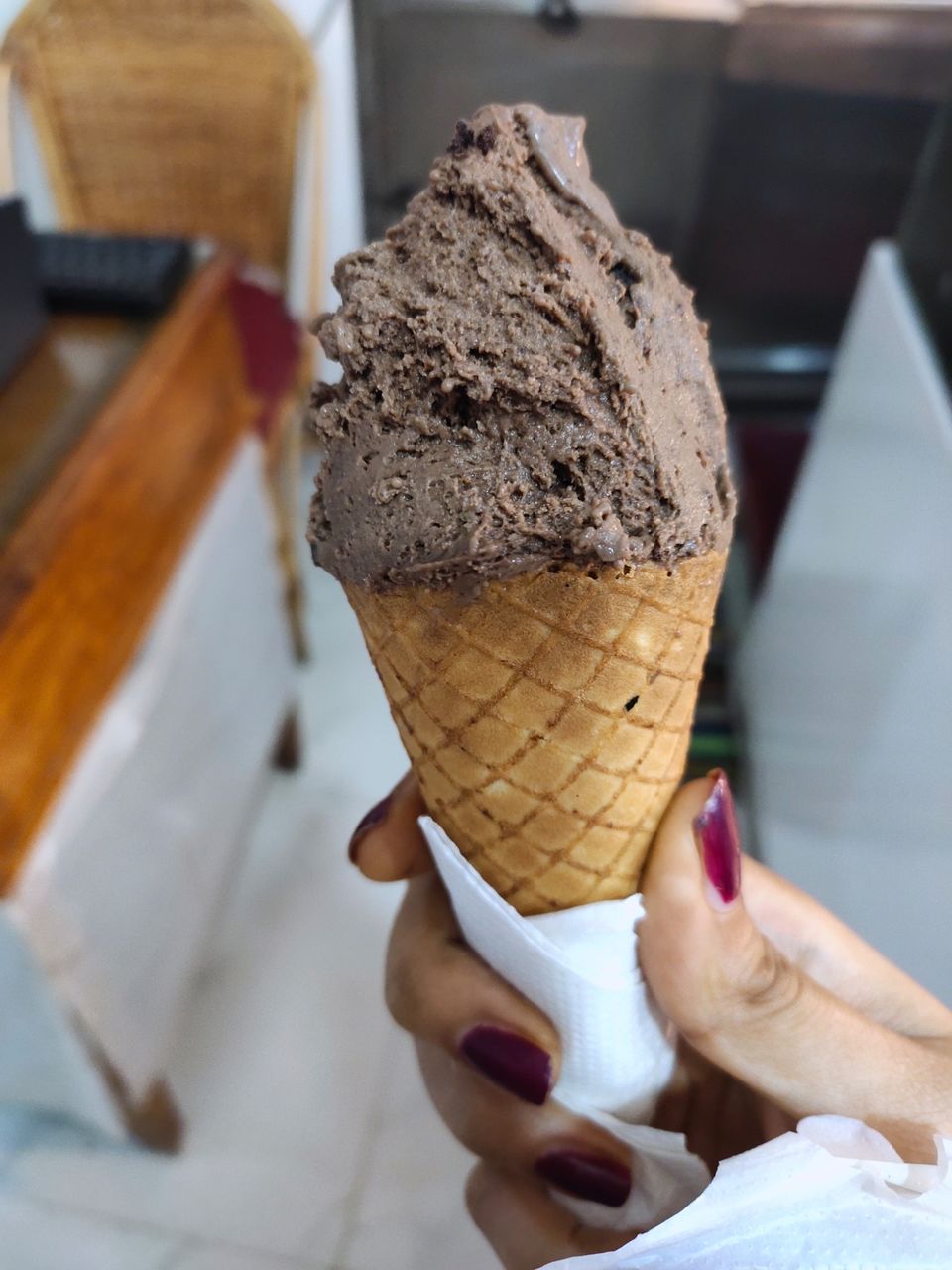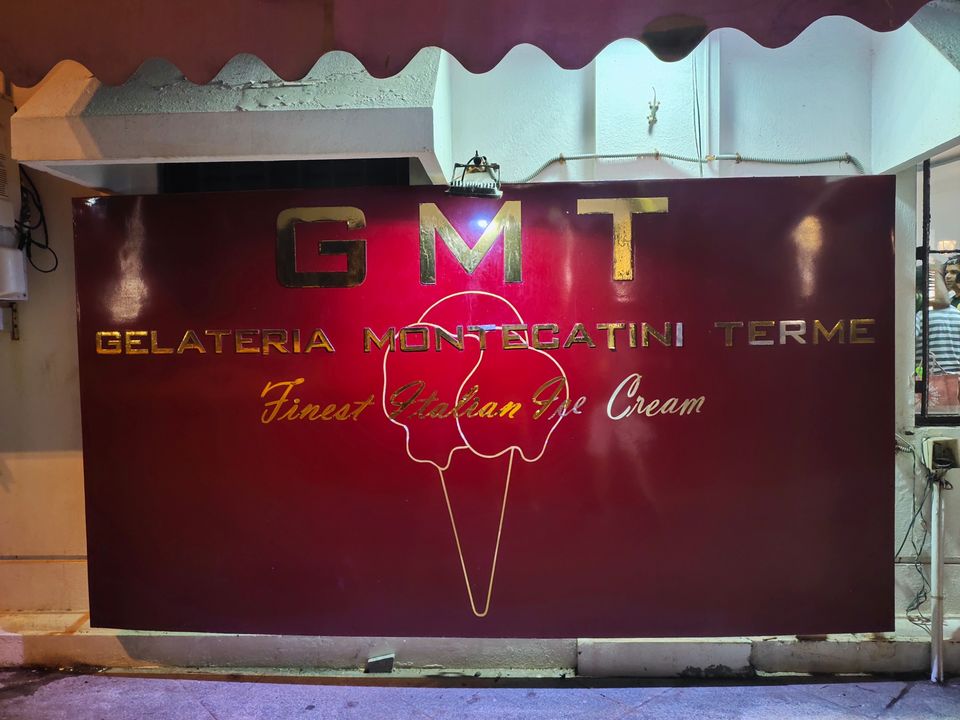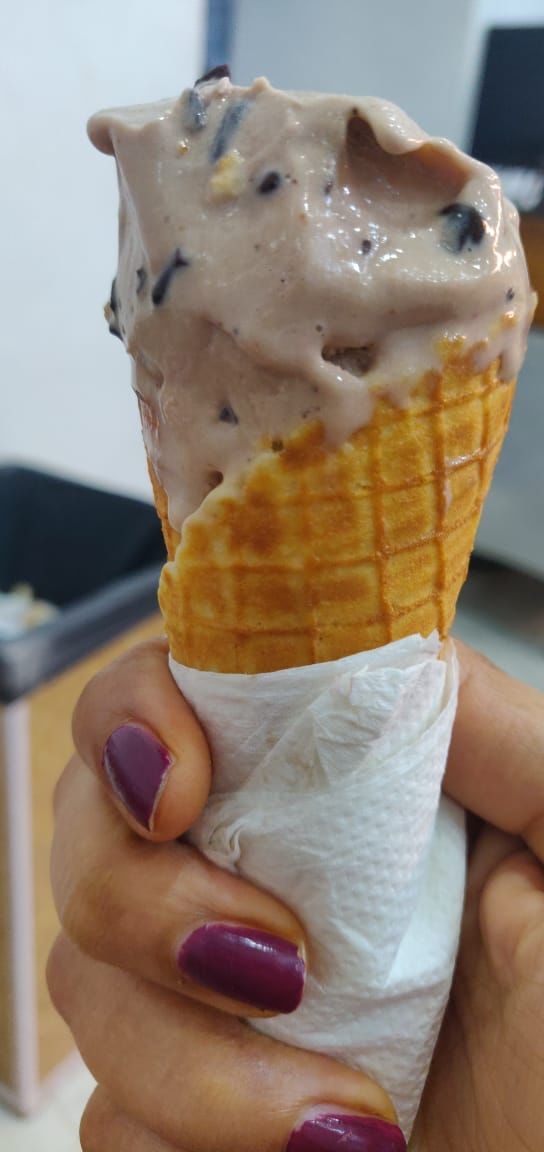 Places to visit:-
1. White Town:- Famous for it's French architecture, colonial style town planning, beautiful Graffiti painted walls, best cafes and litter free streets, this town will indeed give you french vibes. Promenade beach street is a great place for evening walk as vehicles are barred after 5 pm till 8am in morning. It has Gandhi memorial, government offices, cafes, ice cream parlor, shopping market, french war memorial. You can park your car at Port from 5 pm onwards for Rs 30/- as you might find it difficult to find parking at white town in evening time. There are many other places in rest of the white town like Our Lady of Angels Church, shopping outlets, eateries, lighthouse. Take a walk in the white town area for experiencing the unique ambience, admiring the architecture and clicking some amazing pictures. The new lighthouse offers a pretty view from the top but unfortunately it was under maintenance so we had to miss the top view.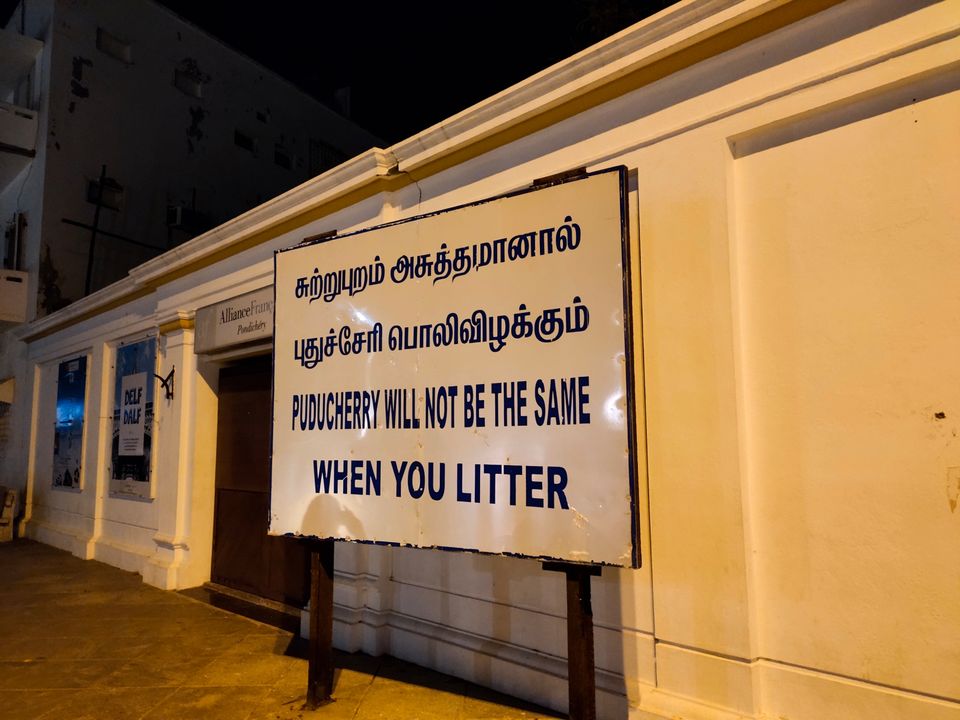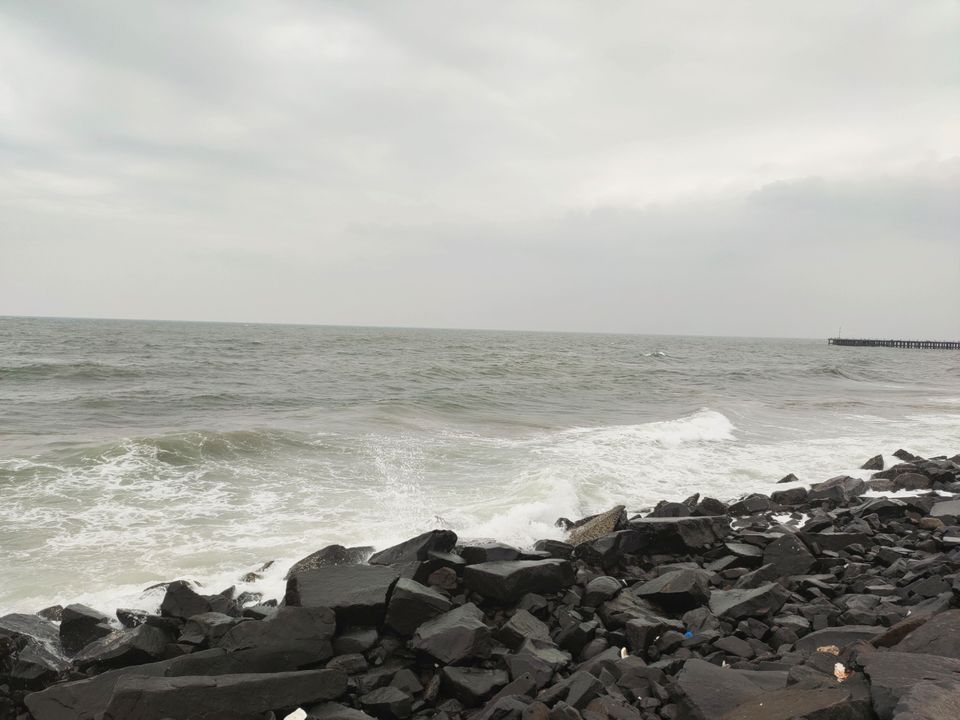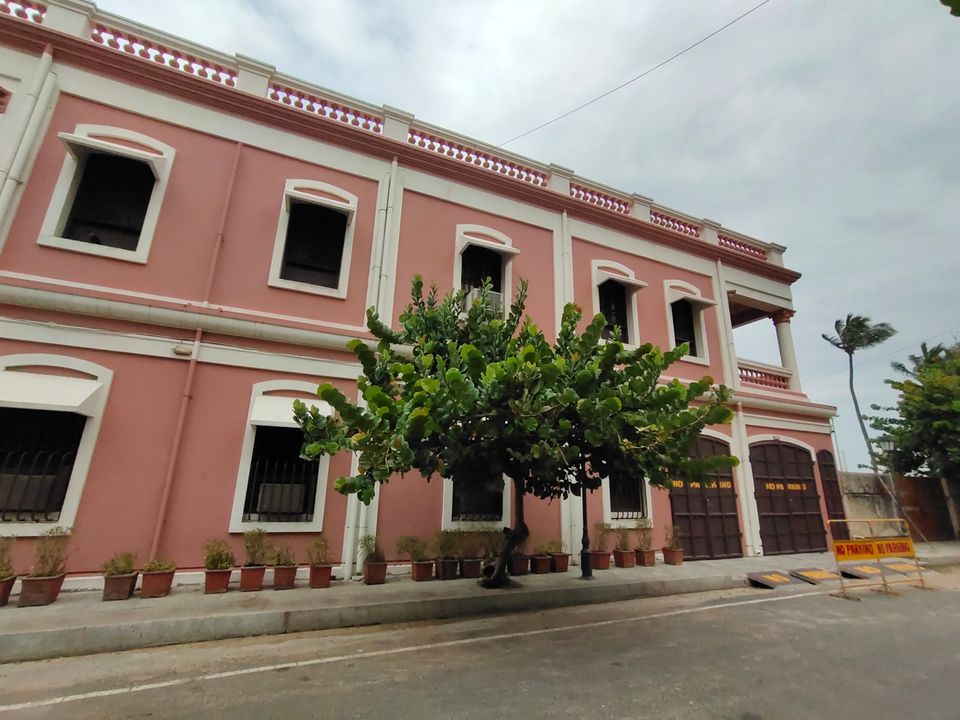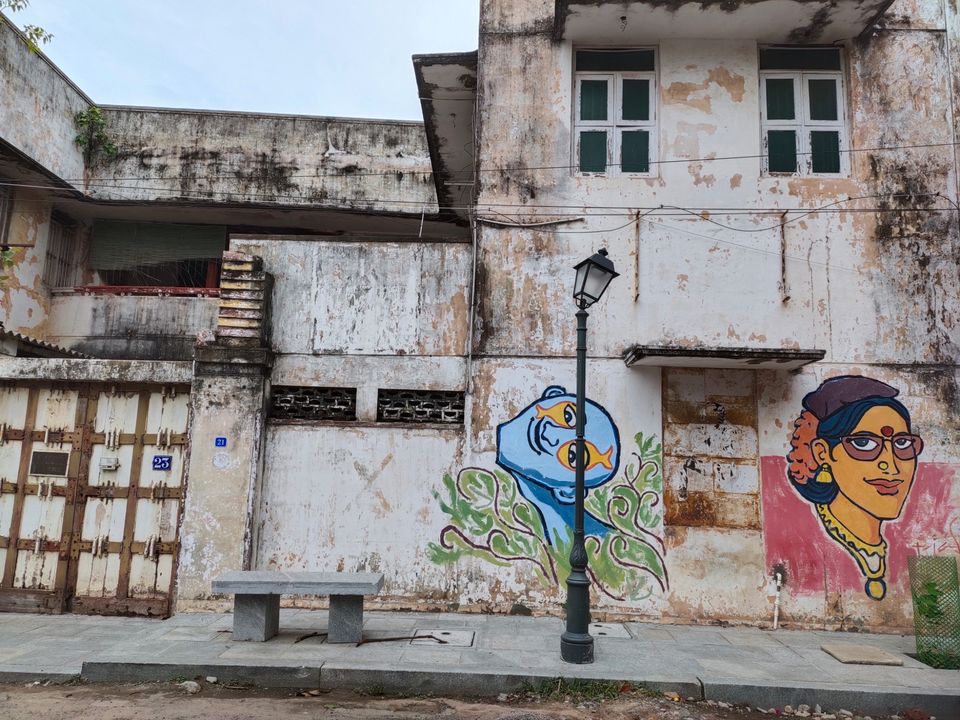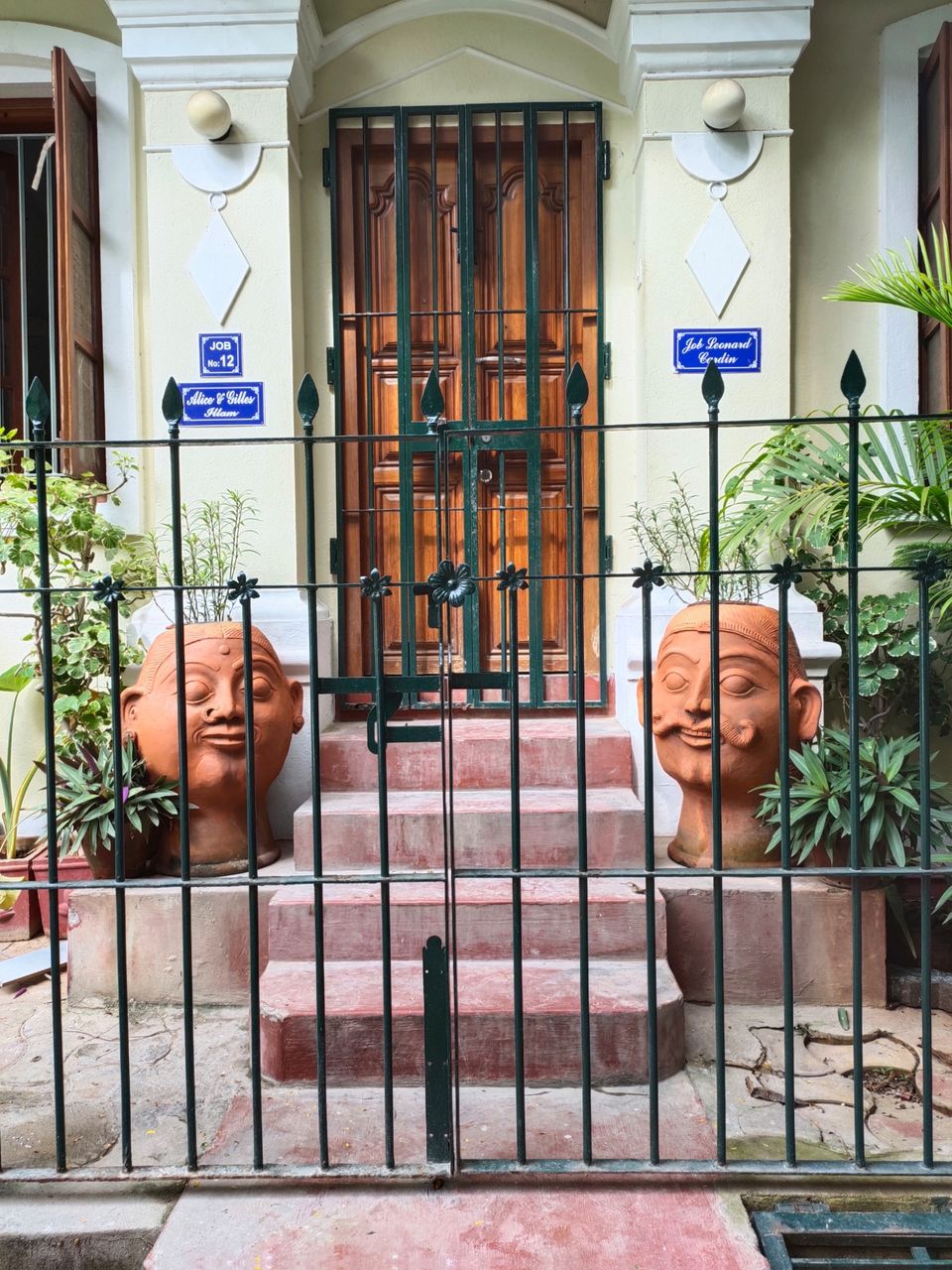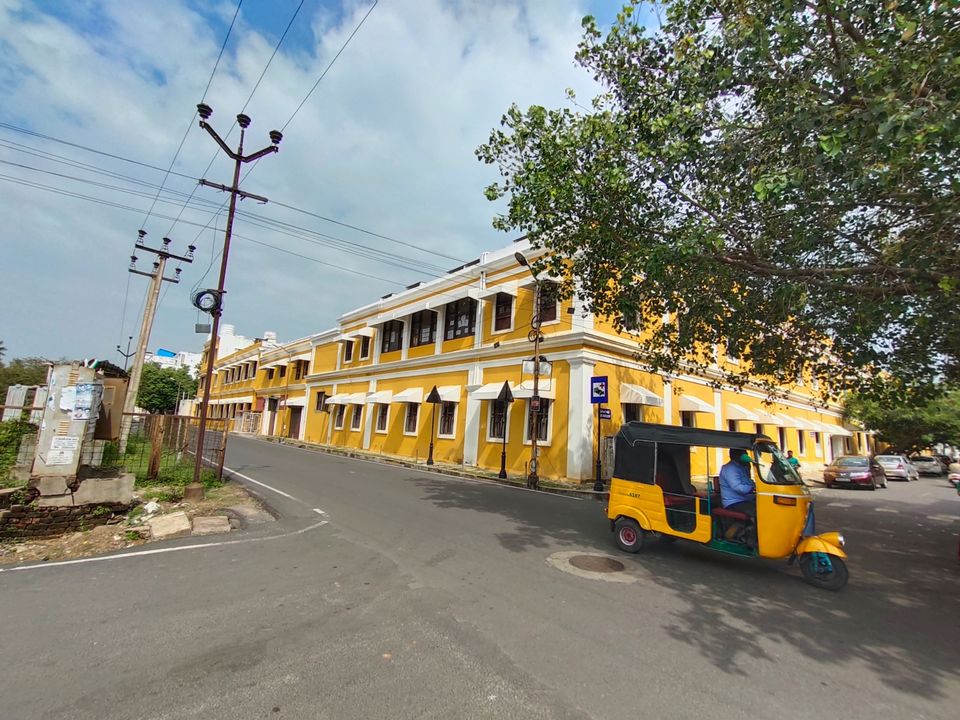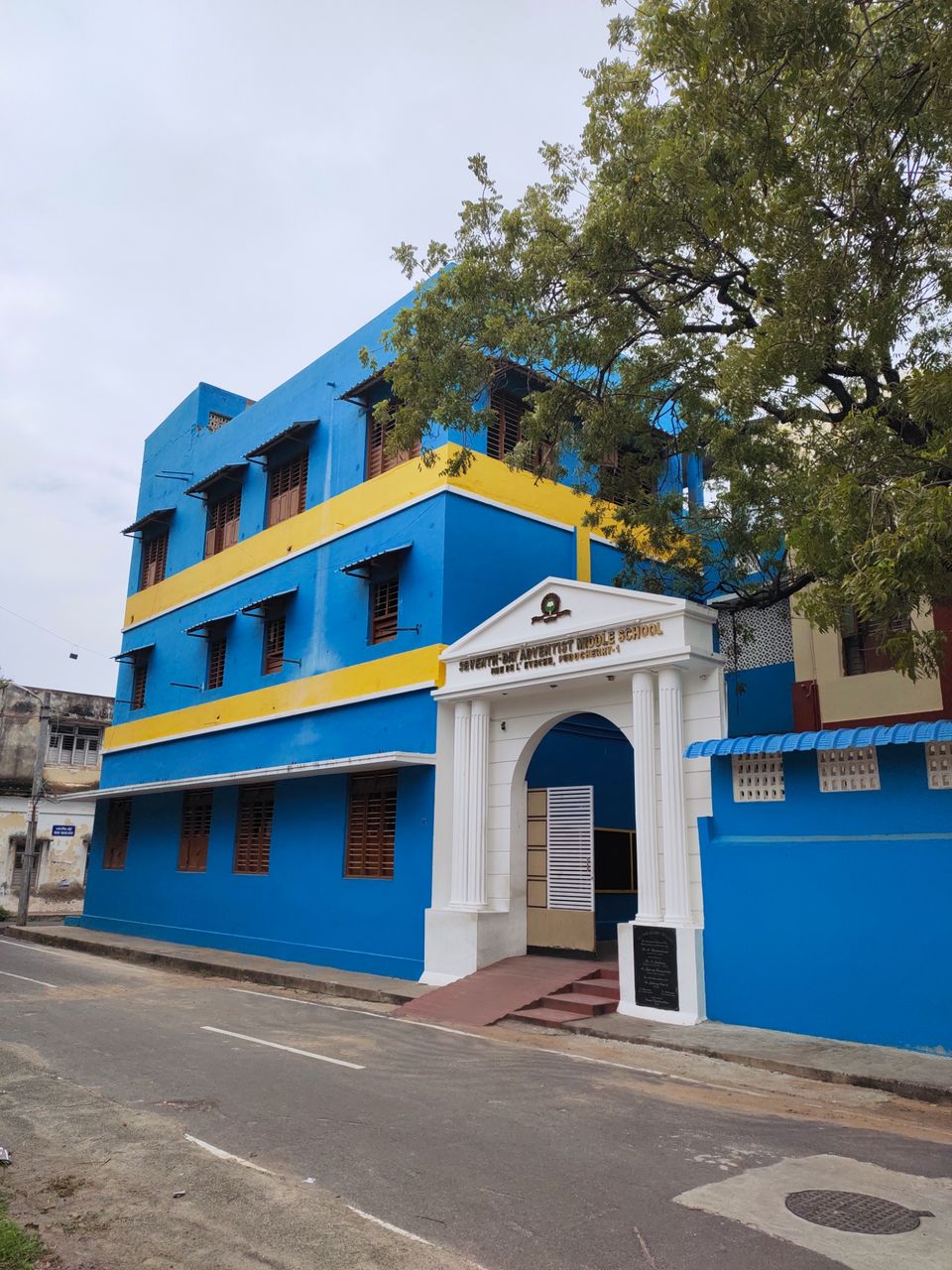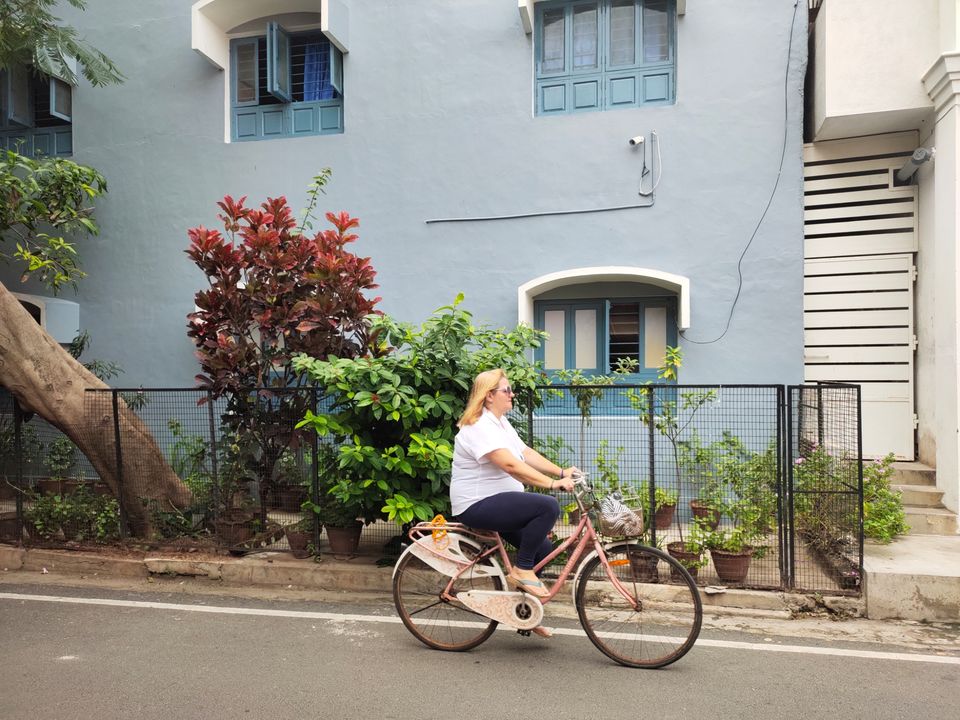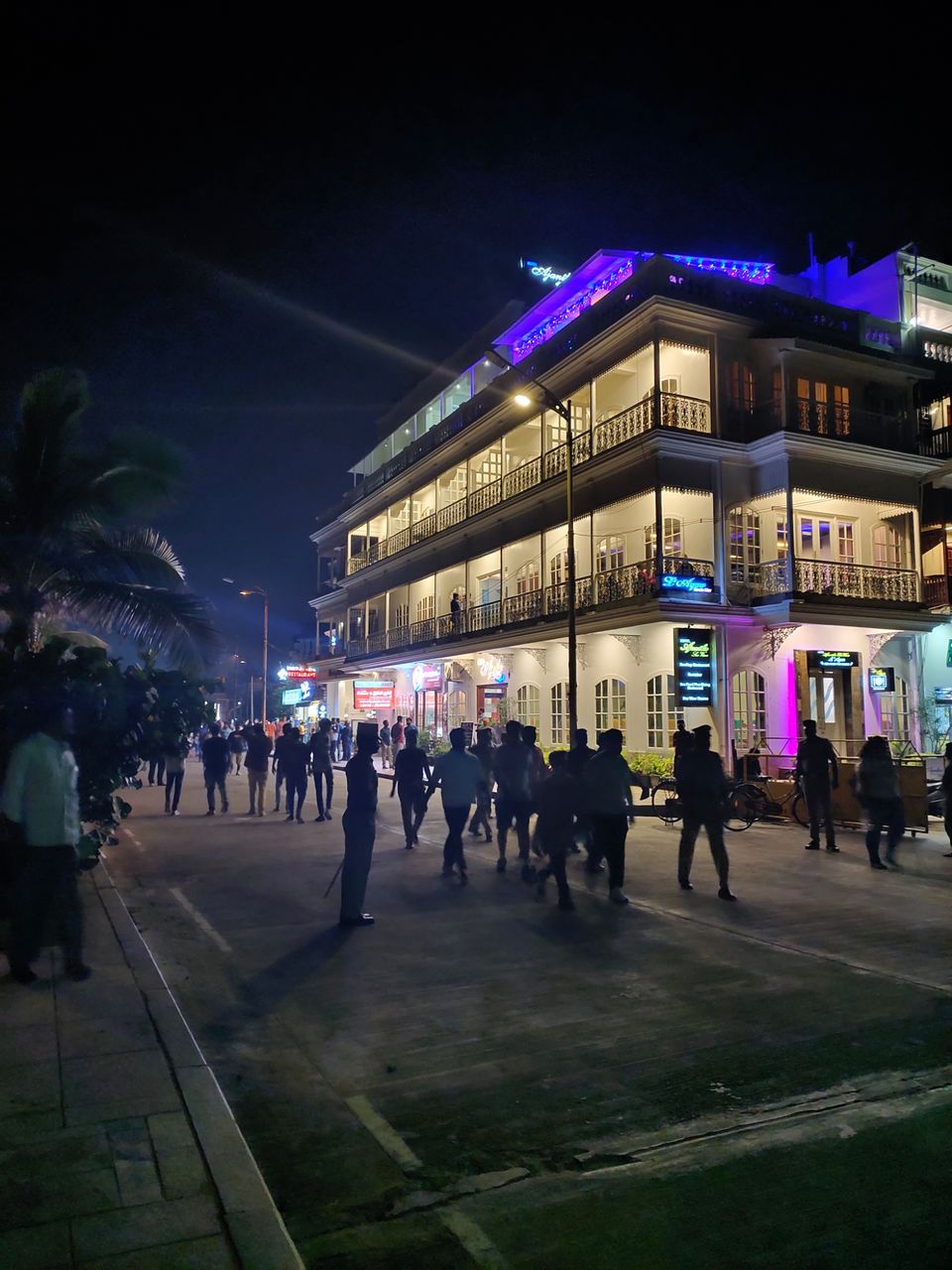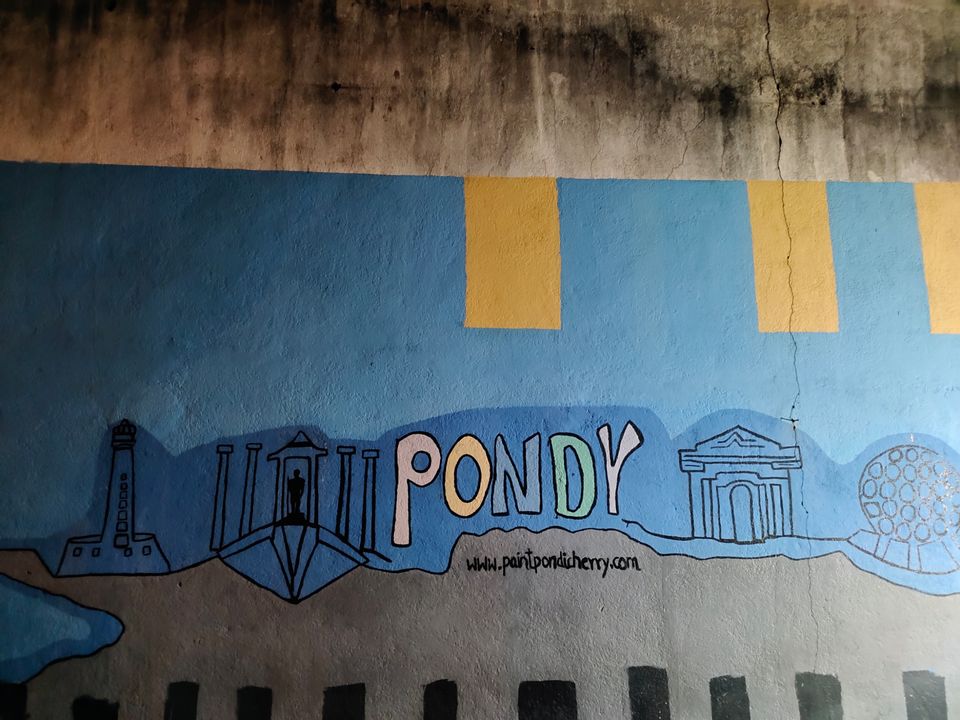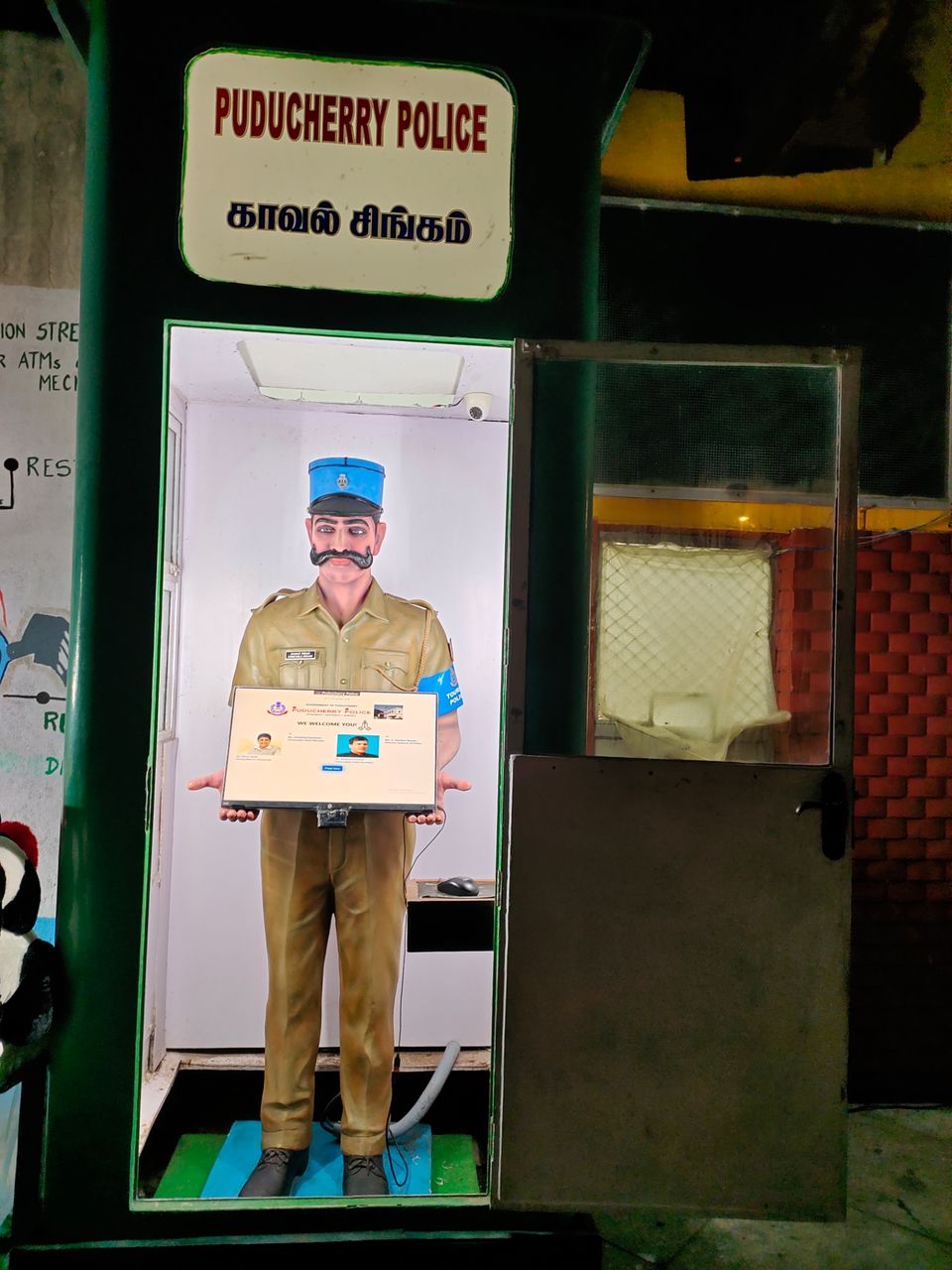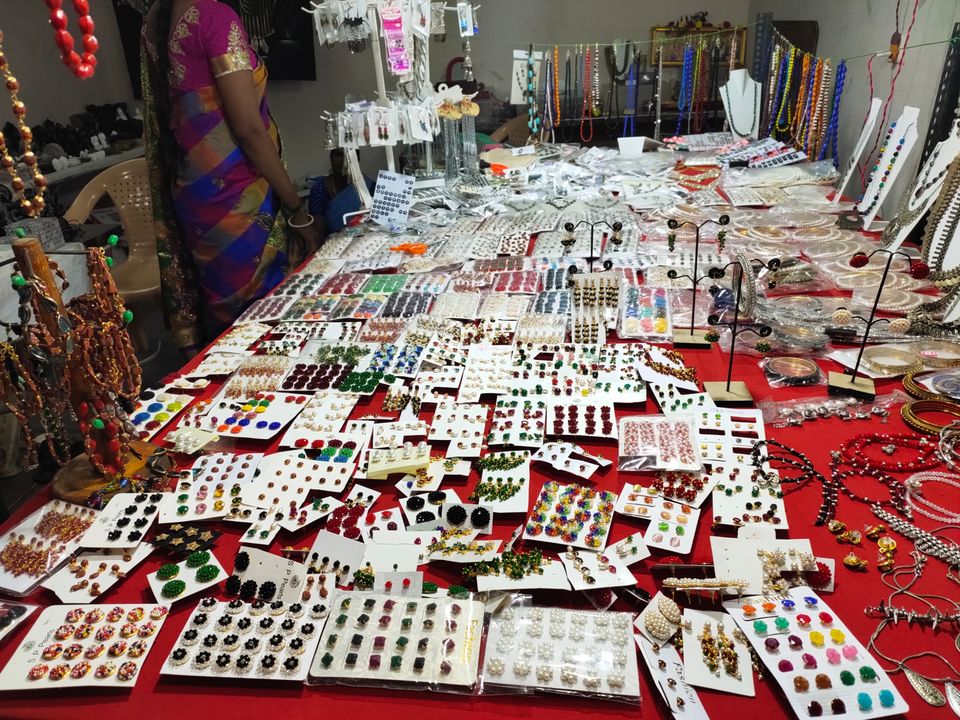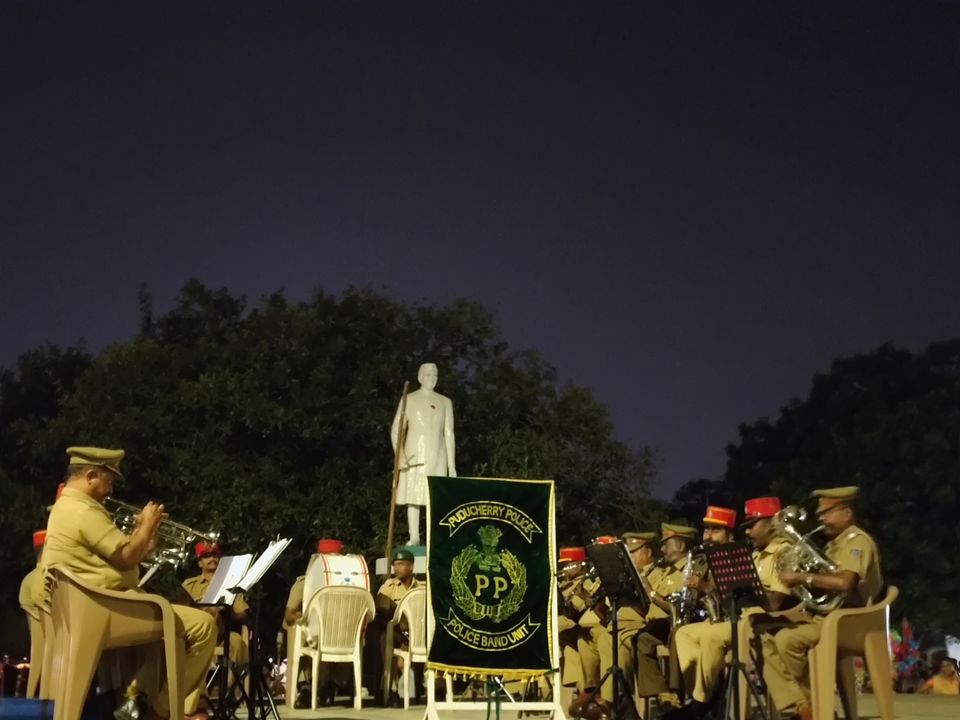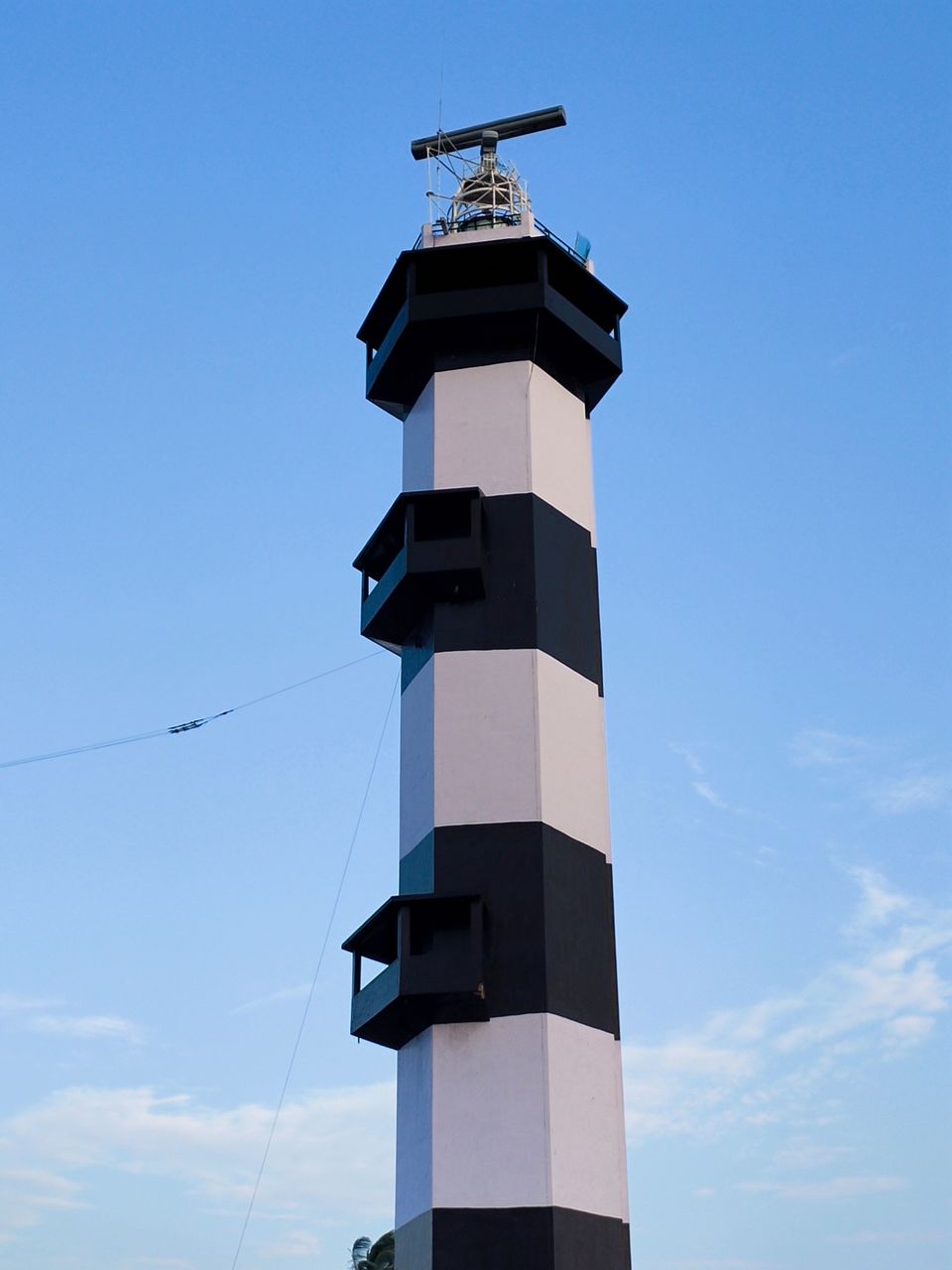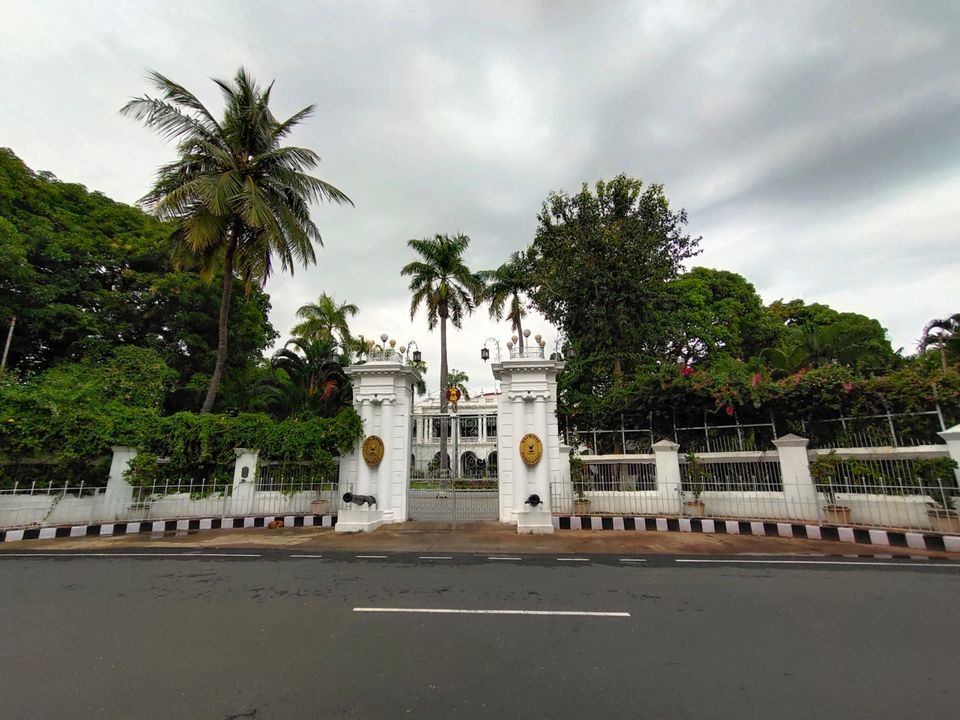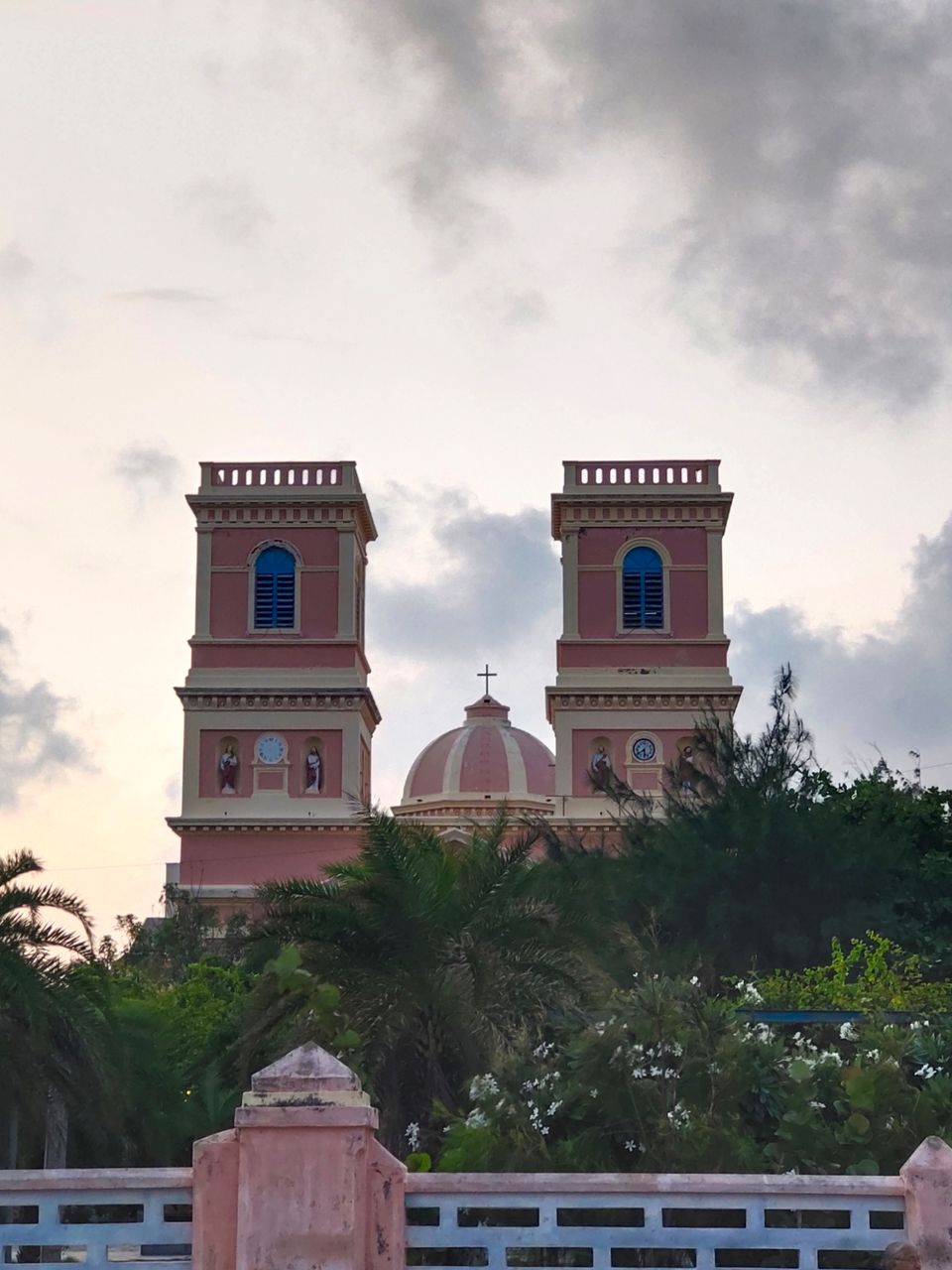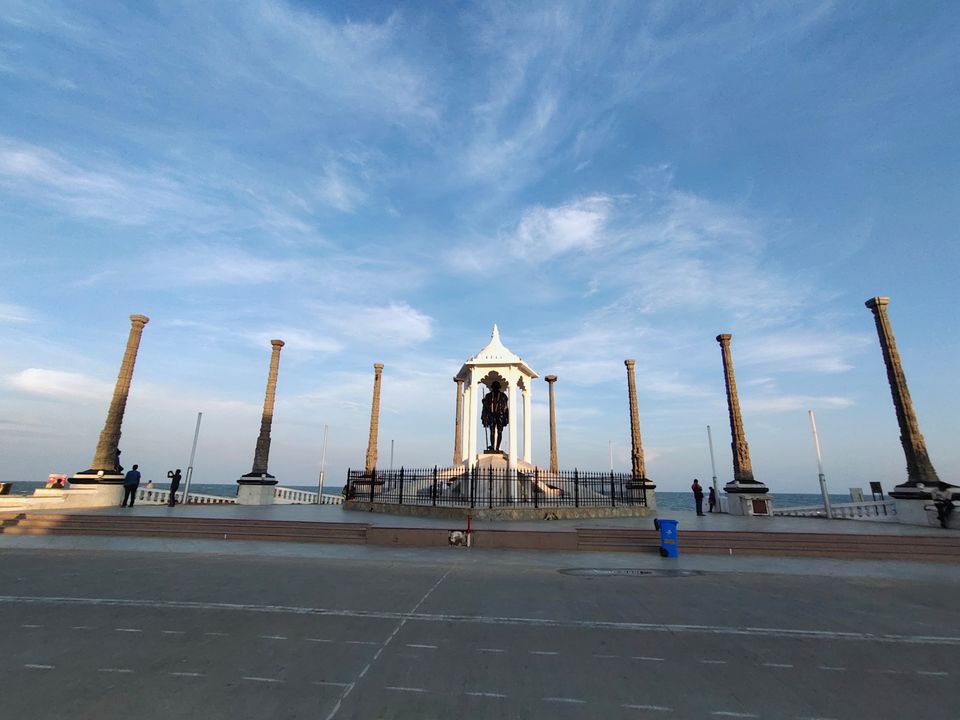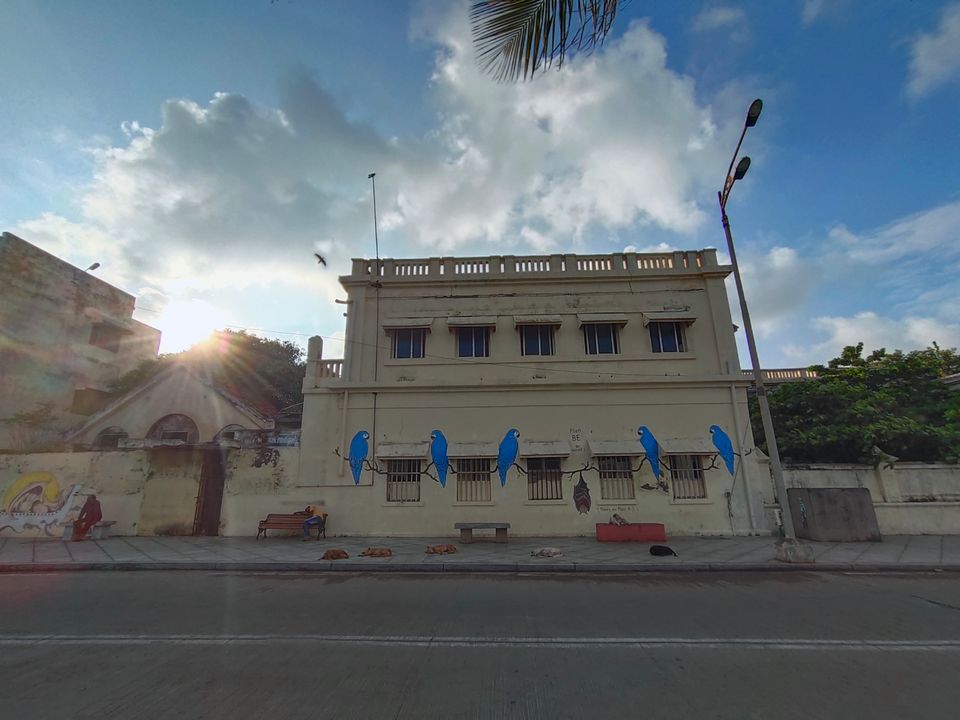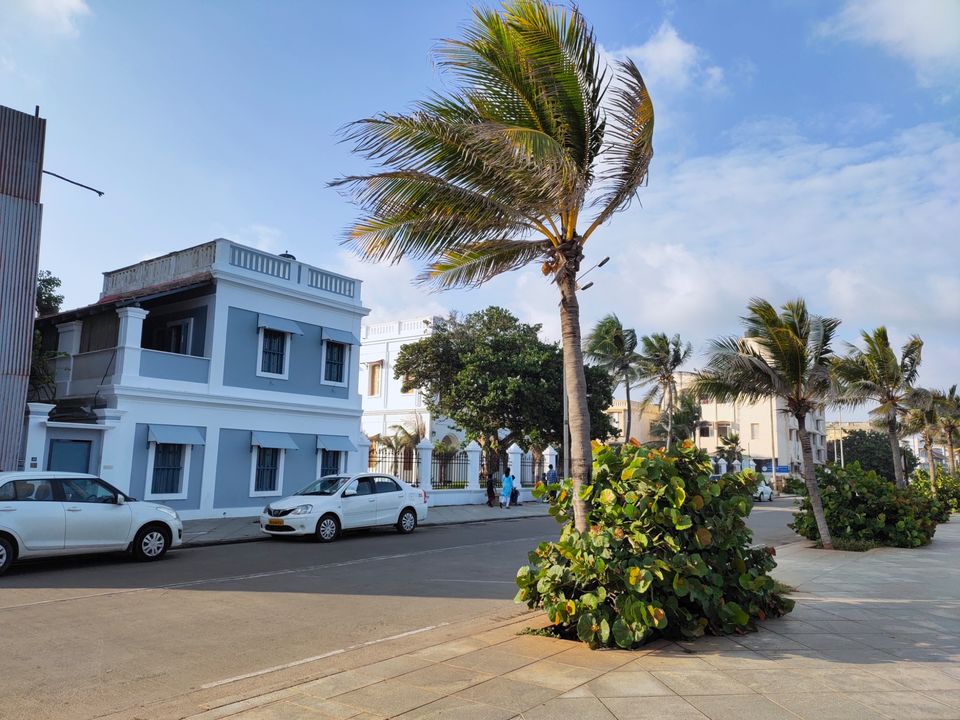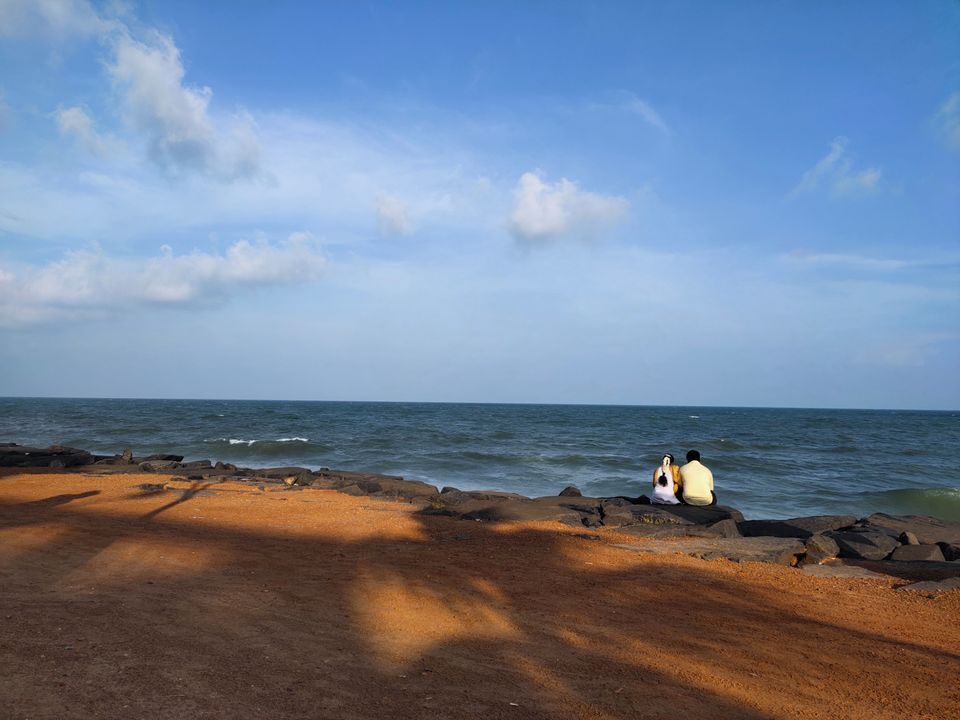 2. Serenity beach:- If you are on eastern coast of India, you just can't miss the beautiful sunrise. Head to serenity beach for the perfect start of your day. Here, you can relax on the rocks and enjoy the sea.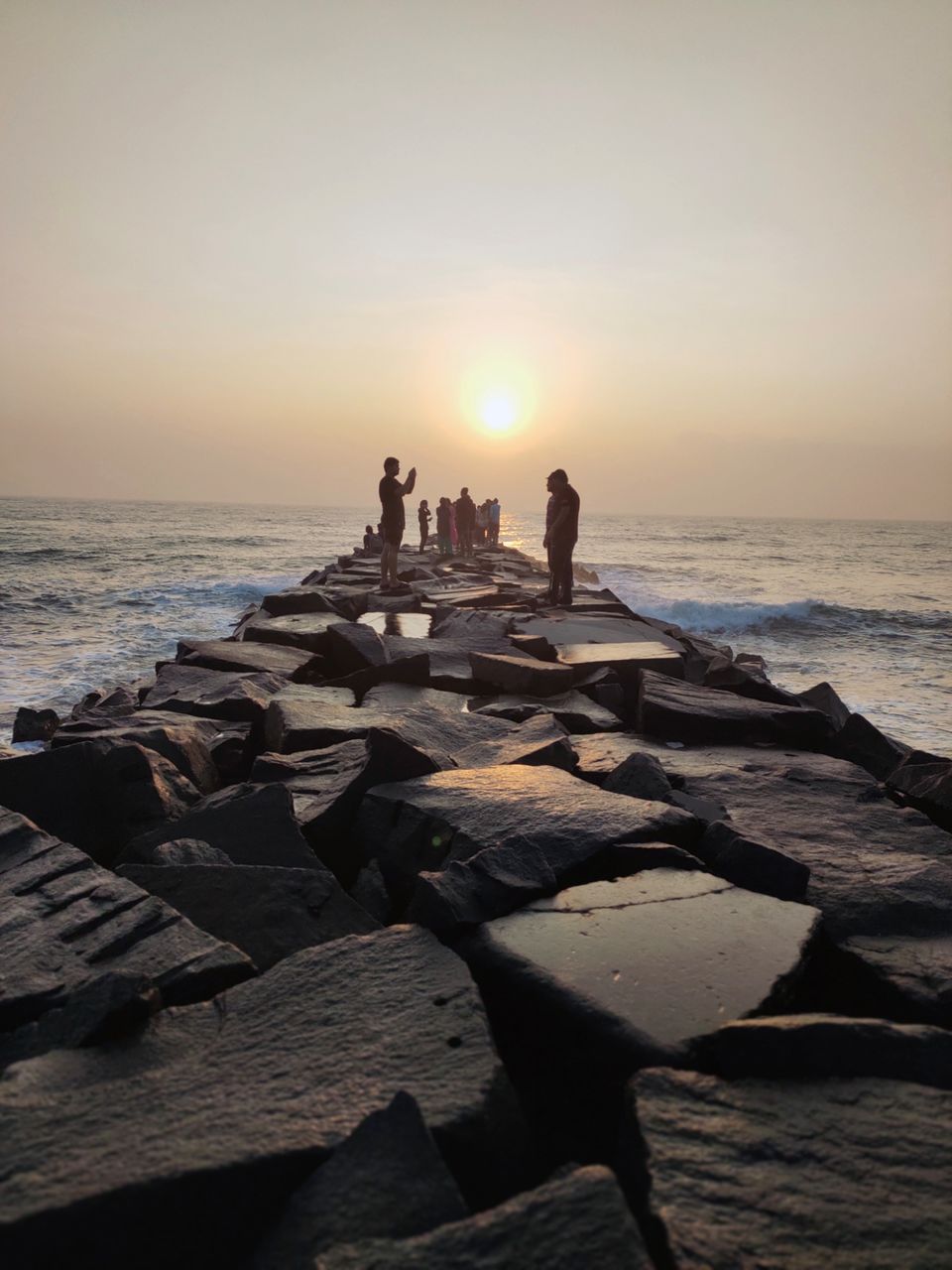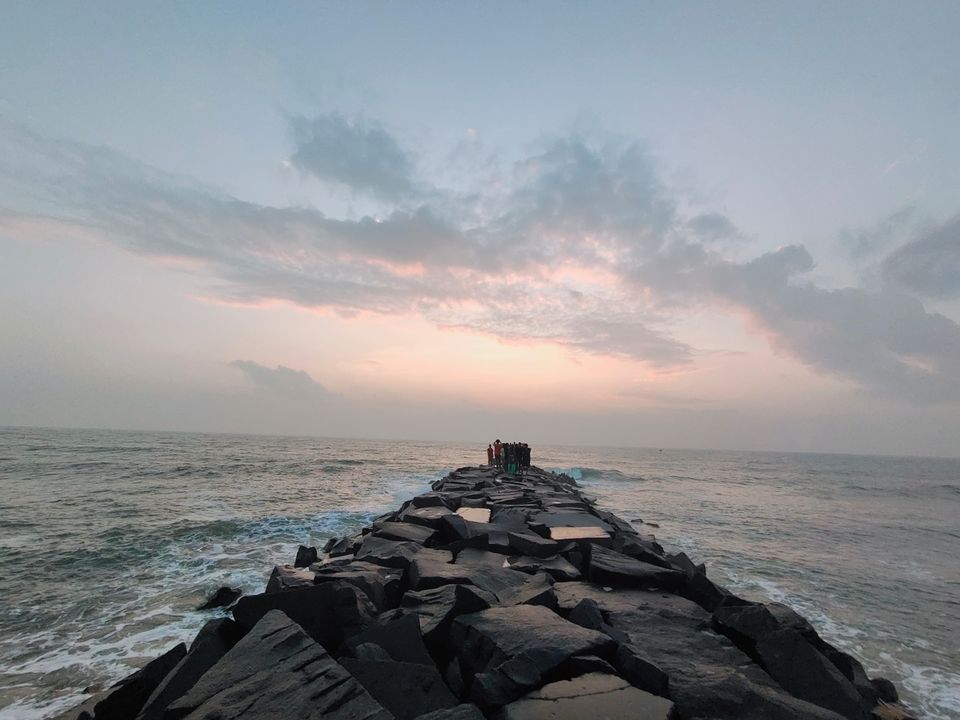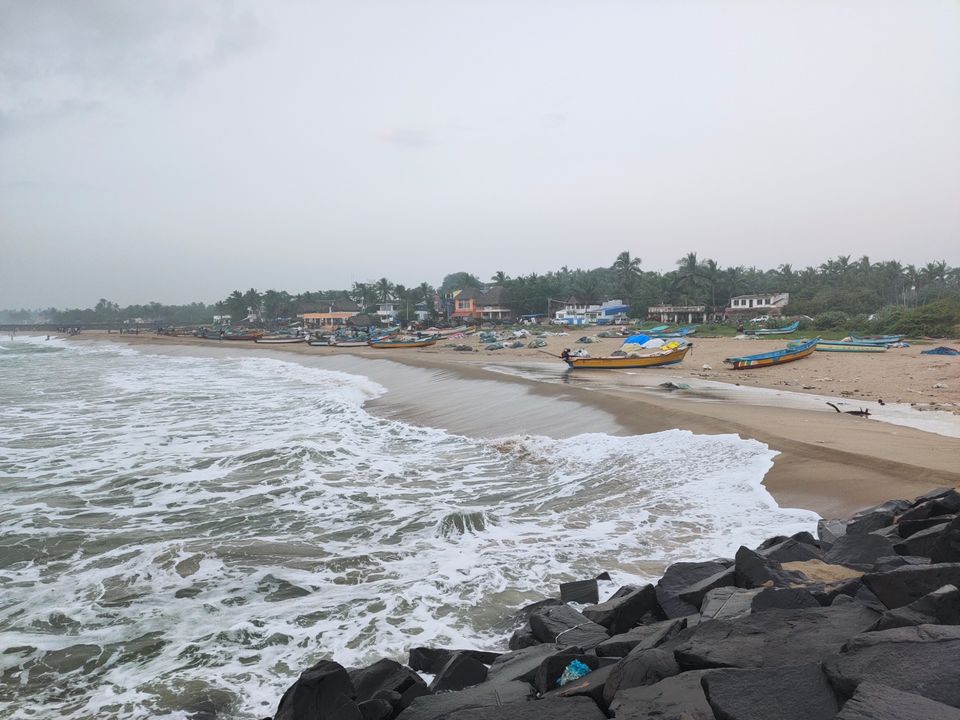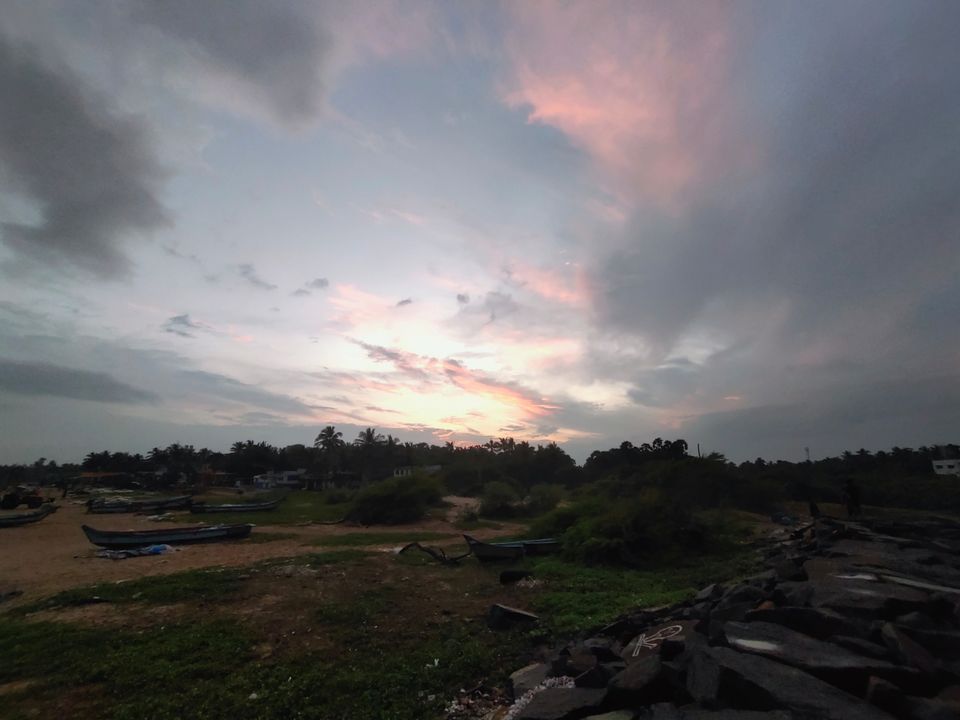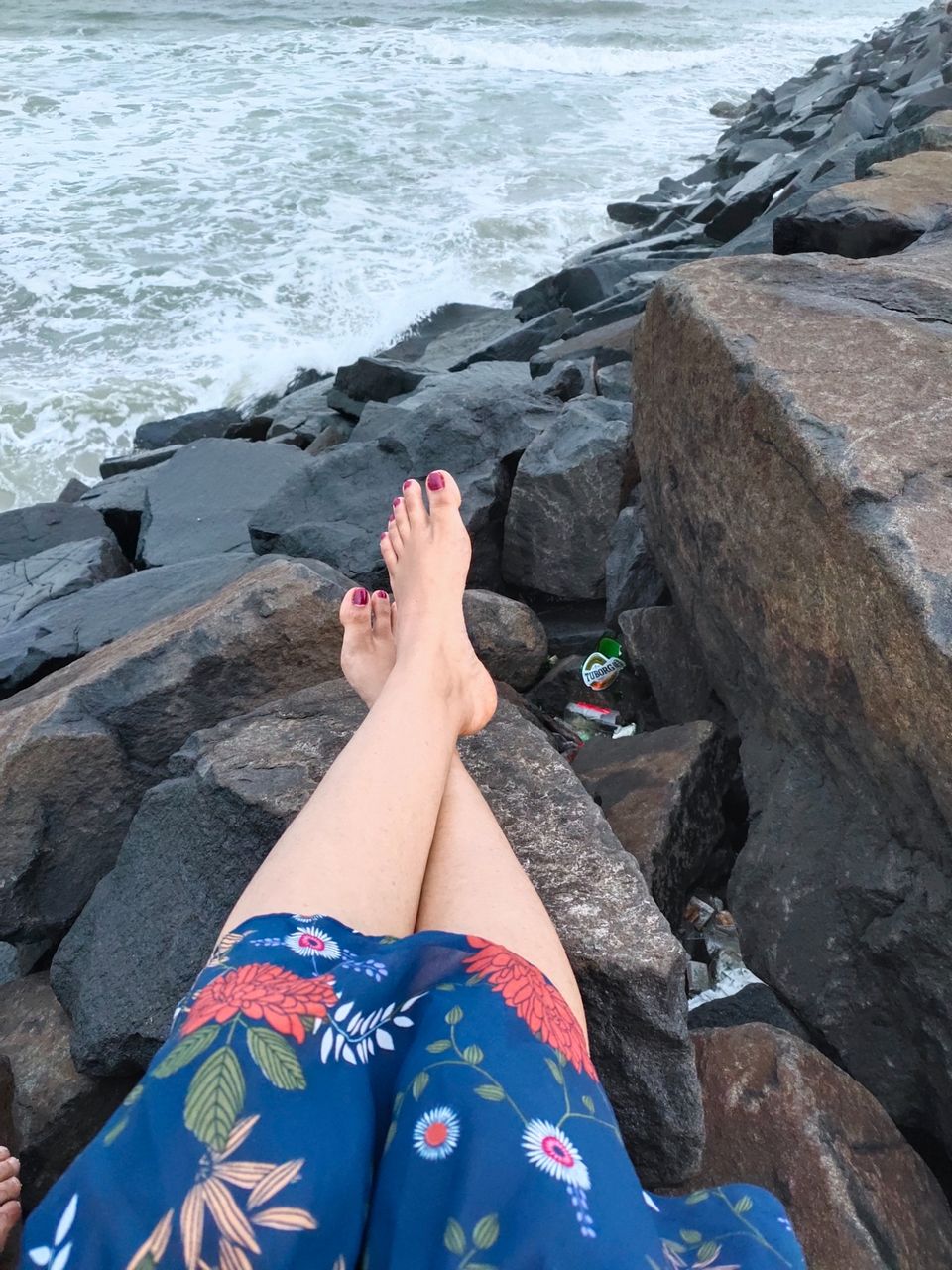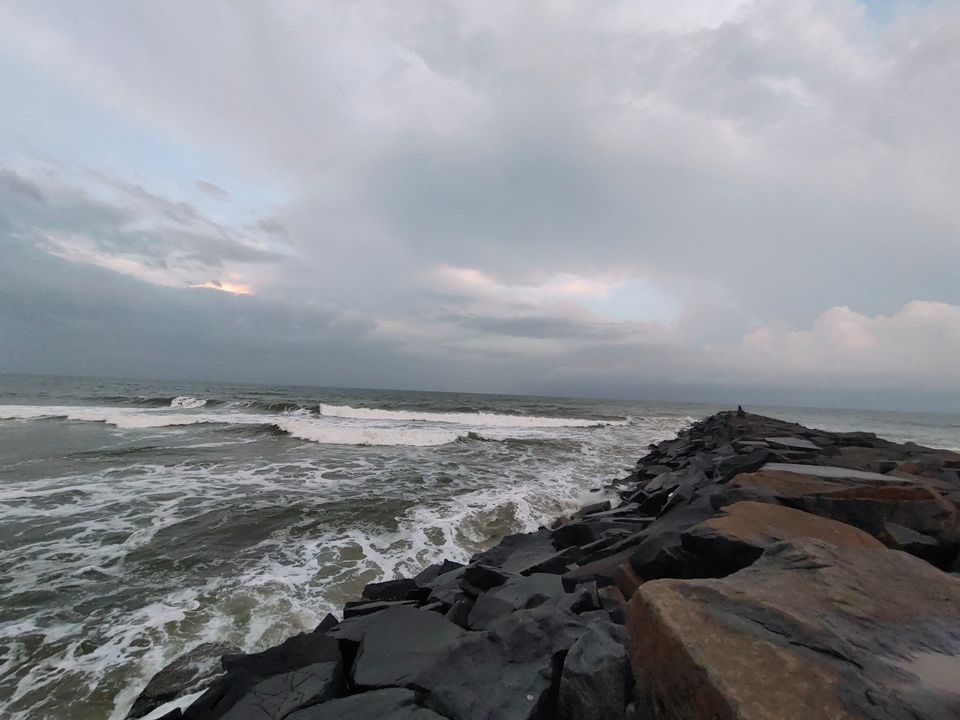 3. Auroville:- This is the most peaceful and scenic place with a must visit to Matrumandir which is a meditation hub. You can park your car in the parking lot for Rs 50/- and collect the free entry pass at the entrance. You have to trek for a short distance to reach Matrumandir but buses are also available for the same route. It is advisable to trek as the beauty of the green surroundings is something you can't miss. You are not allowed to enter the Matrumandir but only to watch from a distance. This place has eateries and shopping outlets as well. There is a auroville beach at a short distance but it is way too crowded.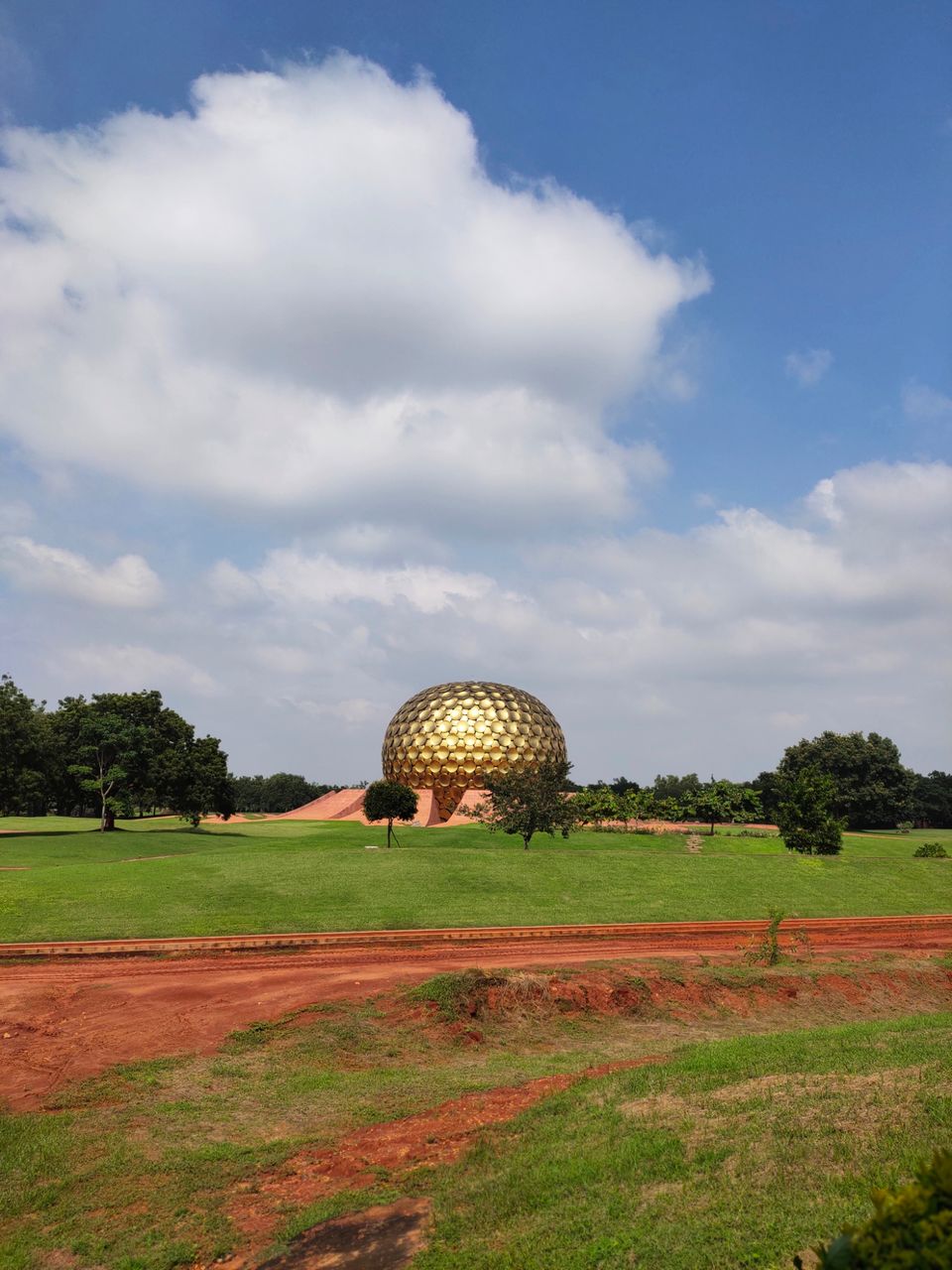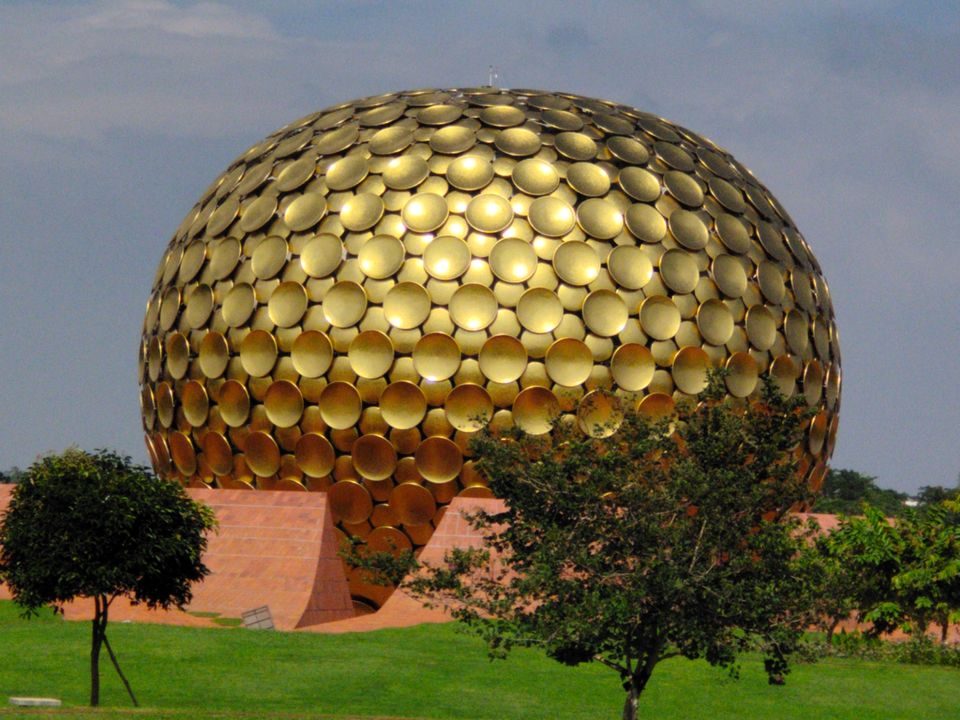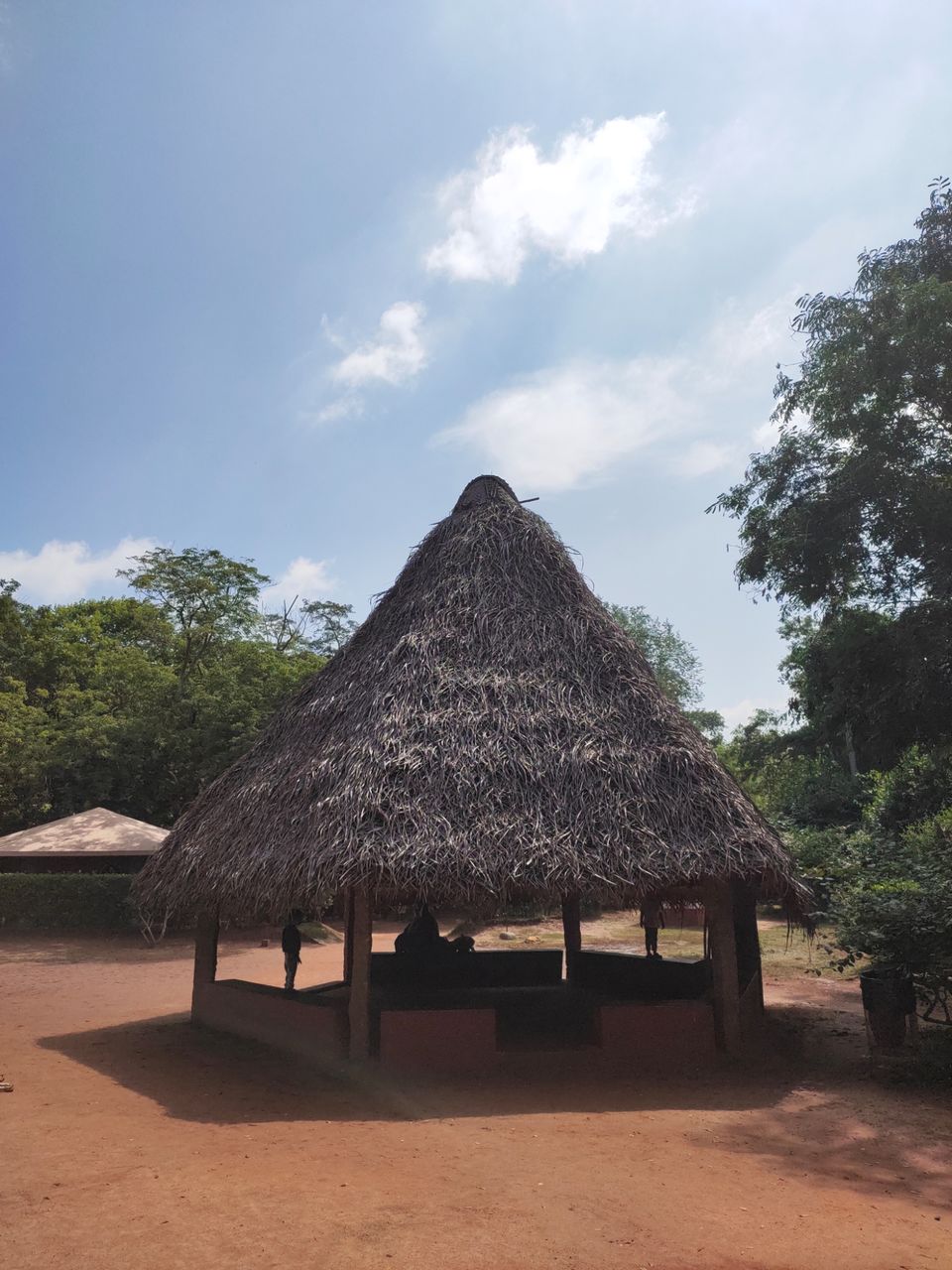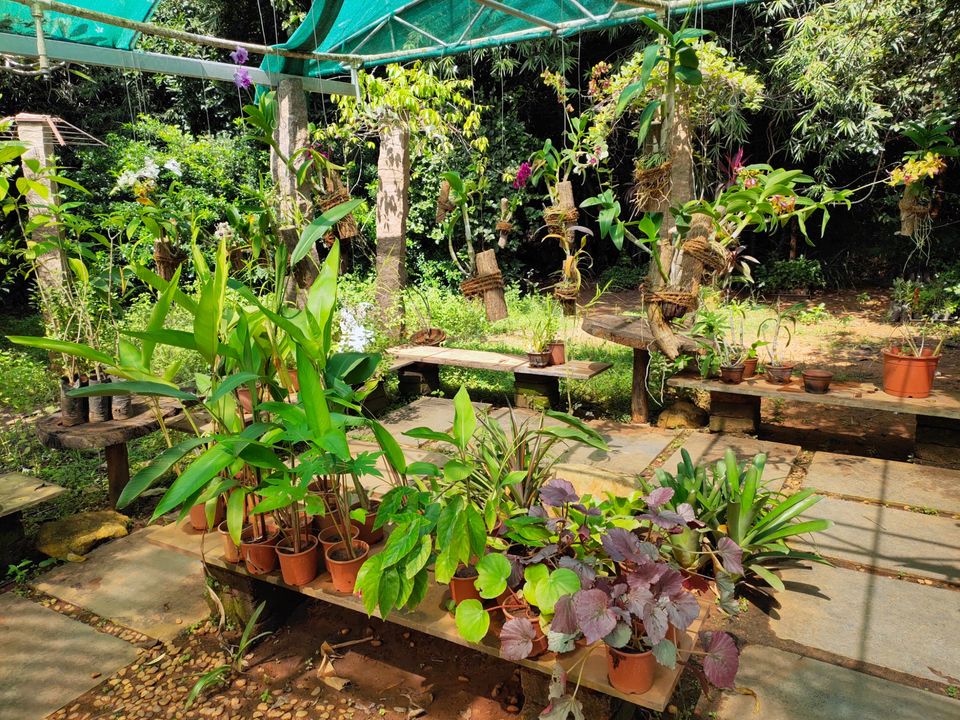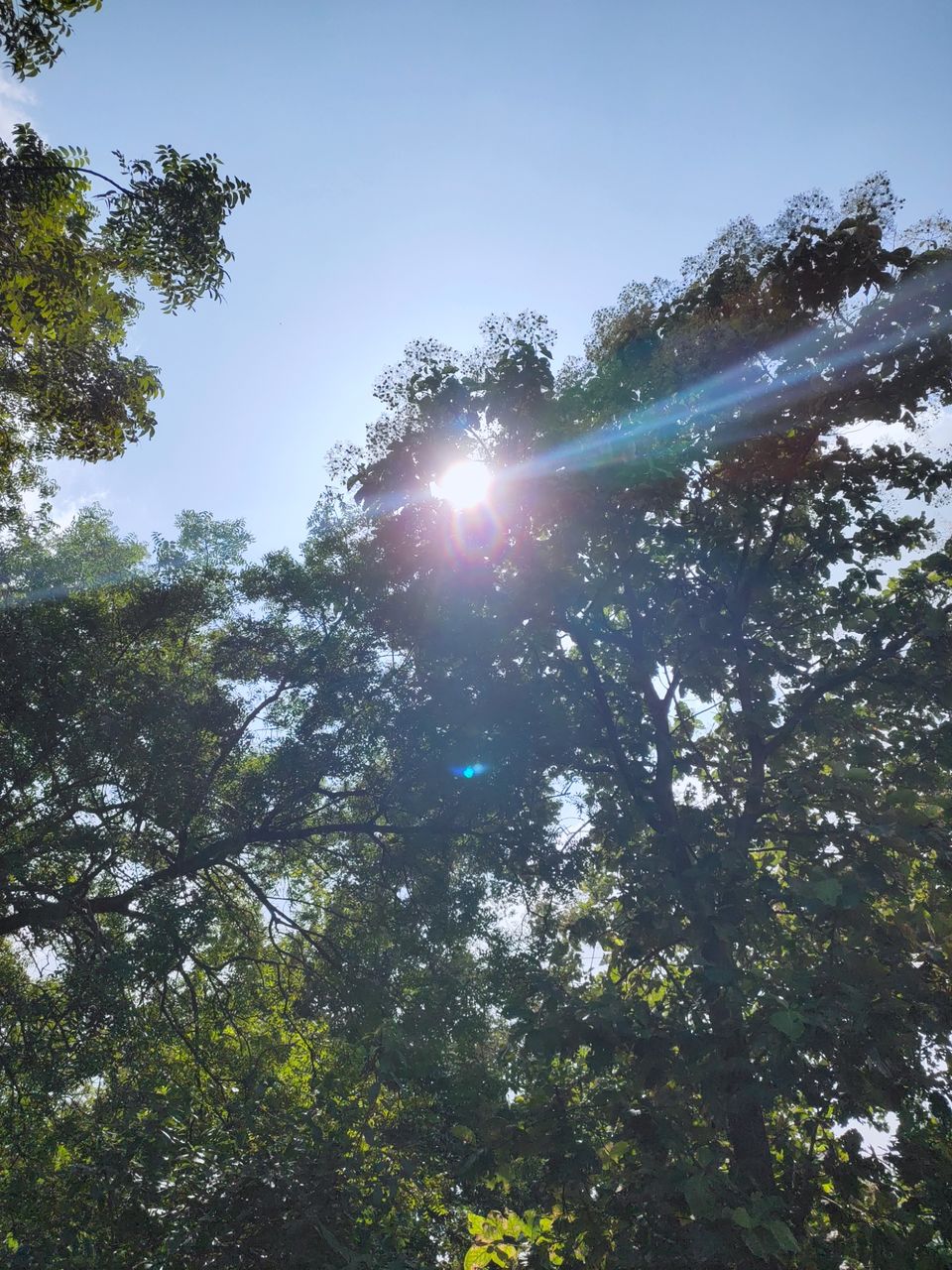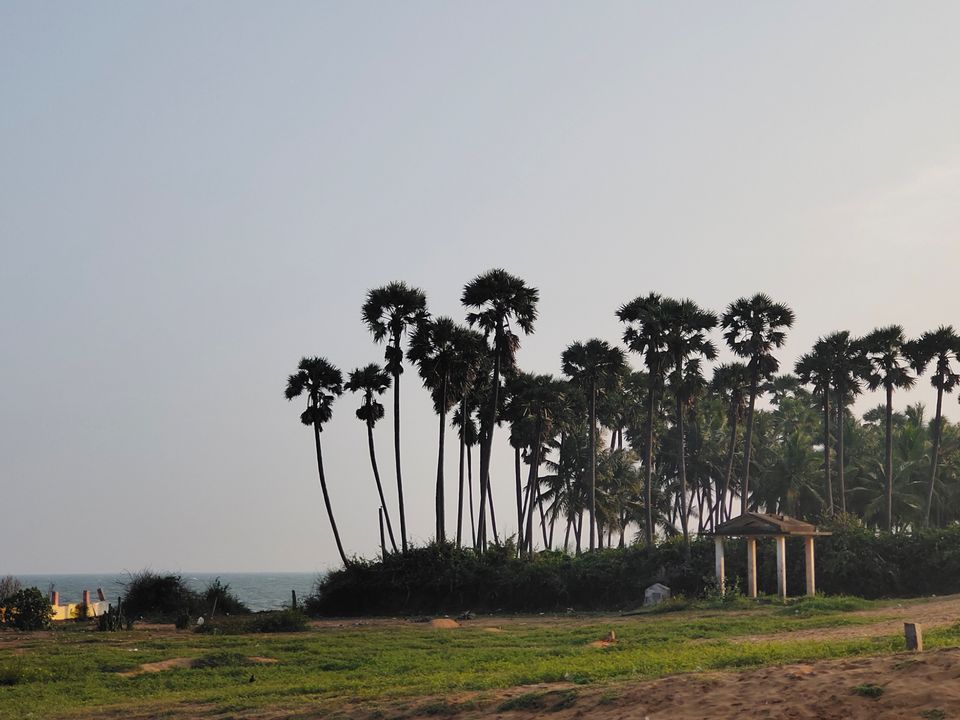 Overall, Pondicherry will give you an unique experience and feel of South India. But don't expect the entire Pondicherry to be as White Town. White town is only a part of Pondicherry and it doesn't represents the entire city. Outside of the white town, you will find the normal Indian street and lifestyle where traffic rules are violated, littered streets and hawking zones. Also, don't compare Pondicherry to North Goa as this is more of a cultural trip.
Happy touring!!