Finally,after many many years, a plan got made to visit the quaint little sea town of Pondicherry. Having always heard about the very French town of Pondi, me and the kids with the grandma in tow, made it there. An early morning flight to Chennai and then a two and half hour road trip later, I was in Pondi. First impression- oh my god ! I am surrounded by Tamilians... ok!ok ! I am also a Tamilian but this was crazy. Chennai- the airport and arrivals - noisy and hot.. and Pondicherry city- noisy and hot. The road was fantastic - we came via the Villapuram by-pass and it was a fantastic road.
Checked into our hotel- The Accord Pudducherry ( as pondy, is now officially known as ) and we were exhausted. Now Pondy, is all of just 10kms in a circular radius. And this was new Pondicherry- so it was totally Tamil and no French. In the evening, we figured out how to reach French Town and it simply blew us away. Beautiful villas and buildings, relatively quiet and clean roads, and an amazing Promenade ( also know as Goubert Ave ) .. the sea beyond,splashing on the rocks and a road closed for traffic every evening - it was the stuff I dream of a holiday. It seemed everyone in Pondy was there that evening, yet you could find your own space of peace and quiet. Since we were tired, we just walked around a bit and on my son's insistence came back to the hotel for dinner.
Day 2 - I finally figured out the Ola's are available in Pondy and we took a cab down to Auroville. The entire trip to Pondy was worth it after visiting Auroville. Now anyone who knows me, knows I am a non-believer in God but Auroville isn't about God. It's about finding your peace in what makes you happy. Everyone who goes there finds their own worship. The Matrimandir is surreal ... with sprawling lawns and an amphitheater. The 1.5 km walk to the Matrimandir was literally through a forest - with the most amazing Banyan tree formation I have ever seen. It is supposed to the the geographical center of Auroville. Its easy to move around in Auroville - you can walk or cycle or even take a complimentary bus. After many photo's and oooh's and aaah's we came back to French town and strolled into a cute little pizza place. The evening was even better- Serenity beach.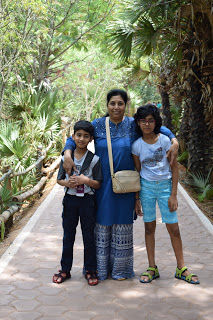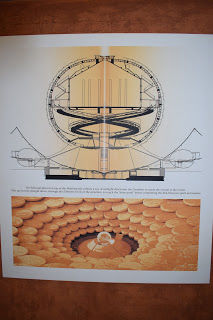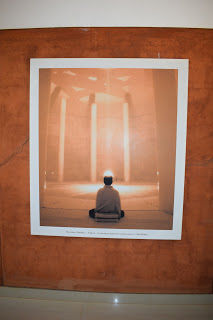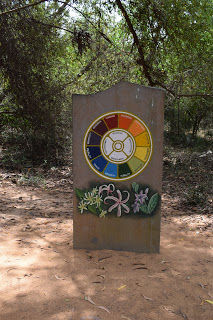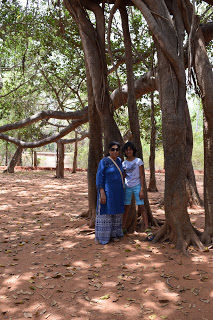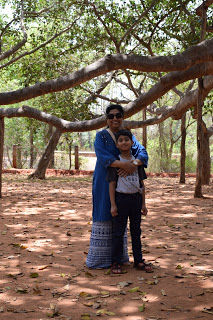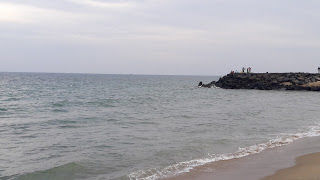 Now Pondi isn't a beach town. It's not Goa. Serenity beach isn't Candolim lined with shacks. Its just a little beach with waters nice enough for a splash. The kids went totally ballistic. Finally it seemed like a holiday to them !!! Vivaan even visited the Ganesh temple in French Town - he was absolutely fascinated by Laxmi - the resident elephant giving him blessings. In face he went there twice.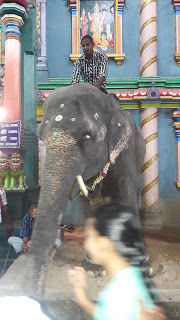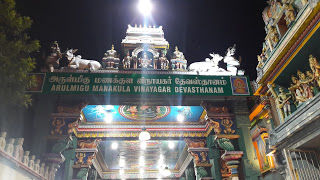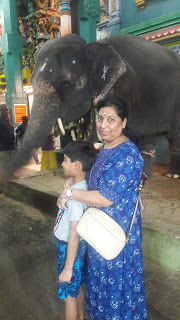 Day 3- Back to French town, we explored the Aurobindo Ashram which was just a quick 10 minute trip for us and then we explored French Town on a cycle rickshaw. The world seemed to travel back in time that afternoon - life was a tad slower, a little more scenic, a step back and breath short. We soaked in the most beautiful part of Pondy - the world war memorial, the Dupliex statue, the Immaculate Conception Cathedral -a beautiful Portuguese church with white and gold columns.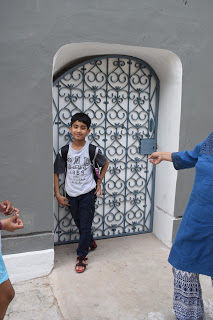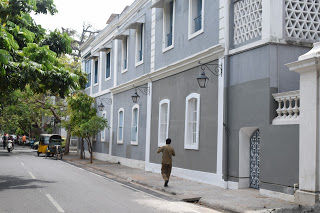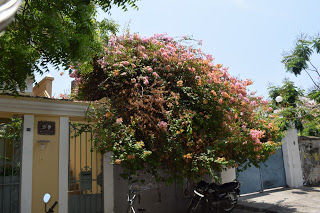 Our evening was again spent strolling at the Promenade, with the kids and their grandma having Chundal ( something with chickpea's and raw mangoes ), a pasta dinner at an open air sea side cafe and topped with Gelato's. Cést La Vie!!!!!
Pondi is great place to visit but keep in mind that it's not as French as we believe. The French influence is limited till French town and a Bakery called Bakers Town. The rest of the town is very Tamil and we were lucky to have my mom around, who thanks to the Tamil roots, was our translator. Else it is tough to get around. The auto guys take you for a ride on the price and almost refuse to negotiate. Use Ola's - much easier and less bumpy.
We spent about 3 days in Pondi which is ample. While we stayed in New Pondi, it makes sense to stay in French town - which is where most of the tourists stay. On our return, we took the famous East Coast Road - brief views of the sea greeted us once in a while. We stopped at Mahabalipuram to see the caves, Krishan's butter rock and the shore temple but even more interesting, was a visit to India's only Sea-Shell Museum. Owned by a private collector, it was absolutely amazing to see the many many varieties of sea-shell's. The icing on the cake, was however the fish pedicure, which at Rs. 100/ per person was a steal !!!!!!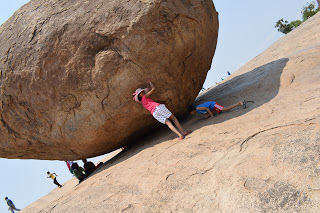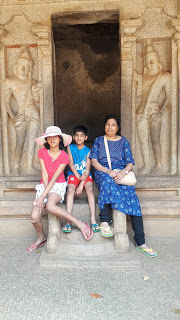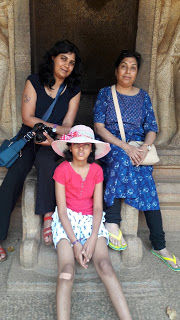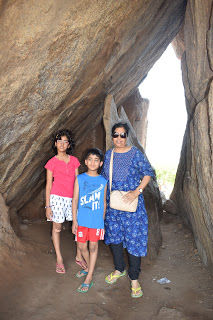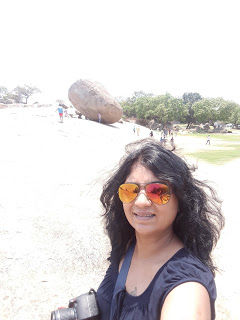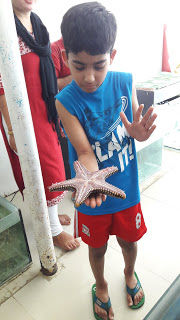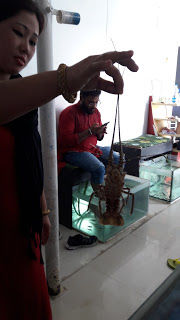 We stayed a day in Chennai before coming to back - after almost 20 years Chennai is still the same !
Pondi is a great place but for about two to three days. It makes for a great place to just do nothing - I wouldn't mind spending sometime again there - with the sea and a lovely Promenade for a walk, its a lovely place for unwinding and forgetting about life for while.