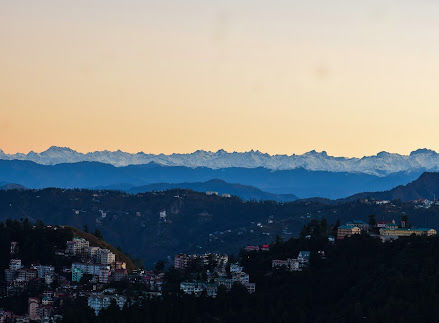 They say luck favours the brave.
Granted we didn't exactly brave a COVID pandemic to travel(nor should you if you value your life), or travel to remote locations 'where no man has gone before).
What we did do, however, is lug 5 unfit to semi-fit bodies that have grown accustomed to the daily comforts of lockdown life, over the course of two and a half semi-moderate treks all the way to Himachal Pradesh.
This is the true story of how we achieved that, hoping that our tale will provide inspiration for other newly anointed couch potatoes to let go of binge watching another season of money heist and take up the trekking pole and shoes and travel to unexplored lands.
It all started one fine October evening when we found ourselves at Sealdah station boarding a Rajdhani express. It actually started 4 months before that when we had to cancel our flight tickets and book the train courtesy budget airlines re-routing our flights resulting in a 2 hour flight being converted to an 8 hour one. Anyway, 18 hours later, we reached an overcast New Delhi Rail station. We had reservations at Backpackers heaven, a shabby establishment in the dirtiest of neighbourhoods in Paharganj providing decent service at a stone throw distance from the station. Here we learn, through repeated sms updates from IRCTC that our connecting train to Kalka scheduled to leave Delhi at 9pm was late by 4 hours and although the sms said the delay was 'likely to make up', we weren't convinced. This was especially problematic as the Rail Motor Express we had reservations on, was to depart Kalka for Shimla at 5:20 am and the Delhi Kalka connecting train was supposed to reach Kalka at 3:00 am. A delay of 4 hours would surely mean missing the train to Shimla, the sole reason we were going to Shimla. We immediately cancelled our tickets(the delay 5 hours at this point - the sms still reassuring us) and with the meagre refund booked tickets on the earliest HRTC bus to Kalka. We went for the government bus because despite the discomfort, Himachal Pradesh is known for its public transport which at least got us to Kalka on time. The helpful conductor even helped us unload.
Kalka is a small station straight out of the pages of a Ruskin Bond novel. Situated in the foothills of the Himalayas, a distinct nip could already be felt in the air when we reached at around 10 at night. The station was mostly deserted. We had planned to spend the night in the AC waiting room but the attendant there advised us to book the 6 bedded dormitory. For, 150 a bed, we were privy to the cleanest accommodation available for the night and the station master even assured us that he would wake us up for the train before his shift ends. Not that he needed to, though. We were already too excited to sleep that night and were lining up for photos by the train long before the scheduled departure.
The Rail Motor Special is a beautiful single coach train resembling the Magic School Bus from our kindergarten days. It has 14 seats and leaves at 5:25 am from Kalka and reaches Shimla at 9:50 am. It has a single stop at Barog, thus justifying the pricey 800 bucks ticket. On boarding we learnt that our co-passengers had failed to arrive, presumably all boarded on the Delhi Kalka express(7.5 hours late now, sms still reassuring that it will reach on time), and we had the entire coach to ourselves. We took full advantage of this unique situation sitting almost in every seat bar the drivers, luggage spread out over several seats, moving to whichever side offered the best view.
The 15 minute stop at Barog allowed us to have a hot cup of tea(coffee is hard to come by in Himachal as a coffee addict among us found out the hard way). Barog was probably the longest tunnel amongst the 103 on this route and had a sad history. The original tunnel was abandoned following an expensive engineering mistake by one Colonel Barog which ultimately resulted in him ending his life. The new tunnel was completed much later, the original abandoned. You are sure to remember this quaint little station and I decided that a stopover wasn't such a bad idea on some future trip to Himachal.
It had started raining by the time we reached Shimla and trudging up the slippery Shimla slopes proved to be quite a task. Not to mention the fact that our hotel lay in a remote alley guarded by what I assume are steroid infused monkeys. The manager told us that they still needed an hour to sanitise the rooms and in the meantime he decided to keep us entertained with stories about Himachal Pradesh. Well, stories would be an understatement, fairy tales are a better description for what he told us. Karma Bodha was his name and we later decided that he must have been high on his own supply of ganja/charas. His tall tales included brags about owning an apple orchard with an annual turnover over 50 crores, owning over 127 motorcycles; Himachal, as he described, was a socialist utopia where people are supposed to donate 60 percent of their income to the government and every himachali receives 2lakh rupees every year, there were apparently no crimes against women in the entire state and the subsequent morning when there was a dearth of water supply, he informed us that there were cobras living in the waterlines which he personally thrashed to death to guarantee our safety. Well he was either high or suffering from delusional disorder and we went with the less depressing diagnosis. At least the rooms had a great view.
We spent the rest of the day roaming around the Mall road and Scandal point. We had lunch a really beautiful cafe called 'Wake and Bake' and had terrible overpriced coffee at the Indian Coffee House. You can always count on The Indian coffee house to provide you with a disappointing cup of coffee no matter what part of India you are in. A gorgeous sunset awaited us as the clouds cleared slowly and we had our first taste of Himachali fruit wine - the cherry one tasting the best.
I went traipsing about the Mall early next morning with the intention of gaining early access to this great bakery I had read about online. Unfortunately, Shimla appears to wake up as late as 10 am as I was informed by a disgruntled yawning employee of Nathuram Lacchman Das sweet shop (famous for their milk jalebis) who seemed as surprised as he was annoyed that I had turned up so early in the day demanding their signature dish.
We were also attacked by monkeys twice near the Shimla Kalibari. The first, a failed assassination attempt when we were returning with our dinner; the second, a successful frontal assault in which they won over a couple of our snacks and a bottle of water was martyred.
We descended a steep flight of stairs to the Lakkar bazaar bus stand where we boarded a HRTC bus for Narkanda, about 2 hours away. Narkanda is the gateway to the Kinner Kailash region of Himachal Pradesh and during my visit there a few years ago, I was really smitten by this place. We hired a local taxi to take us to our homestay - The Hatu Valley Homestay, 2kms away from the town centre. The homestay lay secluded overlooking a lush green valley surrounded by even greener hills. The rooms were beautiful and we had an entire floor all to ourselves. The hosts were really hospitable and indulged all our demands and at the end of our stay even gave us a dozen free apples, the juiciest ones I've had since Kashmir. Sitting in the attached balcony, sipping on a hot cup of coffee and watching as the sun slowly went down setting the sky on fire to be slowly followed by the rising full moon was all anyone could ever dream of when planning a such a trip.
We started for Hatu peak at about 9 am the next day. Any plans of an early start was quickly abandoned once we experienced the morning chill. The trek was fairly easy along a pitch road albeit frequently interrupted by cars on the way to a local wedding. We reached the top at around 11:30 and 180 degrees of mountain peaks welcomed us. The Dhauladhar range was visible, as was the Rohtang pass, the ranges of Kinner Kailash and many I didn't even recognise. The view was worth the hike many times over. And although news of devastating floods in the adjoining state of Uttarakhand had reached us, all we saw was clear blue skies as far as the eye could see punctuated by clusters of snow white mountains. In our excitement we absolutely forgot to visit the Hatu Mata temple, the main attraction here for some, allegedly dedicated to the wife of Lord Raavan of the Ramayana fame.
The descent took longer than we had expected and were really thankful for the warm plate of maggi that awaited us at the end. In my travels to the mountains I've often found maggi to be the lifesaver no matter how high or remote the region. Another staple of the region that I really enjoyed was something called curry which goes really well with both rice and roti.
We could get no direct transport to Mandi, it being wedding season in the area, all the cabs were booked. We had to return to Shimla by bus and book a cab to take us to Mandi. It was evening by the time we reached the bustling city and decided to book a hotel Krishna right in the town square near the bus stand. We left most of our luggage there and boarded the bus for Prashar lake the following morning. We got off at Baggi and had a sumptuous breakfast at Krishna cafe where we met our guide, an elderly gentleman called Mr Manohar Singh Thakur.
Although I had read the trek to Prashar lake was not a hard one, I wasn't quite prepared for the jungle trail he took us through. The route was so steep at places that I was quite thankful for my new shoes and trekking pole. The path lead us through dense forests littered with autumn leaves and occasional valleys affording us a pristine view of the mountains. It took us about 4.5 hours to reach the lake. As our tired legs carried us inside the temple, the surrounding beauty mesmerised us and appeared to infuse us with energy. Unfortunately some bureaucratic nonsense prevented us from staying at the Forest rest house or the PWD rest house, the ones with best facilities and view; so we had to settle for a camp some distance away. Nevertheless, we were still treated to some of the best sunset views I have ever seen.
Also, when the weather forecast says 6 degrees, carry enough woollen, especially if you are planning to camp at night. Sounds pretty obvious but you'd be surprised at the number of lowlanders who underestimate the extremes of weather in the mountains. I even found a Paul Anka( the dog) look alike of the Gilmore Girls fame and couldn't help but go full Lorelai with him.
At the insistance of our camp manager we decided to trek to a place called Majhali Top the next day. Now I've found no record of this trek online and can only conclude this is one of those places known only to the locals but I highly reccommend it. There's no fixed road and at times the slope is almost 60 degrees but the summit is absolutely brilliant. Not just the unobstructed views of the mountains, we could see miles and miles of hills and plains all around and we got really close to the nesting ground of a group of bearded eagles who were hell bent on posing for us in every manner possible.
We took the bus on the way back and on reaching Mandi, did a bit of souvenier hunting for the journey back and decided finally on a couple of bottles of fruit wine each. The bus back to Delhi was a Volvo and I had no idea they were this beautiful with reclining seats and huge glass windows allowing one of the best sleeps I've had on board a moving vehicle (and believe me, I've had plenty). We reached Delhi on time the following morning and retired to the same Backpacker's heaven for refreshments before heading out for a quick excursion to the Red fort and Delhi-6.
This wasn't my first visit to the Red fort but I've got a thing for the Mughal era and I loved visiting it again. I even chipped in with ocassional snippets of information when the licensed guide stopped to take a breath. They even have museums inside now, unrelated to the mughals but informative all the same. Hungry, we ignored the blazing sun and had Daulat ki chaat, a refreshing glass of lassi, a bowl of Aslam bhai butter chicken and Shahi tukda before heading back for our evening train.
Our trip had a little of everything. Treks, food tours, historical component, religious flavour and even an unexpected bird watching expedition. Nothing better to kickstart the post covid era, hoping that we never have to stay cooped up in our homes ever again
Adios