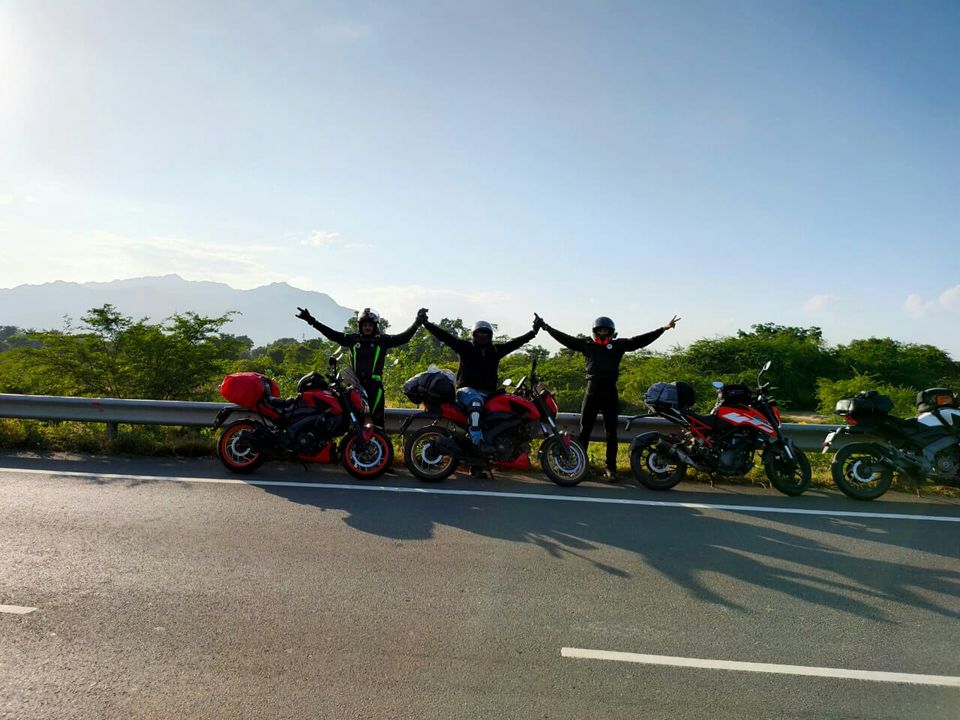 Night riding on unknown roads always makes me uncomfortable. We did that yesterday, and we also did it today...because of yesterday's mistake and a small accident.
The day began early as always when on the ride. At 7:30 am we rolled out and soon were covering up a good distance.
Our decision to halt at yesterday lodging turned out to be a great decision. Nathdwara was a decent city by size. As we were passing from the outer area we covered it in no time as there was hardly any traffic. But past that for many long stretches, we couldn't see any decent accommodation.
Small hills of marble and wild bushes with the rare sight of villagers were the only thing we encountered for the following 50 odd km.
In Mumbai, we are never far from a decent place to eat, and no matter what time of day it may be. But travelling through such remote places of the country and finding a place to eat in the early morning is a big task. Just more than an hour into the ride, we started to look for a place where we can get breakfast.
So. Around 10 we came to this big looking structure which was looking like a good restaurant. Didn't want to experiment with food so ordered paratha and poha. Poha was tasty so we ordered three plates. One which was being shared by Pankaj and Vinay.
Pankaj served half for himself and after eating a few spoonfuls of poha he discovered a dead cockroach. Till this moment we were done with our breakfast and were busy with our chores. Pankaj did not overreact as he has experience of working in the hotel industry and calmly went to ask the owner of the restaurant.
After a small debate, they asked the owner of the restaurant not to charge for any plate of poha which we. To which he obliged and the matter was put to rest. But I am sure the feeling must be there for a while, as I too had a similar experience a long time back. Such small restaurants in such a remote place hardly pay any attention to their kitchen maintenance or pest control.
We continued with our ride post breakfast. The roads were a nice two-lane highway with rare traffic followed by six-lane highways. I was happy cruising on the 2 lane highway as I didn't have to push my bike hard given the condition of the bike. But as soon we hit the six lane, all my friends started to disappear into the horizon. I didn't want to make them late so I too picked up my pace.
The day was hot and the ride was boring as we were just riding and slowly traffic started to become dense as we were closing on to the pink city Jaipur. We got scattered in the traffic, Pankaj and Vinay went far ahead and Deepali and Inderjeet were left behind because of dense traffic. At some distance away from the riders behind me I couldn't see the couple in my rear view mirrors, So I halt my bike at one spot and decided to wait for the couple.
After good 15 mins of waiting, I was pretty sure something has happened, as it won't take them so long to catch up. Finally, they showed up in a few more mins. And my guess was right, Deepali had a small encounter with a vehicle carrying a heap of hay behind the tractor. Luckily she has by now become a pro how to handle the bike in such situations. She somehow managed to drop the bike after bringing it to halt, but till then the damaged was done.
She rode the bike till Jaipur in that same condition and we headed straight to KTM's service centre in Rambaug. The manager was kind enough to let us park our bikes in their bay. The damage was small so it didn't take too long to fix the bike. Meanwhile, we had a feast at this awesome restaurant called "EGG DEE". The restaurant's theme was based completely based on the egg. The interior and menu have the vibe of an egg. The food and service were great too. I will highly recommend this place.
Soon we headed back to the service center and were happy to see the bike was ready. We thanked the KTM staff and clicked a few pictures before we headed out for our final destination of the day. I can see that we were heading out to do one more night riding. Gurugram was still 180 kms but we had no option. One friend was about to reach Gurugram by flight from Mumbai. So we had to reach Gurugram.
Somewhere after the dusk riding into the dark hurdled by the tons of trucks, we entered Gurugram and had our dinner at this lovely Baba Bharti Dhaba.
Riding since morning, all tired, we reached our destination in Gurugram only to be tortured by the OYO rooms. We had booked three rooms but they booked only two. Vinay who had booked the rooms was following up continuously with them the whole day. Then finally they arranged for one more room from their end in another hotel nearby. It was 1 am when we all settled with everything.
Luckily it was a buffer day on the next day. I would request to please watch the video of this blog on my youtube channel.
Following was a layover day but I had a problem to fix. Hang on till next one.