A Ride to LADAKH
My name is Arun Singh. I was born in Jammu. Since 2013, I'm working in Chandigarh.
Biking and Photography is my Hobby.

Planning
I had been reading stories and blogs on Ladakh since 2009 and since then I have been gathering information about Ladakh to visit someday on bike. In Jul, Aug & Sept of 2012, I got 3 consecutive chances to visit Leh city through public transport. Though it was an official trip but it gave me a fair idea of Map, Routes, Road condition, Night stops, Best time go and Places of interest from Jammu to Leh which was barely 40% of the entire trip.

By 2015, I was all set for Ladakh with maps, all possible routes, night stops, filling station, things to carry, bike care and guidelines to deal with AMS and any uncertainty. So I planned and finalize the date based on the leave availability from my office and for my other friends. Got my leaves approved from Jun 13 -Jun 26, get my pulsar 150 (2012 model) set for the trip (already 45000 kms driven) with Michelin Sirac Street tires, new clutch plates and replaced valves. Unfortunately all my friends backed out just 10 days before the journey. So, I posted the dates on 'BCMTouring' and 'Facebook' and I got 2 unknown friends from Chandigarh and Ambala in just 4 days.

Name of The Co-Riders
Amarjit + Avneet (10 yrs. old son)
Sandeep + Mridul (12 yrs. old son)

Plan Execution

Day 1 | Jun 13
Chandigarh to Jammu
My shift ended at 3:30 am, reached at my room by 4:30 am. Went through the check list, loaded the bags, fastens the ropes and throttled for the destination exactly at 5:30 am.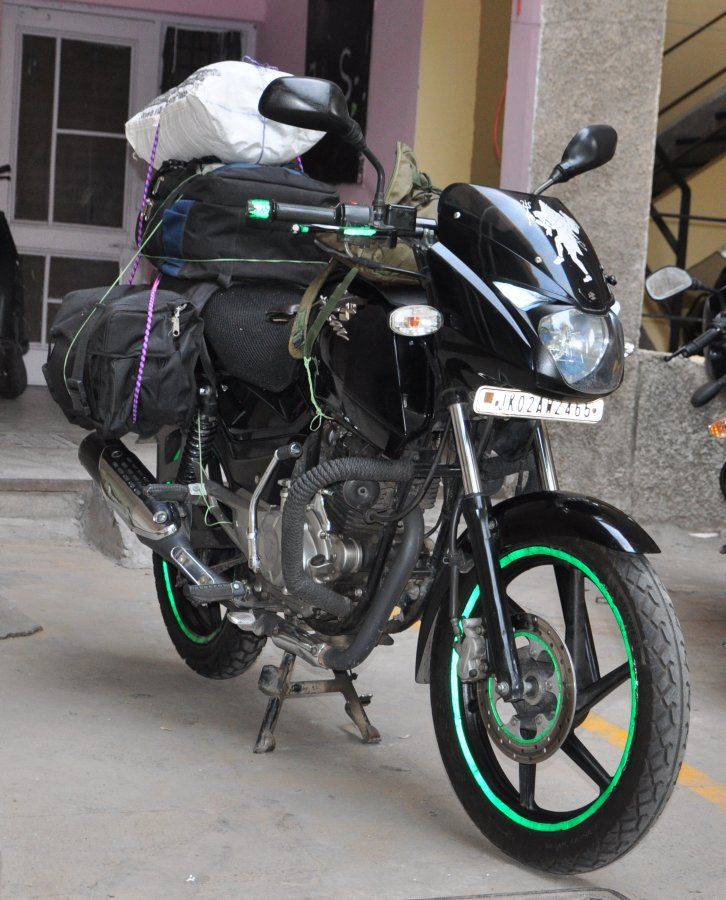 Rest of the co-riders was scheduled to meet me in Udhampur by next morning because it was a 7 hrs of travel so they wanted to leave after complete checkup as they both were riding along their 10 years old children.

Till Hoshiarpur climate was hot, it was sweating badly with riding gears but all of the sudden it started raining. Stopped my bike somewhere near Dasuya for tea break and wore rain suit. After crossing Kathua it was again a sunny day which forced me to take off the rain suit. Reached home in Jammu at 1 pm. Other members started their journey at 10 am from Chandigarh and reached Udhampur at 8 pm via Samba Udhampur road bypassing Jammu.

Day 2 | Jun 14
Jammu to Srinagar
Started my journey of 2nd day at 5 am from my home and other co-riders checked out from the hotel in Udhampur at 7 am and met me at roadside dhaba after crossing the city as scheduled.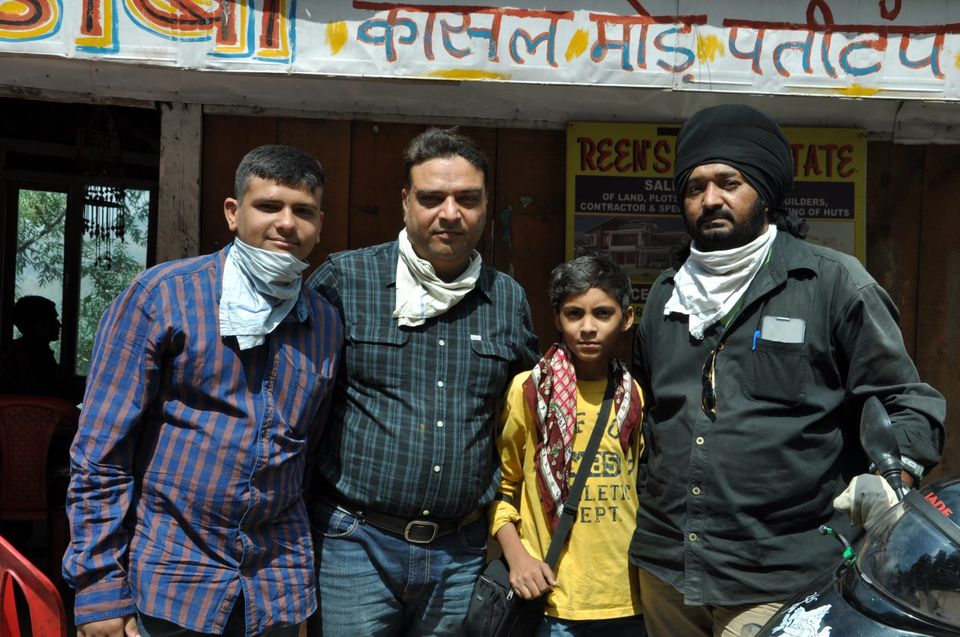 It was the first time we all get together on this trip (From Left: Mridul, Sandeep, Avneet and Amarjit). After intro we left for Srinagar. Till Udhampur road was awesome as it was newly built 4 lane national highway but after that road till Srinagar was totally different due to construction of widening the highway. After crossing Patnitop climate started getting hot, sweaty and road started getting dirty, bumpy and crowded. We took couple of pauses for tea, lunch and clicking photographs.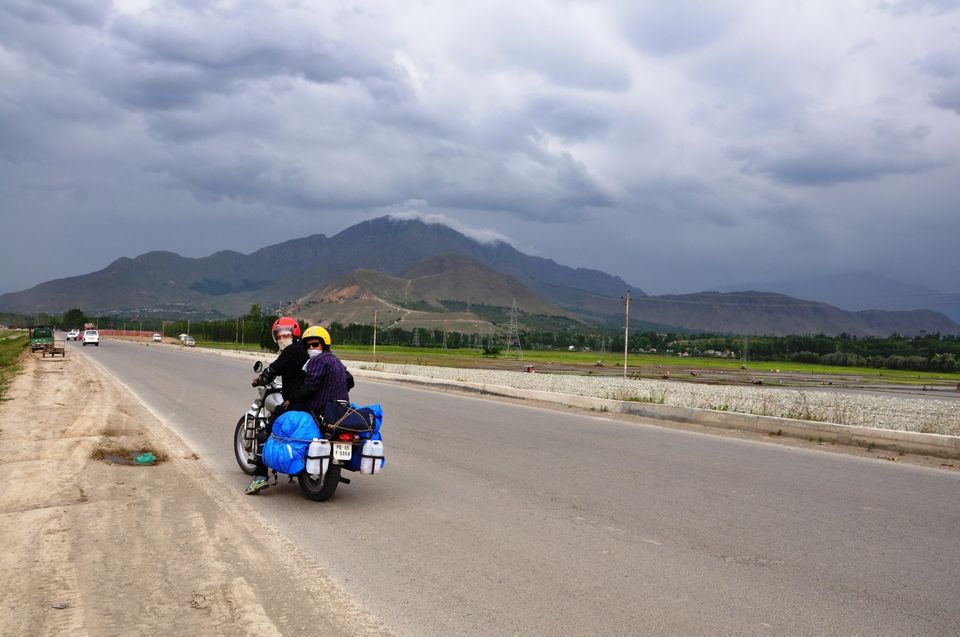 After crossing Anantnag it started raining and the semi constructed road covered with sand which made the worst composition for riding. Last 50 kms was like hell. Finally by 7 pm we reached Srinagar, all our rain suits, riding gears, shoes, bags and bike covered in mud. I went to meet my best friend in Ganderbal and stayed there, other members stayed in Shikara at Dal Lake.

Day 3 | Jun 15
Srinagar to Drass
It was a beautiful day after a heavy rain last night. View outside was beautiful, lush green fields, colorful mountains and the cool breeze. It was a perfect welcome for the day one could ever imagine. It was the first time on this trip I felt like I am in heaven. Then, I cleaned my bike, rain suit, shoes and bags with a piece of wet cloth. Had breakfast at my friend place and then tried to call my co riders but I was unable to contact them due to network issue at both end.

So, I decided to leave for Wayul and try to contact them from there. Finally after making so many attempts I got to speak with them and they said one of the bullet is not starting up and mechanic said need to replace the clutch plates and spark plugs and it will take 3 hours approx. and it was already 9 am so I decided to wait for them at the restaurant at the bank of Sind river near Wayul bridge.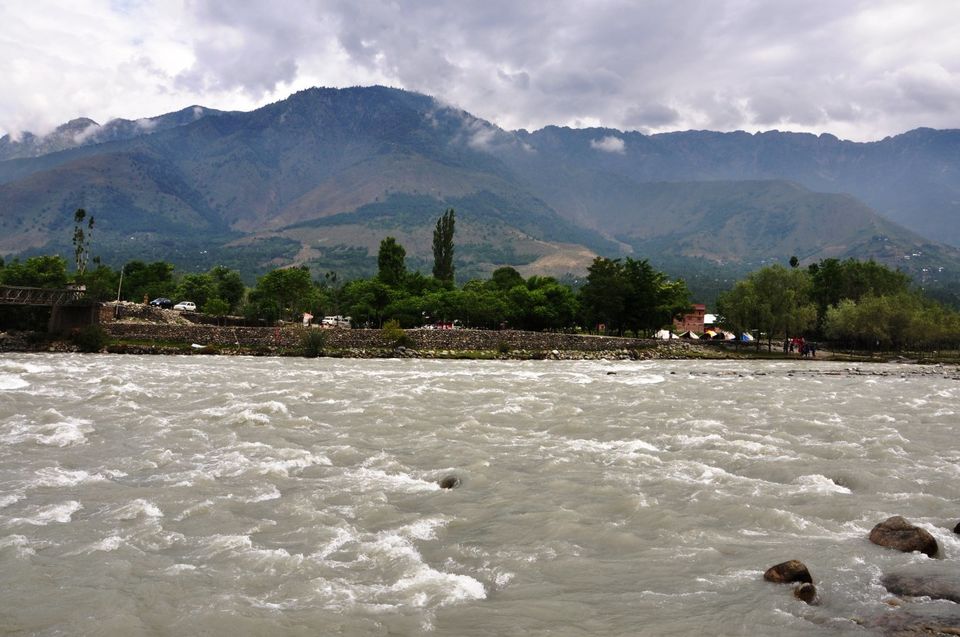 In the meanwhile, I enjoyed my time by clicking pictures at the bank of Sind river. They arrived there at 12:30 pm and then at Kangan was had a lunch. Then, we started ascending towards Sonamarg, Zojila pass by the time we crossed Sonamarg it started raining and suddenly felt a huge drop in temperature. It was the first time our hand started shivering, felt loss of power in our bikes and encountered snow by the road side.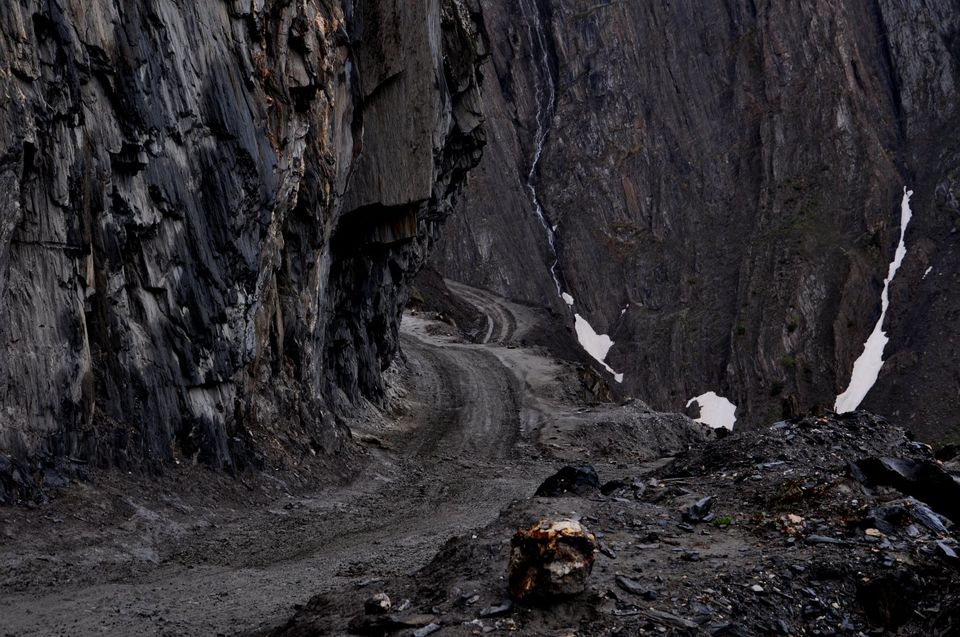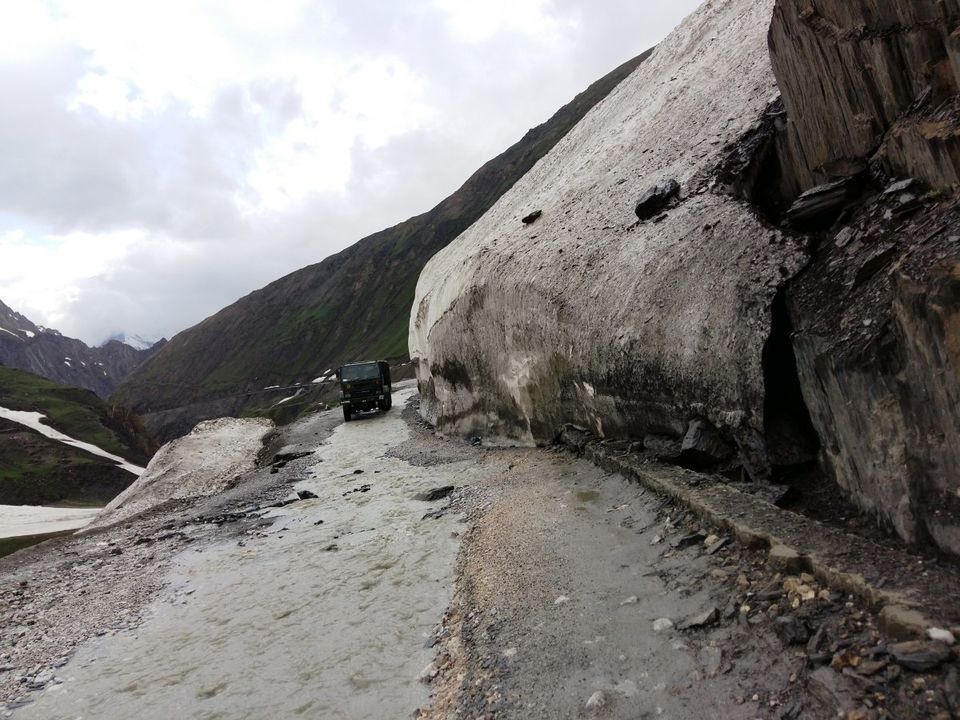 Road to Zojila was in terrible condition due to uncertain climatic conditions, riding through the stream of rain water like riding in the middle of the river, slippery lime stone, bumpy road and bike was hardly catching the speed of 15-20 kms/hr. for almost 5 kms of raise bike was in 1st and 2nd gear and then clutch plates started smelling badly. After crossing Zojila we entered in the different world covered with snow even in the month of June, huge crowed, people were enjoying skiing, snow motor biking. At Gumri check post we showed up the documents, license and marked an entry in the register.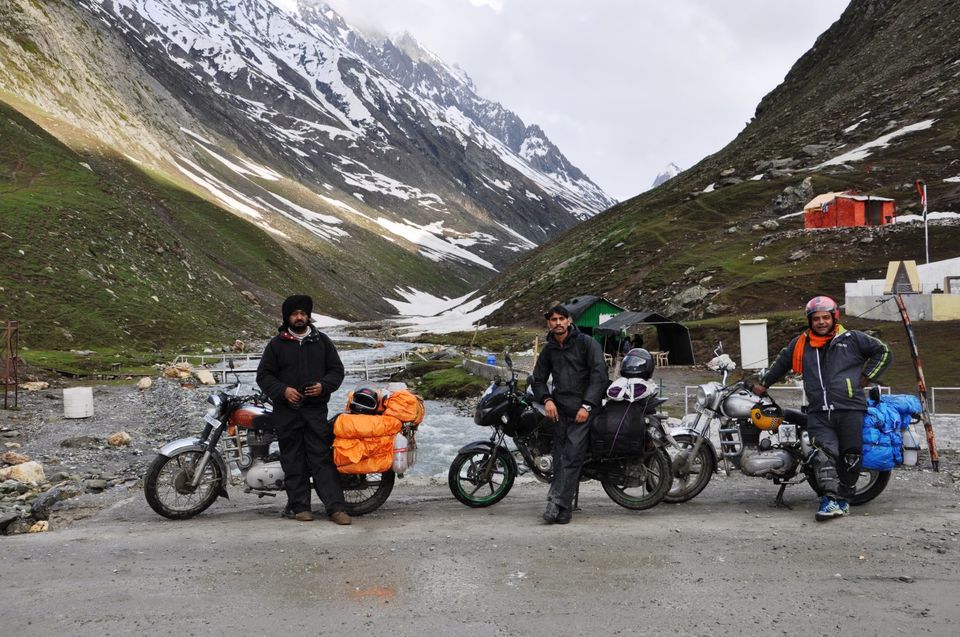 From Left : Amarjit, Me (Arun) and Sandeep.
Road from Gumri till Drass was not tarmac at all, it was all full of sand, pebbles and stones. By the time we reached Drass it was completely dark, so we decided to spend night in Drass instead of Kargil as planned. We booked a budget room with two double beds at Rs. 1000 for a night. Due to the power failure there was no electricity in the city of Drass so the only way lit up our room was a candle. Had dinner in the nearby dhaba and then glass of hot milk with one spoon honey (I carried along). It was very cold at Drass (2nd coldest inhabitant place in the world) I really didn't remember how many blankets did we use to get rid of cold night.

Day 4 |June 16
Drass to Leh
I woke up at 5 am and saw all the nearby mountains were covered with snow and it was heavily raining in Drass and we had to reach Leh by the end of the day which seems to be very difficult due to rain. Informed everyone about the climate and everyone decided to leave in the rain.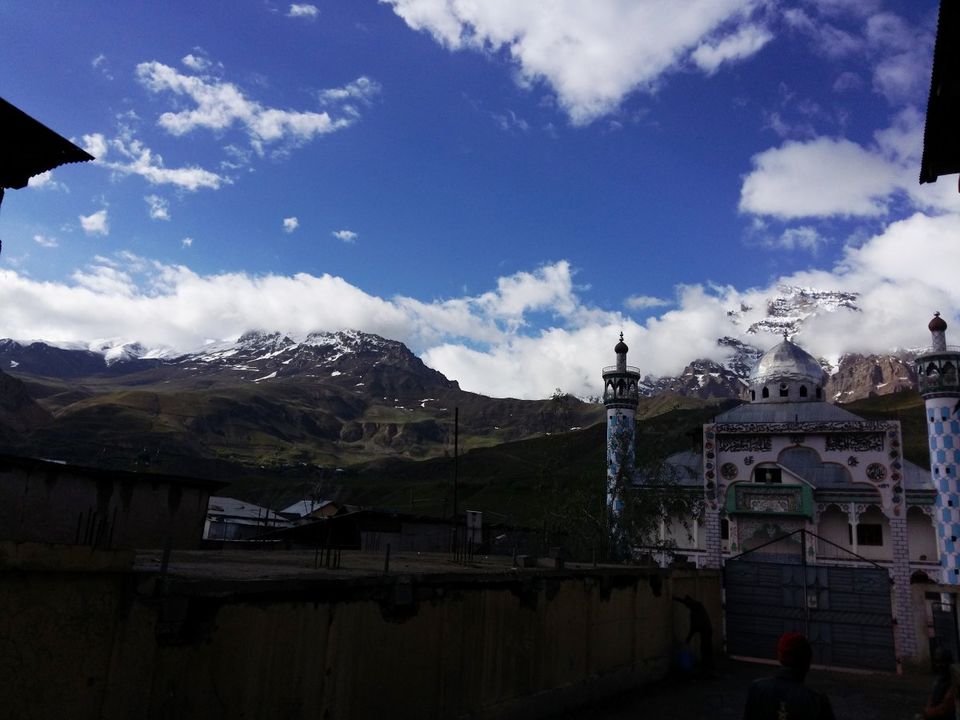 So, we packed up all our stuff, tied on bike and then had breakfast. Finally we left for Leh at 8 am which was already late as per the schedule. Stopped our bike at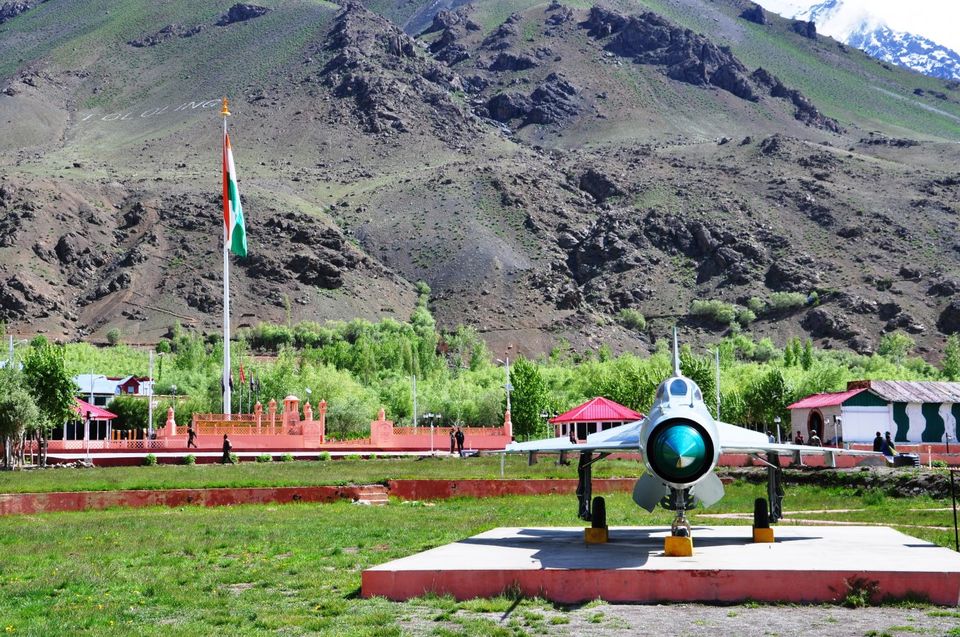 Kargil War Memorial for half an hour. It was really an important place and we all must pay visit to know the facts and truth about Kargil War.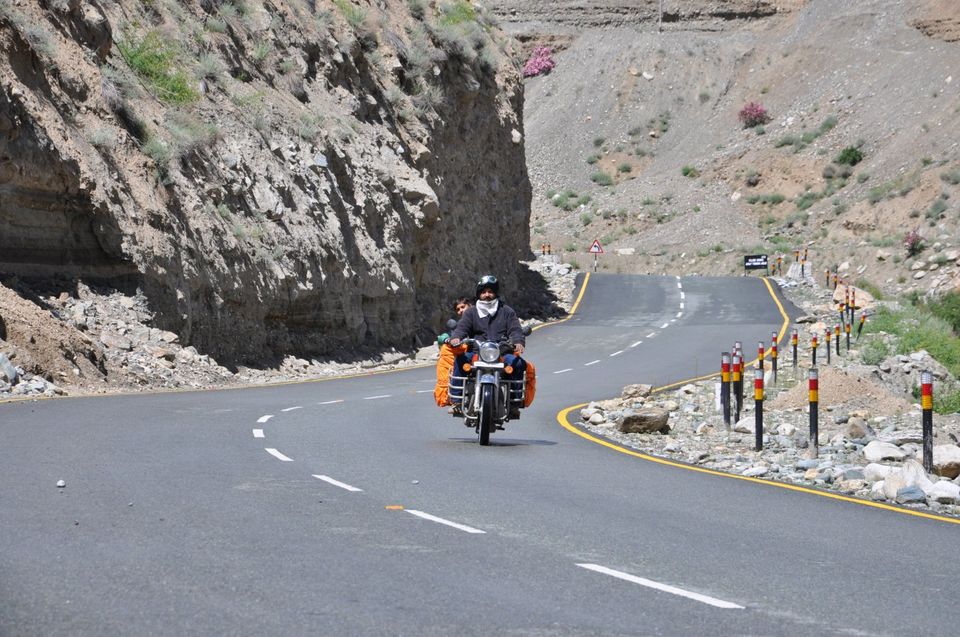 Road from Drass to Kargil was awesome without any potholes, dirt and well tarmac road with proper glow sign boards before every turn. Next stop was Kargil fuel station were we fed our bikes then started riding towards Leh, approx. next 30 kms again was very harsh with completely unpaved road.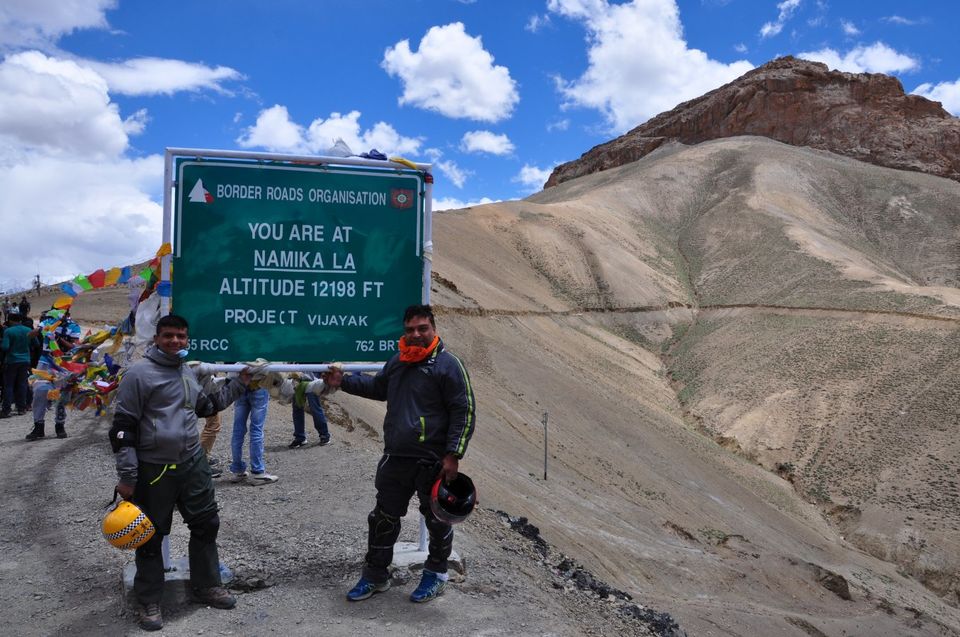 Then we reached Namik La and by the time we crossed Fotu la pass Avneet was hit by AMS (Acute Mountain Sickness) and was suffering from fever, body ache etc. Though we gave him medicines but it makes him fall asleep.

So, Amarjit asked for the lift for his son, from a group travelling till Nimoo in Bolero. Amarjit followed the Bolero and told us to meet at Nimoo Army station. We also reached Nimoo and till the time Amarjit gets his son a quick checkup at the Army medical booth and were provided with some medicines as well. After taking a short nap in Bolero and at medical booth Avneet was good enough to sit on Bullet for another few hours. Then, we had a stop at Magnetic Hill, Gurudwara Pathar Sahib and then drove non-stop till Leh. Reached Leh there by 6:30 pm, booked a budget hotel (1 room, 2 double beds at Rs. 1400/night), untie the luggage from our bikes and lie down on the bed. That was the hectic day of all of us.

Day 5 | June 17
Leh
Everyone woke up early in the morning and was fully charged apart from Avneet, his condition was getting worse. So after having breakfast, Amarjit went to admit him at "Sonam Norbu Memorial Hospital" for a proper care and treatment and rest of us went to the DC office to get permission for the trip and also went for some sightseeing (Leh bazaar, Leh palace,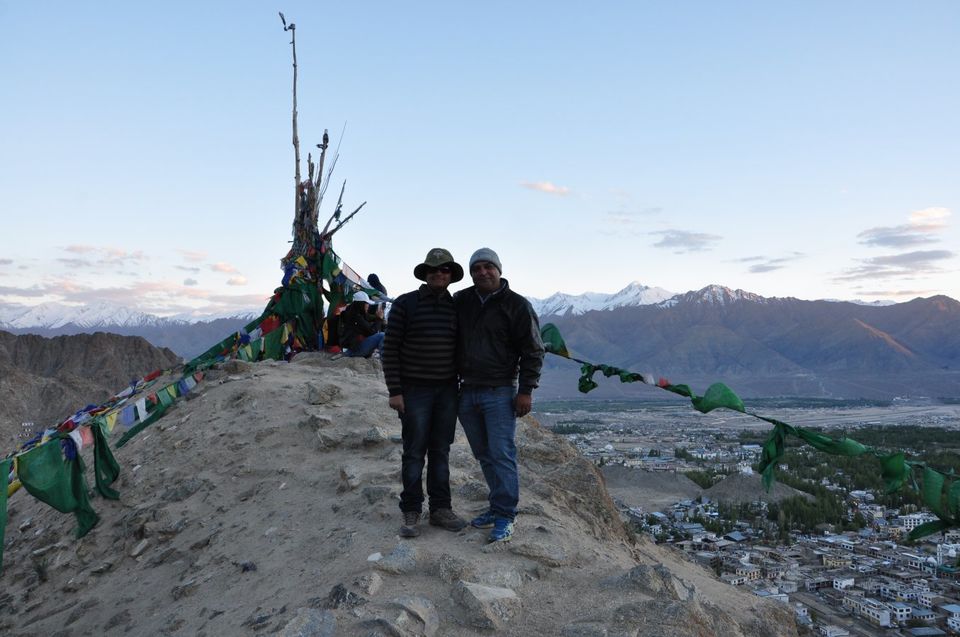 Namgyal Tsemo Gompa etc). Documentation was completed by afternoon then we all sat in the hospital.

Avneet was not well yet but we were hoping him to get well by the next morning and certainly doctors came on the round and said they need to keep him under observation for next 24 hrs and then we spent the rest of the day just by talking, thinking and planning in the hospital. After having a healthy discussion Amarjit decided to stay in the hospital with Avneet and rest of can proceed with the plan. As, it was an Amarjit's 3rd Leh trip on Bike (but 1st with his son) so he had already been to Pangong but not to Turtuk. Then, we decided to go to Pangong without Amarjit and Avneet in the meanwhile Avneet will get 2 days to recover. Then we left for the hotel at 10 pm. Had dinner and slept.

Day 6 | June 18
Leh to Pangong
Woke up in the morning at 5 am and got ready for the day. Packed and tied up all the important things on our bikes. Had breakfast and then went to hospital to meet Avneet. He was good now but was not feeling confident to go out on 8 hours of ride. Doctors said it was nothing serious he just needed some time to get acclimatize as it was his first experience at high altitude. They wanted another 12 hrs for observation.

So, only 3 of us left for Pangong at 8:00 am. At fuel station, we filled up the bike's tank and carry another 10 liters of petrol in the plastic cans. I was on my pulsar 150 with more than 15 liters of tank's capacity and carburetor of my bike was also set to the high altitude setting so I was getting average of 50+/liter. I didn't require carrying extra fuel. However, I again get the fuel top up at Karu which was 40 kms from Leh just to be at the safer end.

Road till Zingral was good but after that when we started ascending towards Chang La we realize too much loss of power in our bikes and the road was unpaved. To be very frank I felt more magnetic power while riding at Chang La in comparison to magnetic hill.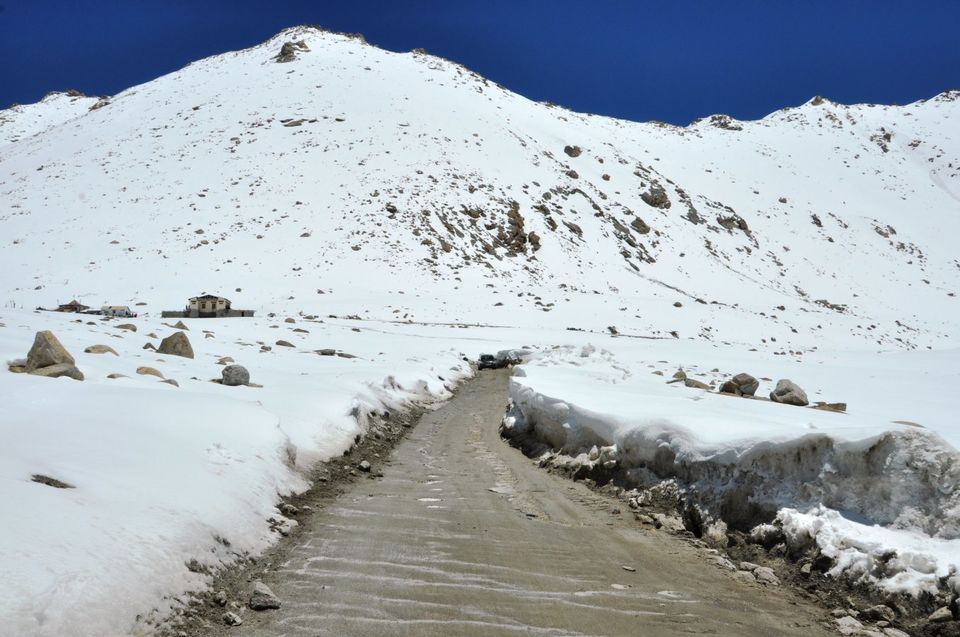 Once we reached at Chang La, we had some clicks in the snow then we stopped at Tsoltak Lake which was completely frozen in the month of Jun. After riding for an hour we were feeling hungry so we parked our bikes outside the restaurant at Tungste, had lunch and then rode towards Pangong.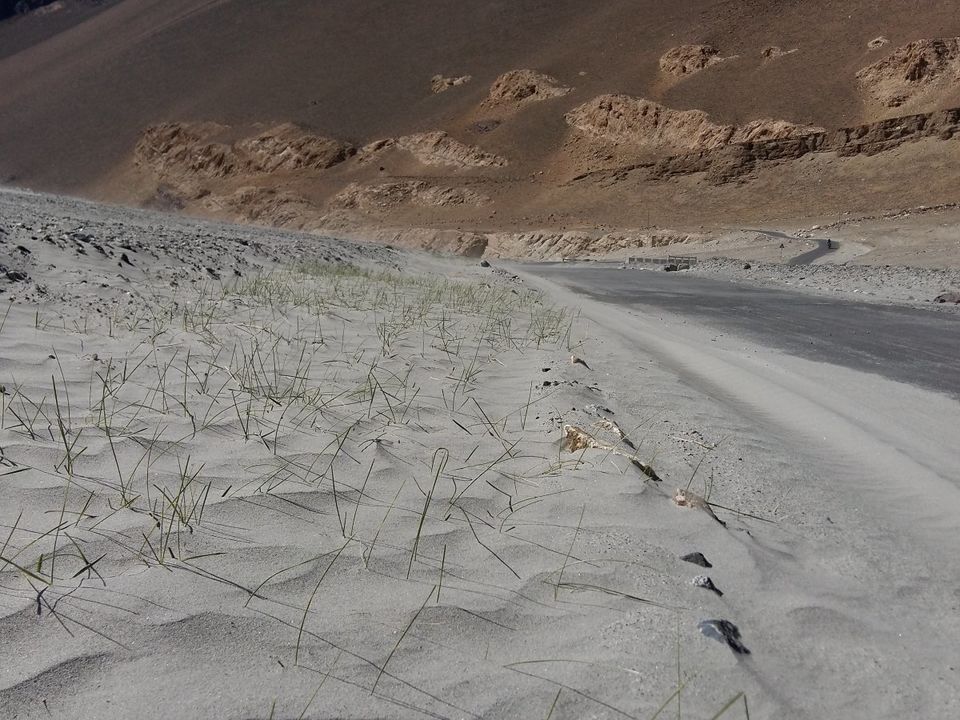 Road till Pangong crosses through white sand dunes and bikers must be careful about crossing through the dunes. As they cover the road sometimes.

We reached Spangmik at 2:30 pm booked a room at Rs 1000/night for all 3 of us.
It was a temporary room made of plywood facing towards the lake,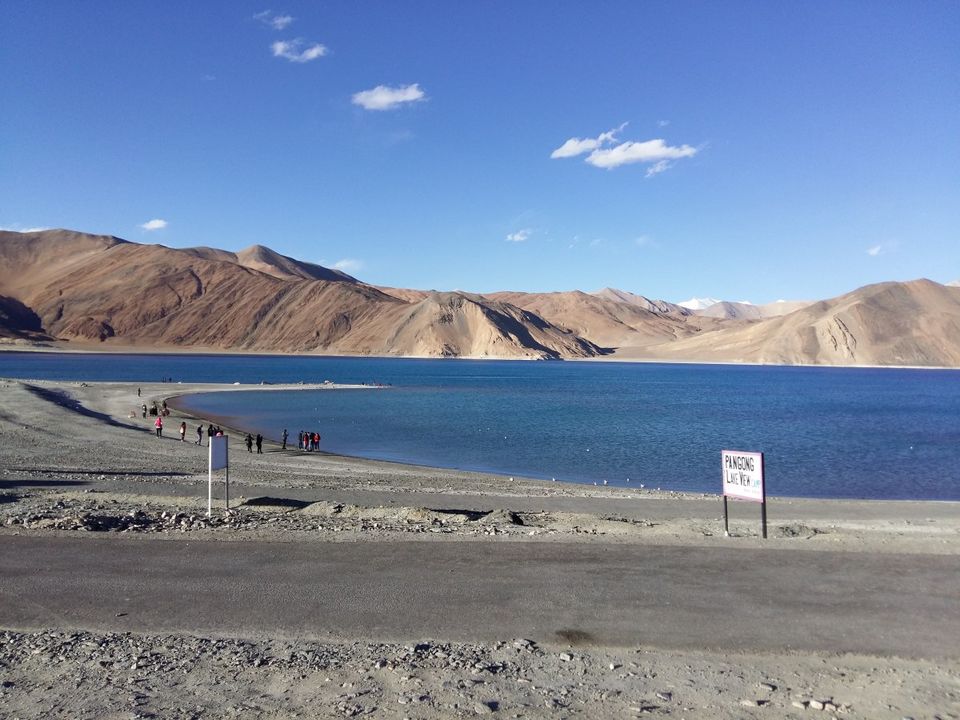 there were no beds but hot water facility was there which was most important. It was an awesome experience to be there and watching birds flying over the lake, icy wind, crystal clear water, colorful shades of the lake and the surrounded mountains would amaze anyone. Lake seems to be more amazing, more beautiful than it looks in a picture. We were very busy in clicking pictures and looking at the beauty of the lake till 7 pm then we had a dinner at the nearby restaurant and then went to our room. Sandeep and his son Mridul were completely exhausted and feeling low, they both had Diamox and slept but I was not ready to spend my precious time in the room at all.

Here, I met two new friends Sonik Madani and Vinod Dubria from Mumbai, were staying in the room next to us. They were also getting ready for taking picture of the lake during night. So, we stepped out of the room and started taking pictures of the lake at night. Though it was too cold till by then and we had to wear gloves and woolen caps to keep ourselves warm. After getting couple of long exposure satisfactory shots of the lake along with the Milky Way we went to sleep.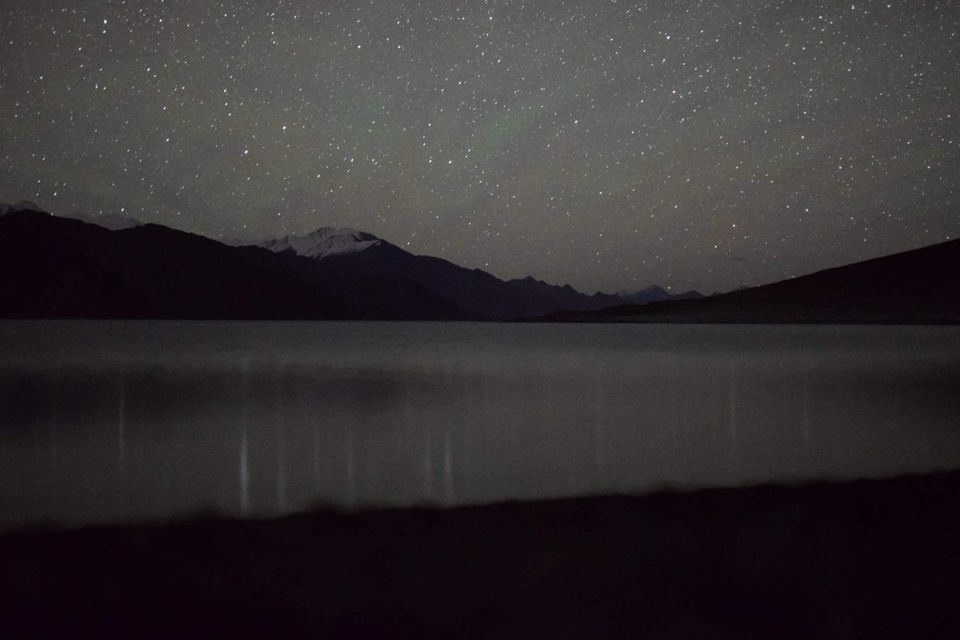 Day 7 | June 19
Pangong to Leh
As soon as the phone alarmed at 5 am and I was ready for the morning view of the lake but unfortunately both of my colleagues (Sandeep and his son Mridul) were down due to fever (AMS). So, I knocked the next door to call my new friends and started walking around the lake and clicking pictures of each and every moment we spent around the lake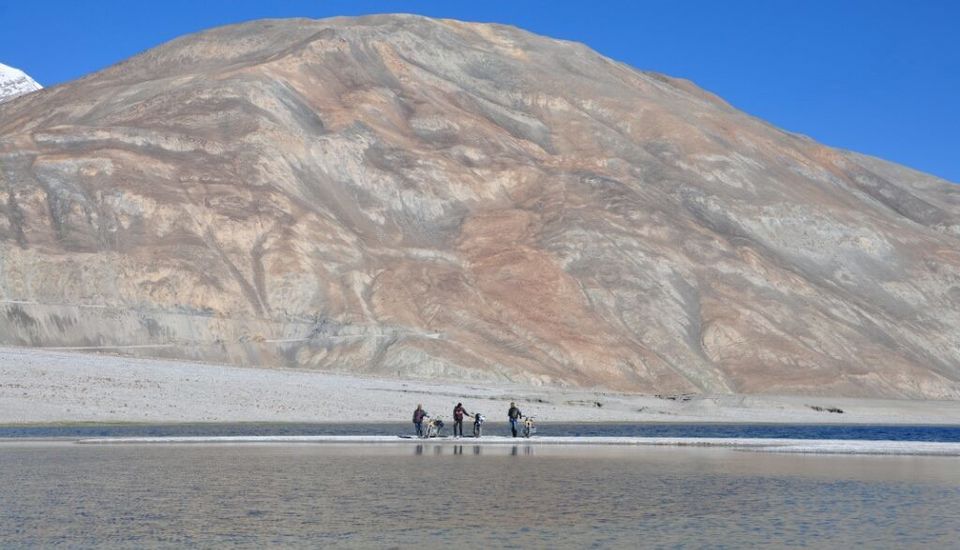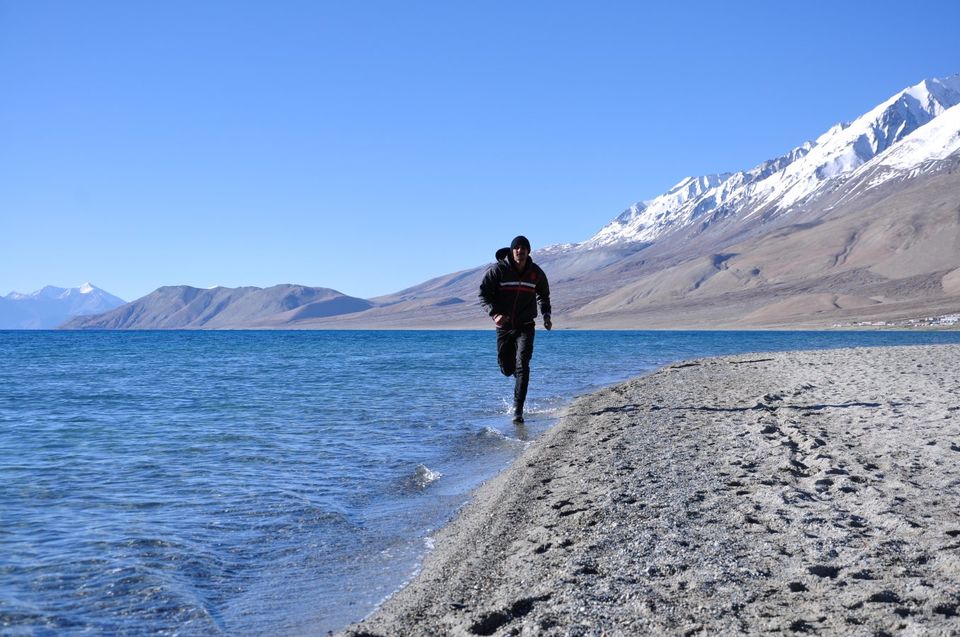 . Then we rode our bikes till Spangmik and back, clicked some beautiful pictures over there at "3 Idiots" location.  
At the room, my colleagues decided to go back in Bolero Camper and transport their Bullet as well which cost them around Rs 4500 (2 passenger and bike). So, I helped them loading their bullet in Bolero and they went back to Leh by 8:30 am.

I continued to explore with Sonik and Vinod, we had breakfast at the nearby restaurant and enjoyed few songs along with couple of people came from Goa and Mumbai on Bike and then we also rode back to Leh by 11 am. Till we crossed Durbuk everything was fine but as soon as we started ascending towards Chang La, I started feeling dizzy;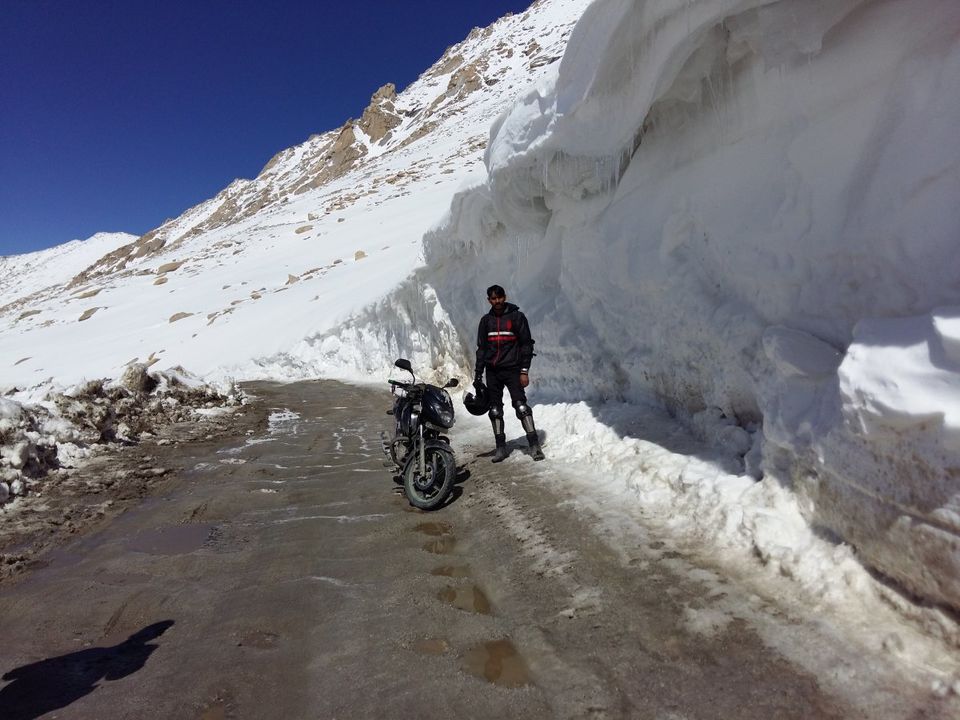 it was a symptom of AMS, so I stopped at the Army check post and had glass of lukewarm water which solved the problem for a while. Sonik and Vinod decided to have tea at Chang La restaurant but I wanted to go down as soon as possible so, I decided to continue riding and after just after crossing the pass a large piece of snow along with lot a of slush rolled down from the top and fell in front of my bike, right in the middle of the road and converted into water, the slush fell on me and my bike and there was Innova coming from the opposite side also applied hard braking to stop the vehicle. I believe, I was very lucky because I was on the bike and slush did not do any harm to me. I wanted to stop but it was an alarm for Avalanche so I was afraid and also feeling dizziness due to AMS so, cross the snow covered part of the mountain quickly and reached Zingral Army check post stopped my bike, then took a deep breath and waited for Sonik and Vinod. In the meanwhile I went near the army personnel asked for the glass of lukewarm water. They called me inside and told to take rest as I was sweating badly then they offer me a glass of lukewarm water followed by Kahwa (Almond & cardamom). I informed them about the incident happened at the pass so they told that they are planning to close the pass as it's the 3rd incidence of the day. After some time Sonik and Vinod also arrived and then we continued riding towards Leh. We reached Leh by 6:30 pm and I found all the 4 members who started with me from Chandigarh at the hotel room in Leh and everyone was up in a good condition and good to go for Turtuk by next morning.

Day 8 | June 20
Leh to Turtuk
We woke up in the morning and found everybody is fit enough to go to the next destination. Now instead of 3 there were 5 bikes which were going to Turtuk. We left hotel room at 7:30 a.m. and then went to filling station to get our petrol tank full then had breakfast at Punjabi Dhaba in Leh and left for South Pullu. At South Pullu Check post we stopped our Bikes and showed our permits. Till here road was perfect and we didn't face any kind of loss of power in our bikes but from here our real test started.

BRO continuously put efforts to maintain the road but still it was full of potholes, stream of water flowing down on the road which was partially frozen after a cold night and also started feeling loss of power in our bikes. We were pushing bikes in lower gears and trying to maintain the momentum. There were only 2 surfaces to ride on and those were mud or snow and both the surfaces were slippery and very hard to maintain balance, so one has to be very careful to ride in such conditions. Finally, we all made it to Khardung La (The highest motorable road in the world),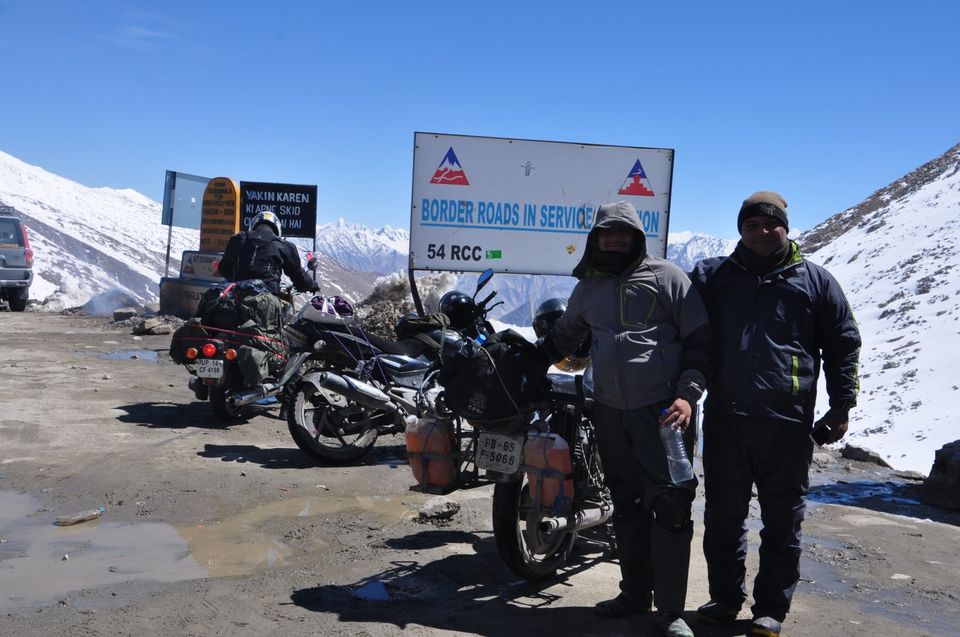 stopped there for almost 20 minutes and click some pictures and then drove towards North Pullu but the descend to North Pullu was even harder. Steep slopes, water streams and frozen layer of water on the road left no options for us to apply brakes; the only option for controlled ride was riding in lower gears. Road remind same for few kilometers and after that there was no snow or frozen layer of water on the road but it was untarred till North Pullu. At North Pullu check post we showed the ID's and permits again. One of the officers there was from Turtuk so he gave a visiting card of his brother who was running a Homestay in Turtuk. After that, road was in good condition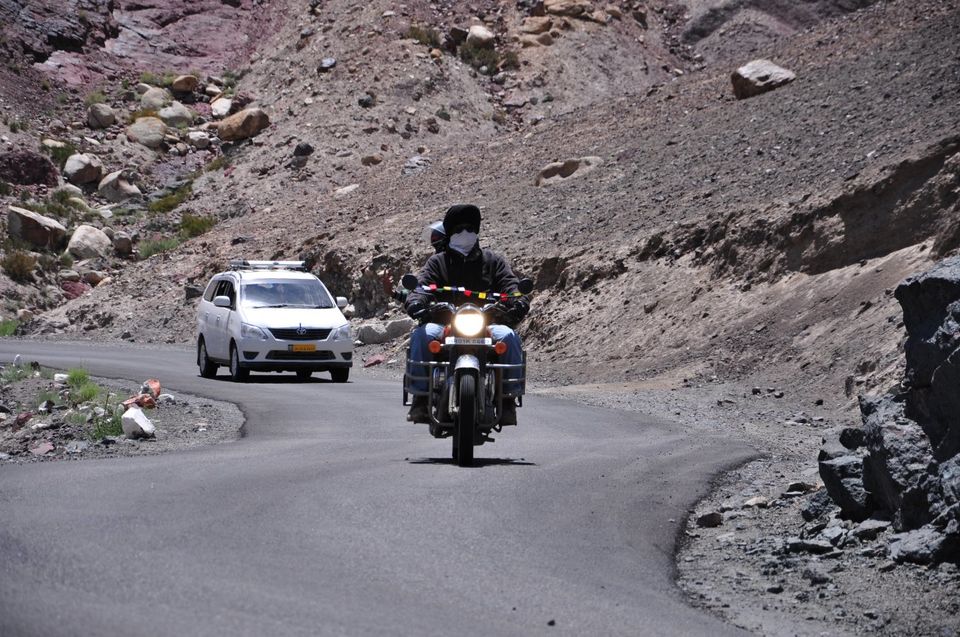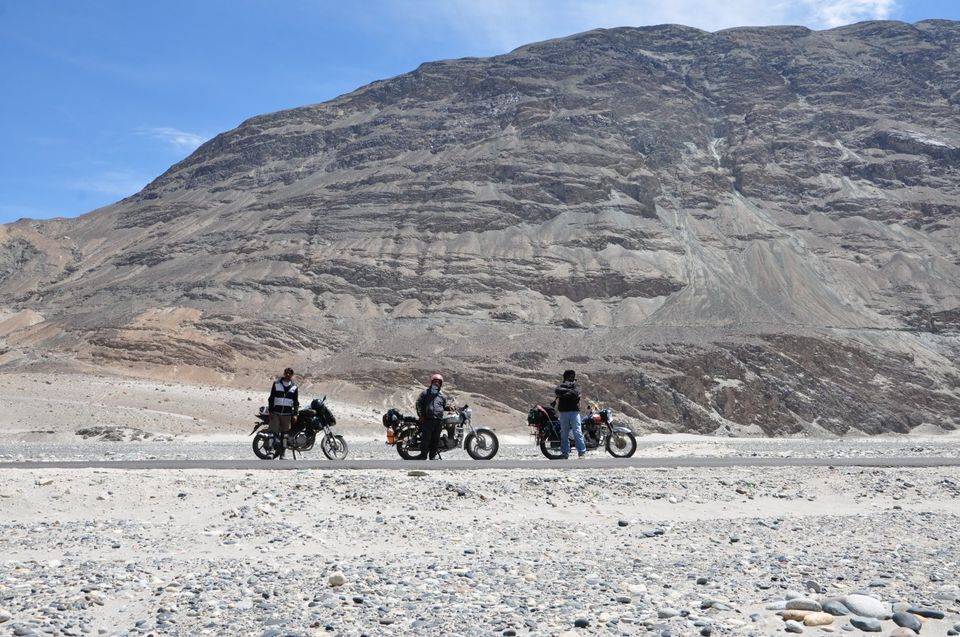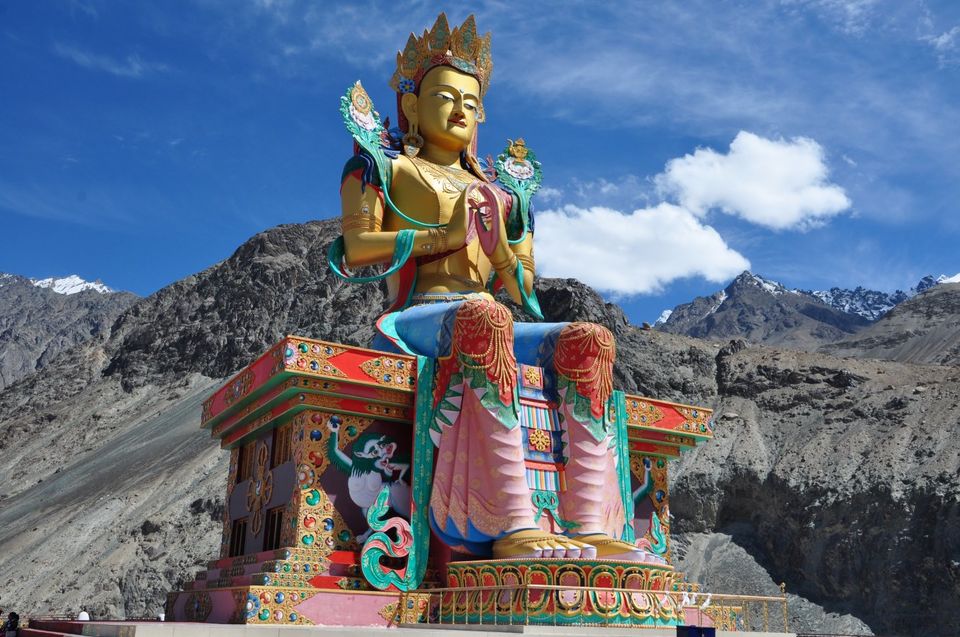 , we took a stop at Khardung village for Lunch, then we had some clicks on road between Khardung village and Diskit Monastery. 
After that we drove towards Turtuk, somewhere between Skuru and Bogdang a football size stone rolled down and hit the front tyre of Sonik's bullet and fell him down. Due to safety gears he didn't get even a scratch but yes his rented bullet lost its left mirror.

It was about 3:30 pm and water streams also started appearing. Crossed couple small stream of water and then we again made an entry at the check post which was 20 kms before Turtuk. While riding I noticed a mountain standing tall, shining and different from other, don't know the name of the peak.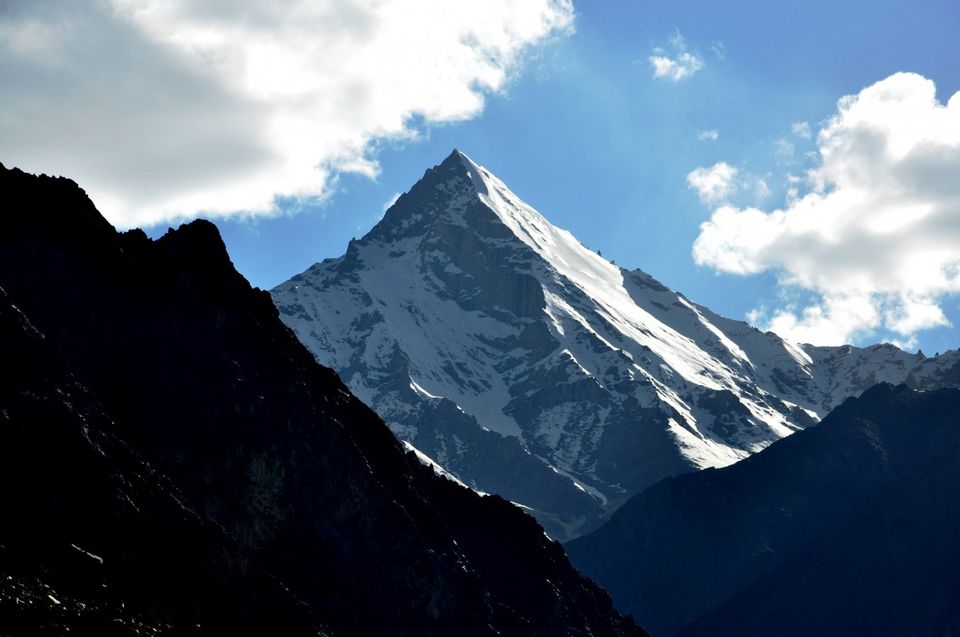 I tried to click the picture with the full zoom on 18-105 lens. Got a perfect click after making many attempts. After few kms we came across a heavy water stream which was divided into 3 parts at "U" turn around the mountain, we all safely crossed the stream and reached Turtuk by 6 pm. Called the no. on the visiting card given by the officer and booked a home stay at Rs 500 per person including food.

Day 9 | June 21
Turtuk to Leh
We woke up in the morning at 5:30 a.m. and then we all went for a morning walk in the village.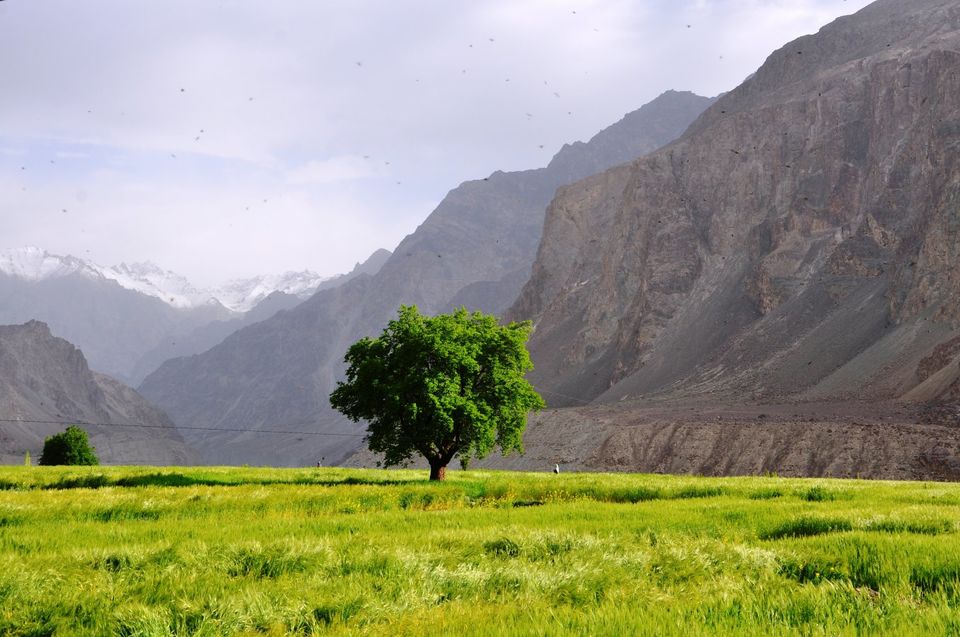 After sunrise we could see the actual beauty of the village and the Mountains situated at the other side of the border then we had traditional breakfast offered by the home stay owner and after that we left to see the last point of Turtuk which was an army check post 5 kms from Turtuk village. Spoke to an Army personnel, he informed that this location was captured by Indian Army from Pakistan in 1971 war then we headed for Leh.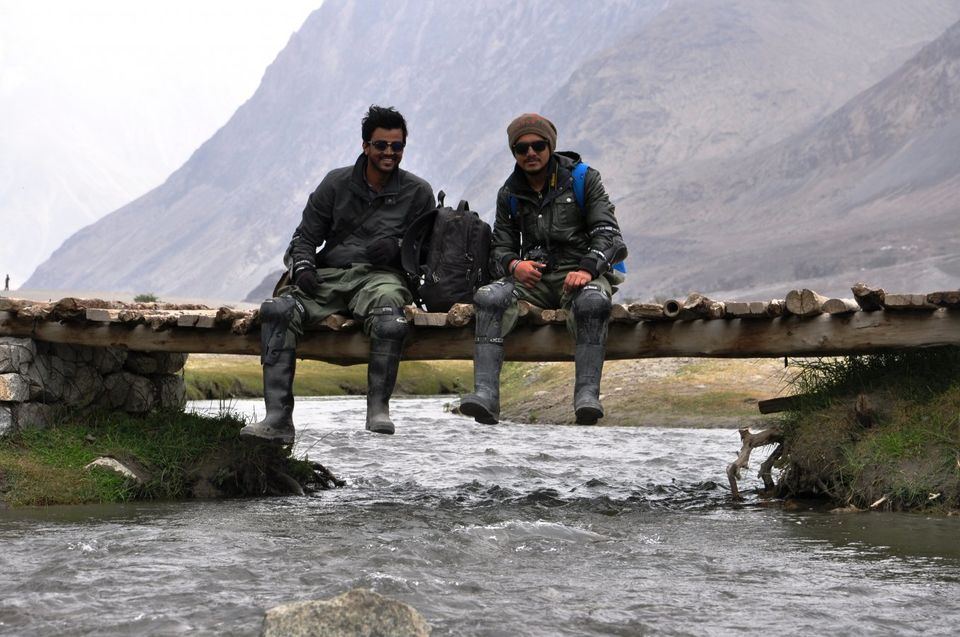 By the time we reached Hunder the climate was getting stormy. We stopped there for a while to click some pictures in the sand dunes and rushed for Diskit. Till the time we reached Diskit the climate wasn't harsh but the moment we crossed Diskit and entered in the plains there was a sand storm waiting for us in the desert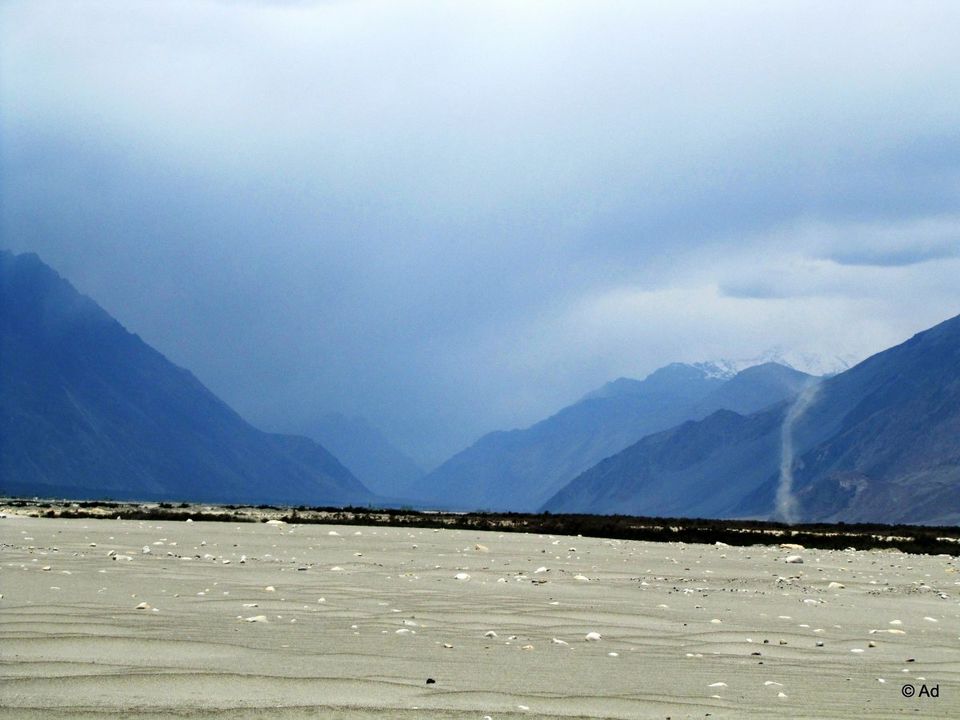 . This picture was taken by Amarjit who crossed the place just 15 mins before we reached here and saw this small tornado kind (on the right side) of thing getting powerful.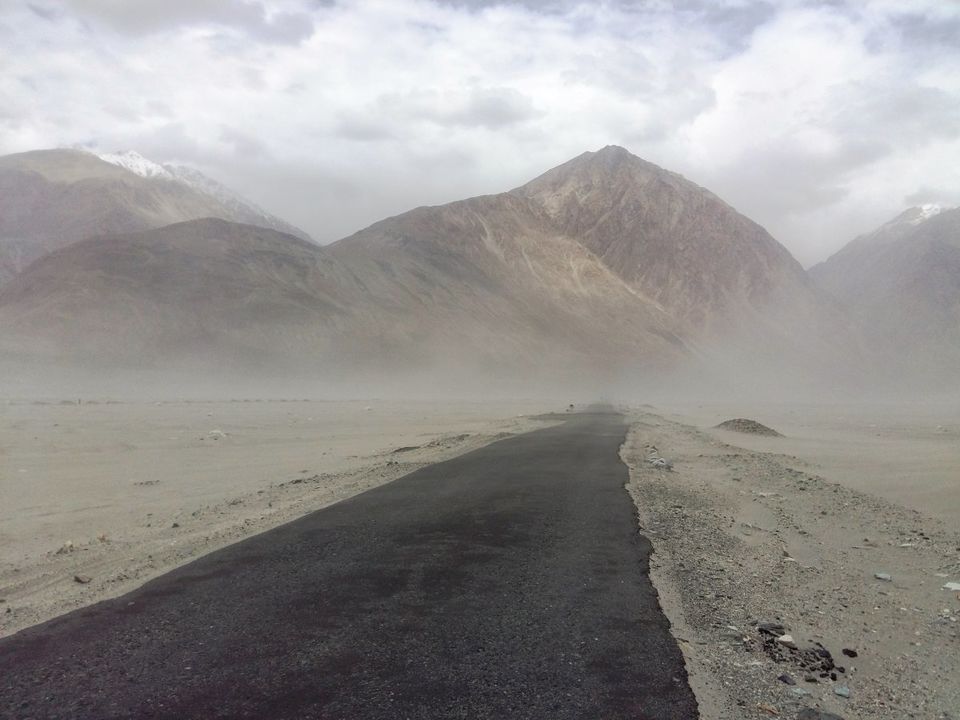 Drove few hundred meters through the storm and all we could see was sand, it was there on the road, in the air and it was an awesome experience and risky too. Thanks to the visor of our helmets which helped us riding through the storm. I had never experienced such a high speed wind in my entire life. We all crossed that portion safely and drove continuously till North Pullu with few pauses. At North Pullu we had lunch and then continue riding. As soon as we started ascending Khardung La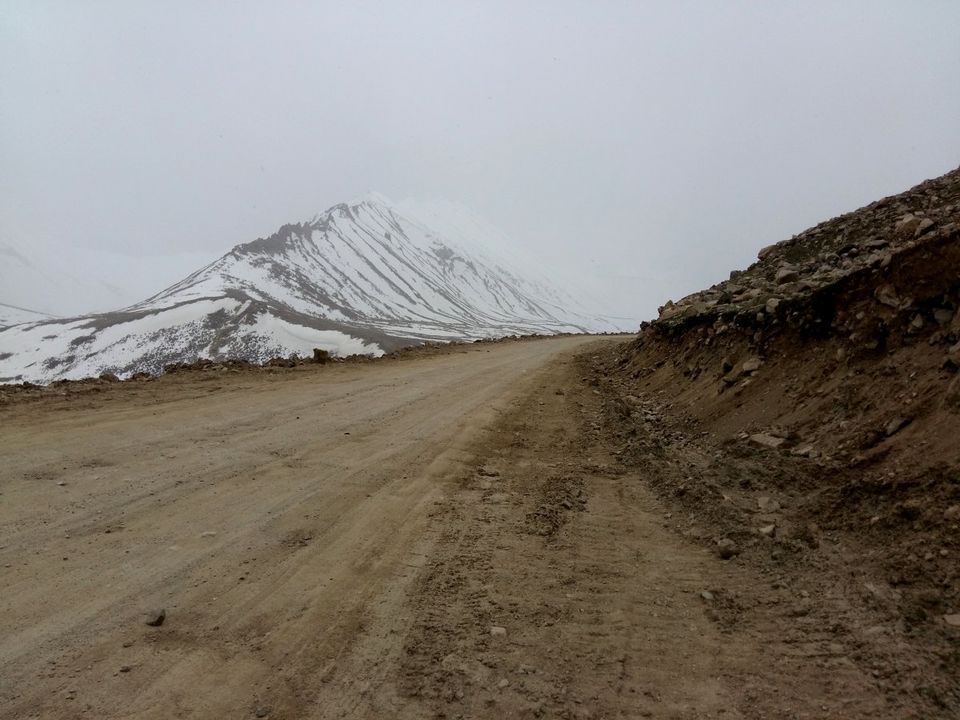 it started snowing and suddenly temperature dropped to subzero, that was the first time it was snowing during our trip and it was also getting difficult to ride uphill in the snow because the visibility also getting low and it was really getting too cold. Even clicking pictures was getting difficult as our hands were freezing.

Road conditions from North Pullu to South Pullu was really bad, it was totally untarred. Sandeep's bike skid on frozen surface just few meters before Khardung La but no harm, yes his bullet also lost a mirror. Once we crossed the Khardung la the climate was somewhat clear but the road was still not clear. Drove in only first two gears for more than an hour and then bumpy ride of 30 kms started paining our stomach and back before we could reach South Pullu. After crossing South Pullu the road and climatic conditions become favorable and helped us reaching our hotels just by sunset. It was really a day of extreme climate.

At the hotel room, we took short rest and then went out for dinner and also got our bike's petrol tank filled. Vinod and Sonik returned their bikes and booked a seat in a taxi for Srinagar which will be leaving early morning and from Srinagar they will fly to Mumbai. We came back to the hotel and planned to go to Tso Moriri and Tso Kar by next morning and then slept.

Day 10 | June 22
Leh to Pang
It was a time to say Good Bye to Leh, all 5 of us who started from Chandigarh checked out from the Hotel after 5 night stay (1000 Rs/ night with 2 double beds: Checked out on Jun 20th as well just for 1 night). We left the city around 8 am.

At Karu (Karoo) fuel station we get our fuel tanks refilled and carry 10 liters of extra fuel in plastic cans on each bike. Next stop was Upshi where we had breakfast at around 10:30 am.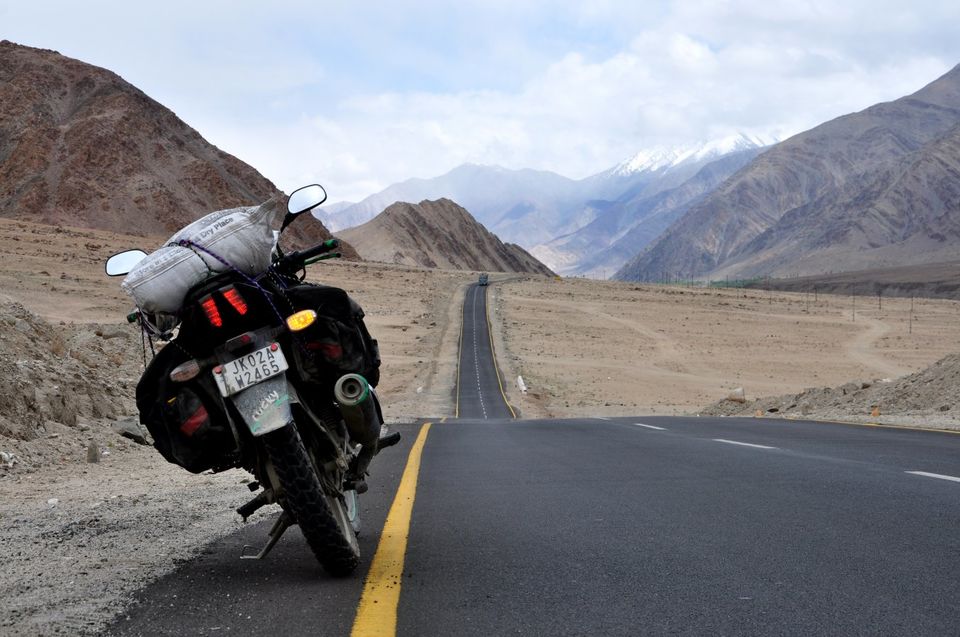 Road till Upshi was absolutely fine but the road from Upshi to Rumste was tarmac and full of potholes. The moment we started ascending towards Taglang La we found an absolutely newly built road with proper white and yellow markings. It was a pleasure riding on that road, though our bikes were struggling for speed but due the good condition of the road we were able to keep the momentum and maintain the speed of 35-40 kmph. Landscapes around was mind blowing and I wanted to click pictures of everything I was looking at whether it was mountains, curvy roads, or deep gorge. I was tired of taking my DSLR out of bag in every 5 minutes so; I wear my camera and started riding and clicking, I got many breathtaking shots as well.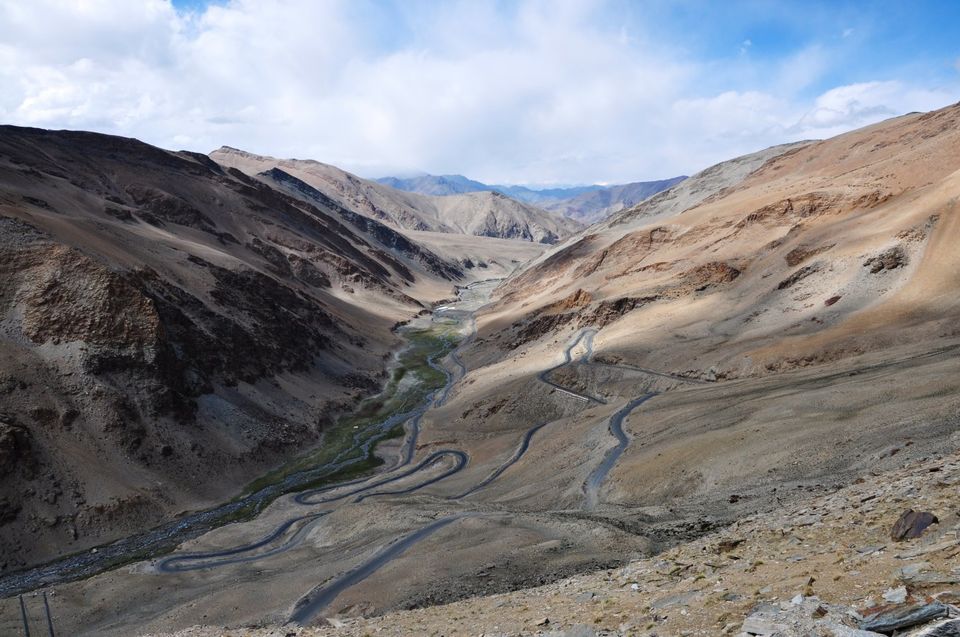 While riding I was looking for a spot to click the complete ascend to Taglang La. Just few hundred meters before the pass when I took a turn, I found a stone little bigger than a football right next to my bike, it was too close that I couldn't apply brakes and banged into the stone at the speed to 40 kmph, I flew off my bike and landed on the visor of my helmet and dragged for two or three metre. I stood up, removed my helmet and checked my neck and face, there was only one scratch on my lower lips and then ran towards my bike. It was in a terrible condition broken head assembly, tail lamp, left mirror and rear brake paddle bended over the foot rest due to the direct collision with the stone. I found my 18-105 mm lens in the stones when the camera was still around my neck, lens mount was broken and got couple of scratches on the camera screen. Then I used the alternate lens 35 mm.

It was approx. 3 feet deep and 5 feet broad space where I fell down. It was space made between the road and the mountains to save the road from a melting snow/water. By then, I was way ahead from my colleagues. Thanks to the Riding gears, which saved me from the impact on stones, rain coat was torn off, scratches on helmet, pro biking gloves, knee guards etc. Thanks to my bike, no technical problem appeared just a cosmetic damage; my bike started in 3rd attempt and I managed to bring it on road, tried to call my colleagues but couldn't reach them as there were no signals. As the climate was also getting bad so, I decided to cross the bad whether area and then wait for them.

As soon as reached the top it started snowing. Till here road was superb but from here till Debring road was again untarred.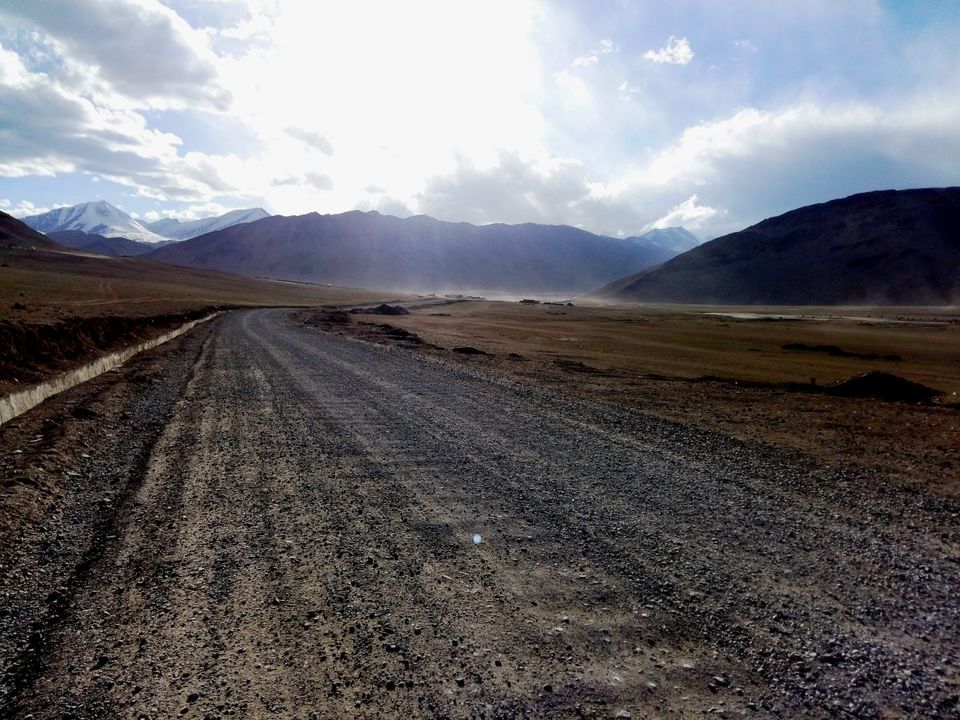 Rode continuously till Debring, snowfall had been stopped till now but even a normal wind was like a storm, chilled and dusty in the plains. Standing out was impossible and there were few temporary dhaba's in the tents with the night stay facilities. So, I parked my bike on the road side and went in the dhaba. In meanwhile other co-riders also arrived. Amarjit was carrying the complete tool kit so he fixed the rear brake paddle of my Pulsar. By the time it was about 4 pm. Then we had a tea and had a healthy discussion about where to go now.

We decided to drop the plan to go to Tso Moriri and decided to night stay at Pang based on couple of incidents, climatic conditions, bikes conditions and amount of reserved petrol we had. Road till Pang was again tarmac, crossed moore plain but it was bit difficult riding through moore plains because of the bone chilling wind flowing sidewards, it was so strong that it was causing a shake in bullets and to pulsar 150 it was causing a little slide too, I noticed sliding my bike by inch or two due to that strong wind and finally we reached Pang by 7 till by then it was completely dark. The night stay facility was just like in Debring. So we confirmed our stay in a big tent at 200 Rs per person excluding food. We had tea, then dinner and then glass of milk with 2 spoon honey. Tent was good enough to save us from the direct wind but not good to keep us warm. Old lady at the shop was kind enough to give us more blankets but we were still shivering then I opened my sleeping bag for the first time during this trip and then I handover my blankets to my colleagues, I slept in the sleeping bag. At 11 pm, I and Amarjit went out to have a look of Milky Way as it was visible through naked eyes also clicked few pictures and then slept.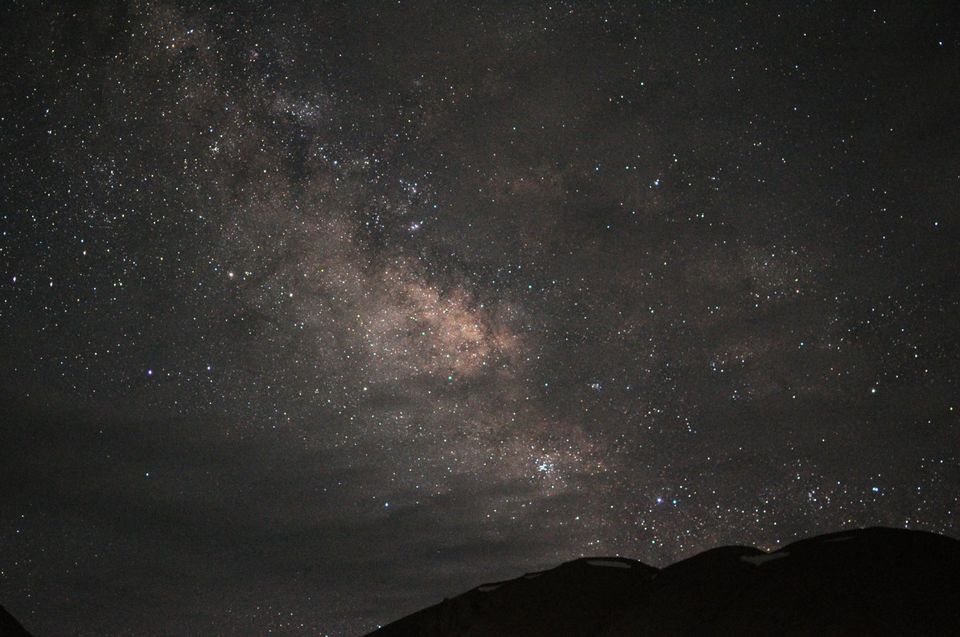 Day 11 | June 23
Pang to Jispa
Morning at pang doesn't offer a view of sunrise because it's surrounded by mountains but every view of Ladakh is different and unique. So, we kept on the landscapes, had breakfast and left pang at around 8 am.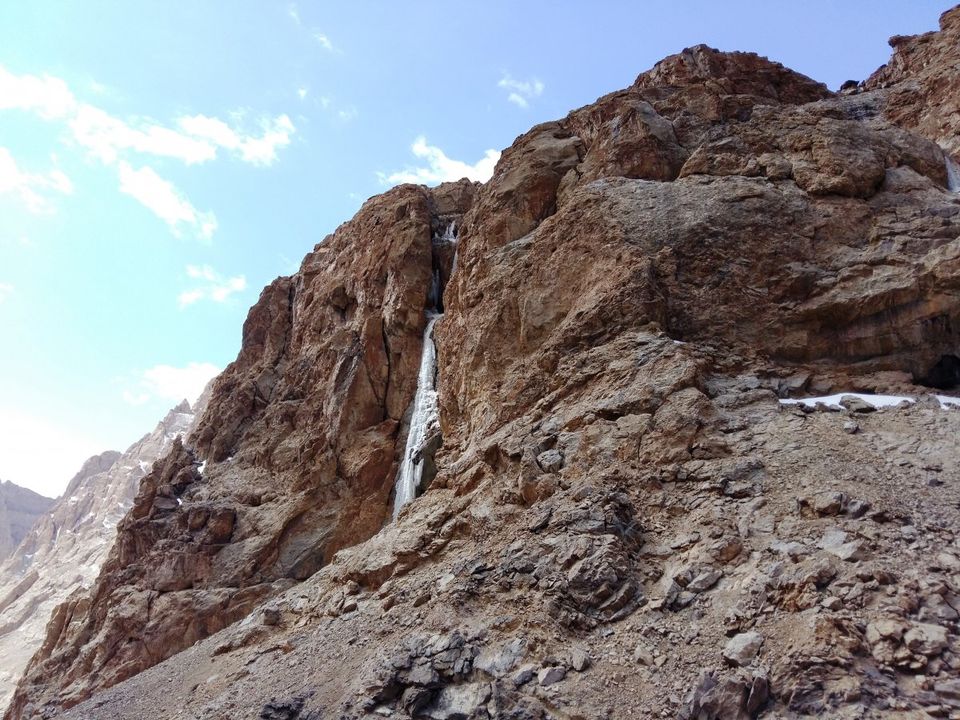 Came across the frozen waterfall which was up high in the mountains. Crossed Gata Loops and then stopped at Sarchu for Lunch. After that road was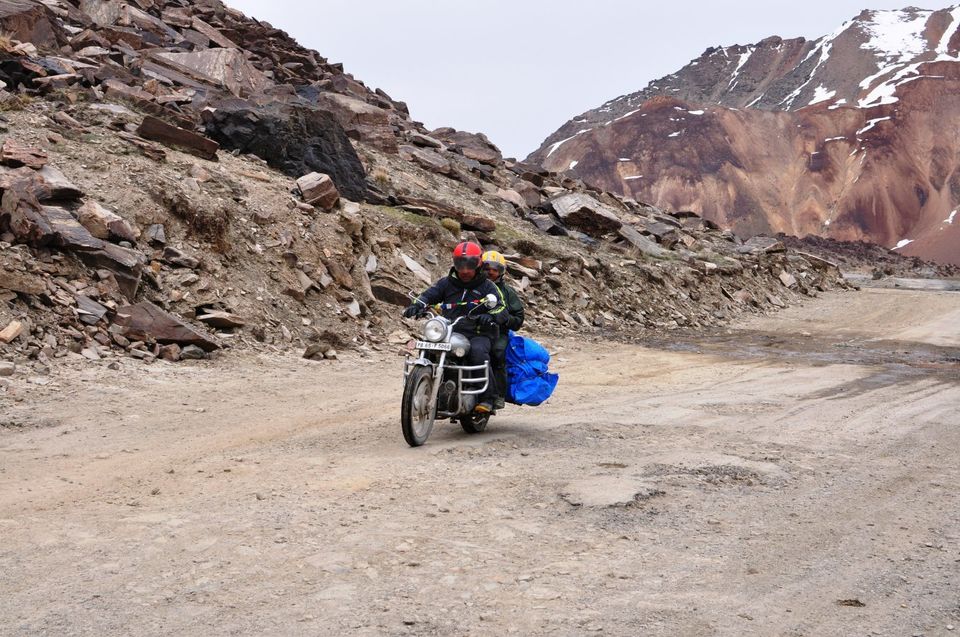 broken tarmac till we crossed Baralacha La. Few kms before and after Baralacha la was completely covered in snow like Gulmarg in winters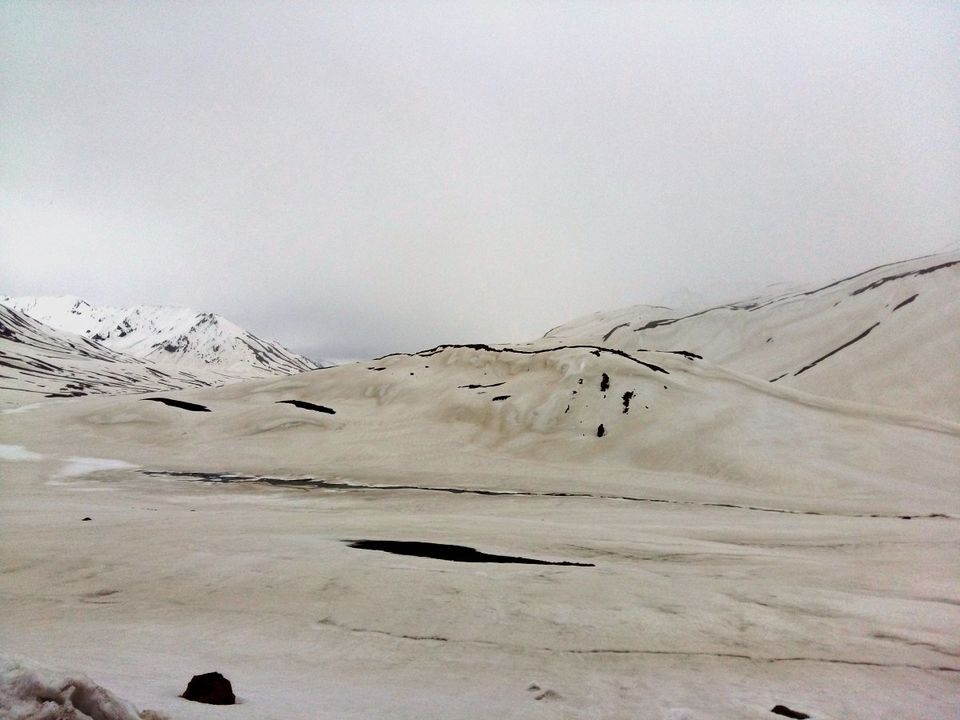 . Apart from the untarred road everything was painted in white. Saw two completely frozen lakes on the way. Felt powerless in our bikes as well just before the pass and saw a car with automatic gear struggling driving uphill so we stopped our bikes and give a push to the car to make the momentum. Moment, we reached at Baralacha La Pass it started snowing heavily so we couldn't spend much time at the pass. Quickly clicked few pictures with the Baralacha la signboard and descend quickly.

Since we crossed Taglang la, we had been riding in the cold desert and barely found any proper town in between and the road remained the mix of broken and unbroken tarmac till Jispa. Just before Jispa we crossed couple of heavy water crossings. At one of the water crossings I lose my balance and fell down due to stones but it was not risky because the water level was above knees and flow was low. So, I stood up, tried again with high acceleration and crossed but this incident made my shoes and my entire luggage soaking wet. Then I helped my colleagues and other co riders to cross the stream. Just before Jispa it started raining, so we decided for the night stay at Jispa. Before we all could get wet, we booked the hotel and checked in. Had a dinner in the nearest dhaba and then went for sleep.

Day 12 | June 24
Jispa to Manali
After a rainy night, rain seems to be unstoppable so we decided to leave early morning in the rain at 7:30 am as we have to cross the Rohtang La and we knew about the traffic at the pass. At Keylong, we found a bike repair shop, so we got our bikes chain; brakes tighten and chain lubrication as well. In the meanwhile, we had the breakfast at the dhaba next to the mechanic shop.

After getting a quick check up of bikes we started riding towards Sissu. Now, we could see some greenery on mountains and found some towns, shops and markets at the roadside. Road from Jispa to Sissu was much better with just few bad stretches but hide and seek of rain continued.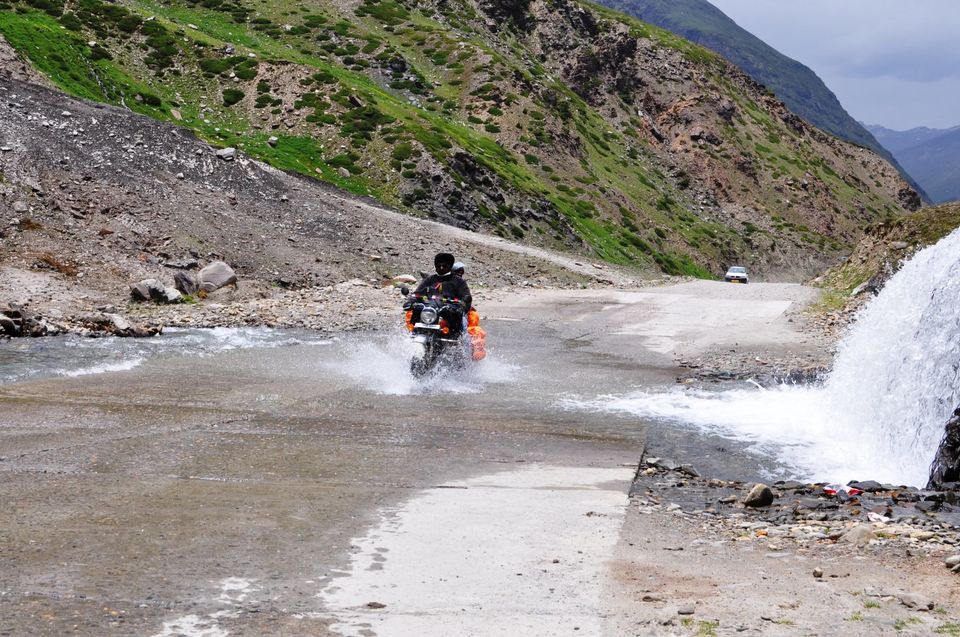 As soon as we reached Gramphoo, waterfalls also started appearing frequently. Now it was the time when we started ascending towards Rohtang pass, it's not the highest pass but known as the difficult pass due to uncertain whether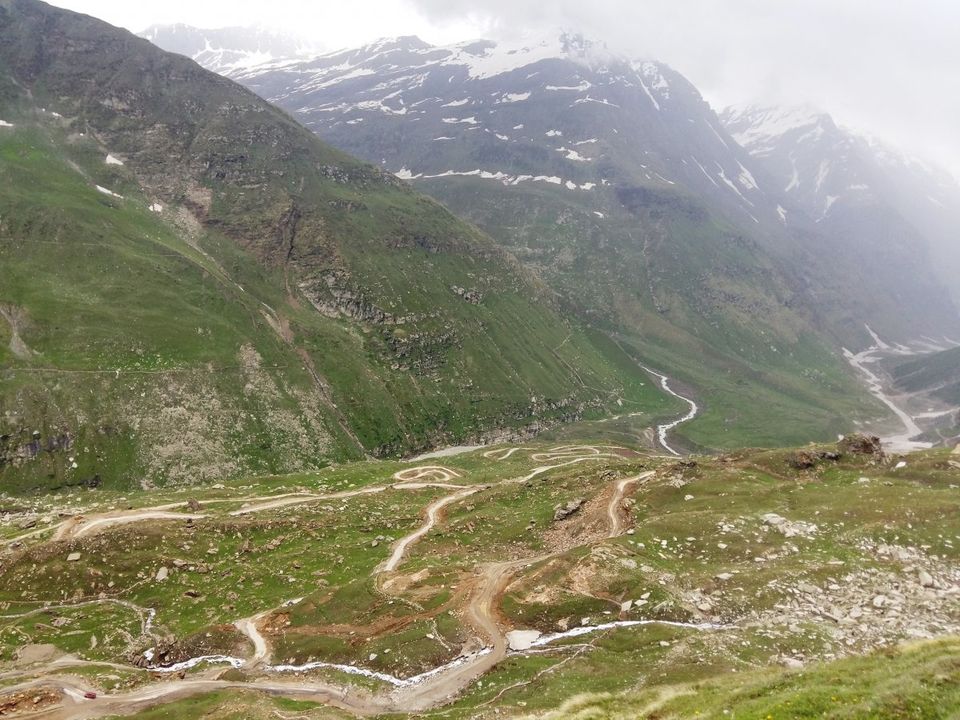 . It was the only pass where I found lush green mountains, waterfalls etc. Road till the top was full of mud, pebbles and water crossings. It started raining heavily and temperature dropped down near freezing point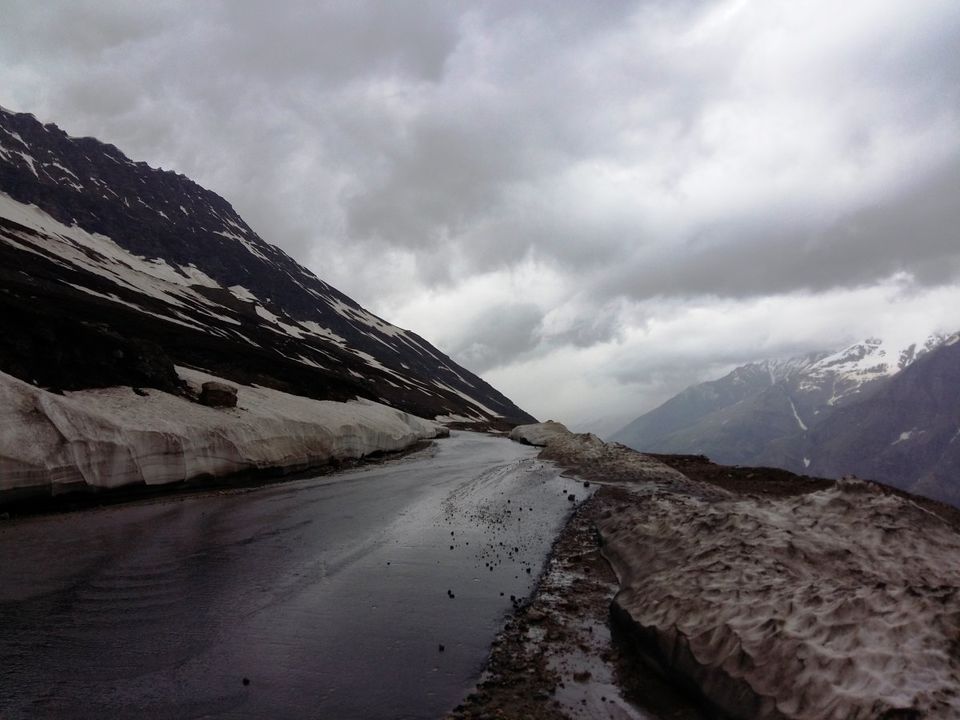 . As soon as we reached near the top, lush green mountains started getting snowy white and it also started getting crowded. Moment we crossed the pass and reached the other side of the mountain; I was surprised to see the traffic and crowed. There were miles long queue of traffic jam in the mountains, people all around the mountains and there was a black layer of carbon on glaciers. There was barely any space to move even for a two wheeler and it was damn raining but the best part was that the road after crossing the pass was very good. It took us almost 2 hours to cross the traffic to reach Marhi. Somewhere near Marhi we stopped for lunch, till the time we all were totally drenched and there was no relaxation from the rain. After having lunch we again started riding in the rain though the traffic was gradually moving but the riding conditions were still bad. Riding downhill, due to the continuous rain and drop in the temperature visibility also went down and we had to ride with open visor, our hands were freezing. Gradually we crossed Kothi and there was no traffic by now, roads were open for us again drove continuously till Manali and again stuck in a massive jam in the city. Though we were on bikes still it took us 40 minutes to cross the bridge in the Manali city. It was 4 pm and we all were feeling tired by then and due to clouds and rain visibility was pretty low and the use of headlight was required but my bikes headlight and tail lights were damaged in the accident so I decided to stay in Manali and rest of the co riders decided to ride continue. I booked a roadside hotel after 10 from Manali at Rs 500 and other members spent night at Bhunter.

In the hotel, I opened my bag and bring out all the clothes as they were soaking wet and spread all the wet things like clothes, socks, shoes and rain coat in the room. After a rest for an hour went out in the rain for dinner, came back and slept with the planning of the next day.

Day 13 | June 25
Manali to Chandigarh
Got up in the morning at 5:30 a.m. looked outside the window to check the weather and found it was still raining. Check out my stuff in the room, most of the things were dried up apart from my shoes and socks. Though I was carrying an extra pair of shoes and socks but there was no sense to use an extra pair of shoes as it was still raining. Packed up all the stuff and dressed up for the ride. Till the time my Pulsar didn't require the petrol in the reserve and in the cans. So, I poured out the 10 liters of petrol in the bike's tank which I was carrying in the cans.

I was supposed to meet my co riders in the hotel near Bhunter Gurudwara at 9:00 a.m. So I checked out from the hotel at 7 am and left for Bhunter in the rain with wet shoes but before that I wore the new pair of socks covering with plastic packing it came in and then wear the shoes. After few kilometers of ride I stopped at dhaba for breakfast then rode continuously till Bhunter. Met with my co-riders, they were still not ready to leave and waiting for the breakfast by 9 am, waited for them till 10 am but they were still packing up their stuff. I was thinking about reaching Chandigarh would take at least 9 hours from here that means I have to ride at least 2 or 3 hours in the dark with no headlight in my bike. So I decided not to wait anymore and leave alone.

Rain stopped just few kilometers after the Mandi tunnel and till the time I reached Mandi everything was dried up and the sun was shining bright with clear sky. Stopped at Mandi for a tea break. After few kms from Sundernagar I stopped to receive a call from my co-rider, they just wanted to confirm where I have been reached. In the meanwhile an unknown biker stopped on Yamaha FZ and asked me "Bro is there any help required". This is how, I met with a new friend Sridutt from Bangalore. He was also going to Chandigarh from there he has the flight tickets for Bangalore and before that needs to parcel his bike to Bangalore. Then we rode together. At Bilaspur, we took a stop for lunch and it was around 4 pm, by then we were sweating badly because of raise in temperature, jackets and riding gears. Then we drove continuously till Chandigarh. Reached Chandigarh just by sunset at 7 pm and I insisted Sridutt to stay at my room rather than going for a hotel. Rest of the colleagues reached Chandigarh at 9:30 pm.


Things to Remember:
· Don't dress for ride, always dress for slide.

Pre-Planning
· Get a new full face helmet or at least new visor (Most important)
· Rain suit.
· Leg & Knee guard, whether proof gloves.
· BSNL or AIRTEL postpaid sim if you are from outside Jammu.
· RC of your vehicle, Driving License, Adhaar card, passport size Photographs.
· Prepare route, destinations, halts if possible download offline map.

When at High Altitude/Leh
· Keep your body warm (cover your head.)
· Always drink lukewarm water.
· Eat carbohydrates like dark chocolates, dry fruits.
· Avoid spending time at the peaks if facing issues.
· Get you bike's petrol tank filled a night before you go anywhere in Leh to avoid rust in the morning.
· Try to leave early morning and reach destination before sunset.
· Avoid riding/driving during night.

What to Carry
· Carry an extra pair of warm socks and shoes.
· Carry Amul milk with Tetra packing (3 months validity)/packed juice.
· Sunscreen lotion, mustard oil, lip balm and UV protection glasses.
· Carry medicines like Diamox, Combiflam, Disprin and Fast Relief.
· Battery Bank, Tool kit, Puncture repair kit, Puncture Repair Patches for tube type tyres.