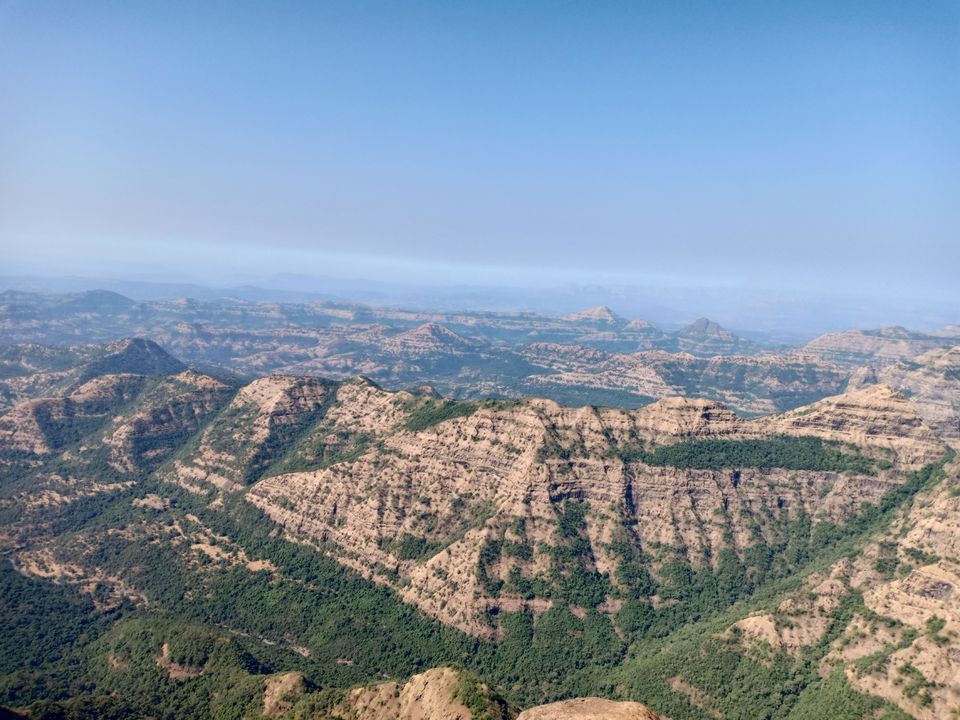 Mahabaleshwar, the most popular hill station in Maharashtra is like our own Kashmir valley to most of the Maharashtrian family vacationers. It is among popular destination to low cost honeymooners also. But to me and my ride partner (not on honeymoon) it is the ideal destination for medium distance (around 250 kms from my home in Mumbai, holidaying for 3 days) ride on my Thunderbird.
(Let me tell you one thing this is my fourth visit to Mahabaleshwar, but just to show my wife this place I have to go here again.)
Very few things happen as per plan in spite of all the advanced plannings, so was our journey, we started 1 hour late at around 7 am after loading luggage on bike and ourselves with accessories (riding gears). Atmosphere was little cold, so the riding jacket and other riding accessories helped us to avoid morning chill just before the sunrise. And the journey started.....
There are two routes to reach Mahabaleshwar from Mumbai, one via Pune and other via Mahad in Konkan. We chose the first one because of awareness of road conditions of the second route. Old highway as it is called to Pune is in good conditions due to continuous repairs they undertook. We drove for around 80 km before taking our first stop for breakfast at Karla. It seemed everything was in our favor because the restaurant at which we stopped for breakfast served the best Misal I had in last 2-3 months (you will come to know about my love for misal in next few writings, my first and last choice for breakfast during ride is MISAL). After this short break we traveled another 80 kms and stopped at Katraj for small tea break to get rid of all the laziness which we were feeling after having breakfast. This is second incidence when we felt our trip is blessed, tea we had given the ultimate rejoice. Route thereafter was in the perfect condition, any riders dream, and hence the journey onward was fun until we reach Wai, the basetown before starting climb to Mahabaleshwar. Wai to Mahabaleshwar road was not in perfect condition, with lot of patch work done at many places. But on this road we were accompanied by cold air.
During planning phase I decided not to do online booking for hotel, instead we will book hotel after reaching there (as per my previous experiences we can bargain on prices with hotel staff and get hotel at cheap rates). But my this assumption put us in trouble, as hotel prices were higher compared to online prices due to more number of tourists and rooms were also not available in many of the hotels. After bargaining with many hotel owners and agents (one can meet more number of agents than hotels) we finally googled a hotel which was 5 kms away at a quite place, Eden Garden Villa. So, we reached our destination at around 2:30 pm after 7-8 hrs of journey.
Plan was to see few places before going to sunset point, so after getting freshen up and on advice of our hotel owner we started our site seeing from Lodwick point. This point is located at around 1 to 1.5 kms from parking, and one has to walk on rocky road with some climbs to reach this point. Half km ahead from this point is Elephant head, we skipped that point as my wife was too tired after travelling for half a day and walking to reach this point. There are some stalls which serve maggi and some snacks items, so we had our lunch on maggi in company with monkeys.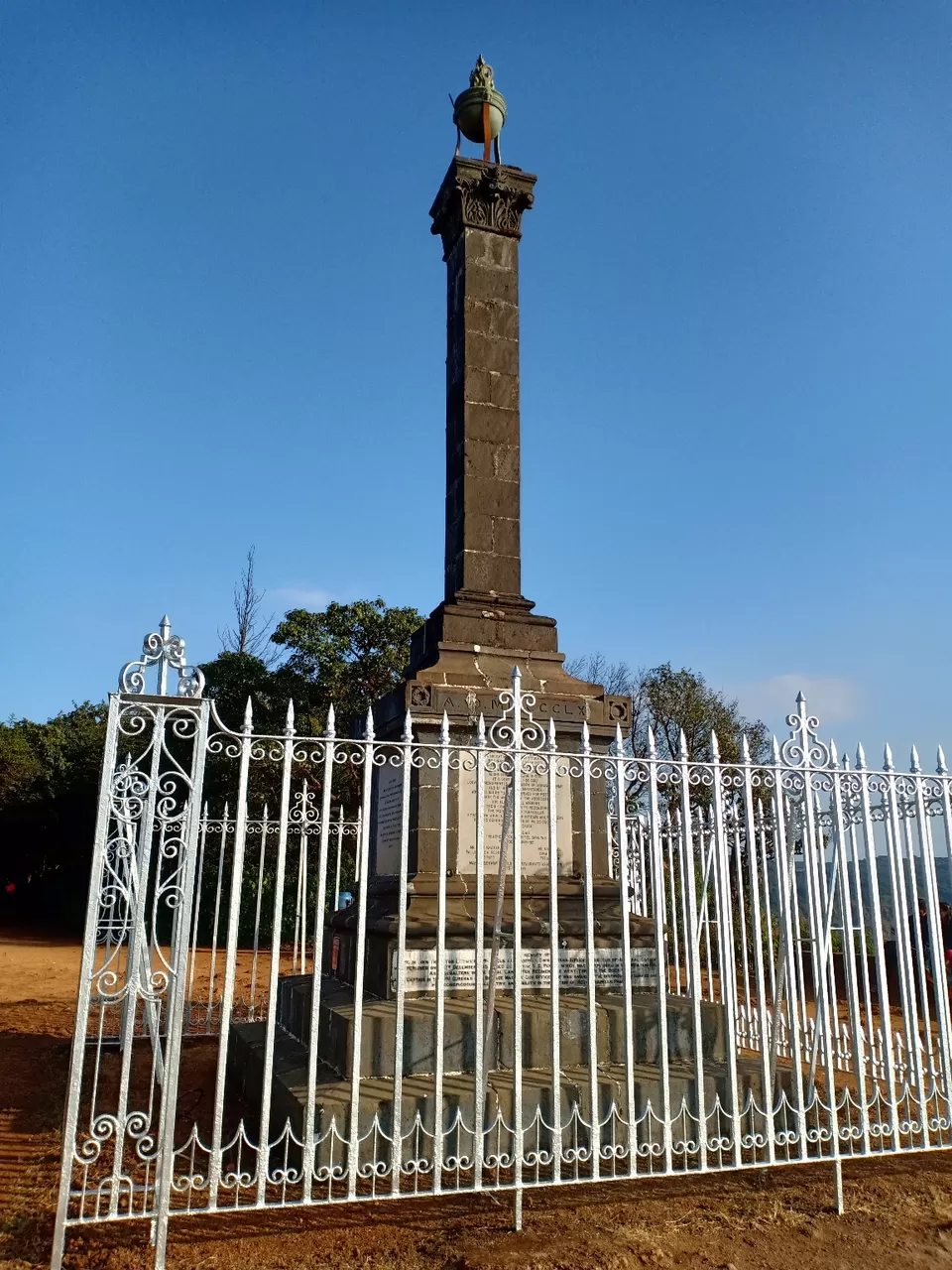 We left this spot early at around 5 pm to reach sunset point (named as Mumbai point) in advance. My wife was really disappointed after reaching this spot, as there was no clear view from where we can see sunset due to unwanted grownup trees. But, there are many games and food stalls at this place, also many horses to give you experience of horse riding. So, we decide to enjoy these things. We shot some balloons and won some gifts, although I was missing all the targets but accidentally shooting non-targeted balloons. Leaving this place and return was more troublesome due to heavy traffic jam on the road due to random parking of cars on both sides of this small road. The only thing which saved us from this situation was our bike which we can take from not so small corners.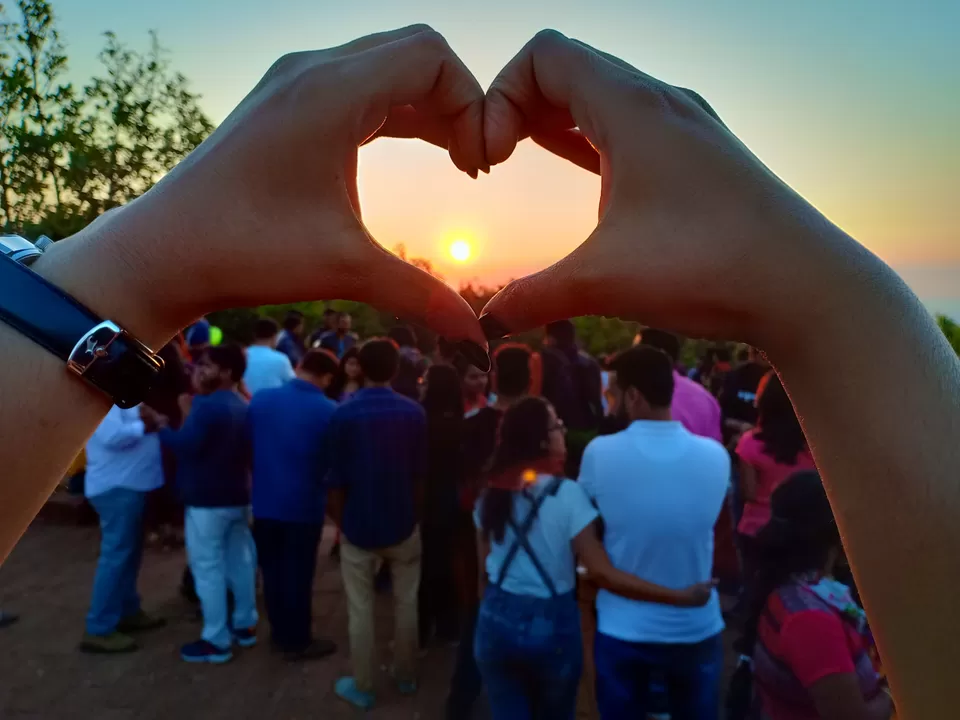 Next thing we did was my wife's most favorite activity, shopping. Most of the shops were of leather chappal/sandals. Apart from that the best thing that I bought there was different kind of flavored chana. There were around 6-8 flavors of chanas available, but we restricted ourselves to 4. For dinner we decided to taste some authentic dhaba style food on our way back to hotel, so we had mashroom masala for dinner, which was again the best choice for our first day of journey. Night was nightmare to us as we were not able to sleep after this tiring day. We were getting itchy feeling and we were not able to detect the reason (insect). But after changing blanket we were able to get sleep for at least 4-5 hours.
Day 2 started with incomplete sleep, but fresh chilled air in beautiful weather of Mahabaleshwar freshen us enough to good extent. After getting ready in short duration and having tea at Eden garden villa we started sightseeing for second day on our Thunderbird.
First place on our itinerary was Panchganga temple in Old Mahabaleshwar which was around 15 kms from our hotel. We reached this spot at around 10 am. There were lot of school children in the temple campus on their school tour. This temple receives water from five rivers named Koyna, Venna, Gayatri, Krishna and Savitri. Same temple campus have two more temples named Shree Mahabaleshwar temple and Krishnabai temple of lord Shiva. Here we saw some stupids clicking pictures in temples along with lord idols. One can shop hand made craft items from multiple shops in the temple campus, these kinds of shops are present everywhere in Mahabaleshwar, where you will get similar items; so if you miss shopping at one place do not worry you will get the same items at your next destination.
There is a restaurant outside temple campus where we decide to have our breakfast, but we were disappointed to not get our favorite misal there, so decided to skip breakfast and proceed for next spot.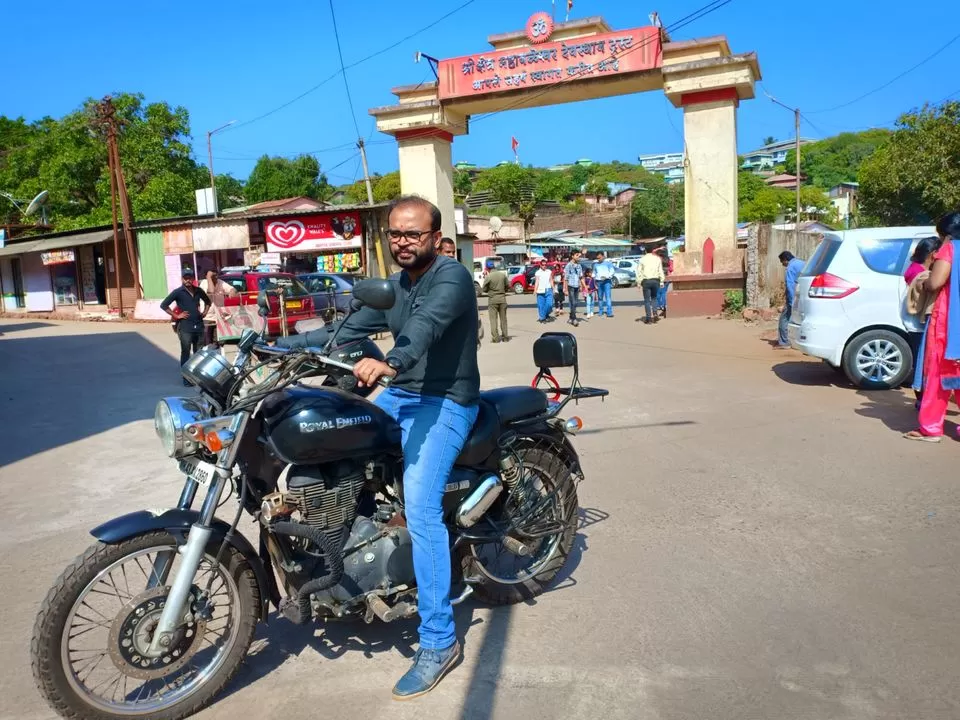 Our next destination was Arthur's Seat. There are couple of points here from where on can stare at magnificent Sahyadri mountain range. You can have a close look of statue of Chatrapati Shivaji on Pratapgadh with binoculars by paying 10 rupees. At Tiger's spring you can sip spring water which is crystal clear natural mineral water. There is also an Eco point, which we didn't tested. Finally we had our breakfast here on Kanda-bhajji and corn-chat. Beware of monkeys around you when you have food or drink items with you (you will find them everywhere in Mahabaleshwar), in one of the encounter we had to surrender our cold drink bottle to one of the monkey (you don't have any other option).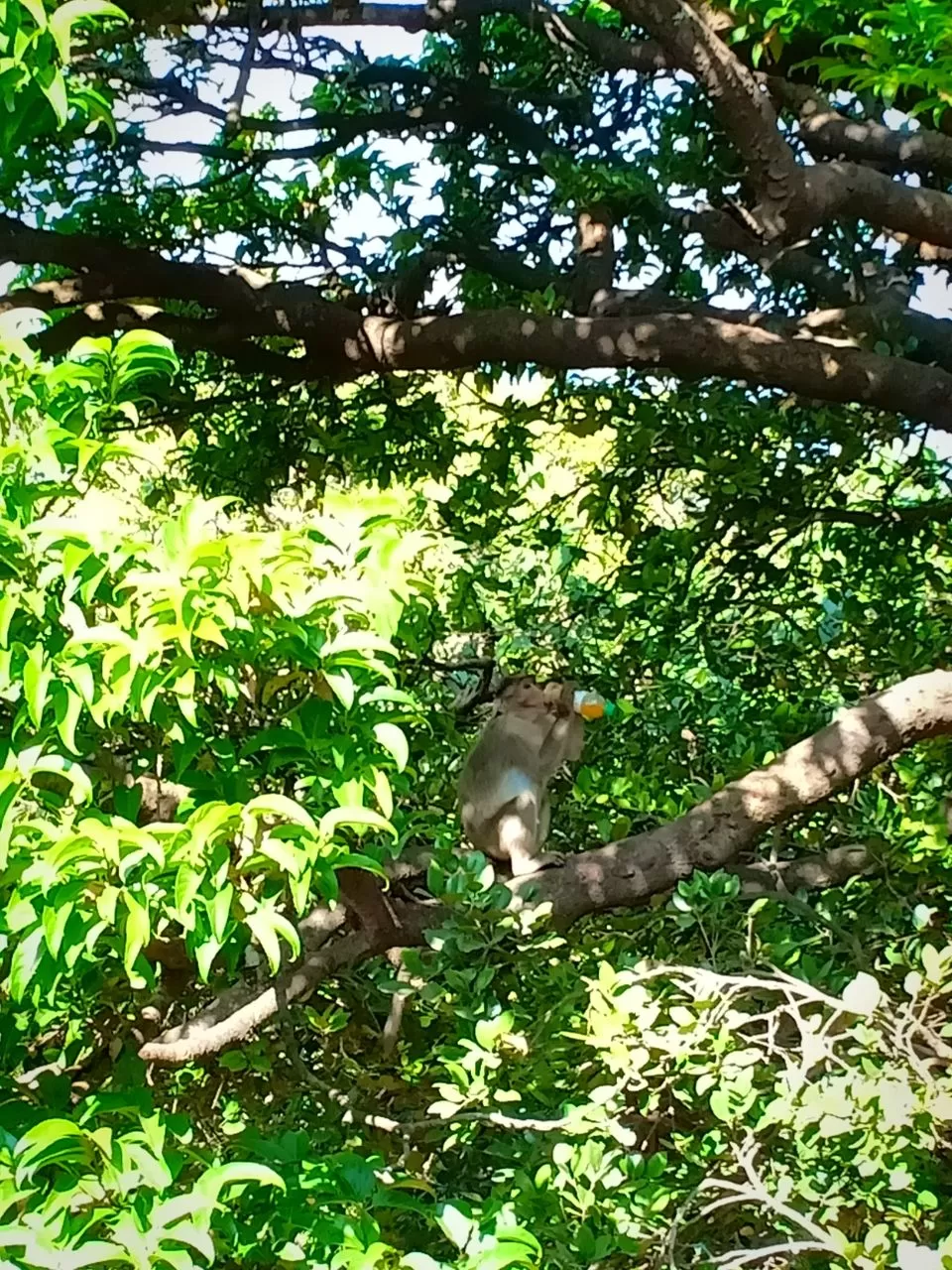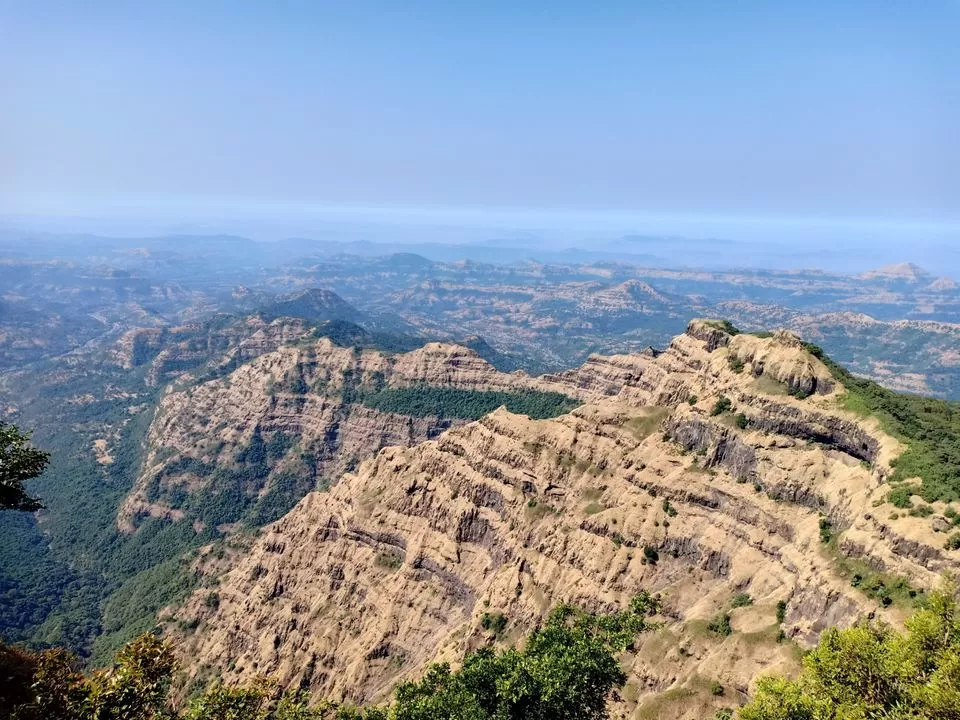 Our next destination was Kate's point, which is located on a branch connecting Mahabaleshwar and Panchganga temple. But before that on our way back we went to Elphinston point, to my amaze this point give more beautiful view of mountain range than Arthur's seat. Road ahead to Kate's point was in its worst shape due to road repair and widening work, with only one small car able to run at a time. At Kate's point you get to see beautiful view of water reservoir/dam situated between hills. After tiring afternoon we planned to have lunch at one of the dhaba and do boating in Venna lake thereafter. So, we stopped at one of the restaurant which had their own strawberry garden. We decided to have one of the most famous maharashtrian dish, Pithal-Bhakari, but to our disappoint it was not available. So we just had Mahabaleshwar's favorite strawberry-cream ice cream. From there we moved to Venna lake for boating, but again due to unavailability of paddle boat for couple, we had to skip our plan of boating. This saved time we utilized by doing another round of shopping at Mapro garden. They have large shopping space for Mapro products and very large restaurant space for foodies, we did some shopping of chocolates. With this we finished our activities in Mahabaleshwar and moved towards Panchgani.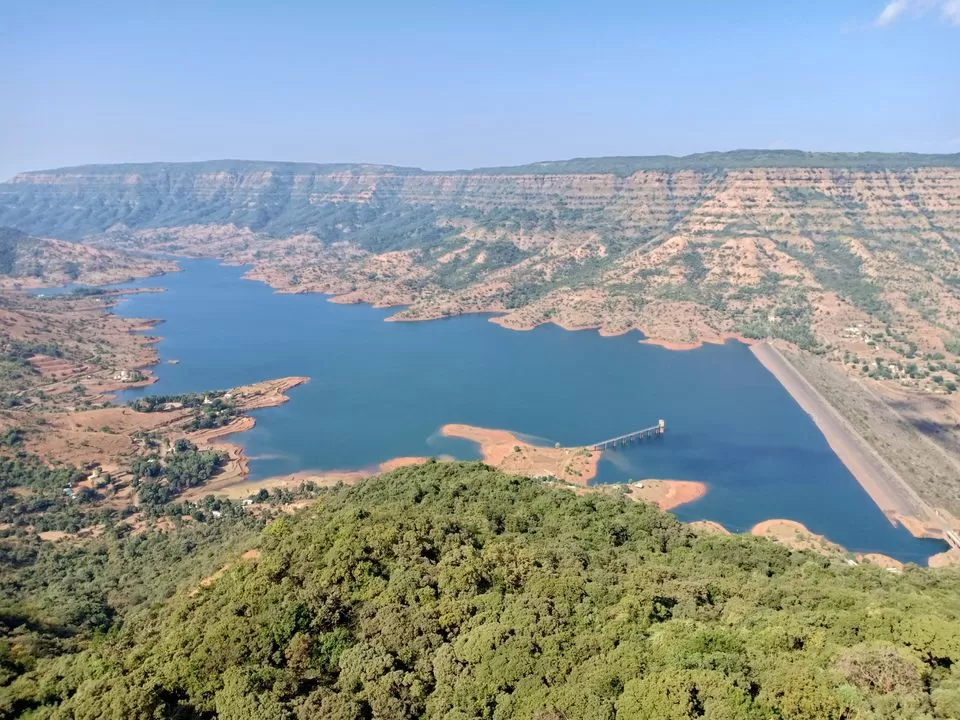 One has to cross Panchgani before reaching Mahabaleshwar, so, when we were crossing Panchgani on first day we came to know that local people are celebrating Panchgani festival on this weekend and at that time we decided to enjoy this opportunity. So before attending Panchgani festival we decided to do sightseeing in Panchgani. So we visited Parsi point from where one can see view of villages at the foothills of Mahabaleshwar. Later we visited Table land where one can do horse riding and have some food in cave restaurant, we skipped both activities to enjoy Panchgani festival. By the time we reached festival place, traffic limited our access to festival place and we were in difficult situation to park our bike nearby. But I guess this situation was in our favor and we landed at flower exhibition, which was one of the best place we saw that day. Later we moved to main market where the festival was going on and we greeted by food stall exhibitors. My wife had not so great time, eating some half cooked non-vegetarian dishes, nor me because I found only some chat items in vegetarian section. So, we finally had our dinner at one of the restaurant on our way back to hotel where we feasted on pithal-bhakri along with hot spicy thecha. With this we finished our second day activities to finally rest peacefully in changed room (we asked hotel owner to give us another room because of unknown reason for itching).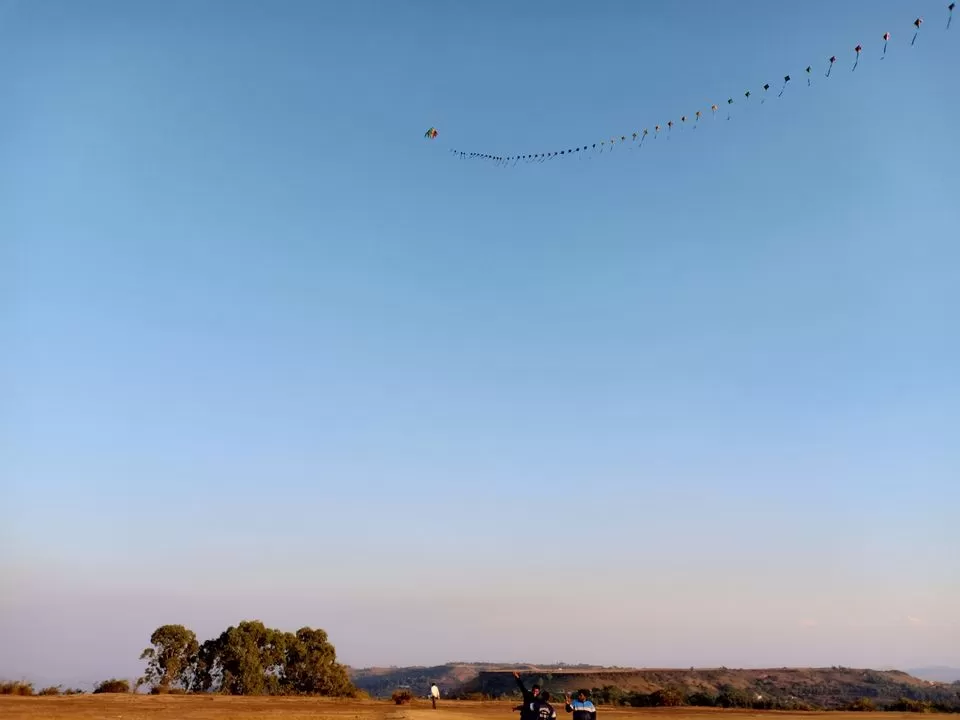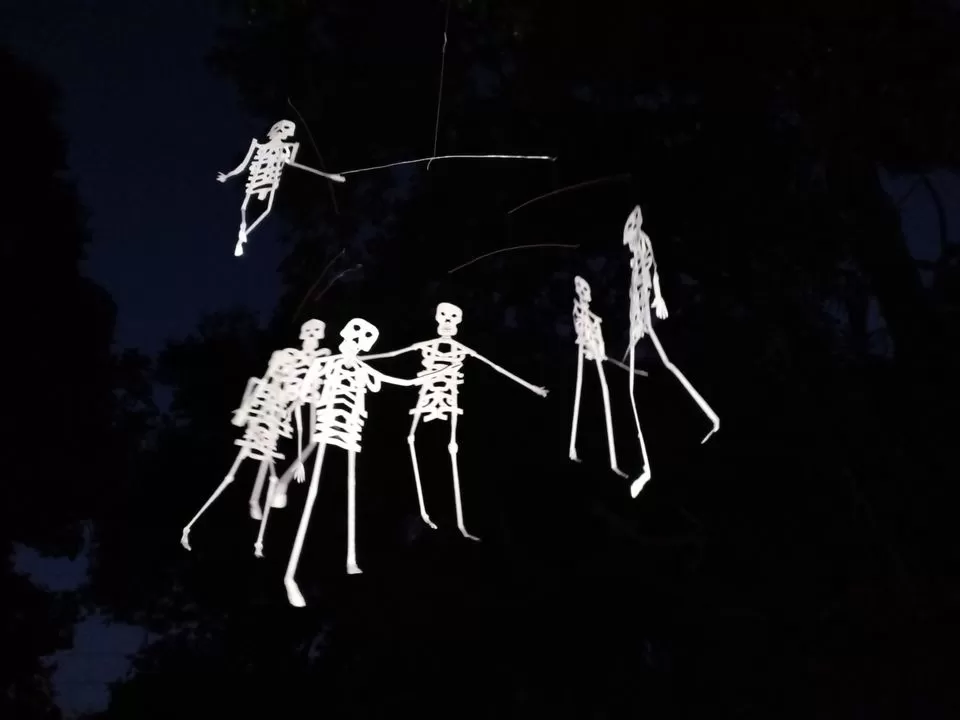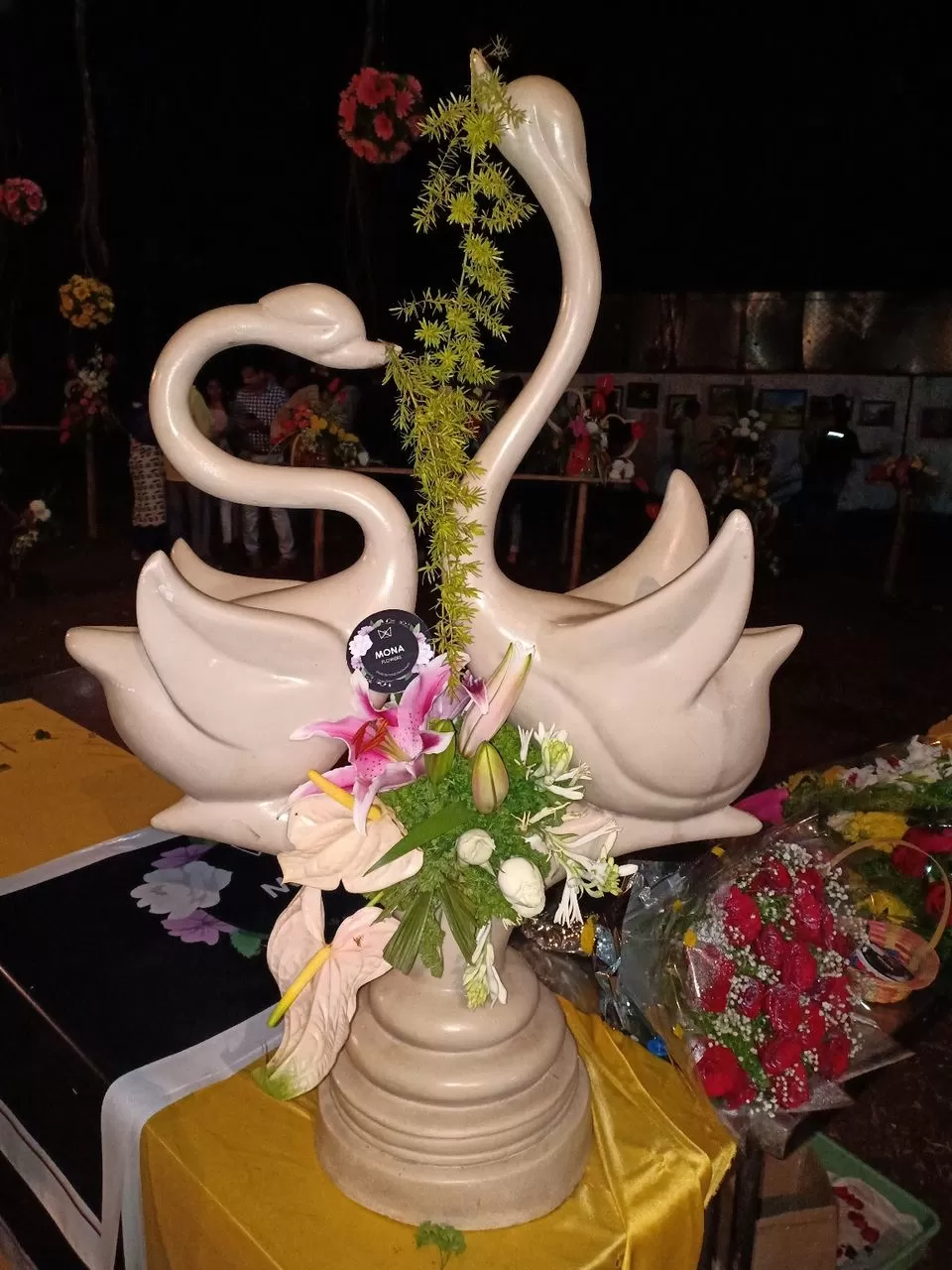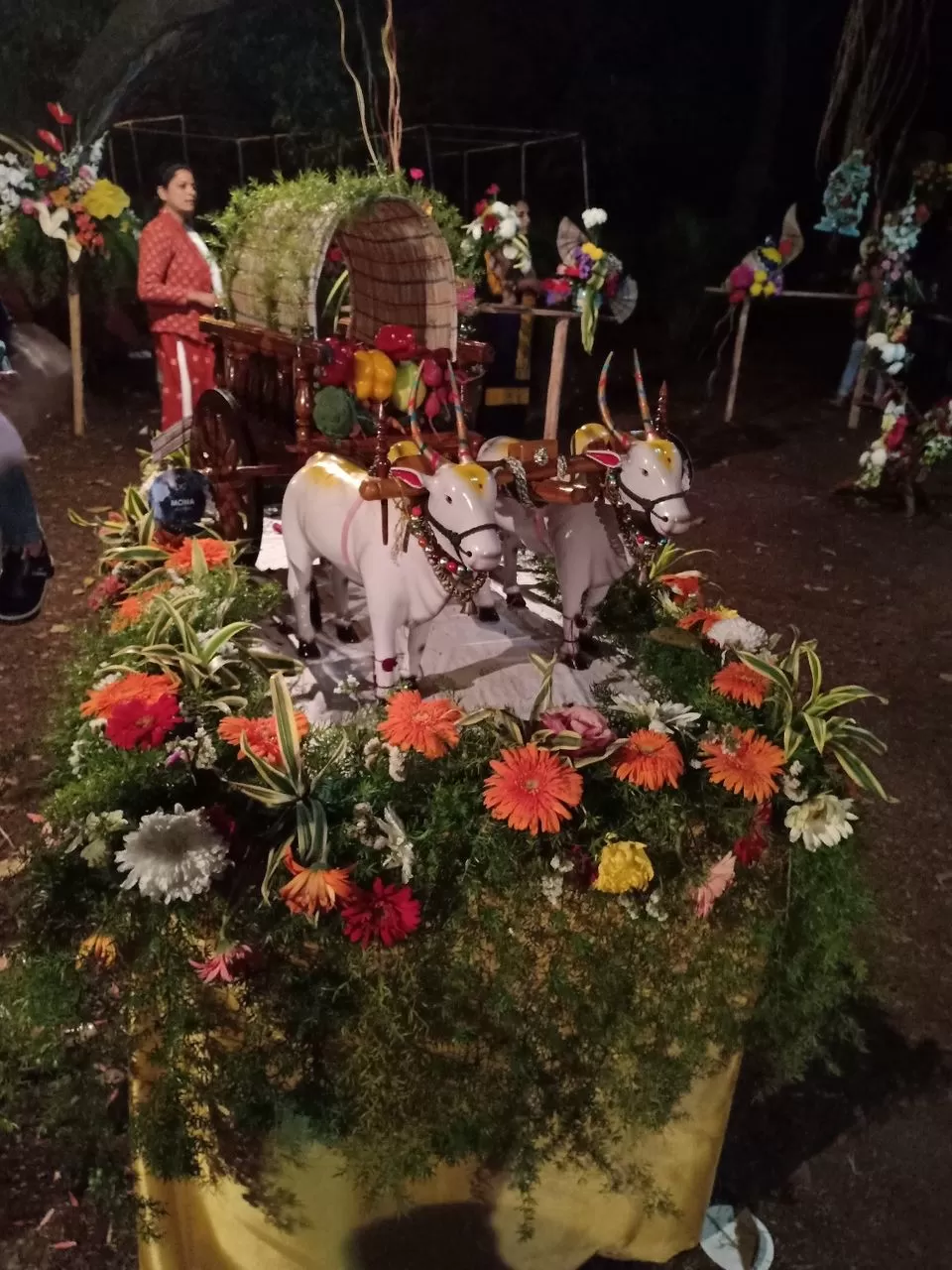 With the sunrise of third day we started packing our luggage for our return journey. By saying goodbye to hotel staff we left from hotel at around 9 am. On the way to Panchgani had our breakfast on Misal-Pav again. We were more than happy at this place as hotel chef was ready to make misal as per our test and requirement. Though we were on return journey, couple of places were still remaining in my list that I had to show to my wife; that she can not forget in her near future. These places were Menawali ghat and Dhom dam.
So, we started our journey towards Dhom dam. This dam is around 10 kms from Wai (Wai is at foothills of Mahabaleshwar), roads to this place goes through lush green farms. Menawali ghat is located midway on this road, but we first went to dam. One can enjoy at clear backwater of Dhom dam. This is isolated quite place away from hustle and bustle of Mahabaleshwar which we experienced for last two days. This place is perfect destination for nature photography (also many movies were shot here). After spending half hour at this place and clicking hundreds of photos we headed to Menawali ghat (this is the place where wrestling scenes of Shahrukh Khan in Swades were shot). After reaching there and looking at the condition of this place I was completely disappointed. This place have 2-3 small temples with river flowing on the side. I visited this place twice before and the condition of this place is worsening year on year, water in the river is getting darken due to pollution. We left shortly at around 12:30 pm and started to Mumbai. Taking 2-3 short breaks on the way we reached our home at 7:30 pm.
It was a memorable experience for both of us (4th for me but 1st for my partner) having done a short ride of 3 days away from humid and hot atmosphere of Mumbai.