It was a complete spontaneous trip first of it's kind for me since I had never ever been on a trip completely unplanned and without any fancy prebooked hotels accompanied by family(yes I am kind of embarrassed by this fact but I guess better late than never). A friend of mine native to Uttarakhand invited me and I said "yes". We decided to leave Dehradun on 21st May early in the morning by his car and that's it, nothing else was decided. The trip which started from Mumbai to the mountains and back was an amazing journey filled with various type of bitter sweet but interesting experiences with friends, taught me a lot of things and will surely stay with me forever. This story includes all those experiences and all the information which you may need if you feel like visiting those places. I won't call it most economic but I tried to cut the expenses where I could.
Day 1: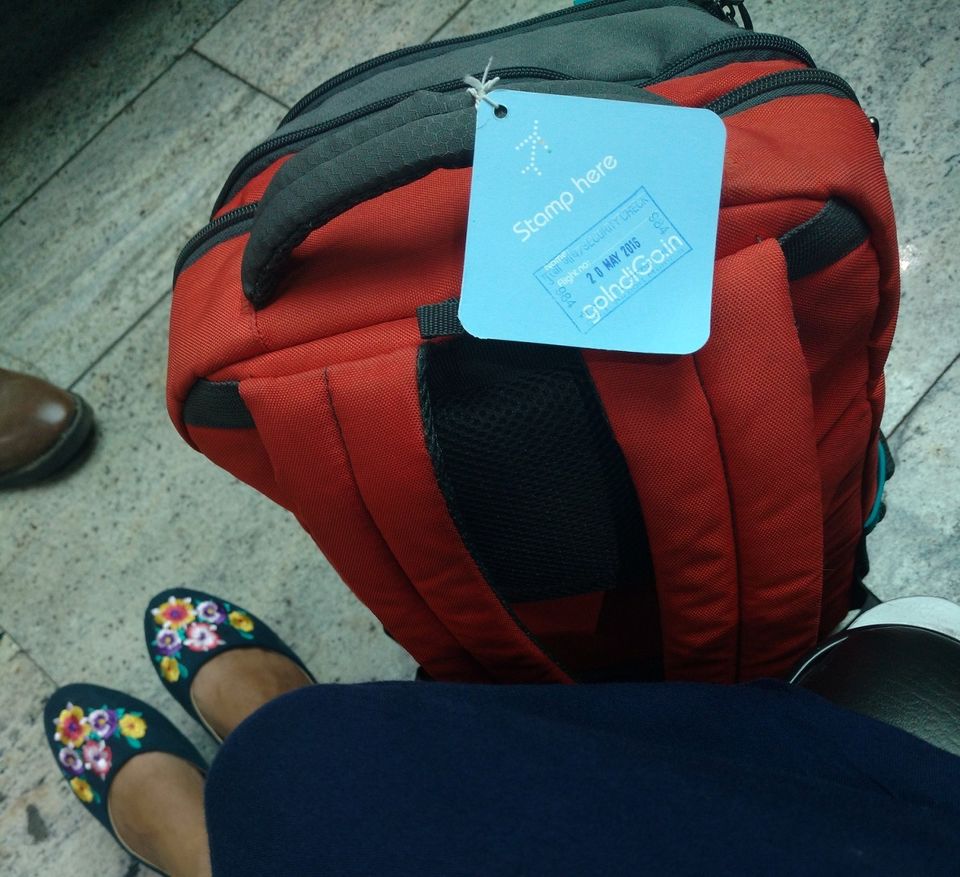 I had planned to reach Dehradun on 20th via Delhi so I took a flight from Mumbai to Delhi on 19th morning. I had booked tickets almost 25 days ago and booked it for weekdays so the round trip cost me around 8500/-. I had a bus from Delhi ISBT at 11at night which would reach Dehradun at 4.30 am. I took some rest at a friend's hostel room in Delhi who was also going to accompany me on this trip. We both left for Dehradun by volvo bus which cost us 750/- each.
Day 2:
We reached ISBT,Dehradun at 6 am in the morning. To our surprise my friend was waiting for us since 5am. He introduced us to 2 of his friends. Now five of us started our journey in an i20 through the mountains. We reached Rishikesh and the view was amazing. Ganga is so pure and so beautiful here, I have fallen in love with this place long ago and can never have enough of it. Of Course we didn't wait there because this time we were going to visit the places which most of us had not been to even once. We had breakfast and moved ahead. As we started to ascend the heat started to reduce.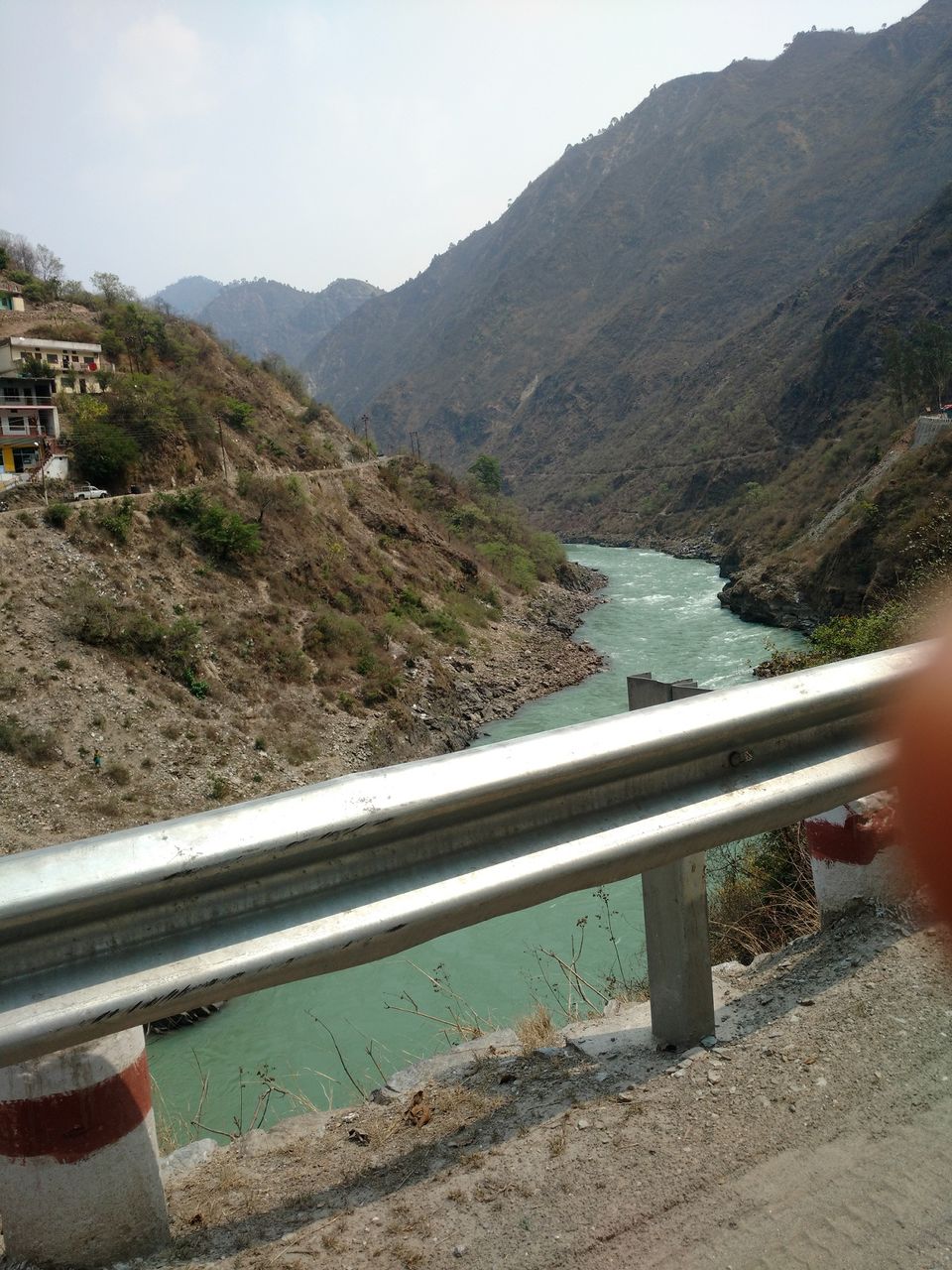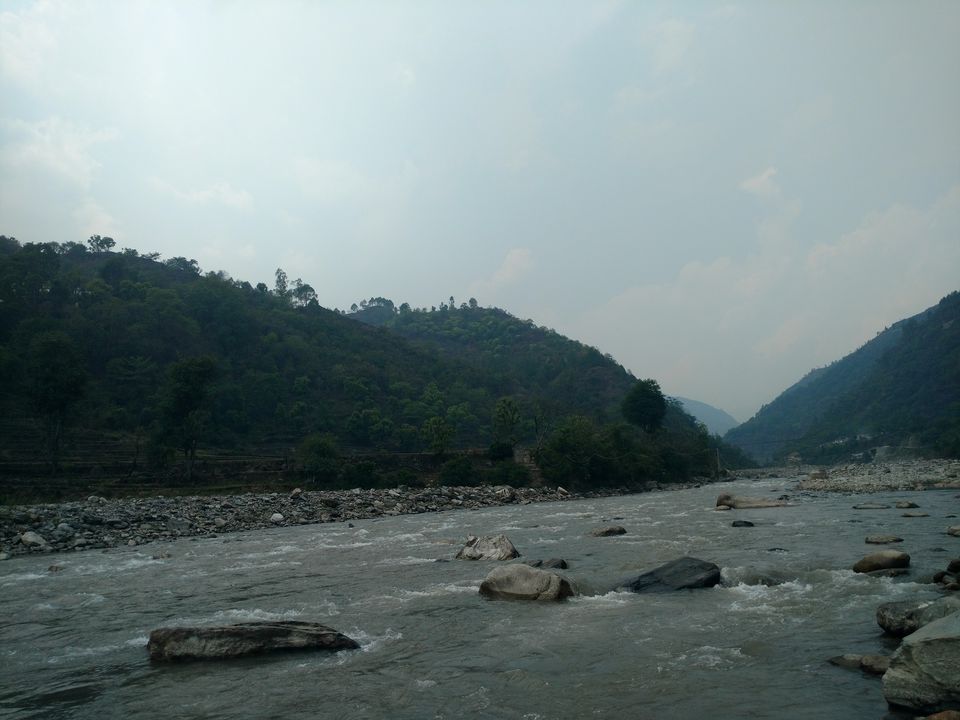 First we decided to visit Deoria taal. It is a beautiful lake at approx.2500 m from MSL. One has to reach to a village called sari to start the trek. We took a route through Rudraprayag. There is another route through new Tehri. We had estimated to reach by 2 in the afternoon but we got lost on the way and reached by 4 o'clock (even if you have a good driver always be careful and keep GPS handy or ask people wherever you feel confused). We searched for the person whose number we had taken earlier from an acquaintance and cracked a deal with him for 2 tents, dinner and breakfast for 4000/- near the lake.
By the time we started with the 3km trek it started getting dark so we started to walk faster when we had just walked 800m it started to rain lightly(there was no rain forecast, you should take it seriously when old people say "pahadoke mausamka koi bharosa nahi hota") we had carried a big umbrella and one raincoat for emergency and carried bags which were waterproof so we decided to go ahead. We had reached half of the distance and it started pouring like anything we still continued with our trek thinking it's just 1.5km how hard can it be but we were wrong the weather got really bad and the path got steep and slippery. By the time we reached our camp temperature had dropped drastically our umbrella had broken and we had faced hail storm for last 500m and were drenched,hungry and shivering with cold (entire country was experiencing a heat wave, temperature had reached 40 in Delhi as well as Dehradun and rain was nowhere to be seen). Thankfully our tents were big,nice and cozy with beds and huge warm rugs. We changed and settled in till the rain stopped. As the rain stopped dinner was served to us near the bonfire. The sky was clear now and it was so beautiful like I had never seen in my entire life.
Day 3:
We woke up early in the morning and went for a hike along the lake. We saw a lot of other tents by the lake like colourful mushrooms pop up after a rain and the view was amazing. We sat there for a while admiring the lake and the surroundings. There we got a company of a playful bhutia(a mountain dog) who accompanied us back to our tent and all the way down to the car on our way back.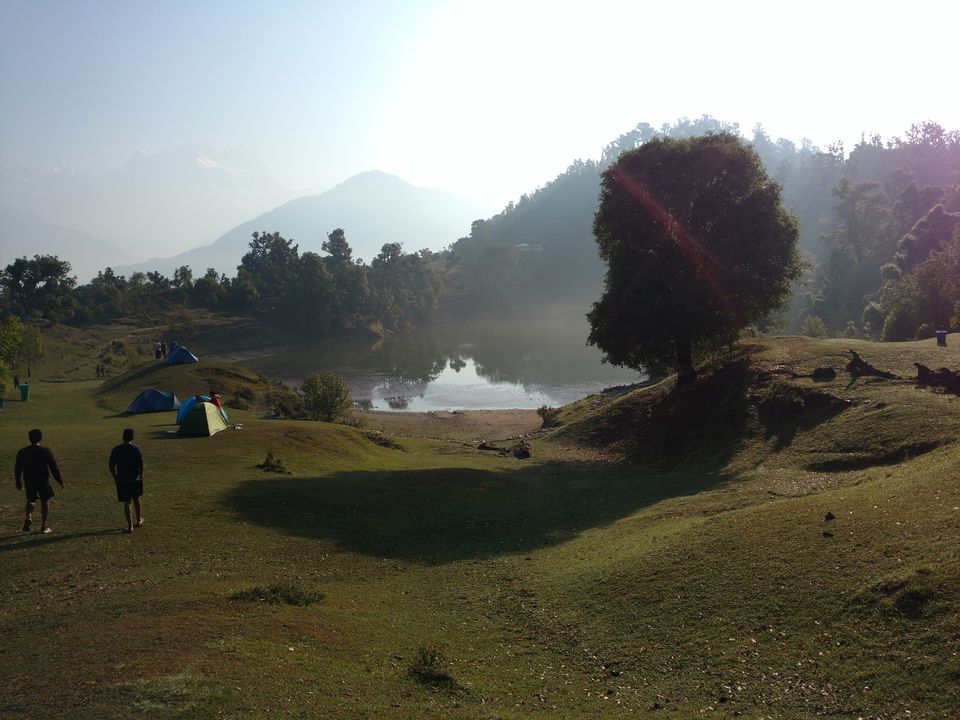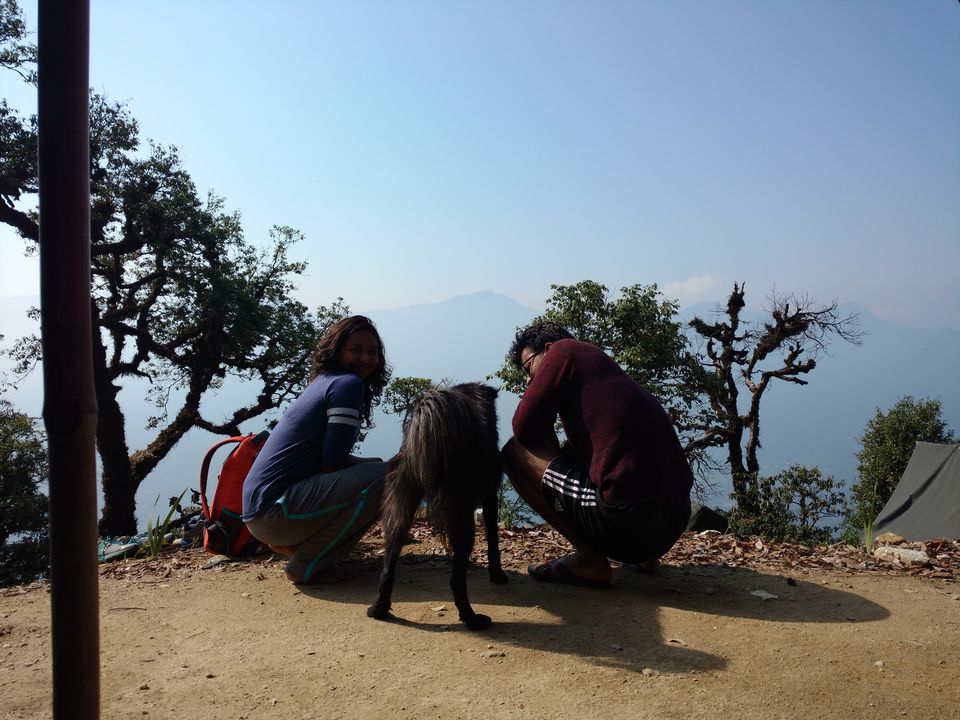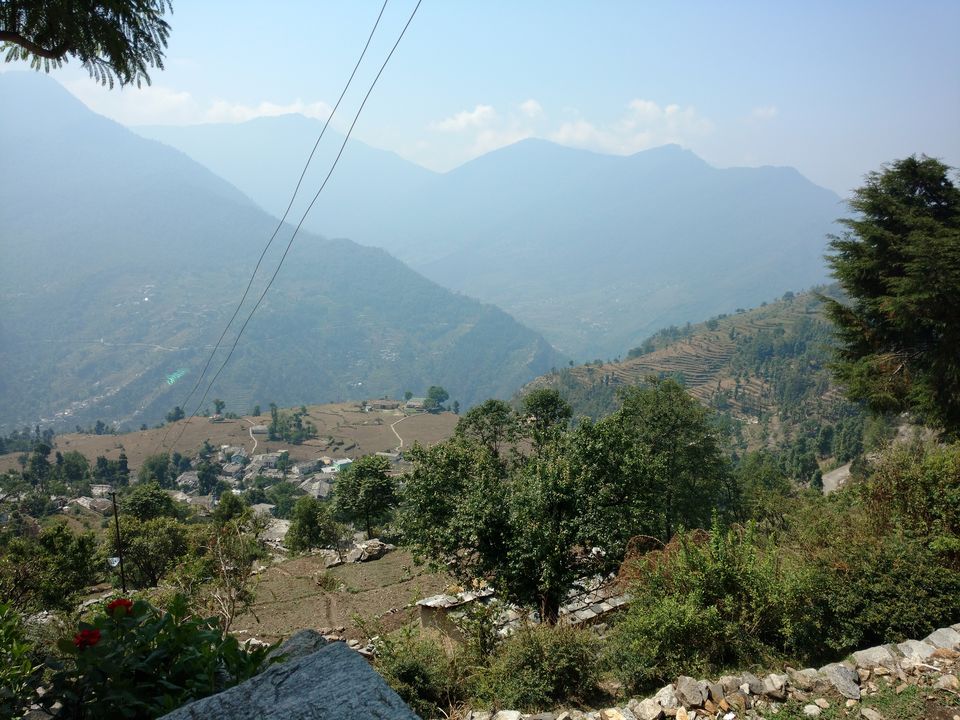 We moved ahead to Tungnath. Tungnath is a temple of lord shiva which is said to be the highest temple in the world. It is 4km from Chopta. Well built stairs are there to reach the temple and you can hire a mule to climb. You have to be sure about your stamina because even if the distance is just 4km as we climb up the air gets thinner and it may become difficult to climb if you are not used to higher grounds (Even if you can walk for 5km at a stretch in planes easily it doesn't help there trust me I learnt it the hard way) It took us 2 hours to reach the temple we reached at 3 o'clock. We had a nice pahadi lunch and we were really tired so we decided to stay at a homestay near the temple.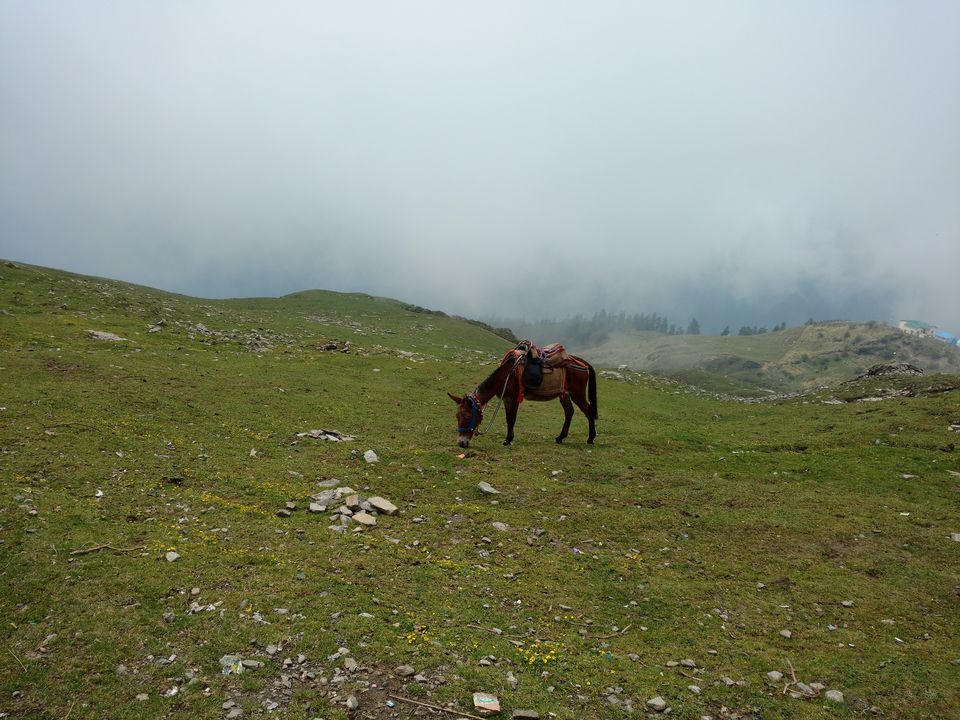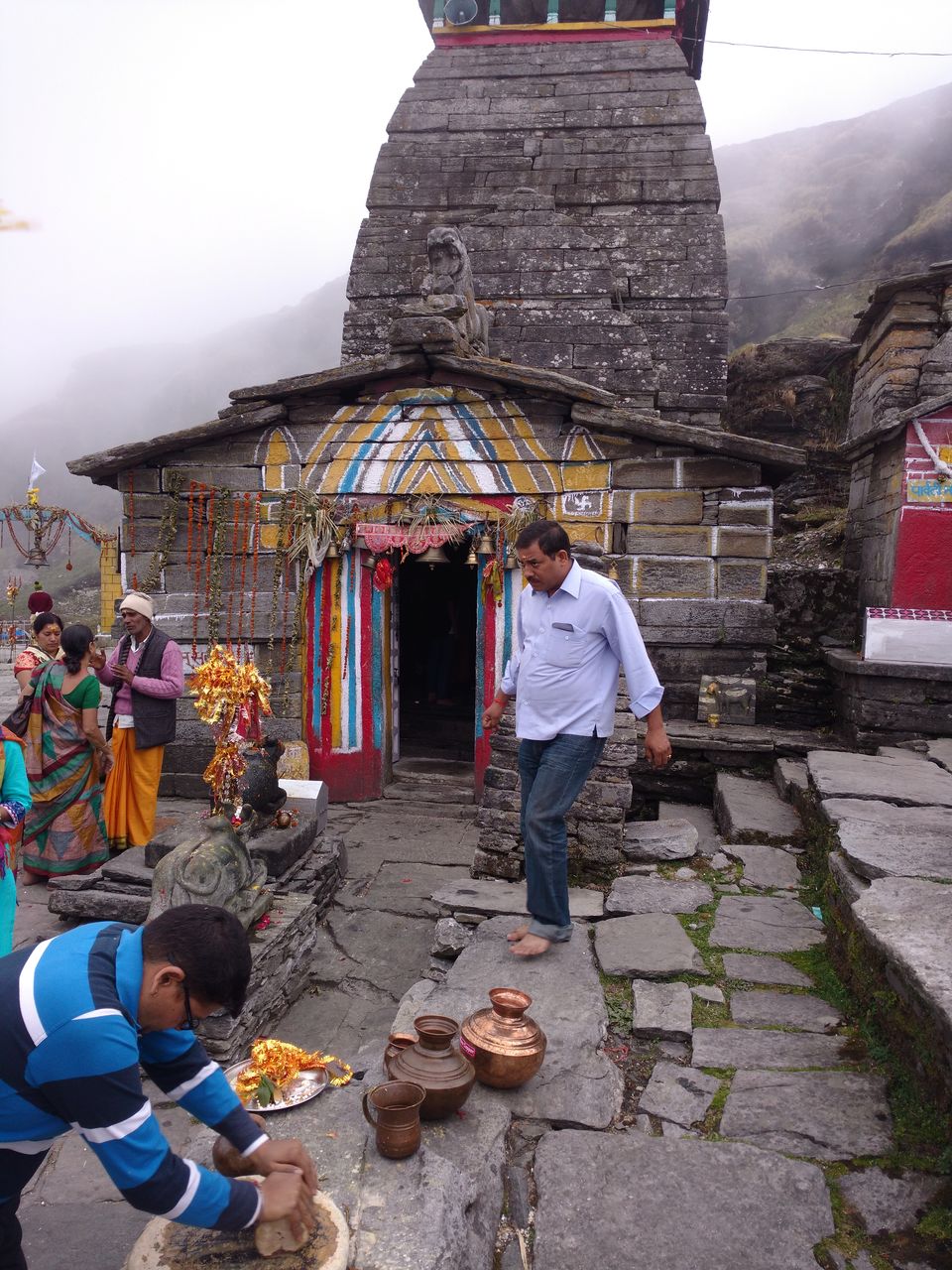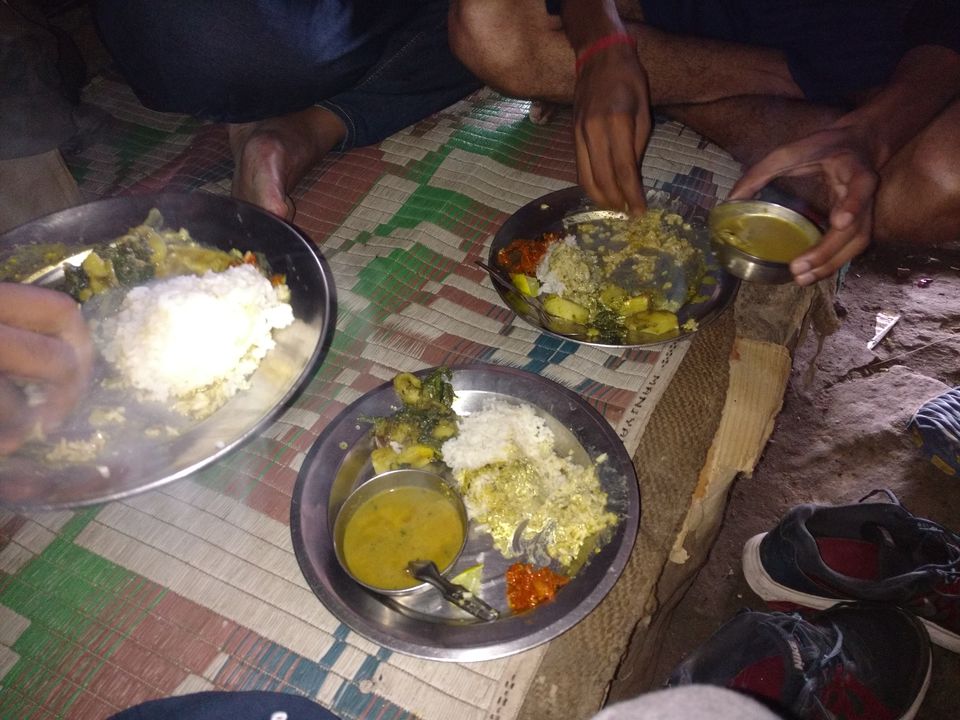 DAY 4:
Early in the morning my friends went ahead to Chandrashila a peak 1km from the temple. I had to stay back and take rest because the thin air, low temperature at night (4-5 degrees) and exhaustion had taken toll on my body (We Mumbaikars usually start roaming around in sweaters at 18 degrees :p) and I spent the morning with fever (We had left the medication kit in the car so no medicines till we reach down). As the sun rose and it became warm I started feeling better, nice hot tea and aloo parathas got all my senses back in place and we started to ascend. Stay dinner and breakfast cost us 1600/-.
Now the team was tuned onto bhakti channel so next stop was Badrinath. Reaching Badrinath was tough on the little car more than us. Due to the rains the roads were in a mess and the stones on the road did their job and punctured one of the tires on the way. It made the three boys sweat even in the cold and rains while changing the tire because of the mud and traffic on the narrow road (if you own a car make sure that you know basic things such as changing a punctured tire and have all the equipments for it luckily we did but I would strongly recommend going by an SUV). Finally we reached Badrinath late in the evening (we couldn't visit Mana which is just 4km ahead :( ) we searched a place to stay and called it off for the day.
DAY 5:
There was no electricity due to the rains in Badrinath so we decided to have bath at the hot water kund near the temple which was a huge mistake, there are two kunds separately for men and women but it was a mess. The place was enclosed by walls but had no doors so some perverts were trying to take advantage of it. Inside women were shouting,fighting,screaming,pushing. There were no proper facility of lockers to keep the cloths. I just ran out of that place and found my friends. We saw the darshan line and it was almost 2-3 km long so we decided to leave the place without even going inside the temple. We got the puncture removed and left. First time I had been to Badrinath around 10-11 years ago and the place was much less crowded, nice and peaceful but now it was nothing like that. We regretted our decision. Hotel stay at Badrinath cost us 2000/-.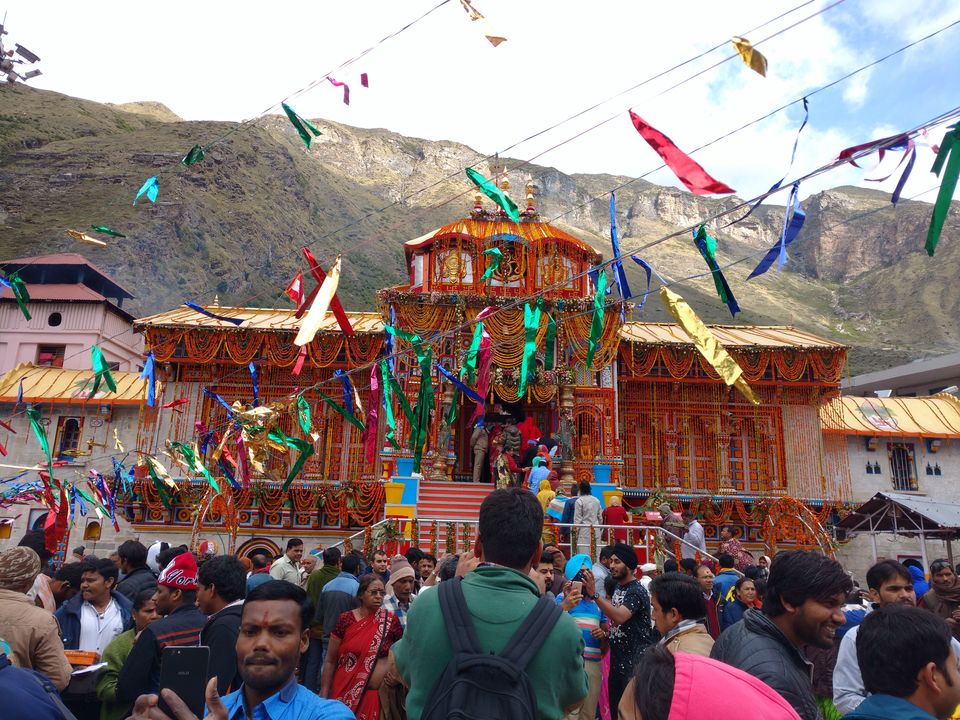 On our way back we saw the board for Auli. Auli is a place where winter sports take place during the cold months and during summers it's a really nice and peaceful hill station so we went there. At Auli we searched for a lot of hotels but everything was either full or too expensive due to the holiday season and that got us really worried. Then we found an old pahadi uncle who provided tents and assistance for people who wished to go for treks. He told us that he had one big tent which could accommodate 6 people at a time and which was booked by some other people who were on a trek and won't be back till the next afternoon.They had taken all their belongings with them so he could rent it to us till the next morning but since his cook had gone with them so we had to cook for ourselves, we were more than happy with the idea because the deal was done at 1600/- including cooking facility and food material. At night we cooked chicken, paneer and rice and had it near the bonfire listening to the stories of pahad and singing.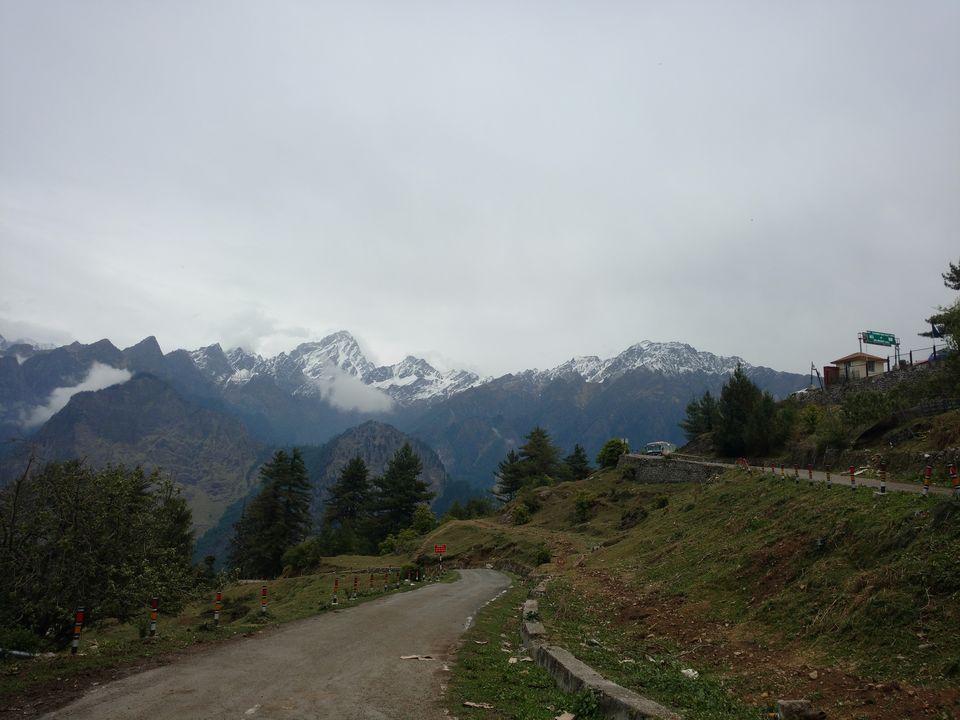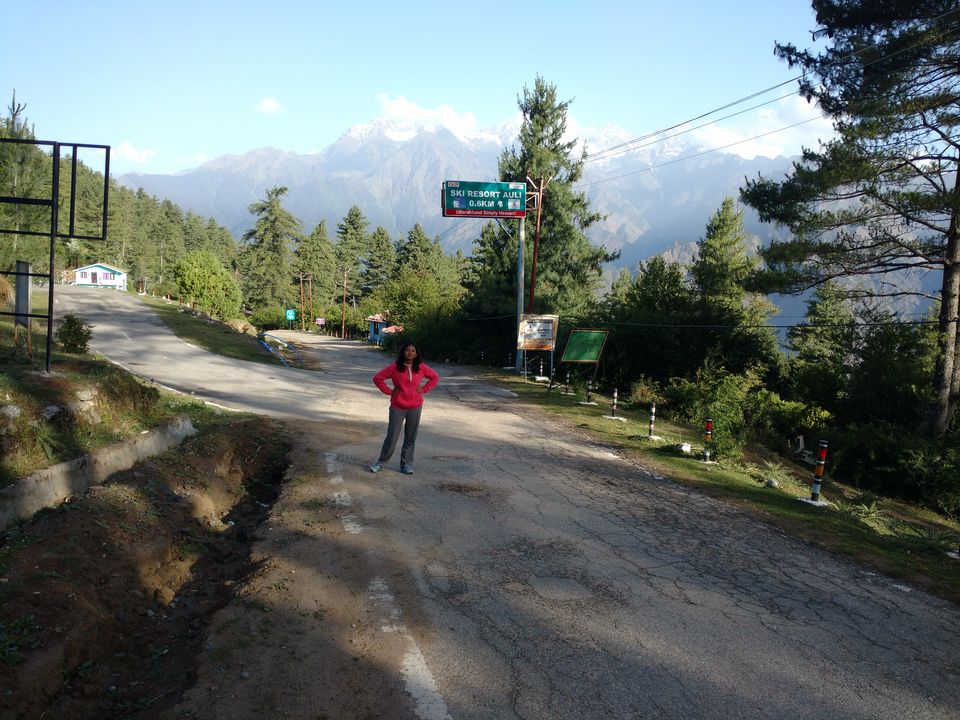 Day 6:
We had maggie and tea for breakfast and left. Now we had to end our trip and head towards Dehradun. On our way back we had buranz(Rhododendron) flower juice as it a speciality of the area. We reached Dehradun by 6 in the evening. It was 25th May and my flight was booked for 27th so I decided to spend a day in dehradun itself.
Day 7:
In Dehradun I stayed at an hotel near Rajpur road which is a prime area with markets and some other places easily accessible. Since all my friends had left I stayed alone. Since Dehradun isn't a new place for me I was chilled out and confident. I had my dinner. After my dinner when I returned to the hotel the manager called me to enquire about how I was feeling was I comfortable and why I hadn't taken dinner at the hotel. I lied that I wasn't hungry and just went for a walk instead. The next morning I went to a cafe and bakery named Elloras. They have delicious pastries and puffs and other food stuff. Walking by the road I came across a nice and tidy book cafe. I love reading books and since I had forgotten to carry a book this time I bought two and nice lichis since it was a lichi season. I returned to my room to leave the stuff I had bought there again I got a call on the intercom from the manager asking my whereabouts, now I grew concerned. I had some work nearby so I went there and I called my friend to accompany me in the evening he agreed to join me at around 4pm. I had lunch at a place called Anandpuri they have amazing parathas, kulchas and the jalebis they serve are to die for and the rates are reasonable. My friend came to meet me and we discussed the trip. We had dinner at a place called sunburn bistro. After dinner I left for station to catch a train for Delhi at 10pm. I had checked out from the hotel but still I got a whatsapp message from the hotel manager, apparently he had found my number from the visitors details form which I had filled while checking in (This incidence has confused me whether to give your true details at the hotel or not especially when you are travelling alone). After ignoring a few messages I blocked him.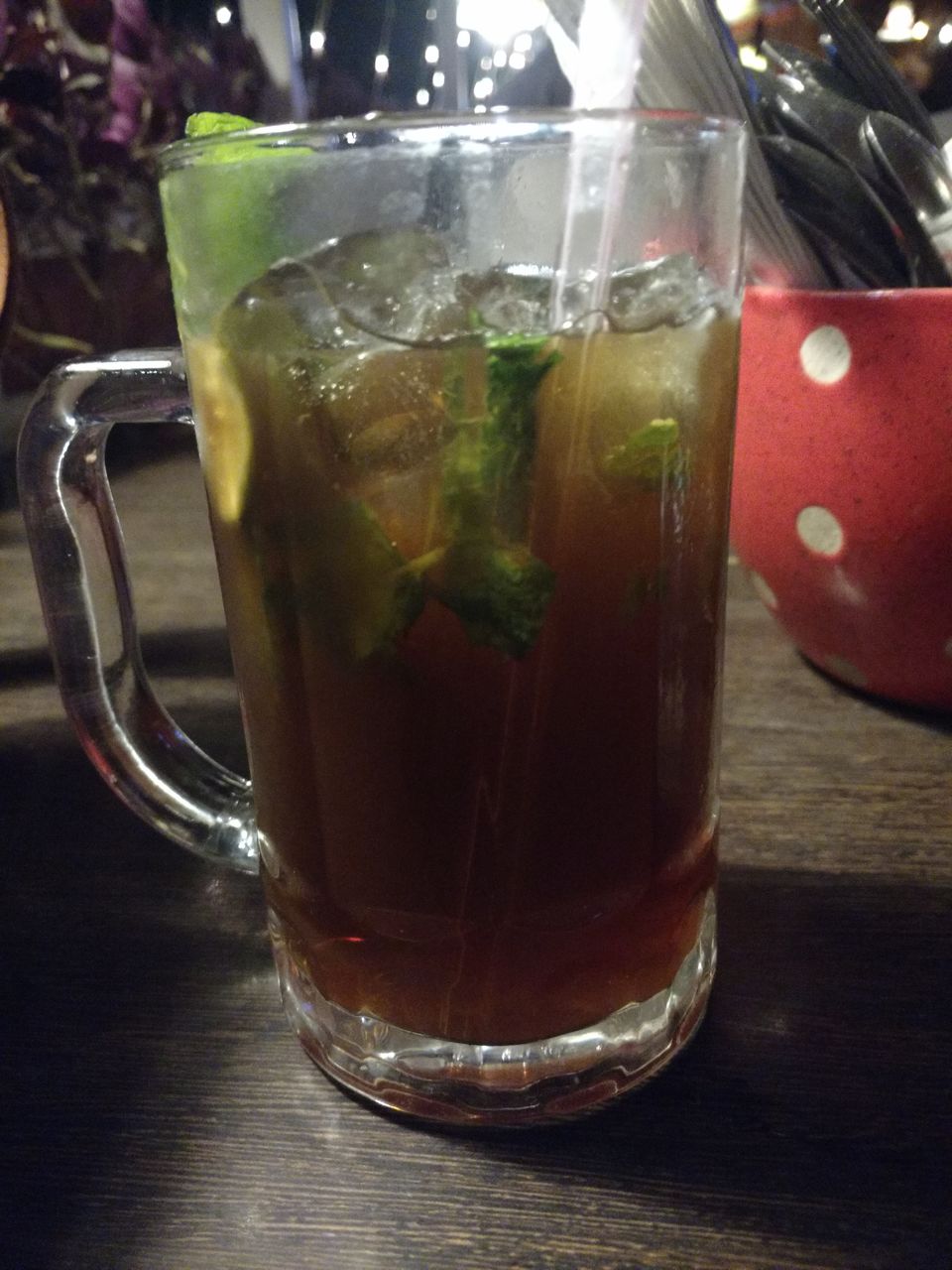 Day 8:
I reached new Delhi station at 5.30am and after taking a nap at a friends place I left for airport a little early. I reached the airport at 11am, I had a flight at 12.10. I checked in and went through security and as I started to move towards my gate I found that my flight had got delayed by an hour. So I sat at a place quietly with a book I had carried in my hand bag. After 40 min I found out that my flight had got delayed even more by 2 hours. Now I was tired,irritated and hungry. I had lunch at the food court and bought some coffee to kill my drowsiness but I spilled it on myself accidently. Now I had an old t-shirt in my bag everything else had been put in the baggage and already taken away from me at the checkin counter and flight had got delayed again by 1 more hour so total 4 hours, this had turned to be the worst flight ever (always carry extra pair of cloths in your handbag or at least a jacket while traveling, flying is not an alien thing for me but I never thought I would have to face such an embarrassing situation ever). Finally I got on the flight and reached Mumbai airport at 7pm.
It was one of the most memorable journeys I have been on and now I look forward to go on some more like these.