A few years back, vacation meant fancy hotels with room service and swimming pool. Until I started trekking. It completely changed my perspective. Now I crave for those desolate places where you can only reach by foot. The long walks clear my mind. Every trek touches my soul, it transforms me in some way that I am not aware of.
This August we went to the Valley of Flowers & Hemkund. By 'we' I mean "Team Argonaut". We are a group of trek enthusiasts from the northern suburb of Kolkata. We have around 20 members, but only 9 could make it for this trip.
Before I start documenting our journey I must warn the readers that Hemkund is a very popular destination for Sikhs, and the trek is incredibly crowded. If you prefer your treks to be desolate, this one can be avoided.
Disclaimer: The photos are clicked by everyone in the team.

Day 1 (13th August 2022): We boarded the Kumbha Express from Howrah at 12 pm. Pantry food was pathetic. The 3AC compartment was pretty crowded by local passengers. The train journey was uneventful.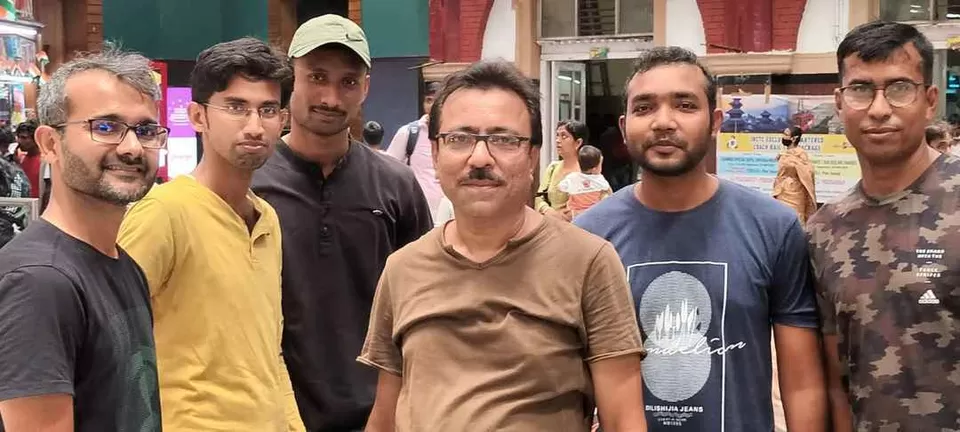 Day 2 (14th Aug, 2022): We reached Haridwar at 5pm, and walked to the Bharat Seva Ashram (around 1.2 km from station). We got 3 non-AC rooms for Rs 400 each room. The premise is very clean and spacious. The rooms were also quite clean.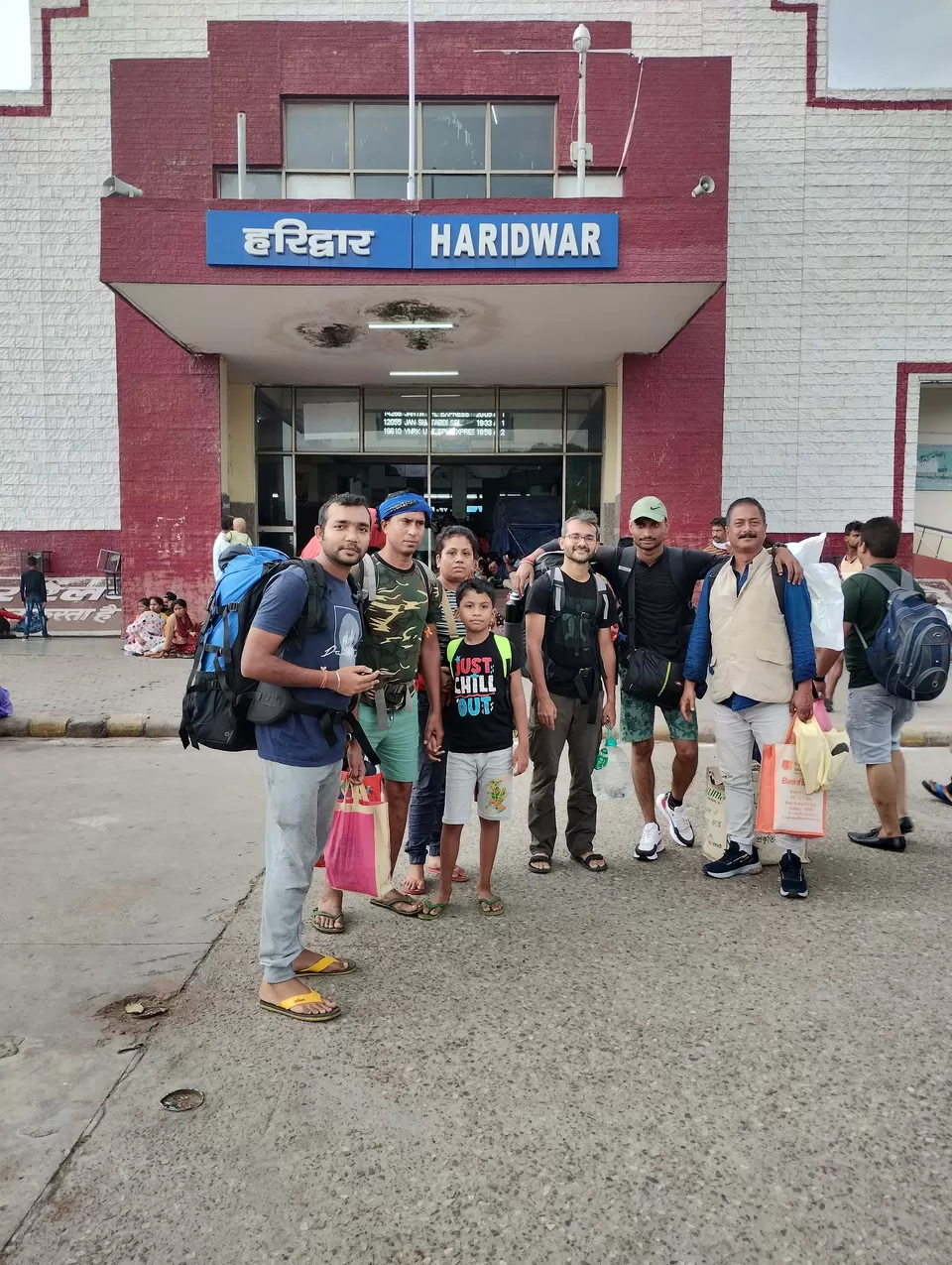 We booked bus tickets for going to Joshimath next morning for Rs.580 per seat. Direct buses to Govindghat were fully booked. The cost of Tempo traveller is around Rs 15000. We preferred to travel by bus because it's much cheaper, and we get to meet new people on the bus. In the evening we went to the Har Ki Pauri ghat, but the Ganga Aarti had already started, and the place was teeming with people. We roamed around the market and had dinner at "Dada Boudi Hotel". There are about a dozen dada boudi hotels, and each one claims to be original. They serve vegeterian thali for about Rs100 (rice, dal, aluposto & potol).
Day 3 (15th August): Our bus to Joshimath started at 4.15 am. It was dark when we crossed Rishikesh. At dawn we were already cruising the winding roads towards the hills, and the Ganges was never out of sight. We reached Devprayag at around 7am. It's breathtaking to watch Bhagirathi and Aloknanda merge to form Ganga. You can see the two different colors merge to become one.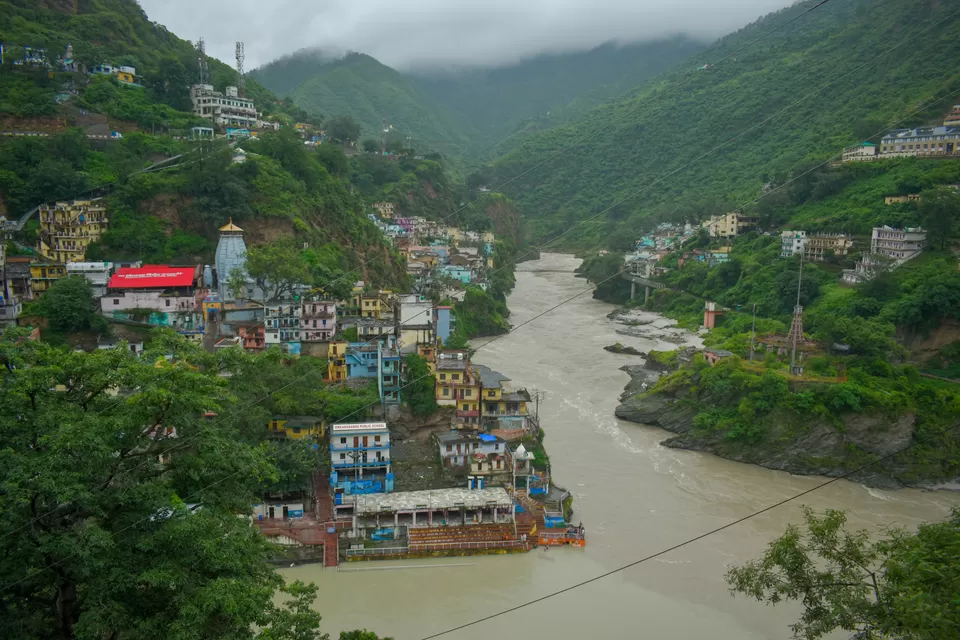 When we reached Srinagar by 8am, we saw tiny school children marching and chanting "Bharat Mata ki Jay" to celebrate 75th year of India's independence. By 9, we reached Rudraprayag (river Mandakini meets Aloknanda). We stopped for maggi & tea. Soon after, the front tire of the bus burst and it almost collided with a biker. Luckily no one was hurt. It took around 30 minutes to replace the tire. The conductor worked 'tirelessly' to fix it. Our misfortune was not over yet. There was a landslide. It took 3 hours for bulldozers to clear the stones. We had lunch (chicken + rice) during that time at a small roadside restaurant. It was almost 3pm by the time we reached Karnaprayag (river Pindar meets Aloknanda); and almost 5.30pm to reach Nandprayag (Nandakini meets Aloknanda). We reached Joshimath at dusk. We were contemplating staying in Joshimath for the night, but luckily we found a sumo for only Rs900 to drop us at Govindghat. There's a gurudwara at Govindghat where we could've stayed for free, but it was already dark so we took whatever cheap hotel we found. We actually found a remarkably luxurious room in a newly constructed hotel for only Rs.2500 (for 3 rooms). We had anda bhurji, dal, roti for dinner in a roadside dhaba.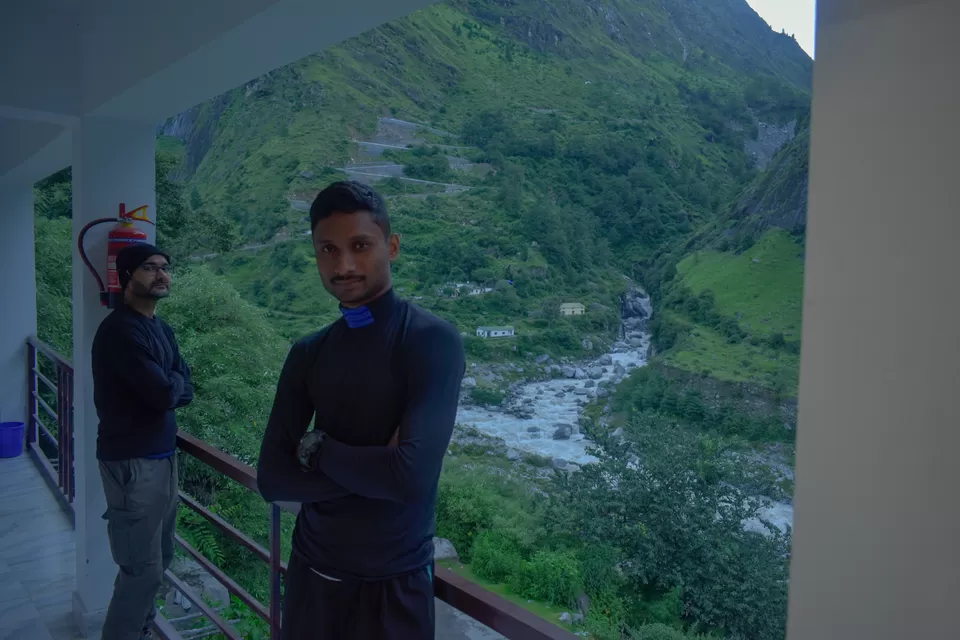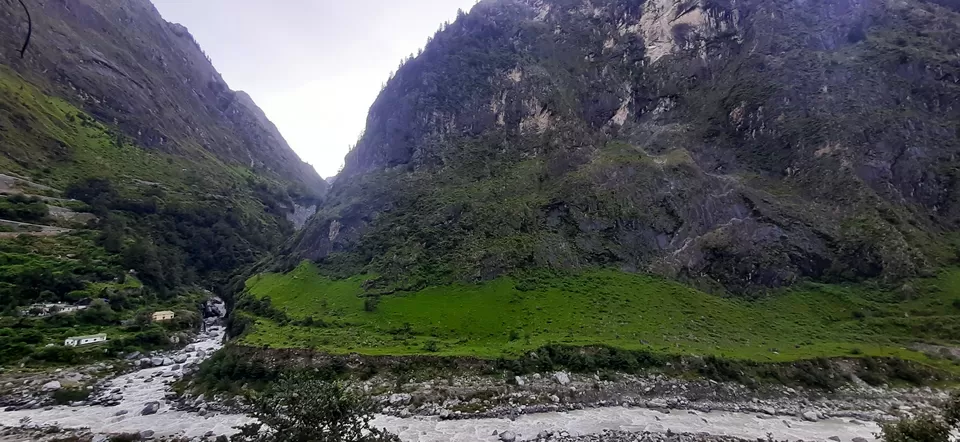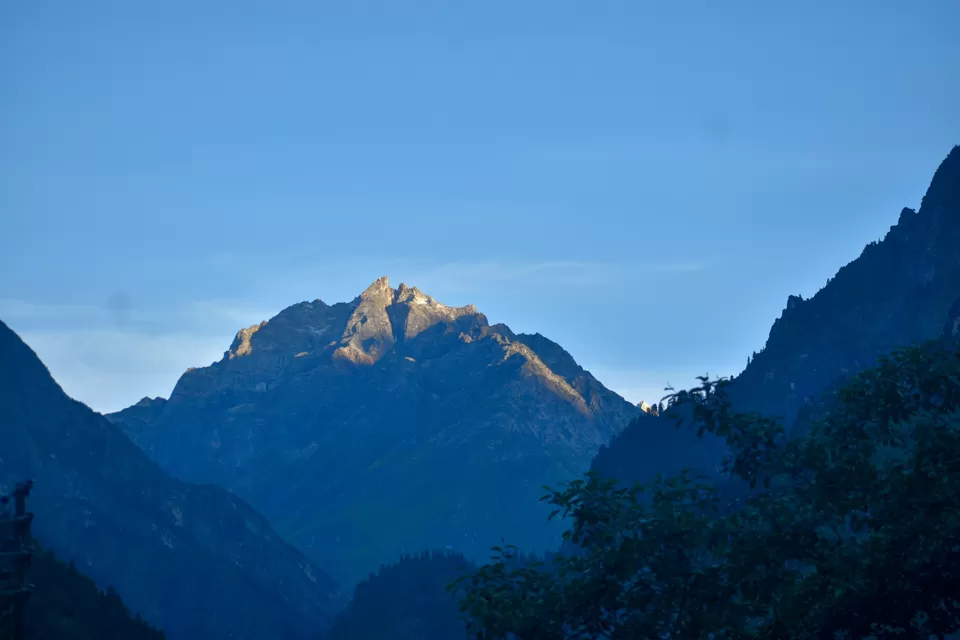 Day 4 (16th August) - With a glass full of sattu in our bellies, we started our journey towards Ghangaria (also called Govind Dham) at 6.30am. We got a Tata-Sumo from Govindghat Gurudwara to Phulna for Rs.500. There are trekking sticks and ponchos available near the gurudwara. There are horses, palkis & pitthus available at Phulna. Lot of people prefer to offload their luggage if not sit on a horse themselves. The road is made up of rocks, and it seemed quite difficult for the horses to walk on those slippery rocks with so much weight on them. I wish people would stop torturing the animals. We started ascending after crossing Alakananda over a small bridge.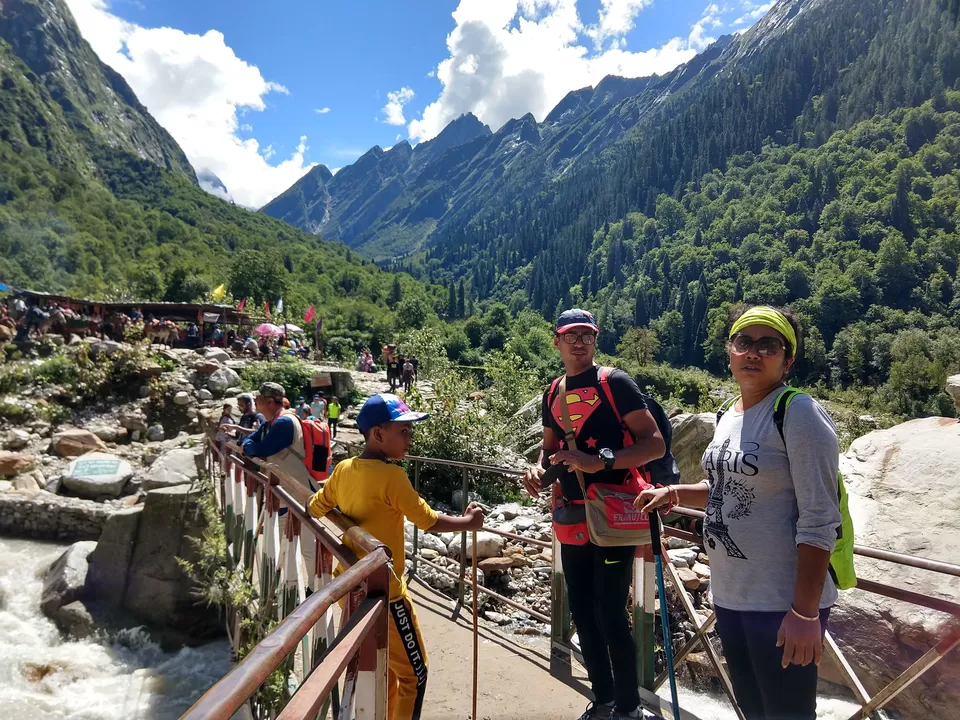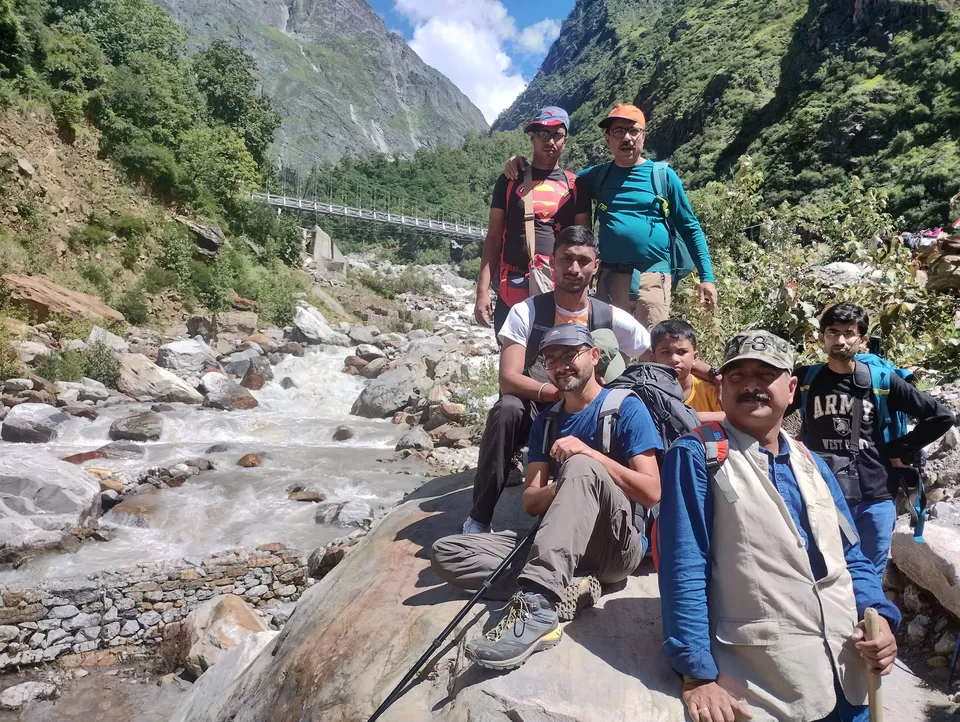 We started climbing with LaxmanGanga on our side. The path was full of trees; and you can always hear the roar of the river even when it's out of sight.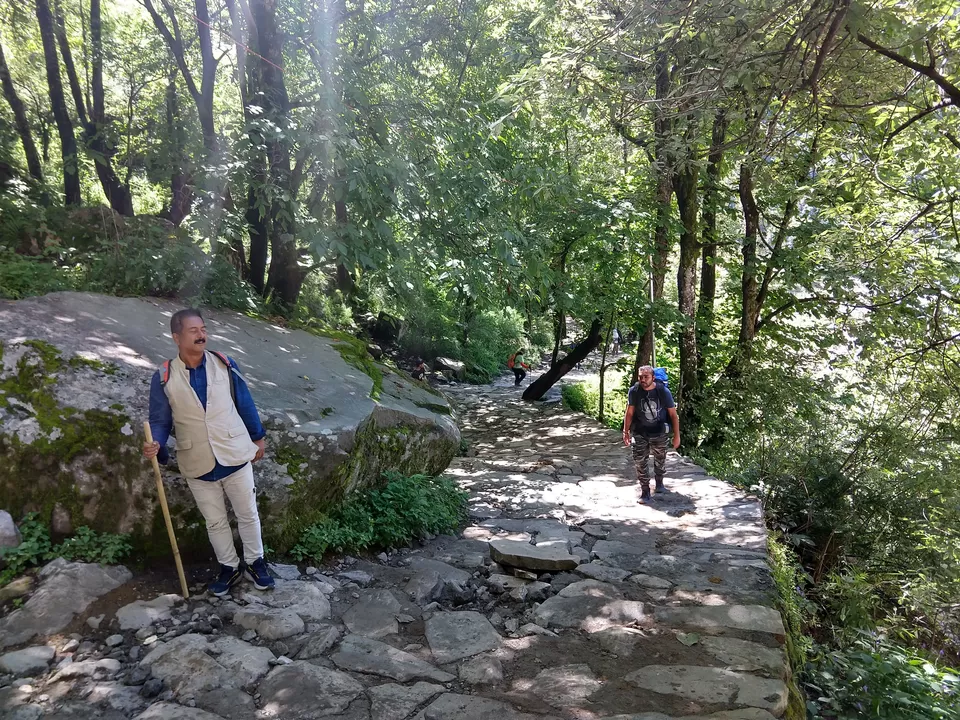 The walk was beautiful, except for the horses constantly threatening to shove us in the abyss. There are several eating joints on the way. We only had nimbu pani. The climb was quite steep in the end, and we had to take frequent breaks. It was past 1pm when we reached Ghangaria. We started looking for hotels and soon realized that there were none available. The entire place was over-booked. We found a few beds in the Gurudwara dormitory, but everyone was reluctant to stay there due to the huge Sikh crowd, and the common toilets. Thankfully a hotel offered to setup a large tent on its roof for us. Gangaria is a beautiful village nestled by green hills on all sides. The rooftop tent had the best view of all. For lunch we had egg-curry with rice at DevLok restaurant for Rs200. It was not very good. We stent the afternoon chatting and eating muri+chanachur on the roof. We also had hot jalebi near the Gurudwara. We booked DevLok hotel for the next 2 days (for Rs12000- 3 rooms without hot water). In the evening, the night sky looked amazing with millions of stars. The roof tent was literally a million star hotel.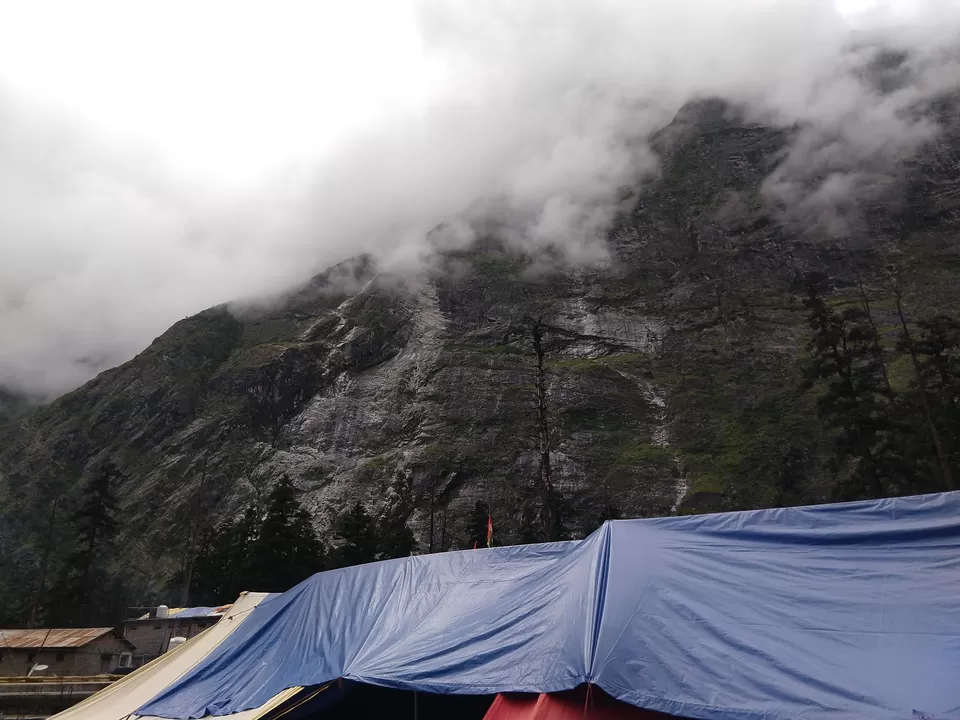 Day 5 (17th August) : Next morning I woke up at first light to find Venus watching us from above. Two of us started at 6 to buy tickets (Rs 150 each) for Valley of Flowers. They asked for everyone's name, age; and three member's phone numbers and andhar numbers. Remaining folks joined us at 7.30 and we started our walk towards the valley. Since most of the tourists go to Hemkund, VOF was relatively less crowded.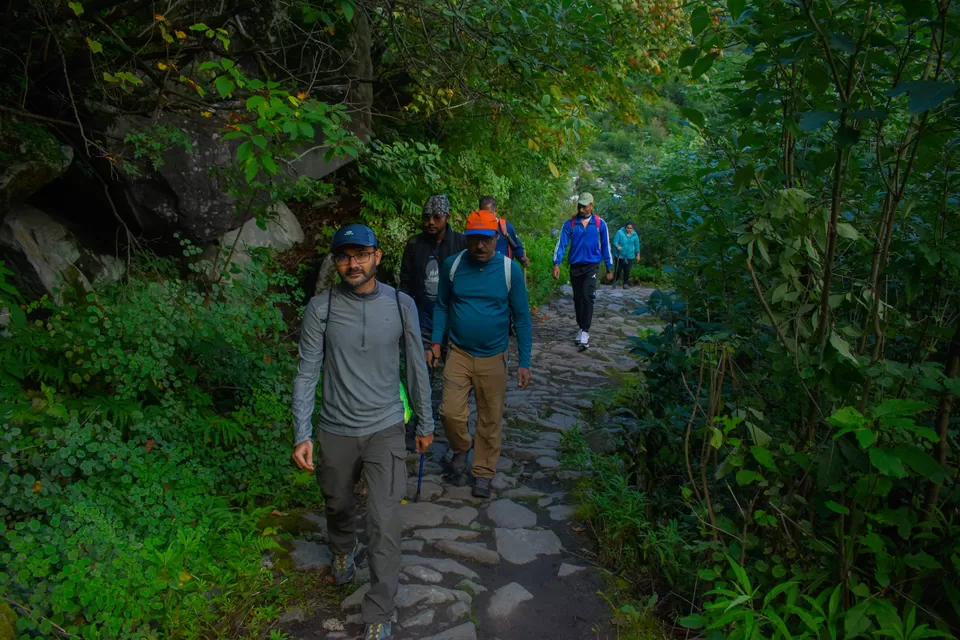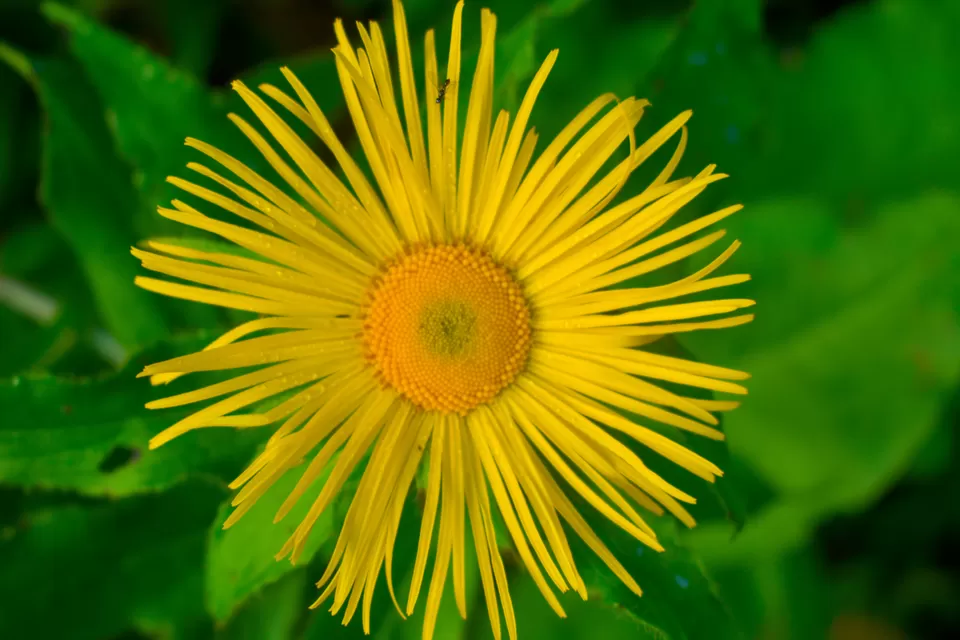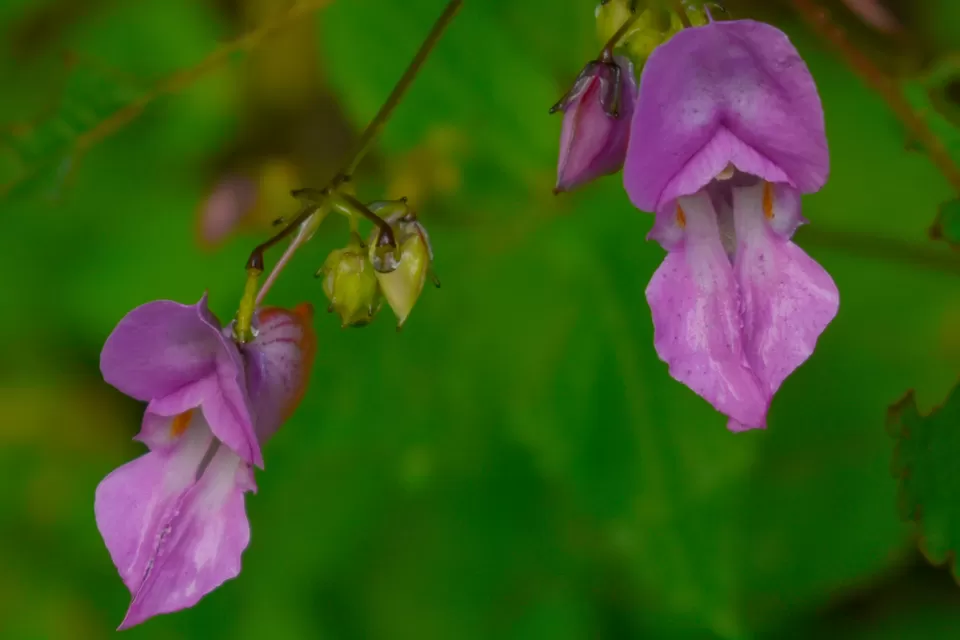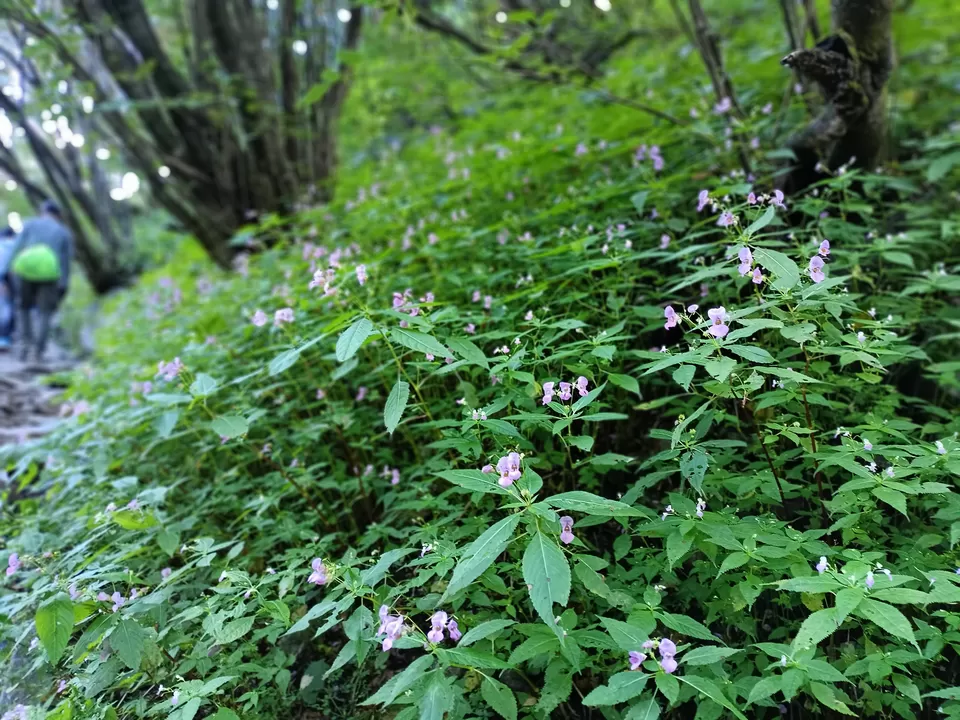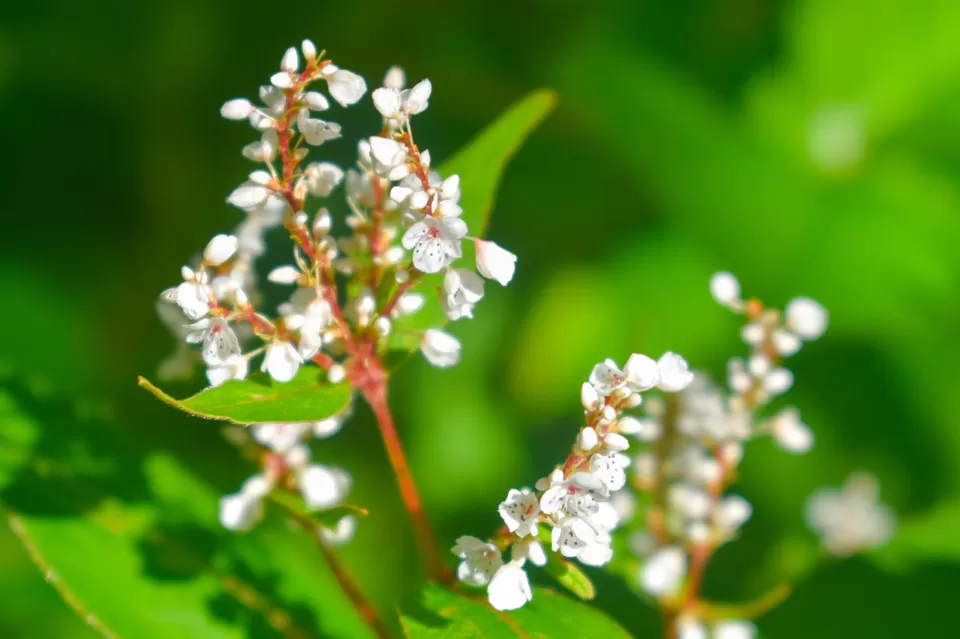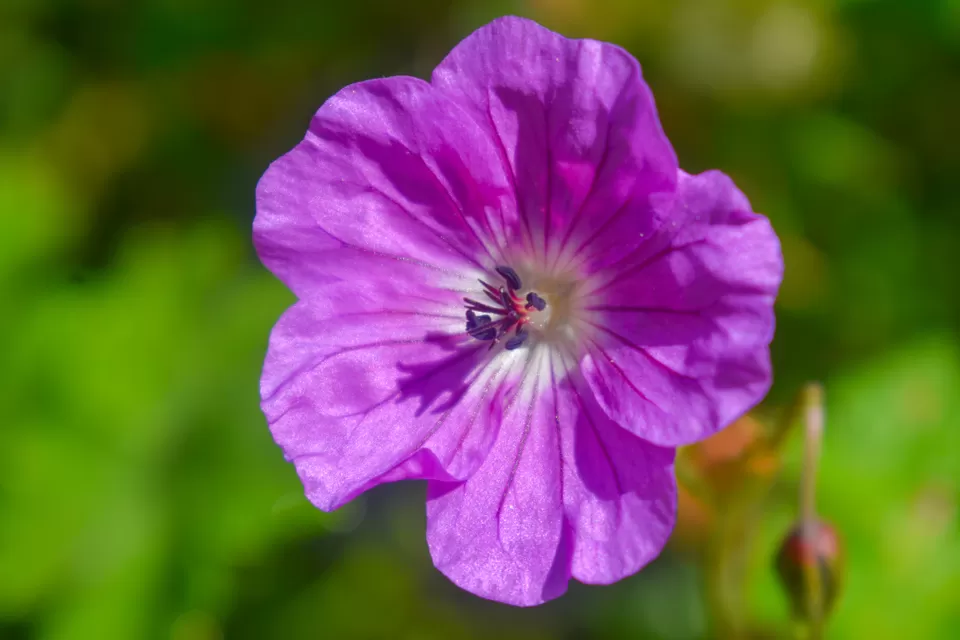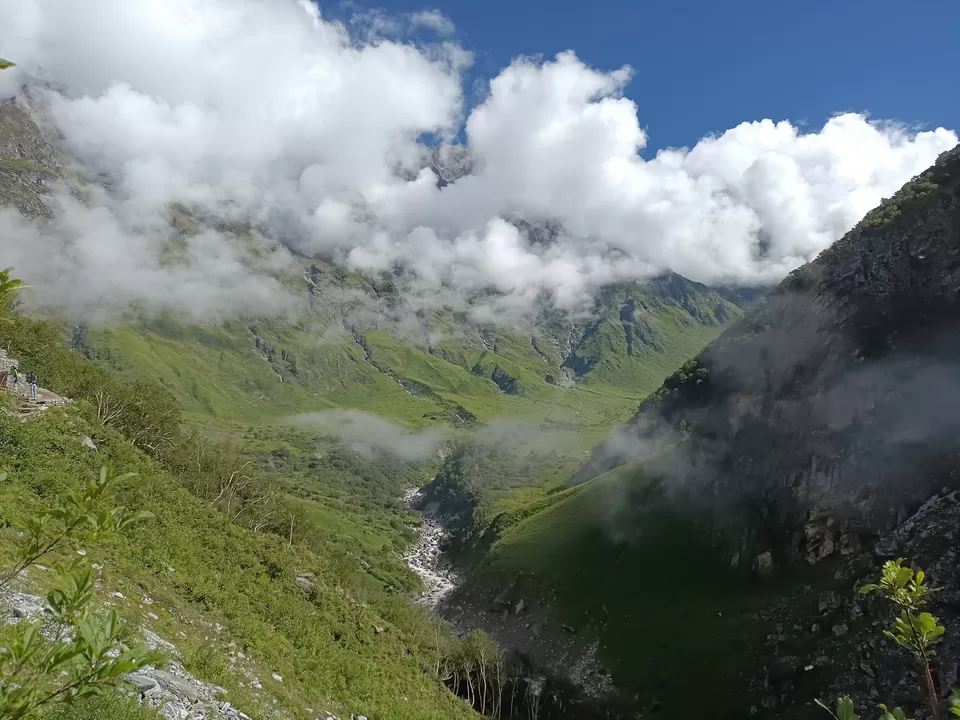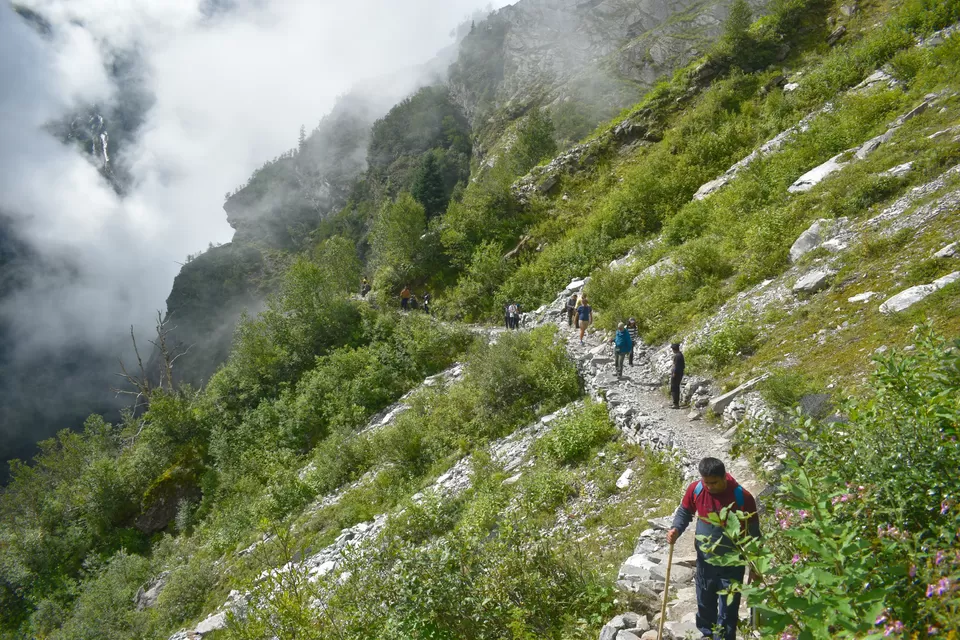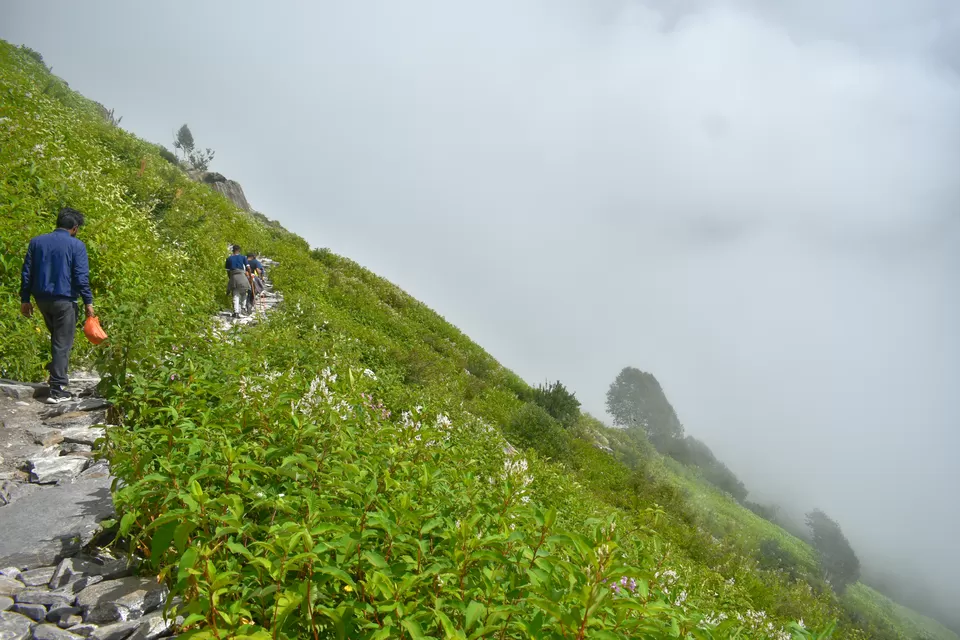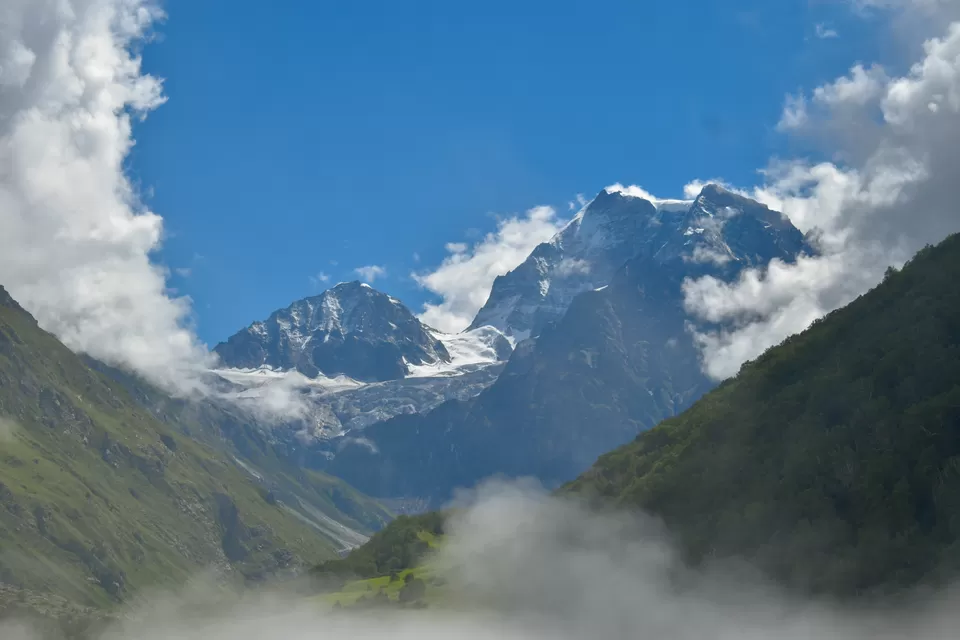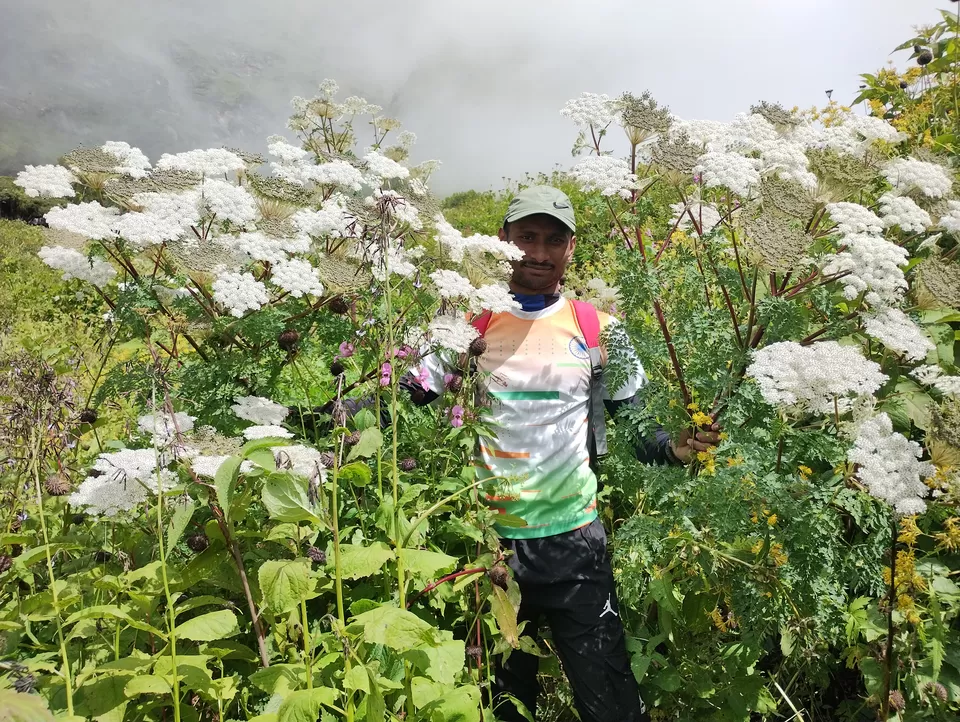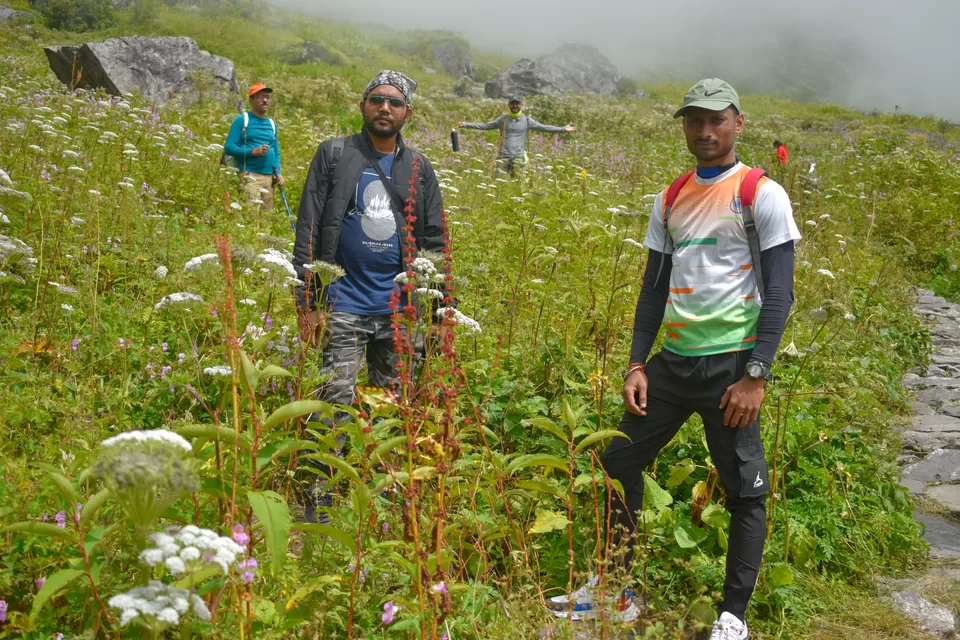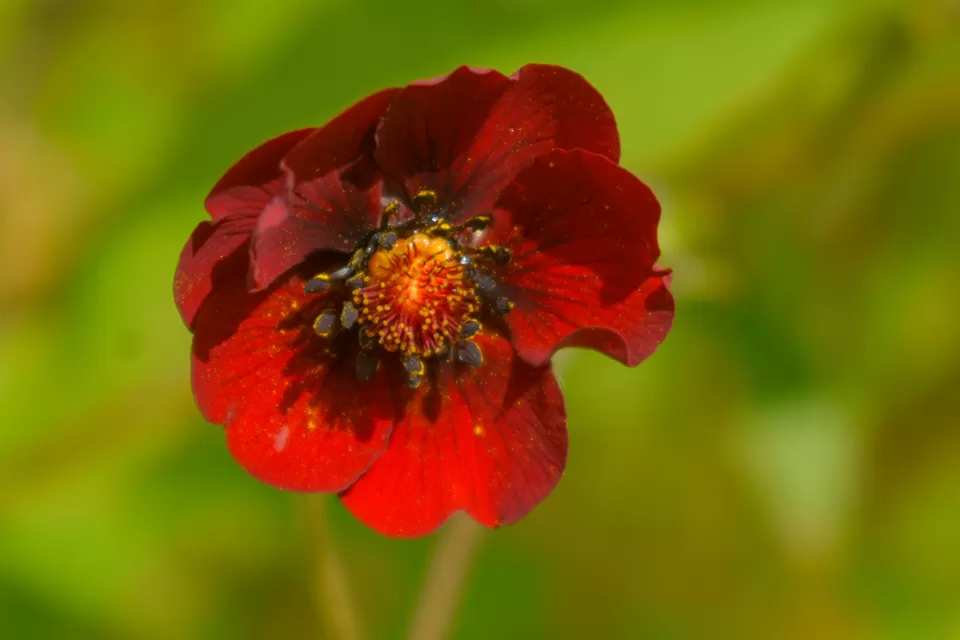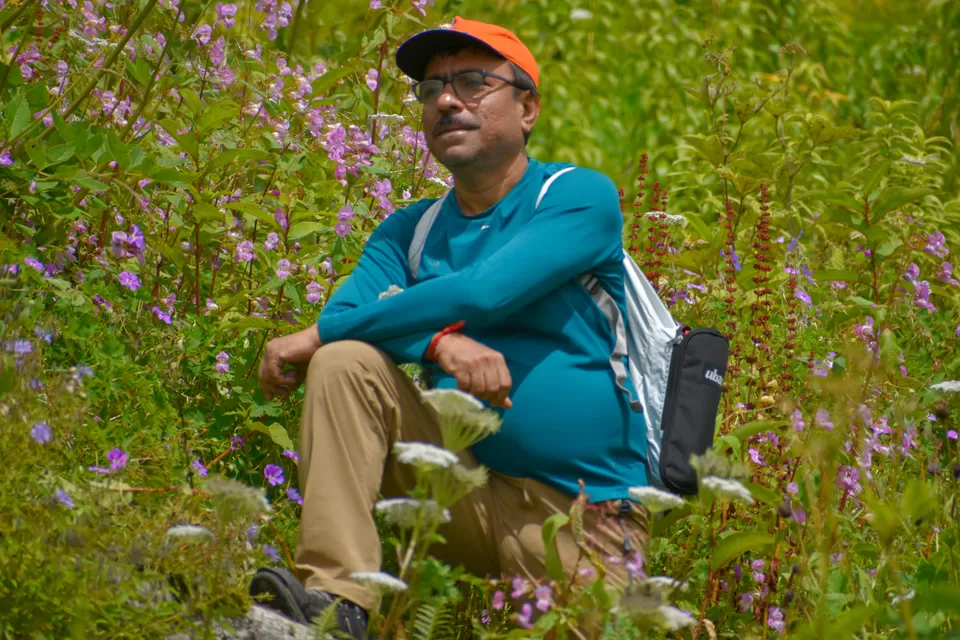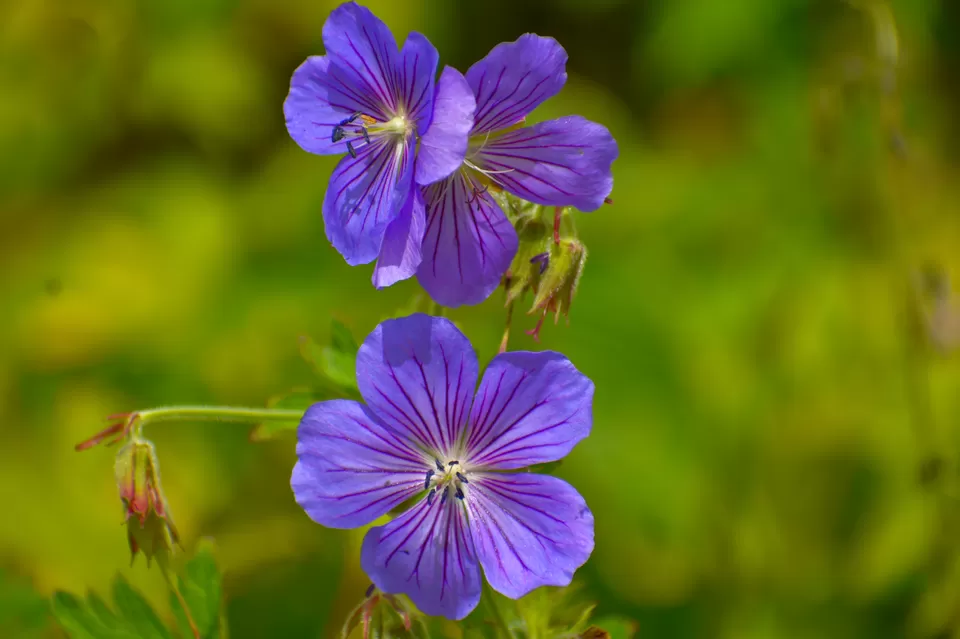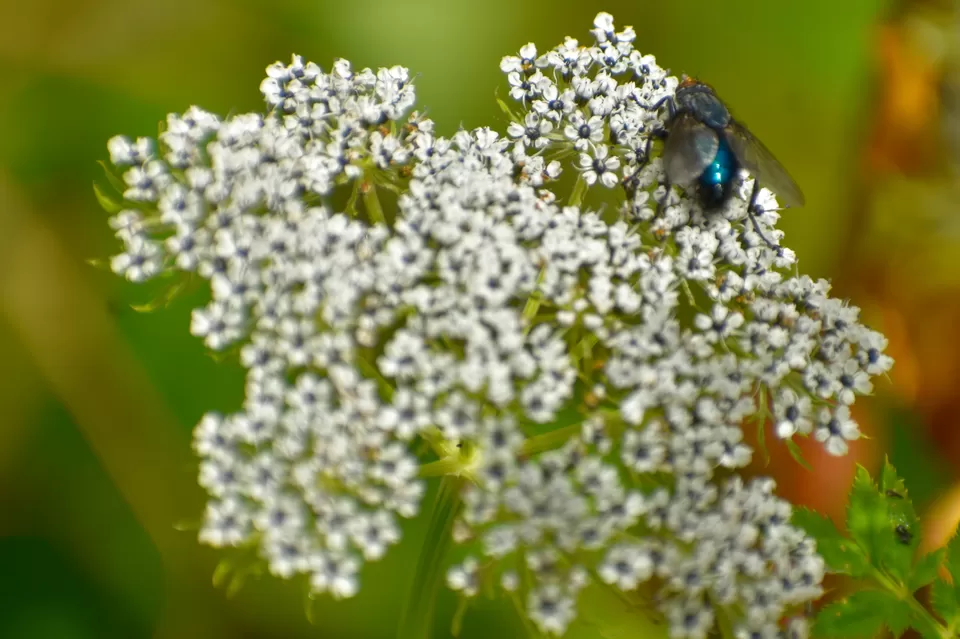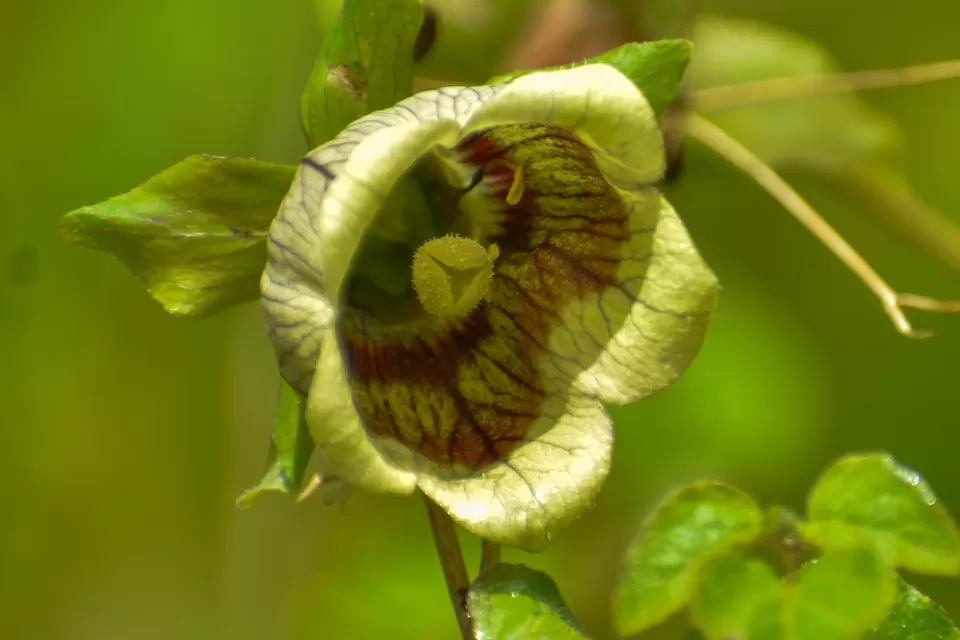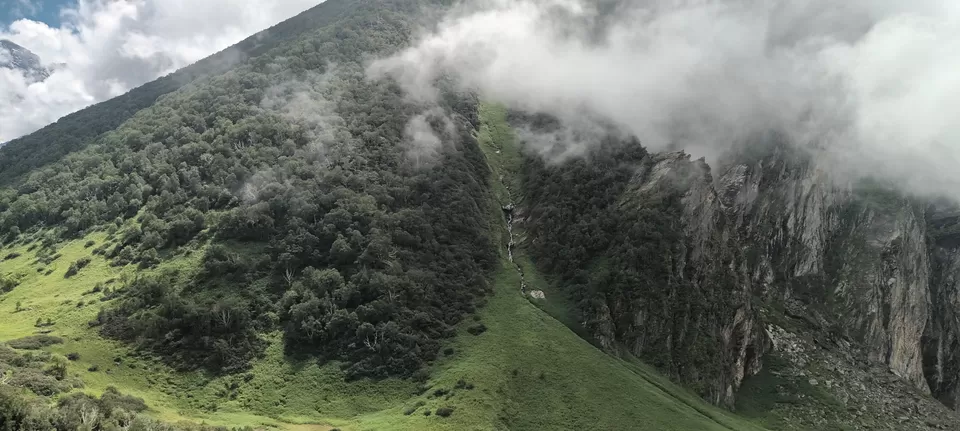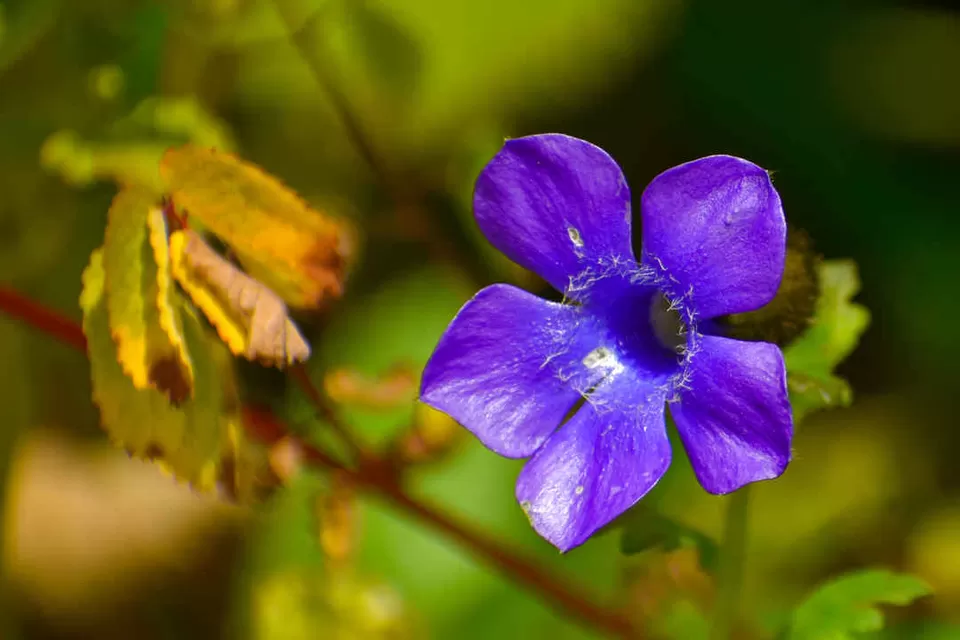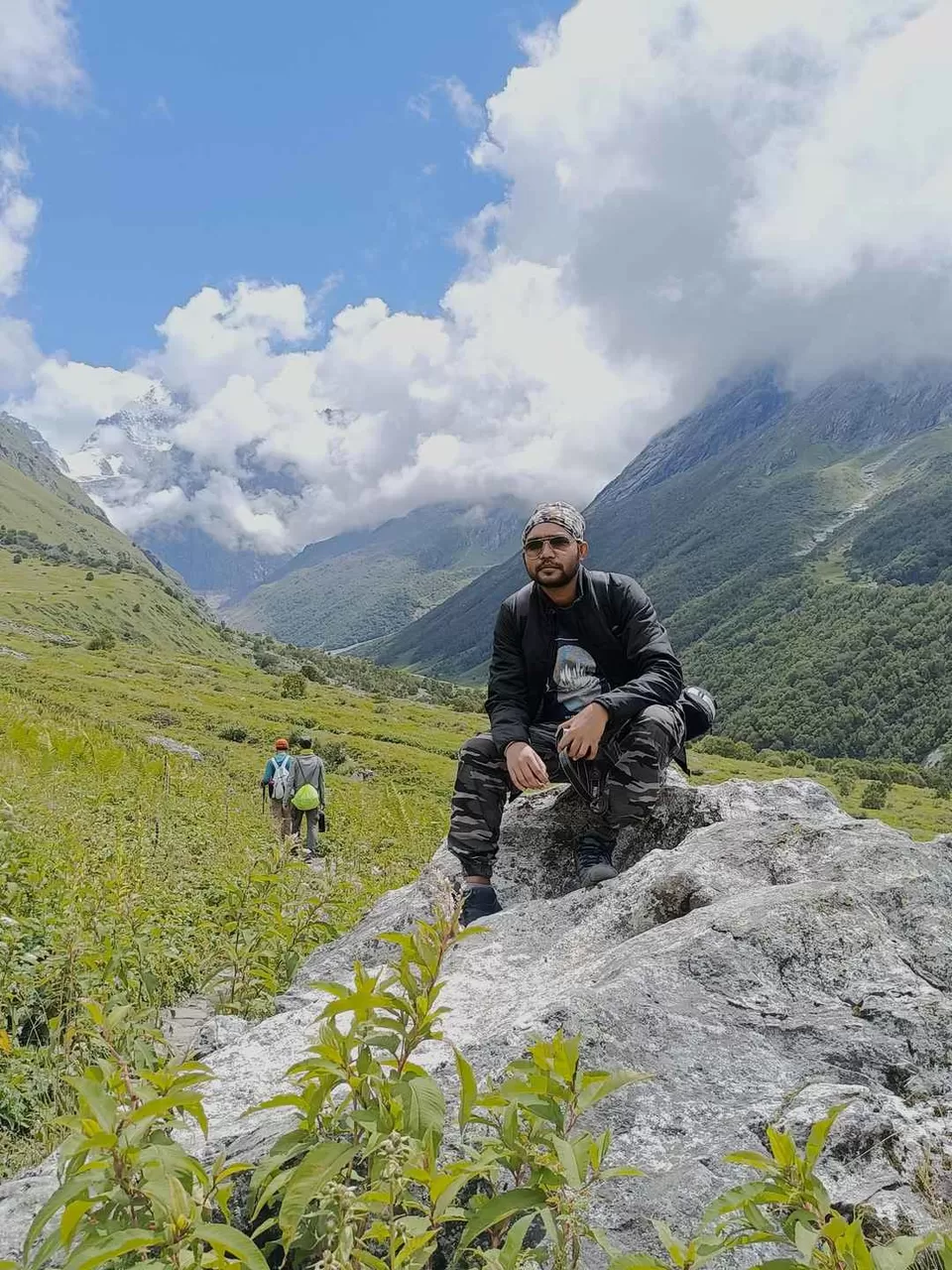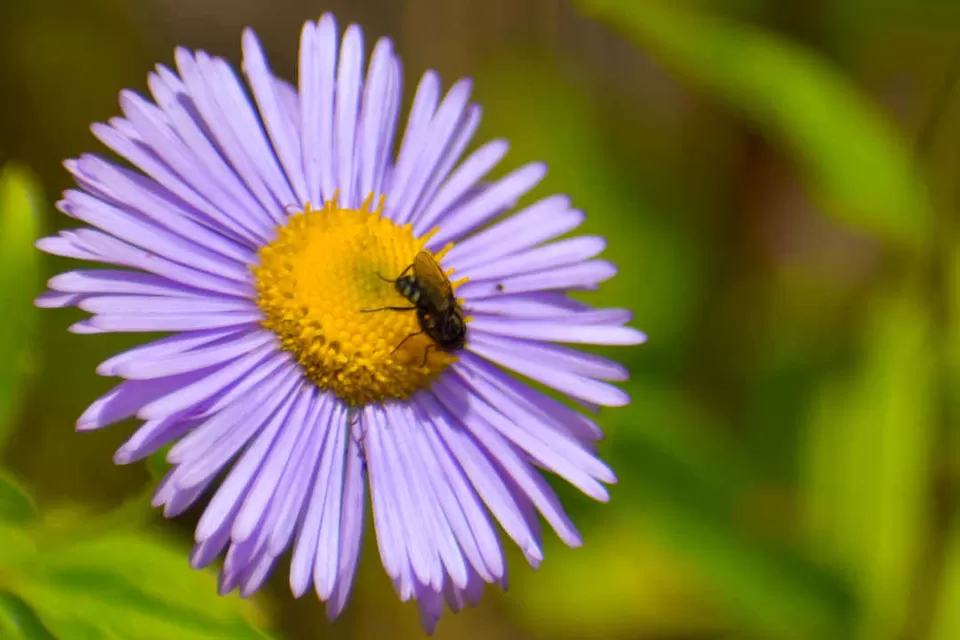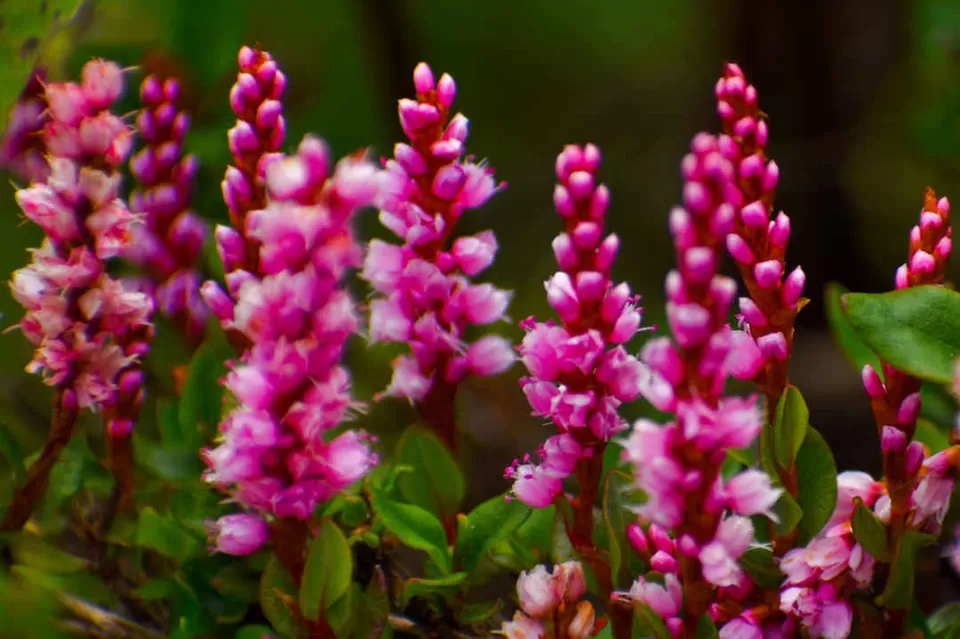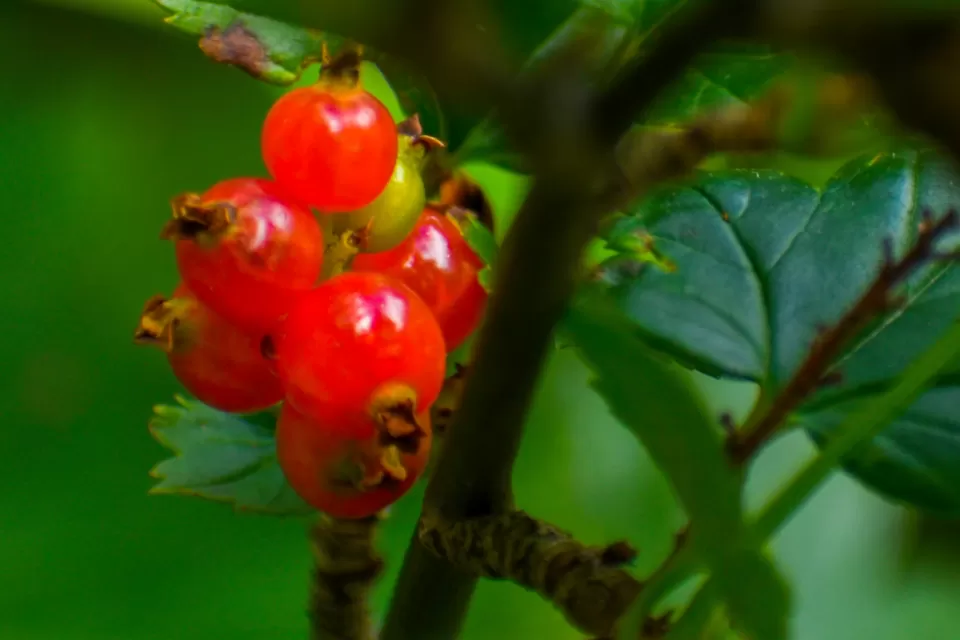 Most people roamed around the initial part of the valley. We preferred to walk towards Tibru kharak, to see Pushpawati river in her full glory.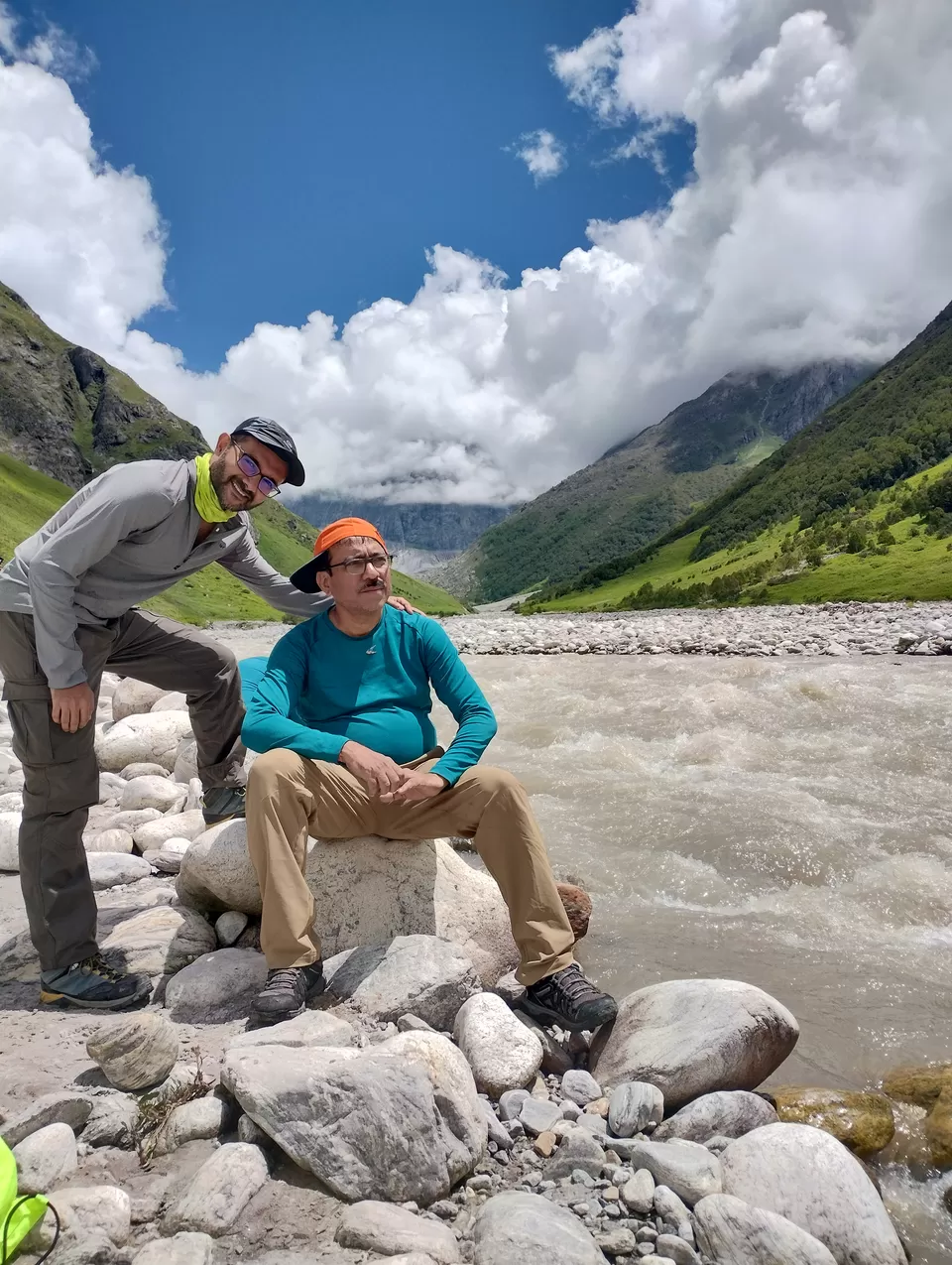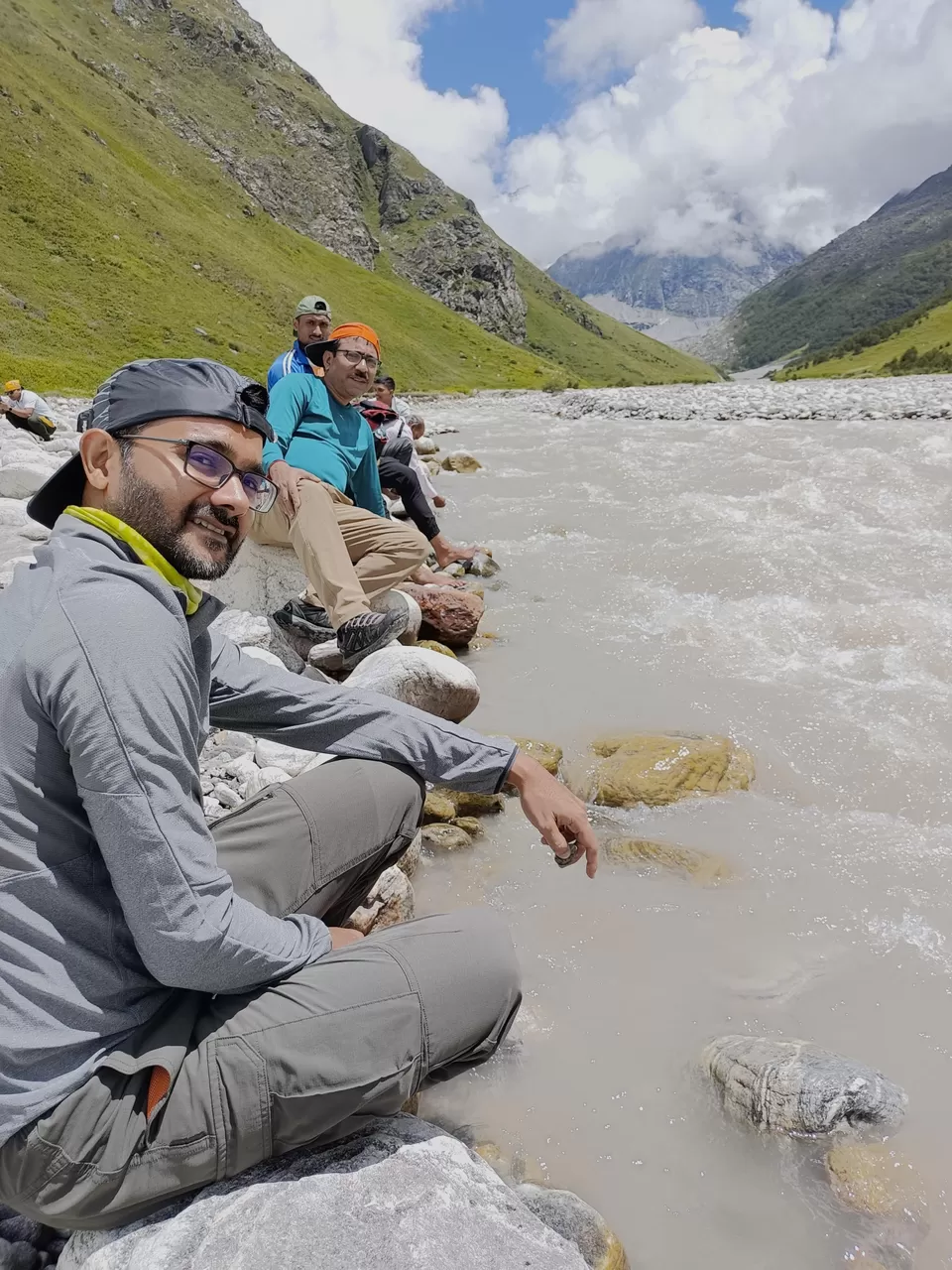 There's a tomb of Miss Legge in the valley too. She died in the valley while camping there in 1939. We did not see any brahma kamal or blue poppy there. We started walking back at 1pm, as the gate closes by 4pm. We spoke to a lot of people in the valley. There were groups from Kerela, Andra, Gujrat, etc. ; there were some solo trekkers too. A couple told us about Gurudwara langar food. So, when we reached Ghangaria, we ate at the langar. They served roti, rice, dal and kadi. We also discovered unlimited milk-tea at the gurudwara, which saved us a lot of tea money for two days. We had maggi for dinner.
Day 6 (18th August): We started at 4.30 for Hemkund. It was a continuous steep climb. Luckily the sky was clear, and the mountain provided us shade. The path was full of flowers, and we started seeing the snow-clad peak of Mount Kamet after sometime. We also started seeing bramha kamals and blue poppies.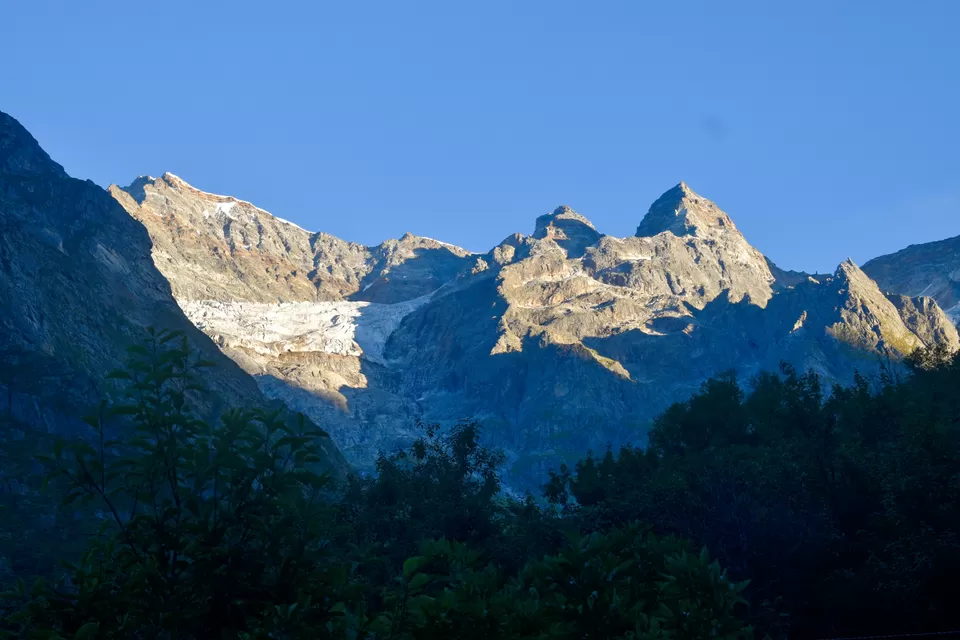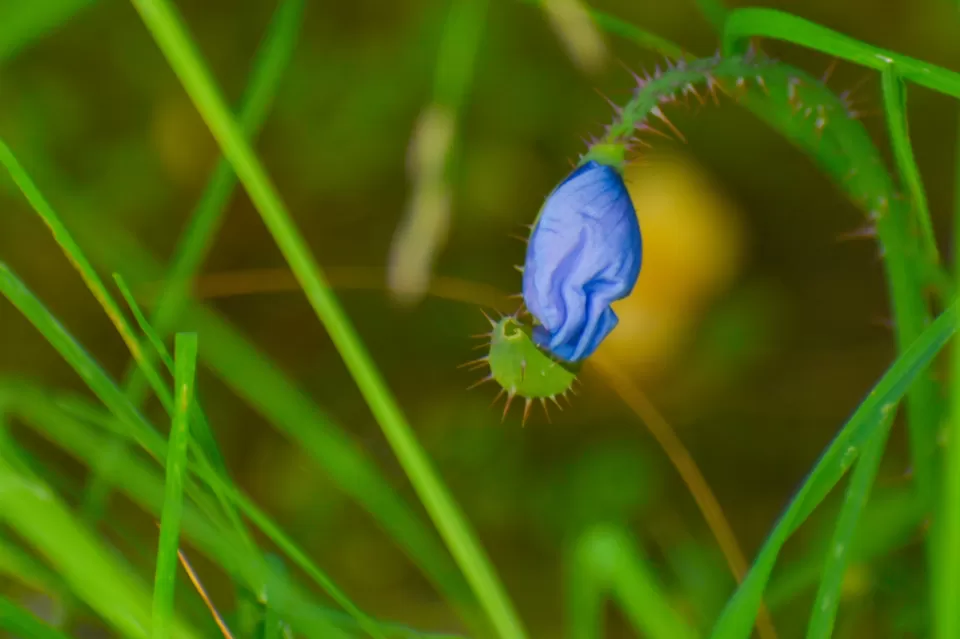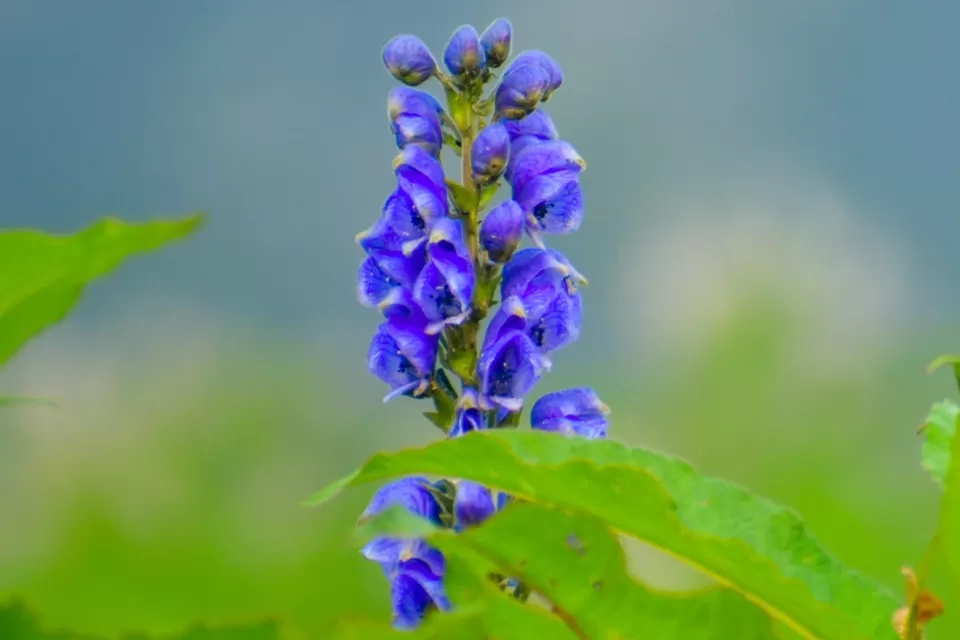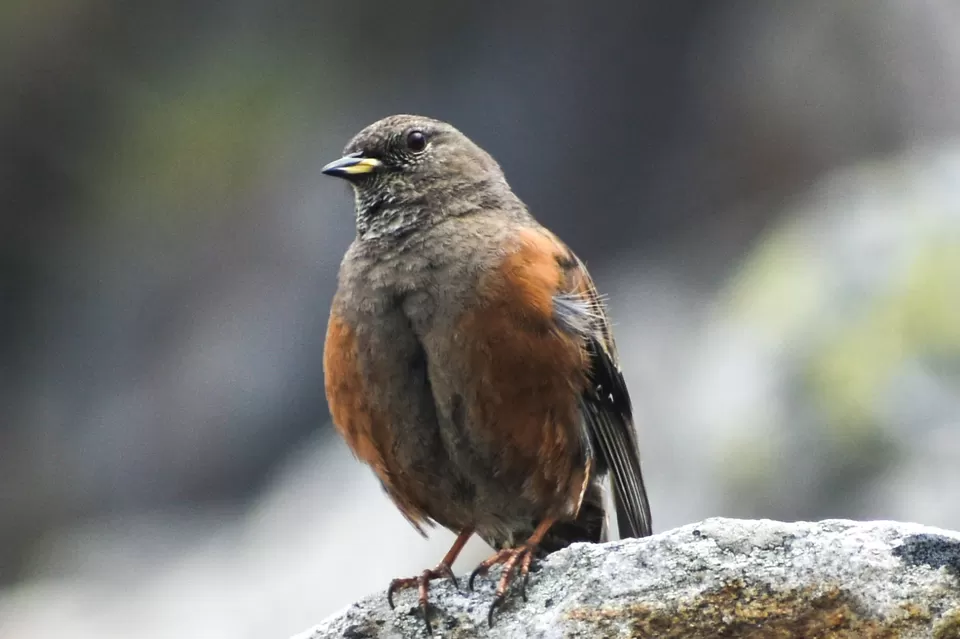 There are stairs in the last 1.5 km, but I preferred to take the longer (less steep) road. Some of us took the stairs too. We reached the Hemkund Sahib gurudwara at 10am. It is a highly revered pilgrimage site for Sikhs. It is said that Guru Gobind Singh meditated beside the hemkund for 10 years. We had hot soupy khichdi (for free) there and climbed atop the nearby hill. It was full of brahma kamals.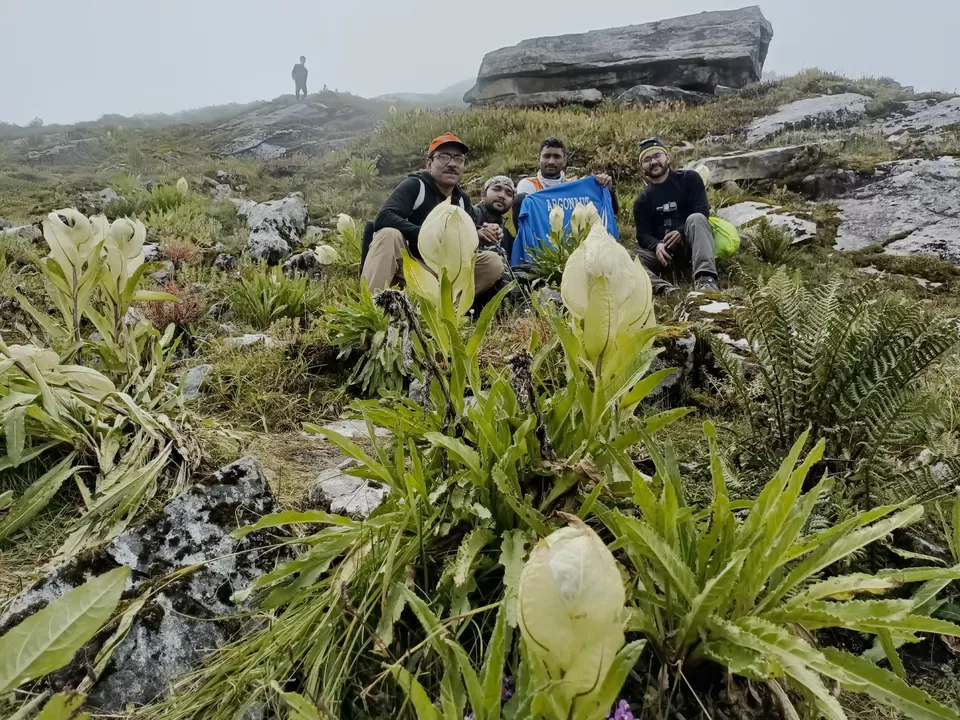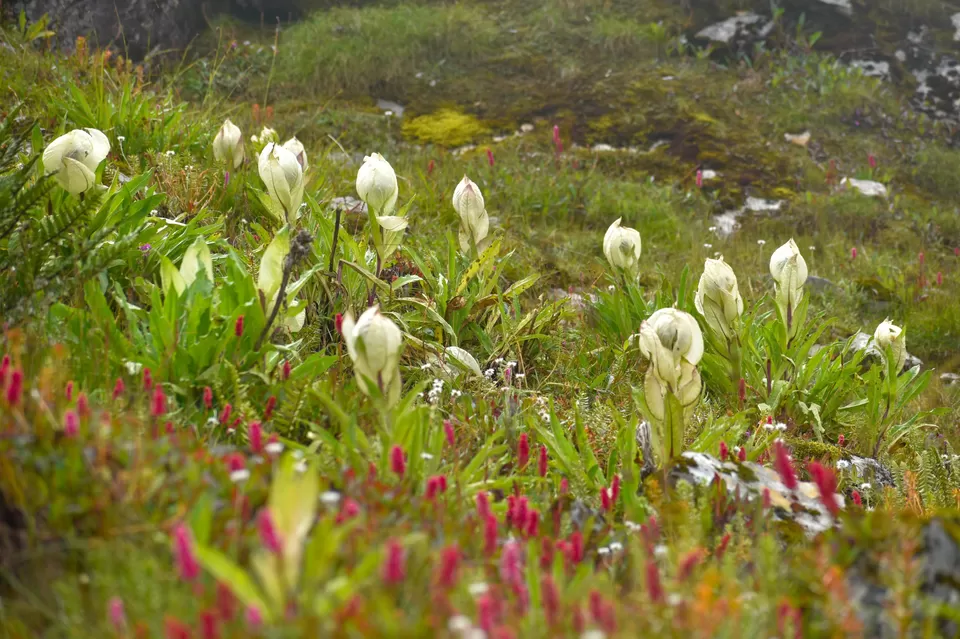 Later we visited the gurudwara, and some of us took holy dips in the freezing waters of hemkund.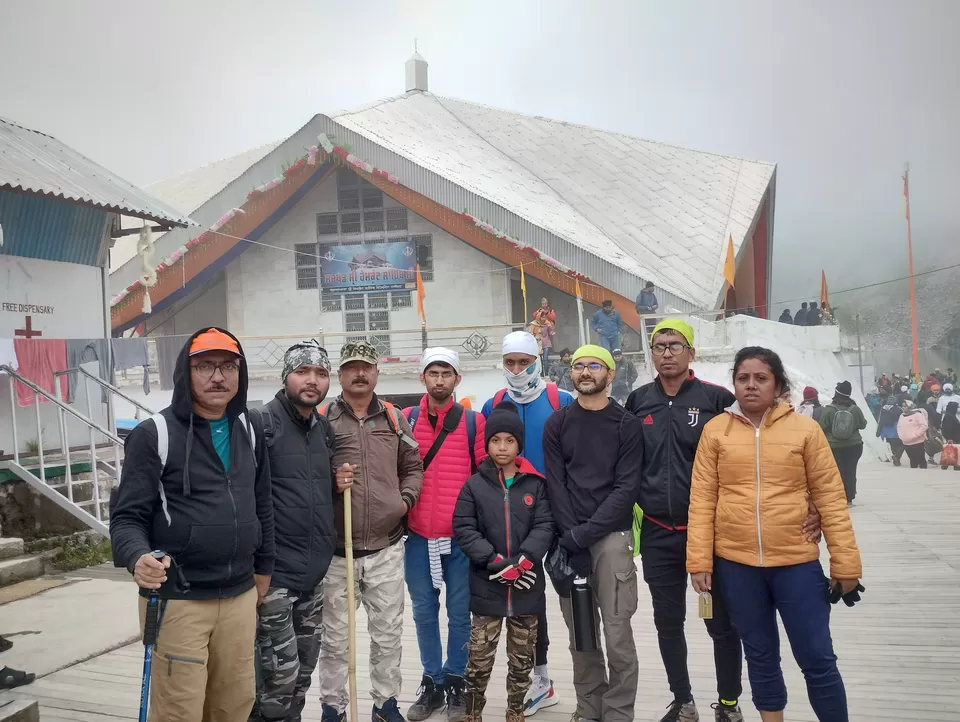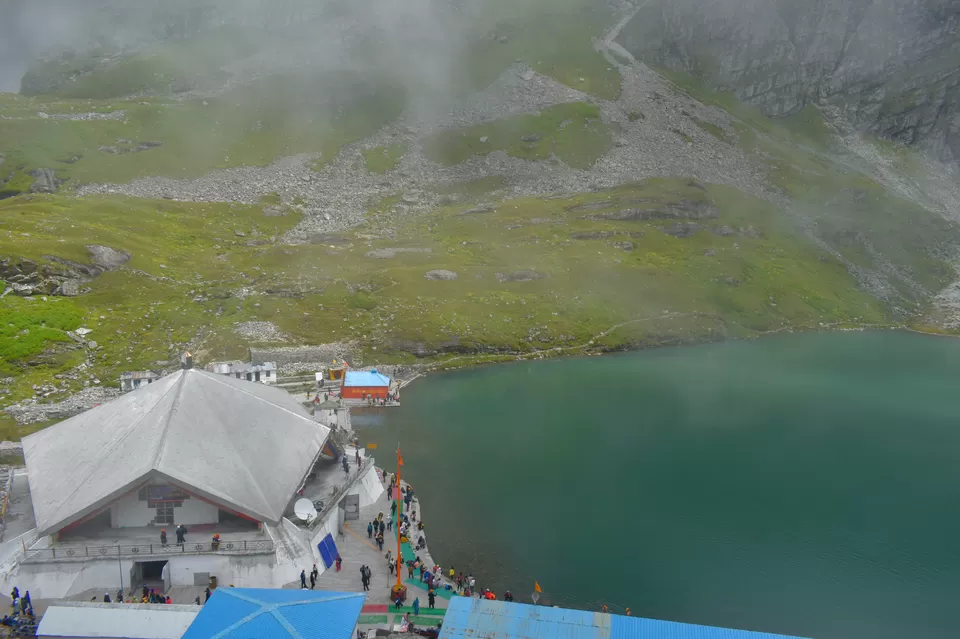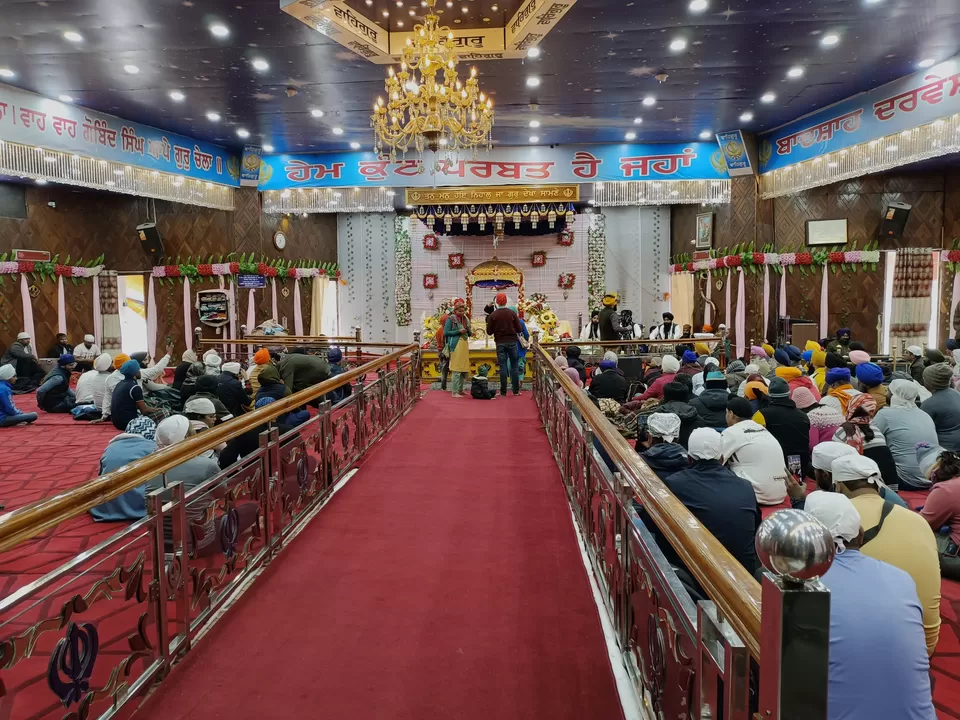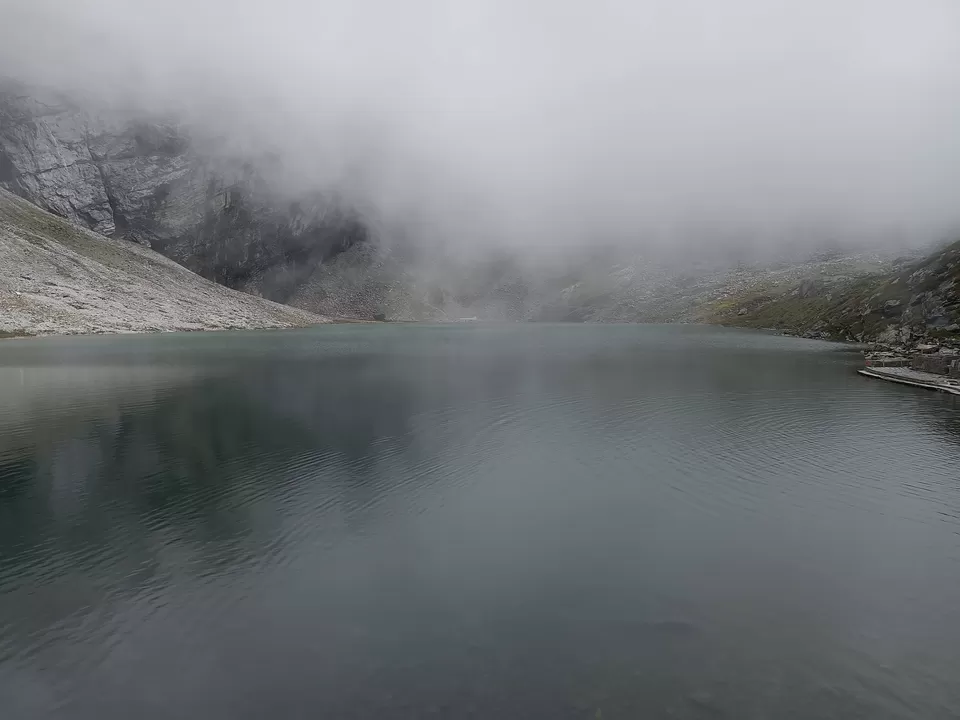 LaxmanGanga flows from hemkund; there is a laxman temple at the origin of the river.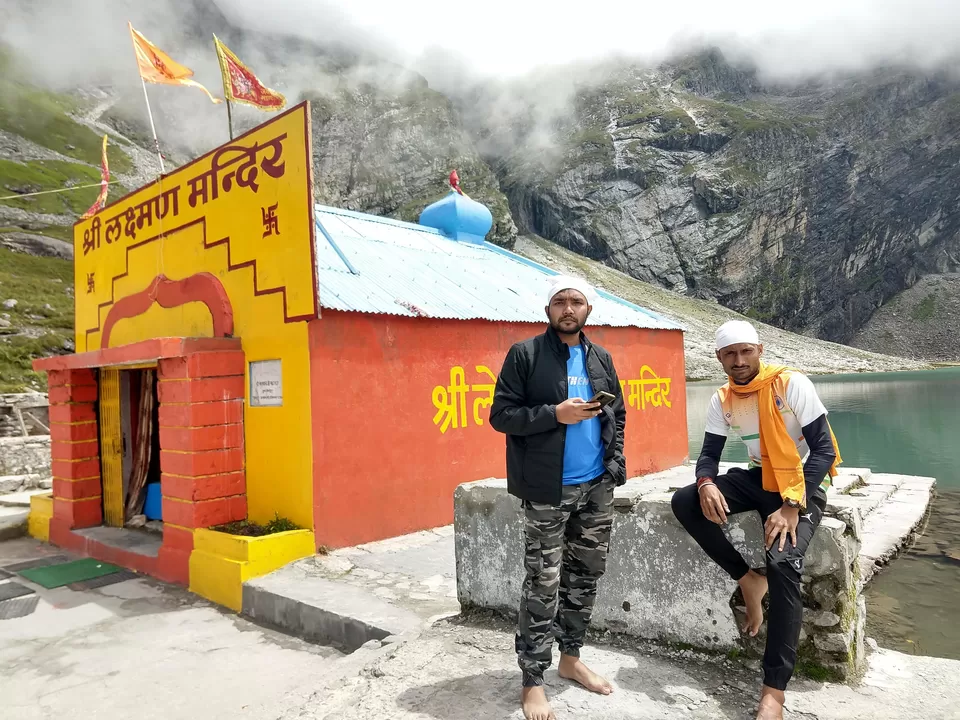 We spotted a lot of birds and flowers on our walk back to Ghangaria.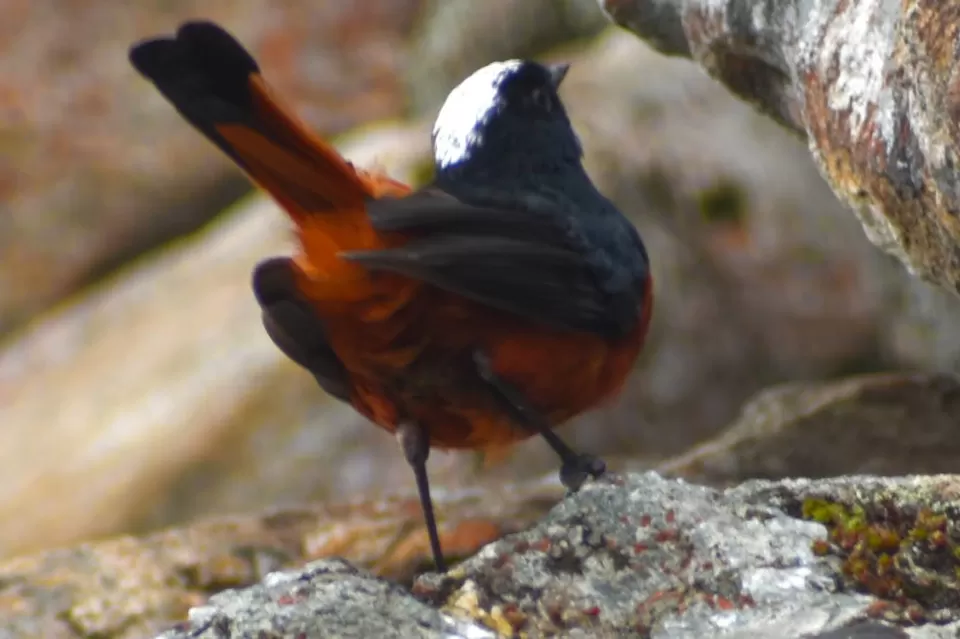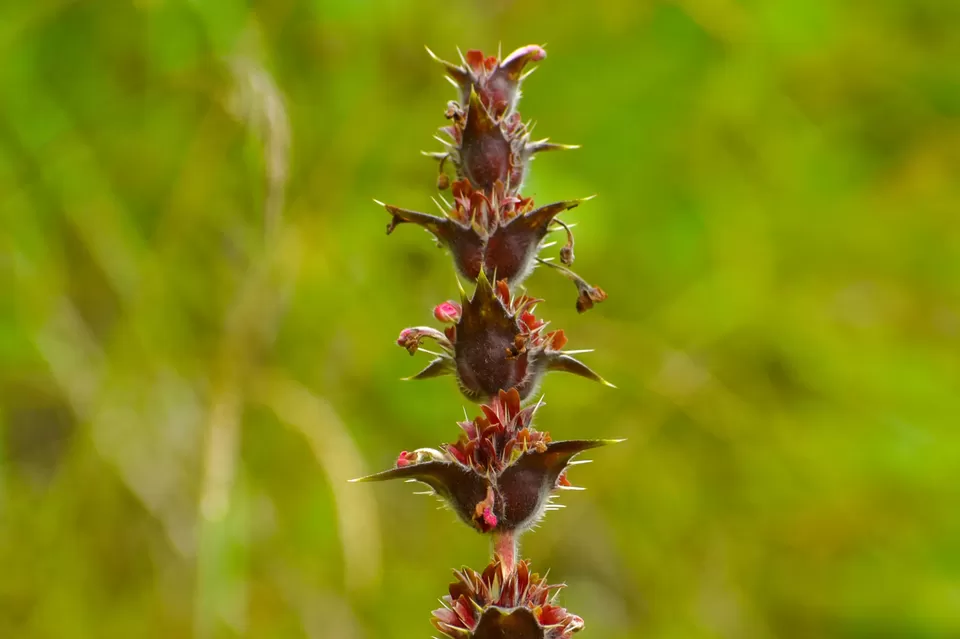 Day 7 (19th August): We started at 4.30 to descend from Ghangaria to Govindghat.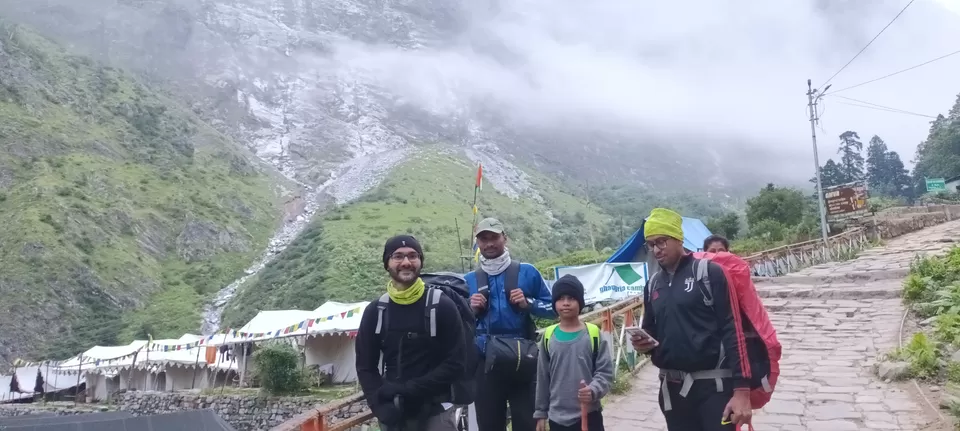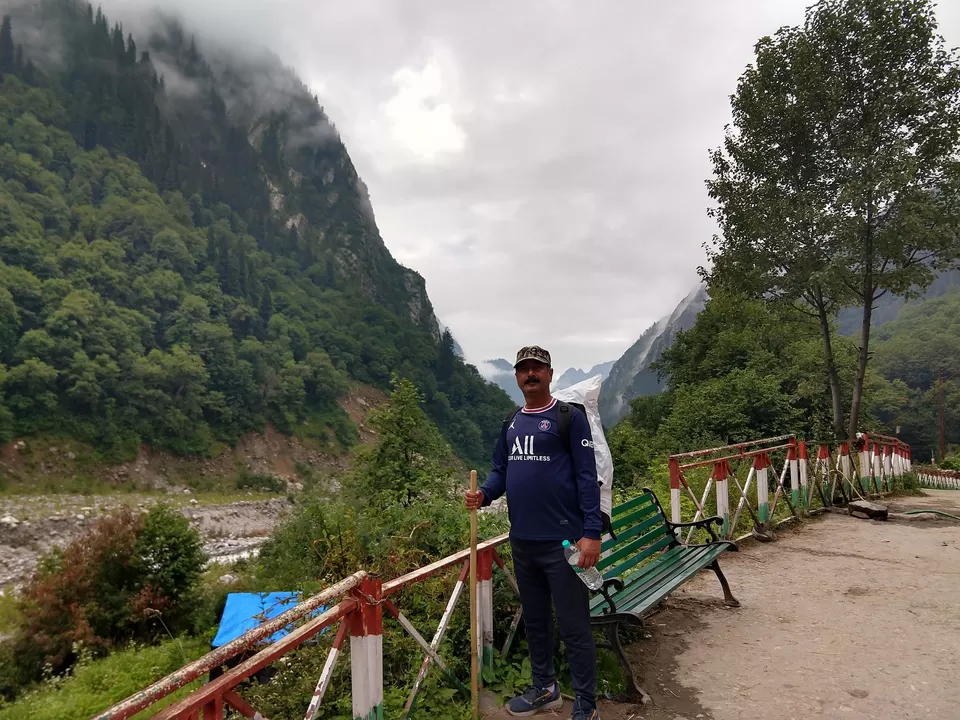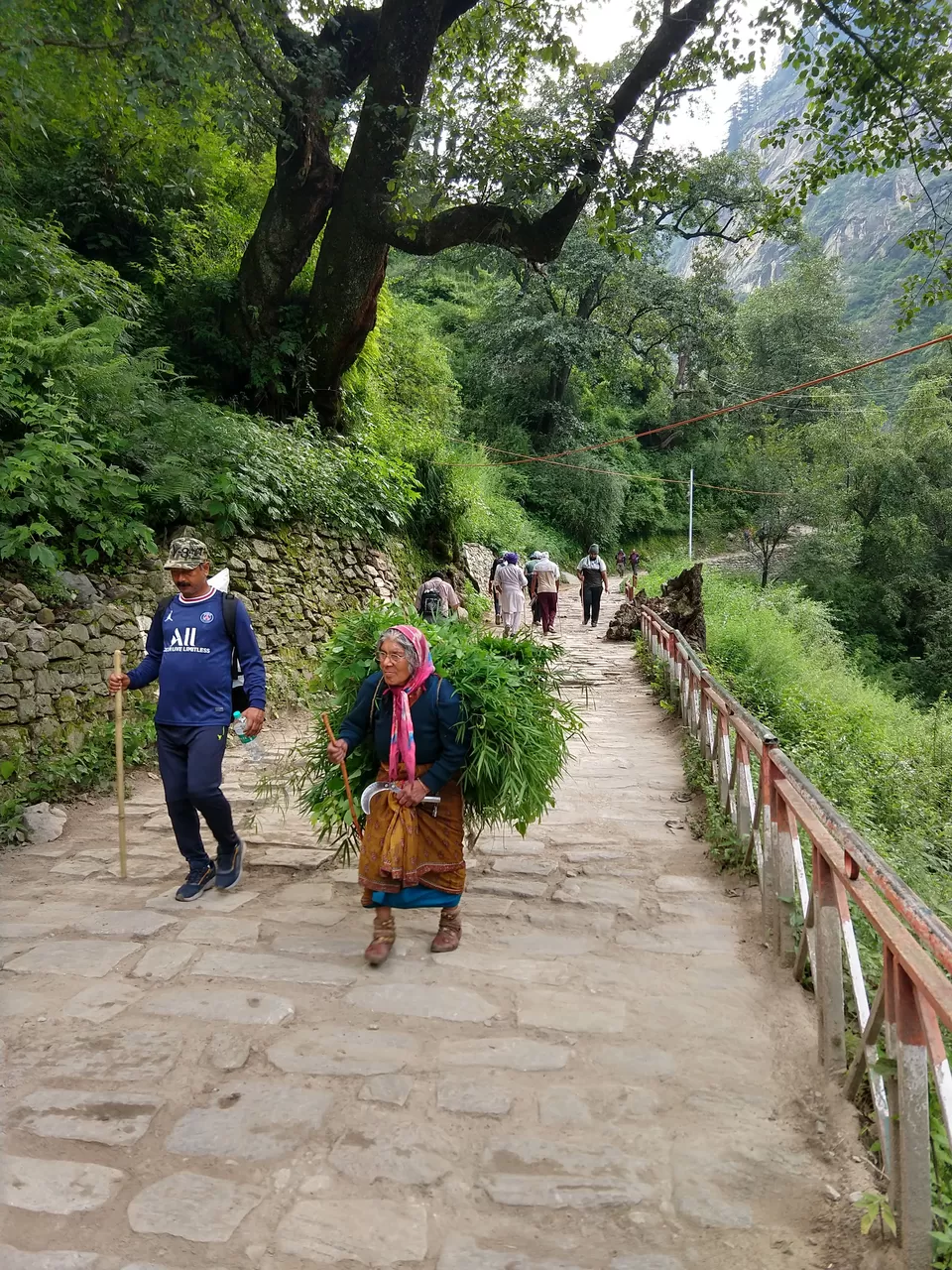 We reached Phulna by 10am, and had alu paratha and tea.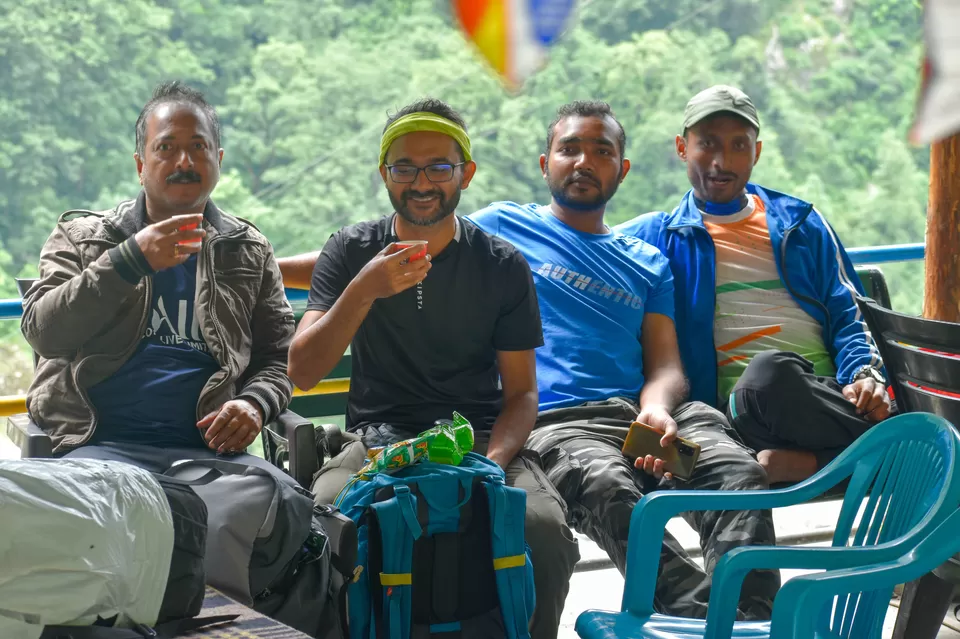 By 10.30 we started from Phulna towards Badrinath by car. The car charged Rs.2500. We reached Badrinath at 12.30. First we booked our bus ticket to Haridwar for next morning, for Rs.650 each. Next we booked a cheap hotel for Rs.1100 (for 2 rooms). Kali Kamli ashram provides nice big room with kitchen for Rs.2500 (with very nice view), but we preferred to save money for better things. We had thali for lunch and went to Mana village. It's a nice idyllic village near china border. Nice old ladies were knitting and selling woolen garments. We saw Bheem pul over River Saraswati.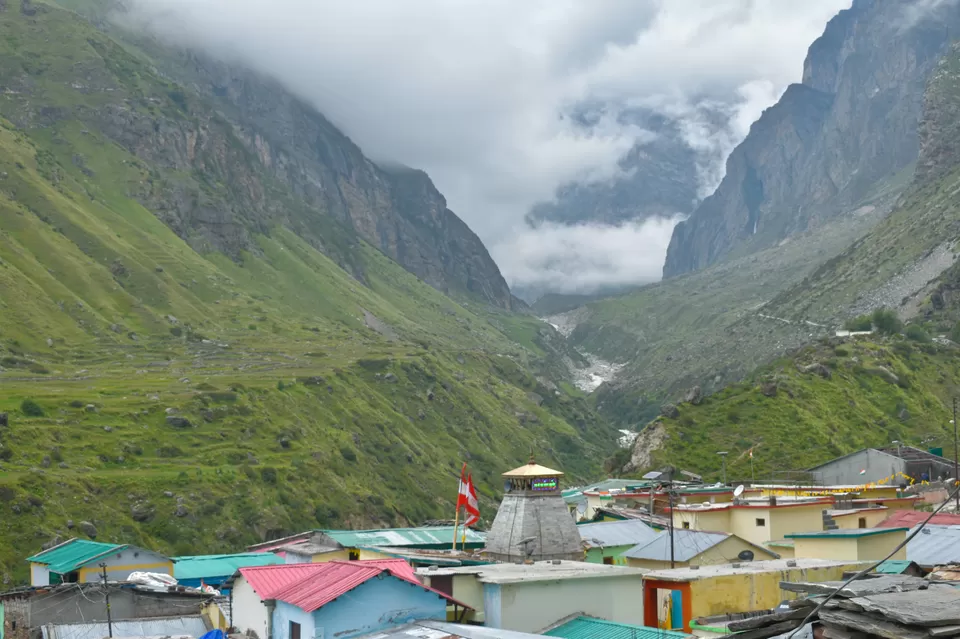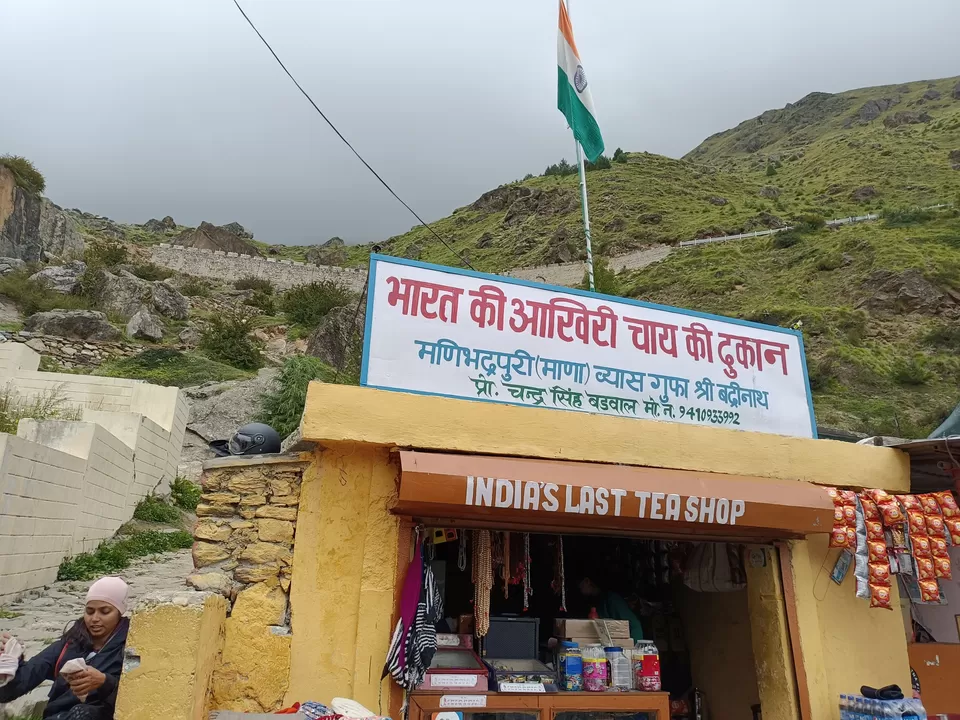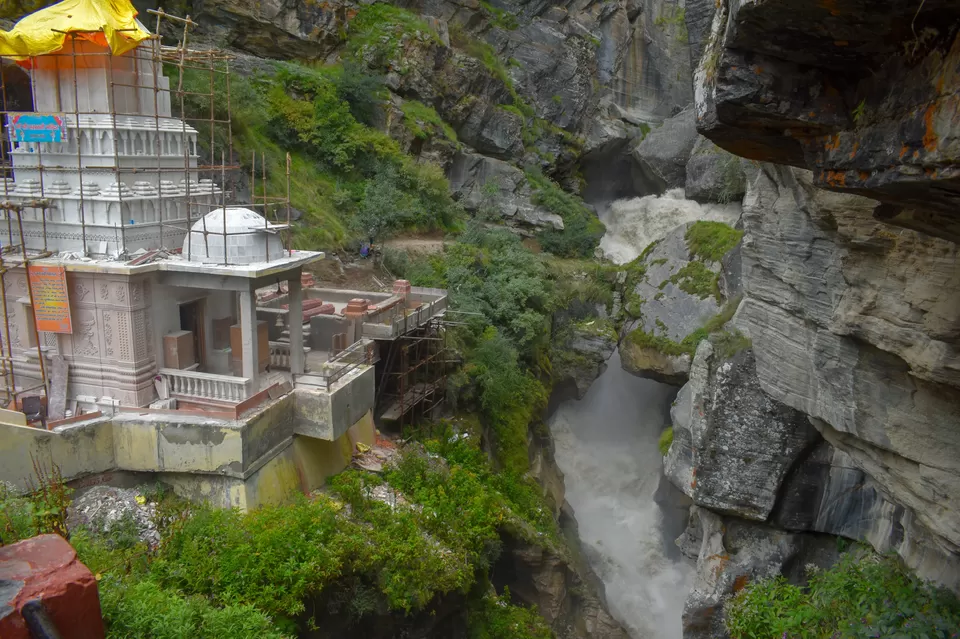 Legend has it that Draupadi was unable to cross the river while traveling to heaven. Bheem put this rock to help her cross the river. Vasundhara waterfall is another 3 hours walk for Mana gram, but we didn't have enough time. We went back to Badrinath. By this time we were running out of cash. We found 2 ATMs: SBI ATM near the Badrinath temple, and another UBI ATM. It started drizzling. We visited the temple. There were nice bhajans. We hung around the place for a while. The hot spring (Tapti Kund) is surrounded by walls and looked quite dingy. We sat at the Brahma Kamal restaurant (located across the temple with a nice view of Alakananda) for some tea and pakora. The entire place is being torn down to make room for redevelopment project. So, we are among the last to visit the historic place with its old world charm.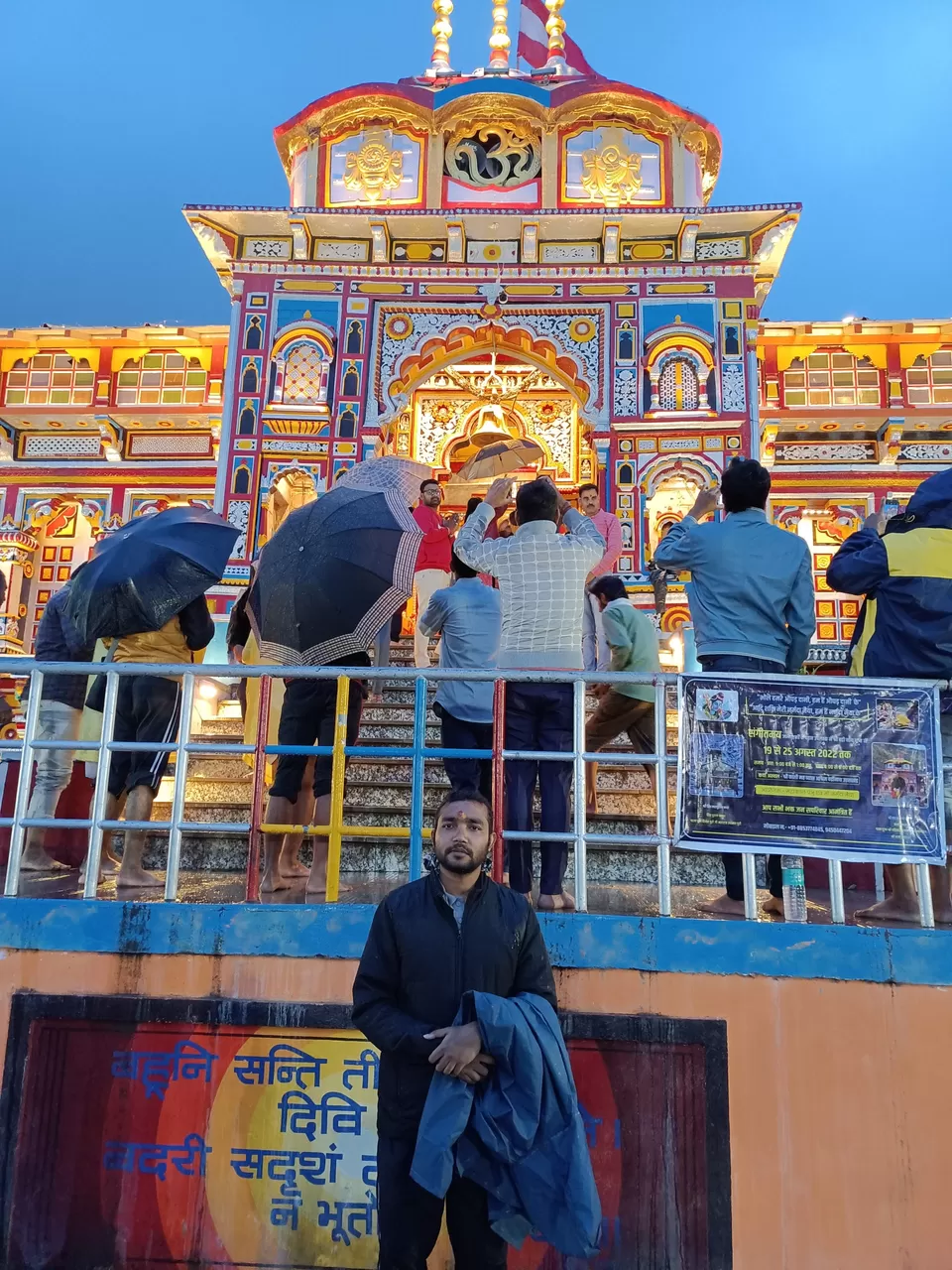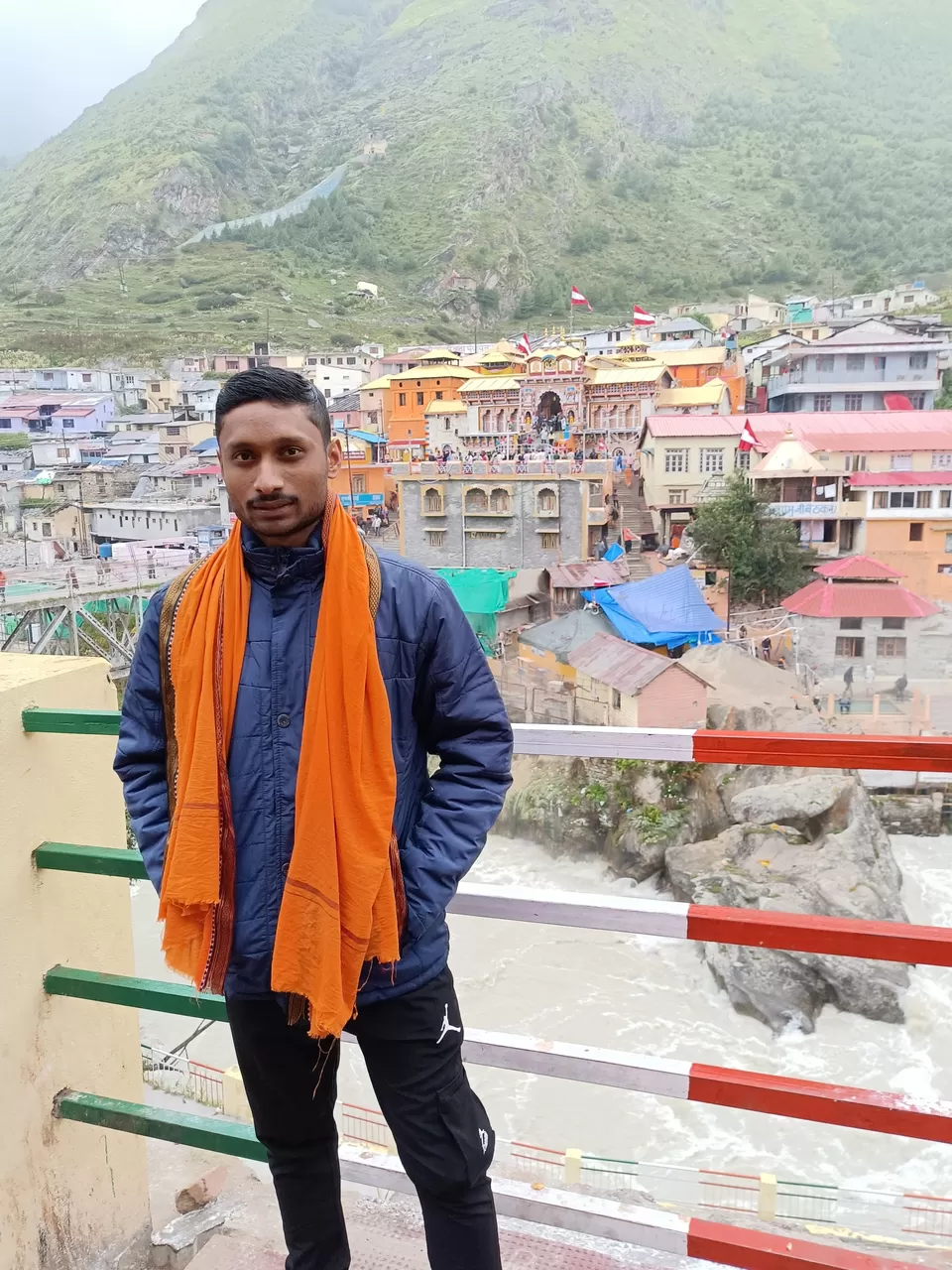 After roaming the streets some more, we had sarson ka saag and makki ki roti for dinner. No one liked it :(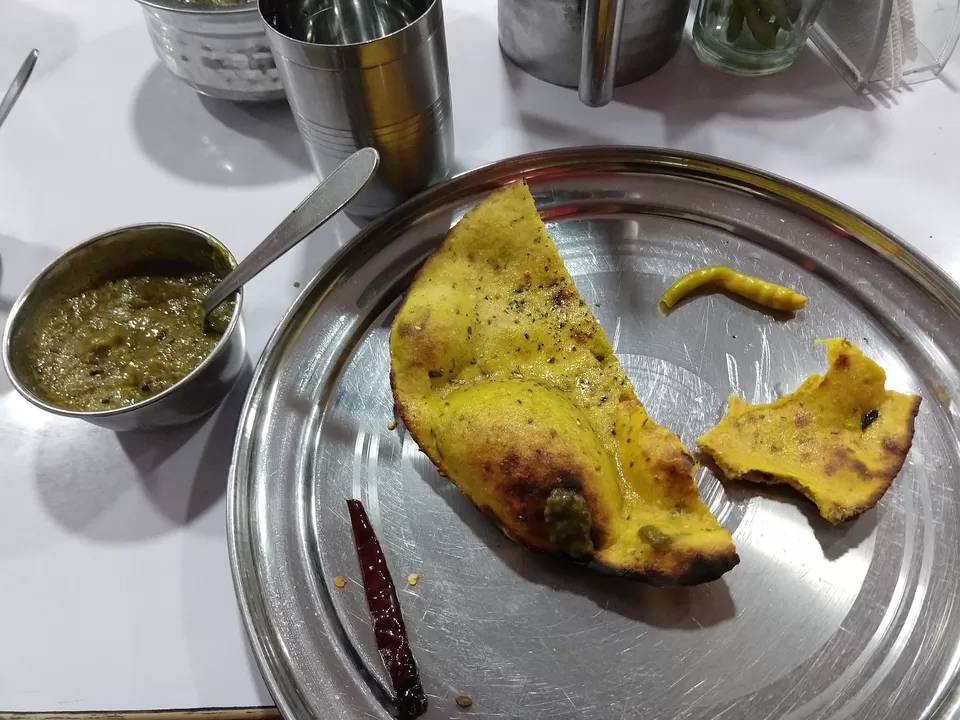 Day 8 (20th August): It was a very long ride from 5am to 7pm. There were landslides near Rishikesh due to flash floods. We had again had alu paratha and tea for breakfast.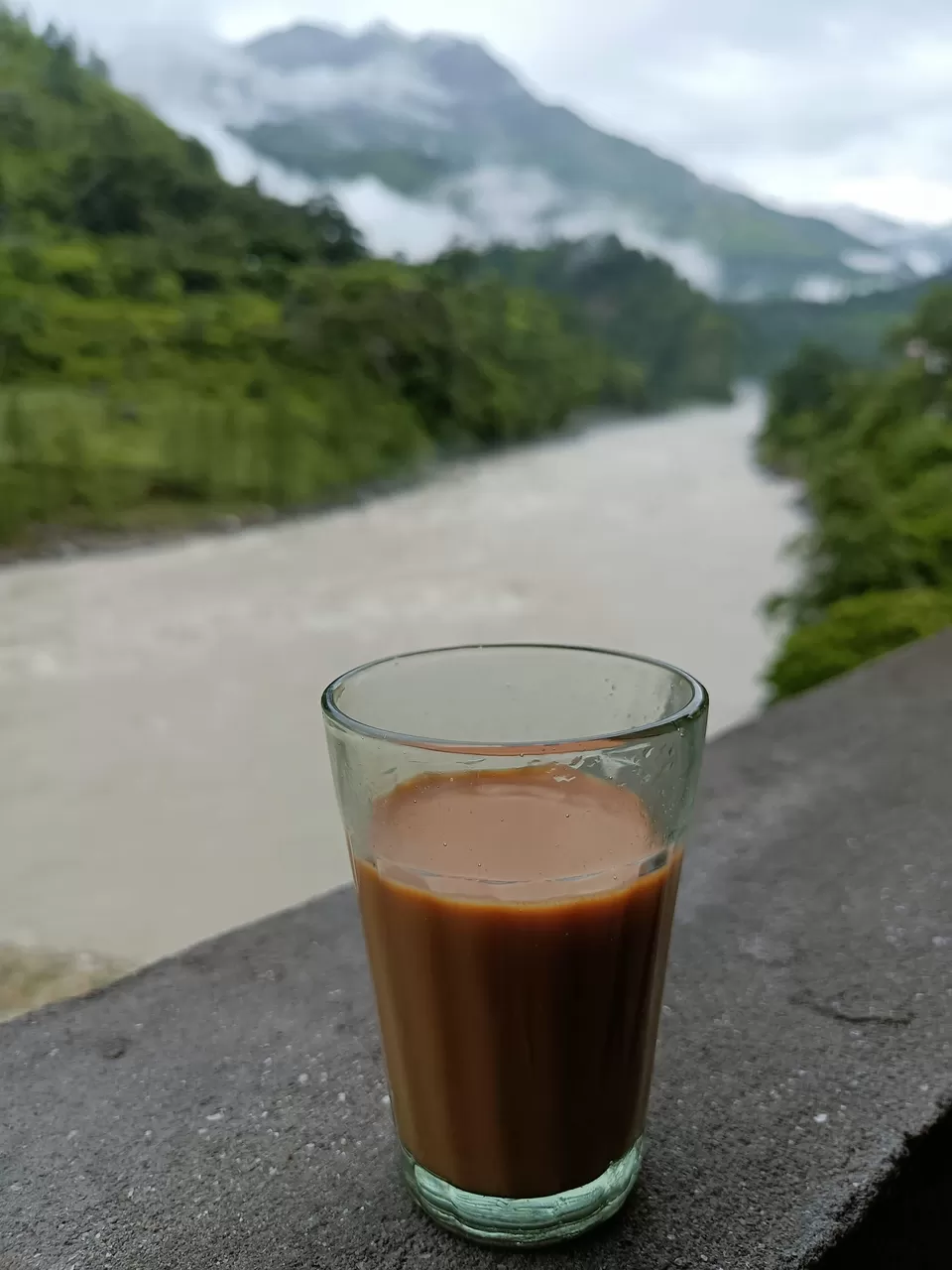 We also had huge cucumbers.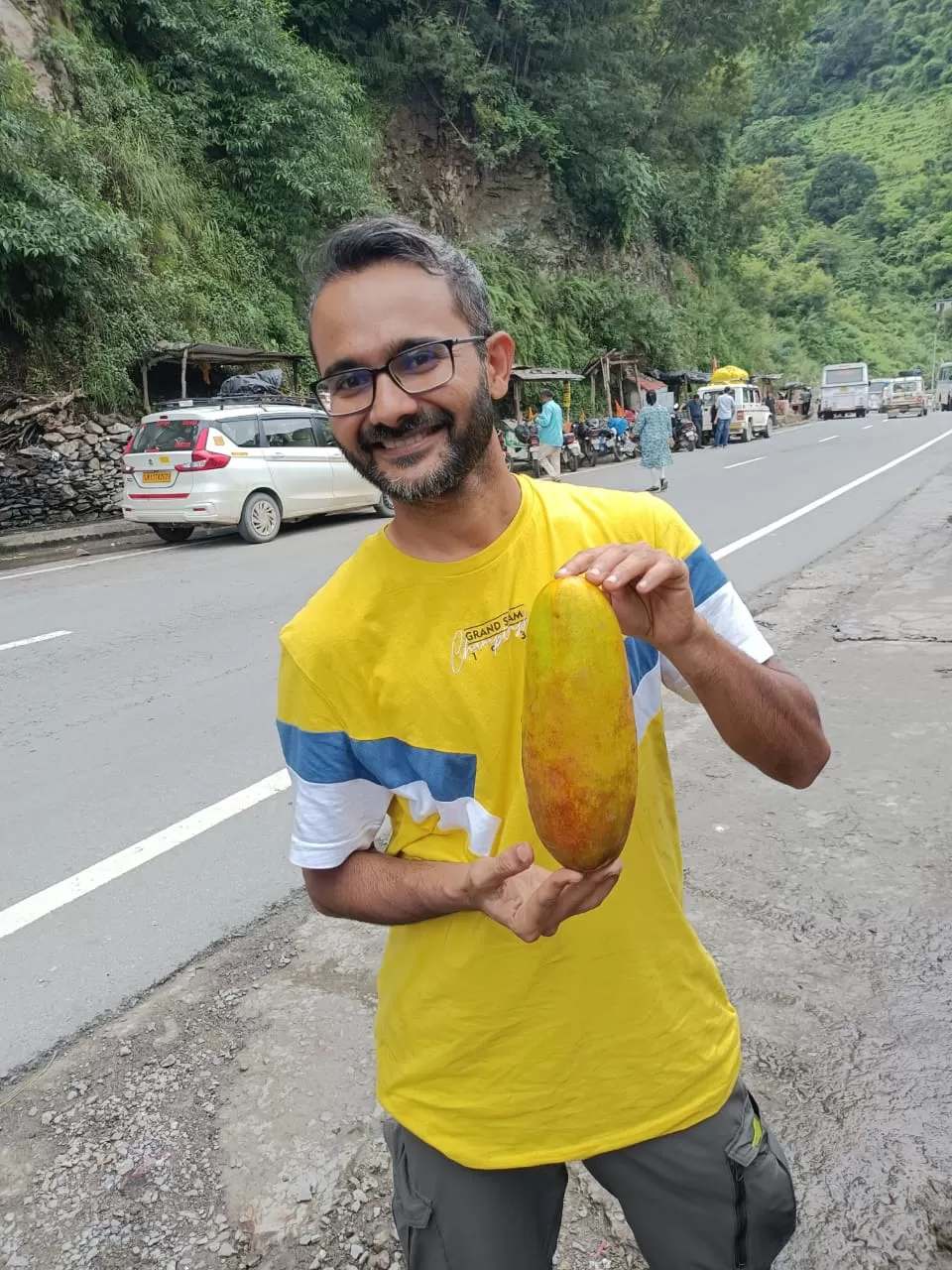 At haridwar we stayed at the Hotel Bhagwati Niwas on the Vishnu ghat. We roamed around Har Ki Pauri ghat, and had dinner at Chotiwala. It was probably not a branch of the original Chotiwala of Rishikesh.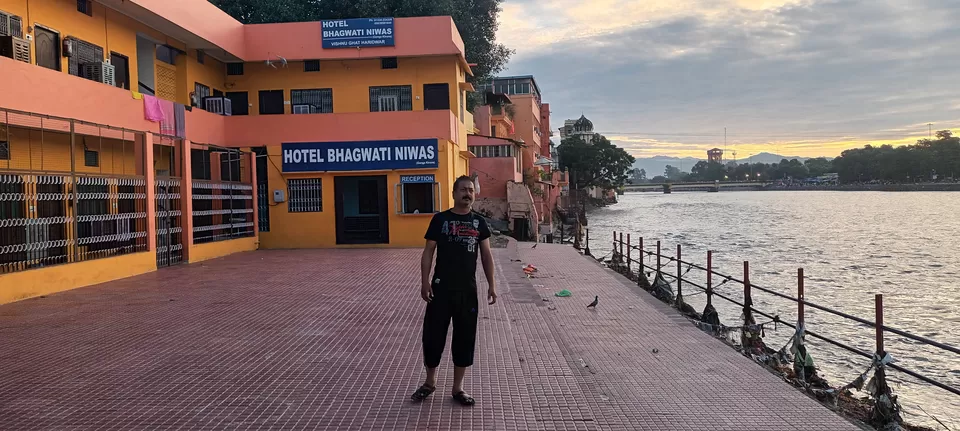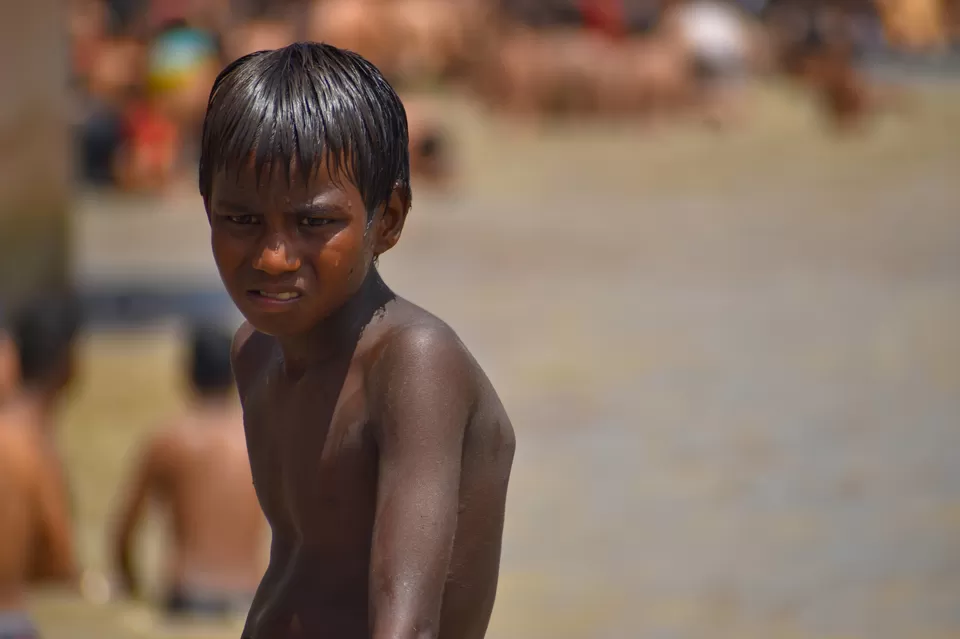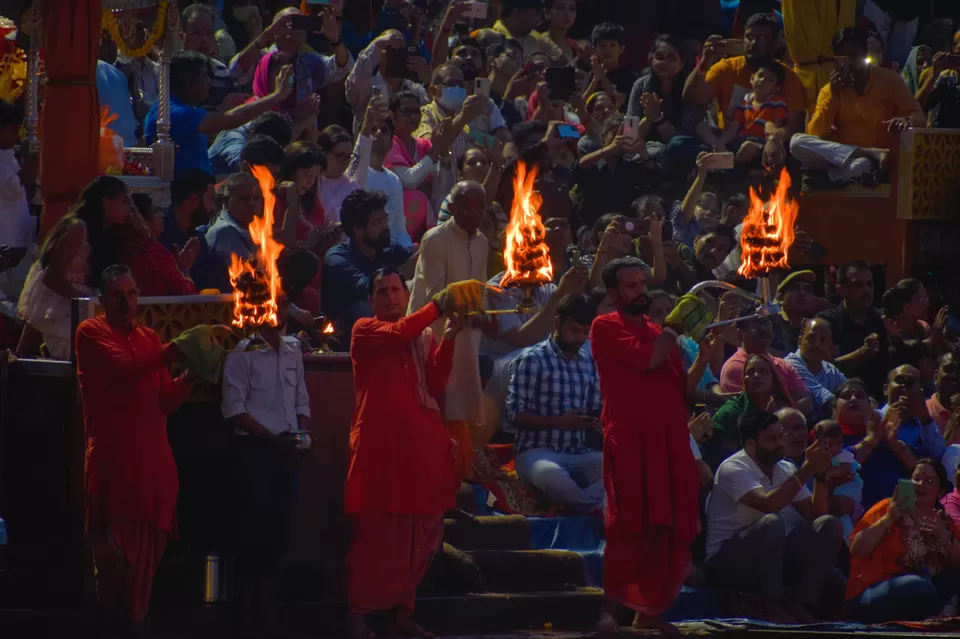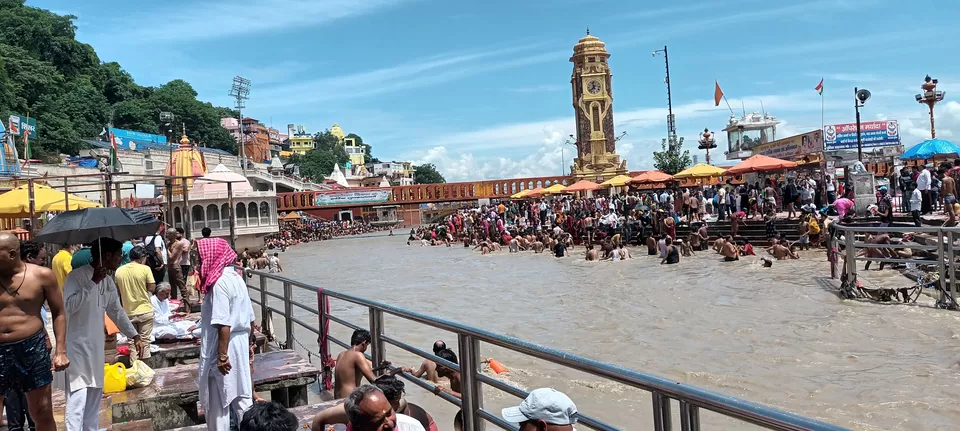 Har Ki Pauri literally means God's step, because Lord Vishnu visited the ghat. This is also the place where pilgrims congregate during the Kumbh mela.
Day 9 (21 August): Back to Kolkata by flight. Direct flights to Kolkata are available from Jolly Grant Airport (which is located halfway between Rishikesh and Dehradun). Prepaid taxi from Haridwar railway station to Airport cost Rs1400. A cheaper way to get to the airport is by bus. However, the Dehradun buses doesn't go all the way to the airport; electric riskshaws are available from Bhaniyawala to the airport.