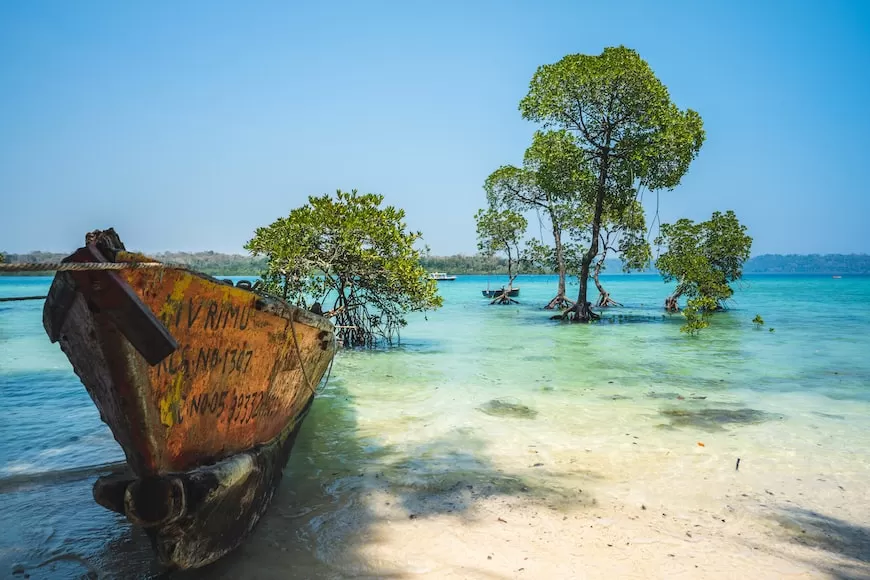 Ross Island, the tiniest island in Andaman, has a rich history that will astound you. In 2018, Prime Minister Narendra Modi changed the name of Ross Island, formerly known as Captain Daniel Ross's Island; to "Netaji Shubash Chandra Bose Dweep." it is located 3 kilometres east of Port Blair, in the Bay of Bengal. Travellers visit Ross Island to experience its sombre beauty and rich past. It is one of the simplest inter-island destinations to see while visiting the Andamans because it is a relatively small place in Port Blair's south Andaman district and is only around 5 kilometres from the Water Sports Complex.
Most of the attractions in the Andaman Islands are known for their beaches, but Ross Island adds a sense of enigmatic history to the mix to round up your trip. Ross Island still has the old buildings that the Indian inmates built there, the ruins, marooned by the deep roots and series of trees, transport you to a bygone era. The island's most distinctive feature is that the administration forbids any civilian settlement; therefore, there is nowhere to spend the night. Everyone must depart the island before the day metamorphoses into night.
Places To Visit In Ross Island
The Old Ruins
The history connected to Ross Island is among the best aspects of the place. The island is home to a significant collection of some of the earliest British and Japanese buildings in India, which illustrates the opulent lifestyle of the British after they took control of Andaman. All operations, including building the Cellular Jail, were managed from this island, which also functioned as the previous Chief Commissioner's home.
The Sanctuary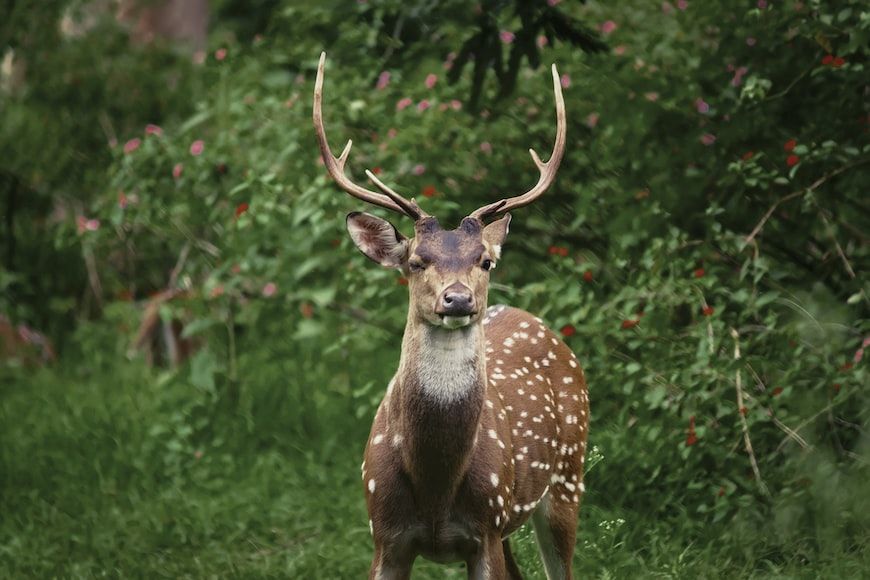 The sanctuary, situated in the heart of Ross Island and maintained by the Andaman government, is home to numerous spotted deer and peacocks. Animal abuse, of any kind, including feeding them, is strictly forbidden here. All humans are permitted to interact with the animals gently outside the reserve and experience the value of co-existence.
Overall, if you appreciate animals and would like to be near them, this is a terrific location.
You may also like to check out: 10 Best Hotels In Port Blair For A Perfect Beach Vacation
The Light & Sound Show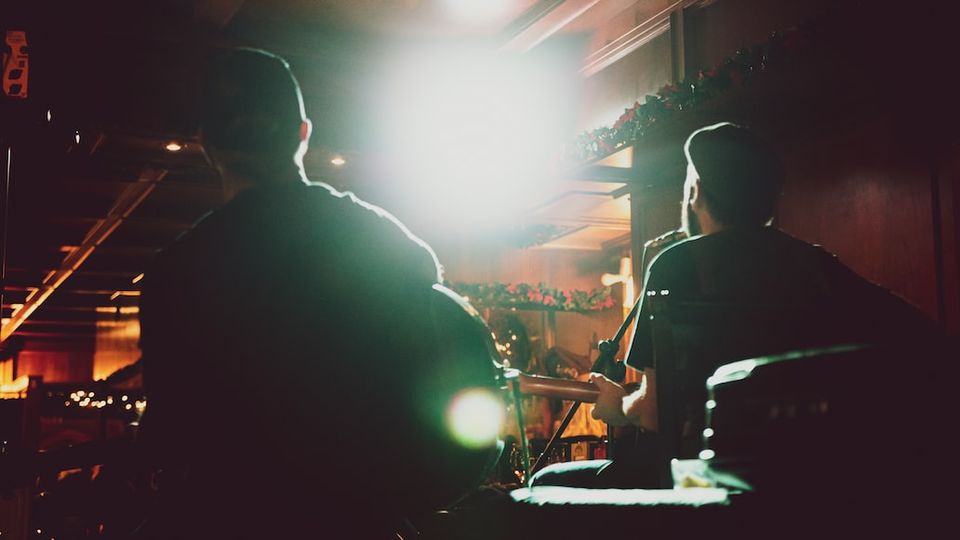 The light and sound performance at Ross Island transports your soul into the past and illustrates how the islands' infrastructure has developed through time.
The entire programme primarily concentrates on the period of the penal settlement, which demonstrates how British settlers arrived in Andaman and what they mainly focused on creating and setting up the administration to dominate the isles.
The Man Caves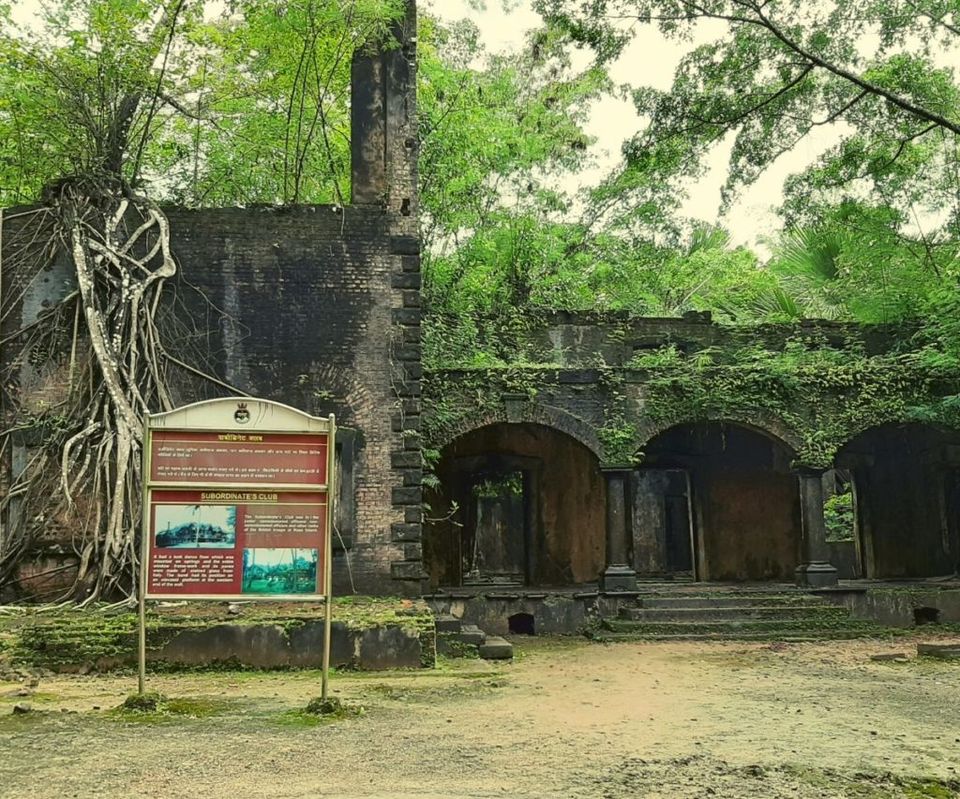 Ross Island is surrounded by intricately woven man-cave structures, once designed to aid British officers in escaping during an attack. Now that the caverns have served their purpose, they remain abandoned and display the labour and adversity Indian workers underwent to create them. It's generally advised to bring a guide with you before visiting these caves to ensure safety and a quick return so that no issues arise later.
You may also like to check out: 10 Best Luxury Hotels In Andaman For An Ultimate Tropical Break
How To Plan A Trip To The Ross Island?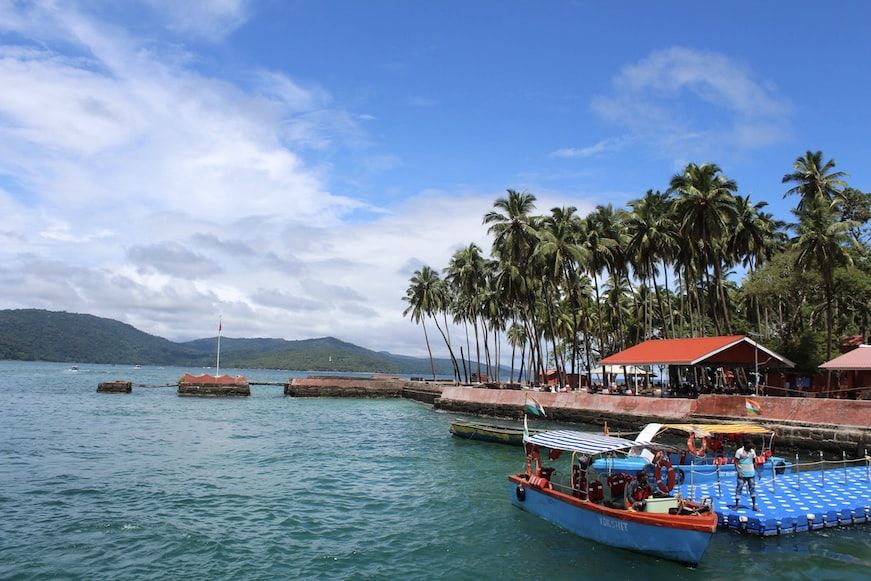 Planning a trip to Ross Island is simple if you keep the following things in mind. You can easily visit the Island in a half-day. Therefore you'll need to travel somewhere else to fill the rest of the day. Most visitors to this Island also take a journey to the nearby North Bay Island, which is fantastic for water activities and can be completed in less than a day. Numerous ferries are available that travel to both islands.
One of the nearest islands to Port Blair city, this island is easily accessible through a quick (15-minute) boat journey from the Aberdeen Jetty (inside the water sports complex). One may see this island from Port Blair's east coast without difficulty.
Where To Eat In Ross Island?
Ross Island has a small cafeteria & restaurant that caters to visitors and military personnel. Though, don't expect a large selection of dishes at the restaurant. Given that the goods are shipped there by boat, the food prices there will be higher than in Port Blair.
On the island, you can possibly find some drinks, and on your way back, when you get to the Water Sports Complex, you can grab some nibbles from one of the many little sellers that sell fresh coconut water next to the jetty.
Frequently Asked Questions About Ross Island
1) What is the best time to visit Ross Island?
Ross Island is best visited between October and March. This is because the Andaman Islands see clear skies, and there's little chance of sudden rain during these months, allowing for hassle-free touring.
2) What time does Ross Island open and close?
Ross Island welcomes visitors from 9:00 AM to 3:00 PM. At the same time, the final boat departs from the island.
3) Where can I catch ferries to Ross Island?
There are many boats available for rent in the Water Sports complex where you can find them. You must board the boat solely headed to Ross because the ones headed to North Bay will arrive at Port Blair immediately. Multiple boats travel to Ross Island and North Bay together.
4) Are there hotels in Ross Island where I can stay?
There are no hotels on this island because the government forbids staying there. After your trip, you must return to Port Blair because the island shuts down to visitors at 3 PM.
5) Is Ross Island accessible every day?
Yes, there are no certain weekdays when the island is closed. It is always open to travellers. Wednesdays were once a day of closure for Ross, but that practice was discontinued a few months ago. However, there are some government holidays when the island is closed, which varies a lot, so if you are travelling on a public holiday, you'll need to clarify with a local operator.
Ready to travel for free? Earn credits and redeem them on Tripoto's weekend getaways, hotel stays and vacation packages!
Think we missed out on something? Tell us about it in the comments below. Or write about it here on Tripoto and earn Tripoto Credits!