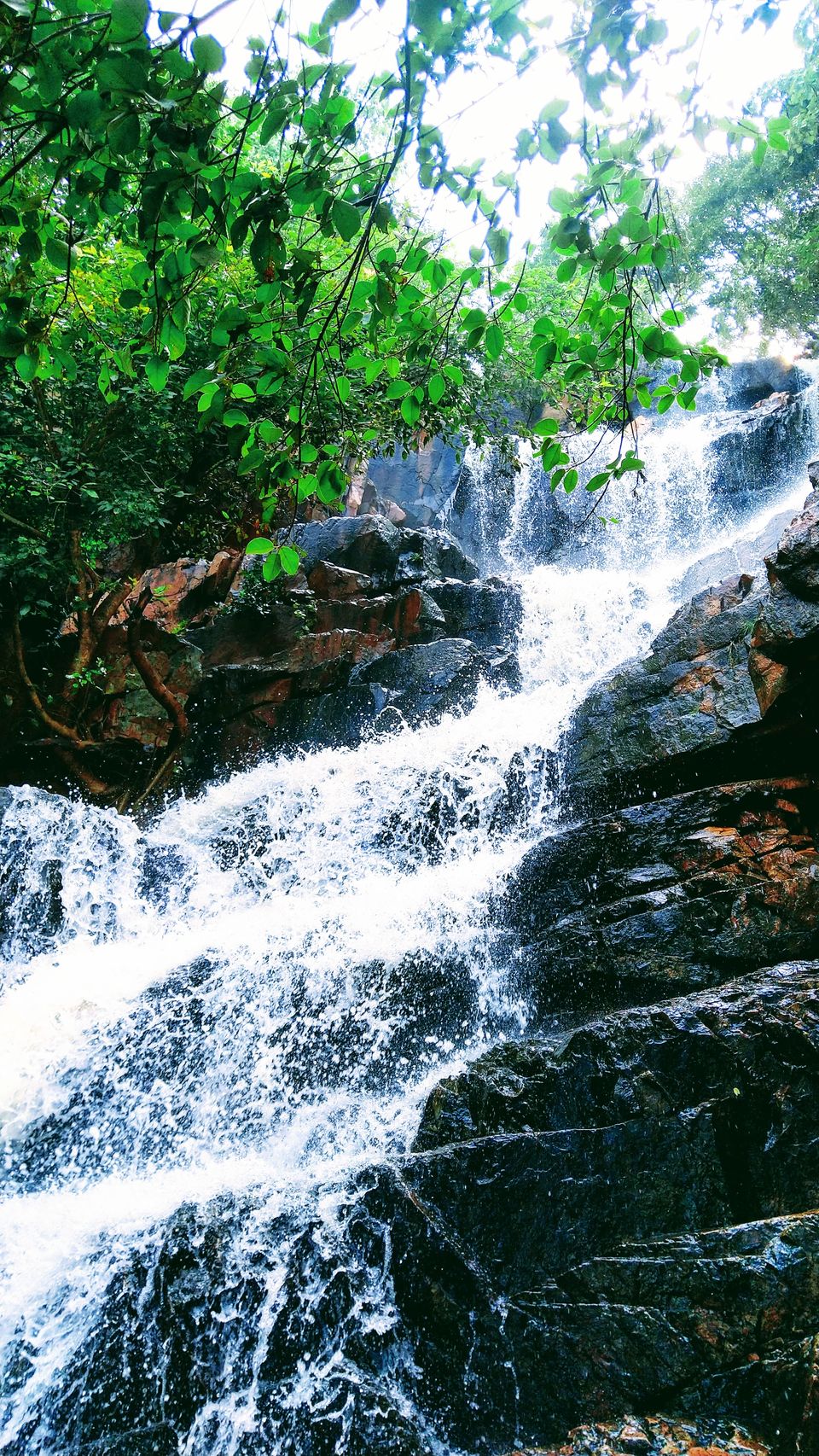 Rayikal? Heard of it? Me never!!!
When I damn needed a serious break and want to roam around, found this insanely beautiful awesome adventurous place!! And all of it started out of nowhere.
Though the thought of trip was finalized, couldn't figure out on the place. And then after little research and stuff, finally found out about Raikal and thought this might be a btr place considering it is somewhat close to nature..
And without keeping much hopes on the excitement part, quickly decided to move ahead.
So Packed a pair of clothes and essentials and kick started the trip on bike. It was little cloudy and sunny with decent weather and temperature. Halted in couple of places to get some snacks and bananas for lunch.
On the way to the Raikal, gave lift to a localite who was going back to his village. Though I heard a few things about Raikal before setting off, it was all about the waterfall and nothing more. So out of curiosity, I started asking him about the place and how good that place is. He said a lot 'about the history, how the word about Raikal got out, how frequently the visitors are and ...' which all seemed regular. But after all these, he did say one thing "once you visit Raikal, you will surely come back for it again at least 10 more times". Haha, Yeah, though it was little over exaggeration, I now seriously started wondering about it whether it creates that much impact. But still keeping my excitement and expectations in bound, moved ahead and dropped him at his village. And then he gave me the directions along the solar plant setup, and road after that. So when I started to finally make the last turn to raikal, it was around 2kms for vehicles plus half a km for trek to reach the final destination. Instead of trekking, I opted for off-road on bike and it turned out to be a pretty decent one.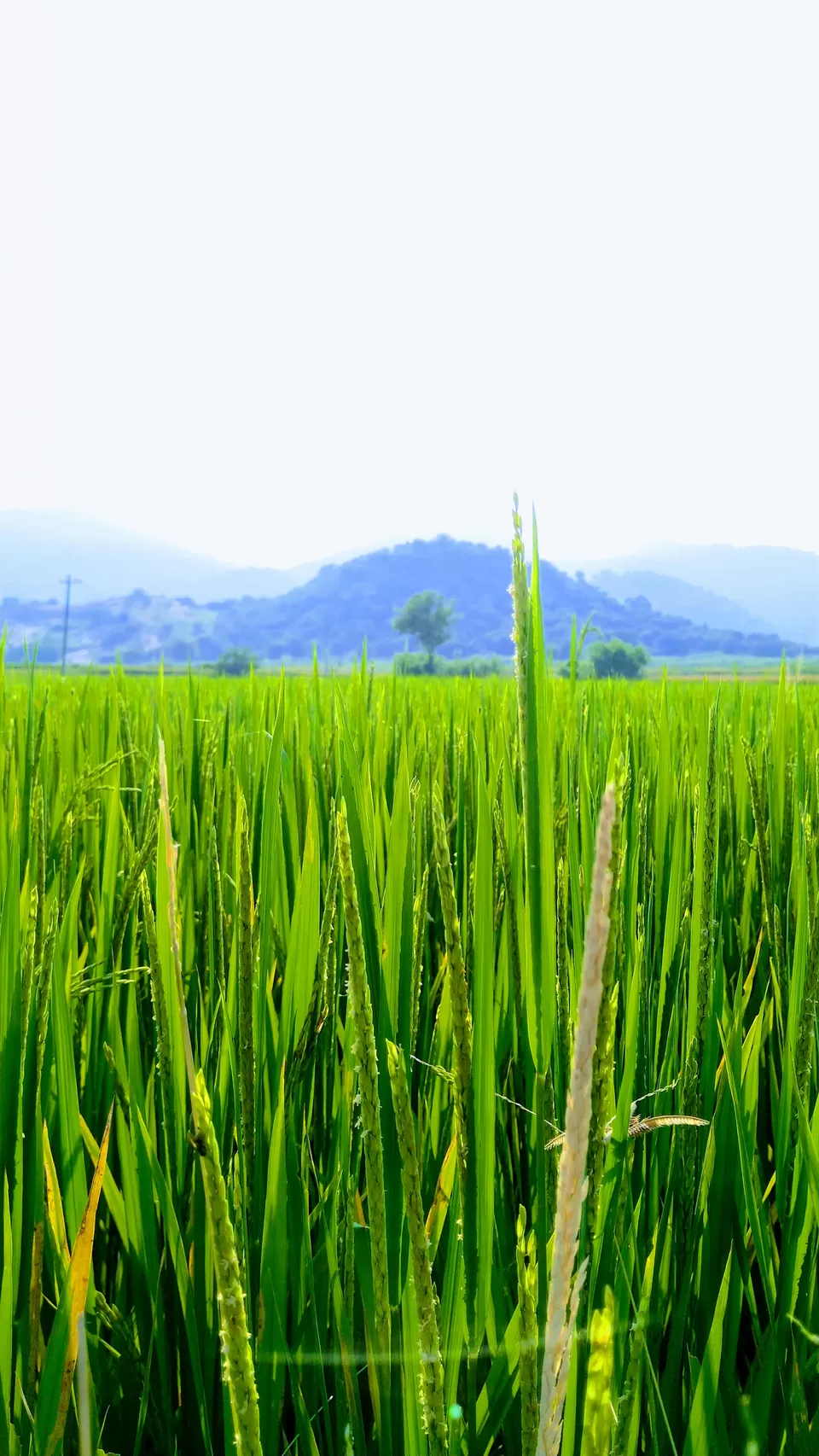 Finally, had to stop before 200 mtrs and had to trek ahead. Though it seemed a little normal at start, the trek was getting better bit by bit. As I was getting closer and closer to the falls on these rocky trails, the sound of the flow is getting stronger and clearer. Though I could see the downstream flow and hit the rocks rapidly, it was when the whole falls came into the picture. It wasn't the height, but it was rather the multi-step setup that gave away the beauty of this waterfalls.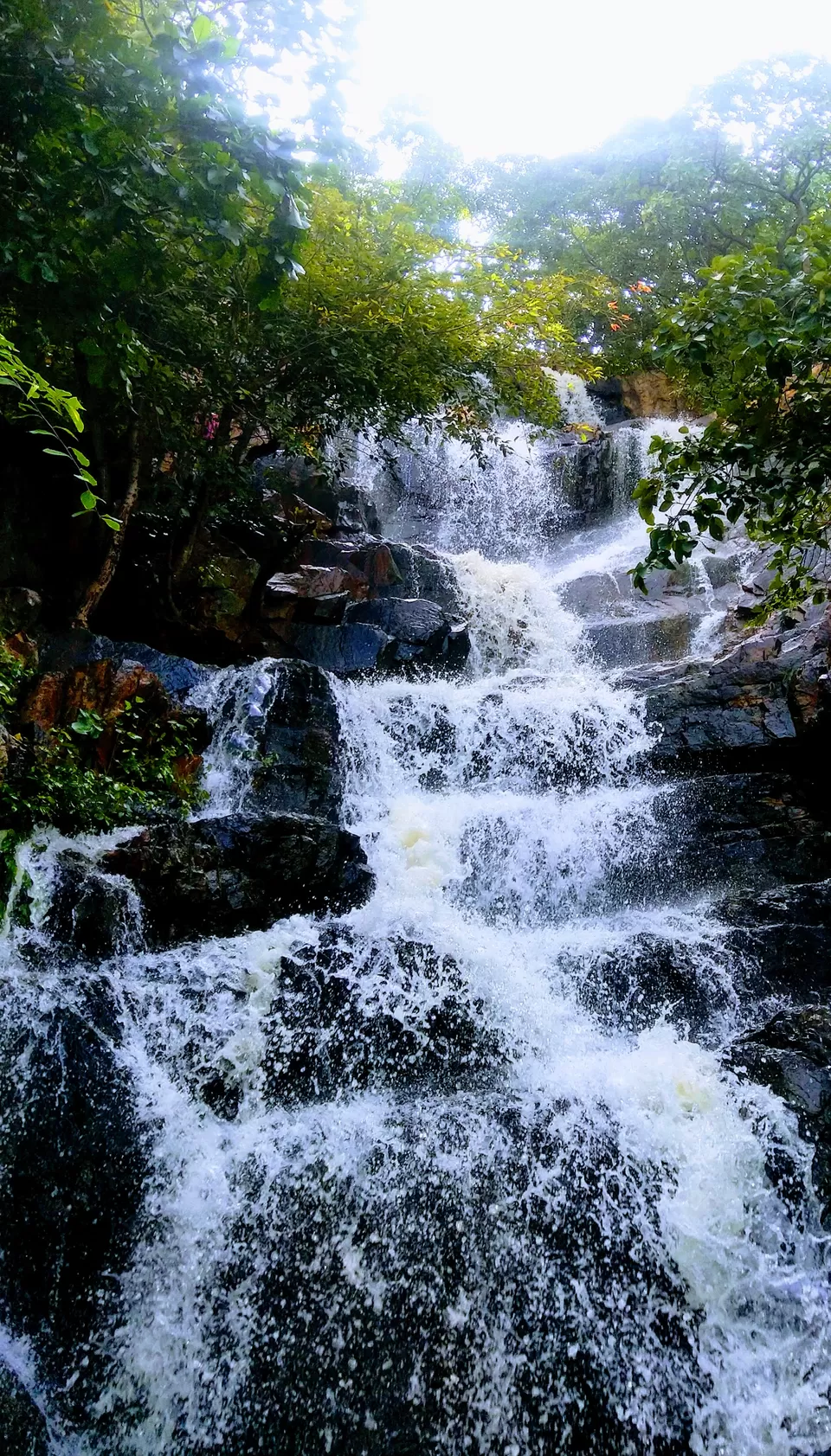 Technically I was at the bottom so my next thought immediately was to reach the top of the falls. Couldn't see any good place at the top on the other side of falls from where I am, so started looking for the trails without crossing the stream. What made this trek good was that there wasn't any direct way to reach the top. If one has to go up, he has to climb some steep rocks either with some good gripped shoes or by using roots and branches which were crawling down. And bcoz of the same reason, there weren't many people who prefer to go this way and end up only enjoying the falls at the bottom. Tried out few ways to the top but got struck bcoz there wasn't any possible way to move forward or it was little more dangerous to reach. So searched for another ways and could find a way if only I cross the stream.
So got down again the same way and crossed the stream falling once in it ( it is mandatory 😛). Let's stop here and take a break now.
I mean I was tired from the ride and trek, and dehydrated too and so the break. Ate my bananas for lunch and had some good energy drinks ( it's just water though😅) to boost up the stamina.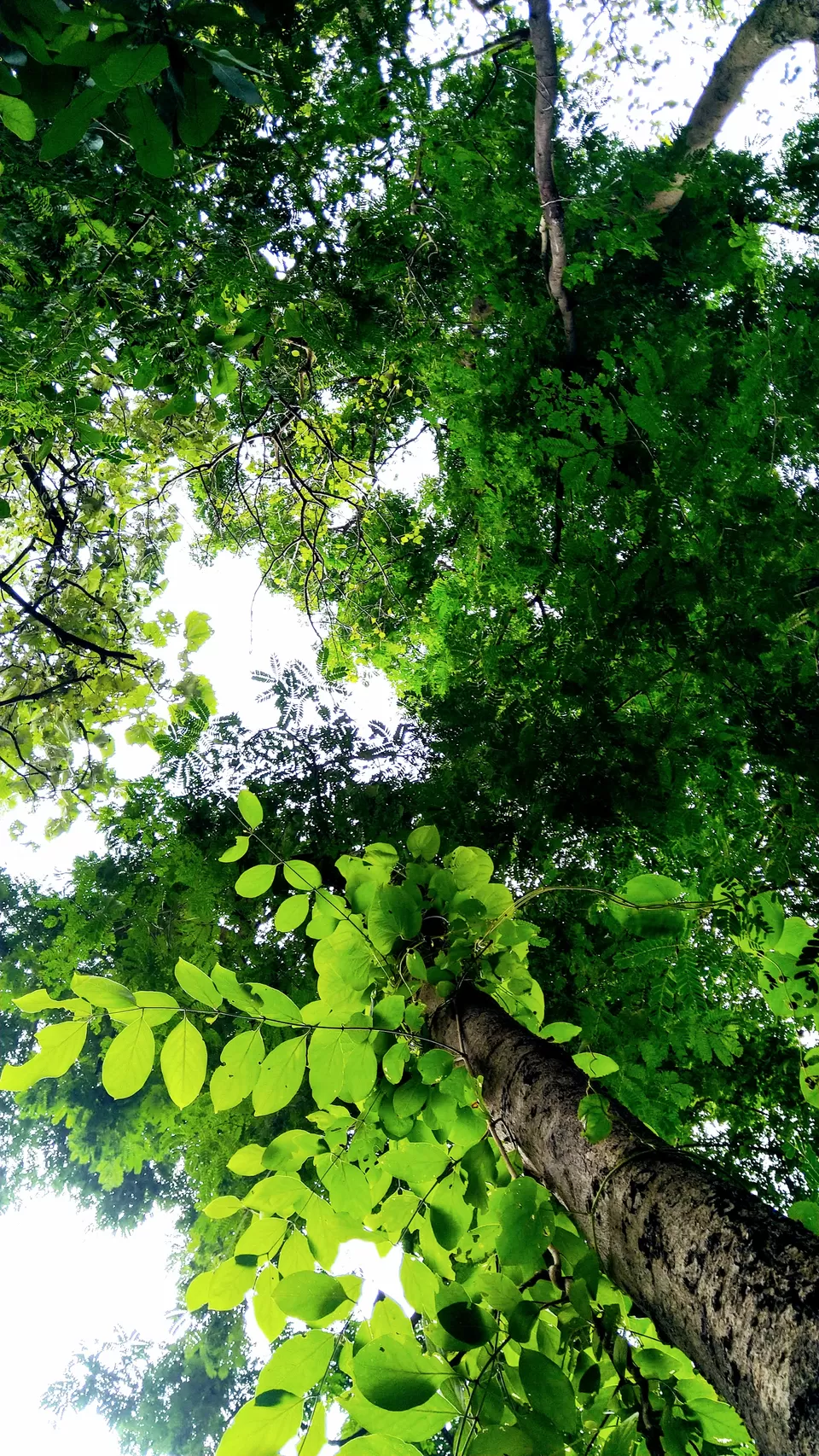 From here again, picked up the pace and trails which I'm sure of that no one travelled in recent times. The rocks were untouched and the bushes closed the path. Had to clear them with caution coz wasn't sure whether there were any snakes but could find a lot of lizards. As I moved, I wasn't sure whether to go ahead. I had to face the situation where I had to walk along the edge of a cliff covered with algae which also had a widespread rapid flow over it. Said to myself, 'if it wasn't for this, I would never get a chance to take a clean decision with someone around. They would surely stop me for a lot of reasons for which at the end I have to compromise'. So took the risk and moved forward holding my slippers in hand (yeah, my bad I brought slippers rather than shoes) and took each step carefully. And that's it, though it's not the final top but next to it, the view of the falls from here really worth the risk.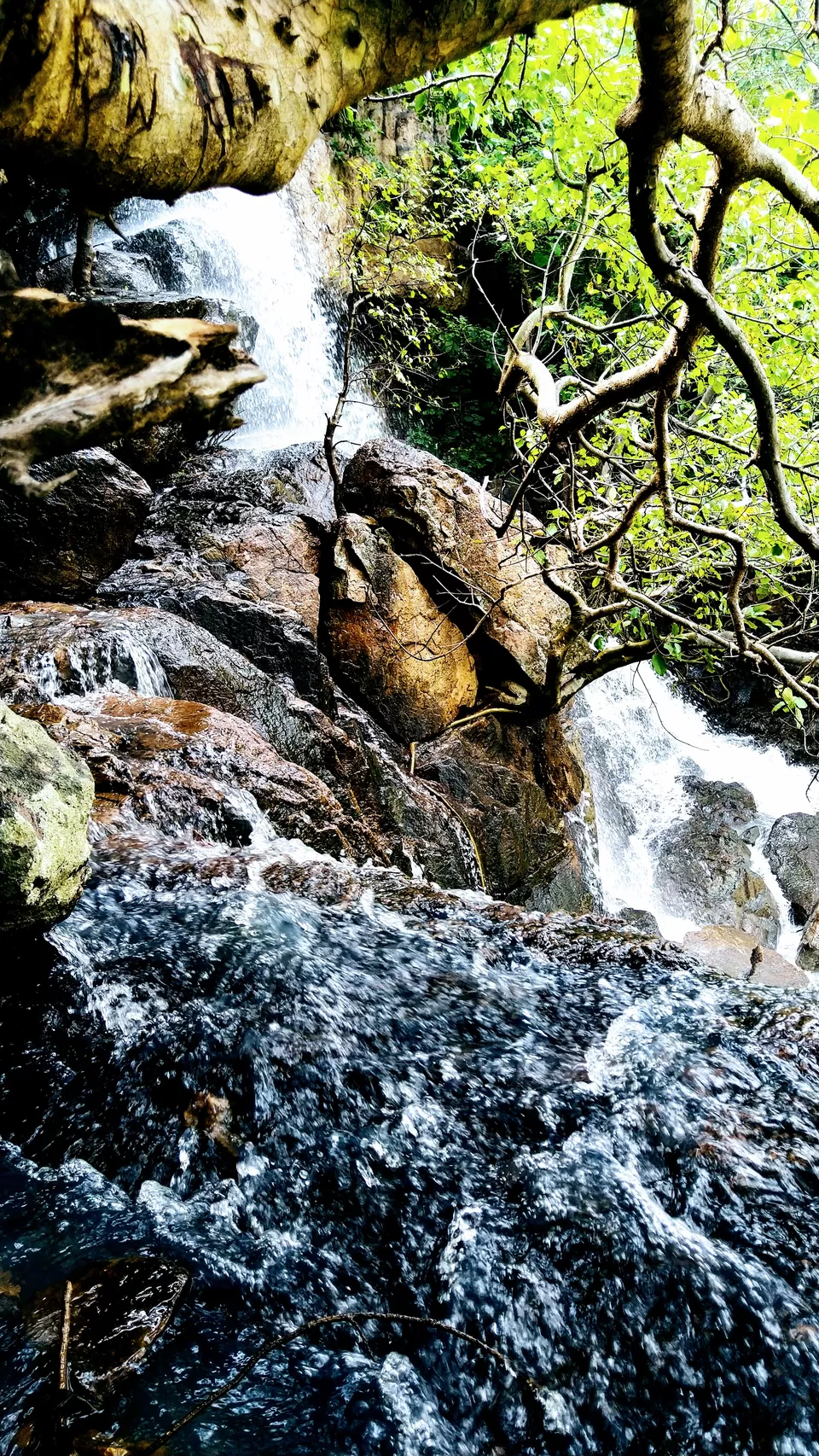 There were no voices to be heard except for the voices of water.. And this was no place to become a slave except to the beauty and the scenics.
With the Bluish sky covering the top, one could see the milky crystals jumping out into the open rolling step after step. And more to it was the enchanted lush green around which perfectly made it look stunning and stinging.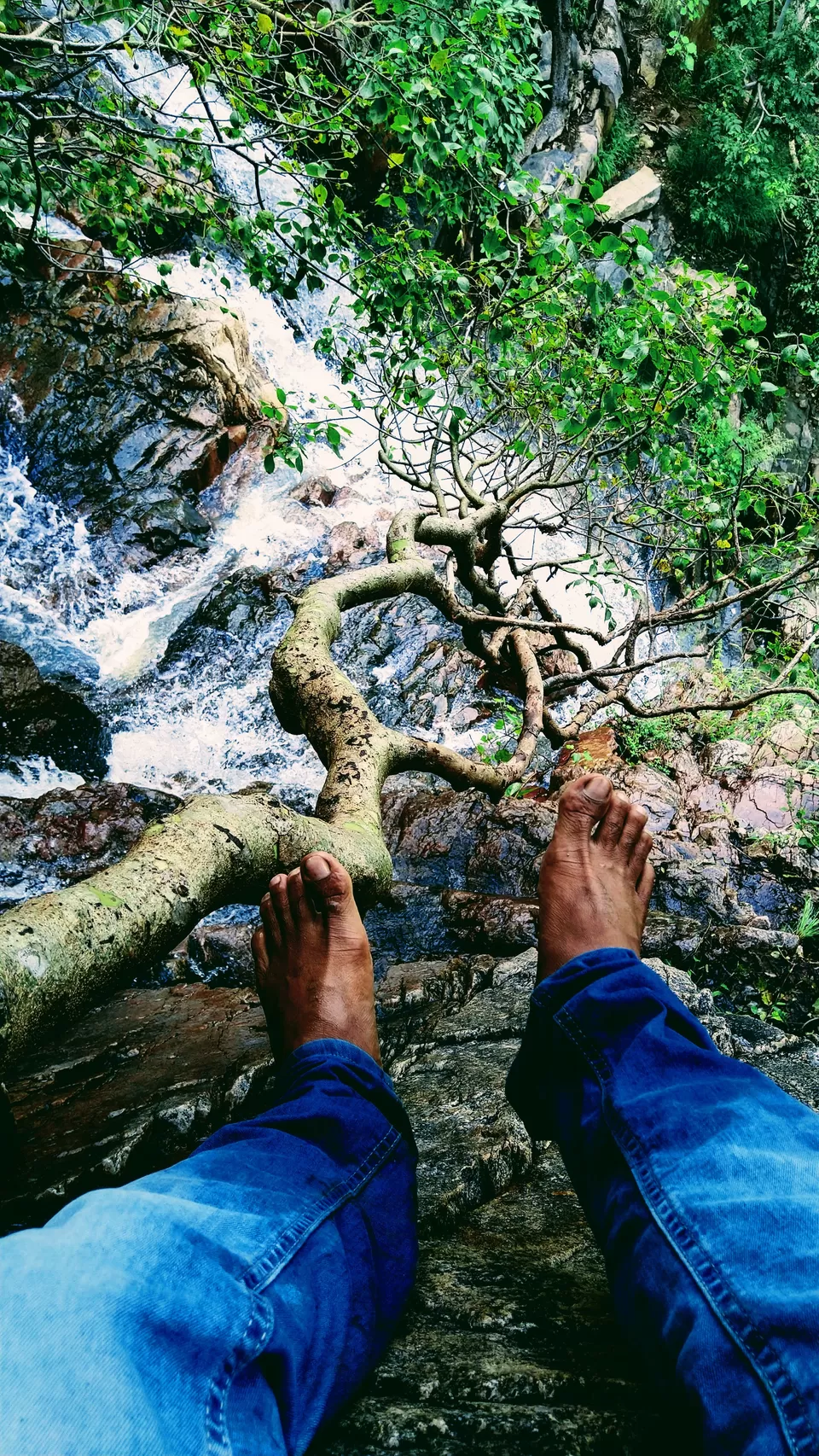 Before I realised the time, it was already an hour and the clouds looked gloomy. So had to make back to the bottom as i was afraid of downpour getting larger and block the return path. So packed up everything and returned to the base and there was no more rain. Though little disappointed, this time chose an isolated place beside the falls and spent some quality time under it. Took a bath and had some snacks before I started back along the same trails and reached the parking.
Started back home with a very wide smile on the face, filled with so much of unknown happiness and excitement which completely made my day out. And it all came to an end with me shouting and singing loud out of nowhere on the way back!!!
Travel Budget?
Excluding the petrol charges, it just costed me less than 200 Rs for dozen bananas and some chips to make up for my lunch.
Final note? For those who are wondering about places to cover in Telangana, this is a much recommended one packing full of adventures and excitements.