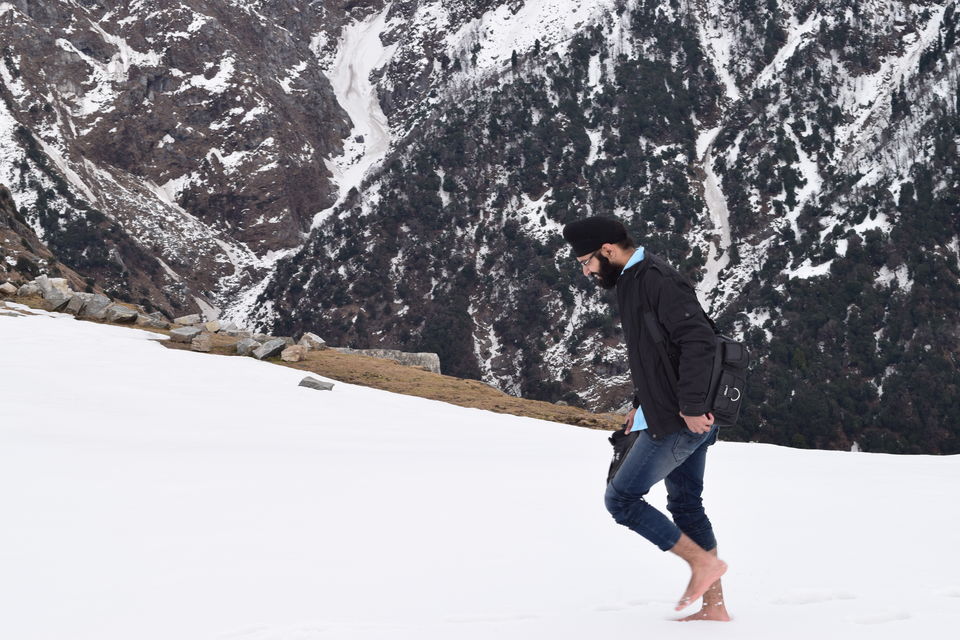 Peaceful Buddhist monasteries, laid back cafes, sumptuous Tibetan food, beautiful valley views, and snow-capped mountains in the background. These were enough reasons for me to book tickets to Mcleodganj. But apart from everything else the prospect of trekking up the Triund hill was my top priority.
Triund is at the foot of the Dhauladhar ranges. The hike up the hill is classified as easy to moderate level. Some blogs suggested that the trek is closed during the winter months of January and February owing to heavy snowfall.
Couchsurfing to the rescue
I started my journey from Delhi to Mcleodganj. Since this was an instant plan, there were no pre-bookings done. You need to shell out more money for accommodation in case of solo traveling. So instead of looking for hotel rooms, I contacted some active Couchsurfing hosts in the region. My presumption to land on a free couch was low because of such short notice. After several refusals, unexpectedly, a host accepted my request and agreed to pick me up to his place after completion of his college hours.
I visited the Dalai Lama temple, ate authentic Thukpa at a calm cafe, roamed through the beautiful market and ended up at Bhagsu Nag temple where I relaxed and waited for my host to arrive.
Sudesh, my Couchsurfing host informed that the trek to Triund is closed due to bad weather conditions up there. This was a big setback in my plan, but the disappointment didn't stay long. I found out that Sudesh was an adventure enthusiast and had hiked even the mighty Dhauladhar mountains. He had hiked Triund hill several times before round the year.
Upon minimal insistence, he agreed to take me on an adventure trek to Triund from an unusual and still accessible way. We chatted for a while at the bonfire outside his home before heading to a warm night's sleep.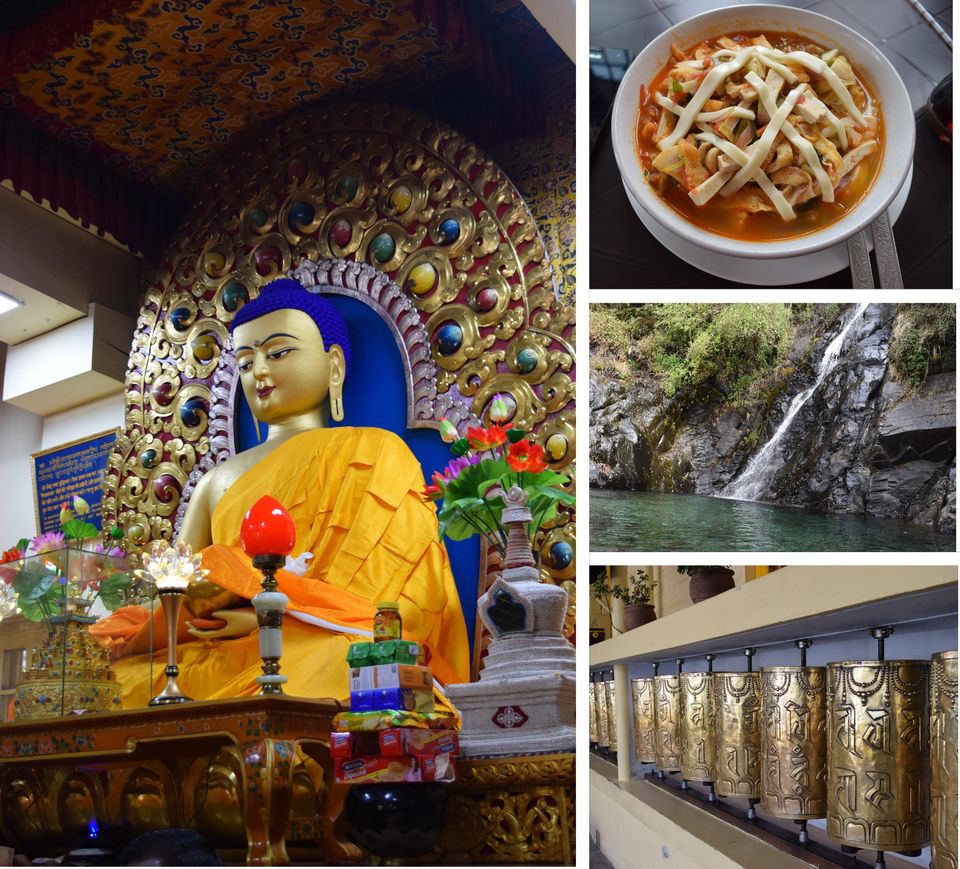 I woke up fresh in the morning and had Himachali dhaam for breakfast. Sudesh called his friend Arvind (another gem of a guy) to accompany us on the trek. We headed to Mcleodganj from where we walked up to Bhagsu Naag temple which was the starting point for the trek.
We packed up water bottles, fresh fruits, biscuits and a lot of toffees for the trek. Arvind brought homemade lunch for us which we decided to eat at the peak of the hill. The entire trek had multiple different landscapes which kept the excitement level up.
Bhagsu Naag waterfalls and Shiva Cafe
A series of steps from Bhagsu naag temple leads up to the waterfalls. The sparkling water from the falls is a sight to behold. We spent some time near the falls before heading further up to Shiva Cafe. On the way through some steep stairs, I came across a Rhododendron tree with crimson colored flowers. I was told that the flowers have a very distinct taste and are used with soda for a refreshing local drink.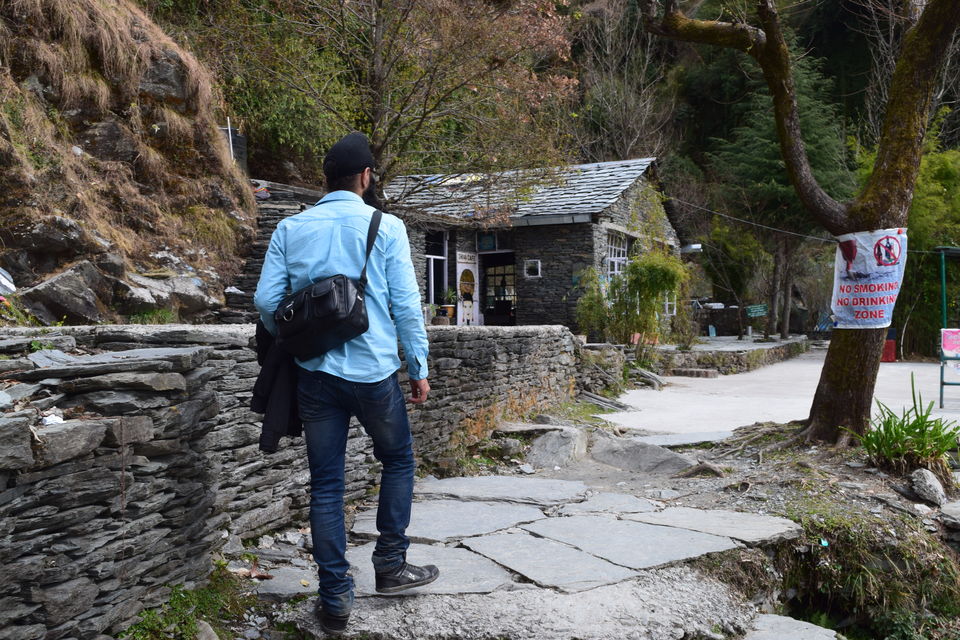 Shiva Cafe was nestled peacefully above the falls and had a very comfortable and laid-back feel to it. It is a very popular cafe amongst tourists, especially Israelis. There are delightful paintings on random stone slates all around the cafe. Being an off season time, there were very few tourists at the cafe. We moved further ahead from the cafe, round above the falls to the other end of the hill.
Abandoned Shepherd Village
The trek above from the foothills on the other side of Shiva cafe was exhausting. There were numerous steep steps on the rough stony zig-zag trail through dense forest. It was the time when I had to stop for breaks as my heart beat reached its peak level. It was difficult to match up speed with the seasoned hikers I accompanied along. I loved the fact that they didn't rush or left me out while I took breaks to rest.
We talked a lot on the way and I enjoyed multiple stories about their childhood, family, college life, pranks, fights and much more. One particular story that intrigued me was about life in Bharmour during winters. I could relate to Arvind's experiences through life like visuals running through my mind.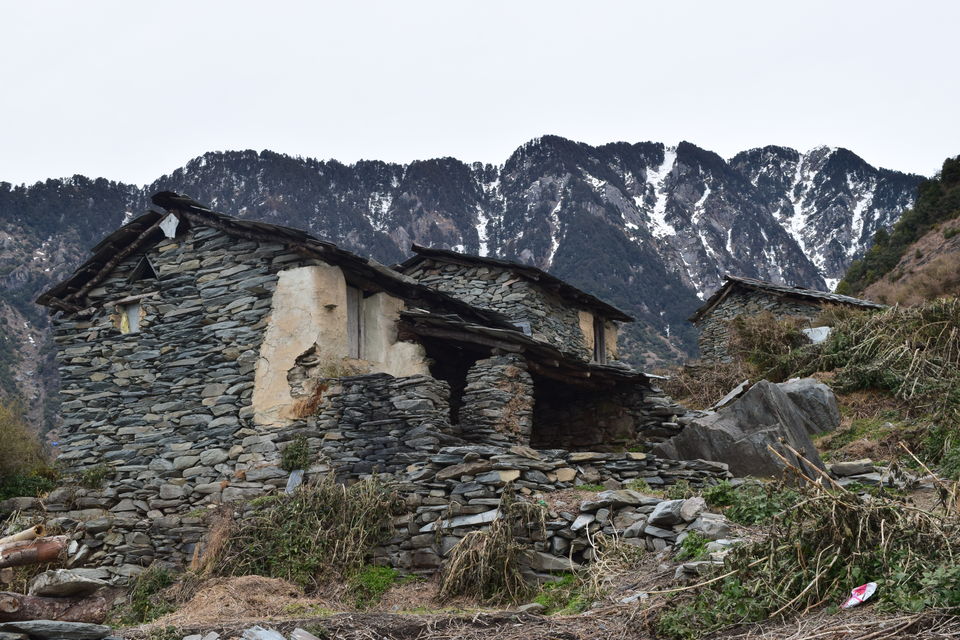 As we walked further ahead, the forest started clearing up. Within a few minutes, we were at a sloped glass land with abandoned shepherd houses along the sides. The view from this point was majestic. There was a panoramic view of the Kangra valley in the front, snowy peaks at the back, vintage stone houses by the side and clear sky above. We relaxed here for a while and energized ourselves with fresh bananas and oranges.
Cliff Climb vs Steep Trail
At this point in time, I thought that we may have covered more than half of the trek but to my amazement, there was still 75% more to travel. After another round of steep ascents, we were face to face with a cliff almost 90 degrees. The cliff posed a willpower test as we had to cross it without harnesses while the nearest motorable road lies about 1-hour trek downwards.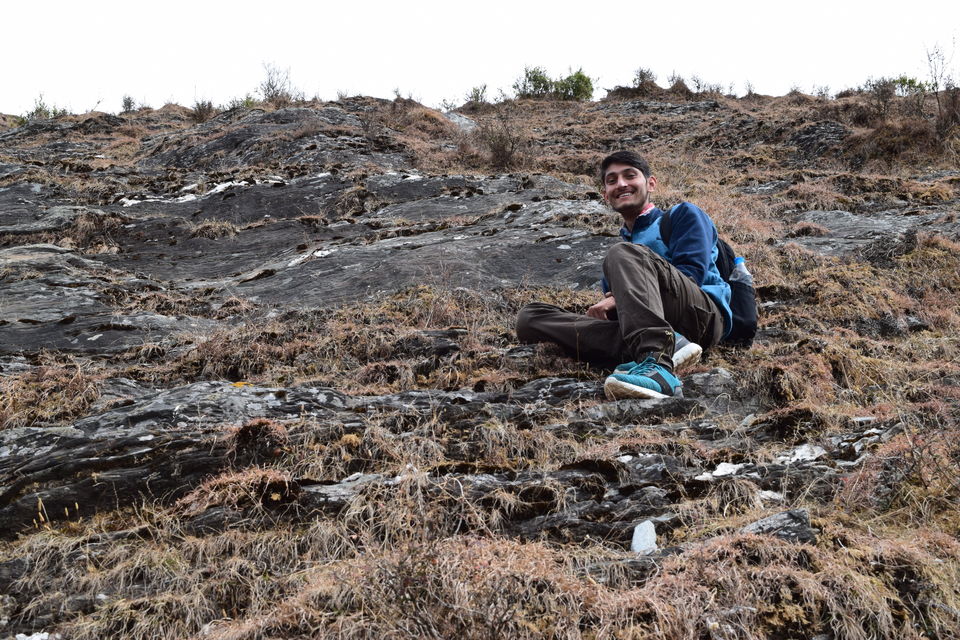 The alternate path to cross the cliff was through another round of steeply curved steps several meters away from us. I chose to take the risk and started the climb. I knew it was not a drill and one wrong step can land all of us in danger. I trod as calmly as I could, judging every step heavily. I was blocked at a few points and asked for peer guidance rather than rushing up.
Rhododendron Forest
After passing the cliff and crossing the slippery grass, we were presented with a mystic landscape. The trees were sharply curved at the bottom and raised straight up. It looked like a scene from some fantasy saga. I felt amazed at such diverse landscapes within short treks. These acted like milestones, broke the monotony, and kept the morale high.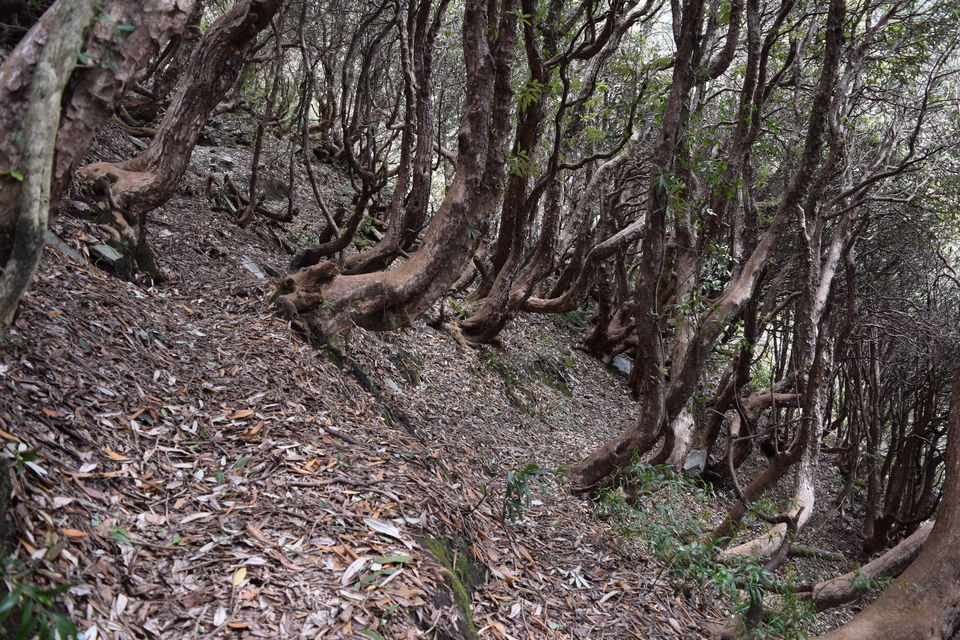 Finally the Snowline!
We had started seeing snow patches as we climbed up the cliff. But after the rhododendron forest, the Dhauladhar mountain range was in clear view. As we kept going further above the hill, there was snow all around. Finally, at one point, we couldn't avoid the snow and had to cross over it. The most important thing about snow treks is to keep your shoes dry. We instantly took off our shoes and removed the snow which made its way inside.
I was relieved that the steep ascends were now over and we were now walking on the peak trail. Since we took an alternate route, we thought of taking the usual route while going back to Mcleodganj. On reaching the summit, there was snow all around and we couldn't risk wet shoes so we decided to go barefoot on snow. With temperature near to zero degrees, the barefoot adventure on snow was exhilarating.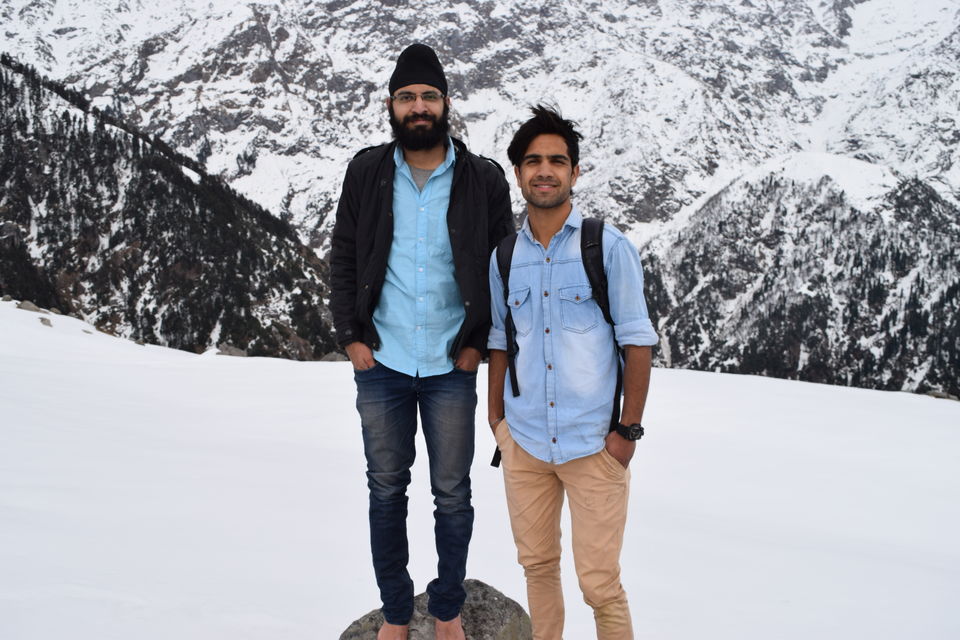 There was no one except the three of us during the entire trek. We took out our lunch for the day and magically had warm food on the top of an uninhabited hill peak. This has been the most memorable part of the trek. Now the question is how did that magic happen. There is another blog post awaited entirely about this extraordinary experience.
After our hot sumptuous meal, we had cold drinks straight out of the natural freezer. I was greatly thankful to my Couchsurfing host who made this surreal trek possible for me.
The Descent
The way back was very less exhausting. The sun was quickly setting. We had little time left before it would have been completely dark and there were dense forests trails to cover. I hardly took any breaks on the way back. Even then, my peers wanted me to move fast before complete sunset. I took a sigh of relief when we finally reached Shiva Cafe. My legs were shivering due to the continuous stress on muscles while descending. The cafe looked even more beautiful at night and the forest sounds were so peace inducing.
After a great dinner at a local Tibetan cafe, I finally had to say goodbye to the amazing local friends. I wish I could have stayed for a few more days. Sudesh has invited me again and I hope to visit him soon for another round of adventure together.
New friends await in every corner of the world, you just have to go and say Hi.
Few tips if you're planning to venture out for such trek
1. Do not hike the hill solo from the unusual route if you aren't a seasoned trekker.
2. Try to keep your shoes dry as descent with wet feet can be very uncomfortable
3. Carry your food and drinks as there are no shops on the way during the off-season.
4. Drop unnecessary items and keep backpacks light.
5. Most importantly, Do not litter!
Do write back if you have or will be taking such a trek during the off-season time.
Happy Travel Folks!