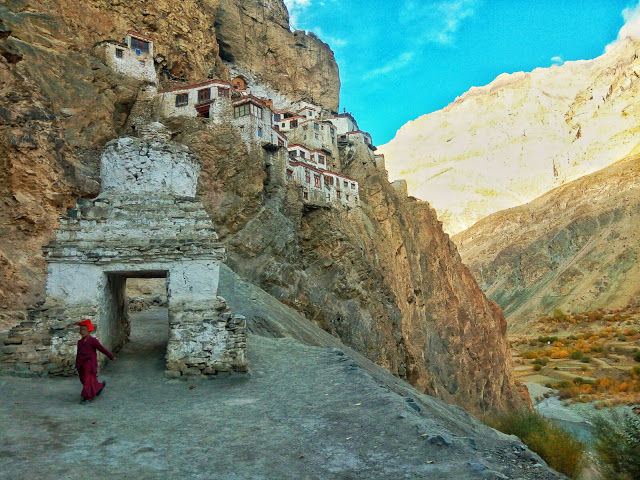 Phuktal Monastery (also called Phugtal Monastery) had been on my mind for a while. But something or the other kept me away from it since 2014.
No wonder, inspite of having planned for Valley of Flowers, Hemkund Sahib and nearby areas for my upcoming trip in September, one night, a monk, no older than 8 years, smiled at me in my dreams. I woke up, and knew, that my travel plans are going to change. This was not the first time that my dreams have led me to places and experiences that I'll remember for more than a lifetime. For me, it was a sign to visit the place I had been longing for. And not only this, but to spread smiles there as well.
Spreading Smiles is an initiative where I travel to remote places of the country, mostly Himalayas, and do things to bring about a smile on the faces of people. Majorly, I have been distributing educational material, in terms of books and stationary to the underprivileged kids of these regions, and teaching them wherever possible. But this time, I wanted to bring smiles to more people. So, apart from the stationary material, I also carried torches and batteries for the people of Zanskar Valley and Phuktal Monastery, which are still deprived of electricity. Not only this, to be able to make the smiles wider this time, I had also planned to organise an Art Competition for the kids at Phuktal, so carried all the essentials for that well.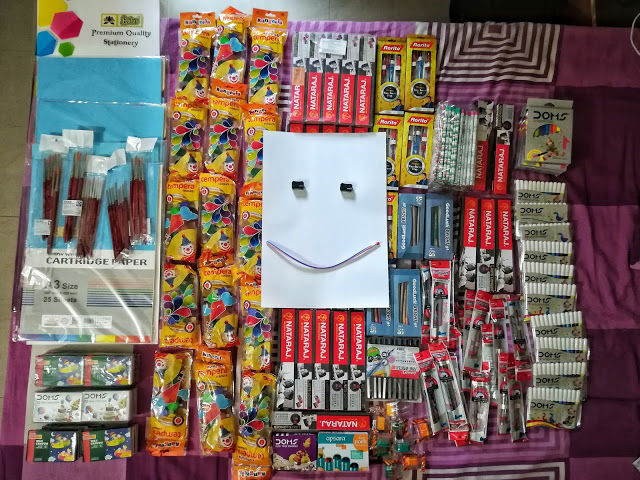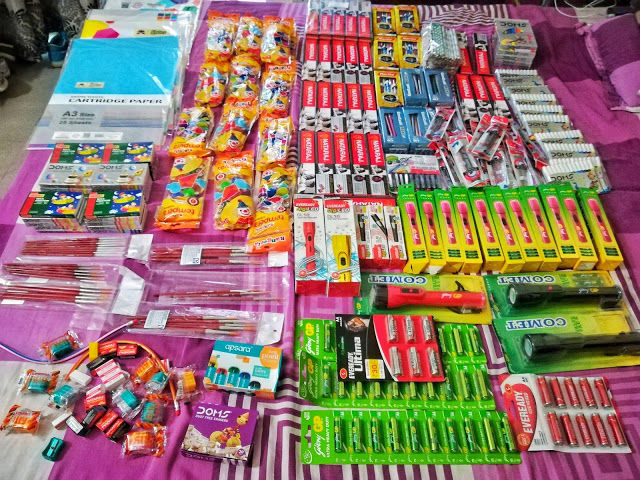 We started our journey from Anmu Village at 9 AM. Anmu Village is the last motorable village on the route to Phuktal Monastery, from Padum. It is some 45 KMS from Padum. We had stayed the previous night at Anmu Village only.
We drove about 2 kms ahead from Anmu, till the point it was possible, Beyond that the road construction was taking place. BRO is planning to build that road till Cha, the village mid way between Anmu and Phuktal Gompa. We parked our car roadside, and started our walk.
We reached Cha Village at around 10:30 AM, and took a leisurely break of an hour there, and continued walking.
After a long and a tiring walk, we reached the Monastery Guest house at around 1:40 PM, and admired the beauty of Phuktal. We spoke to the Lama Ji at the guest house and other monks about our plans. We were informed that the kids would get free from their monastic school at Phuktal at 3 PM, and after letting them rest for an hour, we can carry on with our plans.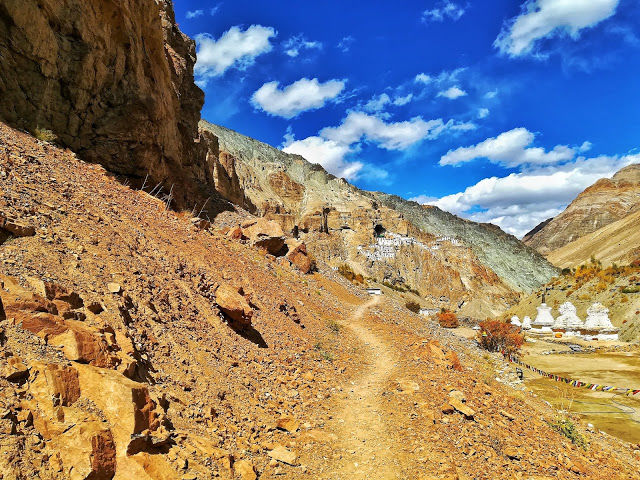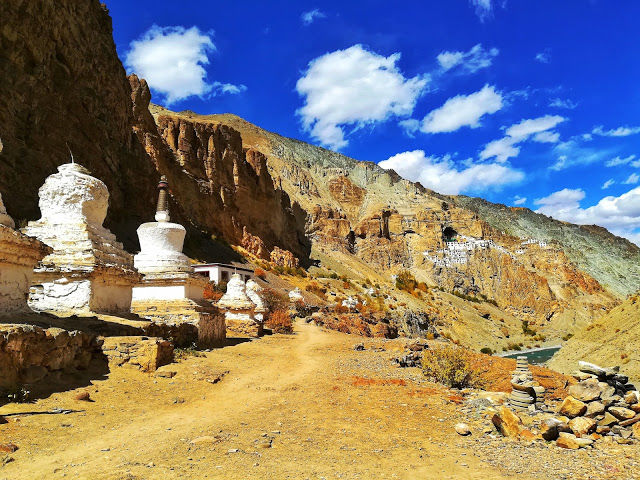 At 4 PM, we started our walk from the guest house to the monastery. Even before we entered it, a couple of young monks got excited upon seeing us. We requested them to take us to their teacher, which they did. We told the teacher about our plans to distribute essential stationary and organise an Art Competition for the kids there. Listening to this, the teacher got really happy as some of the little monks loved to draw and sketch, but did not have the means to do so. He was extremely grateful as this would have been a fantastic break for children from their everyday routine.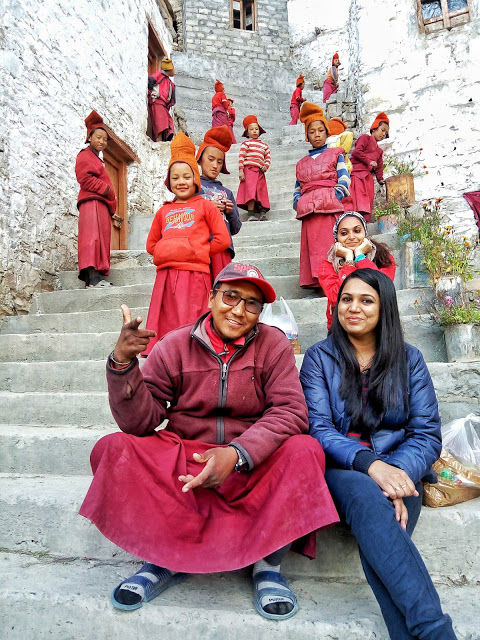 While we were talking to the teacher, many eyes were watching us from upstairs. Some from other rooms. People at Phuktal are not used to Indian tourists visiting them. Curiosity was dripping down from their eyes.
As soon as the teacher informed the few kids present there, their eyes sparkled. They rushed to inform all other kids, 36 in total, about the Art Competition. In no time the kids gathered at the common area, with longing eyes. The teacher informed everyone about the competition and the children cheered in joy.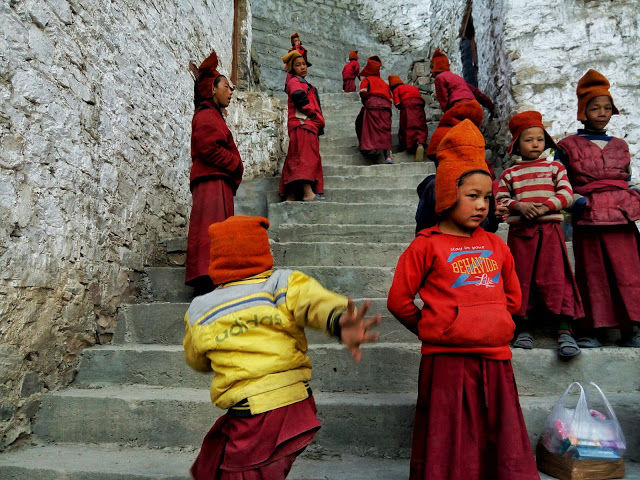 We distributed A3 drawing sheets, pencils, rubbers, sharpeners, crayons, colour pencils, sketch pens, water colours, painting brushes etc. to the kids for them to start. The theme was open because we wanted them to run their imagination wild and create anything they wanted to. Our group also participated in the competition. Soon, the word spread to every corner of the Monastery and a few monks graced us with their presence and joined the kids there.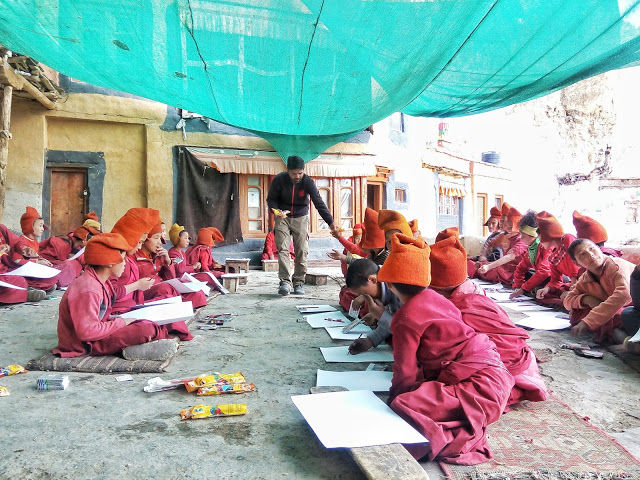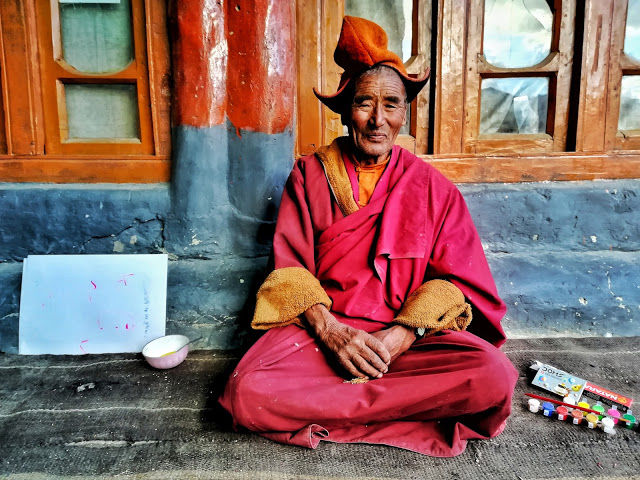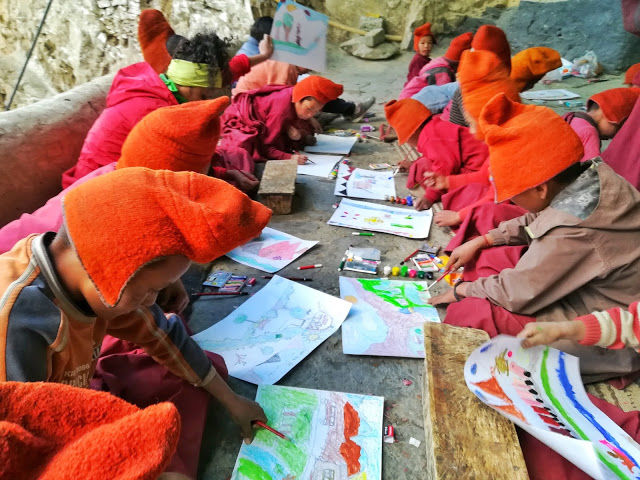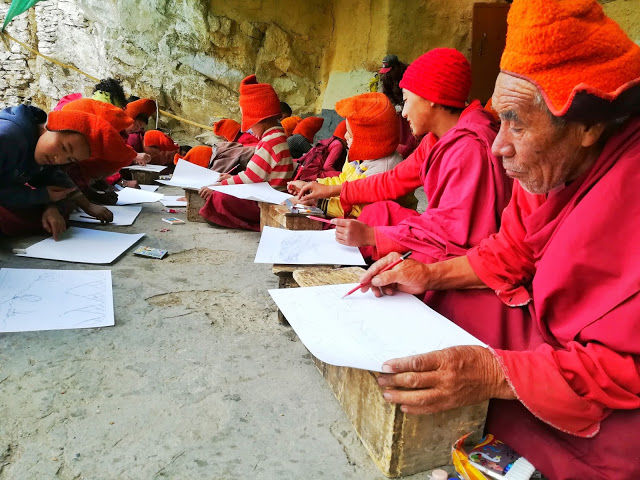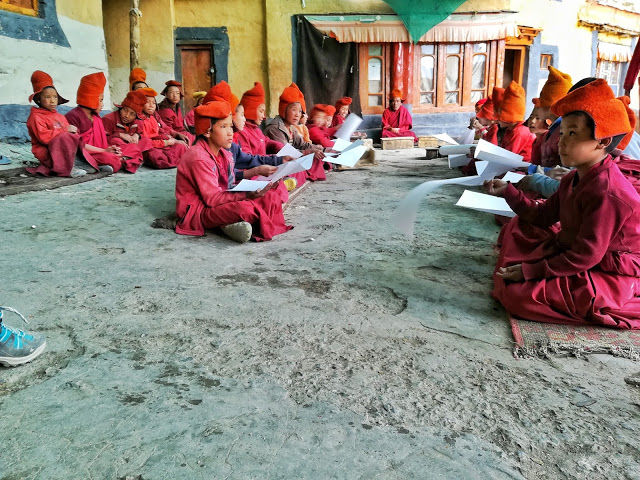 While the children were creating their masterpieces, I had a long chat with the teacher about the Monastery, the kids, their everyday routine, the life at the Monastery and a lot of other things. I requested to meet the other monks, if possible, and when some more joined us at the common area, I handed them over the torches we were carrying for them. After all, the only source of energy they have is the Solar panels which were installed there just an year back. And torches would have come handy for them in the dark. They smiled and blessed us for our thoughtfulness.
All this while, the children, our group and the other monks excitedly kept drawing, sketching and painting their hearts out. Some of them even explained us what they were drawing. After about hour and a half, everyone started submitting their creations to us. And it was time for us to decide the winning entry as we also had a prize for the best entries. It was a hard decision to choose the best one, so, instead, we picked 5, which stood out, and rewarded them with the prizes we had. With every prize, the cheer got louder and louder. And the smile wider.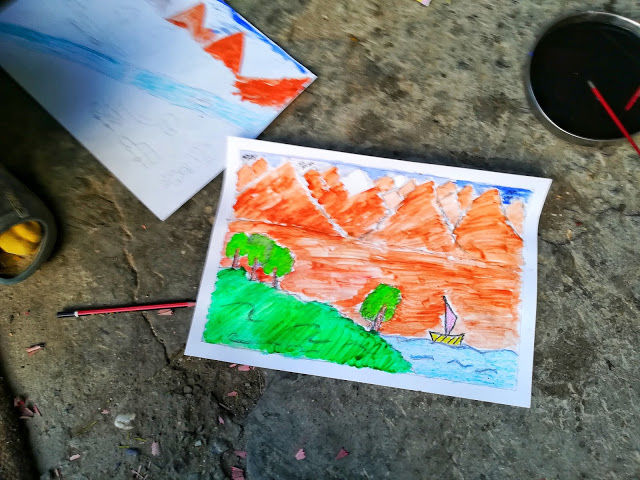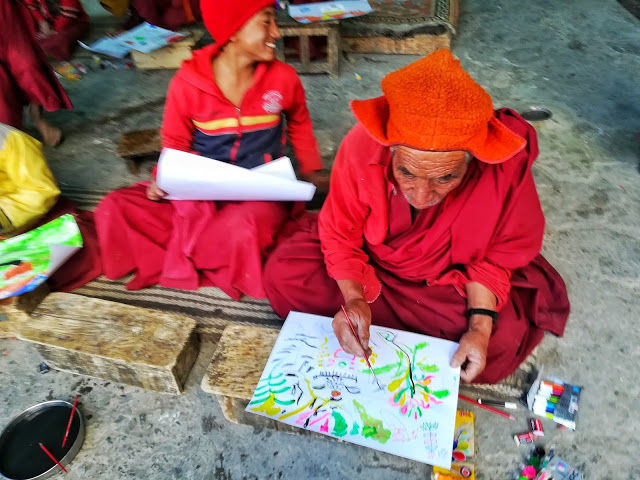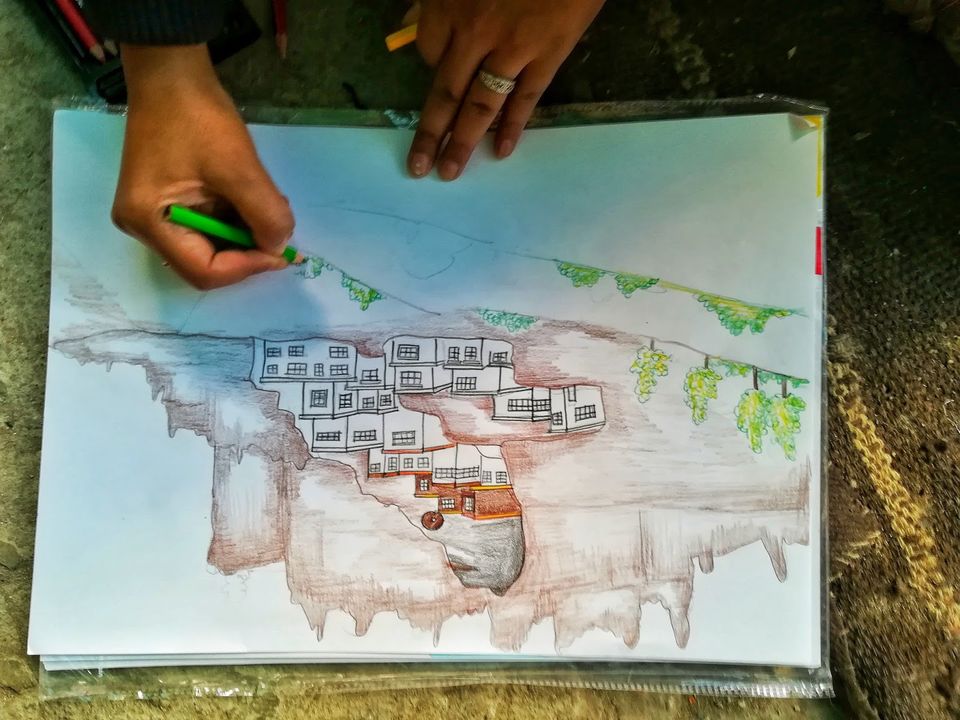 Once it was over, the teacher told us that he did not want this moment to end with the competition. So, he decided to put up all the entries in the classrooms for them to remember and cherish this moment for long.
As we left, the kids and the monks smilingly waved us bye. Everyone had a big smile on their faces. Looking at them the little smiling monk from my dreams crossed my mind. Who says, dreams don't come true!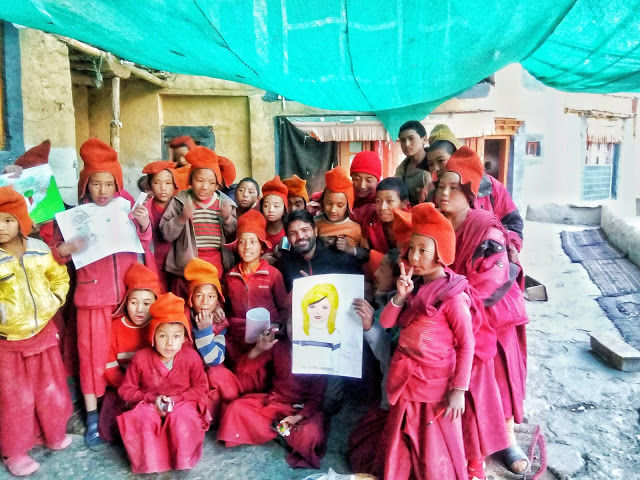 If you have any questions about Zanskar or Phuktal Monastery, feel free to connect with me on my social media. Am the most active on Instagram .