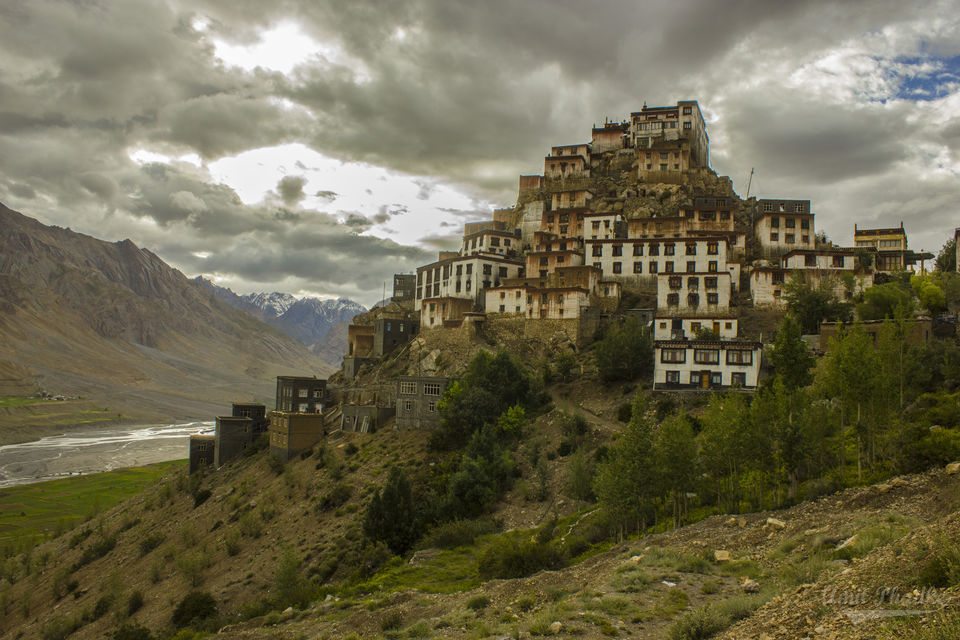 Here's how a normal man's holiday is planned. Choose a nice place to visit, decide how many days you can take off from work and book a hotel. Well, for a weird chap like me something different is always tempting. That is why the conversation in our hostel in Kaza(Lahaul & Spiti) became all the more interesting. A veteran traveller and an employee with Zostel in Spiti said "Ah, you can stay at the monastery. Living with those guys is something different". "The monastery" he referred to was the Key Monastery, The crown Jewel of the Spiti Valley and "those guys" were the monks that resided in the monastery. The words "something different" triggered a direct 'YES!!' from us.
Key Monastery is a must go in the Spiti Valley. Its the Monastery every guide book and travel company use as their cover photo for a Spiti trip itinerary. Yes, it is that well known. Once you are in Kaza(district HQ for Lahaul & Spiti) mode of transport is not gonna be an issue. There are state transport buses to the Key Monastery. One in the evening and another in the morning. The cost is around 60 Rs. There are taxis that you can take. Just visit the taxi union in Kaza. They will give you many tour plans for reasonable rates. One such route is Kaza - Langza - Hikkim - Kibber - Key - Kaza. It costs around 1500-1800 Rs. Another fun experience is renting a bike an doing it on your own. There are 2-3 bike renting places in Kaza where you can get bikes at around 1000 per day excluding the petrol.
We took the Taxi option. well, We were sticking to a budget and we had did biking the day before so it was a strategic decision. We started early from Kaza to our first stop, a small village called Langza. Langza is a beautiful village like every small village in Spiti Valley. But Langza has a big buddha statue and we can also get small fossils here. Kids will try to hustle you some of these stones. Next destination was Hikkim. Hikkim is famous for two things the Hikkim Monastery and Hikkim Post Office which happens to be the world's highest post office. You can write a letter home. A postcard costs around 20 bucks and its fun too!. I would also like to add the small cafe to the list of places in Hikkim which is at the side of the monastery, serves some delicious tea. Next in our list was the Kibber village. It is a big village compared to the others and now it is much more commercialized. We had a light lunch here and walked around a bit in the village. If you do take this tour my recommendation is to spend more time in Hikkim,Langza and Key(if you are not planning on staying in Key). At around 5 in the evening we arrived at our final destination, Key Monastery. The Driver told us about the bus that would come pick us up or we can give him a call and he will help us out.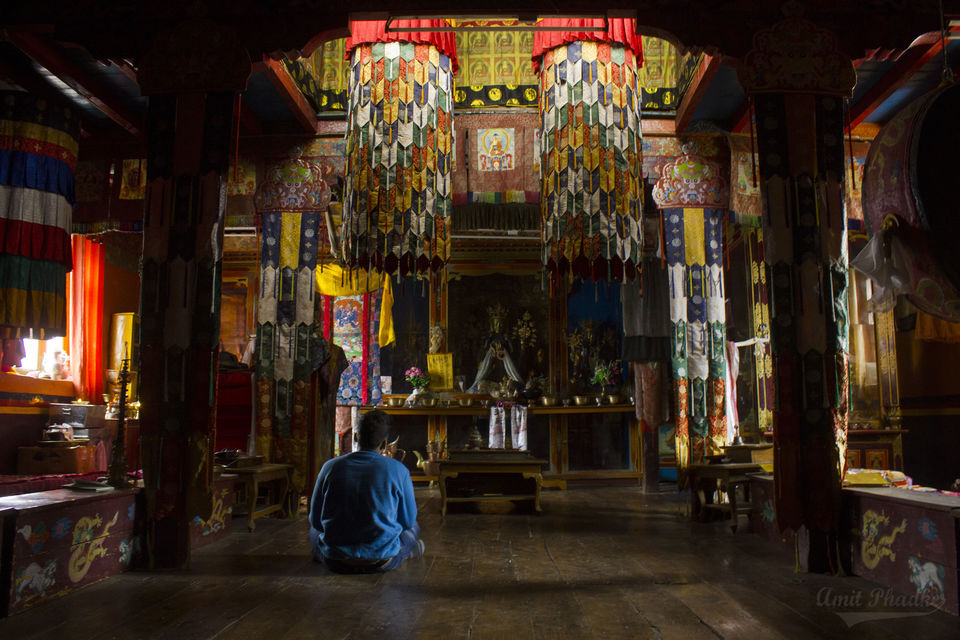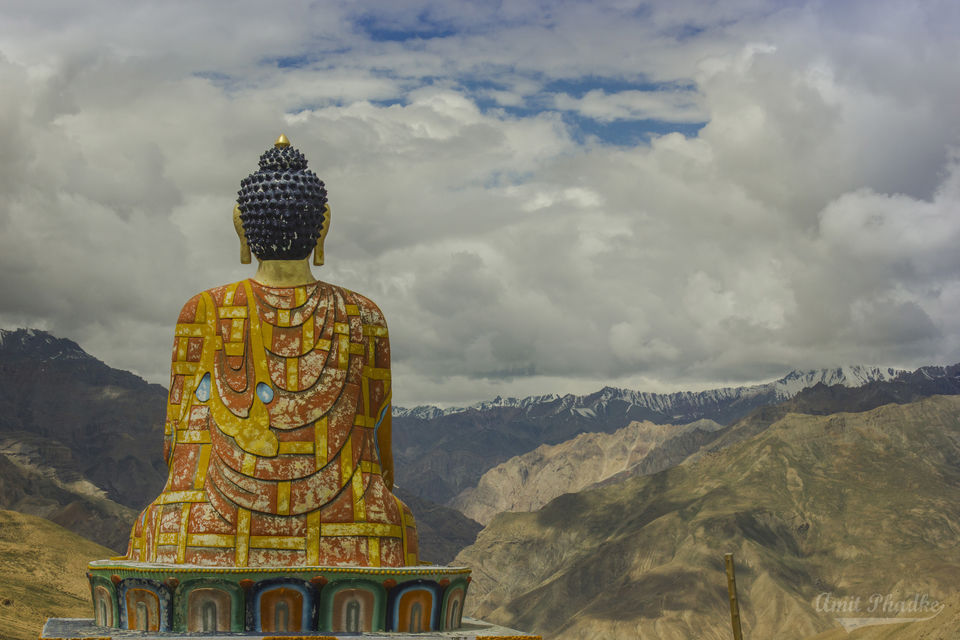 Key Monastery stood high above the Key village, big and beautiful Tibetian structure forming a small village in itself. At the entrance of the monastery was a cafe and small homestay where local buses arrived and a school stood on the side. Empty, small and closed. Probably holidays were on. The monastery welcomed us with a great view of the valley and huge canopy decorated with some Tibetian artwork. The main courtyard was small place right in front was the main Gompa, to the right was the prayer room and to our left was tourist guest house and the kitchen. Straight ahead was the monastery office and living quarters of the monks. Most of the tourists were leaving as the monastery visiting hours were almost over. One of the monks directed us towards the office where we can book a room and pay. A few rules come with staying here. Rules are pretty simple don't make too much of noise, no alcohol, no drugs and no smoking. The lodging is pretty cheap around 600 bucks per room. Four healthy meals will be served including breakfast, lunch and evening tea and dinner. Dinner is served at around 6 in the evening. Yup, THAT early. but that's okay helps to keep good health. Plus the meal is of made up of all local items. A home cooked Spitian meal. And it was delicious. As we sat with the monks for dinner we learned about their way of life. What they do everyday. What are their daily chores and responsibilities are towards the monastery and their fellow monks. They also told us about the Buddhist philosophy and some of their little rituals. These guys are extremely friendly so dinner that was supposed to be over in half hour took two whole hours so we gobbled up the remaining sabji and hurried of to our rooms all tired and full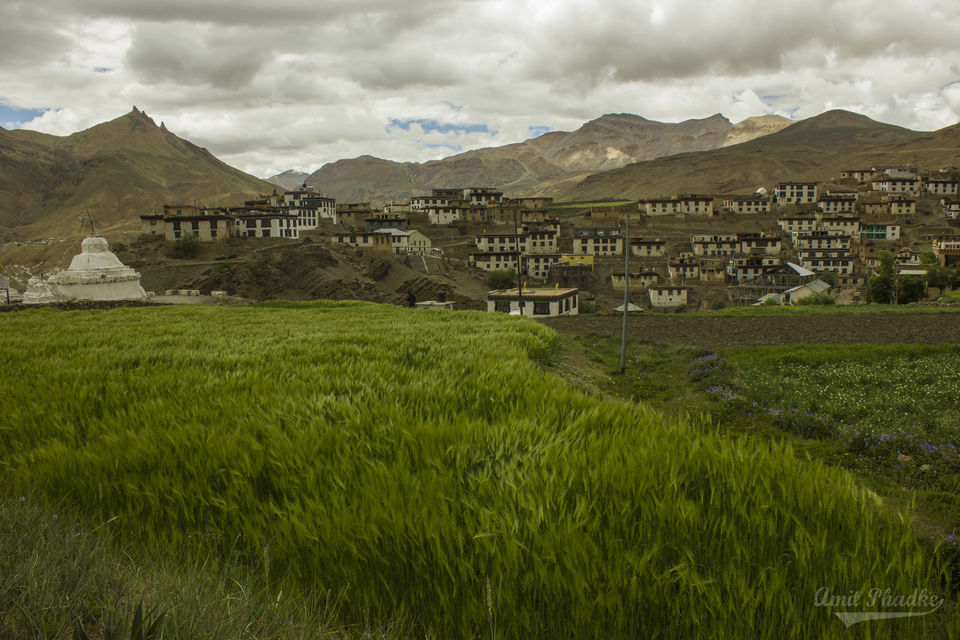 The rooms were pretty much regular. But after a long day a warm nice bed in a cozy little room is all we need. There are common bathrooms on the side. After an hour's rest we headed out to explore the place a bit more. Every place you are gonna go you are going to find the most breathtaking view of Spiti Valley. It had rained that day so the sky was grey and thick. The water in the river had found more force and more noise. Water gushing in the distance, dramatic sky above me and silence all around. That's a recipe for deep thoughts and reflection on life. The young monks were going about their chores in the back. There is something about these places that make you look inside yourself. The shades of grey soon changed to black. The pollution free world of Himalayas was resting under the starry night and we were walking in it. Roads were empty. The village was asleep but a group of monks were dancing and enjoying them. We went to inspect and found out that they were preparing for an annual festival that was supposed to take place in July in the Monastery. They were just wrapping up their practice when three curious heads showed up. We chatted till midnight with these guys. Monks about our age. We talked about the festivals, Spiti, Pune, Politics, Cricket and our experiences.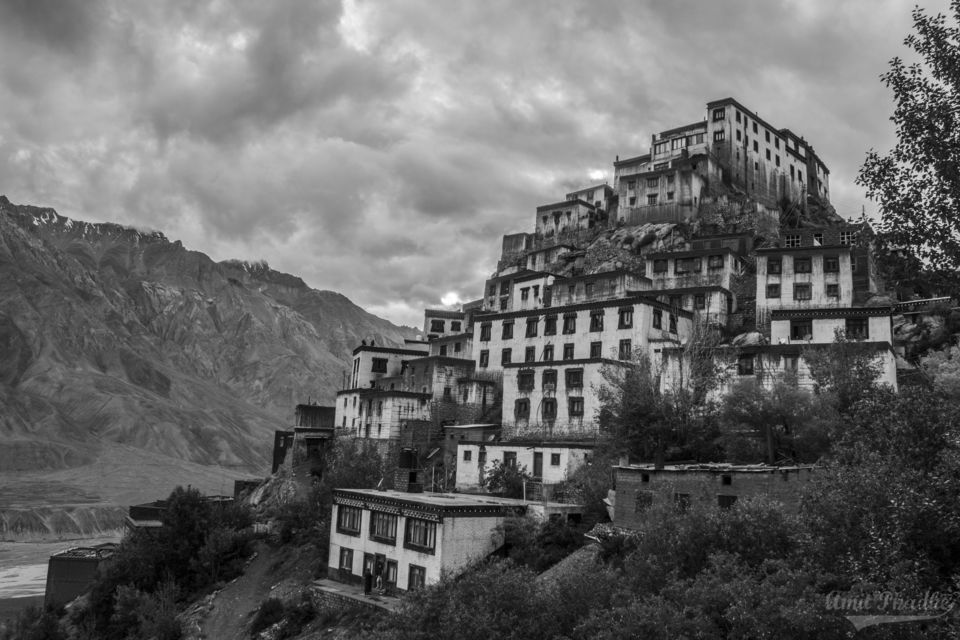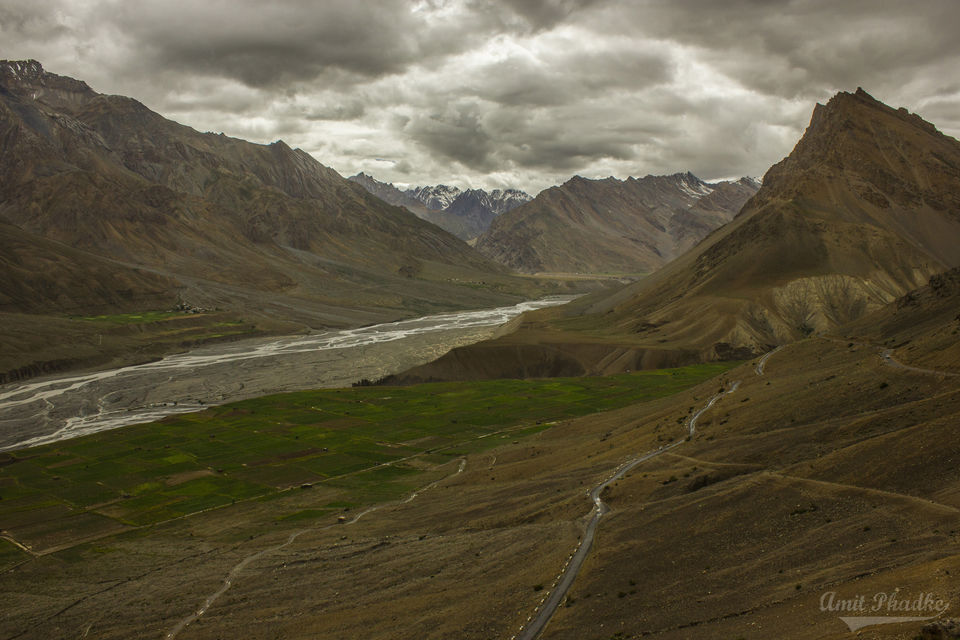 Morning light crept from a rooms window. I glanced at my watch! Shit it was 7 AM!! As soon as I ran outside my room i could here about 50 Monks chanting "Mantras" in unison. Another man staying in the monastery saw the look on my face and said "Dont worry. The prayers have just started! Get your Mug they are serving hot tea!". The prayer is something you should attend. It will jolt you up in the morning. If that cant the hot butter tea surely might. The prayers just got over in time for our bus. We went to the kitchen to see if we can get more tea. What?? it was delicious!!. The young monks were preparing breakfast. It was a like a classroom with no teacher. But they were actually working and doing a good job too cause it was smelling amazing. Too bad we had bus to catch. The bus came in at around 9 at the bus stop. It's better to check the morning bus timing before hand at either the monastery or the Kaza bus stand. So here we were back on the bumpy road to Kaza. Half sleep, fully satisfied, and kinda wanting to eat that hot breakfast.
I am gonna tell you right away this was one of the best decisions that we made on this trip and generally i would try and convince others to do the same. But i think the Key Monastery can do it own its own. I will stick to spreading the message.