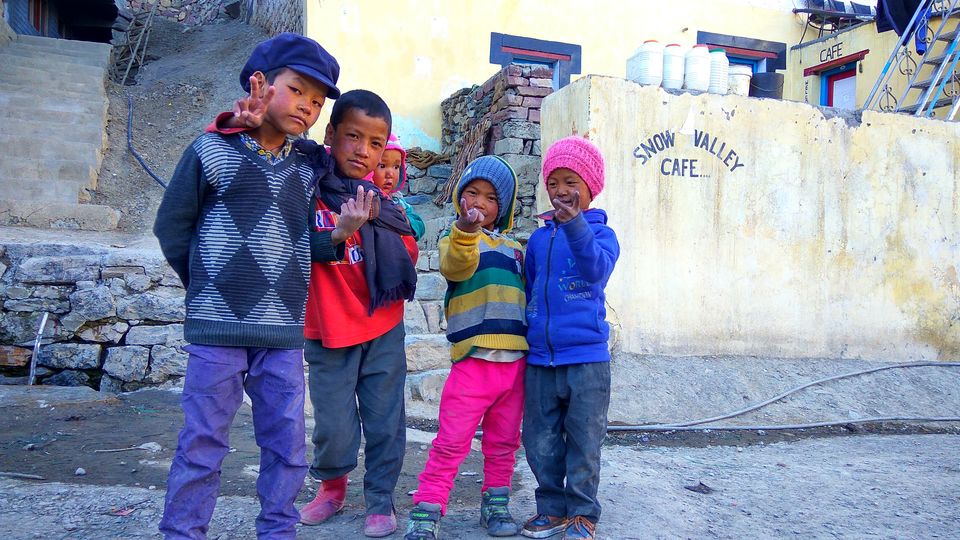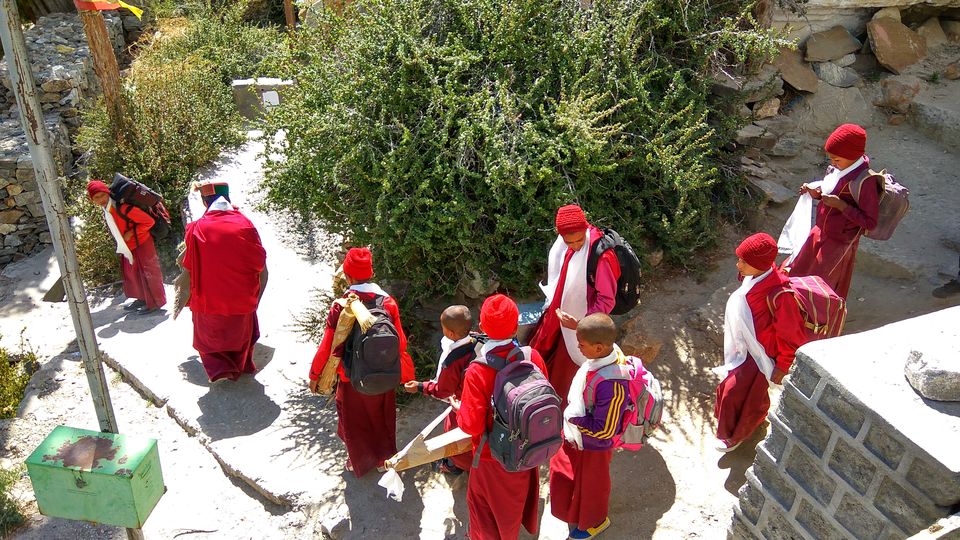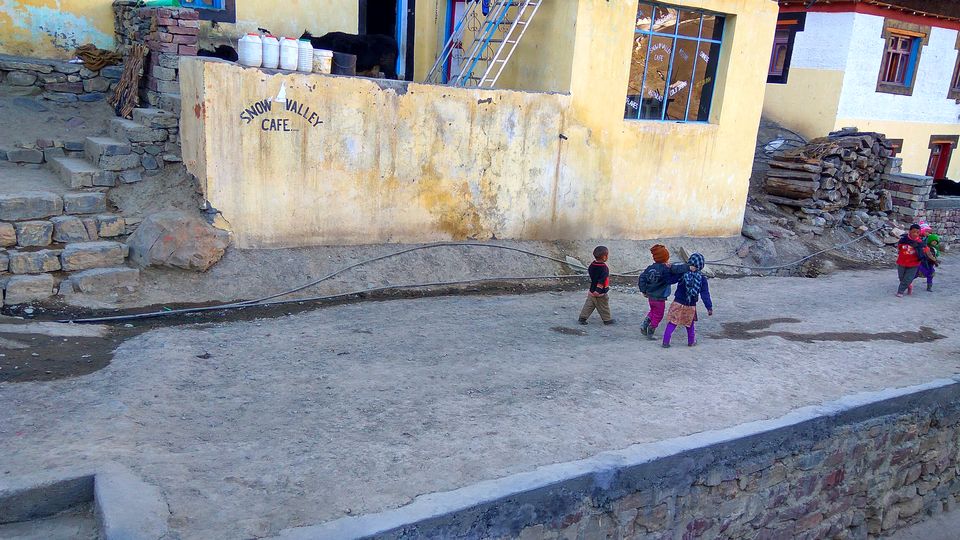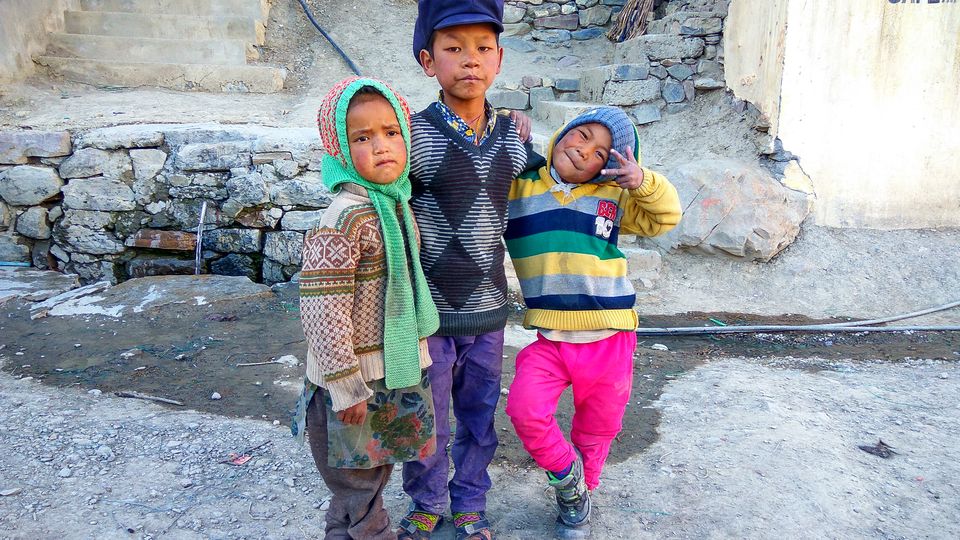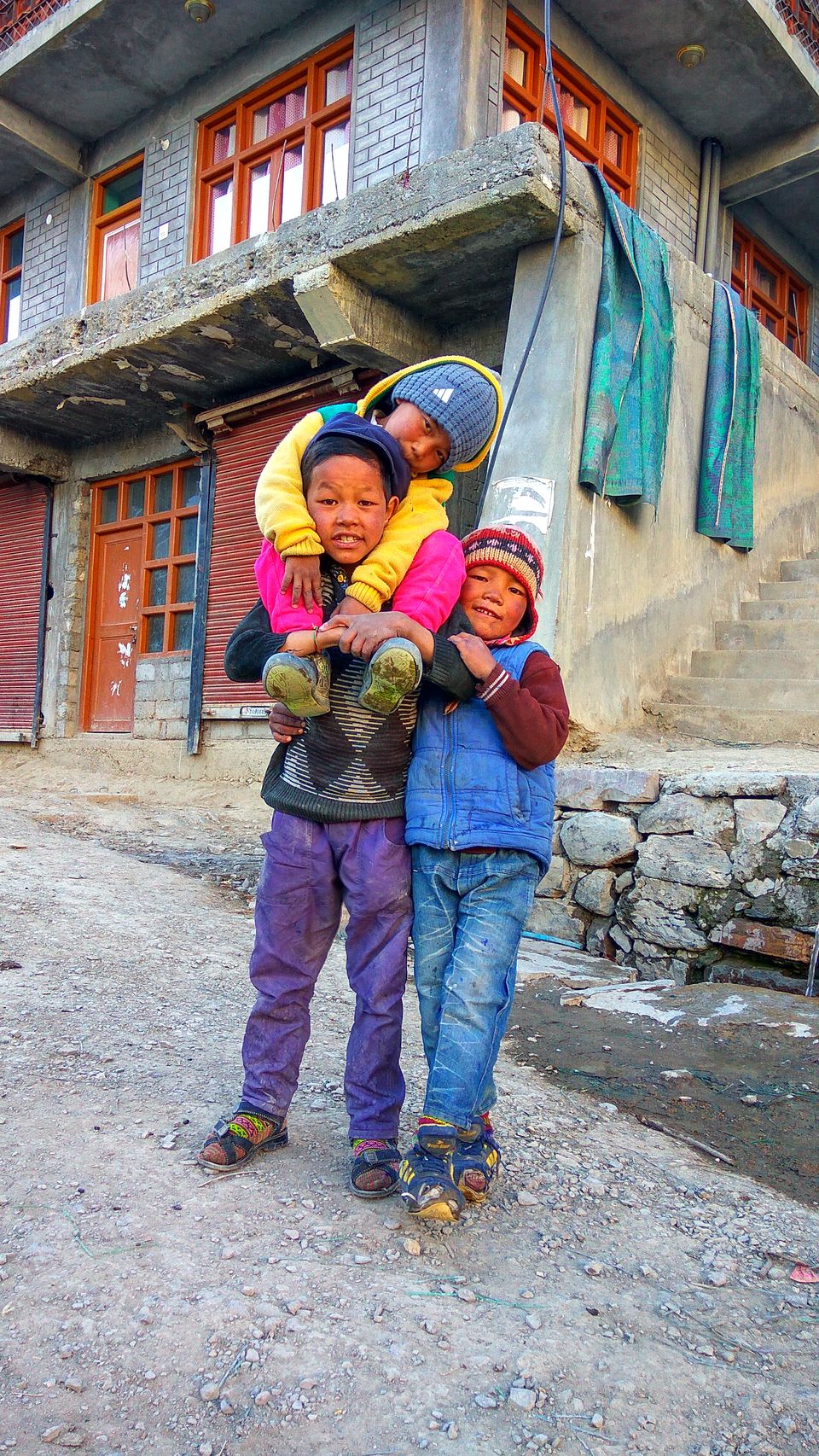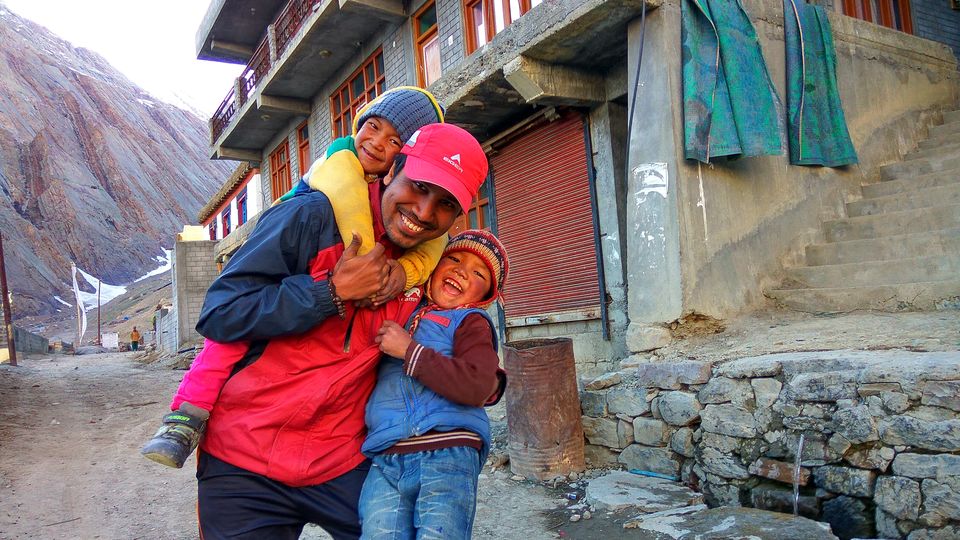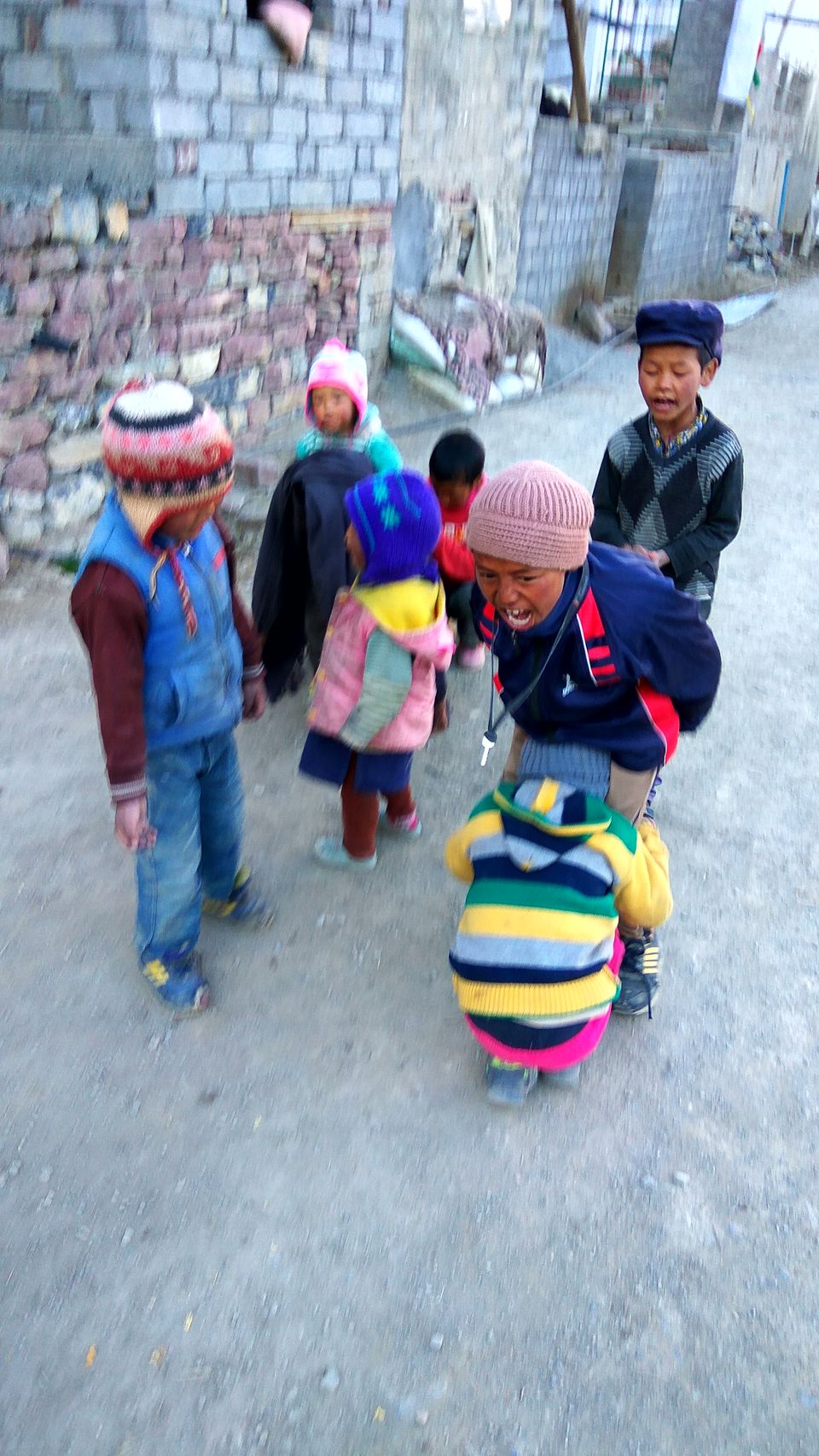 The good People of Himachal~
Himachal Pradesh is well known for the simplicity and the kind-heartedness of its people. This is one of the important reasons many travelers around the world choose Himachal Pradesh as their first solo trip . I realized this from the first day I set out for my solo trip to Himachal. I met many locals who went out of their ways and helped me when needed without even asking for any favour in return. Their simplicity and ability to trust people amazed me time to time. This is perhaps one of the few places in India where your room needs no lock and you can trust an unknown driver to give you a lift even at night. Starting from the bus driver to the homestay owner, the fruit seller to the Tibetan monk in the monastery or that farmer, everyone never ceased to surprise me with their good gestures and unconditional help. So, I decided to tell a few stories about them here.
The little monks:
I was curious to know how these small kids end up in red robe. So I went on asking the locals and the senior monks. In Tibetan culture, children play a very special role. While living among them or observing them it become very prominent that they consider the children as the future of their culture and more specifically their religion. According to Tibetan Buddhism, if the family has more than one child, the youngest one has to be sent to the monastery unless any other child in the family shows interest to become a monk. This ritual is followed across Tibet and many Himalayan regions in India including Lahul and Spiti and that is how they join the monasteries at so early age sometimes even without their knowledge. But I also met such parents who had to send their child to become a monk as the child itself was keen to become one. It was amazing that a child at so early age can grow such a strong desire to take the religious path for the rest of his/her life. Some parents also send their children because of poverty and the children generally have a guaranteed good lives in a monastery. Now a days they are taught science and other languages too apart from Tibetan Buddhism in the monasteries. It is however controversial if this is right to force a child to accept monastic life at so early age leaving them vulnerable at the monasteries. In current times, it is getting difficult to convince the parents to send their children to monasteries and even to retain them when they grow up as they are getting more and more exposed to the outer world. My stay at the monasteries, interacting and playing with them made me realize that be a little monk or a normal child, there is hardly any difference. Their innocent smile will fill up your hearts as like other normal children.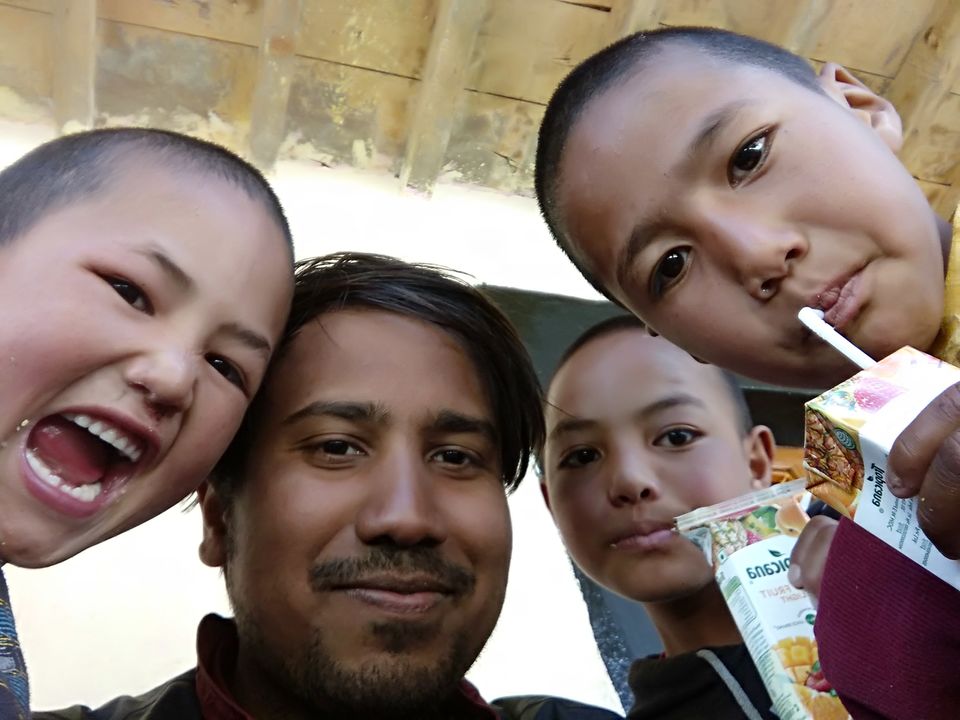 The Two ladies:
"Chai pijiye." (Have tea, please)
I looked up and saw two ladies on the trail looking at us with warm smile on their faces while I was returning back after a day hike in the Pin Valley National Park. They already finished their last round of tea and were waiting for their flock of sheep to return. Seeing me hesitating, they insisted that I should sit there and rest and enjoy a cup of tea. I couldn't refuse. One of them went ahead in the trail to wash the utensils and fetch water from the nearby stream and the other one started to lit up the fire. I was quite embarrassed to make them take all that pain for us who were nothing but complete strangers to them. While they were preparing tea, I started chatting about their daily lives in the village. Mud is the last village before Pin valley national park starts and has very few people to live there. Everyone's turn comes up in 11-12 days to take the sheeps and the goats out for gazing. I saw the older lady had a plastic box with her and inside there was something which she was rotating after every few minutes. Being curious, I asked her what was that and she replied, "it's a customized Mane." ???? I told her that I have been looking for one but the ones in Spiti are not cheap. She told me that she got it from Bodhgaya and was very eager to give it away to me but under one condition that I should use it religiously and pray regularly with it which I was not very sure about and so politely refused the offer. The tea was prepared by that time and that hot tea served in a bowl was so refreshing after a long tiring 22km walk. We finished the tea happily while they got busy with the ships and it was the time to go back.
I once again thanked them and offered to pay for the tea before leaving. The ladies refused the money and told us, "it was your destiny to have tea from us and perhaps in another life you will treat us the same way when we will meet again."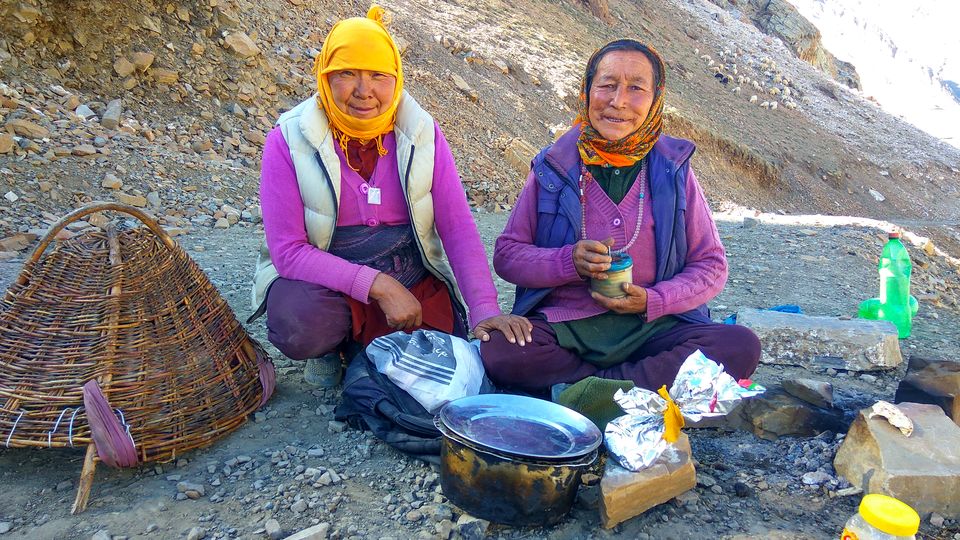 Kids of Pin Valley:
After coming back from a 26km day hike in the Pin Valley National Park, it was the time to chill out but instead of that when I saw these kids playing on the street I couldn't resist myself to join them.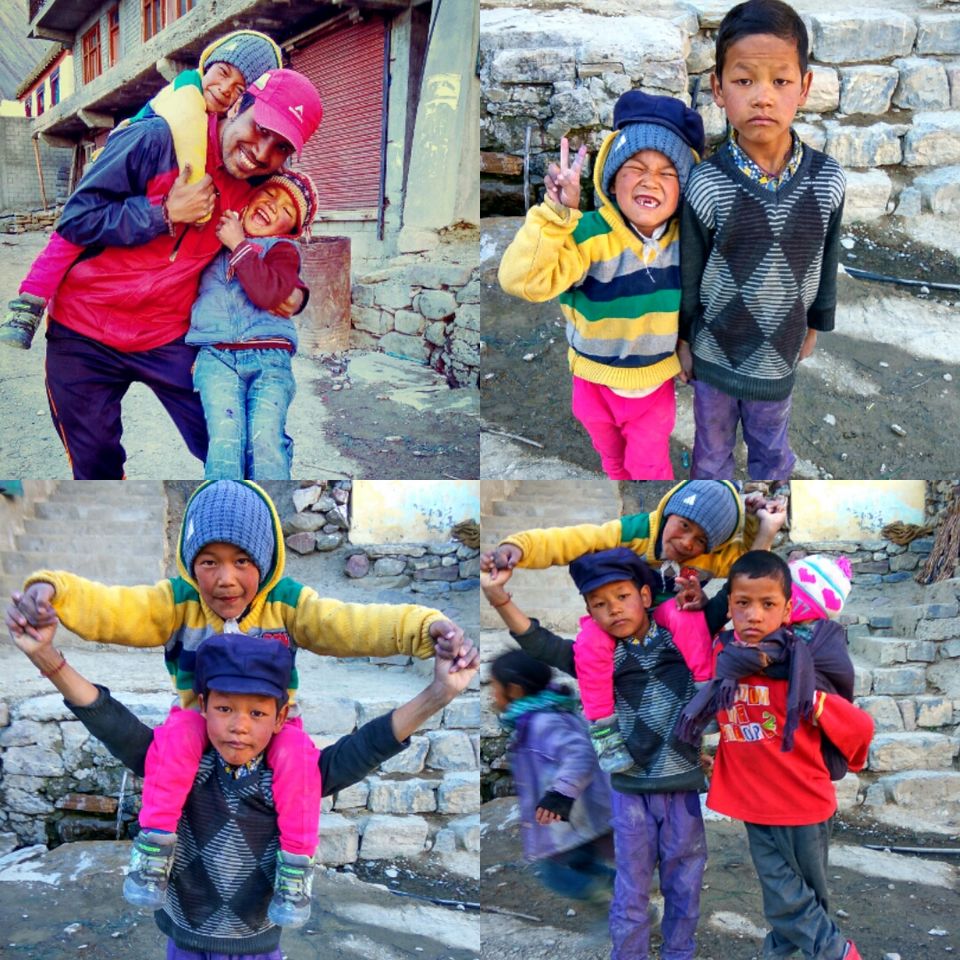 Mud is the last village in Himachal before Pin Valley National Park starts. The majestic view of the virgin, serene and still mostly barren valley was so tempting that a I decided to stay there for two days. The other reason was definitely the hike inside the National Park and towards the Bawa pass till the point any glacier was not entirely blocking my way. The valley is famous for many Himalayan endangered species like ibex, blue ship and snow leopard and some very beautiful Himalayan birds too. The reason I pushed myself to go further distance was that I had a desire to see at least an ibex, if not a snow leopard. So, when I came back from the trek, I was already exhausted and so tempted to relax, sitting on the roof of my homestay and enjoying the magnificent view in front along with my book and a cup of black tea. It was when I came out my homestay and started to head towards my long desired place, the kids called me out to take a photo of them. As it was my second day in the village, I already built a camaraderie with few of them. They used to come to me whenever they had a craving for chocolate. Anyways, I found it was one of them who called me. I stopped and started taking photos and they continued posing for my camera. It seemed they were having quite a fun time doing that and I didn't realize when I also got involved with them until one of them asked my phone and told me like an adult, " Bhaiya abh aap jao, main aapki photo kheechta hu." So I went ahead and started playing with them handing over my phone to the boy. After some time, I realized the kid is not there and there was no one taking my photos anymore. I looked around and finally found him at distance, taking photos of varied subjects around the village. I realized he must got bored with me as a subject and so ventured out to find some more interesting ones so I let him to be the photographer for some time. It was surprising to see how some of these children have already grown up and started taken up the responsibility of their siblings and even few were carrying them on back at child can such early age. I continued paying with them till it was dark and finally the time came to say them good bye and head towards my room.Children have the purest hearts and abundance on energy and they know the social ways of adding joy in our everyday life. Paulo Coelho said that a child can teach an adult three things: To be happy for no reason, to always be curious and to fight tirelessly for something. I always enjoy a child's company and believe there is a child in each of us and we should not allow our adulthood to kill our inner child.
During my one month solo trip to Himachal, I lived some of the best moments of my life.. I travelled to places where there was no other human face, spent time with the local people of Spiti, played with the children, invited as guest and had local food with the families here, got lift from a Lama, missed the bus and stood stranded on the road, been to some of the oldest monasteries of the world, stayed there and experienced the lives of Lamas, walked on snow and slipped too and spent time with myself in absolute tranquility. But above all, what made my trip special was the people of Himachal and the way they treated me. Whatever your stories may be, the good people of Himachal will always leave a lasting impression on your mind.