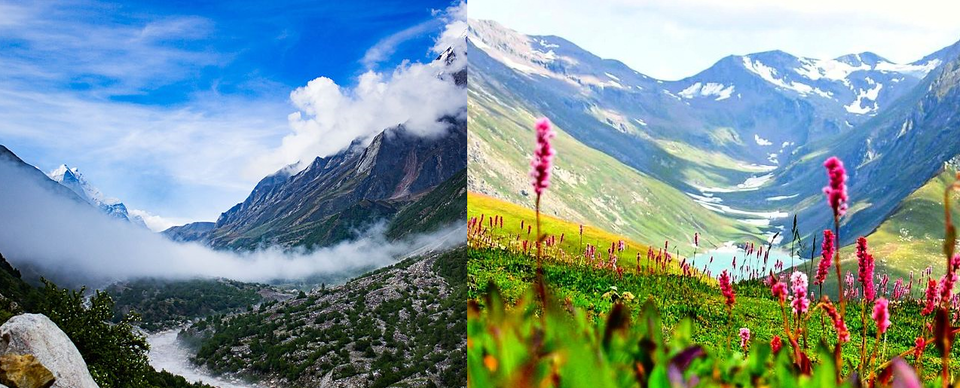 India is home to some incredible trails and is a paradise for trek lovers. But this passion for trekking has caused irreversible damage to the natural habitats. Over-tourism, climate change, and global warming are at an all-time high. All that's left is this heart-breaking list of Indian treks that you should take now because they'll be gone soon.

Chadar Trek is a winter trail in the Zanskar region of Ladakh. Termed as the 'Wildest Trek on Earth', it is quite popular with global adventure tourists. The rising number of travellers has disturbed the ecology and prevailing peace in the valley. The human excreta and litter left behind by tourists every year has damaged the frozen Zanskar river. Experts claim that the trek may disappear as soon as within the next couple of years!
Best time to visit:
The best time to do the Chadar trek is January to February, when the temperature drops, sometimes to -30 to -35 degrees.
This enchanting floral valley is another natural wonder that our next generations would dearly miss! Blessed with meadows of alpine flowers, cascading waterfalls, sparkling glaciers and a diverse range of endemic flora, this place holds a great significance in Hindu mythology as well. It was this place from where Lord Hanuman had collected the Sanjeevani Buti in Ramayana. Owing to our destructive attitude and adverse climatic changes, the bouquet of nature won't be there to inspire future generations.
Best time to visit:
The best time to visit is from July to August when the flowers are in full bloom after the first monsoon rain.
Bada Bhangal trek offers the chance to explore the Dhauladhar and Pir Panjal ranges in Himachal. It is one of the more difficult treks and usually pursued by expert trekkers only. Yet, its remote location attracts many explorers, leading to disruption of the ecology. Encroachment and increasing construction in this area have made the village prone to natural disasters. It was very recently hit by famine, following heavy rainfalls and landslides. Authorities are already discussing the future of trekking in the region.
Best time to visit:
The best time to try this trek is from May to September.
Roopkund is a trek of moderate difficulty in Uttarakhand. At 16,000 ft, it offers deep forests, breath-taking campsites, miles of undulating meadows, snow and the taste of a great adventure. With a boom in Himalayan trekking, Roopkund once became the most popular trek in India. Exploitation of natural resources, surroundings, and eradication of human resources soon followed. Increasing drug abuse in the area further made things worse. The present condition of the trek is not so good. It is only a matter of time before the Uttarakhand govt decides to put a complete ban on trekking within the state, as was hinted in 2018.
Best time to visit:
If you love snow and a difficult trek, then May and June is the best time. If you want to see an outline and an easier trek, then September to October is the best time to visit.
Nelong Valley is a thrilling adventure in the lap of nature along the Indo-China border. On a trail known as Ancient Silk Route, Nelong Valley trek is on the list for good reasons. Most residents from Nelong and other villages on the Ancient Silk Route have migrated. As such, the long trail of over 100km now has limited human resources to accommodate explorers. Due to a lack of sources of income and opportunities to grow, most of the locals have already moved out. Soon, the remaining resources will run out too, leaving but a memory of this gorgeous trek.
Best time to visit:
The best time to visit Nelong Valley is from April to June or from September to October. It is strongly recommended that you keep a hefty stock of supplies before you set out for this one.
Take care of these things before you start packing your bags!
With great choices comes great responsibility. If you plan on taking these endangered treks, travel responsibly. Carry stainless steel water bottles instead of disposable plastic bottles. Also, take along disposable bags to keep all your litter. Nature demands respect and we should be careful not to disrupt the balance.
There are so many ways in which one can contribute to improving the state of things. If a contribution seems too much, we can at least try not to worsen the conditions. Let us take a pledge to not let our passion to travel turn into a natural disaster. It isn't about how small or big the step is. What matters is that we take the first step before it is too late.
Tell us about your views in the comments below or here on Tripoto.
Get travel inspiration from us daily! Save our number and send a Whatsapp message on 9599147110 to begin!