Thanks to this younger sibling of mine who sought admission in SRM, one of the premier universities in Chennai, This big decision gave an opportunity to our family to plan a 10 day long trip (15th-24th July'16) to Tamil Nadu as we see off the kid. Tamil Nadu amazed us yet another time. You would know about our earlier trip to the very state from the previous blog. Now, let me take you through the wonders of some beautiful and refreshing townships. Happy Virtual tour!
Day 1:
SRM Check-in and off to Pondicherry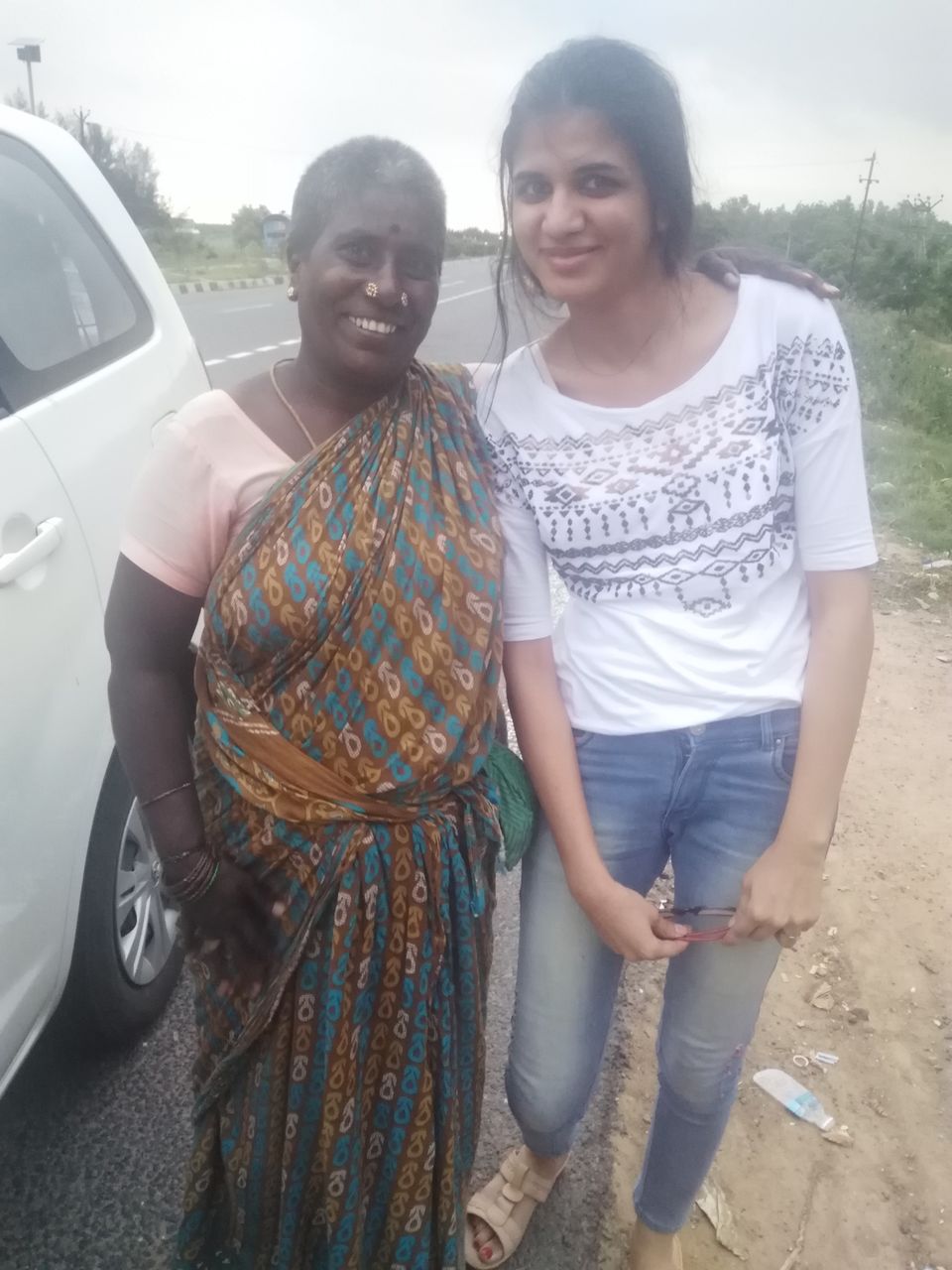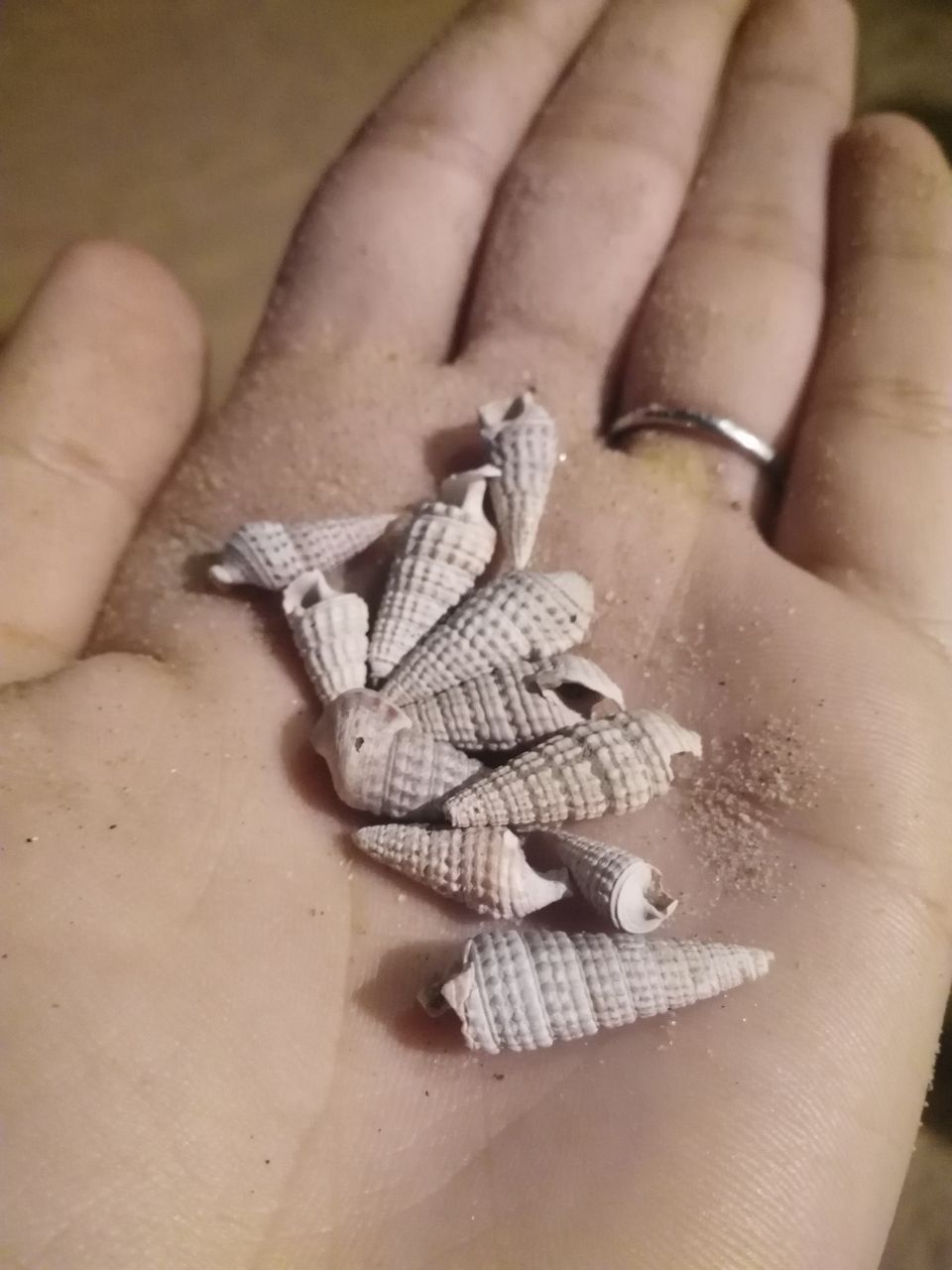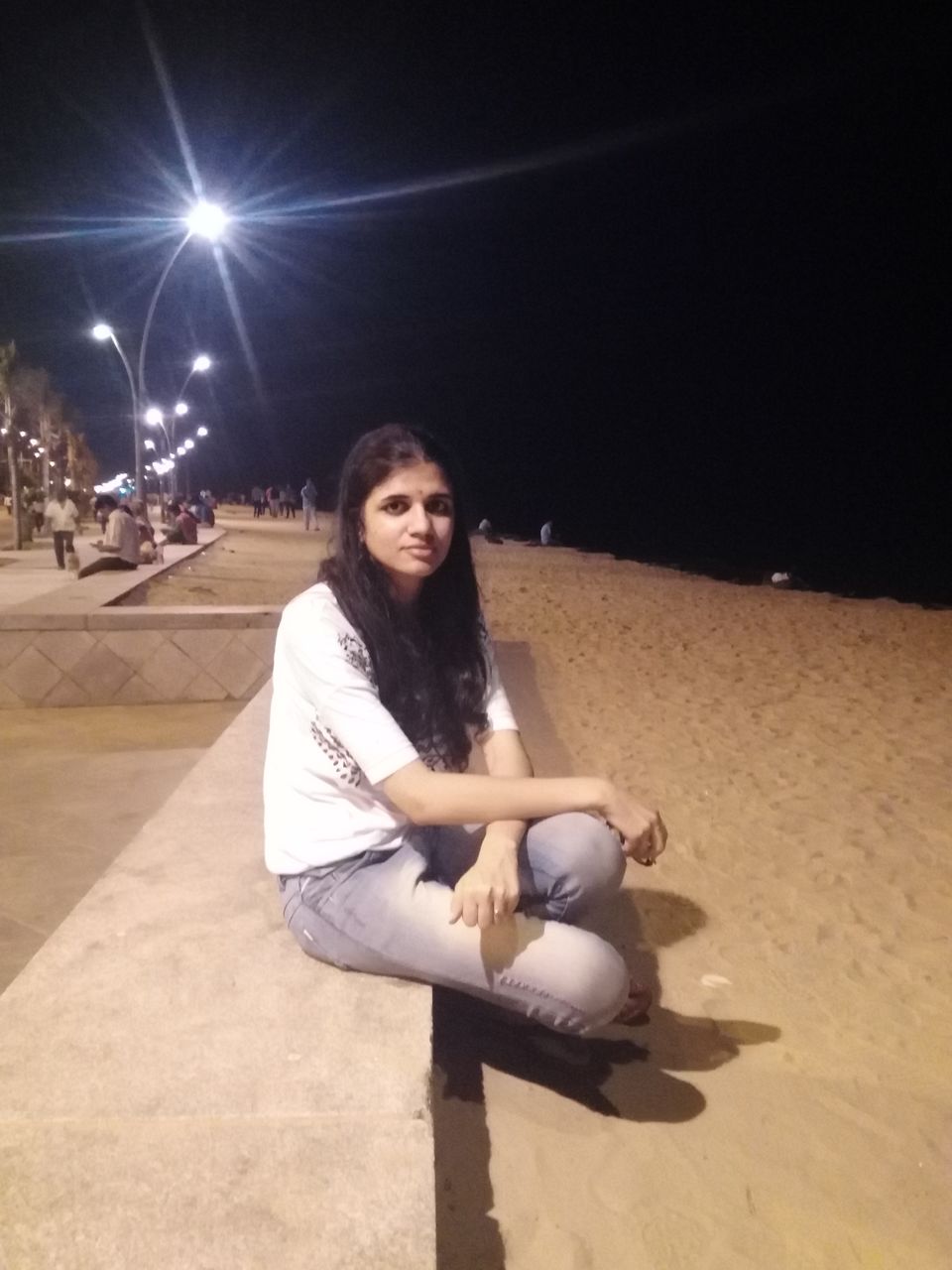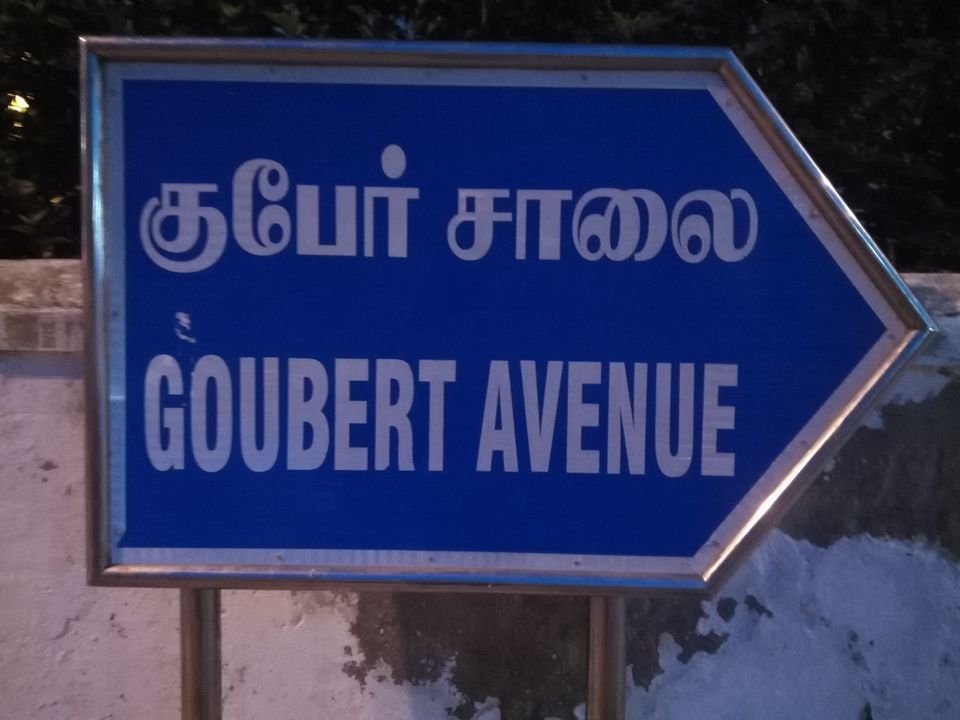 Our flight lands in Chennai at 9 am and we head straight to the SRM University. Oh My God! What a huge campus! It is a complete city in itself. Scores of parents and students could be seen. We got done with the admission formalities, chatted with people around and had a south Indian thali (May sound out of place but I was starving much and so even while I am compiling this write up, all I can think of is the thali that saved me that day). Students from all over the country take admission into this university- such is the campus diversity. It will be the home for the younger one for the next few years. Part one of the day was done, and now was the time to set off for Pondicherry- The one Indian city that I have always wanted to visit (because of the attached French feel that it has). The roadway is a smooth. On the way, I happen to have interacted with a lady selling delicious guavas, without understanding a tiny bit of the language she was speaking. Now, isn't this amazing? We also visited the Panchvadi temple on route. This temple has a floating stone, the one used in the building up of ram setu in the epic Ramayana. Pondicherry by road is about 3 hrs from the Chennai city. We reached our guest house at the Rue Romain Rolland post sunset. The Goubert Avenue at night is amazing! I collected some shells too! I am tempted to do so once at any beach.
Day 2:
Pondicherry and Auroville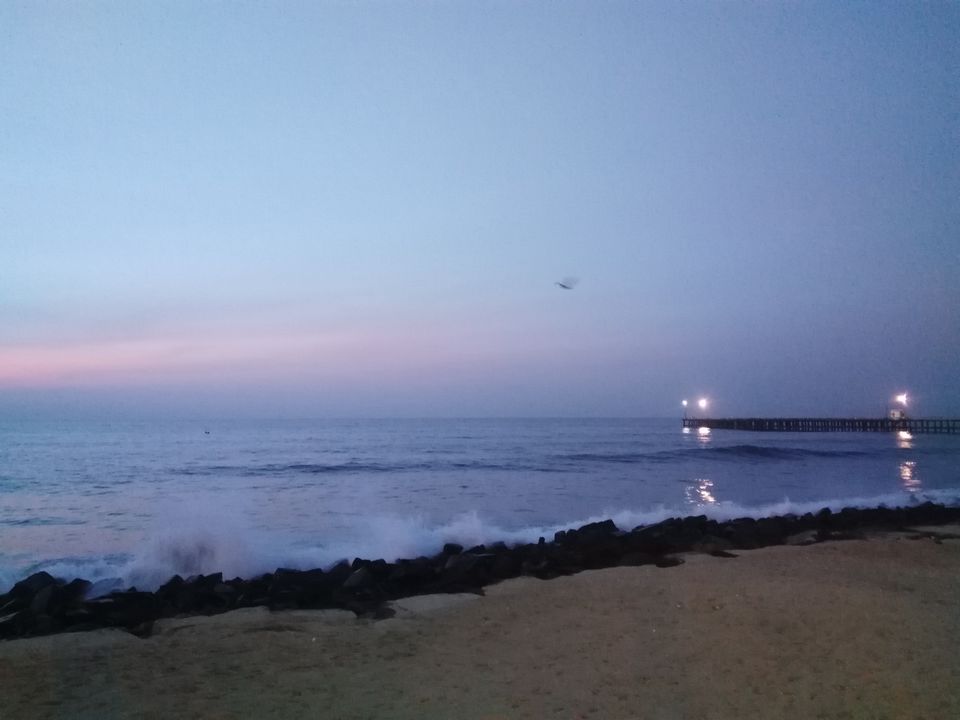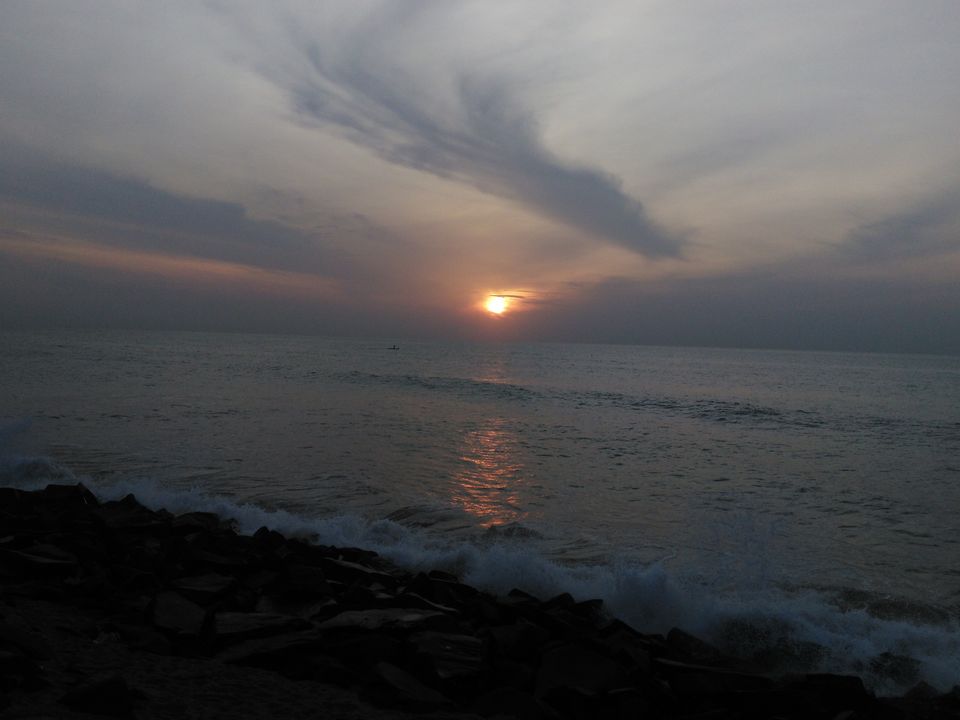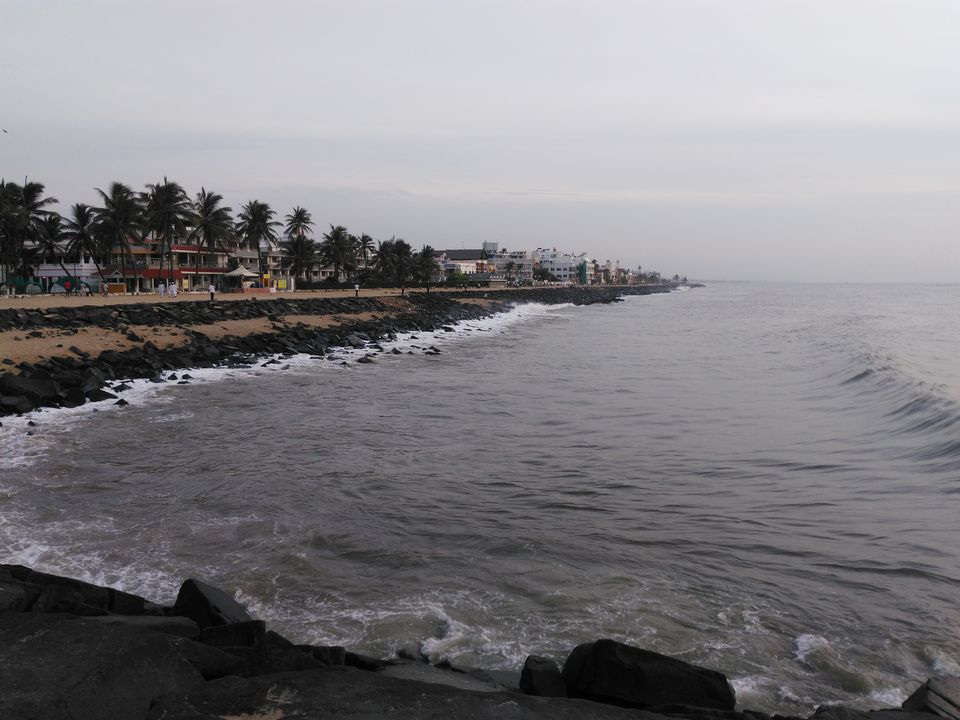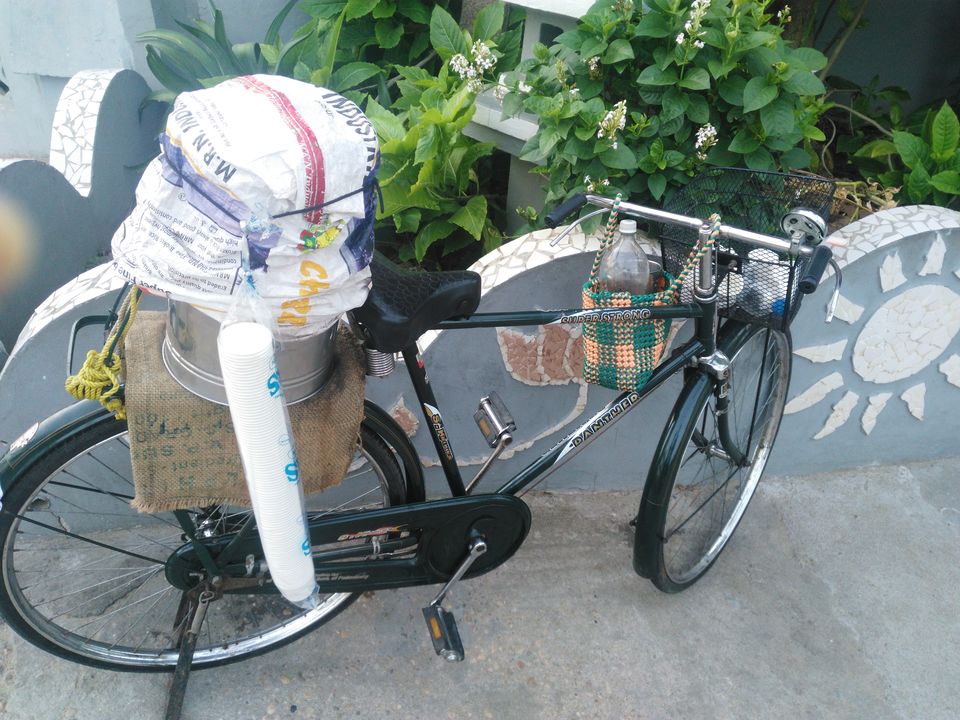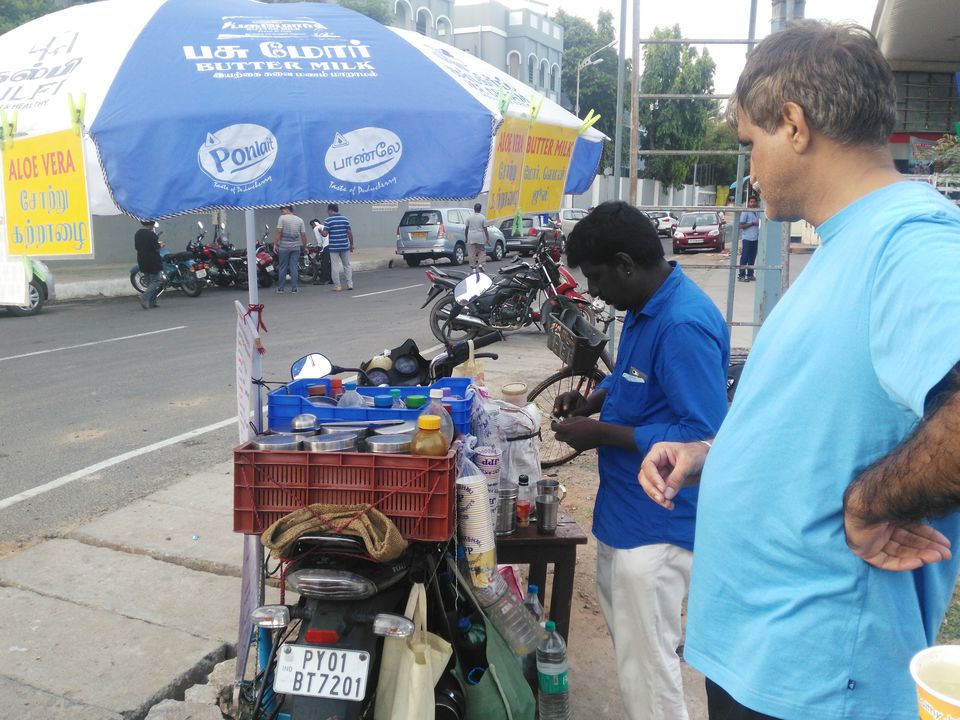 What can be better than waking up in your favourite Indian City? We woke up at 5.30 am and headed to the beach. It was at walking distance from our guest house. Sitting on the beach and peacefully listening to the waves colliding with the rocks, that is my idea of a vacation. We watched the sun rise among the clouds, beautiful and serene! There were a good lot of healthy drinks available near the beach. A vendor was selling amla juice, aloe vera juice etc. Mom dad took tea and I experimented with the healthy drinks. I did not finish my share though. (I tried).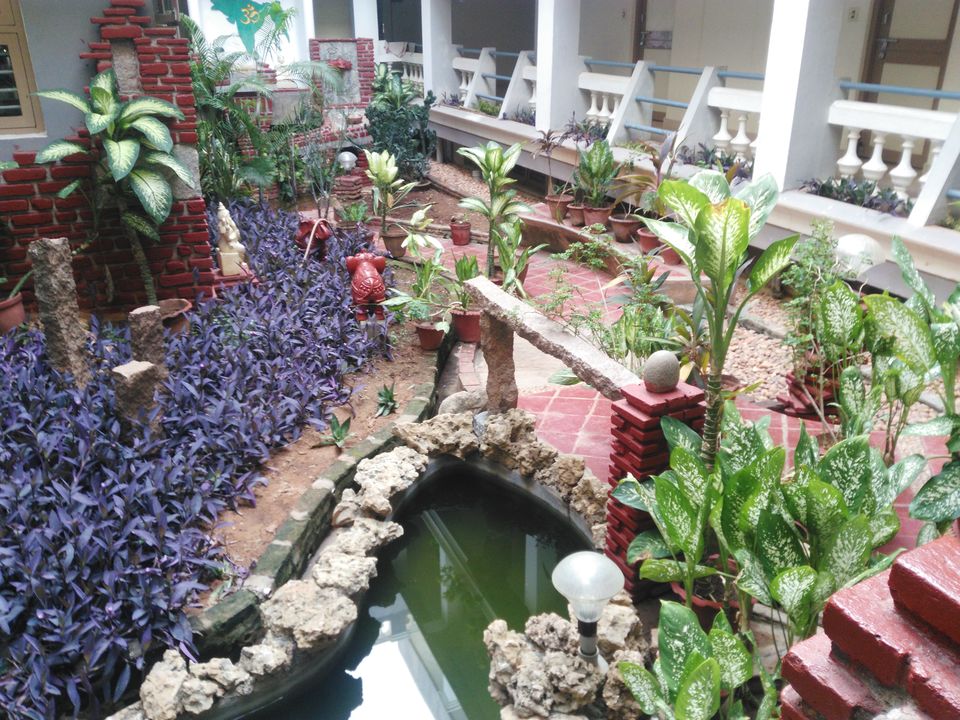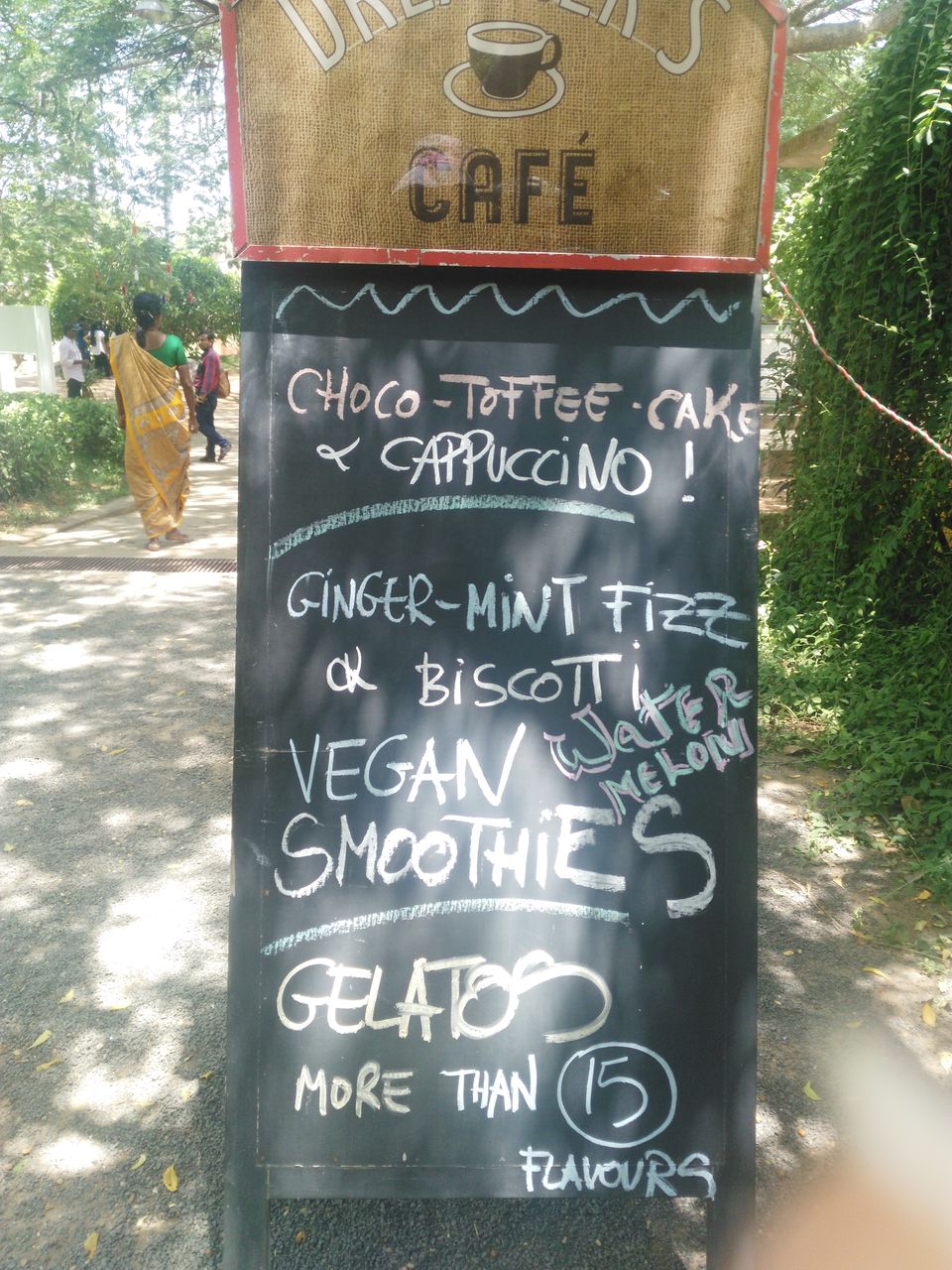 We came back to our guesthouse, which is actually a beautiful and disciplined building. We got ready and headed to Auroville in the morning. It is such an astounding township. We had made arrangements to visit the famous Maitri Mandir for meditation. We, along with a few foreign tourists were briefed with the history of Auroville and its concept. I was all excited to go inside Maitri Mandir, which is a golden spherical building. I was awestruck by the architecture of this building. The first time visitors are to observe 15 minutes silence in the meditation room which lies exactly in the center of the sphere. The building is all white from inside and one is expected to observe complete silence once inside. It is a place where you can actually hear silence! You need to go here atleast once in a lifetime. Auroville is green and clean. It is a place where people from different nationalities can come and stay. I also liked the Dreamer's café located in the premises. I tried the chocolate milkshake (which is by far the best shake I have ever had) and also a chocolate tart (which was delicious).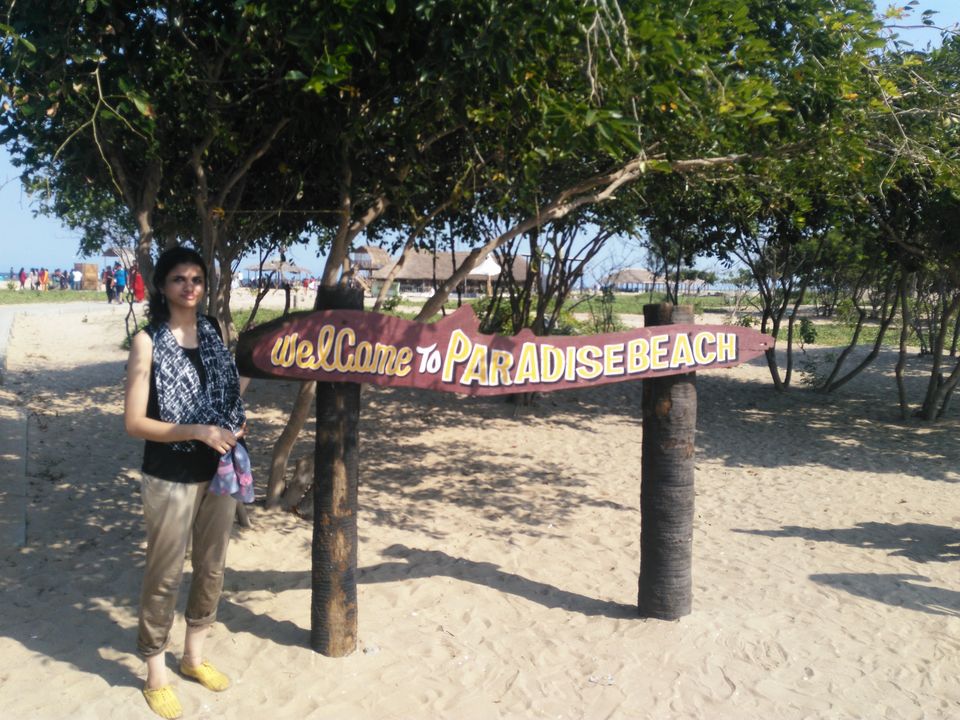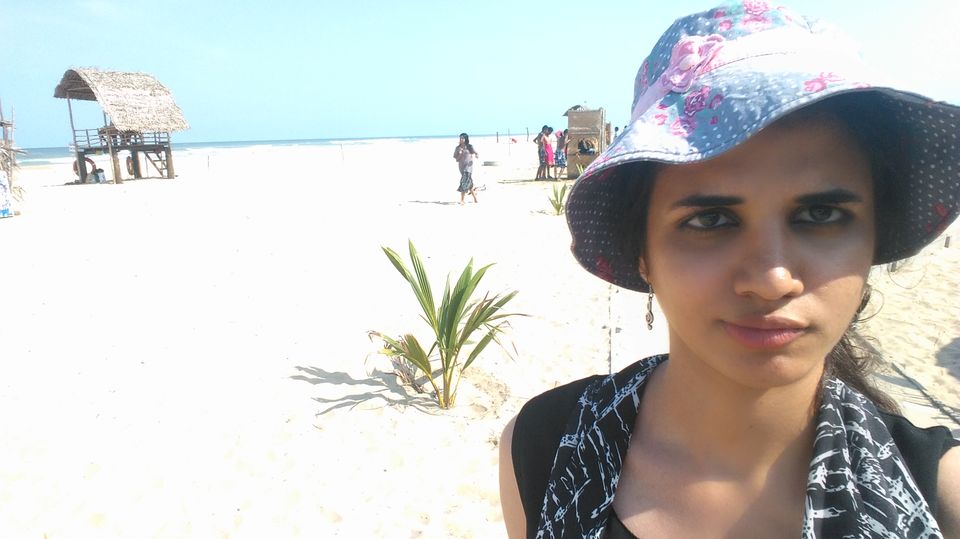 We headed to the Paradise Beach after here. This is one unique kind of beach, an island beach!! They take you to the beach on a motor boat. The sand here is so white. Make sure you carry your beach clothes when you come here so that you can enjoy the clean and pure waters here! I clicked and clicked. There was no stopping! It is really that pretty a beach. We sat inside a beach hut restaurant and DID NOT have sea food. We are vegetarian foodies, we took fried rice and noodles.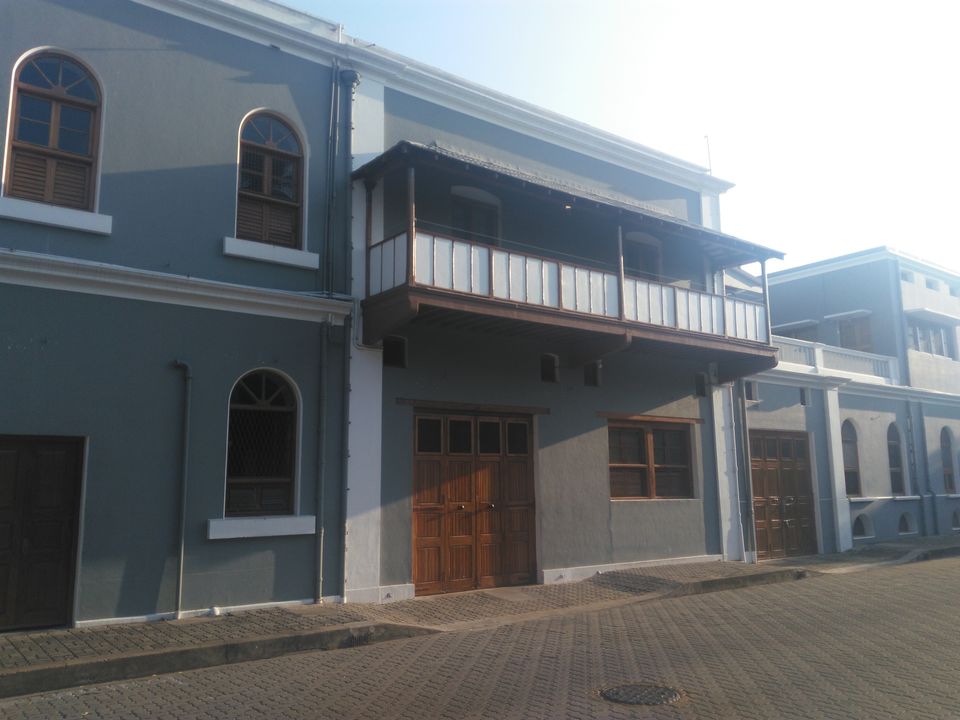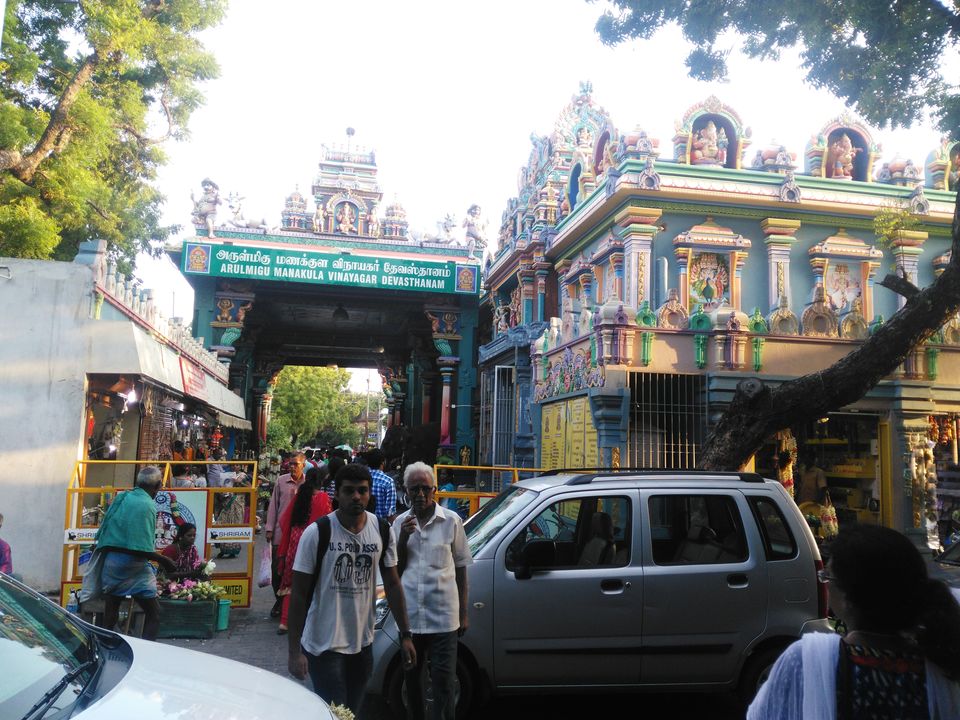 We then retreated from here and headed to see the Aurobindo Asharam located on the French street. Next was the Vinayak Temple. We went to have a light dinner at Madame Shanthes. Pondicherry is a place full of authentic cafes. We called off the day and slept like kids after reaching back at the guest house. I had by this time fallen in love with the city of Pondicherry, now that I was experiencing it. I can till now feel myself elated.
Day 3:
Chidambaram, Pichavaram and some more Pondicherry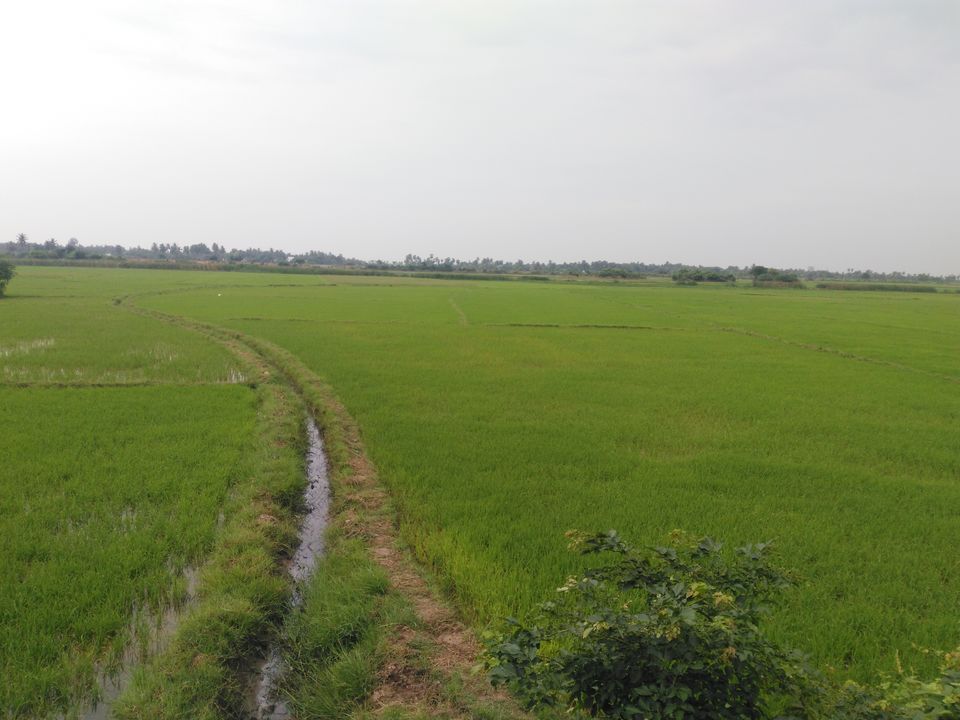 There is a very famous Nataraj Temple in Chidambaram. We set off to the place early morning. The roadways in Tamil Nadu is so good, you don't get to experience bumpy roads. On the way, we came across rice fields, lush green vegetation on both sides of the road. We halted and had a photoshoot. We visited the Nataraj Temple which is really huge and beautiful! Mom got some of the jasmine flowers in her hair from one of the shops at the temple entrance.
The next destination was Pichavaram. We never knew what was in store for us until we got to experience one wonderful boat ride through the Mangrove forest area of Pichavaram! I was stunned by the amazingness being showcased. This has to be the best boat ride I have ever had. We were now on our way back to Pondicherry.

Pondicherry is such a well planned city. I like the houses and streets here. We roamed around and explored the city. We had snacks at one famous bakery- 'Baker Street' on the rue Bussy. We went to The Promenade and walked around. Our dinner was at another French café- 'Le chateau'. We ordered Lasagna here at the suggestion of the waiter, and I disliked it. Paneer dish was good though. Tired after a long day we headed back to the guest house. I absorbed the French aura into myself until the next time. Oh, I am already so obsessed with this city!
Day 4:
SRM again and Mahabalipuram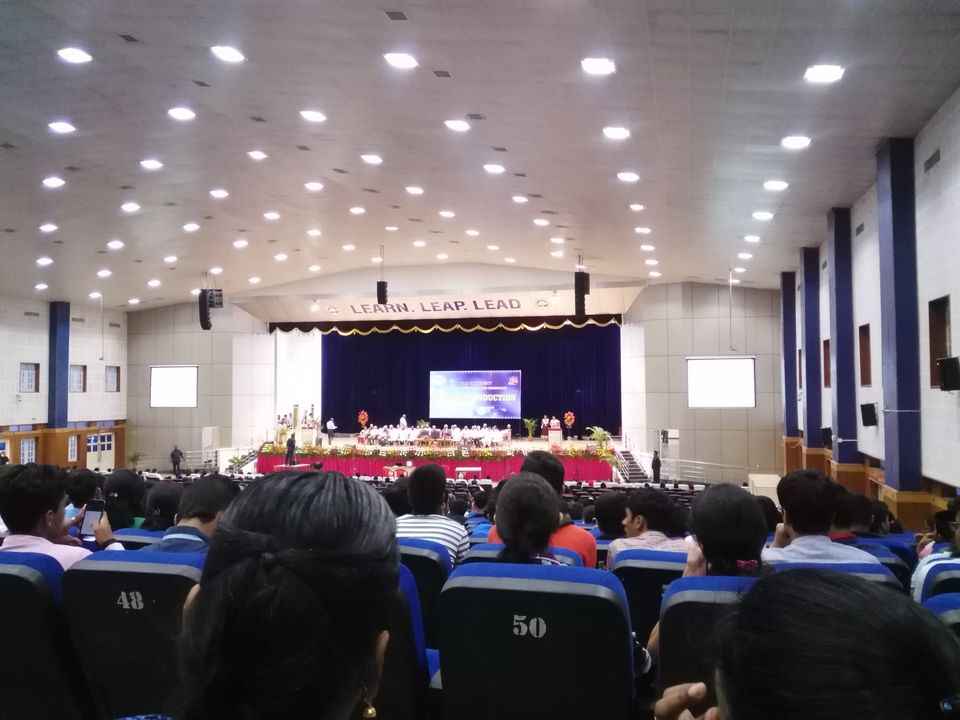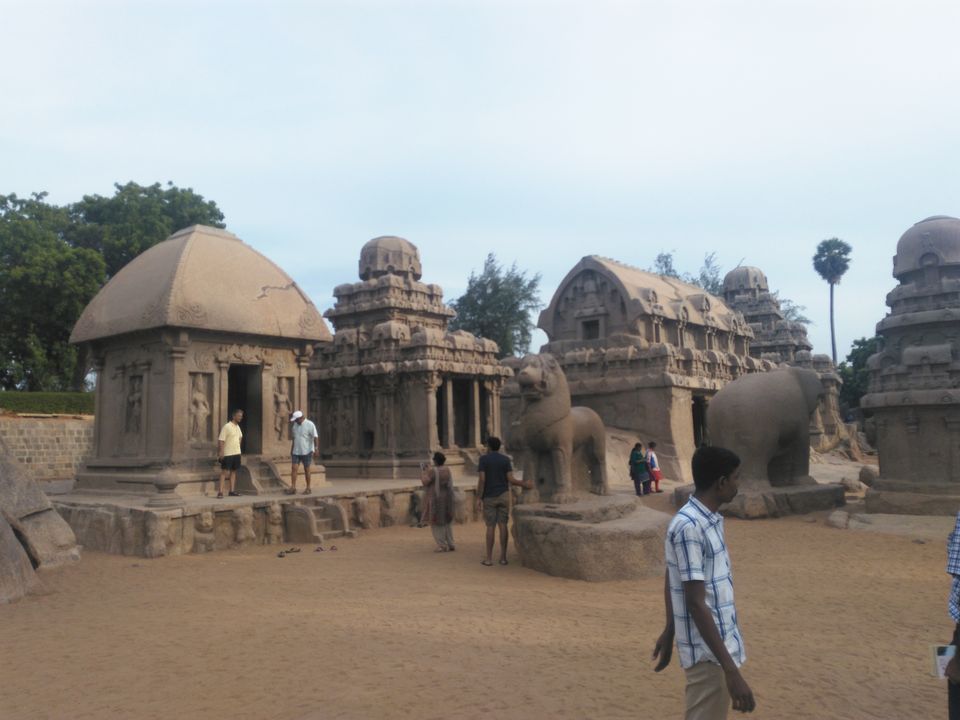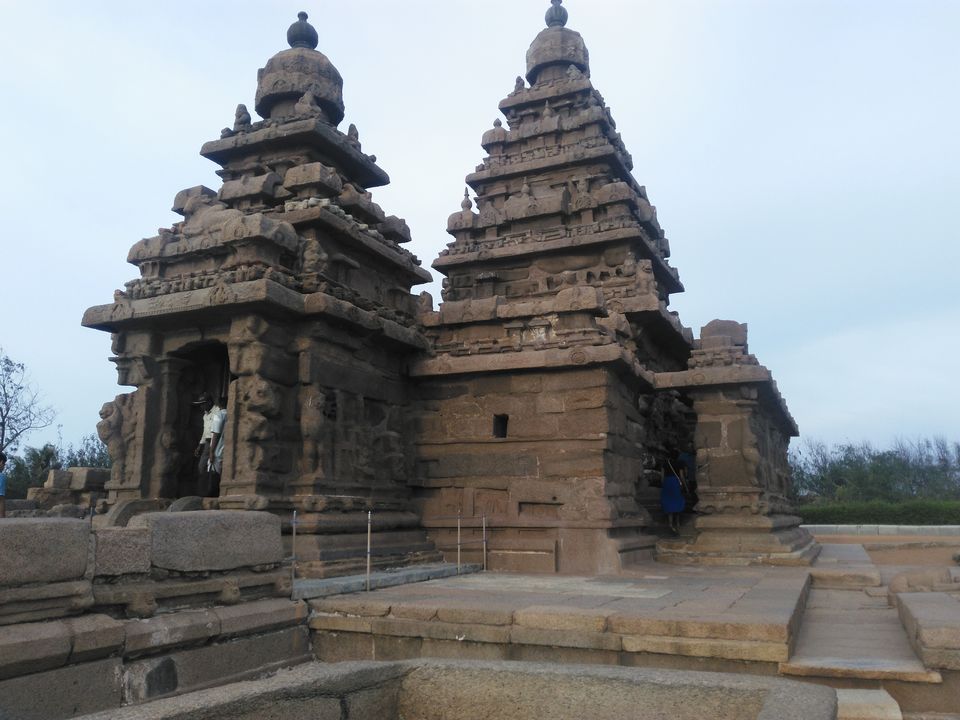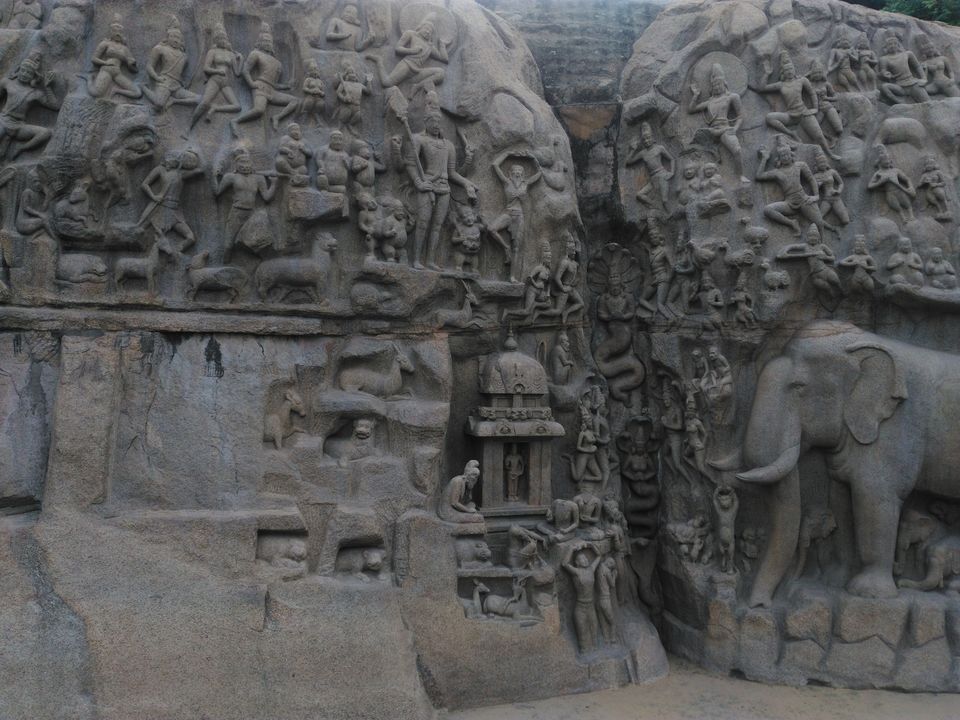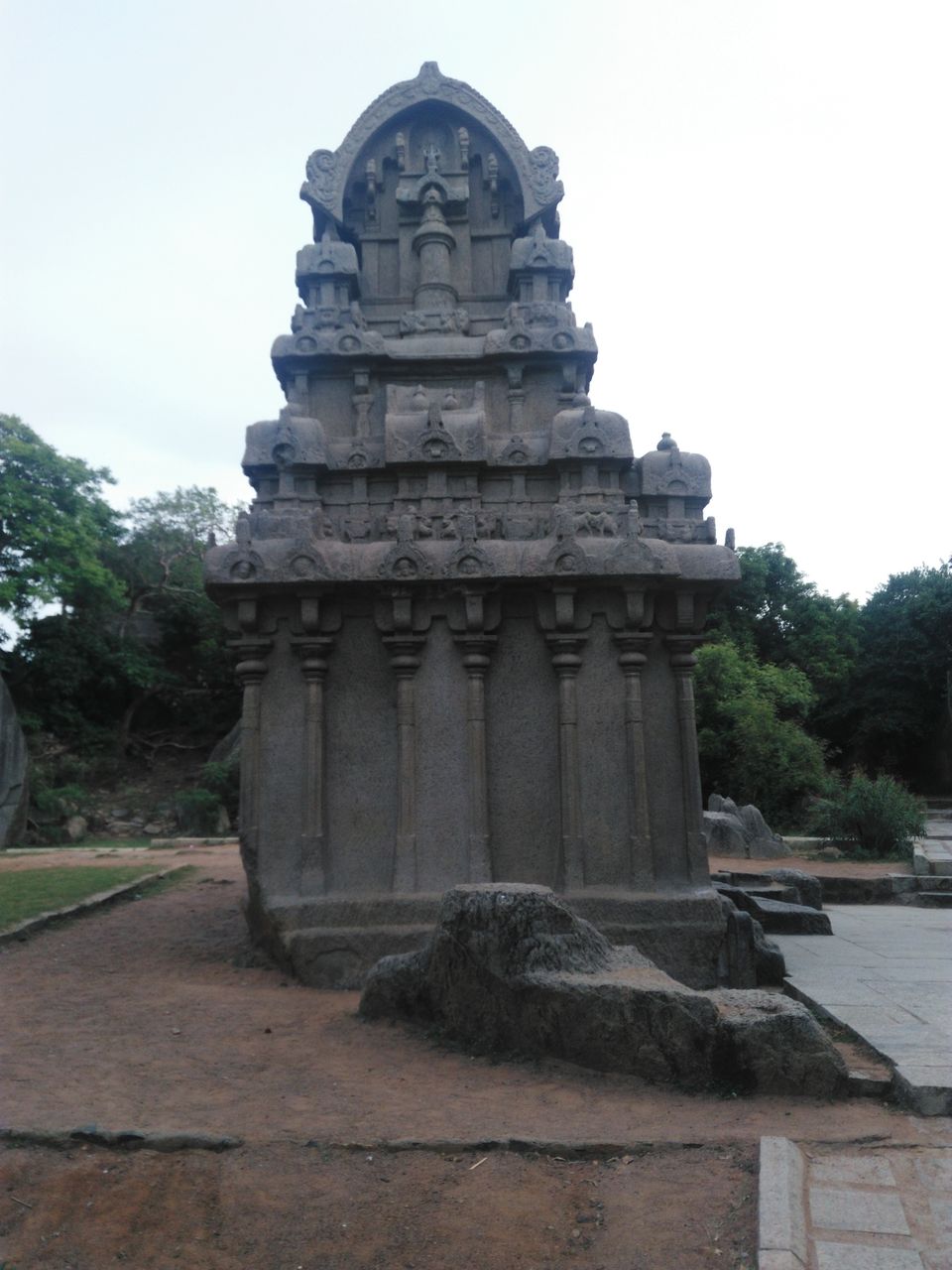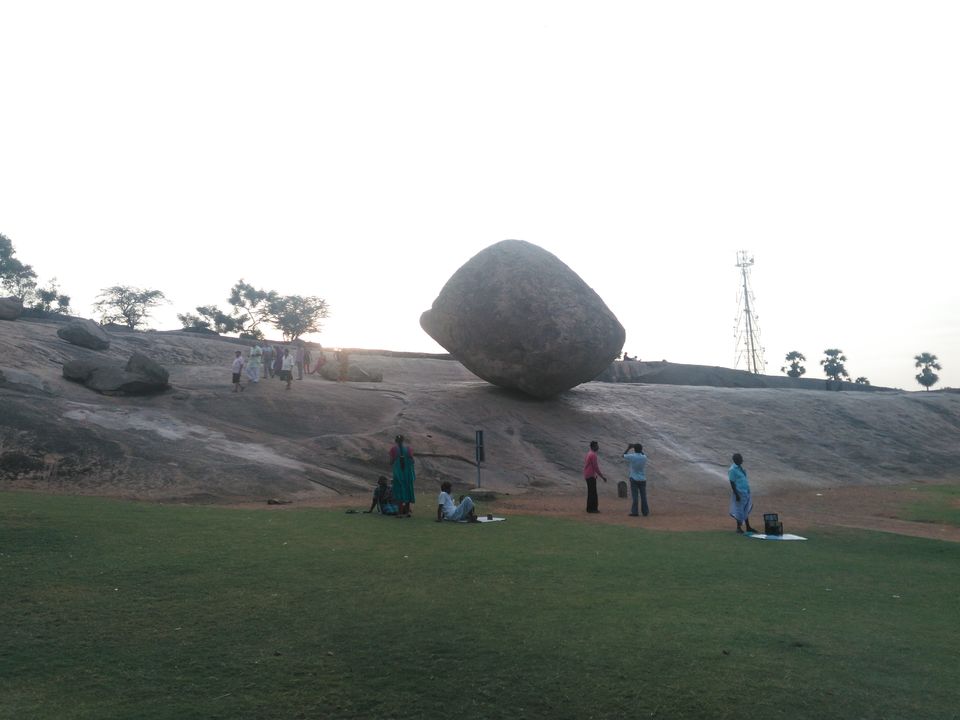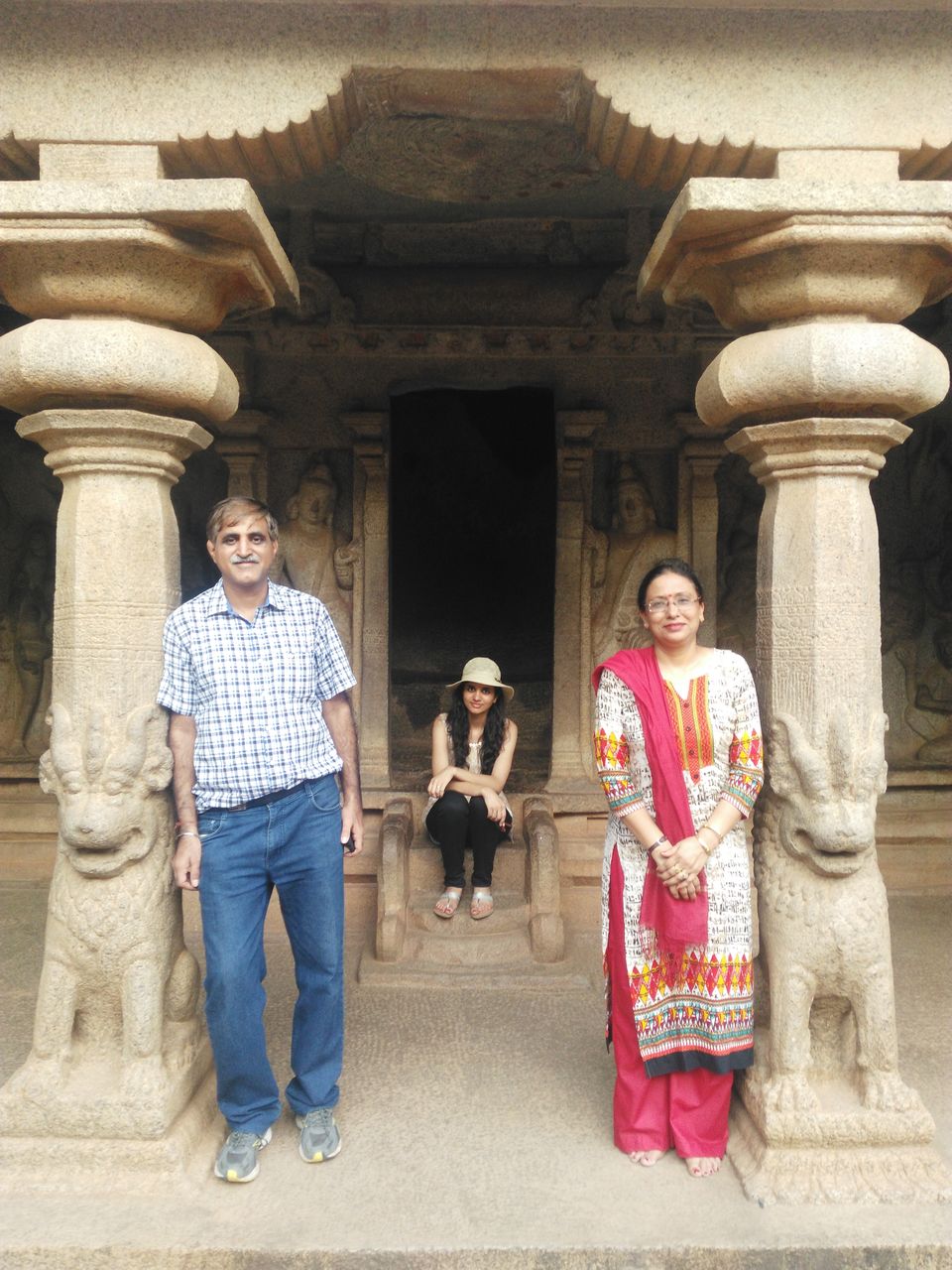 Now this day was special. It was my brother's orientation program at the university and it was my 22nd birthday too. We set off for SRM early morning and attended the orientation. The hall has such a huge sitting capacity. My brother was then to be put into the hostel. I saw his room, it is pretty decent. Next, the three of us- that is, my parents and I started for Mamallapuram (or Mahabalipuram). It is a UNESCO world heritage site now. It holds the treasured carvings and structures built 5000 years ago. With each and every structure telling its history and each and every carving having a tethered story to it, you feel so close to the ancient time. You lose yourself and feel whatever the stones are trying to convey. It is beautiful and is more valuable than the gold. We went inside the sea shore temple too. The sea shore beach is infact the extended Marina Trench (which is in Chennai). You are not allowed to bathe in this beach as it is a dangerous one. I clicked a lot of photographs here. My mom is an appreciator of ancient sculptures and architecture and that is where I got my interest from. Mahabalipuram is a delight for art appreciators and is a town for people who seek something different, not the usual. We then came to the guesthouse in Chennai.
Day 5:
New people, Chennai local train and Phoenix Mall City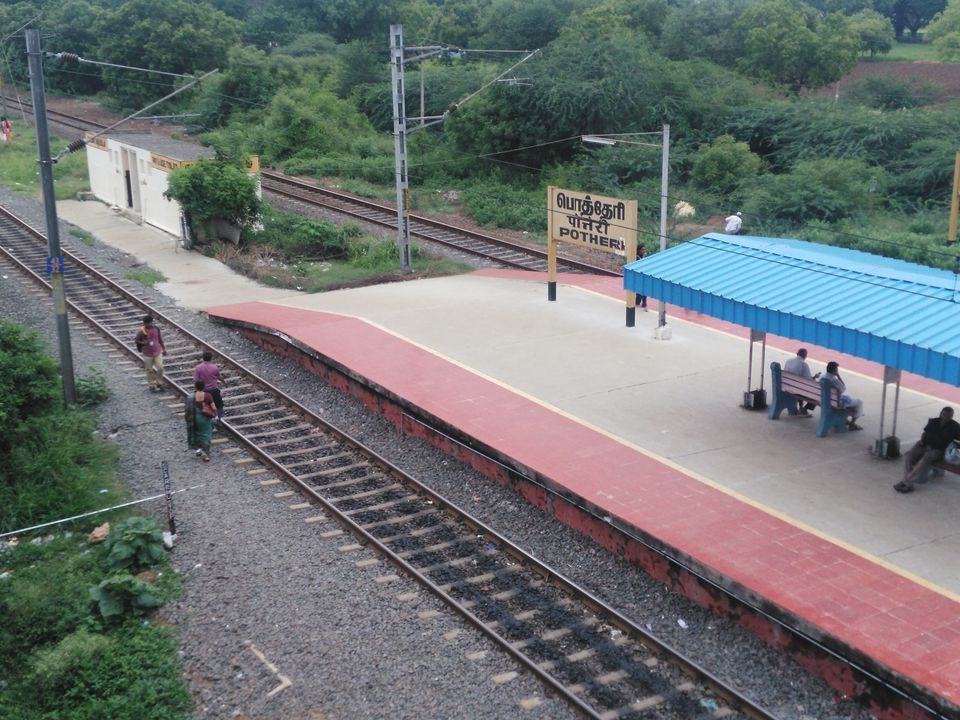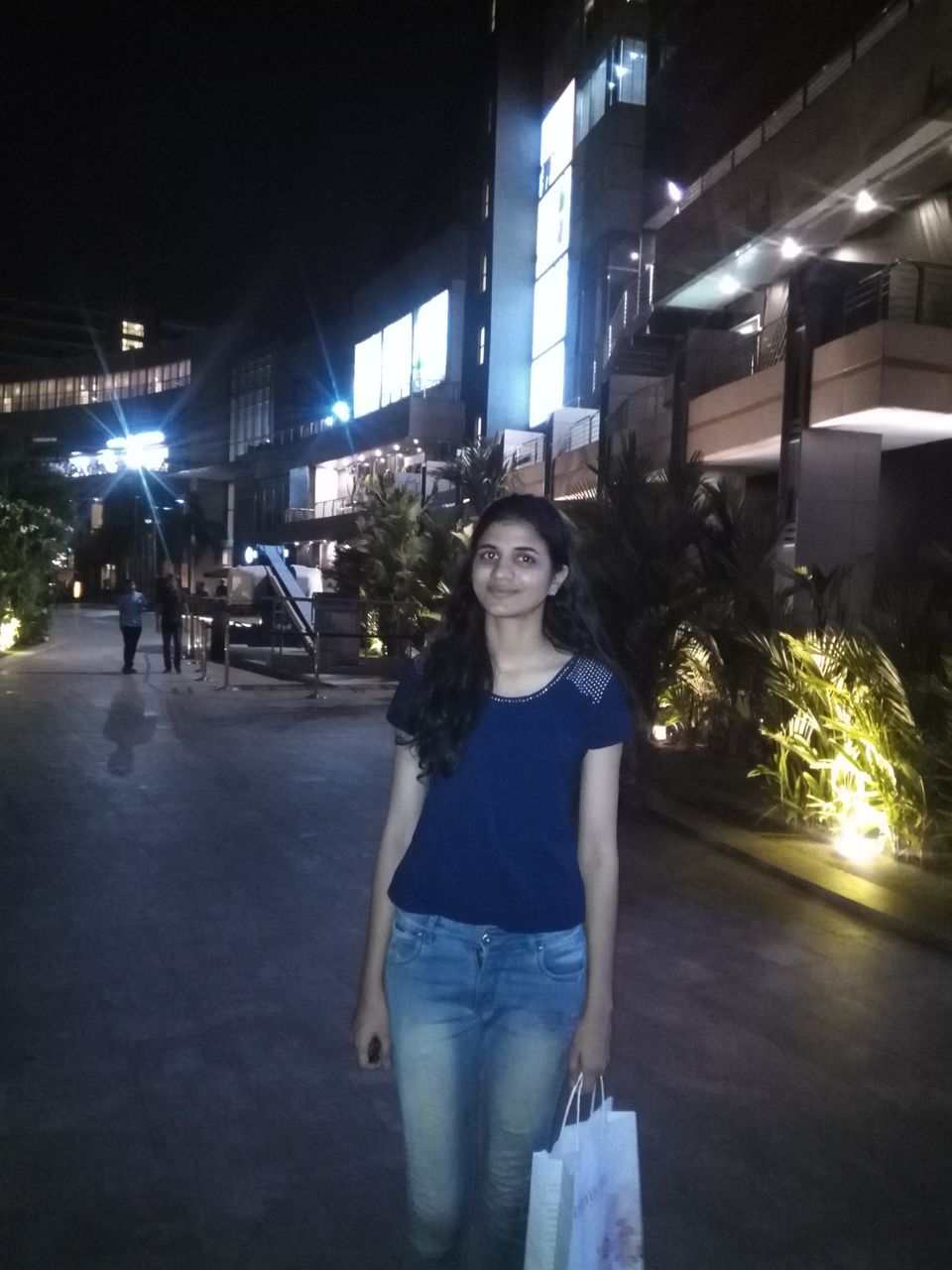 This day was majorly about meeting new people at the SRM Campus, and outside the SRM campus to get an assurance that the younger one would lead a comfortable life in Chennai. It is the first time after all that he would be on his own. This took rather longer than expected. And to add to this the local train was so delayed. The travel in the train was smooth but the wait was long. I had to see this Phoenix mall city. And it definitely is worth exploring. It is such a huge mall with branded shops and eateries. One could easily spend an entire day roaming about this widely spread mall. There is this stationery shop- Starmark which is heaven for a stationery lover like me! One big attraction here is the Jazz Cinema Luxe and IMAX. Oh my! It is so pretty and sophisticated. We did NOT watch a movie here but we roamed around and appreciated the investment. It was getting dark and so we headed to the guest house.
Day 6:
Kanchipuram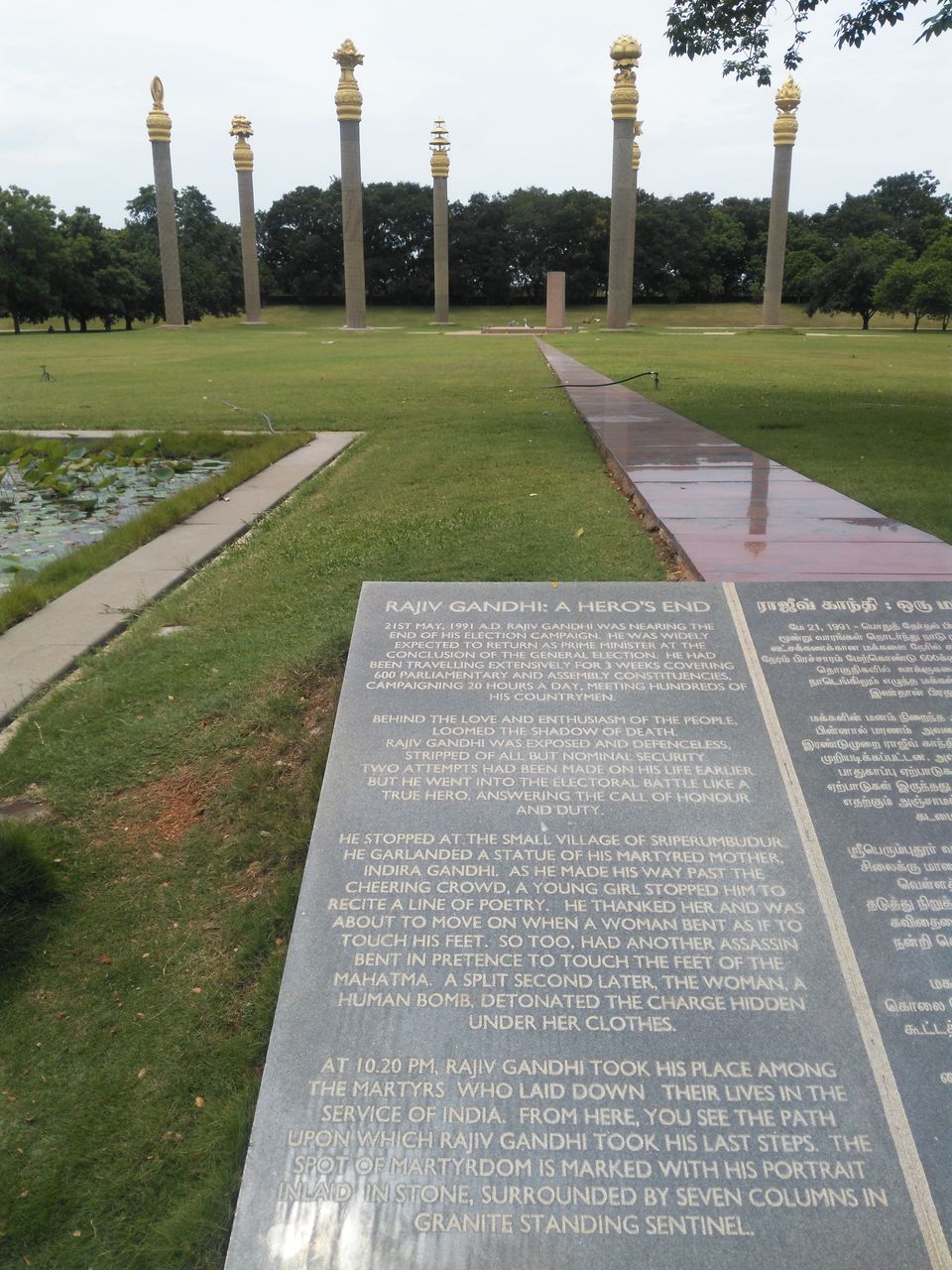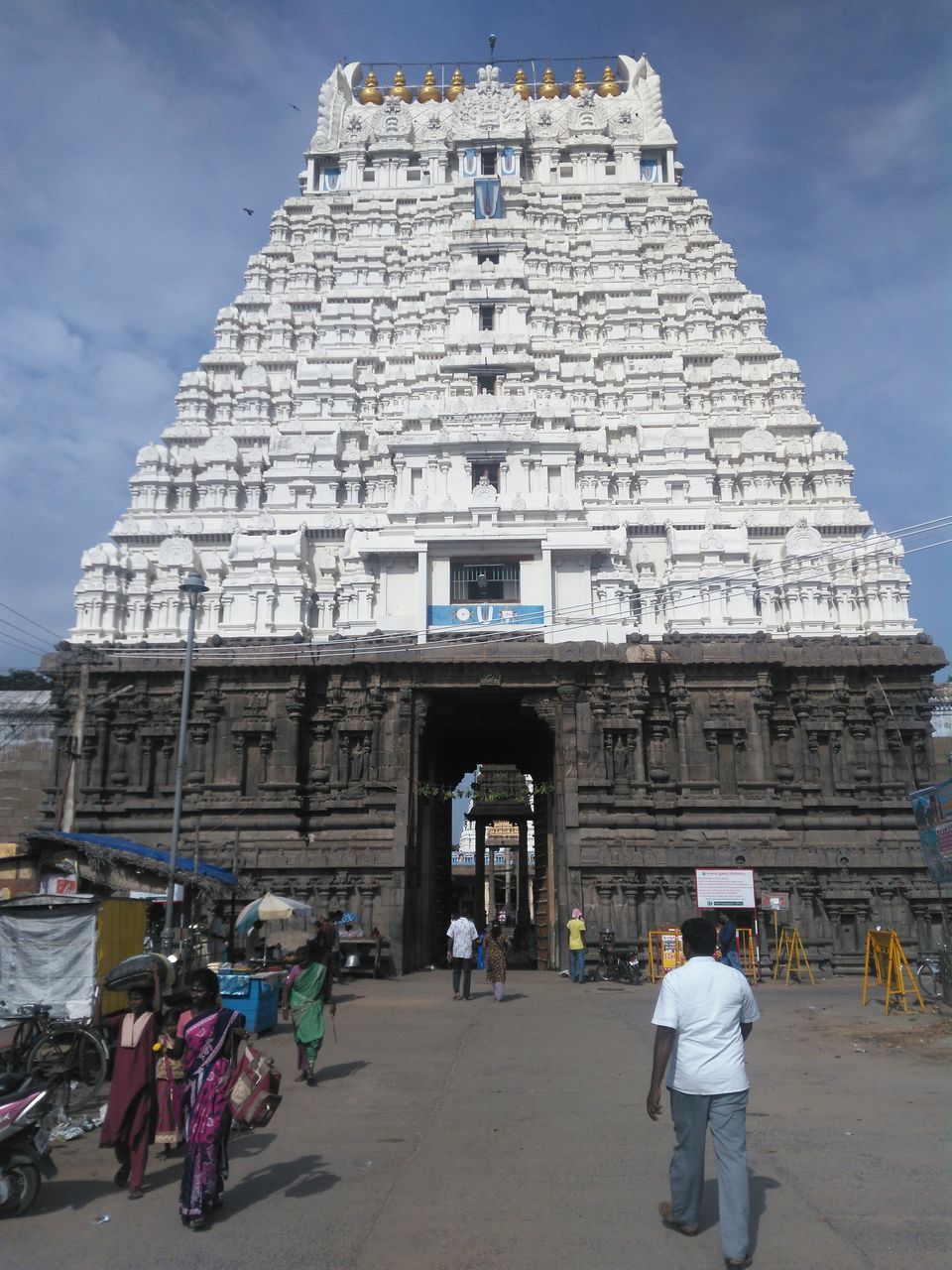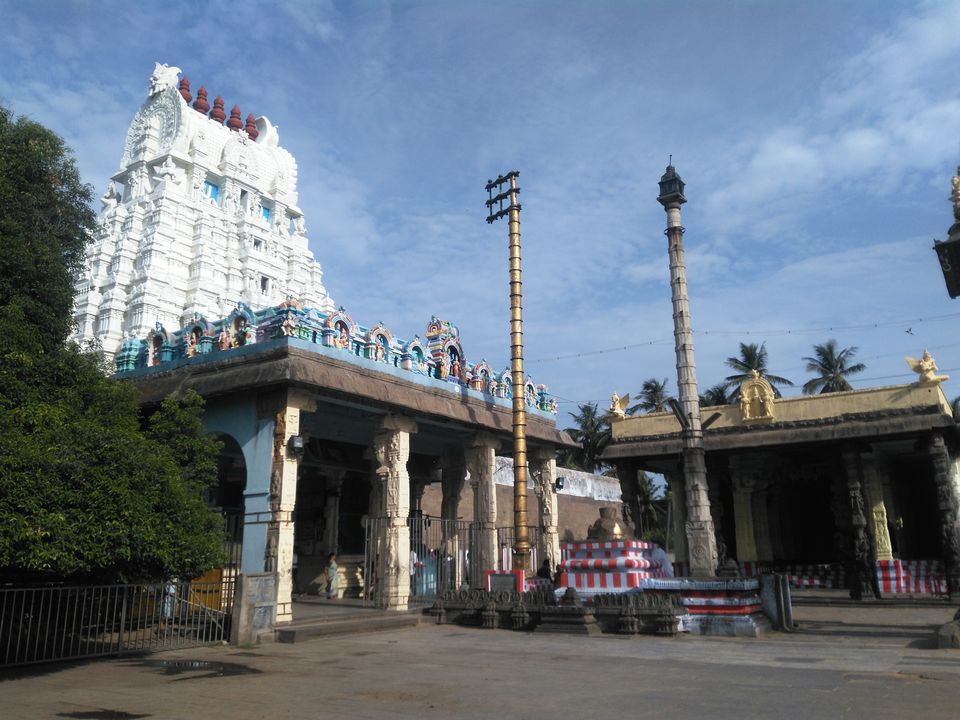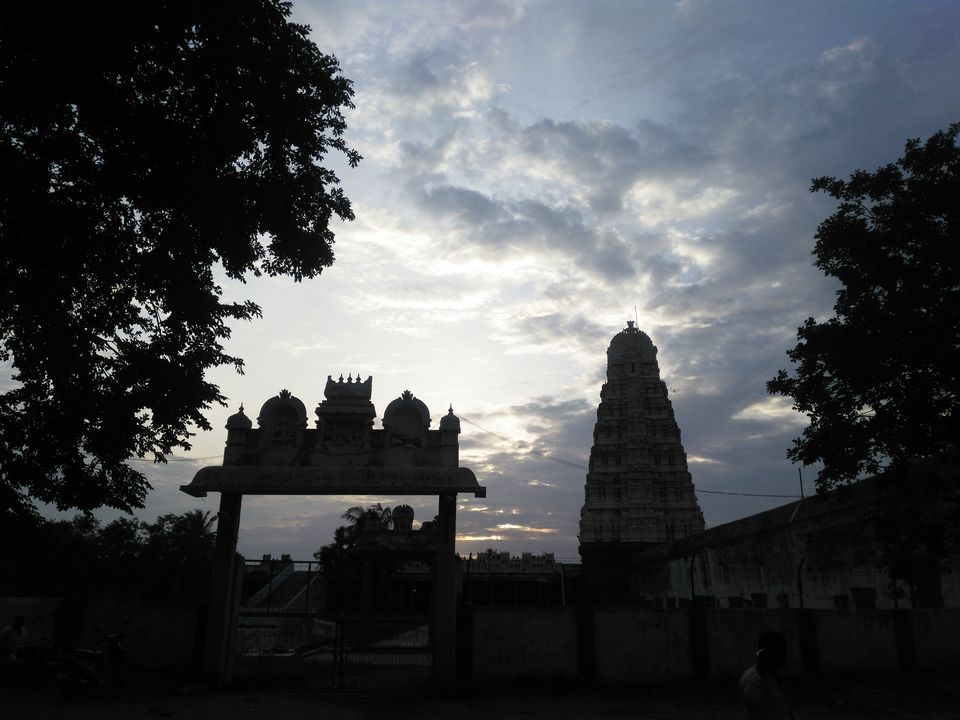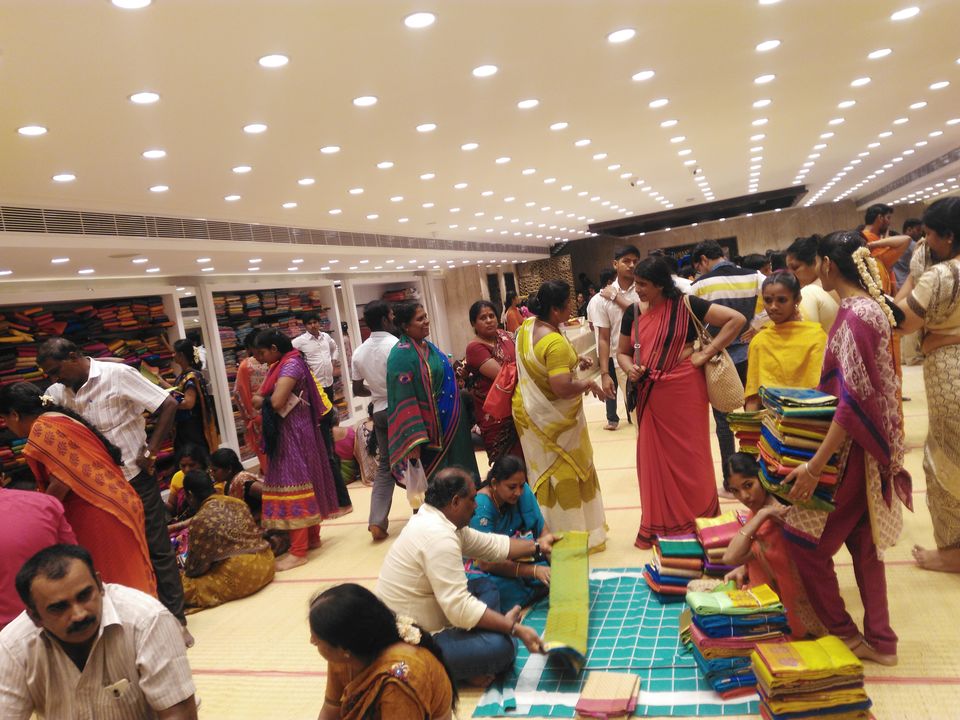 We began the journey in the morning. We had booked a cab for the day. On route to Kanchipuram, there is Rajiv Gandhi Memorial. It is a well maintained and beautifully designed area. We payed our sincere tribute to the young Martyr and headed to Kanchipuram. I was all excited to visit the religious capital of South India. I clearly had not seen what was coming. This city has thousands and thousands of temples. We were to visit three major temples here- Ekambareswarar Temple, Kamakshi Amman Temple, and Varadaraja Perumal Temple. The temple complexes are huge here. It is really easy for normal folks to get tired like real soon. The structures are massive and strong. The temples in the South have a peculiar flavor. The details are so intricate that you are bound to be awestruck. An interesting thing that I found out was, that the pundits in the temples were highly qualified people! This was helping as they could converse in English and explain us stuff. It is a treasure to find English speaking folks in TN. (definitely saves you from trouble of being caught up in between the tamil speakers). The prasadam at the temple was delightful. They give you masala rice with a peculiar taste. Ahh!! I can feel the taste like right now!! Now somewhere in the middle of temple exploration, We found out the time for Saree Shopping- This is yet another reason Kanchipuram is famous for- the silk that is. My mom purchased a splendid and extravagant silk saree from a very famous and exclusive shop, Babu Shah. The mad rush at saree houses got me scared. And we headed back to our rest station- the guesthouse at Chennai that is.
Day 7:
The Marina beach and Shell shopping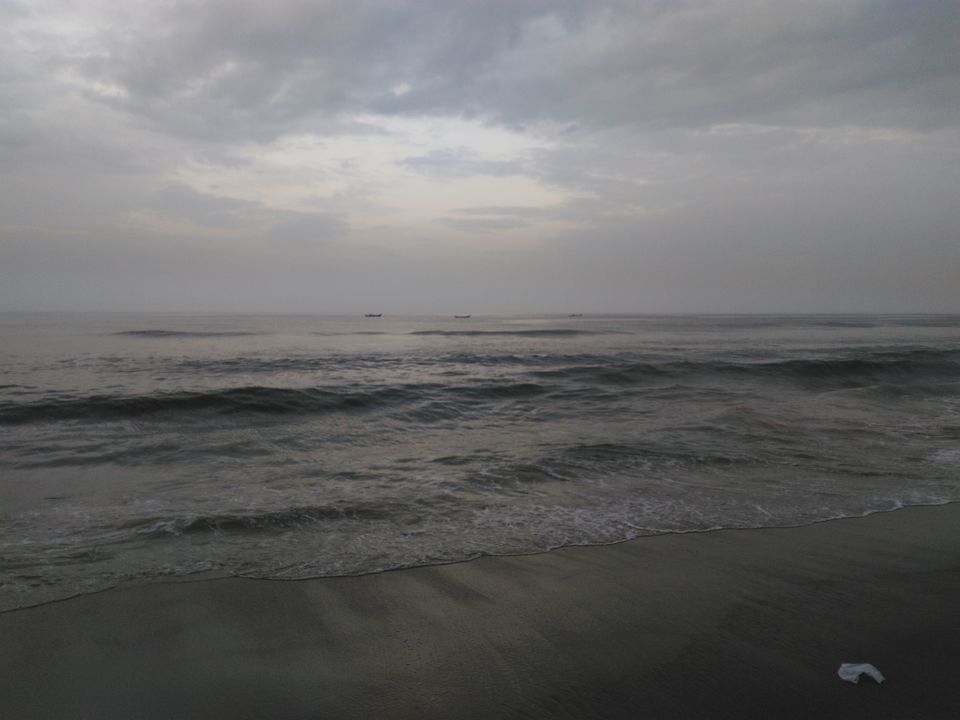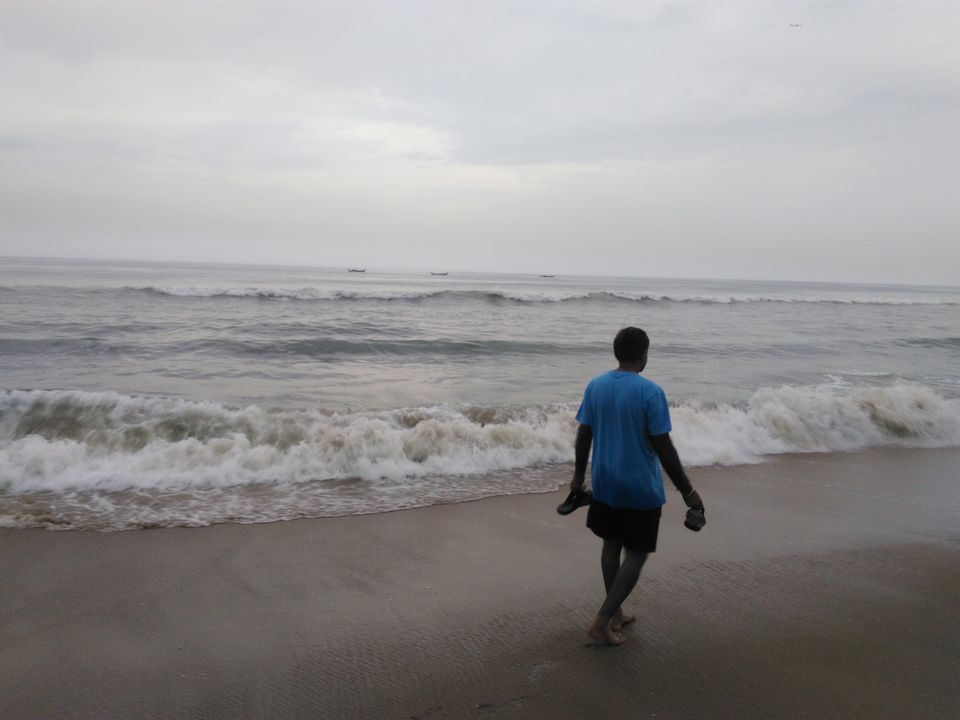 We were so tired from the previous day's road trip, so today was the time to rest at our place and just go around visiting the longest urban beach of India- Marina beach. The disaster of Tsunami is associated with the very sea waters. Before going to the beach, we went to this Marine aquarium near to our place of stay. Not that great a collection, but definitely the place gives you a hint of the life underwater. The big highlight that I cannot get out of my head is the lower jaw bone of the largest mammal, the Whale. I don't want to imagine how a whale looks like. We had our lunch and post that went to the beach in the evening. The beach is so full of sand. You could sink in the sand I mean. It is a long walk to reach the sea that is. And you can smell sea food everywhere. No, I don't like the smell at all. Anyways, let us talk about the beach. Nothing compared to the Paradise beach of Pondicherry! Marina beach is big and the waves are very high. The sea , I wonder is so vast, how does it contain itself? Okay, let us not go deep into philosophy, so, we spotted this shop selling shell products on the beach. We purchased some souvenirs like key chains and decorative items. We then went to a famous temple Arulmigu Kapaleeswarar Temple. We sat and enjoyed the music. There were people sitting in groups and humming bhajans in the local tongue. Music, but, my friend is one language that the world understands. Another pleasant day came to an end. It got dark and so we retreated to our place.
Day 8:
The Lighthouse and T. Nagar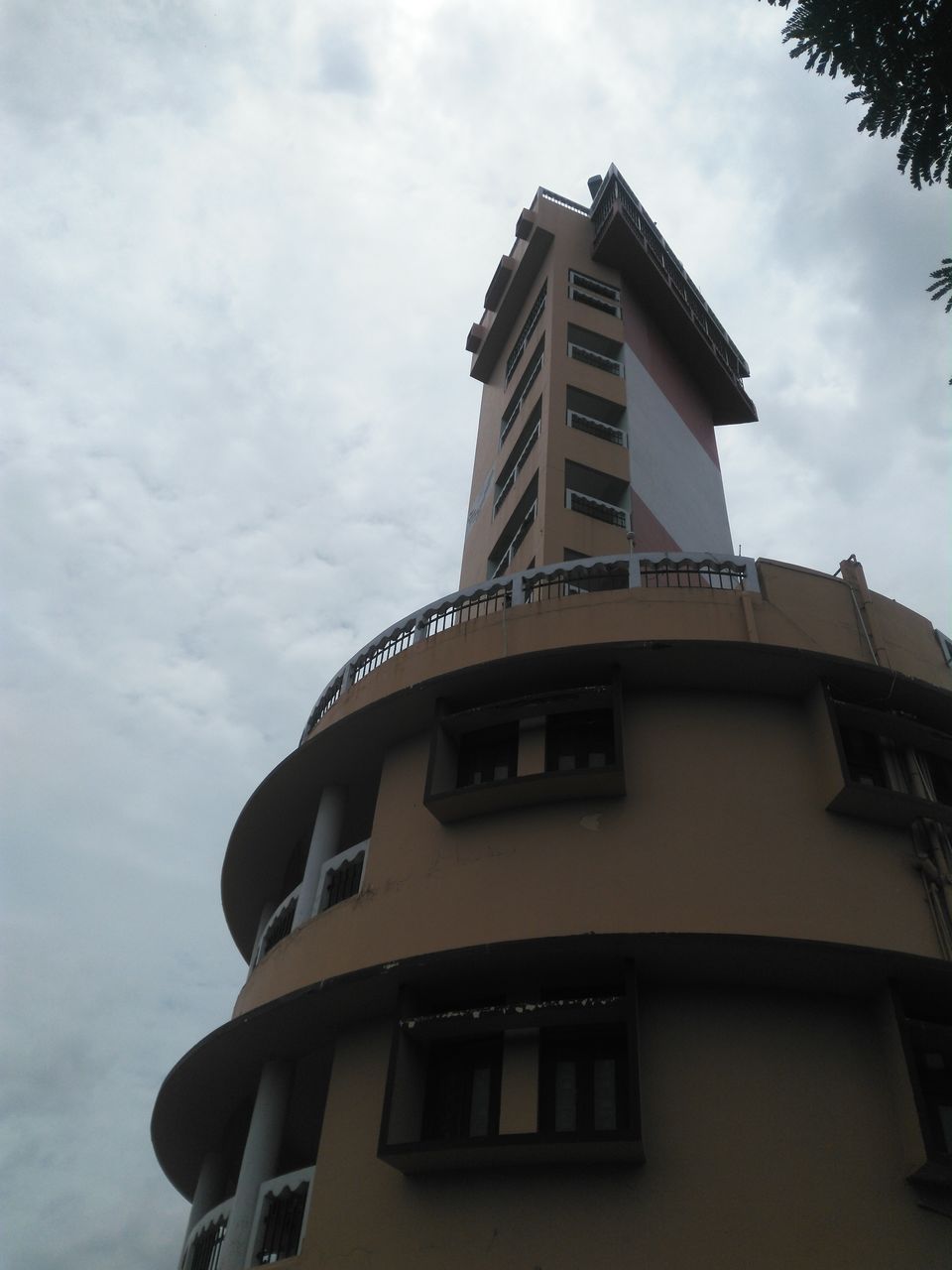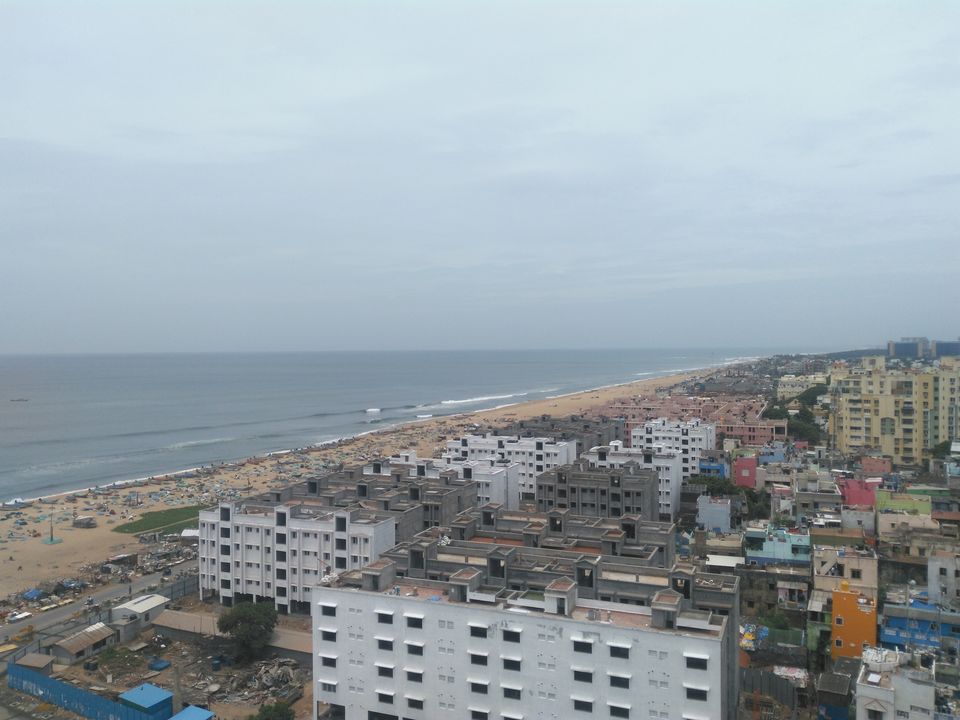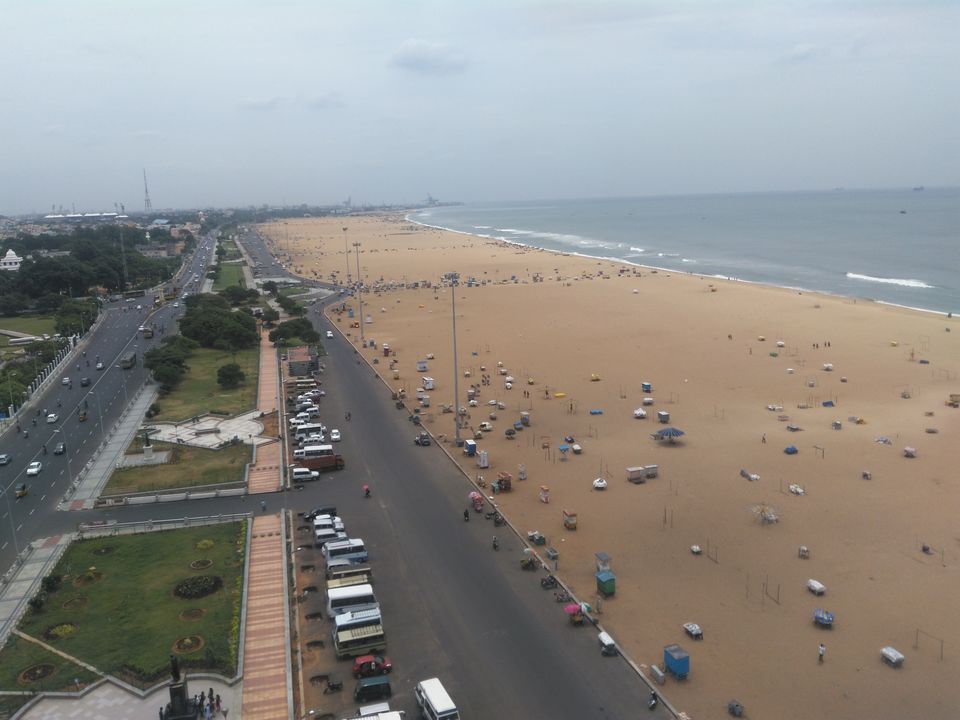 In the morning of the day, we headed to the famous 4th lighthouse of Madras. The view of the city is so beautiful from the top of here! I could capture the beach scenes and the city scenes from the top. It was my first ever visit inside a lighthouse and I enjoyed it thoroughly. The next destination was Nalli and Ram Raj at T. Nagar. This place is a crowded area and I presume that this is where the Chennai folks do their wedding shopping from. There were a lot of saree shops here!! People could be seen flocked up like you were getting something for free here. The madness at the saree houses of Chennai is unbeatable. We were to receive my brother at the local train station. The four of us were to go to Tirupati the next day. So, we passed some time at T.Nagar. There is an eatery called- 'Hot Chips' here. It serves the best brownie web I have ever had! So we received my brother and headed to our guest house. The next day was going to be really tiring. We had to be up at 3 a.m. to be able to catch a 5 a.m. scheduled traveler.
Day 9:
Tirupati Balaji
The most recognized and respected gods of the South India- We were set off on the pilgrimage to Tirupati Balaji. It is supposedly the richest temples in India. We interacted with people on the traveler and got to know a lot about the local behavior and attitude. We reached the temple premises after standing in a long queue. Photography is not allowed inside, so that is a snap from one of the check points. The temple complex was huge and the aura was all divine. There was an unimaginable rush at the temple gates. The inside of the temple was all gold plated. The prasadam here consists of big laddoos. Apart from this they give you rice and curd mixture. I loved it. We had a decent darshan and so in the end we were satisfied. The temple complex is very secure and clean. This is infact with all the temples that we visited in South India. The journey was a long one. But it was overall a good experience. We came back to our new guest house in Chennai.
Day 10:
Departing and Delhi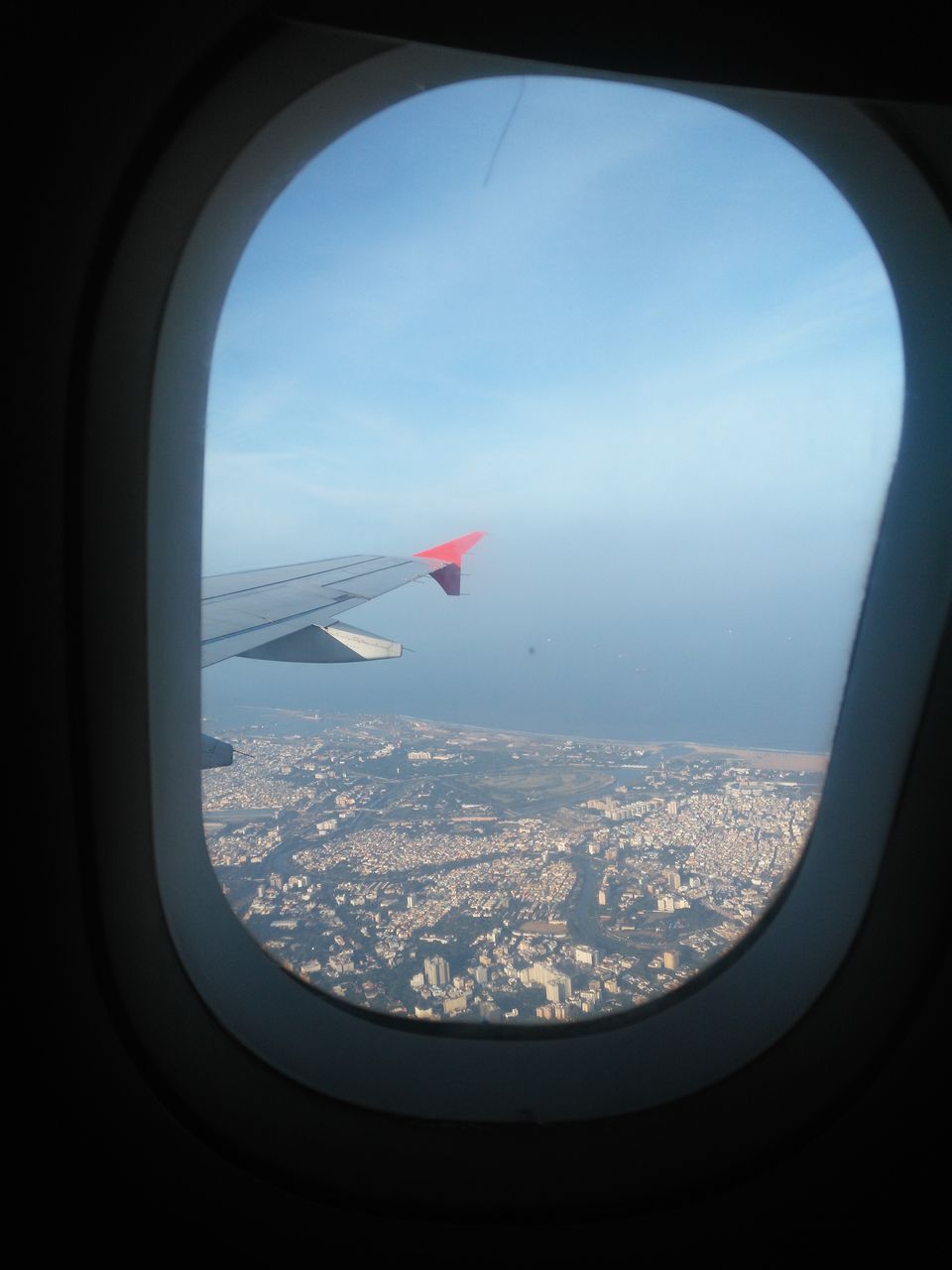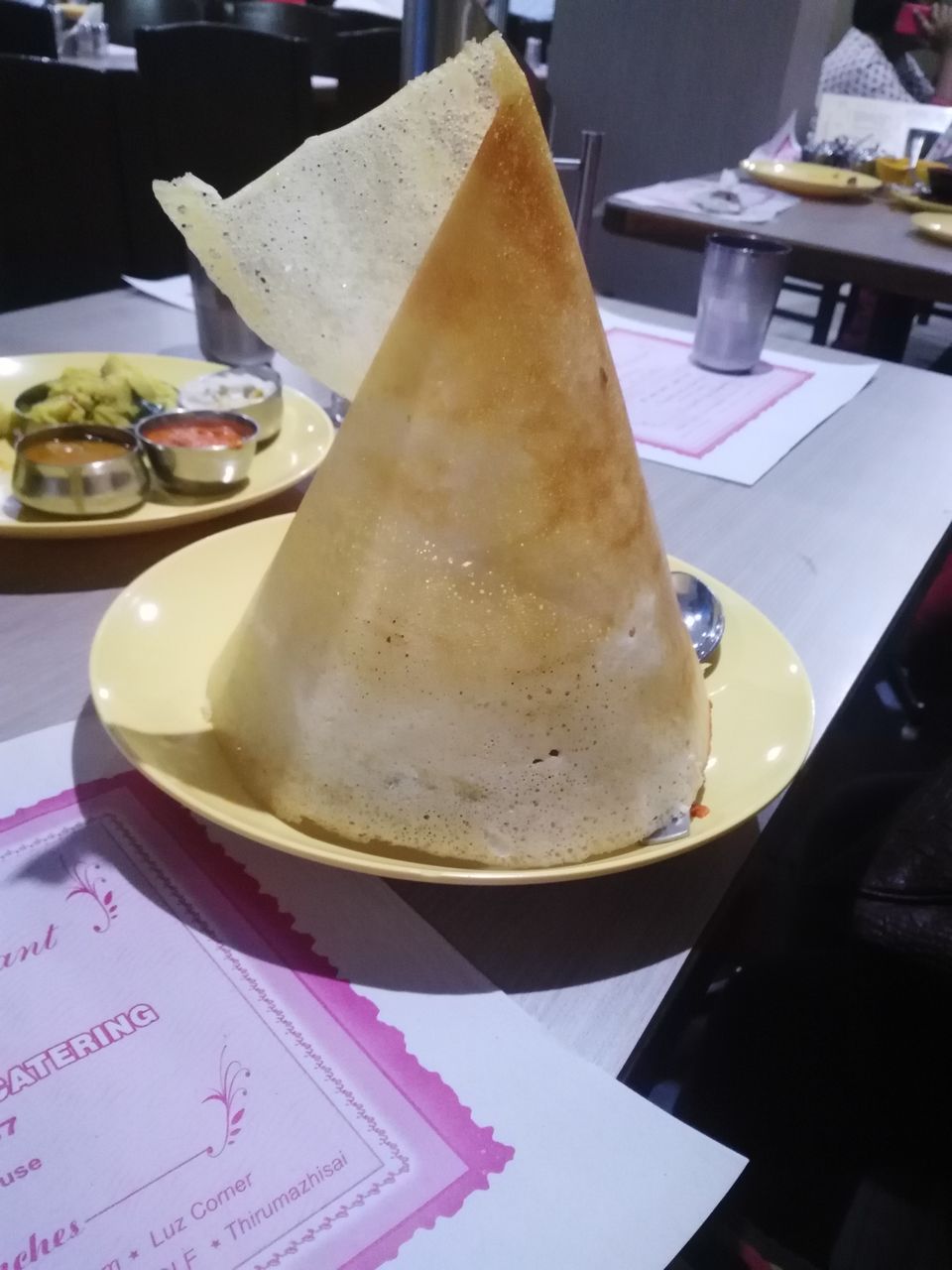 We were in the new area of Chennai and McDonalds was just a small walk away. We had the burger after what seemed like ages. OH MY GOD, This reminds me the food. I did not talk about the South Indian food. Well, there is a chain of restaurants here - Anand Bhawan, Sarvana Bhawan and Sangeetha. The food is amazing at these places. There is a lot of variety at these restaurants. We had Dosas (Rawa, Masala, Ragi, Ghee Roast) , Idli, Vada, Pongal, Upma, Uttapam, South Indian Thali (unlimited), North Indian food too. But too much of sambar and coconut chutney can get into your head sometimes. And it naturally can become difficult for someone from Delhi (who is used to such variety) to survive solely on South Indian food. It was almost time for the journey to end. We were off to the airport. A final goodbye waited for my brother. We wished him luck. Everyone got so emotional and ended up in tears. And so Delhi it was. We reached Delhi at night. We were home after making so many memories in the South.