Having met on matrimony and sharing mutual interest in travelling, we decided to make our pre-wed shoot a mini trip. While we thought of many places for pre-wed shoot like Kerala or Goa, we went ahead with Chennai due to time constraint. However, Chennai did not disappoint us and in fact the shoot has become one of our most cherished memories.
Planning:
Photographer:
Choosing an experienced photographer is the first and most important part of any pre-wed shoot. Pre-wed shoot was included in our wedding photography package. We have chosen Abhishek Maharshi – a photographer based out of Hyderabad as we liked his previous work.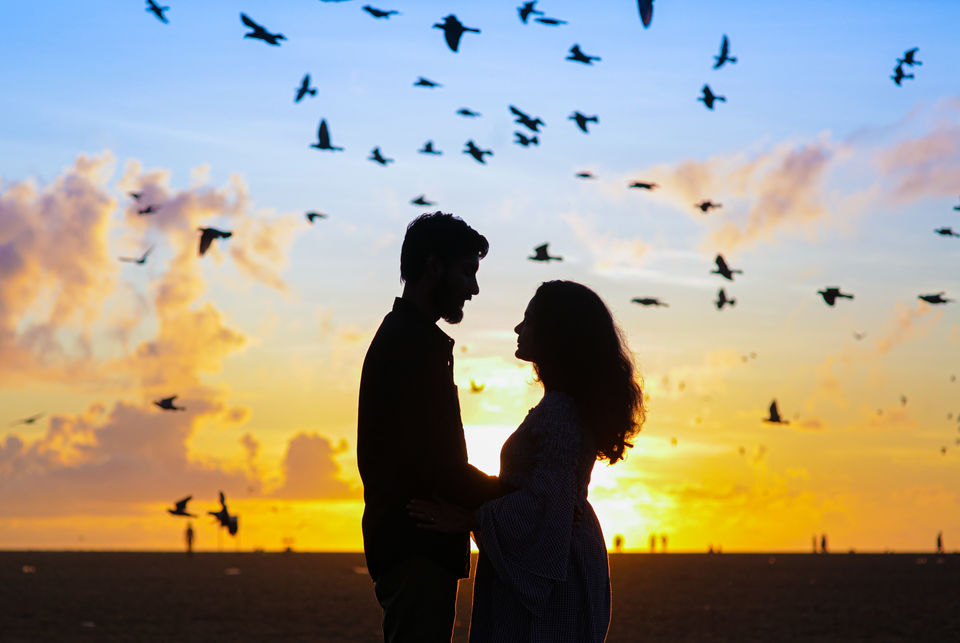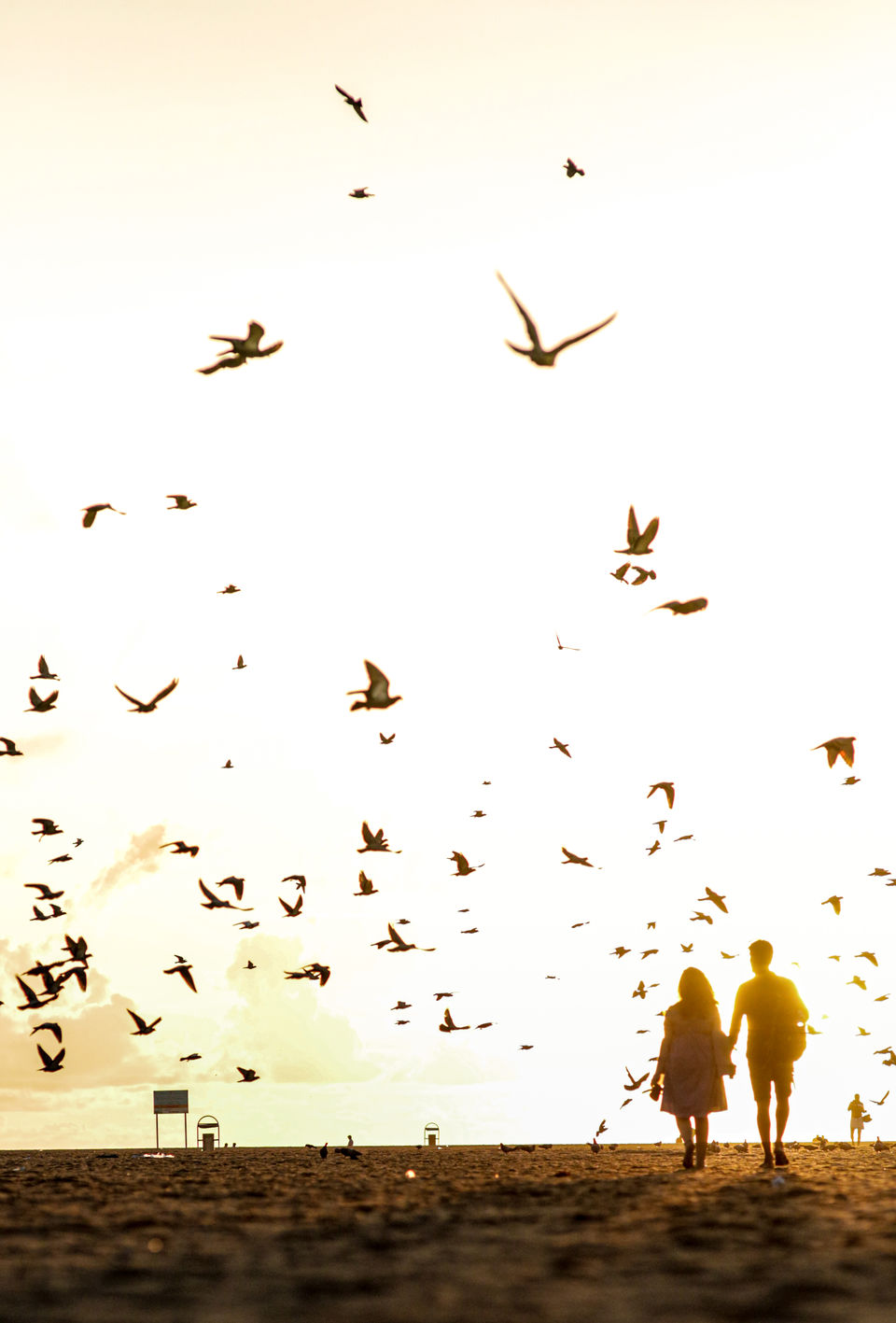 Dressed in casuals, we reached marina beach by 5 am. We were surprised to be find a huge flock of pigeons at the beach. The serene beach, the gradual raising sun and the flying pigeons provided the best frame to capture the essence of Marina beach. We got the best of this place by some stunning silhouette. Even the routine pictures like walking on the beach, footprints on the sand, posing next to a boat turned out to be outstanding.
After having breakfast, we started on our road trip to Pondicherry. It was noon and humid by the time we reached so we took rest and went to rock beach by 5pm.
Pondicherry – Rock beach
We decided to wear one piece and suit for the evening shoot. As luck worked in our favour it was a full moon day. The twilight sky decorated with full moon at picturesque rock beach aided us with some magical shots. With content heart we ended the day with karaoke nights at nearby café.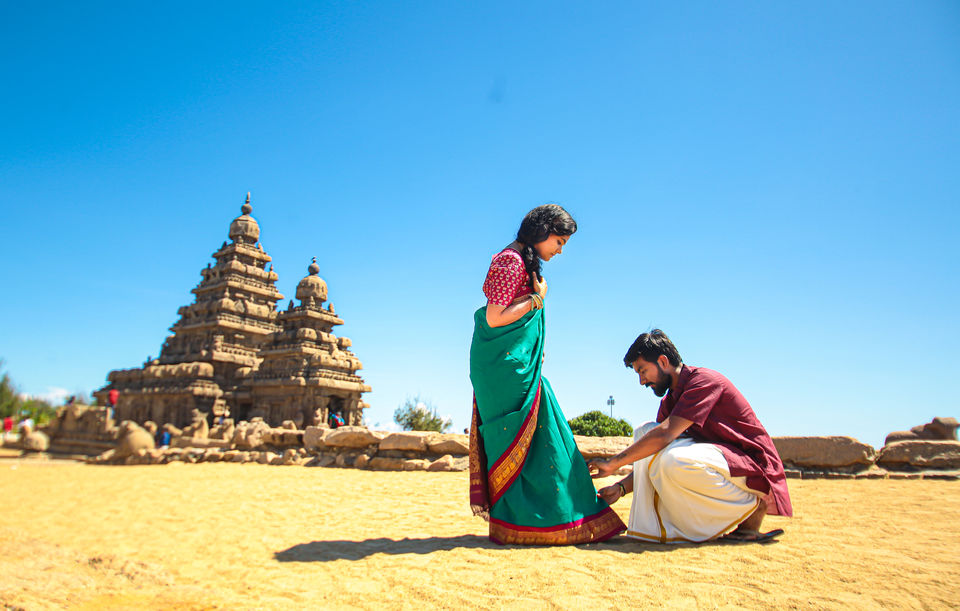 We wondered how other couples managed to get their photoshoots done here. There is no clear information on the procedure to get the permission for photo shooting at shore temple.
The last pitstop was Dakshina Chitra - a museum on our way back to Chennai.
Dakshina Chitra Museum
Dakshina Chitra is a museum for heritage, art, architecture and crafts of South India. This place added a cultural angle to our photoshoot. With large columned verandas, pillared passages, steeped roof and central courtyard the houses bestowed us with all-in-one landscape for photoshoot. This venue is so scenic that even our tired faces looked lively in the pictures. We wrapped the shoot with tea and some snacks at restaurant.
Places:
Once we zeroed down to Chennai, we planned a round trip from Chennai to Pondicherry covering other places on the way.
Chennai (Marina Beach) --> Pondicherry --> Mahabalipuram -->Dakshina Chitra --> Chennai
We did not have to worry much about weather since it was October and it is one of the best months to cover beautiful places around the East Coast.
Wardrobe selection:
From ethnic to western, we wanted to capture all the moods. We have selected matching pairs of below styles:
Western, Casual, Traditional, Formal.
Day 1:
Marina Beach
The first place you can think of when at Chennai is the most famous - Marina Beach. As this beach is always packed with people and eateries, the best time for photoshoot is early in the morning before the city wakes up. The beautiful sunrise here is an added asset.
Day 2:
Pondicherry – Vibrant French Town
In contrast to the usual western wear, we decided to go ahead with traditional attire. The green pattu saree with pink border and green shirt with dhoti brought a unique and classy look. The best part about this French town is that every corner and every house is a frame in itself. We walked for about an hour and took pictures. The colourful houses and lively cafes helped us capture the Franco-Tamil culture of this union territory.
We started to our next destination – Mahabalipuram after having breakfast.
Shore Temple – Mahabalipuram
We reached Mahabalipuram by 12pm and it was very hot. Though the shore temple was alluring, it was highly crowded. We were disappointed to be informed that couple photoshoot is not allowed here. However, we managed to capture few really good pics after requesting the security personnel.