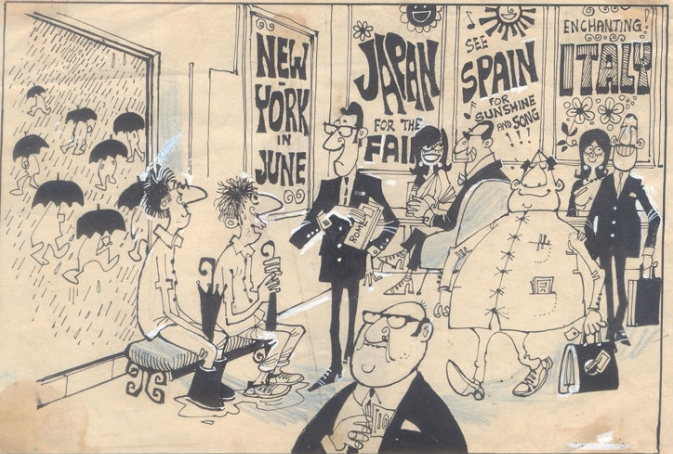 As the airplane began its descent into the hallowed city of Paris, Ghosh Babu, his nose glued to the moisture-laden window pane, beamed: "Ei dada! Aaar bhe lendeeng een the Parees?". Upon receiving an affirmation from a co-passenger, a fellow bhodrolok, he proceeded to retrieve several pieces of winter wear from his waterproof backpack which was carefully tucked under his seat and began passing it on to his family consisting of his animated daughters Mishti, Baabli, Tiktiki and his wife, an equally excited Mrs Ghosh. The chills awaited them and so did a lifetime of memories. Although the daab chingri and chorchori would be terribly missed, they were ready to traverse the entire length and breadth of the French capital. They could bank on their mufflers, the many tubes of Boroline, the age-old thermos and their Bata shoes for that.
By no means do I intend to be racist when I say that Indians are a peculiar bunch of travellers. Right from the over-excited Bengali in his idiosyncratic monkey cap, expressing immense joy on getting to witness the 'Aaifeel Tabhar' to the talkative Gujaratis, always wandering in groups and sharing the packed lunch they bring along. While most North Indians are engrossed in getting a picture of practically everything on their iPads and expensive DSLRs than actually admiring the beauty of the sights, our Southern brethren are the inconspicuous kind, comfortably minding their own business.
Up in the air, we have earned a reputation for constantly bantering for space in the overhead cabins, calling the airhostesses repeatedly for a refill of the free alcohol served on board, using the washrooms exactly when the seat-belt signs are turned on owing to turbulence and hopping out of our seats the moment the aircraft touches the ground. Yet, when we are the first ones to help a fellow passenger with heavy luggage, when we whole-heartedly offer total strangers a sizeable portion of our parathas and when we instantly volunteer to assist old people and children, nobody seems to notice. We have become an archetype when it comes to being dirty despite the fact that our friends from the West nonchalantly blow their noses during mealtimes, entertaining everyone with a song prepared by the mucus association residing inside.
Expect a family of five to carry a dozen humongous suitcases for a ten-day trip, a perfectly good excuse for the folks at customs to become suspicious because, well, we might just be illegally moving to their land. What they do not know is that these several boxes contain ten days' worth of desi nourishment coupled with sheets, towels, sweaters and more sweaters along with a travel-friendly cooker, a rolling pin, a mosquito net and even a mug because most Westerners do not believe in the concept of using water to clean their nether regions. While we are a nightmare for airport authorities across the seven seas for reasons known to the world as khakhra, achaar, papad, shorsher tel, muruku and of course, besan ke laddoo, we are also a blessing sent by the Gods themselves for those who get to devour our exotic fares. Once in Zurich, I had the chance of meeting an elderly couple from Rajasthan and I clearly remember them cribbing about how much they disliked their trip to Australia because all their ghar Ka khaana had been confiscated by the quarantine officials at the airport.
For the keen observers, we are a delight. There are the newly-weds, conspicuous because of the bride's mehendi and choodas, smothering each other with love while posing for pictures before every mountain, beach and monument with so much flair that they could give Bollywood stars a run for their money. Aunties confidently carry their colourful kurtas with Capri pants, sneakers and a glittering mangalsutra in place while the uncles refuse to give two hoots about the paunch showing through their winter jackets. And they certainly never give their canvas caps, (hideous) photochromic glasses and camera slings a miss. A lot of their time is spent in ogling at the fairer skin, if you get my drift, but that is a different story altogether. In most cases, these adults are oblivious to the fact that their children, with their university sweatshirts and florid headphones, are more interested in Instagramming the trip than listening to what the guide has to say about the history of the Reichstag.
What is more interesting is how a majority of us refuse to believe in the concept of independent travelling and blindly trust tour operators who entice us with lucrative offers of getting to see ten European countries in a week. It is extremely amusing how people confidently come back with memories of watching the Big Ben in Paris, the Colosseum in London, the Parthenon in Berlin and the Matterhorn in Madrid. The time may be limited, but we make it a point to see everything that is popular and crowded. If in case you are travelling with us, the local currency will unfailingly be converted into the Rupee before every transaction, noses will pucker up because of the non-availability of Jain food and the abundance of red meat and bus journeys will never be quiet owing to multiple rounds of antakshari. There will be heated debates on Mumbai being better than Delhi and then a perpetual exchange of business cards will ensue. There will also be a wee bit of bragging about the kids' academic achievements. Additionally, eavesdropping will always be inevitable with gossip constantly floating around while the disinterested will snore away to glory. Indians are born travellers and will do everything they can to have one foot before the Leaning Tower and the other outside the Great Wall of China. But no matter how much of the world they might see, no matter how pretty Mauritius might be, irrespective of how Koh Samui takes luxury to different zeniths and how Hawaii is a lyrical treat for the senses, nothing ever will compare to Goa. Kashmir will always be the original Switzerland and Taj Mahal will forever be a notch above St Peter's Basilica.

As Ghosh Babu emphatically exclaimed, "Oof yeh Louvray se khoob jeeyada bettaar toh hamara Eendean Mewjeum hei, Kolkata mein" (The Indian Museum in Kolkata is much better than the Louvre)
(Image credits: 'Can we just sit and dream we are going abroad' by Mario Miranda
Buy here)