When my plans for Arunachal Pradesh had been finalised, I was recommended to pitch tents and camp in Sangti Valley. However, except for the name of the village, I neither had an idea where to camp nor did I make any efforts to know more about it. In the days that followed, I became quite a procrastinator whenever I was asked about my stay options around Dirang.
I had two options in my mind and Dirang was definitely not among them. My mind jumbled between Sangti and Thembang, both situated at two extreme ends of Dirang. Which place I would stay put was left for last minute decisions, something I specialize in.
Ultimately, I zeroed down on Sangti.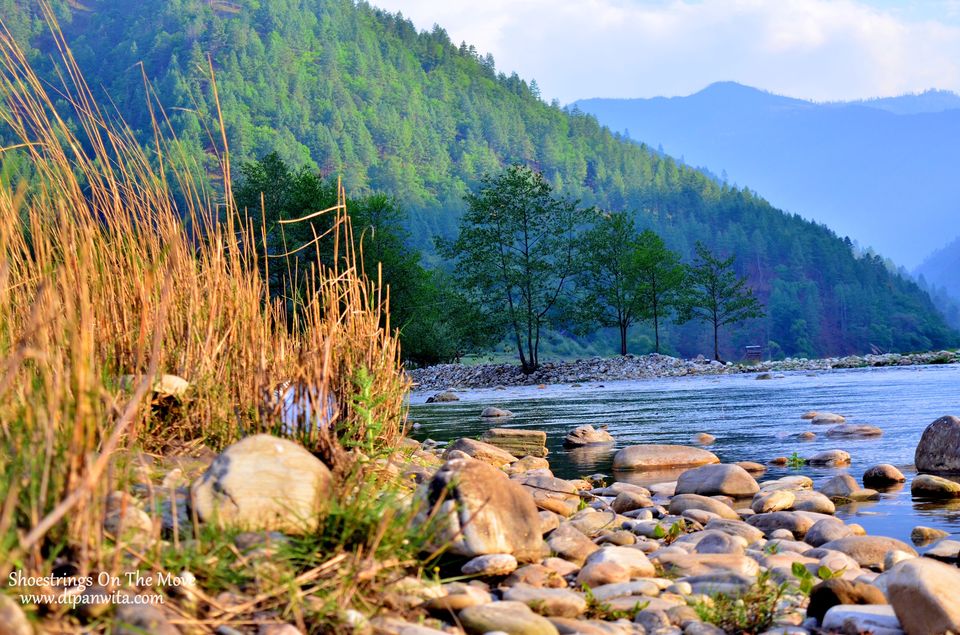 Why Sangti?
Situated at the sleepy outskirts of Dirang in Arunachal Pradesh, right by the bank of Sangti river, is a quaint little hamlet that houses around 500 families. It is in this village that I had decided to stay instead of Dirang which is thronged by tourists from all over.
Lined with the typical stone and wood houses, people of Sangti live in absolute harmony with the ecology. They build their own homes and furniture and utilities are made out of wood and bamboo / cane. The making of utilities out of bamboo / cane is an art-form of this region and you would find them in every household. They transform simple bamboo/ cane into visually attractive utilities like baskets, trays, storage pouches, smoking pipes, ornaments etc.
Sangti is also known for being shelter to black-necked cranes during the winter months between November and February. Buddhists consider this bird to be the embodiment of 6th Dalai Lama, Tsangyang Gyatso and hence, treat them as sacred.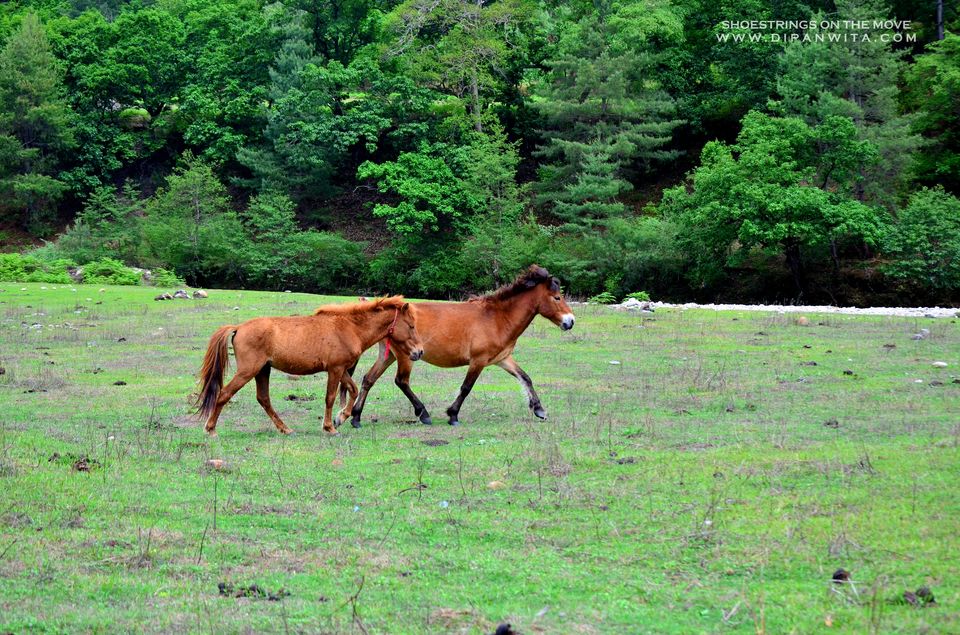 What to do?
There is nothing much to do than lazing around. The stay here will allow you to slow down without a hint of tedium. The entire valley is best explored on feet. The valley is aligned with numerous kiwi and apple plantations. Take a stroll around the village. Since the valley is surrounded by hills, you may as well try hiking up to one of the nearby peaks, walk up to the neighboring village of Namthung, indulge in activities with the locals, learn the craft of making bamboo / cane utilities, etc.
Your stay here will also contribute in shrinking of your carbon footprint to some extent. You would love the experience of being a responsible traveller.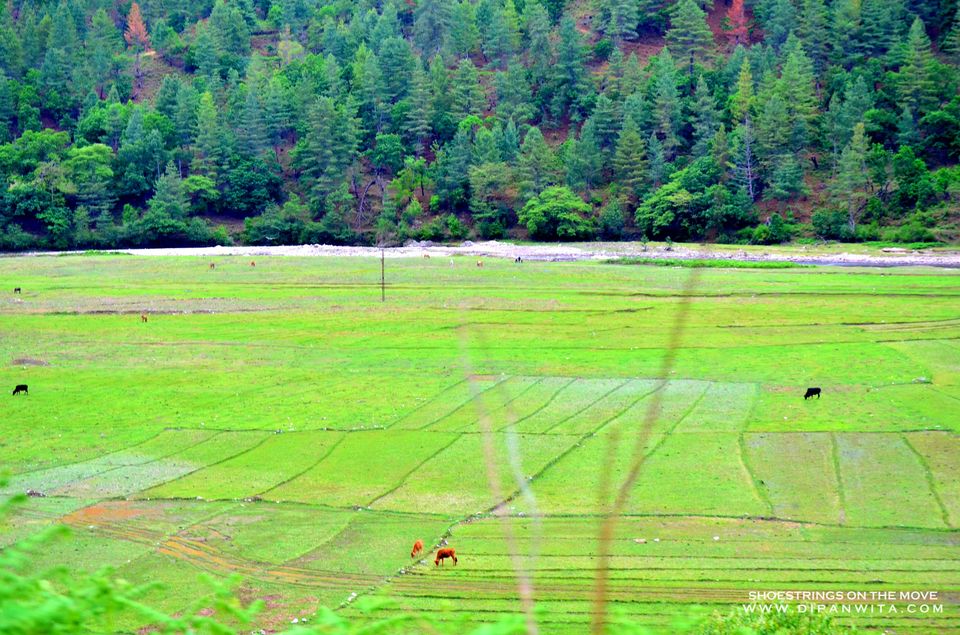 Where to stay?
Letro Homestay is the only operational homestay in this picturesque village, started and maintained by Dorjee Letro and his wife, Sangnima. It is not very difficult to locate the homestay. As soon as you cross the sheep breeding farm, look for the suspension bridge to your right. Little less than 2 mins of drive from the suspension bridge would take you to Letro homestay. Look out for a display board with the name of the homestay on your left. The homestay is right opposite to the display board.
There are 4 rooms on the 1st floor for guests. Whereas each room is big enough for occupancy of 3 people, washroom and toilets are common.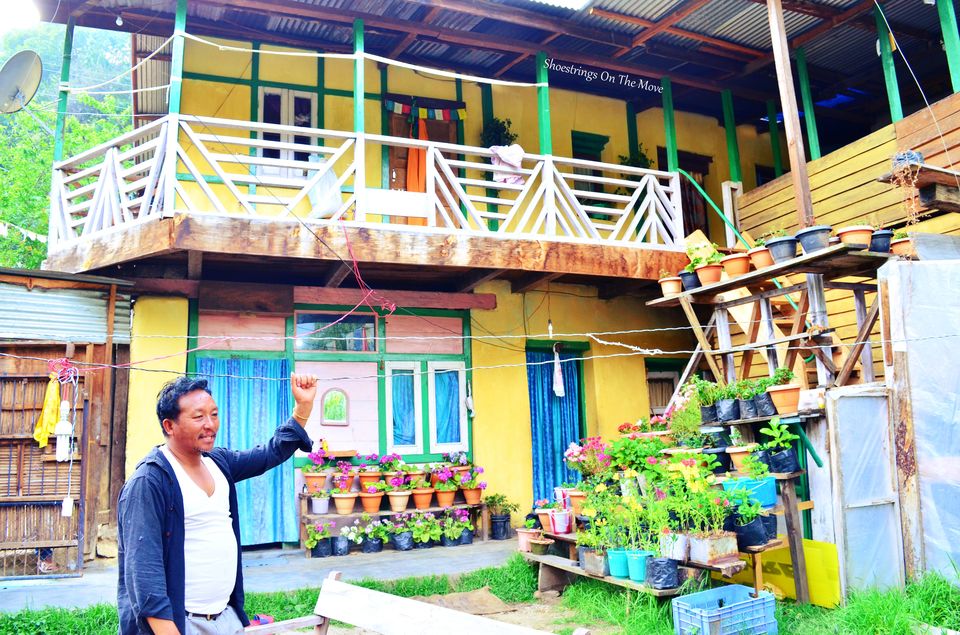 You can walk into their kitchen and try your hands on the local delicacies. They serve both vegetarian and non- vegetarian food as per the wishes of their guests. The fresh produce comes from their own little kitchen farm in the backyard. They also grow seasonal mushrooms which are dried and preserved for later use. Everything they grow here is pesticide free and organic. Do not miss having Khapsays, a Losar speciality, with your tea.
There is a small portico that serves as a common seating and dining area for the guests. You can also dine al fresco or opt to dine with the family in their kitchen.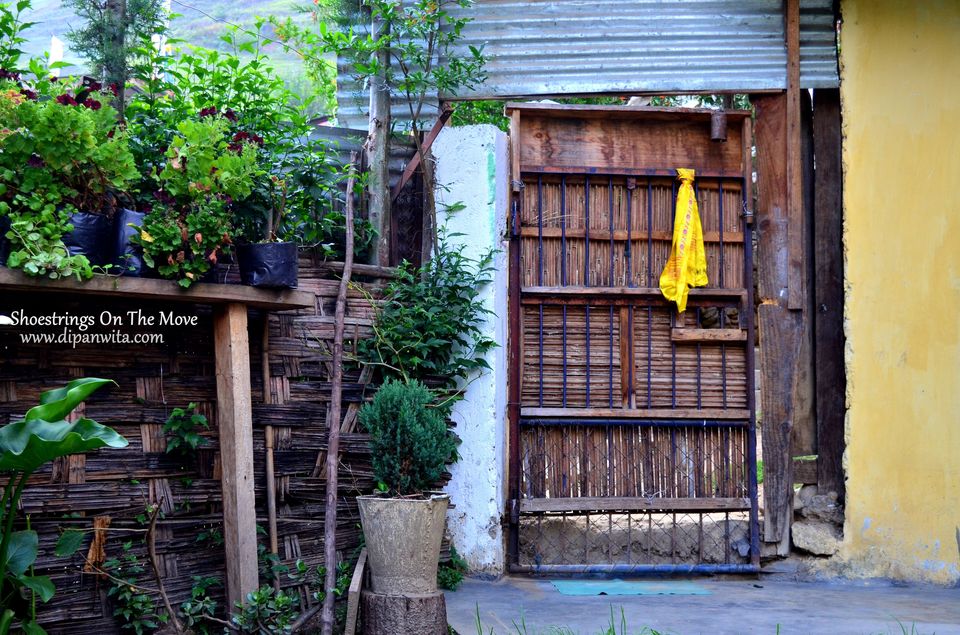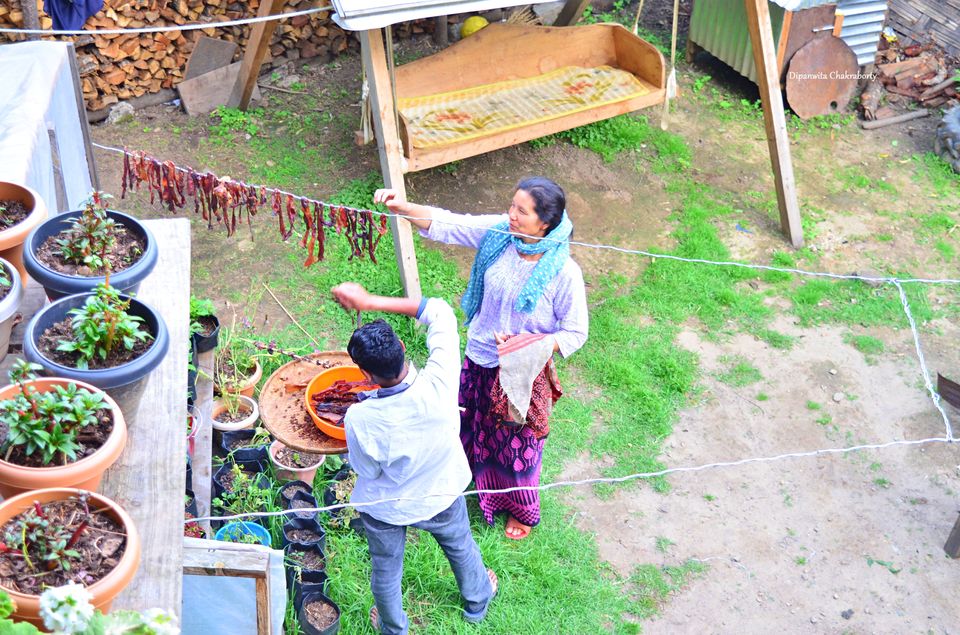 I had expressed my wish to have only local food, specially thukpa for dinner and also wanted to try preparing it myself. Sangnima called for me just before starting her preparations and I got a chance to learn her recipe of thukpa. We were served thukpa with yak meat, dried mithun meat and phing (special rice noodles imported from Bhutan) curry coupled with local drink, Ara (rice and maize beer).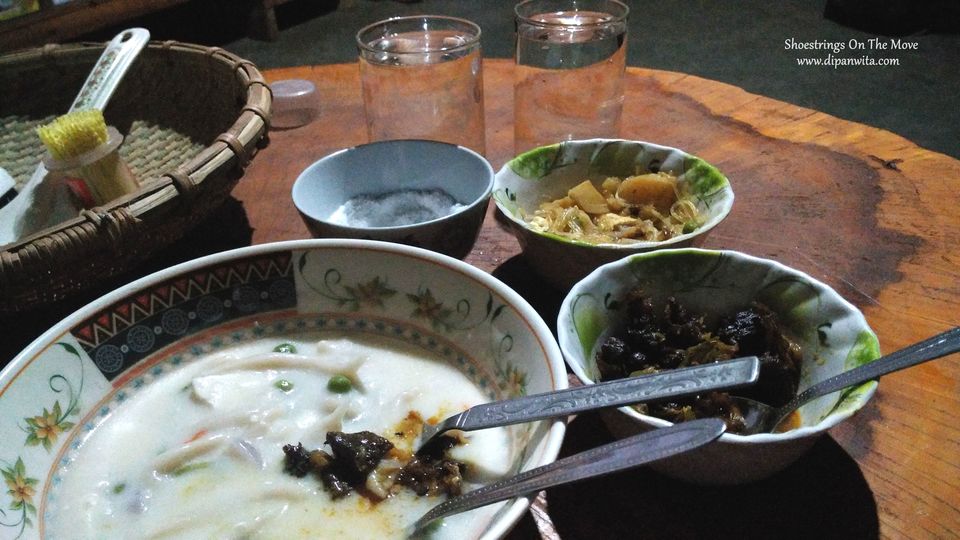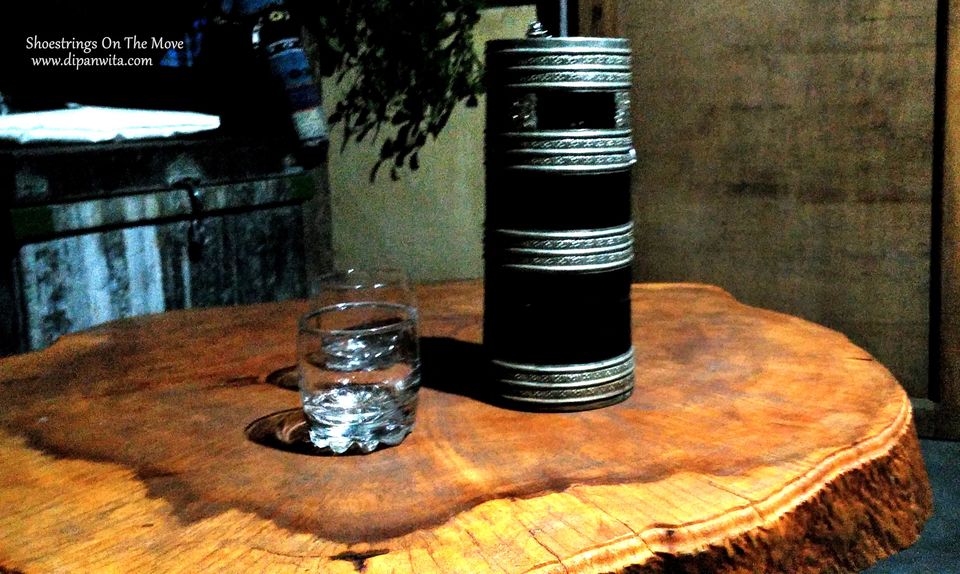 Dorjee Letro narrated stories of his encounters with travellers at dinner with one story segueing into another. His favorite among all is the story of his 1st guest, who was none other than Bollywood actress Kalki Koechlin and her father Joel when the father daughter team had forayed into a 4,000 kms bike ride across 3 northeastern states. From trying out local outfits to getting hands on with local cuisine, Kalki showed no qualms and was very down to earth. Joel was the friendlier one, mentioned Letro with twinkle in his eyes.
In case you wish to ride across the valley, Letro would arrange bikes for you. He also makes arrangements for camping by the riverside as he owns tents and sleeping bags. The tents are double sharing tents.
He is planning to set up 5 permanent luxury tents (double sharing) by the river side which would eventualize post monsoon. The plan is to make way for an eco- friendly luxury stay.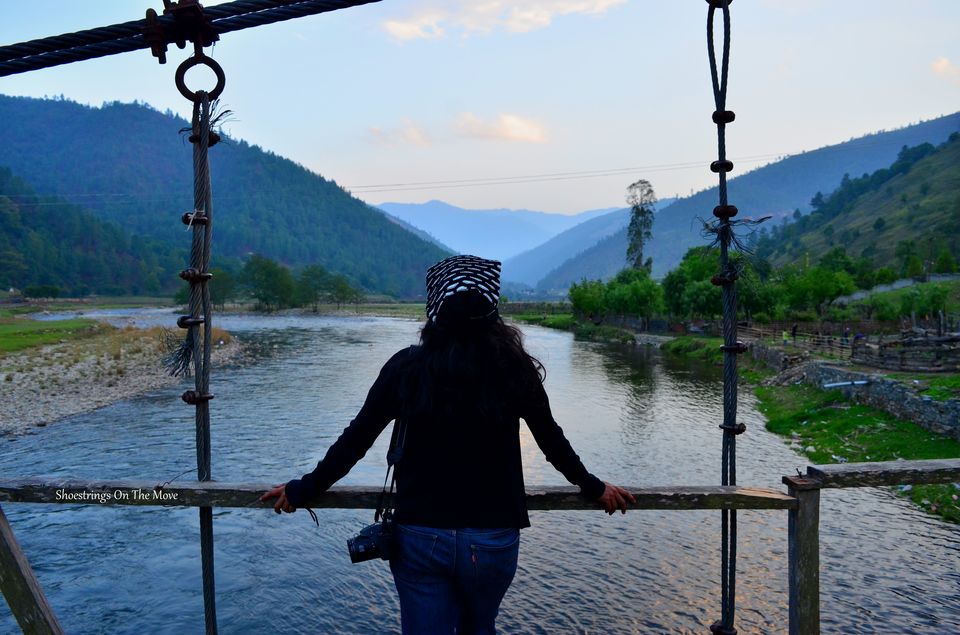 When to visit?
Sangti can be visited all year around however, if you are more interested in camping and trekking activities, you may skip monsoon.
March and April - The best time to enjoy winters since it is neither too cold nor hot. The weather remains pleasant throughout the day and temperature dips a bit during the night. April is also time for the famous car rally in the valley which is sponsored by J. K tyres.
May to July- Monsoon is very pretty since the valley turns even more brighter.
August to October - The flowers of the valley are in their full bloom during this period. The entire valley is covered in various colors with change in colors of conifers that line the mountain slopes.
November to February – This is a time when black necked cranes start migrating to the village. The winters are very cold and you would need to pack accordingly. February is also time for Losar, the Tibetan new year festival.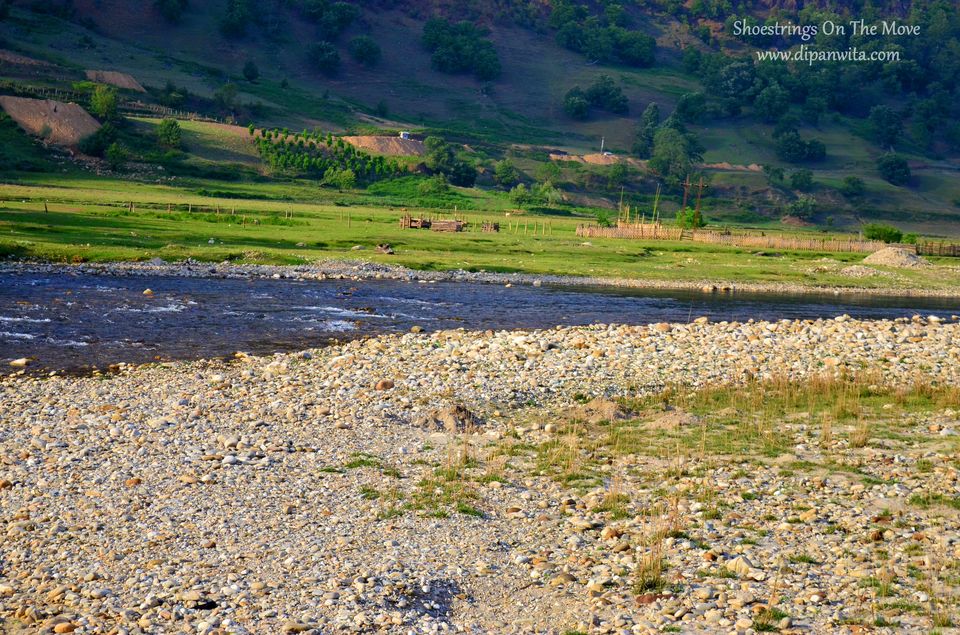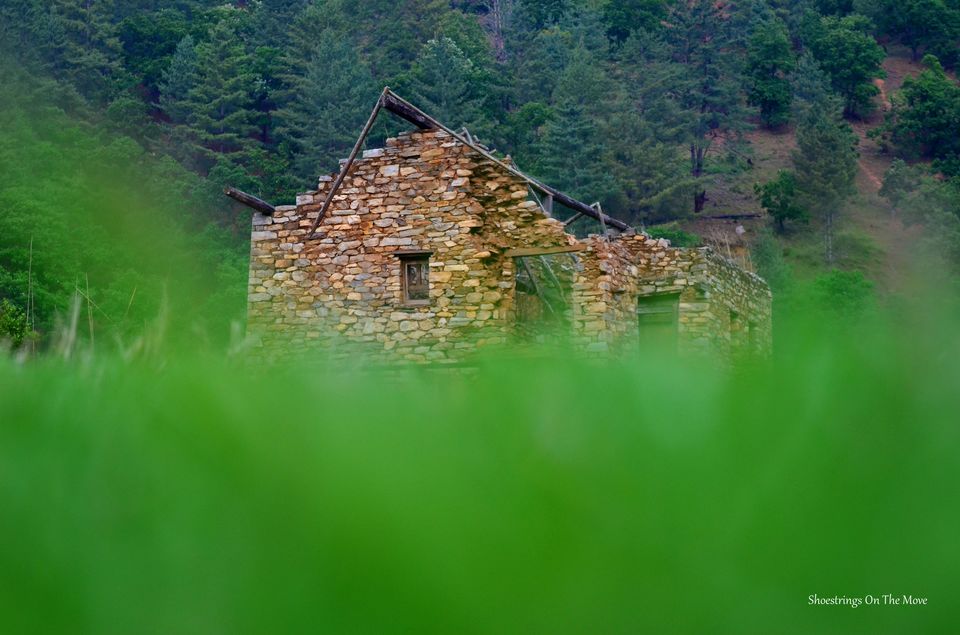 How to reach Sangti?
Sangti can only be reached by road since there is no air or rail connectivity in this region. The nearest airport and railway station, both are in Guwahati and is easily accessible via road from Guwahati.
There are 2 different routes that lead to Sangti from Guwahati. It takes around 10 hours to reach irrespective of the route you settle on.
The first one being the most common: Guwahati- Tezpur- Bhalukpong- Bomdila- Dirang- Sangti. This route is lined with food outlets for travellers.
The second route is: Guwahati- Udalguri- Kalaktang- Shergaon- Mandala- Dirang- Sangti. This one is rather unconventional route since you would not find any outlets for food or snacking. You will need to carry etables if you opt to take this route. However, the entire journey offers you with the most scenic beauty of northeast.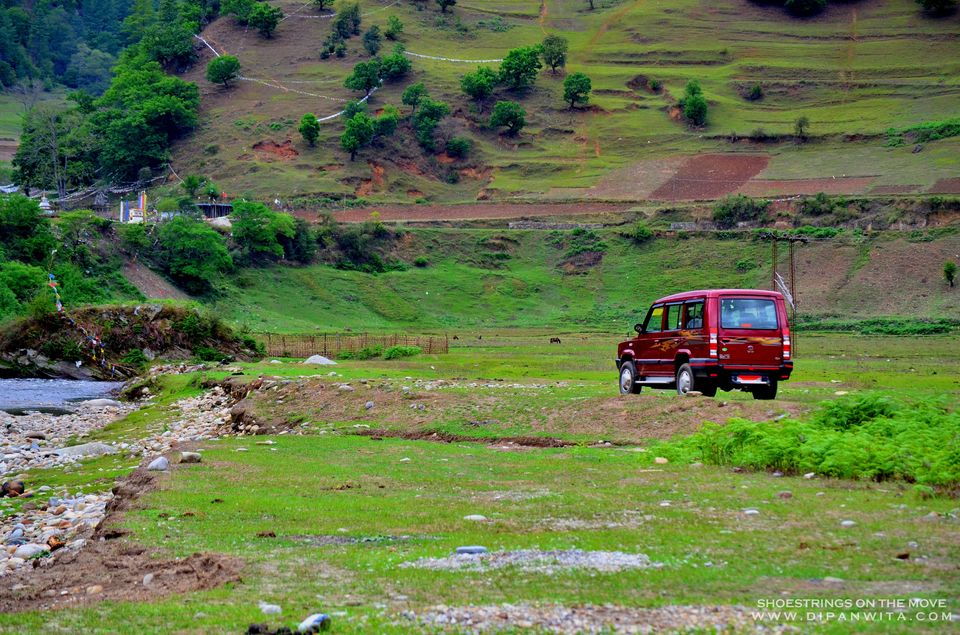 How much does the stay cost?
Stay charges for one room is INR 1500. If you are travelling in a group, you may go dutch. In case you are travelling solo, the charge for stay is INR 800.
Food Charges - INR 150 for vegetarian meal and INR 200 for non- vegetarian meal (The charges mentioned are for one meal that includes unlimited food)
Tea and snacks are on the house
How to book your stay?
You can book your stay on phone. Contact Mr. Dorjee Letro at +91 87946 68634
P. S- Mobile networks are terrible in Sangti. Hence, try to call during the day since it might be difficult to get through during late evenings
Staying in Sangti valley gives you the opportunity to be a responsible traveller. Have you ever thought of responsible travelling or done it yourself? I would be pleased to know about it.
Frequent Searches Leading To This Page:-
Wildlife Tour Packages for Arunachal Pradesh, arunachal pradesh wildlife tour packages, wildlife tour of arunachal pradesh, Wildlife Special package of arunchal pradesh, best itinerary for arunachal pradesh