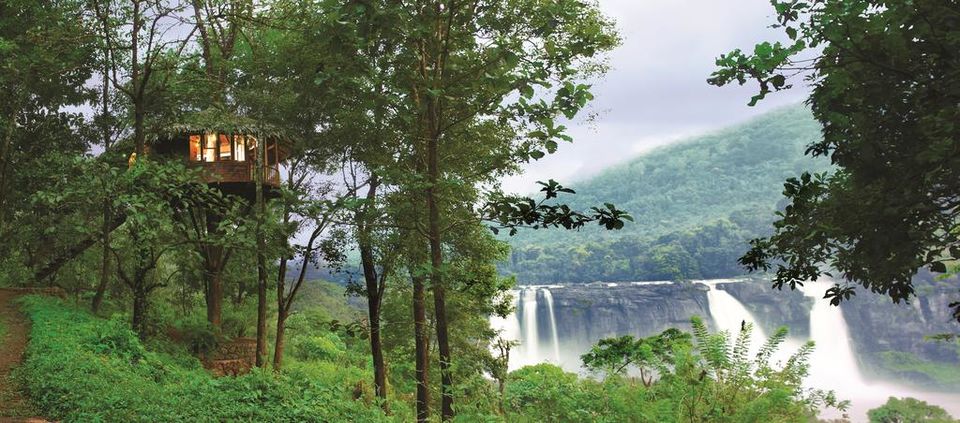 A boutique hotel offering you a bird's eye view of the Athirapally waterfalls, it believes that minimalism does not mean compromising on comfort and luxury. It has been smartly designed with 5 different types of accommodation options namely- Luxury, Premium, Celestial, Treehouse and Cottages which are fully equipped with all the modern amenities you can think of. With large windows that offer more than just a glimpse of the forest, you can experience the beauty of nature right outside your window.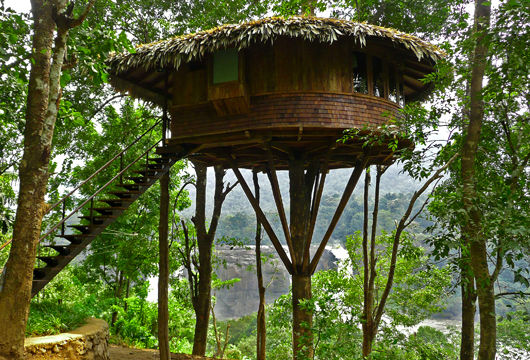 While all the rooms give you the chance to be mesmerised by its surrounding views, it is most known for its single Treehouse which has been designed by a Swiss architect. The entire layout has been designed keeping in mind the needs of the tree and to ensure no harm comes to its while giving you a safe abode.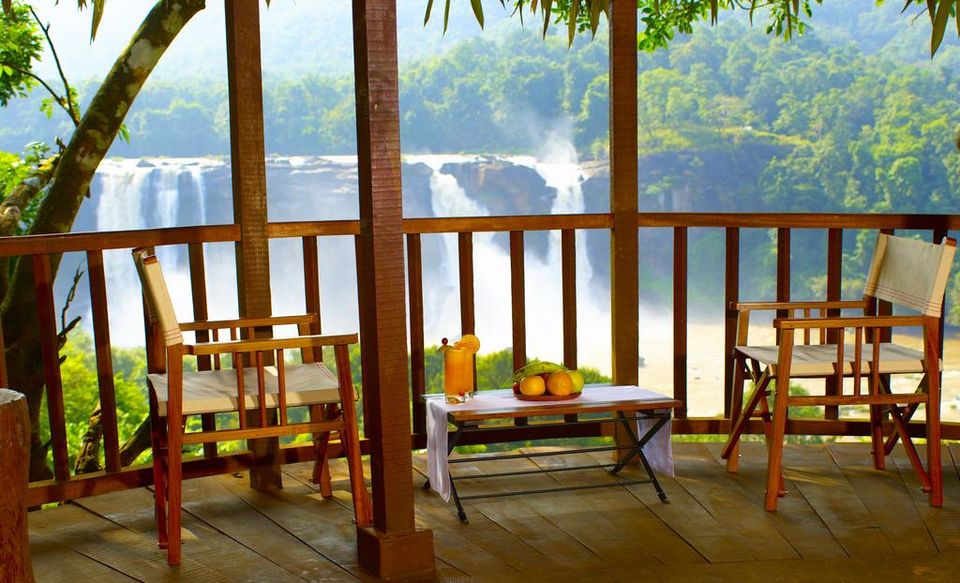 However, irrespective of the room type you choose, you will be mesmerised with the majestic Sholayar forest reserve which surrounds this property and leaves just enough space for the sunlight to filter in. The resort staff are known to be experts in guiding you to the tropical rainforests which are filled with undiscovered species of wildlife. In the midst of these whispering woods, experience your much-needed solitude to unwind while the hotel swoons you with its ultimate spa and other amenities.
Food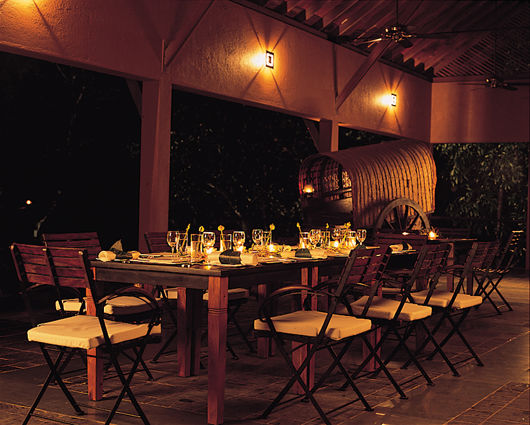 Though everyone is familiar with the many delicacies that Kerala has to offer, the Rainforest Resort with its many dining options offers multiple options to suit every palate to ensure that you don't have to venture out far to taste them. While Foliage, the alfresco restaurant tailors to your needs with unusual native delicacies and continental fare, the other 2 restaurants Watering hole and Charcoal offer innovative refreshers and barbeque options.
Cost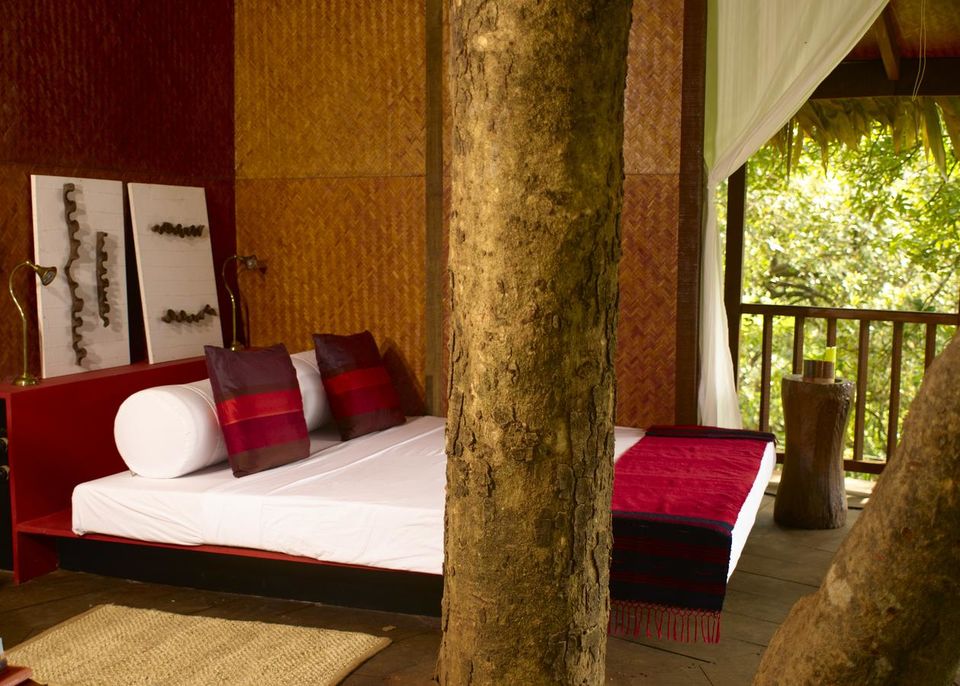 A basic room with twin sharing can cost you Rs. 10000; while Luxury and Premium rooms start from Rs. 17000 onwards. A stay in their unique treehouse can cost you around Rs. 22000. All the costs mentioned here are on double occupancy excluding breakfast and taxes.
Best time to go
This property can be visited all the year round however, trekking upto the waterfall can get a bit strenuous during monsoons. Hence September-January are the best seasons to experience both adventure and calmness.
Activities in and around the property
Experience Nature at its best: Most of the tropical rainforest here is unexplored, however a guided tour here is a must do. Some of the animals found here commonly are herds of elephants, leopards, deer, snakes, sloth bears, wolves and many exotic species of birds for birdwatchers. The resort arranges for on-demand guided trips to visit the Sholayar forest reserve and the Parambikulam forest reserve which is also easily accessible from here.
Trekking upto the waterfalls: Trek right down to the Athirapally waterfalls and get sprayed with the most refreshing water spray from these waterfalls. If the trek all the way to these waterfalls makes you want to relax a bit, then you can even take your meal to have it right by the waterfall. The Charpa falls and Vazhachal falls located a few kms from these falls are also worth a visit.
Tribal experience: It is heartening to see multiple tribes still co-existing here peacefully and living the simple life. They survive their everyday lives through activities such as fishing, hunting and collecting herbs from the nearby forest. The hotel can book the experience of staying with these tribals for a night by camping with them to take in their way of life. The tribals can cook delicious home cooked meals for you and the bamboo shoots made by them are a must try!
Getting there
By Air: Nearest airport is Cochin Airport at 72 kms. The hotel can arrange for a cab service or you can hire on your own from the airport.
By Train: Nearest railway stations are at Trichur (61 kms) and Cochin (71 kms).
By Road: You can travel via road from Kochi (66 kms), Coimbatore (166 kms) or Calicut(181 kms) by taking a bus or a cab.
Know of a hotel, homestay or resort that made you fall in love with the destination? Write about it on Tripoto and help the traveller community discover something new.
To book this property, click here
Imagine listening to the serene sounds of waterfalls gushing in the background, while you relax in the midst of lush green forests,if this sounds appealing to you, then Athirapally is where you should be heading to next. Hosting the "Niagara Falls of India", Athirapally is famous for its waterfalls which are the largest in Asia. The Chalukaddi river plummets 80 feet with a huge crash and a strong spray that drenches you and leaves you in awe with it's grandeur. While a visit to this phenomenal destination may sound good, what can make this experience even better is a stay at the famous aptly named Rainforest Resort. Located at the foot of the Athirapally waterfalls, at the edge of the Sholayar rainforest, is this beautiful property spread across seven acres of natural unexploited beauty.
Ideal for
With the many idyllic accommodation options offered by the property, this is one of those rare properties which is suitable for solo travellers and couples alike.
About the property