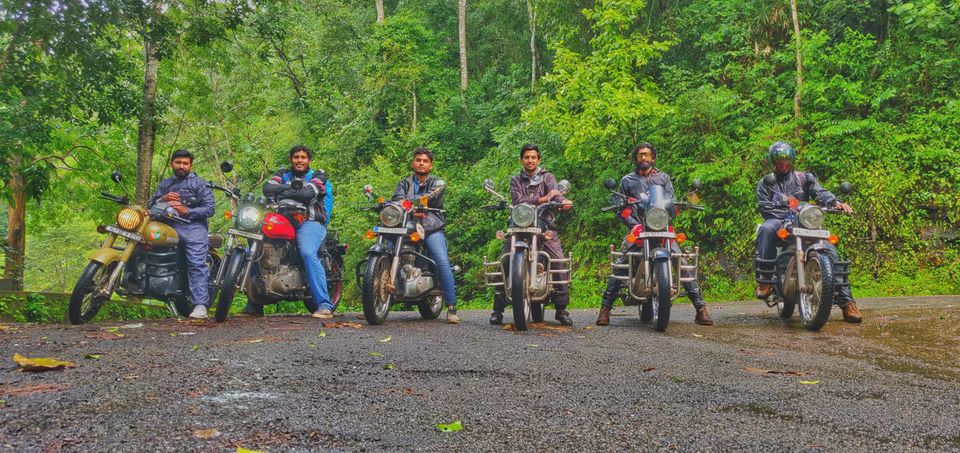 It was my long time wish to go that place where clouds touch you.
A heaven in South India - VALPARAI
We have a bulleteers group named as Rolling Stone. We together planned the trip. We started from Palakkad, Kerala at 5.30am. We reached Pollachi,Tamil Nadu after a travel of nearly 1hr covering around 45kms. There we stopped near a tea stall and had a hot tea. Without that tea we may have freezed. It was such cold during these months here. After the tea we restarted the journey. Our next stop was at Aliyar Dam.
Aliyar Dam.
The entrance to Valparai. There is a check post where a ticket of 30₹/head had to be taken. Near that checkpost we can see the wide view of Aliyar Dam. The scenery is beautiful, with mountains surrounding three quarters of the reservoir. After taking some photographs we moved to the top. On the way around 5km from Aliyar Dam we reached our next stop.
Monkey Falls.
Here also a ticket of 30₹/head has to be taken.This place has enough parking place for your vehicles. We reached the waterfalls after taking the tickets.. Monkey falls is an ideal place for little children and adults to take a bath. In case if you parked the bike in roadside beware of Monkeys since it will open the tank cover and will take the things inside the tank cover. Also be careful near waterfall since in some place it will make you to slip and there is a chance of acquiring injury.It is a beautiful view that is hidden there for you. This soul-swelling magic of witnessing this waterfall in all its glory will surely follow you all the way home.With that happiness we moved on with our travel.
Now it is a climb of 41 hearpins to reach the top. On the way we can see a lot of monkeys and if you are lucky enough you can encounter with Nilgiri Tahr, mountain goat. As the travel was in the early morning the place was covered with fog such that we can't see the people next to us and it gives us such a wonderful feeling. The trees around us making sound, the chirpping of birds, the sound of monkeys etc.. Our next halt was at Hornbill View Point.
Hornbill View Point.
It is a part of Anamali Tiger Reserve. We parked our bikes on road side and walked towards the view point a 200m walk from the roadside. Here also a ticket of 30₹/head is required. When we reached the view point we were all dumbstruck. The view we saw there was such a wonderful one. Anyone who see that will surely stand still for few moments. The view I saw there, I can't describe it in words. You must surely see that view. (I will add the photo of this view point.)While taking some videos we saw two Great Hornbills, which adds the beauty of the place. After spending some times we moved on with our journey.
Moving from there the chirpping sounds of birds began to fade. There began the starting of tea estates of Valparai.Such wonderful views are waiting for you there. Then there is nearly 40kms to reach our next halt, Sholayar Dam. The whole 40kms travel is through the beautiful view of tea plantations on both sides of the roads. There are some lodges available here if you visit this place planning to stay.
Sholayar Dam.
We reached here at around 1pm.It is a dam built across the Chalakkudi river, situated at border of Kerala and Tamil Nadu. The view from top of the dam can be enjoyed by everyone irrespective of their ages. Then we moved to the bottom of sholayar dam. There we find a small restaurant where we had our food. We had such a tasteful lunch. After food we began to started our return journey to Palakkad But we taken a different path instead of takkng same route. We planned to have a round trip. So we travelled to Athirapally from there.
After entering to the Malakkapara Forest Region we have to get entry clearence from the forest gurads there. From there we have to reach the exit post of the forest region before 5pm. But the road was very poor due to the recent heavy rains in Kerala.
We was very lucky during the travel. Raining began. We began to get wet. But we was not willing to stop the travel. We keep on going. That was a different feel you get when you travel by bike. We reached the exit post which was situated at Vazhachal. Moving from there we reached Athirapally Waterfalls.
Athirapally Waterfalls.
Called as Niagra of India, it is the largest waterfall in Kerala. The best time to visit this falls is during South West Monsoon season.
After spending some time there, we moved on from that place. After travelling around 35kms we reached national highway at Chalakkudy.From there we gone to Palakkad directly. But throughout the return journey rain was with us.
Travelling to this place according to me should be one of the bucketlist item. If you visit this place you will surely think why haven't you visited this place long before.
A Riders Paradise.