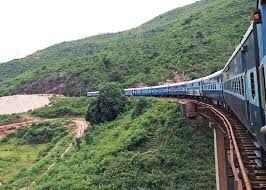 The carriage came in the car with a little chhuk chuk. "This poem has woken up so much from the childhood in the name of the train so that the name of the train should be blown on it, but where was such luck that we have lived in places like Shimla, Darjeeling or Ooty since childhood. When we go to Nainital, sometimes Ranikhet, we will go to the nearest Uttarakhandi, Kumaoni on it, now more than where we will go. If Haldwani used to come in our imagination, Haldwani would have come in our imagination. Haldwani used to beat the children of happiness in the name of Haldwani. In this hope, perhaps there might be a train coming in the hope and its jerks should fall in the whistle. Whenever there was a train, whenever the stairs were seen, the stops stopped automatically, and by forgetting, it would be solved until it disappeared from his eyes.
Think, when there was so much excitement to see, how much it would have been to sit, even on the window to fight, it was inevitable to fight! Slowly it was a normal thing to change the time and come by the train, but even today the train has not passed that childhood craze. So far, how many times have they gone from a non-stop train, but after that a new desire was reborn !! Now, now it seems like the journey of the Himalayan train. Unesco declared as World Heritage, two of the three hill stations, Nilgiris rail and Shimla Kalka have already been carried out but in this order, there is a Darjeeling toy train, or when it will be good luck to ride!
There are two other trains in India, with Matheran and Kangra, these five are called Himalayan trains, but both of them do not even see the Himalayas, then the justification of this name is not understood. These days, we are going on Vizag Orissa tour, in that order also the opportunity to visit Araku in a mountainous place. It is good that the hill station is either Uttarakhand or Andhra, Barbas attracts itself, so how can it stay away from us? Another interesting thing was to find that it is also possible to go by train at this place. One day, the hill station and the four hours journey from Vijag, even in the sleeper, means the full scope of looking out. We had already booked a ticket from Vizag to Visakhapatnam-Kirandul Express which was going to Kirandul. After the introduction of the train, now discuss the experience of this train, ☺☺, that too is an important job.
Travel date -18 January 2017
Do not know how to live today! Maybe very tired or very happy !! If there is a train of six fifty in the morning, then it is necessary to be at the railway station at six o'clock in every condition because it is a train where there is no guarantee that you can get a seat even after having confirmed tickets in your hand. At six o'clock in the station meant leaving the hotel at six o'clock and at least five and a half hours would have to rise! The early morning work is more painful for the lazy people like me !! I have used habit since my childhood even though I have done it late but it is difficult to get up early in the morning. If you have to go by train, you will have to get up early and we can not even leave the train, even if you have heard a lot of names, the views of the Eastern Ghats that appear in this journey.
We have seen the hill station of the Western Ghats, for the first time today, there is going to experience interviews with mountains of the East direction. Like we ran away, we reached the railway station and deposited our seats. At the time of booking, the selection of a side upper side lower seat was of great benefit and started looking out of the window seat. Well, in my eyes, due to a lot of sleep, small flicks started coming in the middle of the middle too. A little eye struck and the shock of a loud shock was given by the train, so the order continued for some time. In this four-hour journey, there were those who were giving light food, but they did not feel like eating food because they did not have breakfast in the search for paratha, whole, Idli dosa and boiled eggs, bananas and other seasonal fruits. As soon as they were brought from the house, they started working on the streets and chewed. That is why my advice to those traveling on this trip is that they may have to take a light refreshment baggage or take it, because the time to go in is such that if the breakfast in the morning will skip, then there will be some stomach pooja till eleven o'clock I want to
While shouting and sniffing at the tunnels, we reached the Borra station. People traveling to Borra Cave from here bypassed the train and got off !! Here we go, but now with Tan, we also go to Araku, you will see in the return. After reaching the many tunnels and landscapes, we reached Araku railway station. Twenty-two I did not know, I do not know how much I could have been. However, in this journey, nature did not see its richness of charm, but its red-colored clay saw little newness. Either a red clay is a sign of Ooty, and the hyper hybrids also appear in abundance. Maybe these scenes will change after rain. One of the specialties of this station is that during the whole day, there is only one train which goes back to Kirandul and walks back in this way !! This means that there is a traffic movement of this station twice a day. It is not that the journey of this train does not show good scenes, but what is seen from the Nilgiris and Shimla rail is just fine, it is difficult to find anything in front of it !!