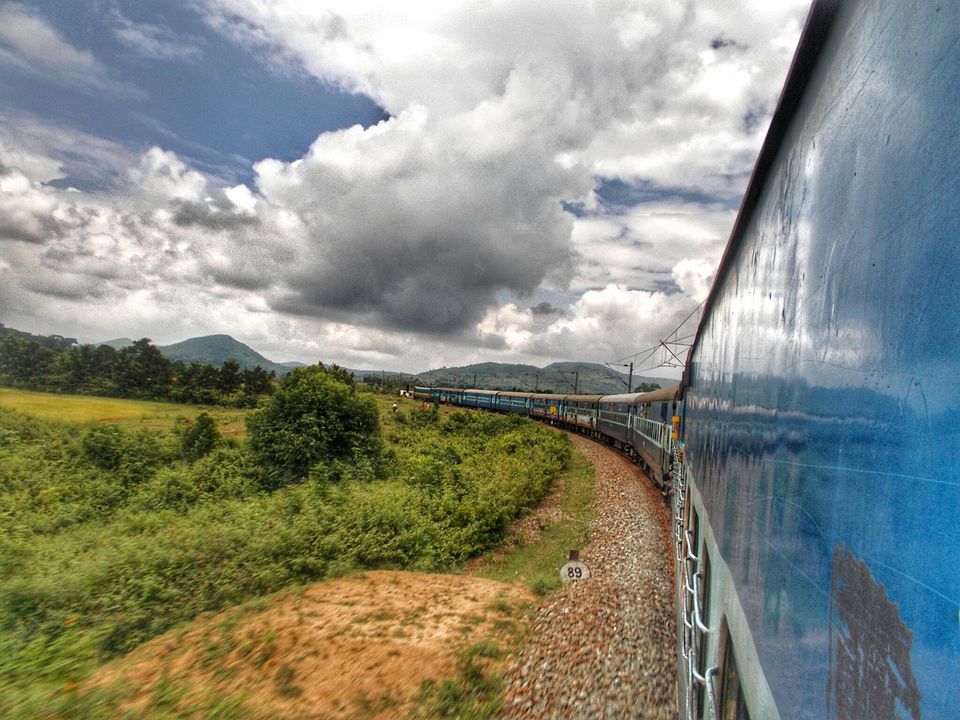 This was the most thrilling and nerve-racking solo trip I have ever had which almost took my breath away. It looks like everything is going awesome but wait for it.
I had one extra day after a trip to vizag with my cousins. All left a day before and I had my train at 4 pm the next day. I had two options. Either travel vizag by bus and explore like a local or try once in a lifetime experience of train ride to Araku as we went to araku by car before.
Here is our trip to Visakhapatnam which can be used as a guide if you are planning to travel there.
https://www.tripoto.com/trip/visit-versatile-vizag-5a33e639d9f0f
I booked the hotel for night in Vizag and while going to hotel by auto I talked with the driver uncle about my chances of making it possible to go by train to Araku and come back to vizag by 4 pm. He said it's possible if you come back by bus as early as you reach araku. My only doubt was that how frequently the buses would travel from araku to Vizag. He said there are buses every hour and I can make it back and encouraged me to go for it. I reached the hotel and thanked him for the advice and went to hotel. I asked the guy at the reception about my plan and he said go by early train which starts at 7 am and reaches Araku at 11:30 am and come back by bus to vizag. Two positive responses made me believe in the thought of making it back on time and decided to try it. Slept at around 11:00 pm and woke up at 5:30 am. Returned the room keys and thanked him and left to railway station.
Reached railway station around 6:45 am and took ticket and hurriedly went to the platform where train was already waiting to start it's journey through thick forests crossing tunnels and making its way over borra caves and reaching araku valley. As the seats were already occupied I had only option of standing and sitting near the entrance which was not the bad news for me as I was expecting over crowded train which would make it difficult to even board the train. I looked through some boogies and hopped into one of them where only seats were filled and entrance was empty. After 10-15 minutes a family of around 15-20 members came where I was standing and made their way into the train but I didn't give up and stood there holding onto my place. The journey started after 10-15 minutes and train started picking up the speed and cruzed passing through green fields and empty stations.
After a quick breakfast of samosa and tea while the train was taking its time stopping at each of its intermediate stations giving way to other trains finally it seemed like the time has come for the fast and furious ride. After an hour or so when the first tunnel came the darkness creeped in which excited people and they started screaming and making sounds. And when the other tunnel arrived, the sounds got louder and louder. It was unique. The atmosphere, smiles on the faces of the people, the positivity and everything about it was just great. What followed was train gushing into tunnel after tunnel making people go crazy and bringing joy out of the darkness.
The network was out. Phones were used for videos and photographs instead of calls and WhatsApp. Everyone enjoying their time away from hustle bustle life and just having fun ride passing between big rocks, Crusing into tunnels, looking at the view out of their Windows and feeling the cool and fresh breeze. Train crossed around 40-45 tunnels passing station after station. After another hour or so we reached tyada which was the government heritage spot where one could go to resort and chill out hanging around the place enjoying the greenery and the wilderness.
One could spot waterfalls along the way. Some filled with water and some dried away but the structure was visible and some were wet with little water flowing. It was a refreshing ride one can enjoy just looking at views and waiting for tunnels and looking out for waterfalls. After tyada you cross over 100 mts above borra caves and halt at the borra station. About 70% of the train gets vacated here as people take a tour around borra caves and explore other places through taxis and autos. And also don't worry if you don't have any idea as to how to travel in araku. Once you board the train there will be some agents coming and enquiring about the package. So talk to them, negotiate and compromise on the price and enjoy your trip. Or get down at borra and take a taxi from there on. Or just go straight to Araku and start from there. I thought getting a deal in train is a good idea as you can't negotiate that much if you go to borra or araku valley directly.
After reaching borra, I got the seat near the window and enjoyed the trip there after enjoying the valley and the greenery it welcomed with. The mountains which were covered with greenery and the clouds which were hanging below the mountains were a beautiful sight to the eyes. Train passed through hills and took lengthy curves where one can see the engine from the windows. We cannot put the feeling we get while traveling in this ride in writings. One has to experience this moment to feel its joy and peace by hopping into the train and living in the moment. Finally reached araku at around 11:30 am and straight away walked to bus stop. The things which were pretty much in control till this moment were about to turn their back onto me and push me into thorns of troubles. The bus stand was filled with youngsters and I knew they all are waiting for one thing and that was a bus to Vizag. When I enquired when the next bus will arrive to get to Vizag the station master said it would be after 12:30 and it felt as if I stood on burning coal.
I knew there was a coffee museum nearby and thought to take the trip and get back in half an hour. Not the greatest of places but has its own aroma and the smell of coffee makes it a worth it trip. You will get to know the history of coffee. You can try different flavours of coffee here and also hand made chocolates. There are few other attractions like trampoline, mechanical bull. A short walk around getting knowledge of origin of coffee and sipping different flavours of coffee buying chocolates is all you get in here. None the less if you have time you can visit this place for some time. I came back in half an hour and the crowd was even more now. It was around 12:15 a bus came and all rushed towards it but it was going to some other place.
No bus came for another 15-20 minutes and it was getting intense. I decided to look out for other options and walked out of the bus stand. Tried looking for taxi but it went in vain as every car was filled with passengers and families. I went to the highway and asked an auto guy and he said the regular buses take around 4-5 hours as they stop at each small stops. I was in shock after hearing that. But then he said there is a deluxe bus which comes in another half an hour which can reach Vizag within 3-4 hours. I was relaxed. I waited on the road looking out for the bus but it didn't arrive. Then came an ordinary bus and I decided to pass it. 10 minutes and still I couldn't spot the bus I was waiting for. I was laughing at my decision to pass the other bus but I was still hoping that it would be a good decision if other bus arrives shortly. I waited looking at the rush at the place. Bikes, cars, mini travellers all coming in and going out. People walking all over the roads, autos filling like crazy and shops buzzing with crowd.
I waited and waited and waited. As I started to look out for other options I spotted the deluxe bus and I got excited. Bus arrived but it was filled and there were no seats available but I did not think twice and got into the bus and stood hoping I would arrive by the time train leaves from Vizag station. To my surprise there was no ticket conductor on the bus and I knew what will happen next. Driver passed the bus out of araku and parked the bus aside and became conductor and started collecting tickets. Not this shit at this time. 15 minutes gone wasted. Then he started the bus and man he was fast, accurate and had grip on his driving. He drove like a roller coaster from the height of above 3000 ft passing through hills in a single lane road overtaking cars and making sharp turns at curves.
There was this gang of around 5-7 boys and girls and they were standing near the driver and some sitting near the gear box. After around an hours drive they wanted to stop the bus as one started throwing up and it continued as one after other started occupying windows to throw up. There was no other option but to stop. Around 5-10 throwed up and others went to have their smoking time. Another 10-15 minutes were taken up. The drive started again. The views were amazing, the cool air, the clouds, the mountains, the feel was so refreshing that I gave up thinking whether or not I would reach in time or not. I just enjoyed looking out and feeling refreshed.
Passed village after village but the journey was still going on and the destination was still far from where we had reached. It was around 2:30 pm when I got my network and first thing I did was checked how far to reach and what time it would take. It showed 1:30 hours more and around 70 Kms to be travelled. As we got closer and closer the time ran faster and faster and my heart beating like a beat boxer. Around 3:40 pm we reached the city and the signals interrupted the flow of the journey. He had to stop at multiple stops as people wanted to get down. After trying his best he dropped me near railway station around 3:55 pm and I had to walk half a kilometre to reach the station.
The train would leave at 3:50 pm as per schedule but I was hoping it would be late but this was a special train and it was starting from Vizag Itself. I ran as fast as I could and reached station in 2-3 minutes and they were announcing about my train. I looked at the board and as soon as I saw platform 3 I ran straight into the tracks and jumped two platforms and made my way to platform 3 and there it was waiting eagerly for me. As it was a special train the boards were different, there were no sheets attached and the boogies were numbered twice. After enquiring with a ticket conductor I got in to train and took a deep breath. I was sweating in that humidity and I was soaked in few minutes. I relaxed for some time. Went out and got biscuits and water bottle and sat there with a smile on my face, peace in my mind and an experience in my life.