This trip was originally published on travelfreak
Andaman Islands is a group of about 500 islands in the Indian Ocean, closer to Burma than to India. And for some reason they are part of the Indian Union, don't really know why:)! Anyways the islands are not on too many tourist itineraries, maybe because of their difficult accessibility or because these islands have not really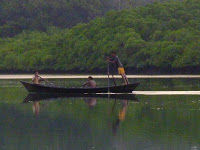 been developed for tourists. The islands, the beaches, the national parks, all are in some way as they would be without human interference. And that may be what appeals to some of the people who do end up going there, but definitely not to all. Its too raw, too uncouth, too wild for some tastes. I loved it though, it felt like a different realm altogether!
We had a long ten day vacation there, and so got a lot of time to actually explore a lot. There was still a lot more that we would have liked to see but could not get a chance to explore, more so because of the difficult accessibility to some of the farther islands. Anyways to start with, to get to Andamans you need to take flights either from Chennai or Calcutta or ferries from these two ports. The ships take about 2-3 days to reach, so can be a bit too much. The capital city of the Andamans is Port Blair and you will be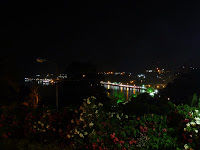 surprised when you land there. Its quite a usual bustling little town, at least bigger than what I expected. Its as any other town you would see on the mainland, similar buildings, similar roads, similar cars and similar people! There are lot of Bengalis and Tamils settled in these islands, so you wont really see any 'locals' in the towns (which I was expecting). The locals are anyways few in number most of which are still tribals living in the jungles away from human contact. We spent a couple of days in and around Port Blair, visiting the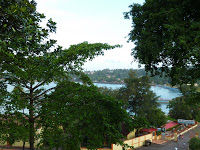 sights nearby. The local marina is a nice lighted road next to the sea with nice parks to sit and enjoy. At night with the twinkling lights, this part of the town looks very pretty. (An advice to anyone going to Andamans would be to not stay in Port Blair for long, to go on to the other islands which have a lot more to do plus are less city-like.) One place which all Indians would definitely visit is the Cellular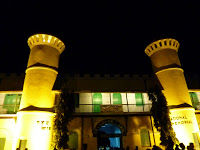 Jail, located in Port Blair itself, very near the Marina. Its a national memorial now, with a couple of exhibitions inside showing the freedom struggle.
The cells in the jail are hair-raising scary and the stories even more gruesome. They also have a sound and light show held at the jail in the evening, which though not great, does give an idea to how life in the jail used to be like in those years.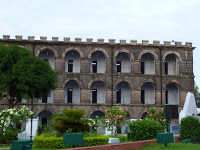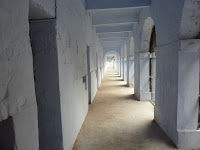 The other place to visit near Port Blair is Ross Island, an island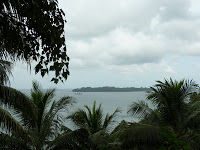 just across a small stretch of sea from Port Blair where the British had first set up their establishment. Its just a couple of minutes ride from the Marina, and has ruins of the old British buildings, with the expected church and the rest.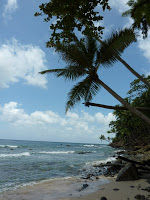 The beach at Ross island is also very pretty even though its very small. Also, the same ferry which takes you to Ross Island also goes to two other islands, Viper Island and North Bay where you can apparently do some snorkelling.
Another place which is not on most tourist itineraries but I loved was the Harriet National Park, which is about an hour or so away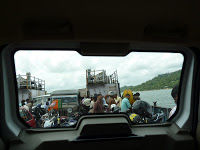 from Port Blair. You can also take a ferry to go till there part of the way. Thats an advantage on most of the ferries in Andaman, you can take your cars also on the ferries and cross over. There is also a trekking trail which goes to a beach and a lighthouse from the park itself. We did just part of the trek though, but should be good fun I am sure! Harriet National Park is located on the the highest mountain of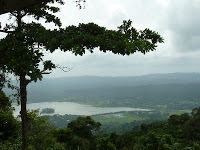 the South Andaman islands, and gives a high level view of the places around.
Its a national park, with a winding jungle drive leading up to it and nice view points when you reach there.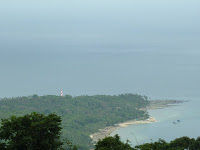 Also nearby is a place called 20-Rupee point, where you can take a look at the image thatis imprinted on the 20 Rupee Note. See for yourself:)
One of the days, we also went to the Mahatma Gandhi Marine Park, also called the Wandoor national park. It is a national park comprising of a couple of islands which have corals and other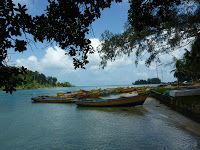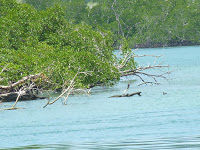 marine life. The two famous islands in this park on which tourists are allowed are Jollybuoy and Redskin Islands. Only one of these islands are open at a time. Jollybuoy is apparently supposed to be out of this world. Sadly, it was closed when we went there. So we went to Red Skin island instead. You can take a ferry from Mahatma Gandhi Marine Park itself,which takes you through the mangrove islands and then drops you at Red Skin island. Its a nice beach, with clean and still water where you can snorkel. There are pretty fishes and even prettier coral all along the beach.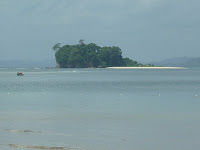 We also went and saw some of the corals and fishes around the Grub island which is just nearby.
The Wandoor national park also has its own beach,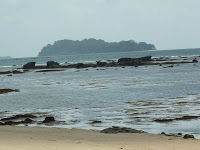 same isolated beaches away from all population as is there for most of the Andaman beaches.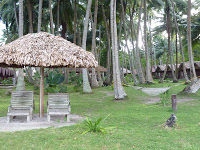 Another must visit is the Havelock Island located nearby which is actually a bigger tourist hub than Port Blair. Its the most popular island among tourists with popular and pretty beaches like Radhanagar, Elephant Island and Vijaynagar. (Another advise would be to stay at Havelock for a coupleof days rather than doing just a day trip there.) We stayed at Havelock for four days and quite a wise decision it was.
There are regular ferries from Port Blair which take you till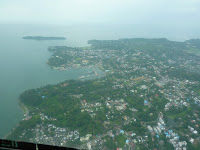 Havelock, called the Havercruz. If you are feeling more adventurous, you can also take the helicopter rides that are available for tourists. You will be there in 15 mins, plus get quite a complete over view of the islands. Its at Havelock that you can do scuba diving at a couple of good sites. I did scuba diving at South button island, the Wall and the Aquarium. The sea life is breathtaking, the visibility great and the variety of fishes unbelievable! Also around Havelock, there are tons of very nice resorts to stay,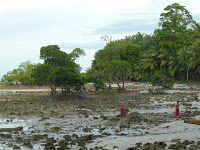 right next to the beaches! Its the perfect place for people to relax, do a couple of water sports and generally have a good time. The beaches next to the resorts are mostly average though. Not too deep, with green blue water which during low tides recedes a lot. Our next stop was to Baratang, which is an island on the middle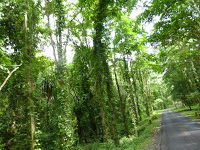 Andamans. The drive till Baratang is again very pretty, through fields and villages and hills and jungles! Its during this drive that you notice that Andamans is a lot more developed and richer than most of the Indian mainland. Most of the villages have pucca houses, light, electricity, cars and excess employment. It was quite surprising actually, I always imagined Andamans to be very backward and underdeveloped. Also another thing you notice while driving through the islands was that at a lot of places, there were inland water bodies. Its all the remnant from the tsunami times, when water came inland and was not able to get back to the sea. Now all the trees in these areas have withered and these places are no longer suitable for cultivation. While going to Baratang, you will have to pass through the Jarawa Reserve, which is essentially a reserve where the Jarawa tribes still stay. The government tries to minimise the interaction between the tribes and the outside world, and so there are rules regarding the the passage of people through this area. The tourists are not supposed to stop their vehicles or give the Jarawas anything or take their photographs. Of course all these rules are flouted by all!! Till a couple of years back, the Jarawas did not interact with the outside world and used to kill the passerbys with poisoned arrows. Now that has stopped though!! Tourists passing through the reserve have been giving the Jarawas food, clothes, money etc, and now they are no more hostile! In fact the Jarawas come and meet the tourists who pass by on the roads, asking them for food and 'paan'! As the guards in the area say now, they have been corrupted by humans, as they have been introduced to money! Anyways we came across lots of Jarawas on the way, sitting next to the road, eating, collecting fruits, or just basking in the sun. They have negroid features and live very wild lives still. Was quite interesting to see people still live like this in our own country!! In Baratang, we visited a limestone cave, to see the stalactities and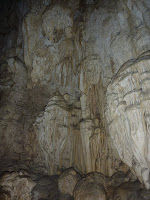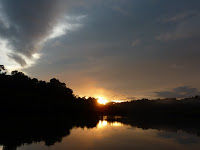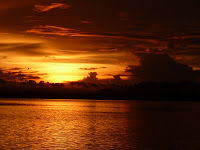 stalacmites as well as a mud volcano. The ferry till the caves goes through mangrove forests, like the photo here. The highlight of the trip however was the visit to the Parrot Island. Its an island slightly away from the mainland, where you can only go by ferry. Its a very small island, not even 500 mts wide I guess, and full of the mangrove forest. Thousands of parrots stay on this island and everyday at sunrise they all fly off, and during sunset all of them come back to this island. It is a sight to behold when at sunset, hundreds of these birds fly back from all directions, chirping loudly and creating a ruckus, all of them getting together and then landing at the island! Its a sight I cannot describe, but can just be experienced. Also, the island is fully trimmed, the leaves on the top are fully cut by the parrots who live there. I also saw the best sunset ever while going to the island. Here are some photos of this ride.
The last of what we saw in Andamans was Chidiya Tapu, a beach where apparently hundreds of birds used to come before the tsunami. Now there is just a beach, and of course a stunning sunset to see.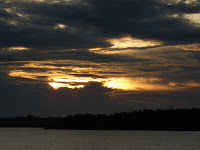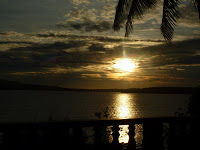 On the whole, Andaman offers a complete vacation with activity, fun, relaxation, beauty and history. And not too much of it man-made.