Are you looking forward for a short weekend break from Delhi with your wife and your children, but puzzled where to go? Hmm, why don't you add Fatehpur Sikri in your short weekend holiday packages from Delhi? It is located just 222.2 km from the capital of India - Delhi. It takes roughly around 3 hours and 38 minutes. You can reach here either by Taj Express crossing Mathura and Bharatpur or by Yamuna Express ripping through the city of Agra. This ancient city was the capital of Mughal from 1571 to 1585 set up by the Great Mughal Emperor Akbar. It is one of the best well-maintained Mughal memorials in the entire India.
This majestic and grand red stone palace is located along the stiff & rocky Sikri ridge overlooking the old Sikri town down below. Here, you can not only experience the tranquility and the screen atmosphere along with the melodious cries of the peacock and the beautiful green parrots flying over you. And, the vast open space for your children to run and play around the finely carved pillars. Aren't you looking for such a location where you can spend some quality time with your spouse as well where you can play and run around with your children? Why look here and there when you have Fatehpur Sikri.
Now let's have a quick round about its history like how it came to be built or named? It was built by the Mughal Emperor Akbar, the Great - as a symbol of his victory over Chittor and Ranthambore. Thus, naming the city as Fatehabad, the word Fatehabad is Arabic word which means victorious. And as years rolled from Fatehabad it came to be known as Fatehpur. According to records it took nearly 15 years to complete the construction of the various royal palaces, harem, courts, temple, mosque and other private quarters. Here, you can get to see the rich combination of both the Mughal and the Rajput in the carvings on the palace walls which are really impressive and magnificent to see. You might also wonder and question yourself how skilled the craftsmen of that time were, who curved such a fine piece of art. The architectures are such wonderful that you will feel lack of words to describe it. So, it is better to see and feel with your own fingers and see with your own eyes.
First and foremost thing that attracts your attention here is the grand Jodha Bai Palace – the Hindu Queen of Akbar. It is grand and great compared to other palaces located within the fortified walls of the palace. It is a two story building with summer and winter rooms for the Malika-E-Hindustan – Jodha. Second, comes the Panch Mahal where Emperor Akbar enjoyed the fresh and cool air. It is a five story building which stands majestically on 176 pillars. Third is the Diwan-i-khas, where Akbar had important meetings with his ministers. The best part of this building is its central pillar, which is in an octagonal shaft carved with bands of geometric and floral designs. Fourth is the bedroom of the Emperor himself where you can still see the high raised rocky bed floor. Other notable places are the Ibadat Khana, Khwabgah, Anup Talao, Hujra-i-Anup Talao, the Naubat Khana, Pachisi Court, Birbal's House and Diwan-i-Am or the Hall of Public Hearing, where Emperor heard the pleadings of his subjects.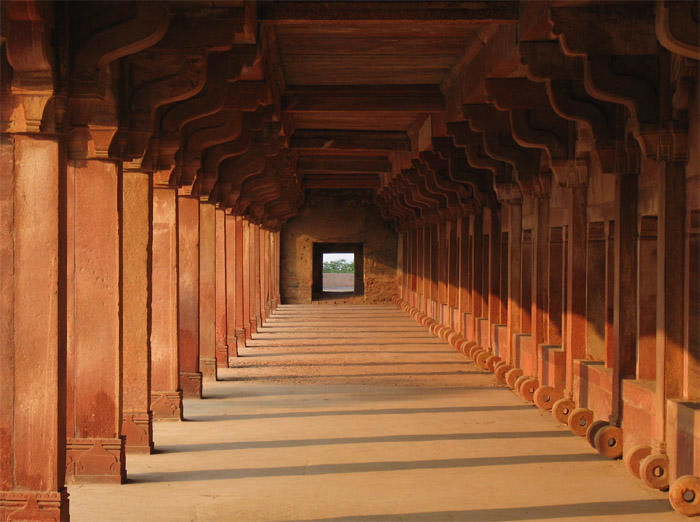 One important thing to note is if you are planning to hire a guide to explain you in detail than better to go with a government guide rather than a local one who might illustrate a cooked up story like Akbar marrying a Christian wife which is just 101% wrong. Hence, this was all a brief details about Fatehpur Sikri. Drive into this walled city and fly down the memory line of the great Mughal period and get fascinated.