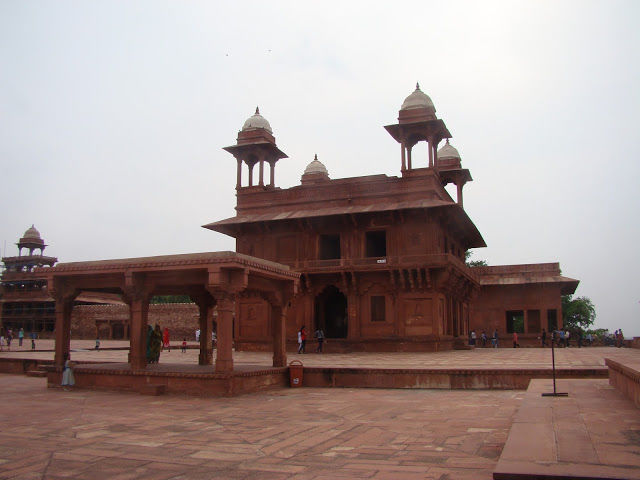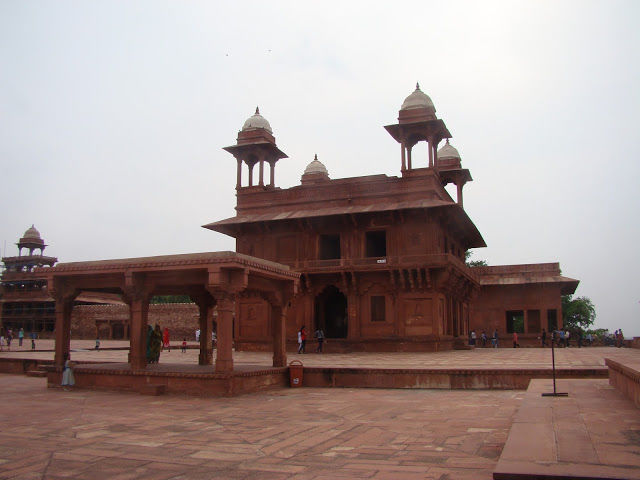 Having one of the Seven Wonders of the World in our own country draws tourists from across the world. A proud thing to flaunt indeed! Thousands of tourists flock to visit the dreamy Taj Mahal in Agra; A must see for every Indian at least. However, very few visit the other historical monuments in Agra, like Fatehpur Sikri, which I visited in July 2015.
40 kms away from Agra, Fatehpur Sikri is a city which was built by Emperor Akbar in 1569. Known for its hybrid architecture of Mughal and Hindu era, the place will not fail to awe you.
The moment you enter the city in your own vehicle, locals will try to extort money, calling it MCD tax. Since hubby has dealt with situations like this before and being the son of an Intelligence Officer, we managed to shoo away the "tax collector". DO NOT PAY ANY TAX. If they insist or stop your car, ask for their rule book or say "your dad is a cop". They will flee from the spot within seconds.
Fatehpur Sikri Mahal has a separate gate for entry where private vehicles are forbidden (reasons unknown). We were not allowed to enter in our car and charged 80 INR for car parking. Near the parking, you are made to wait for a bus that ferries you to Fatehpur Sikri Palace. Surprisingly the bus service is also not free!
Beware of the shopkeepers around the parking area who plead you to visit their shops and force their visiting cards on you. Be polite but assertive in refusing them. This kind of stalking and repeated pleads is unpleasant, leaving you feel unsafe and turned off.
We made an entry through the Buland Darwaza but could not take its picture.
The imperial palace complex has a number of geometrically arranged independent pavilions on a piece of level ground. It is believed that this pattern was derived from Arab and central Asian tent encampments. You can see prominent inspiration of of the Mughal and Rajput architecture in Fatehpur Sikri. The entire building complex construction has been done with red sandstone.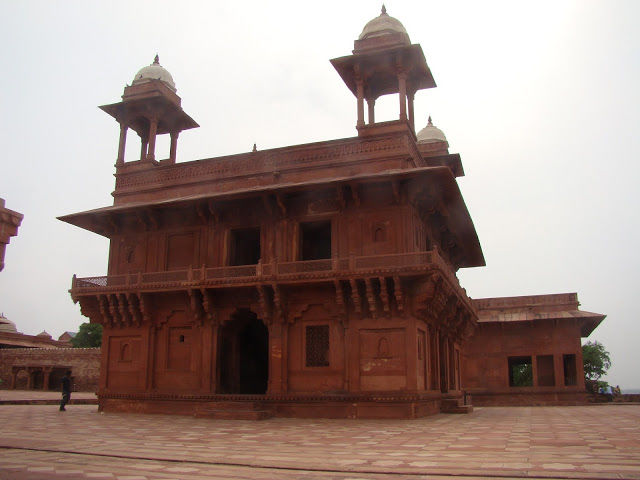 Here is the Diwan-e-khas- The place for private audience of King Akbar. He held meetings in this special court with his royal men.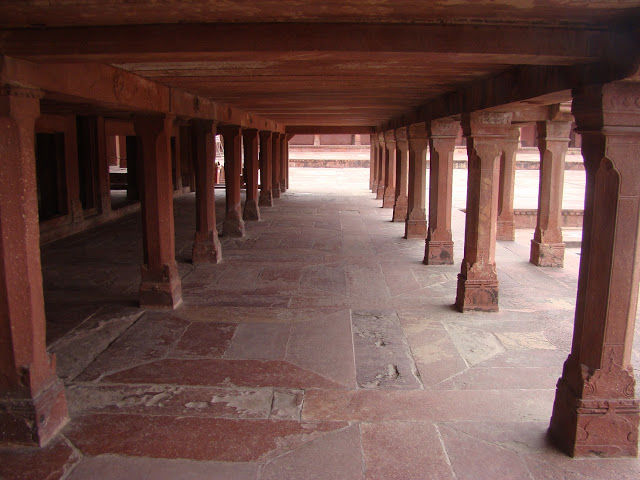 Khwab-gah or the place of dreams was the private place of the king with beautiful spacious rooms. The double story structure had a library, bedroom, bathroom and meeting room for the king to hold his secret meetings with his officials.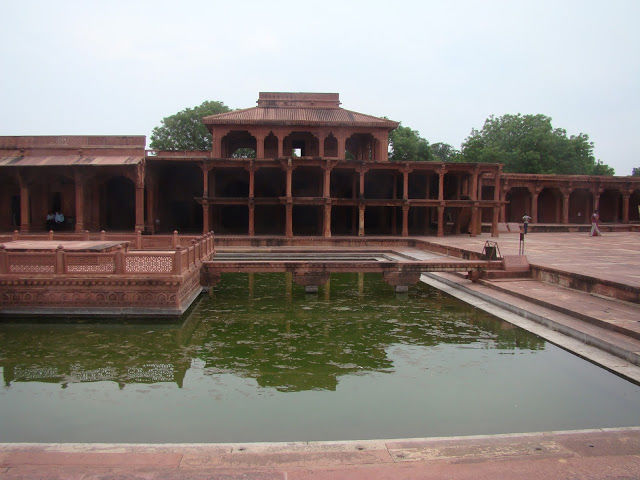 Along side is the picture of Anup Talaao, a beautiful structure amid the water tank in the royal palace. The center of the structure with raised seats is a romantic place to spend time. The pond is situated right across Khwaab Gaah.
Jodha, Akbar's wife had a beautiful palace to herself. Few glimpses of the Jodha Palace-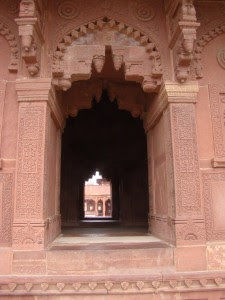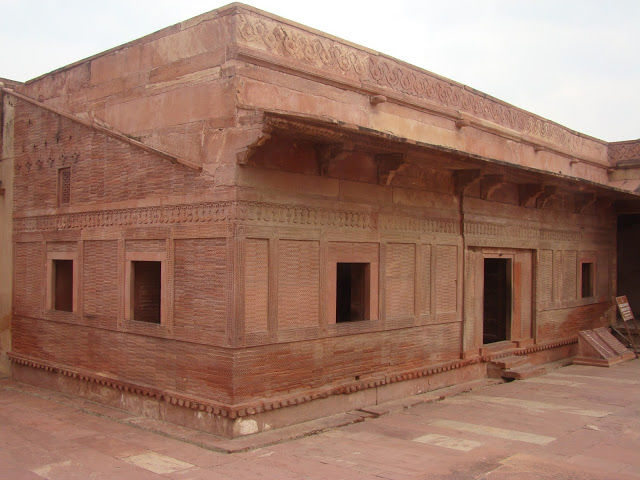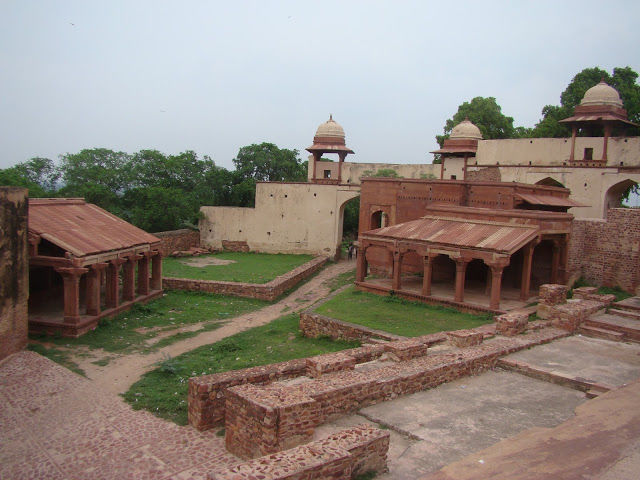 The backyard is not accessible to public and lies in ruins.
Fatehpur Sikri city is beautiful with a great architecture and cultural heritage to learn from. It is a fantastic place for photography enthusiasts and art lovers. The city makes a perfect weekend getaway from Delhi or nearby places. Best would be to travel in your own car. Don't rely on public transport because of less frequency and are are overcrowded.
Wear cotton fabric or lose clothes, not too tight or hugging. The place is VERY warm. On rainy days the place is hot and humid. July was quite warm, but the onset of rains made it little pleasing for us.
P.S- This trip of mine was in July 2015.