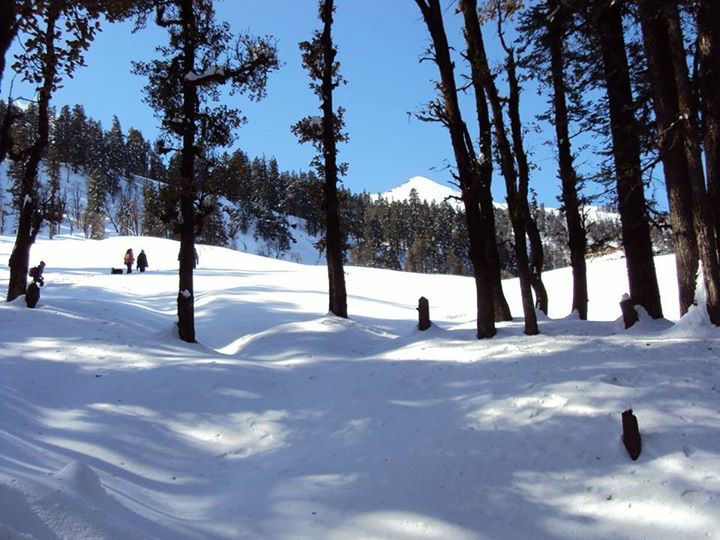 Mumbai- Delhi- Dehradun (1500 ft)- Sankri(6500ft).
A late evening flight to Delhi previous evening, metro airport line to connect to NDLS and Nandadevi express to Dehradun is where we met our group of 23 enthusiastic trekkers all booked with Renokadventures.com at Dehradun station at 8 a.m. After allocation of the tempo traveller, we headed to our base village Sankri via Mussourie, Purola and Mori. It was 8-9 hour drive scenic all through with snowfall in Mussourie and red Rhododendrons enroute. It was dark by the time we reached Sankri and were allocated are rooms for the night stay. Dinner was served at a family run restaurant and a short briefing was given by our trek leader about packing light, wearing layers and on preparing ourselves mentally for the trek.
Sankri(6500ft) to Juda ka talaab(9100ft) campsite .
With beautiful views of snow capped Himalayas,we woke up, had bed tea, breakfast at the same place as dinner and we 23 trekkers, lead Preet, co-lead Yogi Bhai and 4 others including the chef and the helpers were all set. I had actually chosen March to skip the cold but our trek days turned out to have maximum snowfall of the season. A kilometre of walk and the incline started. Snow filled pine trees all around were a visual treat for the eyes all through. Enroute clear view of swargrohini made the walk even better. We could hear the sound of silence from here onwards. After a 4 hour climb we reached our next camp at Juda ka Tallab, a breath taking sight of the frozen lake with snow capped pine trees was mesmerising. On hearing two contradictory stories of the lake one which said two lakes came together to form one that's why togetherness(Juda) while another one said of two separate lakes at a distance so separation (Juda). Interesting. Evening was spent by all trekkers in the dinner tent giving warmth to each other. Scrumptious dinner was served, oxygen levels were checked, instructions to consume 4 litres of liquids were given and were allocated our camp tents with individual sleeping bags and inners. Getting into the bag and zipping yourself being a task for first timers.
Juda ka talaab(9100 ft) to Kedarkantha base camp(11,250ft)
Waking up to the views of the Himalayas, the first rays of the sun making the peaks shine like gold was a sight to die for. After breakfast a quick hands on training was given to fold our respective tents and to load it on the mules. Being Holi, we had a colourful celebration high up in the hills. Loaded our personal bags on our back and the trek started, an uphill climb of 2-3 hours to reach Kedarkantha base camp. Micro spikes provided by the team at this stage was a pure blessing. The sight got more and more breath taking with every step upward. After pitching in our own tents and a wonderful lunch, we all again met in our dinner tent for evening round of fun and games. Due to bad weather, it was not possible to do the acclimatisation walk that evening. Fun, soup followed by dinner and back to the tents for a sleep, the routine was kind of setting in.
Sumit to kedarkantha peak (12,500ft)
All excited we were for sumitting that day. A further climb of 2 hours bought us to a point further which it was not possible to go due to 5 feet of snow. The summit was bought down 600 feet and we were informed that this point itself is our summit. Group pictures were taken, sumitting was acknowledged and we were back to our base camp. Descending is always easy and gives you many a chances to slide down, total fun. It being my birthday a cake was prepared in the kitchen. Birthday celebrations at 12,000 feet is once in life time. With songs and regular activities with a delicious dinner we retired for the day in our camp tents.
Descend to Sankri.
After breakfast, we walked down to Sankri base camp. It was a challenging 5 hour walk down and with many a fall, slippery due to melting ice. The change in weather could easily be noticed, the trees were now green the white cover had melted. Lunch was served in Sankri and a tempo traveller bought us back to Dehradun. The trek ended with mixed feelings and a great sense of achievement.