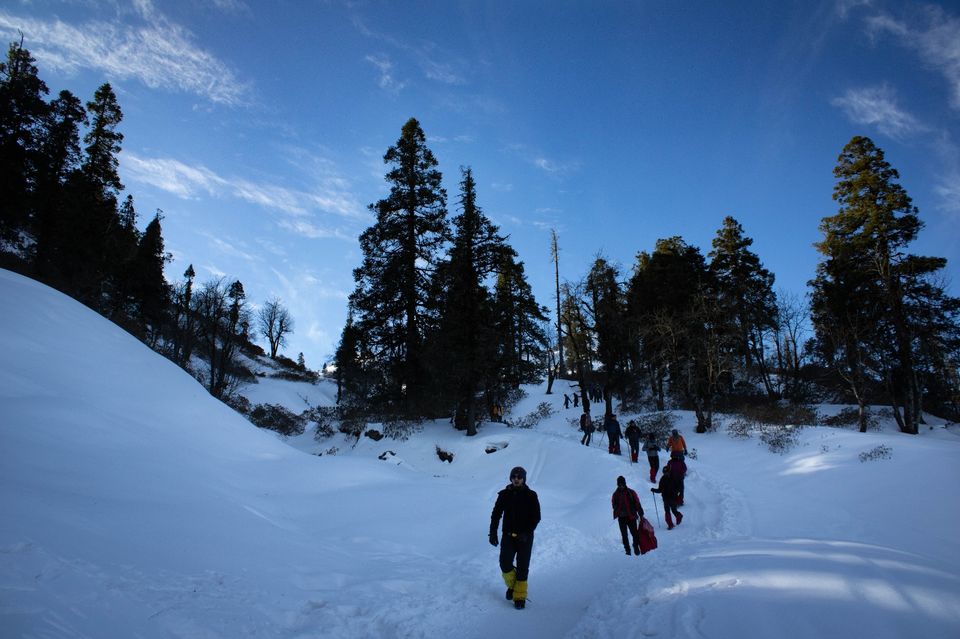 SANKRI TO JUDA KA TALAAB (TREK 3-4 HR) :
After having breakfast, we will set out on a moderate hike which, for the most part, goes through the forest. We will walk to Saur village and then climb up till we reach a small pond, Juda-ka-Talab, which is frozen during winters. As we continue climbing up, we will get fleeting glimpses of the snow-capped Himalayan peaks. One more hour of hiking will take us to the meadows where we will camp overnight, in tents.
DEHRADUN TO SANKRI (2000M) 9HR DRIVE:
The journey will start at 7.00 am from Dehradun Railway Station to Sankri and it will take around 9 hrs. We will drive via Dehradun and Mussoorie, alongside the Yamuna and also passes by beautiful pine forests. On reaching Sankri, we will explore the scenic hamlet to prepare for the trek. Over night stay at Sankri.
JUDA KA TALAAB TO KEDARKANTHA BASE CAMP (TREK 2 - 3 HR )
Kedar Kantha base becomes our destination for the day and we start for it post breakfast. Today will be a busy day for the shutterbugs as the trek route is beautiful with open views on all side and vast snow fields decorated with green patches. However, our destination is even more impressive. Imagine a vast open, snow fields, the size of two
football fields, a stream running by and misty mountains forming the background − this is the Kedar Kantha base where we will camp
overnight in tents. We told you it was impressive!
SUBMIT KEDARKANTHA PEAK AND BACK TO JUDA KA TALAB:
Now imagine, if the Kedar Kantha base is thats tunning, what will the view from the summit be like? The distance to the summit is not long but the
climb is steep and depending upon the snow conditions then, we will pick the best route − and it will take about 2−3 hours. As for the view from the top − you will be able to see all the mountains of the Yumnotri, Gangotri and the Kinner Kailash range, plus the valleys. Next, we will descend the
peak and trek all the way down to Juda−ka−Talab or an alternate campsite, depending on which route we choose. Overnight in tents.
JUDA KA TALAB TO SANKARI AND DEPARTURE TO DEHRADUN:
We will return today after an early Breakfast. We will reach Sankri at
around 11 o'clock. After reaching Sankri, we will board the vehicles and
start driving back towards Dehradun. Arrive in Dehradun by around late
afternoon 6.00 PM.