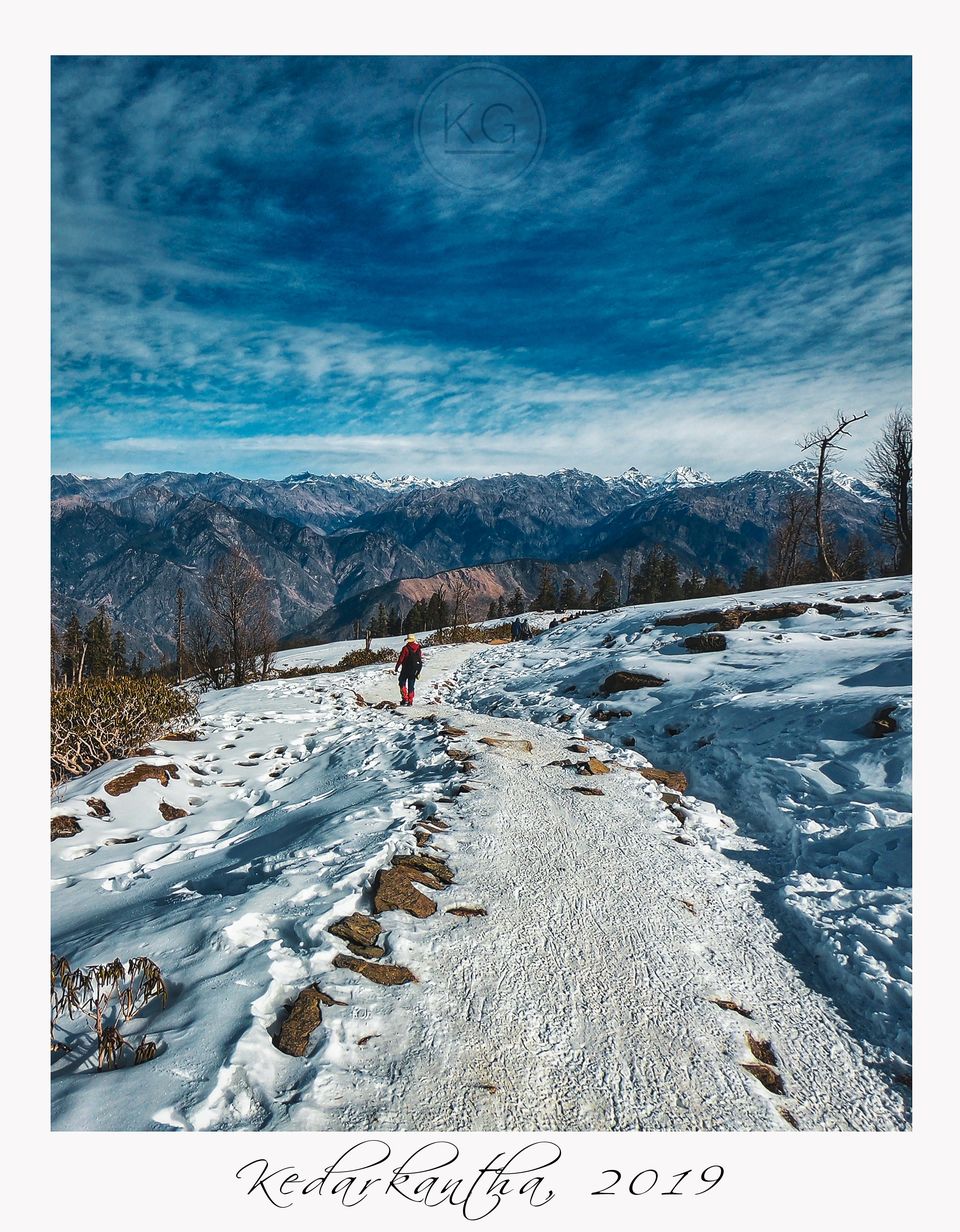 I always dreamt of trekking & summiting a mountain peak. But never got an opportunity. Finally that zeal and opportunity came on 27th December, 2018. I started my journey for Kedarkantha (A peak in the Garhwal Range of Himalayas).
I was quite thrilled for the trek as this has been my first ever trek to the mighty Himalayas that too a winter trek. Bought all my trekking gears from Decathlon a month back, saw the video of Kedarkantha in YouTube a zillion times, increased my physical fitness and was totally ready to summit Mount Kedarkantha.
It's not a hard trek, it is classified under the beginners trek. But the tough part is the weather. So Kedarkantha Trek for winter can't be classified under easy category trek, it is rather moderate for me. The day we summited the mercury went down to as much -25 degrees Celsius. So you can guess the harshness of it.
The scenic beauty of Kedarkantha trail in winter is incredibly beautiful. We stay in busy, crowded cities. For us seeing all this greeneries, all this calm and peace around sometimes feels like a dream. I kept asking myself "Is this for real ?"
I believe trekking is something which actually connects one with the mother nature. One starts to feel its own existence. As a photographer myself, I always keep clicking here and there, but I too believe that one needs to keep its gadgets down for a moment and feel the nature. It's the best detox one can get!!
Mother Nature has a lot to offer us & teach us, it's up to us whether we can learn from it, it's up to us whether we can start being a human.
KOLKATA TO DEHRADUN (1,466ft) 27th & 28th December, 2018
My journey started from Kolkata. I took a flight from Kolkata to Delhi. Stayed in Gurgaon for one night at one of my friend's place. The next day morning I went to some of the best happening places in Gurgaon (Cyber City & Sector 29) with my friend. In the evening I went to New Delhi Railway Station. From there I boarded Nanda Devi Express for Dehradun. Next day morning I was in the Dehradun Railway Station. It was a chilly morning. I freshened up in the station and started sipping a cup of chai (tea) by the time my other friends & trek mates arrived.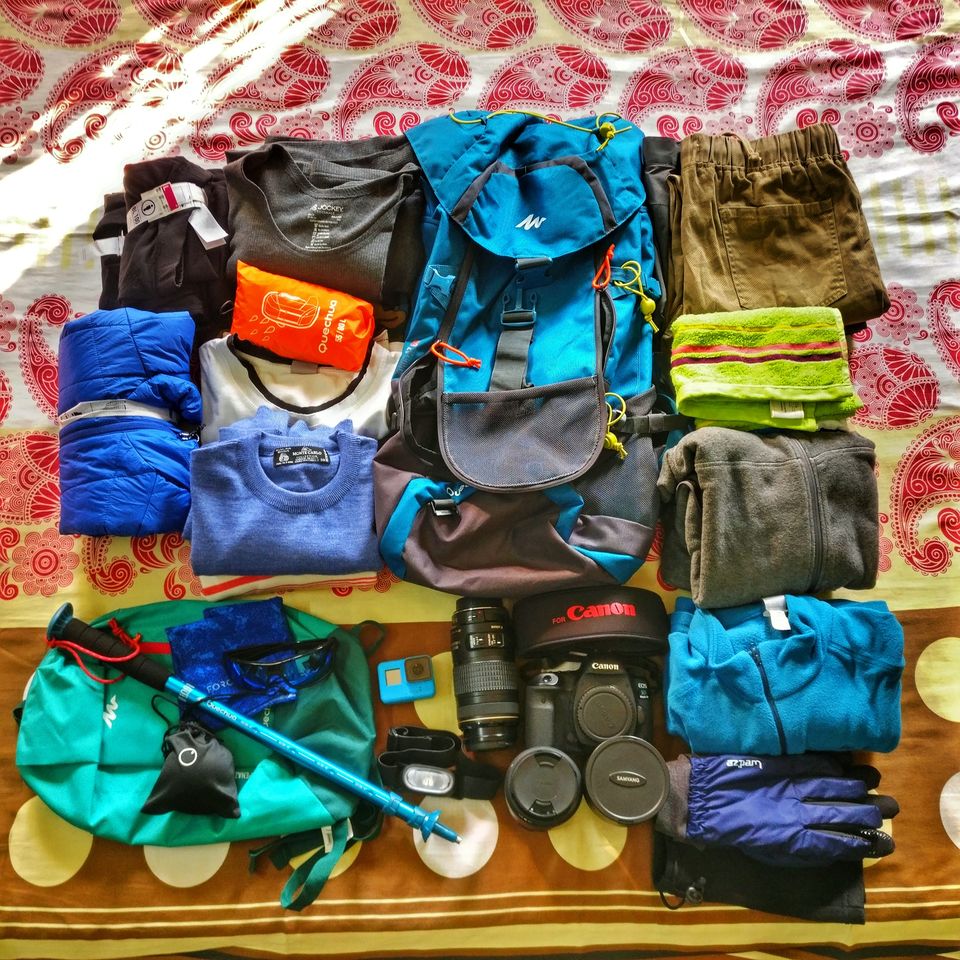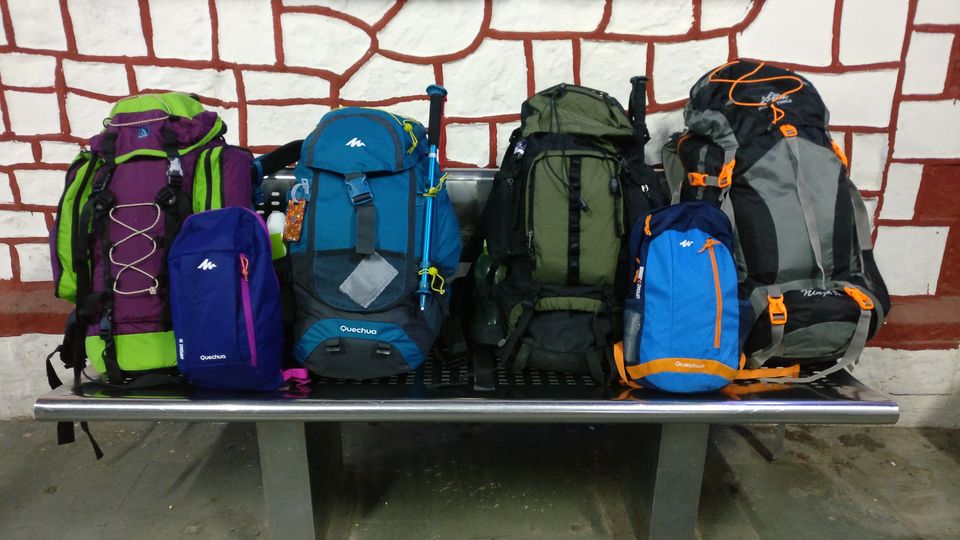 DEHRADUN TO SANKRI (6,455 ft) – 29th December, 2018
After having a light breakfast we started our journey by a tempo traveller bus for Sankri– The base camp from where the trek starts. It almost takes 8 to 9 hours to reach Sankri from Dehradun so it's preferable to start early so that we can reach there before sunset.
On the way to Sankri we first took a halt in Kempty Falls, Mussourie to have a proper breakfast. Checked out the falls. This was my second time in Kempty. Last time I went with my parents in 2017.
As we were going up the temperature was dipping, but the sun rays were comforting us. The ride from Dehradun to Sankri is one of the best part of the trip. We again stopped at Purola for the lunch. There was a beautiful stream (Tons River) nearby. Purola was the last place where one can get a proper mobile network with 4g connection. We called our family members to inform them that we will now be out of the radar for the next 5 days. That actually felt a bit odd but that's okay. After all everything has a first time!
The sun was almost setting when we reached Sankri.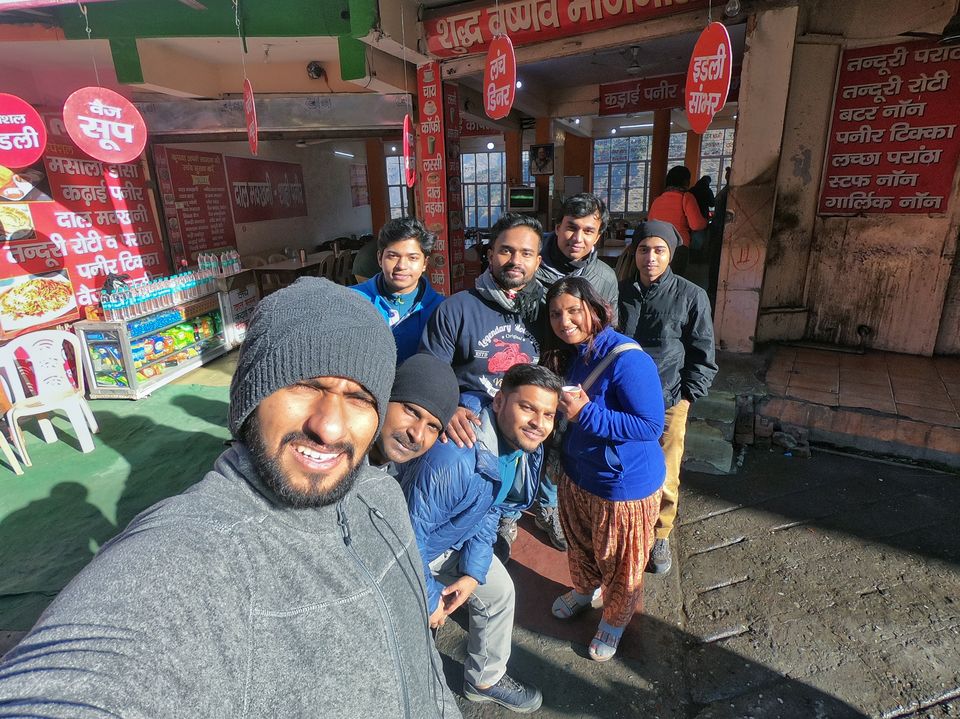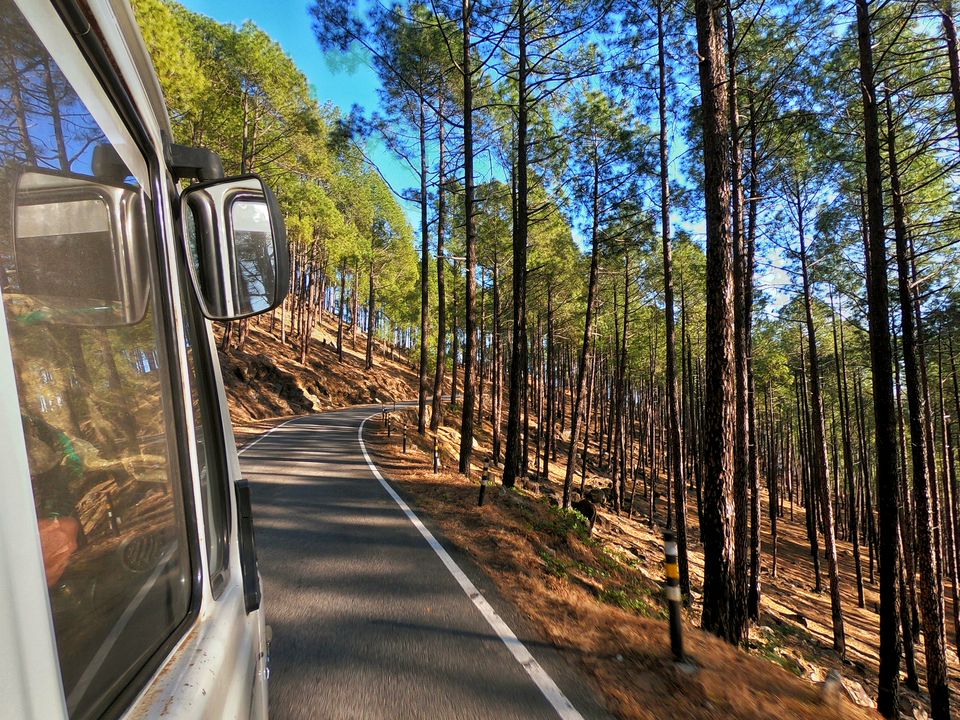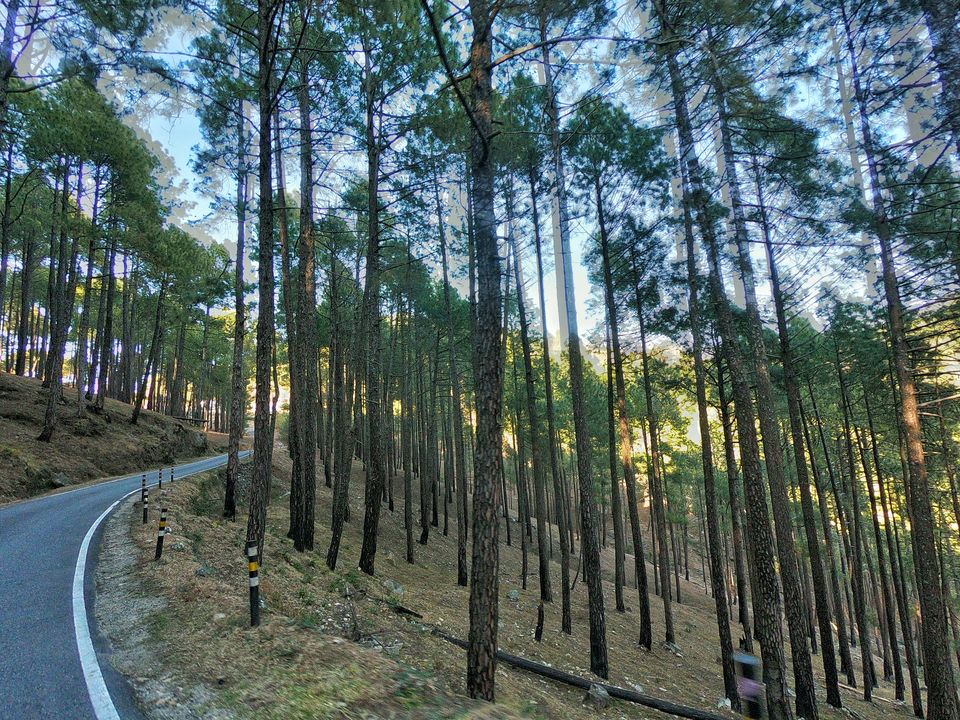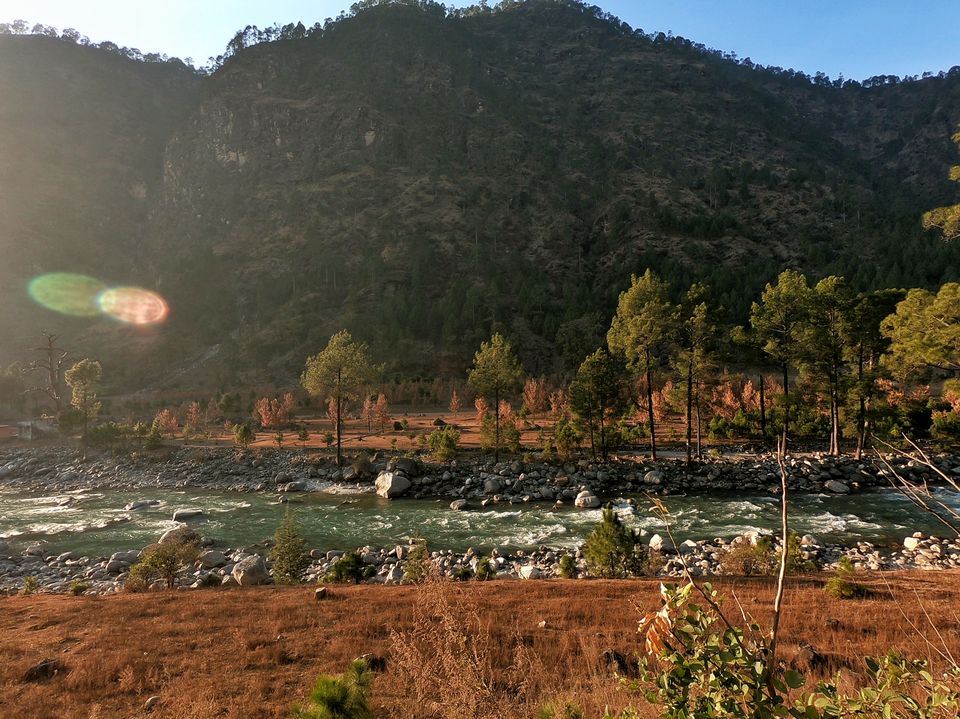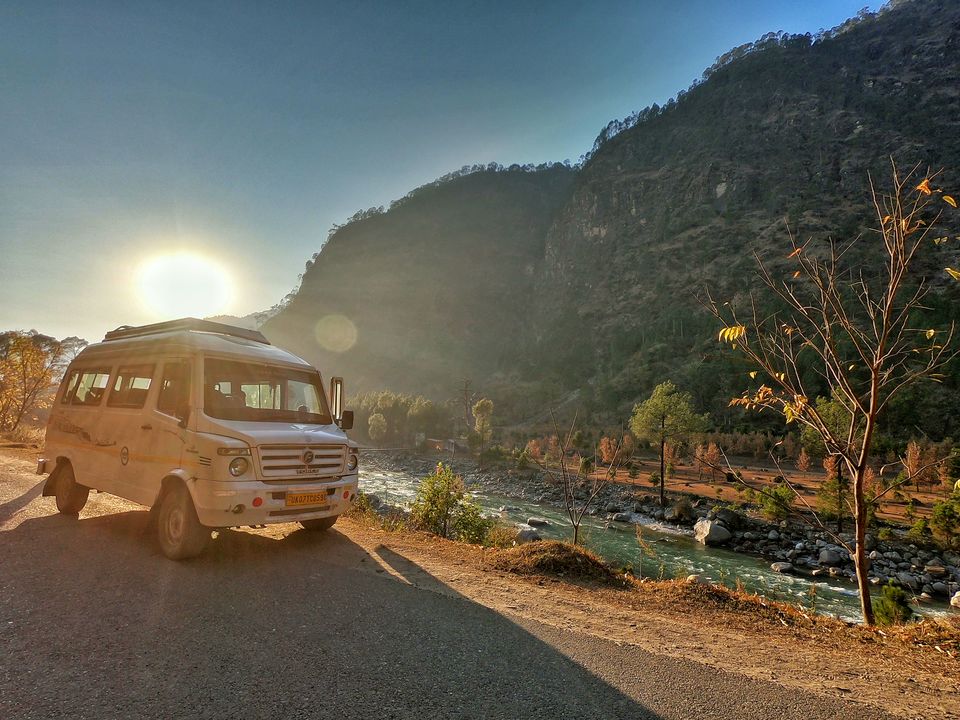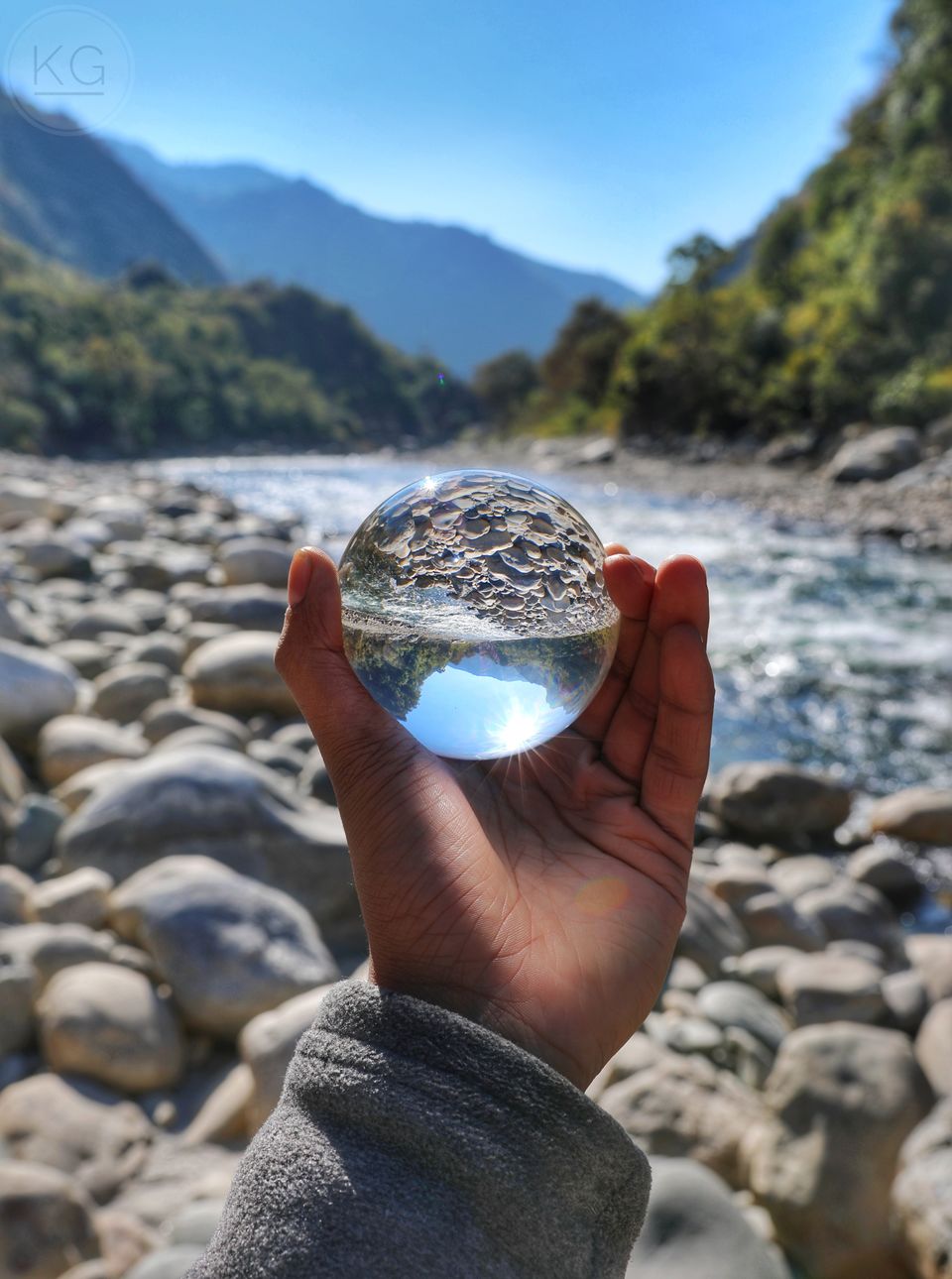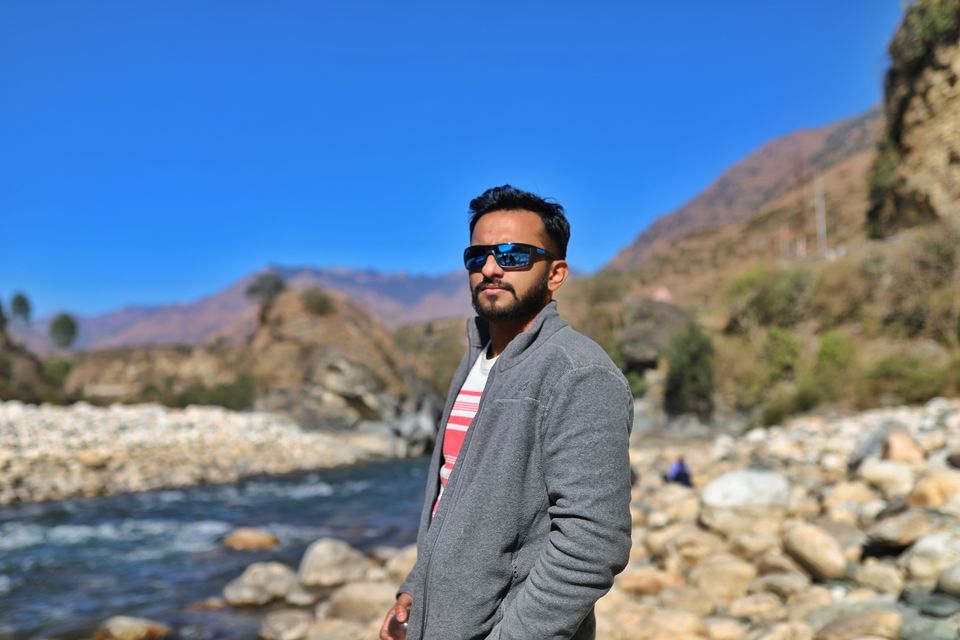 SANKRI (6,455ft)
Sankri is a small village in the northernmost part of Uttarakhand. It is the last village to have a motorable road in that area. We stayed at a guest house. It was very cold and as the night progressed the mercury dipped more. We kept our bags in our room and went out to have some snacks and chai. Nothing goes better with this weather other than a hot cup of tea. We chatted for some time, had our dinner and soon went to bed in anticipation that we will be starting early for the trek next day.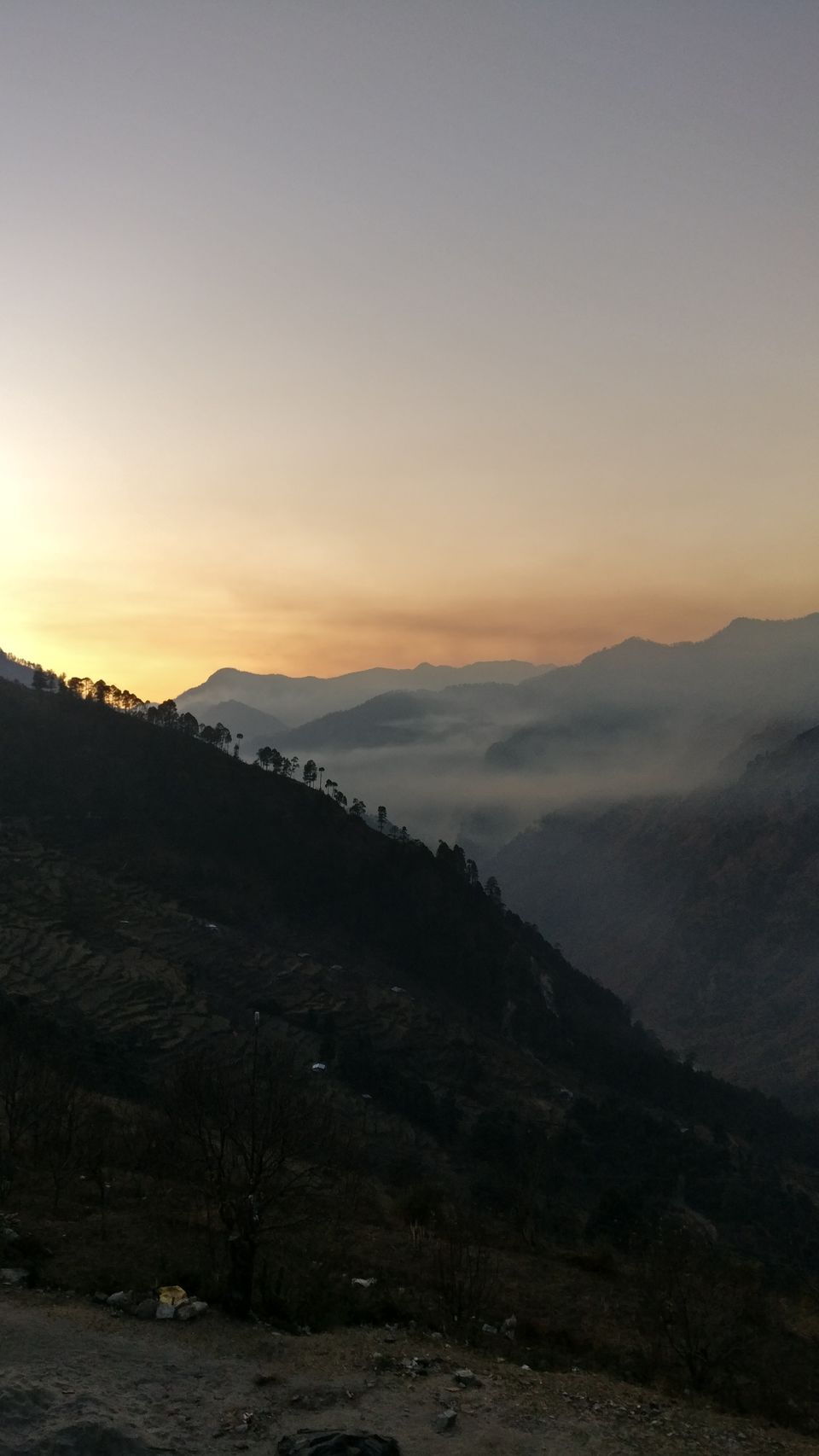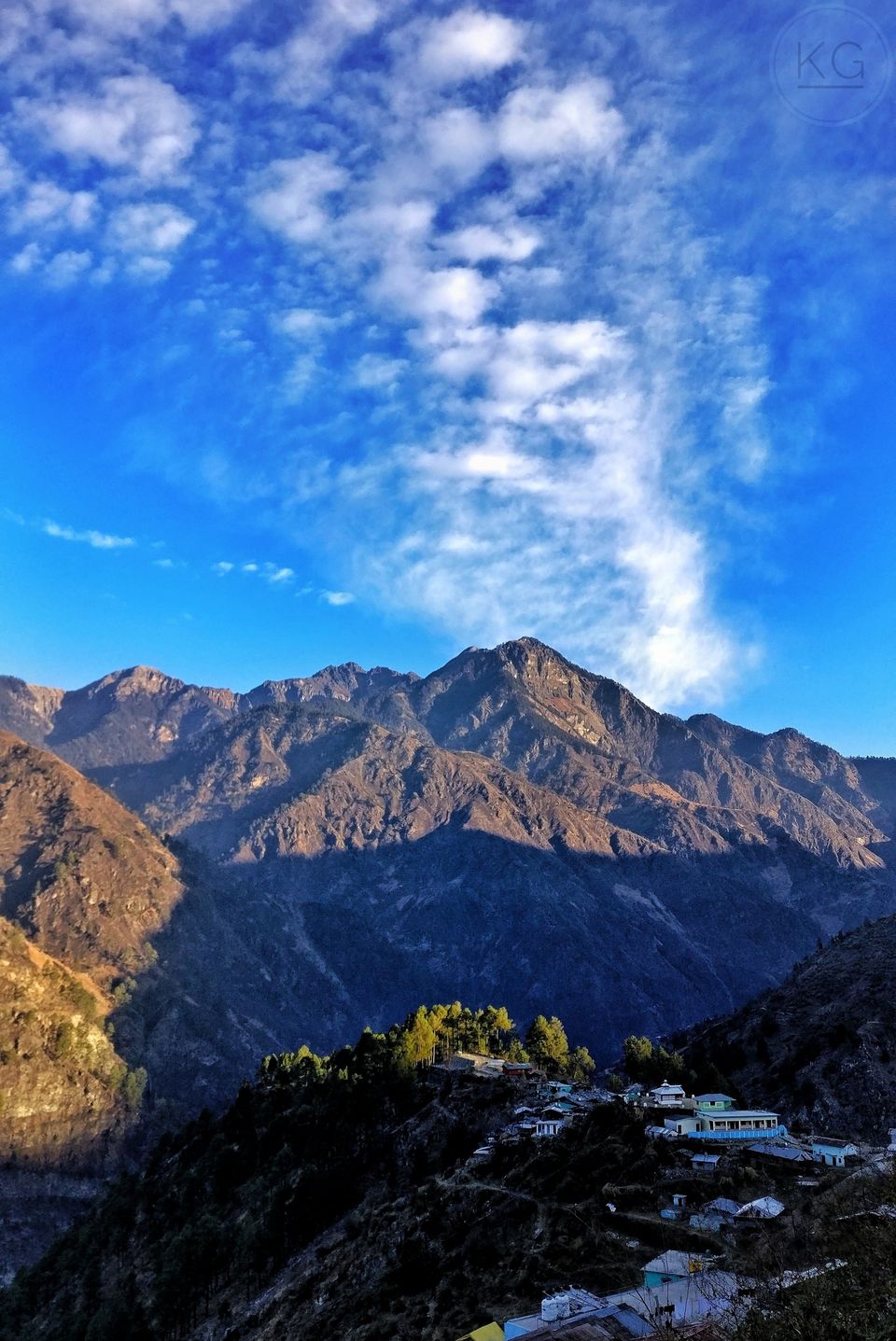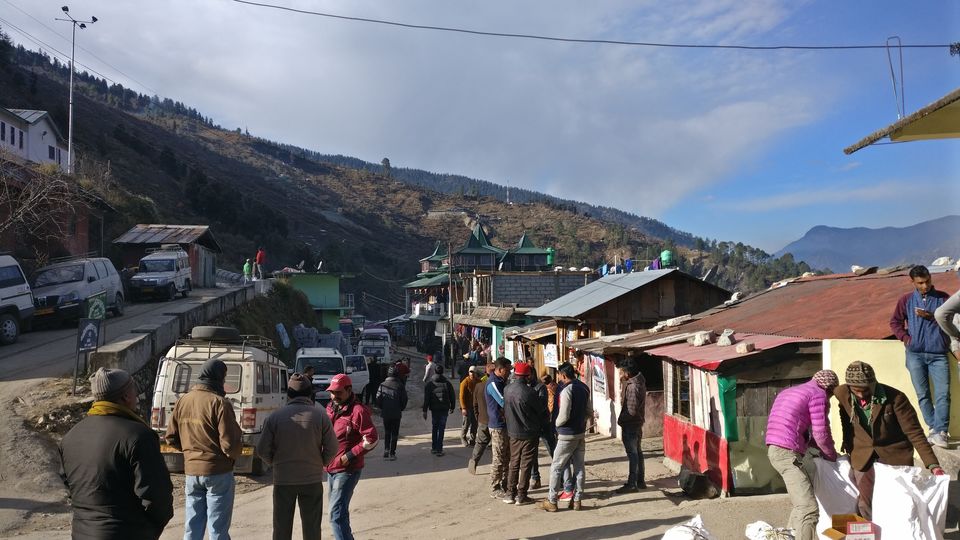 SANKRI TO JUDA KA TALAB (JKT) - (8,860 ft) – 30th December, 2018
Kedarkantha Trek's total trail length is 25km. Sankri to JKT is around 5kms which generally takes 4 to 5 hours. We started our trek by 9am after having our breakfast. Our trek leader Chandra Prakash Rawat gave us a short briefing about our route and the basic rules that we need to follow.
Trek Tips 1.0:
• Don't hurry, be slow & steady.
• Mind your steps, place your foot firmly on the rocks.
• Hydrate often – the most essential thing else you might develop altitude/mountain sickness.
• Feel the nature and enjoy!!
We stopped on our way to a beautiful meadow surrounded by Pine Trees. There is a small hut/shop where one can get chai, Maggi etc. We had a hot cup of chai there and some chocolates to gain some energy. Chocolate is a real saviour!!
Carry loads of chocolates and dry fruits. This surely provides a lot of energy.
On this route, we encountered our first snow patches. This was the first time in my life I got to touch the snow!! I was so happy that I started behaving like a kid & started throwing snow towards my friends!!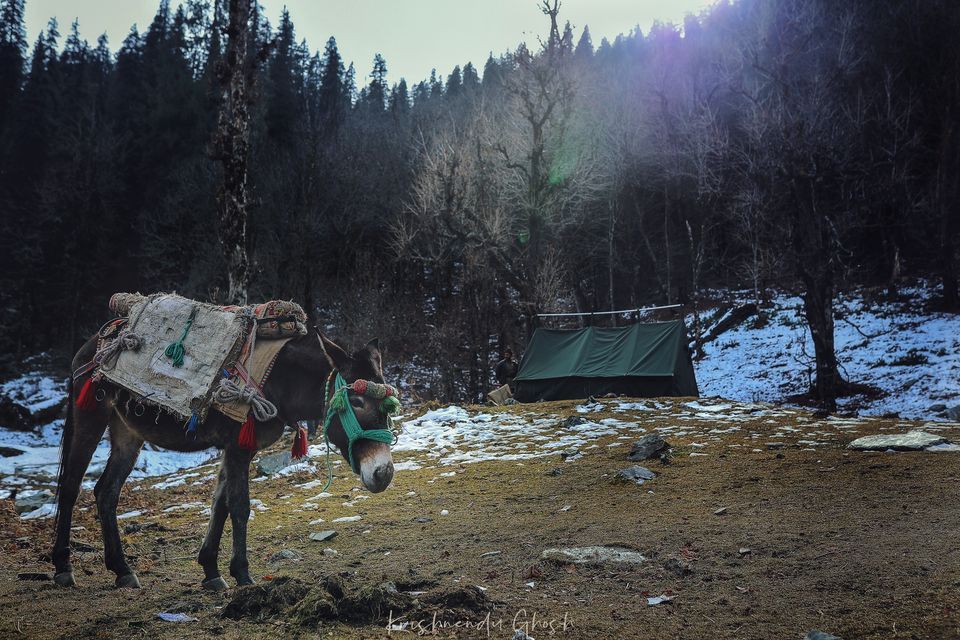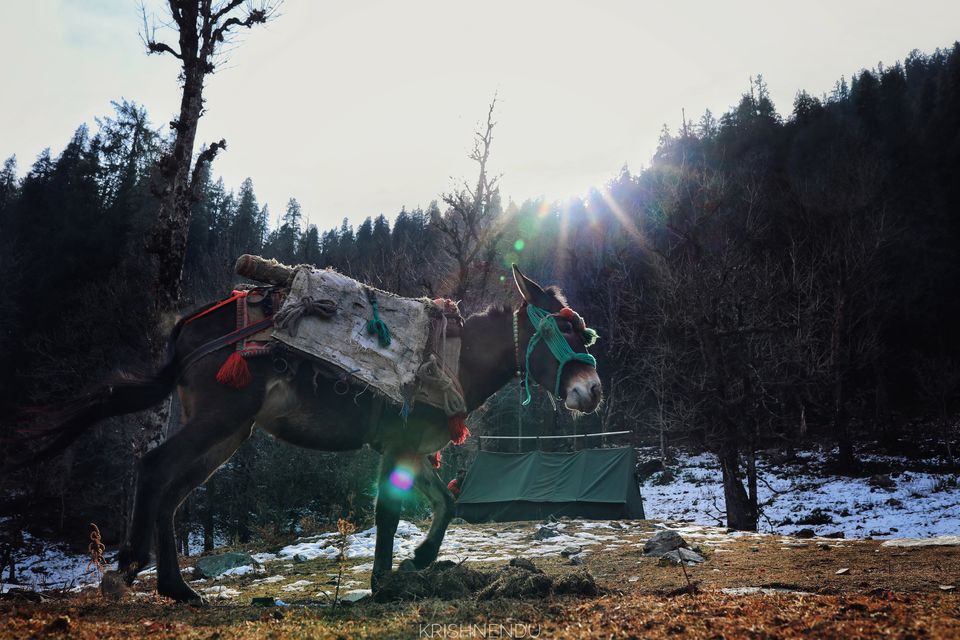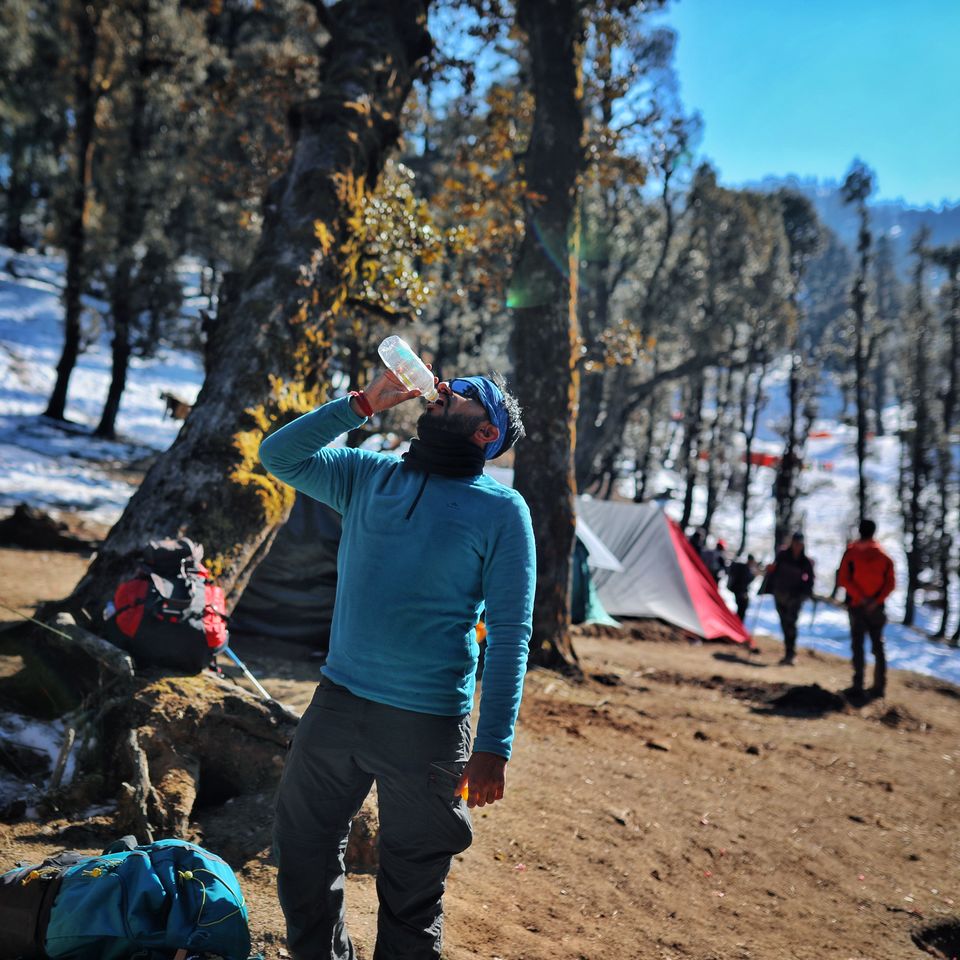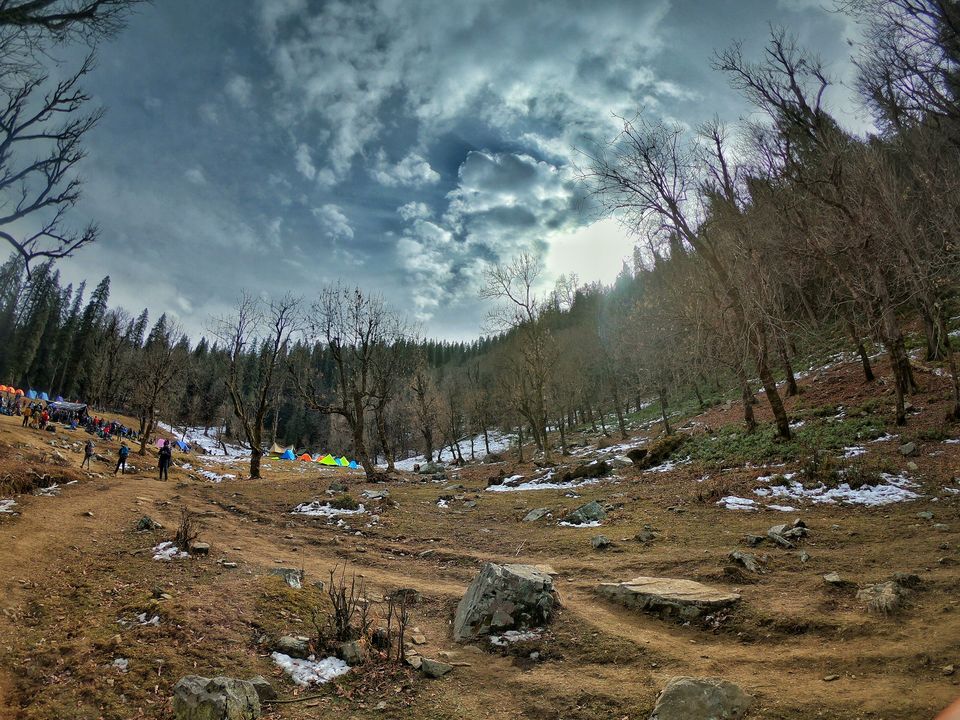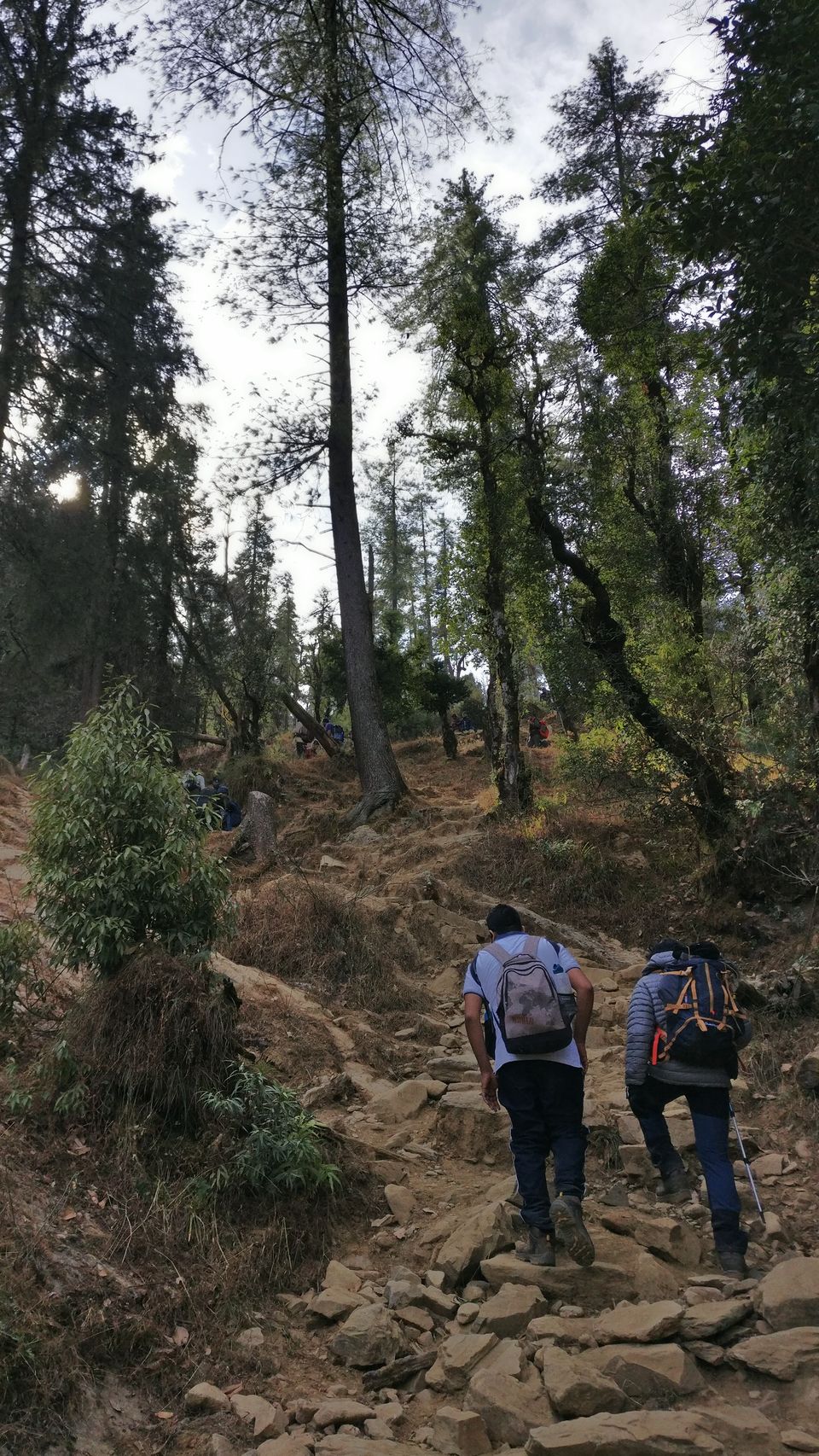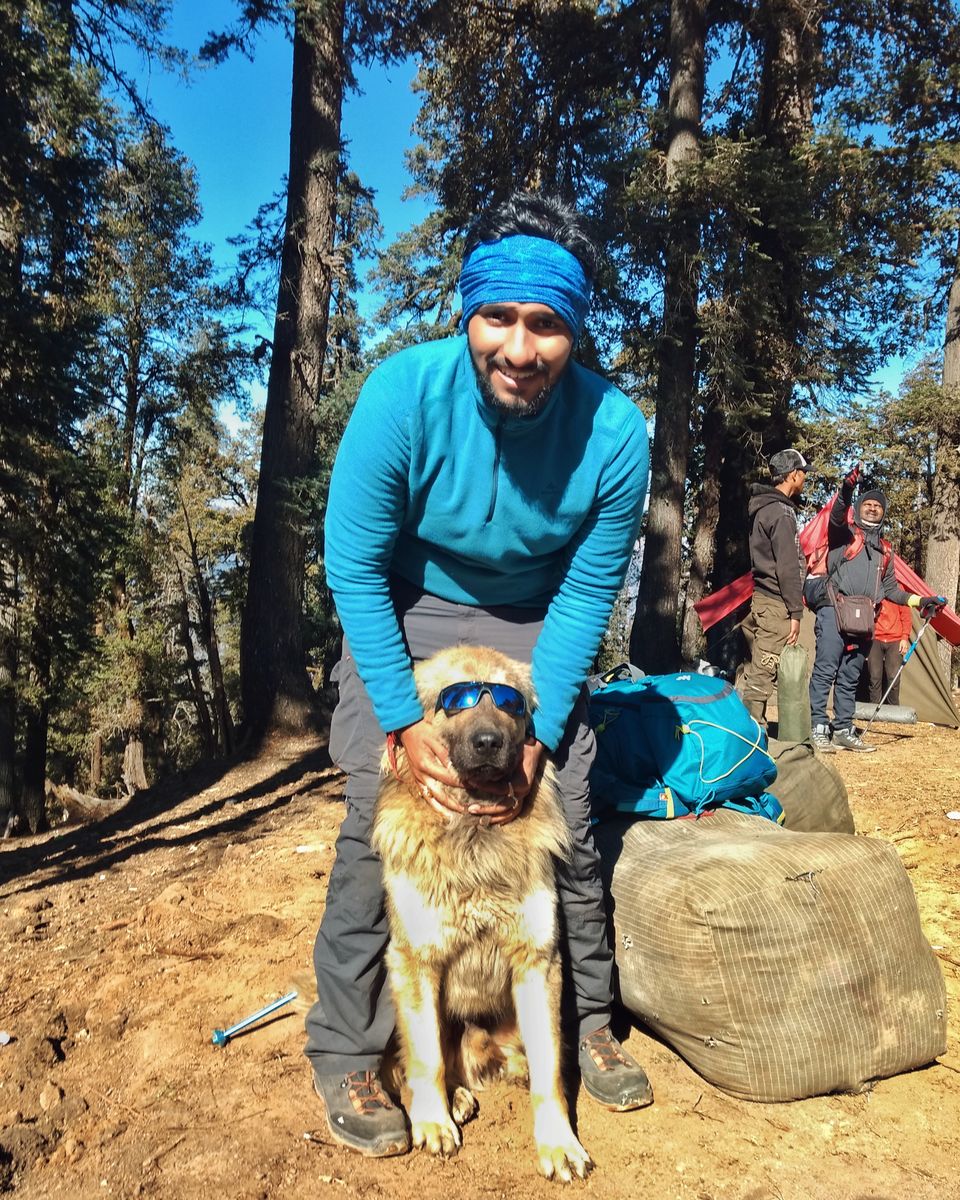 JUDA KA TALAB (JKT) - (8,860 ft)
It is a beautiful lake (tal) sitting right in the lap of mother nature with oak and pine forest around it. It remains frozen during the winter. We reached JKT at around 3pm. Quite tired, but quickly we set our tents. Chandra Prakash showed us how to fix the tent and pack our sleeping bags. After having our lunch we started exploring the nearby forest area (Govind Pashu Vihar National Park & Wildlife Sanctuary). It was quite a calm and peaceful nature walk. We collected some wood logs and twigs for lighting up our own campfire for the night Adda (chat) session. We dug up a small hole where we kept those logs and twigs. Chandra Prakash showed us how to light up fire using just two branches without the help of any match sticks & lighter. These are those moments when you get to connect with the nature in real. There are a lot of satisfaction and happiness when you get to see the smoke rising and then the flame from the branches after constantly rubbing it.
Meanwhile the sun has already set. With our woolen caps and gloves on we sat around the campfire and had tea & snacks. There is no mobile, no internet nothing ! Felt like our childhood days. When actually we used to talk in person and not over WhatsApp or Facebook. Surrounding the camp fire we were around 15 people from different parts of the country. All sharing different experiences that we had in our lives. It was quite a moment there.
After some hours, Chandra Prakash called us for dinner. We went near our tent area and that's when I got to encounter a beauty.
The Sky Full of Stars!!!
(scroll down to see the photo)
I have never seen so many stars. It was a marvelous sight. I quickly went to my tent and brought my camera and started taking photos of the sky. This was the first time I tried Astro Photography. I was totally taken aback by this heavenly sky scape. The milky way galaxy was right in front of us. I laid down in the open field and kept gazing.
I can actually feel that moment again as I am penning down. Having a tremendous throwback moment!!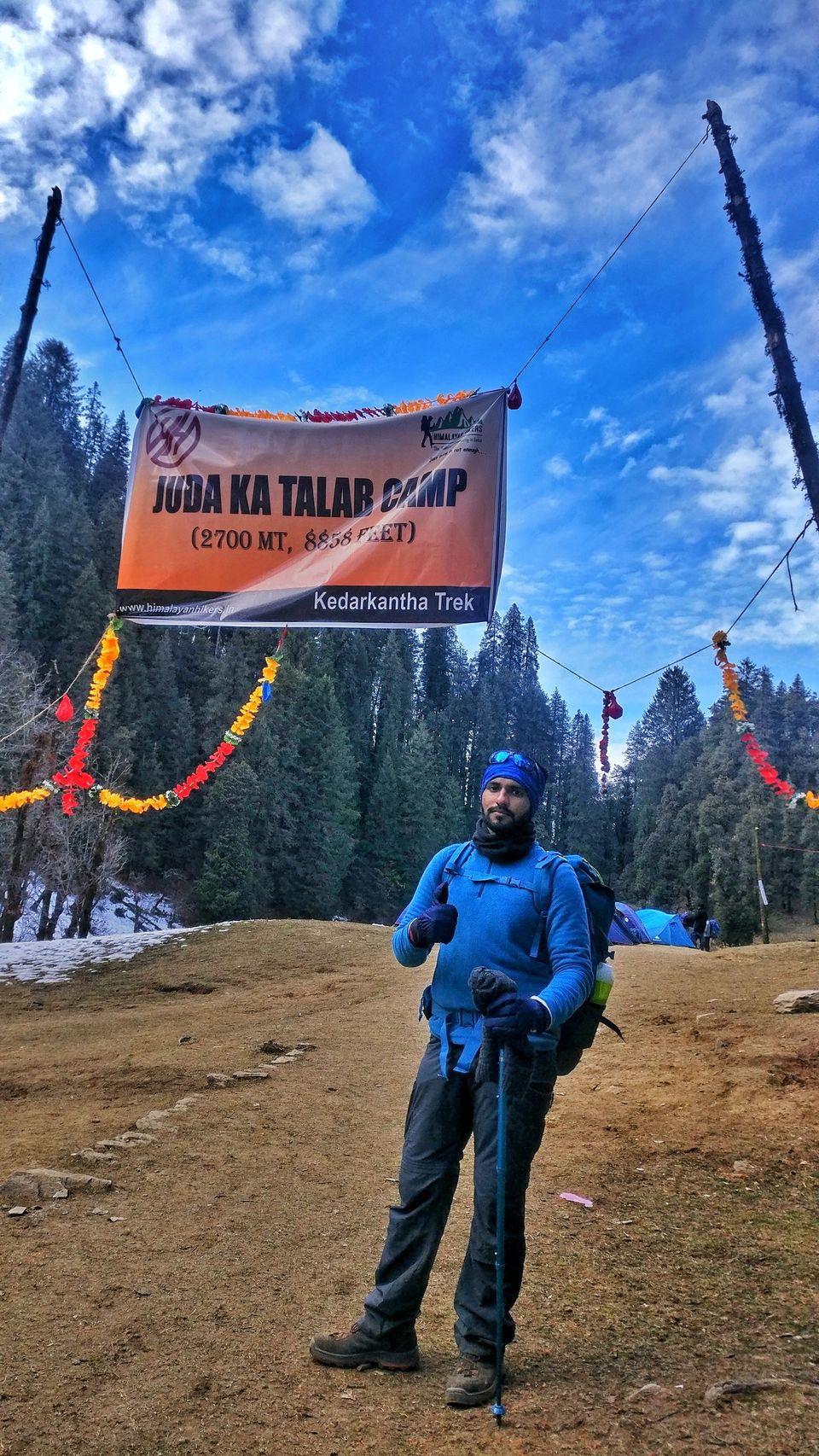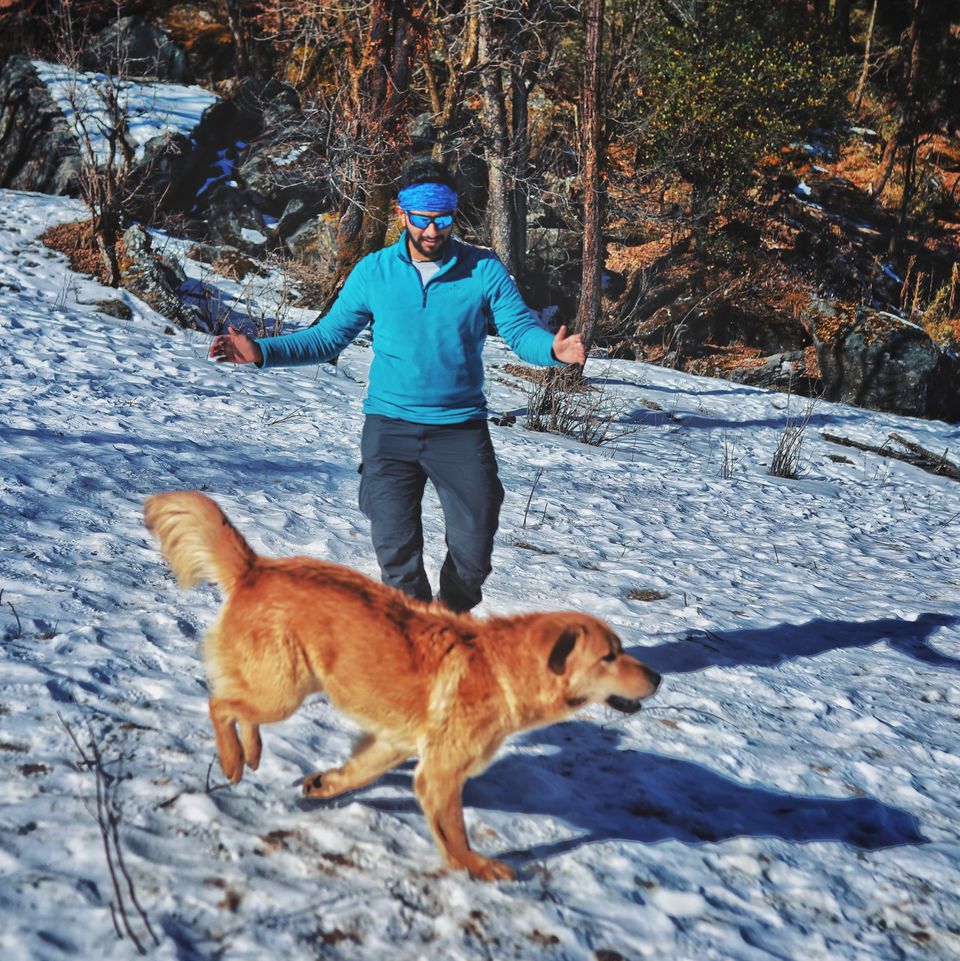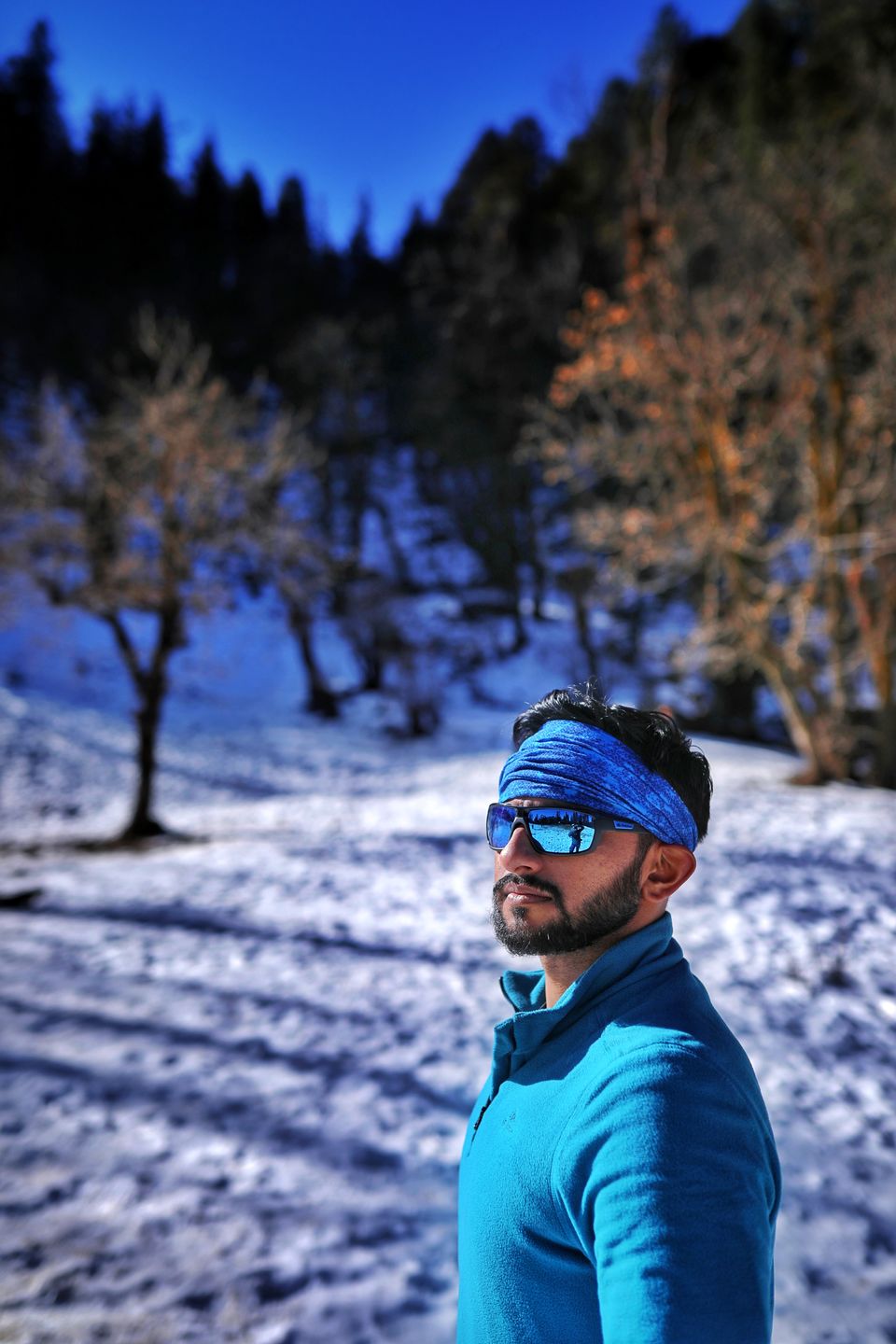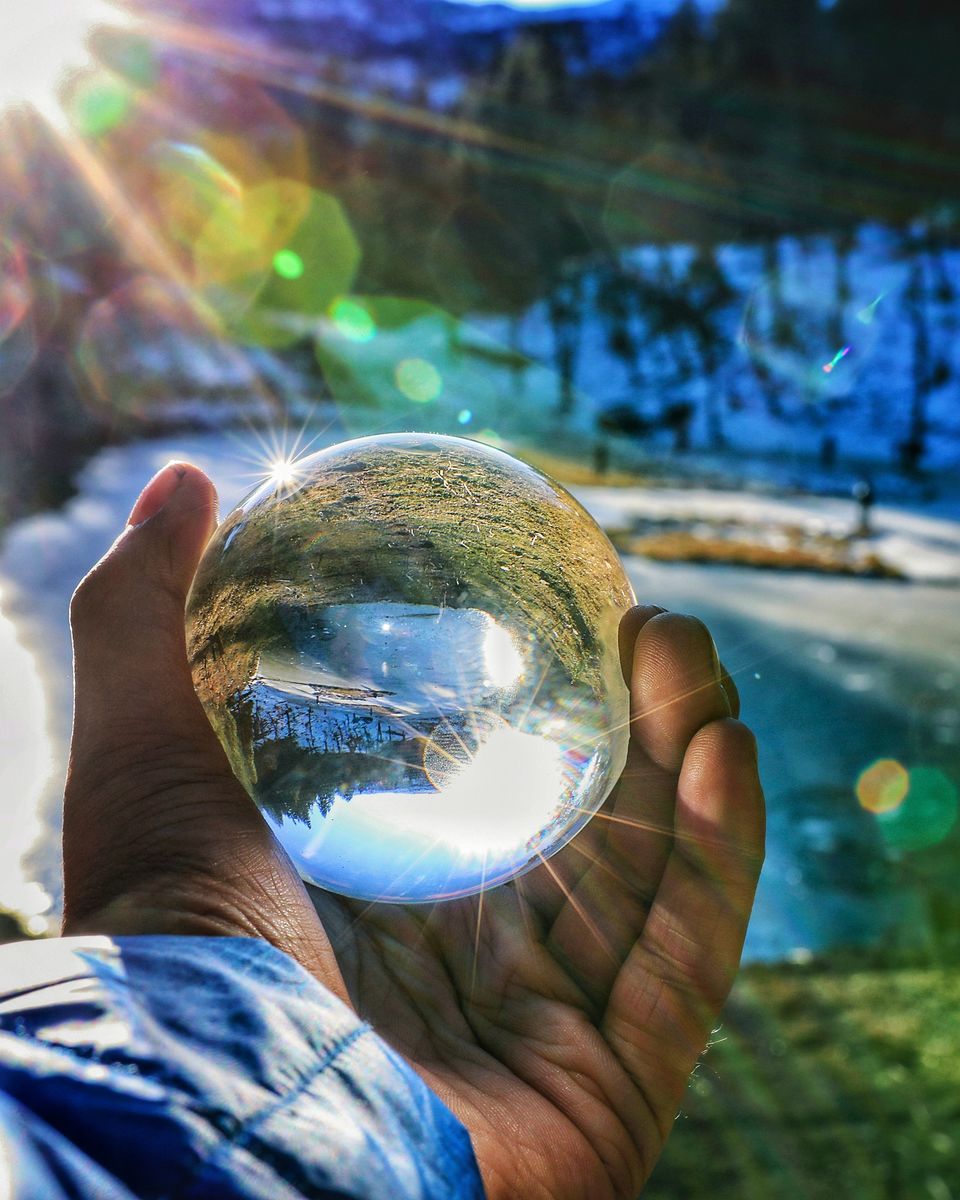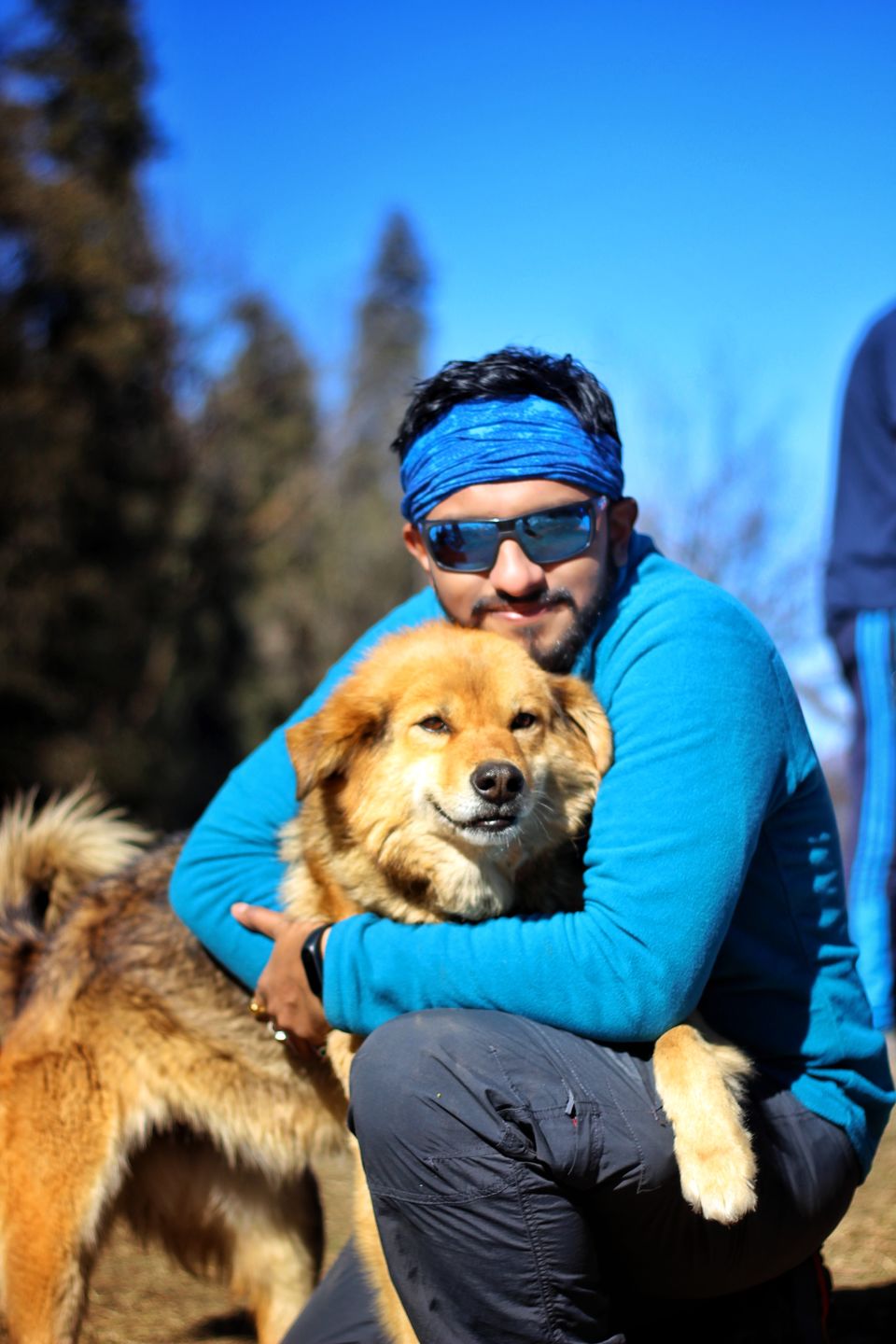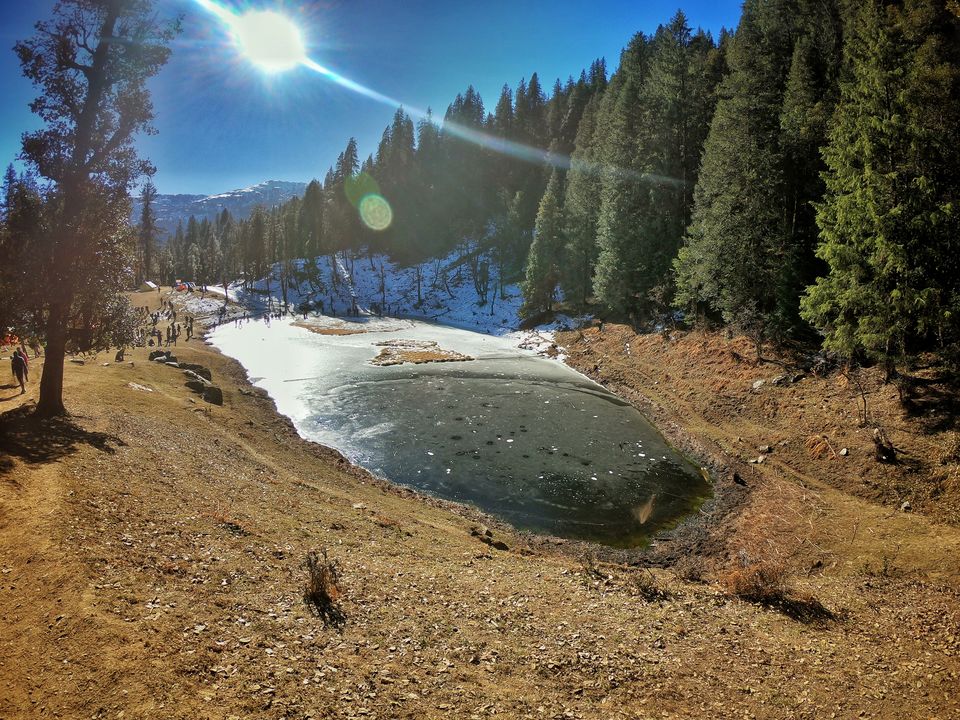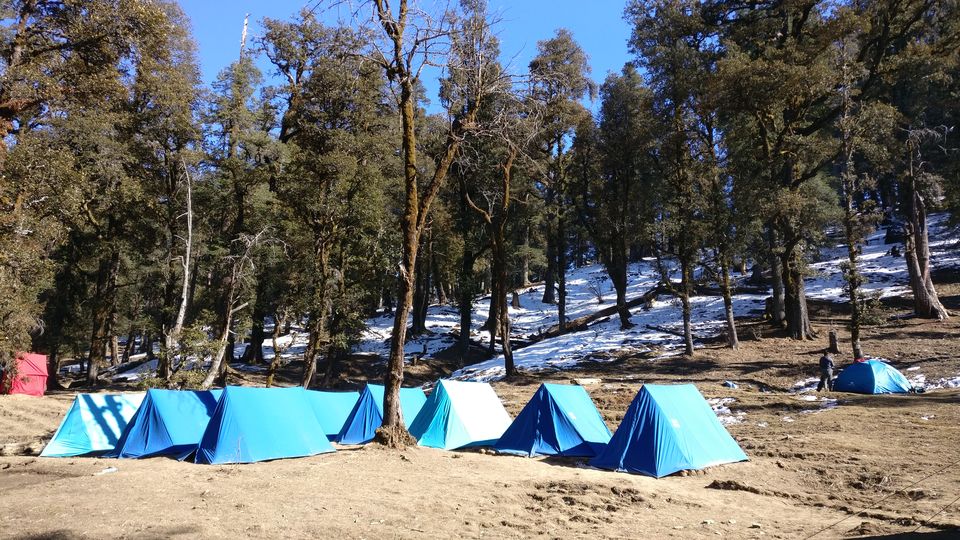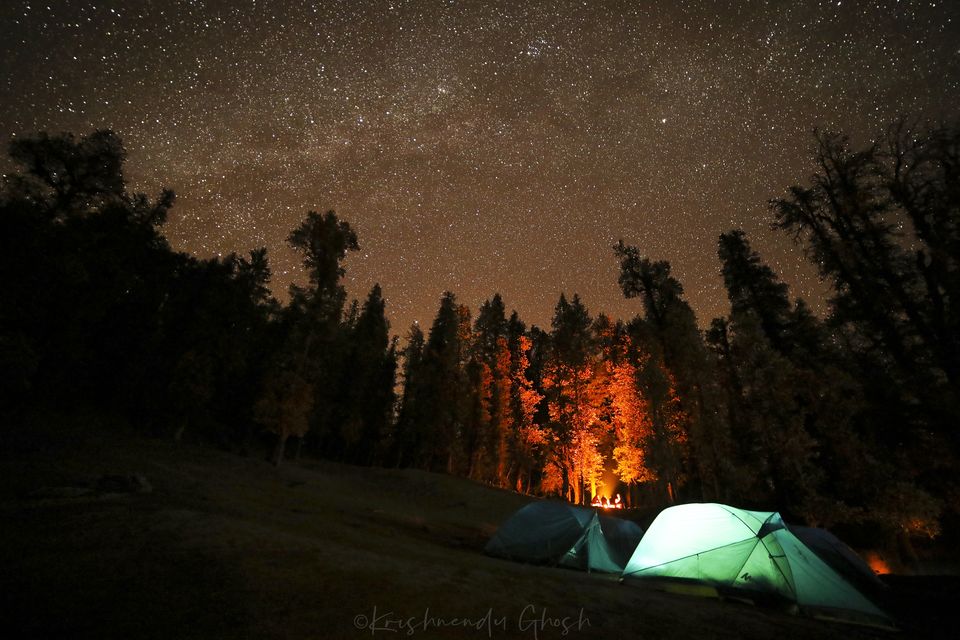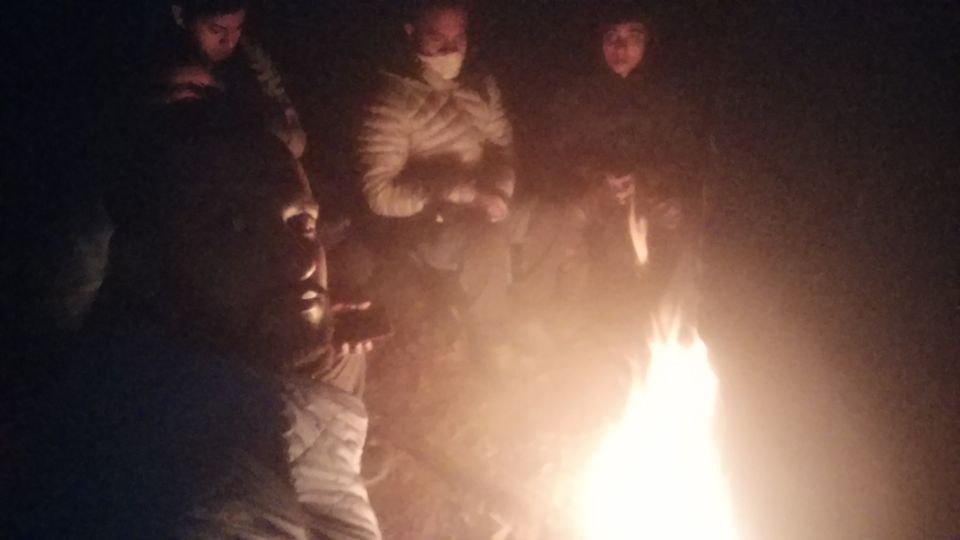 JKT to KEDARKANTHA BASE CAMP (11,250 ft) – 31ST December,2018
A new day. We all were very excited as because today we will be reaching the base camp. The hike becomes tougher as the altitude increases mainly because the air becomes thinner with less oxygen. The route is mixed with some quite rough tracks to some easy meadow walks, but in general you will face some steep climbs. But the scenic beauty that you will get to see will make you forget all the pain. Pine Trees all covered with snow. As we walked by, those snow fell upon us. There are some natural water streams on the path where you can refill your water bottles though most of the streams are frozen during winter.
My rucksack weighed around 10Kgs! It was quite heavy as I carried my DSLR (Canon 5D Mark IV with 3 lenses (14mm Samyang, 35mm Sigma Art, Canon 70-300mm), go pro Hero 6, lensball, gorilla pod, extra batteries and two power banks!!! So it was a bit more challenging for me.
There is an option in this trek known as off-loading. If you have any back pain or you just don't want to carry your rucksack you can off-load it. The mules will carry it for you. But you have to declare it before the start of the trek and they generally charge around 1000 bucks for it.
Talking about mules, they are an expert climber and carry heavy loads with them. During ascending and descending you will get to see a lot of them. Please look out for them & make way for them. Let them go first, else they might hit you accidentally.
On the way to the base camp we stopped many times to rehydrate ourselves and had some chocolate bars. There are a lot of view points on the way to the top. So stop often not just to hydrate yourself rather click pictures and enjoy the view but don't over do it else you might fall behind your group.
Trek Tips 2.0:
Use your trekking pole. If you don't have one use any big tree branch, you will get a lot of them fallen around. Trekking Pole helps a lot for your ascending & descending. Not only it provides better grip, but also as you put pressure on the pole it helps to reduce the weight on your back.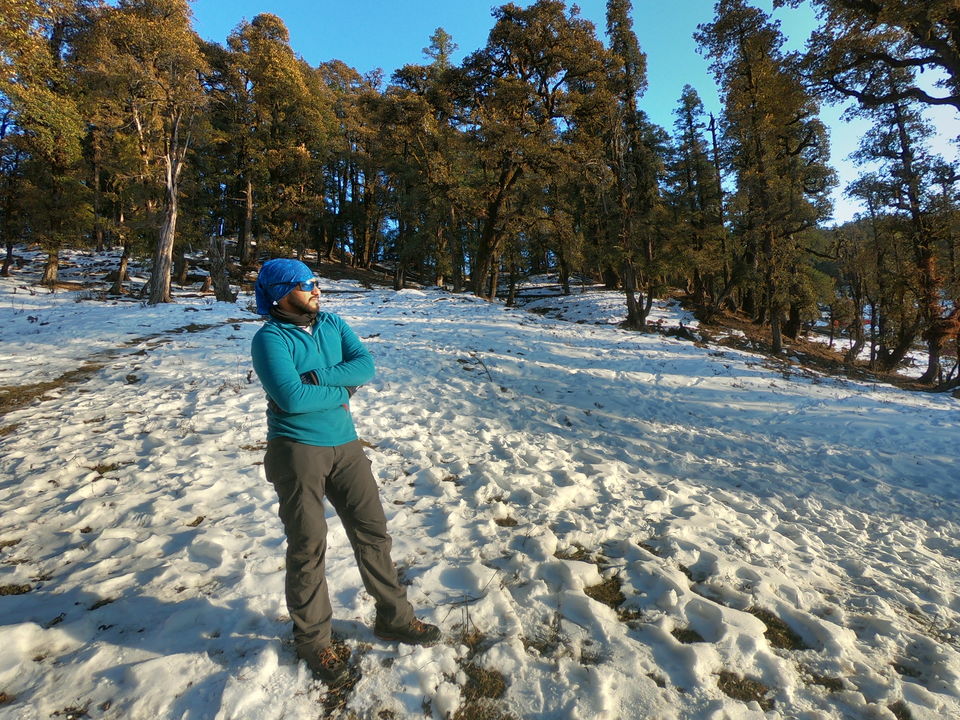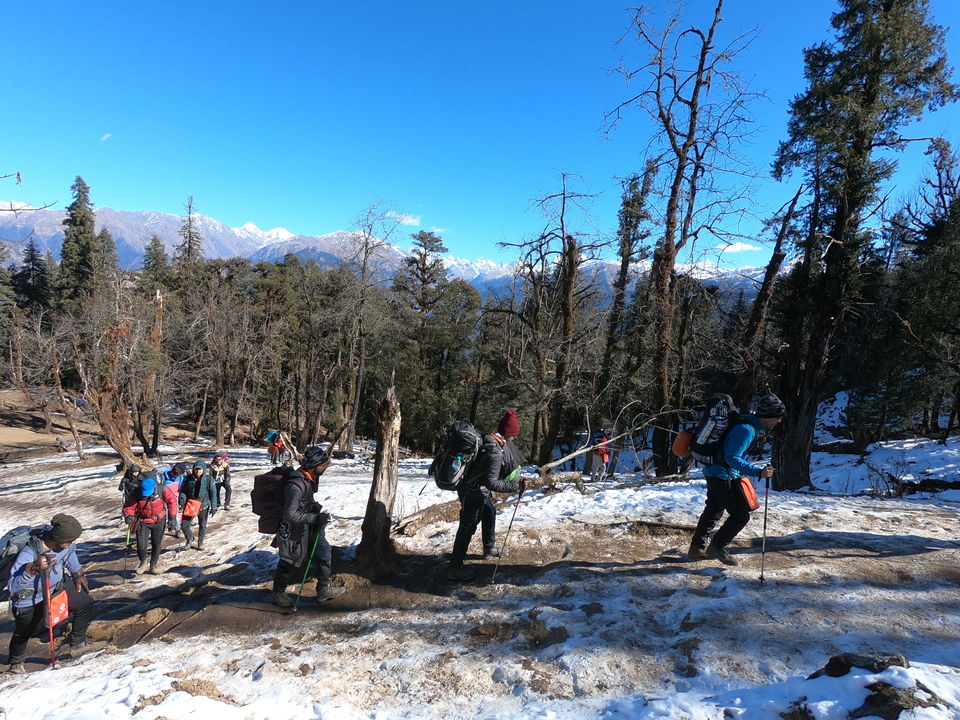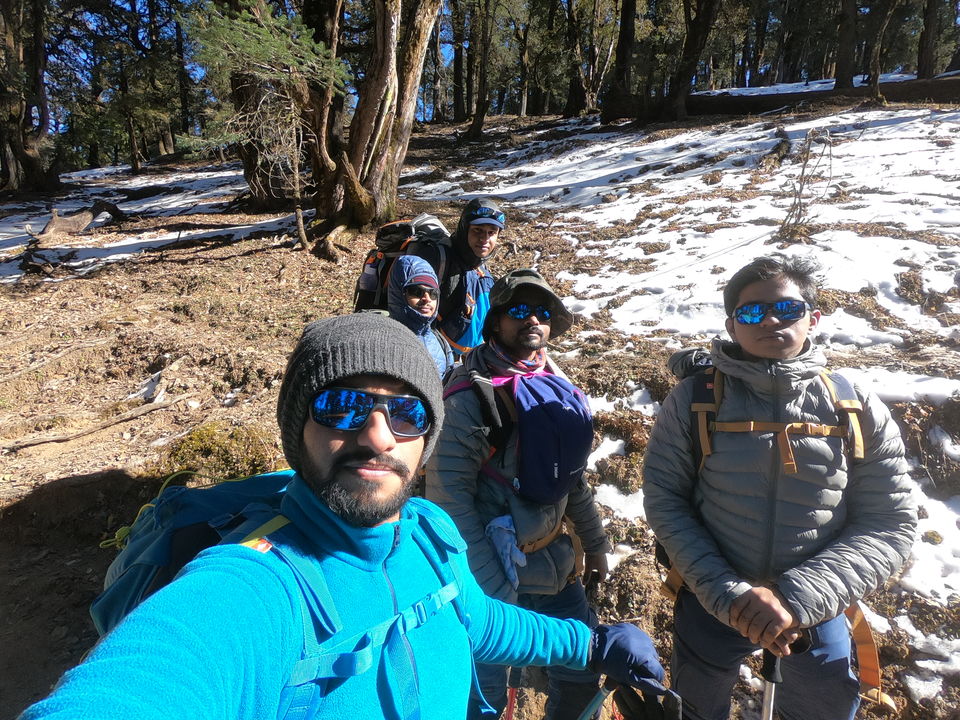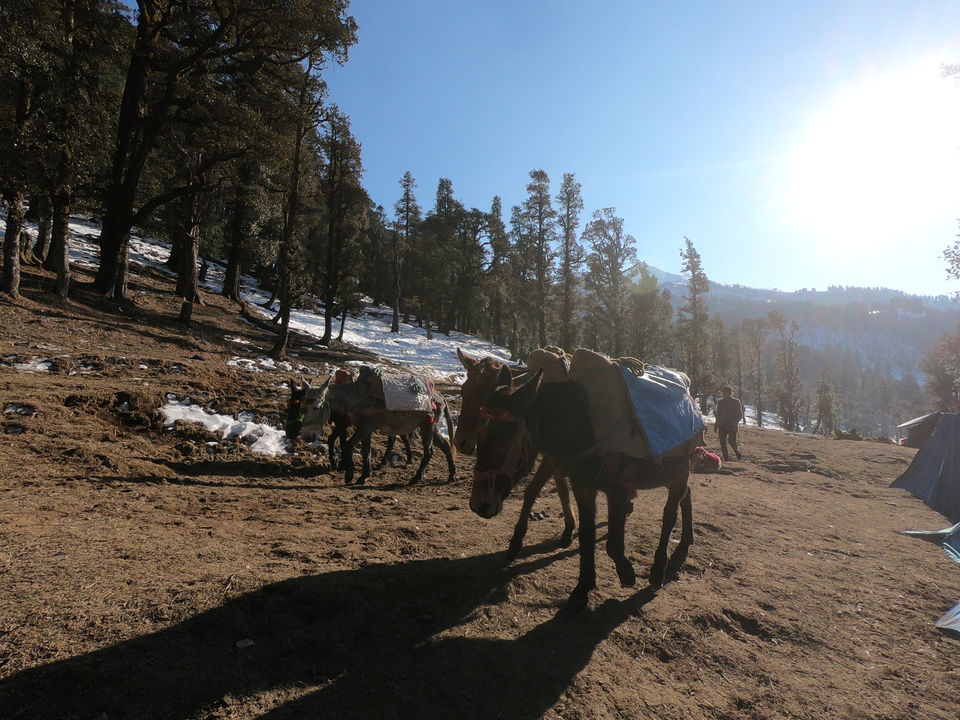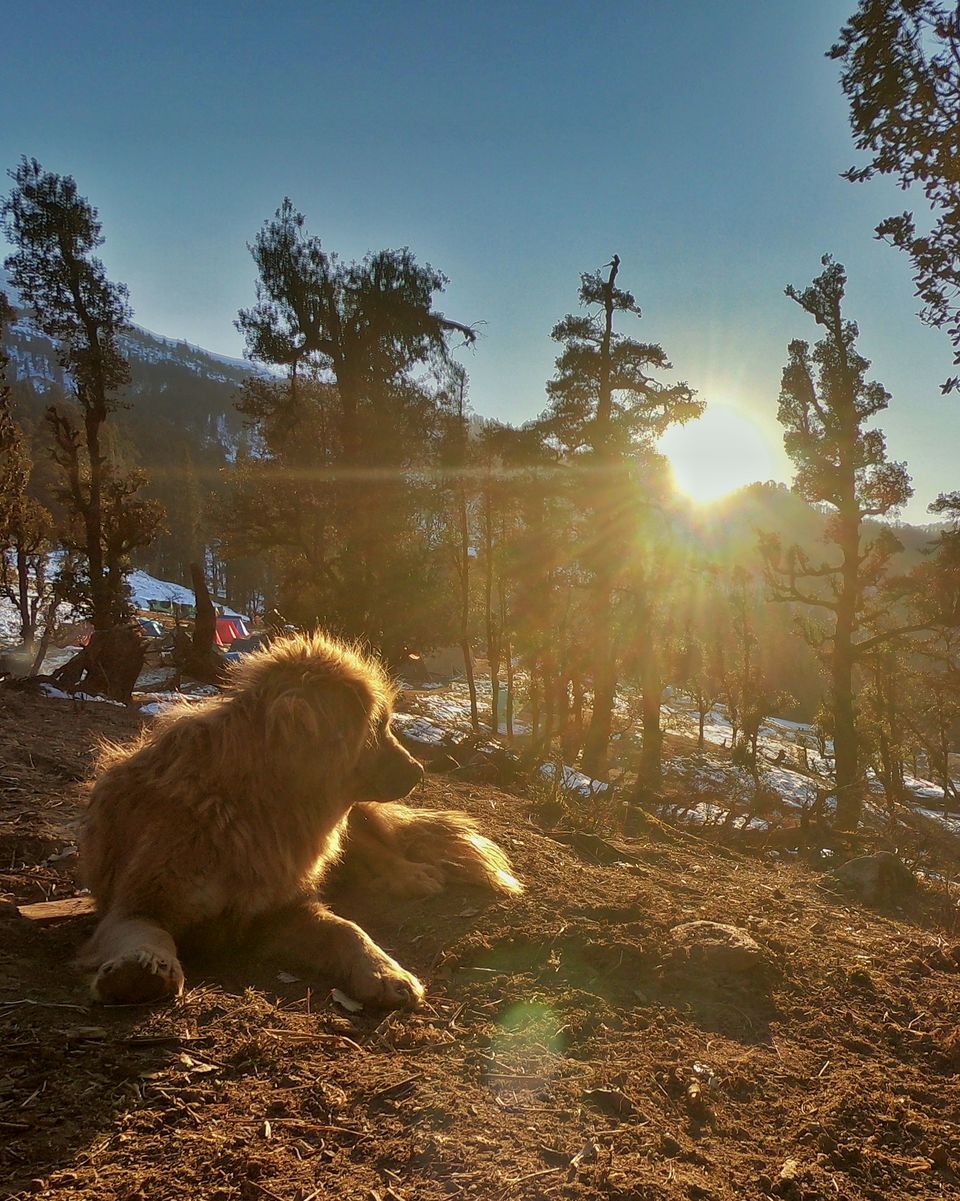 KEDARKANTHA BASECAMP (11,250 ft) – 31st December, 2018
Beautiful open meadow covered with snow and surrounded by Pine & Oak Forest. We reached the base camp around 2pm. You can get a 180 degree view of the Himalayan Mountain Ranges right in front of you. It was a heavenly view from up there, but it was one of the chilliest place as it was quite windy up there.
After having lunch the same drill followed we headed out for an acclimatization walk & then we started procuring branches & twigs for our campfire. While exploring the forest we got to touch fresh virgin snow fallen around. It was so fresh that we actually ate some!!! Everything is so fresh and pure up here. Ultimate detox that we city dwellers can get.
It was 31st December, last day of the year. We all were very excited and also excited about the fact that the very next day, the first day of the year we are going to summit Mt. Kedarkantha. Not only that we will also get to see the first sunrise of the New Year 2019 from the summit. Something that was always on my wish list.
We started the campfire and sat around it and held onto our hot cup of tea. It was very cold can't even express it. I had almost 7 layers of clothing on me with almost 4/5 warm layers. The temperature was almost around minus 15 degrees centigrade. Our trek leader insisted that we must go to sleep soon as we had to start our journey for the summit climb by 3am in the morning. Else we might miss the sunrise and we can't afford to miss that.
But it's the 31st night we can't even miss the celebration for the countdown of the New Year.
So what we planned is, we will have dinner by 9pm and then we will rest or sleep till 11:30pm. We will set an alarm for 11:30pm and then we will celebrate the countdown for the new year and again by 12:30 pm we will go to sleep after setting an alarm for 2:30pm.
Everything happened as planned. First time celebrated the New Year in such a unique way. It was silent & calm everywhere, no noise of firecrackers, no hustle bustle. It was only us & other trekkers who did all the countdown cheering. To our surprise Chandra Prakash had already prepared a cake made of Semolina (suji in Bengali) to celebrate this moment.
It was such a special feeling to celebrate the New Year in this way, far away from all the hustle bustle of the city. Far away from your family & friends, far away deep in the forest & so close to the nature.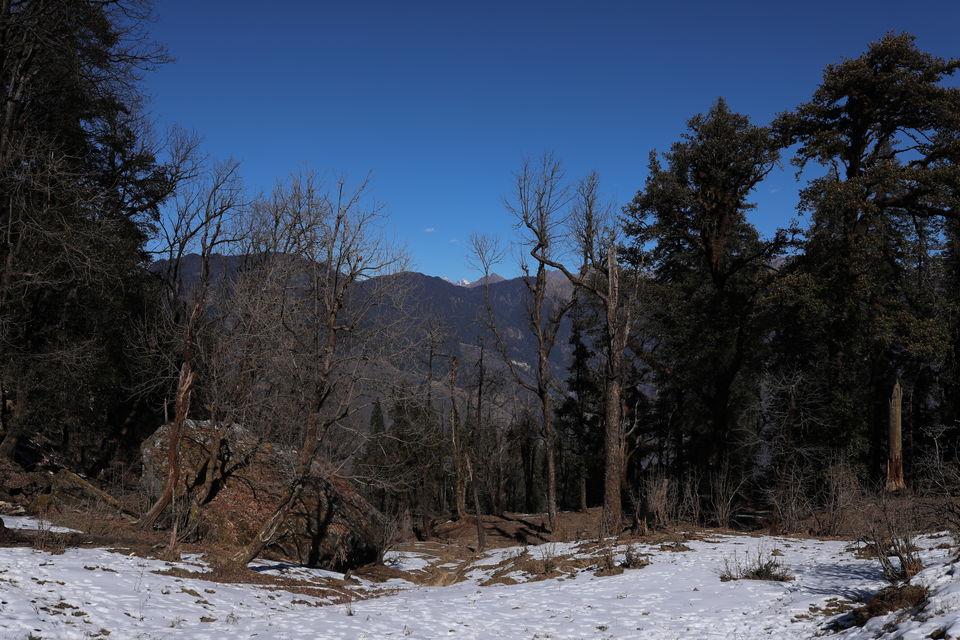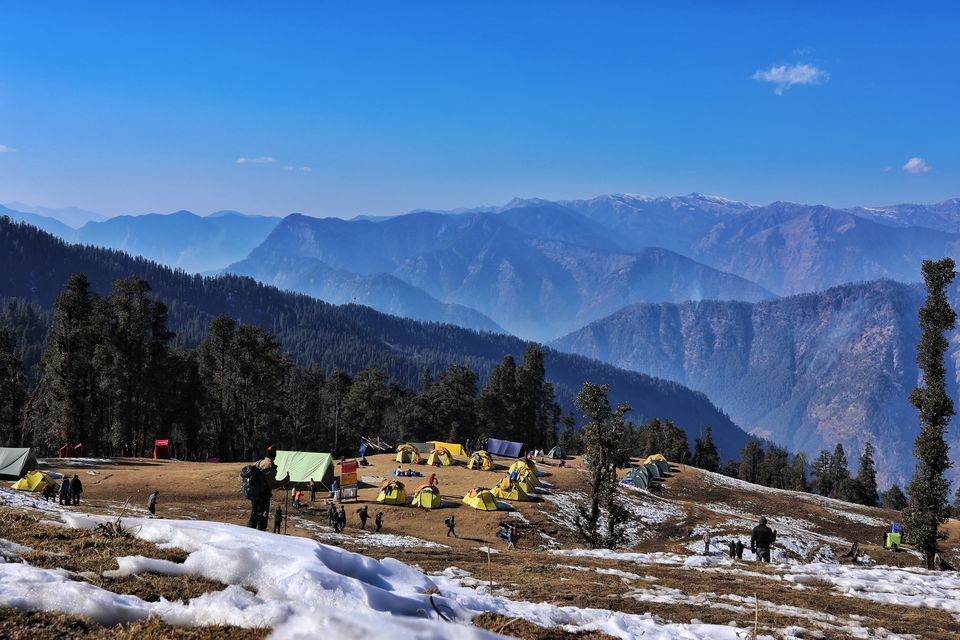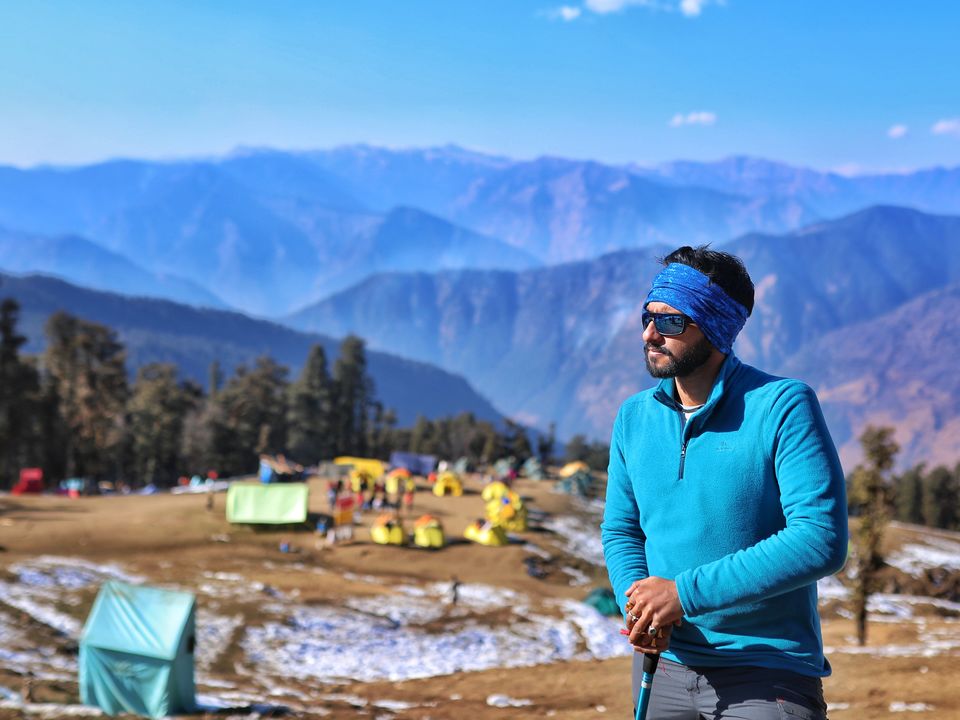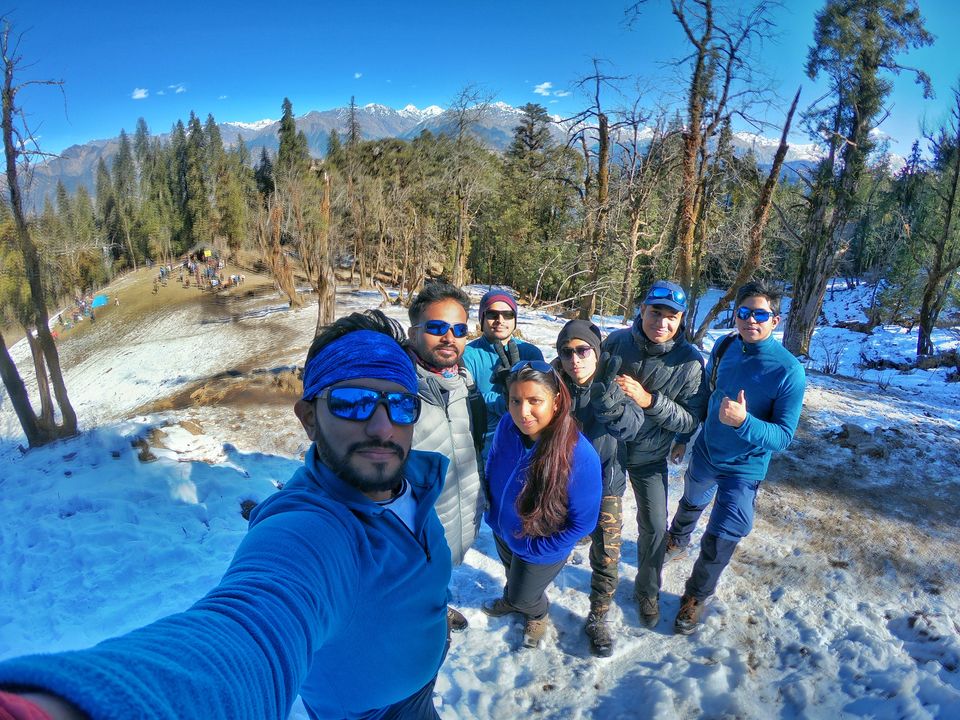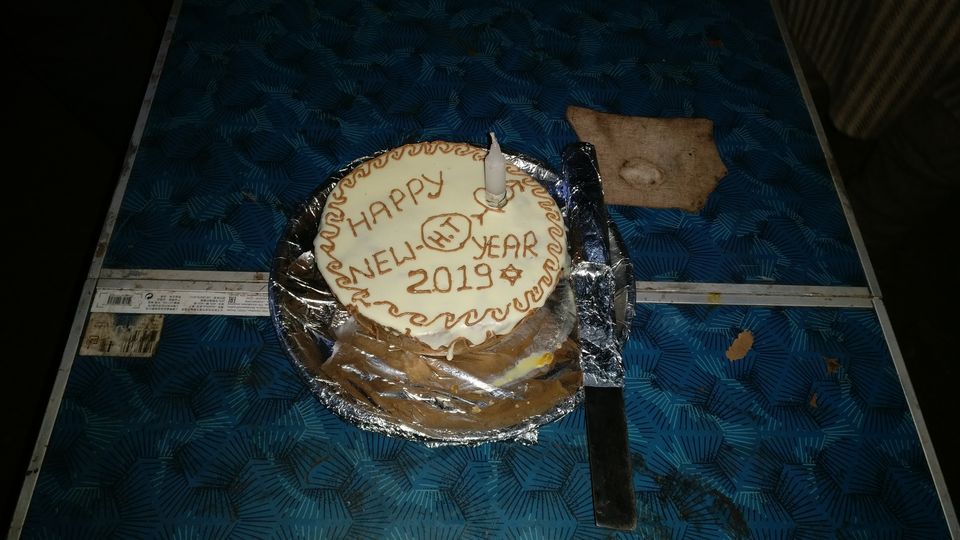 THE FINAL PUSH – KEDARKANTHA SUMMIT (12,500FT) -1st January,2019
The alarm rang at 2:30am in the morning. I don't know what the temperature was ! It was so cold can't even express. According to the forecast Kedarkantha Peak should be somewhere around minus 25 degree Celsius. Literally none of us wanted to step out of the tent. But it was The Summit Day – The Final Push; that's what kept us motivated. We all came here to summit Mt. Kedarkantha, to see the first sunrise of the year from the top!!
We quickly freshened up and packed our bags. I took a small 20lts Quechua bag for the summit for carrying my camera, lenses, ice goggles & water bottle with me. We wore our gaiters & anti-skid spikes. Gaiters will prevent the snow from entering your shoe & pants from the top portion whereas anti-skid spikes as the name suggests prevents from skidding in the hard ice. We will be getting a lot of hard ice in this part of the trek so anti-skid spikes is must, without it the climb becomes more challenging & risky!!
With our head torch on we started our final climb around 3:30am. It was pitch dark with cold biting winds howling. Everything was covered except for the eyes. I was both excited & nervous. The final push was really challenging. The climb was steep with hard ice in most of the places. So gripping was tough comparatively. We took breaks many times. On the way there was a small hut, where I took a break and sat around the fire. It was a temporary satisfaction, but again, I had to start for the climb. I wore two woolen socks, but still the fingers of my legs were getting numb. I constantly kept moving my fingers inside the shoe. It was so cold that even the water in our bottle started freezing at one point.
The final climb to the summit was really steep & full of hard ice. At the end I even had to use my hand to crawl up!! It was a nail biting experience. One mis-position of your leg and you might slip down to some feet below & hurt yourself.
At some point I was feeling to return back to the base camp but again I was motivating myself. I kept uttering to myself, "I can do it, I can do it". I believe in every phase of one's life, whatever challenging you perform, 80% is mental. If you are mentally ready, 80% of the job is done.
I reached the summit just minutes before the sunrise. Already there were many trekkers who have reached before me. I looked back down & saw a trail of trekkers all climbing up yet to summit.
The feel of summiting a mountain can't be expressed. I stood there with my pain, numb fingers of my hand, could not even dare to take out my camera. I just stood there & experienced the first sunrise of the year 2019 from the Kedarkantha Summit. My heart stopped for a moment there, my eyes wide open. It was a breathtaking, marvelous view from up there. Felt like I am in a white heaven.
Kedarkantha as the name suggests – the throat of Lord Shiva. (Kedar refers to Lord Shiva & Kantha meaning Throat.)
The common local belief says that it was supposed to be the original Kedarnath temple but Lord Shiva, who disguised himself as a cow hiding from the Pandavas was disturbed during meditation by village men, cows (Lord Shiva) mooed and disappeared to the present Kedarnath.
In the summit you will find a Shiva Shrine & Trishuls pointing directly to the sky.
As the sun rose, the sun rays started dancing in the mountains. The golden light of the early morning is always a photographer's delight, we call it as Golden Hour. After around 30 minutes when my fingers felt a bit comfortable I took out my camera & started clicking. All the Mountain peaks were clearly visible – Swargarohini I to IV ,Gangotri & Yamunotri range, Har ki Dun Valley range, Bandar Poonch, Kal Naag (The Black Peak).
We were there in the summit for more than an hour, clicked lots of photos. Finally after clicking our group photo we started our downhill trek to Kedarkantha Base Camp.
The downhill trek is always tougher than the uphill. It takes more toll on the feet. One needs to place feet properly so as to get the adequate grip else will slip down a few hundred feet below. Always first place the trekking pole in front of you and then place the foot with proper grip.
We reached Kedarkantha Base Camp by 11am. We all were very tired, so after having lunch we quickly resorted to our camp and headed for a nap.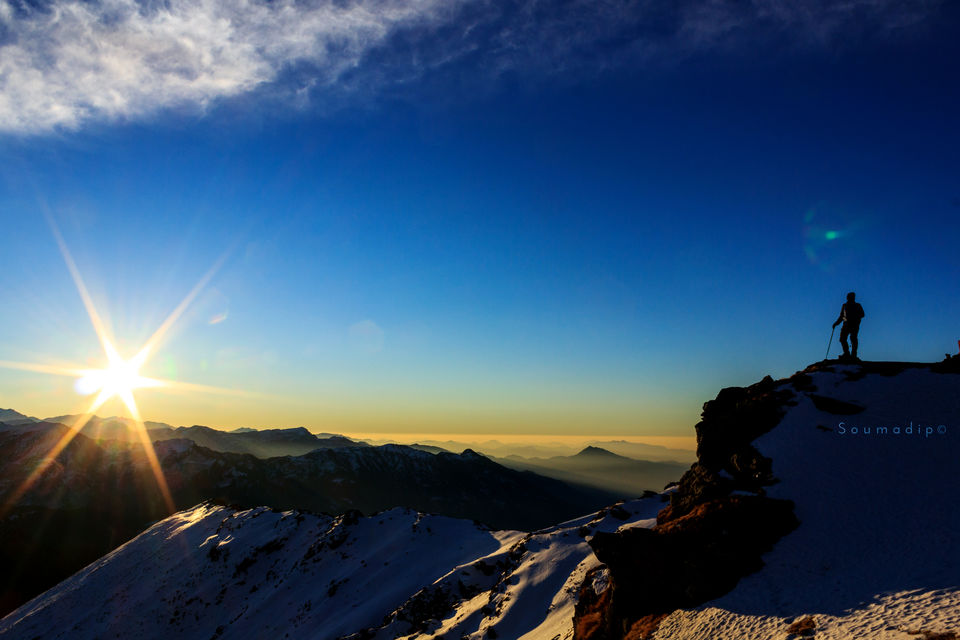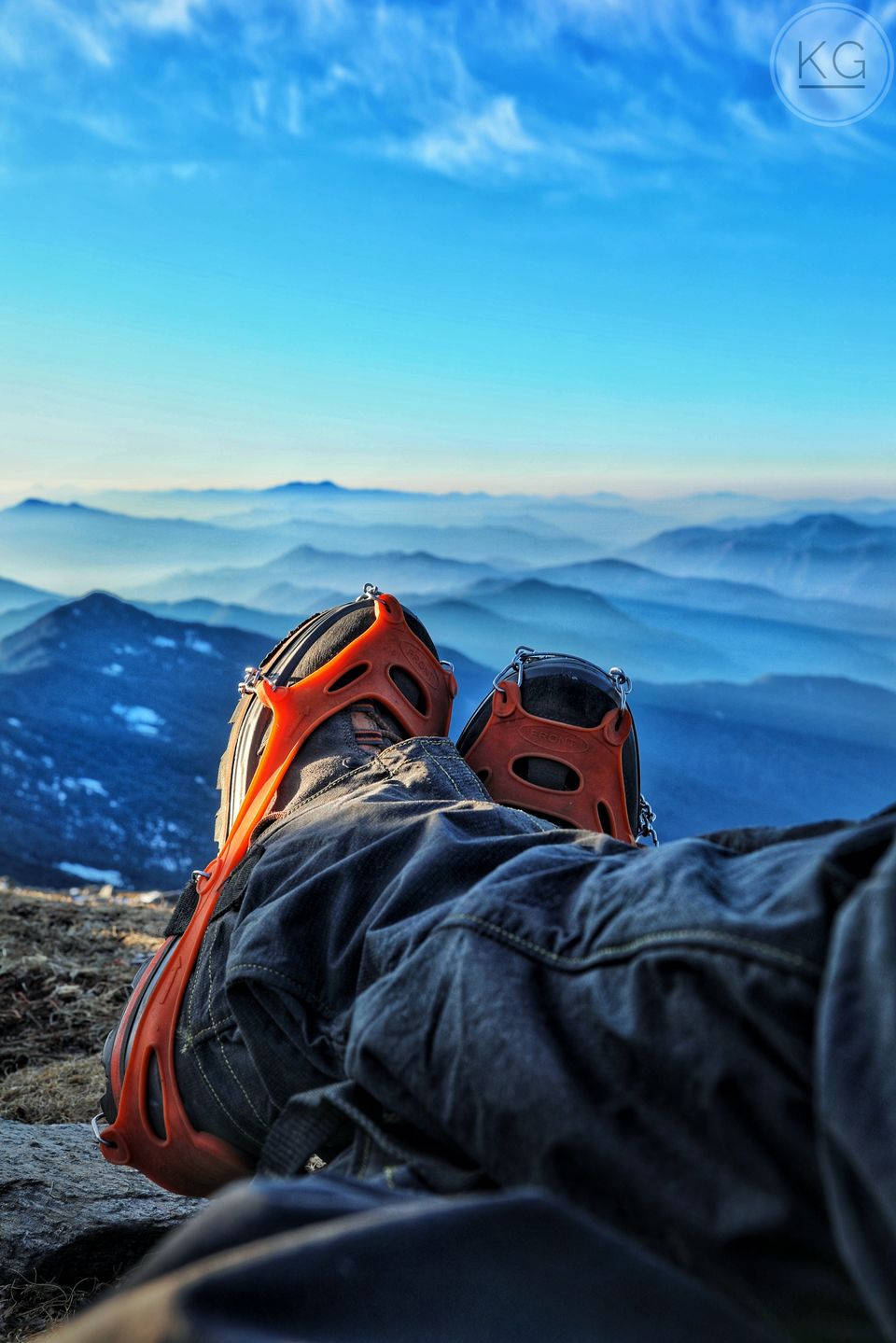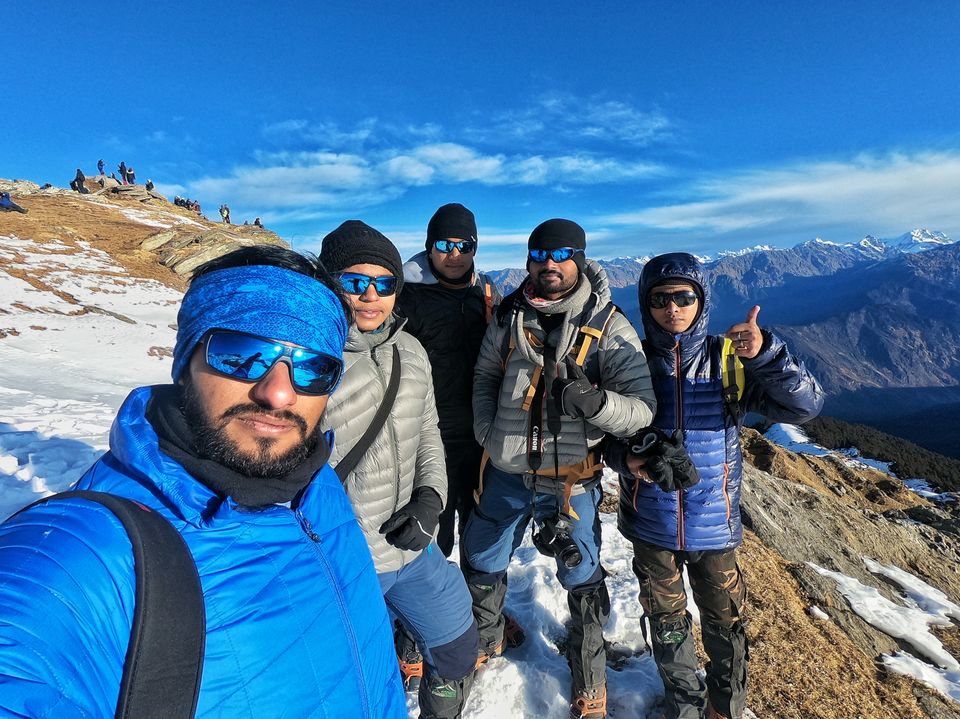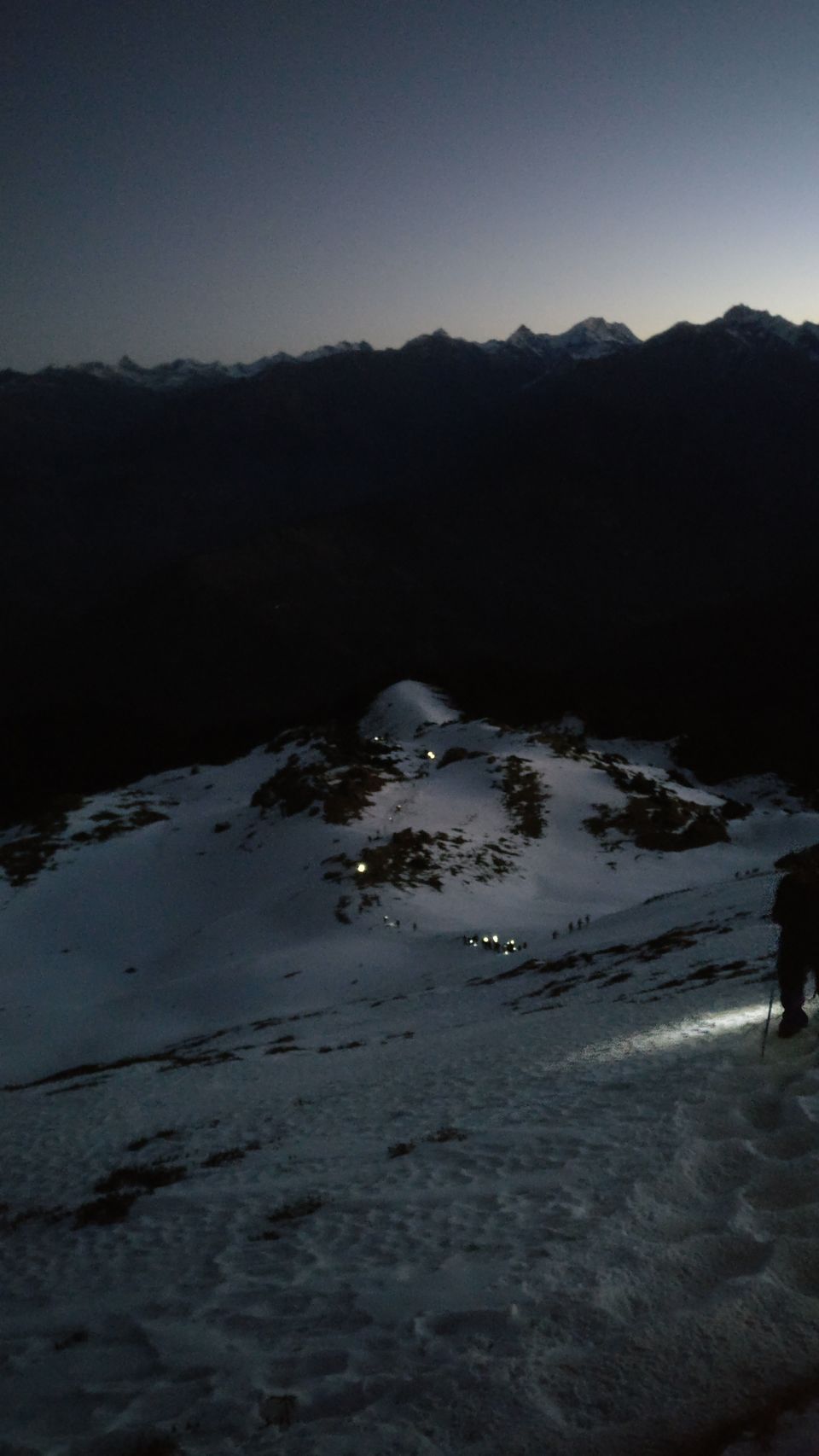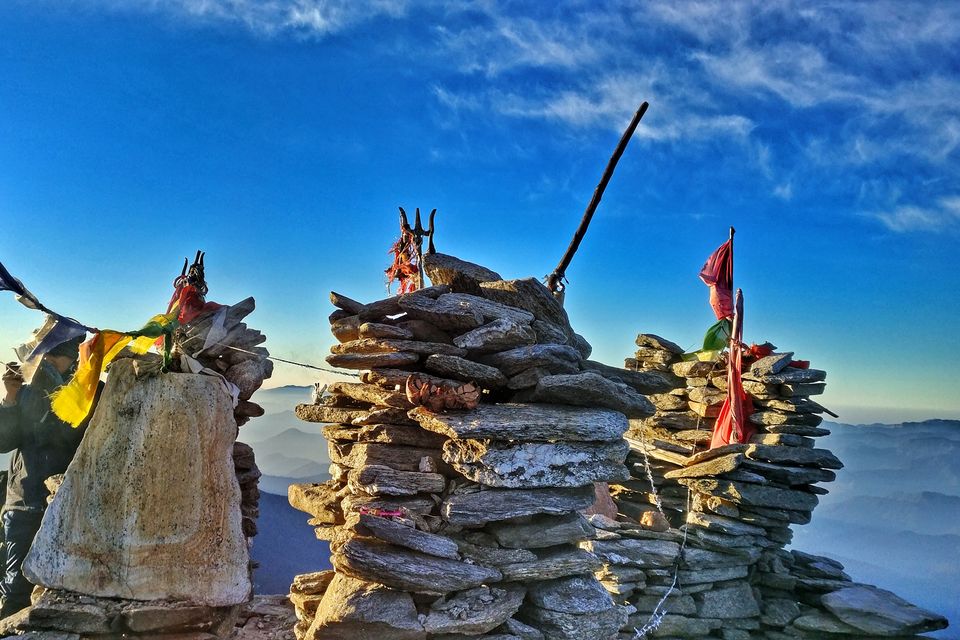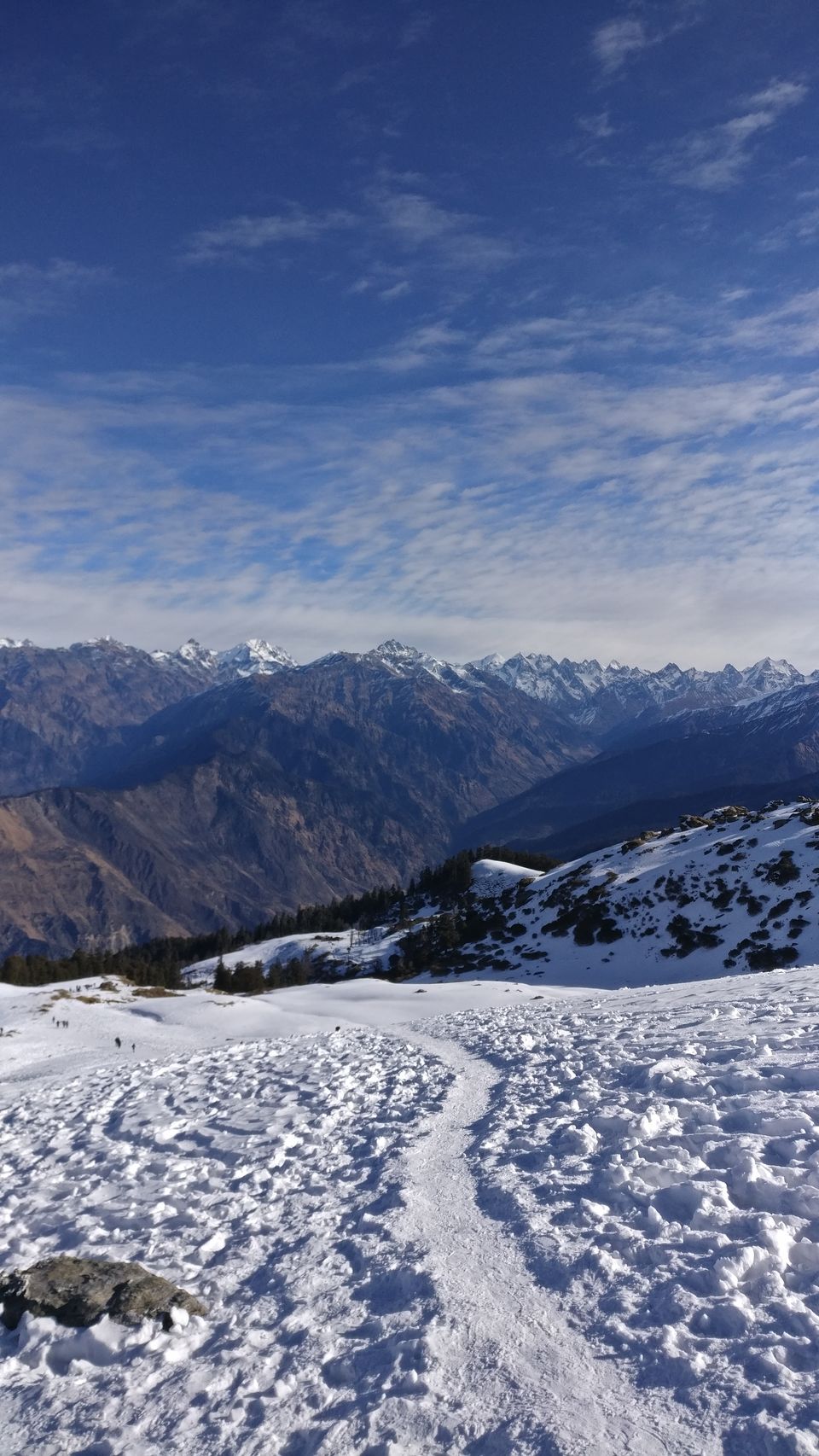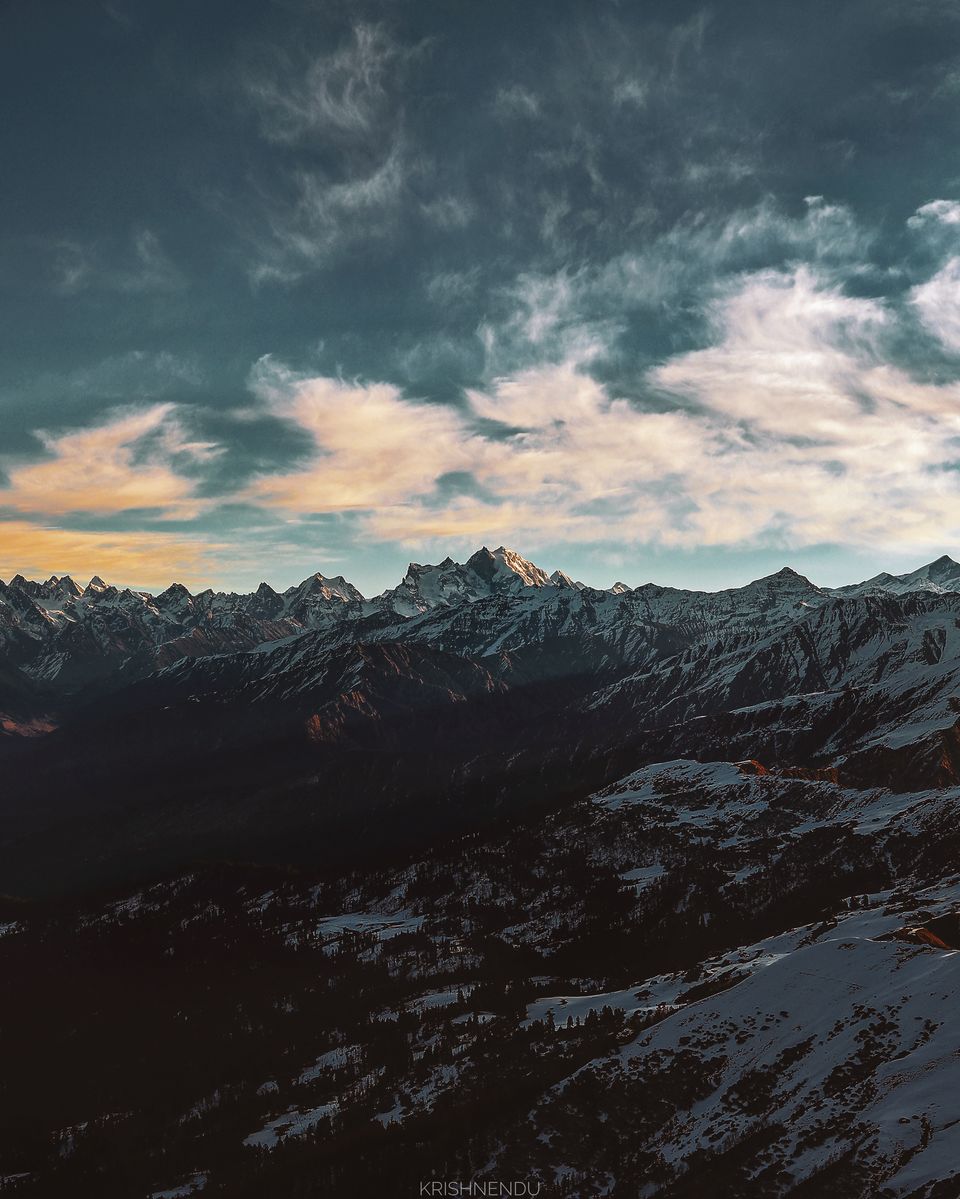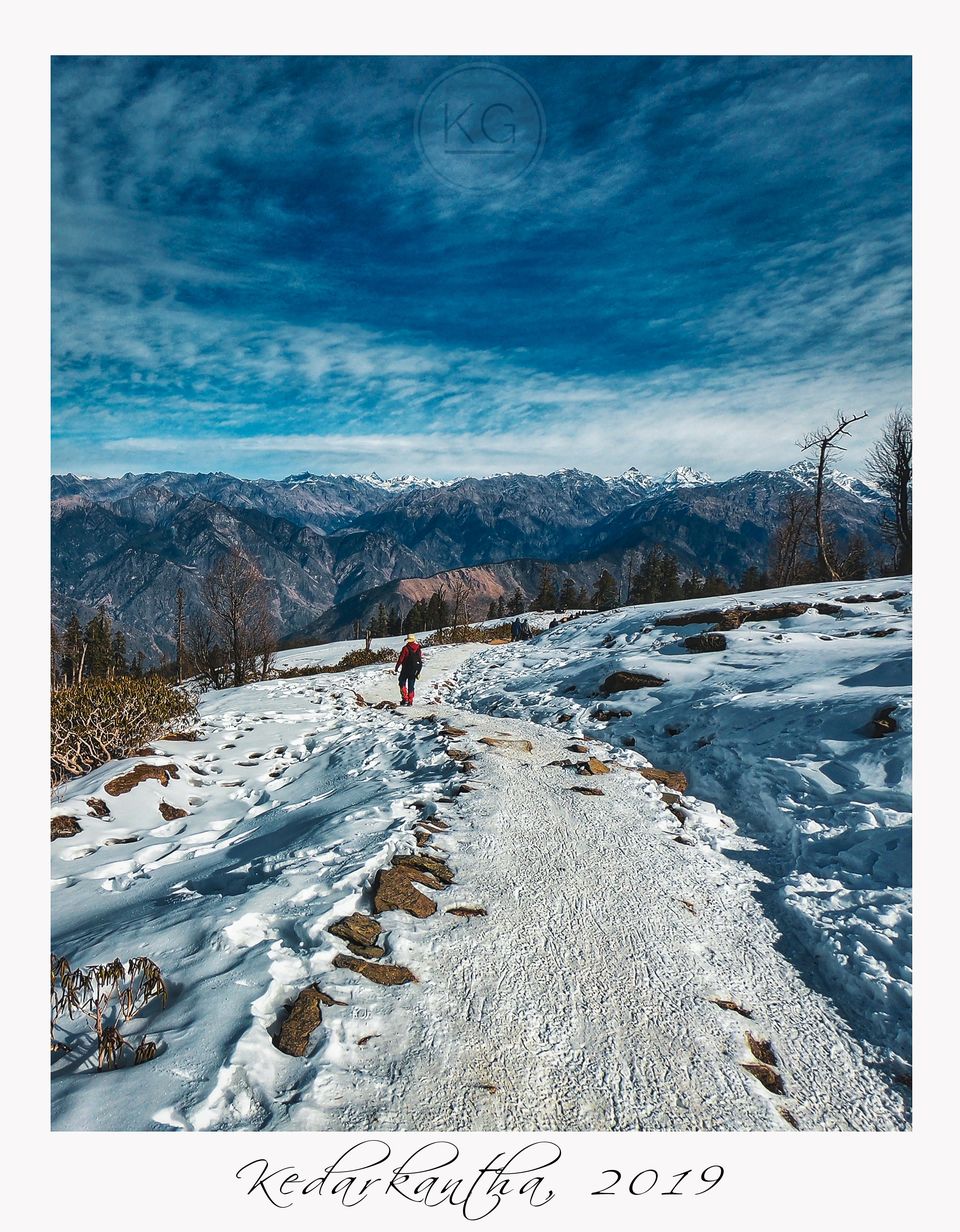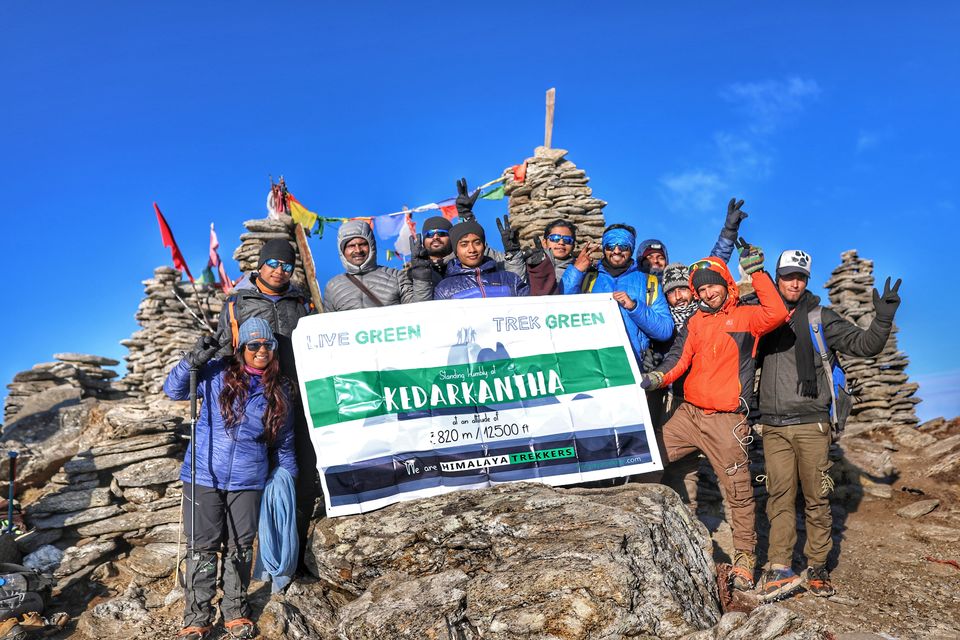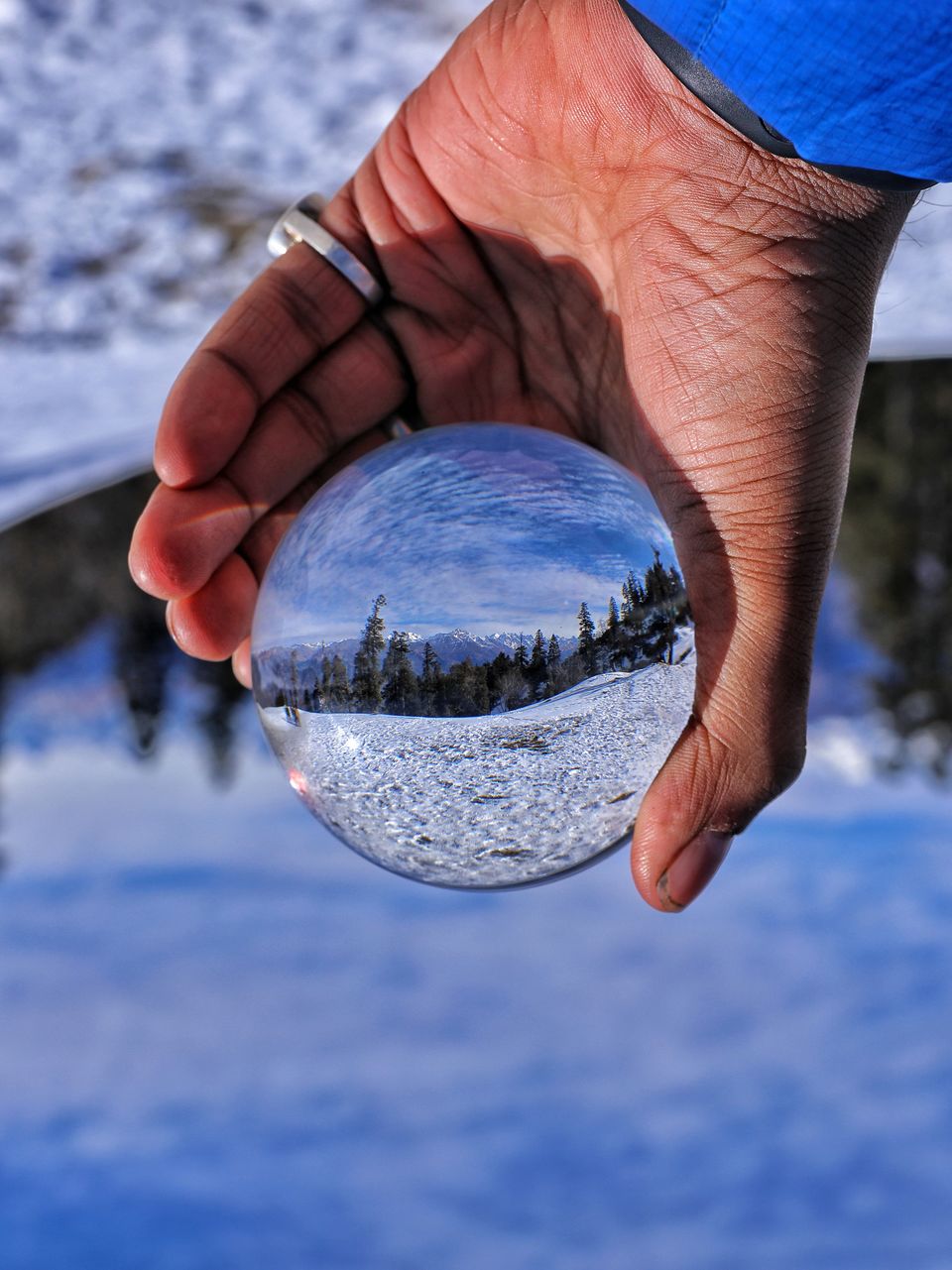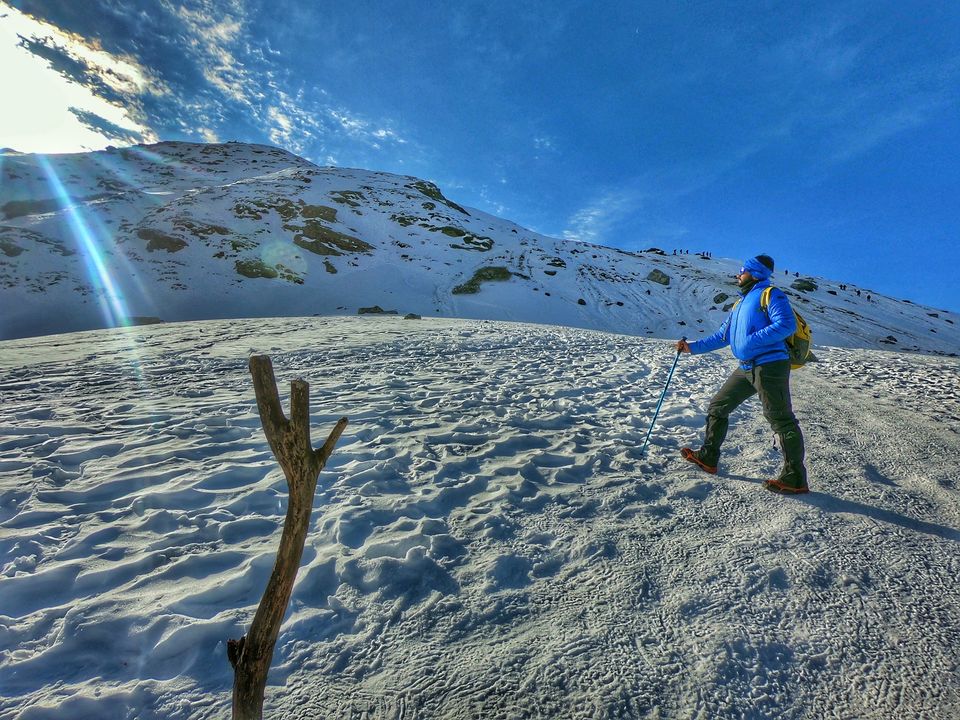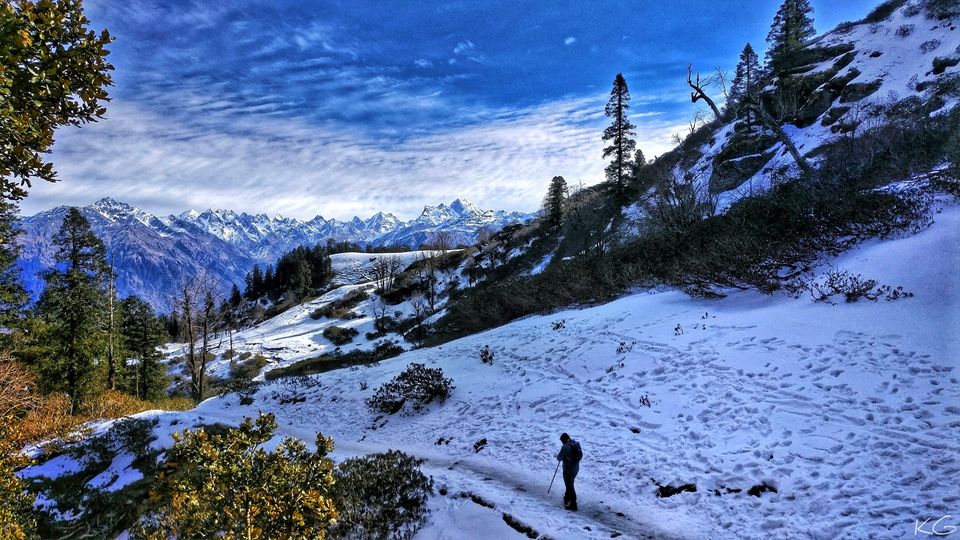 KEDARKANTA BASECAMP TO SANKRI via HARGAON (2nd January,2019)
The penultimate day of our trip started with the biggest surprise. We all were having tea in the morning when suddenly the snowfall started. During this whole trip we have seen snow fallen around, but this was the first snow fall that we experienced. We didn't expect snowfall as it was not in the forecast. We all started jumping around, making videos and clicking photos.
I put off my gloves and wide opened my hand to hold the fresh snow flakes falling. If you specifically observe a snow flake then you can see that each single ice crystal have an intricate, detailed structure, unfortunately it was melting quickly on coming contact with my warm hands.
Anyways, Chandra Prakash told us to get ready quickly, as the snow fall started heavily and we might have a problem during our descent. So we quickly got ready and with our ponchos, gaiters and spikes on we started our journey for Sankri. I carefully packed my DSLR inside my rucksack but kept the go pro handy with me. I didn't want to miss the opportunity of not photographing this beautiful snowfall in the middle of the white heaven.
On the way we stopped at Hargaon camp for some time. It was a beautiful meadow in the middle of the forest. But without spending much time we started soon else it will be dark by the time we reach Sankri. Those who haven't done any trekking & hiking might feel that descent is easy, but actually it is the most challenging.
In the middle we finished our packed lunch. We reached Sankri by 3pm. We all were very tired and sad as holidays are finally coming to an end. In the evening we went to nearby Sankri market to buy some local garments and souvenirs.
At night before our dinner Chandra Prakash gave us certificates for successfully summiting Mt. Kedarkantha. An achievement worth sharing & cherishing.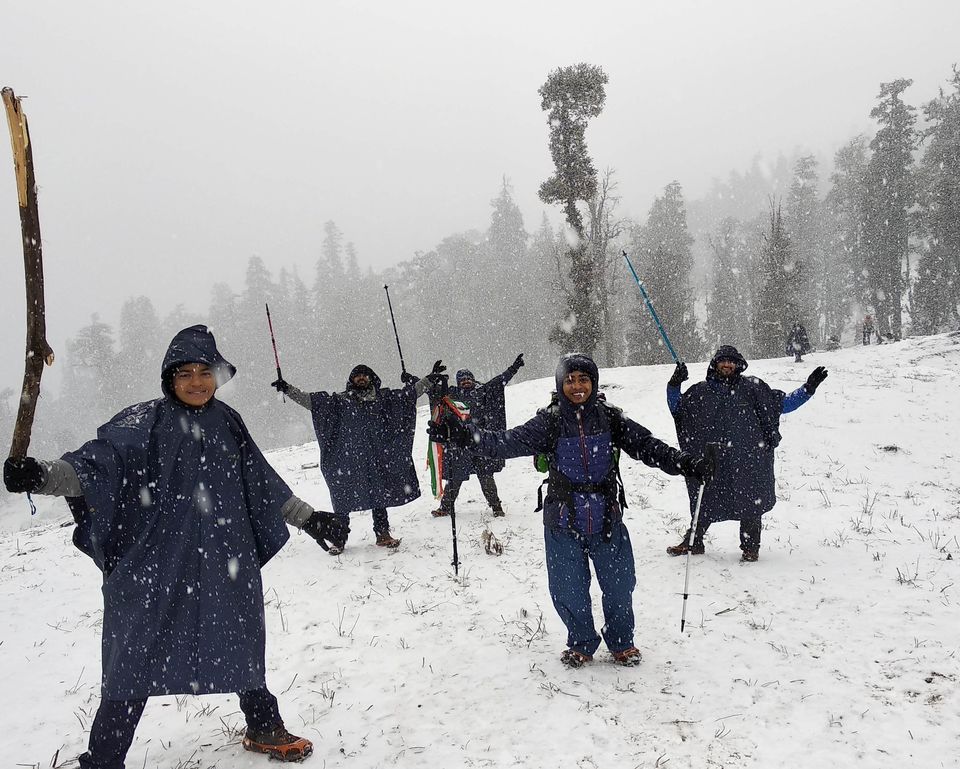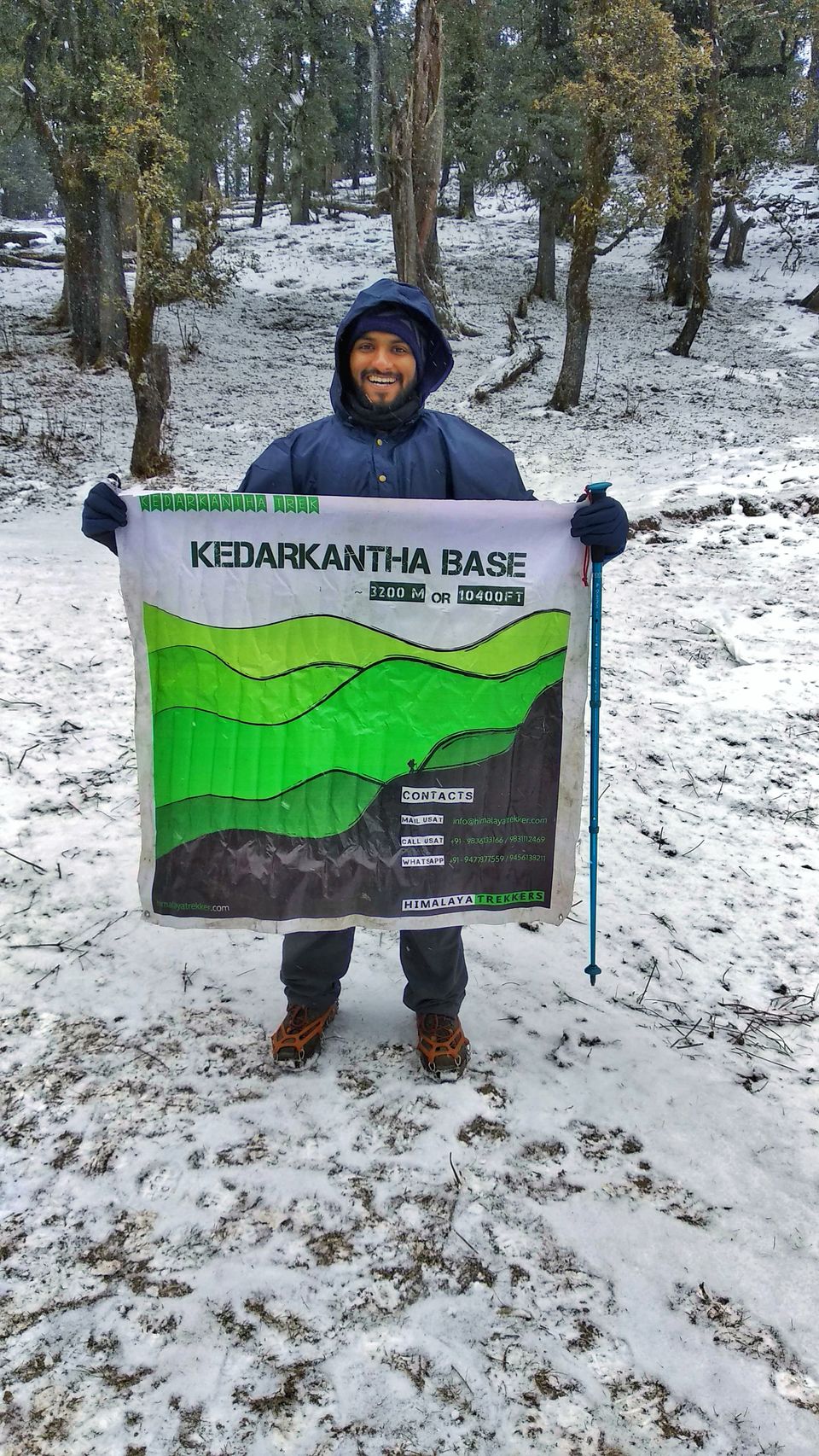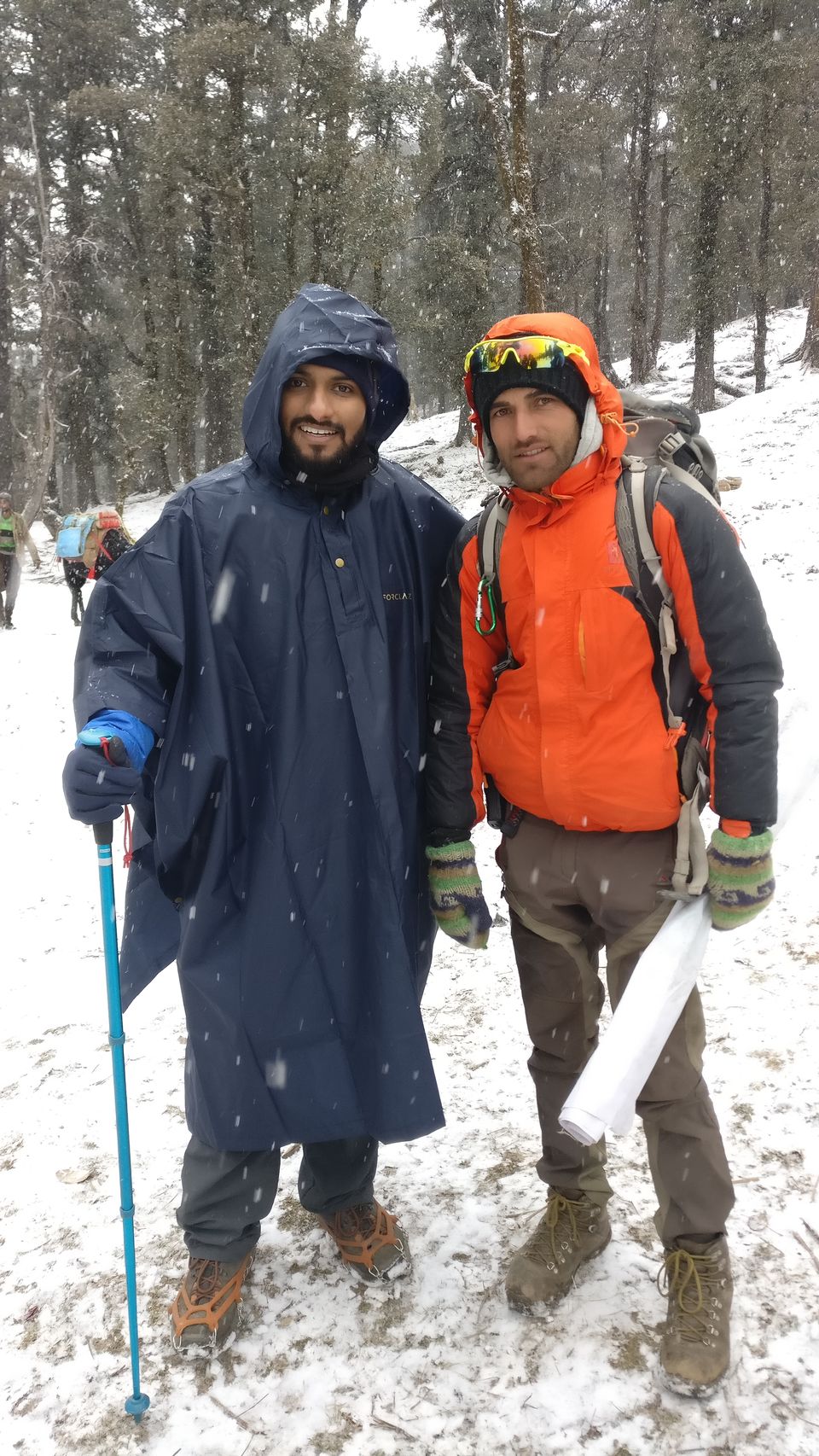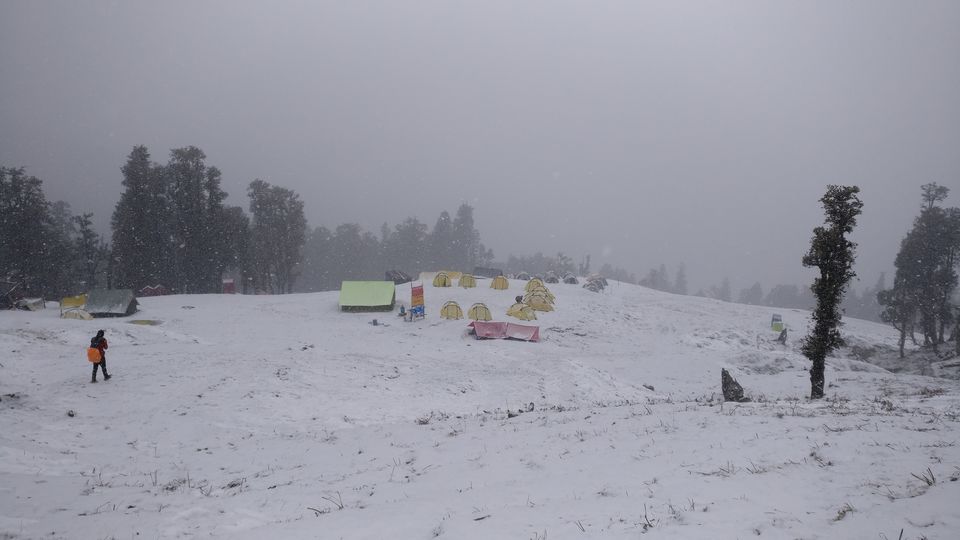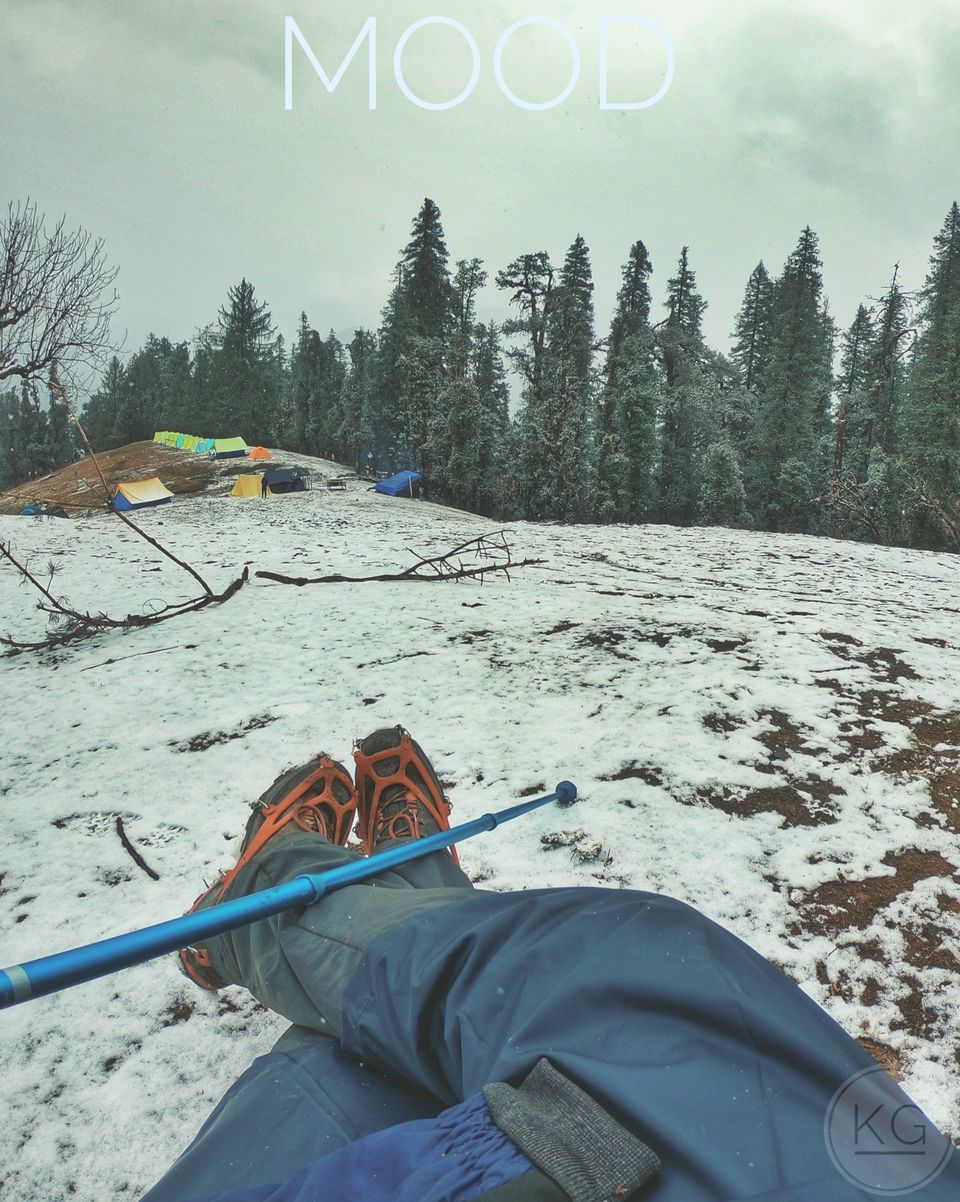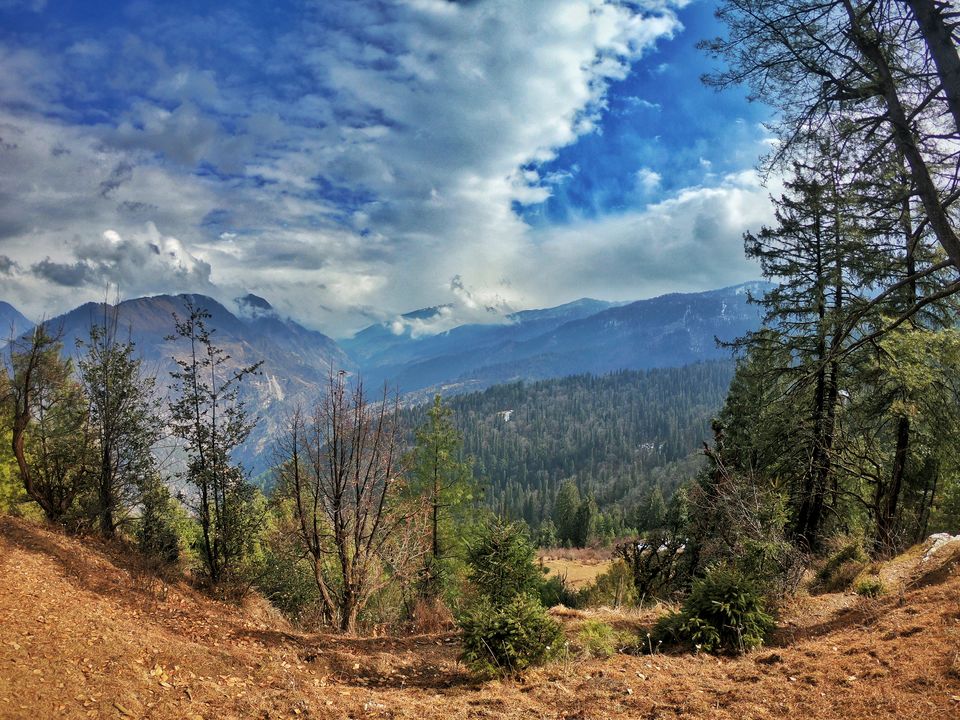 SANKRI to KOLKATA (3rd January,2019)

The next day we took a tempo traveller from Sankri to Dehradun. On the way we finally got back our mobile network. Informed our family members that we all are safe and sound. Finally back to civilization after 5 days. We reached Dehradun at around 6pm. Explored Dehradun town and markets and then again took Nanda Devi Express from Dehradun to Delhi at night. Next day early morning I reached Delhi, went to the airport, took my flight back to home- Kolkata.
It will always remain as one of my most favorite and memorable trip.
Thanks to my friends & trek mates Soumadip, Rajat, Ranit, Rathin, Amit, Vaishnavi, Suthagar, My trek leader from Himalaya Trekker - Chandra Prakash & his team (Sanoj & others)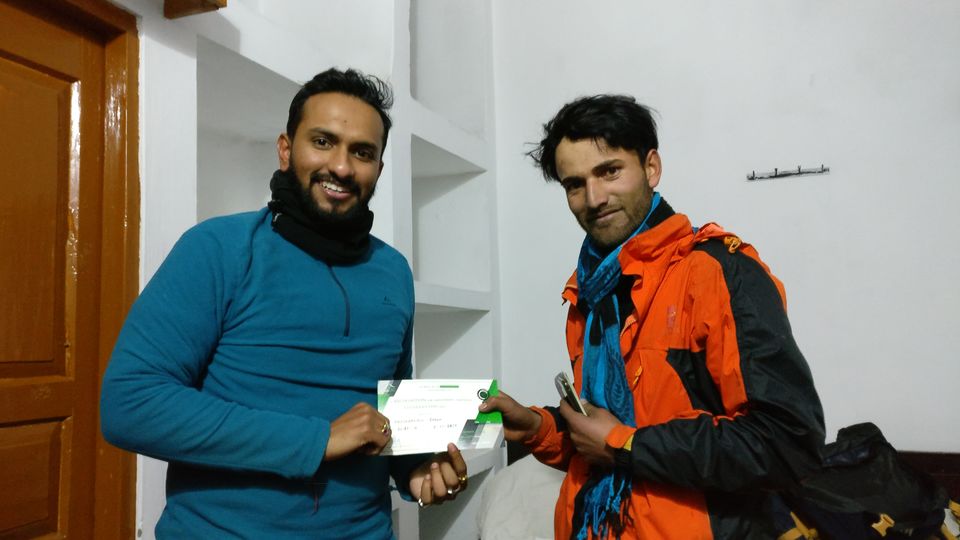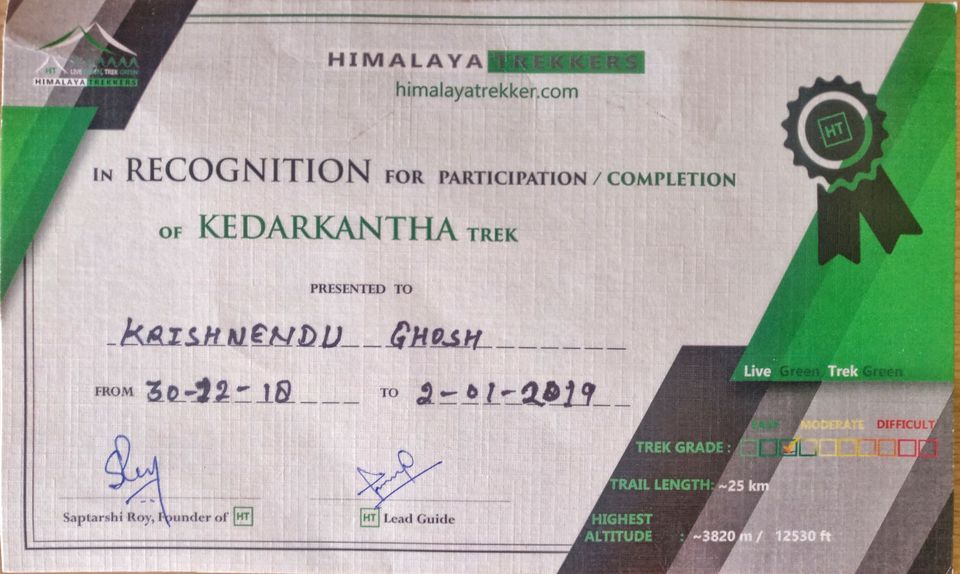 When you close your eyes and think of nature, what do you feel?
I feel a sense of peace & happiness.